The British Royal Family's Most Impressive Crown Jewels
Are you as obsessed with the royals as we are? In this article, we give you the lowdown on the most fabulous jewels and tiaras in the British Royal family's vaults! Find out which princess "disposed" of something very valuable indeed, and check out some of the most astonishing pieces in their collection. Would you believe that they even have jewels passed down since the 1500s? Whatever your take on these famed aristocrats, you're bound to appreciate the fascinating stories behind these unique pieces - or at the very least, you'll enjoy looking at some of the world's most gorgeous jewelry! 
Queen Mary's South African Diamonds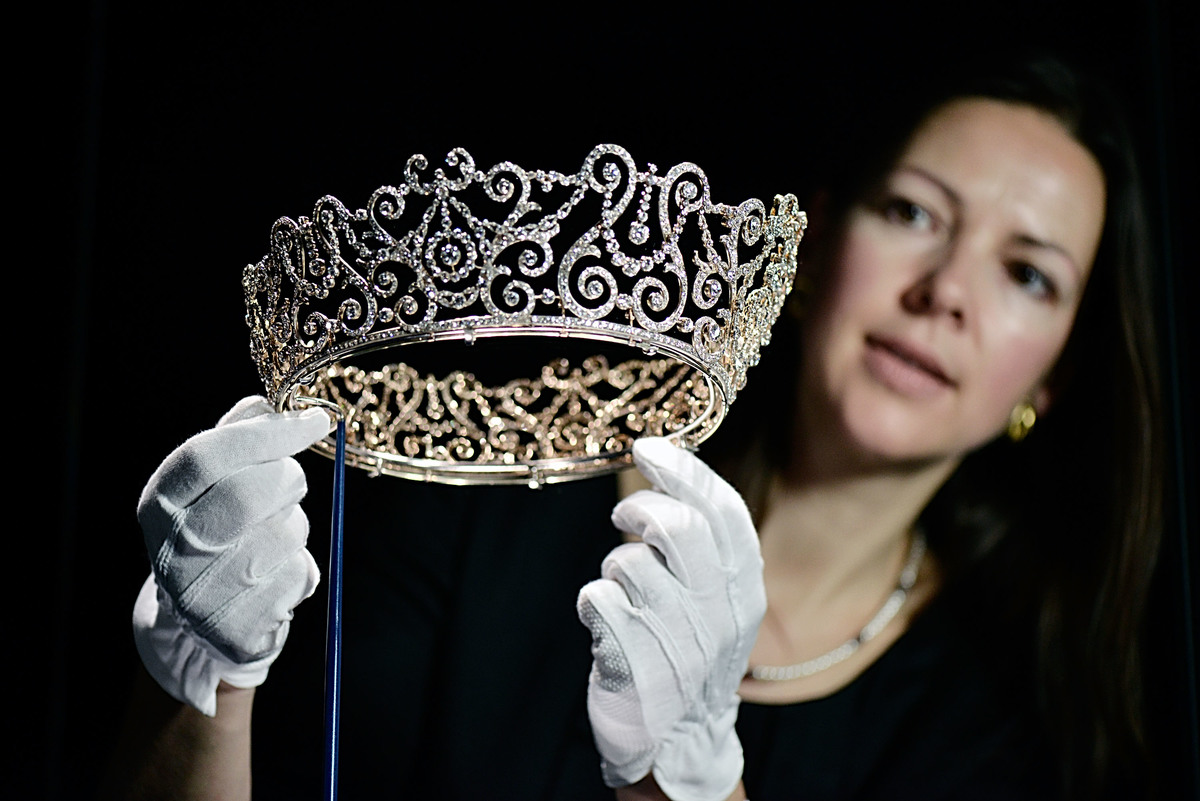 Way back in 1910, Queen Mary and King George became the Empress and Emperor of India respectively when George V ascended the throne. To mark the occasion, Queen Mary had Boucheron make her the stunning Delhi Durbar Tiara using the jewels from another tiara. Also included in the new headpiece were South African diamonds, which she'd been gifted by the De Beers' Mine on a visit there in 1901. Do you think you might recognize it? The Duchess of Cornwall, Camilla Parker-Bowles wore it most recently at her first royal family banquet.
The Most Famous of them All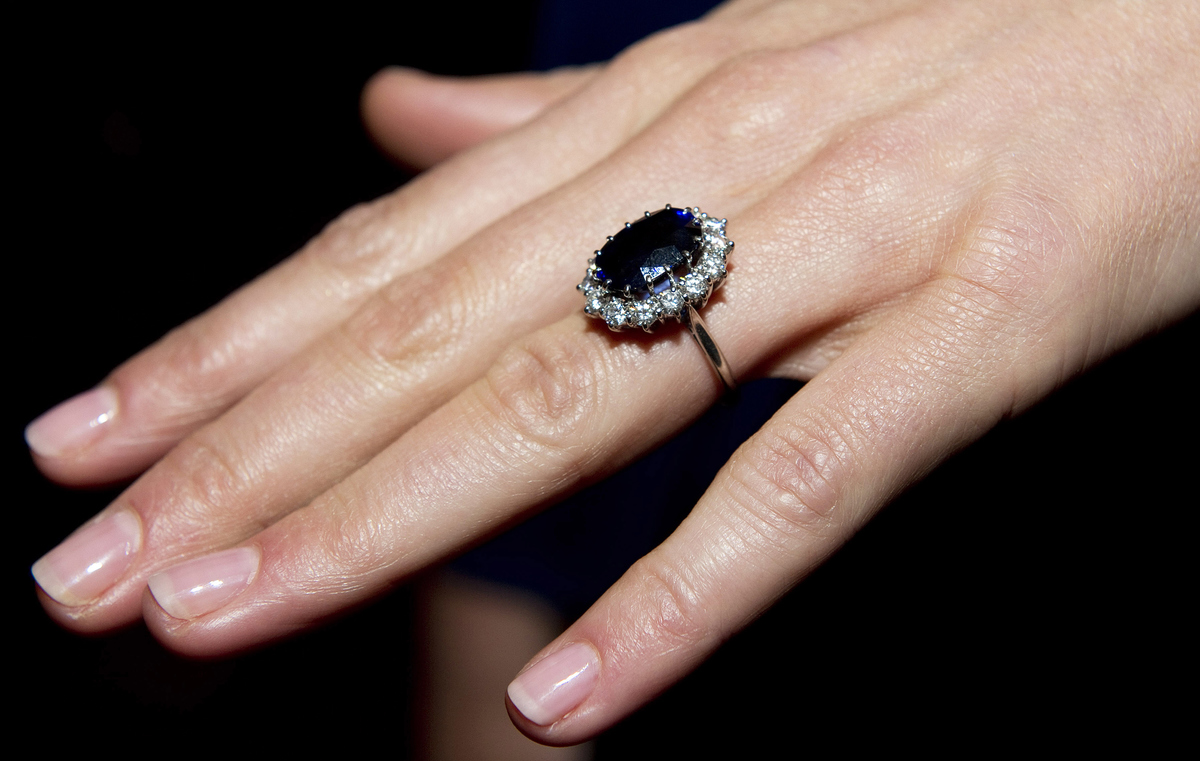 Of all the jewels in the family's collection, you have to agree that the most well-known is Princess Diana's 12-carat Ceylon sapphire engagement ring. However, there's something unconventional about this ring: it's from a catalog! The royal family was not amused, but it shows that Princess Di truly was a woman of the people. Love it as much as we do? If you have a cool $26k you can buy yourself a replica! Of course, her daughter-in-law would go on to inherit the ring, and the ring has found its new home on the finger of Kate Middleton. 
Brooch-ing the Subject of Tiaras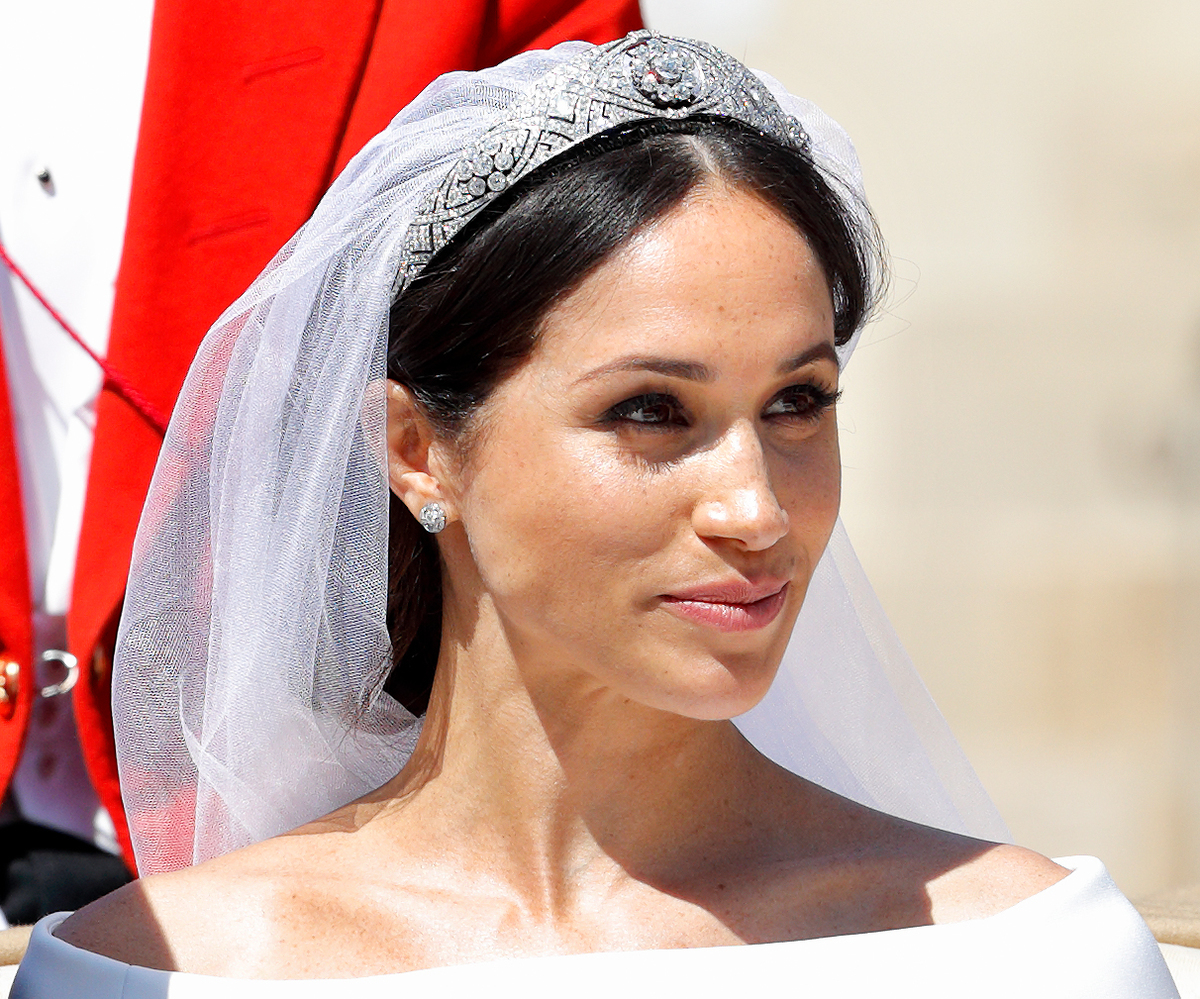 When Mary of Teck married Prince George V in 1893,  she was given a breathtaking brooch by the County of Lincoln. They would go on to become King and Queen, as well as the Emperor and Empress of India as you may recall. In true Queen Mary style, she changed things up a little and had the brooch set into this Bandeau Tiara. In recent years this headpiece got to come out of the vault again for a very special occasion: Meghan Markle's wedding to Prince Harry, of course! Meghan also accessorized with a bracelet by Cartier. 
Off With Their Heads!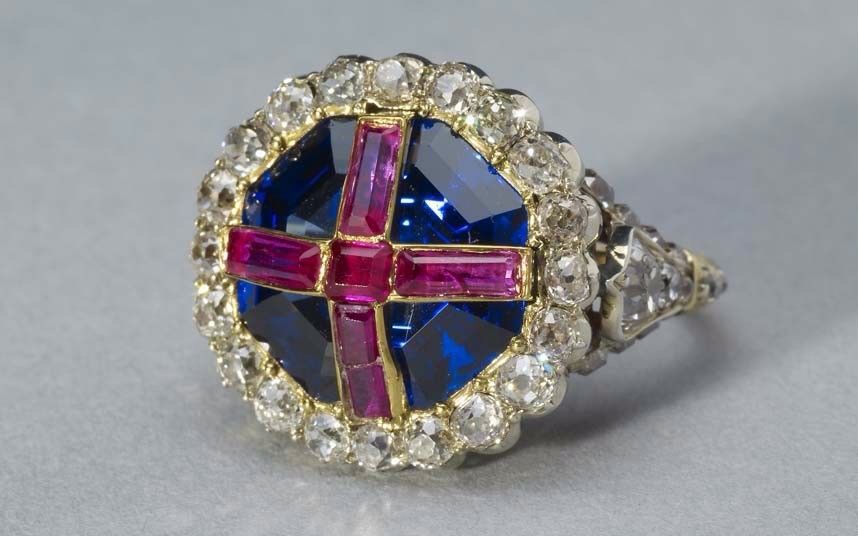 The creators of this next beauty just so happened to screw things up royally! In 1838, Rundell, Bridge & Rundell were asked to make a very special ring for Queen Victoria's coronation. But when it came time for the Archbishop to place the ring on the Queen's finger to mark the occasion, he had quite a time forcing it onto her finger. Rumour has it that the jewelers read Queen Vic's finger measurements incorrectly! Instead of making the ring to fit her ring finger, they accidentally made it with the teeny-tiny dimensions of her pinky finger! The Queen had to soak it off in iced water after the ceremony. Eek! 
Queen Mary's Thrifty Influence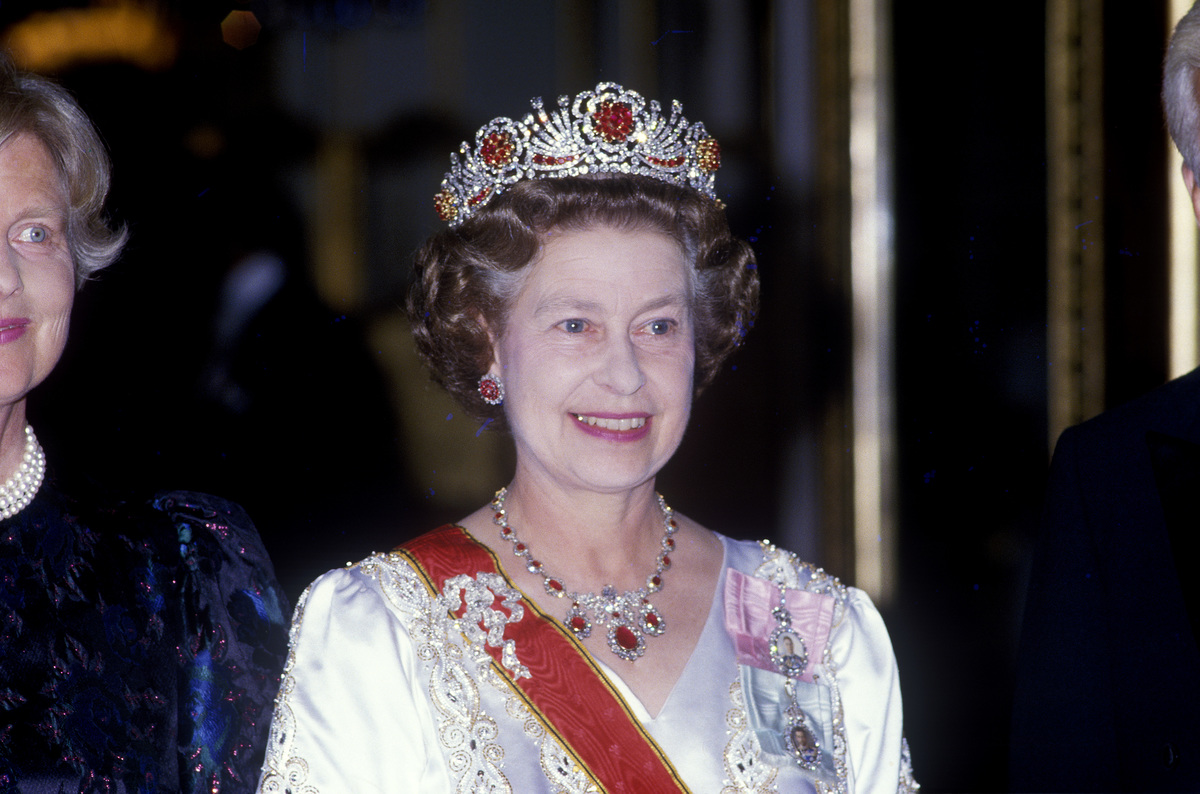 As we know, Queen Mary was pretty crafty and often had her favorite jewels recycled into new fabulous treasures. It's no surprise then that Queen Elizabeth II took a page out of her grandmother's book when she had this Burmese Ruby tiara made! When she married Prince Phillip, she received some gorgeous gems from the people of Burma, which is now Myanmar. In 1973 these gems were put together with diamonds and rubies from yet another tiara given to the Queen by the Nizam of Hyderabad. Fun fact: according to Burmese belief, rubies will protect the wearer from 96 different diseases! Maybe that's Queen Lizzie's secret?
A Bee-eautiful Honeycomb Tiara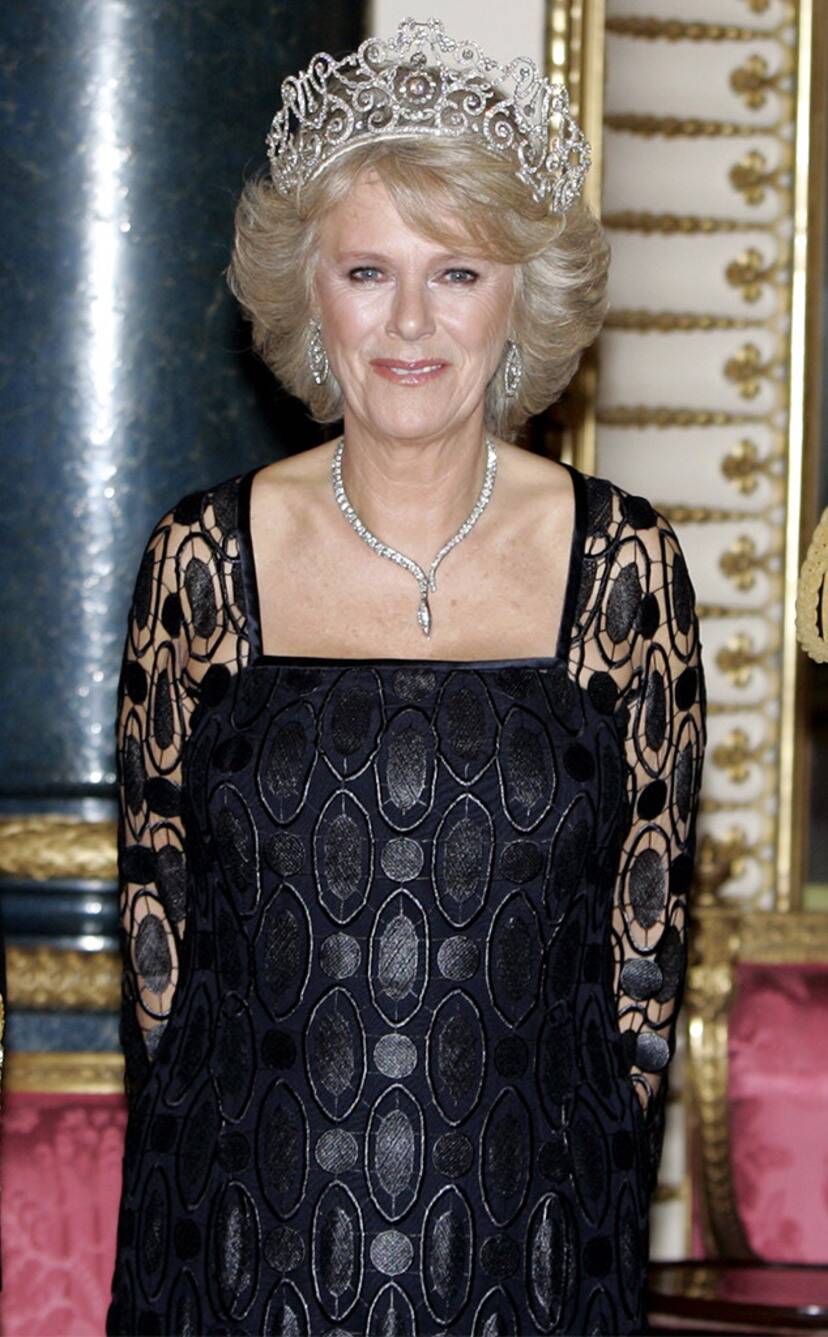 Both the late Queen Mother and Camilla favored this remarkable tiara. Dame Margaret Greville was a philanthropist and socialite who sadly passed away win 1942. She bequeathed all of her jewels to the Queen Mother, including this honeycomb tiara, as well as the Greville Emerald Kokoshnik tiara https://en.wikipedia.org/wiki/Margaret_Greville. The former headpiece is surely one of the most sparkly in the entire royal vault, and was made even more sparkly when the Queen Mother had Cartier add an extra diamond in the middle. What a beauty!
Prince Harry: Ring Designer?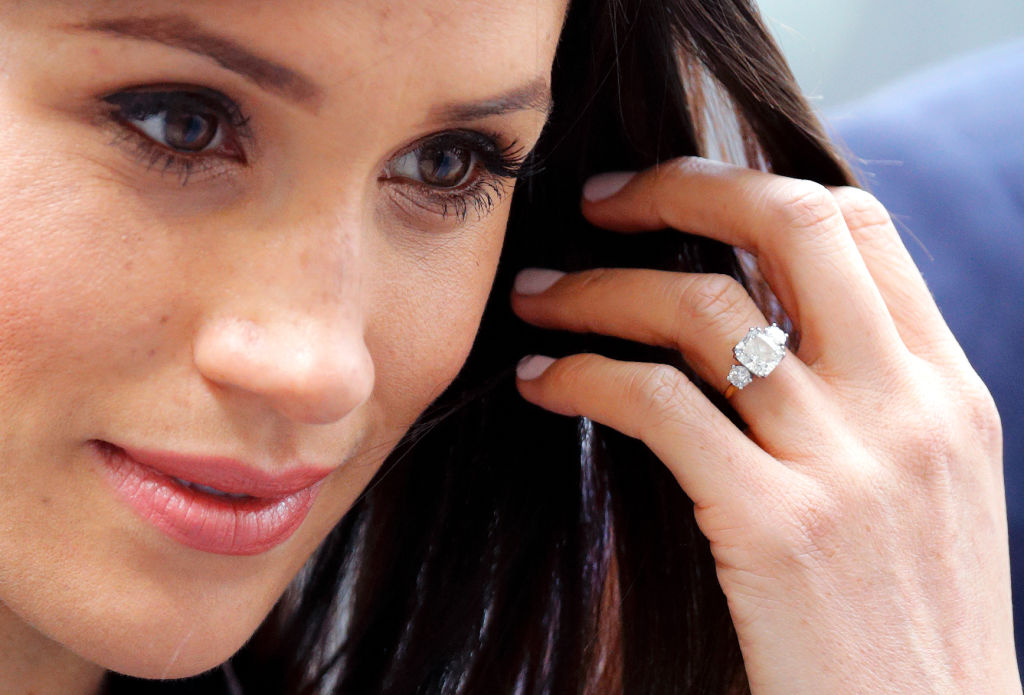 This phenomenal ring is special for many reasons, not least because it lives on Meghan Markle's finger! British Cleave & Co. made this ring for Prince Harry's engagement to Meghan, and Harry designed it himself. The diamonds on the side of the main gem were given to Harry by Princess Di, which makes it extra precious. What's more is that the diamond in the center of this stunner is from Botswana, a place the couple visited together in 2017. A truly romantic piece of jewelry. 
But Wait… There's More!

In June 2019, right after baby Archie was born, fans of the royals spotted something a little different about Meghan's engagement ring. She had rightfully taken some time for herself away from the glare of the paparazzi, and her return to public life was marked by a very subtle change. The band had been made thinner in a small redesign of the engagement ring that Harry originally created for his wife-to-be. Fiancés take note: this simple trick makes jewels look much bigger! 
"Aboot" That Brooch…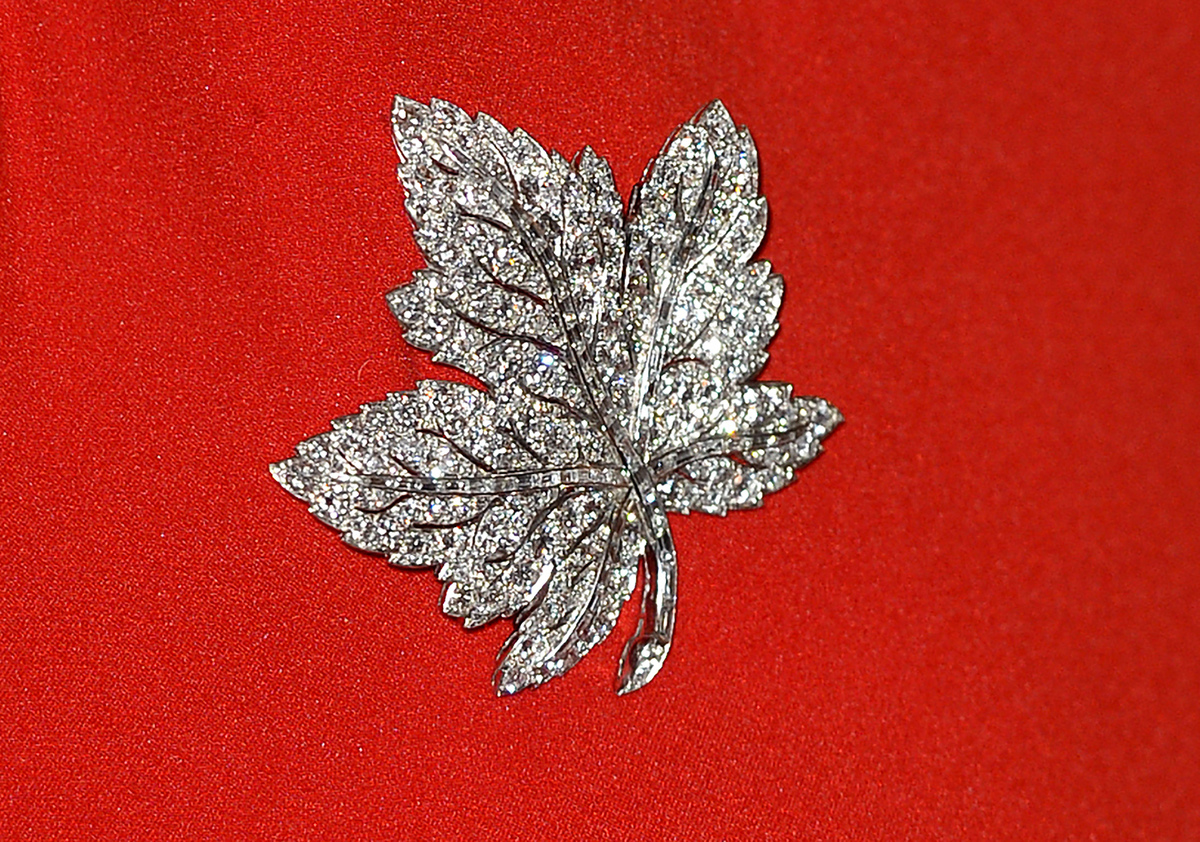 This splendid brooch was made by Asprey & Company, a jeweler that has had a Royal Warrant since 1862, which Queen Victoria bestowed upon them for bags and cases https://writeroyalty.com/canadian-maple-leaf-royal-brooch/. The Queen Mother received the sparkling maple leaf as a gift from her husband King George VI when they first visited Canada together in the 1930s. Of course, the piece was passed on to Queen Elizabeth when her mother passed in 2002. It has been worn by Kate and Camilla as well, making it one of the most-worn pieces of jewelry in the royal collection.
This Art Deco Tiara Used To Be A Necklace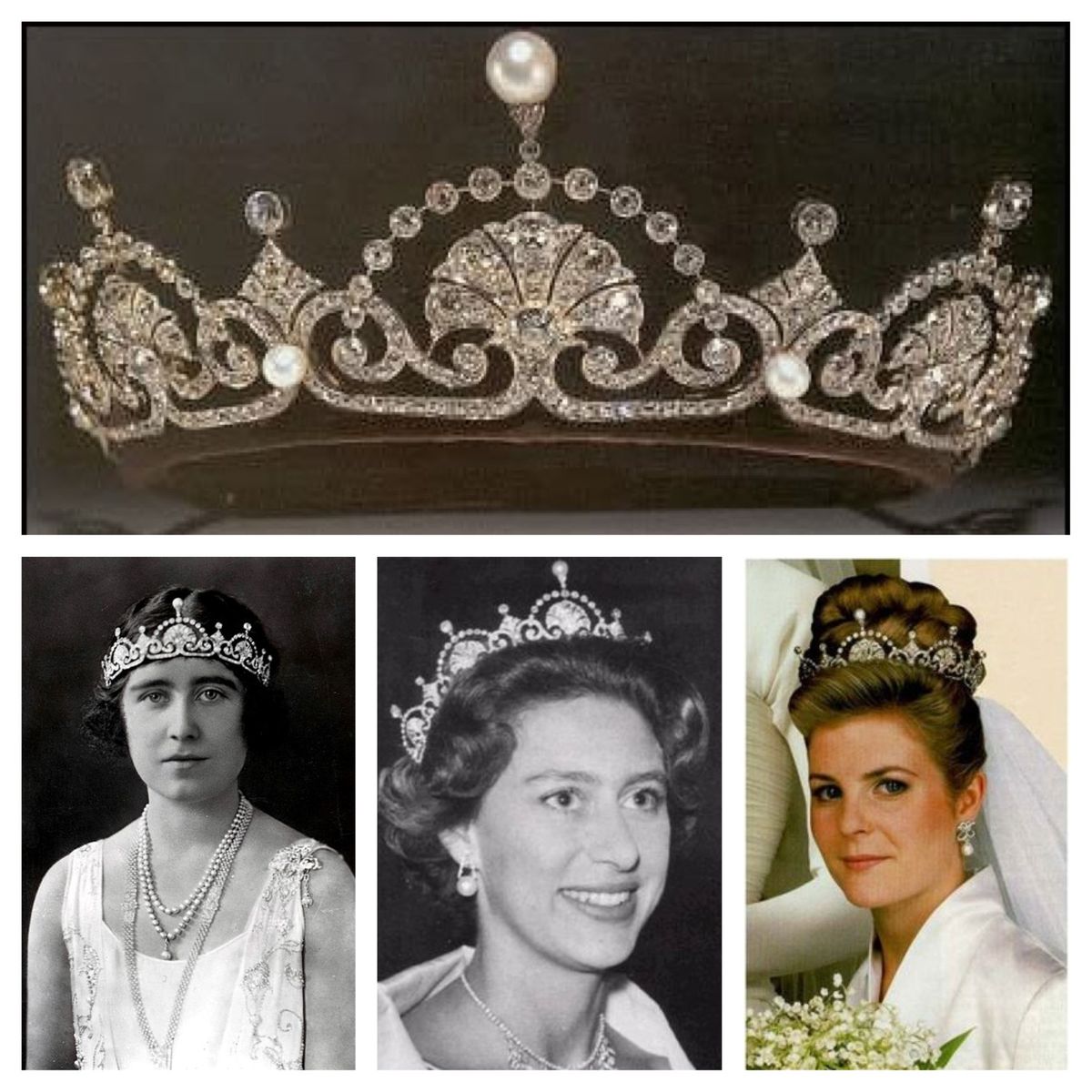 We think that this extraordinary headpiece is one of the most beautiful in the entire collection - don't you? It's no wonder that fans of the family spent years wondering where it had gotten to. Its life began as a Garrard necklace gifted to the Queen Mother by her husband George VI. The Queen Mother then had the pearls and diamonds from the necklace turned into this impressive art deco-inspired piece. The tiara was passed on to Princess Margaret in 1959, so royal fanatics assumed that it had been passed on to Serena Linley, but it seems that it went back into the Tower of London vault. 
The Russian Influence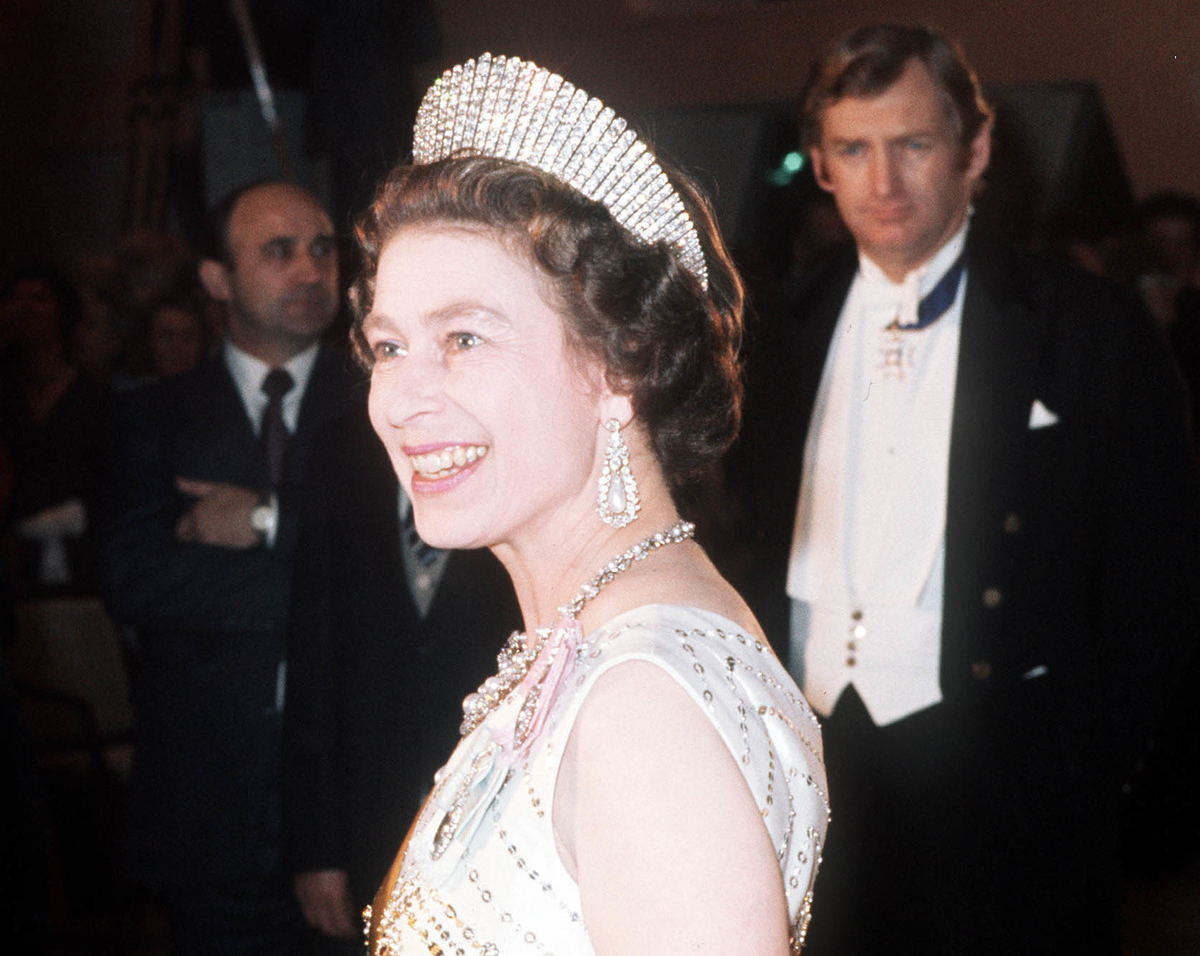 This diadem was a gift to Queen Elizabeth from a group of aristocratic friends, known as the "Ladies of Society." It is in the style of a Kokoshnik, a headpiece which is worn by women across Russia. Impressively, the diadem contains 488 diamonds set into yellow and white gold. What's more, is that it can also be worn as a necklace when the frame is removed! The four women leading the "Ladies of Society" were Countess Spencer, the Countess of Cork, the Prime Minister's wife and Marchioness of Salisbury, and lastly the Marchioness of Ailesbury.
A 21st Gift Fit for a Princess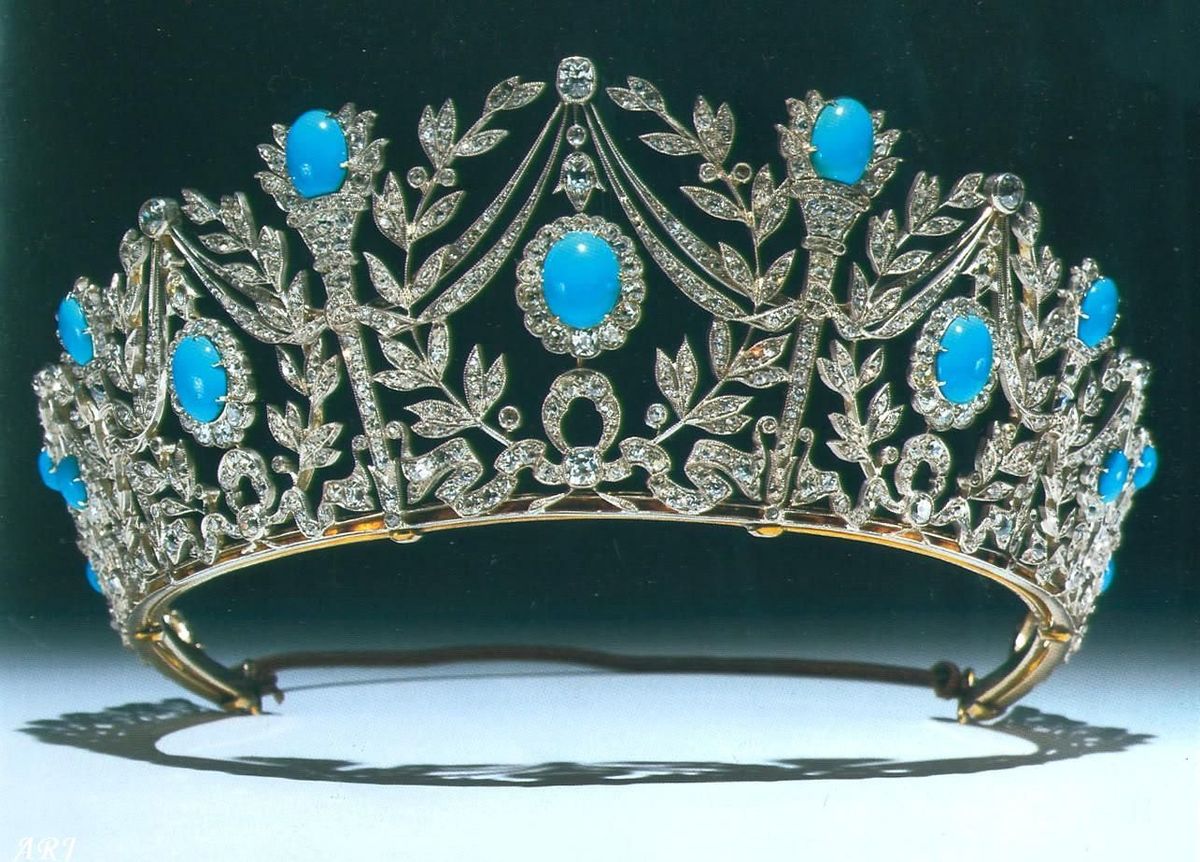 What do you buy a princess on the occasion of her 21st birthday? A tiara of course! Duh. This Persian Turquoise Tiara was a gift to Princess Margaret on this special day, and was made at the turn of the century by Garrard. Much to the disappointment of royal fans, the tiara has not made any public appearances since Princess Margaret's passing in 2002. It also has an accompanying brooch, hairpieces, pendant earrings and a necklace to boot!
Lover's Knot-Meant-To-Be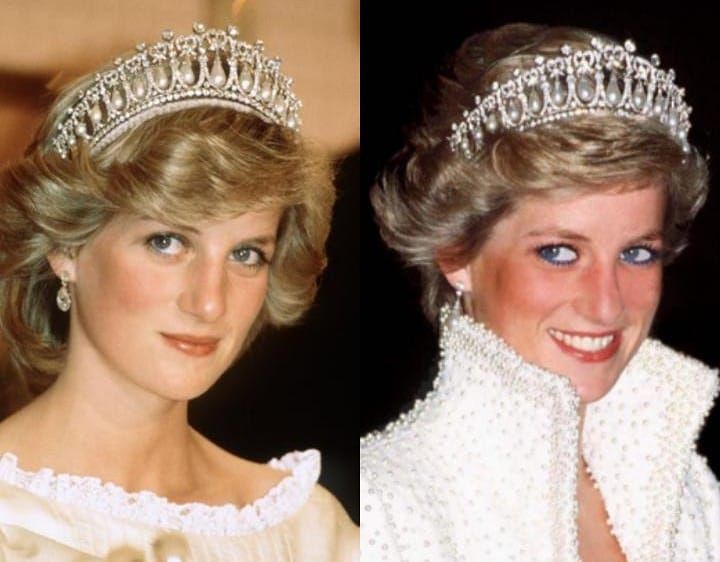 The people's princess loved this gorgeous tiara, which is known as the Lover's Knot tiara, or the Cambridge Lover's Knot. You may have seen it more recently on Kate Middleton, but it was originally created by Garrard for Queen Mary in 1914. Rumour has it that the Queen was so smitten by her grandmother's tiara that she wanted one of her own. And so, the family's pearls and diamonds were made into a replica of Princess Augusta of Hesse's diadem to please her royal highness! Queen Elizabeth II gave it to Princess Di when she was wed to Charles. Being the honorable woman she was, she returned it to the Queen upon their divorce.
Fit for a King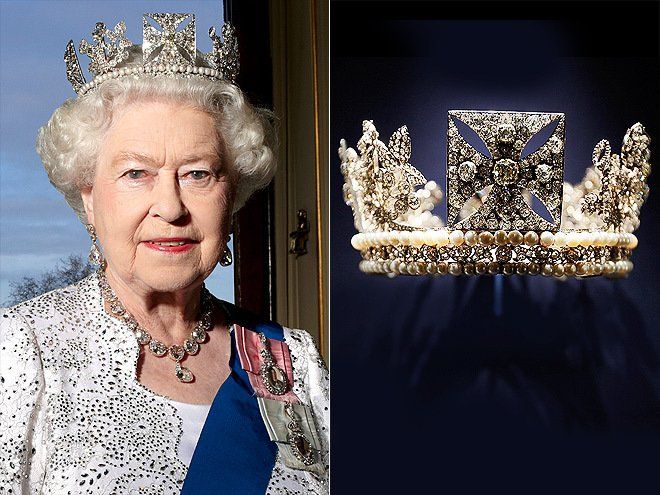 Have you ever seen a crown as regal as this on the head of a Queen? Well, that's because it was actually meant for King George IV https://en.wikipedia.org/wiki/George_IV_State_Diadem! In 1820, it was made by Rundell, Bridge & Rundell for the coronation of the King. Queen Elizabeth II would also go on to wear it at her coronation, and since then it has only been worn by Queens. If this diadem looks familiar, it's because it is featured heavily on portraits of the Queen, including on coins and stamps across the UK and the world. Raphael Maklouf painted a profile portrait of Queen Lizzie wearing the crown in 1984, and it has since been used on many commonwealth banknotes. 
"Kent" Get Enough of These Brooches!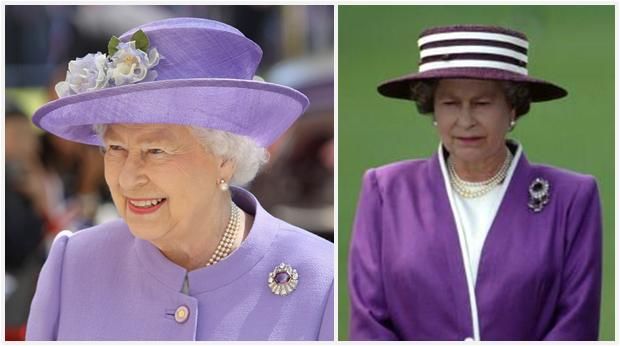 The Kent Amethysts in these brooches are a whopping 190 years old, and they have a rather curious history. During the birth of her child in 1817, Princess Charlotte of Wales tragically perished. As the only child of George IV, she was the sole heir to the throne, and so the Duke of Kent quickly wed Princess Viktoria of Saxe-Coburg-Saalfeld a year later in the hopes that they would produce a child to become King or Queen. Viktoria became The Duchess of Kent and originally owned the kent Amethysts. These were handed down to her daughter, Queen Victoria, in 1861. The set includes hair combs, earrings, three brooches, and a necklace, and are now worn by Queen Elizabeth II at banquets and special ceremonies.
"The" Crown Jewels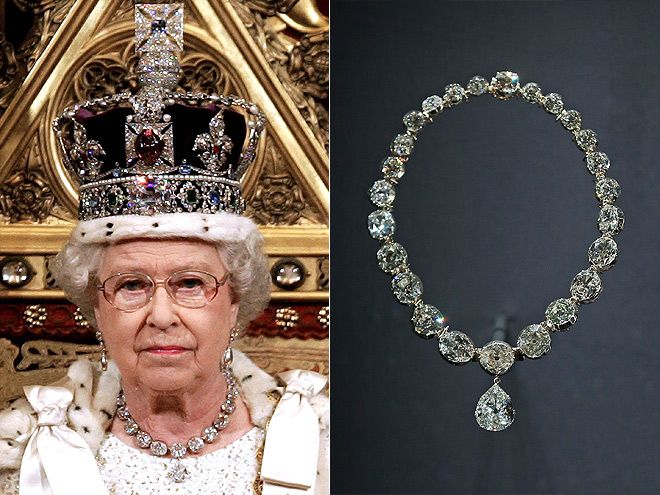 When you think of "the crown jewels," surely these are the kinds of diamonds that spring to mind. These handsome diamond earrings match the Coronation Necklace, which features 26 giant diamonds. In the center is set the 22.48-carat Lahore Diamond, which was formerly part of the Indian Timur Ruby necklace. After commissioning Garrard to create the Coronation Necklace and earrings in 1858, Queen Victoria left this set to the Crown in her will.
The Brazillian Aquamarine Tiara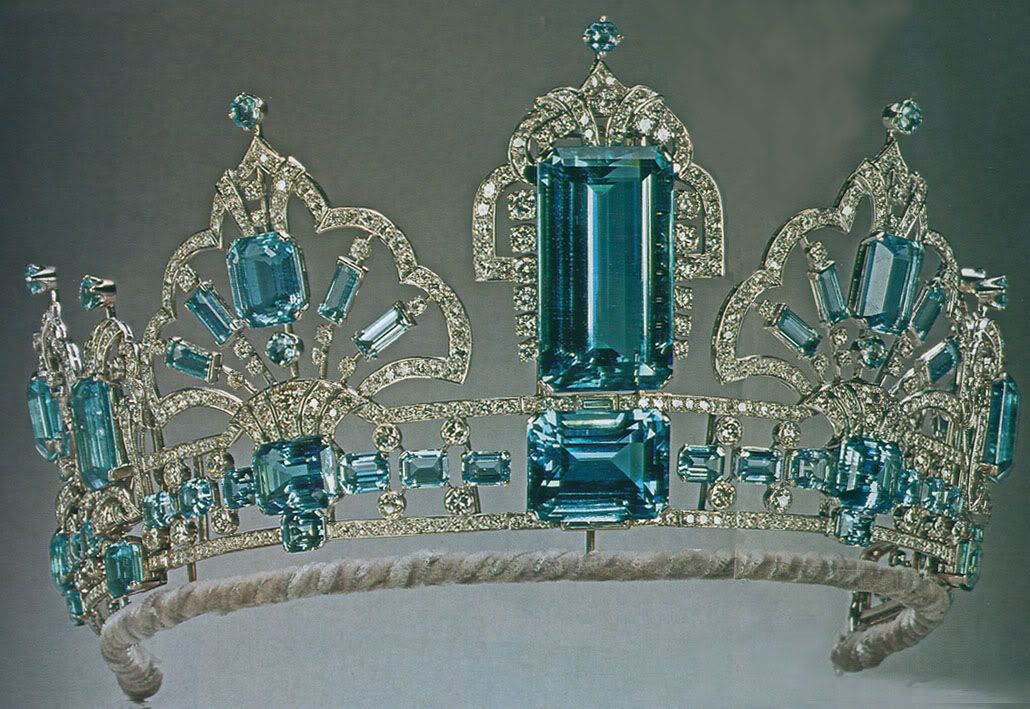 This gorgeous diadem was made from aquamarines gifted gradually to the Queen over the years by the people of Brazil. It is one of her most-worn tiaras! It took Queen Lizzie an entire year to collect these babies, which the Rio de Janeiro company Mappin & Web set into diamond and platinum for her. The Brazilians seemed to pick up on her fondness for aquamarines. From 1953 to 1968 they gifted her further bracelets and brooches, and the Queen has been swapping the stones around between pieces ever since. The Brazilian Aquamarine tiara itself was created by Gerrard. 
A Holy Relic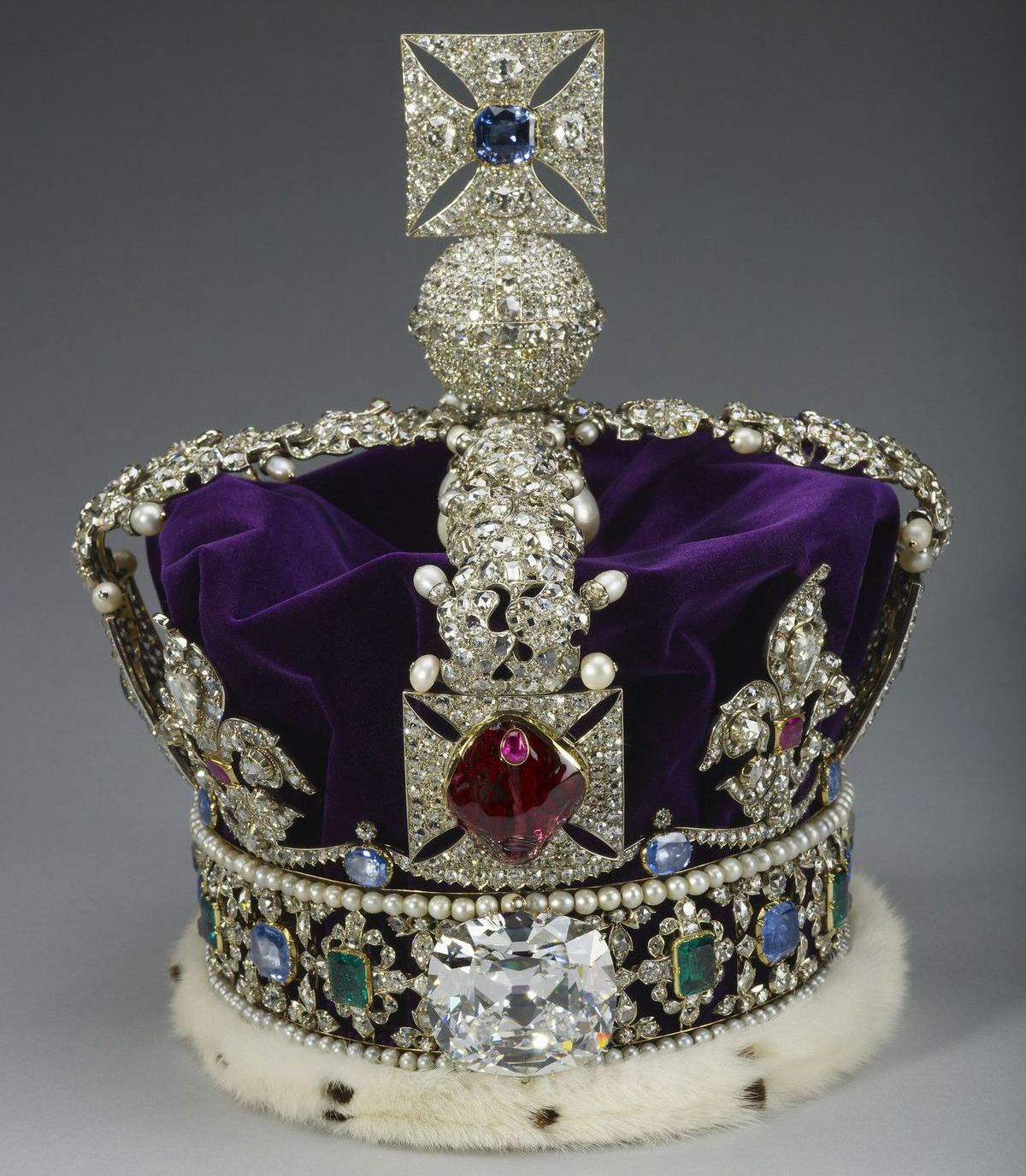 If you thought the King George IV State Diadem was big, prepare to have your mind blown. The Imperial State Crown was originally created as St Edward's Crown and was kept in the saint's shrine at Westminster Abbey for many years. While it has been around since at least 1521, Oliver Cromwell broke it up into separate pieces in the mid-1600s. It was eventually made into the Imperial State Crown for King George VI's coronation in 1937. If you can believe it, this piece contains nearly 3,000 diamonds, 269 pearls, 17 sapphires, and 11 emeralds. Whew!
A Gift from Japan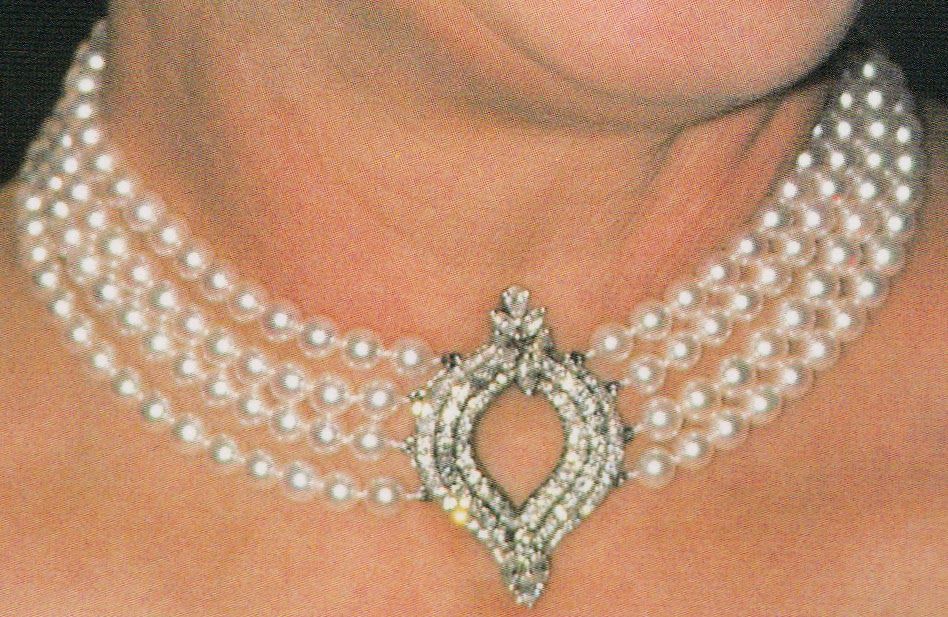 While the previous crown is one of the oldest in the royal collection, this next piece may be one of the youngest! This choker was commissioned by Queen Elizabeth II in the early 1980s after the Japanese government gifted her cultured pearls. Both Princess Di and Kate Middleton have worn the choker, each in a slightly different style to the queen. A diamond pendant sits at the center of this necklace, which is surrounded by four strands of pearls. Pearls are formed inside of oysters as a response to some form of irritant. When you think about it, it's incredible that something so beautiful can be made by angry mollusks!
Kokoshniks for All!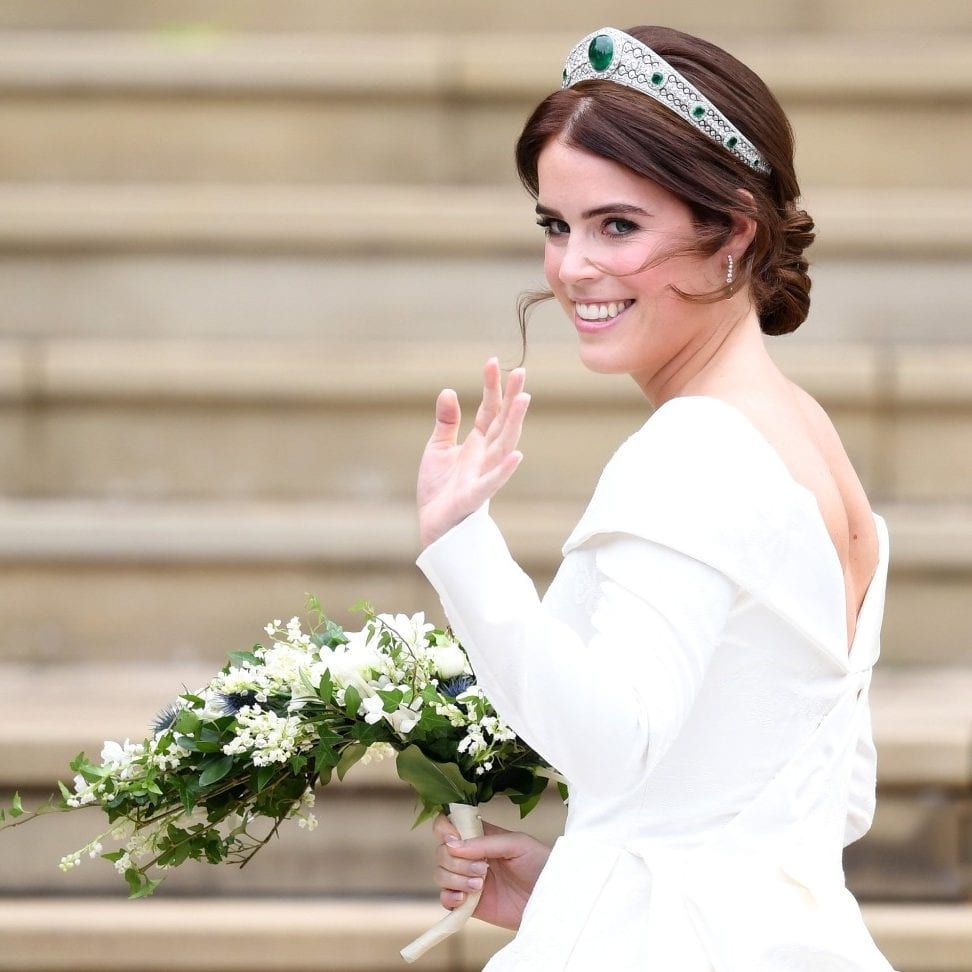 You may recall that a heavily bejeweled Kokoshnik was gifted to Queen Elizabeth II by the "Ladies of Society" many years ago. This Greville Emerald Kokoshnik is another piece that Dame Margaret Greville bequeathed to the Queen Mother. Queen Elizabeth most recently lent it to Princess Eugenie to wear on her wedding day, and it was first created by Boucheron in 1919. The diadem is encrusted with pave diamonds and emeralds in platinum, with the biggest of these emeralds being 93 carats! Phew!
Dame Greville's Legacy Lives On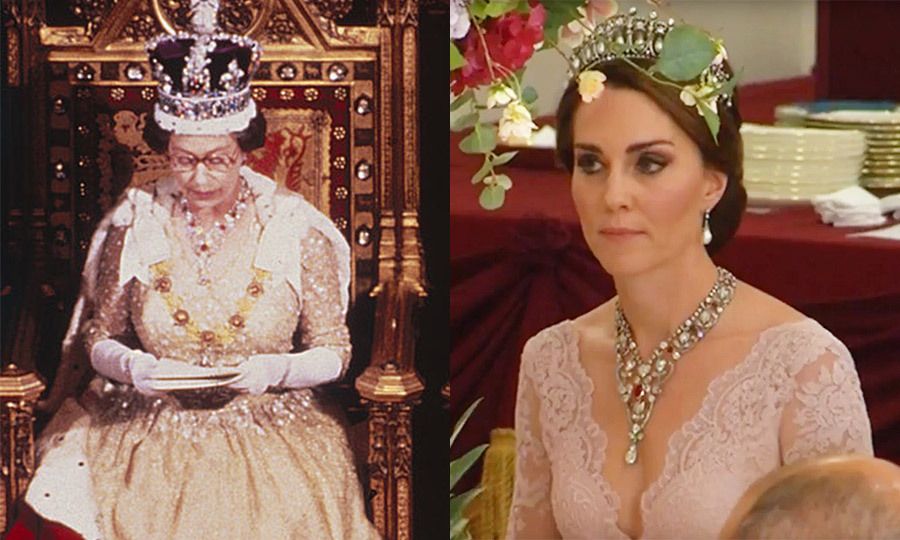 Also created by Boucheron in the early 1900s for Dame Margaret Greville, this ruby necklace was also bequeathed to the Queen Mother. In turn, she passed it down to Queen Elizabeth II as a gift from her and the Queen's father on the day of Lizzie's wedding. While it disappeared for some time after the 1980s, the Duchess of Cambridge borrowed it in 2017 to wear to the Spanish State Banquet at Buckingham Palace. We see her here wearing the impressive piece of royal jewelry with a Marchesa gown.
A Well-Travelled Tiara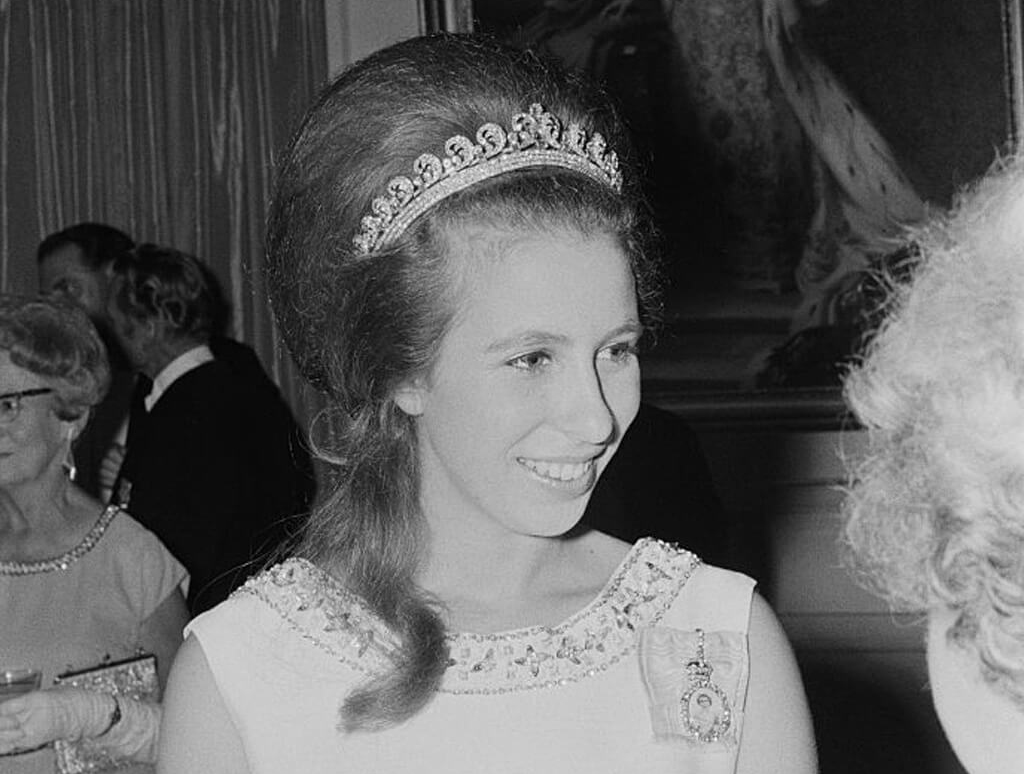 As you may know, Queen Elizabeth and Prince Phillip only had one daughter, and that was Princess Anne. This stunning Scroll Diamond Tiara, also known as the Cartier Halo Tiara, was one of her favorites and she wore it right up until the 1970s. Princess Anne traveled a great deal on the family's behalf, representing them all over the commonwealth. In March 1970 she stopped by New Zealand, where she is pictured wearing the tiara in this image. Of course, the headpiece's most recent appearance was in 2011 at the wedding of Wills and Kate. 
Sapphires Galore!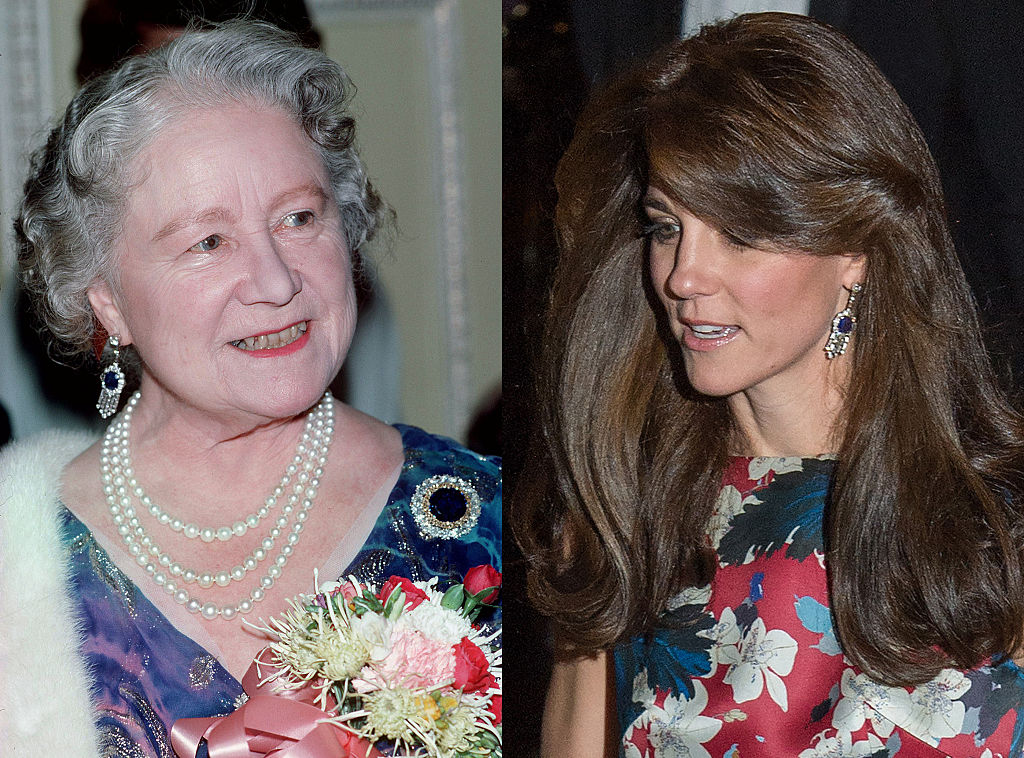 The Queen Mother is pictured here wearing these diamond and sapphire fringe earrings all the way back in 1986. http://www.thecourtjeweller.com/2016/05/kates-jewelry-box-sapphire-and-diamond.html Not much is known about these delightful jewels aside from the fact that Kate Middleton went on to wear them again at a 100 Women in Hedge Funds Gala Dinner at the V&A Museum in 2015. Each earring features a very large sapphire surrounded by diamonds, with a diamond stud on top. We hope that next time Kate wears them she wears her hair up so we can get a better look!
A Choker or a Bracelet?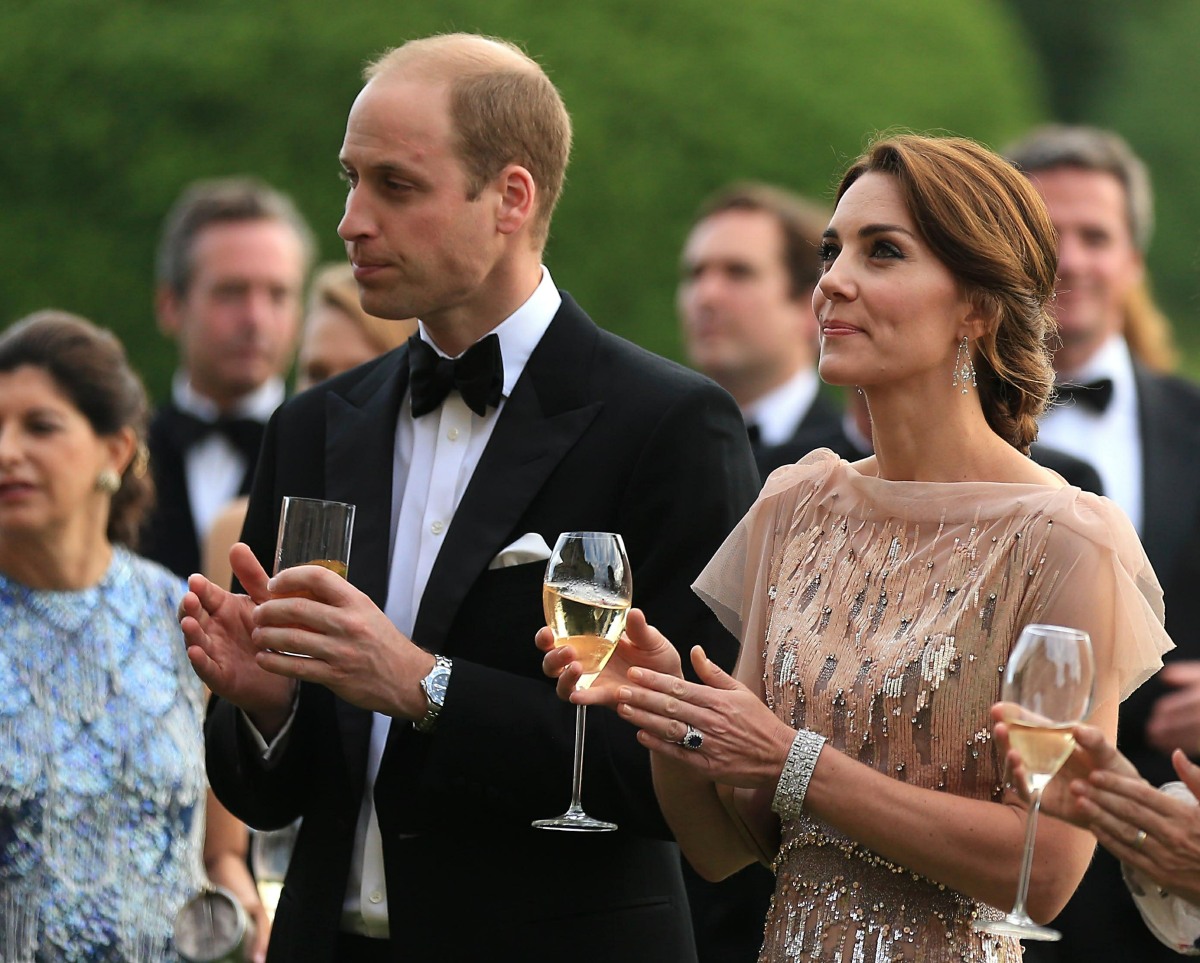 Originally owned by Queen Mary, this stunning piece of diamond jewelry started its life as a choker on the neck of George V's wife. When she passed away in the 1950s, the art-deco inspired piece disappeared for some time. Royal fanatics were pleased to see it re-emerge when the Queen Mother wore it on the occasion of her 75th birthday. Naturally, it was passed down to Queen Elizabeth II, who seems to have lent it to Kate Middleton. She now wears the super-sparkly piece as a bracelet to gala dinners and other important events. 
Prince Albert's Gift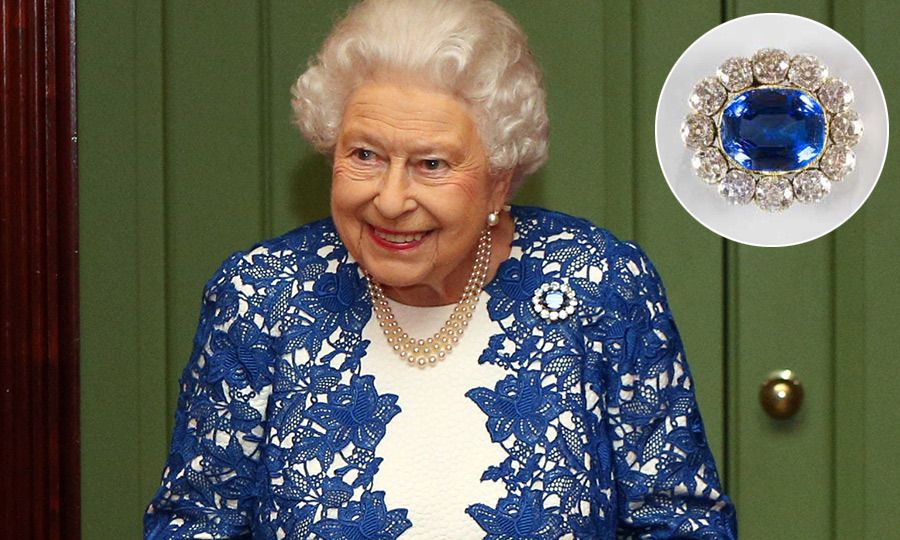 Have you picked up on the Queen's love of brooches yet? This particular little trinket is one of Elizabeth II's absolute favorite pieces of all time, and she wears it often. Queen Victoria was initially gifted the brooch the day before her wedding to Prince Albert. Apparently, Victoria also adored the brooch, so it seems that her great-great-granddaughter shares similar taste. Keep your eyes peeled and see if you can spot it at one of her next public appearances! 
A Necklace for the Generations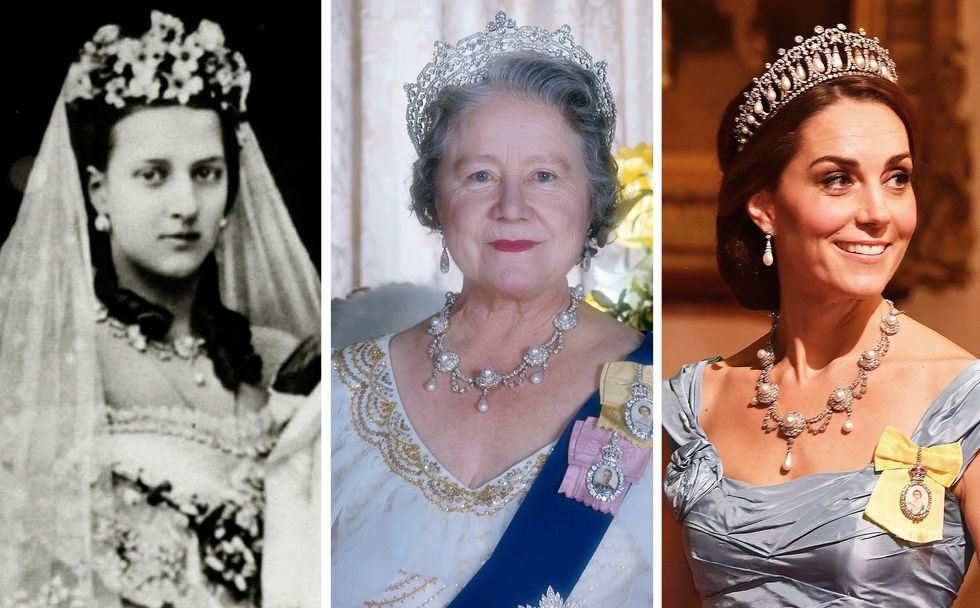 This striking necklace was a gift to Princess Alexandra of Denmark in 1863 on the night before her wedding. Accordingly, it is known as Queen Alexandra's Wedding Necklace. Throughout the years it has been passed down from generation to generation, ending up in the possession of the beloved Queen Mother. Upon her death in 2002, Queen Elizabeth II inherited the beautiful piece of jewelry. Just as the Queen has lent the crown jewels to her on other occasions, Kate Middleton here borrows the wedding necklace at a 2018 event.
Mysteriously "Disposed Of"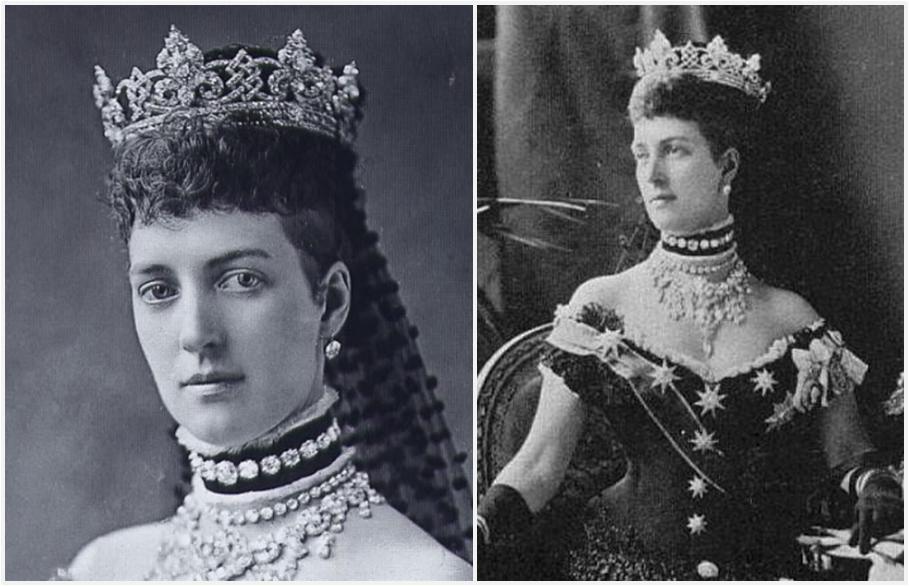 If you thought you'd seen some unusual royal behavior in Harry's party days, you'll be even more perplexed by Princess Victoria's antics with the Rundell Tiara. Weirdly enough, it wasn't actually made by Rundell, Bridge & Rundell, but instead was produced by Gerrard. Go figure! Accompanying the diadem is a set of earrings, a brooch, and a necklace. Queen Alexandra is pictured here wearing the tiara, which she then passed down to the princess. In a book by Hugh Roberts, Princess Victoria "disposed of" this beautiful piece. We can only speculate about what has happened to it, as it hasn't been seen in a century! 
The Sovereign's Orb Contains 600 Gems And Pearls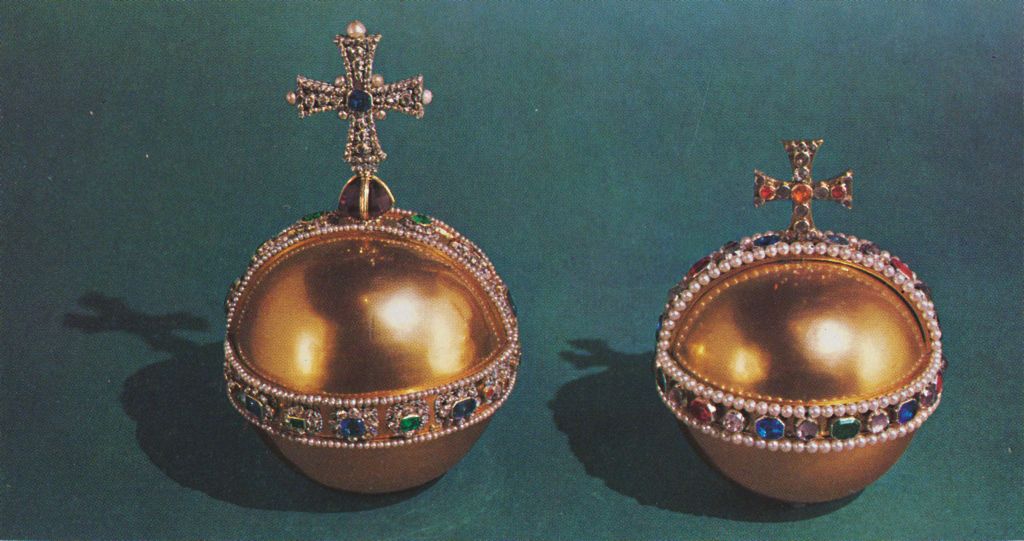 This next one looks a little like the Golden Egg that Harry Potter has to figure out in the Triwizard tournament! While it doesn't quite have magical powers, it remains an impressive historical relic. The picture on the left shows the solid gold Sovereign's Orb, originally produced in 1661 for Charles II's coronation. Since then, it has been featured at every subsequent coronation! It is encrusted with diamonds, pearls, rubies, sapphires, emeralds, and amethysts. Pictured on the right is a second orb made for Mary's ascension to the throne in 1689. Aside from coronations, these orbs have also been used at royal funerals.
Like Mother, Like Daughter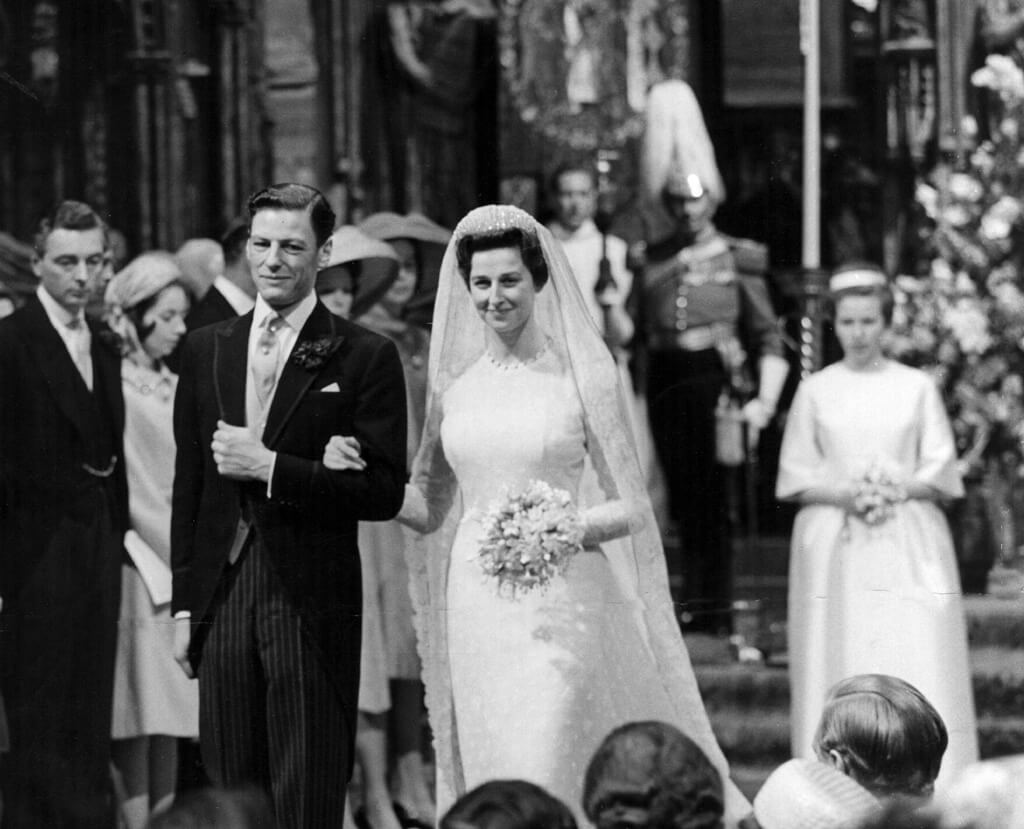 Princess Marina originally owned this stunning tiara, which Alexandra is pictured wearing here on the day of her wedding. It is known as The City Of London Diamond Fringe Tiara, and the first cousin of Queen Elizabeth II has it atop her head as she walks arm in arm with her new husband, Angus James Ogilvy, at Westminster Abbey in 1963. The headpiece contains diamonds set in silver and gold, and Princess Marina also wore something similar at her wedding many years earlier. 
Queen Elizabeth's Wedding Tiara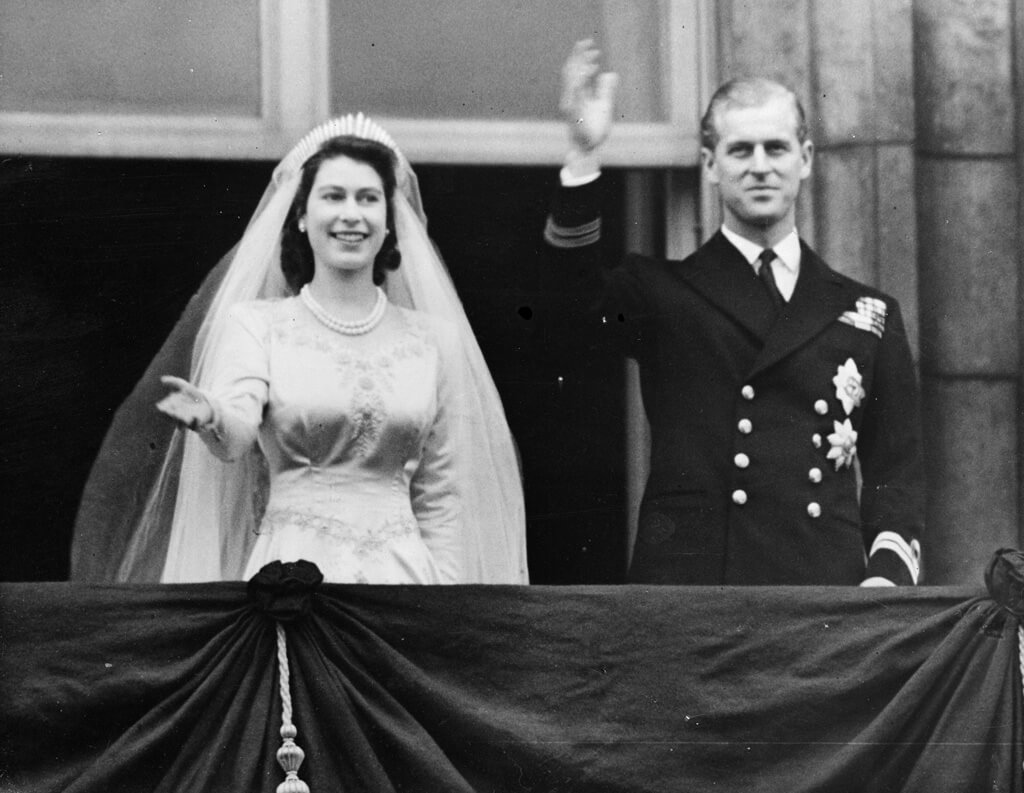 We've seen crowns worn by nearly every princess or queen in the royal family thus far, but what about Queen Liz? Our most prominent living monarch has the biggest collection of tiaras on the entire planet. We bet she had a hard time choosing on her wedding day! When the Queen was wed to the Duke of Edinburgh in 1947, she chose this simple yet enchanting tiara which was passed on to her in regal style from her grandmother, Queen Mary.
A Boatload of Wedding Jewelry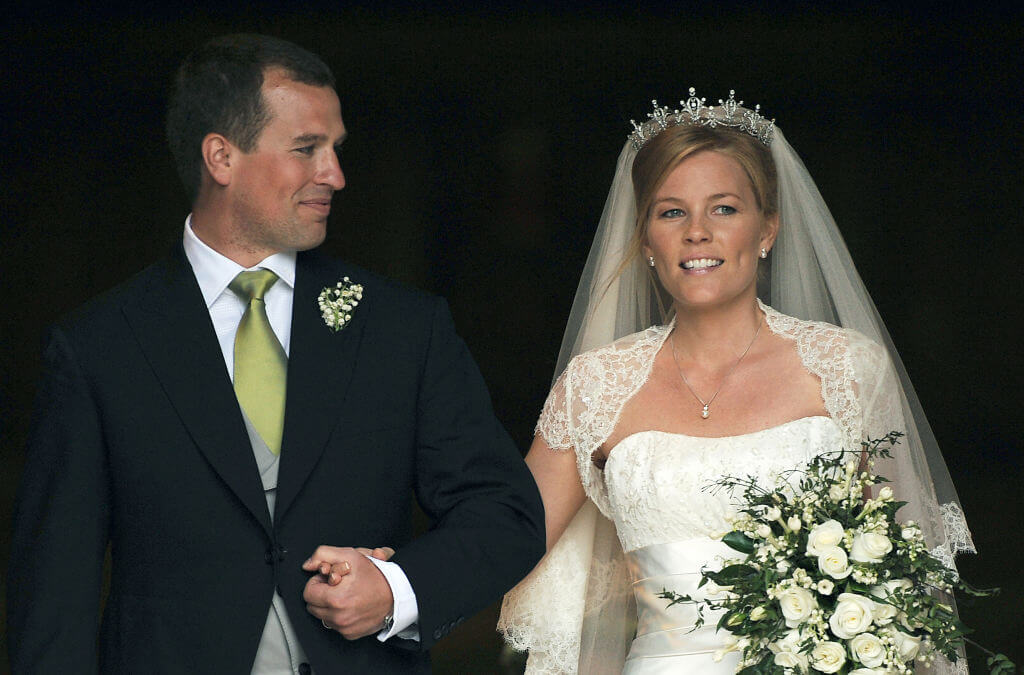 The gorgeous Autumn Kelly is seen here wearing a simple yet elegant ensemble of jewelry on her wedding day. She married the son of Princess Anne, Peter Phillips, back in 2008. The Queen's only daughter must have been happy to have a new woman in the family, and lent it to Autumn for the special day. In 1973, Anne christened a ship for the World Wide Shipping Group, and they gifted her this stunning tiara. It is known as the Kent Festoon Tiara.
Princess Kate's Tiara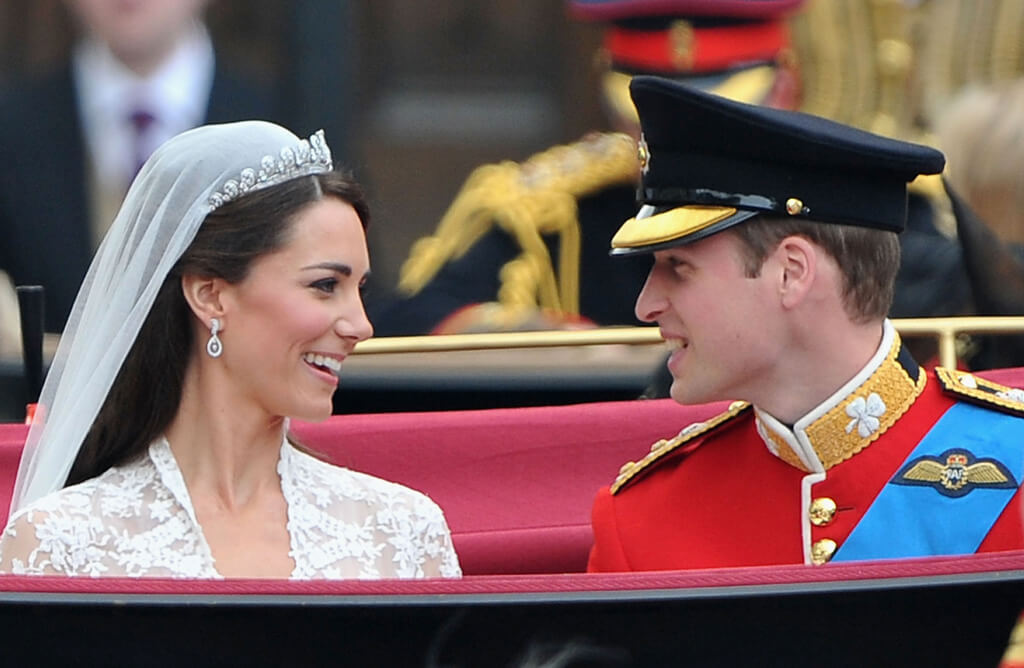 Kate and Wills' wedding in 2011 was the closest thing we've ever seen to a fairytale in real life! Here they are pictured together, blissfully in love, right after their official royal marriage. You might remember this tiara - it's none other than the Cartier Halo Tiara, or the Scroll Diamond Tiara. Of course, it was produced in the mid-1930s and was originally gifted to the Queen Mother by her husband, King George VI. What a beautiful honor it must have been for her to wear this piece.
Yet Another Wedding Tiara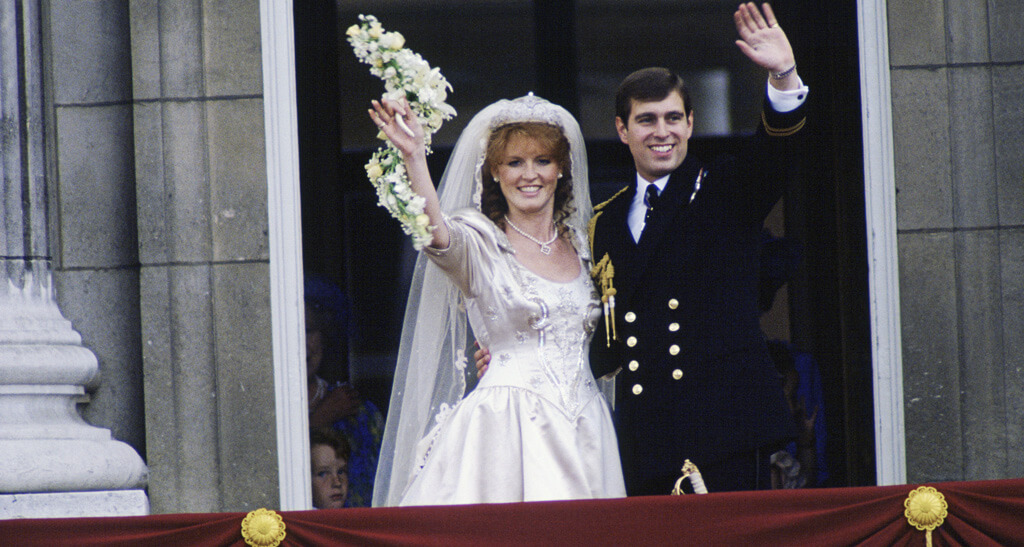 There's a trend emerging here! Tiaras are often worn at very special occasions, and what occasion is more special than one's wedding day? In 1986, Prince Andrew was wed to Sarah Ferguson in 1986. While the wedding famously ended in divorce twenty years later, Sarah kept this York Diamond Tiara even after the fact. The Queen is said to have purchased the headpiece for her, and in 2001 Ferguson was spotted in the very same tiara at Elton John's White Tie and Tiara Ball. Well, if you're going to party with music royalty like Elton John, it seems fitting! 
The Countess of Wessex's Tiara
Prince Edward is the Earl of Essex, and he married Sophie Rhys-Jones in 1999. The special crown donned by the countess is rumored to have been made especially for her out of antique pieces in Queen Elizabeth II's collection. Who wouldn't be jealous? In case you were wondering, this one is known as The Anthemion Tiara. There is also speculation that it was made out of Queen Victoria's jewels. Perhaps it's a mix of both? At any rate, she is absolutely captivating in this organza gown covered in an impressive 325,000 pearls and crystals. You go, girl! 
This Tiara Has A Long History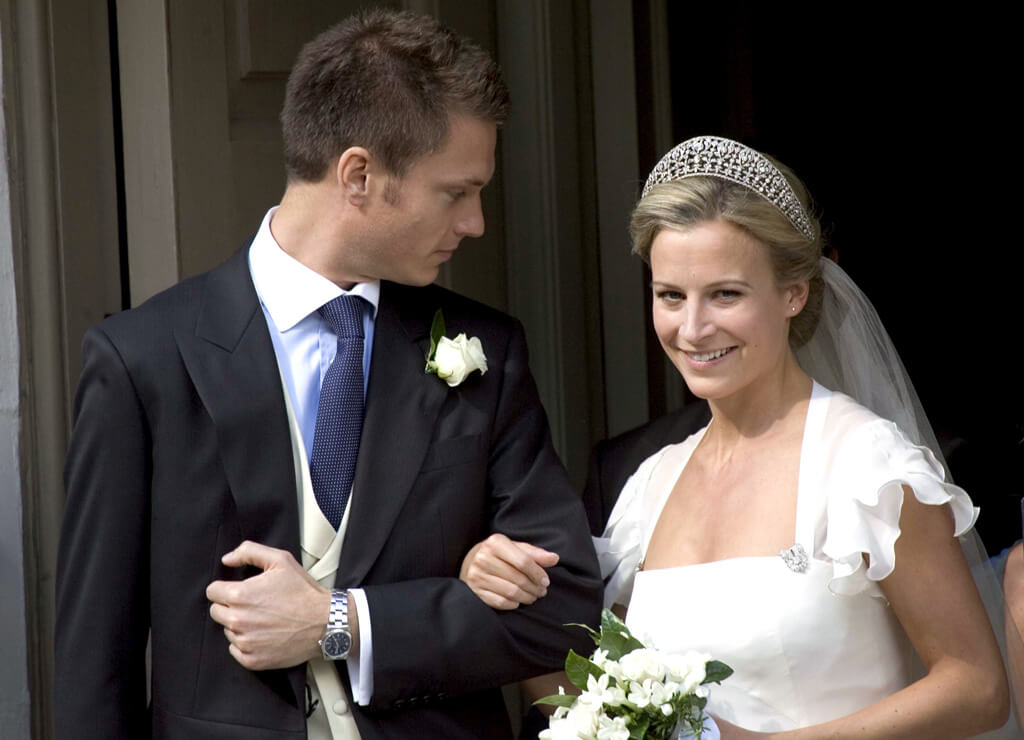 The Duke and Duchess of Gloucester have a daughter named Lady Rose Gilman, born Lady Rose Victoria Birgitte Louise Windsor. She married George Gilman in 2007, and wore a very special tiara indeed! This Iveagh Tiara was gifted to Queen Mary on her wedding day. Since then, both Alice and Brigitte, both Duchesses of Gloucester, have also worn the tiara. For the wedding, Lady Rose Gilman paired this piece of history with a couture gown - in white, of course.
Sonia Keppel's Tiara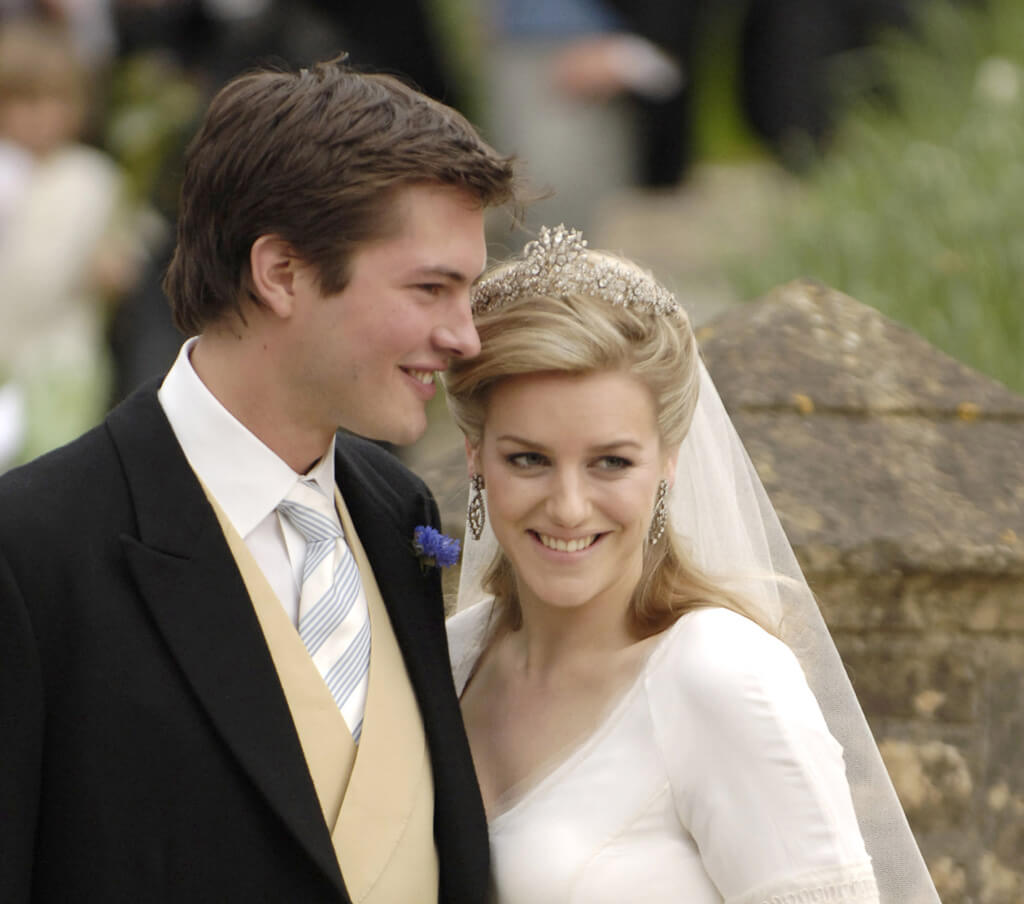 Have you ever heard of Laura Lopes? How about Sonia Keppel? They may not be the most well-known in the royal lineage, but they sure do have some gorgeous jewels! Lopes is the Duchess of Cornwall's daughter and the step-daughter of Prince Charles. When she married the handsome Harry Lopes in 2006, she donned this striking Cubitt-Shand Tiara. The headpiece is owned by Camilla, which she wore on her first wedding day to Andrew Parker-Bowles. Originally, though, it was owned by Sonia Keppel, the grandmother of the Duchess of Cornwall. 
An Armani Muse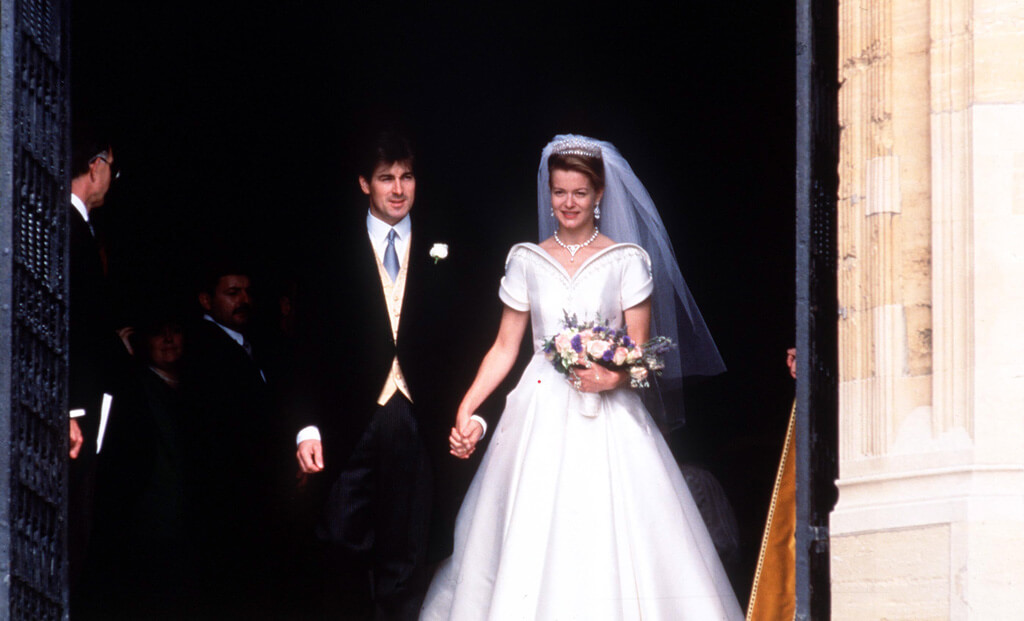 The Duke and Duchess of Kent only had one daughter: Lady Helen Taylor, who was Lady Helen Windsor before she married Timothy Taylor. Her husband is an art dealer, while Helen made a name for herself in the fashion industry as a muse for the one and only Giorgio Armani. Pictured here on her wedding day, Helen is 42nd in line to the throne and wears the Kent Diamond and Pearl Fringe Tiara just for her special day. Awww!
The Snowdon Floral Tiara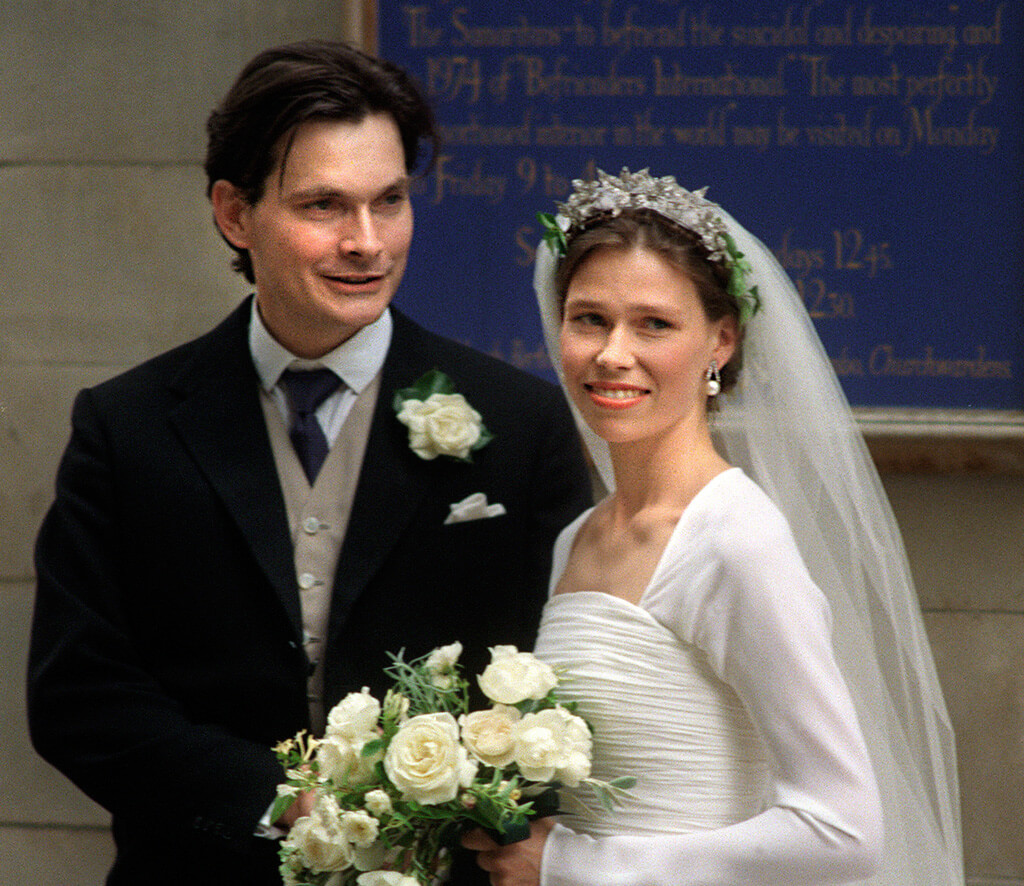 Can you see the family resemblance here? The Queen's younger sister, Princess Margaret, had a daughter named Lady Sarah Chatto. She became a painter. While she was seventh in line to the throne when she came along, she's now been bumped to 23rd in line. We doubt she's bothered about that, though, as she is seen here wearing the Snowdon Floral Tiara. This is another headpiece with history, as it was created from three of Princess Margaret's brooches. In this photo, the Lady is at her 1994 wedding to Daniel Chatto.
The City of London Tiara Strikes Again!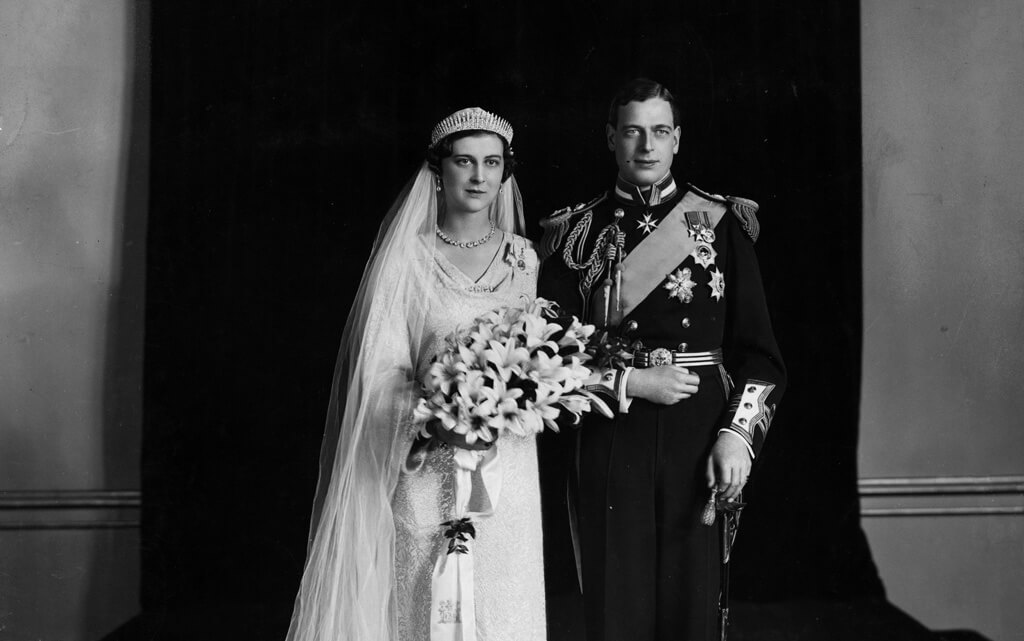 Do you remember the tiara Princess Alexandra wore on her wedding day? Well, we've got one last wedding day tiara for you, and that's her mother's! Princess Marina of Greece and Denmark married Prince George in 1934. For the special day, she wore a tiara gifted to her by the city of London in honor of the occasion. This is why it's often referred to as the City of London Tiara, which Marina then loaned to her daughter Alexandra on the day of her marriage. 
Did you enjoy browsing through some of these incredible crown jewels? We're still at a loss for what happened to the one Princess Victoria "disposed of." Did any of these tiaras catch your eye? If you enjoyed this content, be sure to check out our other articles for more of the inside scoop on your favorite royals!