25+ Funny Texts From Parents
We all love sending texts messages, and when our parents embraced technology, everything became even simpler. However, the drawback is that you might send your mom the wrong text and vice versa. The following pictures show the weird, but funny, side of your parents using smartphones. Let's take a look!
60. WOW, DAD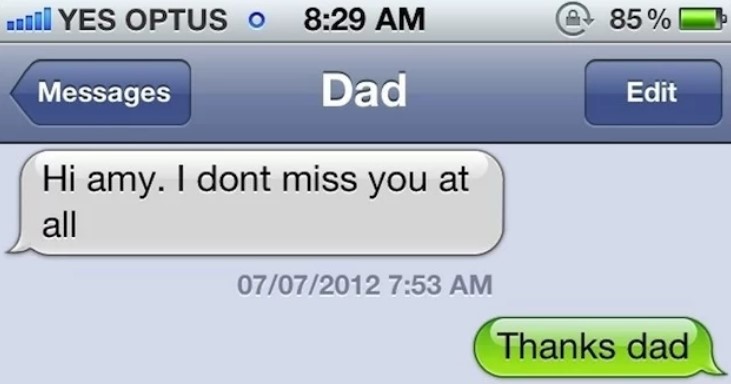 We have to wonder if this person went to college or just moved out of the house. But, clearly, his or her father was joking about not missing them. Sometimes, dads can have the darkest humor and just say odd things to their children. On the other hand, he is obviously lying because you don't text someone you don't miss. Meanwhile, how many people actually know the history of texting? At some point, we just started doing it because it was a feature on our phones, and it used to be very pricey. Now, we just do it for free thanks to the internet.
59. SNEAKY MOM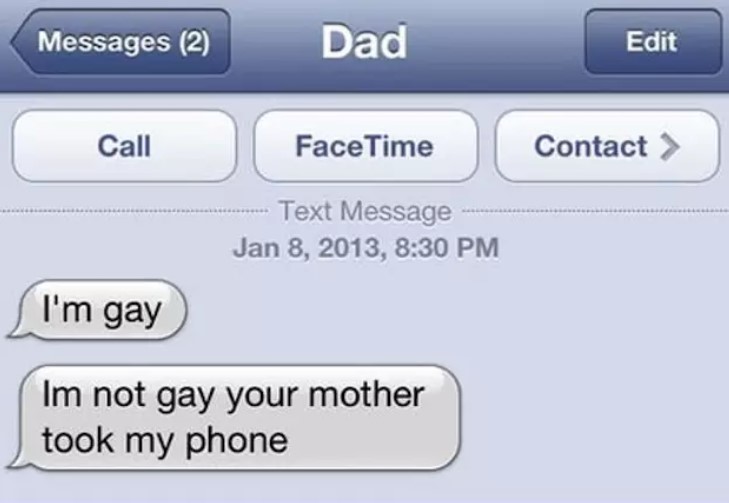 We don't know how much truth there is in this statement, but dad was worried that his offspring would think otherwise due to sneaky mom's text message. It's interesting because prank calls and texts have been done to death. We all did it at some point, but we don't know how they started. The first documented prank phone call was made on February 2, 1884, according to 'The Electrical World'. It was discovered by Paul Collins, a professor from Portland State University, who is also known as The Literary Detective. Keep on reading to find out more.
58. COME GET THE MOTH!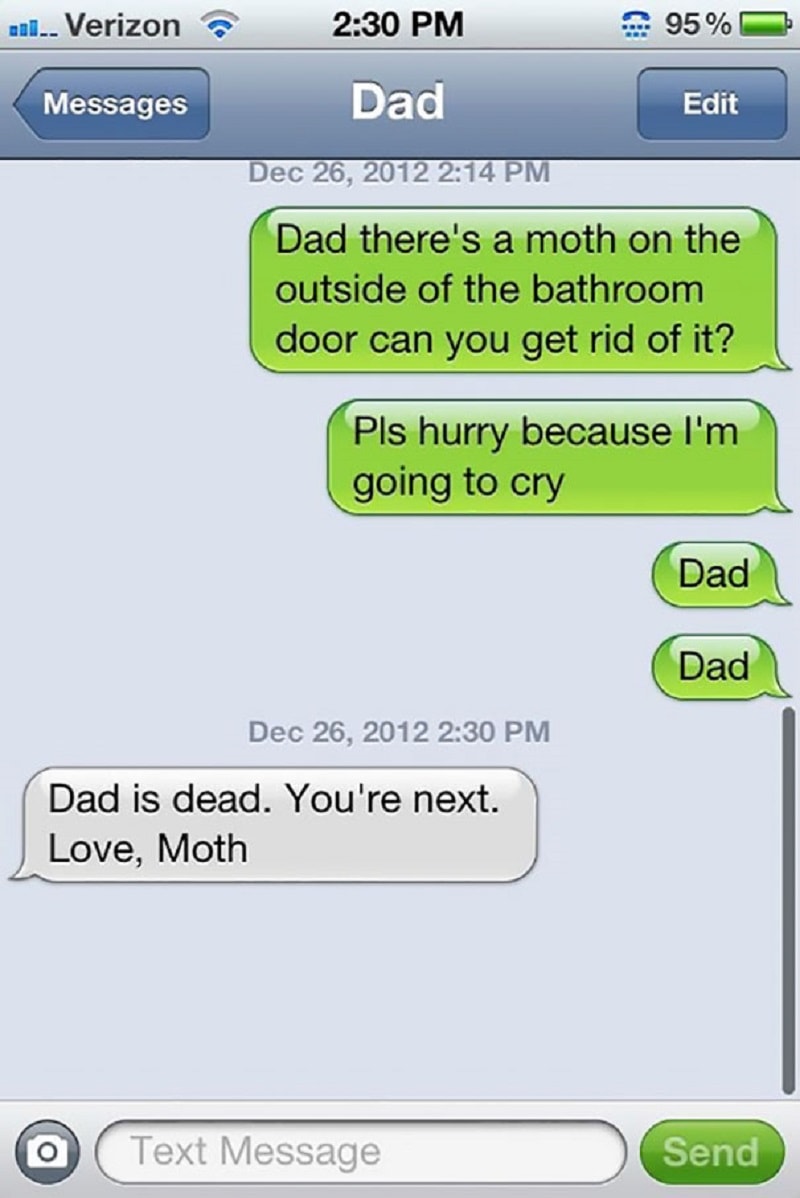 This is another case of pranking your kids with texts. We would have to assume that the sender was a girl because most of them are scared of bugs, and normally, call their dads to solve that problem. Moths might not be that scary all the time, but the big, black ones can be intimidating. Also, in certain cultures, they are an omen for death. Meanwhile, in regards to the first prank call, Collins discovered this passage:
"A GRAVE JOKE ON UNDERTAKERS -- Some malicious wag at Providence R.I. has been playing a grave practical joke on the undertakers there, by summoning them over the telephone to bring freezers, candlesticks and coffin for persons alleged to be dead. In each case the denoument was highly farcical, and the reputed corpses are now hunting in a lively manner for that telephonist."
57. ACRONYMS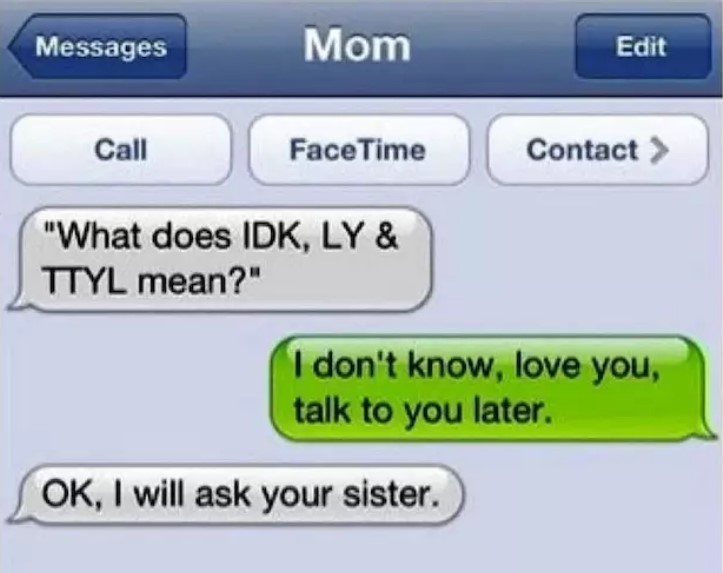 Like we have said before, long ago we almost had to pay for each letter sent, or the standard text message would allow around 160 characters at most. Therefore, people started to shorten things, and acronyms like the ones in this picture were born. Obviously, mom didn't understand that her son or daughter was trying to explain the meaning because they seem like something you would normally say to your mother on a regular message. It's adorable. In regards to the prank calls, it's interesting because it happened eight years after the invention of the telephone. And that's the one recorded. Many others could have happened.
56. HASHTAG MOM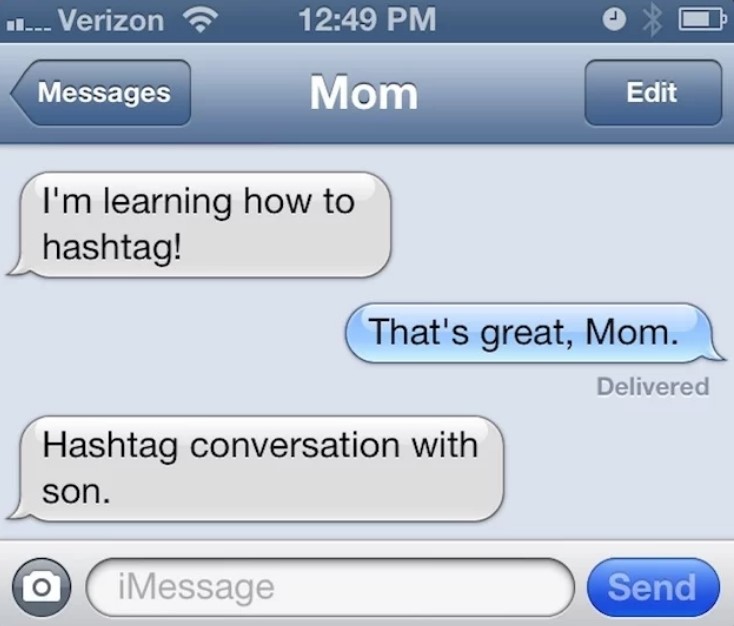 For newer generations, it's always funny when older people try to understand the latest trends or "what the kids are doing". The use of social media, especially Twitter, only started around a decade ago; so, it's natural that parents had a hard time trying to get how it worked. Hashtags are used all over the world, but not many people know when the first one was used. They're an important part of Twitter and Instagram today, but Chris Messina, a social technology expert was the first to use hashtags on Twitter. He posted "#barcamp" in August 2007, and his tweet said:
"?how do you feel about using # (pound) for groups. As in #barcamp [msg]??"
55. DEADMAU5 FAN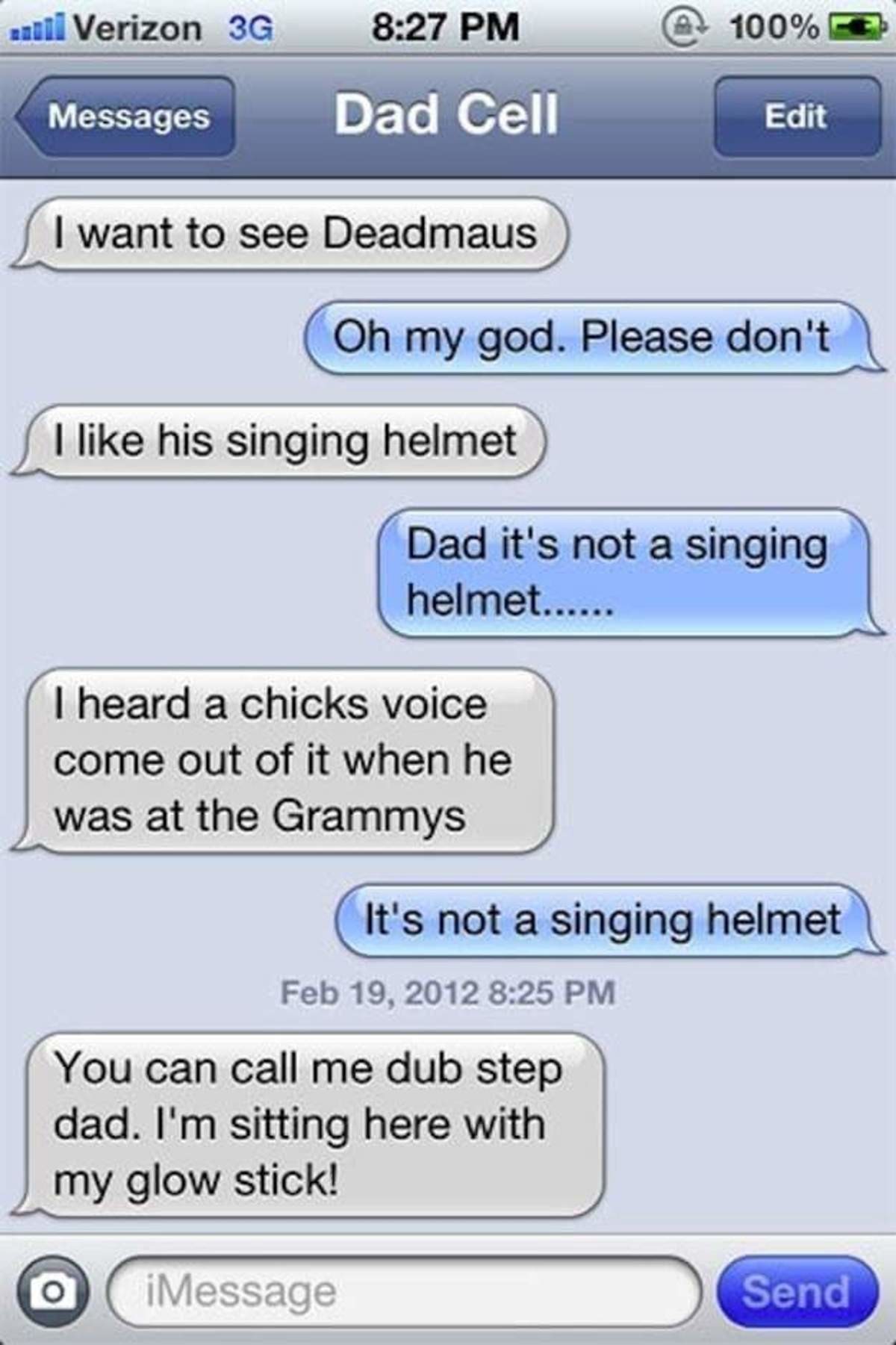 Of course, this dad was talking about Deadmau5, whose real name is Joel Thomas Zimmerman. He is a Canadian electronic music producer and DJ. He is known for wearing a "helmet" that looks a lot like a weird Mickey Mouse, but it definitely doesn't sing. His work has earned him six Grammy Award nominations, and he has worked with several other major DJs and house music makers such as Kaskade, MC Flipside, Rob Swire and Wolfgang Gartner. In 2007, he started a record label called Mau5trap. Other "masked" artists include Marshmello and Daft Punk.
54. NEW CAR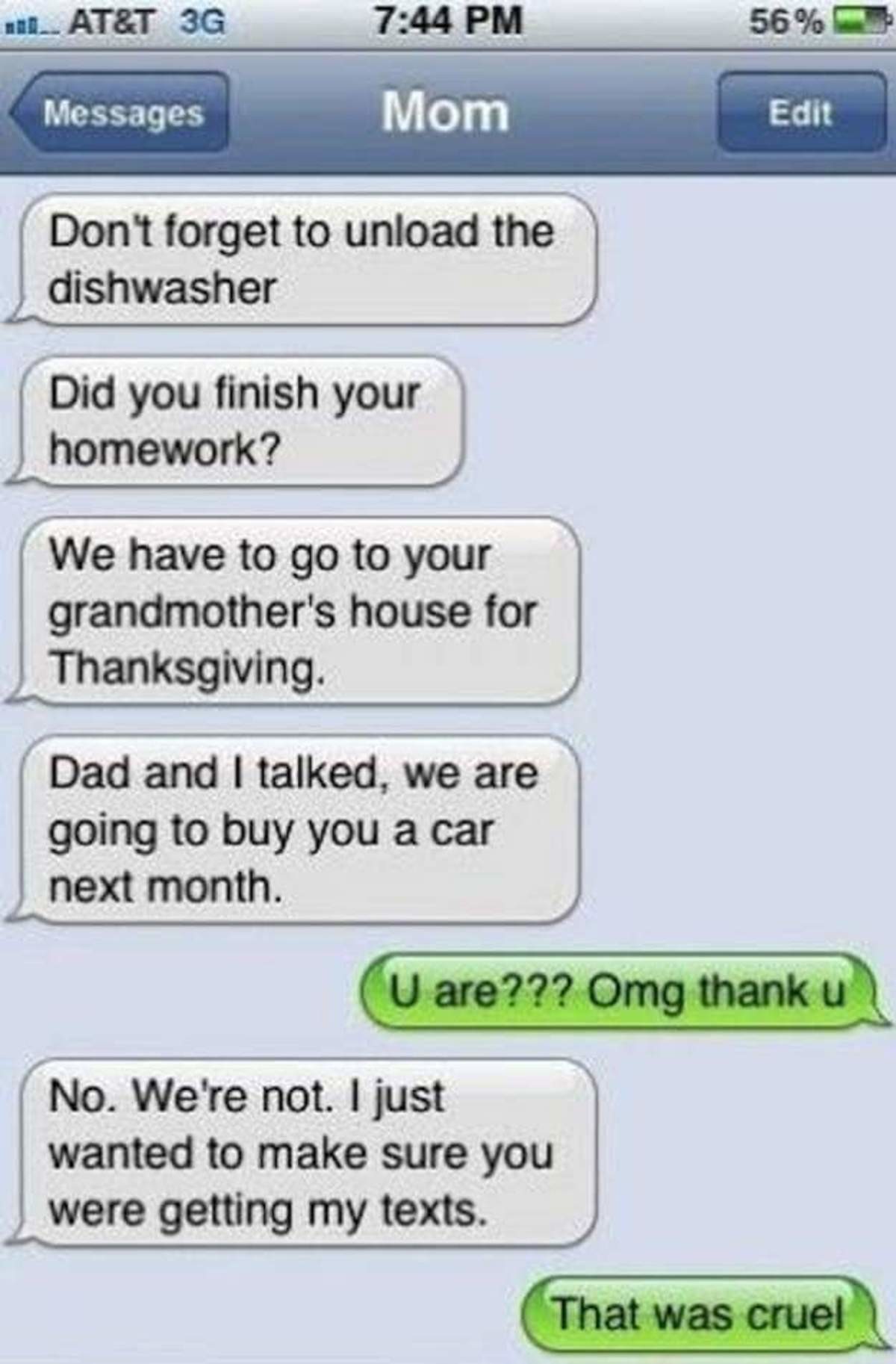 We all wish we could ignore every time our mother makes us do our chores, and you can definitely try to do it through text messages. However, this mother changed things up on her kid and got the desired results plus laughs from the internet. We would call this situation "nagging", which reporter Elizabeth Bernstein described as "the interaction in which one person repeatedly makes a request, the other person repeatedly ignores it and both become increasingly annoyed" in the Wall Street Journal.
53. WOW, MOM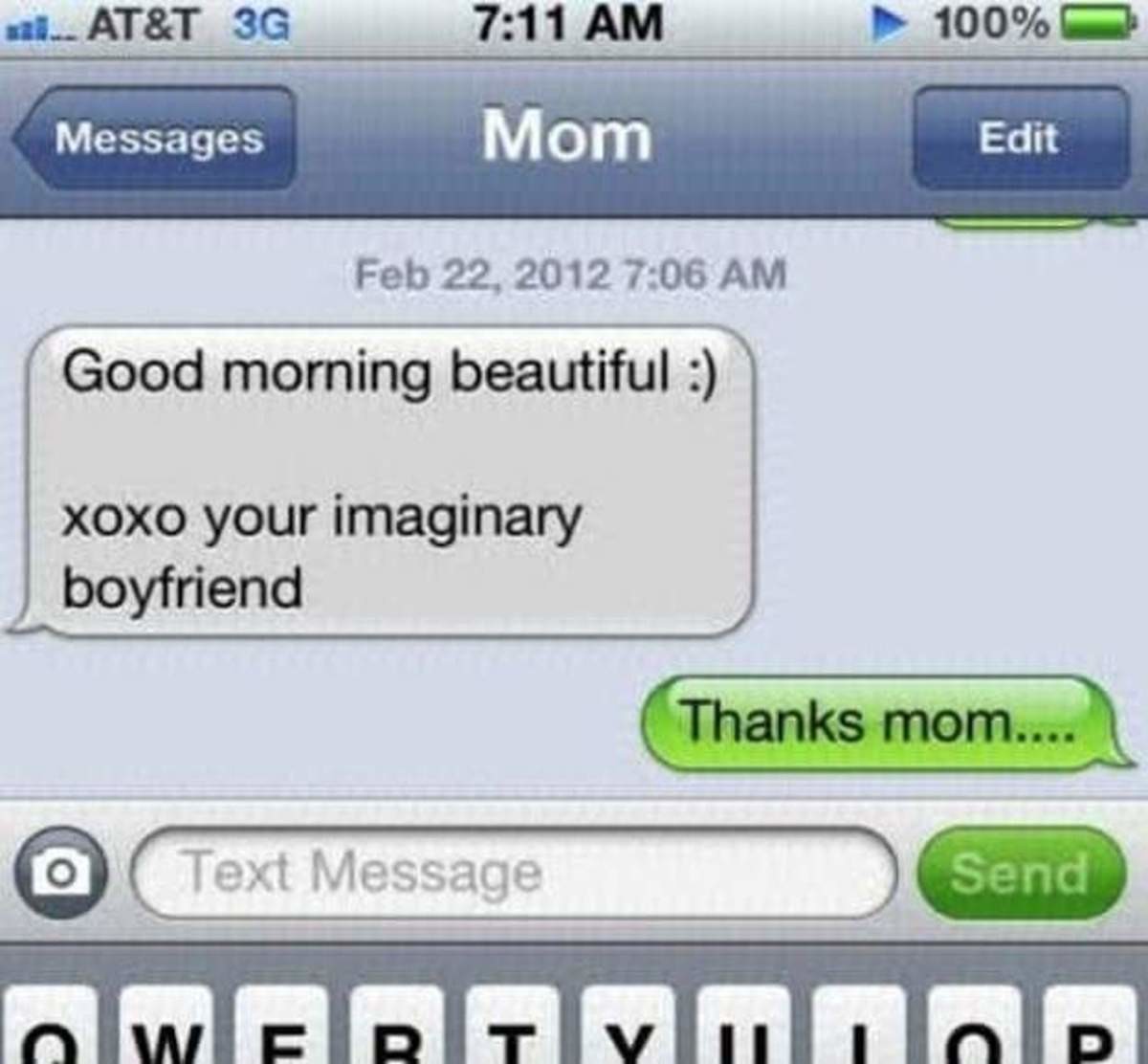 Moms are always looking to get their daughters married. Things might be different now that women are embracing feminism, but we know that there are still people out there always on the lookout for the perfect boy for their girls. This mother, on the other hand, was making fun of the fact that her daughter is single, and it's hilarious. Although, we feel a little sad for the girl because who knows what's going on in her life that she is not dating at the moment. We applaud the mother, however, for having a great sense of humor.
52. FIND A BOYFRIEND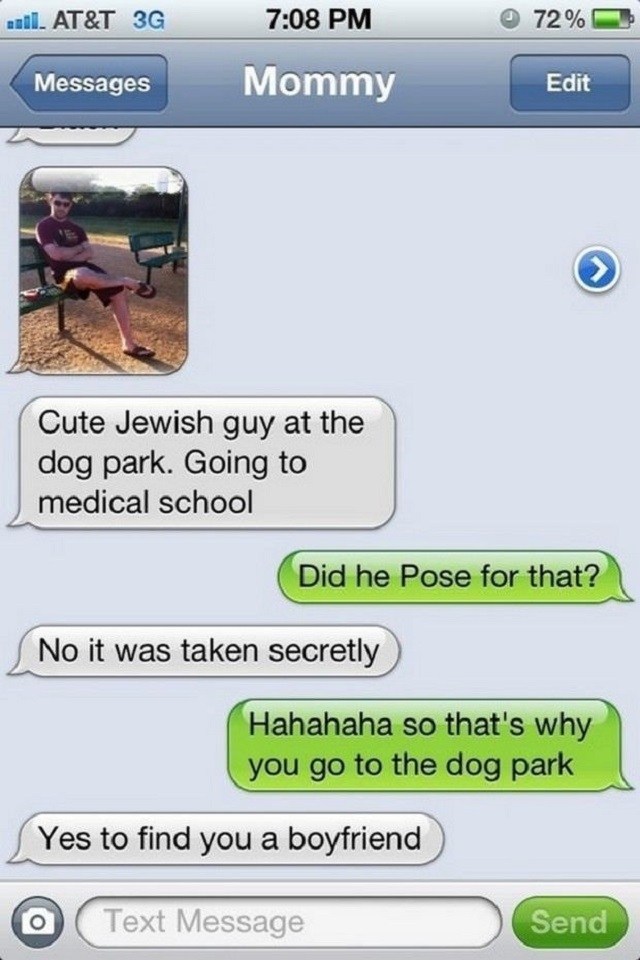 This is another example of a mother urging her daughter to date, but this one took it several steps further. This is the kind of mom who probably tells every boy she meets about her daughter and the fact that she is single. Furthermore, Mom is not even afraid of telling her daughter the truth. Yes, she goes to the dog park to find cute boys for her child. What better way to do it? That way, you know that the guy likes pets, which is always a plus. Also, a Jewish medical student is the definition of a catch; so, maybe matchmaker-mom got her wish.
51. WHAT?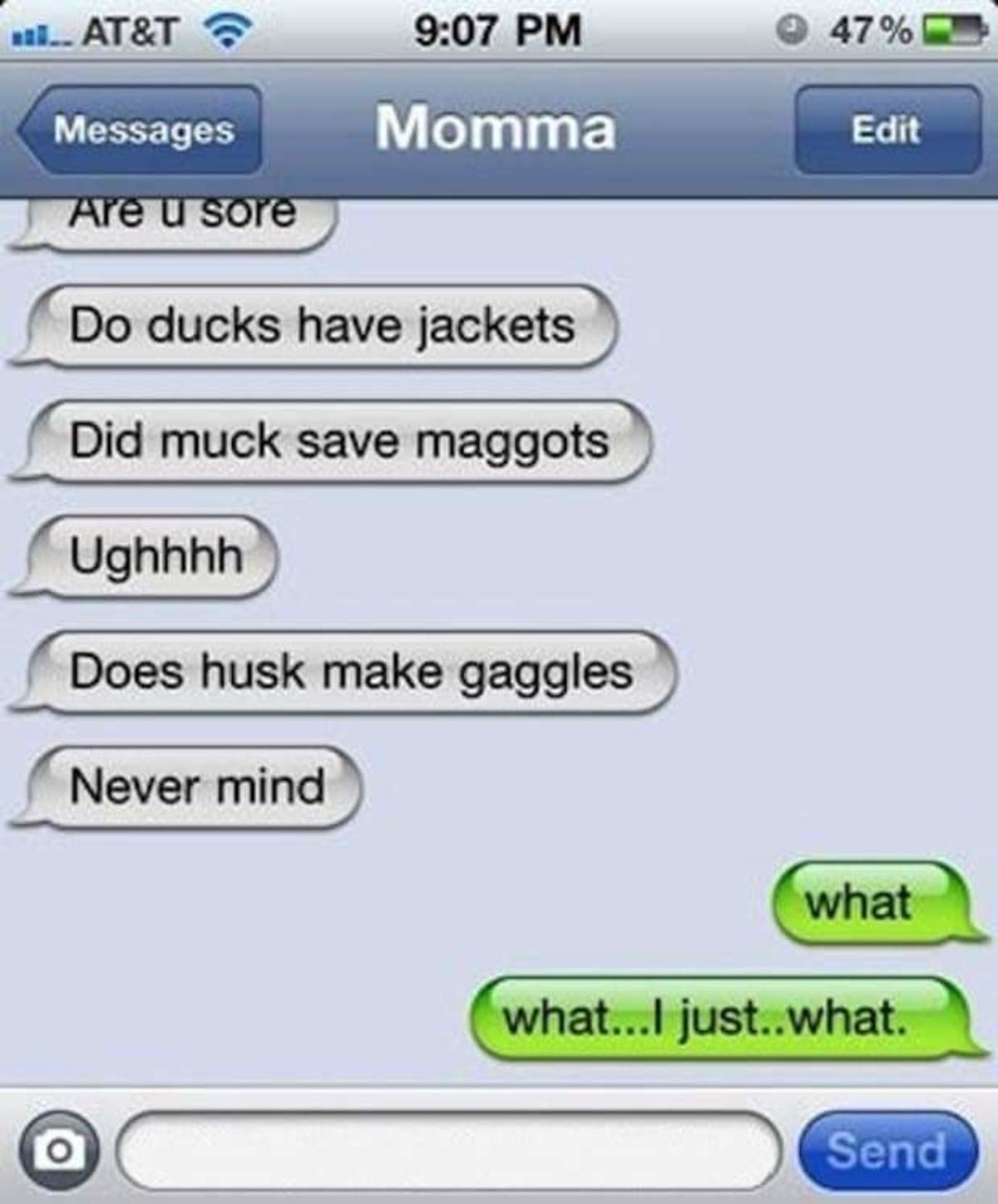 It's hard for older people to manage how to type. It was hard when phones had buttons, and you had to press each one several times to get the letter you need. However, it might be even harder for older folks to see the letters in a smartphone's keyboard. Also, if your fingers are too big, you might press something you didn't want to, and that's just frustrating. Just like the kid who received these texts from Momma, we have no idea what she was trying to say. Do you have any clue?
50. WTF?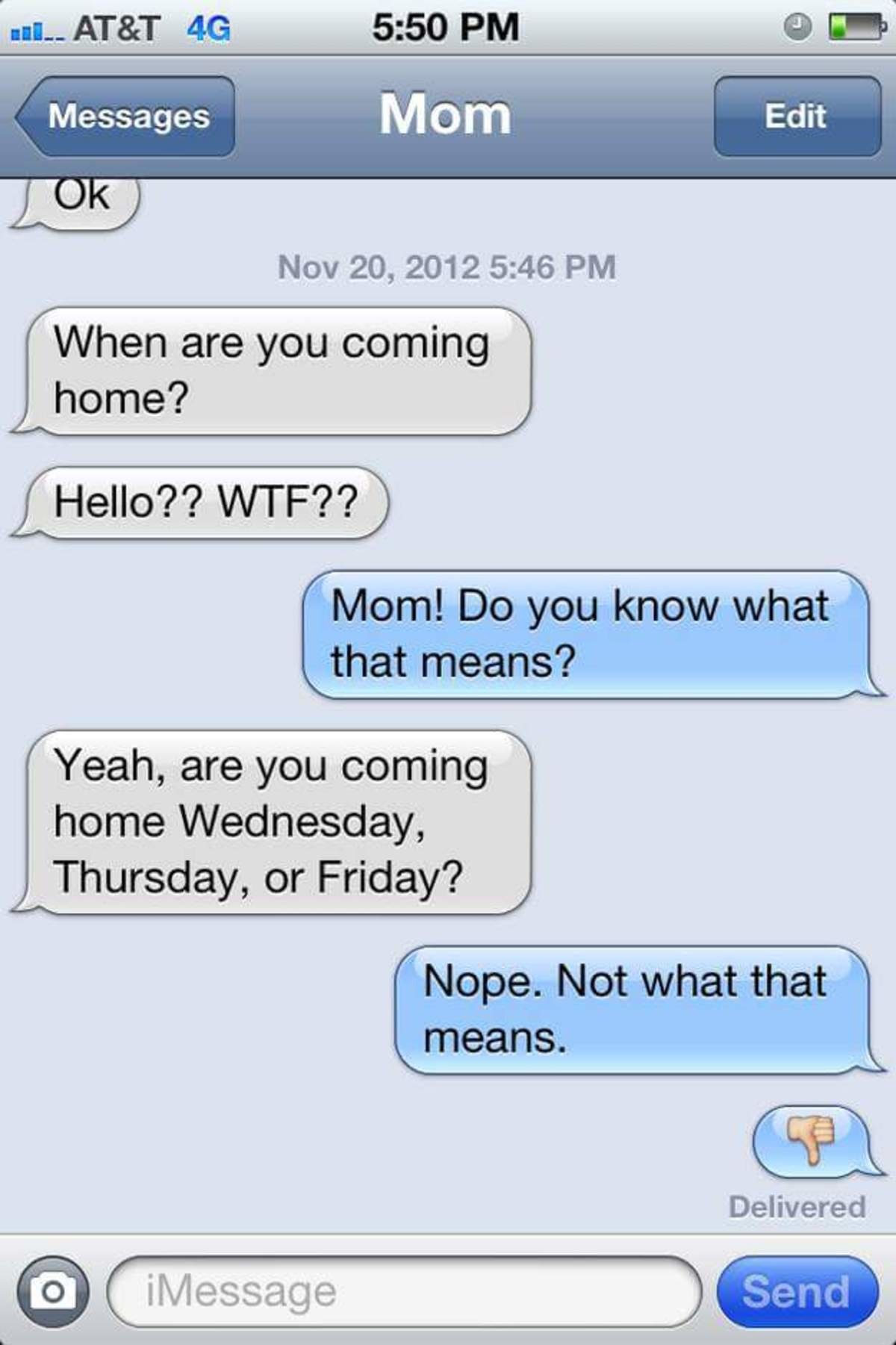 This is another example of how parents don't seem to understand internet-and-text-message acronyms. This one includes a swear word and has been popular for a long time. Aside from not making you use the actual word, it's also handy because it's quick to type and gets the message across. This mom didn't understand what she was typing, although it works really great with the message because the kid wasn't answering the original question. We wonder who told her about "WTF" in the first place, and who lied about its meaning.
49. ARE THESE WORDS?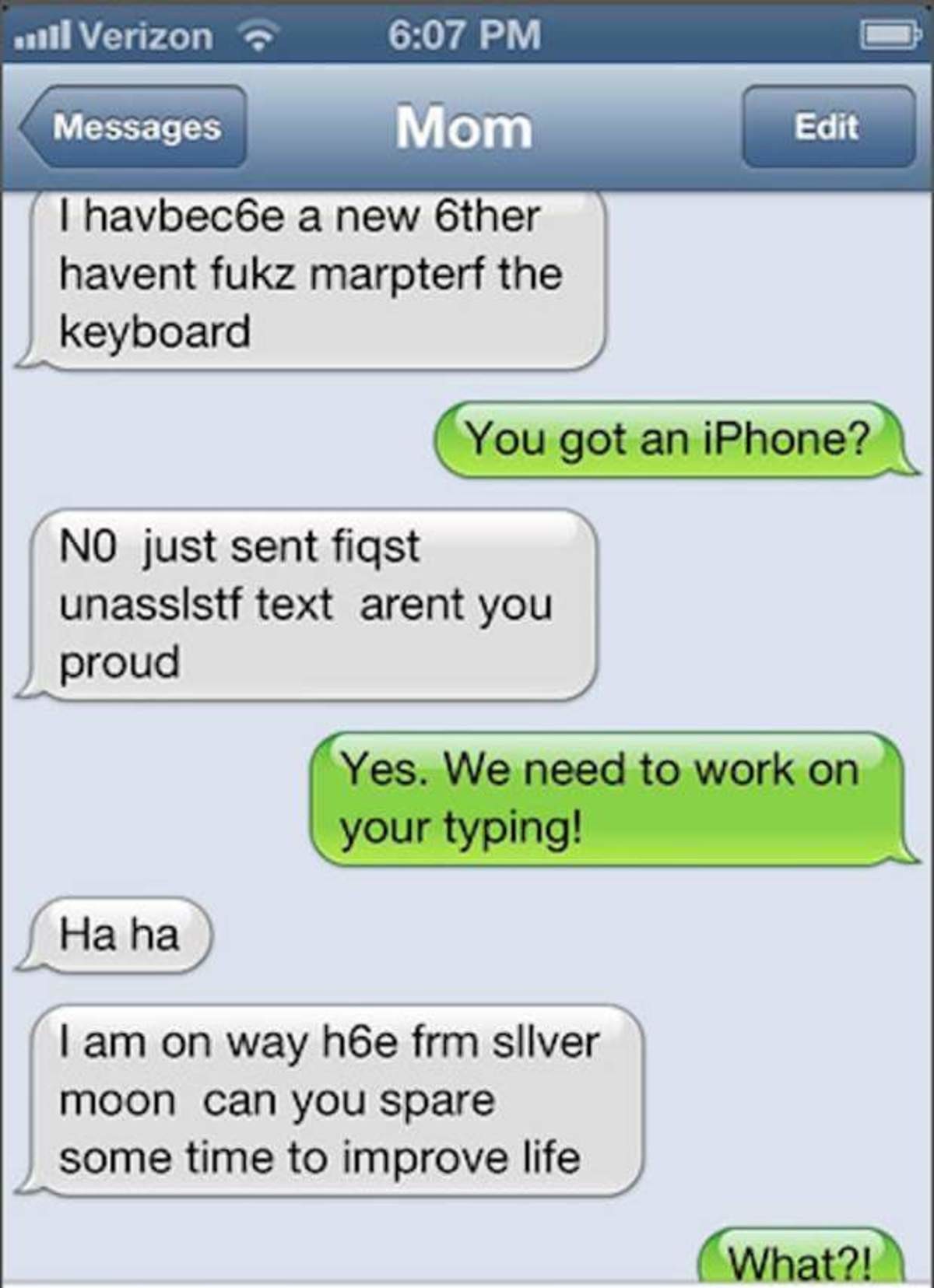 This is another example of parents who have yet to master the smartphone keyboard, which is hard depending on the size of your phone. It's interesting because most smartphones these days have a tiny version of the computer keyboard. Some symbols might not be placed differently depending on the region, but all keyboards have the letters in the same place. Meanwhile, the keyboard can be considered the child of the typewriter, which was patented in 1868 by Christopher Latham Sholes. There were other inventions that claimed to be more efficient, but Sholes' original idea still remains strong.
48. NEED GLASSES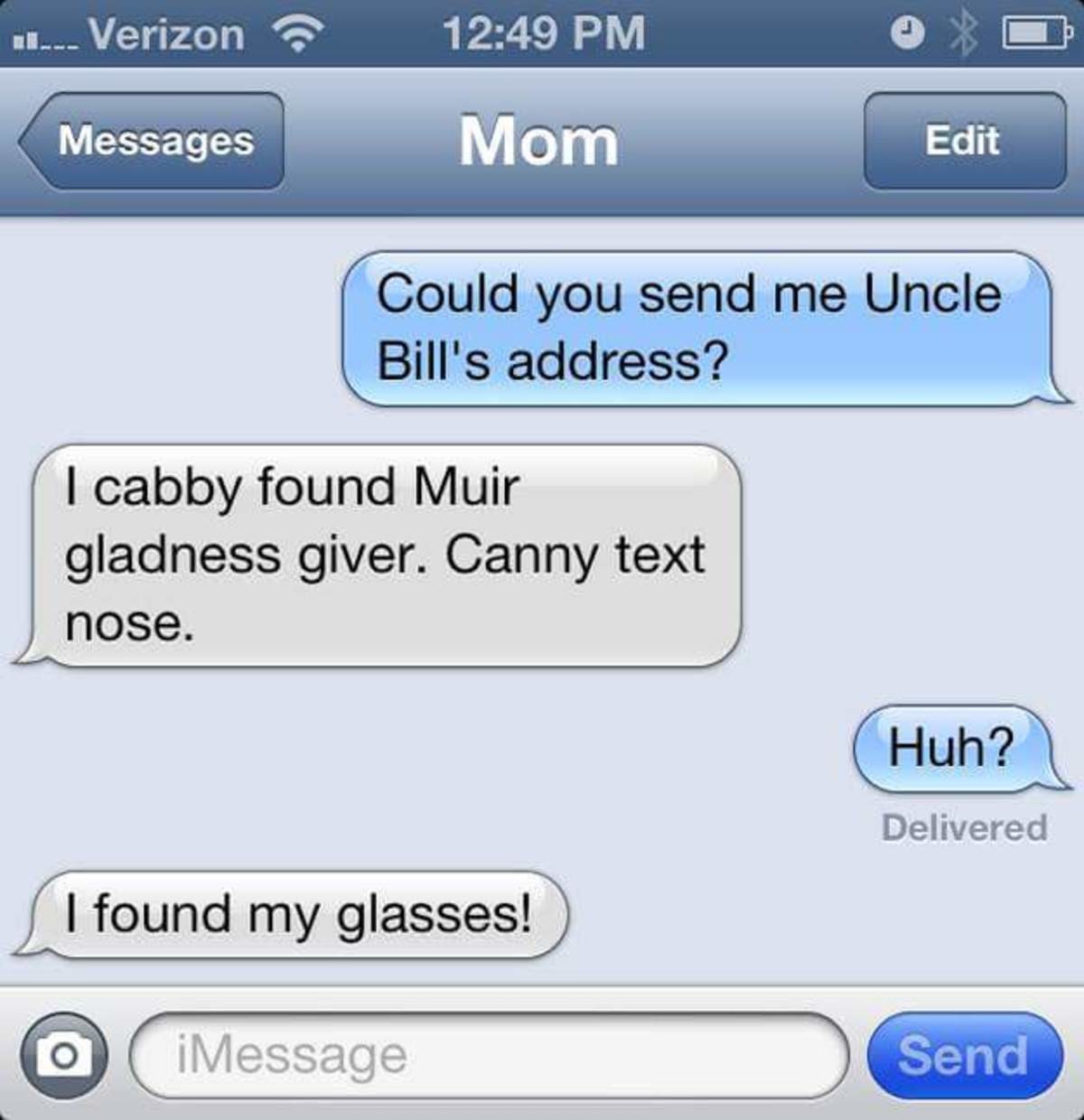 You might have noticed that a lot of senior folks need glasses to see their computer screens or phones, and there is a reason for that. Around the age of 40, adults start losing their ability to see from close distances, and it's because their eyes start losing the ability to focus, which is known as presbyopia. It only gets worse with time. You might have also seen them trying to hold their iPhones far away to see well. People who already have prescription lenses may need to change to bifocals or multifocal types later on.
47. LOSER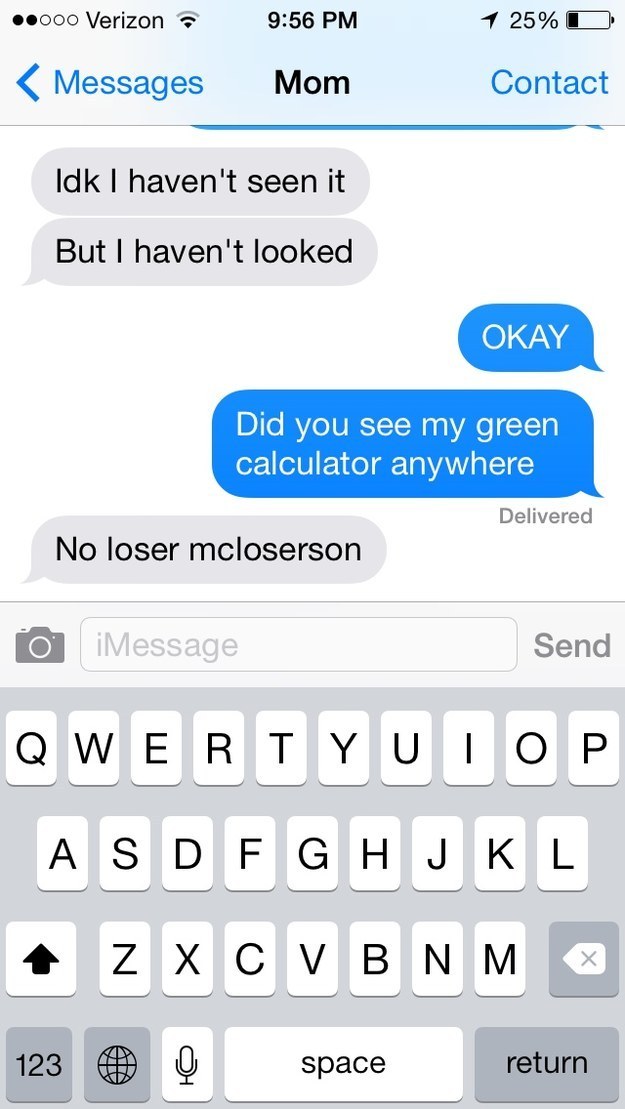 This parent is funnier than most on this list, but it's striking that several of them are encouraging their kids to go out and have fun. Unfortunately, some of their children are way more interested in studying than going to parties. We bet a lot of other parents would be grateful for that, but this mother was not impressed. She seems like the kind that always asks her son about girls and when he is going to bring one home. When is he going to settle down? Why is he so focused on school? Lady, seriously, it's better that way.
46. DON'T TEXT ME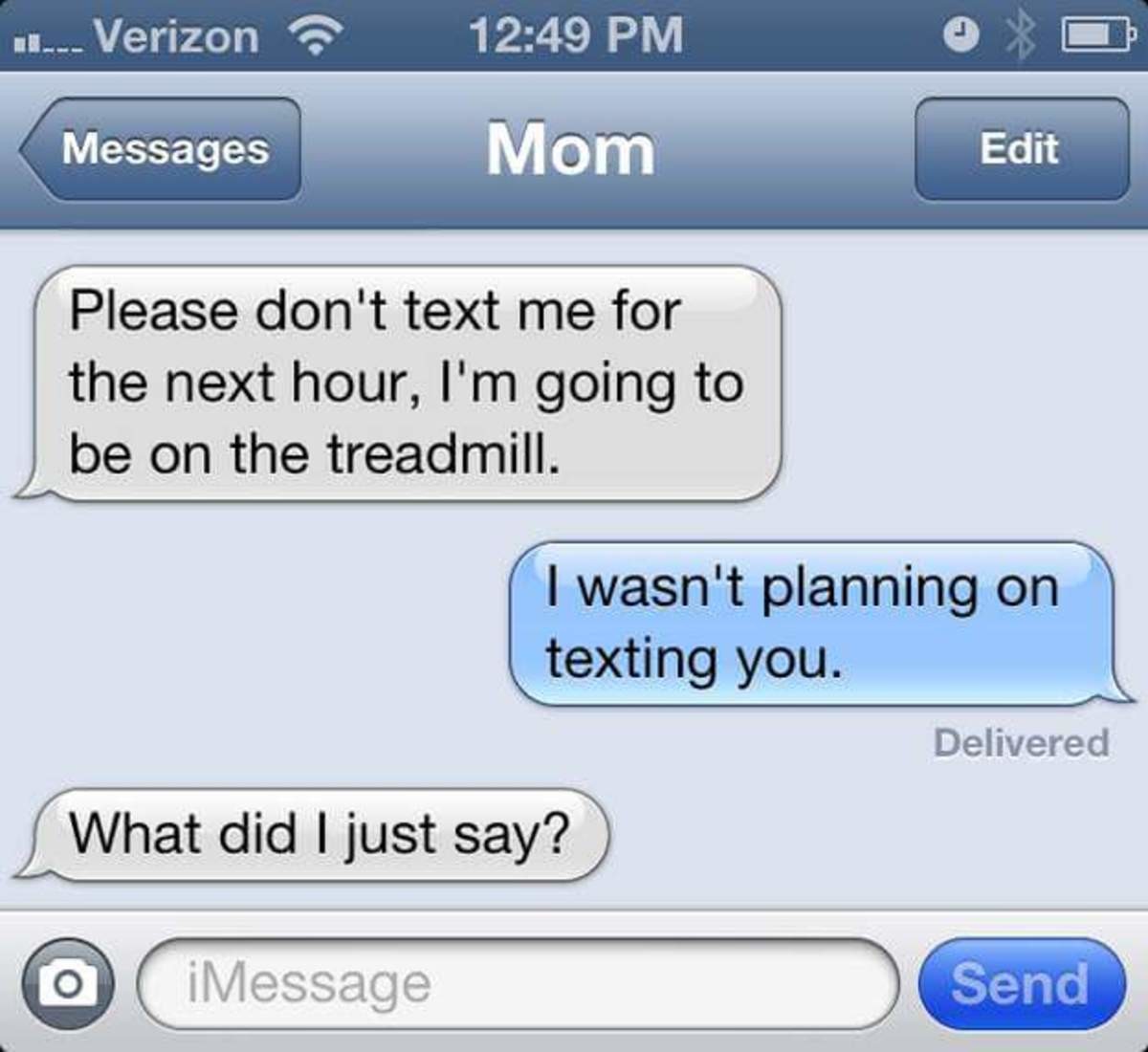 Some parents are extremely busy, and some might not be used to receiving so many texts. There are plenty of people who cannot read their incoming messages later on, and they always get distracted. Therefore, it's great that they send a quick text to explain that they'll be busy for some time. People won't interrupt them that way. However, it's very likely that this parent was just playing a trick on their kid because most children don't contact their mothers or fathers that often, especially when they move away.
45. YOU'RE A JOKE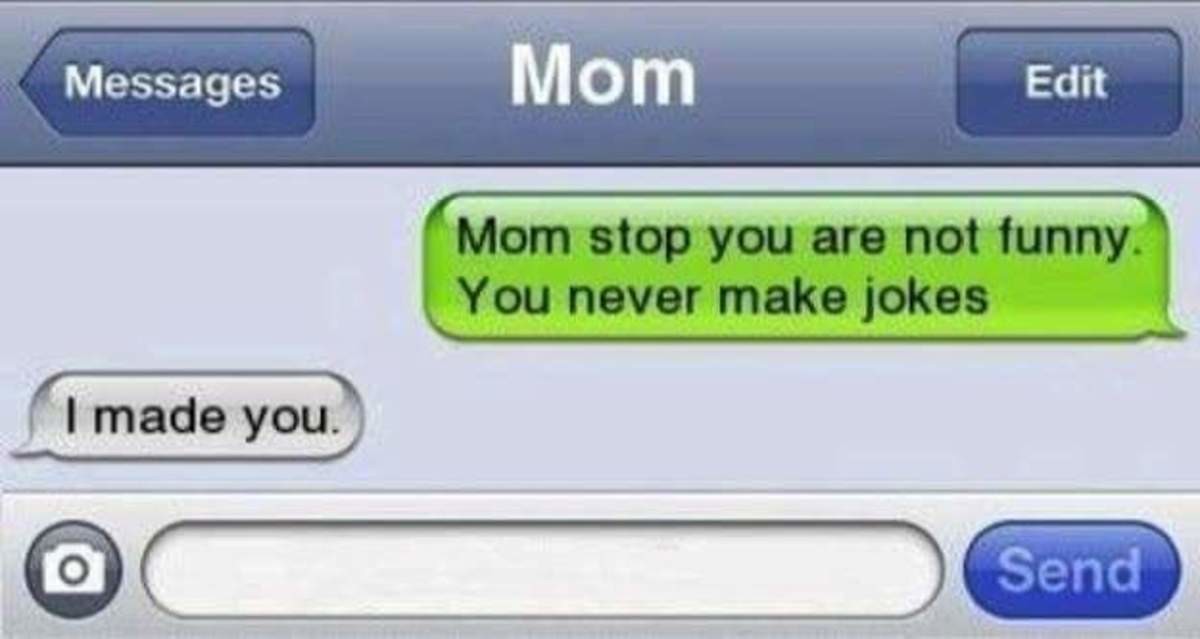 This is one the best "burns" we have ever seen. Yes, parent humor may not be that funny. Their sense of comedy is tied to old times that some kids might not understand because not every joke stands the test of time. However, when someone sends a reply that shuts you up, you know that they nailed the joke, and this is such a case. We celebrate that mother that wouldn't take her child's negativity and kept going for the perfect reply.
44. ARE YOU SURE?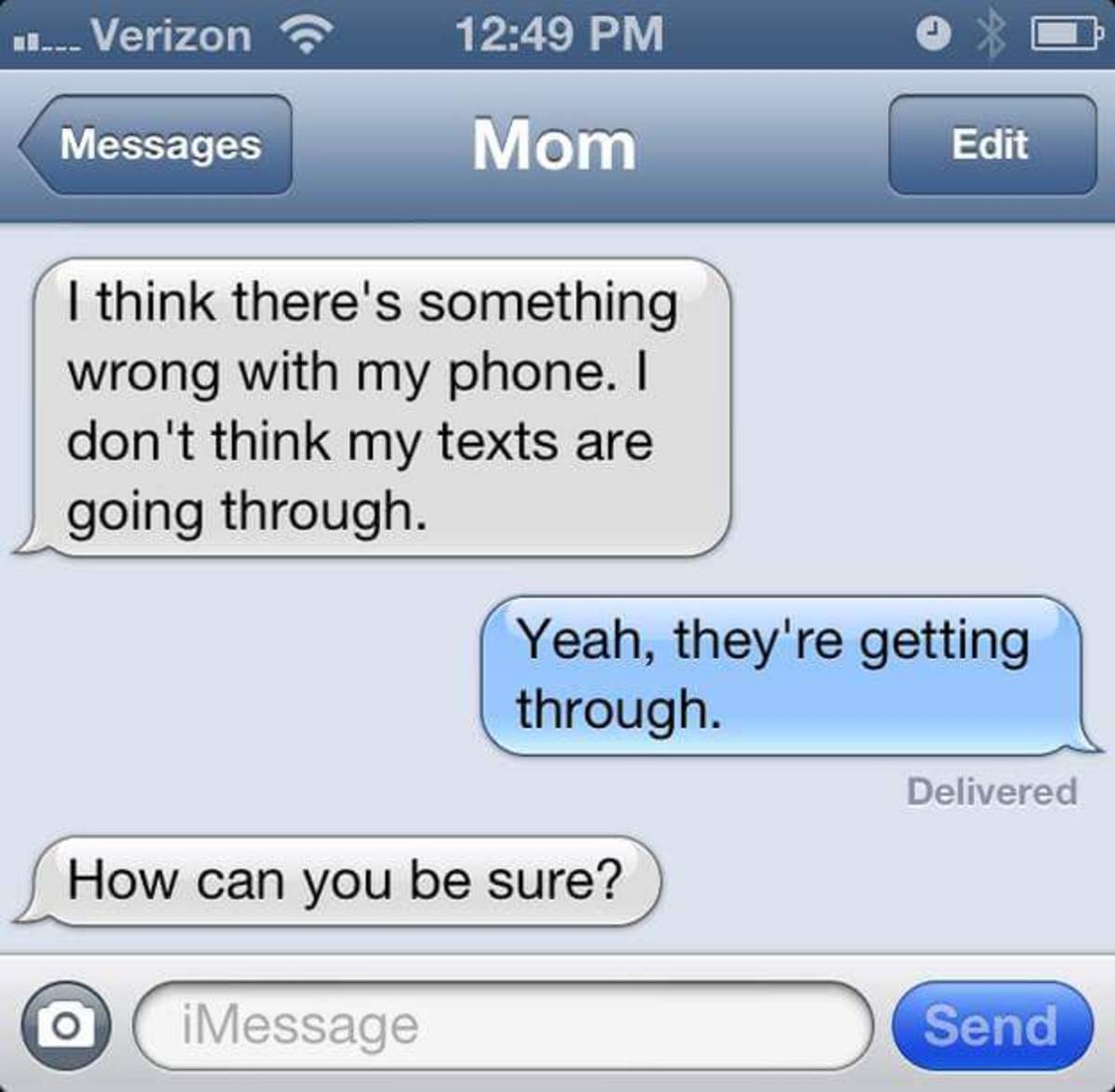 Well, the great thing about iPhones is that they specifically tell you when the message has been "Delivered", although we understand if this parent cannot see the tiny letters. However, just the fact that someone replied to your previous message with an appropriate response is proof enough that the text has gotten through. Almost every text message service has a way of revealing when the text has arrived on someone's phone and some even disclose when they have been read. It's convenient for certain things, but it can be a pain some times.
43. WAIT A MINUTE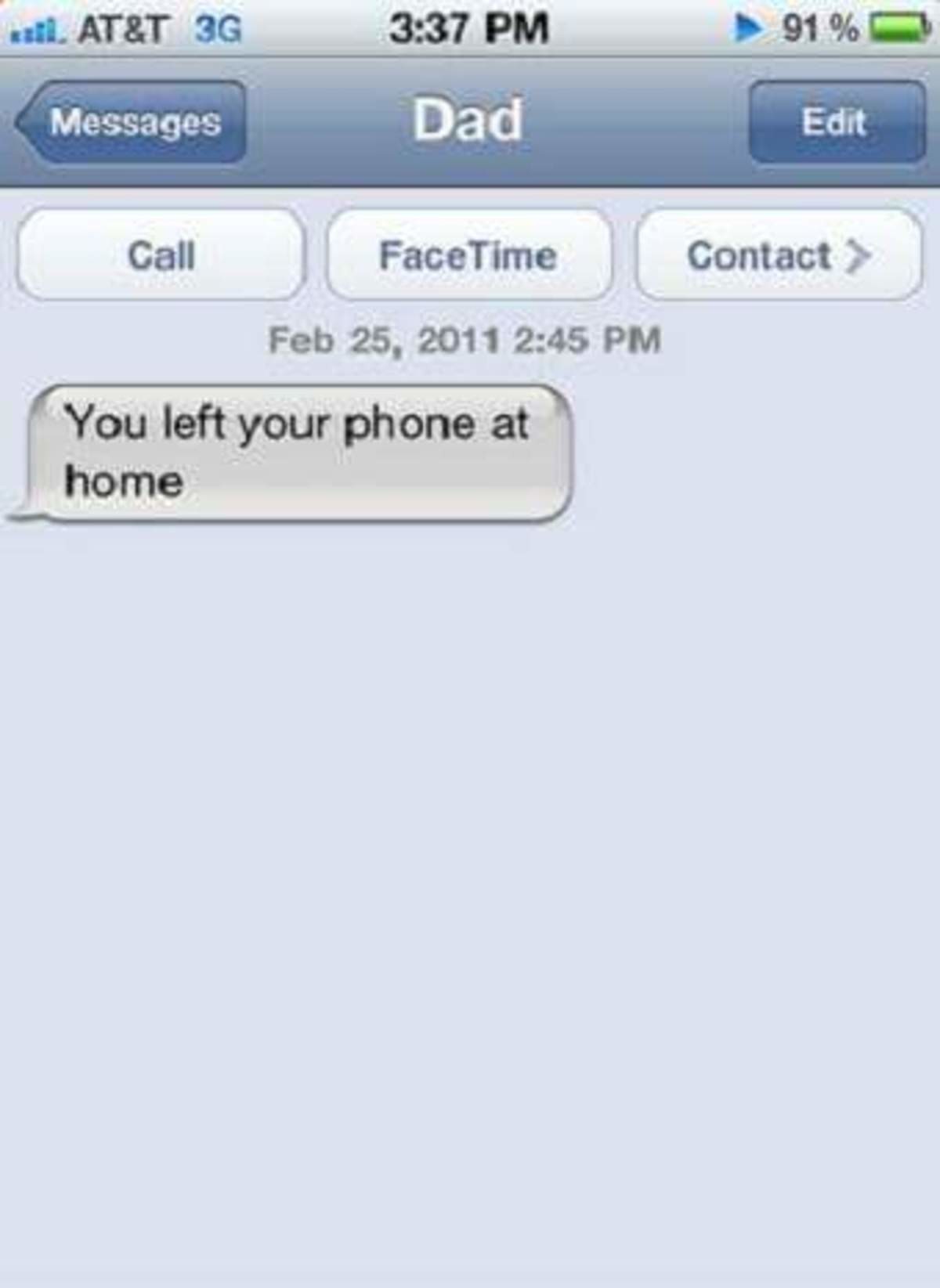 This dad didn't realize an important part about texting: the person actually needs their phone. Of course, nowadays, when someone has forgotten something, our first instinct is to text that person, but this is the kind of moment where our brains didn't process the information correctly. It was probably pretty funny for that kid to see that message once he got his phone back. However, it can happen to anybody.
42. BEAUTIFUL DAY

Smartphones have been coming with integrated cameras for several years now, and we can record almost every moment of our lives now without the hassle of having to go to a store to get our pictures. Everything is much simpler. But, which phone was the first one to include a camera? The answer is the Sharp J-SH04 J-Phone model, which was sold in 2000 in Japan. Yes, the Japanese are always the pioneers at technology. However, there is some debate about the SCH-V200 and Kyocera VP-210 Visual Phone, which were released in South Korea earlier. However, the issue is that the latter two models couldn't send the image to anyone.
41. IN A MEETING?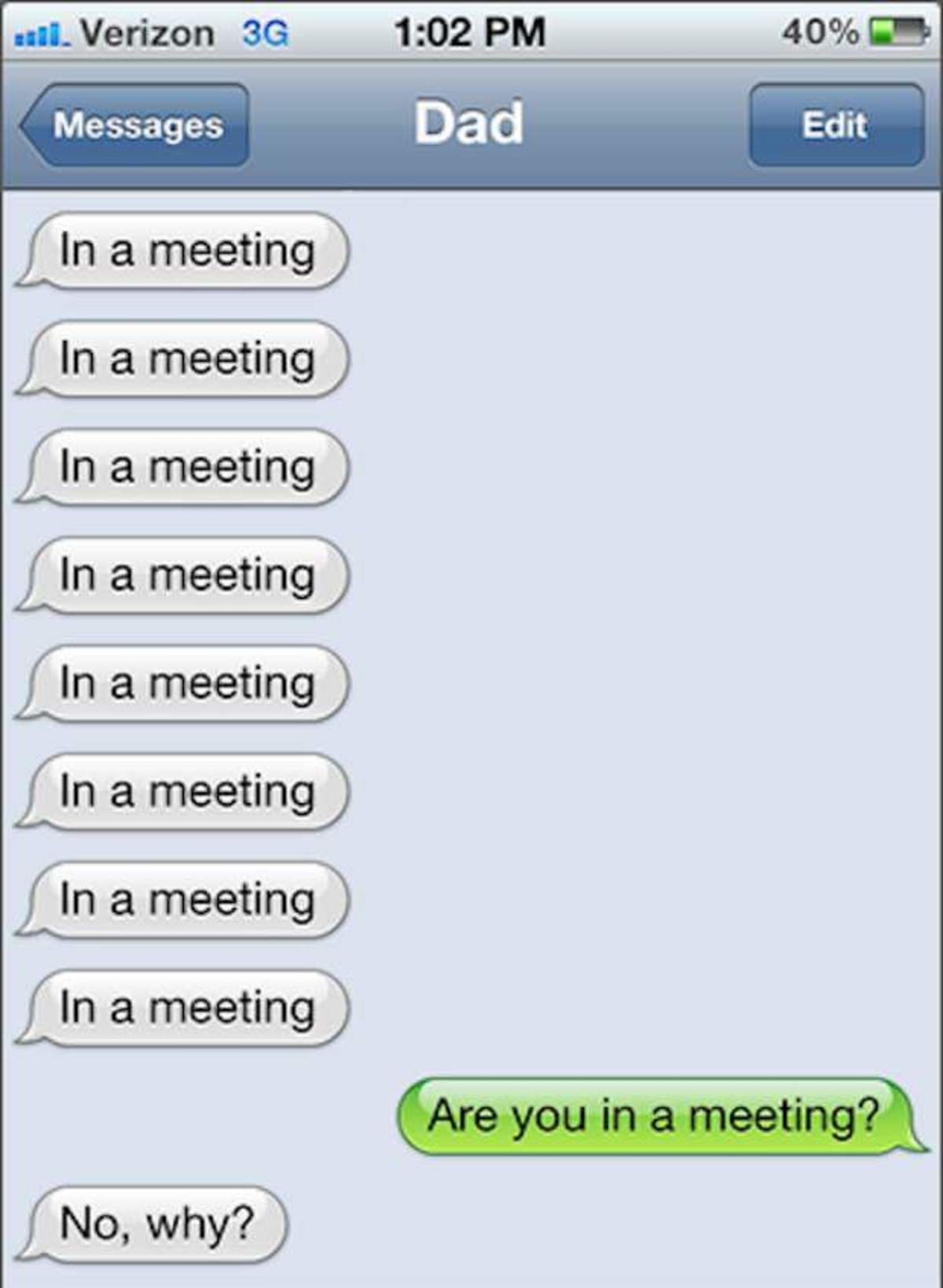 We don't know if this dad was butt-dialing or what was happening, but he clearly had the automatic replies turned on at the time. On the other hand, he didn't even notice all those messages sent? iPhones and Android have many ways of setting up automatic responses for tricky situations such as driving or when you are busy, and they can come in useful. But this seems like a glitch of some kind, or the dad had no idea how to turn off the feature once he got out of the infamous meeting.
40. STOP!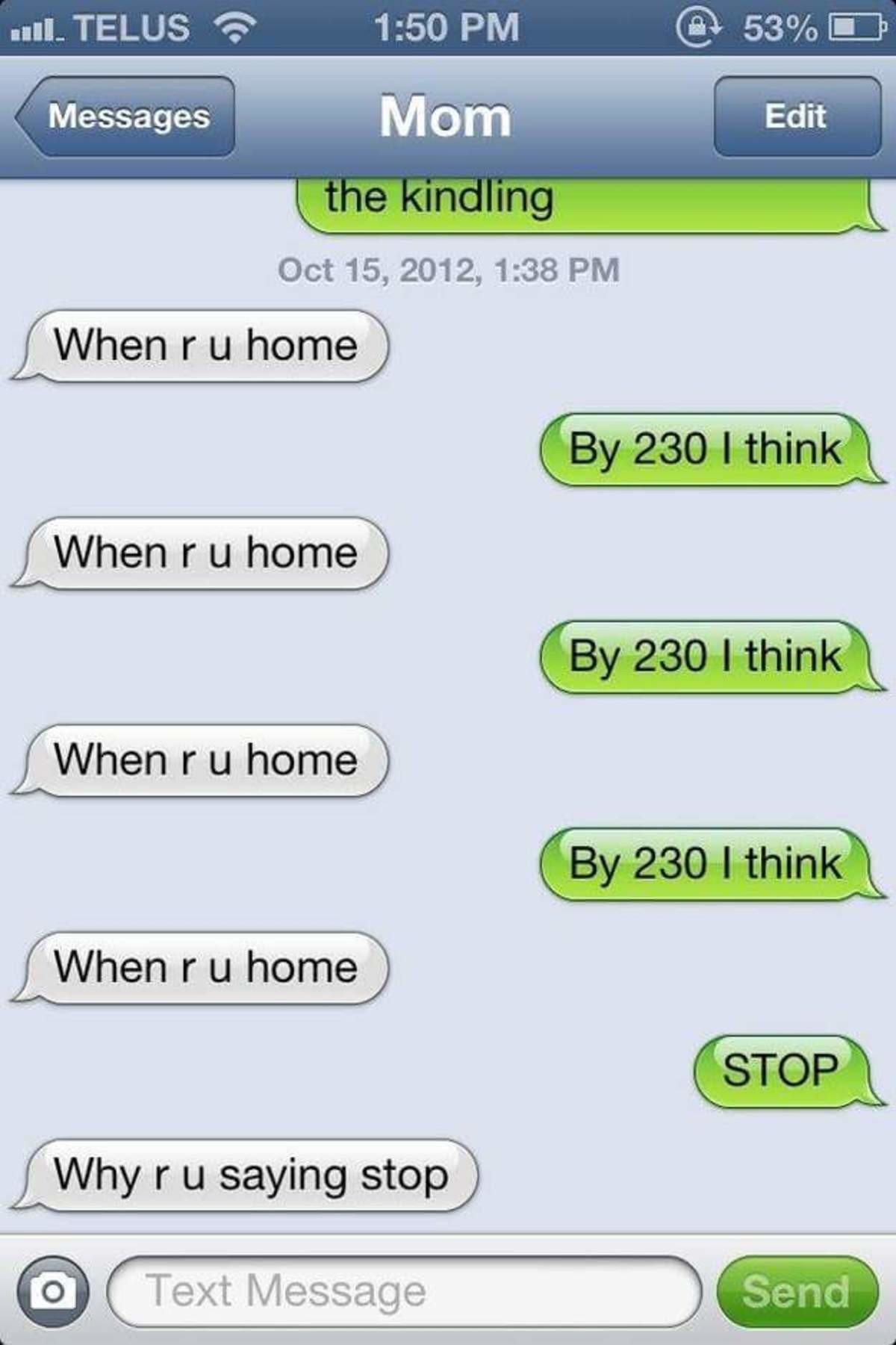 This is another case where it seems like the mother was sending an automatic message, but it could also have been that she sent the message so many times because they weren't going through. There might have been a problem with the cell service, and when it was restored, all those were sent, even though the kid had already revealed when he was coming home. On the other hand, the mother might be playing dumb and just wanted to bother her child with some playful texting.
39. HOW I ROLL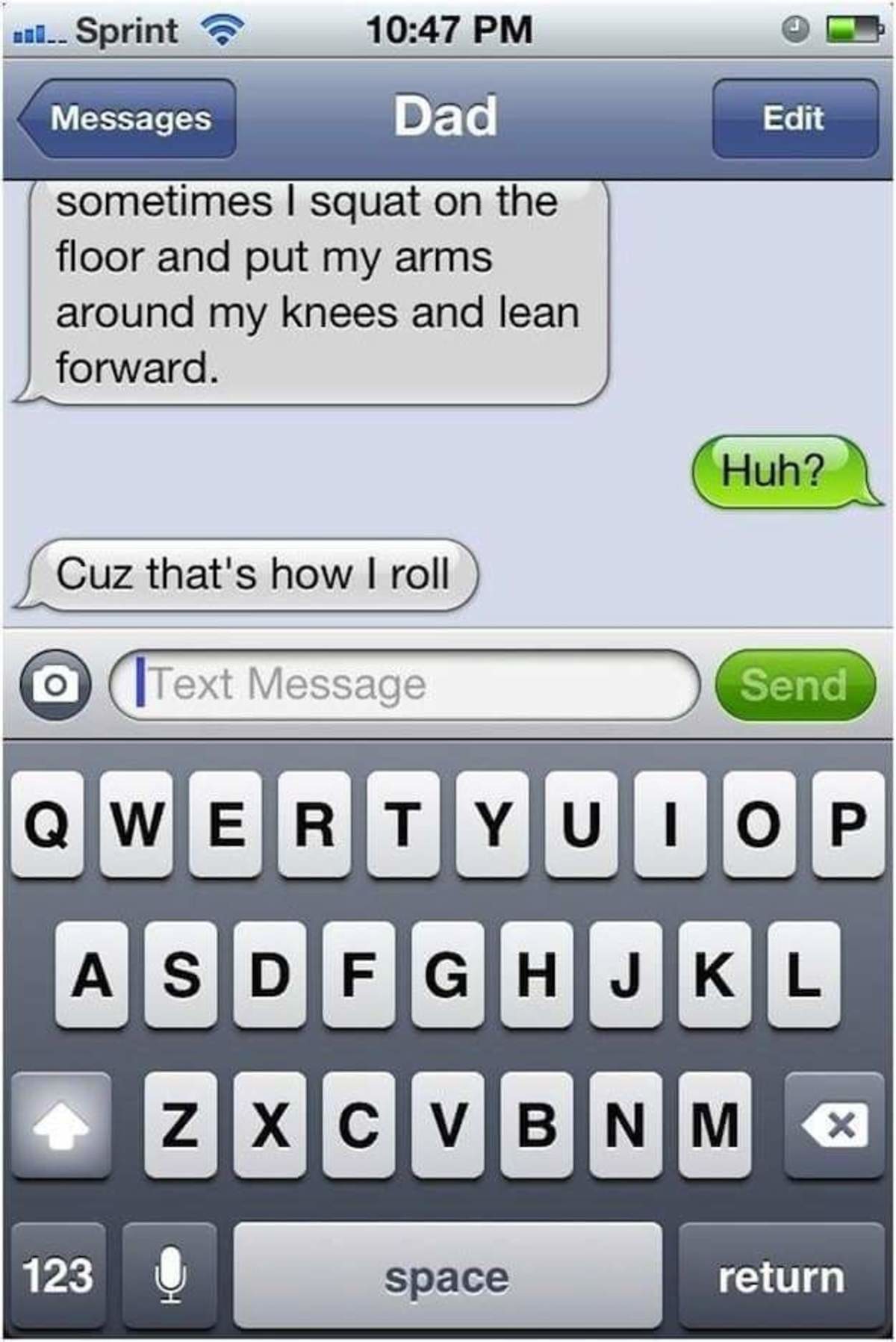 Everyone knows that there is nothing funnier and more cringe-worthy as a dad joke. They can make you giggle but also want to smack your hand against your forehead because it's normally so silly. "That's how I roll" is a phrase used by kids a lot today in order to describe how they do things. It makes it seem like they are cooler than they are, but this dad is literally describing how he would roll, i.e. the real action of rolling on the ground. The expression "dad joke" first started circulating online in 2003, when it got a definition in Urban Dictionary. However, it wasn't until June 2013 that people really started referring to it like that.
38. LEFT BEHIND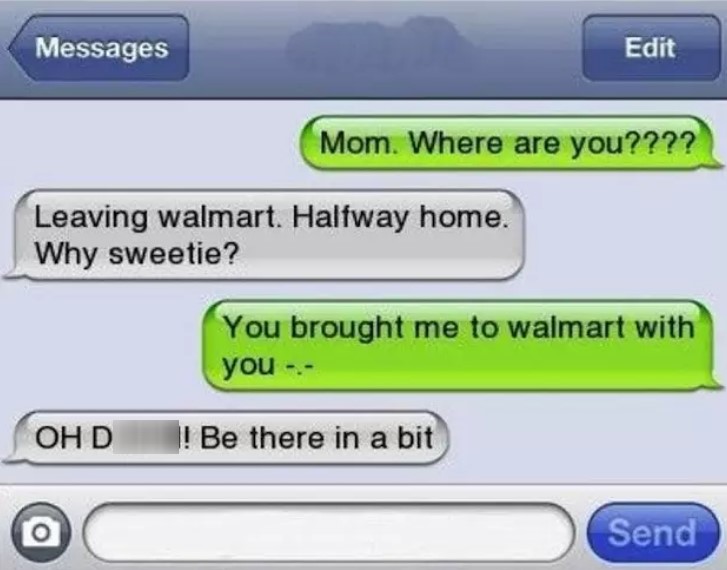 It is almost safe to say that many of us have gone through the same experience but after teenage-hood. Normally, when we were children, our parents would always stay on top of us and wonder where we were. However, once we get older and can go places by ourselves, they start becoming a bit more lax with their awareness. Luckily, smartphones are the simplest way to solve the minor issues of having forgotten your child at the store. There's no need to stress, and parents will always end up blaming you because you got distracted at the supermarket.
37. YOU ONLY LIVE ONCE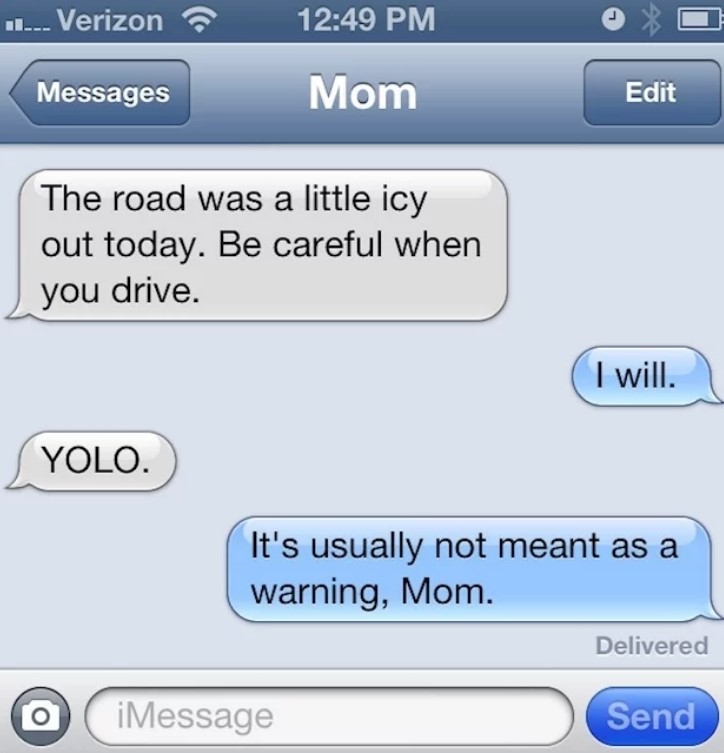 This is another example of a parent wrongly using an acronym, and it's pretty funny. The reason it's hilarious is that "YOLO", which means "you only live once", is normally used right before making a stupid decision such as driving recklessly. Kids have used it a lot in the past decade to justify their crazy ideas as if it's something similar to "carpe diem", which means "seize the day". However, this mother was telling her children to be careful, and then using "YOLO" as a warning, which was definitely not the main idea.
36. COMING OUT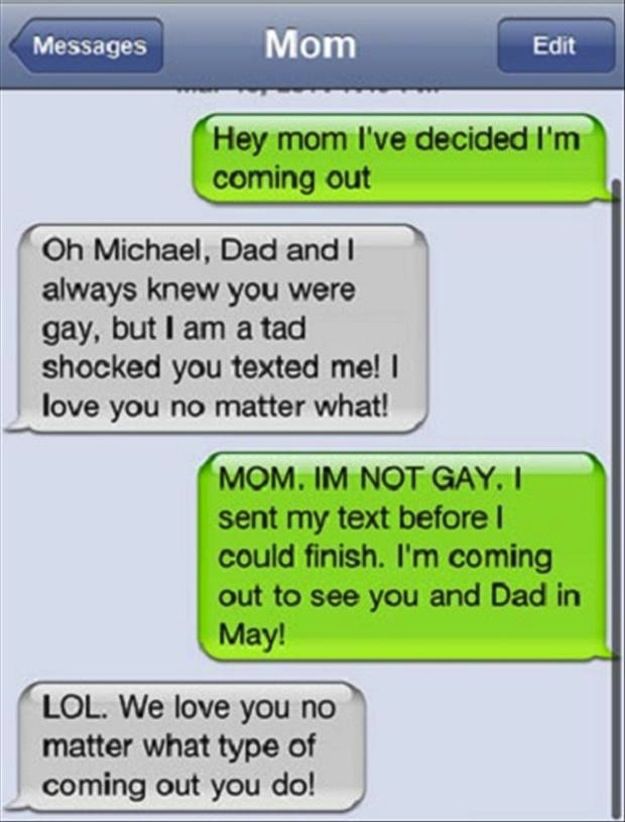 We have all made this mistake. Sometimes, our fingers press the wrong button and depending on the keyboard a message will be sent accidentally. It might happen when you haven't finished writing the text, or it could also happen when you got angry and wanted to erase something stupid. Luckily, this was the former situation, and it turned out to be pretty funny. That kid should be glad that his or her parents would take news like that in such a lighthearted way because some folks might not have been so understanding.
35. RONALDO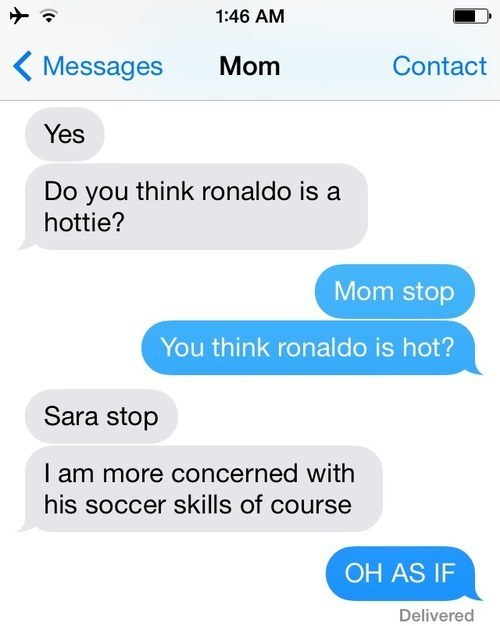 Girls with great relationships with their mothers always talk about boys, and who is cuter than others. Of course, celebrities will always enter that kind of conversation, and soccer players can be totally gorgeous. In this situation, it's pretty safe to say that they were discussing Cristiano Ronaldo from the Portuguese national team and the Juventus club, who is known as one of the world's best soccer players right now, and he is pretty handsome. We don't think they are talking about Ronald, the former player for the Brazilian soccer because he was an awesome professional but not as good-looking.  
34. NO SPACES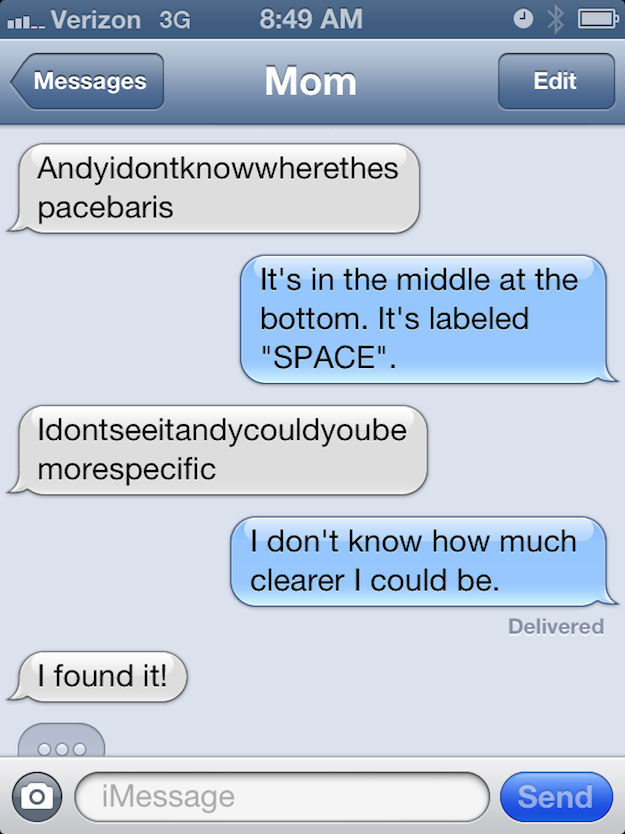 Sometimes, parents can be a little too obtuse. There are some keyboards on smartphones that don't necessarily have the word "Space" in the bar, but if you have been using computers for some time, you can definitely tell where it is. The history of this button goes as far back as the history of keyboards. Initial versions in the early writers of the 19th century had a metal bar that extended through the whole keyboard. Some would even surround the letters. This made the carriage advance without making the typebars activate.
33. IS IT OK?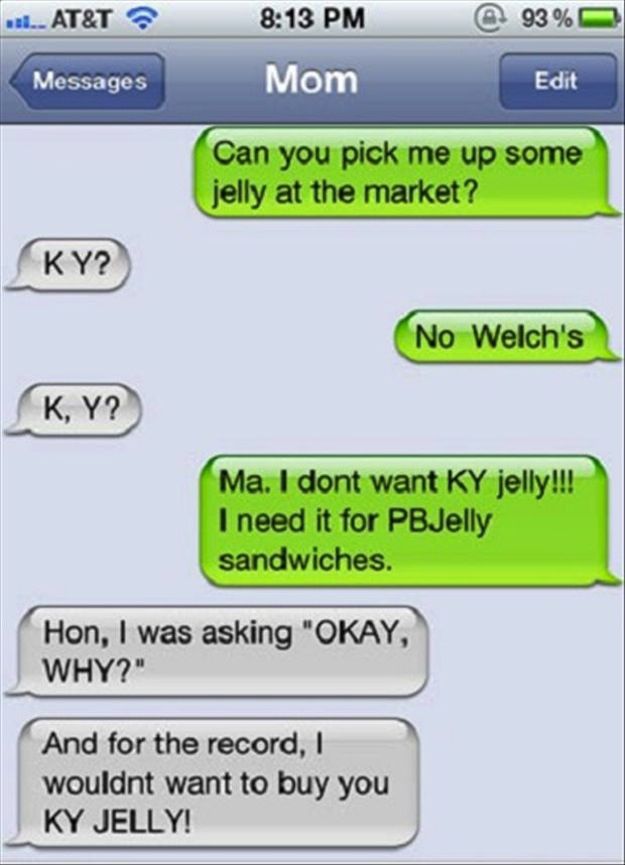 This is another case of the use of the acronyms, but the tables have been turned. It seems like this child is not as cool as his or her mother because she was doing it correctly. It couldn't have been clearer, and anyone under the age of 35 would understand her easily. However, we think that this child was a little too concerned about the jelly he or she wanted, and there's a reason why. K-Y Jelly is actually a lubricant used for intimate encounters, and this person needed normal jelly or marmalade for her sandwiches.
32. KABOOM!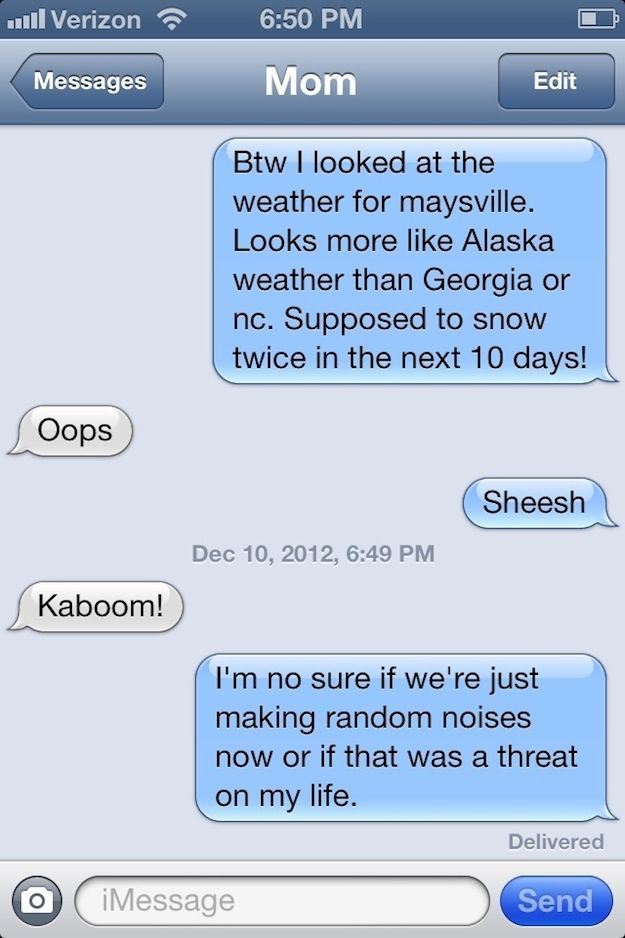 We are not sure if this mother had been reading too many 'Batman' comics lately or what was happening at the time. We would have been just as confused as this child with her use of onomatopoeia to reply to these simple messages. Maybe, she just wanted to be a bit silly. Meanwhile, onomatopoeia is a word that recreates a sound, and they are known as uncountable nouns in a sentence. Popular onomatopoeias are those describing animal noises such as "oink", "meow", or "chirp". However, comic books have been known to use them while depicting fights or explosions. Kaboom!
31. NOT A WINKY FACE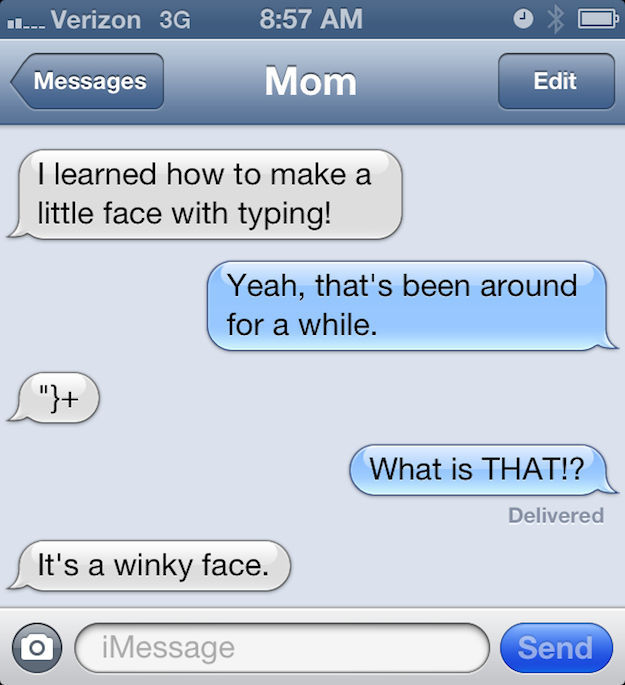 We don't know who taught this mother that those two icons were a "winky face", but we all know that it's actually supposed to be a semicolon and a closing parenthesis: ";)". Other variations may use a dash in the middle to make it seem like a nose: ";-)". The history of emoticons has actually been linked to Morse code, as the number 73 meant "love and kisses". However, Scott Fahlman is the first recorded person to use this modern kind to express emotion. His original idea was posted on a general board from Carnegie Mellon University. Although the post was lost, it was later recovered.
30. ANOTHER LOSER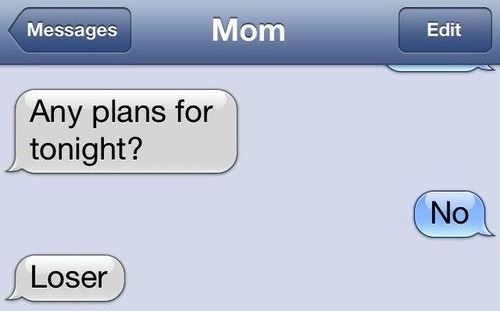 This is another parent that is not happy about his child not having fun plans for the night. This mother should really be grateful that her kid is not out getting into trouble. They should really watch HBO's new show 'Euphoria' starring Zendaya in a completely different role. It's about teenagers who get into insane situations that involve partying, drugs, and intercourse. It's depicted in such a raw manner that it's almost dirtier than any other show on television. After watching a couple of episodes, they would definitely love their no-plan child more.
29. GO OUT!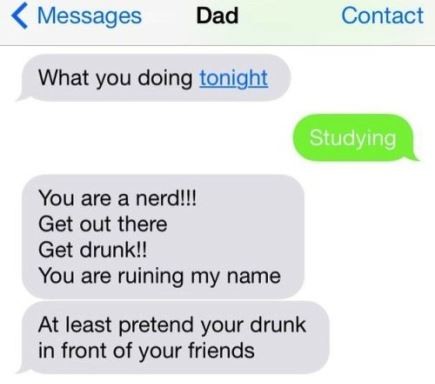 Here is another parent, who is not satisfied when their child doesn't want to party or do something exciting instead of staying home. It seems that they don't really understand that millennials don't like going out because we don't have money and prefer to stay at home binging show on Netflix and eating junk food. We live in the golden age of television, and in case, you have been looking for a new show to watch on the streaming service, you should definitely give 'Dark' a try. It's a German show about time-traveling that will have you scratching your head.  
28. DOES NOT LOOK YUMMY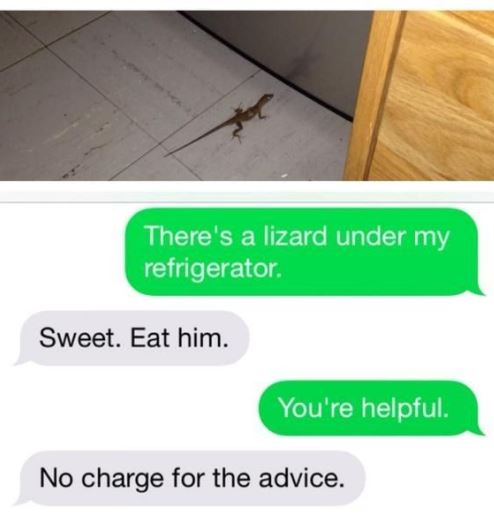 We think that lizards are the unsung heroes of any household. They eat flies and roaches, and everything that would normally bother people. They don't make sounds or leave anything dirty lying around such as eggs. They are absolutely harmless and if you get to look at them closely, they have smiling faces. We hope our readers understand that they don't have to kill them because they are just helping out.
27. WORTH IT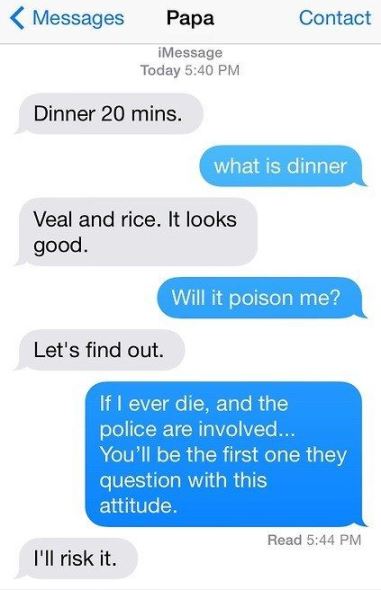 We love how sassy this father is with his son. Sometimes, getting to deliver a great joke or comedic phrase is worth anything consequence that might come later. Although, we find it a bit weird that parents start texting around the house instead of calling their kids to dinner. Of course, if it's a big house, it's better than wasting your breath yelling. It's very convenient, but people don't always check their phones.
26. WAS IT A THIEF?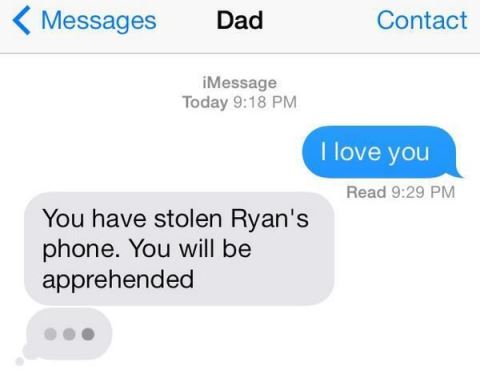 This message is a bit confusing. The thief decided to send an "I love you" message to the number saved as "Dad"? Who would do that? And then, Ryan's father threatened the burglar with criminal proceedings. It's pretty funny, and it's not the only situation we have ever seen. Some phone thieves start taking pictures, and they get automatically uploaded to the original owner's cloud. Therefore, you can see who the thief was in the first place, and what they are doing. It's not smart.
25. NOT A GOOD SIGN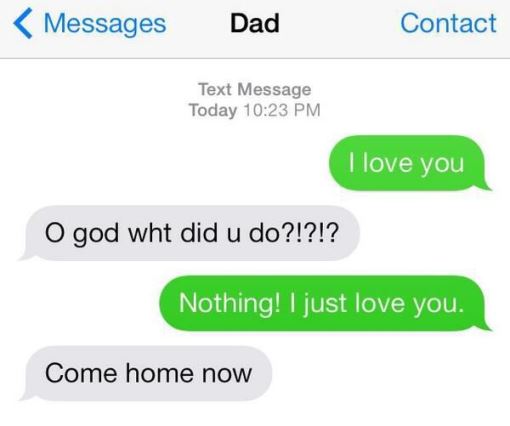 People don't say "I love you" that often, and some kids do it when they want something. Other times, they might be trying to get out of trouble. Therefore, we can probably assume that this child was a troublemaker if his or her dad refused to accept that the message was just to express emotions. Also, there are some people who get overly affectionate when they drink, and the kid might be drunk-texting. Still, we wonder what kind of things she or he got up to that the dad was worried.
24. OMG...NO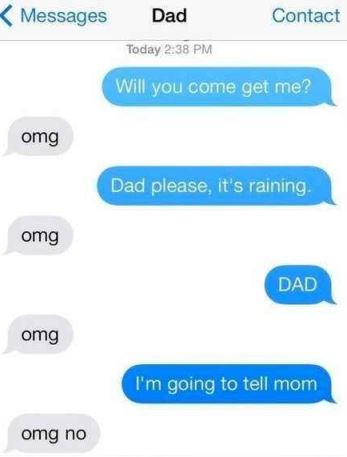 This is a funny dad that was probably making fun of all the times his daughter uses the "OMG", which means "oh my god". We have to admit to using that phrase or the acronym all the time in regular conversations. We hear often from our friends and tend to use it without thinking too much about it. However, we should stop. Luckily, this child knew exactly what to do to make her dad stop laughing at her, and the threat of mom is always powerful.
23. NOT AT THE BEACH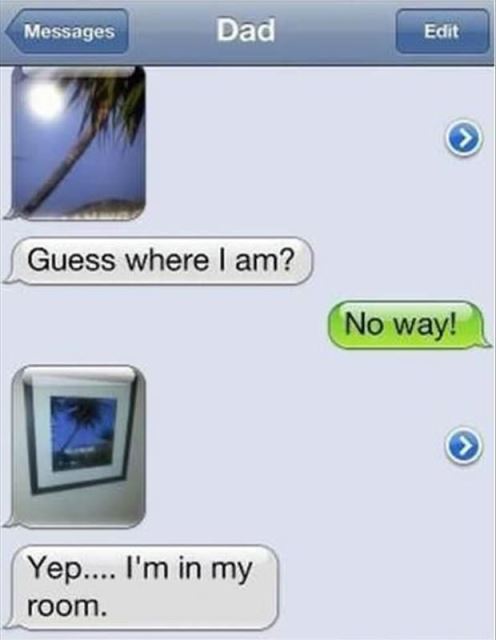 We would go crazy if our dad decided to go to the beach and didn't tell invite us. However, this is a pretty trivial conversation. It looks like the dad was just learning about using camera phones and wanted to make one of those typical "dad jokes" that are only funny at certain moments. We love the creativity, though. Sometimes, you have to break the ice and starting with something that simple is the best way to do it. There are parents and kids who drift apart when the child moves out, and it's great to do silly things like this to keep the relationship going.
22. DAD JOKE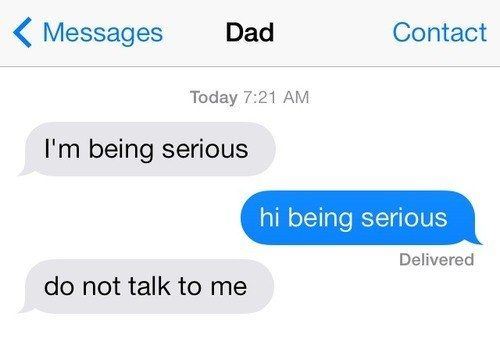 This is the quintessential "dad joke". They have all used it at some point in their lives and with all its variations. You can say, "I'm tired," and your dad will go, "Hello, tired." It's a simple concept, but it can help build a better relationship with your parents. Sometimes, fathers are more closed off than mothers, and when a kid moves out, they don't contact them as often. That should never happen. It might seem like nothing, but if you can joke like this with your dad, then you are on the right track.
21. A STAR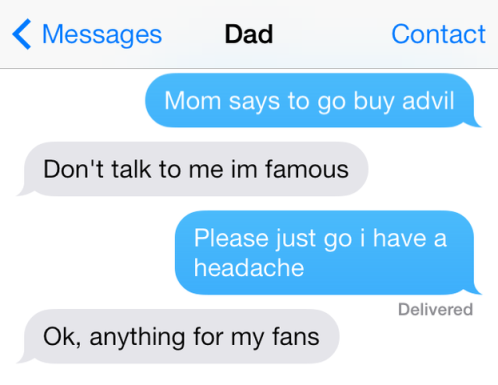 Yes, we are all fans of fathers that make weird jokes. However, we are all crazy for a dad that will go to buy some medicine when their kid feels sick. He wanted to make a joke, and we're sure the child appreciated it when the headache wasn't that bad. In this situation, the dad was probably trying to make the child feel better with a bit of humor, but maybe, it doesn't work on text because you have to focus your eyes to read. That can worsen the situation.
20. NO BLOOD PLEASE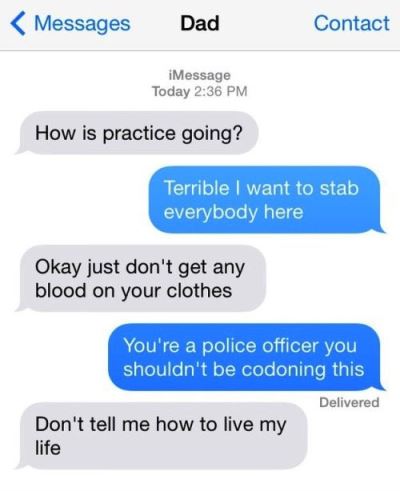 This dad, who is also a cop, knows when to make fun of a situation. He also knows that his child is exaggerating and would never do something like that to his peers, no matter how annoying they are. We have all been through days when we wanted to kill everybody, but it's always a joke. Meanwhile, we love when parents seem sassier than their kids. At some point in life, it seems that the responsible role is reversed, and children end up scolding their parents.
19. EWW, NO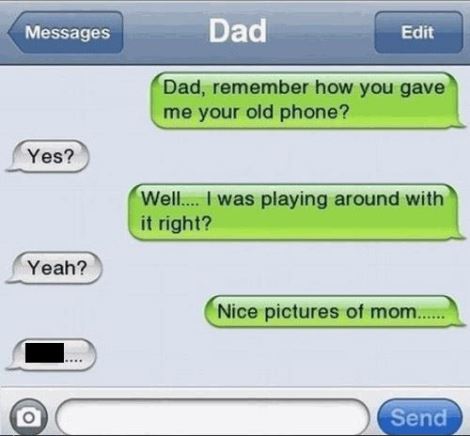 This is one of the worst things that can happen. Therefore, before handing your phone over to someone else or selling it, it's better to restore it to its factory settings. That way, you can make sure that none of your private files remain and that your passwords have also been removed. However, when people give it away to a family member, they tend to forget about the old pictures on their phone. It must have been awful for the child to find whatever images he or she did while searching around. That's just disgusting to think about.
18. WRONG ACRONYM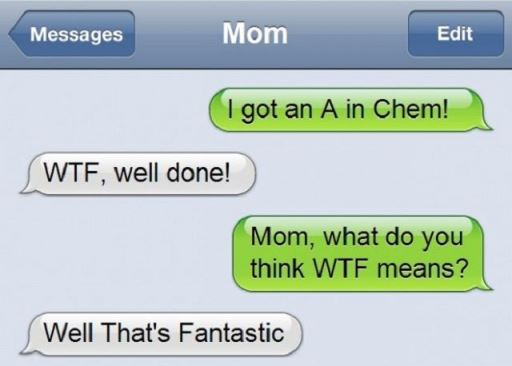 This is another parent that doesn't understand the meaning of "WTF". Earlier, we saw someone who thought it meant "Wednesday, Thursday, or Friday", and it's also pretty wholesome this time as well. "Well, That's Fantastic" would be an awesome thing to send to your friends, but it's not that catchy. Interestingly, this acronym goes back to the 80s. Language historian Ben Zimmer found "WTF" in a 1985 Usenet post with the title 'Ramblings'. Apparently, it was written by a user named Jay Fields, who posted, "Upon booting I received a message saying "PLEASE INSERT WORD MASTER." I asked myself, 'W.T.F.?'" Meanwhile, other derivatives of this acronym change the "w" for "who", "when", "why", and others.  
17. GETTING OLD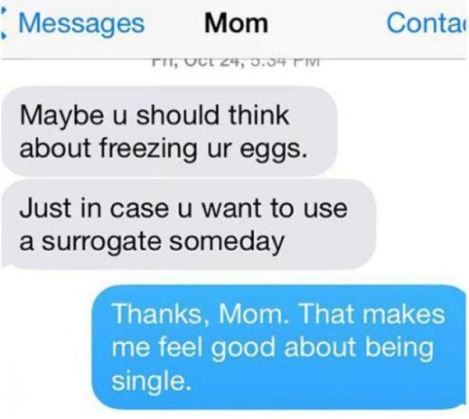 At some point in your life, your parents will start asking you to give them grandchildren. Of course, you should never be pressured to have any kids, especially if you don't have a stable life plan and a solid income. Studies have actually revealed that Millenials are not having as many children as the previous generation. The economy has significantly changed since the Great Recession of 2008. Many young adults are strapped in student debt and buying a house is almost impossible. Therefore, it's expected that Gen Zs will have even fewer kids.
16. IT'S YOGA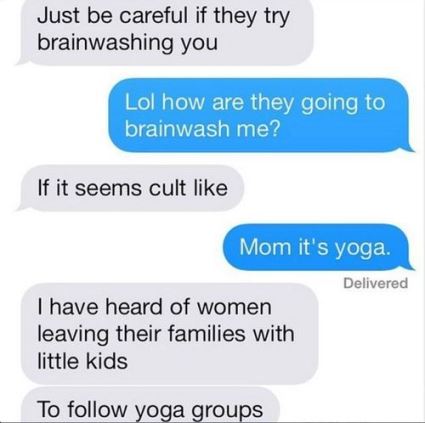 Yoga has become almost a calling to many people out there, and this mom is clearly exaggerating. However, it does seem like people who fall into a fitness trend almost join a cult because it changes their life. Yoga actually derives from India around 3,000 B.C. as there have been discoveries of stone-carvings of yoga poses. It was later adapted as a form of reaching balance within your mind and your soul "on the path to divine enlightenment". That does sound a bit like a cult organization.
15. BUT!?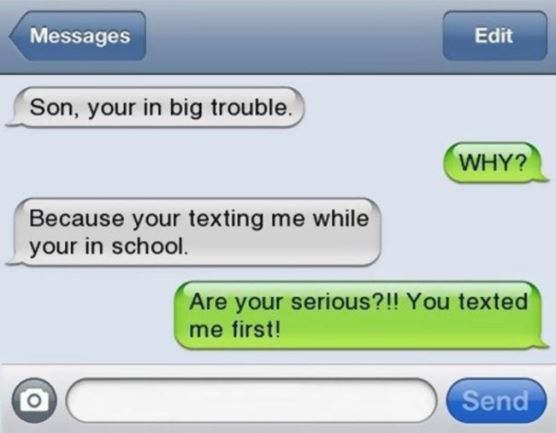 We don't know if it was the kid's dad or their mother who texted him to make him fall in the trap, but it's pretty funny either way. Yes, you shouldn't use your phone during class, but that's almost impossible nowadays. Some parents even want to know exactly where you are at any given moment, and they demand that you keep your phone with you all the time. However, it does seem like we have become too dependent on this technology. We should all find hobbies that separate us from smartphones and texting every once in a while.
14. WEAR HEELS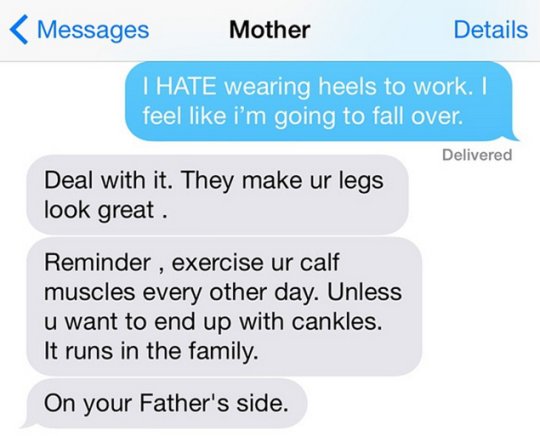 Unfortunately, there are many places where women are expected to wear heels, and they can give you an amazing posture. However, it shouldn't be mandatory. In fact, in Japan, almost all careers demand that women use that kind of shoes. But, there's a new movement called "#KuToo" with is a play on the Japanese word for shoe, "kutsu", and "kutsuu", which means pain. Of course, they also added a "too" to make it seem like the famous #MeToo movement that has been rocking the world for some time now. 32-year-old Yumi Ishikawa started a petition, which was signed more than 18,000 times, which hopes to place a law that prohibits employers from demanding strenuous footwear.
13. CALM DOWN, MOM