50 Hilarious Photos of Revenge for Awful Parking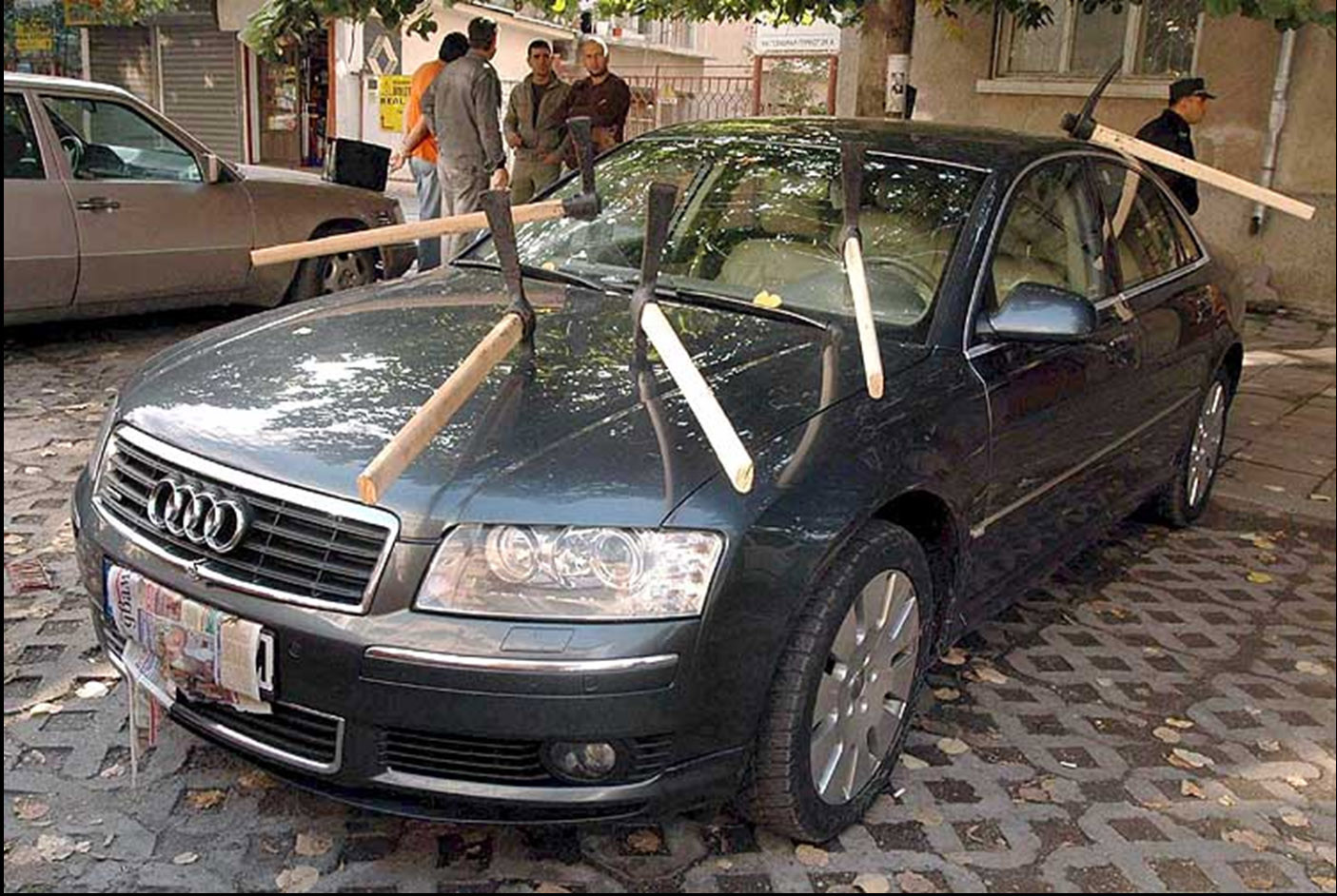 Is there anything more infuriating than someone who has taken up two parking spots with a tiny car? How about when some idiot that keeps parking right across your driveway every morning? We can feel our blood pressure rising just thinking about it. Luckily, we've got just the remedy for you: over 40 images of people getting revenge on those self-important people who park like they own the road! 
Not-So-Smart Car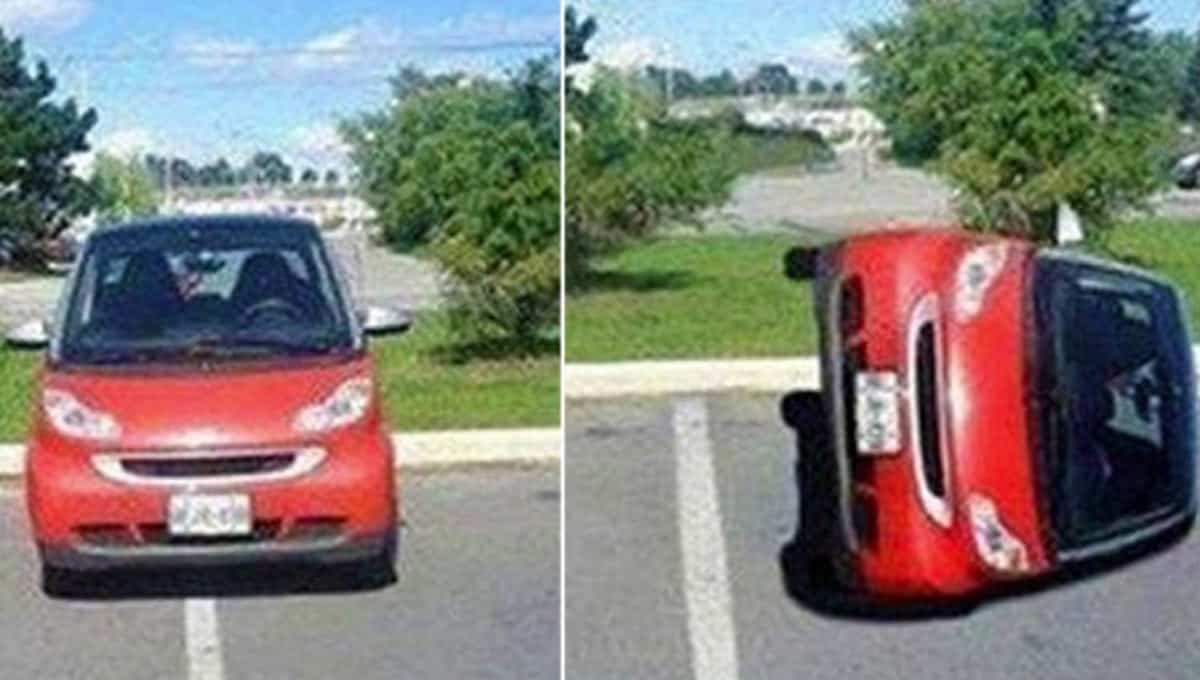 Do you know anyone who owns a smart car? First of all, please ask them to re-evaluate their life choices. Second of all, if they ever make you angry, take a page out of these prankster's books. All you really need is two people and a can-do attitude. These little cars cannot be that heavy, as proved by this image. Arguably the best thing about these little vehicles is that you can easily lift them up or flip them on their side. Use this information wisely.
Crappy Parking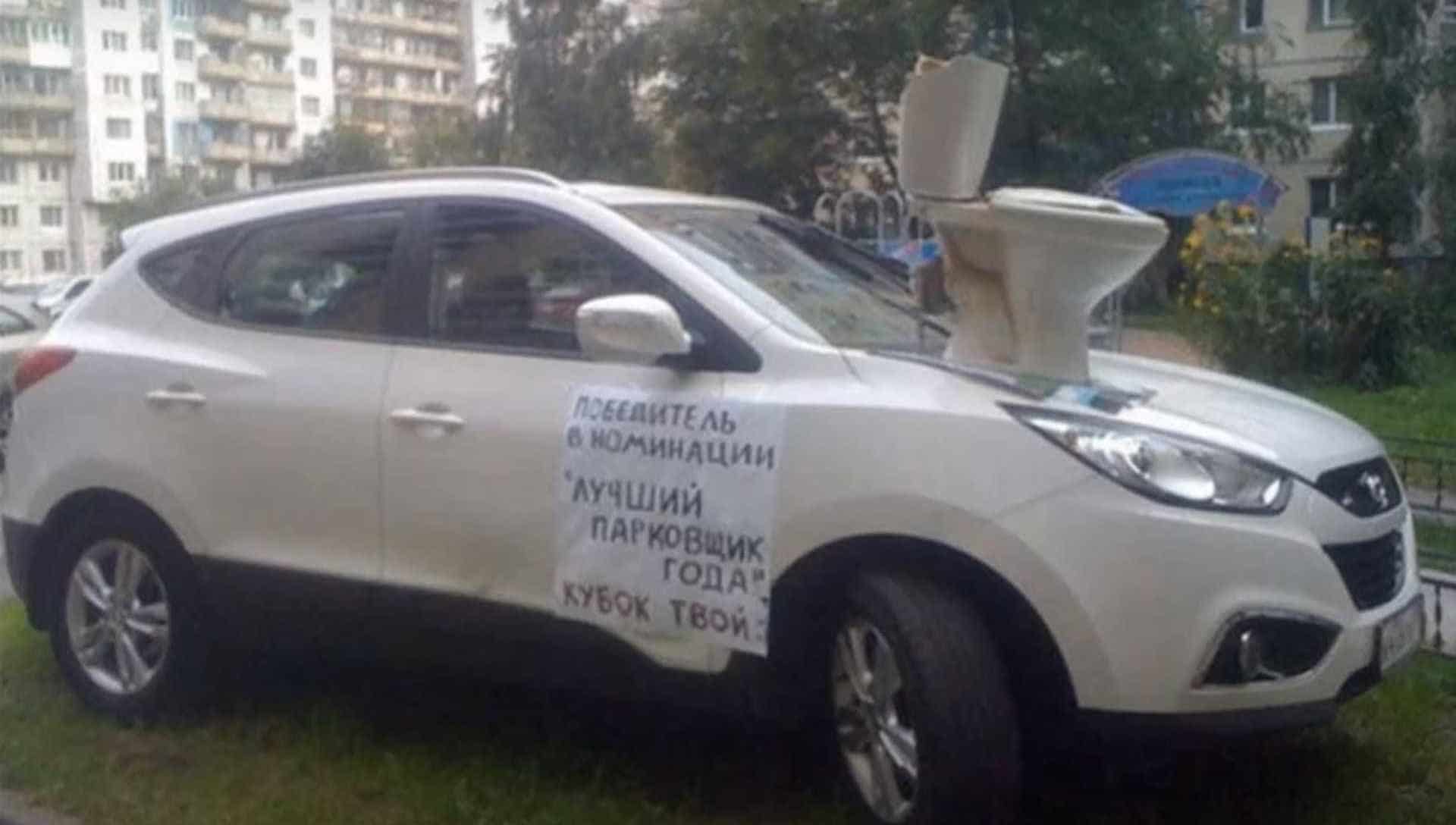 This next image raises a lot of questions. Namely: did these pranksters just have a toilet lying around? It must have been pretty heavy to cart over to the parking lot. At any rate, they did it, and they sure did prove their point. Perhaps they needed to get rid of an old toilet from a renovation project! In that case, they managed to kill two birds with one stone! What's more, is that everyone else will know what a crappy parker this person is. An act of truly ingenious revenge. 
Bus-ting for a Park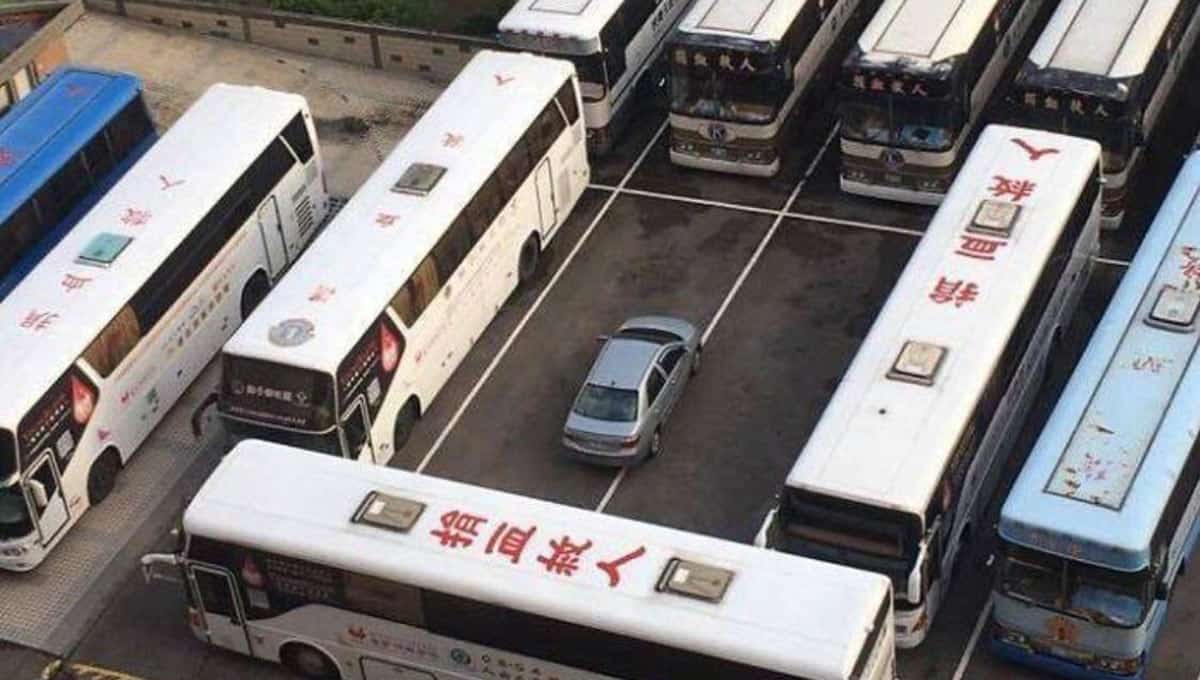 What kind of idiot parks in the parking lot of a bus depot… in a car? The driver of this vehicle really did walk into this one. Or rather, they drove into it. So being stuck in is their own fault! At the same time, the bus in front isn't just blocking this car off. It's also stopping two of the surrounding buses from getting out! Maybe the real idiot isn't the silver car, but the driver of that bus. After all, he's stopping three people from getting out, whereas the silver car is only blocking two!
Fit for a Princess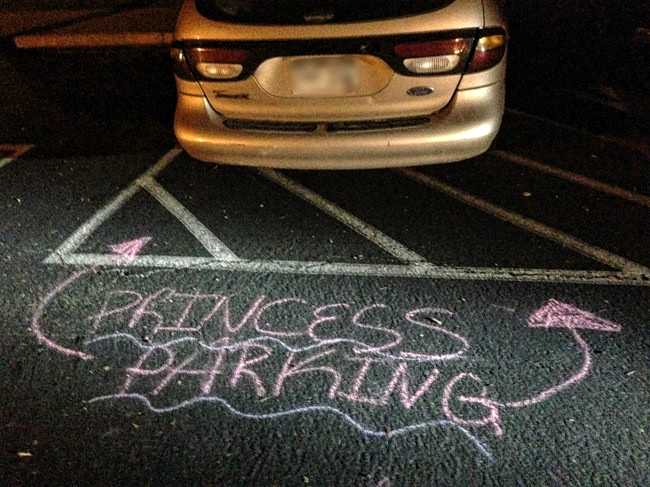 This first image definitely made us giggle. It doesn't even look like there's anyone in the park next to this hatchback. Nonetheless, they seem to have taken it upon themselves to make sure everyone else has space to park by parking in the one place they aren't supposed to. Another courteous citizen has kindly chalked out a very special parking spot just for the driver of this car. Obviously they must be royalty, because who else would assume the privilege of ignoring parking rules?
Driving the Point Home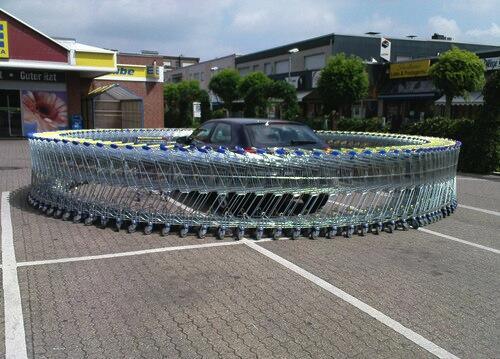 Has someone stolen your supermarket park? Here's an idea: round up some supermarket trolleys and get creative like this person. Your best bet is to ask one of the friendly supermarket staff to give you a hand - they might even be happy to have some help rounding up the trolleys! Fencing someone's car in is a classic way to make a point about park-stealing, and what's more is that you're not likely to get into hassle with insurance or damage to their car. Genius!
"Wheelie" Bad Parking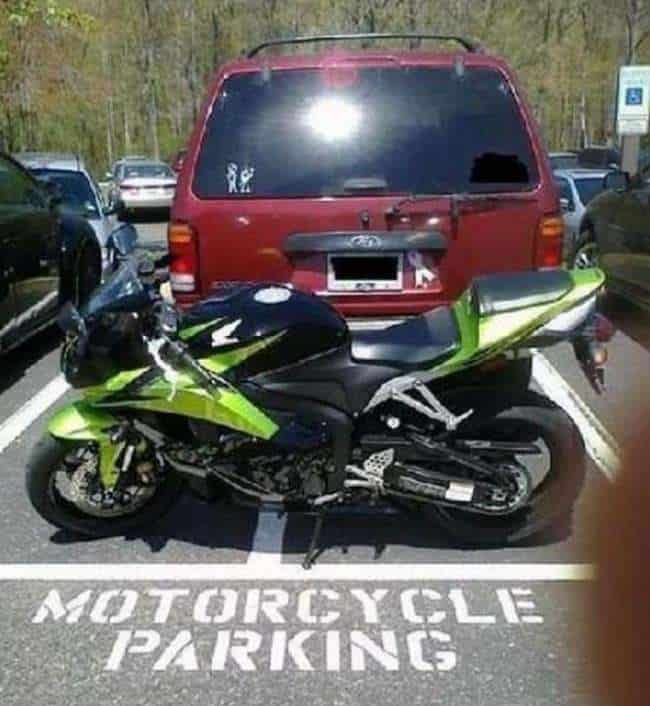 Motorcyclists have a reputation for being a little more badass than other motorists, so it's not surprising that this one decided to teach a brazen SUV a lesson! We certainly don't envy the SUV driver. Of course, this big vehicle shouldn't have been so cheeky. The road markings quite clearly show that this is a parking spot exclusively for motorcycles. Imagine how many parking hassles could be saved if people just read parking signs!
In Case of Emergency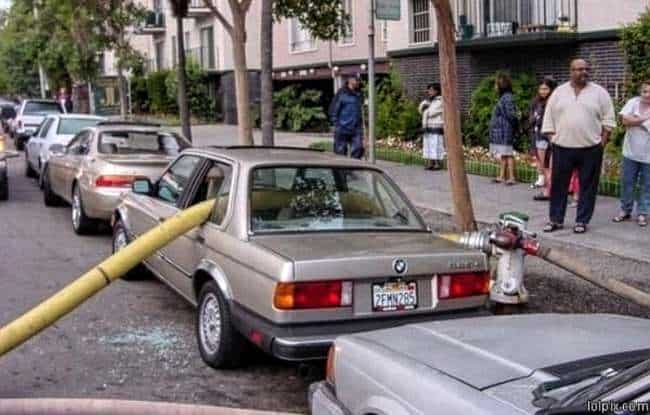 Turns out those fire hydrant signs aren't to be ignored either! Have you ever been tempted to park in front of one? Perhaps this image will make you think twice about getting in the way of the fire department's key resources. It looks like the good men and women attending this fire callout decided to bust this BMW's windows in order to pump much-needed water to the fire. Who can really blame them though? They've got enough on their plates without having to deal with bad parking!
Absolutely Trashed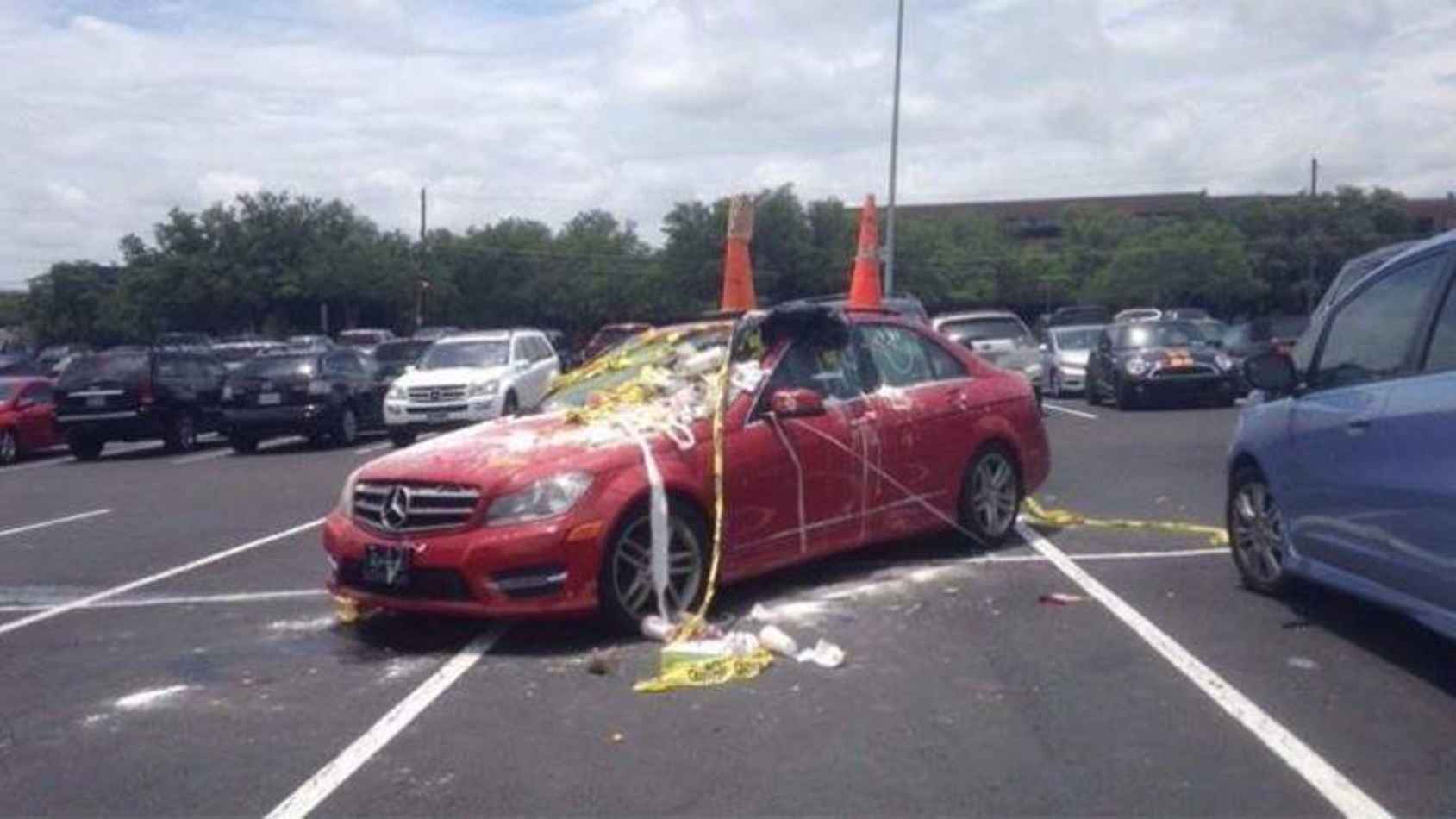 Everyone knows that one person who is obsessed with their car. If you know someone with a weakness for their beloved vehicle, you have an easy way to get revenge if they ever do you wrong! We're not sure whether the pranksters were annoyed about the parking situation or something different entirely. At any rate, no one wants to finish work or school and come out to see their car in this state. The cones aren't too bad, but the trash bag, toilet paper, caution tape, and silly string are going to be a real pain to clean off!
A Monster Revenge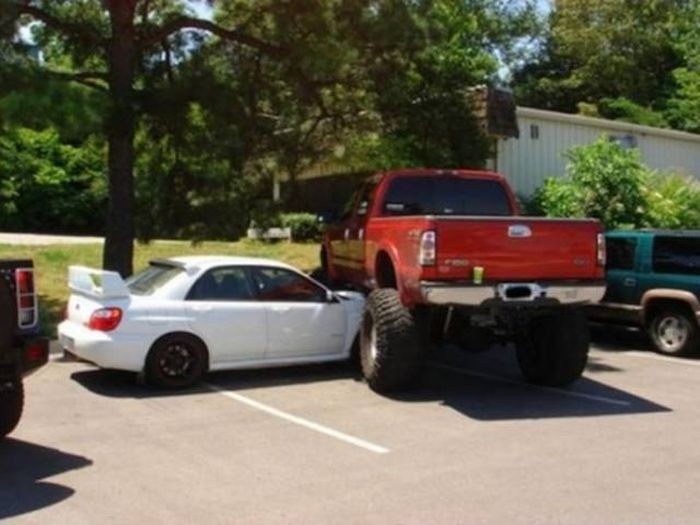 Imagine having the audacity to take up two parking spaces just because you thought your car was more special than everyone else's! This one really makes us mad. It looks like it made someone else pretty mad too, because this little white car has taken revenge on the monster-style truck by parking right between the wheels. Perhaps it's even the other way around. The big red truck could also be getting back at the poor parking by the white car by driving right on over that hood! Either way - someone's parked horrendously!
Slow on the Uptake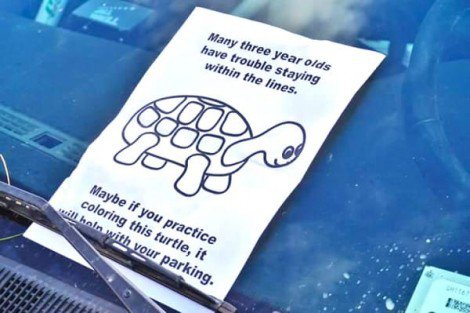 If you've ever considered getting your point across in a more passive-aggressive manner, you might want to take a few tips from this person! There are a lot of pros to this method: firstly, it barely costs you anything. Secondly, you're way less likely to get caught, because it only involves putting a sign under the windscreen wiper! Lastly, it's going to give other motorists a giggle. And of course, you're getting the point across! What more could you want? A win-win situation.
Absolutely Garbage Parking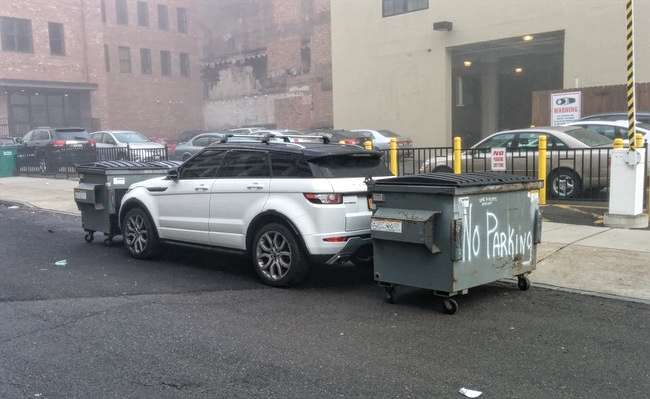 Have you noticed that a lot of bad parkers seem to be the owners of SUVs? Maybe being up a little higher makes them feel like they own the road! Whatever the case may be, there's really no excuse. Someone else clearly agrees, and blocked this twit in with two big dumpsters. It seems like there could be low literacy rates with SUV drivers! We're sure the "no parking" sign on the bins was visible even before this person parked illegally!
Totally Nuts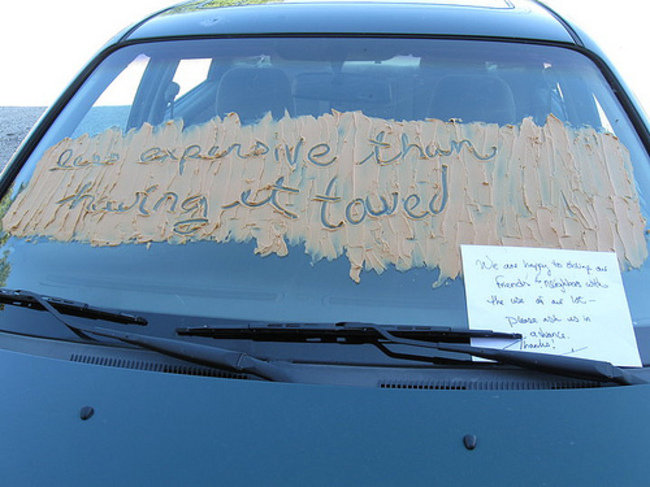 The next instance of parking revenge is uh… a little nutty, to say the least. We wonder if the pleasant little note was left before the passive-aggressive peanut butter message? The latter reads "less expensive than having it towed." Without being able to see the kind of parking mistake that this person made, it's hard to say whether this one is warranted. One thing's for sure though: we hope that the driver isn't allergic to peanuts!
VIP Parking Only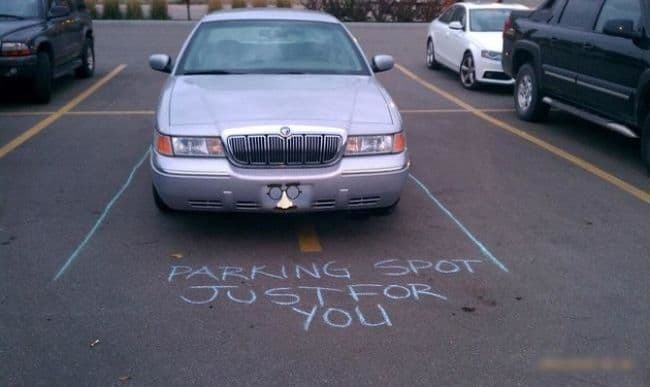 Doesn't this photo make you groan? Surely the driver of this Mercury Grand Marquis needs to get their eyes checked. While it might have made a few motorists pretty angry, it did give someone an opportunity for a giggle. This example is also a quick and easy way to get revenge. It wouldn't take very long, and other drivers are sure to be amused too. Just be certain to carry a little playground chalk in your glove box at all times!
Teamwork Makes the Dream Work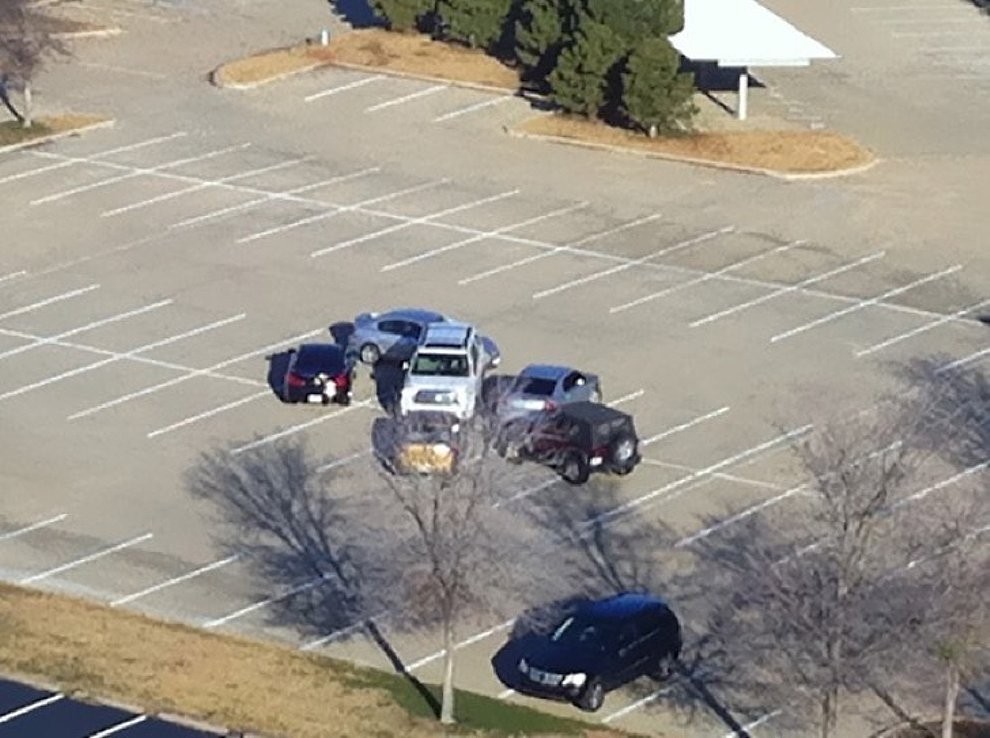 Another SUV driver who seems a little slow on the uptake! This photo just goes to show that you don't want to get on the wrong side of more than one person at any one time! It looks like one or two drivers decided to block the SUV in for their bad parking, and then a few others joined in. Even if one of the cars on the side leaves first, the driver of the white truck is going to be blocked in there for some time! Well, they shouldn't have parked like a dummy in the first place!
The Office Joker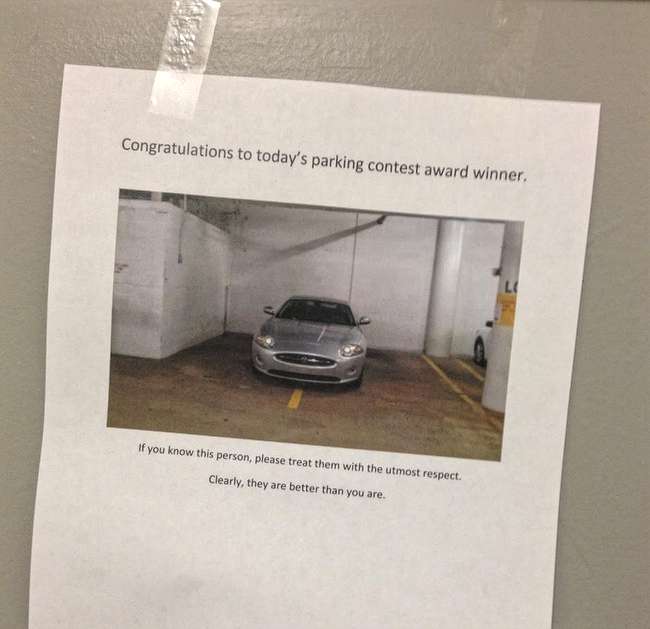 Sick of someone in your workplace parking like a twit? Here's a cheap and easy solution! This method is basically like an intervention. This person's office reputation is definitely going to be tarnished by their parking skills, and what's more is that it only takes one person! You can shame the worst parker in the office into learning to park their car correctly. Of course, you want to be sure you don't get in trouble for wasting office resources - then you've got two problems on your hands!
Jeep's Blues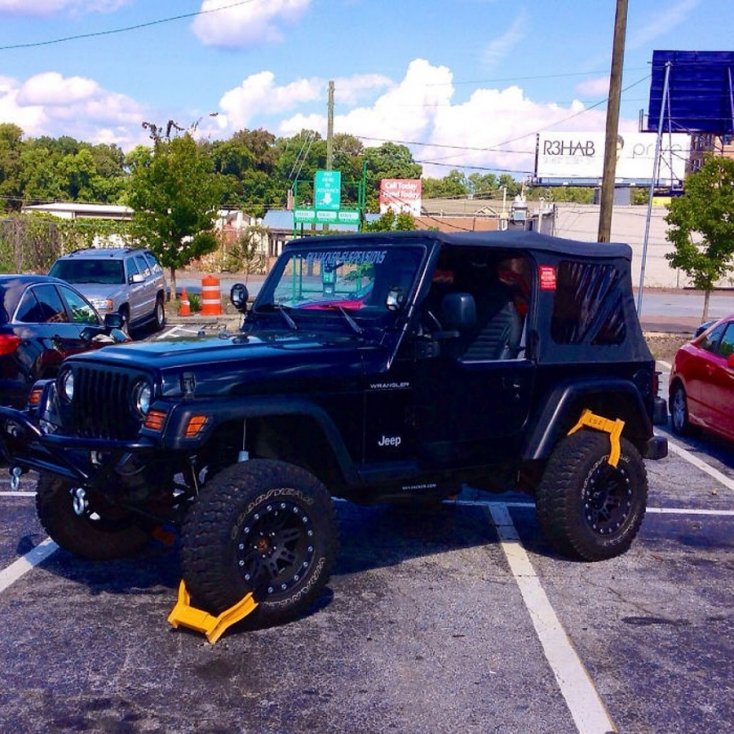 Looks like this jeep owner is being taught a very important lesson! They've been clamped, but the parking wardens didn't exactly go easy on them. This driver has been penalized with one clamp for each parking spot they have taken up! And fair enough, we say. This guy clearly thinks his jeep is so special that it deserves four times as many parking spots as every other motorist. We bet the driver won't be parking like this anytime soon!
'Cor(vette) Blimey!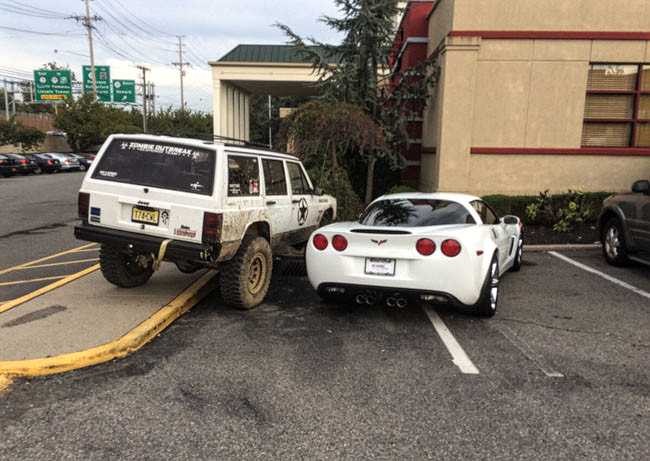 This Jeep's passive-aggressive park is like the visual equivalent of yelling "CAN YOU NOT?!" at the driver of the Corvette. And we have to say, we're 100% on board. Owning a Corvette doesn't make you any more special than the next person, and this Jeep has gone out of its way to prove that. Not only is the driver of the white car going to have a fun time getting into their driver's door: they're also going to risk their paint job!
Note to Self… Learn to Park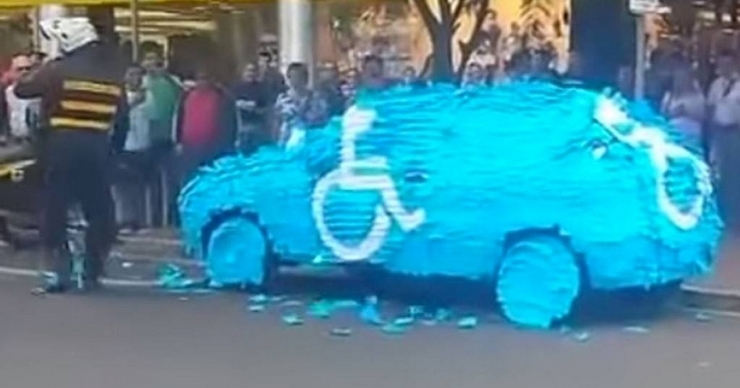 This has got to be one of our favorites. If you absolutely have to park in a handicap spot without a permit, you should at least be quick running in and out of the store. This person clearly took a little longer than a hot minute! It would have taken at least a couple of hours for pranksters to set up this Post-It Note masterpiece. What's more is that the driver of this mystery vehicle is forced to take the notes off before they can drive away! The ultimate revenge for parking in a handicap spot.
They Won't Be "Wrapped" About This Prank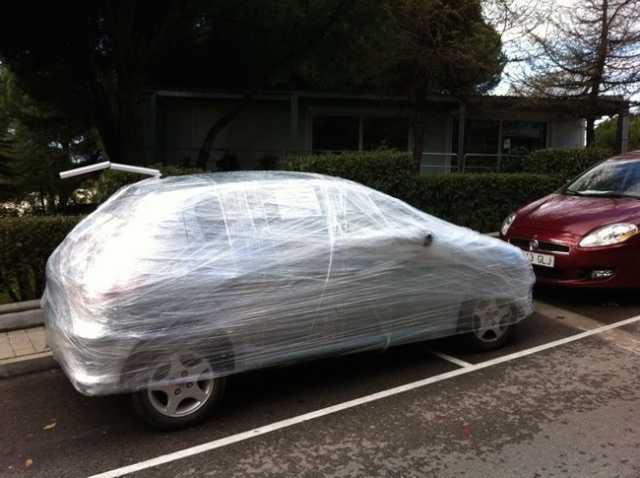 Ok, we have to admit that this one seems like an overreaction. We're going to give the wrapper the benefit of the doubt and assume this driver has been parking like this for some time. While this impressive prank isn't exactly eco-friendly, it sure is going to show the parker! We are willing to bet that the driver of the silver car isn't getting out of that one any time soon…  But surely there are more cost-effective ways to teach someone a lesson! 
An Oscar-Winning Approach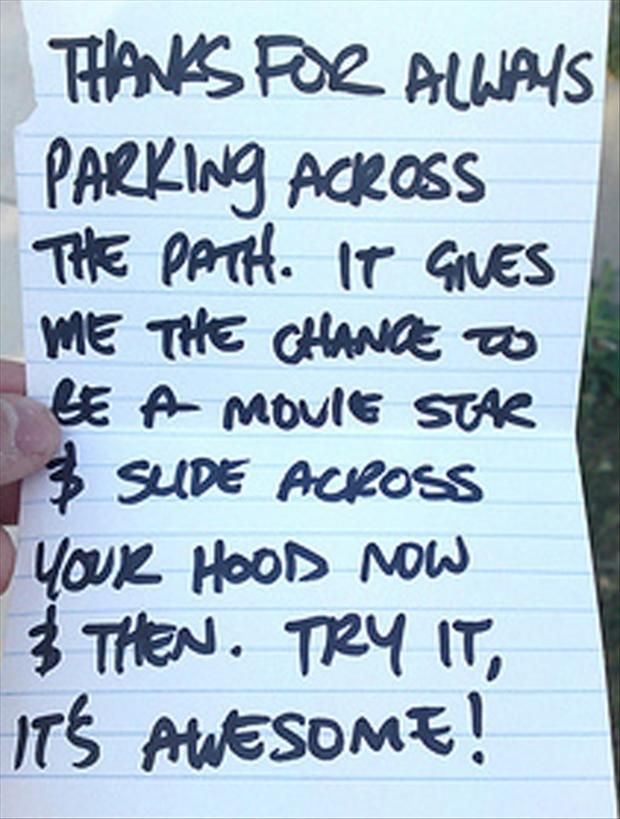 Here's one for the less aggressive folks, or even just the 1950s and 60s movie lovers! This note reads: "thanks for always parking across the path. It gives me the chance to be a movie star and slide across your hood now and then. Try it, it's awesome!" We don't know about you, but we're envisaging a kind of Grease scenario. Perhaps this car is automatic. Maybe even systematic? It could even be hydromatic! Why it could be greased lightning! 
A Koala-tea Aussie Note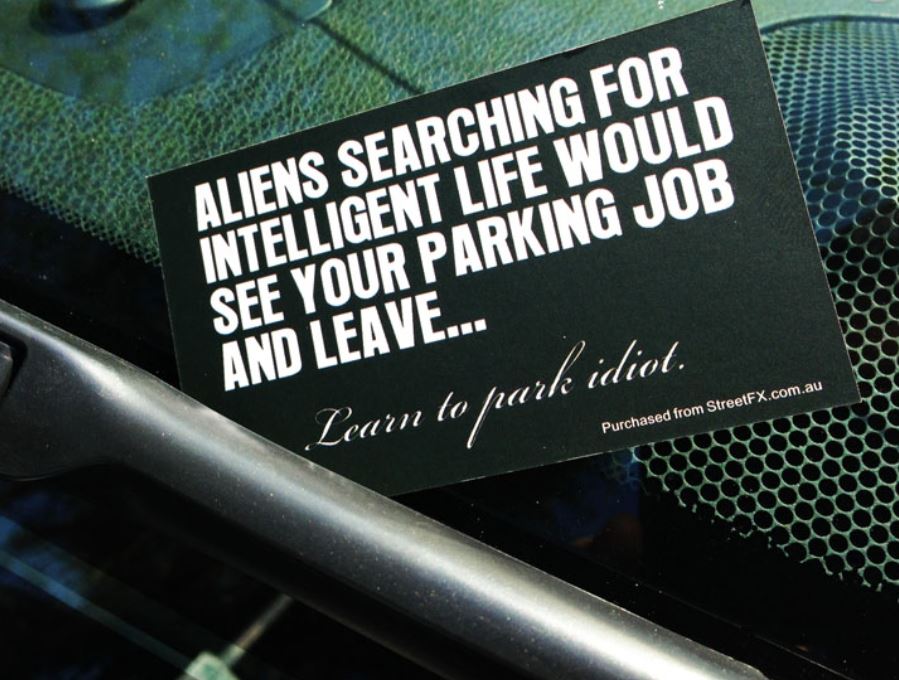 Aussies are known for having a certain sense of humor. Perhaps it's not conventional, but this one definitely made us giggle. There are definitely benefits to simply placing a mass-produced piece of cardboard under a windscreen wiper. For one thing, you barely have to lift a finger. But at the same time, we're not sure anyone would take it too seriously! If you appreciate this approach, you can get some of these cards for yourself!
More Trash Parking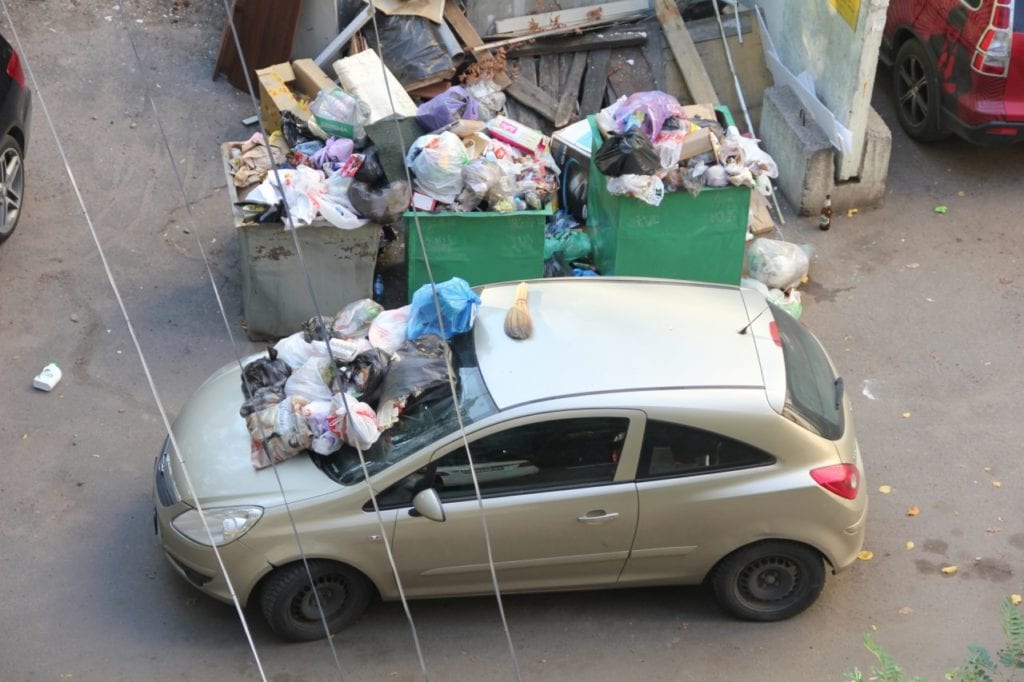 We can only guess that this driver parked in front of the bins on the day the garbage men were due to pick them up. Not a good move, my dude. Have you ever heard of the phenomenon "garbage trucking?" It's when someone comes along and dumps all their emotional garbage on you. Looks like this driver felt the full force of that concept both literally and figuratively… Guess they shouldn't have annoyed the rubbish truck guys! 
Not Exactly a "Ford" Thinker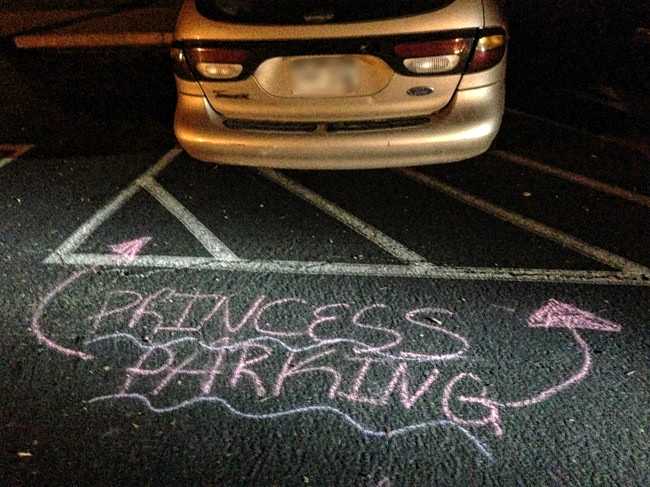 We're beginning to think that they should include more parking questions on driving tests. But do people really need to be told where to park? After all, if they ignore the signs anyway, it might be a totally futile task. Like, is this person for real? Everyone knows that the diagonal lines mean no parking! All the same, another courteous motorist has chalked out a parking space especially for them. What a considerate driver!
A Sticky Situation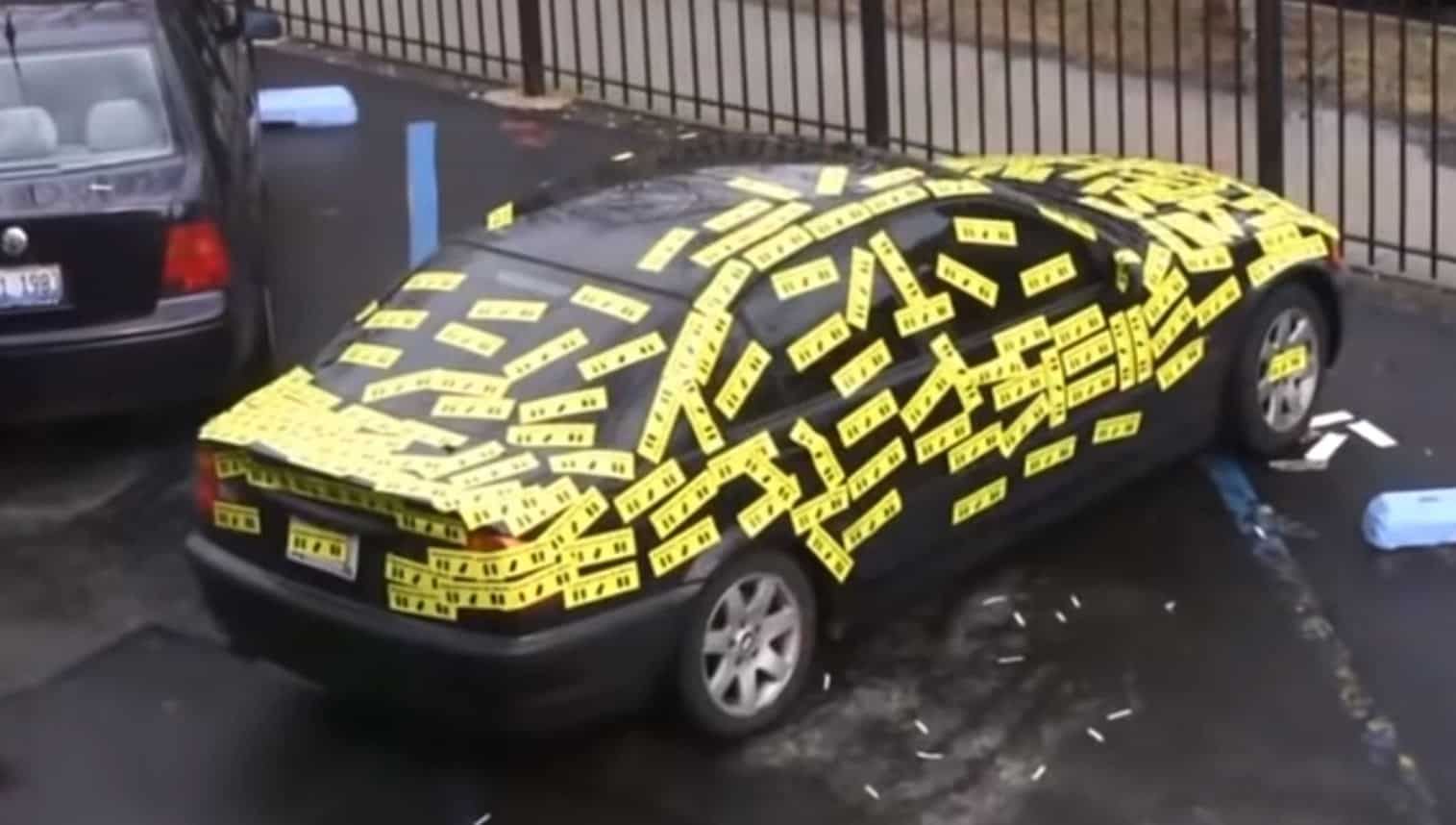 Of all the images in this collection, this one makes us cringe the most. For sure, the owner of this vehicle should have just parked in the lines. But we can't help but suspect that they might have done something a little more than that, because this seems like an act of pretty serious revenge! Can you imagine having to peel every single one of these stickers off your car? The tediousness of that task cannot be equal to the annoyance that other drivers felt at this person's parking skills… 
A Well-Deserved Congratulations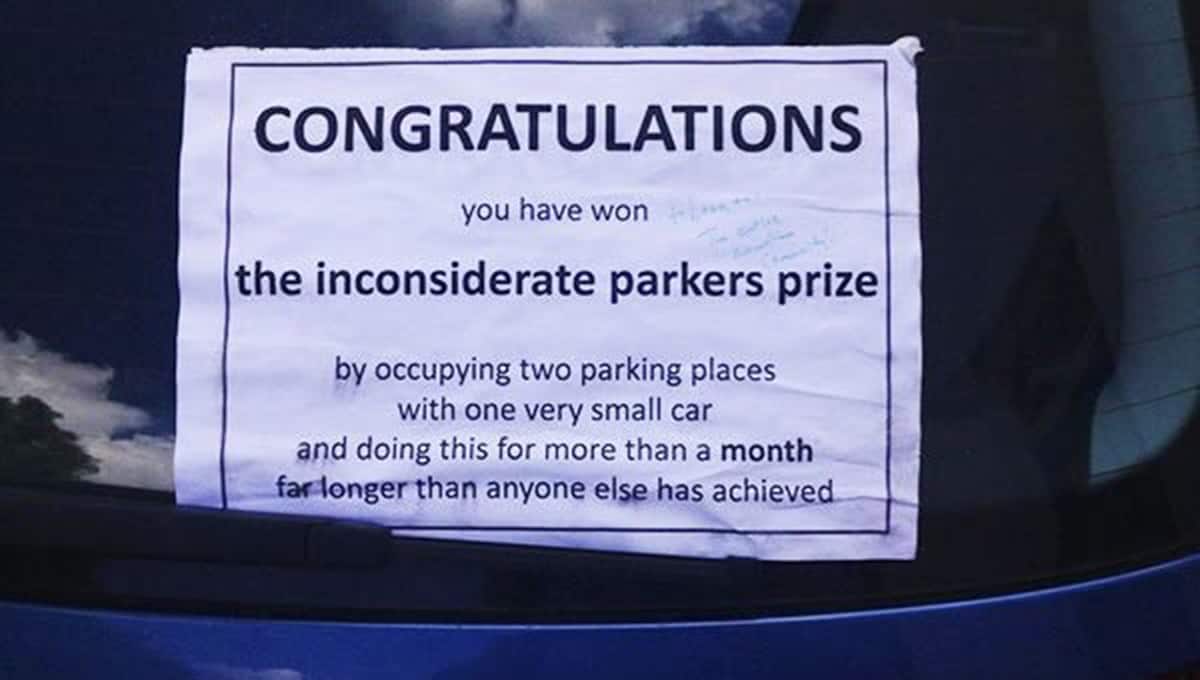 While the previous punishment for inconsiderate parking seemed a little overboard, this one seems well… a little underboard. Is that a thing? It should be. Anyway, if you keep parking across two parks for an entire month, you've probably got some bad karma coming to you. At any rate, keeping it up for a whole month is pretty impressive. Not to mention brazen as hell! Hmmm… we can't help but wonder what the prize is!
Stuck on You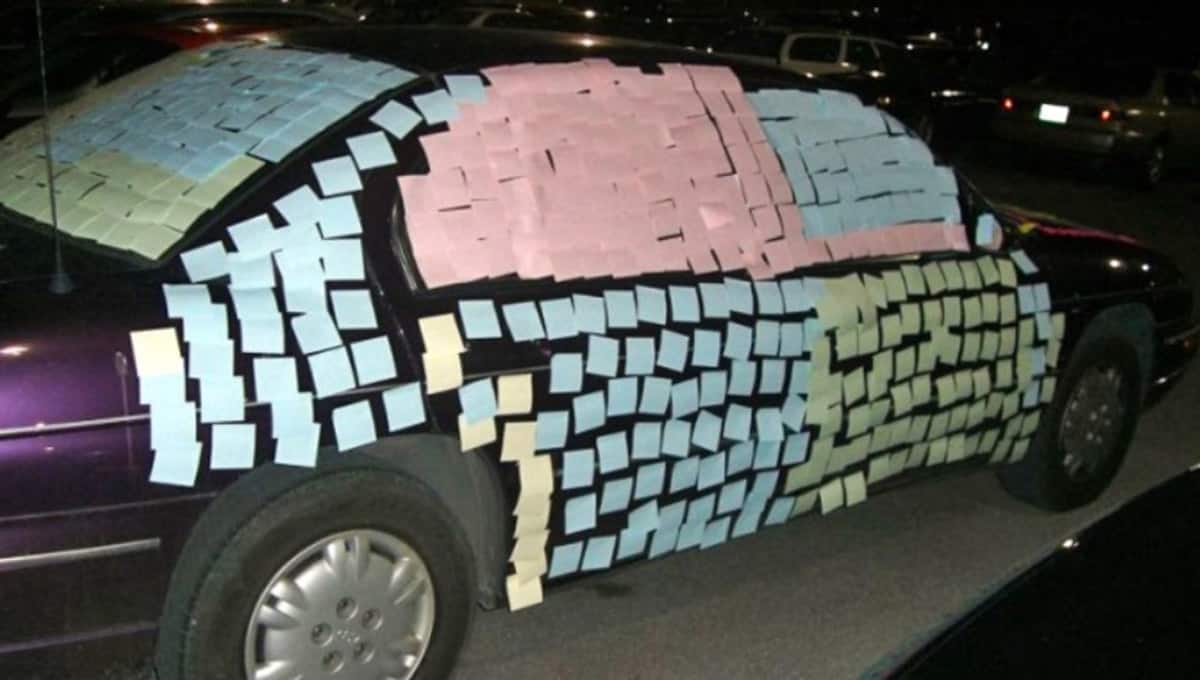 The owner parked in the handicap spot would have been able to pull all the notes off in one fell swoop. But this poor fellow is going to have a much harder time of things. They'd have to peel each sticky note individually! Imagine the time that would occupy. Perhaps the prankster's hope is that the purple car's owner will spend that time thinking about improving their parking approach… You could even say that this driver will "take note" from now on!
A Literal Idiot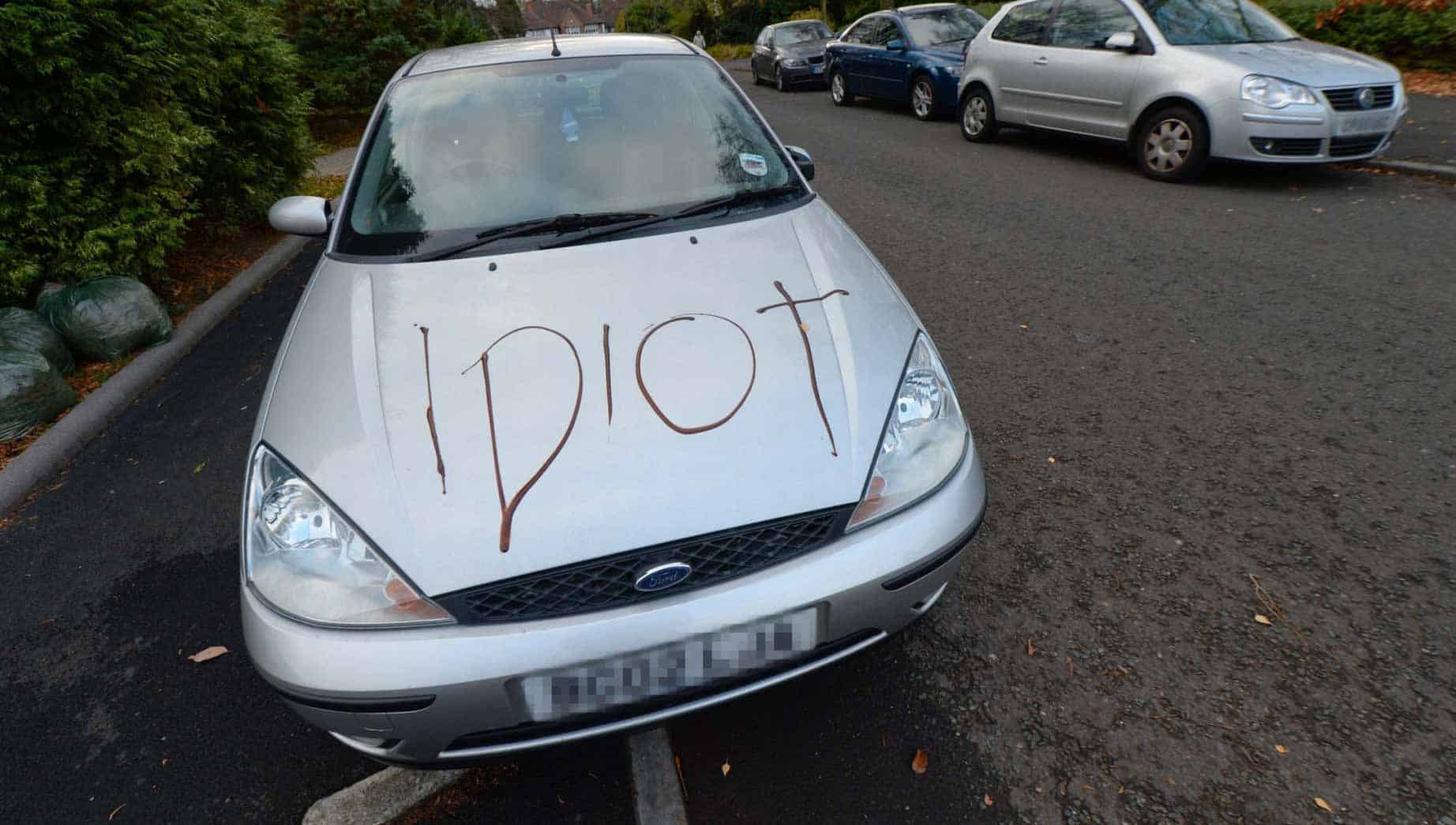 There is something that truly irks us about people who park on the wrong side of the road. How did they get there in the first place? What makes them think they have a right to disobey the road rules? Thank goodness another law-abiding citizen has highlighted their idiocy by quite literally writing "idiot" on the front of this silver car's bonnet. If they can't figure out how to park, we hope they'll at least get the message.
Especially for You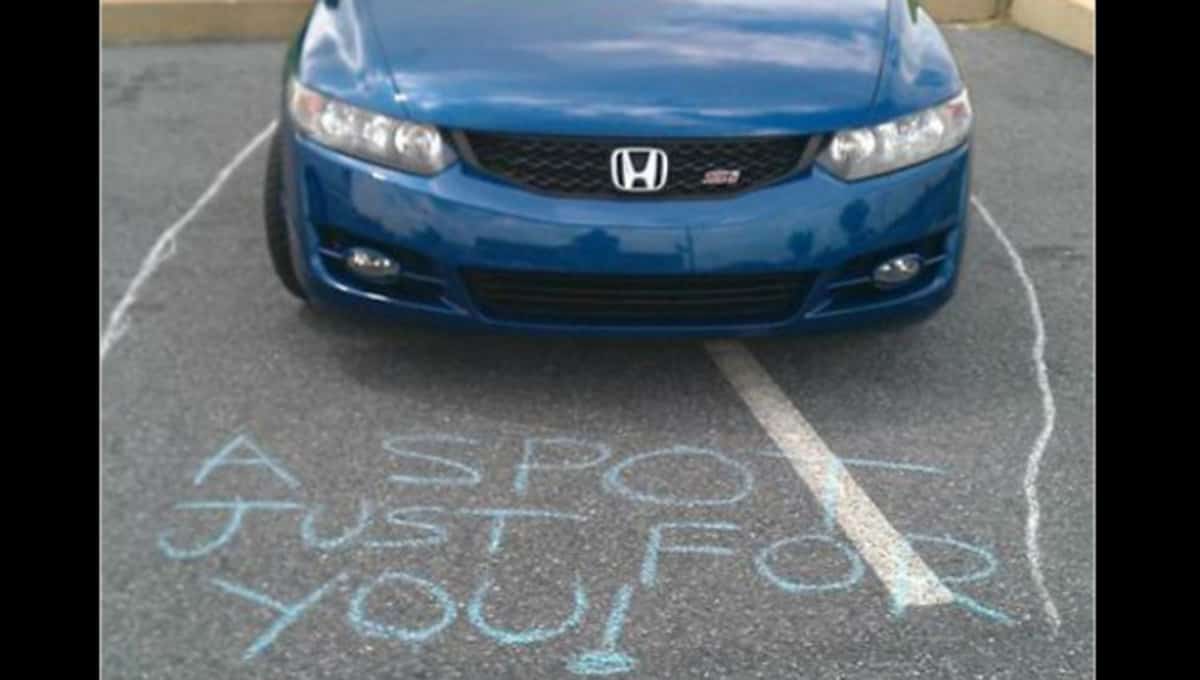 Hmmm… this one looks familiar. Perhaps the same person who so courteously chalked out a parking spot for the princess also drew these lines! After all, the handwriting is kind of similar. But seriously, how hard is it to just park between the lines? They're there for a reason. When you think about some of the other kinds of parking revenge we've seen, this isn't much of a penalty. We're definitely adding "jumbo chalk" to our shopping lists!
Revenge of the Smart Cars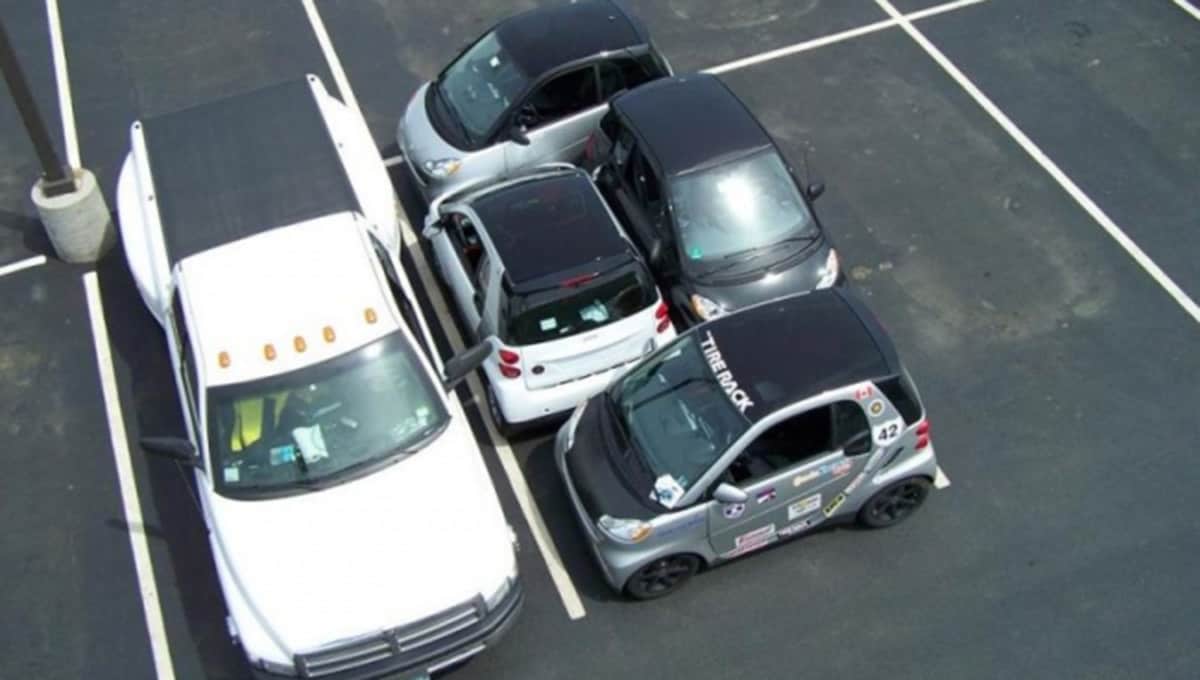 Owning a smart car is basically a political statement. Just like owning a truck, in some ways. For smart car owners, that statement is: "we value safety and economy over brute force or aesthetics!" We can't say the same of pickup truck owners. Moreover, they've definitely been spotted parking dubiously many more times than smart car owners. At least in this collection! These four seem to be making a bit of a point by demonstrating that four of them can park in the same space that one truck can. Go figure!
A Little Fishy...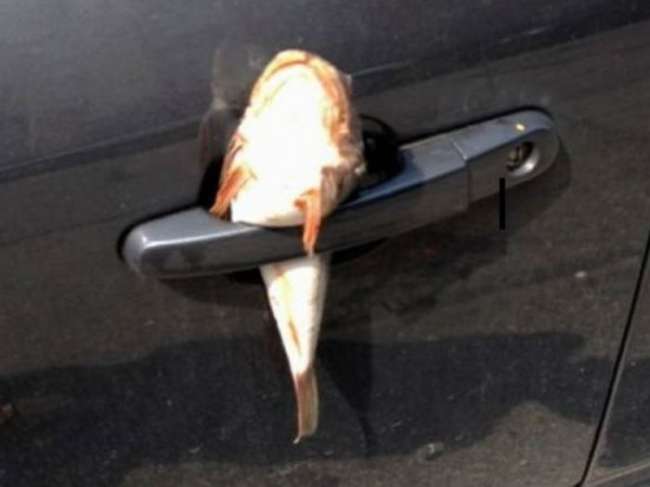 This one has us scratching our heads. Is it a silly practical joke? Or a serious threat? Either way, it doesn't seem like something you'd want to find in the handle of your car door. For one thing, it's got to smell horrendous, especially if it's been sitting out in the sun all day. It also seems like a waste of a perfectly good fish! If you're going to prank someone, surely you want to do it in the cheapest and easiest way possible, and this ain't it. 
Seeing Red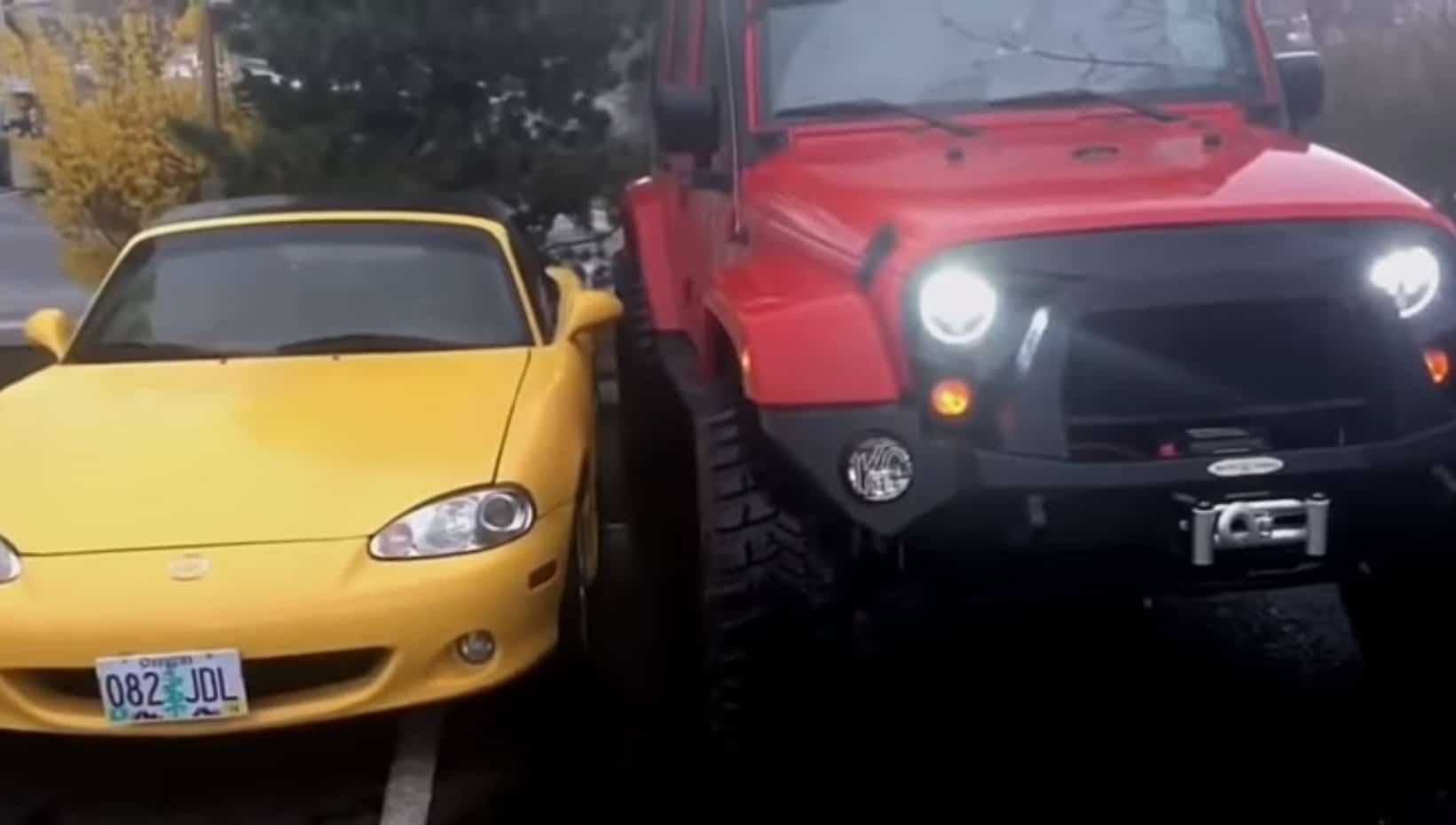 We can't blame the owner of this jeep for being frustrated with this park. Doesn't it make you tense up? The yellow car only had to move over a tiny bit to allow someone else to park easily next to them! Maybe it's not a lack of parking questions on driving tests? Perhaps we should implement IQ tests instead because this one seems like a failure of plain old common sense. Or is it courtesy? You be the judge!
Not Getting Out of This One Fast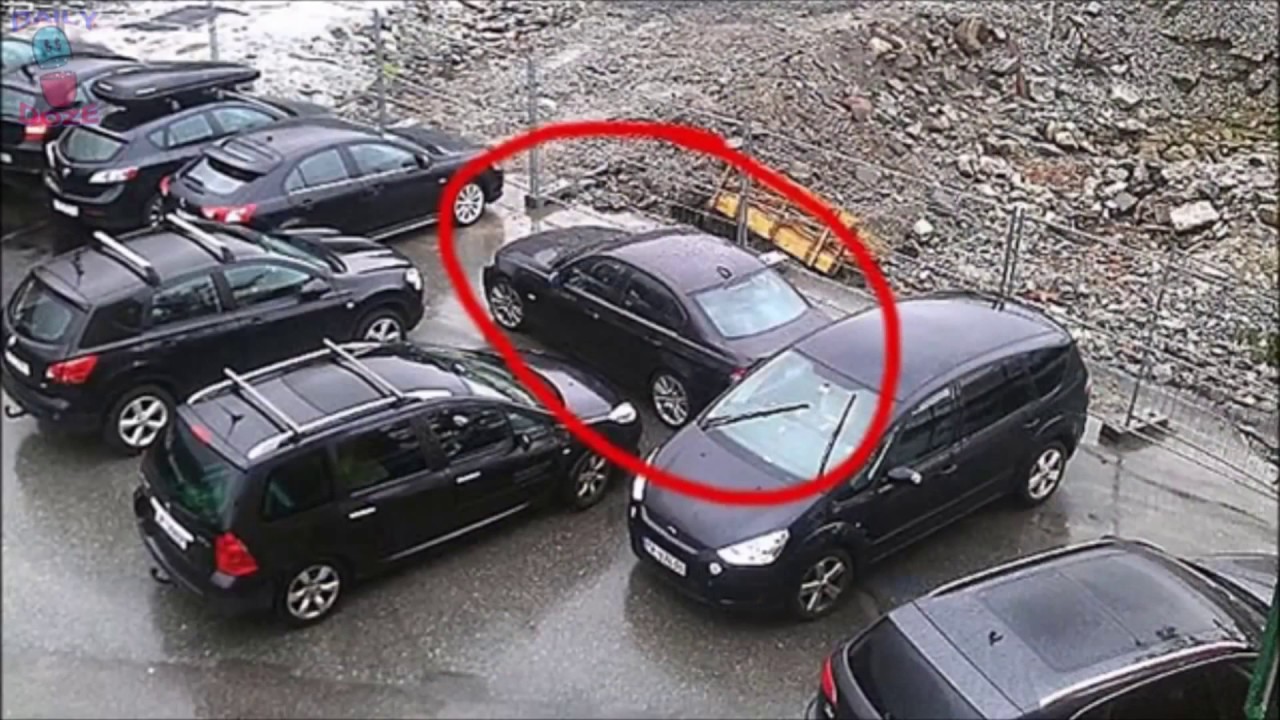 This image has us all scratching our heads. How did this car even get into that park? Maybe the driver was late for a flight and rushed to pull in when there was no one else in the carpark? It seems unlikely. If you've ever heard of Occam's razor, you know that the simplest answer is often the best one. In this case, that answer is probably just that this driver is an inconsiderate so-and-so. What do you think?
Rubbish at Parking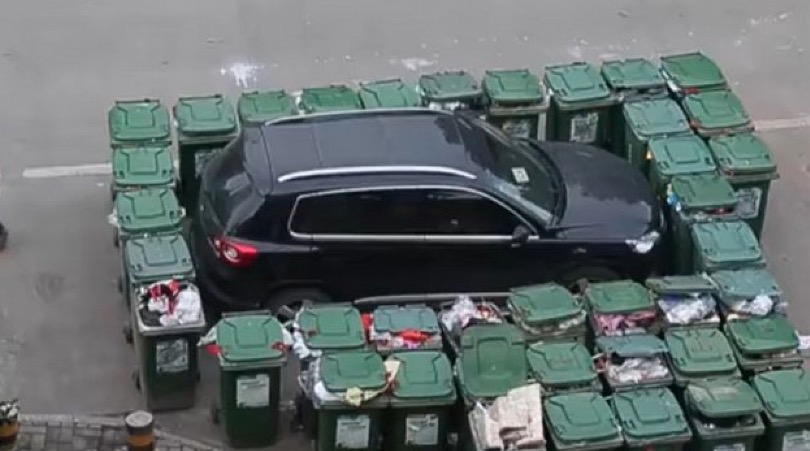 We've seen it once, and we'll see it again. When you park someplace that the sanitation workers need to access, you're not going to get off lightly. The most satisfying part of this prank is that it sends a fairly strong message about what everyone else thinks of this person's parking. What's more is that it costs you nothing but a little time, and you're not likely to get tied up with insurance hassles! The perfect way to enact revenge.
The Ol' Jeep vs Small Car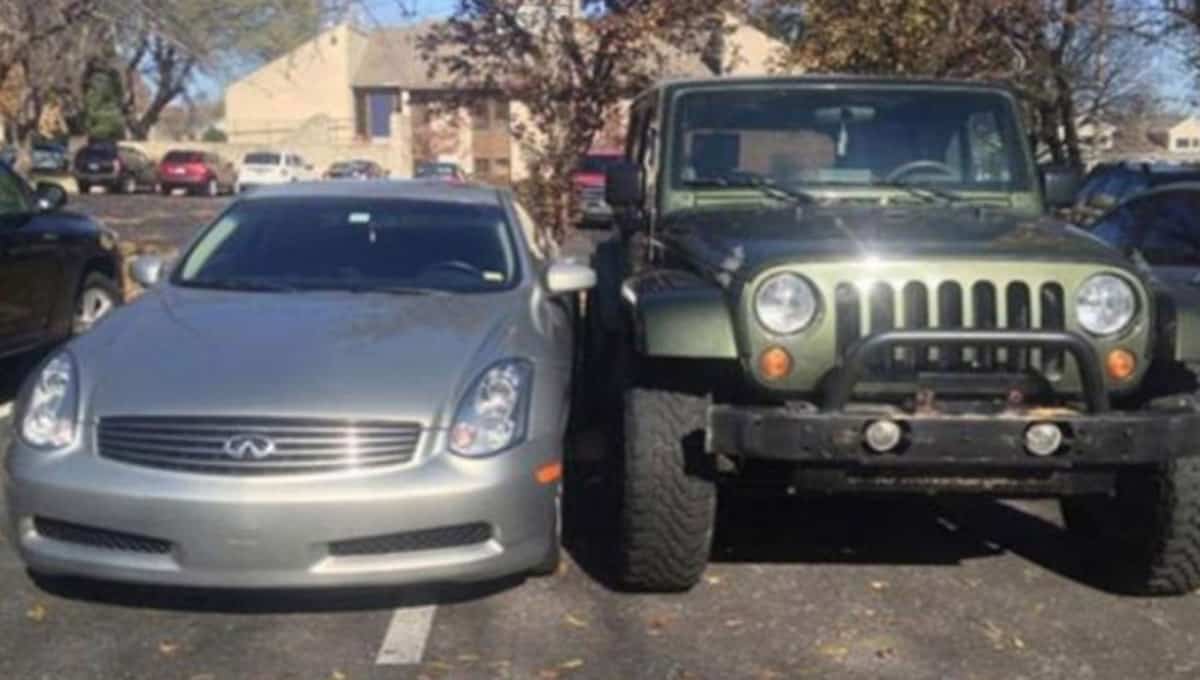 Ah, this seems to be a classic case of "Jeep traps Small Car." We've definitely seen this one before! Is it the case that the drivers of small cars feel a greater need to assert their dominance on the road? There is also a recurring trend of Jeeps being the parking revenge-takers. That's one for the psychologists, so we'll leave that puzzle up to them. At any rate, the driver of the silver car is going to have a rough time getting into their car, and that has got to be enough to stop them doing it again!
A Novel Imprisonment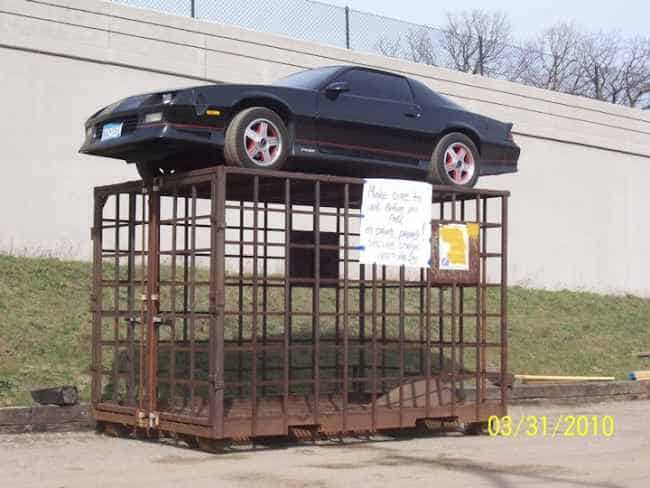 Don't worry, we're wondering the same thing. How on earth did they hoist this car on top of this metal cage? Also, why is it on top of a metal cage? Maybe they got an entire rugby team to lift the car at once. At any rate, it sends a very clear message to the owner of the vehicle. And if you're going to send a message, you may as well send it loud and clear, right? We'd love to know how they got this black car down from there.
Hard to Back-Out Of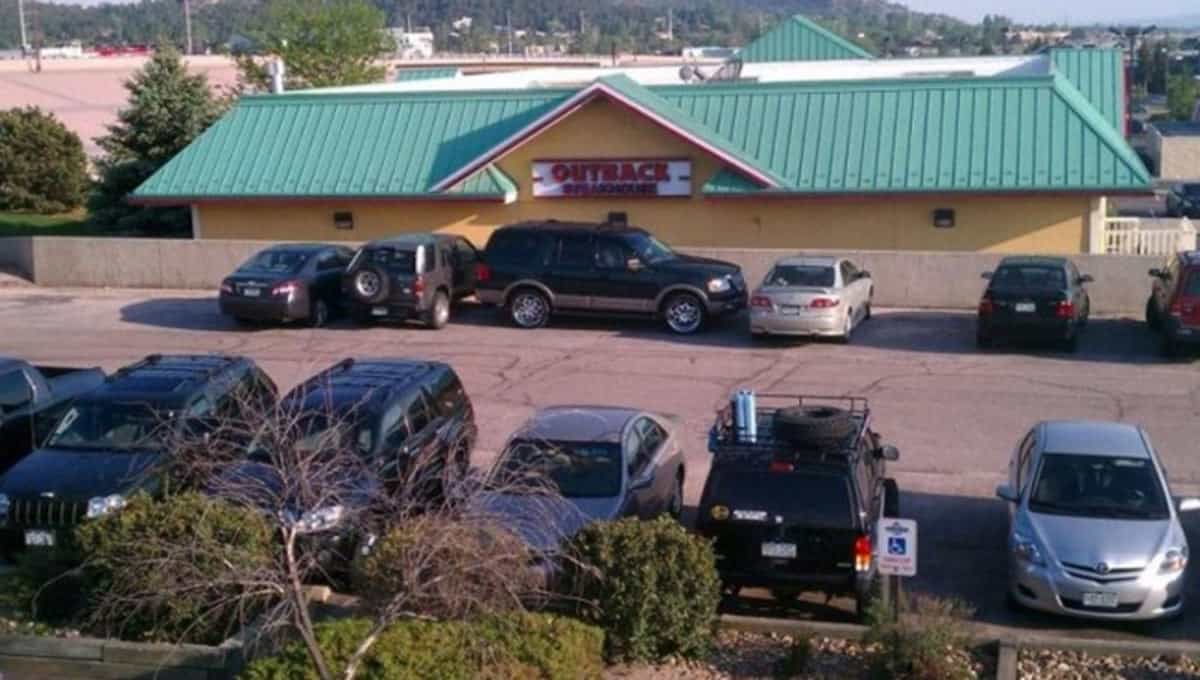 Again with the SUVs! This one is just plain old stupid. If you park sideways in a front-facing carpark, where do you think everyone else is going to park? It's not even like the other drivers have gone out of their way to park any differently. All these law-abiding citizens haven't done anything differently, and yet they're really showing up the guy in the SUV. In some ways, this is the best revenge of all, because it requires no effort, and yet still inconveniences the idiot in the truck.
All Fired Up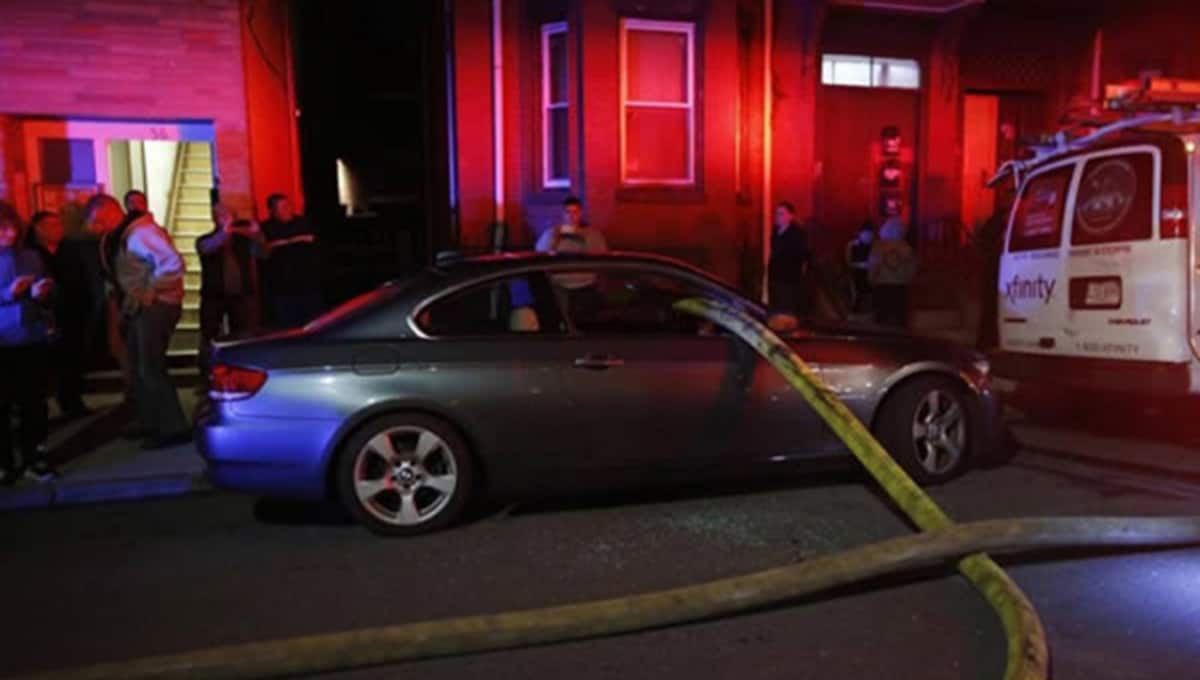 Does this photo make you feel rage? Would you say that you're "all fired up?" (Sorry). Horrible puns aside, the driver of this BMW has got to have learned their lesson here. There's a reason why you're not supposed to park in front of fire hydrants! It must have been super satisfying for the brave people from the fire department, who got to smash some windows and save a few lives. The BMW, on the other hand… we're not so envious.
True Road Rage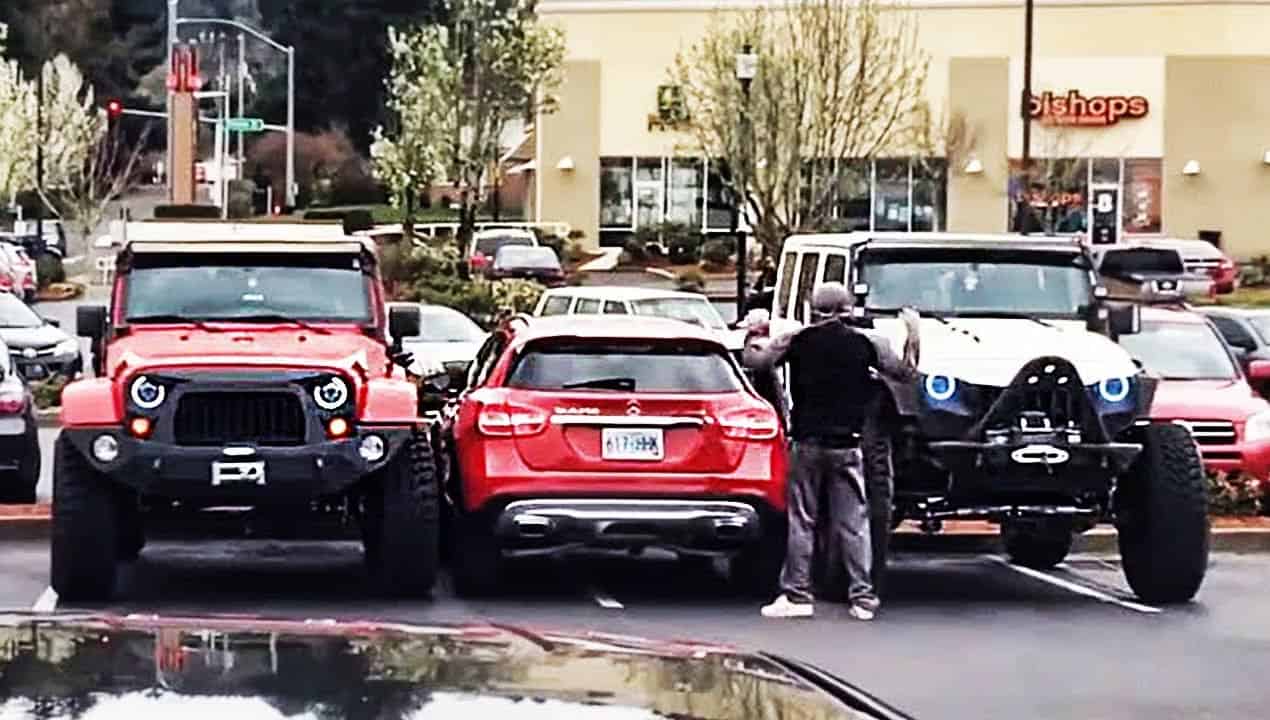 The Jeeps are back at it again! The two owners of these Jeeps decided to get revenge on this tiny red car, who inconsiderately took up not one but two car parks. The driver of the red car is totally blocked off from getting in any of his doors. With no other option but to either wait it out or go through the boot, this driver chose the latter. It's a shame they didn't have a third friend with a Jeep to block him right off! Let's raise a glass to Jeep owners all over the world. 
Must(ang) Learn to Park Better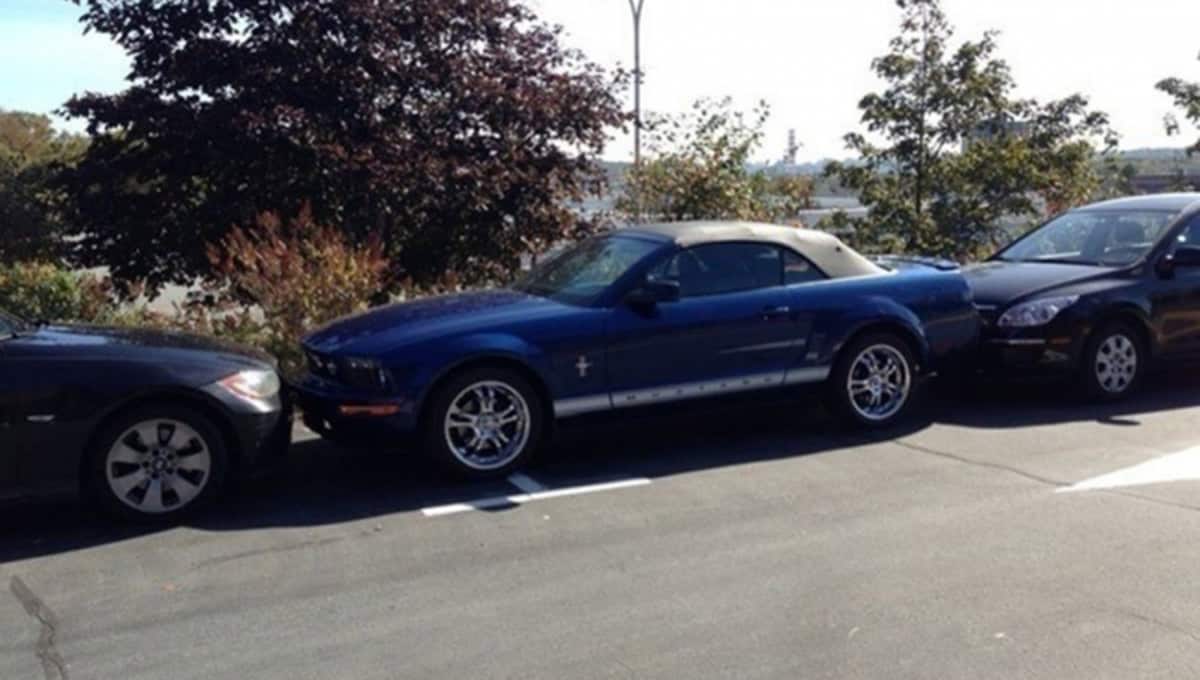 Surely one of the worst things about owning an unusually long car is that it's a huge pain to park. Oh well, guess this Mustang owner should have thought about that before they decided to park like a twit. While the car might be fast, you have to actually be able to get it out of a park in order to make it go fast. Otherwise, it's just a pretty piece of metal. We hope the drivers of the other two cars took their sweet time returning from their errands!
Barricaded In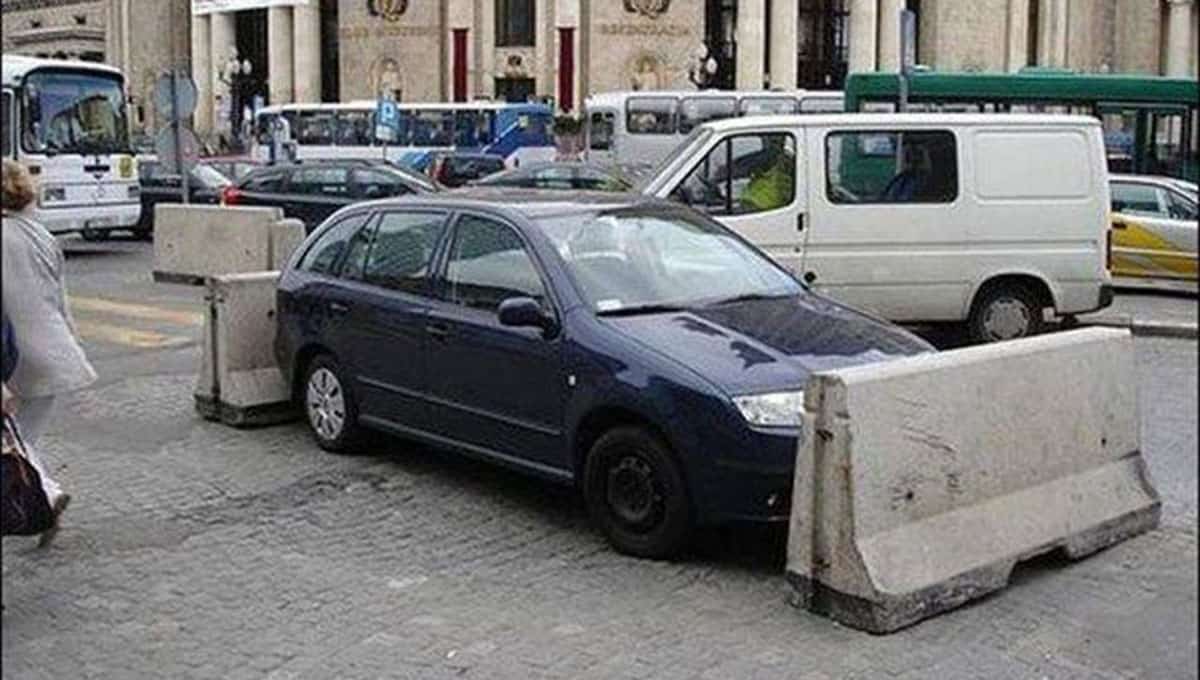 If you have access to a barricade machine, this has got to be the ultimate revenge. The idiot who parked here won't be breaking any more road rules in a hurry. Have you ever tried to lift a concrete barricade? It's near impossible, which is why you need a machine to do it. This driver is going to have some serious explaining to do when they call the local council to get the barricades removed. We can only hope that the barricaders don't get in trouble too! 
The Key to Getting Your Point Across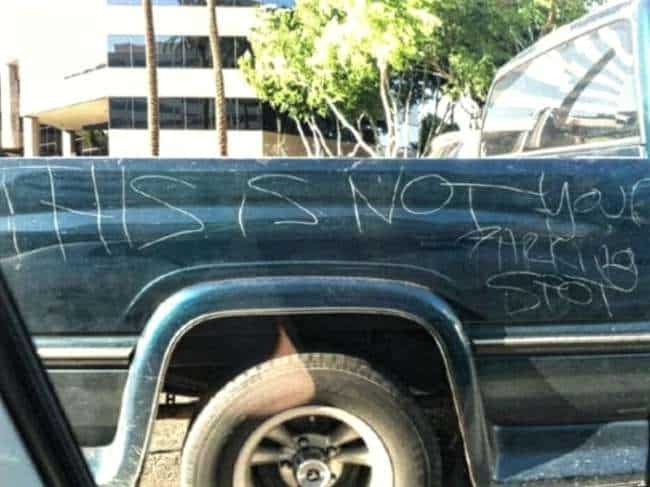 Phew! The owner of this pickup is not going to be happy. But at the same time, they have to have been parking like this for some time, because the keyer of this truck was very unhappy! That kind of rage can only build up over time. While the legality of keying a message into a neighbor's car is a little sketchy, parking in someone else's spot is also questionable. If only the pickup owner had observed the correct parking etiquette in the first place!