Things You Didn't Know About Elvis Presley
The legendary singer Elvis Presley is considered the King of Rock 'n' Roll, and he was one of the most influential people of the 20th century. Since his life, there have been more than 85,000 Elvis impersonators, thanks to his charismatic performances and his iconic image. There are many things we know about the King, but some aspects of his private life have always been a little more daunting. You might be surprised to learn about his plastic surgery. Let's find out more!
SOMETHING EXTRAORDINARY
Presley might have been a huge star, but not everyone saw his potential in the beginning. When the singer was a young kid at school, his teacher told him that he was just "average." Furthermore, Elvis was a loner, and the other children at school would make fun of him for playing "hillbilly music."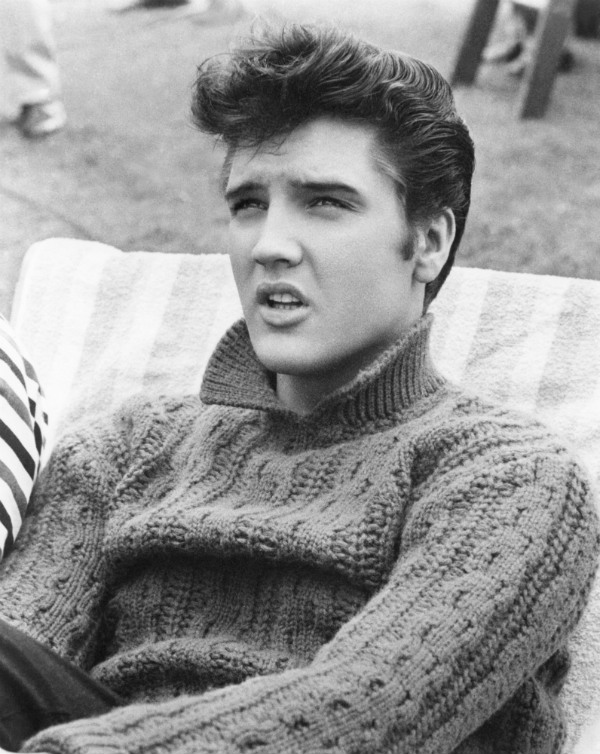 While Elvis was known as one of the most charismatic and attractive performers in the music industry later on in his life, he was a pretty shy kid. Additionally, Elvis had a bit of stage fright. Most people would've never imagined an artist like him to be shy due to his actions on the stage and in his personal relationships.
HIS HAIR WASN'T BLACK
One of the most important parts of Elvis Presley's fame was his image. You cannot have thousands of impersonators if there is nothing amazing about you, and his hair was a huge part of his famous look. At the time, every boy wanted to have his wavy, black locks. However, it wasn't his natural hair color.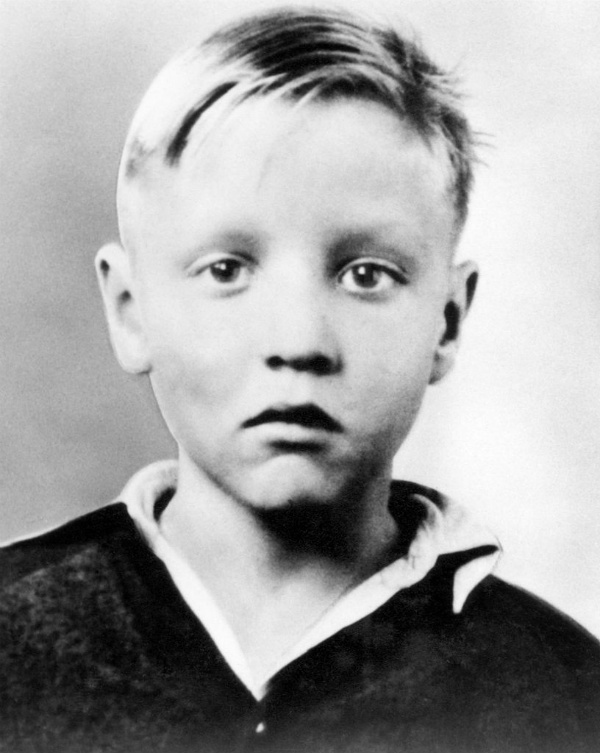 He dyed it. Presley was born blonde, but he started dyeing his hair black to appear edgier to others. It's understandable that a shy kid has to do something drastic to stand out. Also, the singer once revealed that, as a child, he would use black shoe polish to color his hair because no one would buy him the dye. However, the persona he wanted to become wasn't always focused on music.
HE DIDN'T WANT A GUITAR
While Elvis was always dreaming about rock and other music genres, he wasn't always interested in becoming a performer. He got his first guitar at the age of 11, and that's when his passion was born. He learned to play the instrument to become the best.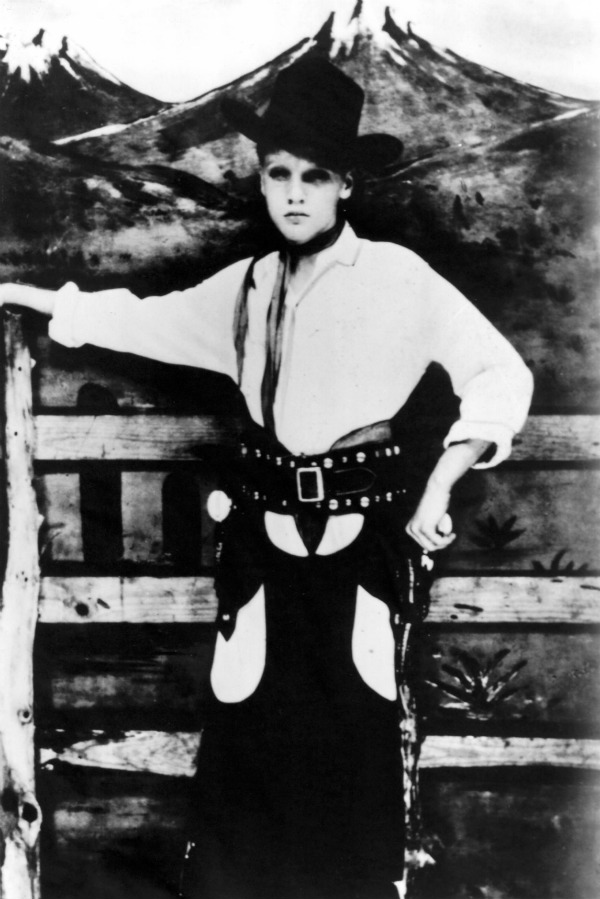 However, before getting the guitar, Elvis wanted a rifle. Fortunately, his mother wouldn't let him get the weapon, and she did the world a great service. We have her to thank for the music legend, but Presley would never stop thinking about owning guns and firearms.
NEVER HAD A PERFORMANCE OVERSEAS
As soon as Elvis became a huge star, everyone wanted to see him near their home town. Songs like 'Heartbreak Hotel' and 'That's All Right' were making their way through the United States at crazy speeds. He performed all over the country to the delight of his fans. Sadly, his fans outside America would have to wait a long time.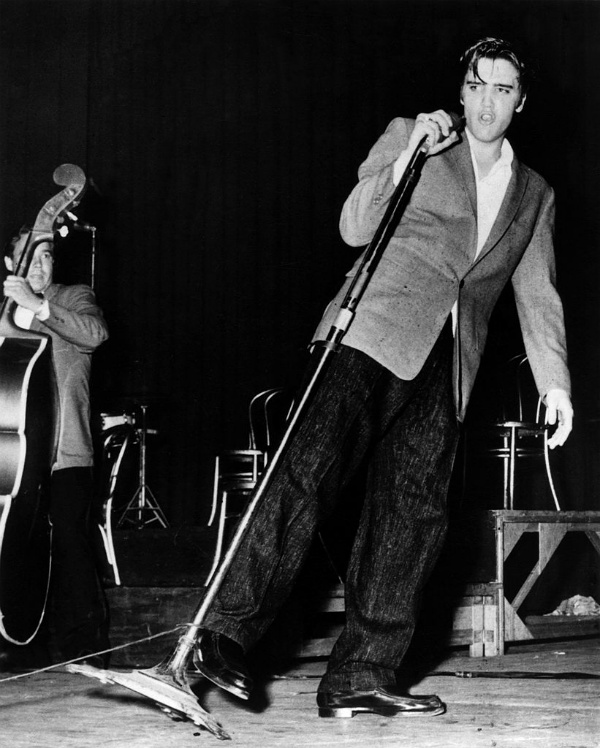 Canadian fans were lucky enough to see him in 1957, but Presley never went anywhere outside of North America. Most people don't know that despite his immense popularity, the singer never went to other countries, not even Europe. It's crazy to think that he never had a world tour, but the whole globe still loved him. There are some theories regarding this fact, and most believe it was because of his manager. But, continue reading to find out more.
HIS ARMY LIFE
Most of his admirers know that the singer decided to take a break from music to help defend his country. He enlisted in the U.S. Army in 1958, which was something that no star would have ever done. Luckily, his actions convinced even his haters that he was a good person.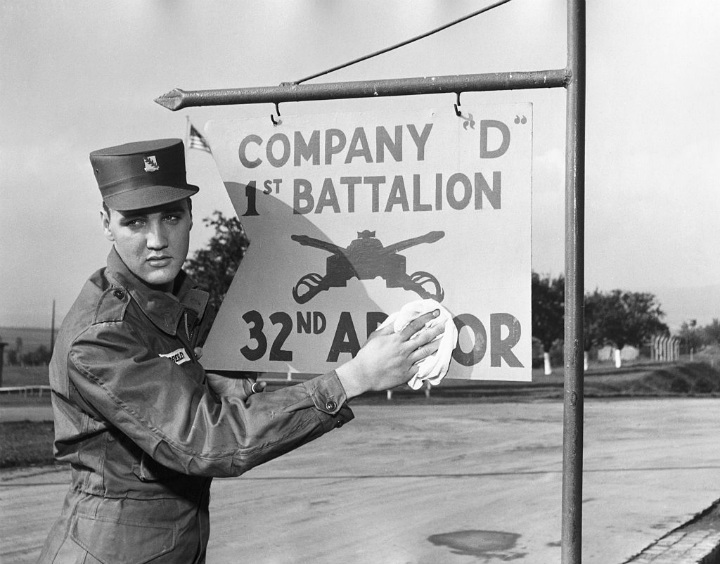 On the other hand, he was offered a position in Special Services, where he would become a performer for the soldiers and live in a separate place that was much nicer. However, Elvis refused the part, signing on as a typical soldier. That way, he managed to win the hearts of the few people that saw his music as a bad influence for young kids. Furthermore, the army also gave him the love of someone else.
SHE WAS JUST 14 YEARS OLD
After enlisting as a regular soldier, the legend of Rock 'n' Roll was sent to Germany, where he met the love his life, Priscilla Beaulieu. She would become his only wife, although not his only lover.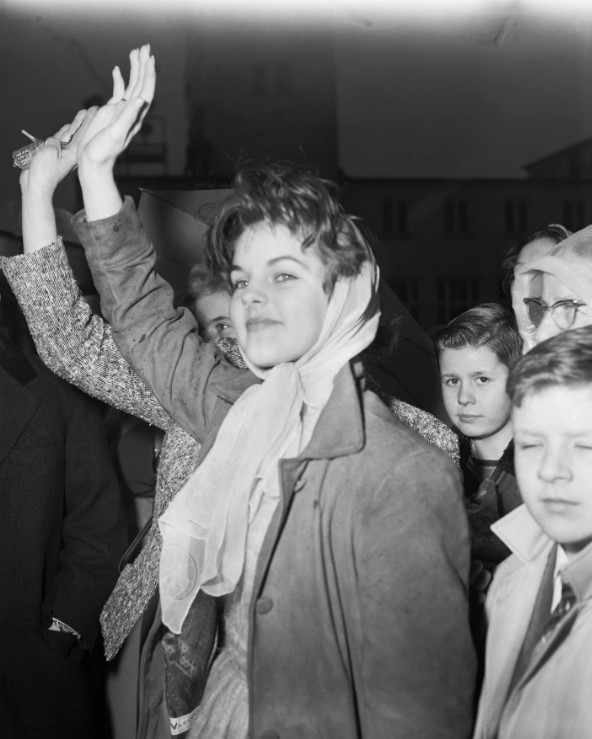 At the time, Beaulieu was just 14 years old, while the singer was 24. Any teenage girl would swoon at the thought of dating the world's biggest musician. However, that dream would eventually cost her a lot of heartbreak and pain.
IT WASN'T EASY FOR HER
Being the recipient of the admiration of one of the most popular rock stars at the time might seem amazing, but her relationship with Elvis would prove to be too hard for Priscilla. It was difficult for a young girl to stand in the shadow of such a successful person.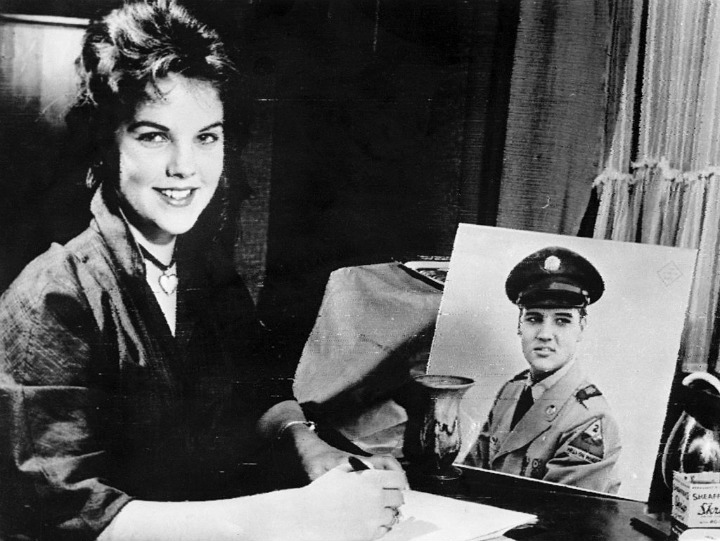 "I was kind of lost really in who I was earlier in my life, I really didn't have teenage years," she once noted. "I learned so much about him and was with him so much that I thought the way he did." Furthermore, Priscilla was just one of the many who fell for the singer back in Germany.
HE DIDN'T LIKE BEING ALONE
Aside from his amazing stage presence and the skill to entice rock lovers all over the world, Elvis was recognized for being really kind and sweet. He was particularly so when he was young. Therefore, many people knew that the singer hated spending nights alone.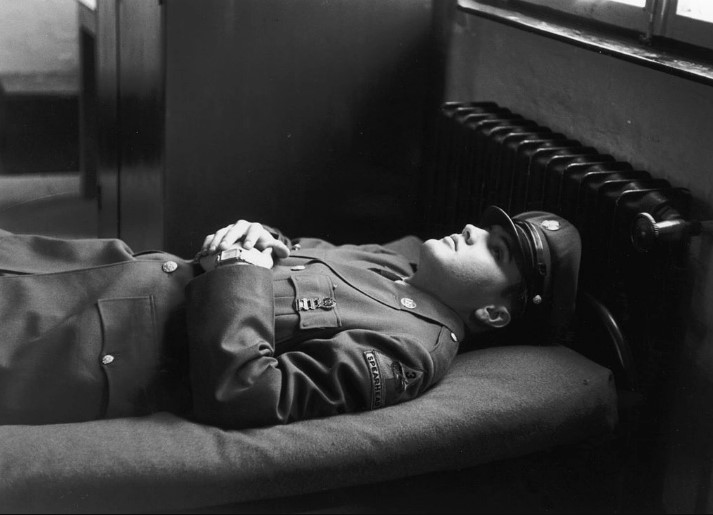 Some people believe that he started being so dependant on sleeping with someone - and not just for sex - after his mother died. He couldn't deal with that fact, especially because she passed away right before he was shipped to Germany. Therefore, Presley would always make sure that someone was warming his bed, and Priscilla wasn't the only option.
HIS RELATIONSHIPS
During his tour in Germany, Priscilla was not the only person he was interested in. She was the daughter of a U.S. Navy Pilot, but she was also too young. Elvis also wanted to meet other people, especially the locals in the country who were also curious about the rock star.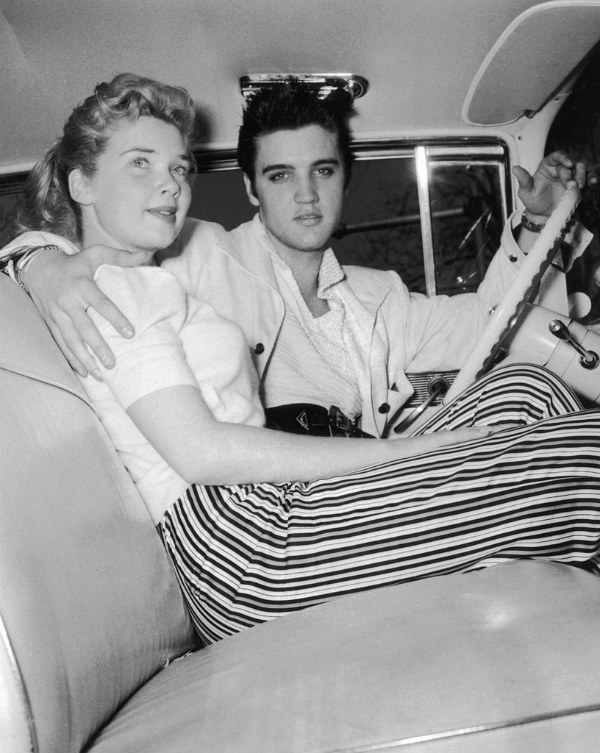 It was then that he met a 19-year-old beautiful German girl called Elisabeth Stefaniak. The singer hired her to take care of his fan mail when she asked him for his signature. However, once he returned to the U.S., their relationship ended, and the king of rock 'n' roll focused on Priscilla.
ONLY ONE MARRIAGE
Most people know that despite his intense romance with Priscilla, the singer was also a womanizer. He had many romances, and some thought that it would lead to many marriages. However, Elvis only walked down the aisle with Beaulieu. She was his only wife.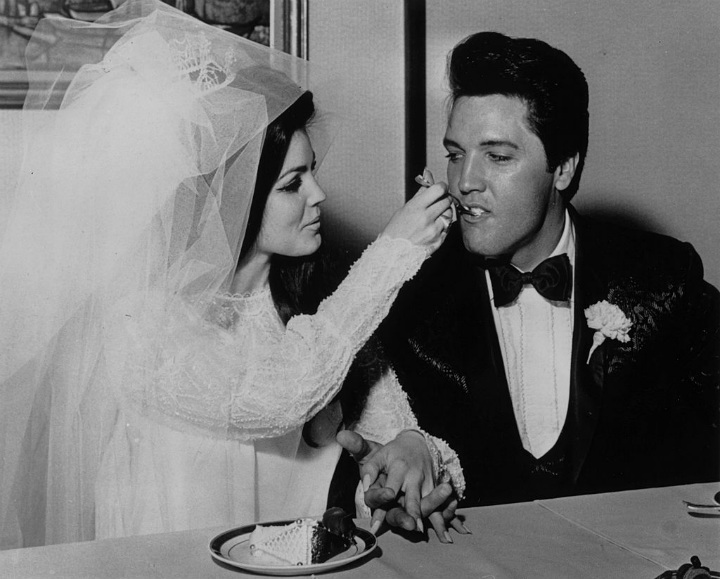 They got married in Las Vegas in 1967, and everyone said that they were the cutest couple. Of course, they were both attractive, young, and Elvis was at the height of his career. However, there are some private details about their relationship that would later reveal that they were just human like the rest of us. Priscilla even opened up about a secret in their marriage that changed the public perception of the couple.
PRISCILLA WAS NEVER WITHOUT MAKEUP
According to Priscilla herself, during their relationship, the rock star never saw his wife without a full face of makeup. Additionally, Elvis didn't like to look at her when she was putting on clothes. Priscilla revealed that Presley thought that "mystique" was important to their marriage.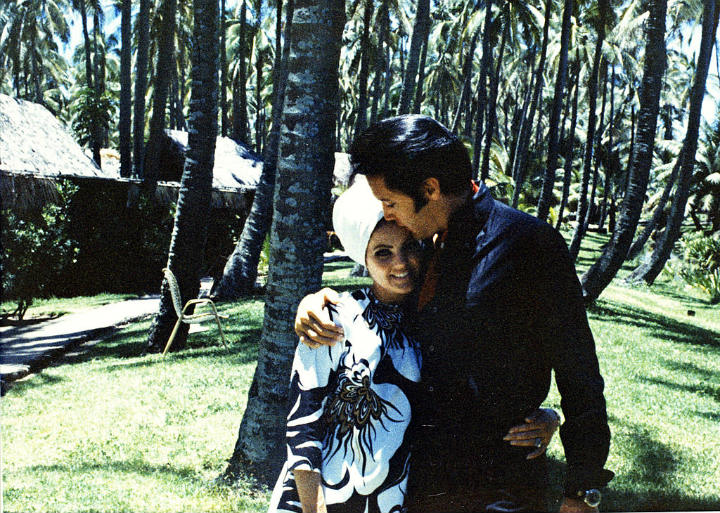 "He never wanted to see me getting dressed, he wanted to see the result of getting dressed," Priscilla commented. Priscilla always followed his desire and admitted that she wore a bit of makeup all the time.
MARRIAGE WASN'T THEIR IDEA
The music business can be a bit crazy, and it's hard for most people to separate their professional lives from their personal situations. Elvis was such a huge star that the lines would often blur. We have seen other celebrities who enter relationships because it might be better for a project, and it seems that something similar happened to Elvis and Priscilla.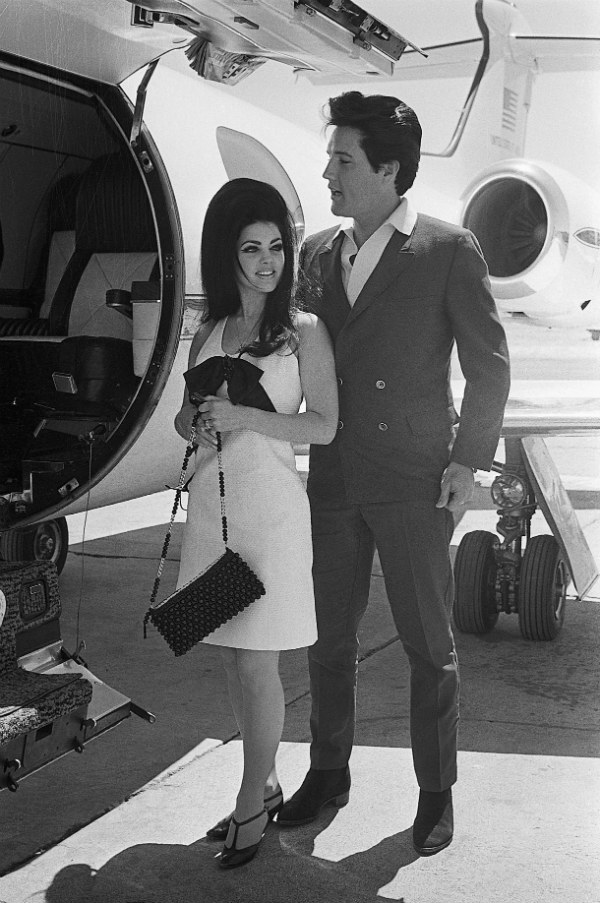 While everyone would say that they were deeply in love, the decision to get married was apparently not their own. Allegedly, Presley's manager, Colonel Tom Parker, might have pushed them into marriage for the sake of the singer's image with audiences. However, their relationship didn't last long after that; so, it might not have been the smartest choice.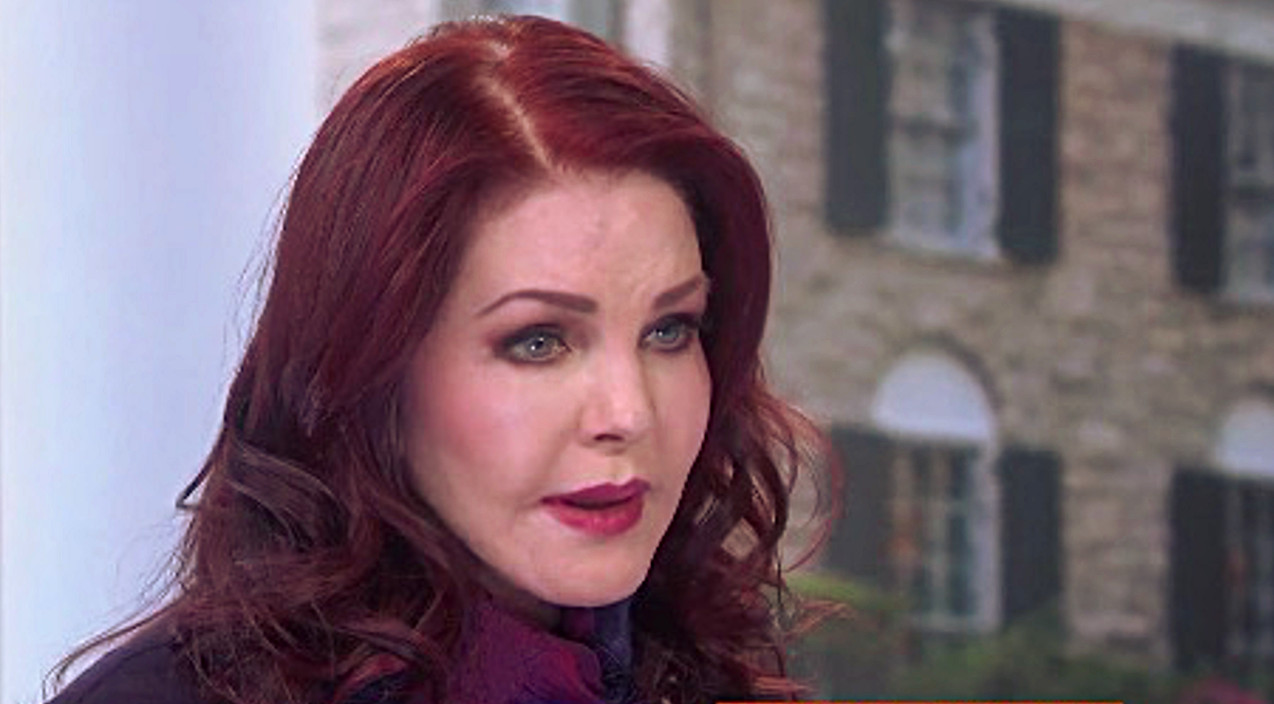 ELVIS FOUND DISTANCE
The couple separated in 1972, a few years after walking down the aisle, and it's not a secret to anyone that their relationship took a turn right after their wedding. However, one of the reasons why they drifted apart was surprising to Priscilla, according to her own accounts.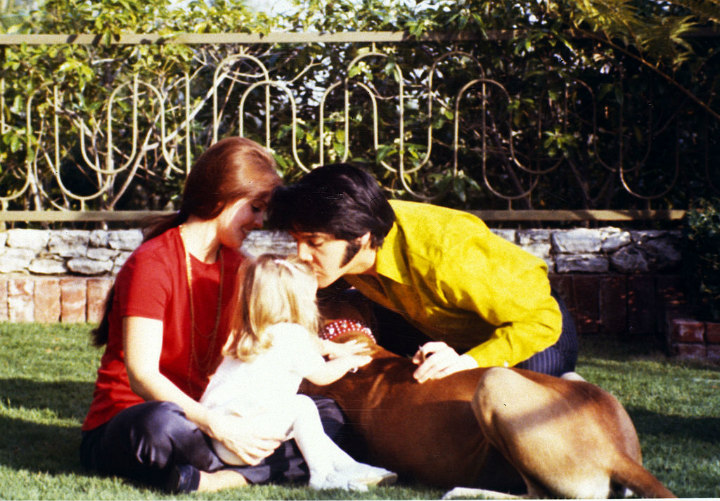 She revealed that things truly started to change between them when Priscilla gave birth to their child. They became distant, and the marriage would soon dissolve. However, the legend's wife would go on to reveal another secret about Elvis. Keep reading to see what she disclosed.
HE WAS AFRAID OF SOMETHING
Rock stars are known for being rowdy, crazy, and for often disregarding the rules. You wouldn't imagine that there's a lot that they would oppose. However, they do have some fears, and Elvis was allegedly a germophobe. Priscilla revealed this detail to the Daily Mail in 2015, and she also said that Presley would do whatever he could to avoid germs.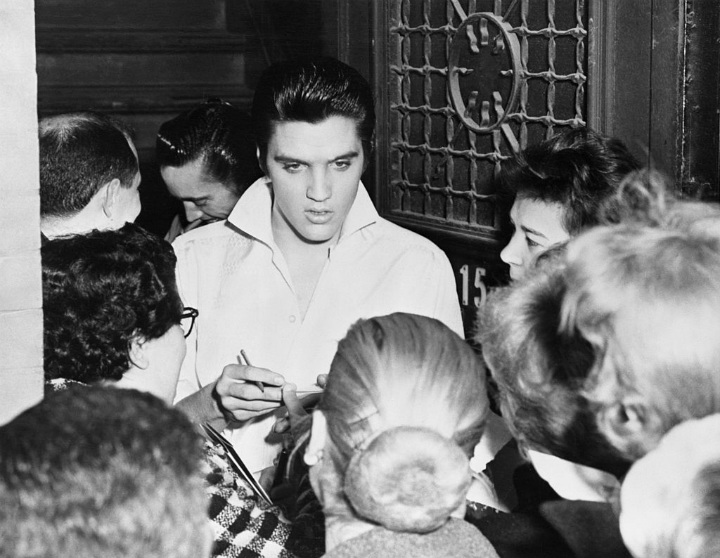 One of the things that Elvis avoided was eating at friends' houses. When he couldn't get out of commitments, he would bring his own cutlery. Priscilla even added, "He would drink where the handle was, knowing that no one would ever drink at that side."
HIS PET MONKEY
These days, artists might get in trouble for having an exotic pet, as we saw what happened when Chris Brown bought his daughter a monkey. However, back in the day, rock stars could do whatever they wanted with their money, and they were not complete until they bought something eccentric. Elvis also had a special pet: a chimpanzee named Scatter.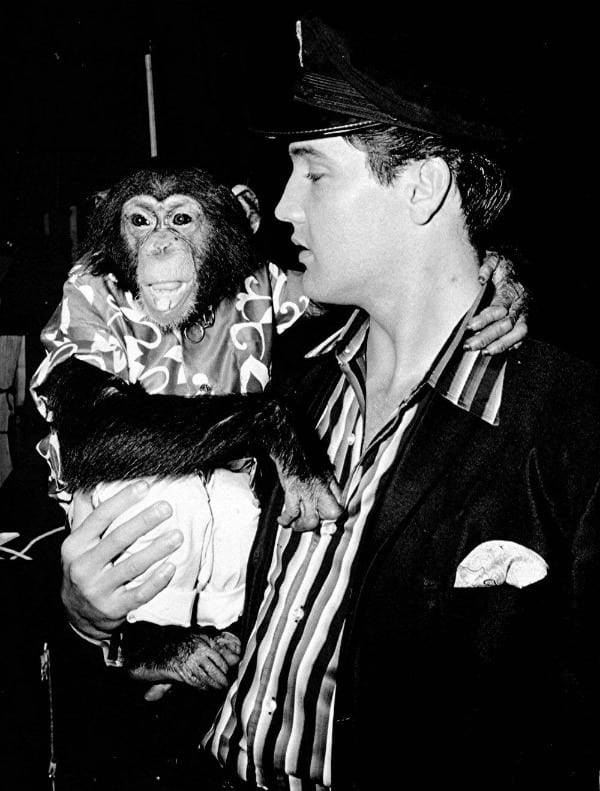 Scatter was known for running all over the king's parties at the Graceland mansion. He would scream and surprise the guests, and the monkey would be wearing Hawaiian-style shirts. Additionally, the monkey was taught to do some wicked things. One time, that behavior got him a punch from a lady friend of Elvis. However, that's not the craziest thing about the singer.
HE LOVED GUNS
We mentioned earlier that Elvis was a huge fan of guns, and some might argue that his appreciation for firearms was even stronger than his love for guitars. Furthermore, it seems like the singer was not that careful with his weapons. Singer Tom Jones, who was a close friend of Presley, revealed that the legend had once left his gun in the dressing room without care.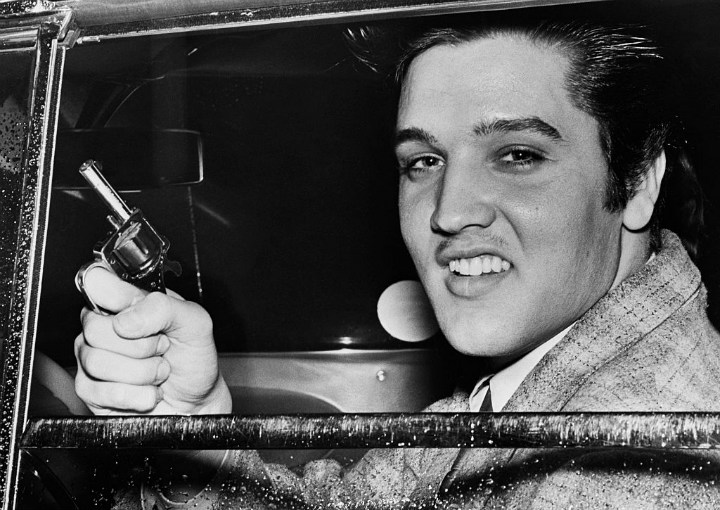 Another story revealed by Ginger Alden, who was Presley's ex-girlfriend, was that the legend would shoot at the television. That definitely sounds like the ultimate eccentric rock star life. Furthermore, these two stories were not the only problems with Elvis and his firearms. There is an even more shocking account by Ginger Alden. Keep going to discover it.
GETTING ATTENTION
Being a celebrity gives you access to all kinds of things that most people never imagine. However, recent rock star biopics like 'Bohemian Rhapsody' and 'Rocketman', which depict Freddie Mercury and Elton John's rise to stardom respectively, shed new light on the excesses of rock 'n' roll life. Elvis Presley also went to extremes, and it involved his guns.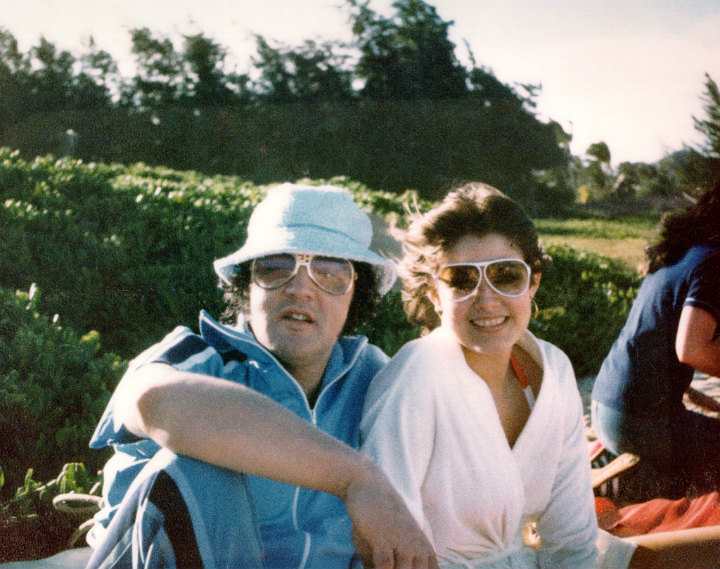 According to his former girlfriend, Alden, the legendary musician once shot at the headboard of their bed while she was sleeping. It was allegedly a ploy to get attention because that's what the musician craved the most, and it was way too close to her head. This might seem insane, but it's just the tip of the iceberg when it comes to Presley's odd behavior.
THE ILLEGAL IMMIGRANT
There is a huge immigrant crisis in the U.S., but not many people know that Elvis himself hired an illegal immigrant. Colonel Tom Parker is considered one of the best managers in the history of the music business in the United States. However, most people think that he was born in America, and that was not the case.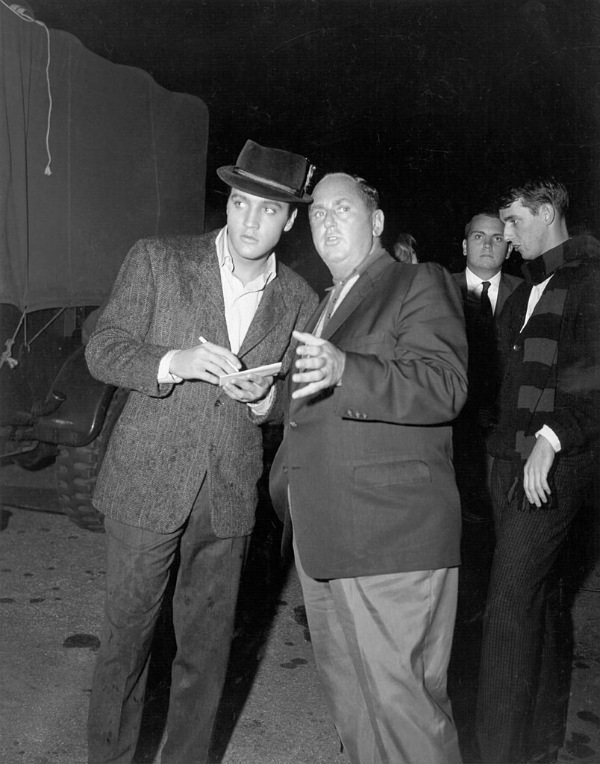 His real name was Andreas van Kuijk, and he was born in the Netherlands. Additionally, he never became a U.S. citizen after moving to America. But, Elvis never cared about his situation. All that mattered to the singer was that he had a manager who knew how to sell the rock star, and the king of rock 'n' roll paid him well for it.
ELVIS WAS KIND
Elvis Presley thanked Colonel Parker most of his career, as he credited him for his huge success. But, Parker was very well paid for his efforts. He actually received around 50% of Presley's profits, especially towards the end of the king's life.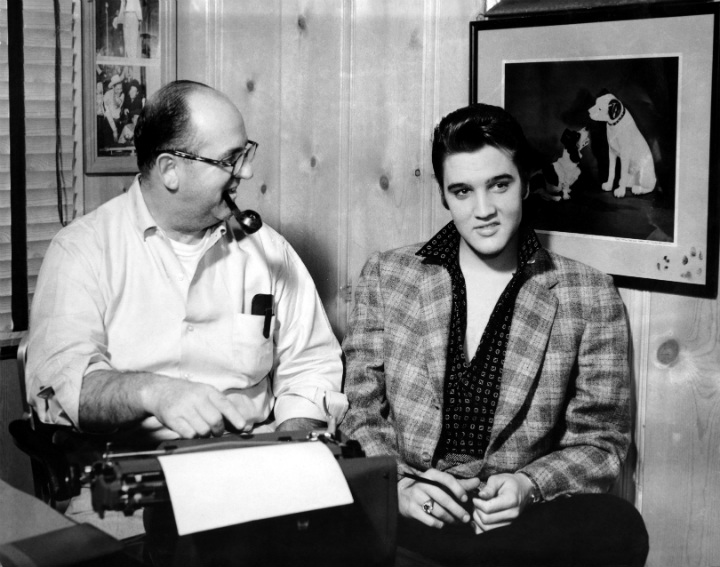 Everyone knew that the singer was particularly generous. His family and friends were the main recipients of his kindness. But, he also went to great lengths to prove his thankfulness to his fans, and one time he even dressed up as a cop. Keep reading to find out the details about this story.
THE COOL COSTUME
Elvis Presley was adored by many people during the height of his career, and he is still remembered as a legend today. It's very likely that his songs will live on forever just like other major stars in the history of rock 'n' roll. Interestingly, Priscilla Presley revealed that Elvis would sometimes dress as a police officer, and he would stop people to give them a "ticket."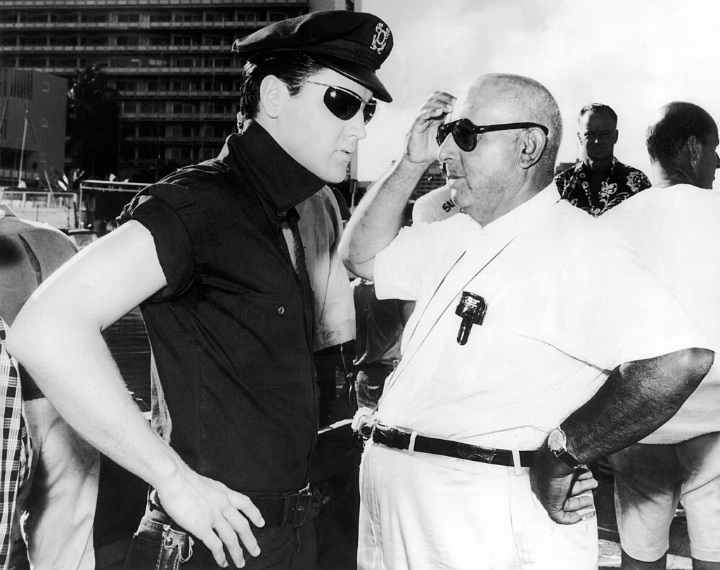 Of course, it wasn't a fine, but an autograph and fans would get the surprise of their lifetimes with his stunts. He did other things to keep his faithful followers entertained and to continue to be loved by everyone. Additionally, Presley was even given his own real badger later on, and you might not be able to guess who gave it to him. 
PRESLEY AND NIXON
In 1970, the singer decided that he wanted to meet the current American president, Richard Nixon. The president agreed to meet with the rock singer, but Presley would ask him for something insane. The singer wanted a federal narcotics badge.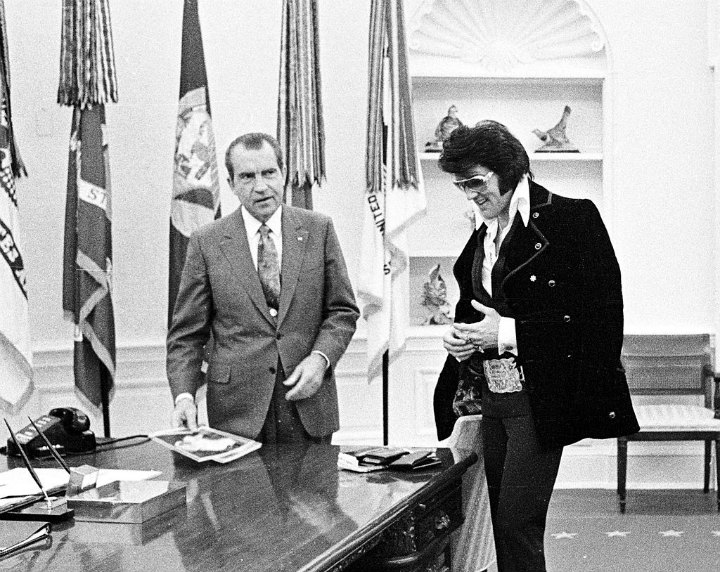 However, something even crazier happened: Richard Nixon agreed to give him the badge. Nixon was not the only president that the singer wanted to talk to during his life. Furthermore, he didn't restrict himself to approaching only Republicans.
HE LOVED ONE KIND OF SANDWICHES
Everyone loves sandwiches because they are so versatile. They can be filled with almost anything from meats to veggies, and they can be sweet or salty. The most common and simple choices for filling are tuna fish, peanut butter and jelly, and ham and cheese. There are many other options that might be healthier and others that are more delicious.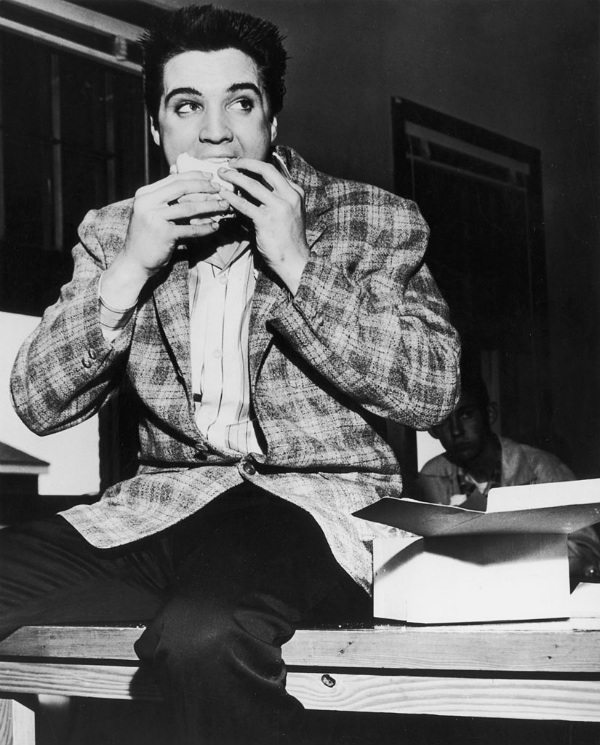 However, the singer's favorite sandwich wasn't the most popular choices. He had expensive and weird tastes that made him different from others. The legendary artist actually liked adding peanut butter, bacon, banana, and honey to his sandwiches. That might sound weird, but a lot of people add bacon to their sweet treats.
HE LOVED HIS MOTHER
It's hard to imagine any rock star being particularly close to his or her parents because the musician life is all about anarchy, breaking rules, and being free. Therefore, it might sound to surprising that Elvis really loved his mother. Some would call him a momma's boy. They had a great relationship and an amazing bond throughout his life.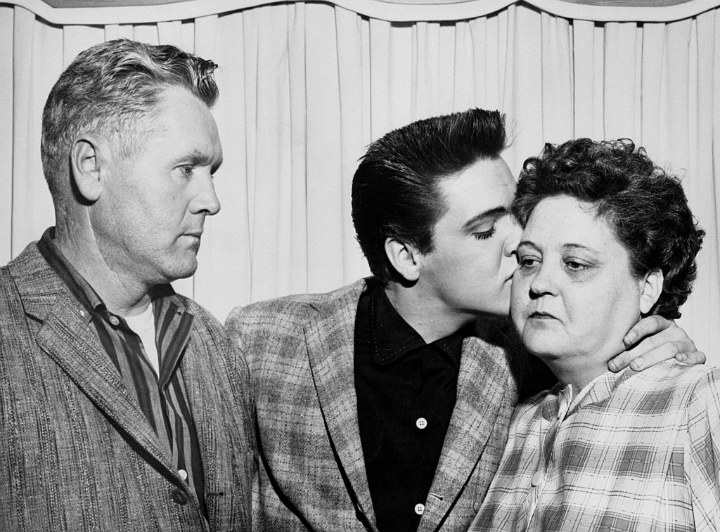 After becoming a huge celebrity, one of the first things that the king bought was the Graceland mansion, but it was originally meant for his parents. His mother died before his time in Germany, but he never got rid of her clothes and other items.
HE WANTED TO GO TO HEAVEN
Some celebrities are open about their religious beliefs, and others are mostly blasé about the subject. Elvis Presley was never fond of religion, but he didn't object to following some kind of belief system. The rock star had a great life on Earth, and if there was an afterlife, he didn't want to miss going to Heaven.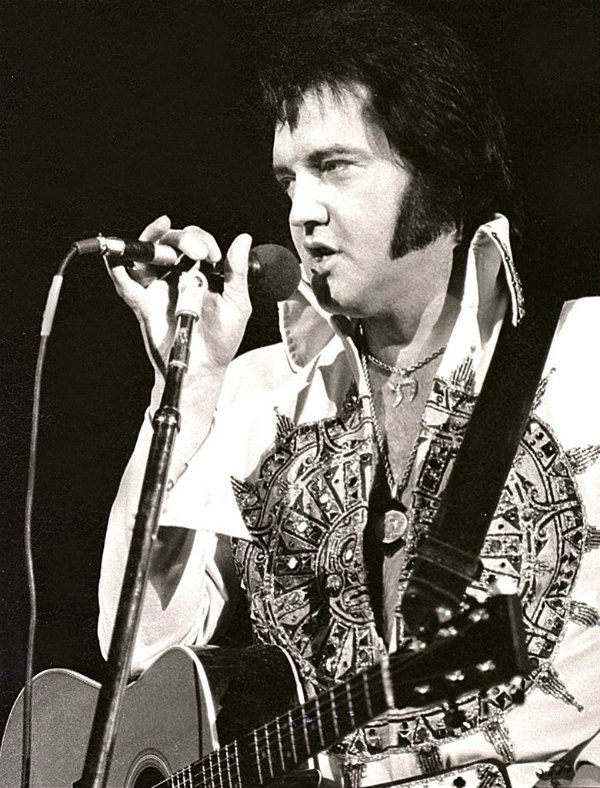 However, he didn't want to pick just one religion to follow. He didn't want to miss entering paradise because he might have chosen wrongly or "due to a technicality." Therefore, Elvis would wear a cross, the Star of David, and the Hebrew word "Chai" at the same time.
HE HAD A FACE-LIFT
The entertainment industry is obsessed with youth, and Elvis Presley's public image was crucial for his stardom. Despite his incredible musical talent, the singer had to maintain a specific appearance to keep the love of his fans. There was a time when the rock legend noticed that he wasn't as fresh-looking as always.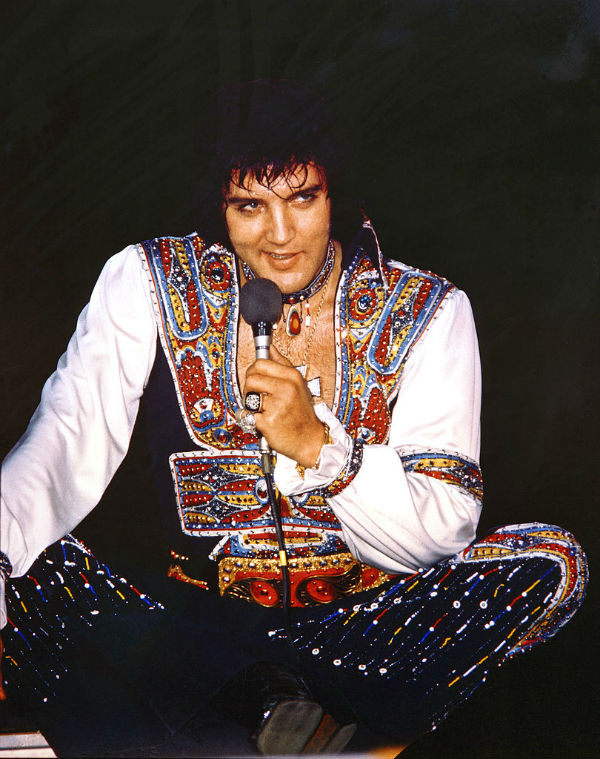 At the age of 40, the rock star had a face-lift, according to his former girlfriend, Linda Thompson. It might seem normal nowadays, but plastic surgery might not have been as a popular back then, especially for a man. Additionally, the singer did other things to keep his eternal youth, and they weren't the healthiest options.
HE WANTED TO LOOK YOUNG
This might have been when Elvis Presley's life started freefalling. He started using drugs to keep his youthful looks, and that led to many weight problems as well. Unfortunately, being famous means that you have to look great for your fans.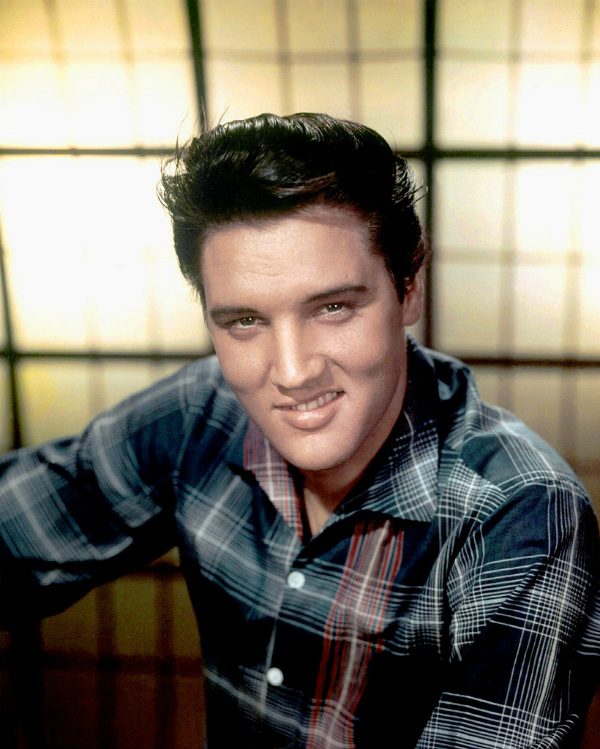 Aging is a huge issue, and it is not easy to maintain a great look all the time. At some point, Elvis was sedated for two weeks so that he could lose weight. During this dangerous period, the singer left his bed only to clean himself, use the bathroom, and eat a bit of food.
SOMETIMES HE COULDN'T EAT
However, things just started to become even more unsafe for the artist. His brother, David Stanley, said that there was a time when Elvis could not eat at all. It is hard to imagine the pressure of such crazy measures, and everyone should have intervened to stop him.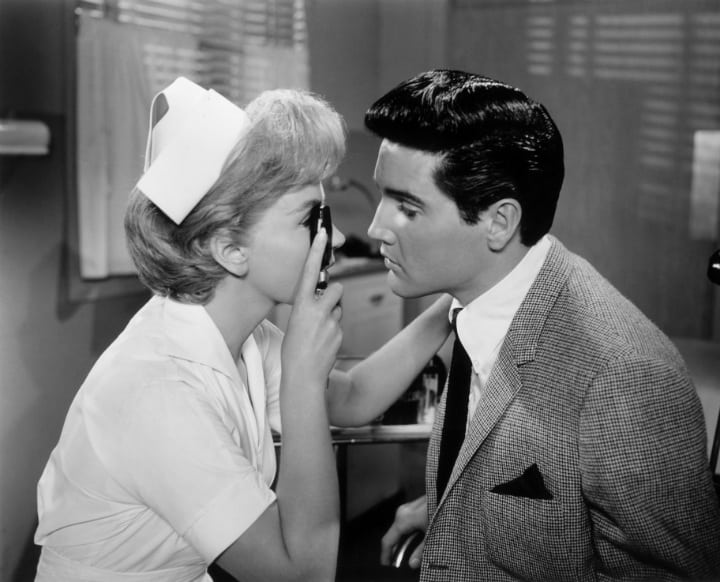 It has also been said that sometimes, Elvis would even fall asleep while eating, and David had to force-feed him. However, even during the toughest times, he didn't give up on acting like a rock star and doing odd things.
HIS QUIET FUNERAL
Elvis Presley will always be remembered as one of the best artists in music history, and other famous singers have had incredible funerals to honor their life and career. Everyone expected the king's sendoff to be like the exotic parties he would often hold with lots of liquor, women, and his monkey.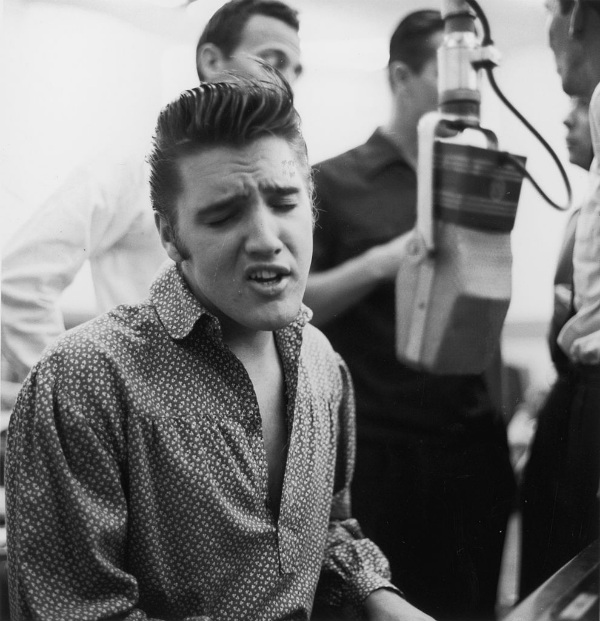 However, this is where things were different. Only three celebrities were invited to the funeral: George Hamilton, Ann-Margaret, and James Brown. The rest of the guests were his close relatives and friends. It seems that, by the end of his life, he wanted something similar to his childhood; discreet and without fanfare.
WHAT HAPPENED TO GRACELAND?
The king of rock 'n' roll died on August 16, 1977, and his Graceland mansion was famous. However, the ownership of the estate was in question. There were bankers rushing to sell the property because there were some big financial problems, but Priscilla Presley said no.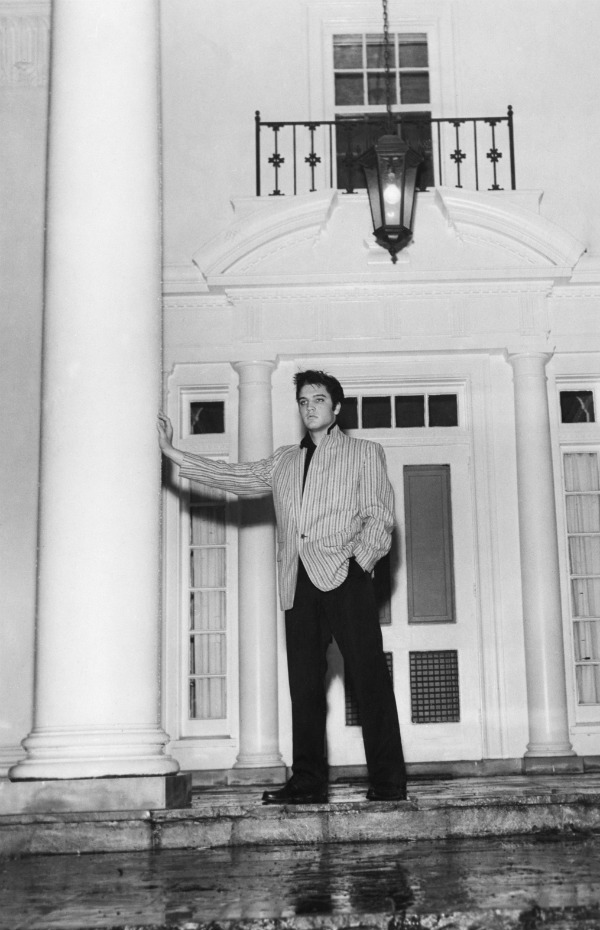 She found another way of solving the money issues surrounding Graceland. Elvis' wife knew that opening the house to tours would bring more money than actually selling it. Graceland opened its doors in 1982, and it was eventually named an American National Historic Landmark. Meanwhile, just like other diseased celebrities, there are other secrets about his life that were only revealed once he passed.
THE ODD COMPARISON
When Presley started becoming popular in the 1950s, older folks were not too sure what to make of him, and some didn't like him at all. His stage presence, as well as his dance moves, were different from anything anyone had ever seen, and that's partly what attracted thousands of fans. However, some people compared him to someone else in history.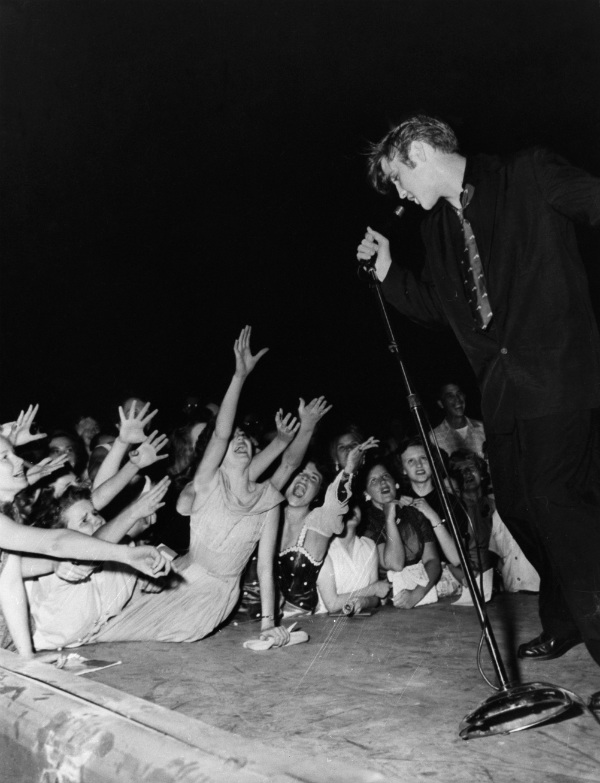 However, it was a bizarre comparison that might not make sense nowadays, although, it's hard to say why it made sense back then. Because the rock star attracted so many fans, some said that it was similar to Adolf Hitler's rallies. That's just insane. Musicians and celebrities are always adored, and politicians also need attention. But it's not the same. 
THE COLLAR FASHION STATEMENT
We already know that Elvis Presley was obsessed with looking younger, and we have read some of the interesting lengths he went to achieve it. There is another method the king of rock 'n' roll used, and you might have noticed it before. The singer would often be seen with high collars, and most people thought it was just a fashion statement.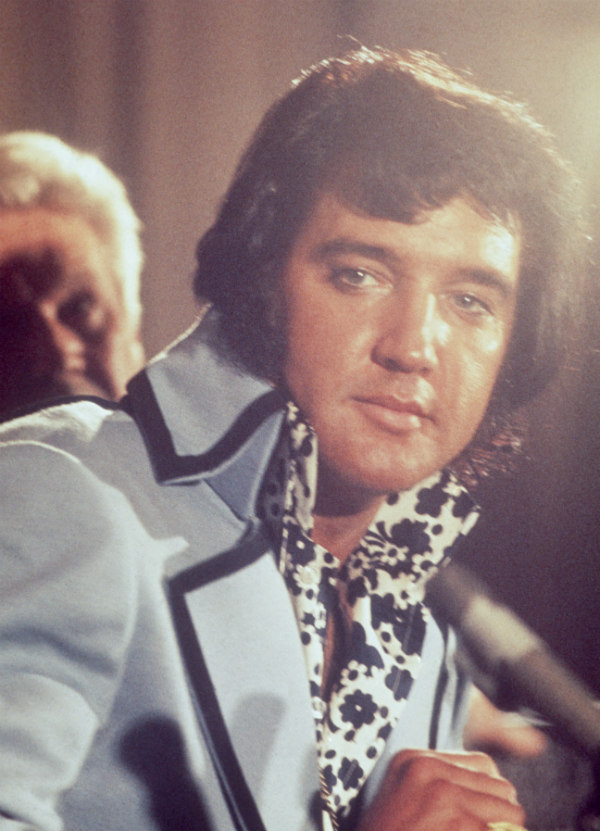 However, the real reason why the singer would use them was revealed by his former girlfriend, Linda Thompson. She opened up about it in her 2016 memoir 'A Little Thing Called Life.' Elvis hated the look of his neck and would refer to it as a "skinny little chicken neck," mainly because his parents teased him during his childhood.
HIS TWIN
While there are a million Elvis Presley impersonators in the world, there was once a chance for a real Elvis lookalike. The singer actually had a twin brother named Jesse Garon, but unfortunately, the baby was stillborn. His mother, Gladys, had a tough delivery on January 8, 1935. She was in labor at the 2-bedroom house she shared with husband Vernon in Tupelo, Mississippi.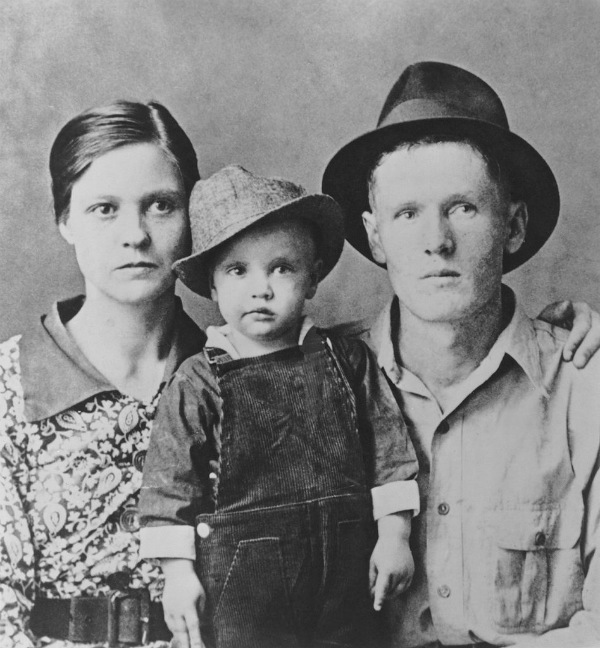 Everything that happened after Jesse was born dead made his mother horribly sick, and she didn't want to go to the hospital. Therefore, Gladys would never be able to have more children. They didn't hold a funeral for Jesse, and Vernon placed the baby's corpse in a shoebox and buried in an unmarked spot. Elvis would later try to find the grave of his brother but to no avail.
USING BABY TALK
As mentioned earlier, Elvis was very close to his mother, but the cool rock 'n' roller actually spoke to her in baby talk, which is not something any fan would have ever imagined. We are not referring to his childhood either. The singer had several cute nicknames for Gladys, and he continued to speak to her like a baby for the rest of her life.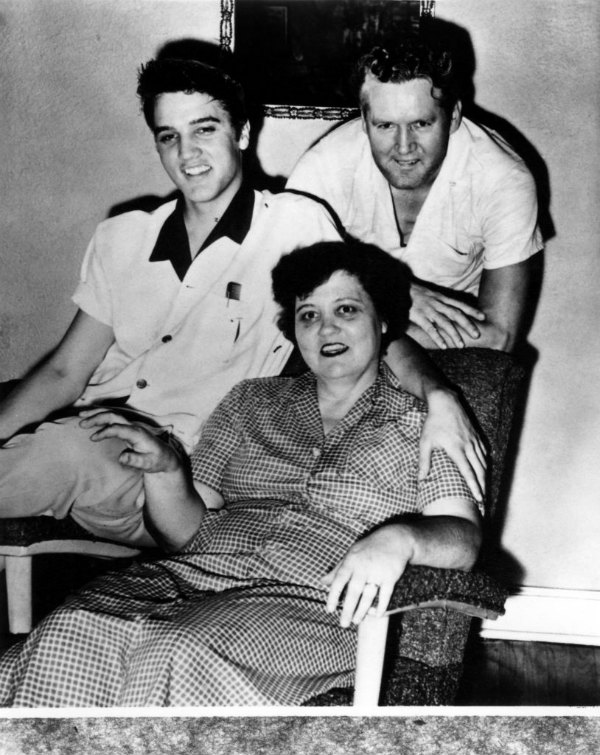 This could be one of the reasons why Elvis and Priscilla started drifting apart after having a child. Some psychologists believed that the love for his mother made it difficult to keep loving the mother of his own child. Continue reading to find out another interesting secret about the suave singer.
'HOUND DOG' WASN'T ORIGINALLY HIS SONG
Elvis' songs are beloved by millions even today, but after his passing, some critics accused the rock 'n' roller of stealing the hit song 'Hound Dog' from Big Mama Thornton. She recorded the track in 1953, but of course, her version was never as widely received as Presley's rendition in 1956. His fans are quick to defend him, though, stating the music industry was different in the 50s.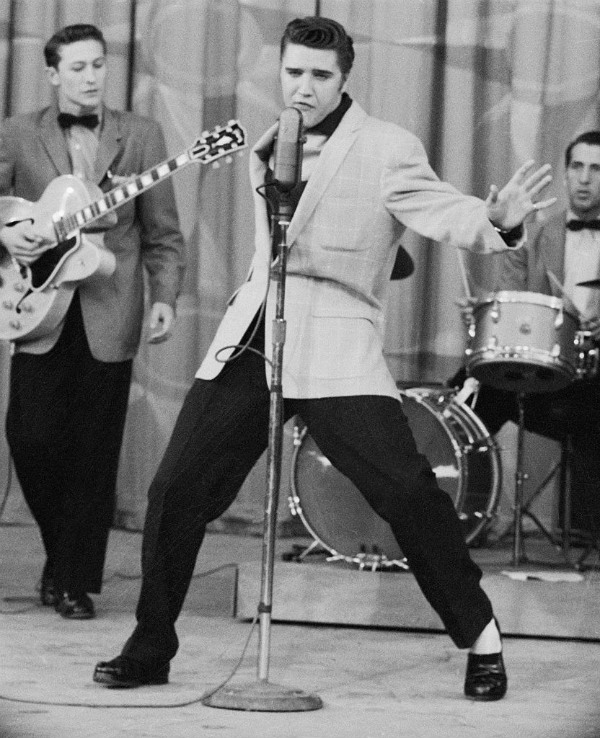 Furthermore, they say that it's not cultural appropriation. During that decade, a song didn't belong to one artist, and performers would often sing each other's songs or cover hits that other songwriters had created. Furthermore, 'Hound Dog' was written and produced by Jerry Leiber and Michael Stoller, a popular creative duo at the time.
HIS NAME IS A PASSWORD
Despite his scandals later on in life, his legacy will never die because songs have a way of transcending time and generations. On the other hand, his name has always been famous in pop culture, and in the age of technology, "Elvis" has been used as a computer password a lot.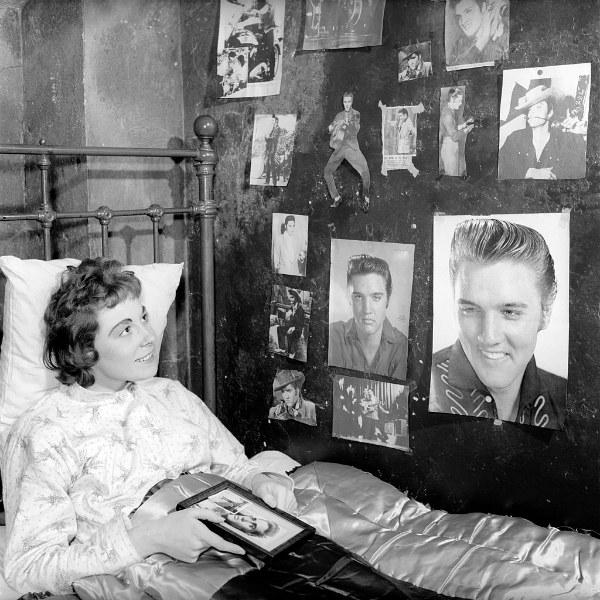 Elvis Presley probably knew during the height of his career that he would be remembered forever for changing the music scene. Also, he probably knew that many years later, people would still be impersonating him, but he would have never guessed that his name would be used as computer security. Keep going to find out more about the singer.
HIS EYELASHES WERE DYED
We mentioned earlier that Elvis dyed his hair with shoe polish because he was a blonde. However, he also dyed his eyelashes black to make it appear like he was naturally a brunette.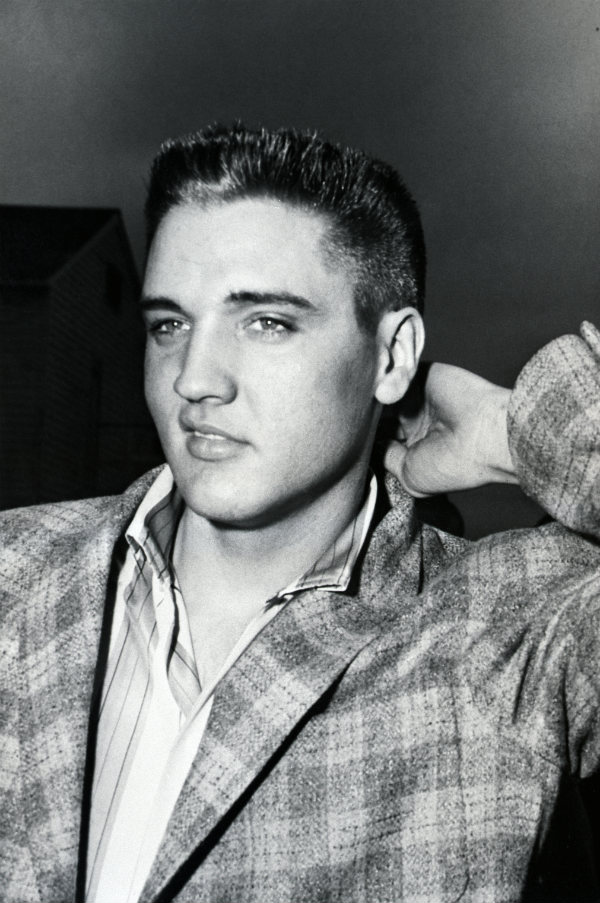 However, this was a horrible practice that led to many health problems for the singer. Of course, dyeing your hair with shoe polish is not recommended, but the worst you can do was damage your hair. Now, eyelashes are a whole different deal because the chemicals might damage your eyes. Furthermore, Elvis went on to suffer more health issues later on.
PERSONAL HAIRSTYLIST
It's clear that Elvis Presley was obsessed with looks and his hair. Therefore, it makes sense that the king only trusted one person in the whole world to cut and style it. That person was his mother's hairdresser, Mr. Gill. Mr. Gill made sure that he was available to travel when Presley needed him.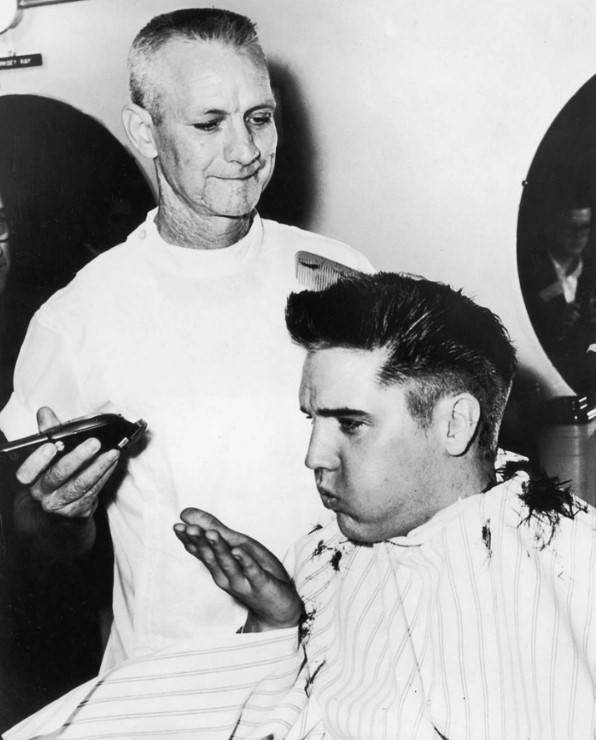 Can you imagine a hair emergency? It's sound funny, but there is actually a twisted side to this story. Mr. Gill would keep some of Elvis' hair trimmings and sold them off when Presley died. If this seemed like a creepy secret, continue to read about another one.
HIS LOVE FOR JOHNNY CASH
The king of rock 'n' roll was a huge star, but he was also able to see the talent in many of his peers. He also admired big names, and one was Johnny Cash, the country icon. Cash was also a guitarist, actor, and author.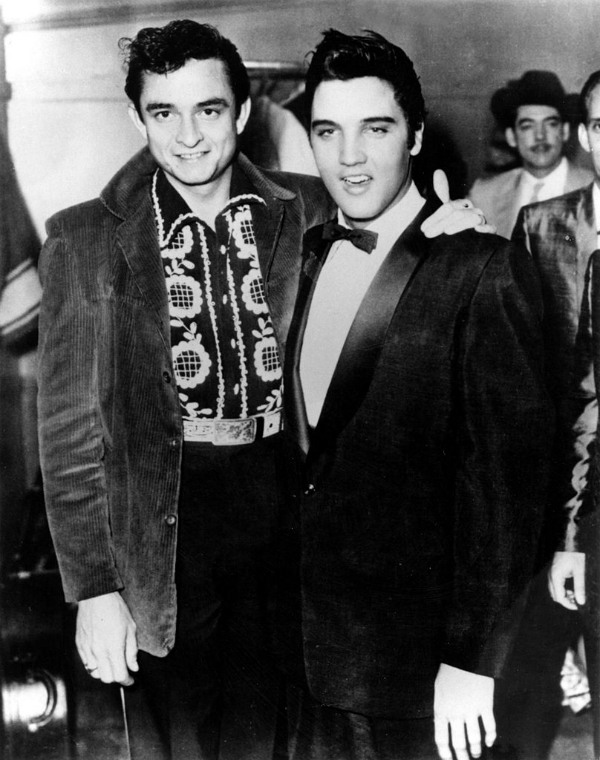 They formed a close friendship and grew to love one another very much. They even went as far as trying to impersonate the other. That was even before the term "bromance" was coined, but clearly, it was a musical bromance. They were also part of the Million Dollar Quartet, a jamming session that included Jerry Lee Lewis and Carl Perkins, who recorded music together in 1956 at the Sun Record Studios in Memphis, Tennessee.
THE BOOK THAT KILLED HIM 
Almost everyone knows that his life was not that great by the end, but right before he died on August 16, 1977, a book was released that would bring him even further down. It was called 'Elvis: What Happened?', which came out on August 1. It was written by three ex-bodyguards of the star and had many details about his private life.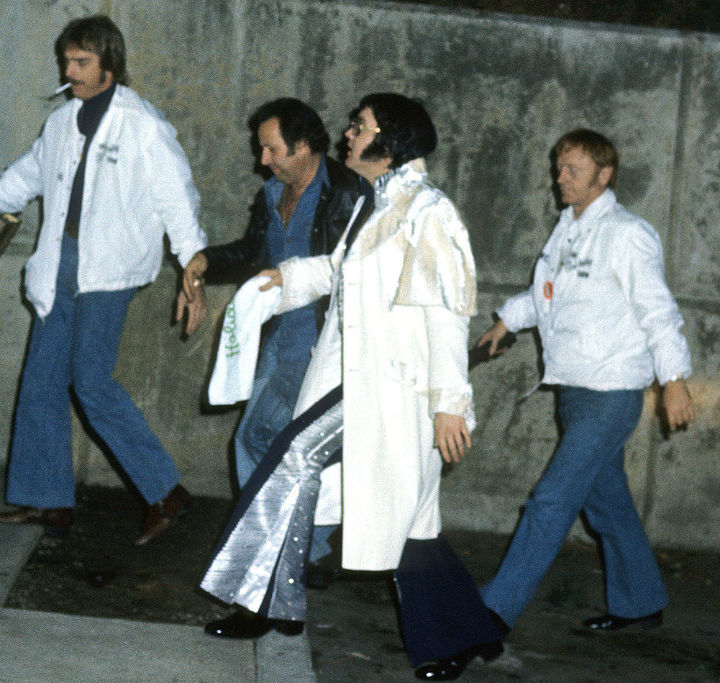 Elvis was trying to stop the publication of the novel, but he couldn't. The secrets revealed inside the book led to even more issues for the artist. However, he was already suffering from an enlarged colon, high blood pressure, had liver damage, and glaucoma.
We can't believe that we never knew about any of this, but no matter what, his music will live for many generations regardless of his personal life. Let us know which detail surprised you the most. If you liked this article, share it with your friends who are still big fans of Elvis Presley. See you next time!
Source: Direct Expose