Best Breakup Messages
Breaking up can be a horrible ordeal for, at least, one of the parties involved. Sometimes, your partner decides to end things out of the blue, and there is nothing you can do about it. Other times, break-ups happen after discovering that your significant other has been unfaithful and that can be even more brutal for someone. Luckily, separating from a partner is something that almost everyone experiences once in a while, and there are plenty of hilarious people all over the world that decided to take the split with a little bit of humor. That's we have discovered some of the best breakup notices that will definitely make you laugh, although some are a little too harsh. Let's discover them all!
BETTER LUCK NEXT TIME, STEVEN
Not everyone in the world gets to experience being dumped through a billboard. Sadly, Steven was clearly not the best person or husband in the world, and Emily had some interesting things to say about him that the world needed to see. We especially like her use of clever adjectives that are not really bad words, but they are great insults nonetheless.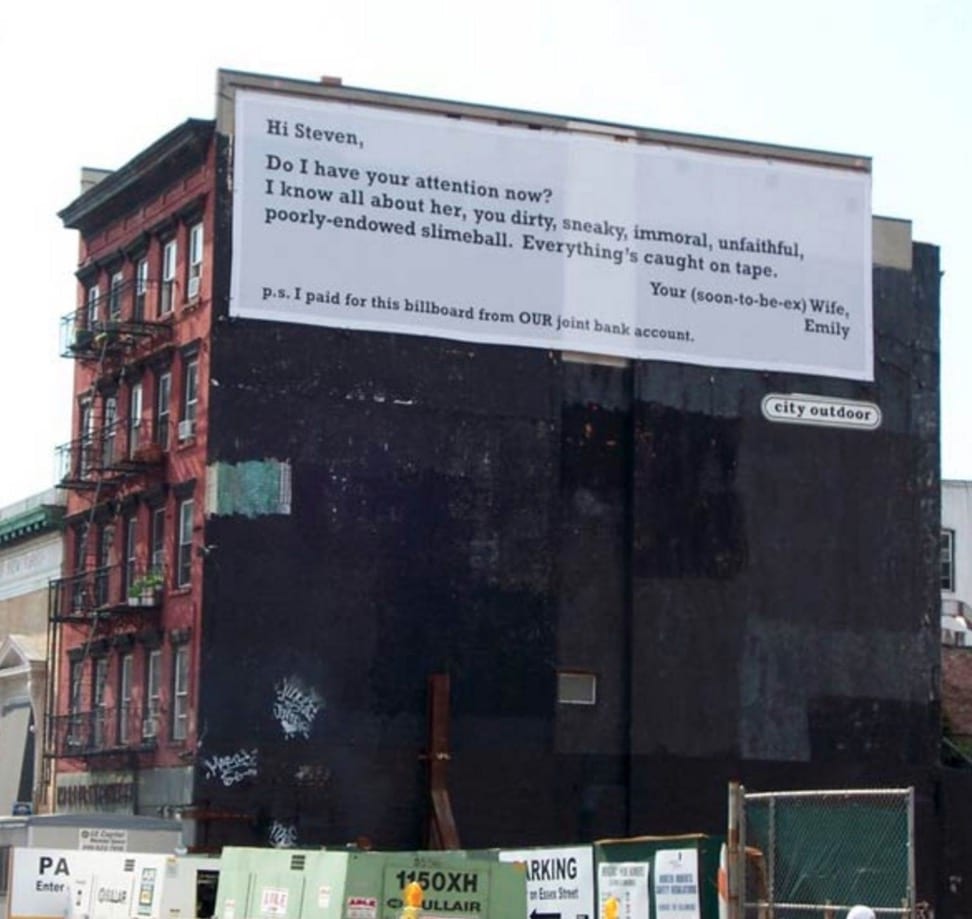 "Dirty, sneaky, immoral, unfaithful, poorly-endowed slimeball." However, the clincher is the line that reads: "Everything is caught on tape." We have to wonder what exactly what recorded. Was it a date with the other woman or something more salacious that could get Steven in huge trouble? Furthermore, depending on the city, billboards can cost thousands of dollars each month, and she used their joint money for it. Emily, you're the best!
NOT THE SAME WISH
Not every breakup happens after infidelity. Sometimes, it's so sudden that one person gets a huge shock and heartbreak. Unfortunately, many of the examples on this list have had significant others that decided they were done with the relationship. However, it seems that this person could have found a better to do it than this.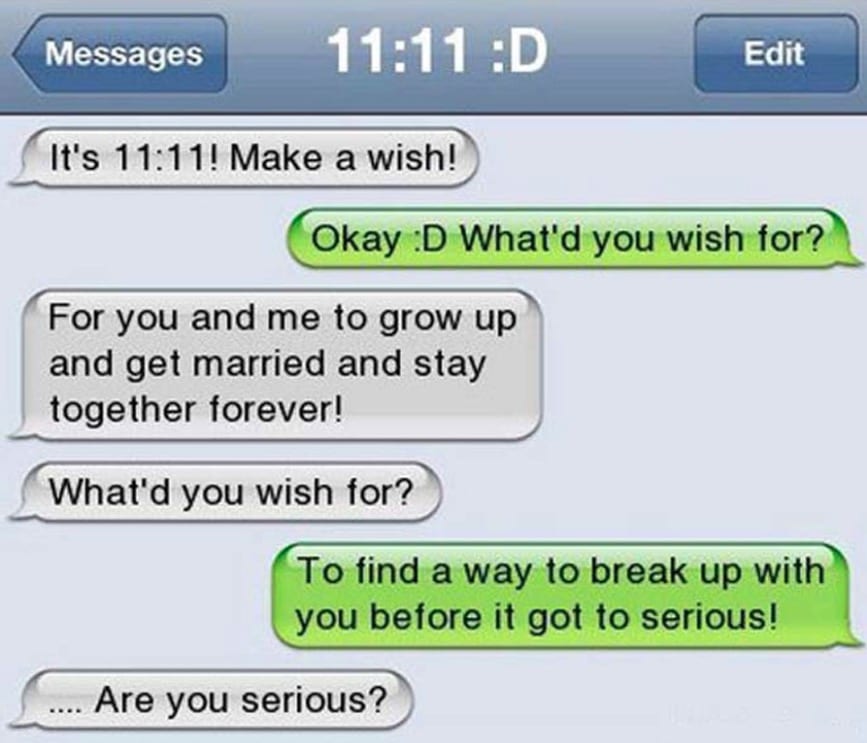 When people dream or wish upon a star, they think about their future. If they are in a relationship, it's normal that they are hoping to spend the rest of their lives with their special someone, get married, and build a family. But, that person clearly misunderstood the message from his partner, who wanted their relationship to be over and was a little too blunt about it.
BYE BYE, DAVE
There is no way to excuse cheating, and it's awful for anyone to find out that your loved one has been unfaithful. Most of the time, it brings out an uncontrollable rage towards the person you thought would be your companion for the rest of your life. Furthermore, most people want, at least, a little bit of revenge when something that heartbreaking happens.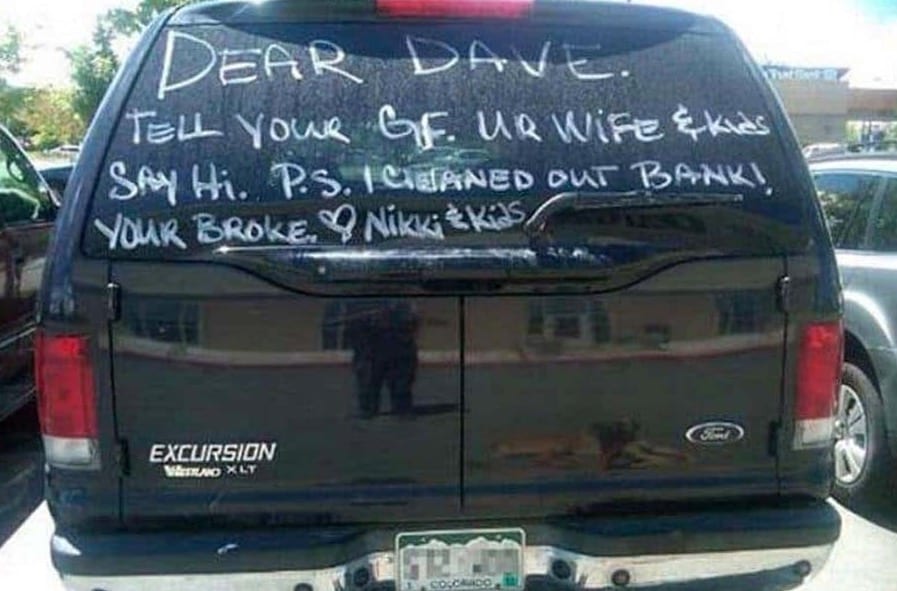 Nikki had discovered her husband, Dave, cheating, and decided to leave a message he wouldn't be able to ignore. Meanwhile, she also told him that she took all the money in their bank account (perhaps, Dave had a secret account for his nefarious activities), and he's now broke. Most couples don't want to affect the children when they separated, and we really hope that Nikki only mentioned the kids to make Dave mad. They shouldn't witness their parents fighting.
AT LEAST THERE'S PIZZA
Telling your partner that you want to break up is never going to be an easy message to deliver. Luckily, there are certain ways to do it in a civilized manner, unlike some of the other examples on this list. This is, perhaps, one of the best methods of saying goodbye to your boyfriend or girlfriend. Nothing heals an emotional wound like comfort food.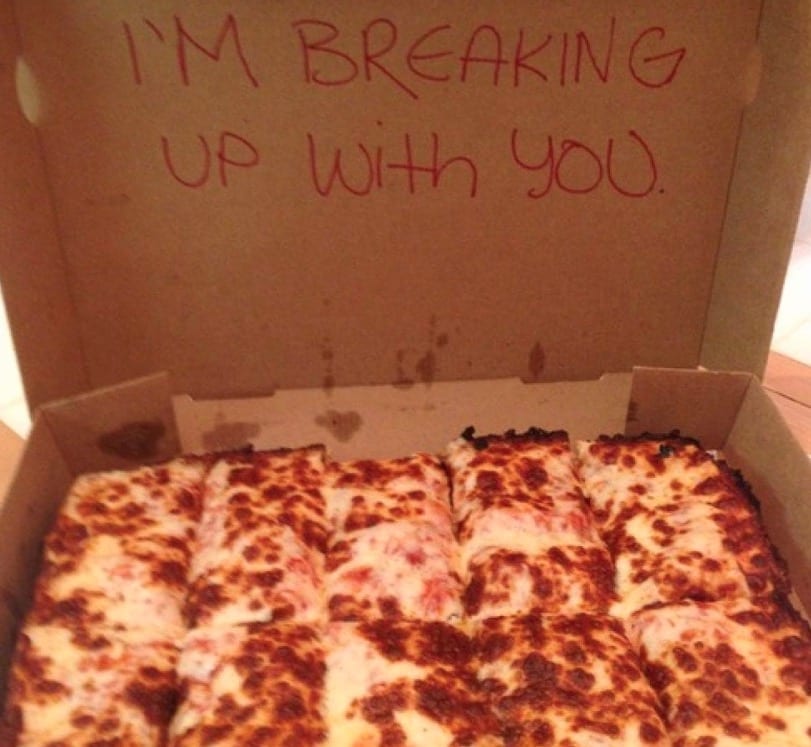 Some people like sweet treats like ice cream or cholate, but pizza, mac & cheese, or burgers will also do the trick. This person was done with the relationship, but at least, he or she was thoughtful enough to try to soften the blow. Maybe, the wounded party felt better about the news after eating the delicious Italian dish. It's definitely less traumatic than discovering infidelity.
THE DOG IS MINE!
One of the worst ways of breaking up is in public. It's humiliating, especially because there might be tears involved. However, these images are always the funniest for a third-party perspective. We have no context regarding this divorce, but it must have been something big to actually go through the effort of putting up a sign.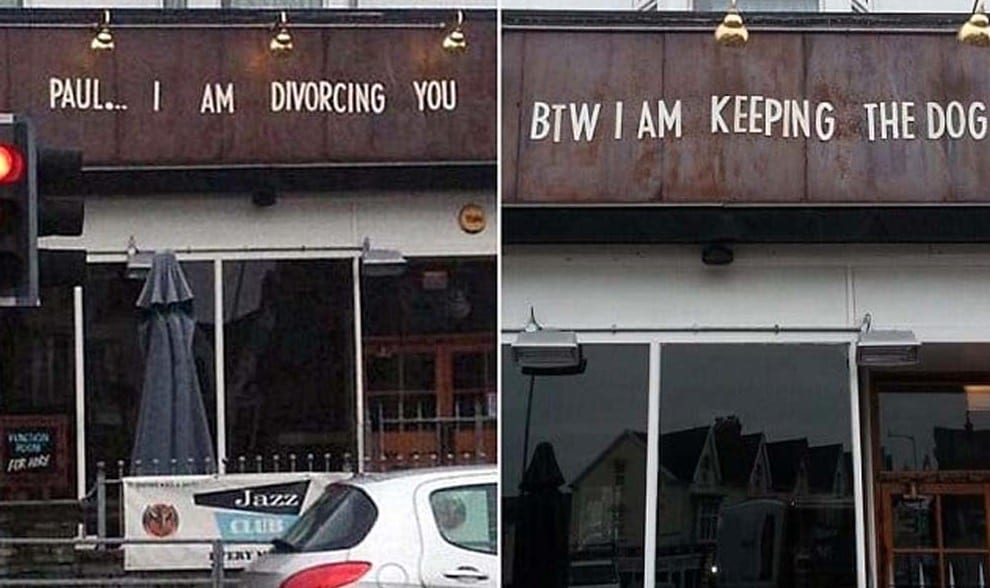 Most people don't want to announce that their marriage is over, particularly because all your friends probably attended the wedding, and it's just embarrassing. Whatever Paul did, his soon-to-be former wife decided to get right to the point, and she is also taking their beloved dog. It's a little awful when children and pets are in the middle of a split, but it's a part of life as well.
HOW CAN YOU HAVE MATH?
In every relationship, you need to have things in common to keep going. Sometimes, you go in only to discover that the person you were attracted to is not the smartest or the most compatible with you. They might have other important qualities to take into account, but sometimes, the inevitable will happen. In the end, it doesn't make sense to stay with something if you don't want to spend more time with them.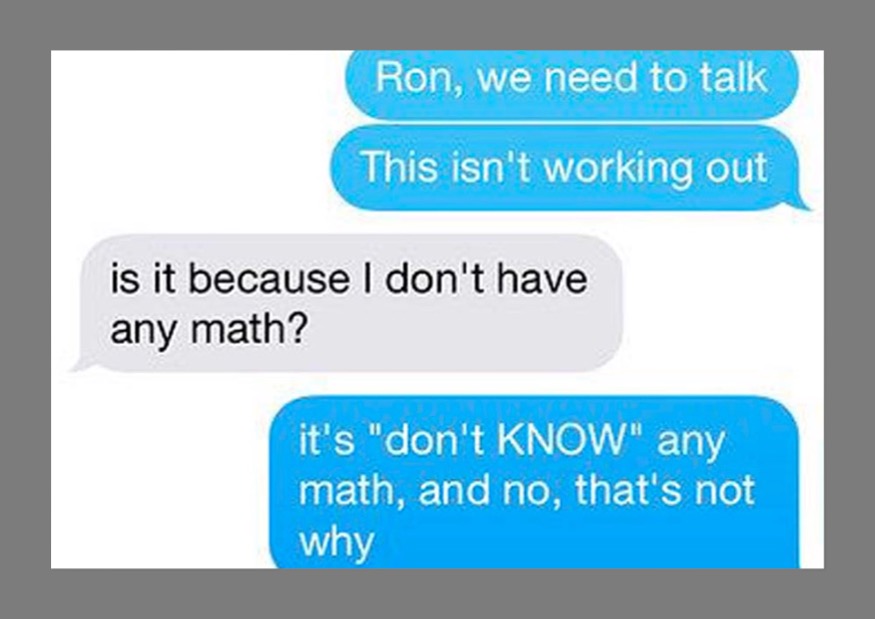 Ron might have been blindsided by this decision, especially because he doesn't "have math", but it's clear that there are certain things about him that make his soon-to-be ex-girlfriend pretty mad. They probably had an argument about money, and Ron displayed his lack of math skills. But, there might be other reasons for this breakup as well. Either way, it's better to let go of someone that cannot handle a little math.
MESSAGE IN A MIRROR
Clearly, this man was going to get the surprise of a lifetime when he woke up in the morning. This girl was pulling no punches, and it's a bit cruel. There might be 2 sides to every argument, although this particular way of breaking up might be too much.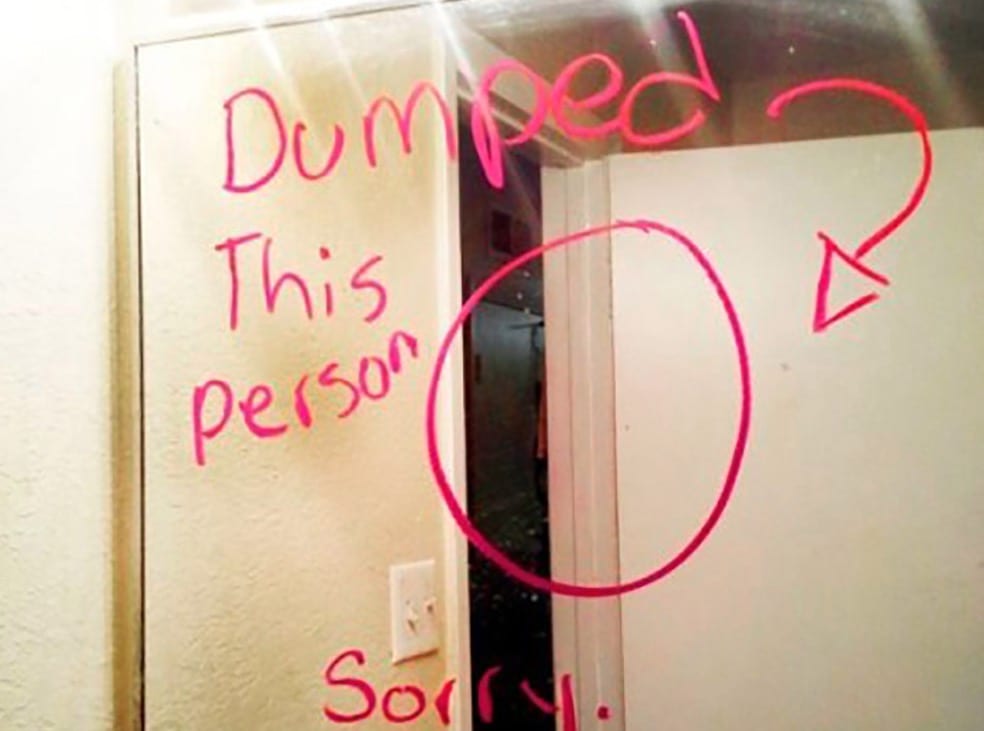 It seems that whoever owned that house might be better off without a person that doesn't have the guts to tell him to his face that she wants to break up. There are many ways to explain the situation, and it won't give your ex-partner such a traumatic experience. It might become a humorous memory, but it hurts in the beginning.
GIT IT TOGETHER, SHAWN!
There's nothing crazier than when you start dating in school, and you are all about love letters as well as secret messages. Things are much simpler and different when you're a child, and you are not afraid to speak your mind when something is wrong. Most children are way too honest about their feelings, and sometimes, they come up with pretty interesting insights.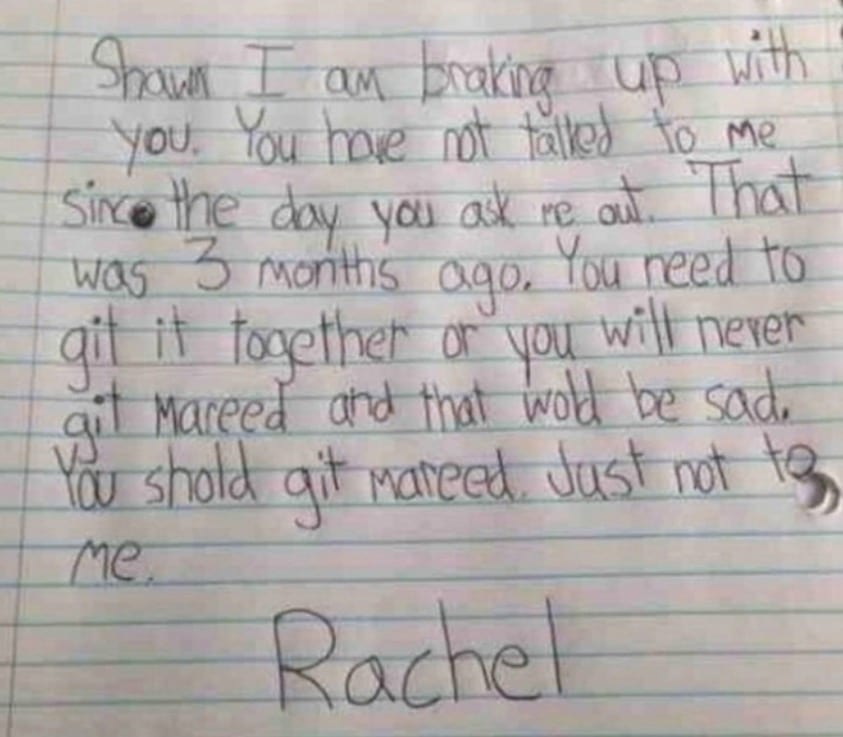 Shawn was clearly not doing his job as a boyfriend well, especially because he hadn't spoken to Rachel in 3 months. Common man! You have to take care of your girl! It's pretty hilarious because it does remind us of the relationships we had back in elementary school. At that time, a boy and girl might start "dating" and break up right the next minute. You never knew what could happen.
LET'S SEE OTHER PEOPLE
Sometimes, sarcasm and irony might soften a comment or message, especially if it's something negative. However, it's not the best way to express to your partner that the relationship is over. People have feelings, and when it's a difficult situation, you have to be tactful. You also have to think about the other person's feelings.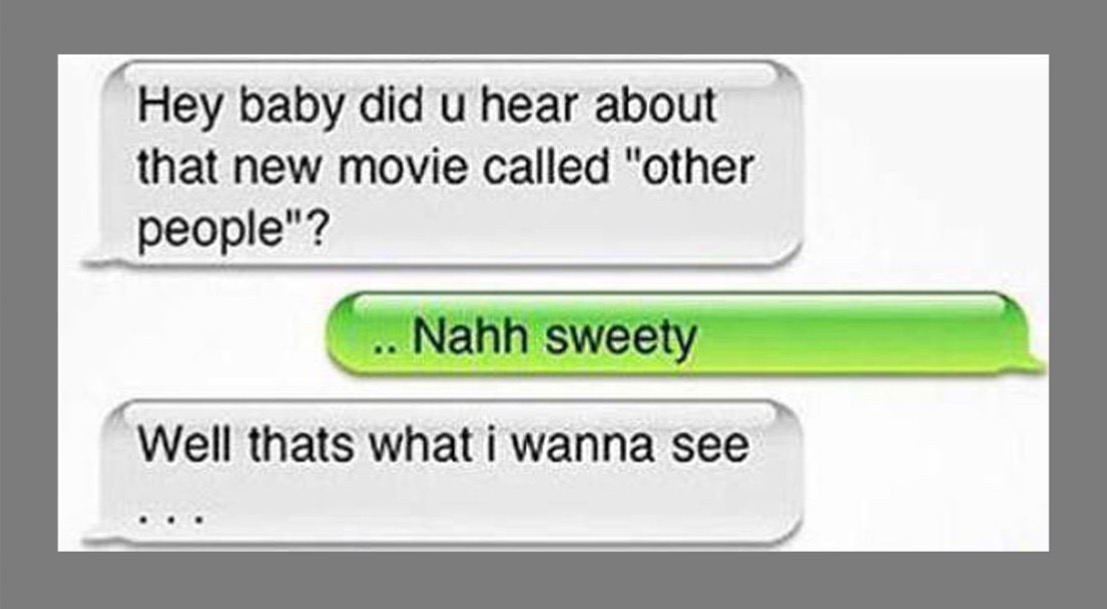 There's really no context for this message, but it doesn't seem like things were going badly for them. Furthermore, due to the "hey baby" and "sweetie", it seems that they liked each other well enough. The text might have come right out of left field for the recipient. We don't think anyone would be happy to hear a joke during a breakup.
TIME TO GO DOWN UNDER
This is another message in a delicious treat, and to be honest, we are all for it. There is no easy way to tell someone that things are over. They might feel the same way, or they might be completely surprised. However, anyone would be happy to receive a cake. Some might feel angry right away, but others will see that they have the perfect excuse to eat the whole thing alone.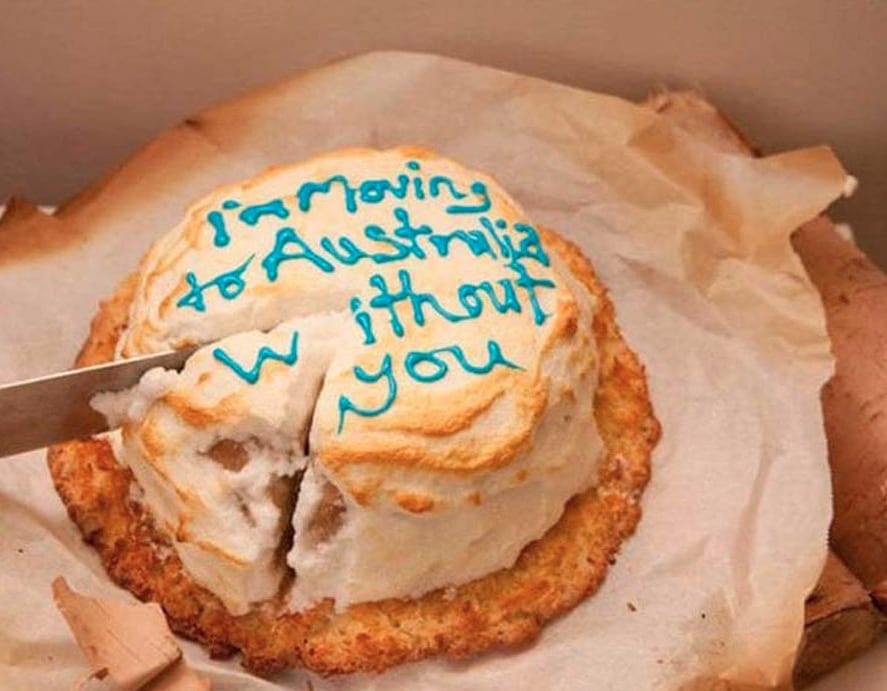 When you mourn the loss of a relationship, you need to have all the best treats and comfort foods available. Although, we have to agree that this might not have been the most delicate message. We just hope that the person was already on his or her way down under and not nearby.
MEANT FOR SOMEONE ELSE?
Now, this text message conversation might be one of the funniest we have ever seen. This man is in huge trouble, and by a ridiculous mistake. He is also a bad person, of course, because he was cheating on his wife. However, at the time, he was probably rethinking his terrible actions and decided to end things with his "other woman".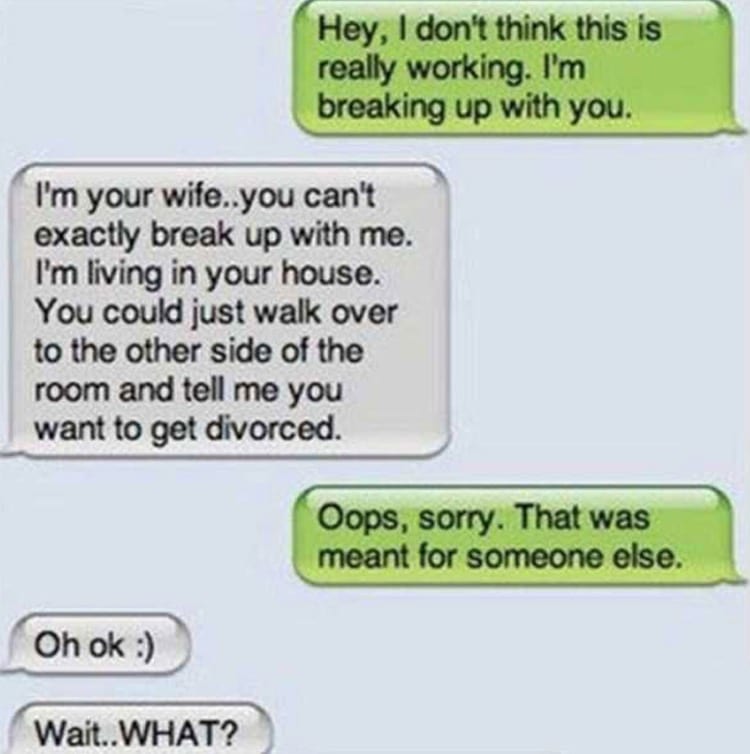 We don't understand why people get married only to cheat later. It might be because our society pushes marriage like it's the only option after dating for a while. Some men might not be ready for commitment, even when there is love. But, this woman clearly had to take a second look at the messages to understand, and the man was stupid enough to actually reveal his affair.
HARSH VALENTINE'S DAY
Valentine' Days can be horrible for people that are no in a relationship. You see flowers and gifts everywhere, and there's nothing you can do about it. But, it can also be awful for couples. The pressure of planning things and gift-giving can actually drive them apart sometimes. However, it looks like Laura had been planning to do this for a while.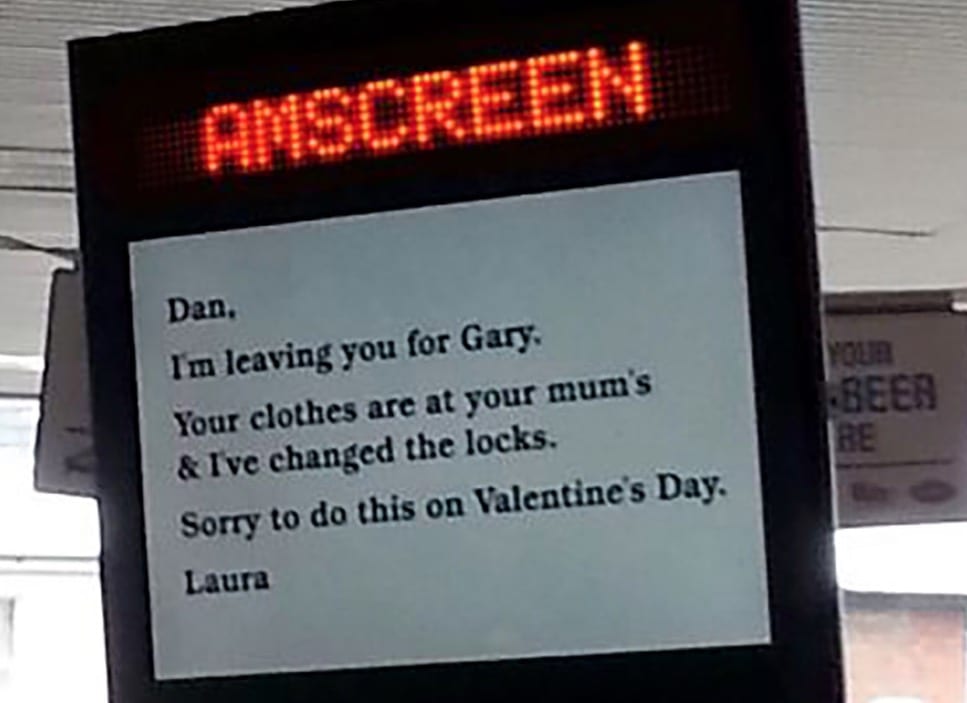 Furthermore, she was already moving on to someone else. Therefore, she might have been the person cheating in this scenario. Additionally, since the message says that she changed the locks, Dan might have to look for a new home. It was also posted in public, which makes the sign brutal in every way. The fact that it's Valentine's Day is only the tip of the iceberg.
WELL, THAT'S A LITTLE TOO AGGRESSIVE
As mentioned previously, children can be a lot more honest with their feelings. Unlike adults, who are often afraid of hurting others, kids just say whatever comes to mind without much thought. It takes time to learn how to be tactful. But, this way is definitely more refreshing than others who beat around the bush and cannot just break up properly.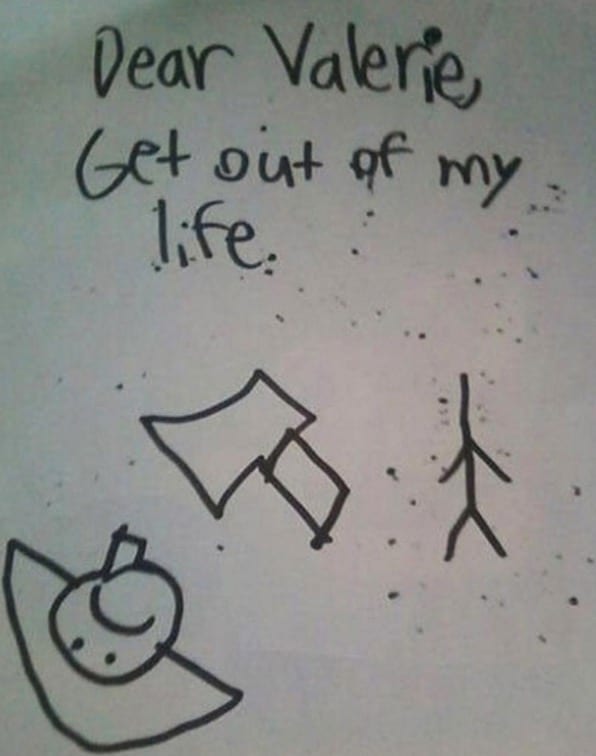 However, this kid went way beyond the limit. His disdain for Valerie might be a little too concerning. This is not just a breakup. He clearly hates her and wants her gone forever. We just hope Valerie stayed away from this doodler and that nothing serious happened. There is plenty of fish in the sea, Valeria, you will someone better.
THE MANY REASONS WHY
Some people never discover the many reasons why someone suddenly decided to end the relationship. Luckily, this person decided to send their partner a list to explain in detail why things were over. There's a lot to digest from this letter, and we agree on some points but not on others. For example, pets are often considered babies.
It's not that crazy to love your pet as much as you would a child. Second, grammar and spelling are important in life, and some people are considered grammar or spelling "Nazis". Meanwhile, eating cereal with water is just preposterous. That's a big no for us. It also seems like the recipient was a conspiracy theorist because he or she doesn't believe in the moon landing. On the other hand, we can all agree that everything about it is pretty funny.
SHE WILL MISS THE NEIGHBORS
As mentioned earlier, it takes a lot for someone to post a breakup note in public because it's embarrassing to have your private business all over town. People love to gossip, but some love revenge even more. Furthermore, this scorned wife actually took the time to print out a big banner and thanked the neighbors for the good times.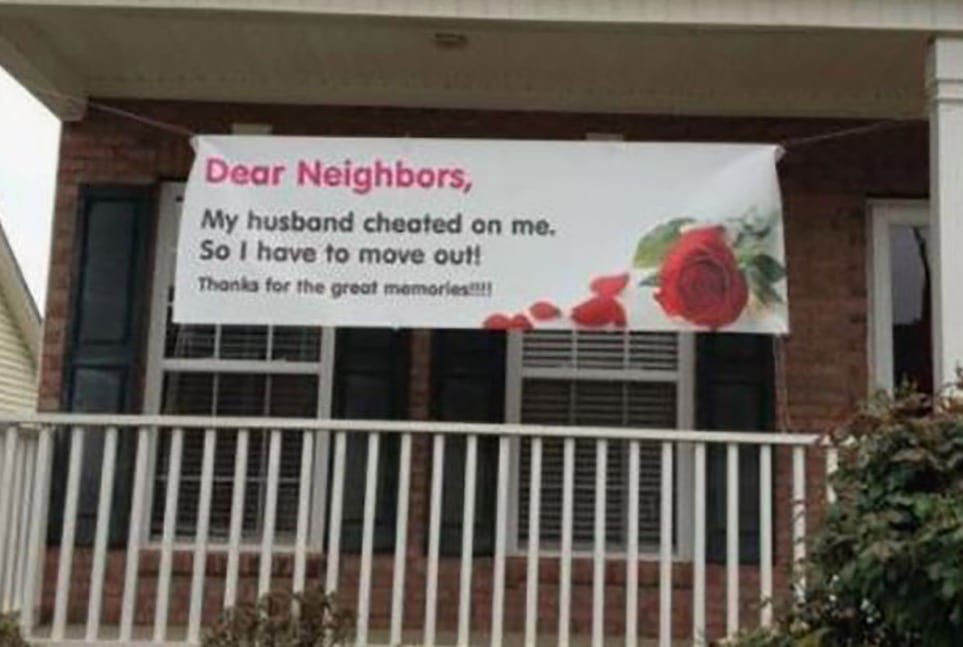 However, she also wanted them to know the real reasons why they were separating. Some cheaters might say that it was a "compatibility issue" or another problem that led to the separate. Basically, they will lie to look better, and this woman was not having any of that. She wanted everyone to know exactly what her husband did.
THAT'S ONE WAY TO KEEP A MAN
Trying to make a joke can sometimes make an awkward situation funnier, but it doesn't always work. We have already seen some people try to add irony or humor to breakups, and most of the time, it falls flat. However, this is a whole other example, where the person trying to ends things got the surprise of a lifetime.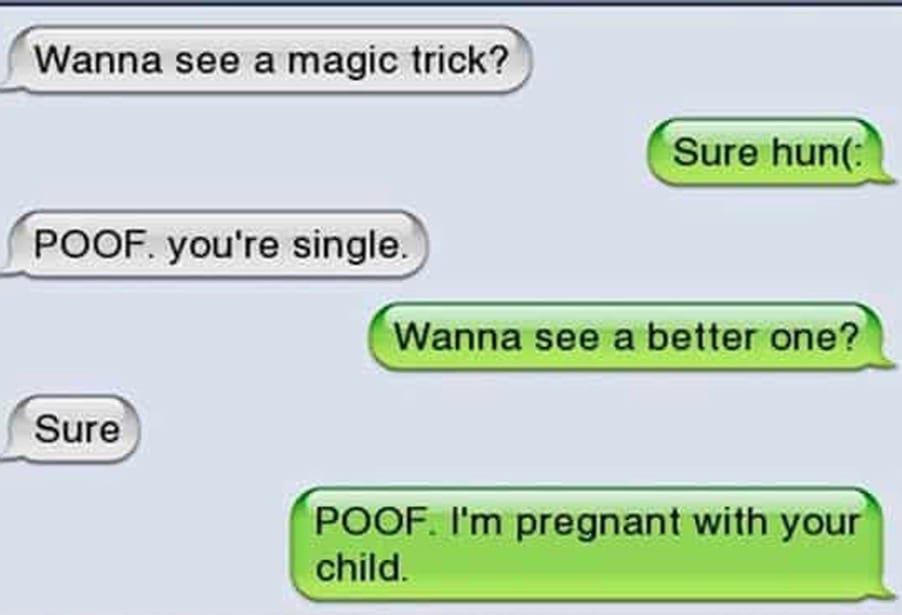 Of course, being pregnant doesn't necessarily mean that the guy will return to her. But, dumping her is not as simple as it might have been before. Additionally, that poor child was born to be to two that don't love each other anyway. We hope that they still split but remained in communication to deal with the pregnancy and the future of the baby.
THE PERSONAL ADVERTISEMENT
Once upon a time, people posted ads on newspaper for any situation. It was a great way to get more employees, find a house, and there were even people looking for relationships. Nowadays, this practice seems to have disappeared with the advancements of technology, especially in the dating department because there are so many apps that will do the trick for free.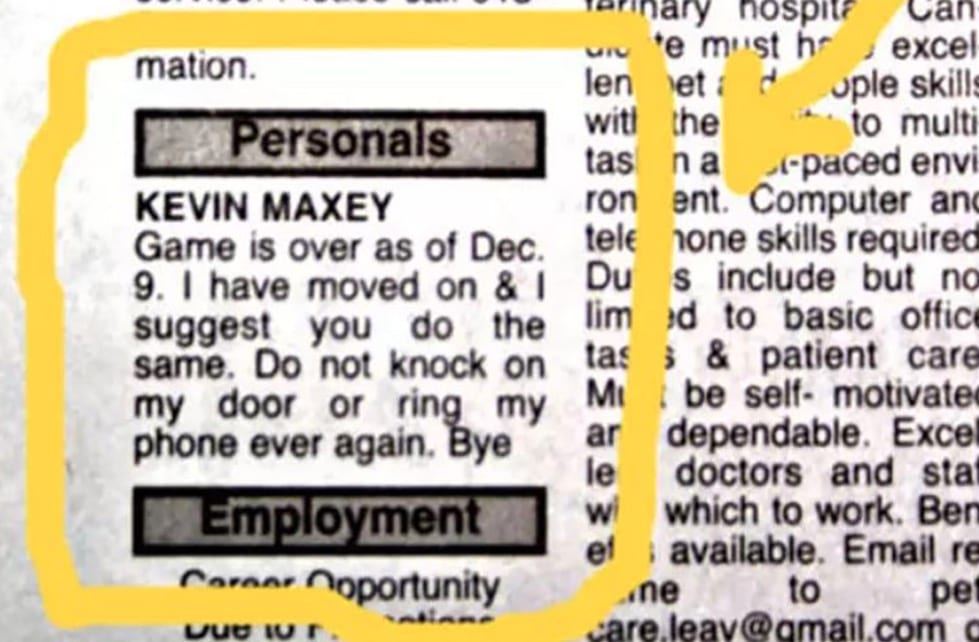 However, whoever Kevin's ex-girlfriend was, she was funny and had enough spare cash around to post an old-school breakup. She was clearly so done with the relationship that she didn't even want to talk to him personally. We just hoped he actually checked the paper instead of calling her because she won't be answering her phone.
THE WORD PREGNANT MAKES AT&T RUN AWAY
Yes, there is a huge cliché around men that says that they will all run away at the mere mention of "pregnancy". Not all men are like that, although this one right here is not the best example. On the other hand, we are not sure if the girl should've have stayed with him even if he offered. That idea was just plain stupid.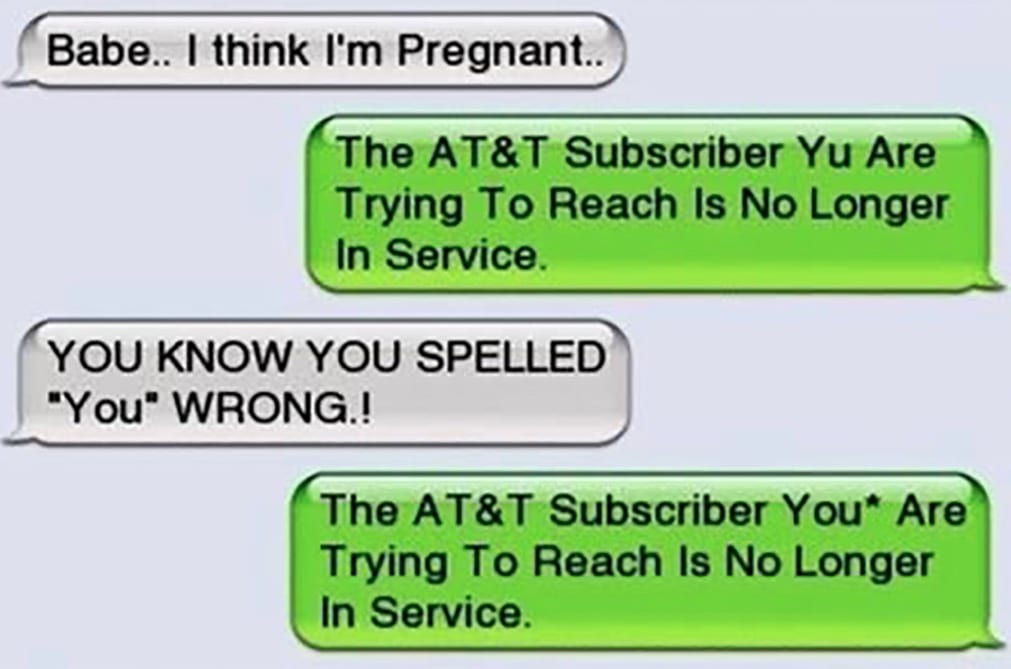 We wouldn't want the father of our baby to be so dumb. Having a child is a huge responsibility and everyone needs to pick the right partner for the job. If that's the first answer you get from the guy that gets you pregnant, you are definitely better off without him.
AT LEAST, HE GETS SOME CASH BACK
We have seen a lot of cheating husbands in this list already, but not that many wives. Luckily, this image shows the other side of the story, and it looks like that the husband had the right idea. Obviously, you forfeit the right to your things when you lie to your spouse and have an affair. That's just despicable. If the relationship is going through a rough patch, you have to work together to fix it.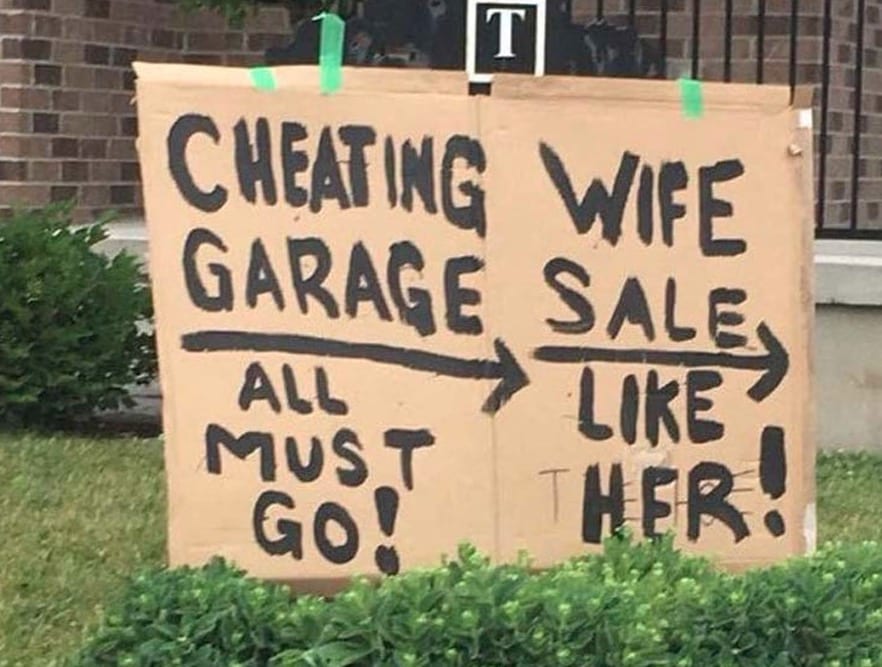 There is no excuse for unfaithfulness. We have to applaud the guy who sold her stuff, but they are technically also his things as they are still married apparently. Furthermore, he can save the money from her worthless possessions to pay for a great lawyer to make sure that she doesn't get anything. We wonder if the wife showed up while the garage sale was still going on.
THAT'S EXACTLY WHAT THEY WANT
While breakups can be heartbreaking, everyone needs to take them with maturity. If a person doesn't want to be with you anymore, you have to let them go. You might be better off in the end anyway. It's not the end of the world. There isn't just one right person for you out there. Some people only enter your life to give you a lesson.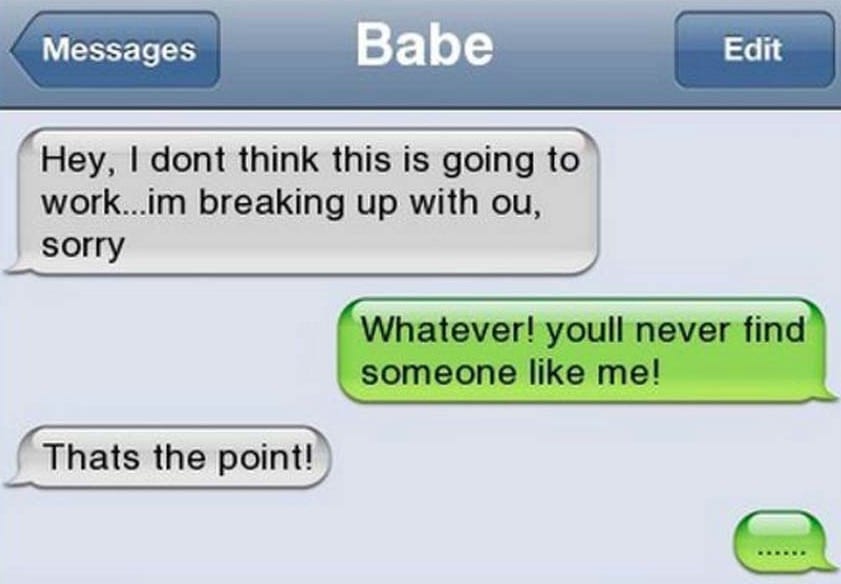 But, there are many who take the immature route when the relationship ends. Even if their partner explains his or her feelings clearly and in a sensible manner, there are many who will get insulted, start cursing the loved one, or worse. Meanwhile, this girl could have given a better comeback than that, or changed it to, "You will never find someone BETTER than me."
TEAM-UP BREAK-UP
This is another example of a brutal public breakup, but it's even funnier because several women united to dump the guy that was playing with them. That's what we like to call poetic justice. As mentioned earlier, there is no excuse for cheating, no matter what happens. There are other ways to fix a relationship. A couple needs to work together for something to work.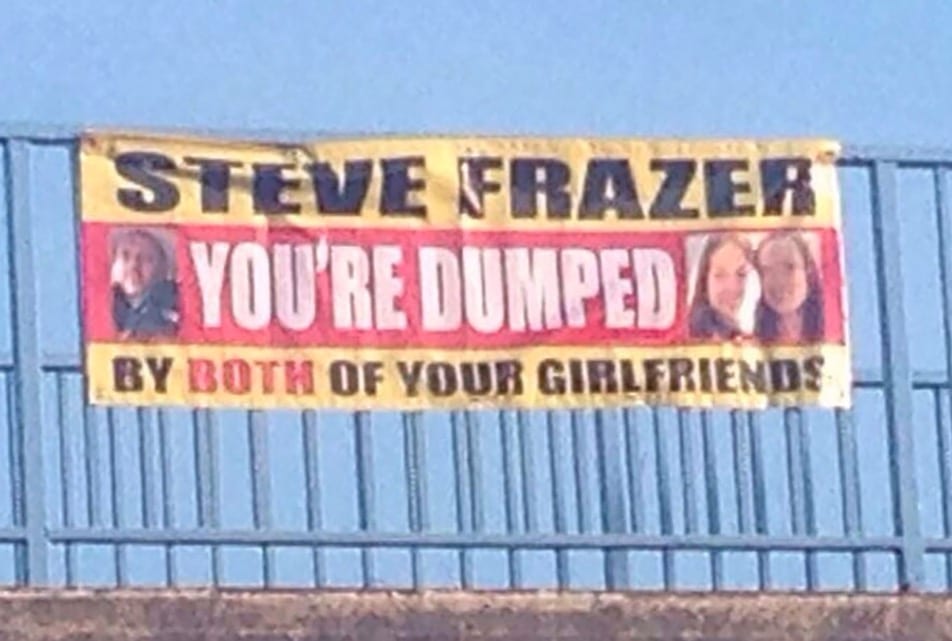 Meanwhile, this image looks like it could've been part of a teenage movie, and the main characters in the film would even become best friends after what happened. However, it's not that common for the other woman to actually reveal the truth. These girls probably thought that Steve was their exclusive boyfriend, and he was just a huge player.
JENNY IS DONE WITH YOU AND YOUR FRIENDS
We are not exactly sure what Alexander told Jenny that she decided to run away or what she meant by "I don't want to be with any of your friends". Could Jenny have meant that she doesn't like Alexander's friends or is it something darker? Did Alexander ask his girl to "be" with one of his buddies? That's just disgusting.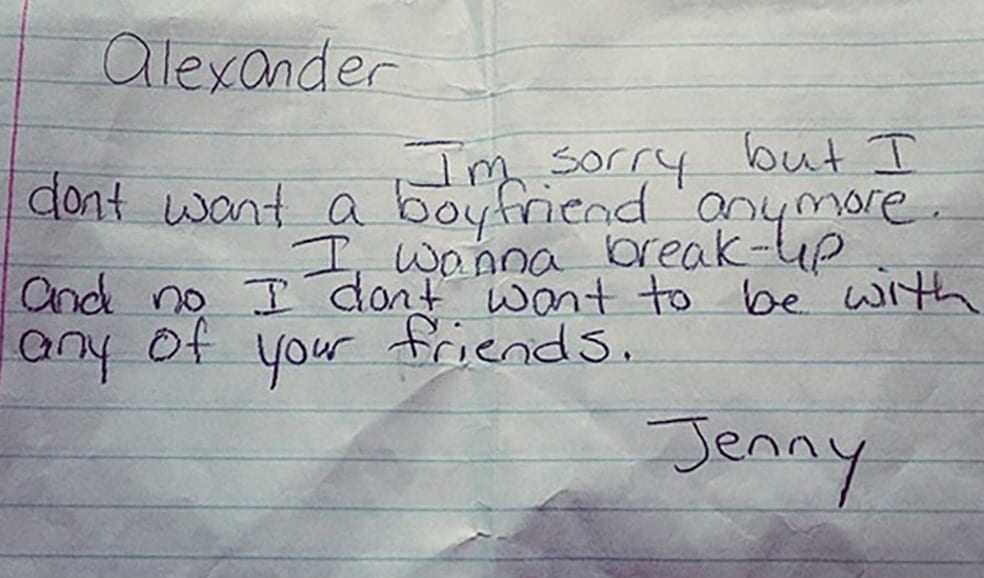 In that case, Jenny had the right idea. If it's something other than that, then we hope that she finds a suitable boyfriend later on. Some people might be alright with sharing their spouses or significant others, but not everyone is into that kind of lifestyle. Not everyone is so open. Both of them have to find people that will cherish them.
ERIN, YOU'RE GREAT BUT...
It looks like Erin is being dumped by something with impeccable penmanship as well as the poetic skills of a master. A lot of people do this when they are about to break up. They build their partner, telling them how amazing they are so that they will feel good. It's only after those huge compliments that they deliver the bad news.
However, if your significant other was such an amazing person with a "smile better than 100,000,000 trampolines", then why would you dump them? It makes things even harder to understand. It's also like the old cliché line, "It's not you. It's me." We hope Erin found someone who truly deserved her awesome smile.
THE FAKE PROPOSAL
If you the previous image was weird, this one is even worse. Some people make jokes, others write poems, and others put up signs in public. However, this person did something despicable. You should never toy with a person's feelings this way. Jennifer could have been excited about receiving such a romantic proposal only to find out that it was fake.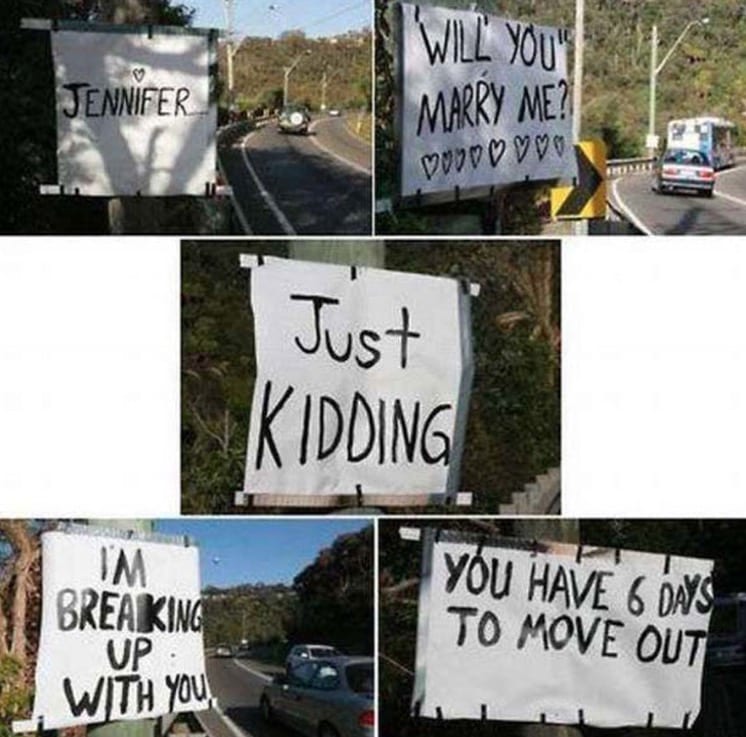 It's honestly heartbreaking, and we don't know if Jennifer did something bad to the guy for him to act this way. There might have been a huge fight between, but anyone in those cars passing by would see that prank, and it's not even the funny. We just hope that Jennifer wasn't in her vehicle when she read those signs.
ANDY IS IN TROUBLE
This is another situation where the guy was playing with two girls, and he made the mistake of leaving his phone unchecked. Clearly, one of the girls thought to check his messages and came across with the truth about her man. The hilarious thing is that she doesn't seem that surprised about it. Could she have been the other woman?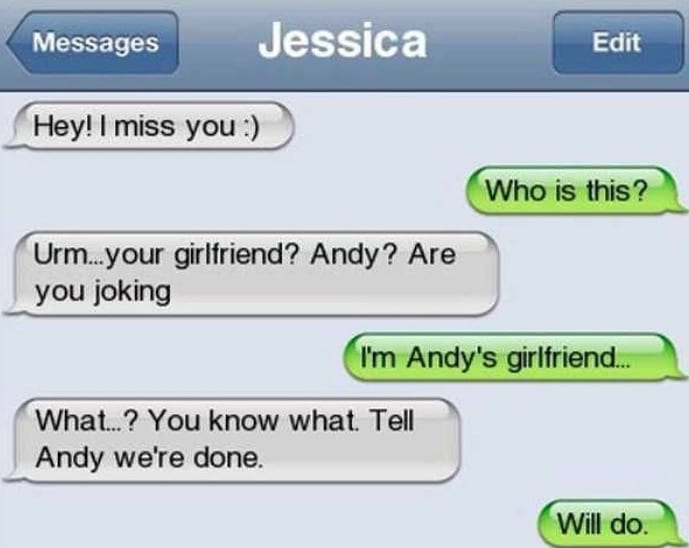 She probably hoped that Andy's real girlfriend discovered that he was cheating so that they would break up. Either way, she was perfectly up to telling Andy that Jessica was done with him. We don't like anyone that cheats, and Andy should really be a man. Otherwise, you have to explain to that person that you don't want an exclusive relationship.
THIS PAYBACK IS RUTHLESS
Most men are obsessed with sports, and some will even ignore their girlfriends to watch or go to a game. Clearly, this girl wanted to get the best revenge on the guy that cheated on her. So, she chose to hit him where it would hurt. It's very likely that he was watching the game, and the cameramen were helpful enough to film her.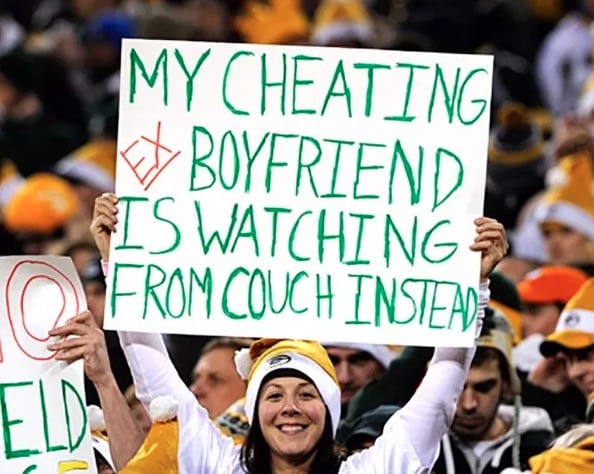 Whoever her boyfriend was, we know that he must have looked at the TV in anger, and we also hope he regretted his actions even it was too late to recover the relationship. We applaud the girl for publicly shaming his man, although she never actually revealed his identity or name. It was much better that way, though, because it proved that she had decency.
WHERE WAS THE STUFF?
This person was obviously careless enough to leave his Facebook account open for his partner to see all the messages from Kelsi. That's not the smartest move, although most people shouldn't be snooping around in someone else's social media. However, a lot of women have this interesting sense of intuition that tells them when their man is up to no go.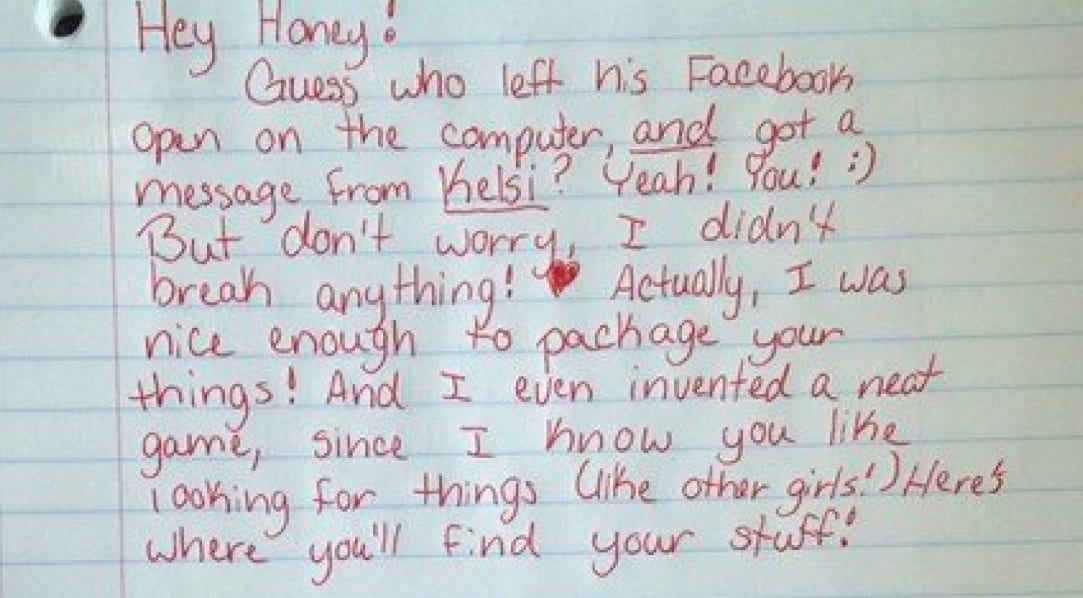 We love her letter because it's filled with sweetness and heart, although the overall message was something else completely. Furthermore, whatever she hid was probably really expensive, and we hope that the man had a hard time looking for them. Don't cheat on your partner! Breaking up first is much better, and you won't end up looking like a bad person.
I WANT YOUR HAPPINESS BUT...
This person got to the point and didn't hold back his or her real feelings. There are many people that say they are happy when the other person is happy, even after a breakup. However, we know that there is a tiny part of them that is also glad when they are not.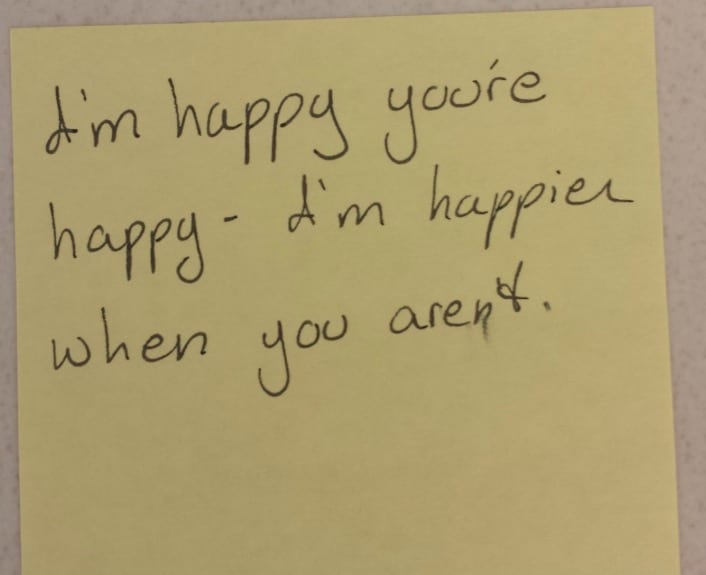 Obviously, they weren't right for each other, but it's pretty funny when messages get petty like that. We hope that the recipient had a good sense of humor to appreciate this silly note and moved on with life normally.
LIKE OREOS BETTER THAN YOU
We don't know if the person that wanted Sierra back was the one who originally ended the relationship or if Sierra dumped him. Sometimes, you come to regret leaving a girlfriend and want them back just when they have already moved on. Obviously, Sierra didn't want anything to do with him or his feeble attempts at getting back together.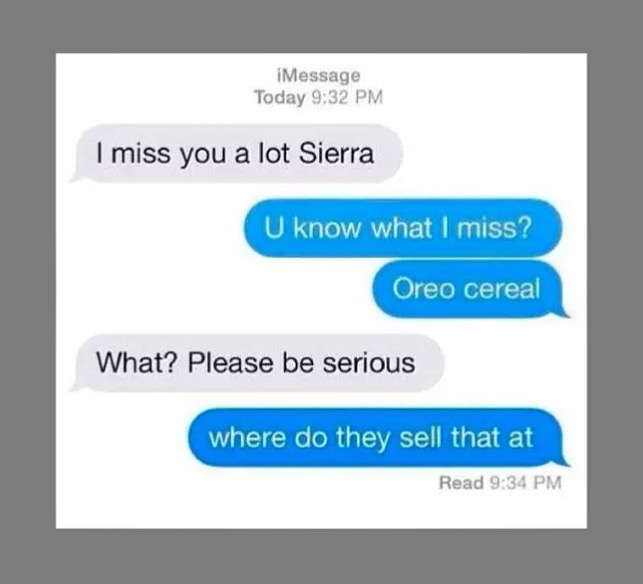 He might have been serious, but it was too late to go back. She clearly told him that having cereal would be preferable to entering a relationship with him once again. Some men simply don't get when a joke has an underlying message included.
BATMAN BREAK!
Ending a relationship is somewhat complicated because we must make the other person understand what we feel. It is normal to try to find the right words for inspiration in something else, such as movies or series. But even though it may sound more poetic, the other person inevitably knows that those are not your words. If you are going to use a phrase from a movie, make sure they don't catch you.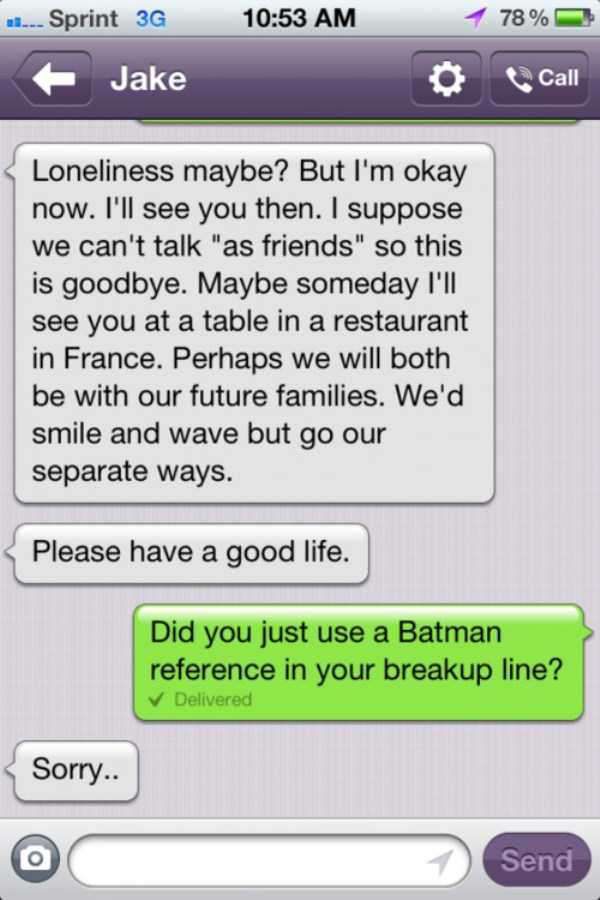 Batman and all his films are an excellent source of interesting phrases, but it is not the most appropriate reference. If you're going to end up with your girlfriend using a phrase from one of his movies, make sure she doesn't know them. If she discovers you, you will end up alone and ashamed for not having enough creativity.
AT THE SAME TIME
Relationships are very complicated situations for some people, and this is why misunderstandings occur. It is usual for a couple to understand each other perfectly when they are together for a long time, but this is not always the case. Sometimes, people think very different things and fail to realize in time that something is wrong. If you and your partner do not feel the same, the relationship inevitably will end at some point.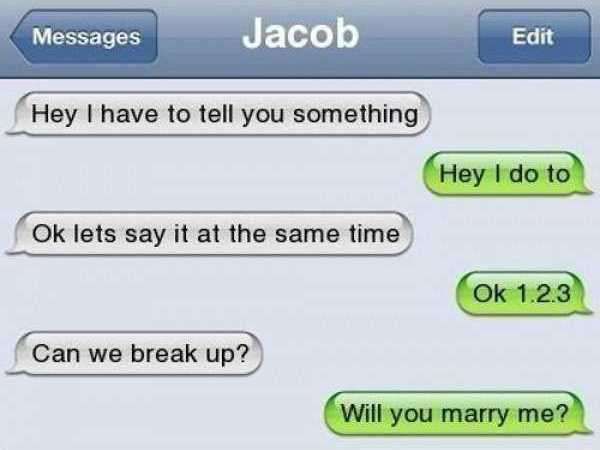 Trying to guess what your partner thinks at all times is very complicated because each head is a world. And these kinds of exchanges between two people are what make them realize how wrong they were. In a situation like this, you can do nothing but accept reality and separate amicably.
DUMPSVILLE
Many people just want to end their relationship as bluntly and quickly as possible, so they turn to SMS. There are ways to make your partner understand that you don't want to be by his side, but you should try to be subtle. The reasons why the relationship ends are personal, but each person interprets them in their own way. If you are going to send a message like this one, something horrible must have happened.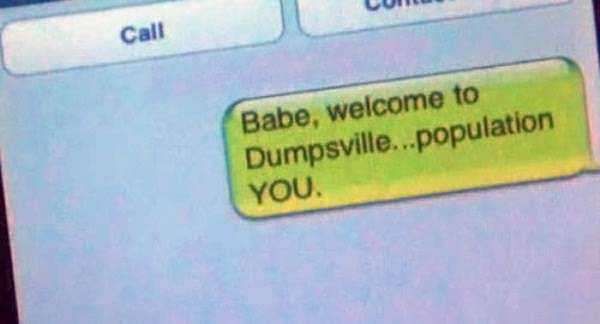 Dumpsville is a city invented by this girl so that her boyfriend understands that everything is over between them. And although many cheating boyfriends end up living there, nobody knows where it is. If you want to move to this city, all you have to do is be a scumbag. She will pay you the ticket herself.
"K BYE"
When you end a relationship with another person, it is usual for both of you to feel bad about what happened. No matter what happened, it is assumed that there was a strong bond between the two that made you stay together. If you end up with your partner, and he shows that he does not care about what is happening, you made the right decision.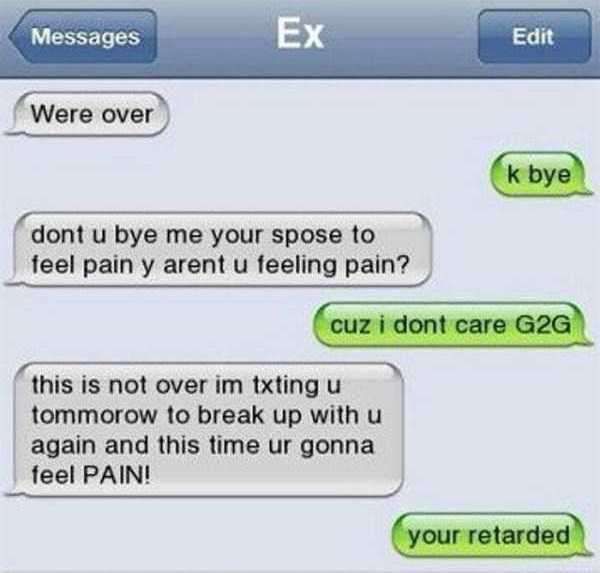 However, you must understand that not everyone will react the way you want when something like this happens. If your purpose is to harm him instead of moving away to seek your happiness, you should go to a psychologist. You will not get the other person to care about what is happening, even if you end the relationship a hundred times. The best thing you can do is forget everything and move on.
ENLIGHTENMENT
Misunderstandings are inevitable between two people who don't think the same about their relationship. A message can mean many things if you read it the wrong way, and that is why we must be cautious. If your phone's auto-correct changes what you really wanted to say, you can discover many things. The best option is to disable it or read very carefully before sending anything.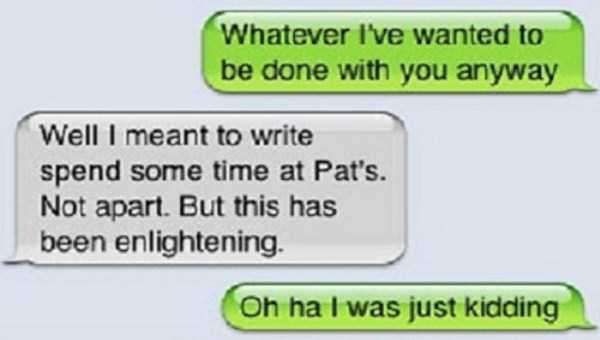 This boy discovered what his girlfriend felt thanks to a message automatically modified by his phone. Although he tried to tell her something different, she misinterpreted him, and he discovered that she wanted to end the relationship. The truth was revealed even though she tried to make it look like a joke.
SPEAK ENGLISH!
There are many reasons why we decided to end a relationship or get away from a person we have in our lives. Some people do it because they are not happy, but others choose to walk away because they do not understand each other. In some cases, the difference in thoughts is so severe that it is impossible not to overreact. It is something much more critical when your partner does not speak your own language.
<