How Celebrities Will Look In Old Age (FaceApp)
Celebrities, like all of us, do everything possible to prevent the passing of the years on their faces. They take advantage of makeup, surgical processes, and any other tricks they can find to stay as young as possible. But the time spares nobody, and although we see those celebrities as "perfect," sooner or later, they will have to get used to looking elegantly older. Under everything they do is a person destined to reach old age just like us. But despite this, many celebrities are not afraid to show themselves as they are. Thanks to the FaceApp application and its aging filter, we can take a look into the future. Celebrities like Courteney Cox and the Fab Five have had fun using this app and revealing their gray hair to all their followers. In the following list of images, you can see the future of many of your favorite characters, and we will see who age with grace, and who will need some help.
Gordon Ramsay
All the screams and scolding of this famous chef did not do much to help him avoid the inevitable wrinkles that would form on his face. Ramsay's worries will accumulate on his face and will only worsen his appearance with the progress of the years. If this filter is right, Gordon Ramsay's golden years will be very marked by his old age brands. In the same way, we are sure that he will not stop screaming just for this.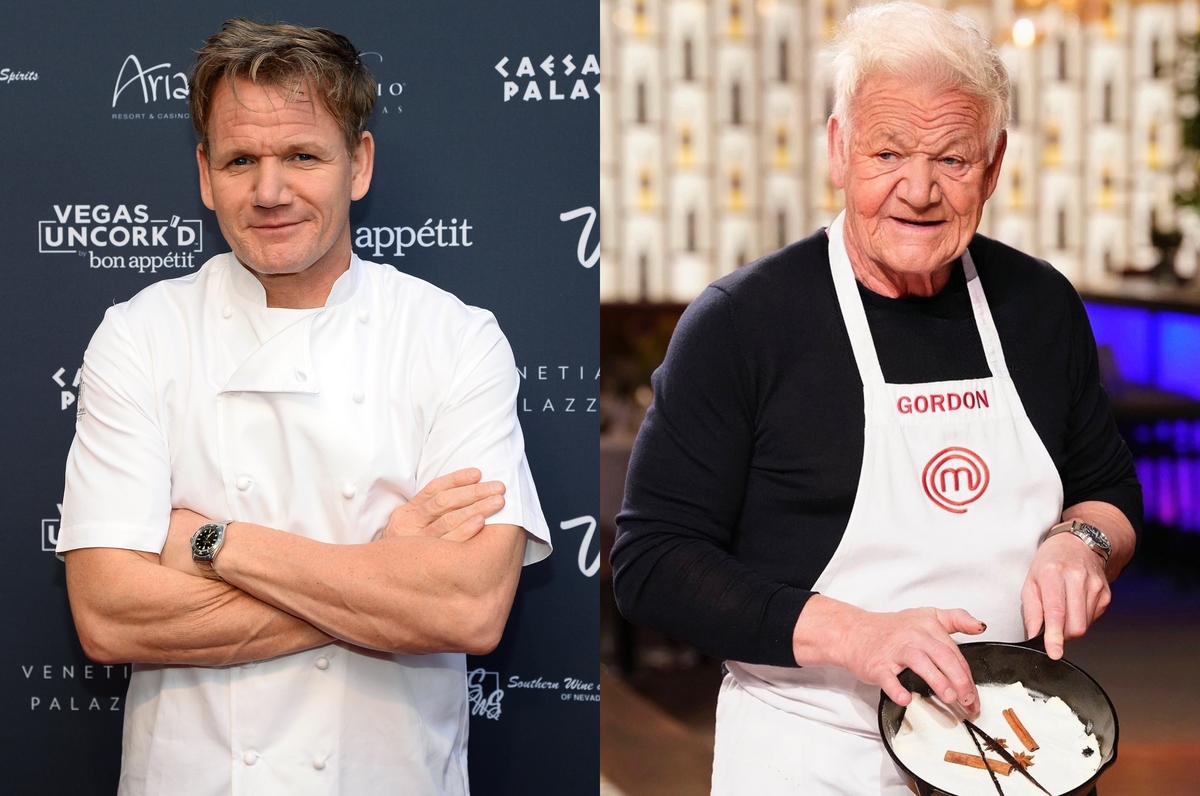 This is how this image shows us a very worn chef, but still working on the 50th season of Master Chef. We will not be surprised if this prediction is accurate, but we are very sure that his character will not change over time. He may start screaming with a bit less force, but he will continue to make sure everything goes perfectly in his kitchen.
Busy Philipps
Busy Philipps is a person who never gets old, but if she did, we would begin to notice the years on her face clearly. She says this is a clear example of how she will look when she begins to age gracefully. The actress has shown over the years that her genetics has favored her much. From 'Freaks and Geeks' to 'Dawson's Creek' and 'Cougar Town,' Philipps has not aged a single day.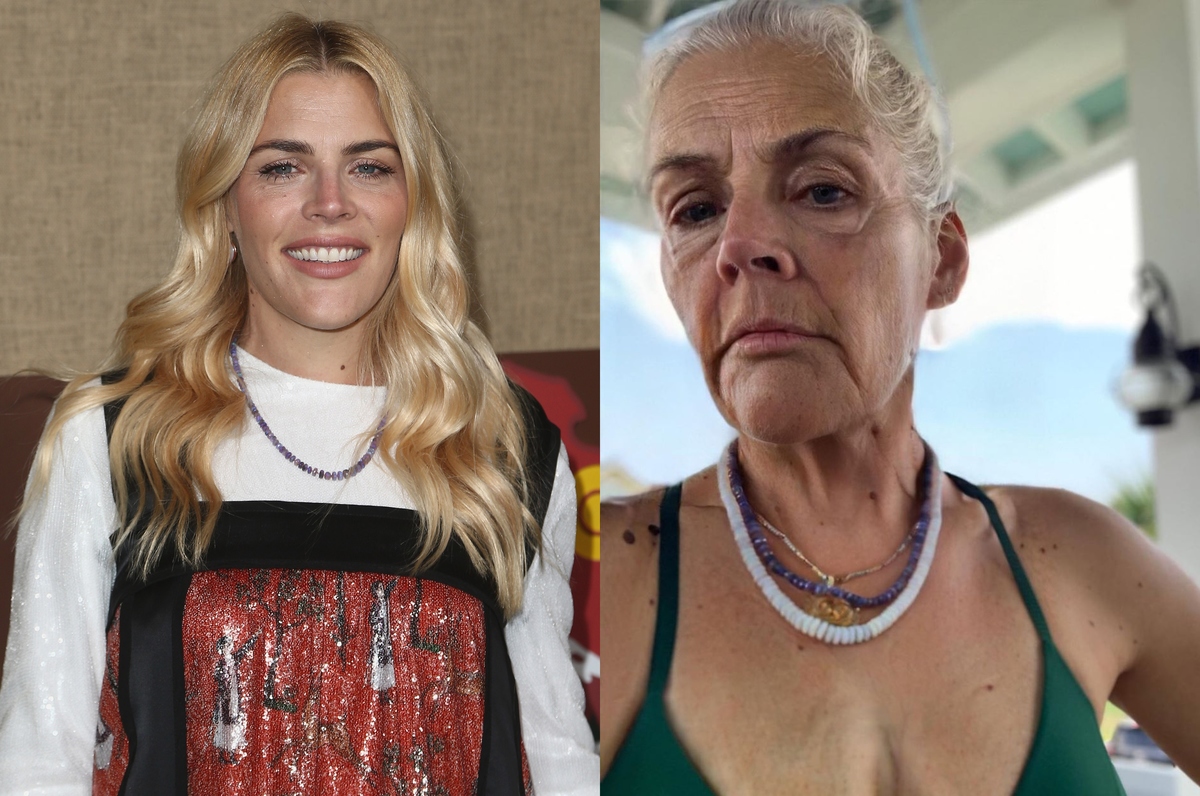 It will be many years before we can see this facet of the actress, but we are sure that she will retain her charm despite the years. Sure we will be very old the day we see her like in this prediction of the application. But regardless of wrinkles, we will likely continue to see her "busy" on television with some new series. We must be prepared to laugh with her occurrences and her fun personality!
Carrie Underwood
Using the FaceApp filter, we can see that Carrie Underwood will look amazing when she ages. Despite being close to 30 years, she still looks fantastic, so it is reasonable to think that even though many years go by, she will not look terrible. The singer used the filter because "everyone is doing it," but showed her followers that the years would not be able to affect her. She will continue singing and producing great hits despite her few wrinkles.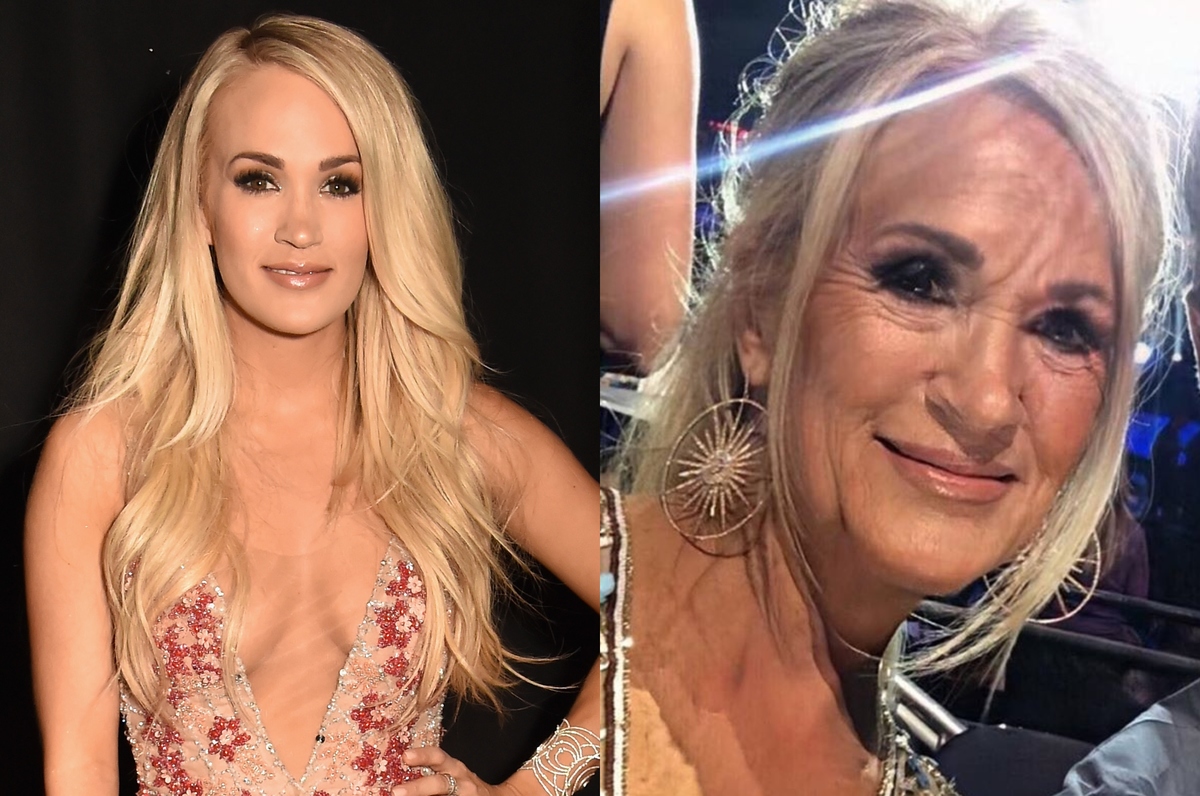 This beautiful American Idol singer is a true girlfriend of the country with seven Grammy Awards, 11 Billboard Music Awards, and many more. We are sure that when she starts looking remotely as in the image on the right, she will take advantage of her experience. Her musical career will continue to grow over time, and we will enjoy a more mature voice as she slowly reaches her golden years.
James Marsden
James Marsden has always had a face that shows he wants to see the world "burn," and in this picture, he obviously demonstrates it. The passing of the years will not make him change his attitude, and some wrinkles and "salt and pepper" in his hair will not change him. Although his aging will be evident, likely, we will not notice his age for a long time.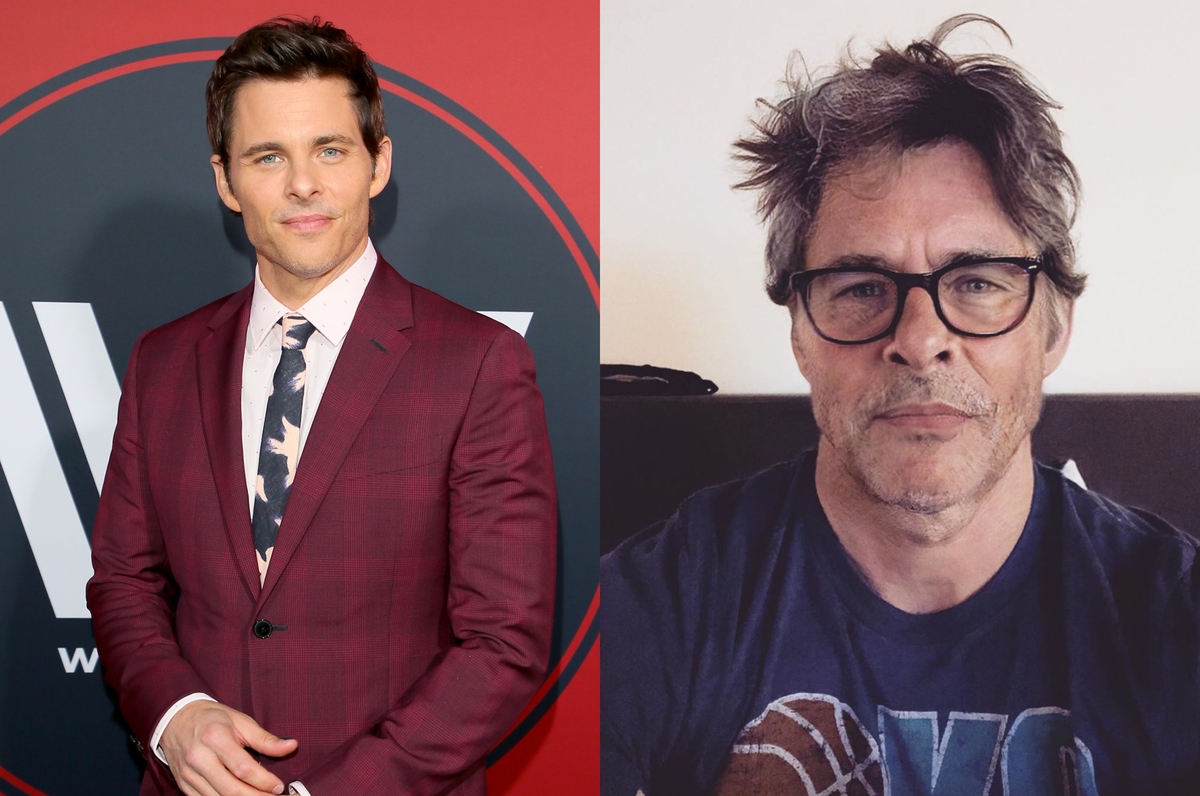 The actor of the famous series 'West World' has always been characterized by playing generously charming characters. Thanks to this filter, we can see how he will age, but he'll likely maintain his charm and personality until he can no longer act. Regardless of wrinkles, all the ladies will go crazy for him and will continue to love him as a mature and exquisite man. Girls, get ready for everything this actor will achieve in the future.
The Jonas Brothers
This trio of brothers used the application to launch a trip through time and demonstrate how they will look one day. Gray hair and a few wrinkles will not change the way these boys live. We are sure that they will stay together and rocking even though it is no longer as easy to jump all over the stage as they always do.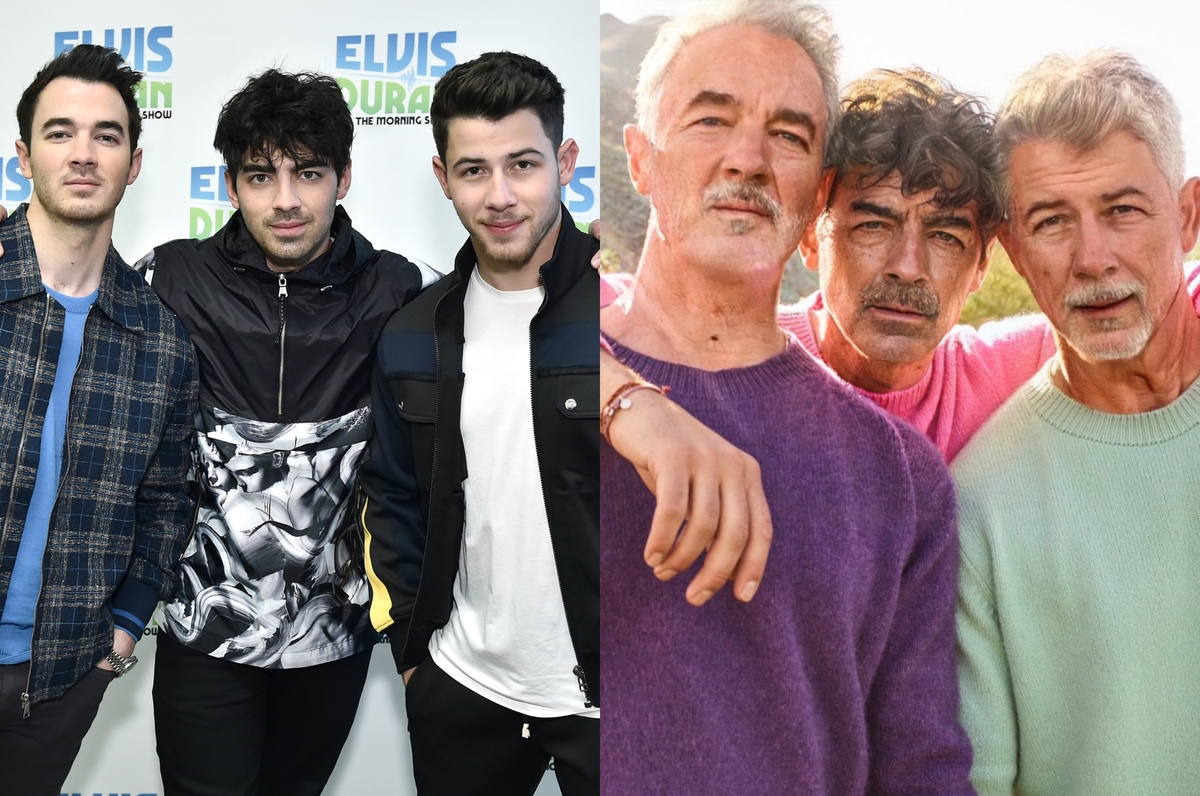 Even in old age, these boys will continue to maintain their style and will have all women "Burnin 'Up" due to their adorable appearance. We do not know precisely how many years will pass before we see this facet of the brothers, but it will not be soon. As for her great-great-granddaughter, it is very likely that she still looks outstanding, and we can continue to admire her. They may change their musical style a little, but we will likely enjoy it.
Kevin Hart
This comedian already has an idea of ​​how he will look with the body and face of an older man. By using the FaceApp filter, he only confirmed all his doubts.  He knows that he will age in style, but the years will do their job. All the wrinkles we see in this image are probably due to the large number of facial expressions that he makes every time he makes a joke.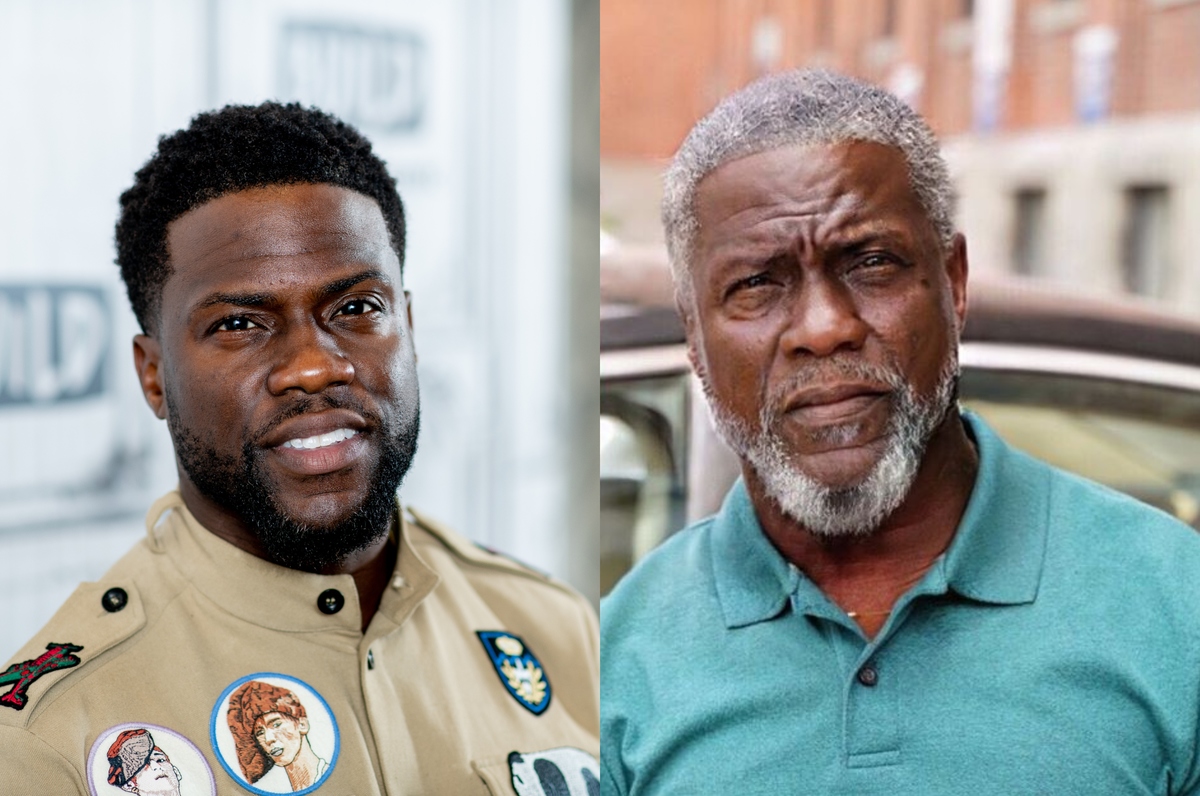 If you ask us, we consider that snow-white hair will favor him, and he may even take advantage of it in his presentations. Hart's mood will only improve over the years, and he will most likely take advantage of his age to make fun of himself. Although he may not be as active as he is today, we are sure that we will continue to laugh with him regardless of the year. Remember that there is nothing more dangerous than an experienced comedian.
Mindy Kaling
Mindy Kaling used the FaceApp aging filter and labeled the result as an image "hilarious and scary in equal parts." By looking at the picture, we can understand very well what she means as the years will cause a lot of damage to her face. Nobody really wants to see a version of herself that is so close to death, right?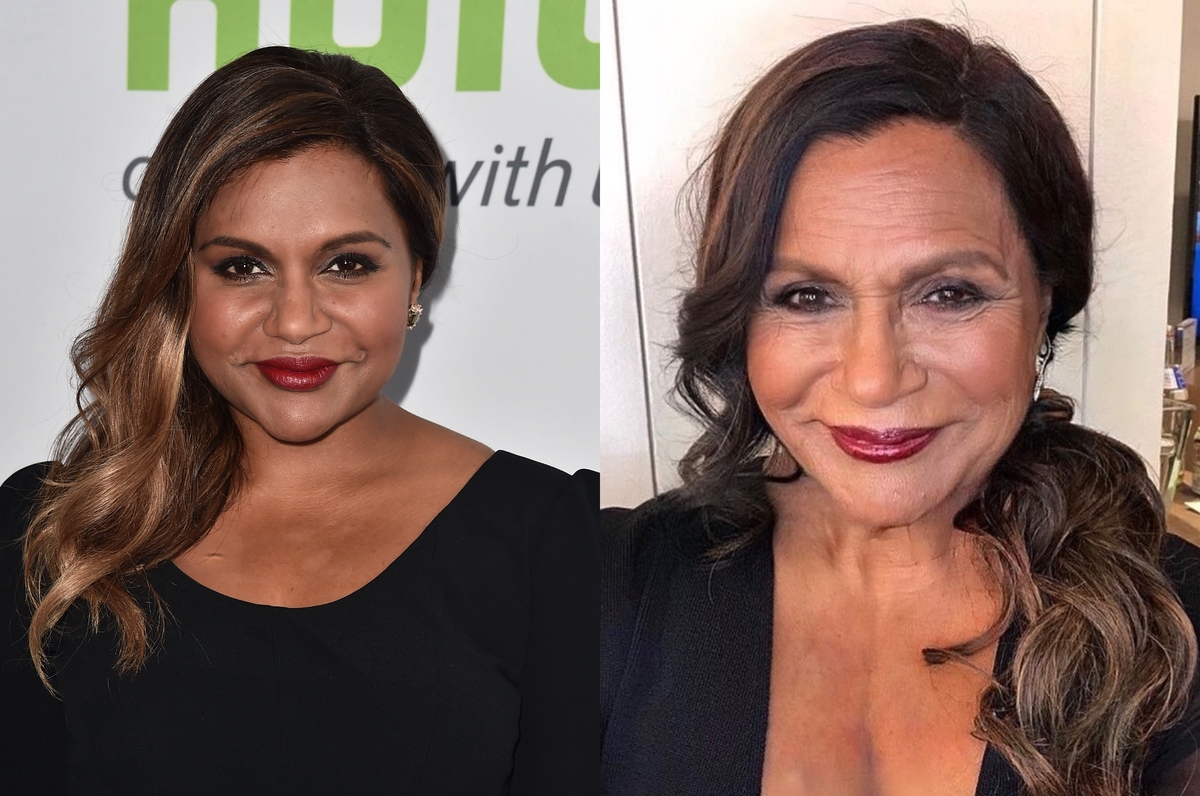 We are very sure that the prediction of this application will not be far from reality when 20 or 30 years pass. Similarly, we must admit that this is a very positive comment because her wrinkles will be barely visible. Mindy will age gracefully, but the years will begin to show on her face.  Hence, she must adjust her comedy routines to this look. Likely, she would not change her personality, so she will continue to produce many laughs.
Jared Leto
Leto will remain a very enigmatic and strange character despite the passing of the years, and this image only proves it. When he appeared at the Met Gala 2019 with a cut version of his own head, we all realized his style. He is likely to continue doing things like these in 50 years, and no one can criticize him because he will age very well. This aged photo shows that the passing of the years will only make him more peculiar.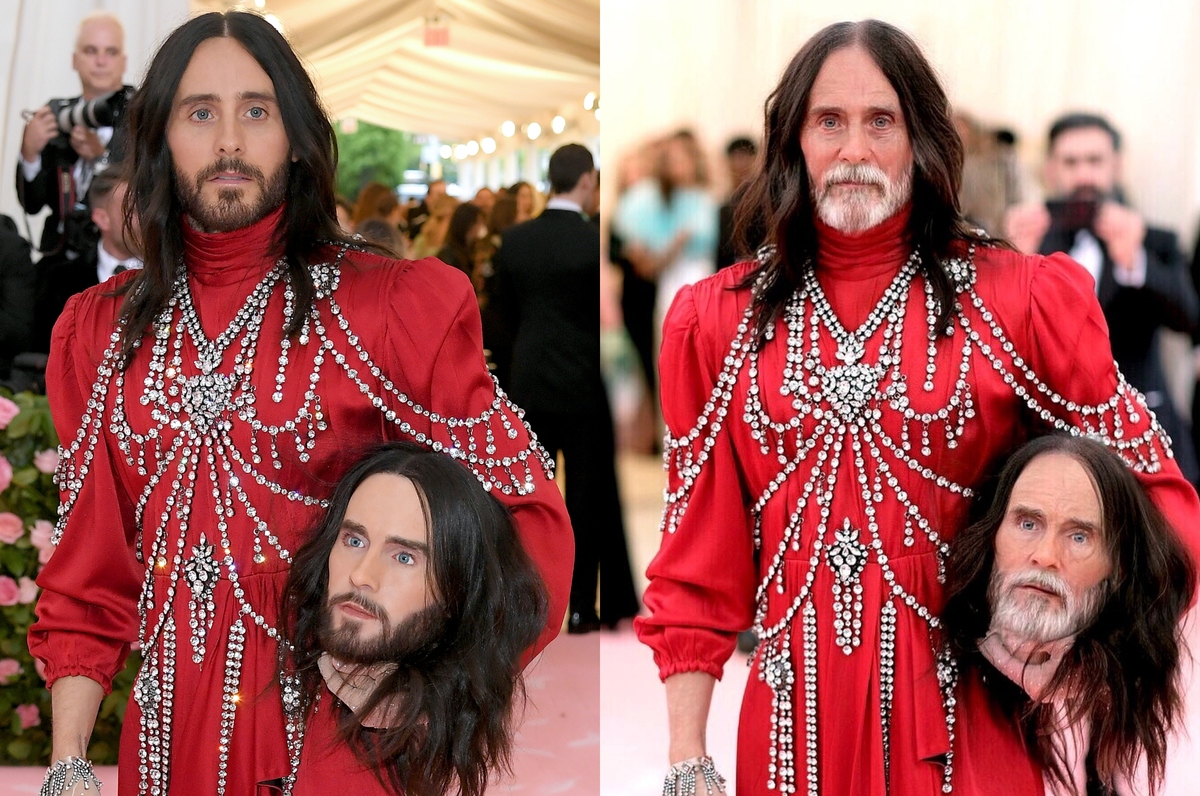 Apparently, Jared Leto will want to keep his beautiful brown locks, but he will leave his white knob to maintain his style. His characters will evolve with him, and we are likely to see more strange things in his acting repertoire. Perhaps, in many years we will see him arrive at an awards ceremony with an elegant cane made of bones. When we talk about Jared Leto, we never know what to expect.
JWoww and Snooki
Decades after Jersey Shore disappears from international television; these girls will continue to have fun together. Although we have forgotten that painful television show, it is very likely that we wouldn't be able to ignore them. These girls have had their ups and downs over time, but they still stand side by side as best friends. We have also seen them trying to kill themselves, but it is unlikely that they will continue to do so when they are older.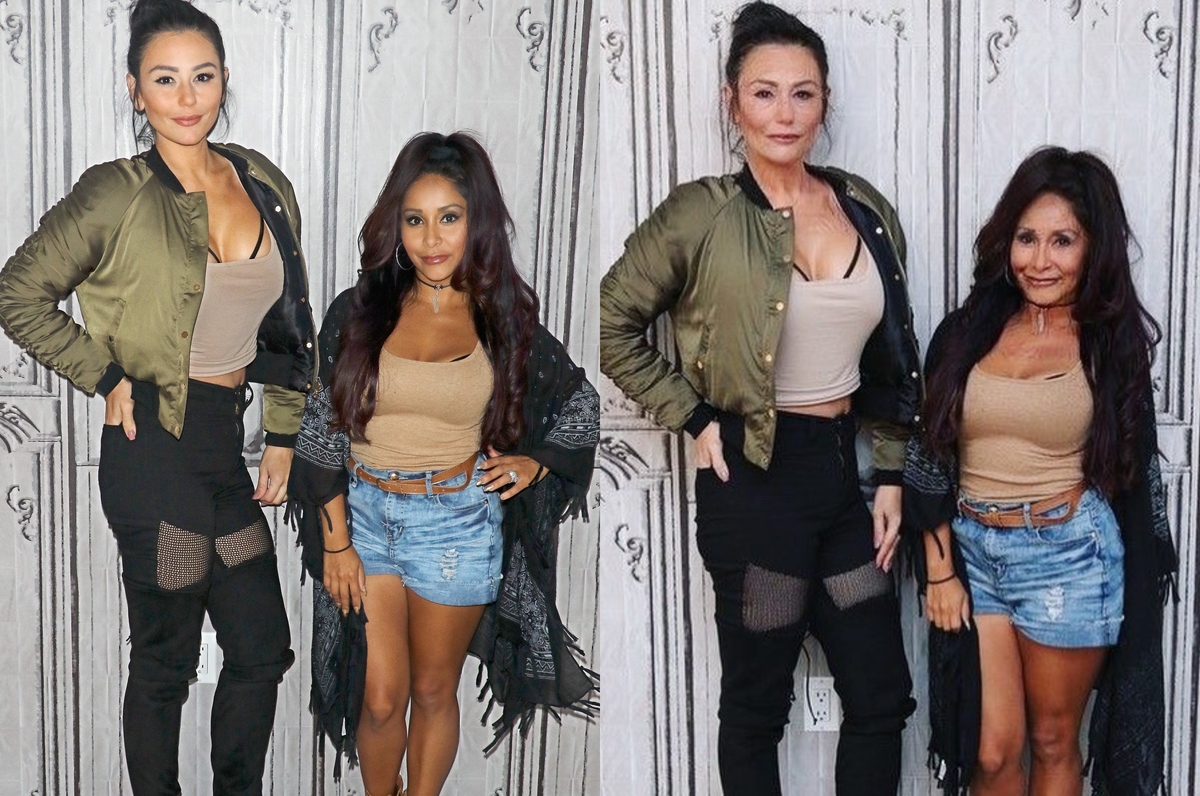 Regardless of the problems they have had in the past, many friendships become stronger with the difficulties and time. Something tells us that they will age together and happy, even though the years affect them as you can see in this photograph. We wouldn't be surprised if we continue reading headlines on the Internet about the disasters they will make in the discos. If you live in the United States, you may find them at a party in 40 years with the same spirit that characterizes them.
Ludacris and Tyrese Gibson
Although many people hate this idea, the 'Fast & Furious' franchise will likely have more than 50 movies. It is not the best news, but this will ensure that we will continue to see this pair of friends on the screen despite the years. Ludacris and Tyrese Gibson show in this picture that the passing of the years will not stop them and they will continue driving at high speed.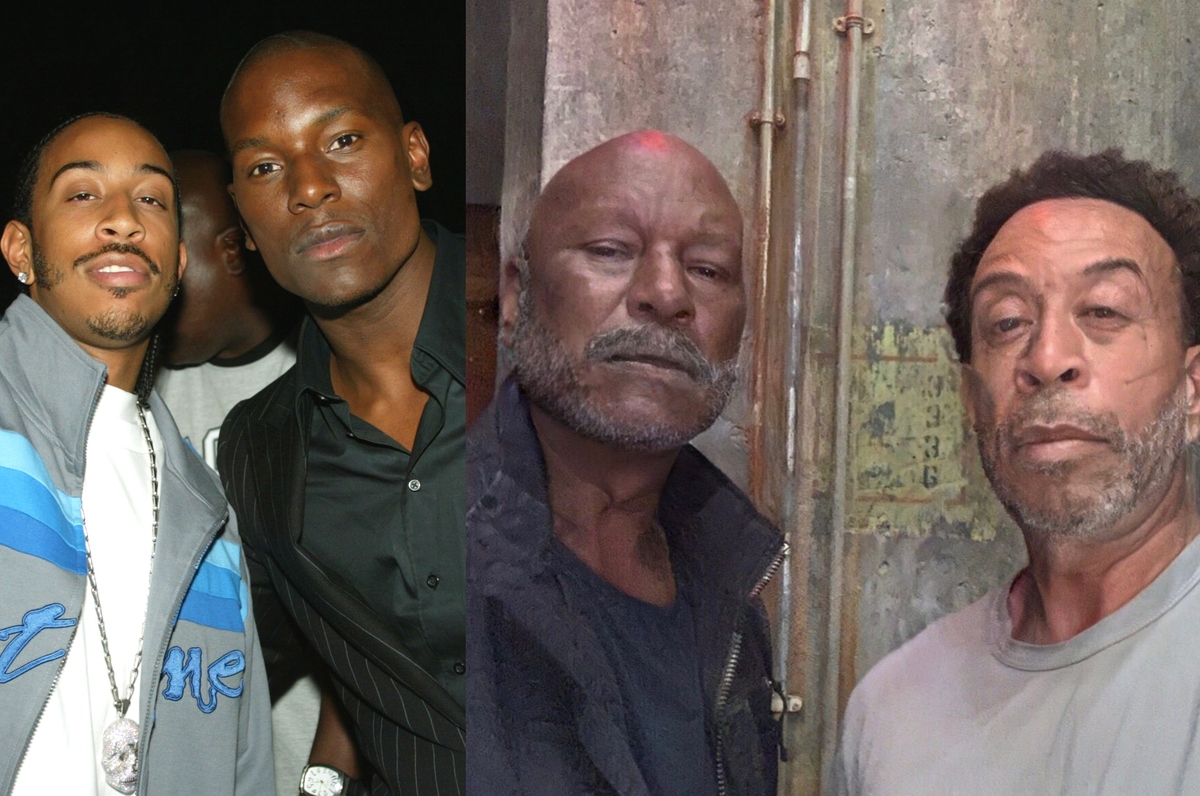 Ludacris even jokes about the image and says "and we still haven't stopped at a gas station. Or for diapers." This pair of "fast drivers" has successfully made the transition from a musical career to acting, and they don't intend to stop. It is very likely that when gray hairs begin to appear, and they cannot perform all the stunts, they look for ways to stay on the road. The application filter has not done them much good, but as long as they feel young, everything will be fine.
Courteney Cox
Cox must promise us that she will not use that hairstyle when the years begin to affect her. Nevertheless, we will still adore her. When we think of this actress, the first thing that comes to our mind is all her years as Monica Geller of 'Friends.' Although, unlike the actress, Monica would have done everything possible to avoid looking so old. Cox has no problem showing herself as she is and demonstrating that her sense of humor will remain with the years.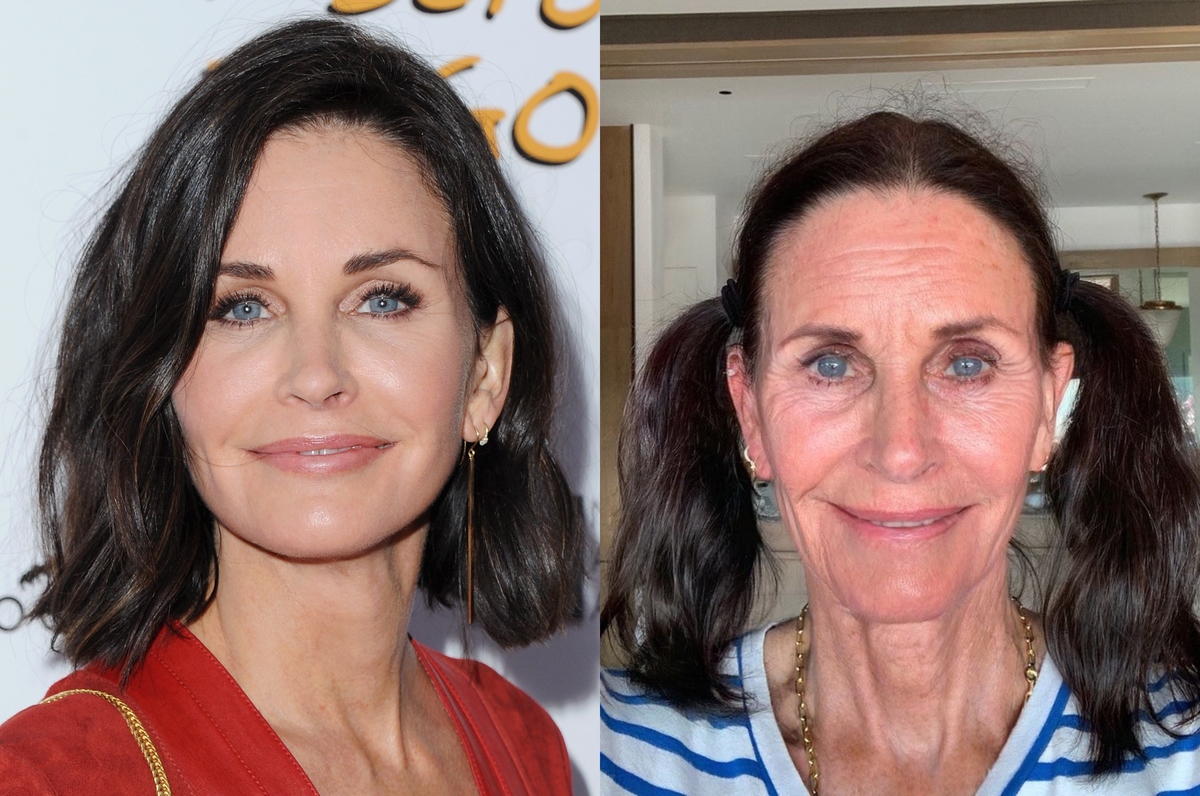 A couple of laugh lines will be inevitable due to her acting career, but they won't be enough to stop her or change her way of being. Although she'll very likely focus on slightly more serious characters, she will not stop making us laugh in her social networks. The important thing is that she avoids using this kind of hairstyles so as not to give us any fright when we see her walking on her next red carpet.
Lebron James
This famous basketball player has always had a line of hair that reaches beyond his forehead, so it is something that will not change. This quality makes him appear to be much older than he actually is, and using the aging filter will not change that too much. In addition to some white hair, LeBron will not be significantly affected by the passing of the years. We'll likely see him get away from sports a bit with the years.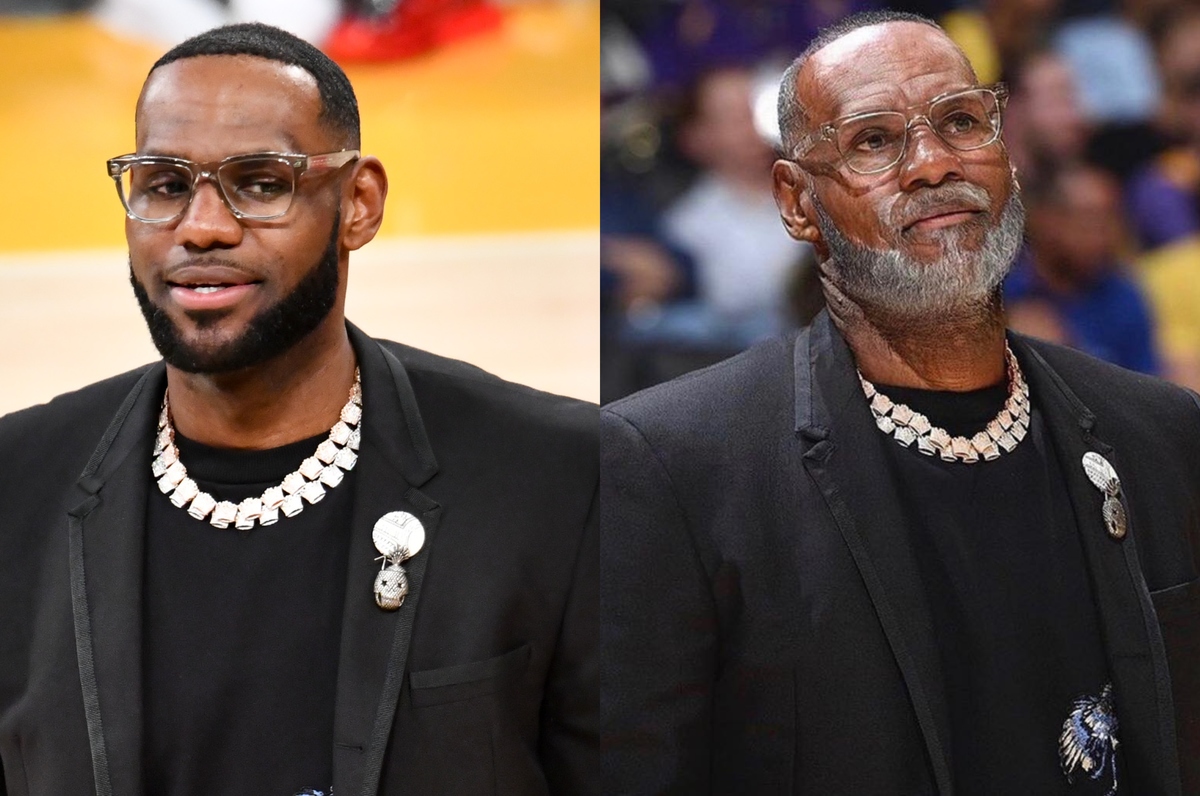 But he may return to the court as a coach of a team to demonstrate what he can achieve with his experience. Earlier this year he abandoned some of his games and his fans sharply criticized him for this. In response, he posted this image and said he was doing some "load control." His bones were asking for a little rest after all his years being the best.
Dwyane Wade
Dwyane Wade thought that joining this trend would be fun and decided to try the FaceApp aging filter. This image demonstrates how the years will begin to affect him, and he even labeled the image calling himself "Grandpa Wade." His extensive 16-year career in the NBA has seen him as a 13-time NBA All-Star who won back-to-back championships in 2012 and 2013. We won't be surprised to see him near this sport for many more years.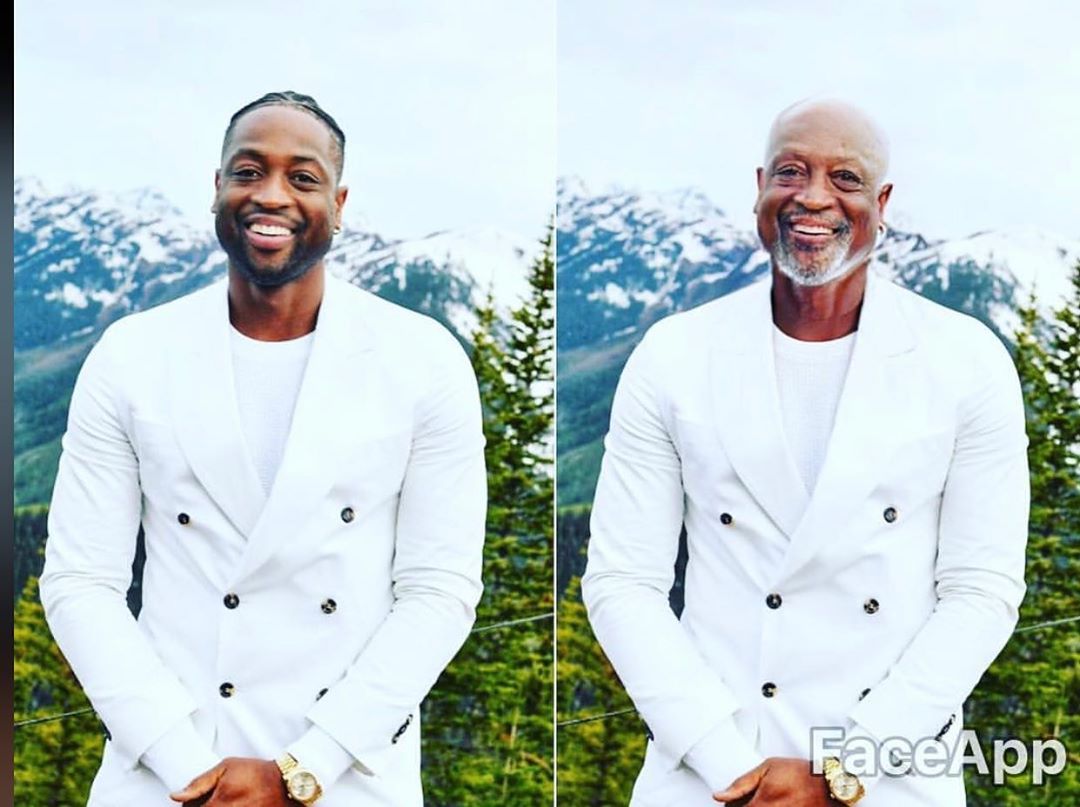 When it's time to grow old as this photograph shows, his wrinkles will show a lot of knowledge. His facial hair will turn white, and the expression lines will show all the smiles he has squandered over the years. It would be nice if he could keep his hair and not be bald as in this picture, but it is something that only time will decide.
Russell Wilson
 By uploading this image to his social networks, t his athlete demonstrated that he would continue to play for many more years as a "silver fox." His determination and spirit in the field show that he will not stop playing until it is physically impossible for him. If he can continue playing as quarterback for the Seattle Seahawks when he looks like in this photo, he will surprise us all. Tom Brady has had a reasonably long career, so it is not impossible.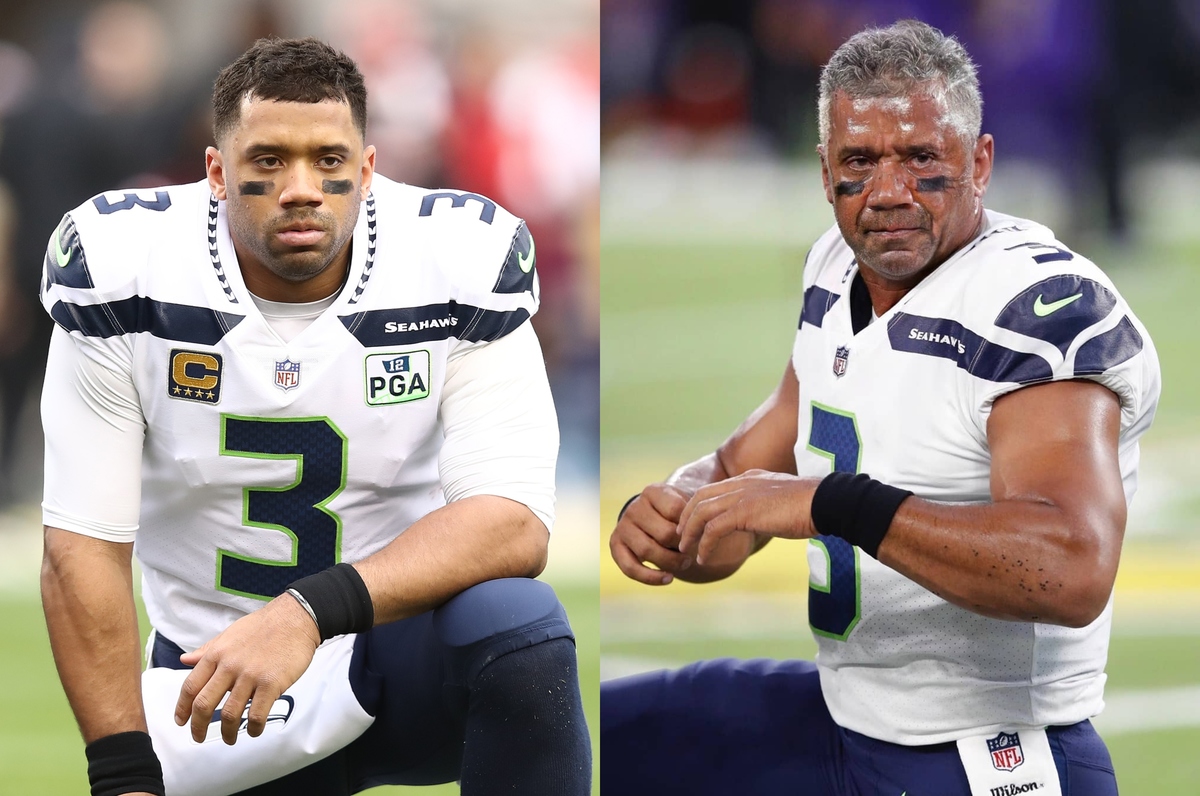 Wilson looks a bit like his grandfather Harrison B. Wilson Jr., the former president of Norfolk State University. He played soccer and basketball at Kentucky State University for many years, so Russell will probably follow in his footsteps. Obviously, the years will do their job on the face of this player, but his physique will be better because of all the physical activity. The NFL will have to force him to retire after 50 years in the field.
Hilary Duff
The day Hilary Duff starts showing her lines and wrinkles, we will all continue to see her as Lizzie McGuire. The actress believes that she could look like this in the year 2052, and is not a wrong prediction according to the application filter. Despite all the successes she has had and her other characters, we will always relate her face to that character. After all, it was her most iconic character besides her interpretation of Sam Montgomery in 'A Cinderella Story.'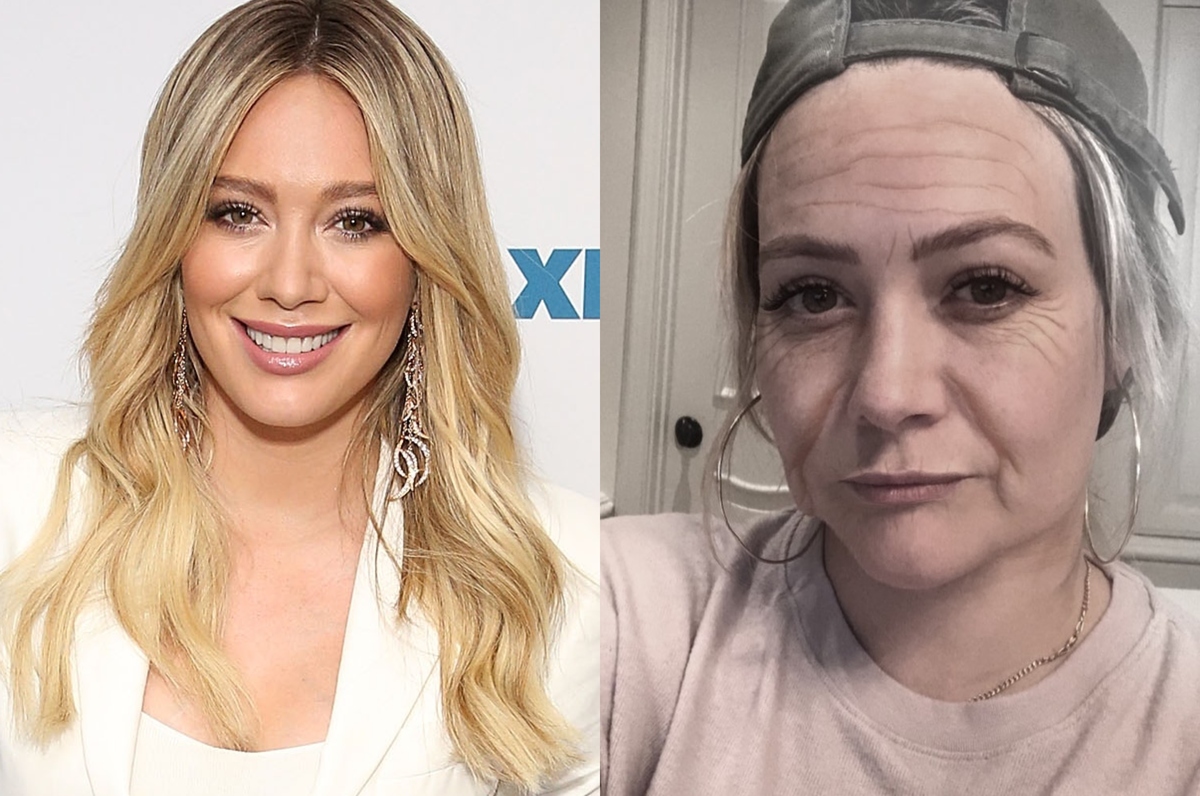 Despite having ventured into music and the moderate success she had, we will always remember her mainly for her acting roles. She grew up being a teenage Disney idol and never committed any madness, so we will always love her in the same way. When the years begin to affect her, she will probably decide to remake Lizzie McGuire, and we will adore her. Regardless of her wrinkles, she will always be that little girl with golden hair.
The Fab Five
We can only hope that despite the years the Queer Eye's Fab Five will continue to change people's lives for the better. With some help from them, hundreds of people have grown and changed the way they live and dress. Likely, these fabulous guys are still in their show when they can qualify for the AARP! Sure, they will remain equally fierce and fabulous despite their wrinkles, and that is an excellent reason to be excited.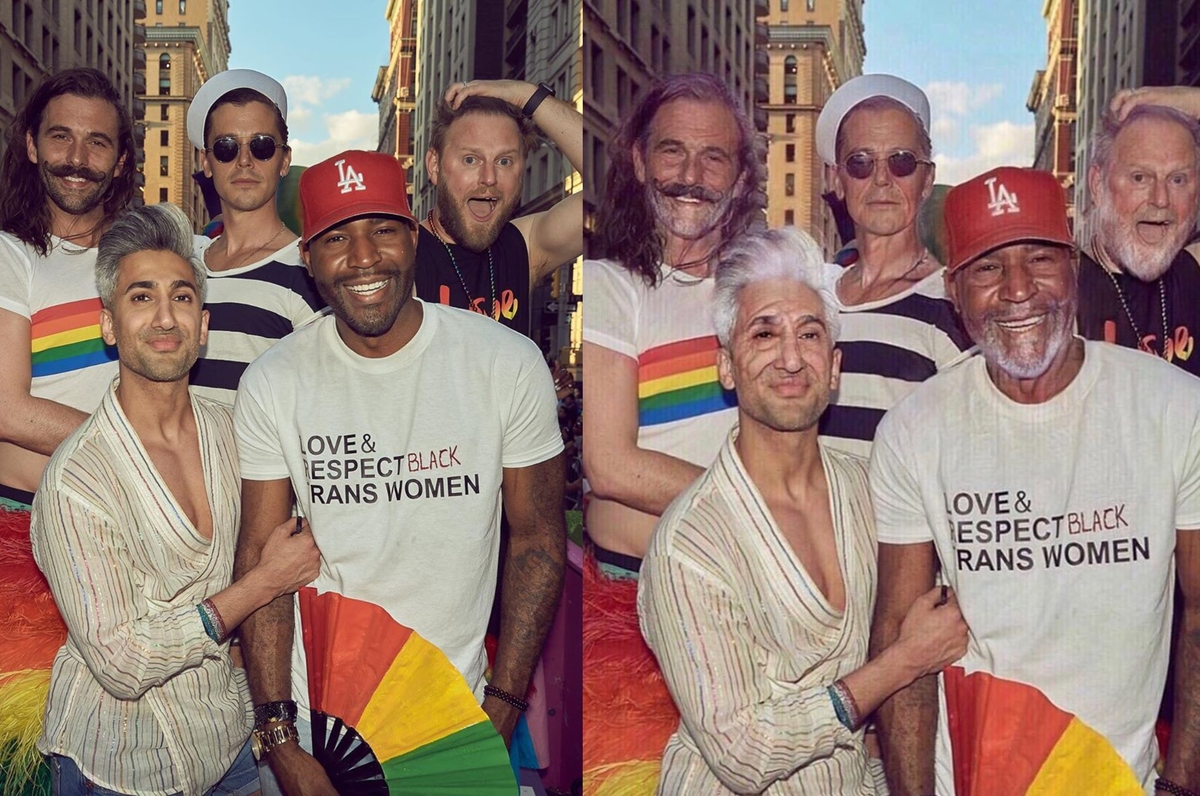 If you are as passionate and positive as they are, you'll be destined to age well because happiness helps genetics a lot. Studies have shown that people who enjoy their life to the fullest tend to look better over the years. Wrinkles and old age marks will be for them an accessory that they will know how to use in the correct way to continue being them. They may change their audience to slightly older people, but they are very likely to maintain that liveliness that characterizes them.
Lance Bass and Joey Fatone
According to Lance Bass, the day on which *NSYNC meets for a concert tour, they'll likely look like in this photo. Well, at least he and Joey Fatone. Many years will probably pass before this happens, and if they ever do reunite, their fans will go crazy with happiness despite those stars being 70 or 80 years old. According to this filter, the years will seriously affect the members of the Boy Band.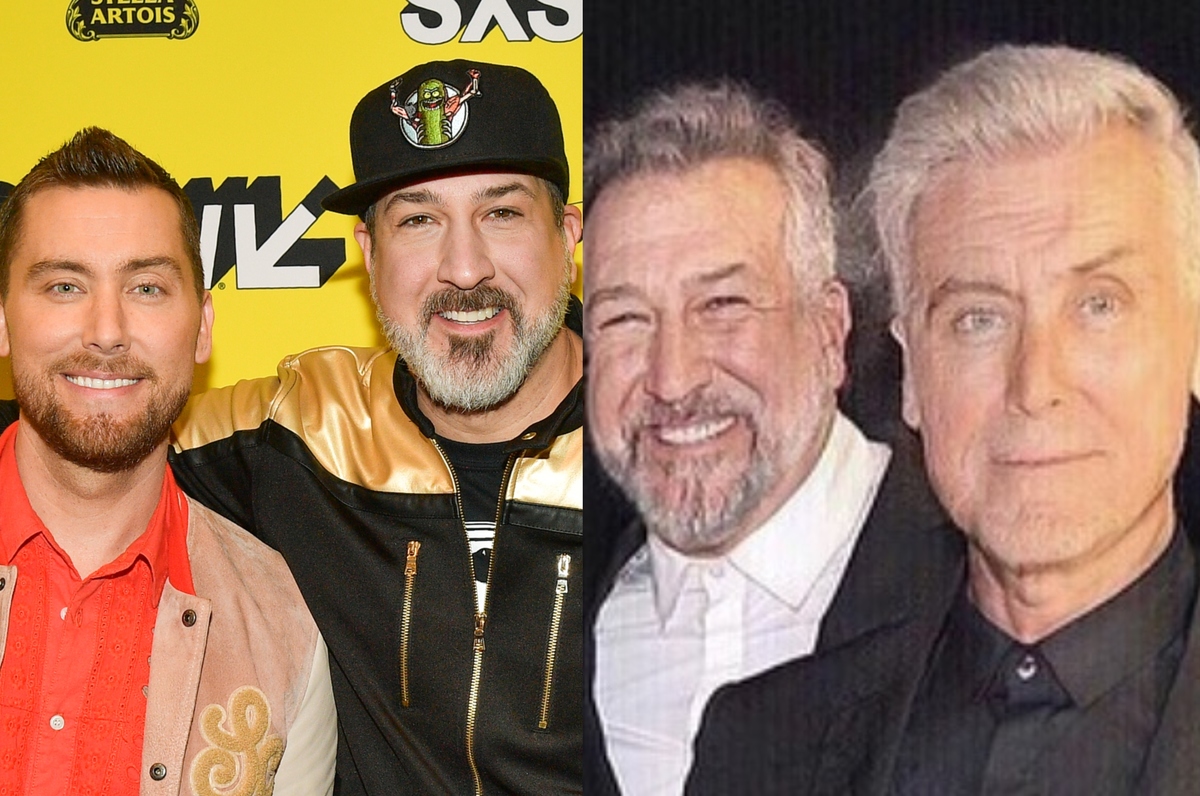 Bass will become a silver fox according to this photograph but, as a big surprise, Fatone will not change much over time. Their hair will change color, and wrinkles will be much more apparent, but everything seems to indicate that they will not lose their smile. Using the FaceApp filter can prepare them for their future, but it is up to them to take care of themselves and try to age in the best possible way.
Adam Scott
Adam Scott's hair will be perfect for playing a more adult version of Wolverine. Scott said on his social networks that he was sure he would regret installing the application after sharing the image. He is clearly going to become an "Old Man," but we will not forget how much we love Ben Wyatt from 'Parks and Recreation.' But, over the years, we will try to forget his performance as Derek in 'Step Brothers.'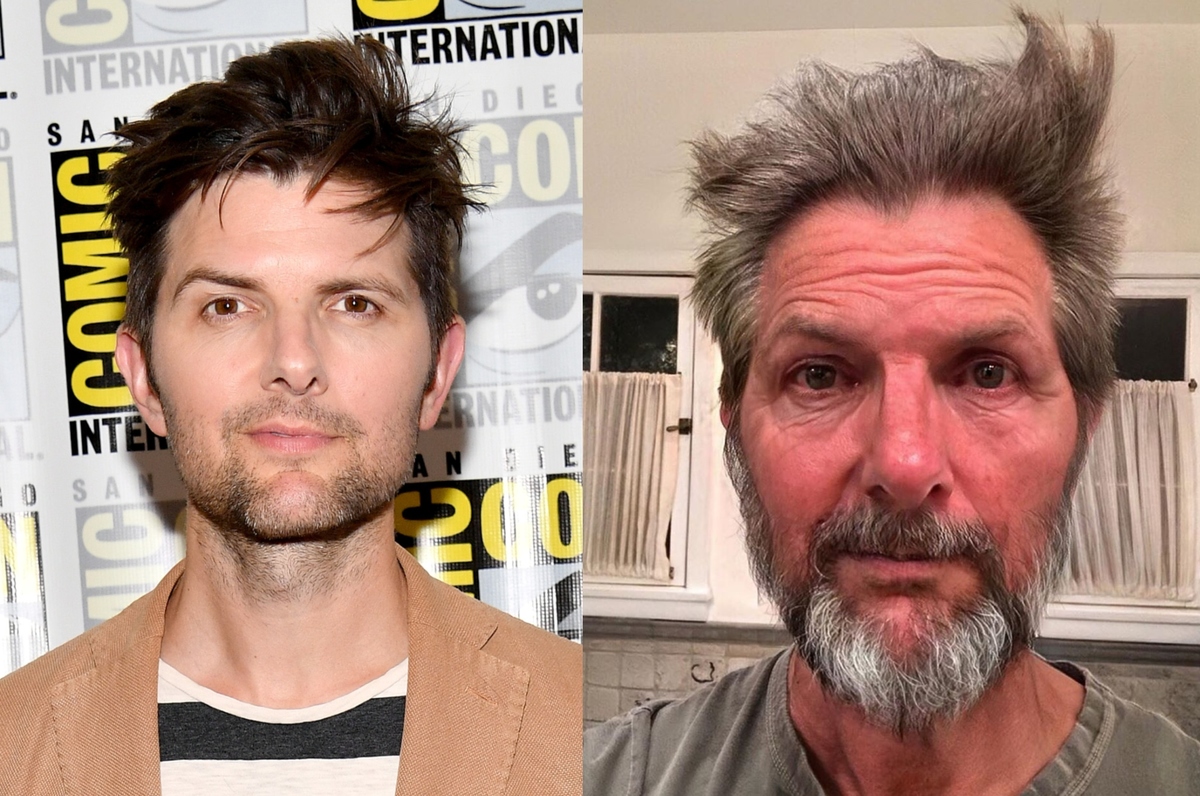 The change is a bit radical, so we probably won't recognize him if we see him walking down the street. This older man with a gray beard could be anyone else, and people could even confuse him with other actors. Due to his talent, we will likely continue seeing him on the screen, but it will be fascinating to see how his work would evolve. Perhaps this filter makes him reflect on his life and take care of his diet to avoid reaching this prediction.
Mario Lopez
For many of us, it is impossible to imagine that Mario Lopez ages because the passing of the years seems not to touch him. For many of his followers, this actor seems eternal, but even AC Slater from 'Saved by the bell' must age someday. Lopez is not immune to the consequences of time, and gray hair and wrinkles will reach him. It would be no surprise if he also gains some weight to have a more mature and stately body.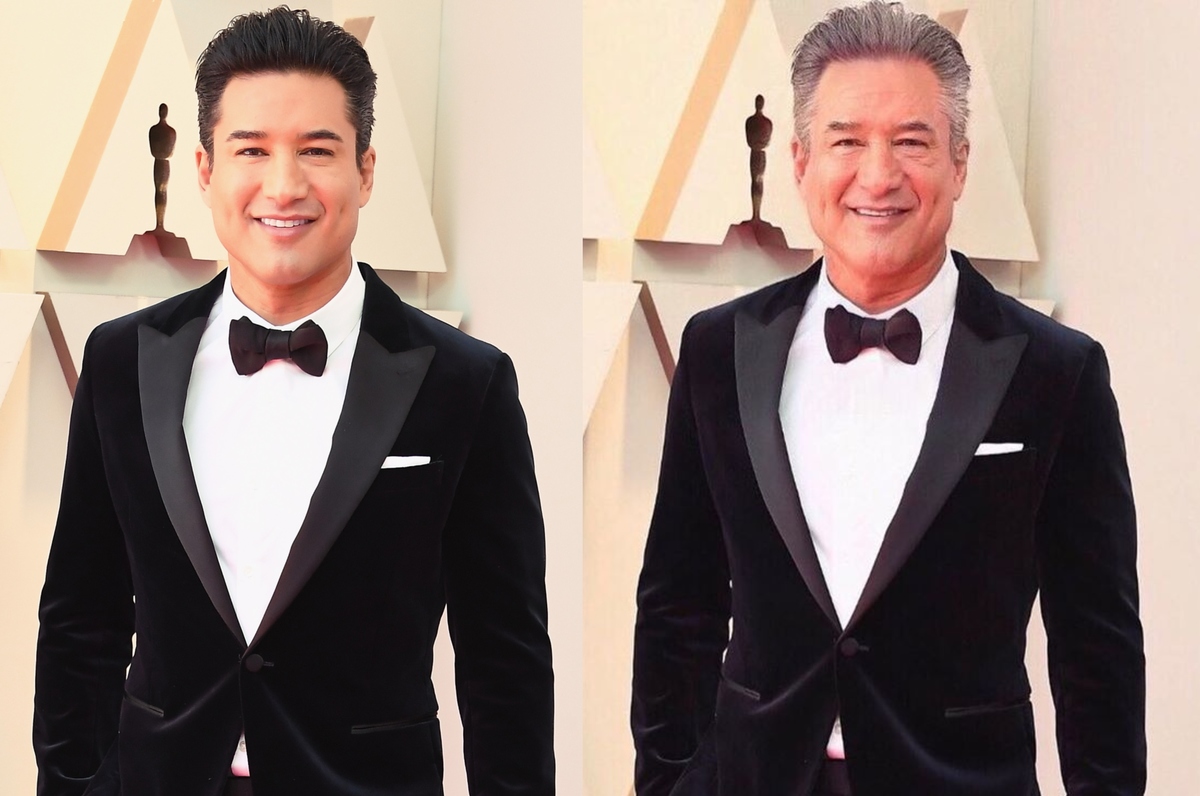 He will likely keep his job as a host in some show despite the passage of time, but his style will change a bit. In several interviews, he has said that he is still evolving and will continue to grow despite not appearing on the screen as much as before. Perhaps he'll take some time to adapt to the consequences of time, and we will see him return triumphantly. What is certain is that, if he comes back with an important role, his fans will continue to worship him.
Zachary Levi
Zachary Levi is thrilled with the way he will look when he ages after seeing this filter. He shared in his social networks the following comment: "So the older I get, the more I look like [Tom Hanks]? I'm good with it." If you concentrate on looking at his picture, he really looks like a small version of Tom Hanks, so he's a lucky guy. We are sure that he could take advantage of that look.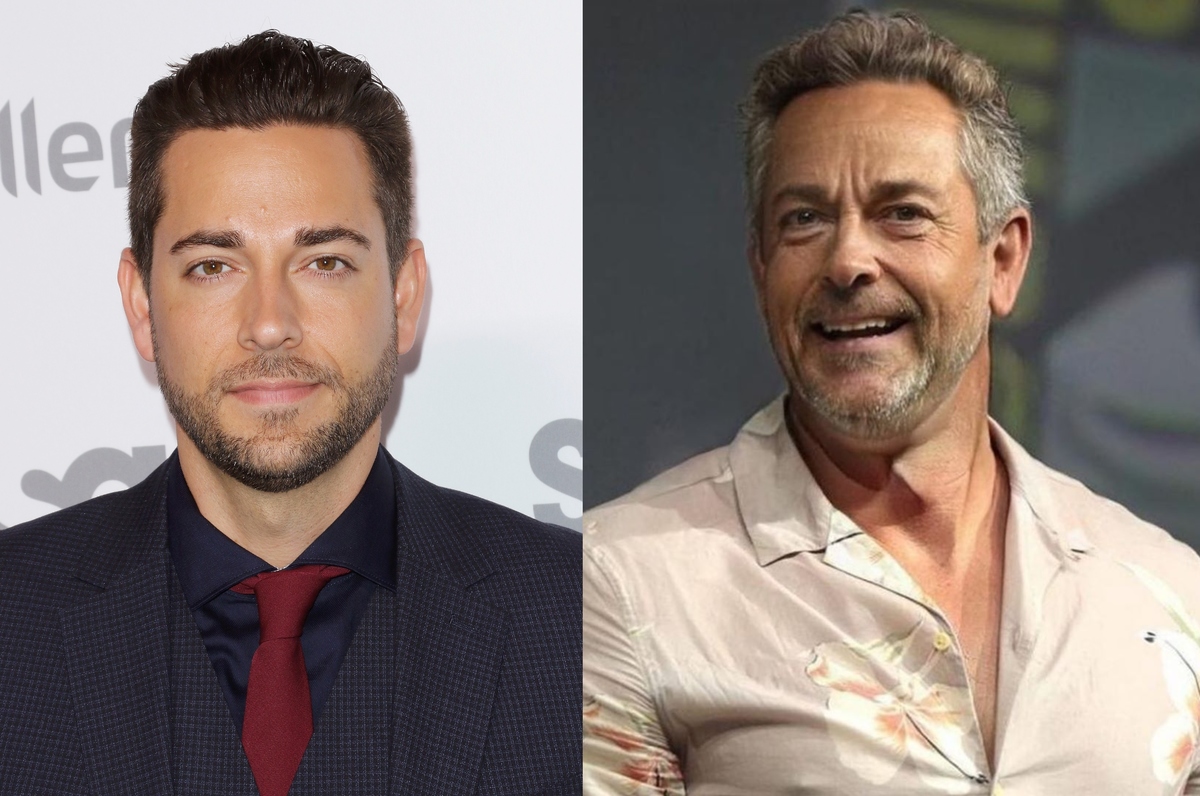 After all the successes this boy has had, we will likely continue seeing him for many more years. From 'Chuck' to 'Tangled,' he has always been characterized by a very entertaining and charismatic acting style. All the projects in which he participates are delightful and exciting, and he will likely continue to maintain that style. Regardless of wrinkles, we will continue to hear about him in the future and adore all his characters.
Stephen Curry
Curry is the only player left in the NBA who has been on the same team that selected him for more than a decade. His presence on the court has captivated hundreds of people due to his talent and ball handling. The loyalty he has with his team is something worth admiring, so it wouldn't surprise us if he continued to be part of it in 50 years. He could even get to work with them after retirement!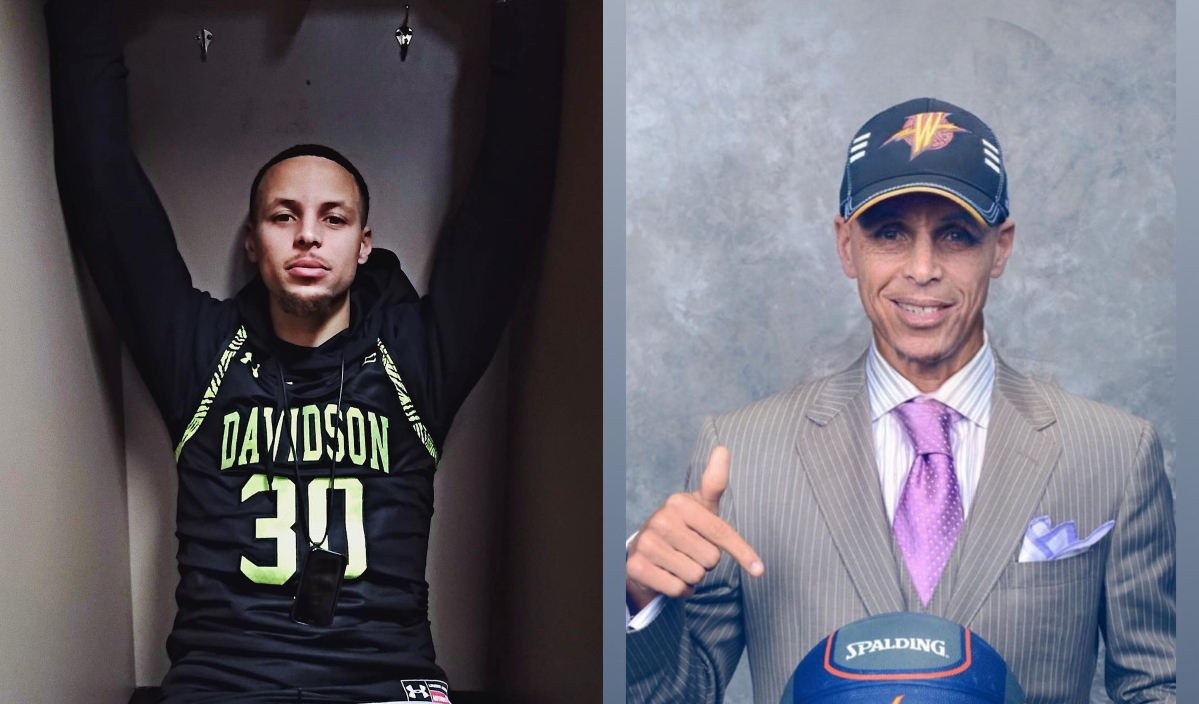 Steph had fun with the filter of this application and published the result on his social networks to make his followers laugh a bit. The message attached to the image was: "Been #dubnation since day one," with a laughing emoji at the end. With this, and his performance on the court, Curry has shown that he is not only the best shooter, but he could also be the most loyal player. Although the years will affect him a little, he is very likely to remain an essential figure in the NBA.
Skylar Astin
Skylar Astin currently has a baby face that many consider indestructible. His face has not changed anything over time, and even many people calculate that he's younger than he truly is. When this singer looks like in this photograph, Skylar would probably have a lot to sing on stage. Everyone remember this actor for his role in 'Pitch Perfect,' and in that image, he looks very wise and entertaining.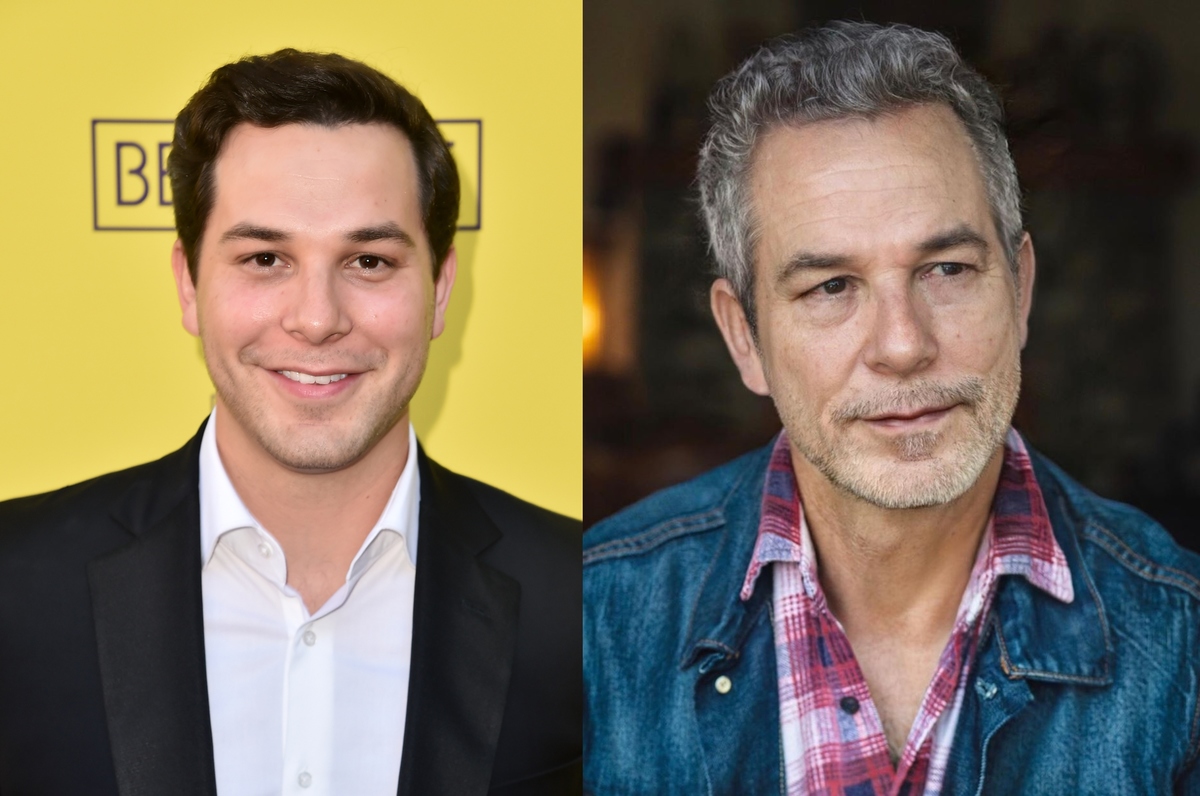 It seems that a touch of gray hair and wrinkles will significantly favor his career. According to what we see in this picture, this Broadway veteran will likely remain on stage for many years. His old age and style will make him the protagonist of big productions in which he will show all his talent. If he knows how to take advantage of his look in the future, he could become a much more famous star than he is today.
Tori kelly
The first words that came to Tori Kelly's mind after using the aging filter were exact. "Pretty fades" is not only a play on words related to one of her most famous songs, but it also shows the passage of time. Beauty fades quickly, and it is best to take advantage of the time while we can still splurge on it. Although the result of this image may not be too severe, some people are a bit more affected by time.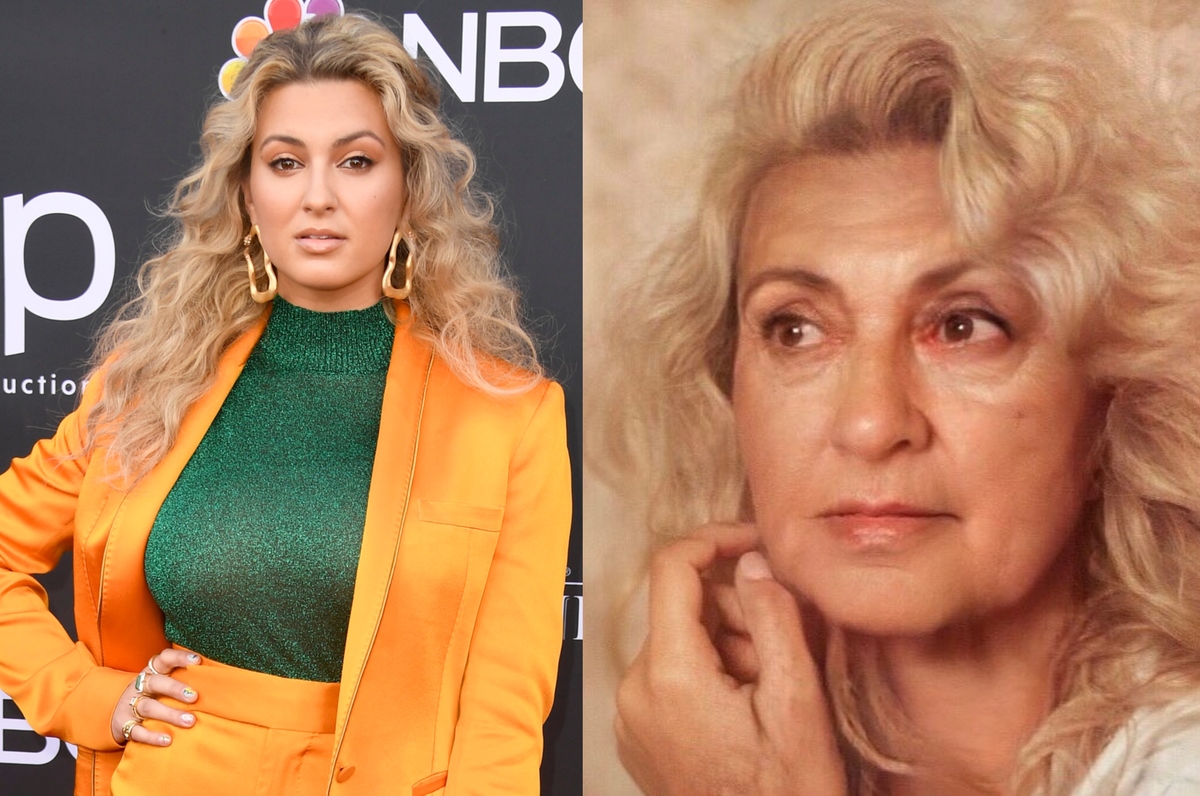 Kelly was a semifinalist in American Idol, and this opened many doors that she has taken advantage of to overgrow. The singer has come a long way since her teens posting videos on YouTube. It is very likely that when she begins to show off some of these wrinkles, the singer will not be yet in the twilight of her career. Her voice will mature and become different from the current one, but she will probably continue producing beautiful music for her followers.
Nick Jonas
We have already seen an image of the Jonas Brothers aged in this article, and, likely, their followers did not like it. Now we have a picture of a lonely Nick Jonas that will probably cause a lot more pain in that recent wound. In this photograph, we can see in greater detail the probable appearance of Nick in his golden years. The time will not be kind to the main vocalist of this trio of brothers.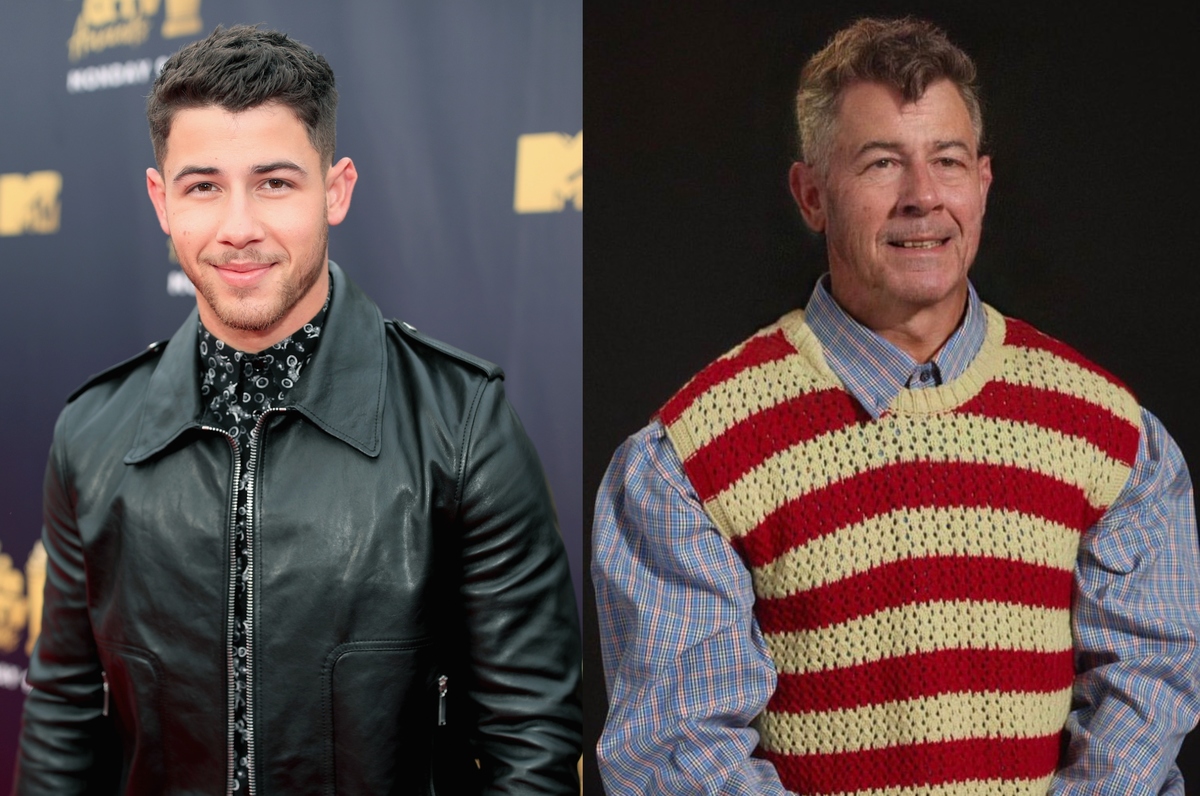 Jonas is known for many successes, including the song "Jealous," and in this picture, you can see how much fun he had with the application. For this image, he was looking for a photograph that does not favor him to show that even his physique will be affected by time. His undeniable good looks will be lost over the years and will make him an ordinary old guy. However, probably his fans will still love him anyway.
Noah Centineo
This actor is famous for being the love of many girls today due to his youthful and charismatic characters. When he published this image on social networks, he wanted to let his followers know what his possible future was. Centineo accompanied the image with the message: "If I don't look like this in 50 years, I'm gonna be so pressed." He may want to look this way when he reaches his geriatric years, but it is improbable that that happens.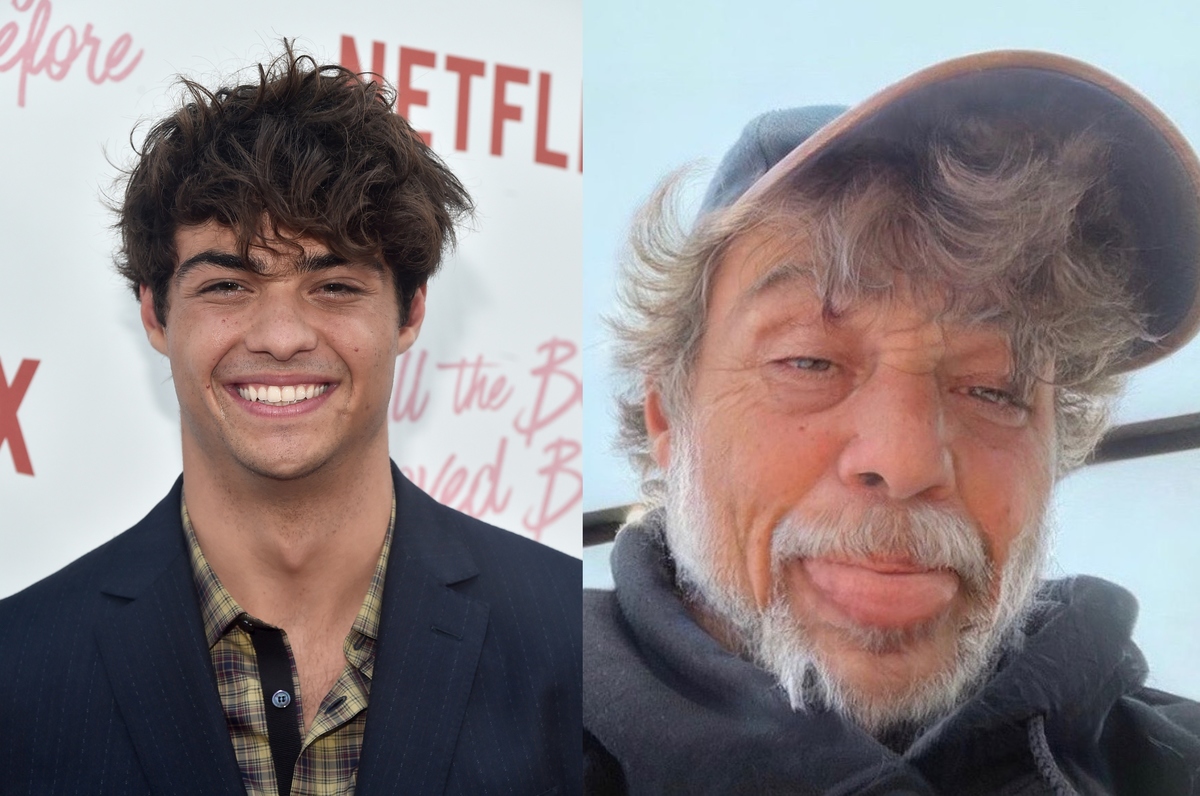 This image is another example of how difficult it will be to recognize some celebrities in the future because of how much they will change. If you see this elder guy on the street, you'll probably think that he is a homeless and unemployed person. There is no way for you to realize that he is one of the idols you loved during your teens if he looks like this. Maybe if he shaves a little and put his tongue back in his mouth, we could find some resemblance between them.
David Guetta
David Guetta is an artist who has not stopped since he appeared on the music scene around 2009. He has produced and created one success after another since the release of his album 'One Love' and does not intend to change that streak. With hits as crucial as "Titanium" and "Turn Me On," there is a good chance that we will continue listening to his music until his golden years. Guetta will keep us active, even if 50 more years go by!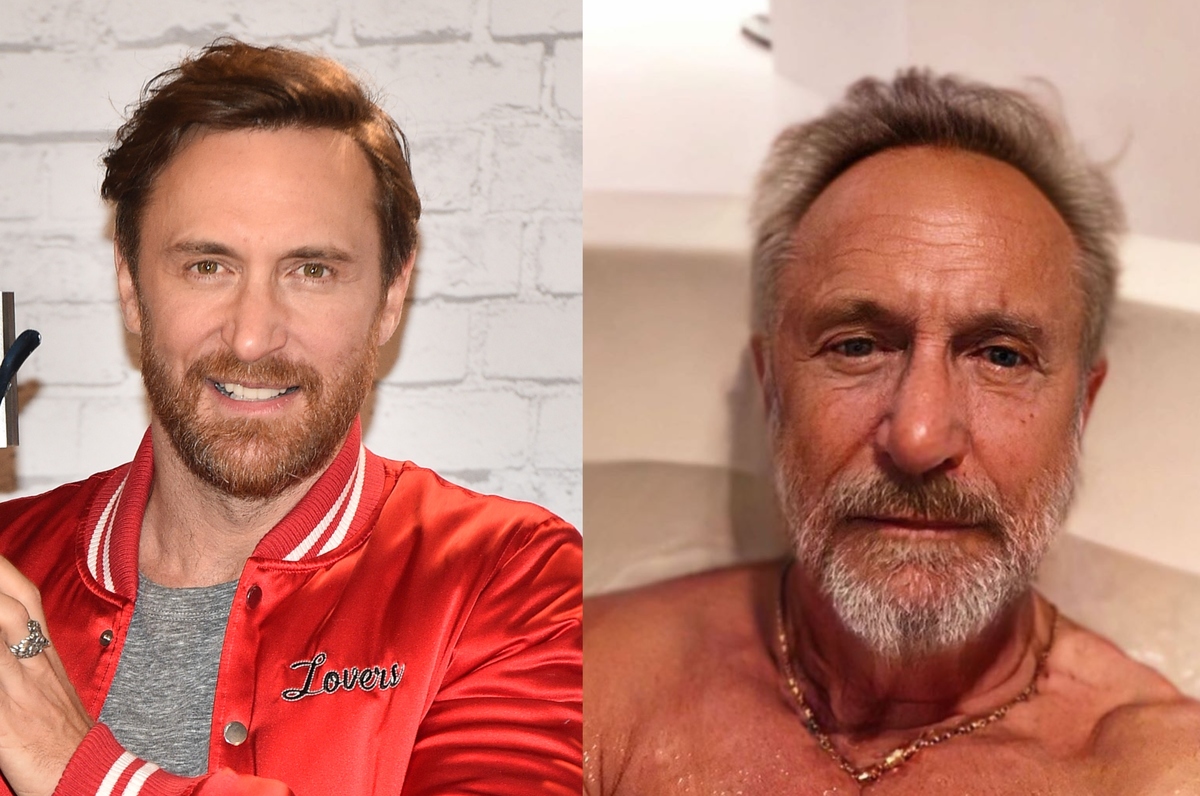 We can see in the image that the veteran DJ will not look bad despite the years. His hairline will have receded a bit, and he will have some wrinkles, but he will continue to maintain his style over time. The first thing we think when we see his photo with the filter is that he will be a very successful artist who will enjoy all the success he currently has. Likely, his bones will not allow him to maintain his rhythm of life, but his soul will remain the same as when he started.
Lil Nas X
This rapper is still starting his musical career, and he will surely have many more hits on the world music charts. By the time he starts looking like the person in that photo, there will be hundreds of remakes of his biggest hit, "Old Town Road." Despite his short time on stage, the rapper has achieved great success only with this song. His career took off phenomenally thanks to the release of his EP, 7.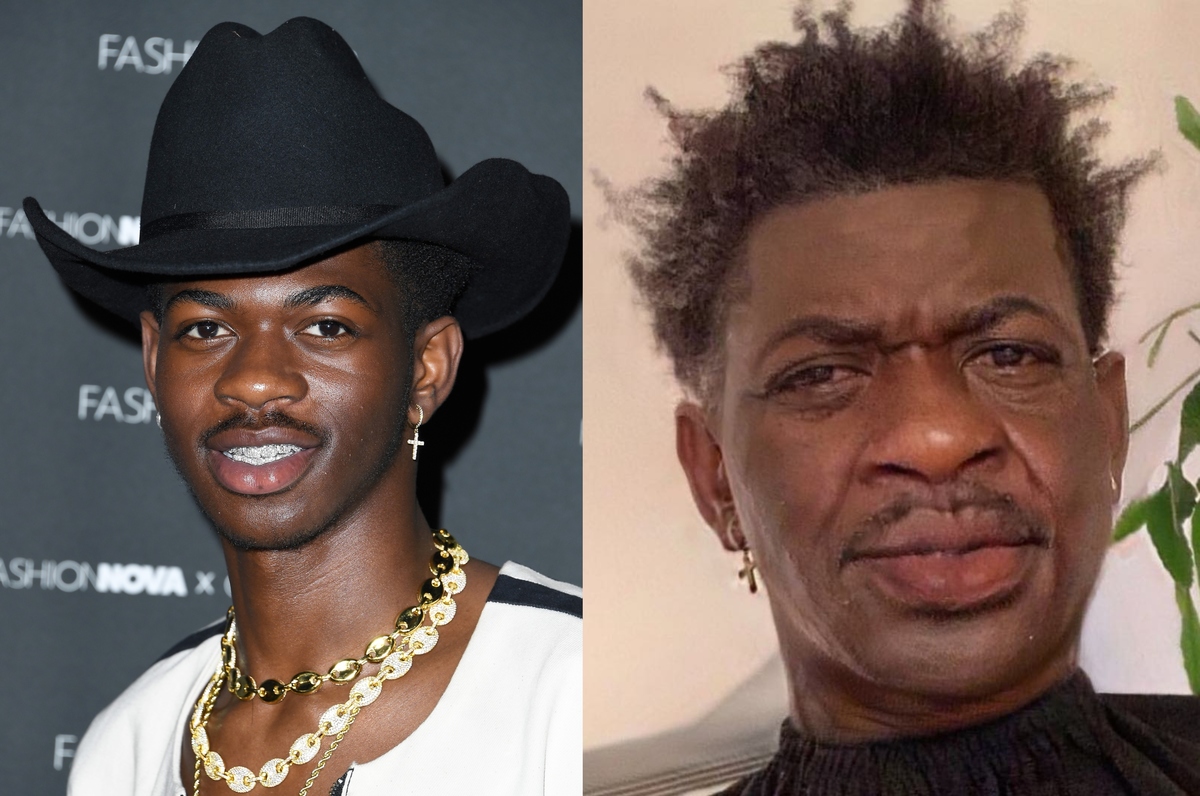 He will undoubtedly have many other great songs when wrinkles begin to affect him, but only time will tell. Perhaps his music will start to evolve and becomes something more focused on Blues, as we see in the image. He'll likely remain very true to his roots, and his change of look will only slightly affects the way he composes. In that image, it seems that he was going to scold us for making too much noise on the street!
Sam smith
This singer seems to have the same genetics as all British singers due to the resemblance shown in this photo. When Smith gets older, he will look a lot like Phil Collins, or maybe even Sting, because he will have features very similar to theirs. Likely, he'll also be as successful as them, but it is something that only he can demonstrate with his talent. Similarly, he will age very elegantly according to this filter.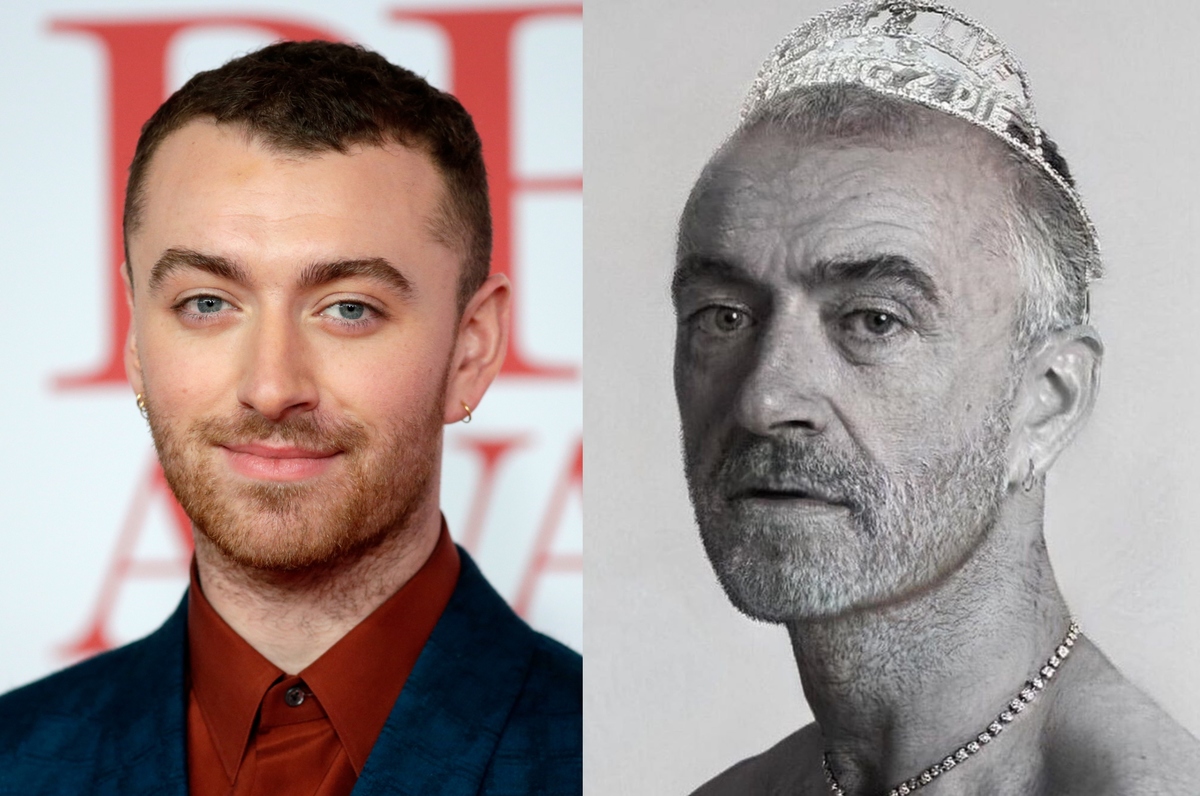 The voice of this singer will not succumb despite the years, and his face will not change too much. His success with "Stay with Me" will be repeated with many other songs and will probably remain on stage for many more years. His face will show just a few wrinkles, and his gray hair will become synonymous of style for the next generations. We can only wait to see how far he will go musically when the experience feeds his lyrics.
Brody Jenner
According to Jenner, people could find him in the Golden Corral for the early bird special where he'll eat all the "bomb split pea soup." The years will severely affect this celebrity, but at least it will be easy to recognize him because his face will not change much. He will become an average adult that loves food and relaxing at sunset in the yard of his home. He'll likely retire and enjoy his golden years quietly at home.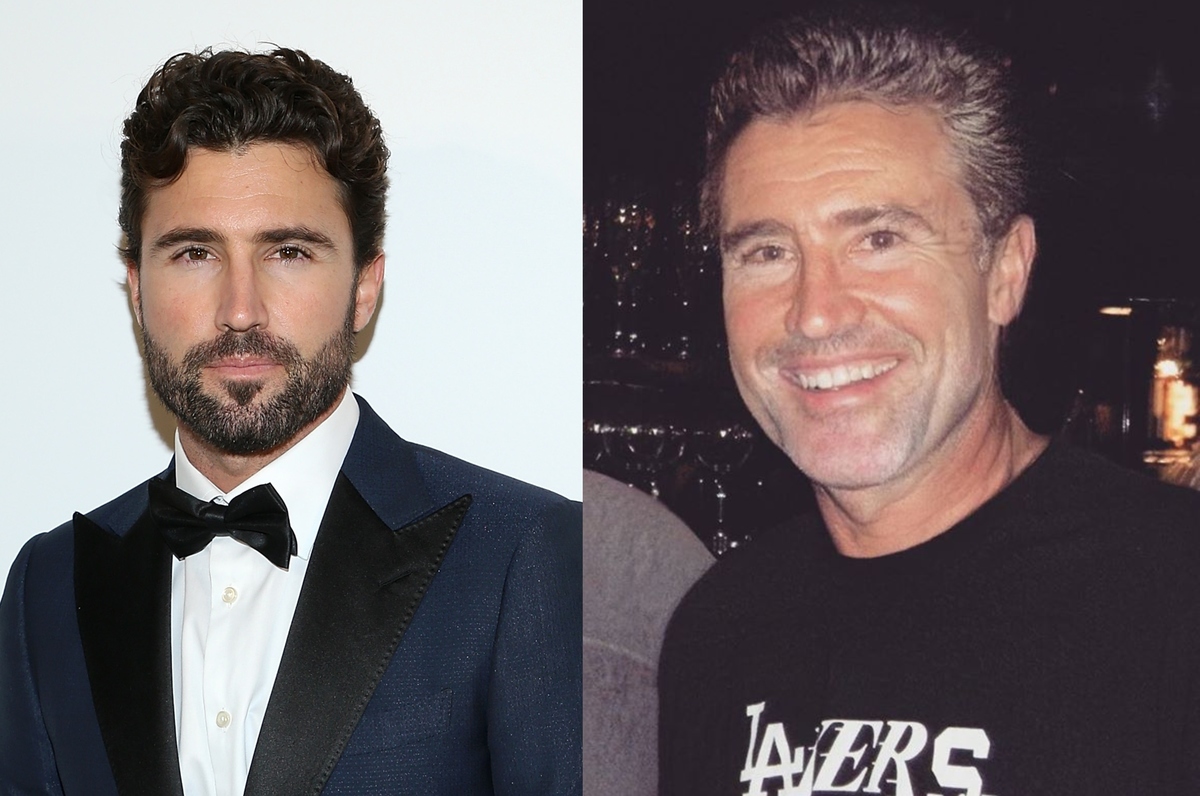 The FaceApp aging filter shows that he will become a thicker version of his father, Caitlyn. But despite all the wrinkles and gray hair in his head, he will keep his smile. If he continues with a positive attitude towards life and doesn't let worries overcome him, he will age elegantly. It's incredible how this application can predict changes in people's lifestyle with a simple photograph.
Diplo
When this artist published this aged photo, he accompanied it with the message: "Felt cute might die later." Diplo has a long history of success, so many people know him in the music scene, but that's not the only thing for what he is recognized. He usually posts very suggestive photographs on his social networks and took it to new heights by publishing this prediction of the future. If the application is not wrong, Diplo will have many more followers when he gets older.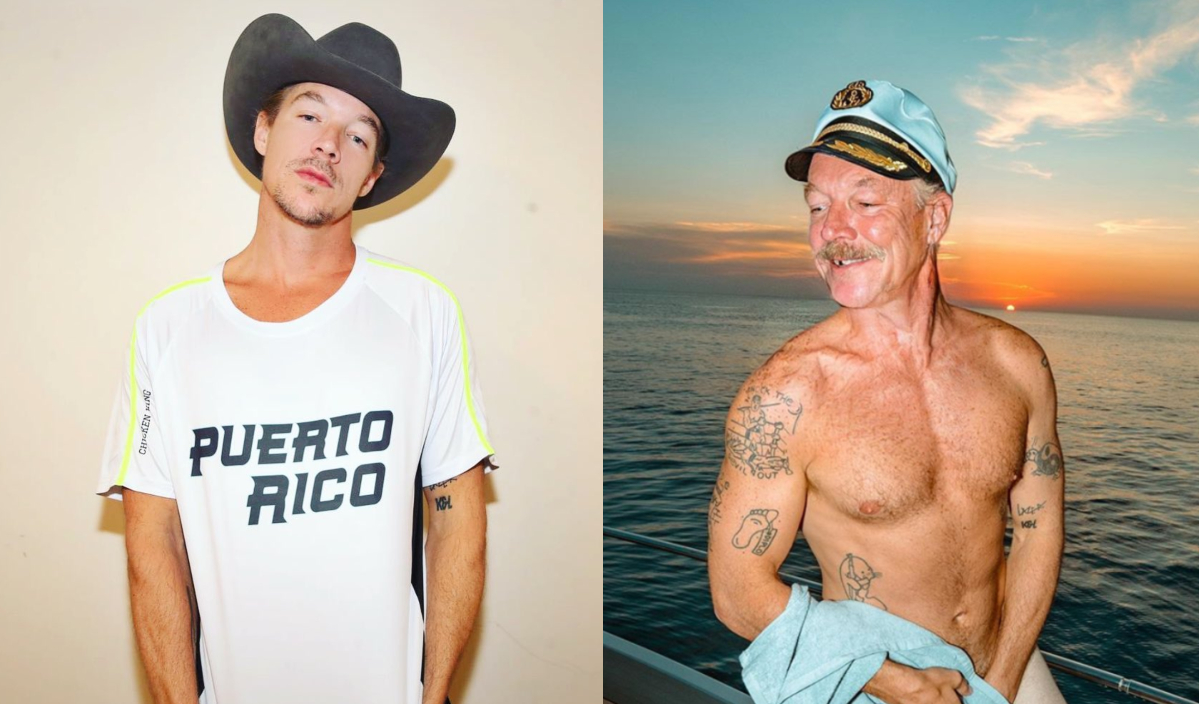 Although the years make disasters with his face, his body will be enough to ensure that his fans remain in love with him. His gray hair will make women who love mature men go crazy for him, but he will have to maintain a very active life. If he dedicates a good part of his day to the gym, he could get old as in the picture and surprise everyone.
Cardi B
Cardi B is a girl with a great personality and a unique style that makes us have fun at all times. You don't have to believe it if you don't want to, but if you see her interviews, you will notice that she is a very different girl from what other people believe. She never opposes changes and has shown it many times with her music and the way she changes her style. Another proof of this is that she dared to test the filter on her face despite what might happen.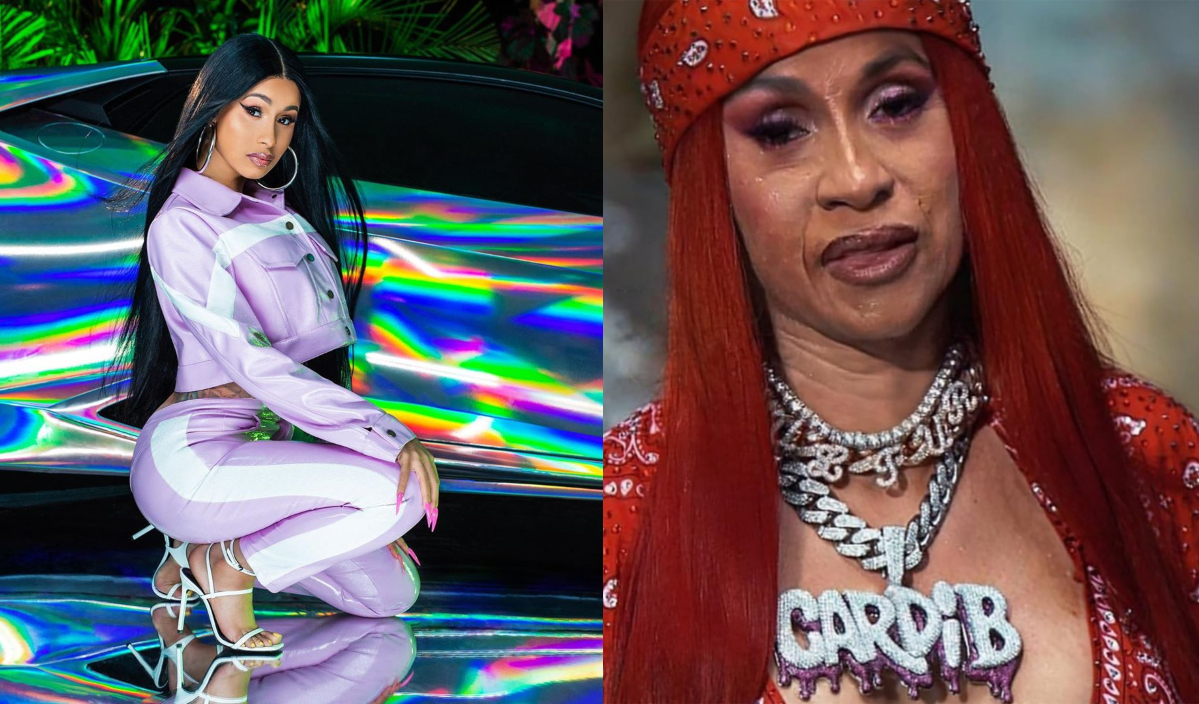 Unfortunately, she deleted the post a couple of days after uploading it to her social networks, but we can still see it in this article. The FaceApp aging filter predicted that she would look like this when she turns 80, and we can understand why she deleted the image. The years will do a lot of damage to the face of this singer and will make her look like an aunt who smokes and criticizes all people. However, we must remember that it is only a prediction, and there are ways to avoid this horrible future.
Kawhi Leonard
This player was in the sights of everyone during the 2019 NBA free agency due to his talent. Everyone wanted him on their team! Although it is only the work of this peculiar filter, in this image, we can see how he could look when the years attack him. Even so, we are sure that all teams would want to sign him for being the MVP of the Finals twice. Gray hair and wrinkles do not eliminate the great talent that The Klaw has!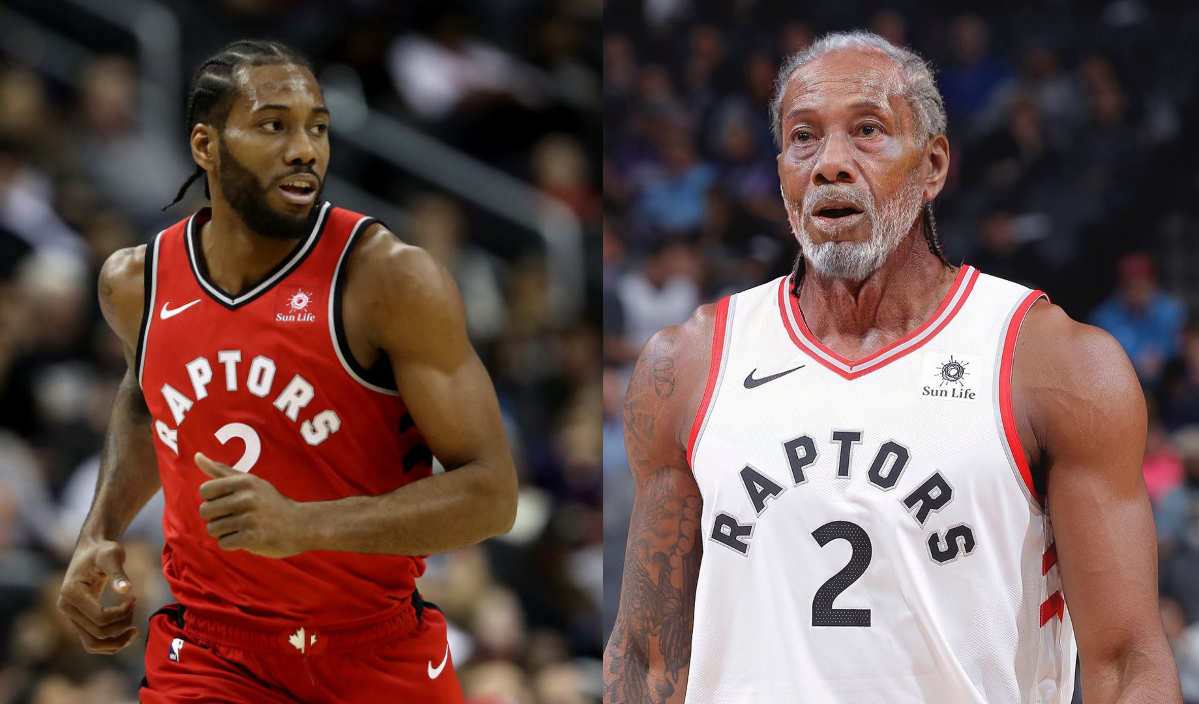 Although many years pass, he will still maintain the stoic facial expression that characterizes him, but a bit more stale by age. Many wonders if the basketball player found this image funny because that would give it much more value. Although, as emaciated as he looks in the picture, it probably didn't cause any amusement to him. Regardless of his opinion, the important thing is that he will continue to play for many more years.
Kevin Love
The result of the image of this athlete with the FaceApp filter seems a bit familiar to sports lovers. The big man with the championship ring wanted to have fun using this app and tried his luck to see a prediction of his future. Looking at the result, he decided to joke a bit by captioning it "Kevin Popovich." This message is a reference to one of the oldest coaches in the NBA, with which he has a similar resemblance.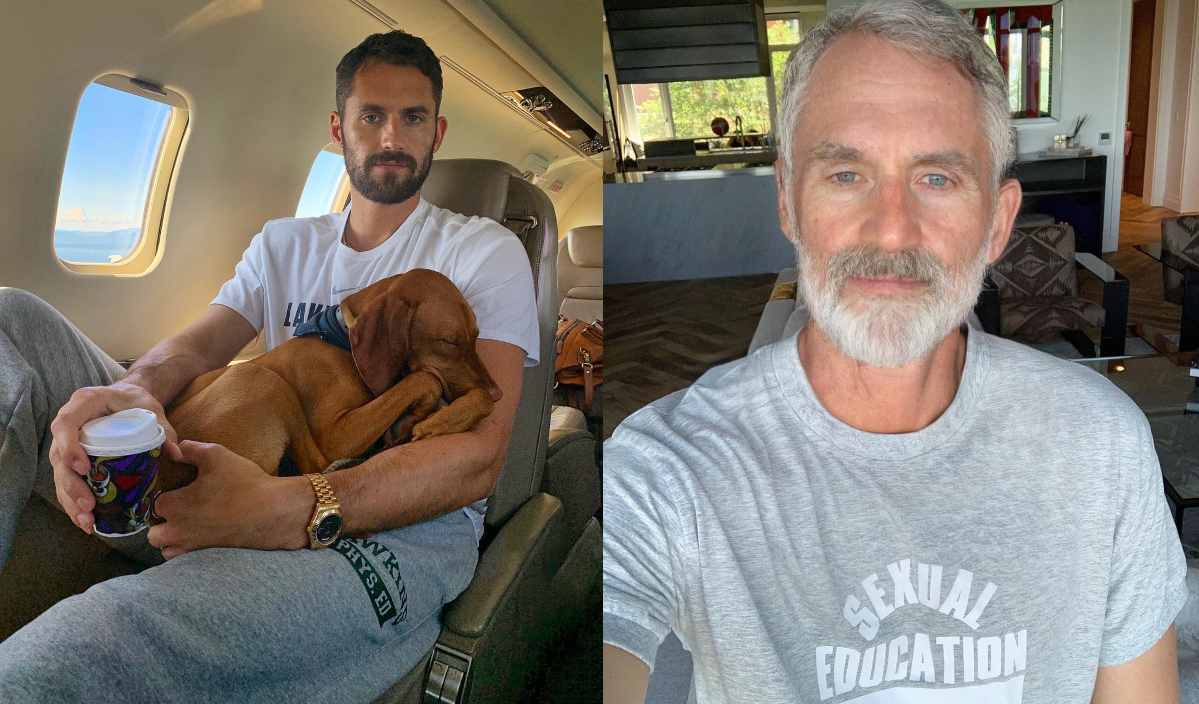 This player has never been afraid to show his silly side to his followers and teammates. When he's not wasting talent on the court, he's probably practicing his jokes in the gym. In fact, this must be the life of many NBA stars due to the amount of time they must train daily. White hair will not prevent Love from staying close to the court for the rest of his life.
Kanye west
The future of Kanye West is evident to his followers because it is very likely that he will never change his way of being or his attitude. Over the years he will become an older man that we will see in all the awards shows. He will become the new Stevie Wonder, a talented musician who made music that transcended times and performed everywhere. Nothing has been able to stop West, and age will not impede his life.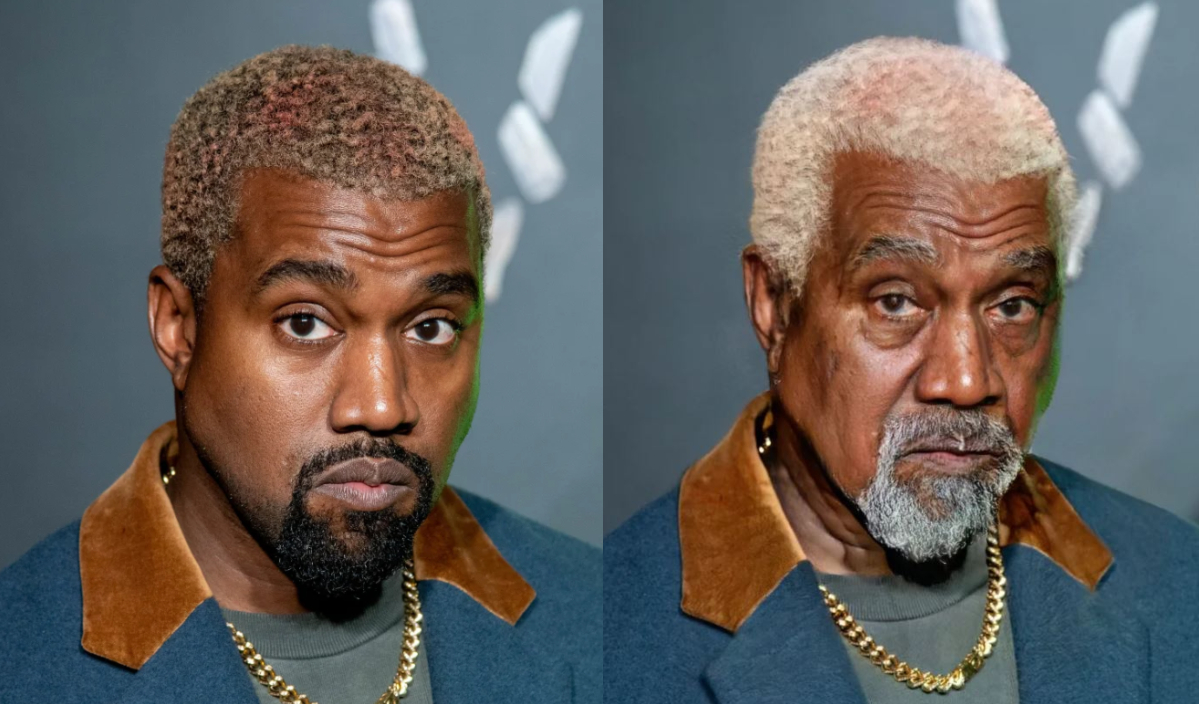 There are no reasons to lie, old West will look a bit out of shape and worn-out by the amount of stress and worries. The problems will likely reach him and generate all those wrinkles, but this will not change his way of making music. Kanye West is a person who never gives up, so he will look for ways to fight the years and continue producing with his talent.
Kim K
It is impossible to know how long Kim Kardashian West and the rest of her family will capitalize on her questionable current fame. No matter how many years have passed, they have managed to stay in the center of the show without doing anything important, and they may continue to do so. They are likely to wait until Kim looks like this picture, and they will look for a new way to make money with it. Apparently, the reach of this family will extend for tens of years.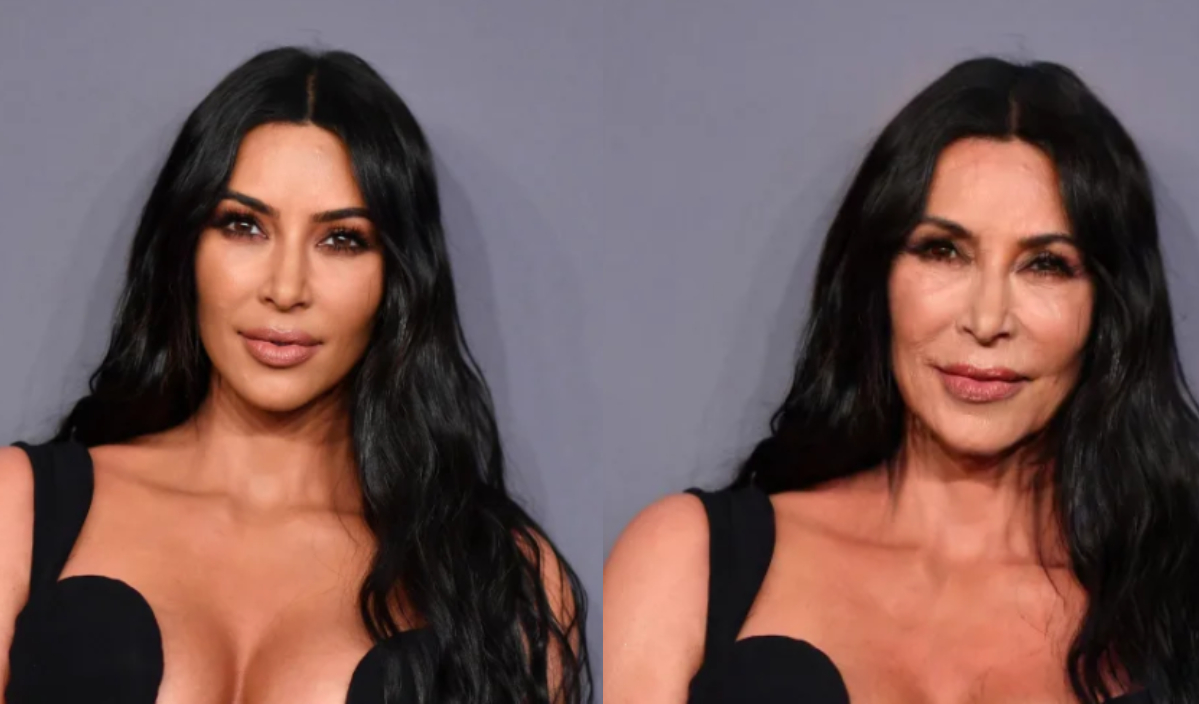 The current generation of Kardashians and Jenners is big enough for them to take the baton at some point. Once Kim reaches the age she looks like in this picture; Saint West will be in charge of the family. Kanye will produce the songs for his son, and North will star in the music videos; this family is a money factory. However, Kim will do the unthinkable to prevent the years from affecting her beauty in this way.
Vinny Guadagnino
It is impossible to forget Jersey Shore and all the follies of this program if we had the bad luck of seeing it at some point. After the launch of this reality show, and all the similar programs that followed, television changed radically. Although many people hate the show, it is impossible not to recognize their cast members because of how popular they became. Vinny and DJ Pauly D are two characters that many people remember, despite trying to forget them.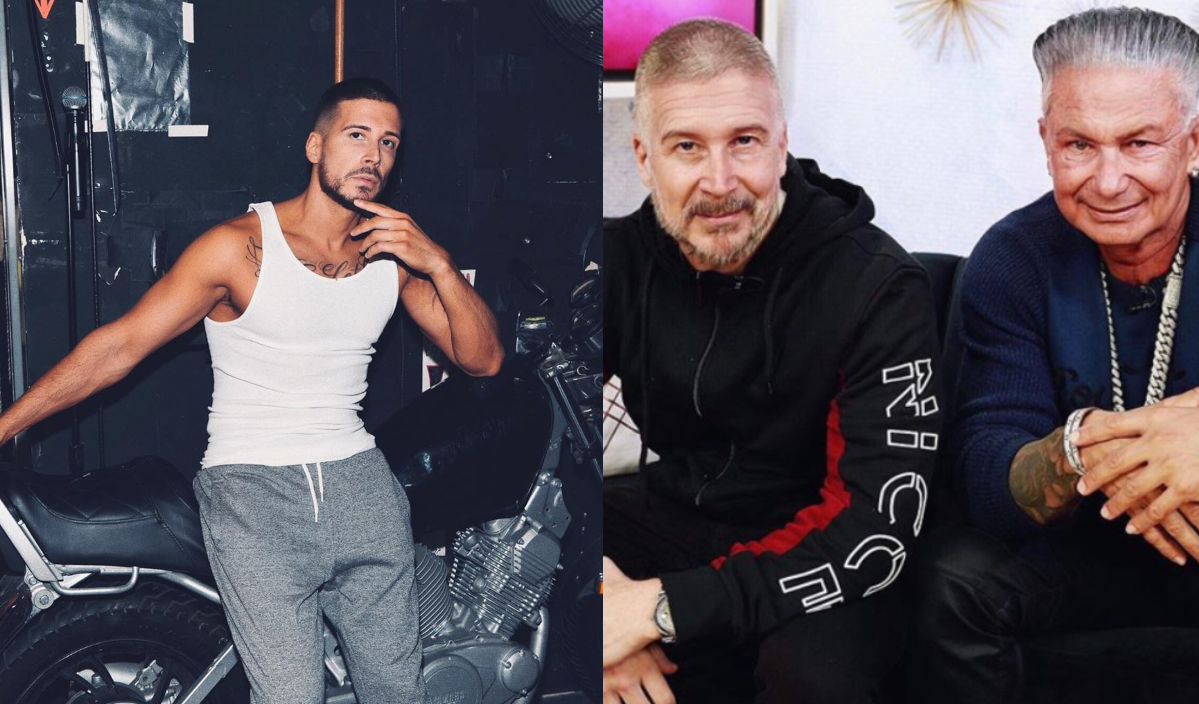 In this image where they appear together, we can get an idea of ​​how the years will begin to affect these boys. As in the case of JWoww and Snooki, we are sure that these guys will continue to get into trouble. If they are still causing disasters when they reach that age, maybe we are living our lives wrongly. Look at those smiles! If you can smile and party at that age, you must have some kind of hidden secret that you use to maintain your energy.
Jay Pharoah
Pharoah is a renowned actor and comedian who did not miss the opportunity to use this filter to make his followers laugh. After submitting his photograph to the FaceApp application, he published the image on his networks by placing the following message: "So imma look like Morgan Freeman & Bill Cosby's love child when I lose the youth juice… Naw I ain't with it when I turn 60 I'm ending it. "It's a hilarious way to see the future.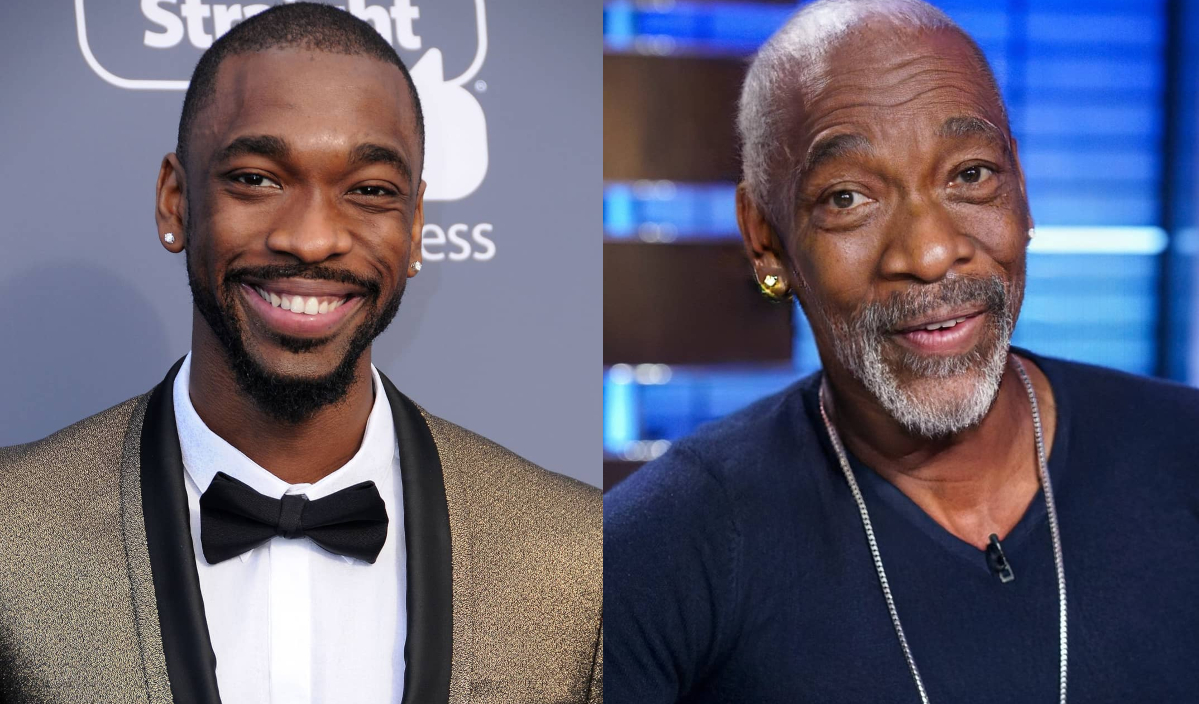 He is clearly joking with the "I'm ending it" part, but that makes this message much funnier. Jay Pharoah is a master of imitation that has made us laugh for many years, and he'll probably continue to do so despite old age. Now, describing his photograph as a mixture between Cosby and Freeman is a perfect comparison! We regret that this comedian has moved away from Saturday Night Live because we know the amount of talent he has.
John Calipari
Do you think coach Calipari will announce his retirement when he starts looking like in this picture? Most likely, he will remain on the courts until he is no longer capable of doing so. His followers are sure that he will be in charge of sending NBA-ready college kids to the basketball league for many more years. Even if the aging filter shows us a person with many wrinkles, his spirit is evidently the same.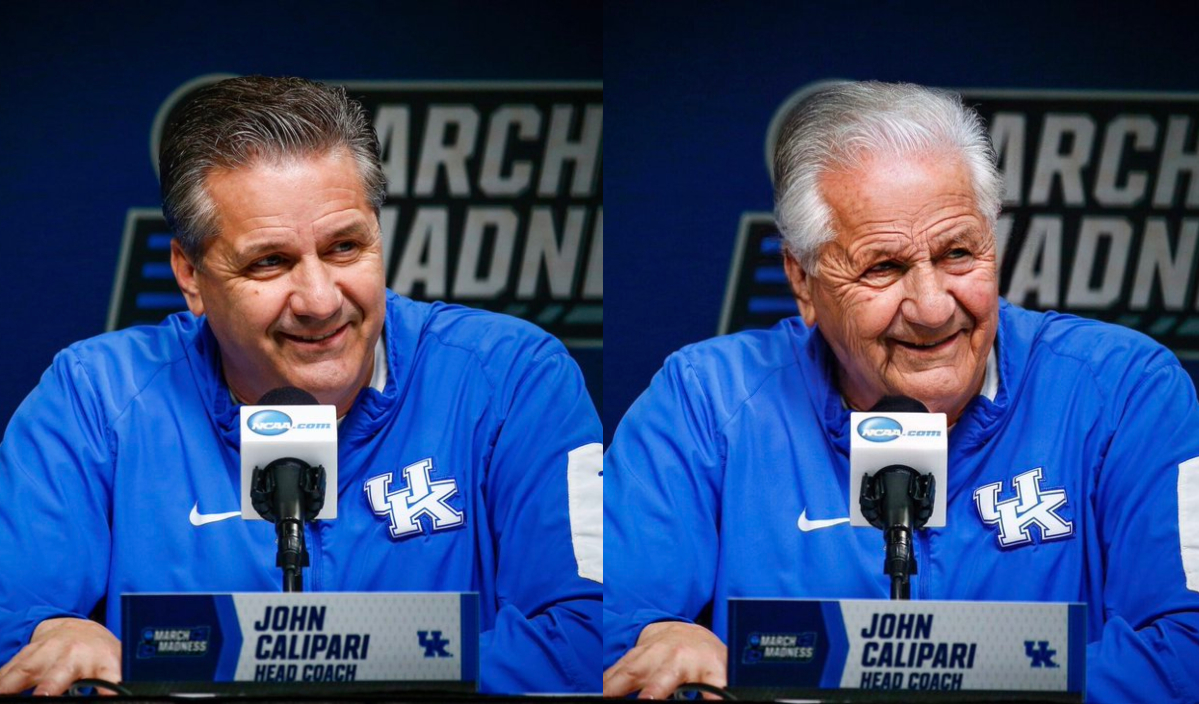 Thanks to his long career of success, Calipari could become the Greg Popovich of men's college basketball. Looking at the image, he looks almost the same as today if we add a few more wrinkles and change his hair color. No matter what happens, his fans will continue to support him over the years. As long as he continues to develop a great talent that feeds the NBA's favorite teams, he can be in charge all the years he wishes to do so.
Drake
Drake's talent is something evident even for people who don't enjoy his music, and it's something that will remain over time. The singer was totally silent when he saw his aged photo and turned to his followers on social networks to add a subtitle. Although the change is not too radical, the 60-year-old version of Drake shows some grays and a pinch of wrinkles on his forehead.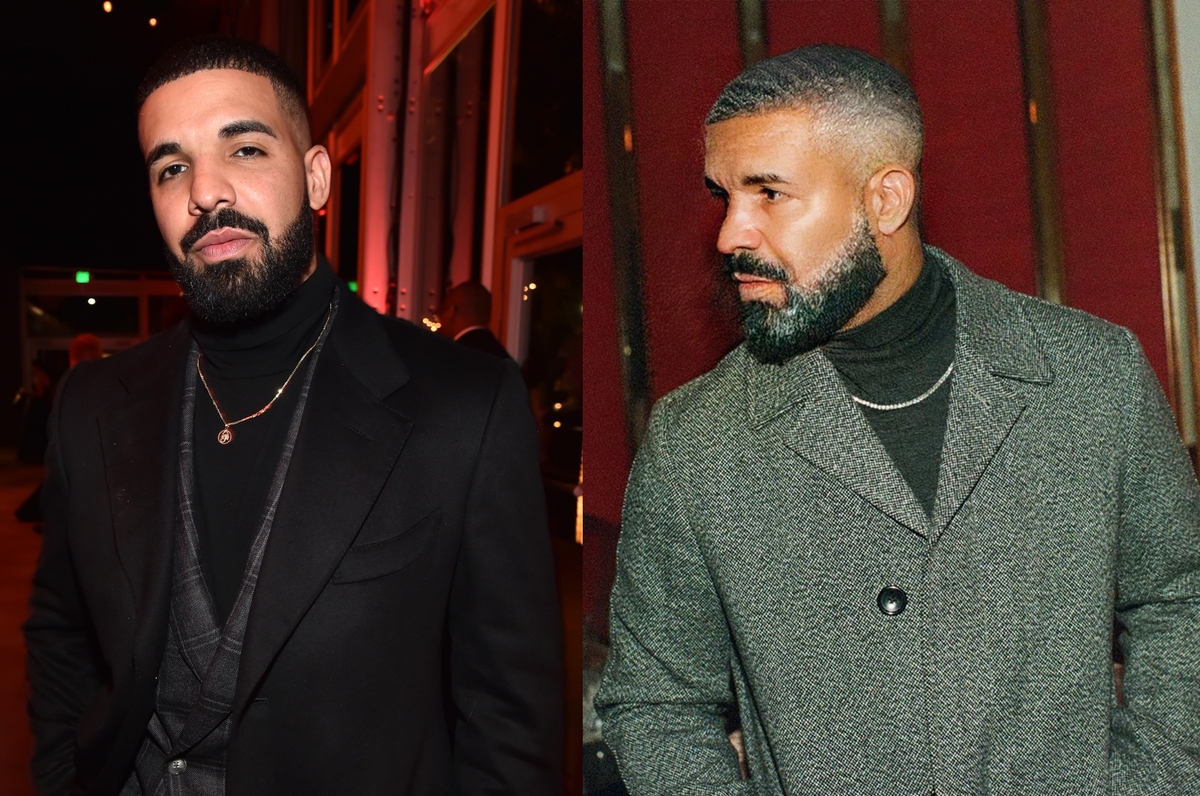 These wrinkles would likely come from the times he has gone crazy in Raptors games. Only time can tell where his career will be at that moment, but it is safe to say that he will continue to make music. We may listen to his music for tens of years, but something will always bring us back to his classical themes that captivated us. Drake will age just enough to realize the passage of time.
Yara Shahidi
This girl has a timeless beauty that will not disappear with a couple of wrinkles and a few more years. She will likely continue to attend many parties despite her age, maintaining that beautiful smile that characterizes her. Clearly, her personality will not be affected by the years, and that is what will make her more beautiful every day. The 'Grown-ish' star will maintain her positive attitude, as evidenced by his aged photo.
This actress has come a great way since her breakthrough in the 'Black-ish' series and is just the beginning of her career. Her talent and attitude towards life will grant her many other opportunities in television and cinema, so she still has a lot to grow. Many people say that, by the time Shahidi reaches old age, she will become one of the most famous actresses in the country.
All these images show an approach to the future of these celebrities that we cannot miss. Some of them will age with a lot of grace, but others will suffer the consequences of time and must begin to take care of themselves. Which of these predictions do you think is the most impressive? Who do you think will age in the best way? Let us know your answers to these questions in the comments section and remember to share this article with all your friends.
Sources: Postfun