20+ Co-Stars Who Were at Each Other's Throats
When you get a bunch of highly-paid actors together in a room with a bunch of other highly-paid actors, it turns out that things start to get dramatic pretty quickly. And we're not just talking about the on-screen theatrics! From calling a co-worker an "a**hole" to passive-aggressively leaving a name off a gift card, we reveal who in the Who's Who of Hollywood hates their on-screen comrade the most. Many of these rivals play lovers and best friends on the big screen! You will no doubt be surprised to see which of your favorite duos turned out to be sworn enemies. Well, what are you waiting for?
Jamie Dornan and Dakota Johnson
Northern Irish actor Jamie Dornan is known for playing the problematically sexy Christian Grey in the hit film 50 Shades of Grey. Dakota Johnson, of course, played Dornan's submissive on-screen counterpart, Anastasia Steele https://en.wikipedia.org/wiki/Dakota_Johnson. Watching the two of them together in interviews, it seems clear from their body language that they aren't too fond of each other! When the first film came out, news website Jezebel even declared that the two "[couldn't] f***ing stand each other" What do you think?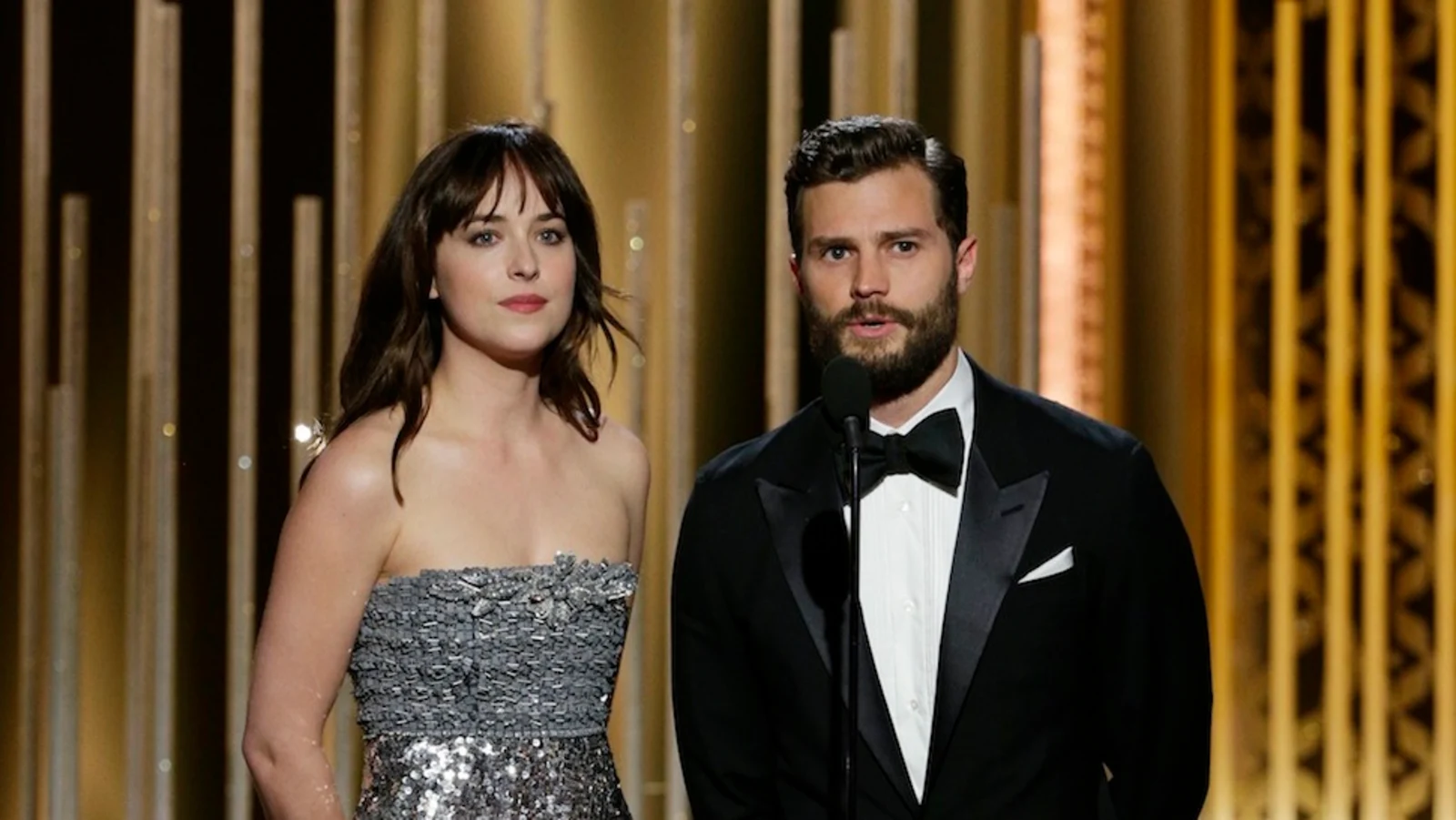 Their distaste for each other is pretty clear in an interview with Glamour magazine, where the two actors have difficulty thinking of positive words to say about one another. What's more, is that they seem upset by the 'positive' things that come out of their co-star's mouth! Remember that awful, empty non-chemistry between the two in the first film? We know that they are both talented actors, so it was surprising to see how poorly they performed when together. Imagine how awkward it must have been knowing they had to get through THREE films with each other! Phew.
Ryan Gosling and Rachel McAdams
Yes, REALLY. The most romantic film couple in Hollywood, like, of all time. Nick Cassavetes spilled the beans on their absolute disdain for each other on set, saying: "They were really not getting along one day on set. Really not. And Ryan came to me, and there are 150 people standing in this big scene, and he says, 'Nick come here,'" Uh-oh! We didn't expect what was coming next. "And he's doing a scene with Rachel and he says, 'Would you take her out of here and bring in another actress to read off camera with me?' I said, 'What?' He says, 'I can't. I can't do it with her. I'm just not getting anything from this.'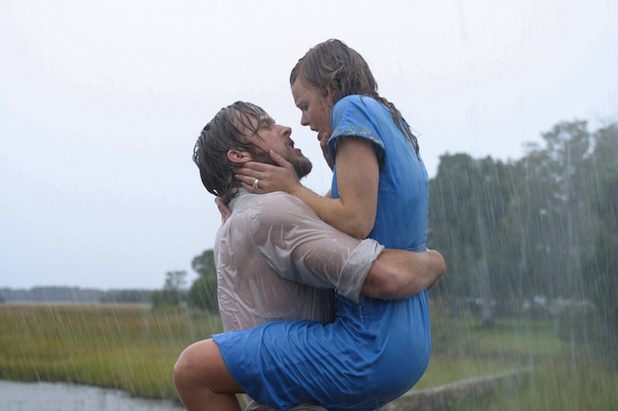 Eventually, the two had a serious talk, but this discussion didn't exactly start well. Cassavetes told VH1: "We went into a room with a producer; they started screaming and yelling at each other." At any rate, the two definitely put their differences aside, because they dated from 2004 right through to 2007! And you remember that famous scene, right? The two lovebirds, Noah and Allie, stand in the pouring rain by the waterside. When Gosling's character says, "it's not over, it still isn't over!" audiences all over the world swooned and then shed tears after realizing those kinds of romances are super rare. But one can dream - right?
Claire Danes and Leonardo DiCaprio
Many readers will recall the much-loved 90s film 'Romeo + Juliet,' with a young Leonardo Dicaprio and an even younger Clare Danes. Natalie Portman was originally cast in the leading role of Juliet, but the seven-year age gap turned out to be too weird on camera. Portman was only fourteen at the time and made Dicaprio look older than he was meant to. Dicaprio himself suggested that Clare Danes be her replacement, and production continued from there. Even though casting Danes had been Dicaprio's idea, they didn't end up being such good pals on-set.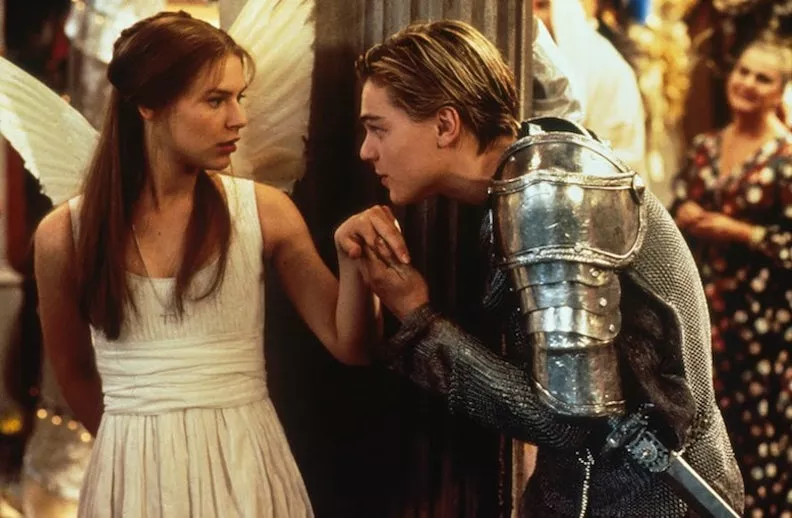 The 21-year-old Leonardo Dicaprio used to be a bit of a joker back in the day! He would pull pranks on the crew, and it's rumored that Clare Danes hated this. Even though she was still four years younger than the famous Titanic actor, Danes thought that Dicaprio was immature. It may be the case that the actor came to regret his suggestion, as he also was reported to have considered her uptight and reserved. Looks like things ended in tragedy both in the Shakespearean story on-screen and in the real-life relationship off-screen.
Anne Hathaway and James Franco
While some of the other rivals in this list are super surprising, this one is a little less so. When you think about the two actors' personalities, it seems obvious that they're very different from each other. While Hathaway's presence in the public eye is wholesome, clean and feminine, Franco's is grungy, eccentric, and mischievous. Of course, opposites can sometimes create explosive chemistry, but at the 2011 Oscars the co-hosts proved to be an awkward match. Franco himself even told David Letterman: "I think the Tasmanian Devil would look stoned standing next to Anne Hathaway."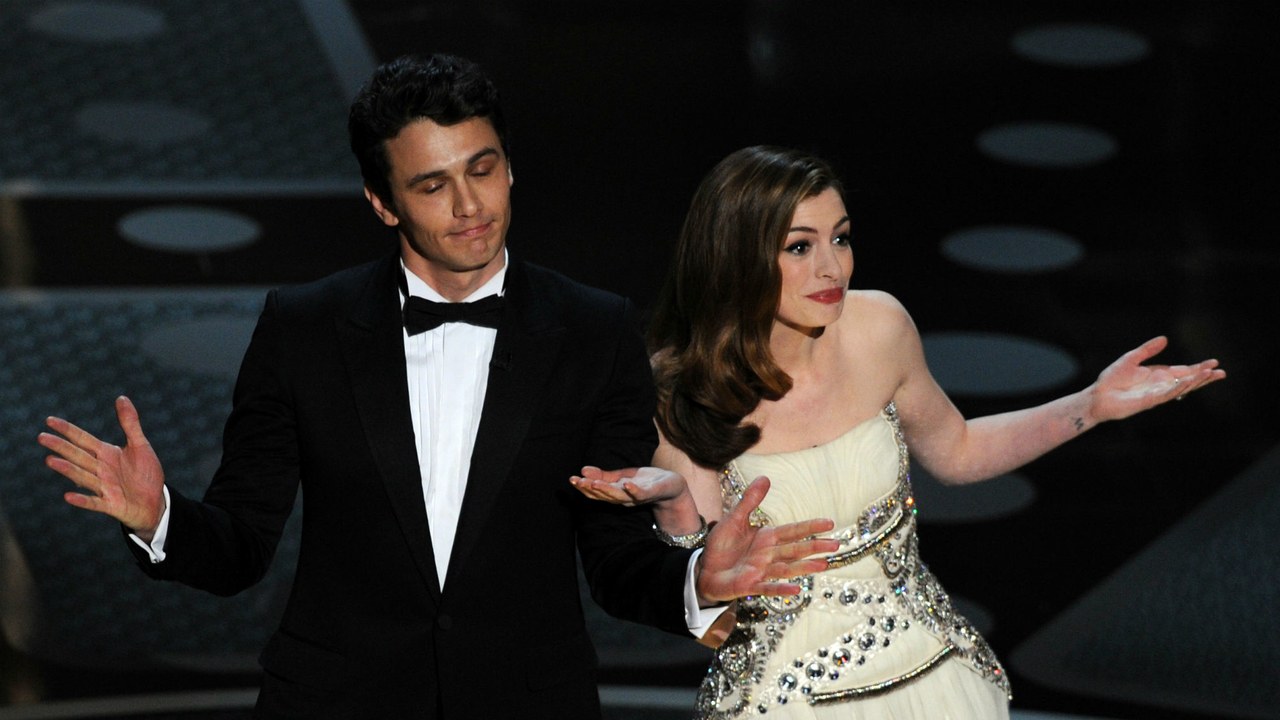 Anne Hathaway wasn't exactly rapt about the pairing either. She told an interviewer that she initially turned the gig down and that it was James Franco that talked her into hosting the 2011 Oscars together. "When all the dust settled, I was just like, you gotta be kidding me," she said to a reporter. In another interview a year after the event, Hathaway was more reflective about her own performance alongside Franco. She agreed that her energetic enthusiasm didn't translate well, poking fun at herself for being "slightly manic and hyper-cheerleadery on-screen." Eek! 
Lea Michele and Naya Rivera
The relationship between characters Santana and Rachel from Glee wasn't exactly a friendly one. Rumour has it that their real-life relationship was also ice-cold, and a few years ago there was a "major altercation" between the two on-set. Naya Riviera ended up spilling the goss recently, saying that: "Lea and I were like two sides of the same battery… We are both strong-willed and competitive—not just with each other but with everyone—and that's not a good mixture."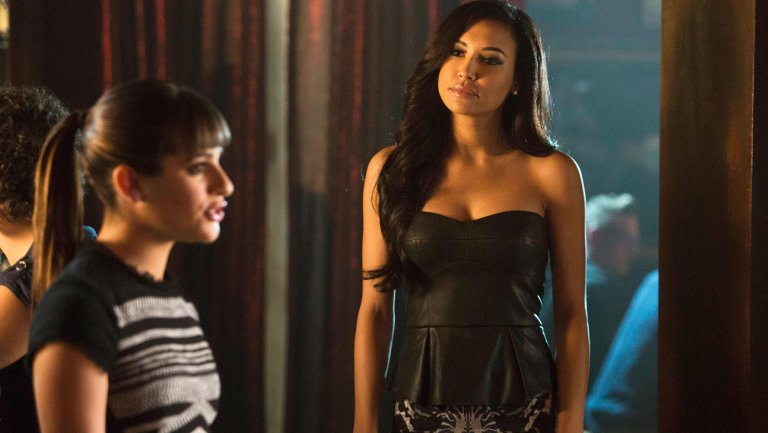 Unfortunately, things didn't get any better, and the character who plays Santana wrote of her suspicions about Lea Michele: "I think Rachel—erm, I mean Lea—didn't like sharing the spotlight." You mean the high-achieving diva from Glee might have been an actual diva? But we love Lea Michele! Riviera continues: "If I'd complained about anyone or anything, she'd assumed I was bitching about her. Soon, she started to ignore me, and eventually, it got to the point where she didn't say a word to me for all of Season 6," Looks like it's confirmed: their off-screen relationship was just like their on-screen one!
Alec Baldwin and Shia LaBeouf
The beef between Baldwin and LaBeouf turns out to be pretty uhh... beefy. They had some sort of disagreement while rehearsing for the Broadway show Orphans together, which seems to be due to Baldwin being unable to keep up with the young actor's lines. Indeed, Director Daniel Sullivan is quoted as telling LaBeouf that he "thought it was a very good first day" of rehearsal, "even if Alec never looked up" from reading his script. Oh dear. And if this wasn't bad enough, what happened next was even more baffling.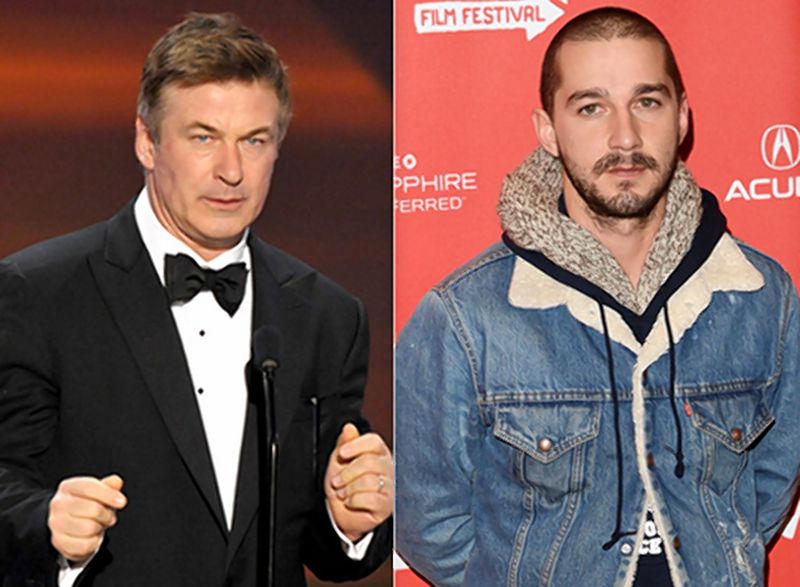 LaBeouf left the Broadway production due to "creative differences," whatever that means. But even after this drama, there was more still: in an odd series of tweets, LaBeouf posted emails between himself, the theatre director and Baldwin. LaBeouf then tweeted "the theater belongs not to the great but to the brash." Not being able to resist, the 30 Rock actor jumped in the ring to fight back: "many film actors, though, who are purely film actors, they're kind of like celebrity chefs…You hand them the ingredients, and they whip it up, and they cook it, and they put it on a plate, and they want a round of applause. In the theater, we don't just cook the food and serve it." Phew - looks like LaBeouf got uh, "served!"
Ryan Reynolds and Wesley Snipes
If you thought the vibe between Alex Baldwin and Shia LaBeouf was weird, wait until you hear about Ryan Reynolds and Wesley Snipes while filming Blade. Patton Oswalt was also a part of the film and dished all the dirt in an AV Club interview. First of all, Snipes would only show up on set when he had close-ups to film, leaving Reynolds to shoot some of his scenes alone. Oswalt claims that he and Snipes only had one scene together because everything else was filmed with Snipes' stand-in. He also ran into some trouble with director David Goyer, bizarrely telling him: "I think you need to quit. You're detrimental to this movie."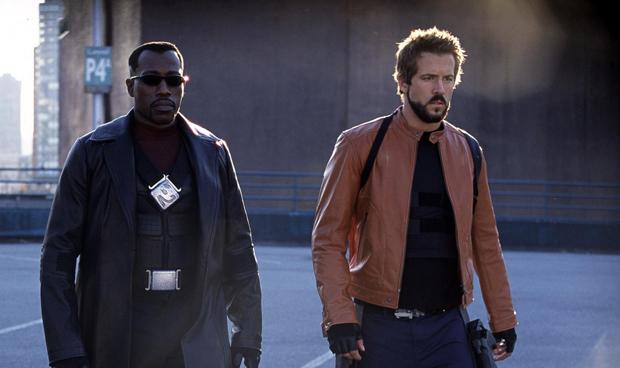 According to Oswalt, Goyer replied: "Why don't you quit? We've got all your close-ups, and we could shoot the rest with your stand-in." From this time forward Snipes communicated with Goyer through Post-it notes, hilariously signing them off "from Blade." Perhaps it's just the case that Snipes and Goyer have different senses of humor. But then again, news broke recently that the Blade series is being rebooted by Marvel with a replacement for Snipes. Maybe the misunderstanding isn't so funny after all. Turns out the new Blade will be the much-admired Academy-award winner Mahershala Ali.
Nicki Minaj and Mariah Carey
You already knew that Mariah "I don't know her" Carey is famous for her diva antics, but her feud with Nicki Minaj reached an entirely new level of shade. Back in 2012, the two superstars were on American Idol together as judges. It seems their personalities clashed, with Minaj telling people: "I'm not f***ing putting up with her f***ing highness over there." Apparently, Mariah hired extra security as a result, which we're sure made Minaj roll her eyes.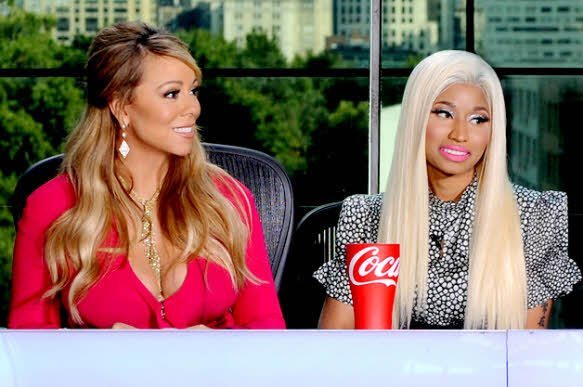 In 2013, the rapper had kind words to say about Carey, calling her "one of [her] favorite artists of all time." But it turns out that things quickly re-escalated when they joined Idol again for the 2013 season. Carey said publically that she hated working with Nicki Minaj, and that "it was like going to work every day in hell with Satan." Uhh… OK? Minaj had said Carey was a "bitter, insecure woman," which is probably why the legendary diva hit back with such a dramatic statement. Oh dear!
William Shatner and George Takei
Even if you're not a Star Trek fan, you might have heard rumors about George Takei and William Shatner's long-running feud. While Takei is now genteel about their disagreement, he once accused Shatner of creating tension between the two of them for marketing purposes. Fair enough - it's difficult to imagine how you would get into a fight with George Takei. In a recent interview, he dismissed the lingering gossip about their relationship as "silliness."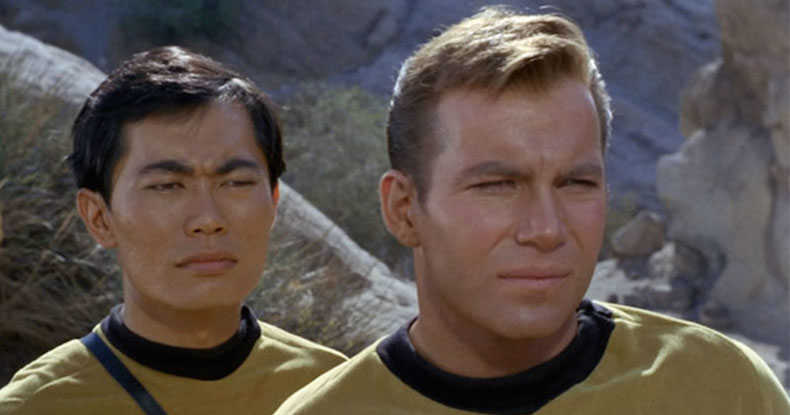 Takei said: "There's unanimity among the castmates, we've all had difficulties with Bill, but we're all teammates and we work together." Indeed, Takei invited all the cast members to his wedding, including Shatner. But it seems something was lost in translation as he never showed up. Takei has confessed that in recent years the actors greet each other civilly at conventions, but their relationship does not go beyond this. Speculating on the cause of the drama, Takei believes that Shatner may be envious of his success or fame. Live long and prosper, George!
Sarah Jessica Parker and Kim Cattrall
Kim Cattrall may have played on-screen BFFs in the iconic series Sex and the City, but in real life, they famously fell out after the cancellation of the series' third spinoff. Kim Cattrall played the sexually liberated character of Samantha, and SJP, of course, took the lead role as columnist Carrie. Cattrall has previously said that her co-star is "fake" and that she was bullied by her throughout the time that they filmed Sex and the City.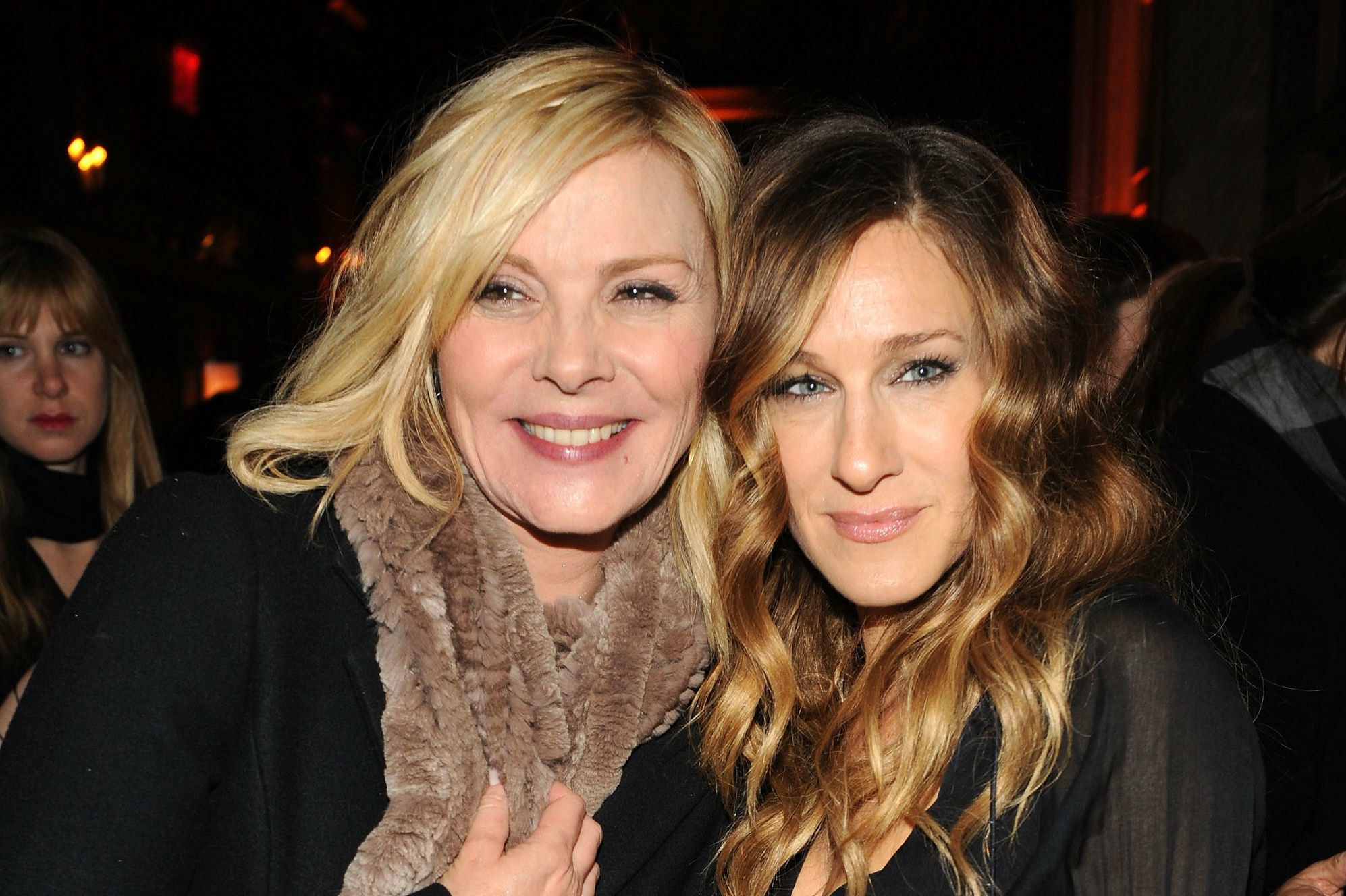 During an Atlantic City shoot, it is rumored that SJP rented a place for only three of the Sex and the City Girls, leaving Kim out in the cold. Cattrall maintains that the three other lead characters were cliquey, both among themselves and with other cast and crew. A friend of the actor said: "Kim does not want to . . . do the film. She feels she has been treated horribly by Sarah Jessica Parker for six years." What's more is that only days ago the actress spoke to the Guardian about the feud, saying: "I went past the finish line playing Samantha Jones because I loved Sex and the City. It was a blessing in so many ways but after the second movie I'd had enough."
Bill Murray and Lucy Liu
How anyone could ever find fault with Lucy Liu is beyond us. Bill Murray seems to think he's above her incredible talent, however, as he personally told the actor that she couldn't act. Uhhh… right. If you were curious about why Bernie Mac suddenly showed up in Charlie's Angels: Full Throttle instead of Murray, this might have something to do with it. Reports say that the aging actor called a scene to a halt at one point during filming. He pointed to Drew Barrymore and Cameron Diaz, and said: "I get why you're here, and you've got talent." He then paused, pointing to Lucy Liu and saying: "but what in the hell are you doing here. You can't act!" Yikes.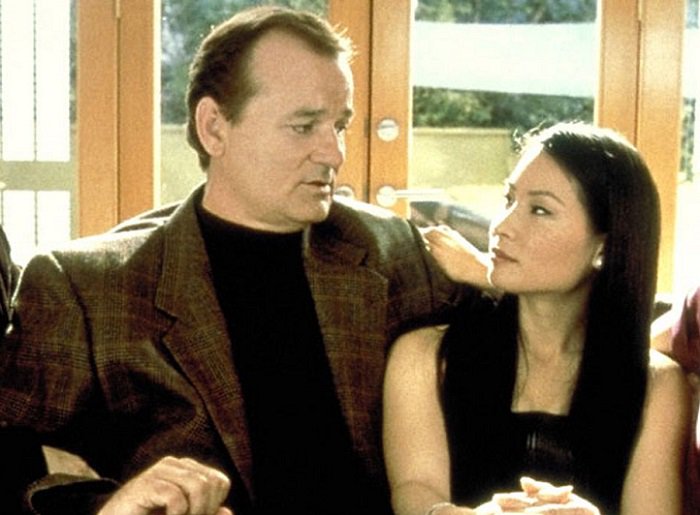 What's more, is that Charlie's Angels director McG claimed a few years ago that Bill Murray head-butted him while on set. Murray denied the claim, but took it one step further, adding: "I don't know why he made that story up. He has a very active imagination…No! He deserves to die!" Steady on there, Bill! But wait - there's more! The Royal Tenenbaums actor kept on digging himself into a hole: "He should be pierced with a lance, not head-butted." We can see why Bernie Mac replaced him in the last film!
Kiefer Sutherland and Freddie Prinze, Jr.
Acting has been relatively smooth sailing for Freddie Prinze, Jr., and he was big throughout the 90s in films like She's All That and I Know What You Did Last Summer. That is, until he started working alongside Kiefer Sutherland in the TV show "24." Sutherland recently told ABC: "I did '24,' it was terrible. I hated every moment of it," Prinze said. He went on to tell ComicCon fans that "Kiefer was the most unprofessional dude in the world. That's not me talking trash, I'd say it to his face, I think everyone that's worked with him has said that."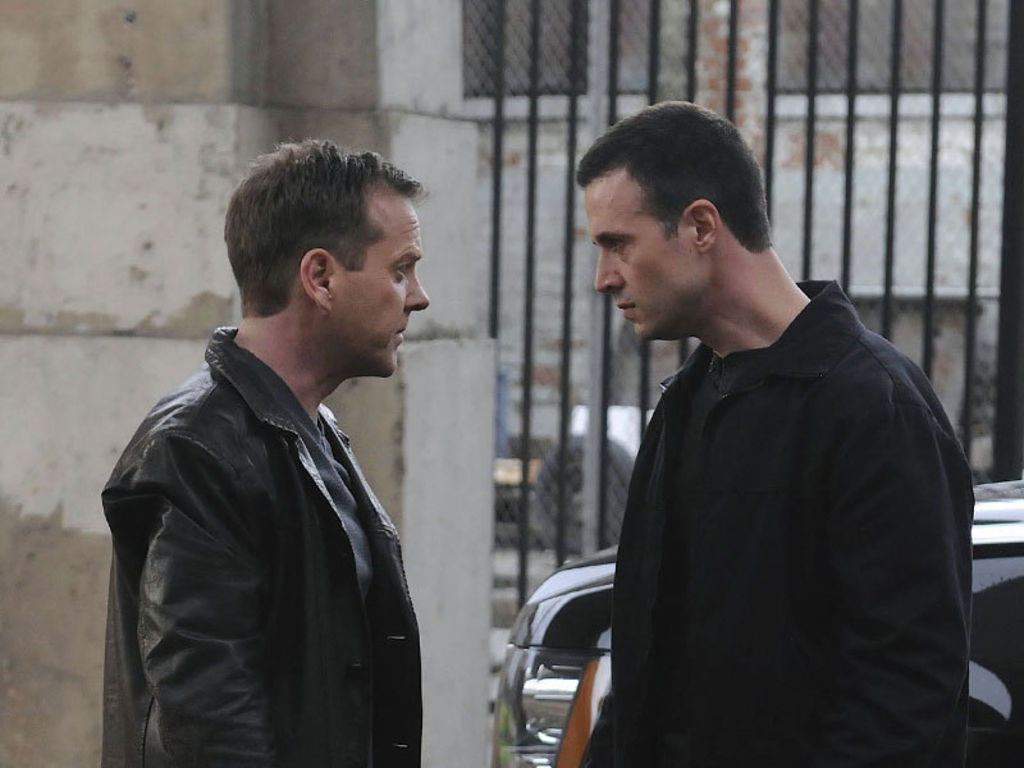 We wonder if Sutherland feels the same way? Maybe Freddie Prinze Jr. is pulling a William Shatner and stirring up controversy to revitalize his dying career. He continued, "I just wanted to quit the business after that. So, I just sort of stopped." Hmmm. Prinze, Jr. also complained about having to take his shoes off to do scenes with Sutherland, who just so happens to be a few inches shorter than the She's All That star. And we thought Mariah Carey was a diva! Sutherland, on the other hand, has said very little about Prinze, Jr., aside from the fact that he was a "great actor." 
Charlie Sheen and Chuck Lorre
The Two and a Half Men director Chuck Lorre began way back in 2011 when Charlie Sheen was in his #winning phase. Of course, it turns out he was actually #losing. Sheen made anti-semitic comments about Lorre which would ultimately get him fired from the long-running sitcom. But in 2018, the Platoon actor had a change of tune. On a radio show, he said: "I kind of poisoned the waters and I take responsibility for all of that… You know I was really stupid and juvenile and uh, [Chuck is] one of the best and the brightest that this industry has ever had the pleasure of witnessing." Sounds like Sheen is trying to get his career back on track!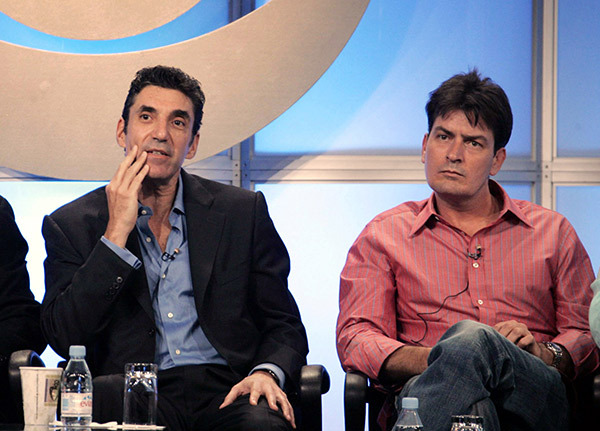 What is odd about his sudden change of heart is that only a year earlier, he blew up on The Kyle and Jackie O show, ranting that: "He's the most miserable f***ing douchebag… The most talentless f***ing sack of sh*t of f***ing stupid this side of La Brea." Right… Anyway, Chuck Lorre has shied away from commenting for a long time. However, he finally piped up recently in the hopes that he might end the drama once and for all. What he ended up saying is unlikely to do that though as it was difficult to understand: "I believe that consciousness creates the illusion of individuation... I am aware, ergo I am alone. I further believe that this existential misunderstanding is the prime motivating force for the neurotic compulsion to blot out consciousness. This explains the paradox of our culture, which celebrates the ego while simultaneously promoting its evisceration with drugs and alcohol." We guess he uh, wishes Charlie Sheen well then?
Betty White and Bea Arthur
Golden Girls stars Bea Arthur and Betty White were unlikely friends to begin with. Arthur had done her time working as a theater actor, while Betty White was more of a television girl. She was even on a game show once! There has been speculation that these differences are a part of what made Arthur so hostile towards White. In 2011, White told the press: "She was not that fond of me. She found me a pain in the neck sometimes. It was my positive attitude — and that made Bea mad sometimes. Sometimes if I was happy, she'd be furious!" She sounds like a real delight!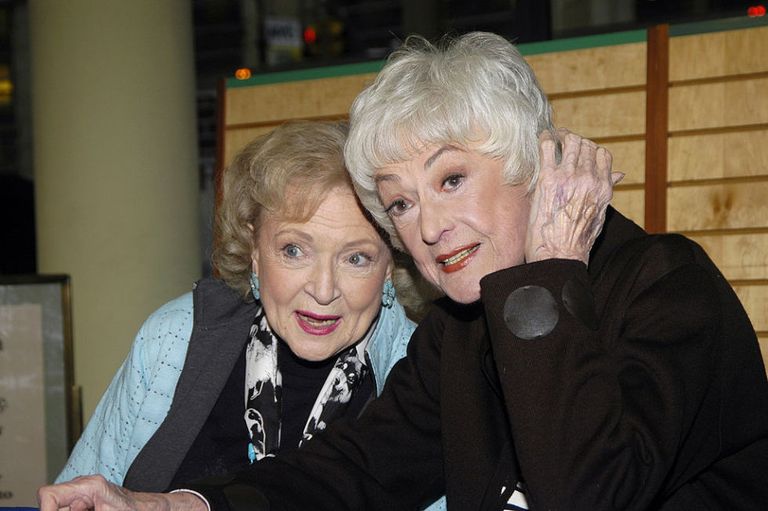 Of course, the group of women all worked extremely hard over the seven years that the show was running. White and Arthur would often commute to the studio together, and an insider source reported that Arthur would always wait for White so that they could eat lunch together. Perhaps they weren't such nemeses after all? Others have speculated that their different acting backgrounds meant that there were sometimes creative differences between the two on-set. Arthur's own son later admitted: "My mom wasn't really close to anybody. I'm not saying she was a loner, but she just liked to go home and read the paper."
Patrick Swayze and Jennifer Grey
It's difficult to believe that the Dirty Dancing and Red Dawn co-stars might not have gotten along, especially when you think about their on-screen chemistry. But Grey and Swayze are only human, and they too get sick and tired of their co-workers. Swayze wrote in his autobiography: "I was on overdrive for the whole shoot - staying up all night to do rewrites, squeezing in dance rehearsals, shooting various scenes - and was exhausted a lot of the time. I didn't have a whole lot of patience for doing multiple retakes."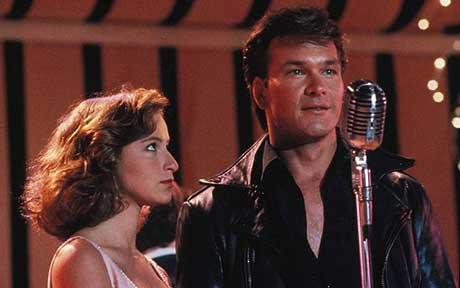 It is no real surprise then that the two actors didn't always get along like a house on fire. Swayze wrote: "We did have a few moments of friction when we were tired or after a long day of shooting. She seemed particularly emotional, sometimes bursting into tears if someone criticized her." You might even remember the scene where Johnny is stroking Baby's arm in a montage scene as they practice for the dance. Baby keeps giggling, but Johnny is getting visibly tired of her antics. It turns out that this wasn't just acting - Grey was just ticklish, and Swayze was frustrated with how long it was taking to get the scene!
Tommy Lee Jones and Jim Carrey
If you grew up during the 90s, you're bound to remember the 1995 film Batman Forever. But you might not necessarily remember it as one of the best movies you've ever seen! Tommy Lee Jones played Two-Face, and Jim Carrey was cast as The Riddler. These two were another odd pairing, as they have wildly different sensibilities. It turns out that this may be what led to their feud. When asked about it a little while back, Carrey said: "He might have been uncomfortable doing that work… That's not really his style of stuff."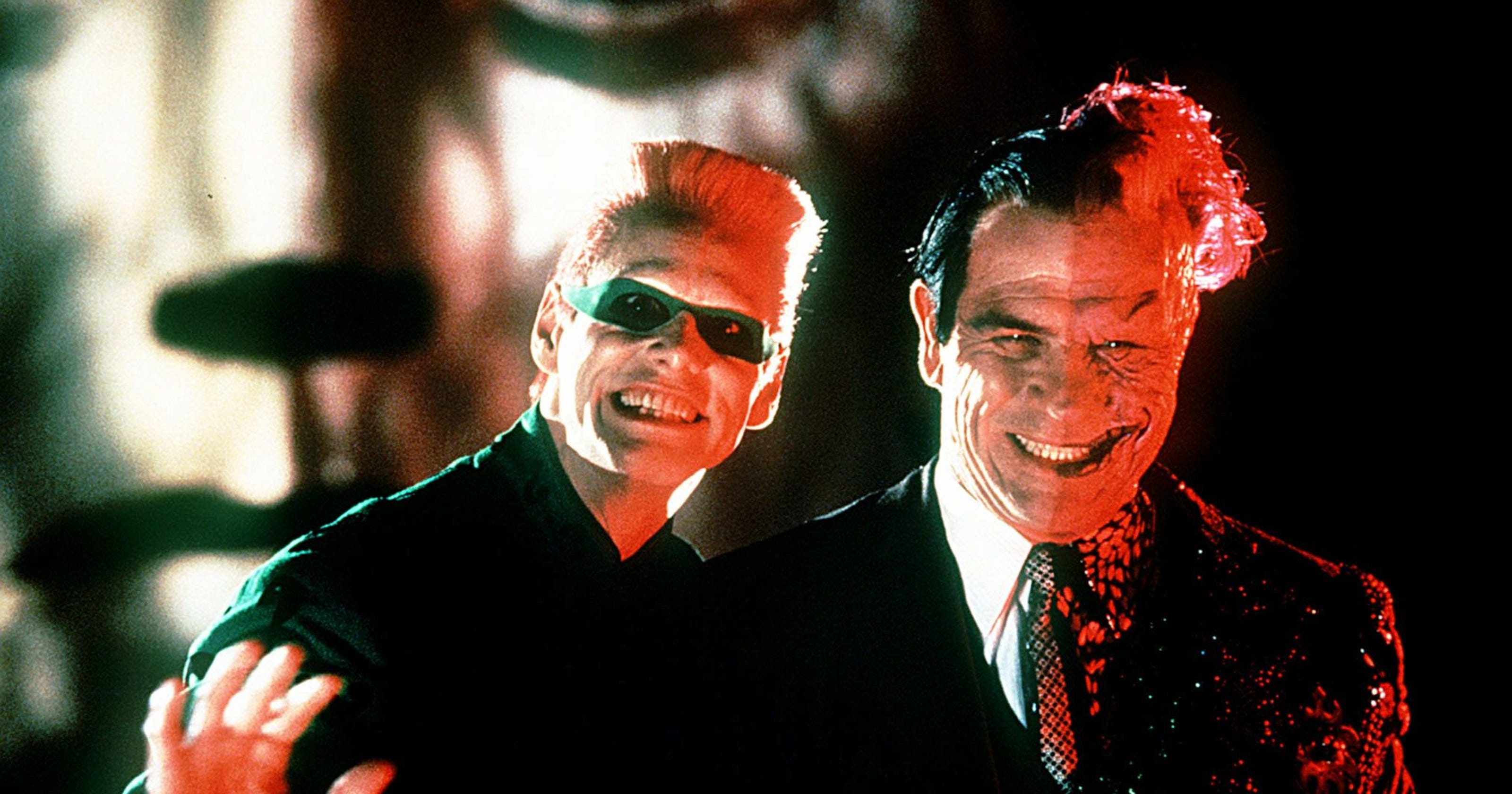 Carrey doesn't seem to hold as much of a grudge, however, which is surprising given his overbearing personality. I was the star, and that was the problem," Carrey guessed. "He's a phenomenal actor, though. I still love him." So what happened exactly? It seems that Tommy Lee Jones just wasn't a fan of Carrey's style. One night, Carrey visited his table at a restaurant they both happened to be dining at. Carrey says that he went to speak to him and asked, "'Hey Tommy, how are you doing?' And the blood just drained from his face. And he got up shaking  — he must have been in mid kill me fantasy or something like that. And he went to hug me, and he said, 'I hate you. I really don't like you.' And I said, 'What's the problem?' And pulled up a chair, which probably wasn't smart. And he said, 'I cannot sanction your buffoonery.'" Fair enough - Carrey's not for everyone!
Teri Hatcher and Marcia Cross
Everyone will remember Teri Hatcher and Marcia Cross as the BFFs from Desperate Housewives. You will remember how three of the four women from Sex and the City turned their backs on Kim Cattrall. It seems that the same thing happened with Eva Longoria, Nicollette Sheridan, and Marcia Cross, who purposefully excluded Hatcher on several occasions. Longoria once called her a "loner," and both Cross and Longoria threw fits on a Vanity Fair photoshoot because Hatcher was at the center of a photo. It's such a shame they couldn't bury the hatchet.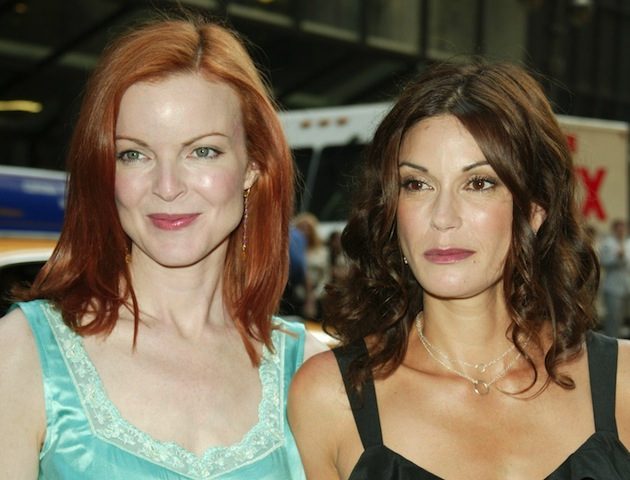 Nicolette Sheridan is said to have called Teri 'the meanest woman in the world.' Eek! The team worked together for eight years, and the original four women saw others join and leave the cast. At the end of the series, Marcia Cross organized a "goodbye gift" and decided to leave Teri's name off of the present. After leaving the series, Hatcher eventually went to Cordon Bleu in France to study cookery and get away from Hollywood. Perhaps she just needed a break from her co-stars!
Kenny Baker and Anthony Daniels
While their real names might make you go "huh?" you will certainly remember their characters. R2D2 and C3PO might have worked together closely for years, but that doesn't mean that they got along. Kenny Baker, who has played the lovable little droid R2-D2 since the first film, really isn't a fan of Anthony Daniels. Daniels, of course, plays C3PO, and Baker said of the actor that: "Once when I said hello to him he just turned his back on me and said, 'Can't you see I'm having a conversation?' I was blazing with rage." So perhaps that's where it began?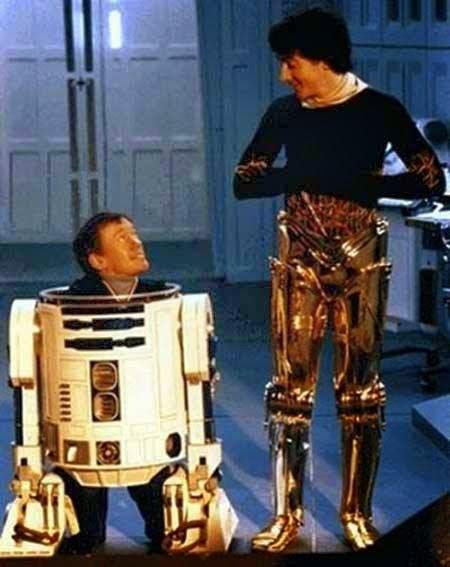 It seems that Daniels thought he was above Baker in some way. He told the Mirror: "I never saw him. I mean, R2-D2 doesn't even speak. He might as well be a bucket." Ouch! Baker has persisted with the C3PO actor, at any rate, asking him if they might make appearances at conventions together given their on-screen friendship. "He said: 'I don't do many of these conventions – go away, little man.' He really degraded me" Poor R2-D2! We had no idea that C3PO was so mean!
Bette Davis and Joan Crawford
Hoo boy, if you thought some of these contemporary actors were dramatic, you should see what Old Hollywood feuds were like. The back-and-forth- began way back in 1933, when Warner Bros. was to release comedy film "Ex-Lady." It was a big deal for Bette Davis, whose name was to be above the title for the first time. On the very same day the publicity campaign began, Joan Crawford divorced her husband, Douglas Fairbanks, Jr. and publicly announced this. The news overshadowed Davis's film, which turned out to do poorly indeed at the box office. Two years later, Crawford would go on to pull an even colder move.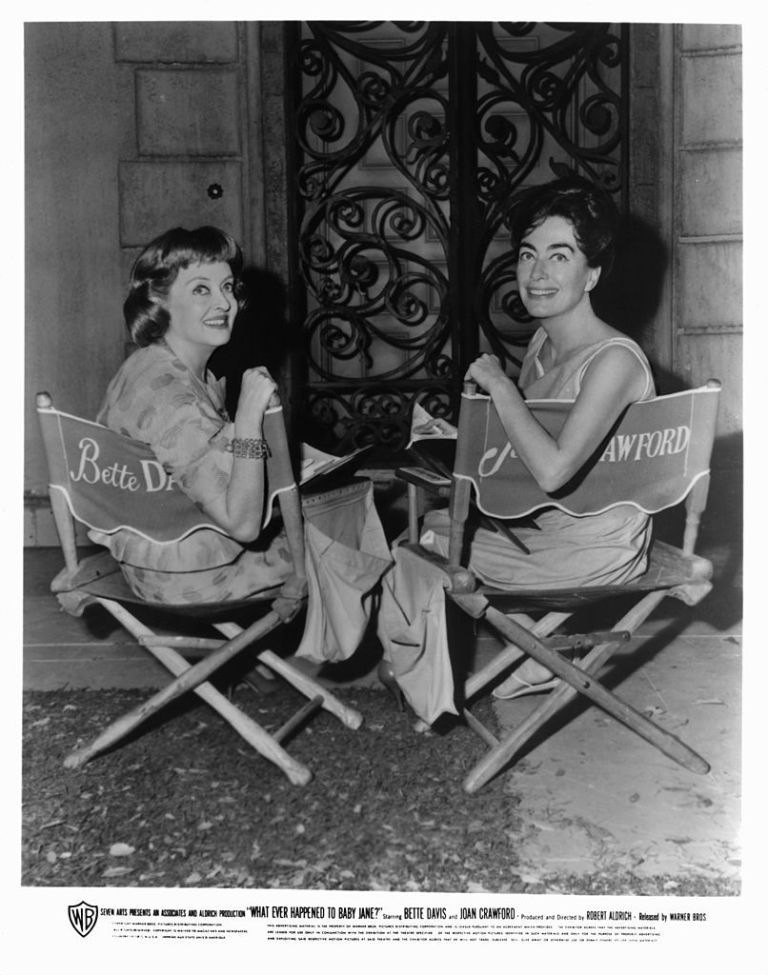 Bette Davis was working alongside actor Franchot Tone, and confessed in a later interview: "I fell in love with Franchot, professionally and privately. Everything about him reflected his elegance, from his name to his manners." During Davis and Tone's filming together, Joan Crawford was engaged to Davis's crush. It seems that Crawford must have really disliked Davis! We have also heard that Crawford also wore a lead weightlifting belt once just to spite Davis, who had to drag her out of bed for a scene. Guess she woke up on the wrong side that morning!
Dwayne Johnson and Vin Diesel
You wouldn't want to get on the bad side of either of these guys! Although in saying that, Joan Crawford would still put them to shame. Back in 2016, Dwayne 'The Rock' Johnson publically denounced an unnamed Fast and the Furious co-star. The Rock posted on Instagram, condemning other cast members for not "[conducting] themselves as stand-up men and true professionals." He also called them "chickensh*t" and "candyasses." We really wouldn't want to be on the receiving end of that.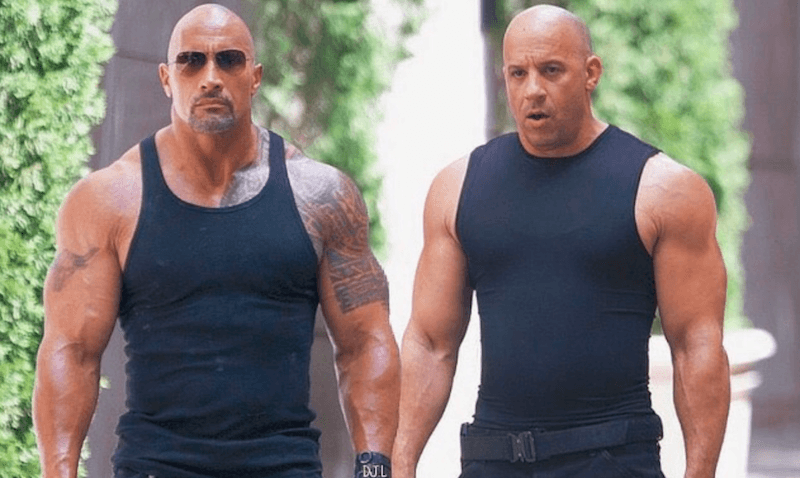 Eventually, superfans figured out that Johnson was talking about Vin Diesel. The Rock seems to have finally boiled over about something! In a Rolling Stone interview, he later attributed his frustrations to differing philosophies. But at the same time, he confirmed that he and Vin Diesel had not physically been on set at the same time. Nonetheless, Johnson noted: "I wish him all the best, and I harbor no ill will there, just because of the clarity we have… Actually, you can erase that last part about 'no ill will.' We'll just keep it with the clarity." We can smell what The Rock is cooking, and it smells uhh… confusing.
From the bold and the beautiful (Crawford and Davis, anyone?) to plain insane (Charlie Sheen, 100%), we hope you enjoyed our rundown of legendary Hollywood feuds. If you want to hear more Tinseltown talk and hot gossip from around the globe, check out our other articles.