The Hottest Behind-the-Scenes Gossip and Bloopers from "Pretty Woman"
"Pretty Woman" has got to be one of the most memorable films of all time. Back in 1990 when it was released, it drew in huge crowds for its risque storyline, and of course for the beautiful, hilarious stars that were cast in it. Julia Roberts and Richard Gere assumed the role of leading actors. They played unlikely lovebirds Vivian and Edwards, and the film is set amongst the most famous billionaires' neighborhood of all time: Beverly Hills, of course!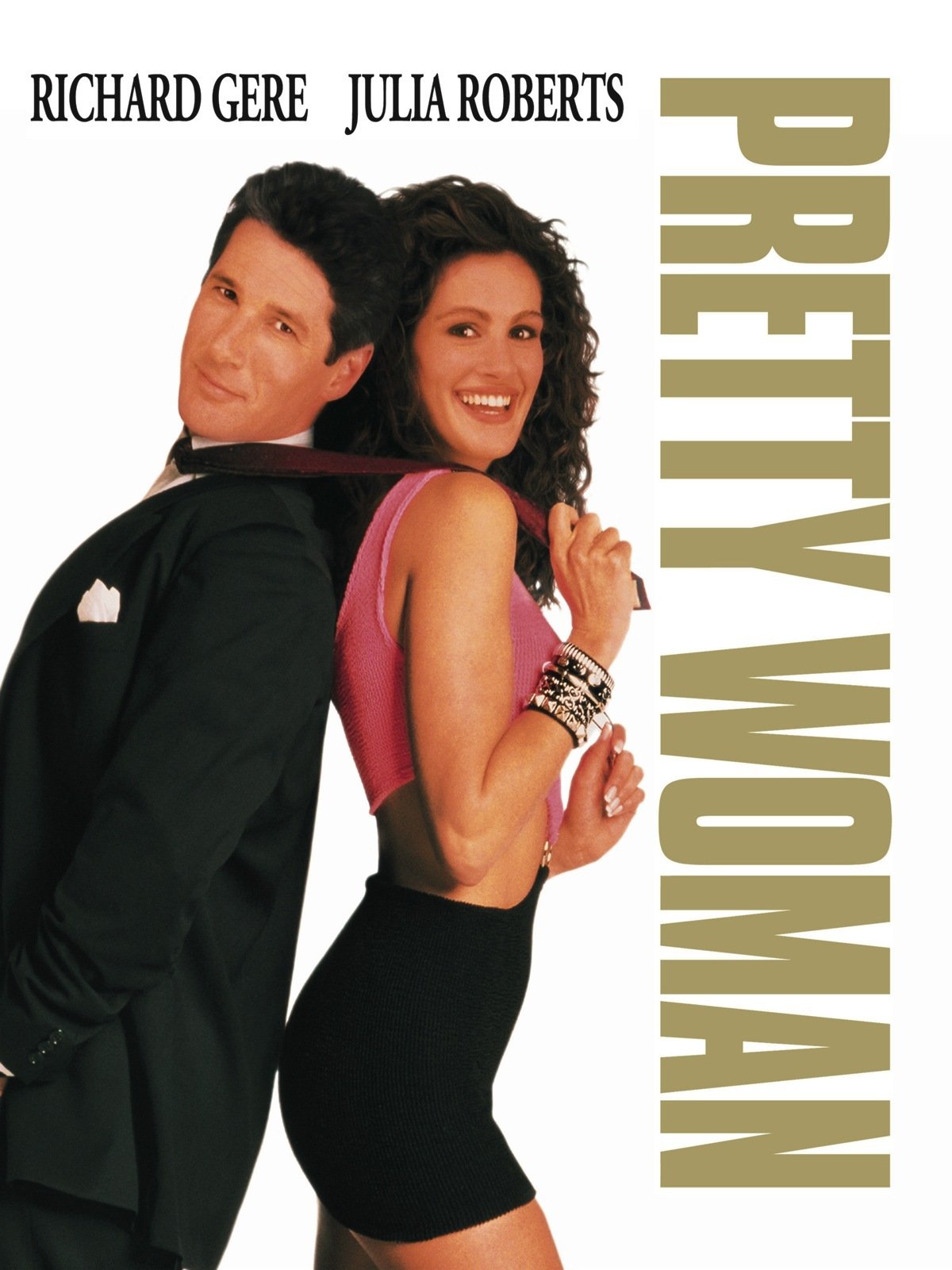 This unforgettable film launched the era of the rom-com alongside When Harry Met Sally. You know, that old film. Everyone remembers that restaurant scene with Meg Ryan and Billy Crystal! Anyway, in this article, we dive deep into the secrets and stints from behind the scenes of the former film: Pretty Woman. Find out if there will ever be a sequel, which other actresses were nearly cast as Vivian, and which parts of the film were improvised in this huge collection of photos and juicy backstories!
See Ya, Julia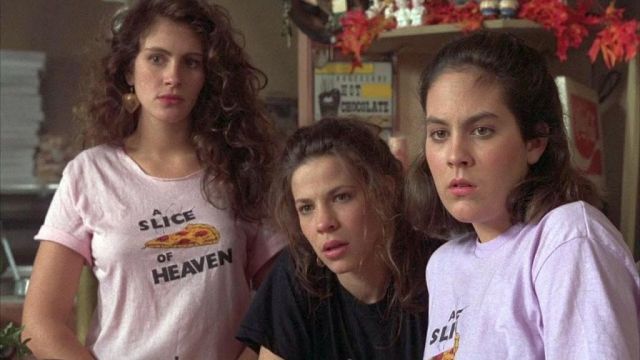 Before filming for Pretty Woman began, audiences had only seen Roberts in Mystic Pizza. It's hard to believe, but at this time she was relatively unknown by cinema fans and was not the big name star she is today. She was cast as Vivian, then lost her role when the movie rights were sold to Disney. Winona Ryder was, and Jennifer Connelly also auditioned, but Director Garry Marshall thought that they were both too young. Luckily, he decided to revert to the original cast, and Julia Roberts was back! 
A Genuine Surprise!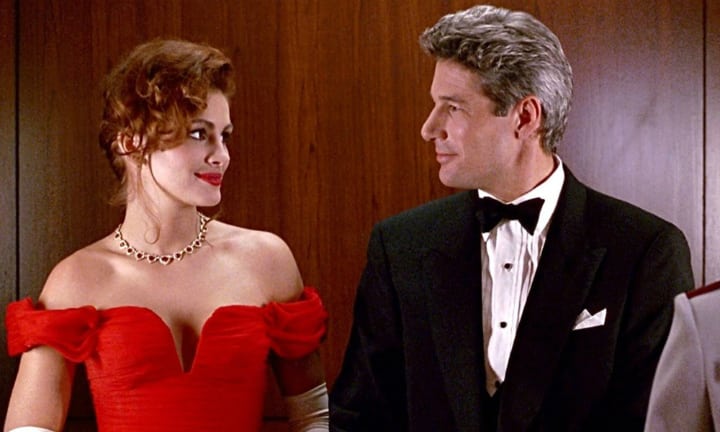 We love seeing Julia Roberts and Richard Gere's on-screen shenanigans, but the best ones of all are totally unscripted. You know that scene where Gere's character, Edward Lewis, presents Roberts' character, Vivian Ward, with a gorgeous necklace? When he opens the box, she is in awe and goes to touch the jewelry. Gere pretended to close the box as she reached out, which was totally improvised by the actor. Roberts bursts out laughing, and it is a super-sweet moment between them both!
Garry Marshall's Throwback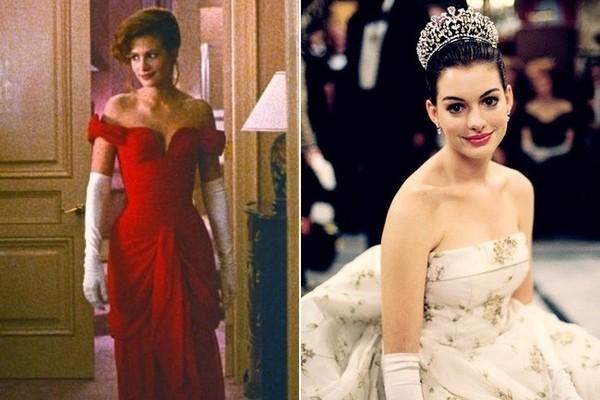 When Vivian is trying to eat escargot in the restaurant, it is her first experience eating them. She struggles with the special utensils, and the snail accidentally goes flying. The waiter catches it, smiling politely and saying: "it happens all the time." If you've ever seen The Princess Diaries, you might remember a similar scene where Mia Thermopolis calls a toast, accidentally smashing her glass with her cutlery. The very same waiter repeats the exact same line! Can you guess who directed The Princess Diaries? Yep - Garry Marshall.
The Story Behind the Red Jacket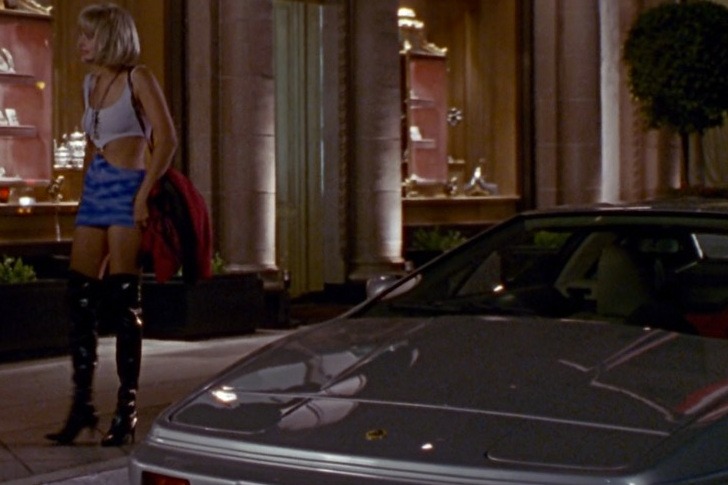 When Vivian and Edward are talking on the street, she is in her full working girl getup - fishnets, thigh-high boots, a blonde bobbed wig, and an oversized red jacket. This iconic outfit is now worn by superfans at Halloween all across the world! The costume department, unfortunately, didn't have a red jacket in their inventory. What else could they do but dash out and find one? Luckily they found a girl on the street with a red jacket, and paid her $30 cash for it!
Julia's Favourite Scene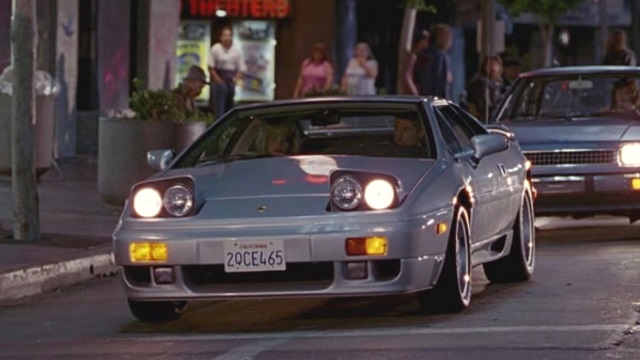 When Pretty Woman was filmed, Roberts wasn't great at driving. After all, she was only 21! The actor was nervous to get behind the wheel, especially on camera. But it ended well. She was once asked about her favorite scene in the film, and said: "I don't know, driving around in the car in Hollywood was pretty hilarious." Garry Marshall insisted that she do the driving anyway, and hilariously she was a bit of a speedster. Apparently, the cameraman couldn't keep up!
About That Necklace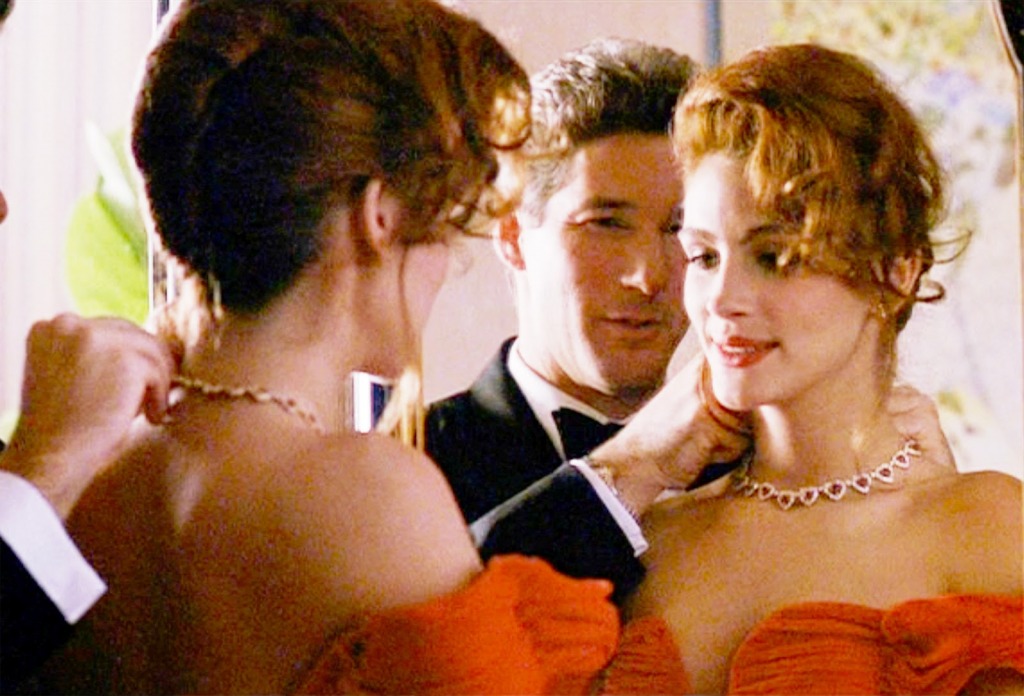 You know the one I'm talking about, right? That stunning piece that Edward gives to Vivian to wear with that red dress? Both items turned out to be very memorable, and unlike in many other films, the expensive-looking necklace was not a prop. Custom made by Fred Joaillier, the French jewelry is rumored to be worth a quarter of a million dollars. The jewelers were not going to just let a $250,000 necklace roam around on a movie set, and sent a security guard to accompany it.
The Bathtub Scene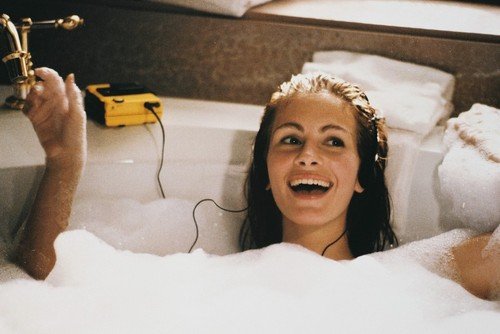 There are, of course, many off-screen antics that go on behind the scenes of a film. When Vivian is singing along to Prince in the bathtub, Edward comes in to discuss payment with her. She hears the amount and is so surprised that she dunks herself underwater. What we didn't see is that Marshall, Gere and the crew all ran off when she put her head under. When she came back up for air, they'd all disappeared!
Gere Reveals Yet Another Talent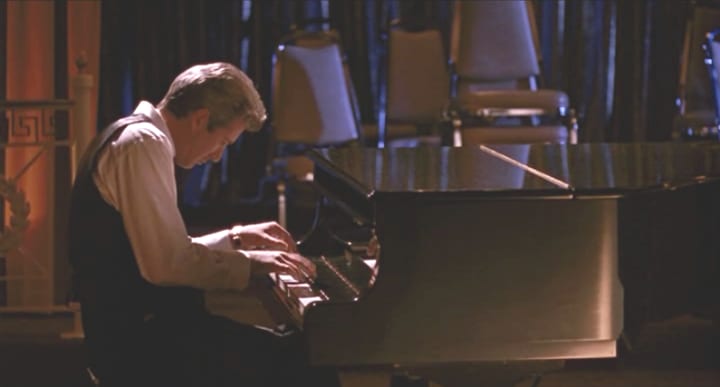 Often production teams have to find pianists when the main character is supposed to play the piano for a scene. This way they can get shots of the pianist's fingers playing. Luckily for the Pretty Woman crew, it turns out that Richard Gere is actually an excellent pianist! When he was a teenager he played the trumpet. What's more, is that the song he plays in the scene is one he composed himself. Phew!
Losing a Crown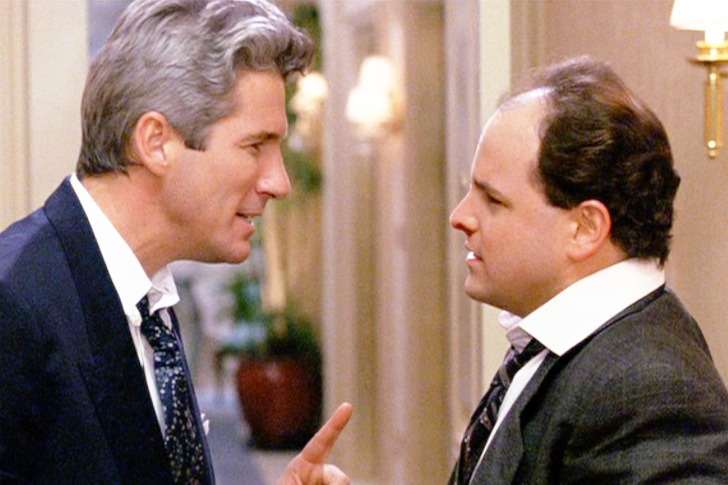 You might recall that Jason Alexander plays Philip Stuckey, Edward's lawyer. Audiences know him best from that old quintessential show about nothing: Seinfeld. Nevertheless, at one point in the film, Stuckey and Edward get into a fight. Despite the fact that the stunt-people had taught them how to fight without really fighting, the two actors got a little rough and Gere actually knocked out a crown from his teeth. Holy moly!
Making the Big Time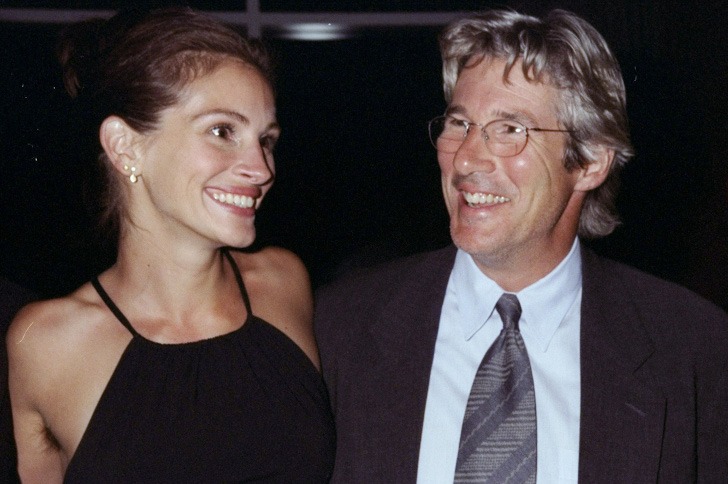 No one expected a little old $14 million dollar budget film with a basically-unknown lead actress to do phenomenally. But this movie blew these expectations right out of the water, making over 11 million at the box office in its opening weekend. It remains Disney's top-grossing R-rated film and has made a grand total of $463,406,268 worldwide. Yes, that's four hundred and sixty-three million. Don't worry, we're picking our jaws up off the floor too!
A Reference to the Opera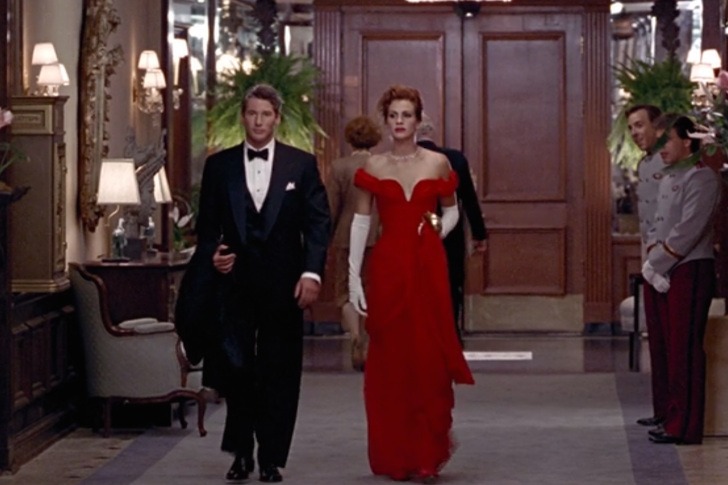 Do you remember the opera that Edward and Vivian go to see together? It is called La Traviata and is one of the most performed globally. As of the most recent season, it has been performed 151 times https://en.wikipedia.org/wiki/La_traviata. The storyline runs parallel to Pretty Woman and follows a man falling in love with a lady of the night. Unlike Pretty Woman, the opera doesn't end so well. The lady, Violetta, has tuberculosis and ends up dying in the arms of her lover, Alfredo, after singing a duet.
On Location
This blockbuster movie wasn't just filmed in one spot. The hotel that Edward and Vivian so famously frequented is the Regent Beverly Wilshere hotel, in Beverly Hills. There were also scenes recorded at L.A. film studios, and in a real-life restaurant. The Voltaire, where Roberts has the moment with the escargot, is filmed in The Cicada Club inside the Oviatt building. It was built in the late 1920s and is so grand that the forecourt alone has over 30 tonnes of glass in Rene Lalique's art deco style.
3000 Times Less Wholesome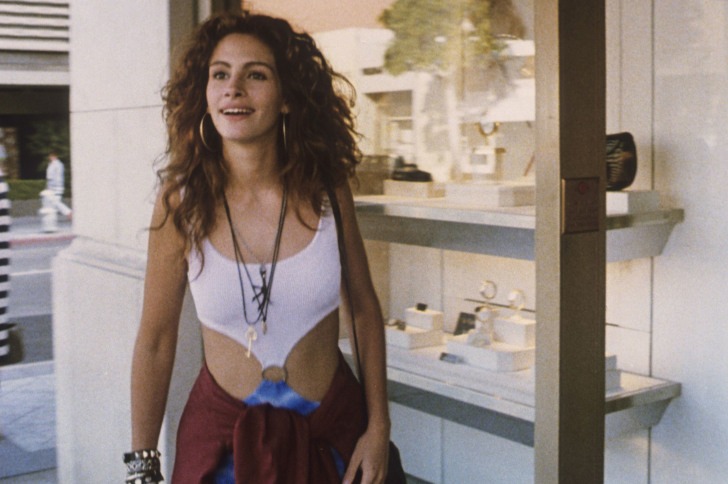 When the original script by J.F. Lawton was in its early days, it was a totally different story called "3000." Rather than being a heart-warming rom-com, the movie had some much darker adult themes. The character of Vivian had a cocaine addiction, and while she and Edward still had a relationship, it wasn't quite as wholesome. The two of them were pretty messed up, and neither got a happy ending - instead, Edward throws her out of his car! Eek!
Costume vs Studio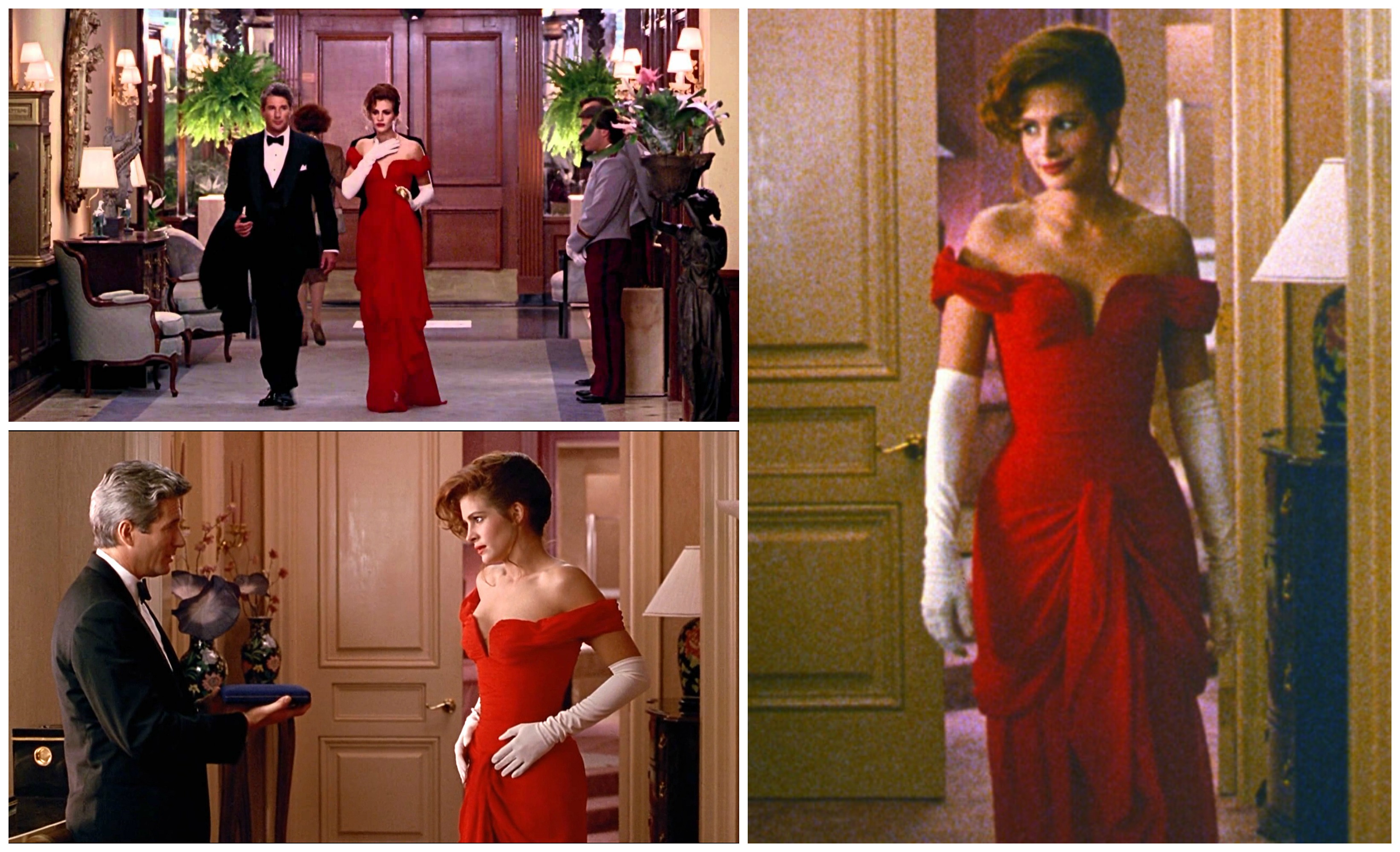 It's difficult to imagine Pretty Woman being the same without that fabulous red dress that Vivian wears to the opera. But it was nearly cast aside for a black dress! Luckily, Marilyn Vance-Straker, the costume designer, won the argument. They did screen tests and it was proven that the red dress was much more striking on-screen. Phew! It would have been a total missed opportunity otherwise.
Red Hair Running!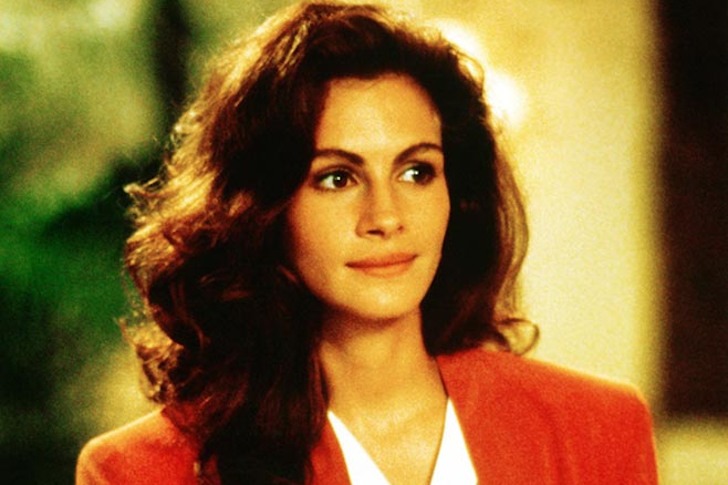 Baths in movies always look so much better than the baths we have at home! Do you know what their secret is? Laundry detergent! It just so happens that laundry detergent also strips hair color from dyed hair. And when Julia Roberts dunked her head under the water in that scene, they didn't exactly get it in one take. Unfortunately, this meant that her hair had faded, so the very next night they had to re-dye it red!
Roberts Convinced Gere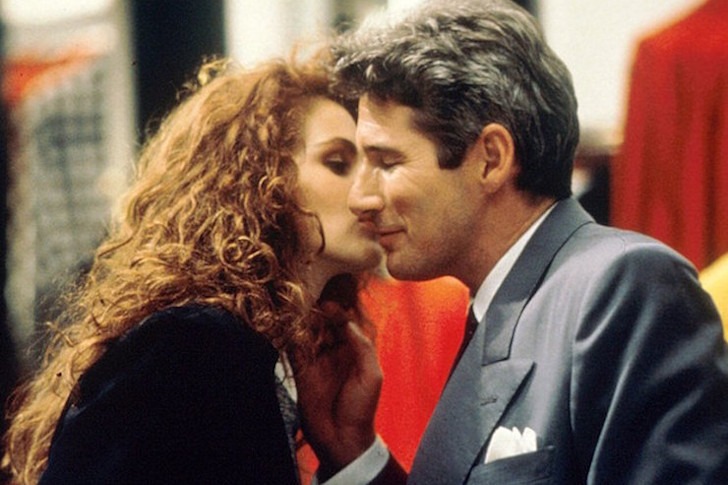 Richard Gere didn't exactly think that his character, Edward, was an upstanding guy when he first read the Pretty Woman script. He refused at first, but after meeting Julia Roberts, he became convinced. She persuaded him to get on board, and they had some immediate chemistry that you can see in some of the scenes. Especially that necklace scene where Gere improvised and Roberts cracked up laughing. Movie magic!
A Patchworked Julia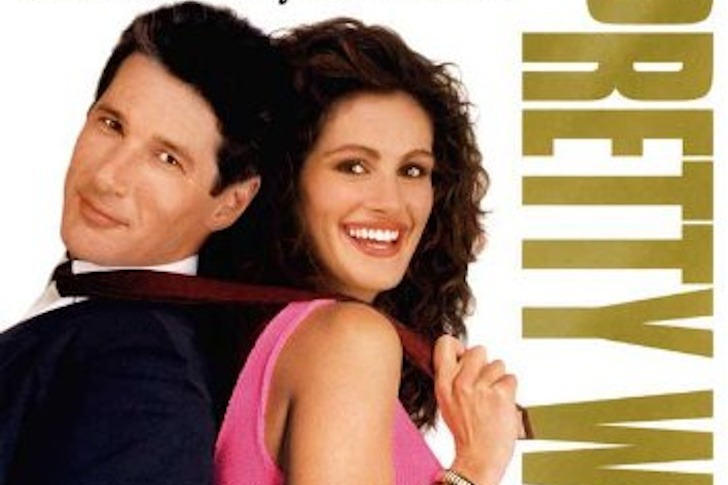 Everyone remembers Julia Roberts in that amazing red dress! She totally rocked every single outfit that the producers threw at her. Weirdly, they decided to use a body double for the film's promotional marketing. Roberts' face was obviously hers, but the legs belonged to Donna Scoggins', and the body was Shelley Michelle's. Who would have thought? We were surprised by that one too!
And the Golden Globe Goes To…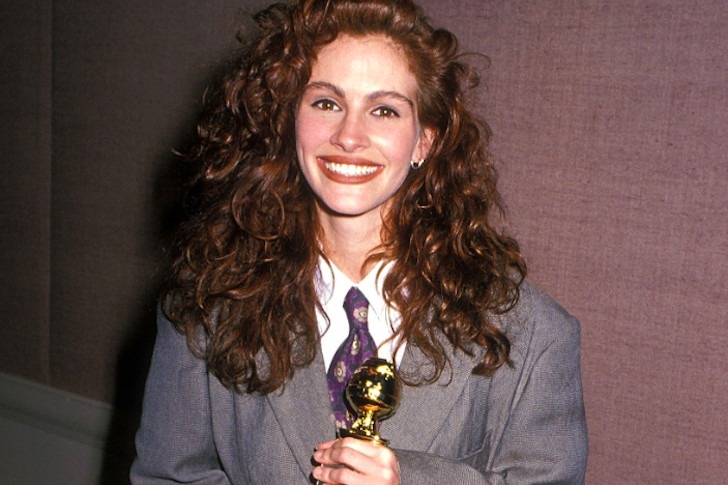 There are few romantic comedies in the history of the silver screen that have gone on to win big awards. Pretty Woman, however, was so successful that Roberts beat Meryl Streep, Demi Moore, and Mia Farrow for a Golden Globe Award! Considering that she was only 21 at the time, it's pretty impressive. Moreover, she had also won a Golden Globe Best Supporting Actress Award for Steel Magnolias the year before!
A Serious Actor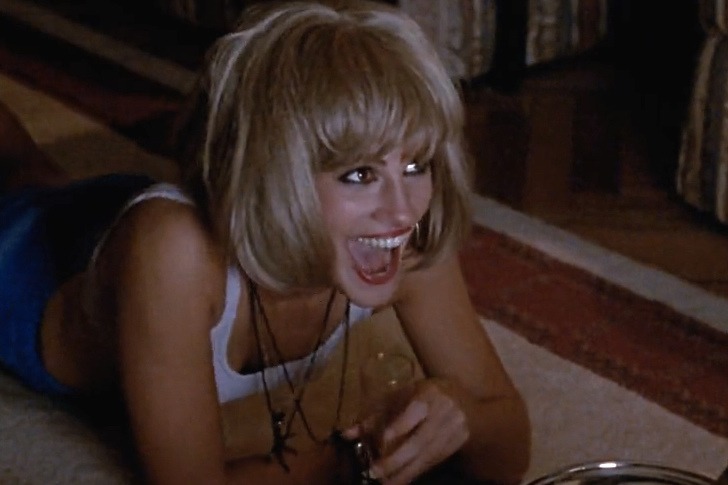 Julia Roberts is known more for her serious dramatic roles than for some of her lighter stuff, and it turns out that it is pretty hard to make her laugh. When Vivian is watching I Love Lucy in the film, her on-screen laugh just wasn't cutting it. Ever the dedicated director, Garry Marshall tickled Julia Roberts to the side of the camera while they were filming so that he could get a genuine-sounding giggle out of her!
Ach-"eewwww!"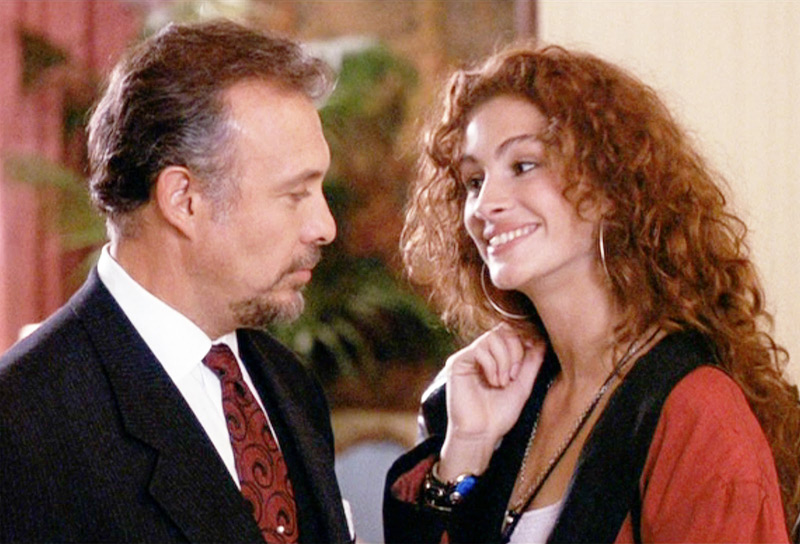 Just as the adorable necklace scene was improvised, another one of our favorite scenes was too. When Vivian is worked up talking to the manager of the hotel, they take pity on her and she is handed a handkerchief. Roberts blew her nose into it, which ended up being pretty gross when she watched the footage back. It has been said that the actor also thought it was disgusting, and had hoped it wouldn't make the final cut!
A Secret Promise
As you well know, the producers of Pretty Woman never expected it to become the high-grossing Hollywood hit that we know it as today. In Tinseltown, if a film does so spectacularly, they go on to make a sequel or two to ride the wave of the film's success. Marshall, Gere, and Roberts all made a pact to only do a sequel if all three of them could be in it. Marshall has since passed on, so we aren't like to see a sequel anytime soon.
Julia vs Molly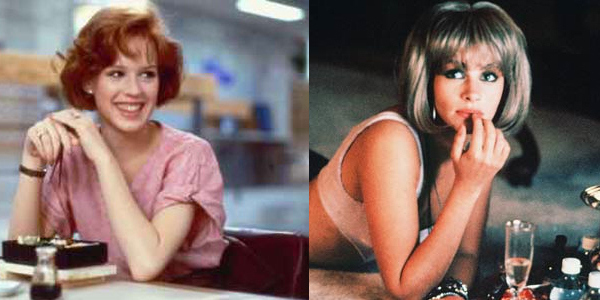 If you've seen Sixteen Candles or The Breakfast Club, you know that Molly Ringwald can act. Originally, Ringwald was asked to play the character of Vivian. The young actor was not a fan of the script at all, however, and thought it was too risque for her. Don't tell anyone, but we're secretly glad that she turned it down. Imagine how different the movie would have been without Julia Roberts!
Car Troubles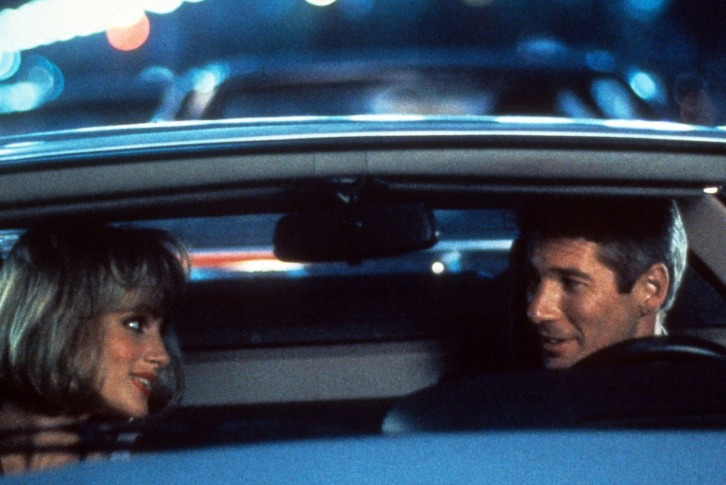 Of course, the character of Edward is well-known to be a rich, single man. He doesn't have a tight-knit family like many others his age and instead attempts to make himself happy by spending copious amounts of money. What do rich bachelors spend their money on? Sports cars! The producers had a few problems getting a luxury car company to be represented because they thought the film was too risque. Eventually, Lotus agreed, tripling their sales after the release of Pretty Woman.
You Can Be "Pretty Woman" too!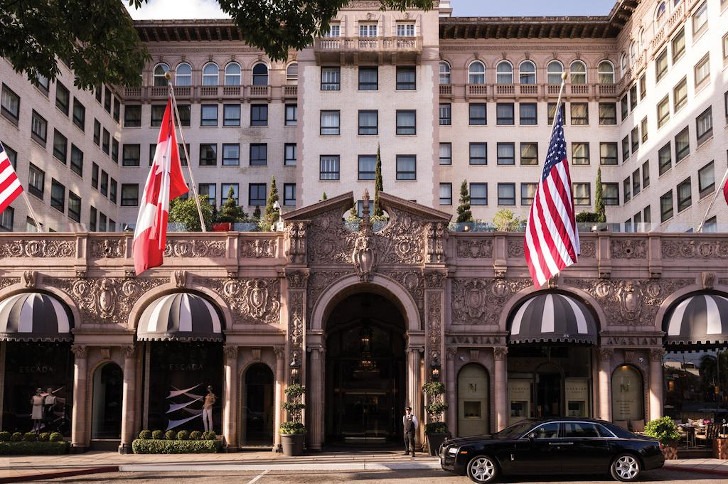 The Beverly Wilshere Hotel still exists and is a Four Seasons now. Nonetheless, there is a package deal for superfans of the film! It is rumored to cost $100,000, though, so you would have to really, really love the film. Either that or you'd need your very own Edward to treat you. But what does $100k get you? One of the most sought-after rooms in the hotel, a VIP tour of Rodeo Drive with a stylist, and personalized dining experience. Wow! As well as a Bath Butler who apparently chooses aromatherapy oils for you and draws the bath for you themselves. 
Roberts' Southern Accent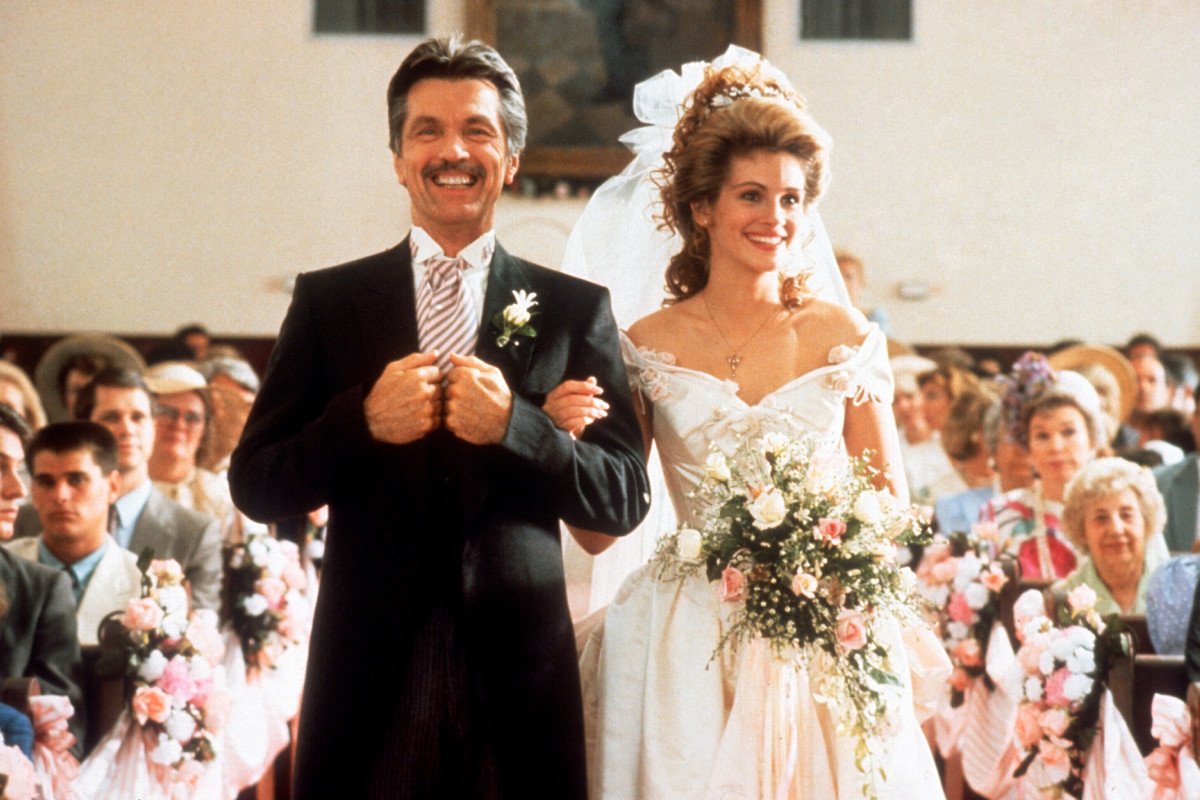 The young actor grew up in Georgia and had a hard time shaking her strong Southern accent. It had been ideal in "Steel Magnolias" because her character was Southern anyway. But it wasn't quite right for this film! Roberts was, of course, new to Tinseltown. The producers of Pretty Woman were concerned that she would sound too Southern on-screen so they added a line about Vivian hailing from Georgia! 
Gere's Hair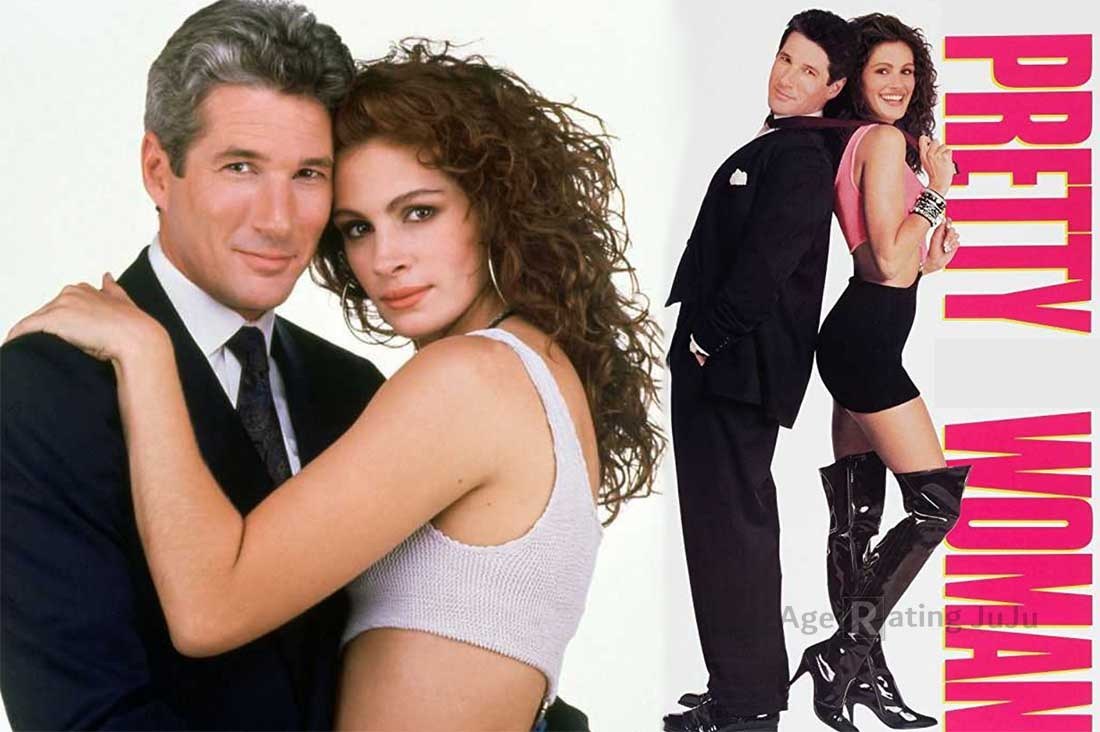 In the film, the character of Edward has that kind of silver fox charm. It turned out to be a sort of signature style for Richard Gere. But if you look at the promotional posters for the movie, there is something not quite right about his 'do! The people that retouched the images seem to have turned that salt-and-pepper look to be plain old brown hair. Seems like a strange move to us! 
Garry the Homeless Guy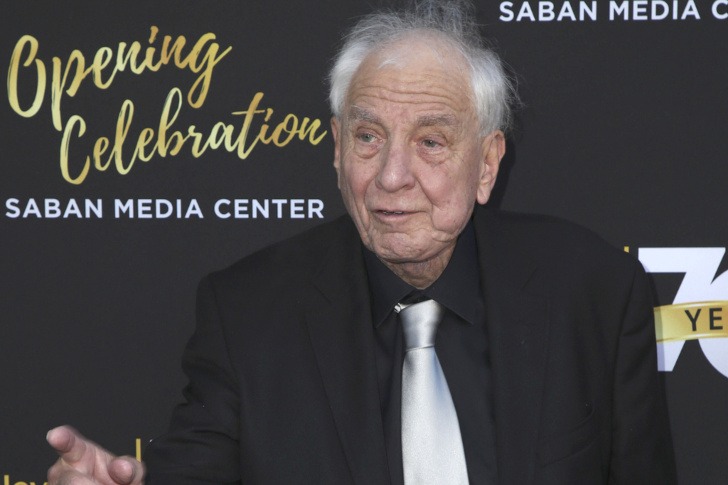 There are a few notable directors that often star in their own movies in cameo roles on a recurring basis. Both Peter Jackson (who did Lord of the Rings) and Quentin Tarantino (who did Pulp Fiction) are known for this! It turns out that Garry Marshall added his own little cameo to Pretty Woman. At one point Edward is asked for directions by a homeless fellow. Guess who he is? Yep - Garry Marshall.
Not Quite a Sequel…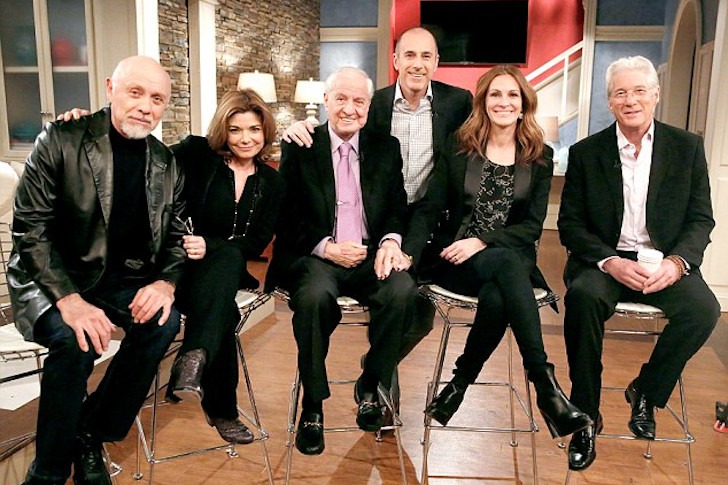 If you're feeling disheartened about there not being a sequel to Pretty Woman, you might be comforted by this news. In 1999, Runaway Bride was released. It was directed by Garry Marshall, and the two lead characters were played by (you guessed it!): Julia Roberts and Richard Gere. It came out ten years after Pretty Woman too, so is basically a ten-year-reunion! Audiences, without a doubt, loved it.
Croissant Continuity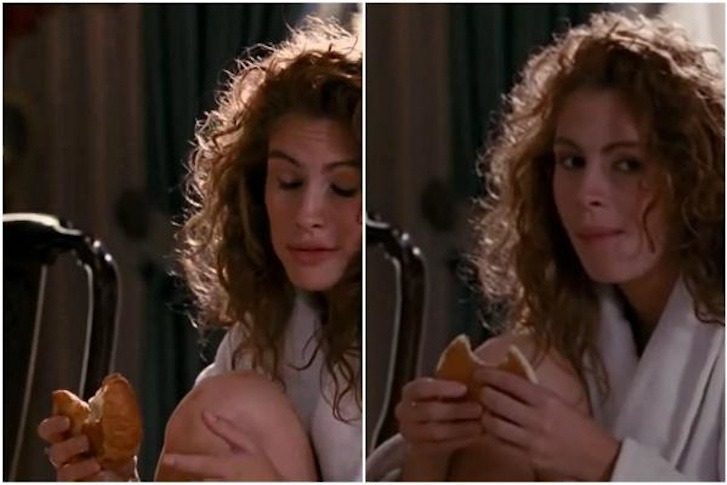 There's nothing more than cynical movie-goers love than a continuation error. They're hard to spot, but if you have an eagle eye and the patience to watch a film more than once, you're bound to spot a little glitch. There's one fairly glaring one in Pretty Woman, though, when Vivian eats a croissant with Edward. In the next shot of Roberts, her breakfast has suddenly changed to a pancake. We guess she just really wanted that croissant!
Earthquake!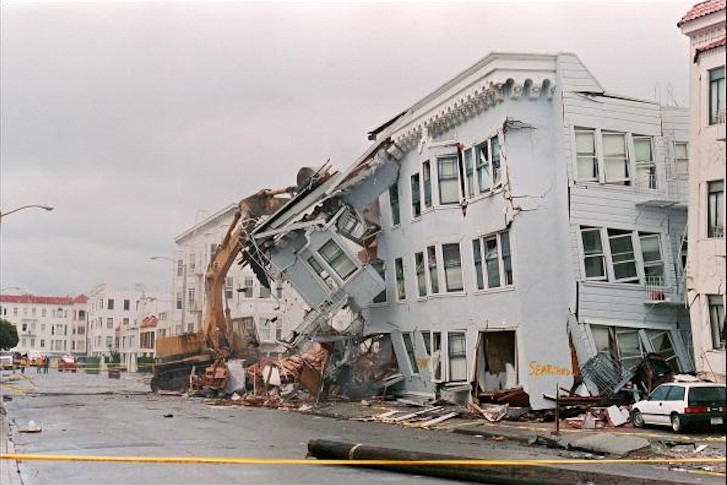 When Vivian and Edward head off to the opera, they're dressed gorgeously and are having a fabulous time. Originally the producers of the film had arranged for these scenes to be shot in San Francisco, but tragically, there was a huge earthquake in the city. It ended up causing over 5 billion dollars damage to the city, and 67 people perished in the disaster. The scene was instead shot at the UCLA History Museum.
If you loved reading about some of the on-screen antics behind the scenes of Garry Marshall's "Pretty Woman," be sure to share it with a friend. You know the motto - sharing is caring! Maybe you might even have a Richard Gere of your own to take you on the Pretty Woman experience at The Four Seasons? A girl can dream... Till then, check out some of our other articles!
Source: Editor Choice