Orphaned Baby Elephant Makes An Unlikely Friendship
Not long after this baby elephant's birth, he was sadly cast aside by his herd. With nobody to take care of him, things didn't look good for the adorable elephant calf. In the wild, elephants prosper in group situations, and being left alone can be very dangerous to the species' young. However, something came out of the blue to give the elephant a new chance to survive. At first, it wasn't exactly sure what would happen to the calf, and no one could predict the impact an unlikely bond would have on the little animal. Continue reading for a truly amazing story.
Cast Away Calf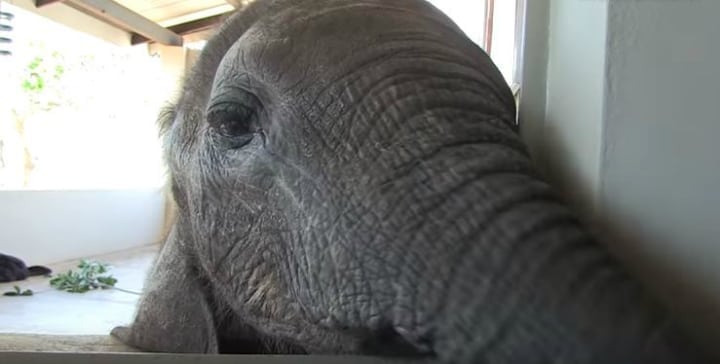 This baby elephant was found by rescuers in South Africa. It was sick and had been abandoned by its herd, so its chances of survival were slim. By a miracle, the tiny elephant had survived on its own for days, but it was in urgent need of some care and attention. The devoted team of wildlife rescuers who had found the tiny calf would give their all to get this elephant healthy and back on its feet again. But despite all their efforts, it was something completely unexpected that would end up being the best medicine.
Herd Life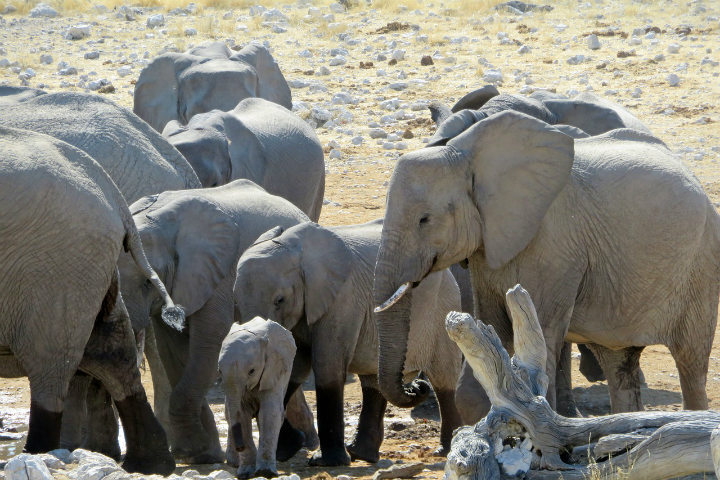 Being around other elephants would have been ideal for the baby elephant's wellbeing. Therefore, animal experts tried to reunite the calf with his herd in Hluhluwe's Bonamanzi Game Reserve. However, the experts' efforts didn't lead to the expected outcome. Sadly, the poor calf was not accepted by the herd, so it was left alone once again. At that point, the human wildlife rescuers realized something needed to be done, but the series of events that would ensue were completely unbelievable and unexpected.
Ellie The Elephant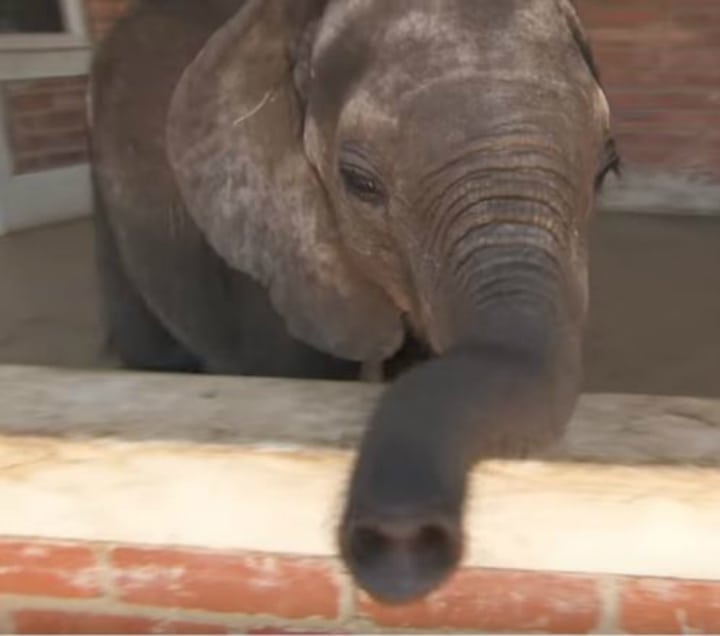 When it arrived at the Thula Thula Private Game Reserve in South Africa in 2015 to be rehabilitated, the calf was only two weeks old. Upon its arrival, the calf was given the name "Ubuntu", though it was affectionately known as Ellie. Precious little Ellie was tested as it first arrived at the rehabilitation sanctuary in the African wildlife. Animal experts and veterinarians were surprised to know the real reason the cute calf's herd had deserted him.
Fighting To Survive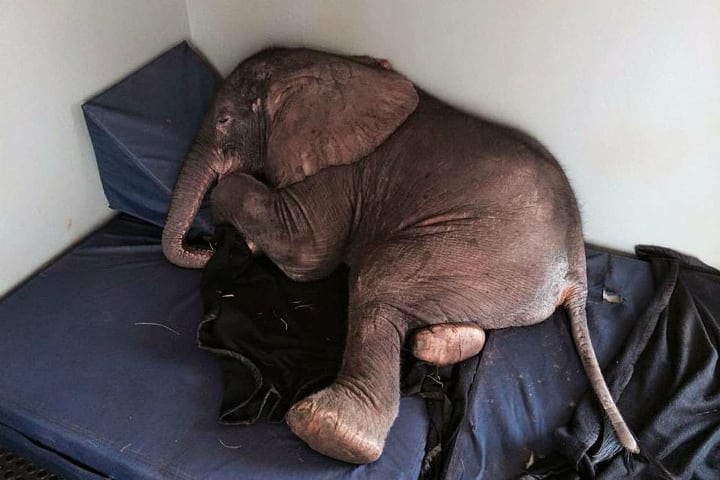 Thankfully, Ellie the elephant was found at the right time because its health was in critical condition. The little calf was fighting many debilitating ailments, including an infected umbilical hernia, which is quite a severe condition. Without medical help, the ill calf's chances of survival were slim to none. An infected hernia is so critical that it kills 99% of its sufferers. Intent on helping, Ellie's human friends were committed to doing everything in their power to help, but they were still fearful for its future.
Determined To Help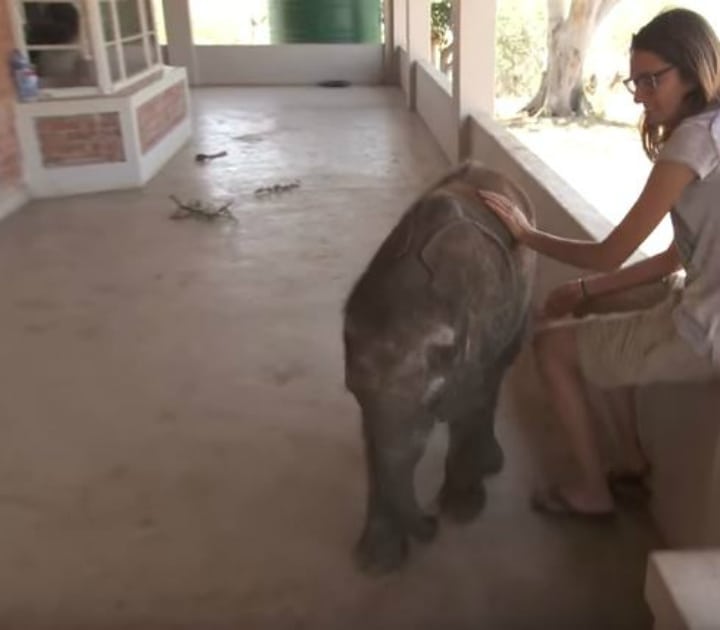 A committed team at the animal sanctuary worked at all hours of the day to try to get Ellie back to good health. Medical staff at the orphanage were present 24/7 and ensured to keep a close eye on the little calf. Aside from Ellie's life-threatening infections, there would be another problem to face concerning the elephant's system. This severe new concern forced the medical staff to be on their toes and think fast to give little Ellie a chance of survival.
Severe Symptom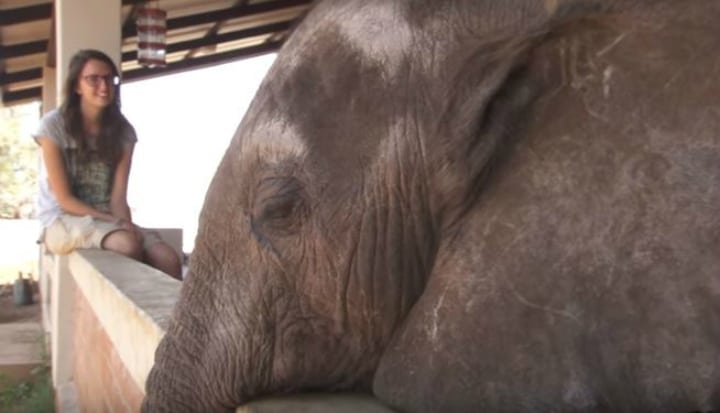 Due to the illness being so severe, the little calf would not tolerate the milk that was provided to it by the medical staff. Clearly, its life was in jeopardy as it was rejecting the food that it desperately needed to gain back strength and boost its immune system. The wildlife rehabilitation center staff attempted to feed little Ellie a range of different kinds of milk from Kenya and Zimbabwe. However, this didn't seem to work as the little calf was still rejecting them all, and the situation went from bad to worse.
Remarkable Solution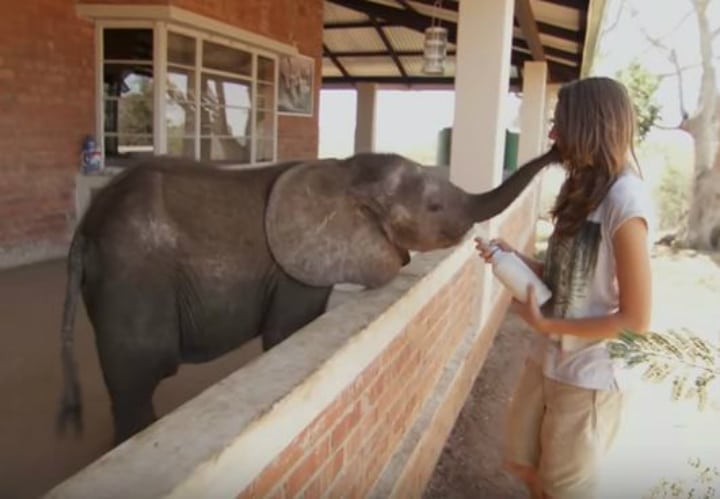 The staff then decided to prepare a special milk formula containing much-needed protein, minerals, and coconut oil for little Ellie. Thankfully, it worked, and little Ellie was finally accepting the new milk formula. As the orphaned little calf started to eat his food, his health improved, and he slowly showed signs of stabilizing. His physical health was improving, so the situation was looking better. However, his physical issues were not the only problems he was facing.
Low Spirits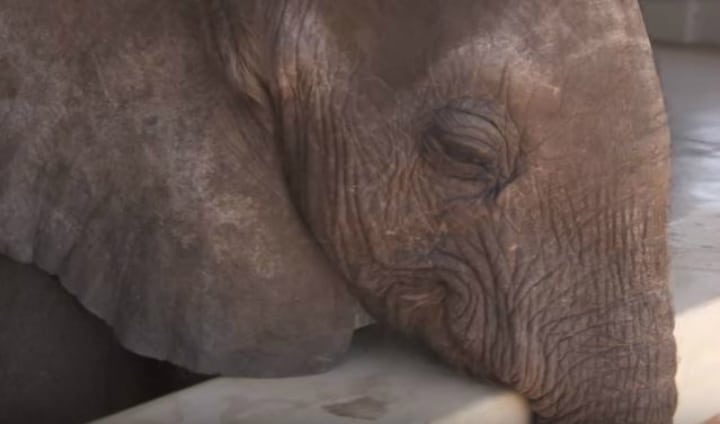 "[The elephant] was particularly weak and particularly ill," said Karen Trendler, a rehabilitation and crisis response expert taking care of Ellie at the orphanage. "He wasn't showing much interest in doing anything. He was very lethargic, very disinterested." Why was Ellie acting this way? Although he was shown much affection at the orphanage, as well as given treatment to improve his health, the little calf still looked lonely and withdrawn. That is the moment when caretakers had a breakthrough and a sad realization about little Ellie.
Emotional Trauma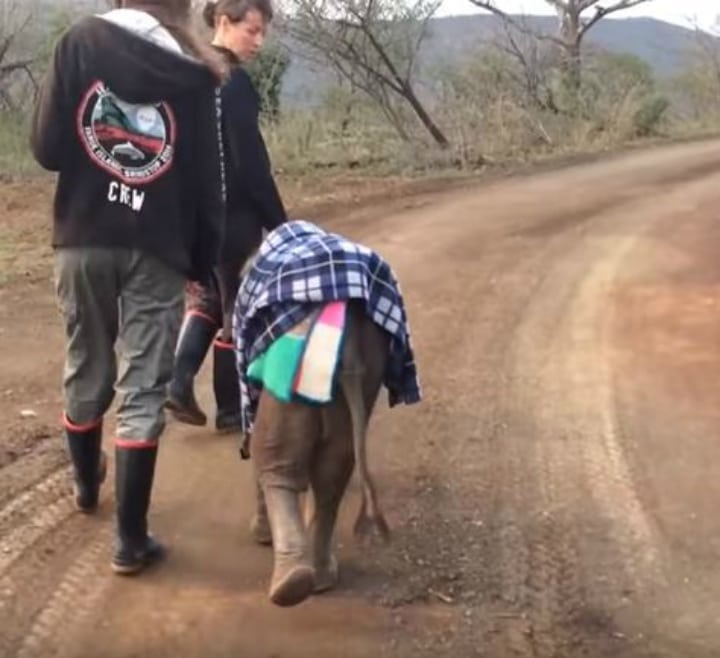 Elephants are known to be social animals that need to remain in communal bonds in the wild. After his distressing start in life, Ellie was struggling to overcome the psychological issues that he had gone through. Although his physical health was getting better, the lonely calf was having a hard time adjusting as it was without its herd. Little Ellie's psychological health was going from bad to worse. The orphanage staff, who did not want Ellie to continue suffering, came up with a solution that would end up having a life-changing impact on the orphaned baby elephant.
Shelter For Many Species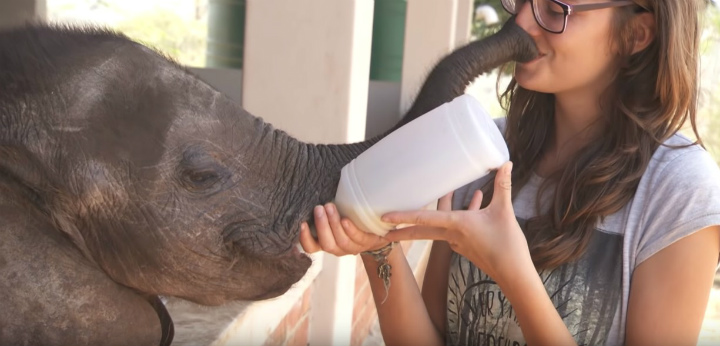 Aside from Ellie, many other animals are taken care of at The Thula Thula wildlife rehabilitation reserve. The center housed African wildlife; mainly poaching victims like rhinos in particular. However, it was also home to buffalo, leopards, giraffes, zebras, hyenas, and even crocodiles. Although there was the potential for Ellie to make friends, he didn't seem interested in mixing and mingling with the other animals. That was until Ellie formed an unlikely and exceptional bond with one special acquaintance.
Ellie And Duma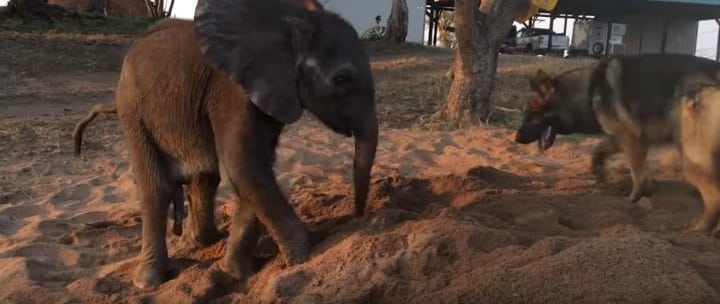 To improve little Ellie's psychological health and mental wellbeing, experts at the wildlife rehabilitation center introduced him to an adult male German shepherd who also lived among the African wildlife at the center. Duma was chosen to brighten Ellie's mood as it was known to be particularly attentive and tender towards all animals, even wild ones like elephants. Because of how severe Ellie's condition was, no one was sure how this relationship would form or progress. Would a dog and an elephant really get along?
Canine Companion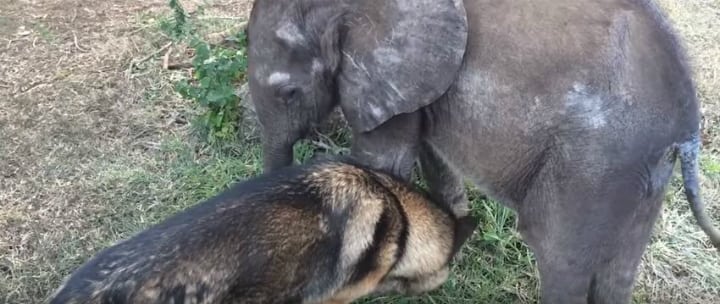 The staff was pleasantly surprised; after introducing him to Duma, Ellie's behavior seemed to change. "We introduced Duma and the elephant in the sandpile, and it immediately cheered the elephant up," said orphanage expert Karen Trendler with pure excitement. "And it also had a massive impact on the elephant in that he suddenly started getting a little bit of interest in life again," Trendler added. "And over the past few weeks, they've been growing this relationship."  But that wasn't all.
Miraculously Revitalized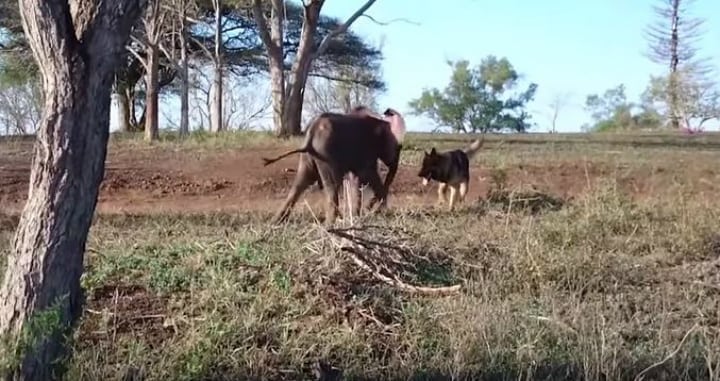 Finally, it looked like Ellie had a reason to live again. Although he wasn't entirely physically healed, Ellie's mood seemed to improve massively, and his depression seemed to disappear as the two adorable animal friends grew closer and closer. Ellie's mood was clearly getting better as it could be seen playing around with Duma in dirt mounds and sharing cute moments under the trees. Ellie even seemed to be smiling when it was with Duma! Despite all their differences, Duma also showed an unexpected heart-warming change in behavior.
Best Buddies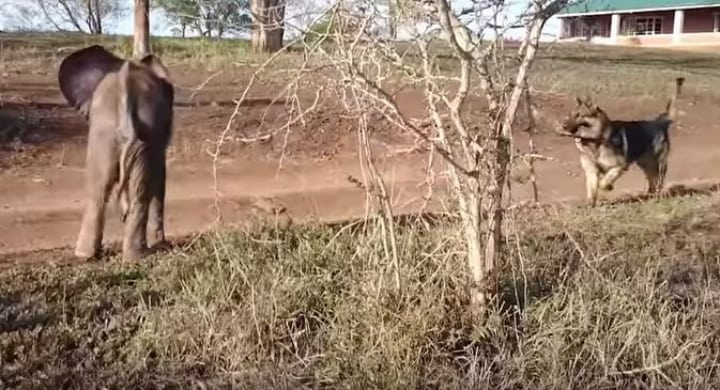 Incredibly, Duma seemed to have taken on a parental role when dealing with little Ellie. "We have a hard time keeping Duma away from the elephant. He's become incredibly protective," the animal orphanage said about the retired service dog. Duma would playfully and protectively follow Ellie wherever it went. The animals simply loved being together, and Duma would often offer the little calf sticks or a comforting nuzzle. Aside from the clear emotional and psychological benefits, this unexpected relationship also seemed to have a physical influence on the pair.
Inseparable Animal Friends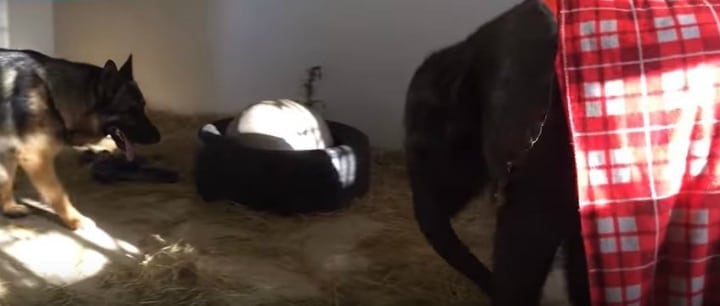 "Against all odds, this little elephant is still with us," said Trendler after the elephant and the dog became friends. For the first time since he was rescued, Ellie seemed to be happy and in a good mood thanks to Duma, his new best friend. Videos were taken of the pair playing together with their tails wagging, with both loving the other's presence. As time passed, their relationship only continued to strengthen. As Ellie was practically back to normal health, the caregivers now had to think of its future.
Safari Soul Mates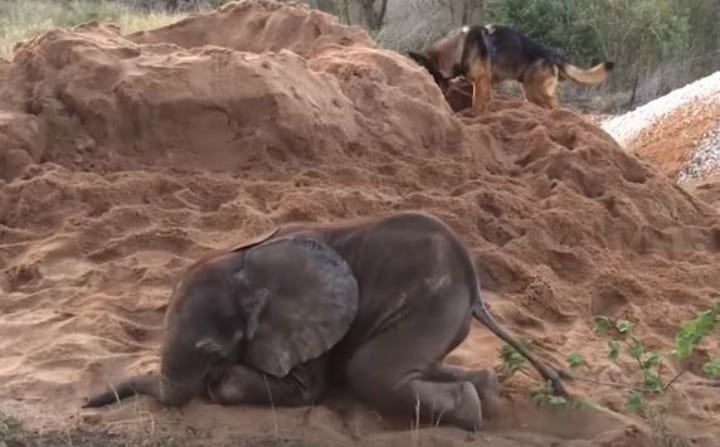 At first, caretakers and medical experts at the reserve thought about releasing Ellie from the orphanage once it was back to full strength. They would either introduce Ellie to an existing herd of wild animals or let it join other orphaned elephants. As time went on, the wildlife experts continued to think of the best way to proceed in the future. Due to the elephant's friendship and connection with Duma the German shepherd, it wasn't clear what to do with Ellie next.
Pressure Lifted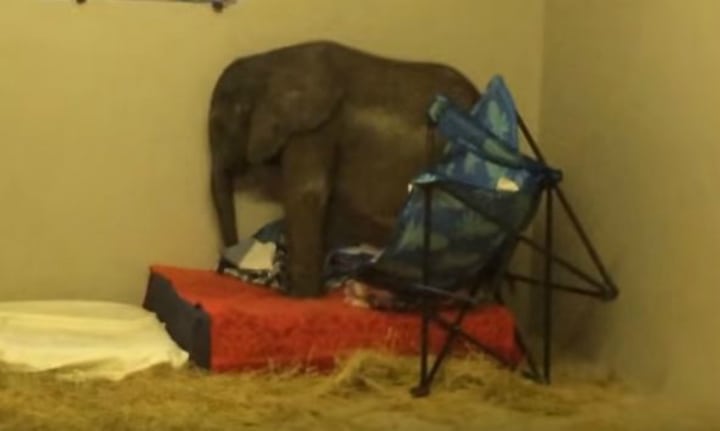 Due to the amazing bond between Ellie and Duma, the sanctuary staff did not want to rush to release Ellie into a social situation in the wild before it fully recovers. Caregivers first thought of quickly putting Ellie back into the wild to be with other elephants and join a herd. However, thanks to the care it was given by Duma, there was no rush to re-release the calf into the wild. Everything seemed to be going great until a series of events would come as a major surprise.
Turn For The Worse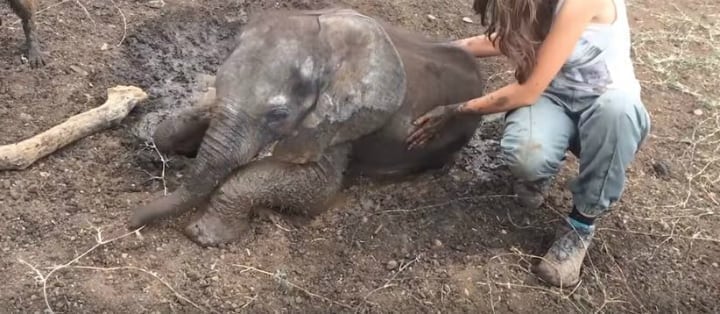 Caretakers at the center were finally more relaxed regarding Ellie's future as its health improved massively. However, an emergency would soon bring doubts about Ellie's future back in question. Suddenly, Ellie's health randomly declined in January 2016. Intent on saving poor Ellie, the caretakers requested the help of volunteers. 
Plea For Help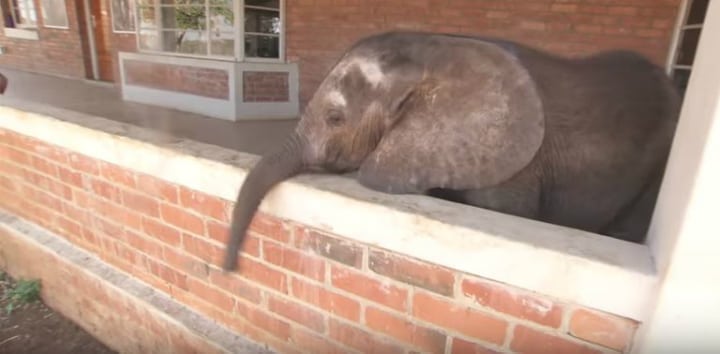 "We need to get IV colloids bought through for a collapsed elephant calf," said Karen Trendler on social media as she appealed for urgent medical assistance. The staff could not simply stand by and watch little Ellie face yet another hurdle. Even though Ellie's friendship with Duma massively improved the calf's physical and mental health, his previous septicemia infection had relapsed, and it was spreading dangerously throughout his body. Ellie was in critical condition, and it wasn't even sure if she would make it through the night.
Untimely End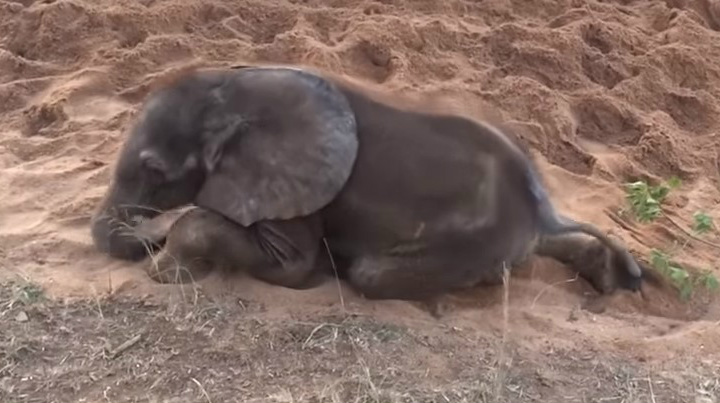 Sadly, poor little Ellie could only go on for a couple of days before he tragically lost his life. He was at the orphanage for a total of five months. Condolences kept coming in at the reserve after the sad news was announced. The poor little calf who went through so much hardship in life was remembered for being "brave and tough". But his touching story would not end here.
Free-Roaming Spirit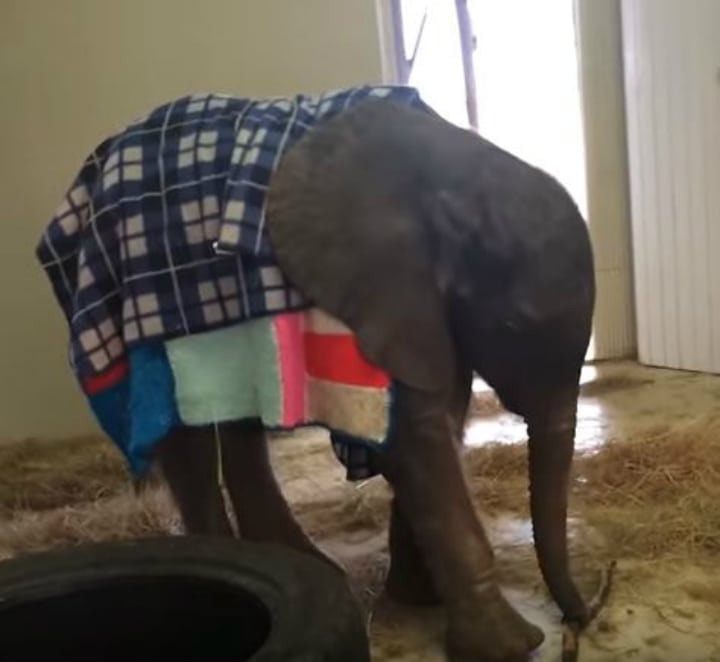 "Ellie has been returned to the wild buried in a special place at Thula where his spirit can roam with the herd," read an emotional message from the wildlife conservation organization. Deeply touched by Ellie's story, the animal sanctuary knew that their efforts were not in vain. However, the staff was still touched and overcome with "deep sadness and so many tears". They found comfort in the fact that Ellie made an amazing friend and was able to live his last days happy thanks to this sweet friendship. Ellie's legacy would live on forever.
Never Forgetting The Elephant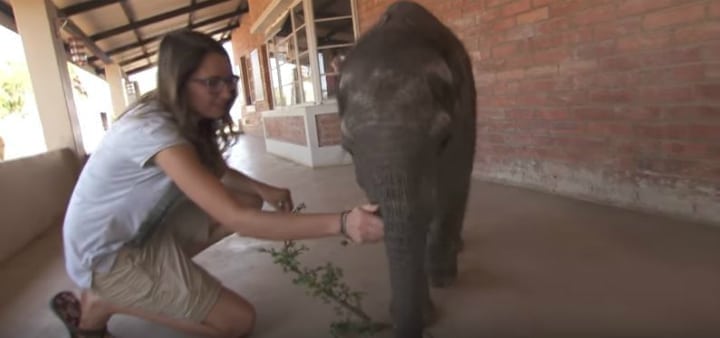 The world would have to say goodbye to Ellie at a young age, but his braveness in overcoming hurdles and the pure love he would show even in his darkest times would not be forgotten by the many fans he has gathered. Also, the adorable bond between the unlikely pair is a story that has warmed the hearts of so many, and that won't be forgotten easily. After the death of Ellie, naturally, Duma's spirits were down. However, the German shepherd quickly made a new friend and became happy again.
A New Opportunity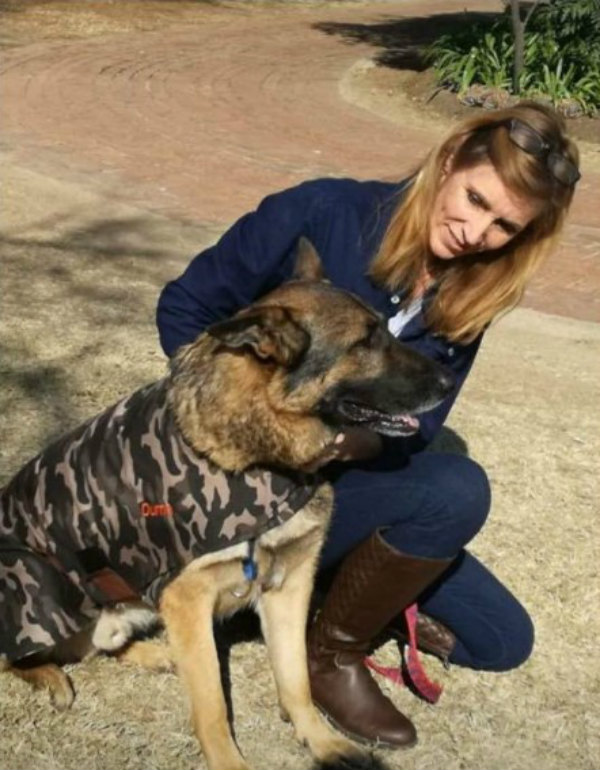 Clearly feeling a void due to the absence of Ellie, Duma put that energy into creating a bond with another baby animal at the sanctuary that also needed his spirits raised. While Ellie could never be replaced, vets introduced Duma to some new friends, and it looked like Duma would continue to be a compassionate friend, but this time, he would befriend an orphaned baby rhino.
Déjà Vu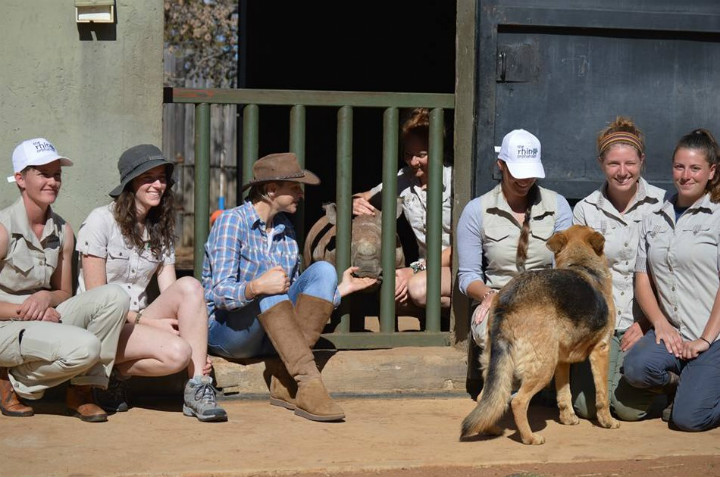 Duma started to have the reputation of being an emotional support dog at the orphanage. Having witnessed how beneficial Duma was to Ellie's life, the sanctuary staff hoped for the same results with Nandi the rhino. After a traumatic start to life, poor Nandi had to get used to living at the reserve. Poachers apparently killed the rhino's mother, and Nandi was luckily found by animal conservationists. However, it wasn't easy for her to adapt to her new life.
When Dog Meets Rhino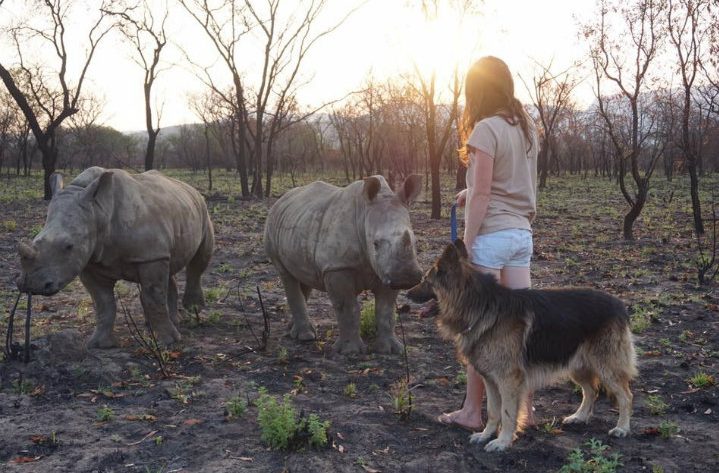 Nandi was part of an endangered species due to poaching - the black rhinos. However, Nandi was not concerned with this as she met her soon-to-be best friend Duma. Thanks to his experience in cheering up exotic animals, Duma knew exactly what to do. The playful Duma got nearer to the rhino with plenty of curiosity and energy. Then, an insanely cute moment happened as Duma offered the rhino a stuffed animal toy.
Friendly Frolicking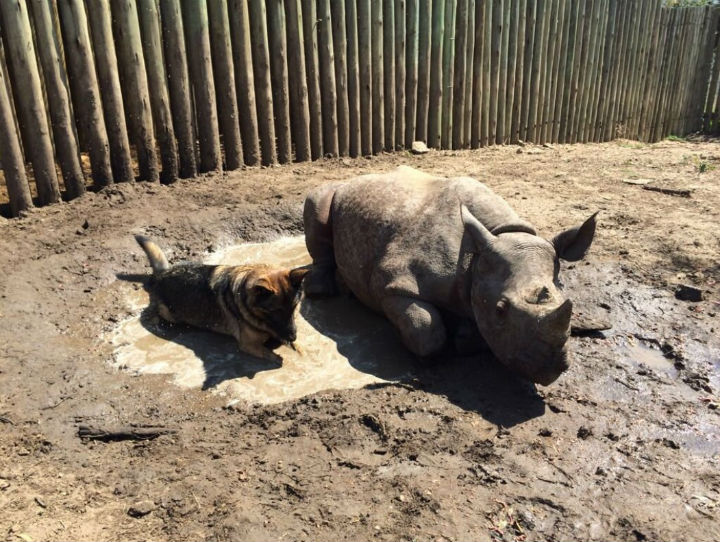 As Duma offered Nandi the toy, both their tails started to wag before they began playing with each other. An expert at cheering others up, Duma led the way and taught his new friend an intra-species game. After that, the two had clearly created a bond as they playfully chased each other around. Nandi quickly learned the game that Duma was teaching her, and as their friendship blossomed, the rhino would even start to lead the way when playing games. The two became inseparable; however, what would Nandi's future look like when it grows up?
A Perceptive Pal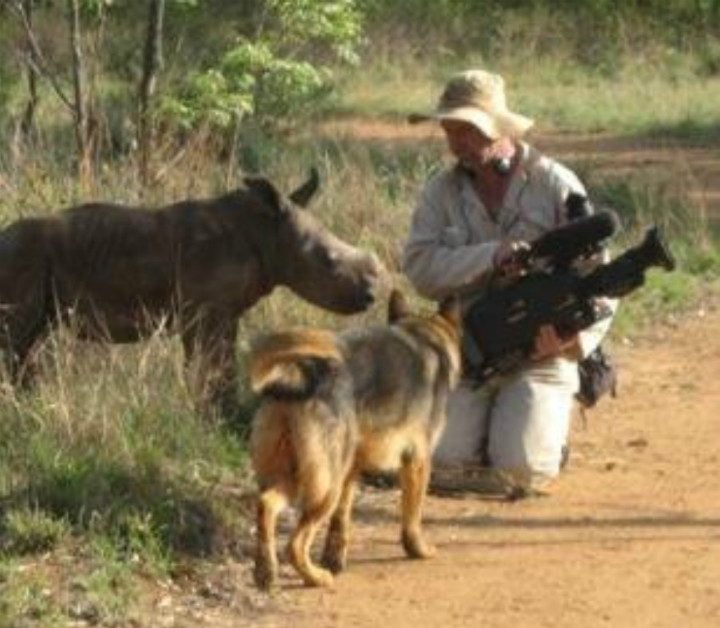 As photos and videos of the unlikely pair started to surface on the Internet, they became a viral sensation. People just couldn't get enough of their cute bond. However, their friendship also raised some concerns. People started to become concerned about Nandi's future. No one knew what she would become when she would no longer be a baby. However, the orphan was confident that Duma would know how to react to the rhino's moods, perhaps even better than humans can.
The Rhino Whisperer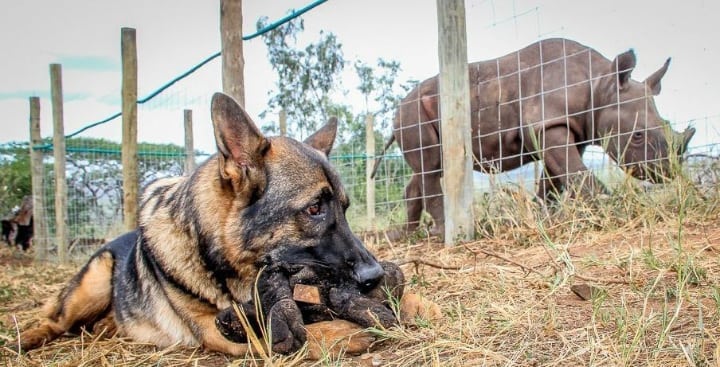 "Fortunately Duma has been reared with rhino and worked with a much larger black rhino, he is exceptional at reading their behavior and seems to know when to get out of the way," the orphanage said. "With the older rhino Duma would pick up that the rhino was going to charge even before we spotted the subtle changes." Duma was insanely talented at making new friends, cheering new animals up and raising their spirits. And while Duma created friendships with unlikely animals, such as a rhino, there are many other cases of unlikely animal friendships!
Source: Directexpose.com