30 Hilarious Employee Mistakes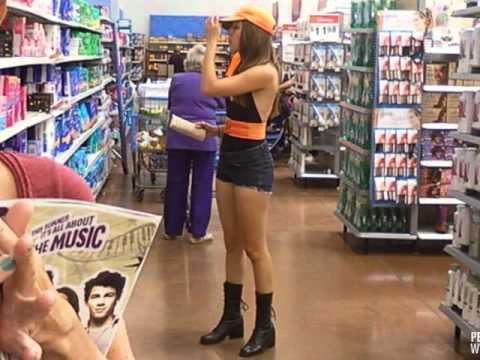 Keeping spirits up during yet another routine work week is not an easy task. It can get very repetitive and boring,  so these full-time slackers got creative to make their lives and ours just a little funnier. Some blunders may have been done on purpose, while others can be attributed to sheer stupidity. Anyway, we have rounded up the funniest employee mistakes to put a smile on your face, and to let you know that although you may not be the smartest person in the world, there is definitely worse out there.
Compare Foods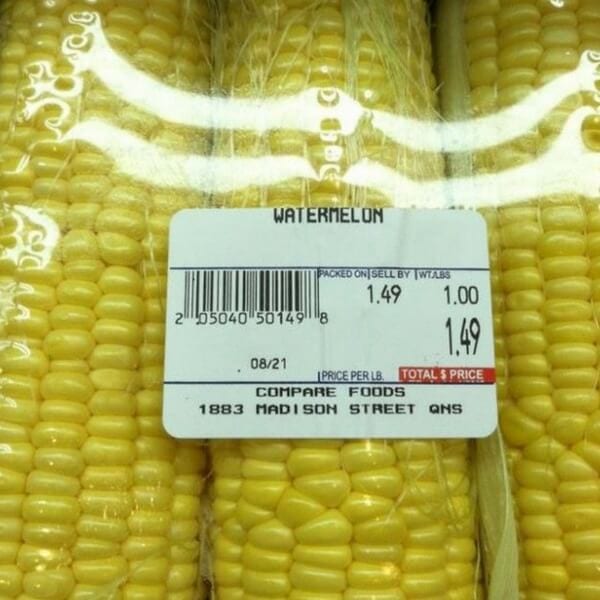 This supermarket is called Compare Foods indeed, but we don't think that the store called it that way for the employees to compare different foods they have at the store. Even if so, why would anyone want to compare corn and watermelon? If anything, it would have been a better idea to go against the famous phrase and compare apples and oranges.
Got Spirt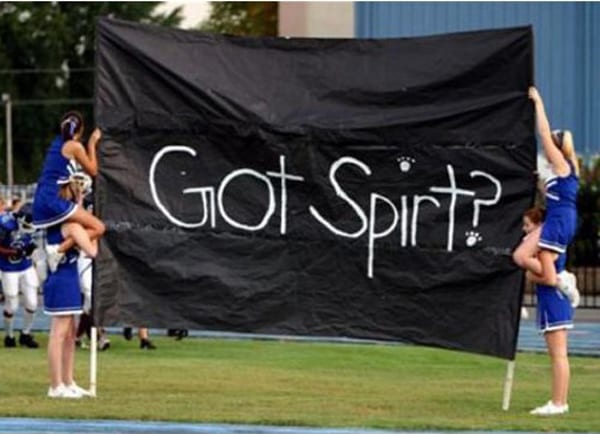 We've got spirit, yes we do, we've got spirit how 'bout you? Wait - what is spirt? This error must have been quite embarrassing for these young ladies. People already make jokes about cheerleaders not being the smartest, and this sign sure didn't help them break that stereotype. We hope that they at least got a good laugh out of it!
Snazzy Ride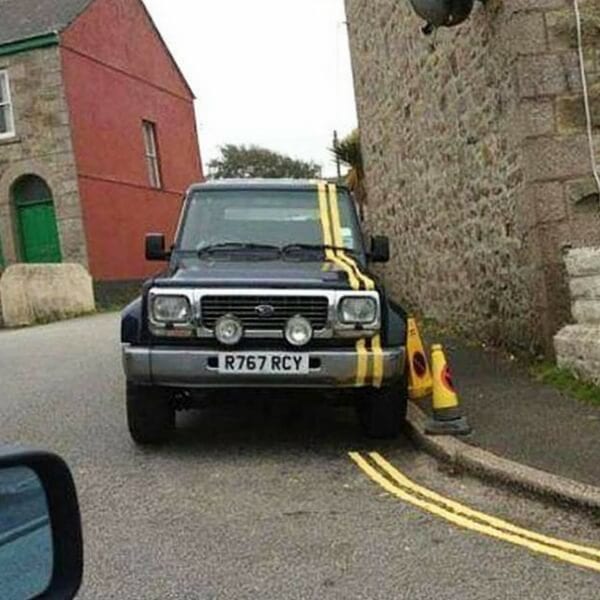 We are guessing that there must have been a sign put up overnight asking people to move their cars to be able to do the paint job the following morning. If the owner missed, or even worse, completely ignored the sign, he has no one to blame but himself. Revenge is a dish best served cold. There was no way this was an accident.
Step In - If You Dare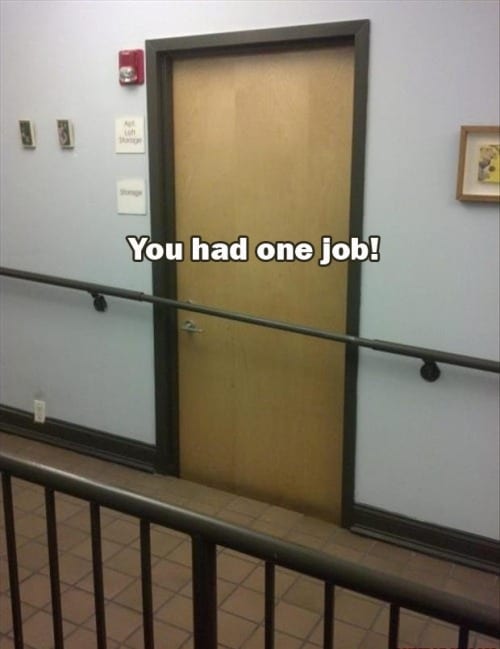 Weekly club meetings were held in an underground studio, but this was not suitable as the smell of the sewage system below reeked in. Demanding a suitable spot to meet up, the group was offered the perfect spot to become the club's official headquarters. To make the club feel at home, a not-so-bright employee placed a bar outside the door, forcing attendants to do a little exercise before entering.
The Land Down Under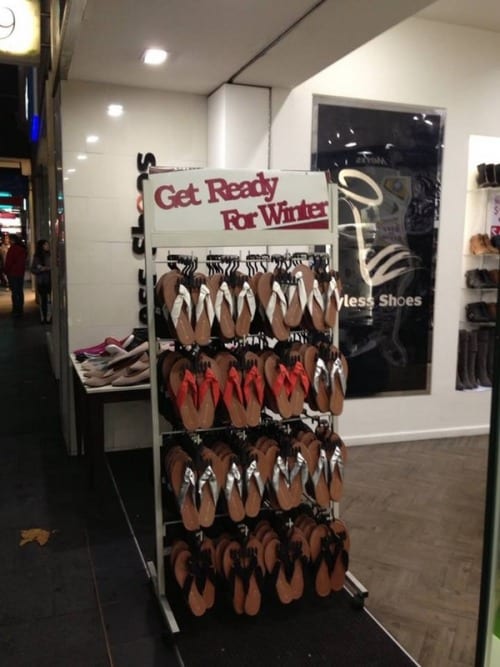 Australia and its way of living have always been looked at with a sense of bewilderment by other people. Australians, or as they call themselves, Aussies, do everything their way. Their tastebuds have become immune to the famous (and not so tasty) marmite, they've got exotic animals all over the place, and even their seasons are flipped over! As you can see in the picture, Aussies don't believe in winter shoes - unless this was the genius idea of a naughty worker who was in the mood for some laughs.
Not Colorblind Friendly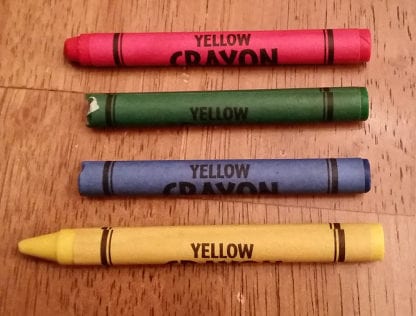 While these labels were meant to simplify our lives, and especially color blind people's lives by indicating which color it is, these misprints surely did the complete opposite. We agree, yellow is a beautiful color, but it's not the only color in the world! Perhaps this person listened to "Yellow" by Coldplay too many times. And it was all, yellow ... 
You Do The Maths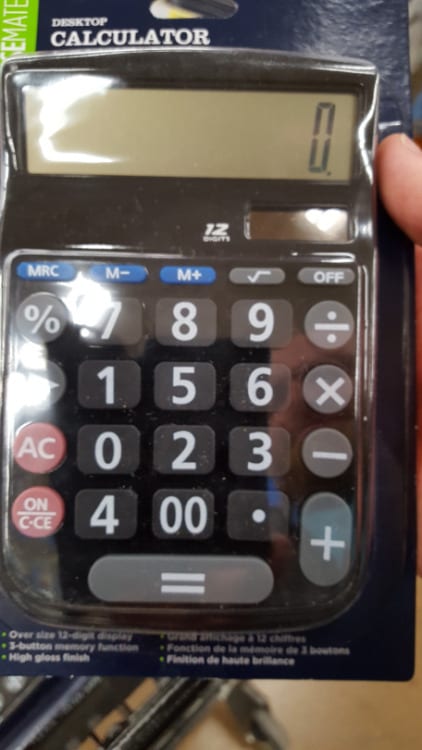 If the person who got this calculator as a kid ended up despising numbers his whole life, the way these numbers are positioned might be the reason. This numeral trauma could probably be dealt with by going to math camp (or it could become worse), but this whole issue could have been avoided if this "desktop calculator" was designed with a little more attention.
Stroke Of Genius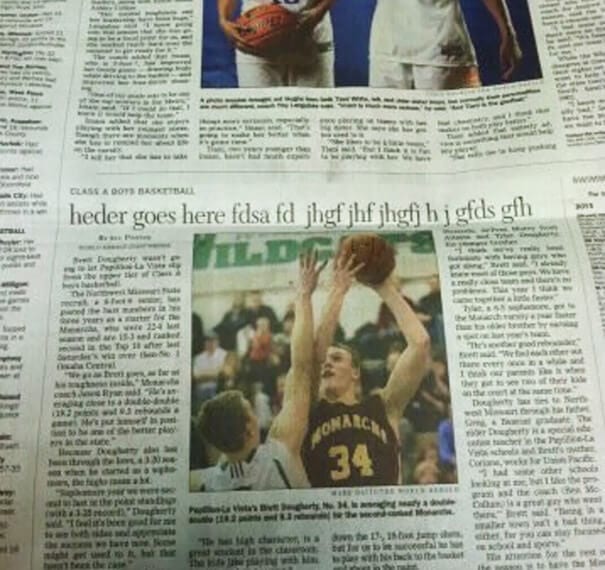 Unlike many people assume, being a writer is not an easy job. It is a job that demands great inspiration, and often, the inspiration doesn't strike, and it leaves you staring at a blank page wondering if any words are going to come to mind. The heading is often the last thing writers add to the story, and this particular writer probably planned on adding it at the end and then forgot. That's not a good look for the writer, but let's not forget that this usually goes through an editor, too. This mistake is the result of incompetence from more than one person.
Escape The Landscape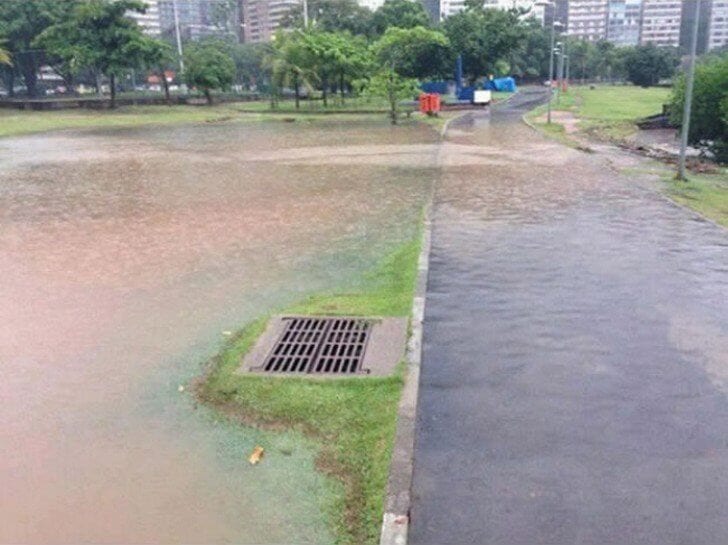 The landscape artist who designed this park, as well as the mayor of the city who should've made sure that he assigned the job to someone who has a basic idea how sewers work are to blame for this idiotic mistake. Hopefully, the sewer leveled down before more rain poured down because an error like this negatively affects all the trees and plants around. You had one job!
Confidence Is Key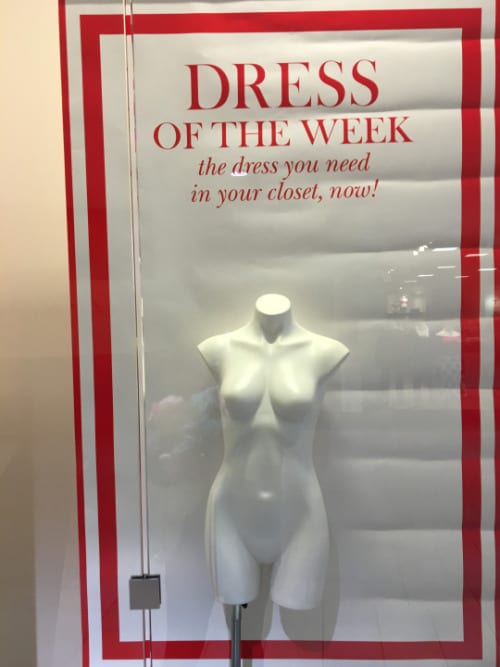 If one had to guess what this advert was trying to portray, it wouldn't be daft to assume that it was emphasizing self-worth and feeling comfortable in your own skin. The most important dress that you can possess, and "the one you need in your closet now" is the one you already have - so appreciate it! Maybe it was the work of a lazy employee, though, who may have decided to put up the mannequin and dress it up the following day.
Geography Lesson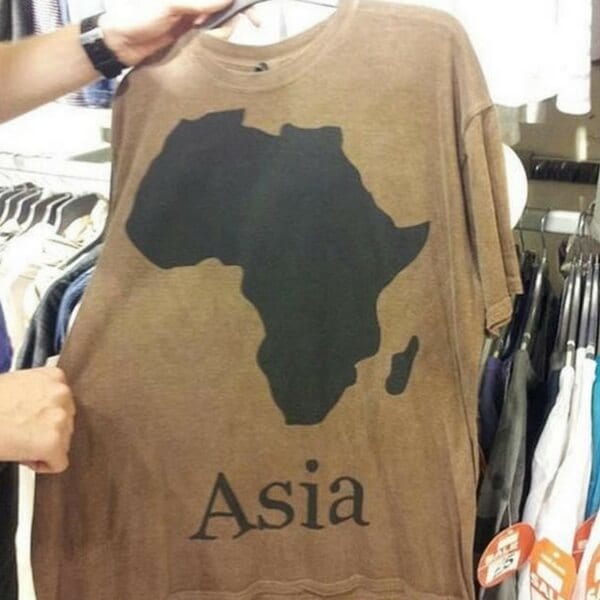 Everyone had that one geography teacher who berated the entire class for not knowing the map of the world. Well, if they had seen what one of their students had produced, it would surely bring back dark memories. This "fashion designer" could have avoided this error by simply double-checking; thankfully, the correct continent also starts with the letter A, so perhaps it could be fixed relatively easily with some fabric dye.
Way To Give Way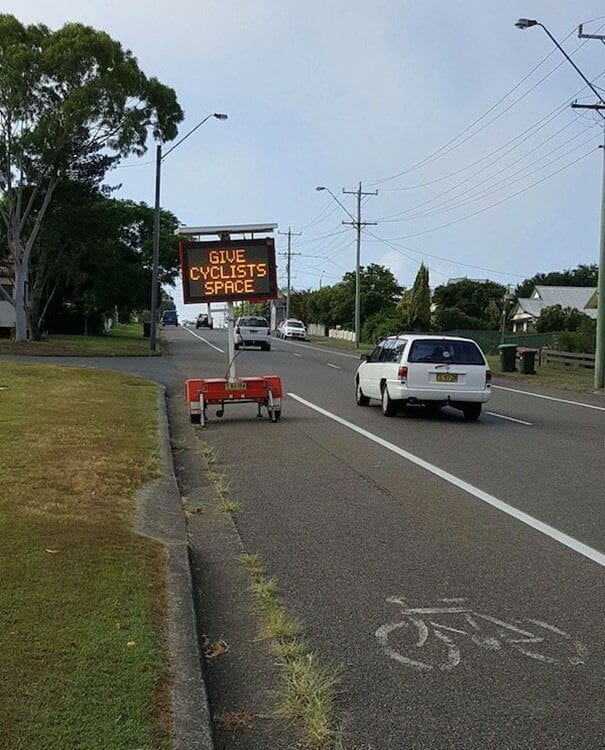 This is something you do not see every day - a sign defying its own instructions! It is hilarious that the person who placed this sign in the middle of the cycling lane completely disregarded what the sign actually indicated. Thankfully, the sign is on a cart with wheels, so it should be easy to move, but only after causing laughter on the road for anyone that is not a cyclist.
Workaholics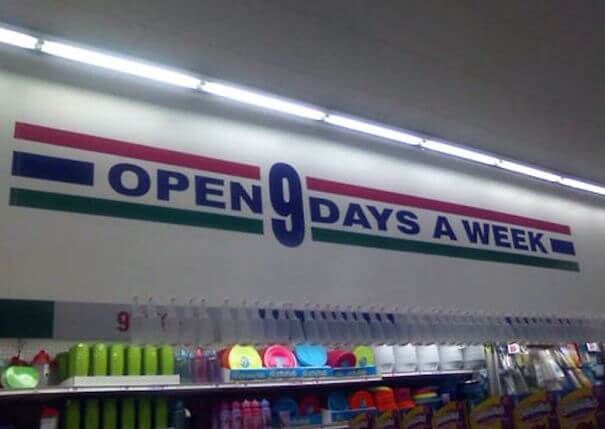 The last time we checked, a day only consisted of seven days, so we are not sure how those working at this store live their lives. Perhaps the employees didn't have a stencil for the number seven, so they decided that the number nine would do just fine and that it would even make customers laugh a little. If anything, perhaps this store was emphasizing that it simply ALWAYS open. And at the end of the day, it may even bring in business by people who find it funny.
Trick Or Treat?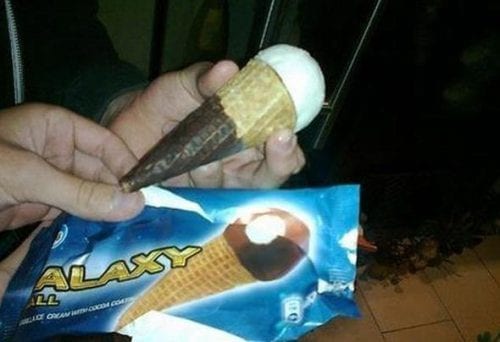 Aside from the fact that it is nearly impossible to eat this ice cream without getting chocolate all over your fingers, this employee went one step further by dipping the cone with chocolate instead of on top of the ice cream. If this was done during Halloween, hats off to whoever gave this to an unsuspecting kid, as they managed to provide both a trick and a treat all at once. That's not an easy task to pull off.
Spot The Rebel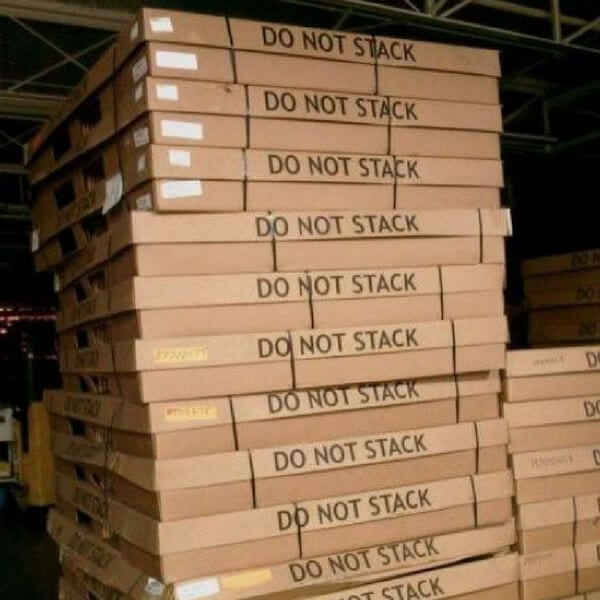 With their large bold font, the instructions on these boxes could not be more precise. So, there is surely no way that the rebel who decided to defy the instructions did so by mistake. We are guessing that this may be the genius idea of someone who was desperate to lose their job but was unable to simply go to the HR office and hand in their resignation. We hope that it worked out for them.
BBQ Mixup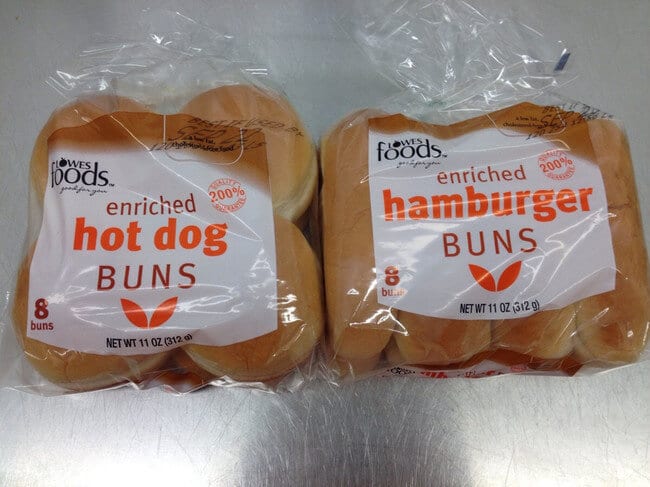 Culinary tastes vary widely from country to country, sometimes to a drastic extent. These can be due to ethnic differences, but also due to different climates and what grows in the country. But if there's one thing that anyone is likely to know, it is which type of BBQ meat is meant to go in which particular bun. I mean, the shape sort of gives it away, doesn't it? How in the world could anyone confuse these two?
Control The Volume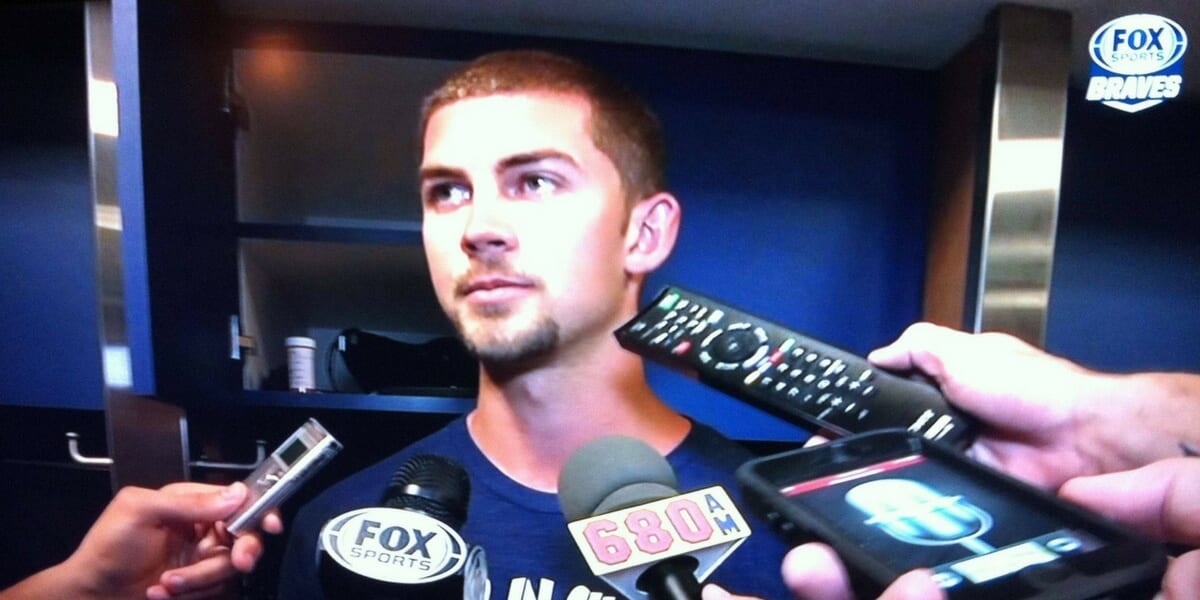 Modern-day technology can sometimes be quite complicated, and not everyone understands it properly. But because we live in a time where just about every person in the first world has a smartphone, it's hard to excuse someone attempting to record a sportsman with a remote control. However, it must be said that sticking a smartphone in the athlete's face is pretty funny, so we have to at least give the reporter credit for that.
Blockbuster Bust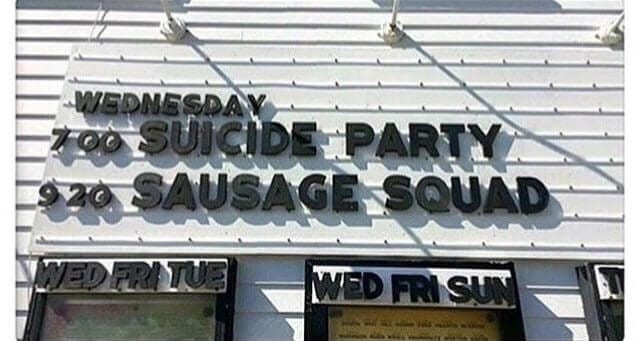 Cinema managers, travel bloggers, and food critics have some of the most fun jobs in the world. When a new movie releases, they can be the first to watch it along with their friends who get a free ticket as well. Whoever works at this cinema may have taken their freedom a little too far by mixing up the movies Suicide Squad and Sausage Party, giving the impression that a highly distressing movie will be followed by adult entertainment.
In The Name Of Love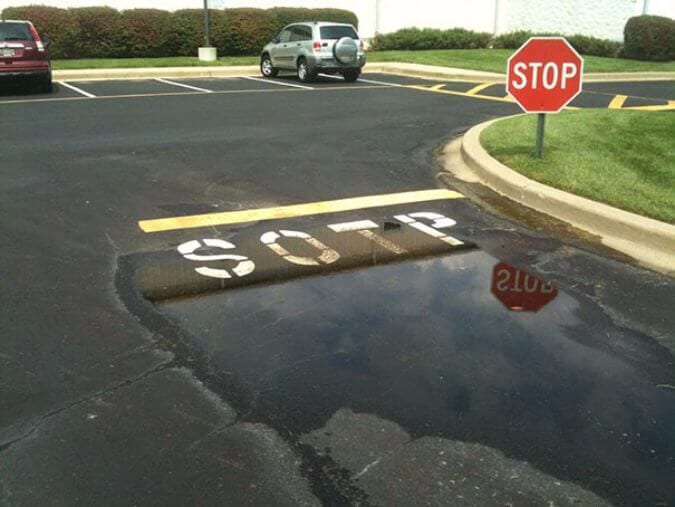 Spray painting that road seemed like an easy task; whoever was in charge of it must really not have been paying  attention to what they were doing. What makes this even funnier is that there is a stop sign literally right there, so there really should not have been any room for confusion as to how the word is spelled. 
Resort Of The Rebellious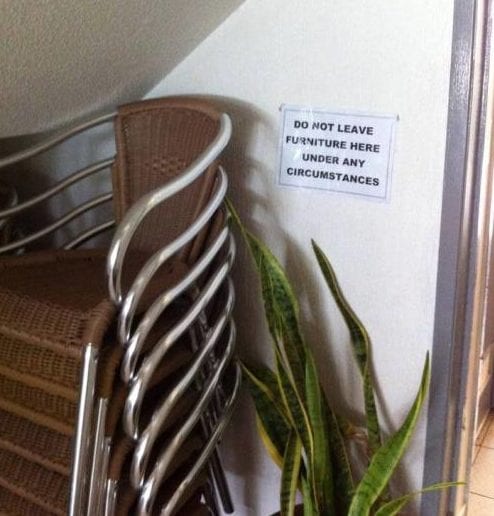 The staff working at this hotel have had enough of being poorly treated by management, so they decided to get back at them in the best possible way. Instead of causing a ruckus with a strike or a loud demonstration, the employees simply chose to do the opposite of what they were told. This photo is a perfect example of that, as employees neatly stacked up pool chairs next to a sign indicating that it is forbidden to do so.
Sweet, Twisted Dreams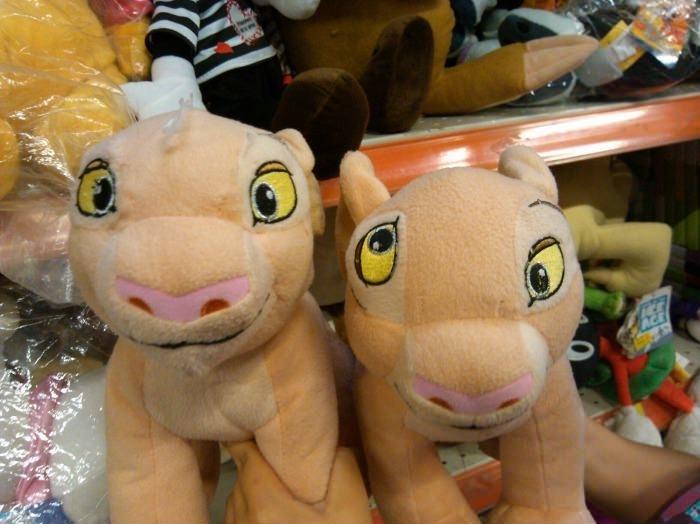 It may have been a while since we have watched The Lion King, but still, there seems to be something amiss here. We don't remember Nala having a lazy eye! Clearly, the sewing job on this toy went horribly wrong, probably causing nightmares to some poor kids who will end up hating the movie. 
Pop Pop Baby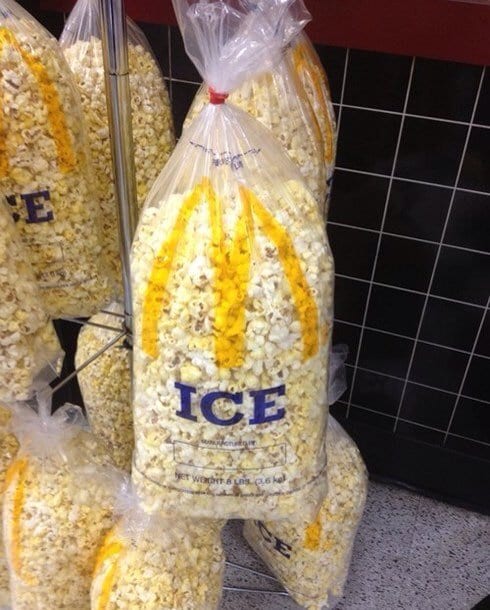 McDonald's needs to double-check the label on those bags because ice and popcorn are two very different things. Also, since when does McDonald's sell popcorn? It is hard to imagine how this ended up happening. Perhaps this was given to impatient customers waiting for their happy meals? Or is McDonald's getting into the movie theater business?
Rebellious Employee Of The Month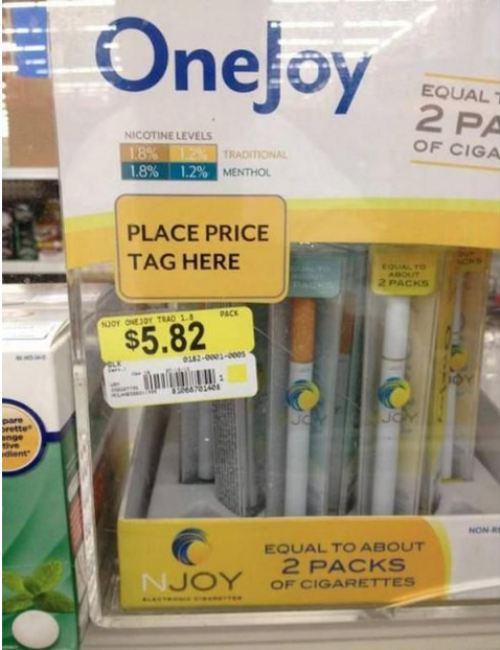 The rebellious employee who was in charge of putting up the price tags was sick of being told what to do. One day, he simply decided that enough was enough and that it was his way or the highway. Nobody could tell him what to do anymore! Let's hope that this crime didn't lead to any prison time, or even worse, the death penalty. 
Not What You Ordered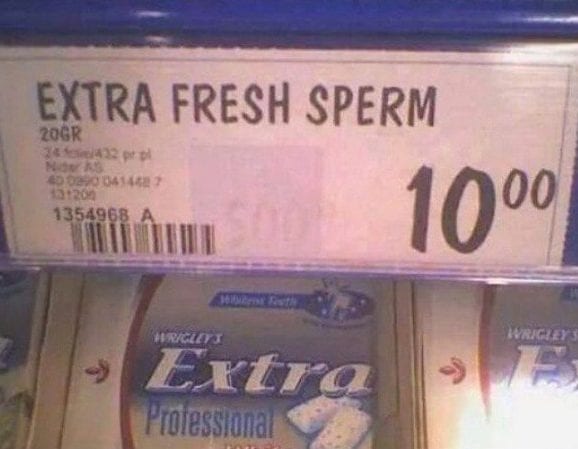 These days, abbreviations are all over the place, especially because social media has made us extremely impatient when it comes to writing messages. Twitter, which is famous for allowing users to post their thoughts freely, even limits the number of characters per post. Here, the person clearly wanted to abbreviate spearmint, and they thought "sperm" was a good alternative. They should think again.
No Sweets For You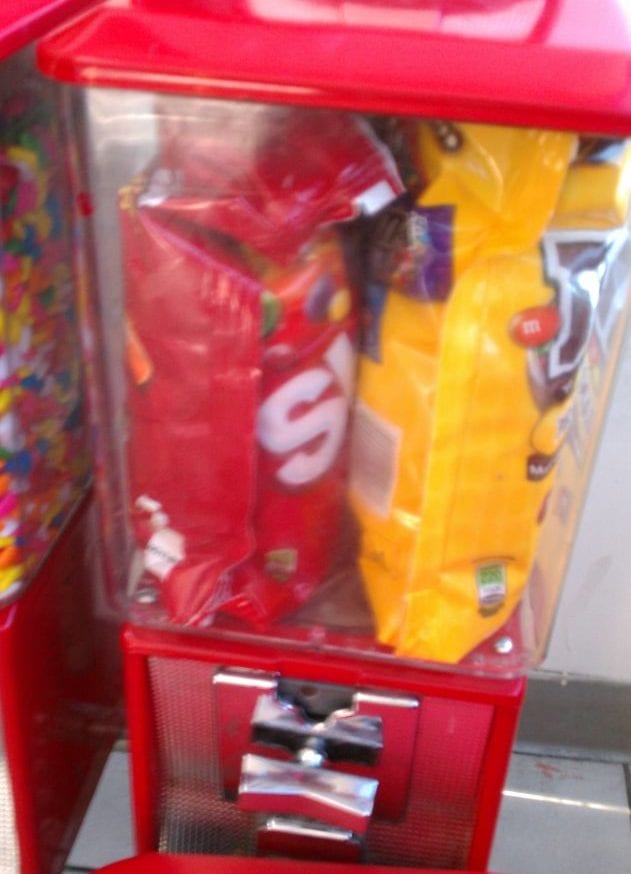 Here, it is fair to assume that whoever was put in charge of placing the candy inside the machine was not in the mood to read the instructions and simply decided to do it their way. I mean, how difficult can it be to put Skittles and M&Ms inside the machine? Well, clearly, not everyone is cut out for this task. How did they not figure out that it would be impossible to squeeze out the entire bag from that tiny hole?
Wave That Box With Pride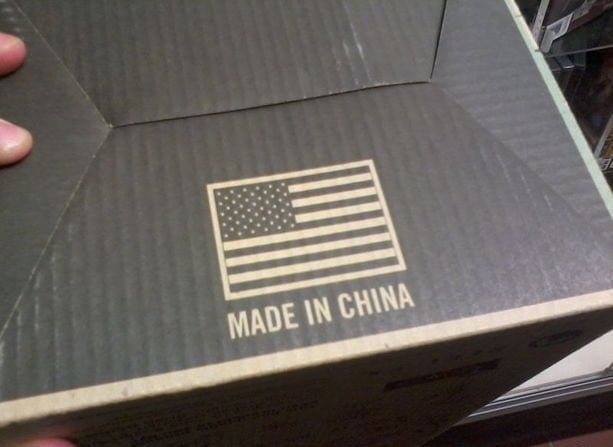 It is understandable to be patriotic and love the United States, with its fascinating history, endless accomplishments, and warm people. The love of the country will have some people wanting to wave the American flag at any occasion, but here, it could not have been placed in a less appropriate spot. Waving the flag is fun and all, but there is a time and place for everything.
Color-Coded Madness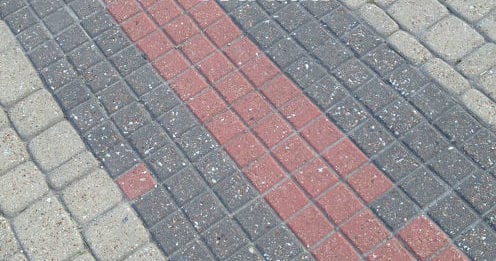 We hope that nobody suffering from obsessive-compulsive disorder will ever walk by this pathway, as it is sure to make them lose their mind, and it's not hard to understand why. Thankfully, as far as we know, we do not suffer from OCD, but the way this single red brick is placed incorrectly still makes us want to tear our hair out. It feels like the person in charge of this pavement abused his power a little, and decided to mess with people's heads. Mission accomplished.
Little Plastic Horror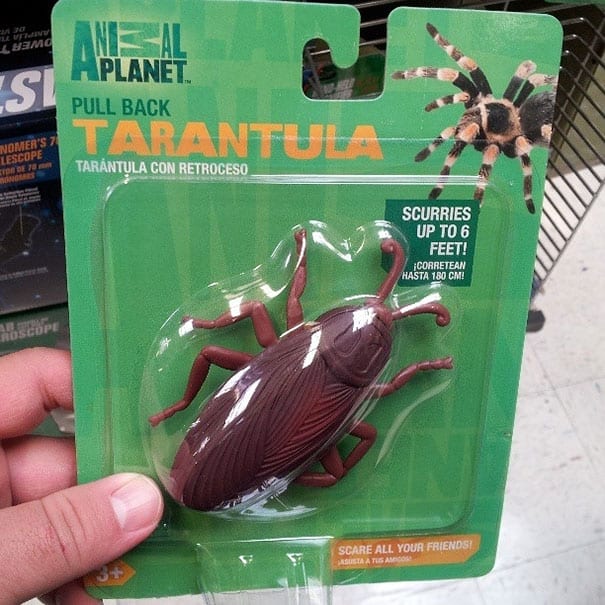 You don't need to be an expert on bugs to be able to tell the difference between a scary tarantula and a disgusting cockroach. The person who designed the packaging even went as far as putting a real photo of a tarantula on the box. It is definitely not as terrifying as a tarantula, but throwing a plastic cockroach on someone would still scare the living daylights out of them!
Cut The Tension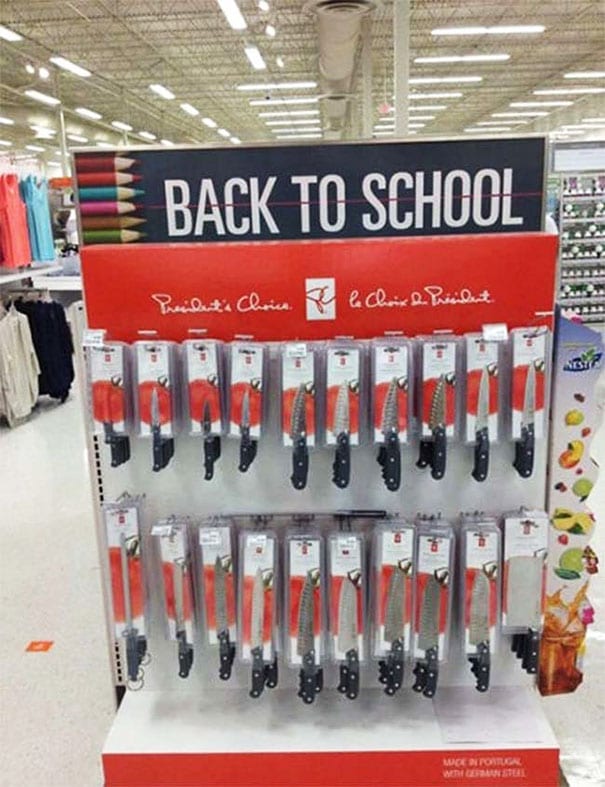 We are not sure which country this photo originates from, but we sure want to find out, just to be sure to never step foot there in our lives. Kids are buying kitchen knives during their back to school shopping; what could go wrong? Times sure have changed, but unless Maths class has been replaced with a lesson on chopping vegetables, the person who put up this rack has either never been to school, or is looking trouble from their boss. Or both.
True Advertising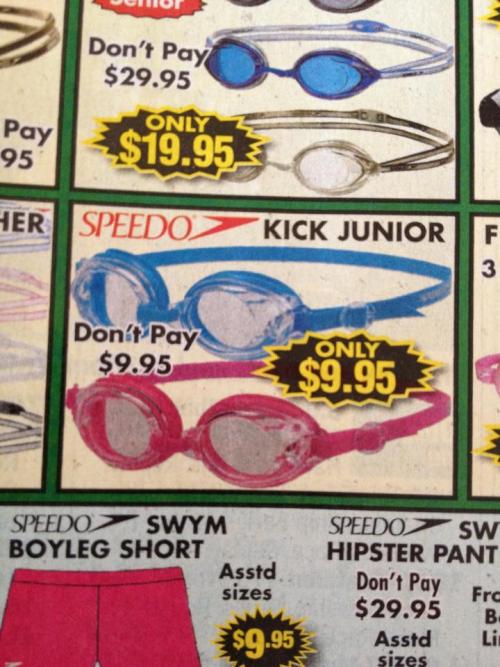 Speedo decided that false advertising was not their thing, and they wanted to let customers know exactly what to pay, and what not to pay. However, the Kick Junior advertisement is sending out a conflicting message. It's hard to understand what the advertisers in charge of this promotion were trying to do here, and it's not exactly a tiny mistake that can go unnoticed. 
To The Left, To The Left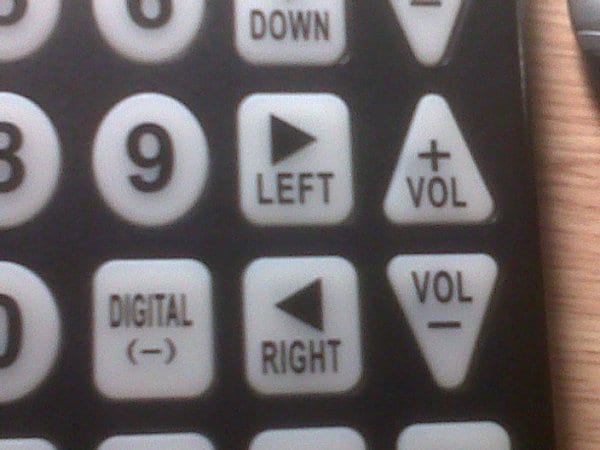 In the past twenty years, technology has gone to great lengths, embodying modernity with crazy innovation. Therefore, having a remote control that points towards the left with the label "Right" and vice versa may be a sign that you are not getting the best TV in the world. Perhaps this was just an innocent error made by those who printed the buttons for the remote control. It's not a huge problem, as it can easily be fixed with stickers.
Walmart Flop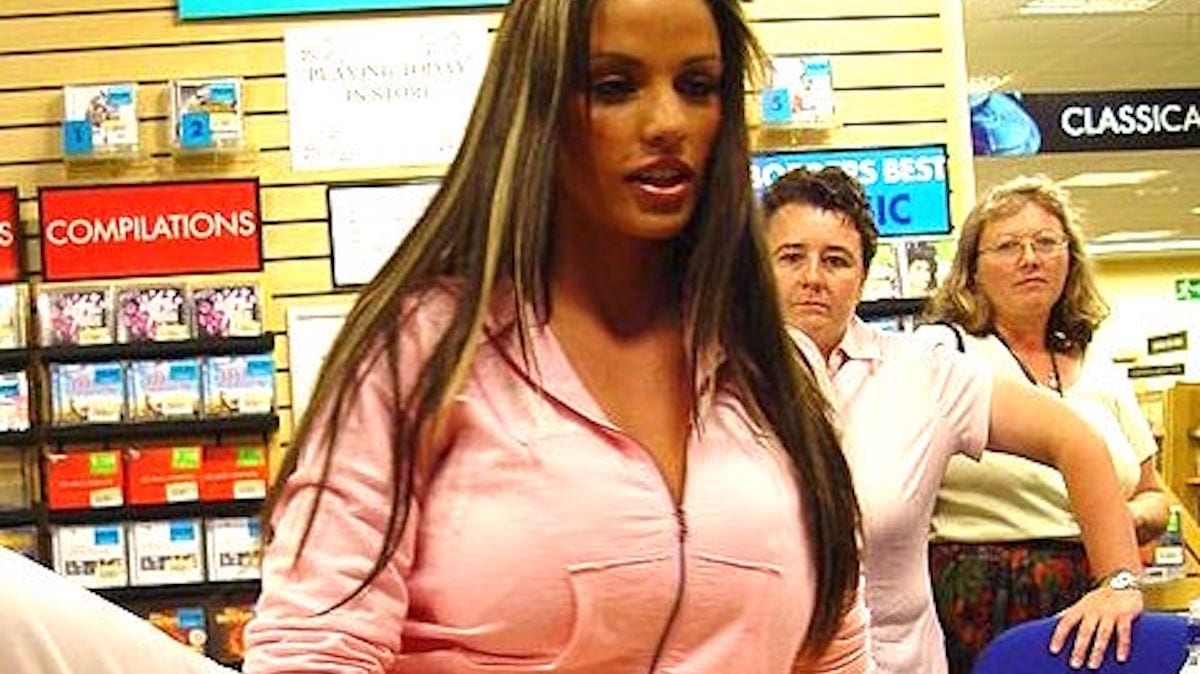 This poor woman was confused and not very happy to be greeted by hurdles put up by employees at Walmart. Let's just hope that it didn't hurt too much! Also, why does she look like one of those fake robot dolls? Those ladies behind her seem like they aren't sure whether the lady in front of them is a real person, and whether they should stand in line behind them!
False Advertising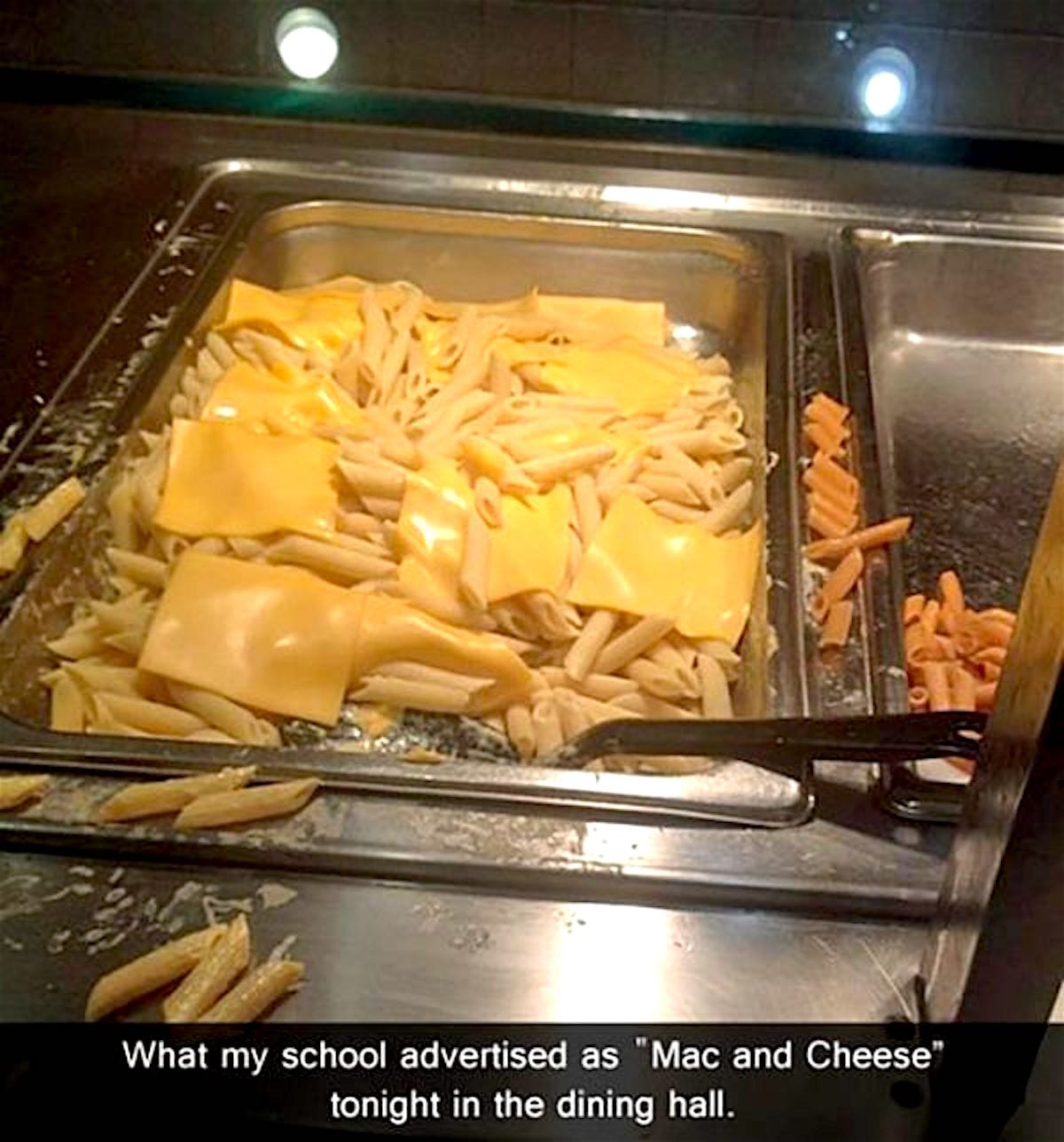 Whoever thought it was no big deal to advertise this meal as Mac N'Cheese was sorely mistaken. No one found this funny, and people were naturally upset at this joke of a meal. They literally cooked some penne, and when they were done, through a couple of sliced cheeses on top. If there was ever an award for the laziest cook, the person who "cooked" this meal would win top spot!
Going Bananas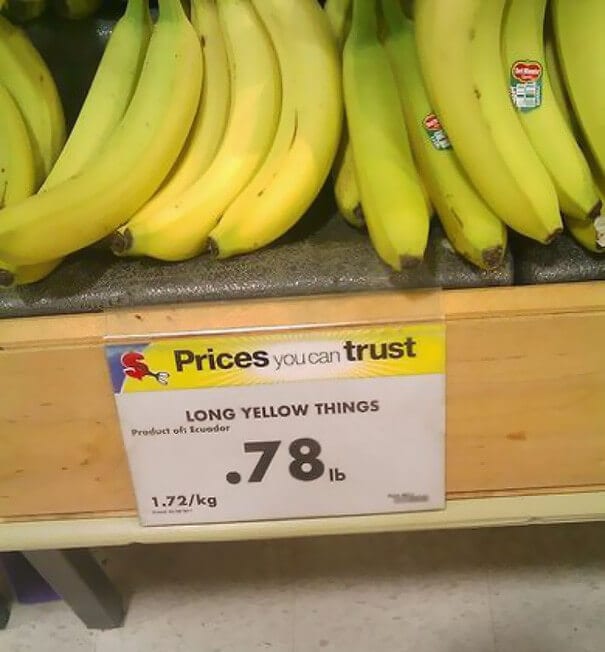 The person who wrote this sign is probably great at the game Taboo, but clearly, they shouldn't have been put in charge of printing out signs for merchandise in a grocery store. Although it is not a bad description at all, simply writing "bananas" would have been enough. Let's hope they didn't do that for every fruit because they wouldn't all be as easy to guess!
Not So Live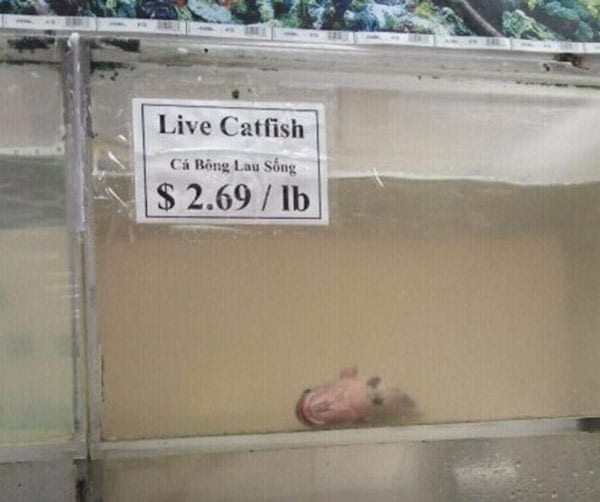 When it comes to false advertising, this is probably the worst case ever! Whoever was taking care of this poor catfish did a terrible job. The water being a murky, disgusting color may have been the reason, as it certainly doesn't look like a healthy living environment. Perhaps the store planned to sell it dead, but if so, why would they advertise it as "live catfish"? I guess we will never know. RIP Catfish.
The Sign Is Clear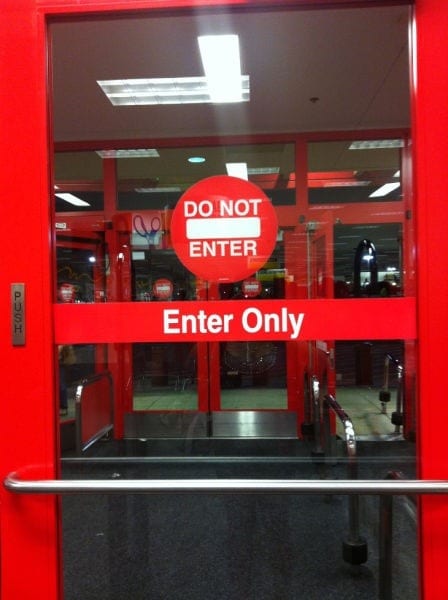 Walking up the stairs to enter the gym, one naturally can't help but wish they were at home on their couch binge-watching the next latest thing on Netflix. Who can blame them? This door and its contradicting message may just be what a lazy person reaching the gym needs to turn around and head back home. Also, it can serve as a screening process for whoever hasn't decided if they were going to work out that day, or slowly walk back to their couch.
Not On Sure Footing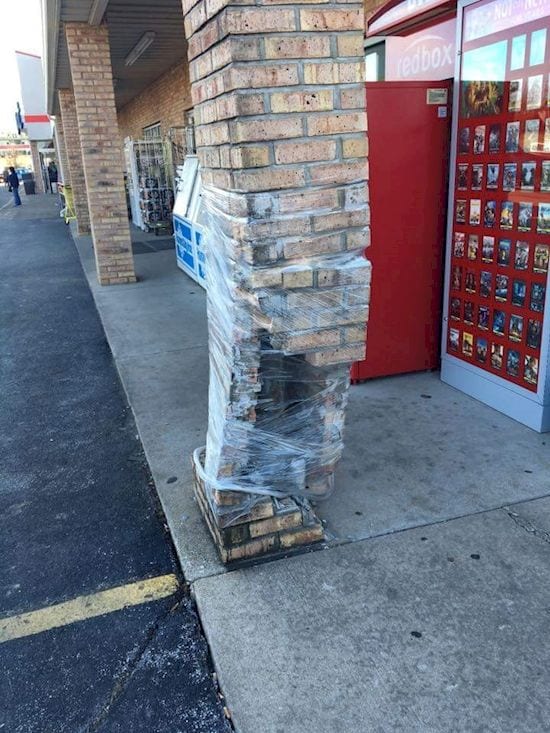 When you look at this picture, you can clearly see that the column was initially not well built, but whoever was in charge of fixing it didn't try very hard at all. If bricks have begun to crumble on top of each other, tight plastic film  is definitely not strong enough to hold them together. This is a mistake that could prove to be an issue if the bricks ended up falling on someone. The store should think about investing in a new handyman.
Abnormal Anatomy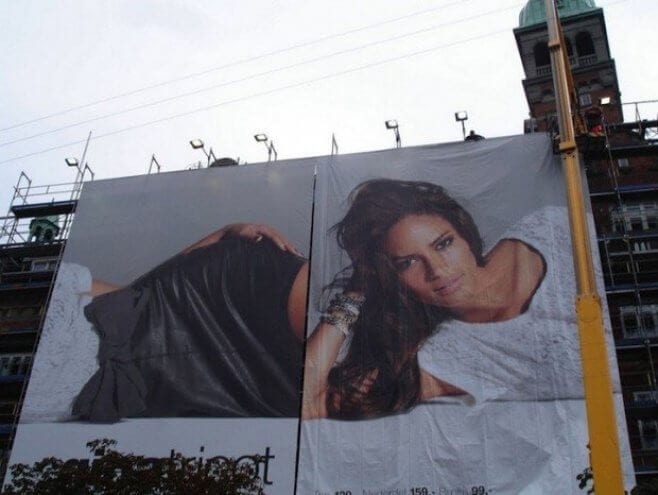 Perhaps this was a marketing trick to show customers the entire outfit as two separate pieces, but the more reasonable explanation is that this billboard hanger was confused and definitely not very bright, at least when it comes to human anatomy. However, it is interesting to look at the marketing aspect of it, with the ad forcing the viewer to see each item on its own.
Parking Lot Of Doom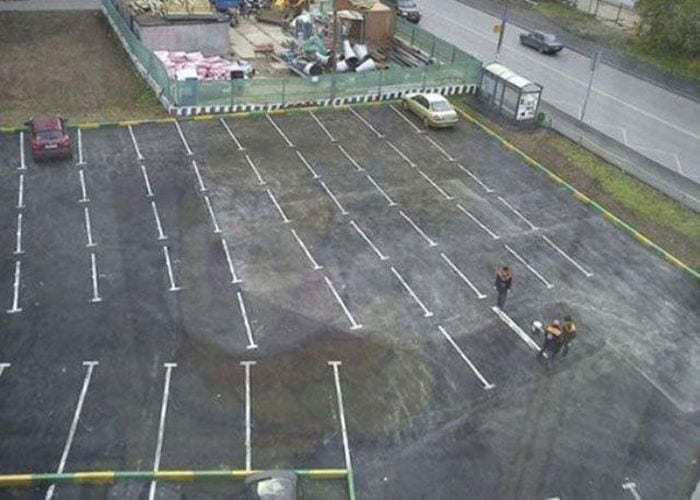 It's hard to imagine what these employees were thinking when they designed this parking lot. Did they just go out there and start randomly painting white lines on the floor? It sure seems like it. Anyone entering this parking lot should do so at their own risk; not only would they not be able to reverse to leave the lot, but chances are all cars would end up in a pileup.  
Safety First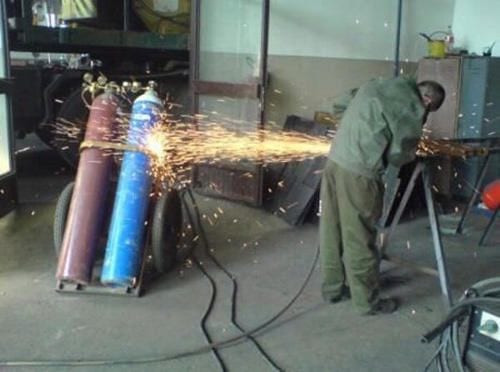 Simply looking at this workplace fail is enough to make anyone panic. This worker clearly missed the session on health and safety at work, and that is extremely worrying when you look at the type of power tools he is working with. These gas cylinders should have been kept as far away as those fire sparks as possible, as this is a massive accident waiting to happen. An even more important issue is the following - why did the witness decide to snap a photo instead of saving this man from what could be a fatal accident?
Sleeping On The Job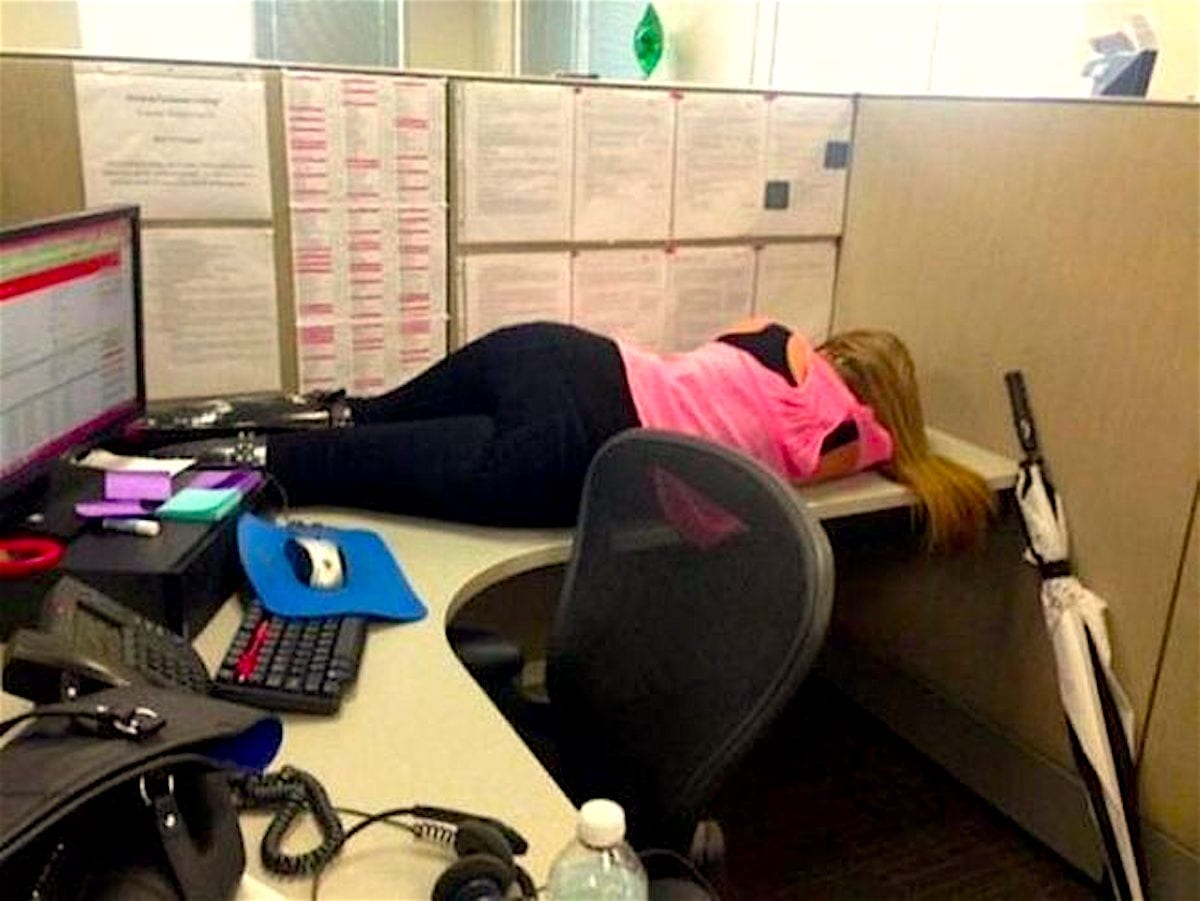 The employee that believed that this would slide is probably no longer employed at this company. Or, perhaps she knew that nobody would bother her for a couple of hours? Also, she doesn't exactly look dressed for the office? Perhaps she went to the gym on her lunch break, which completely exhausted her for the afternoon? So many questions!
Pigs Running Wild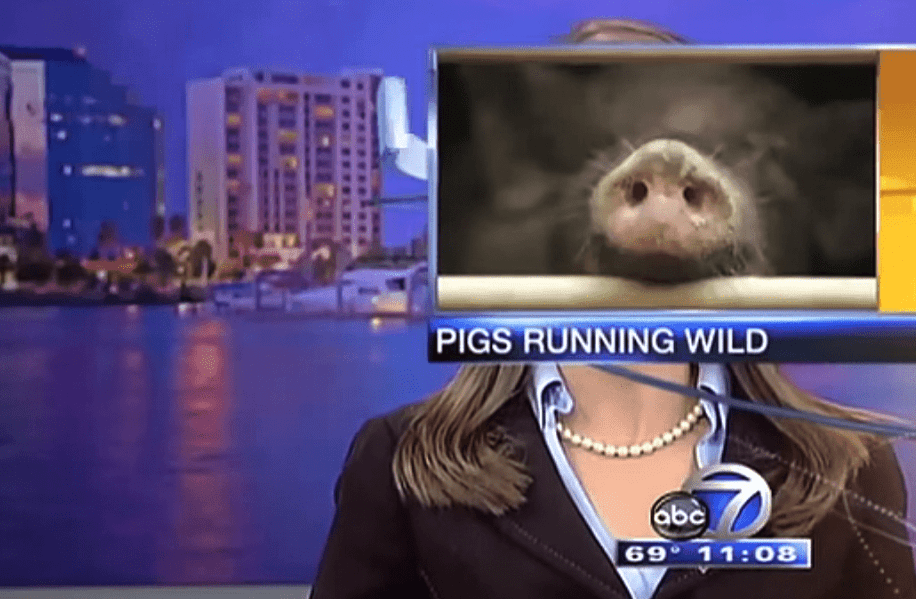 An employee working for this news station's editing team must have had a good laugh behind the scenes. We hope that the news anchor saw the funny side of it too. Although no one likes to be called a pig, anyone with a sense of humor would have found this amusing. Let's hope the screen didn't look that way for too long, though.
Wine Not?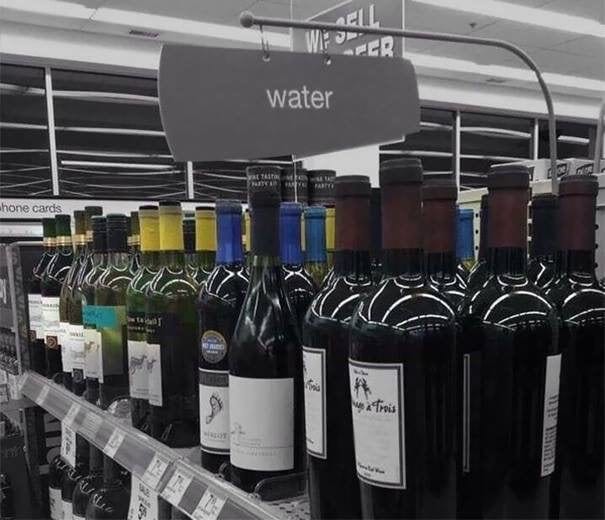 Maybe the person that put up a sign that says "water" above the wine bottles was deeply touched by the last Sunday Mass they attended, but this Walmart employee should have left the whole "turning water into wine" thing to Jesus. Or, maybe they were trying to suggest that there was nothing wrong with having some wine during the day - it is like drinking some water!
Hi My Name Is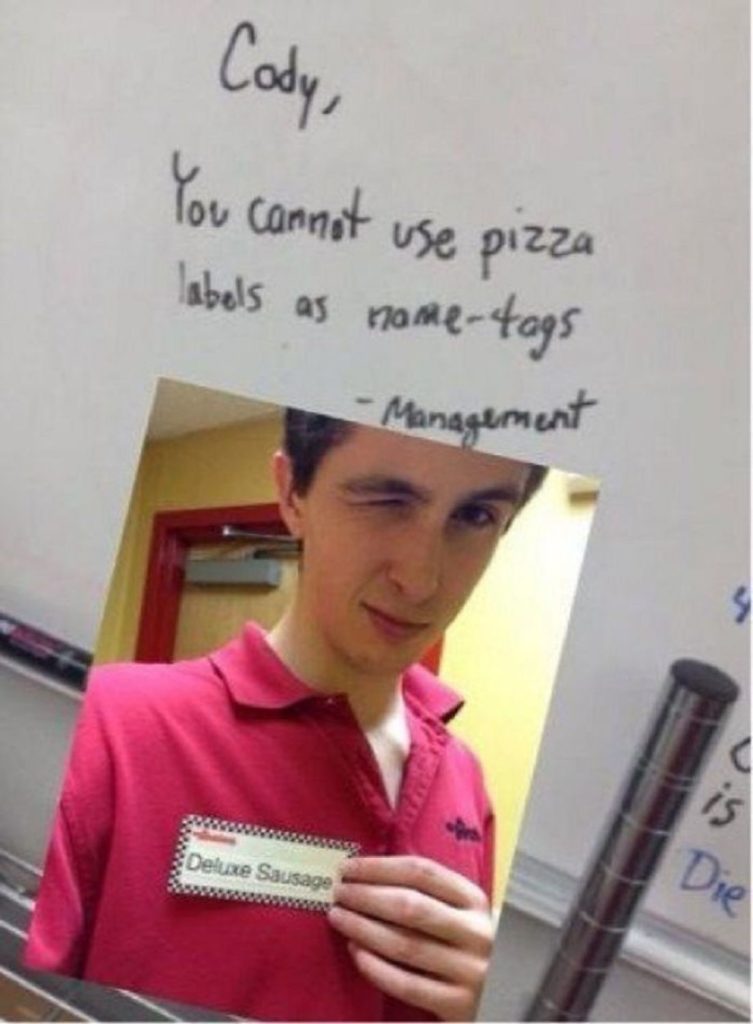 Cody was clearly trying to have some fun while on the job. Who could blame him? Sometimes, when you're on a late shift, and you can literally count the number of customers that walk in on one hand, you do what you can to entertain yourself. He may have thought it would be a good icebreaker if a beautiful girl came in. Unfortunately, the store manager was not very happy.
Anonymous Has A Face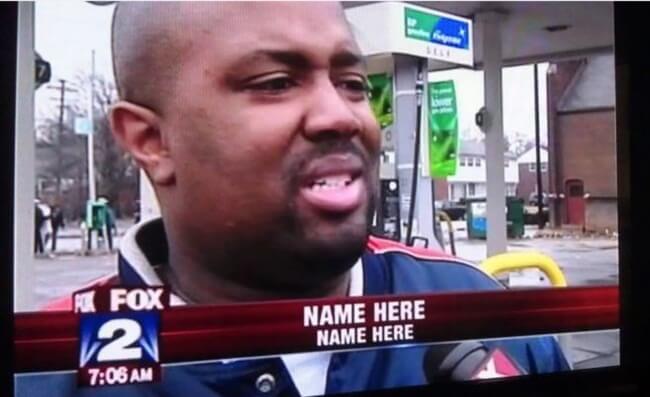 Evidently, this man did not want to keep his identity secret, as he's talking to a reporter on live TV. So, "Name Here" is either both the man's name and occupation, or someone working at Fox didn't have their morning coffee that day. Look at the time, after all. This man thought he would have his 15 minutes of fame, but clearly, that didn't work out for him.
Construction Flop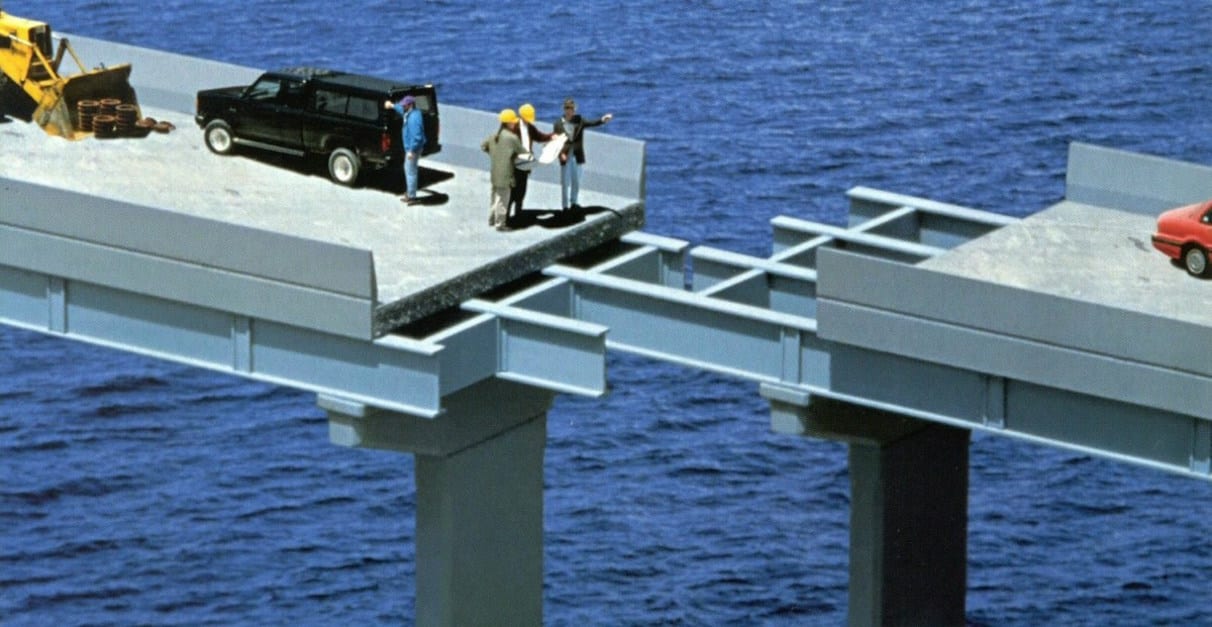 This picture speaks a thousand words. We hope that the employee who designed this bridge is no longer employed in anything related to construction. They were probably not great at puzzles either; perhaps that should've steered them away from this profession, but unfortunately, it didn't do so. This must've been quite the expensive blunder.
Heartbreaking News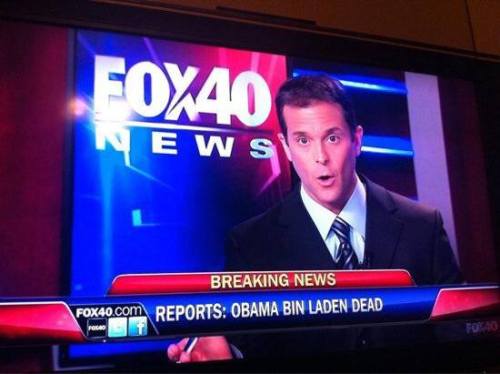 Fox News does it again, and this time misplacing one simple letter was enough to make a major mistake. We wonder if the news anchor actually pronounced the name the way it's written, or if he had the correct name written on the teleprompter. Although it wouldn't be the anchor's fault, it would surely shock many viewers at first sight of this mistake.
Anything For Pizza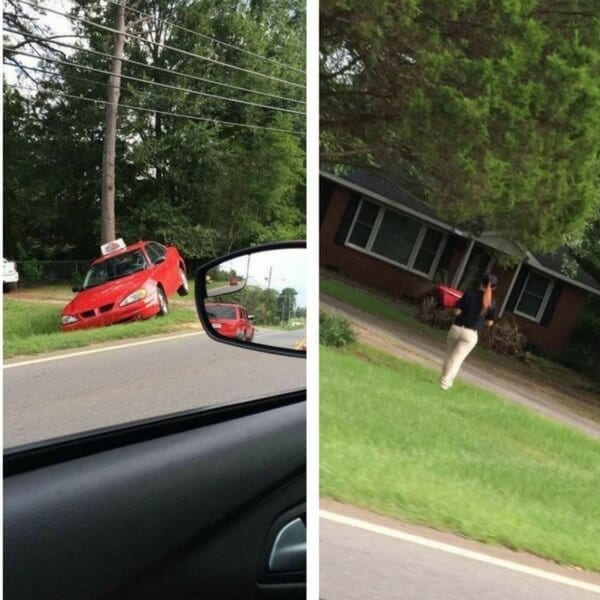 It would be an understatement to say that this girl is dedicated to her job. She is so committed that she should be awarded employee of the month! The pizza shop she works at has a strict "30 minutes and it's at your doorstep" rule, so she didn't want to waste a second in this pizza run! If she had been as much as 1 second late, the pizza would have been deducted from her salary. 
The Student Becomes The Master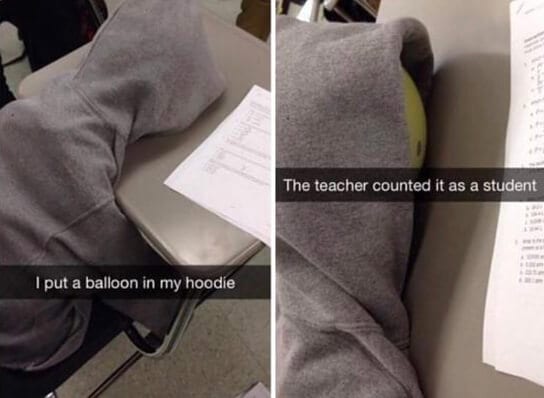 Teachers can change the world one student at a time, but as they gain more experience, underpaid teachers must teach themselves how to deal with difficult, hard-headed children. Teaching the required material can be challenging, but dealing with teenagers who don't care about learning is even more so, as can be seen in the picture above.
Dangerous Path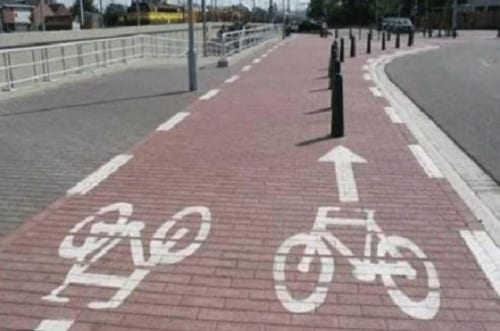 The person who designed this pathway surely intended for an accident to happen. Or, they simply have no logic whatsoever and just obey orders that are given to them. Thankfully, the sidewalk is wide enough for bikes from both directions to pass; otherwise this would have been an extremely dangerous path to ride. Imagine if one bike hit the metal pole, creating a pile-up as the bikes behind him fall prey to this sidewalk too!
Taking It Slow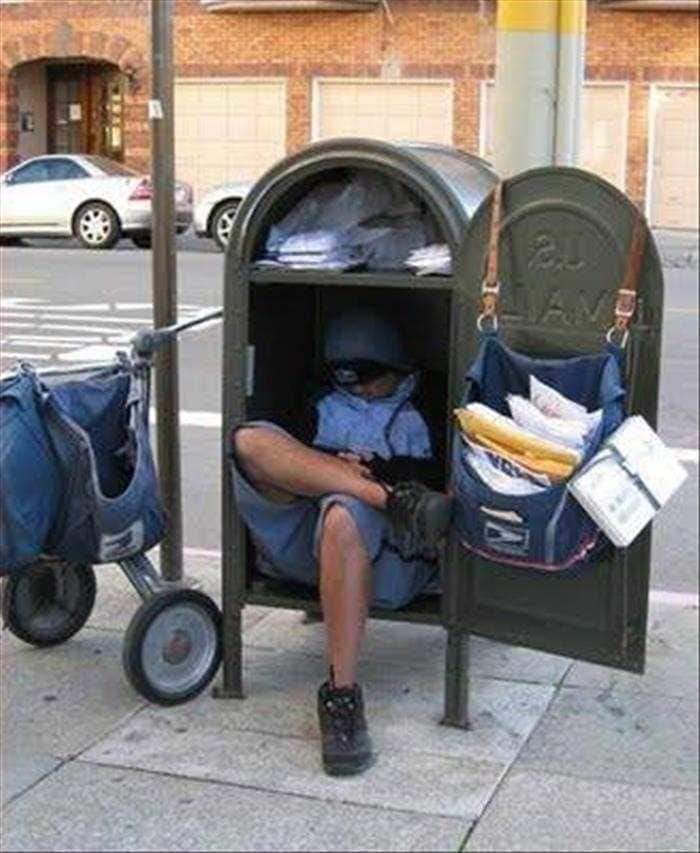 If you never understood why they called it snail mail, this might be the reason. Not only did this mailman decide to take a nap on the job, but he also did it right inside a mailbox! It's difficult to ensure that mail will be kept safe when it's easily accessible to anyone walking by. It's safe to assume that this man has moved on from being a mailman.
A Little Privacy Please?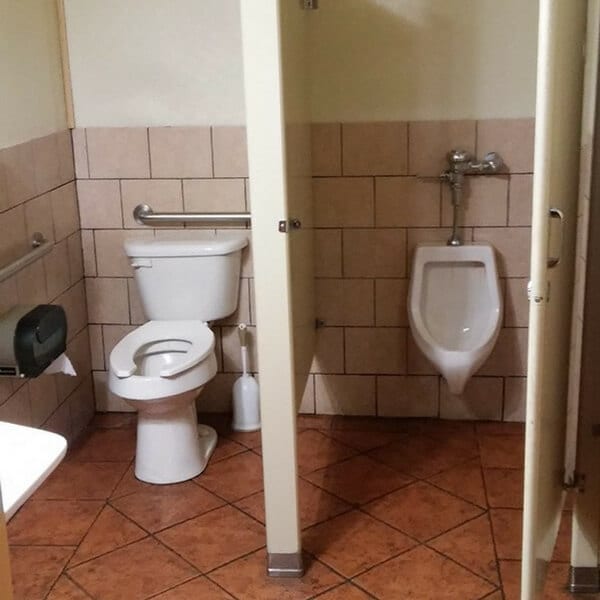 Although you would think that it's clear and obvious, whoever was assigned the task of installing this bathroom door needed some more instructions. When have urinals ever been inside a stall? A toilet, on the other hand, that people will use for needs greater than urinating, usually requires a little more privacy. For the sake of whoever uses this bathroom, let's hope that the mistake has now been amended.
White House Whoops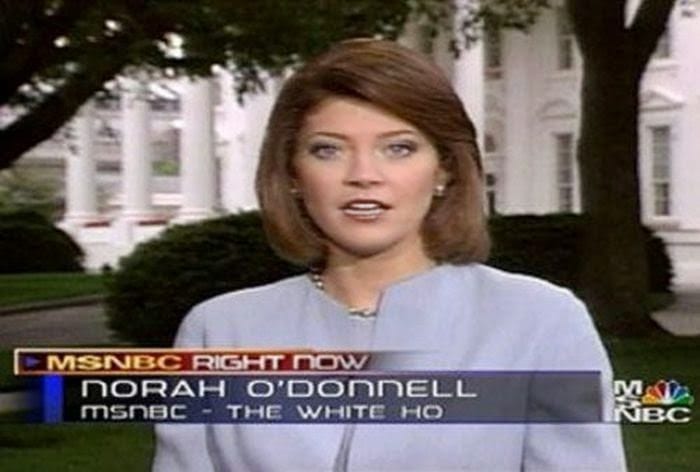 It's safe to assume that Norah O'Donnel was not very happy with the abbreviation under her name. This spelling mistake could have been avoided, but perhaps it was the idea of a mischievous employee in the editing room who found the perfect opportunity for a good prank. Let's hope she was able to see the funny side of this.
Source: Ninjajournalist.com