You'll Get 6-Pack Abs Laughing: Hilarious Gym Photos
The gym has always been the ideal place for people who want to focus their energy to improve their body. Many of them go with the purpose of losing weight and to stylize their figure, but others just want to develop their muscles. Although some people go to specialized professionals to guide them, many others only do what they think is necessary. Unfortunately, many people have no idea what they are doing in that place, and this produces hilarious moments.
The following list of images compiles some of the funniest and bizarre moments you can find in a gym. Some are only planned jokes, but others are a real reflection of people's behavior in these places. Thanks to the cell phone cameras, these moments were preserved for the history of the internet. You won't believe some of these crazy images!
Achilles heel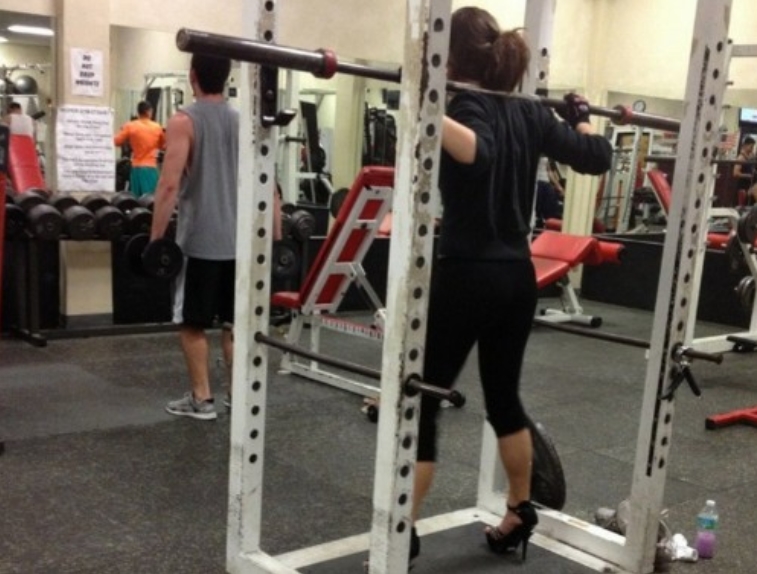 Ok, that bar was too high for her to reach in sneakers, but this is too much. The only way this works is if she has a lot of strength, and those heels are reinforced with metal. Similarly, it is not something that any instructor would recommend at any time. The chances of an accident happening are too high, and she could end up severely injured. Although we must admit that she has an exquisite taste to choose her heels.
Training for social networks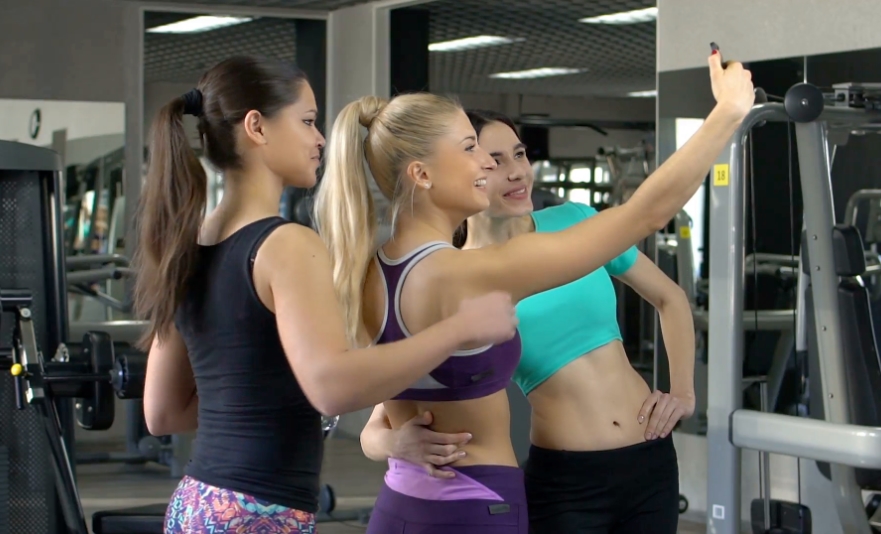 Many people go to the gym for health reasons or to improve their body, but going with a friend is more fun. The importance of social networks in our lives is such that many people cannot avoid publishing everything on their networks. Now, if a group of friends is going to climb a mountain and they don't take a selfie, did they really climb it? The same goes for the gym because you must have proof that you are trying hard.
Big mac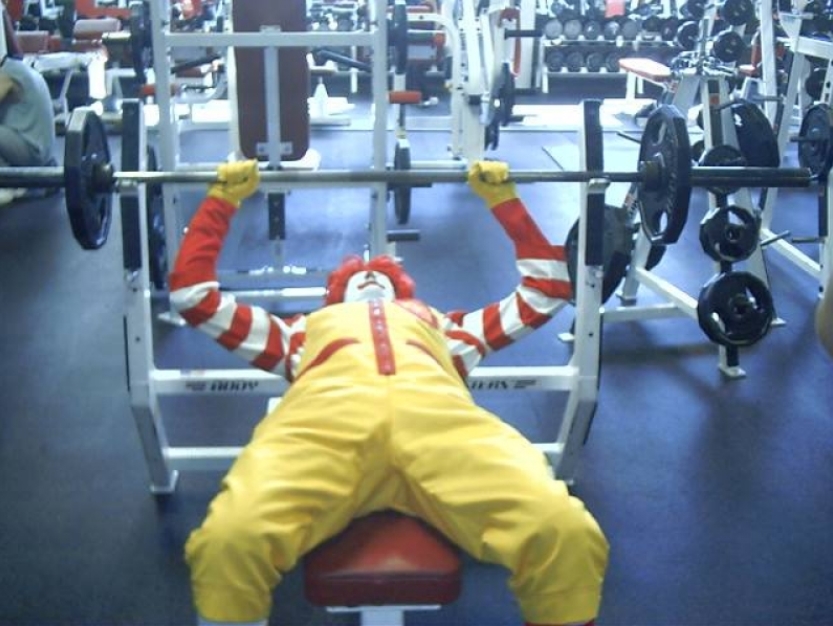 All junk food lovers have gone to McDonald's to devour one of their delicious burgers. But have you ever thought about how many fries Ronald McDonald consumes in a single day? It is usual for him to enjoy all his meals in one of his establishments, so he should take care of his weight. The exercise regimen to which he must undergo must be incredible to get rid of all those enlarged combos accompanied by a McFlurry.
Time to give up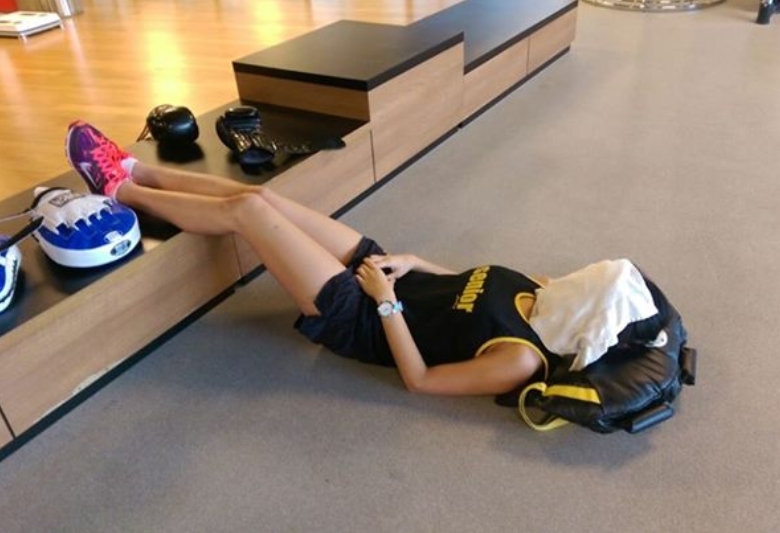 It is normal to get bored when our coach is too late for the lesson, but it is no reason to discourage us. The usual thing would be to start training a bit without him, warm up the body so we can be prepared for when he arrives. Although seeing this picture, we can realize that the idea of this girl is much better than ours. A small break will not hurt if nobody finds out, and none of our partners decide to take a picture.
The stairs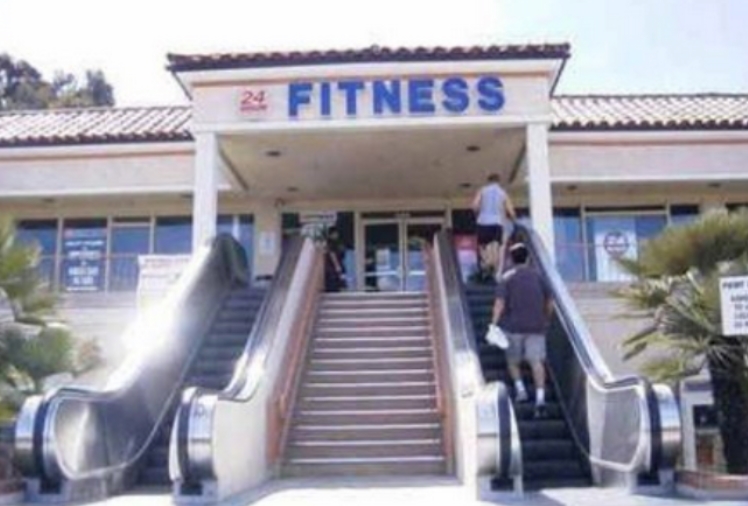 We all know that exercise is essential but exhausting, so there is no need to start earlier than necessary. If you can rest a bit before starting your training routine, it is logical that you take advantage of these opportunities. The escalators are very useful, but placing one right at the entrance of a gym gives the wrong message. Do you want to be fit, but are you too lazy to go up to the door?
A feline trainer?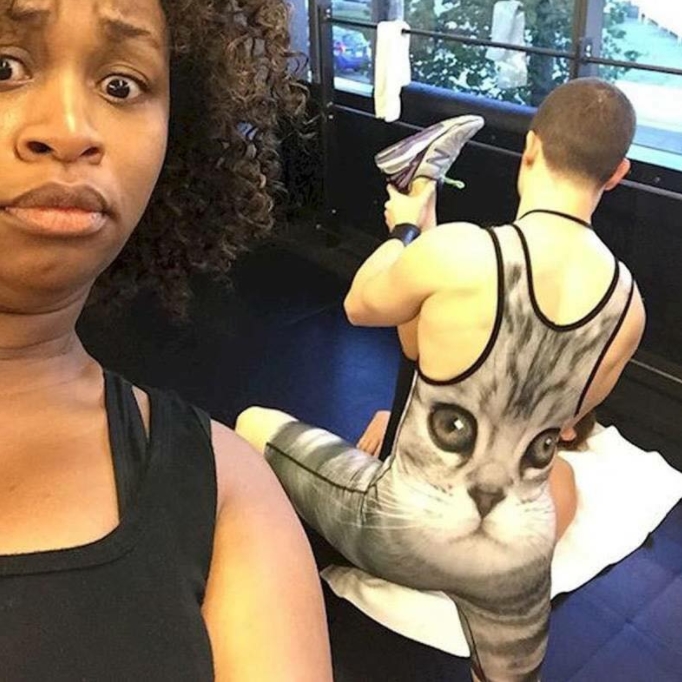 People have every right to use clothes that are most comfortable for them to go to the gym, but he seems to have exaggerated. The idea is to use a comfy outfit that allows you to perform your exercises without offending the people around you. This particular coach wanted to leave a powerful impression on his students. Not every day we see a cat with huge eyes helping a person to do his stretching.
The circle of life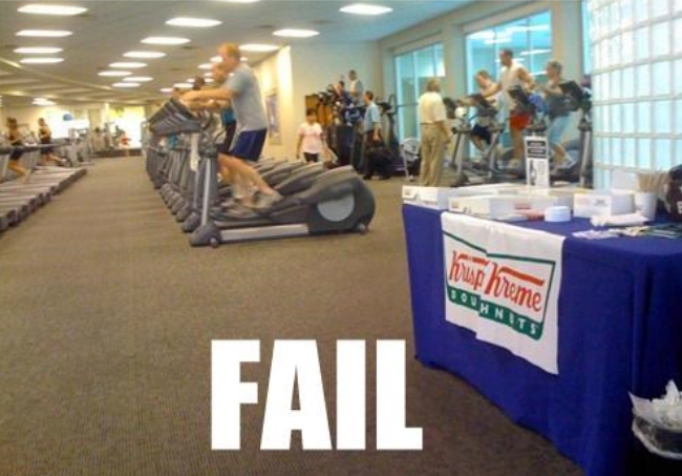 It is usual for gyms to make commercial agreements with other brands to promote themselves, but this is somewhat macabre. If this gym wanted to make people lose weight quickly, partnering with a donut sale is not the most ideal. However, it is a full business that benefits both parties in a very evil way. First, they will lose weight, and then they will recover it by smearing their faces with a delicious box of chocolate filled donuts.
Too high expectations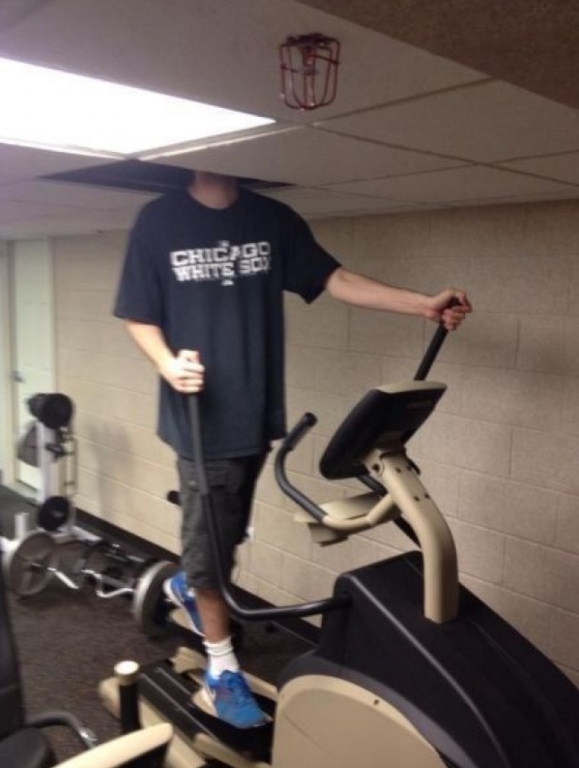 Logically, not all gym equipment is adapted to all types of people, but there are ways to solve it. Gyms should at least think about all possibilities and provide their clients with a pleasant space to train. If you are too tall to use a piece of equipment, you should go to a place where you do not have to break the roof to use it. However, we must admit that the ingenuity of this subject is worthy of admiration.
Since childhood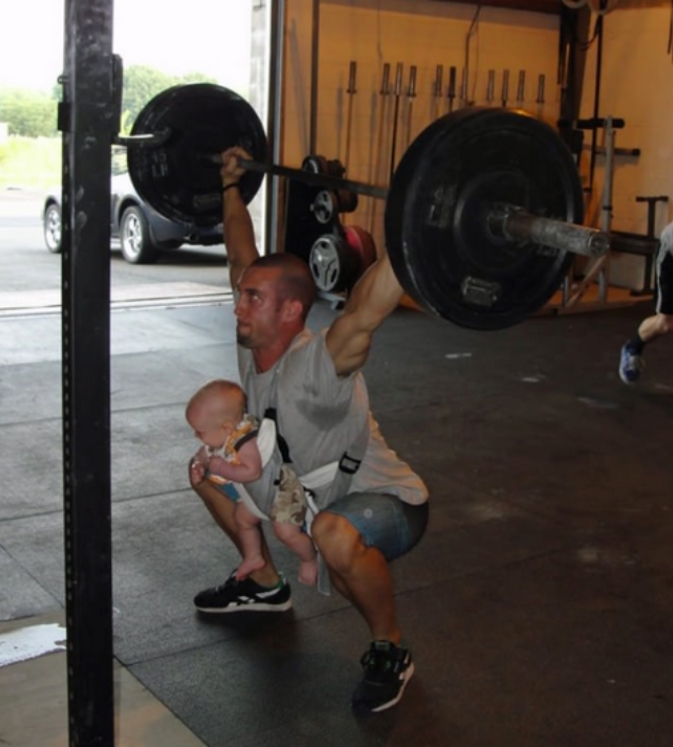 This guy thought he was a genius when he incorporated his work as a babysitter into his usual exercise routine. Gyms and the weight area are not places for children or babies, so this is not a very good idea. Initially, there was no problem because all her classmates are parents, but the idea was not funny to the mother of this little girl. That extra weight wants a bottle!
And leg training?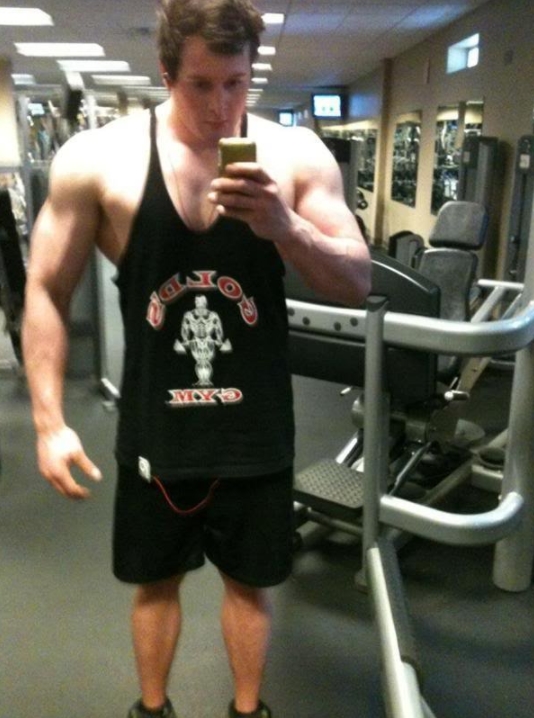 When people use the phrase "chicken legs," they don't mean a delicious cube of crispy fried chicken. They talk about people, like this guy, who spend their entire week training only part of their body. If you focus only on the upper part of your body, your legs will suffer this sad fate. His legs can barely bear the weight of his body! If you don't want to look like a dummy: NEVER stop training your legs.
Advanced workouts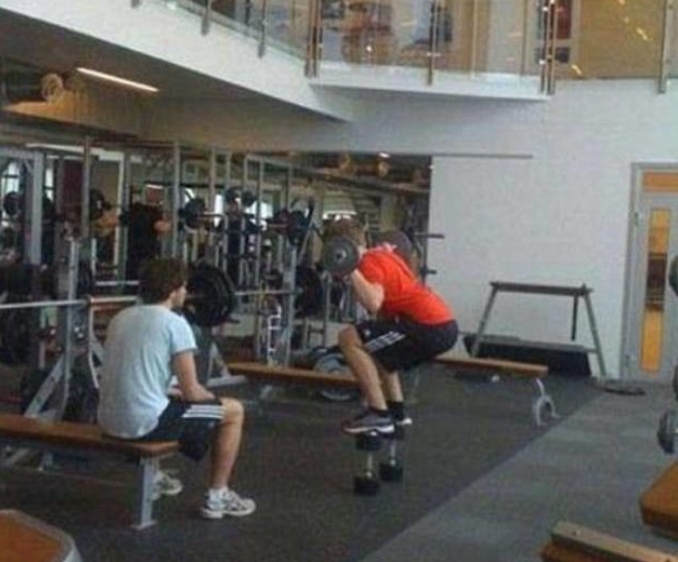 When it comes to innovating in the way we train, many people believe they can come up with new ways to exercise. Professionals design each of the workouts we do in the gym; there is no need to change them. The example of this image is destined to be a disaster because these kids don't take their own safety into account. "Stand on two fragile weights and try not to die" sounds like the saddest description of the world.
Make 2020 your best year!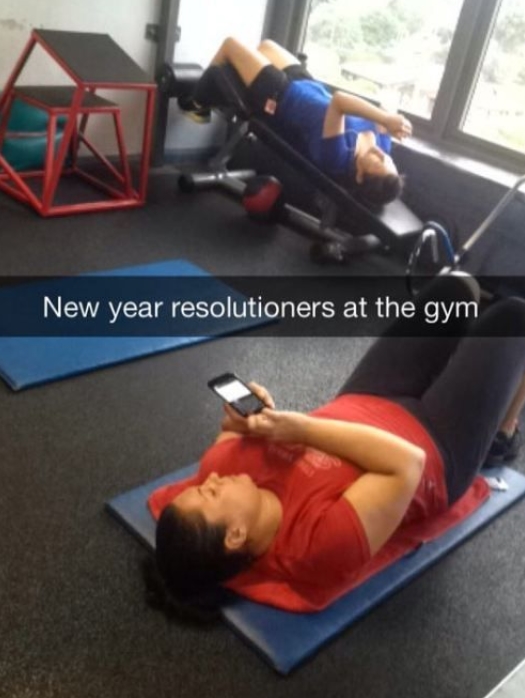 A valuable tip for next year is to avoid approaching a gym in the first few weeks. All these establishments will be full of people trying to get rid of all the weight they gained at Christmas. Although many of them will really try to lose weight, some will attend just for being there, and that'll make you forget your motivation. When it comes to losing weight, everyone gets excited, but after training a bit, they'll run out in fatigue.
Teamwork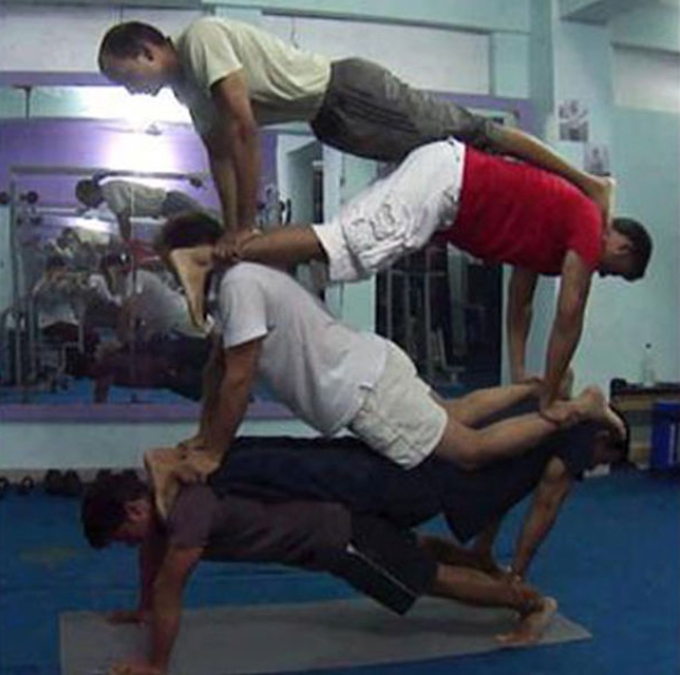 When this boy asked his friends to help him train, he didn't mean precisely this kind of support. It is a bizarre way of training that can be too dangerous to be patented for the general public. That said, it does not mean that he does not appreciate the effort of his friends to try to help him achieve the body he wants. After training a long time together, this group of friends intends to request an audition in a big circus.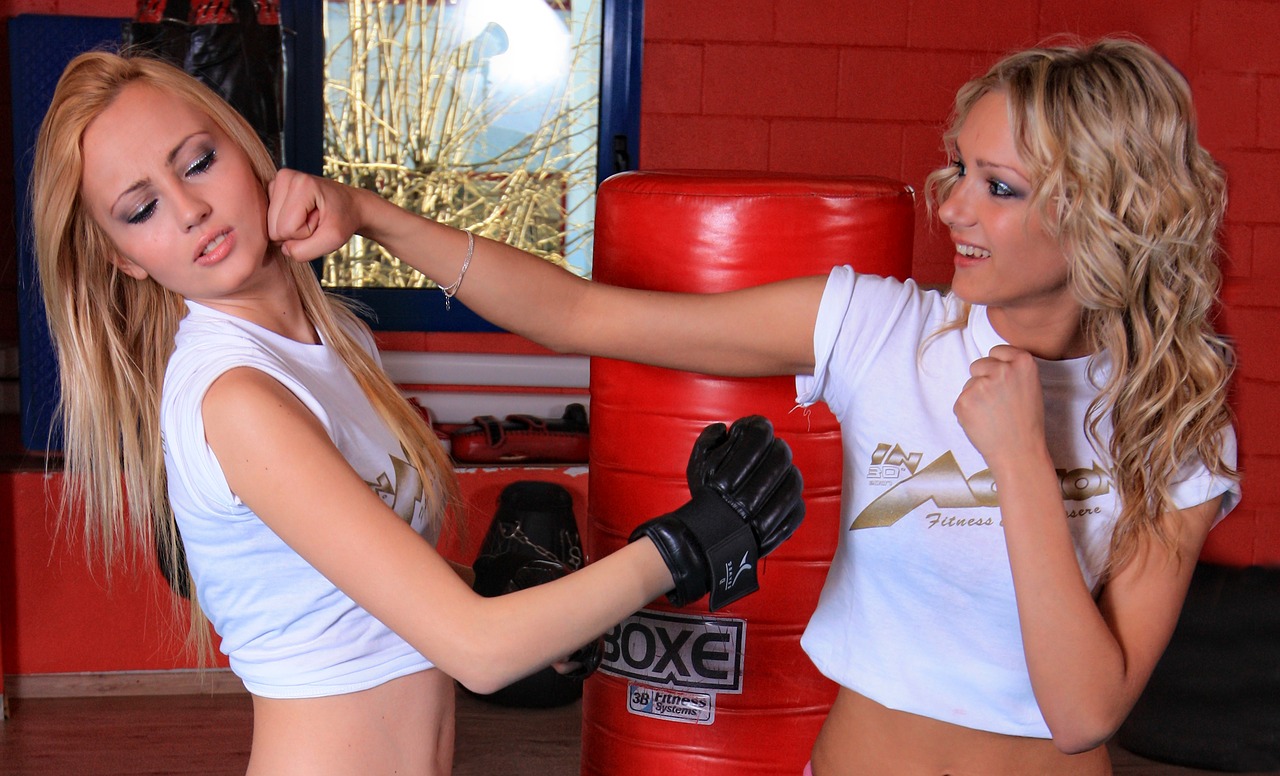 Puppy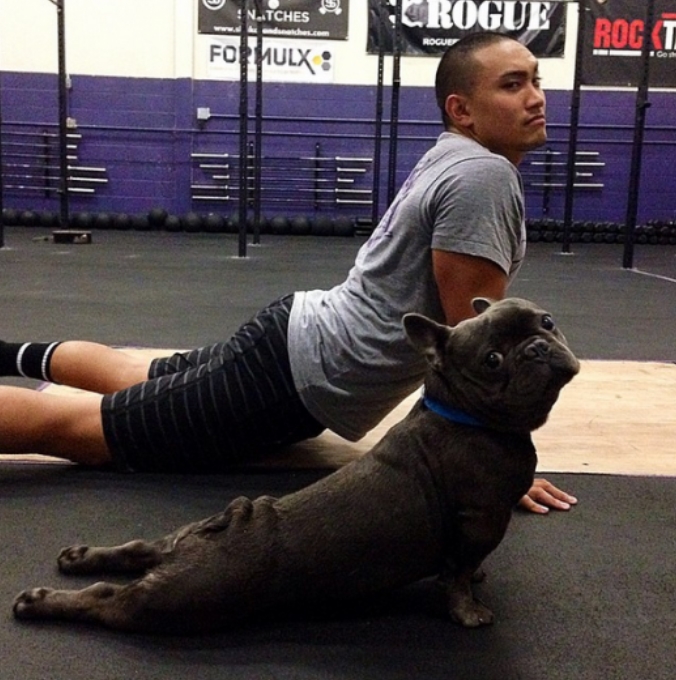 This couple of friends have many hobbies together that some people see strangely, but they don't care. In addition to eating ice cream, taking long walks in the park, and chasing doggies, they like to practice yoga. The dog is the one who has the advantage because most positions are more comfortable for him, but this guy tries hard. In this image, you can see how the dog is showing his human the dog upwards' position.
Multitask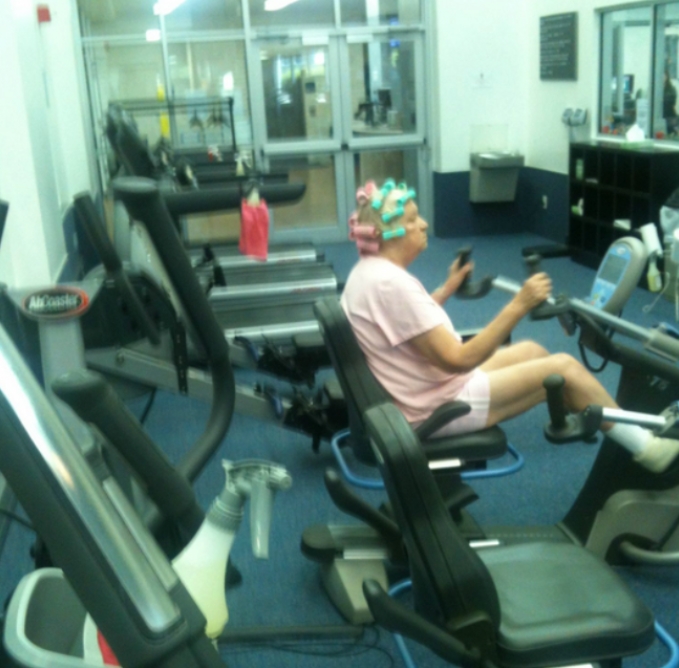 The seller of this gym assured this lady that all the equipment had multiple uses, and she took this very seriously. The main reason she had not attended the gym before was that she was swamped, but now she can do everything at once. She can paint her nails or fix her hair while exercising and recover the body she had when she was young. She is a brilliant lady, or the seller has serious problems explaining things.
Which rain?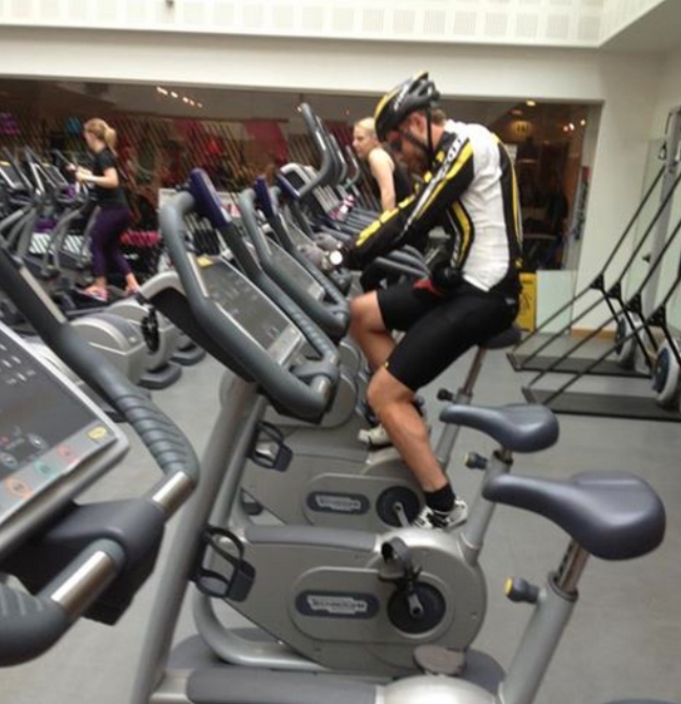 It's sad when the weather or nature ruins your plans in some way, but some people don't let this stops them. If you are already dressed and ready to go out, it is regrettable to have to cancel everything just for a bit of rain. This guy was determined to make his usual bike ride, so he had to find an alternative and go to the gym. No matter what happens, he is fully prepared to overcome his 20km mark without stopping.
Expert weaver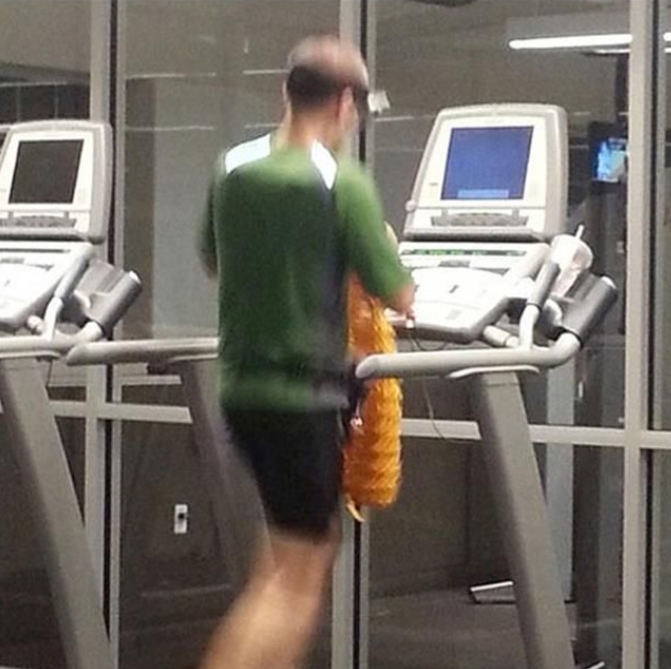 There are people capable of doing many things at once; they can concentrate on more than one task without even blinking. But some, unfortunately, cannot walk and drink coffee at the same time because they spill it. While we are in the gym, it is best to focus on what we do to avoid any mistake. But there are people with a higher capacity that can to a lot of things at once. This guy can run and knit at the same time, which is absolutely incredible if we consider how complicated that technique is.
Music all the time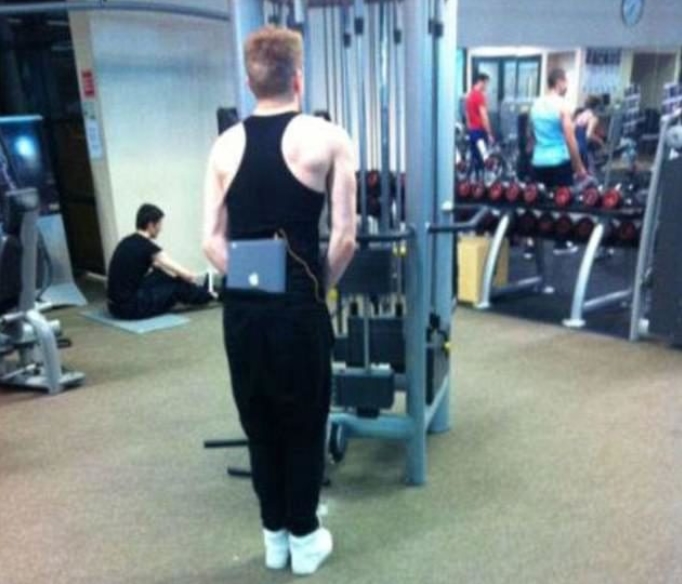 To focus on something, some people concentrate on what they are doing, and others turn to music to clear their mind. When we use music for this purpose, the idea is to isolate our mind from anything that can distract us. Unfortunately, sometimes we don't have that possibility, and we must find a way to solve it. Since this boy had recently lost his phone, he had to improvise to train correctly. It is impossible to develop muscles without electronic music!
It does not work like that?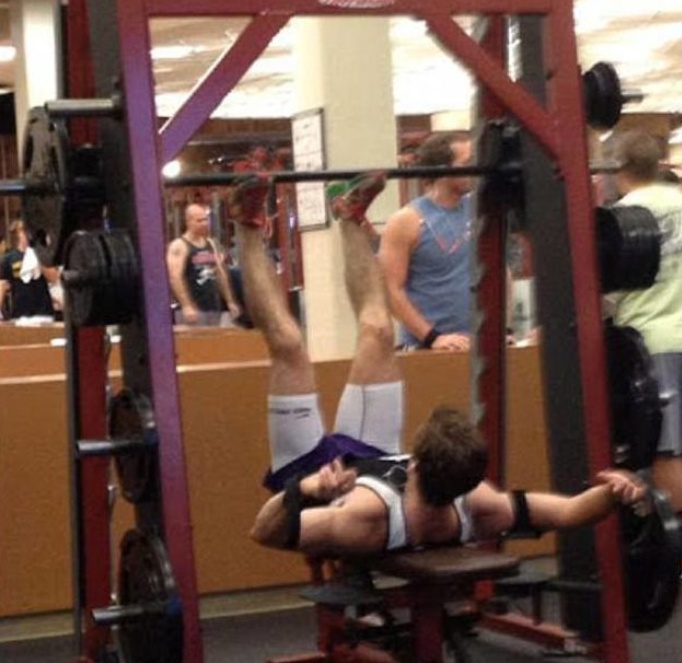 Although you don't hire a private instructor for your training program, some things need no explanation. The vast majority of machines in the gym have an instruction diagram that tells you how to use them. In some cases, the exercise is so simple that anyone should be able to understand it. But unfortunately, some people do not exercise common sense and use these pieces of equipment in the worst possible way. This subject will suffer a severe accident.
Looking for the balance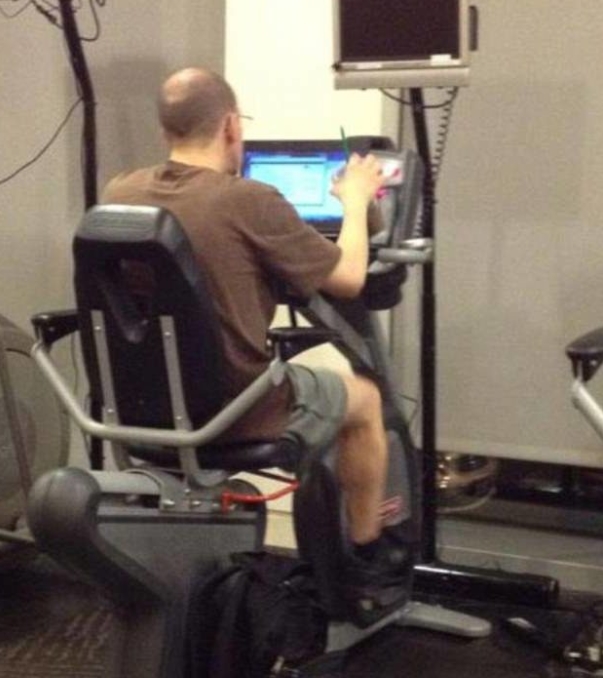 The three "free sessions" of this guy ended, and he decided that he didn't need another person telling him what to do. After a few days of "training," he recalled something fundamental his instructor said. After a long series of exercises, he had to rest appropriately. What he forgot was what he should do during these breaks. A milkshake and a few internet memes can help clear your mind and relax your body.
Never is enough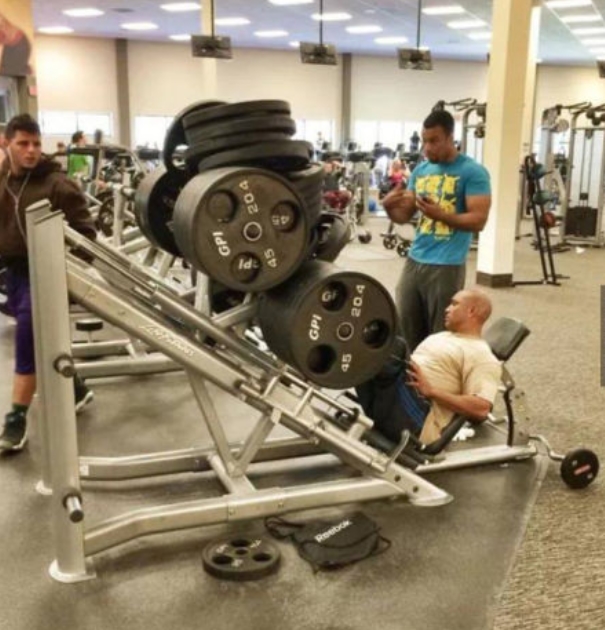 We are all different, and when it comes to the gym, we are not all capable of doing precisely the same as others. Some men are content to lift just a little weight to define their muscles and exercise properly. But some men are made of a very different and extremely resistant material. They are the ones who go around the gym, collecting all the weights they can to perform feats like these. Do not try this without the help of a professional!
Weight loss program
Not everyone is made to run tens of kilometers a day to achieve weight loss, and it is not an exercise that works for everyone. Many people concentrate on swimming or performing repetitions to achieve their goal of losing weight. The important thing is to find the right exercise for each person and apply it correctly to achieve their goal. Perhaps this is how his body exercise, although it is probably not a method that works to lose those extra kilos.
Training the brain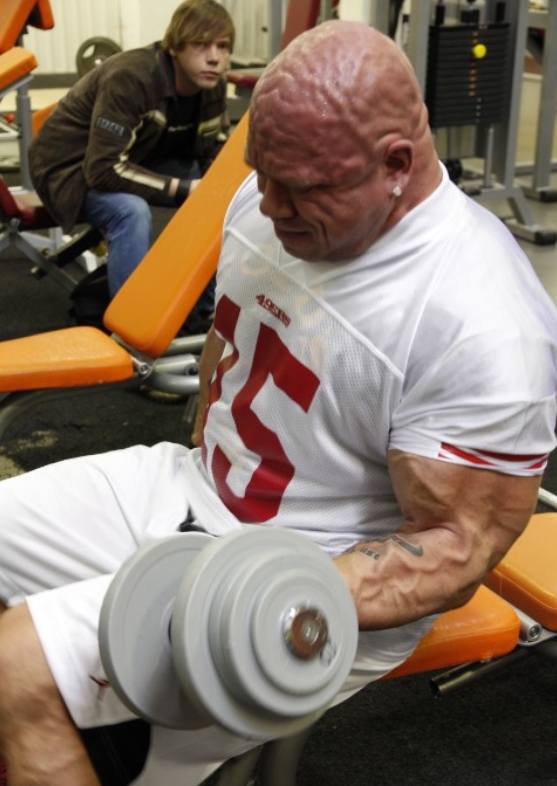 Physical strength is essential for people, but mental power is equally necessary for our lives. Ideally, you should find the balance between the two things to have a healthy and functional body that helps us to live peacefully. The guy of this photograph managed to find the perfect balance and trains both his mind and his body. Although some believe it is a joke, this guy must have a couple of doctorates in quantum physics.
Rat race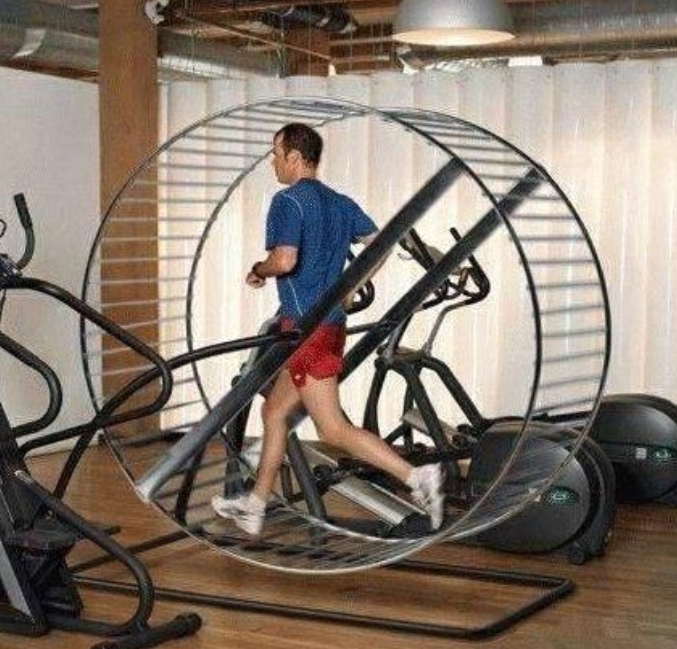 It is normal to feel that you do not get anywhere when you run on the treadmills, but this is an exaggerated representation. This guy is preparing hard for his next "rat race," but he didn't have to get to such extremes. At least he will train and get fit, but he will probably get frustrated after so much running. Using this bizarre device, he can feel how his pet hamster feels after all day locked in its cage.
A great example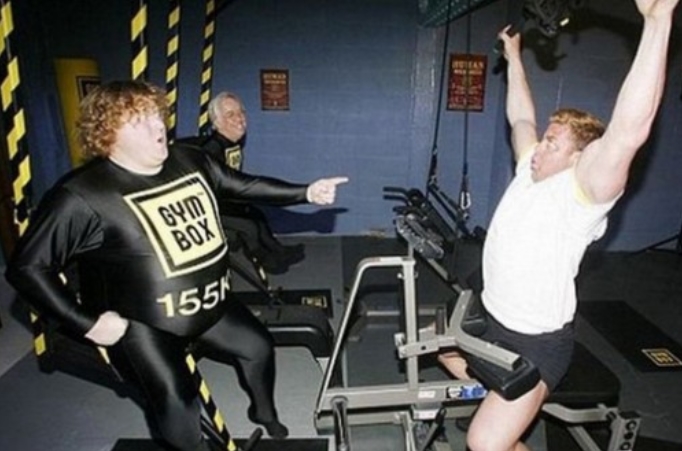 People should lead by example, especially when it comes to getting other people to do something. If you go to a restaurant where the chef does not eat his own food, it is normal that you have many suspicions. The same goes for training because nobody wants a person out of shape to tell them how to exercise. This method may not be the most appropriate, but clients of this gym probably try harder. Nobody wants to spend the day listening to the screams of a fat man!
Motivation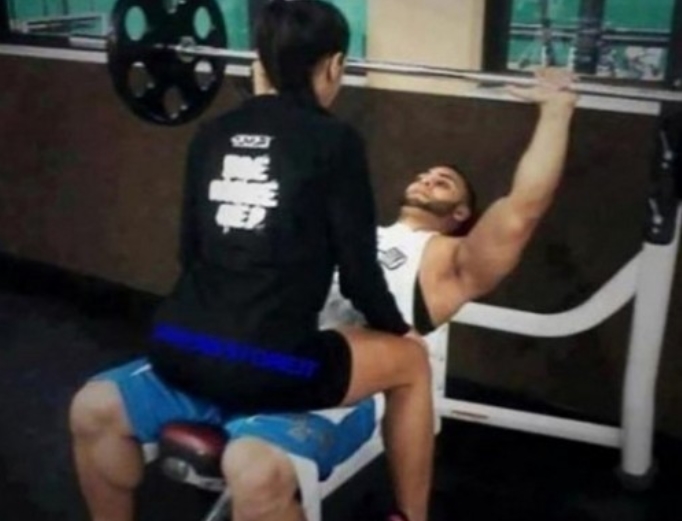 Attending the gym daily to train is an activity that requires a lot of motivation and an important goal to achieve. Some people do it for personal reasons and others to improve their health, but everyone needs something to fight for. Whether doing squats, pushups, or any other activity, there is no better motivation than a beautiful girl. The prize of this boy is the happiness of his sexy girlfriend who supports him to continue despite his tiredness.
Oxy morons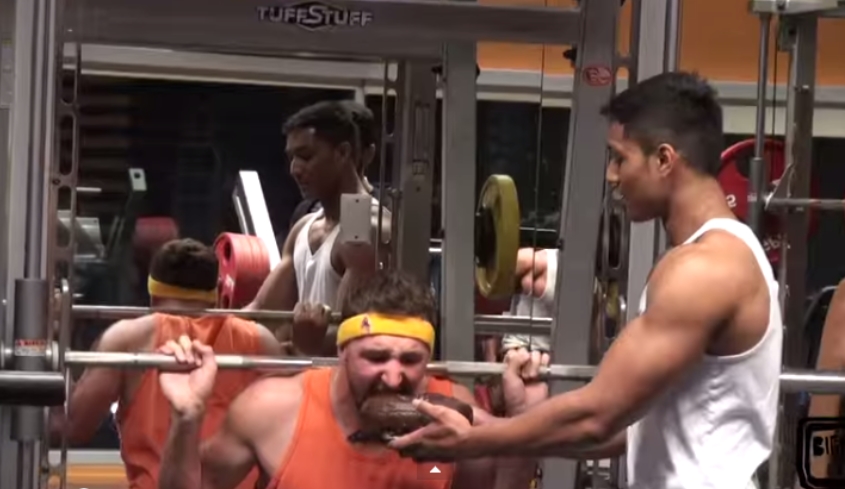 There are things in the world that are totally opposite, and there is no way for them to accompany each other. Although training requires an abundant diet to recover the energy you spend, it is not about eating anything. We understand, chocolate is too tasty, and we can't help but enjoy it, but it's not the best companion to the exercise. If your motivation to train is that delicious 10,000-calorie chocolate cake you have at home, you're doing something wrong.
Couch potato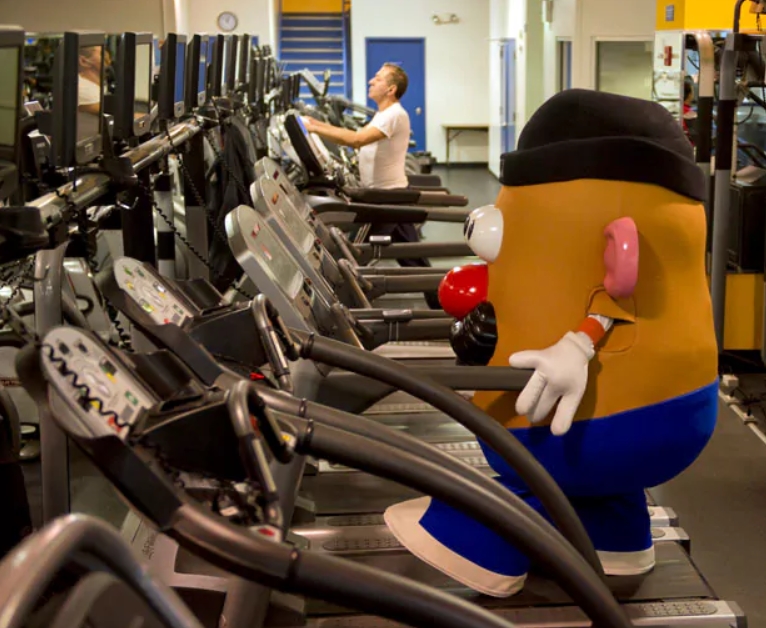 This guy's wife was tired of seeing him all day stuck to the television without moving from the sofa in his house. She ordered him to go to the gym to improve his health and get him away from home, but he interpreted things differently. When she told him he was becoming a "couch potato," he simply didn't understand what she meant. We must give him some credit; training in that suit must be painful and hot.
An excuse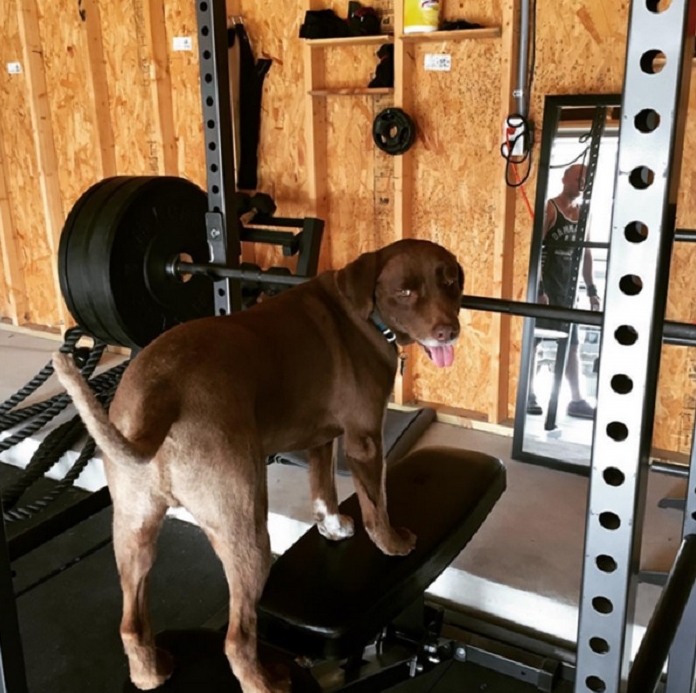 If we have to exercise, we became experts in developing any kind of reason to get away from going to the gym. If we let our imagination fly, it is effortless for us to come up with 20 or 30 different reasons to avoid exercise. If your dog decides to "prevent" you from approaching your training machines, see it as a divine sign. Think of it as the perfect excuse to rest your muscles and resume that series that you were watching.
Which one is stronger?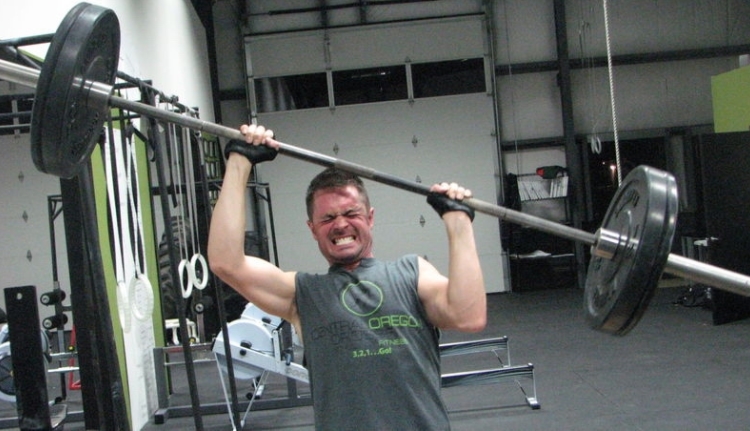 When we start training, it is normal for one side of our body to be stronger than the other, even though we don't know it. Not sure which is your weakest side? You will notice this the first time you go to the gym and try to lift weights as in this image. This guy should be careful to avoid getting injured if his weakest arm doesn't support the weight.
A quick exercise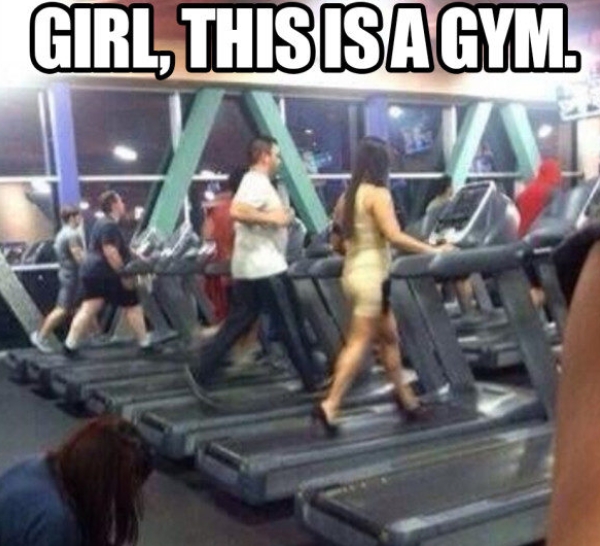 We all know that lover of work-outs that throws himself to the ground to do a couple of push-ups before the girls see him. The idea is to press the muscles and look stronger, but it is not something that really helps your training. Now, if boys can do this before a date, why can't girls go to the gym to do the same? A couple of miles on the treadmill can help her legs look better.
It's not that easy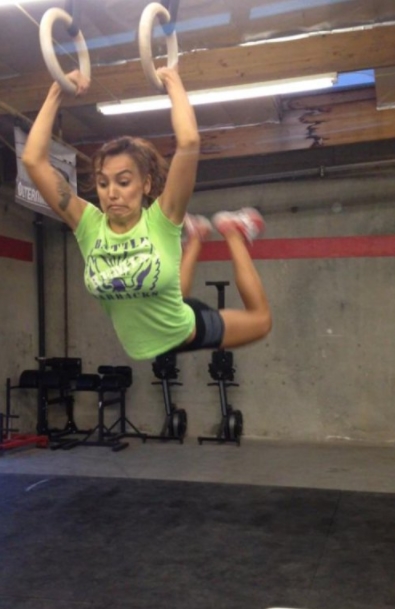 We have all had the opportunity to see the gymnasts in the Olympic games spinning in those rings. Although it seems to be something simple, the truth is that it is an exercise that requires a lot of discipline and training. It is not something that anyone can try without a coach who tells them the right way to do it. You can try, but the result can be very disastrous, and you could end up seriously injured and with a headache.
Exercising the face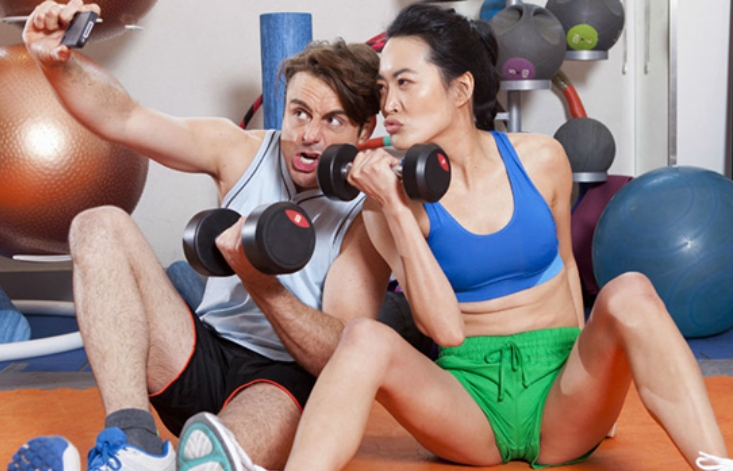 People attend these places to strengthen their muscles with constant exercise, but some have other plans. The facial muscles can be enhanced to prevent sagging, but the gym is not the ideal place for this. Some people go only to take pictures and show others their "discipline and effort." While doing this, the "duck face" is one of the favorite exercises for their face because it keeps them fashionable.
Comfortable clothes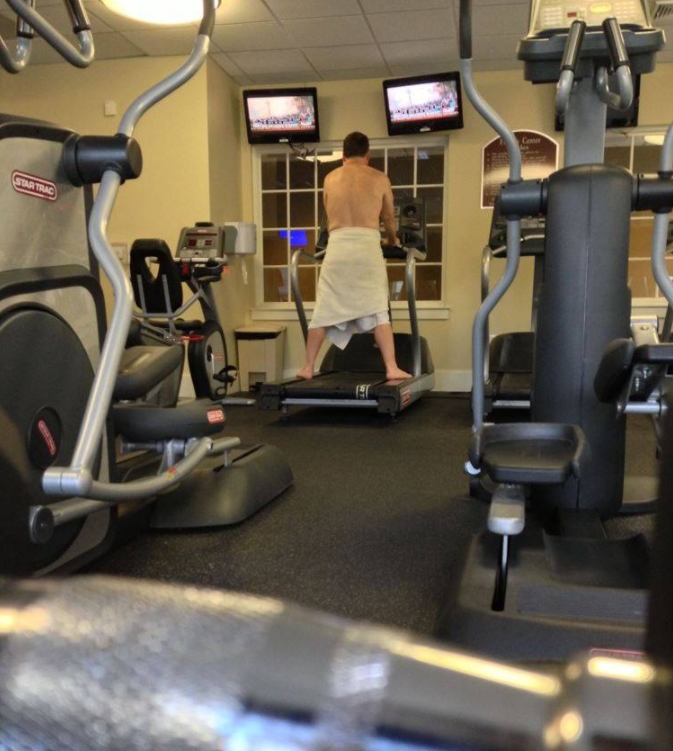 You are supposed to attend the gym with the most suitable clothes you have so that it does not get in the way, but some people exaggerate. When a gym sign says, "Come as you are," it means that all people can attend regardless of their weight. The guy of this picture took the message very seriously and decided to go to the gym as if he were at home. The staff likely expelled him for indecent behavior, but at least he was able to train a bit.
Mental exercise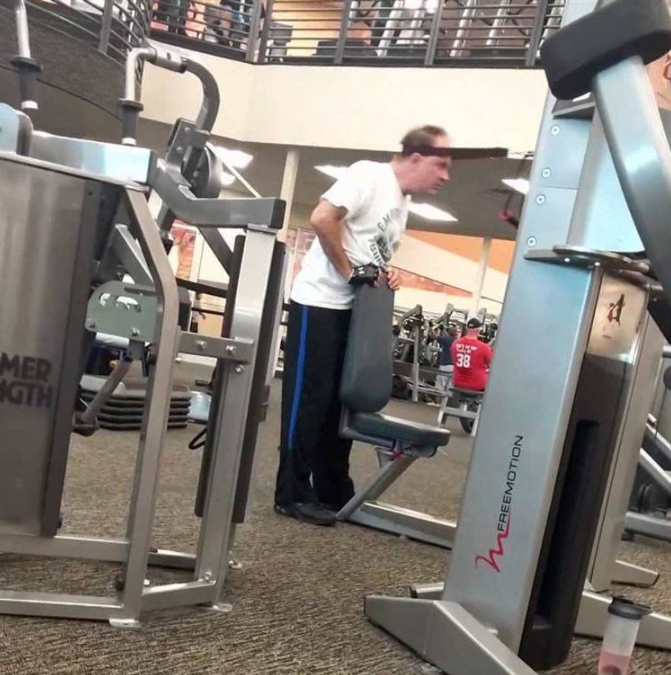 The brain is also a muscle that must be exercised for it to develop appropriately and function with agility. However, you cannot train your mind the same way you train your arm or leg muscles. This guy took advantage of the fact that one of the machines was unoccupied to try to develop a bit of "brain mass." In addition to causing himself a headache, he is likely to get very dizzy from that workout.
An innovative exercise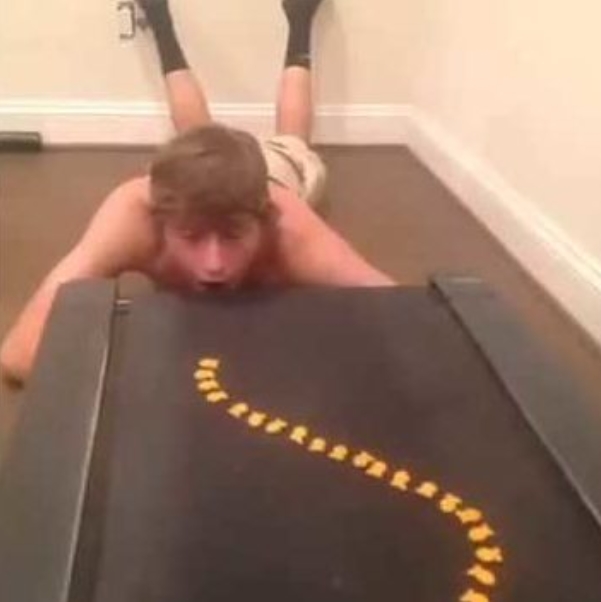 The creativity of this guy gives him the prize of the smartest person on this list. It is a brilliant idea to develop a way to exercise his neck and tongue muscles at the same time. This game includes a treadmill, so it is adapted to be applied in any gym in the world. It is not the most efficient way to lose weight, but it may be a fun way to develop a muscular neck.
A segway?
Each person exercises in a way that seems adequate for their abilities, but this is too much. We have seen women in high heels on the treadmill and let it pass, but using a segway to "exercise" is cheating. In addition to spending electricity on both devices, it will not strengthen your body in any way. Maybe she wanted to accumulate kilometers on the counter to show her husband how much she "tries" every day.
Are you surprised?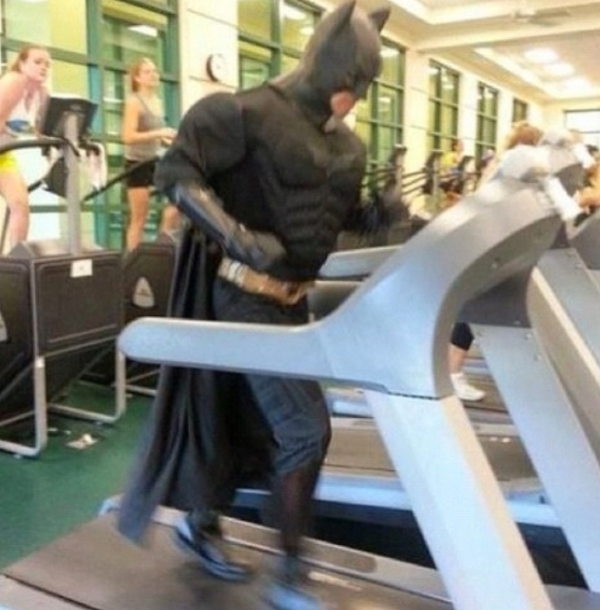 There is no reason why you should be surprised to see this image; even superheroes need to exercise. How do you think Batman has the strength to beat the Joker so many times? It is all due to his strict training regime that does not allow him to rest any day. The strange thing is to see him training without Robin or Alfred's company to encourage him. Perhaps the Batcave needed to be disinfected, and he could not continue his work-out in the Batgym.
Old age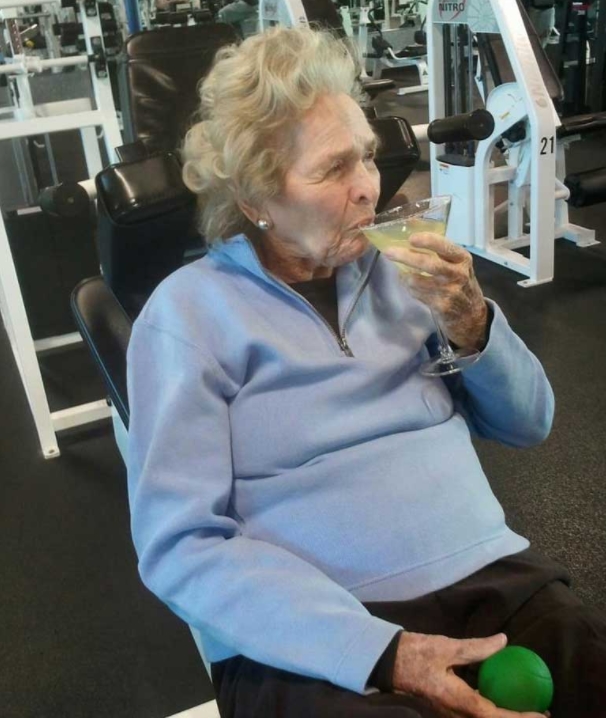 This image has absolutely nothing wrong because this lady has gained the right to relax after so much training. If you have been exercising like her for many years, you need to stop for a moment and enjoy. We all deserve a Martini while delighting our sight in the gym when we reach this lady's age. We hope no one tries to tell her that she cannot drink in the gym or they'll see the results of her hard work.
Starting with advantage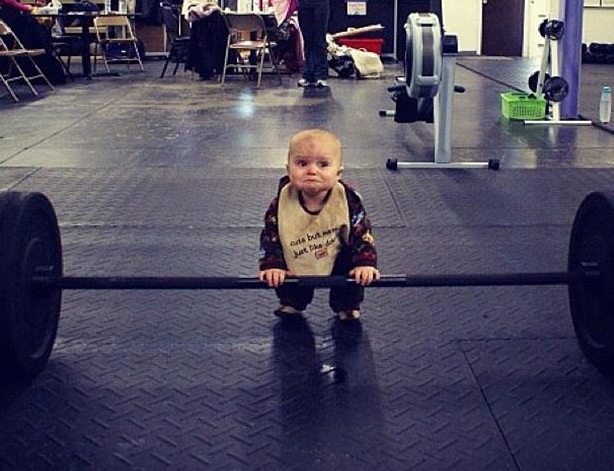 Having some initial training in anything is appreciated, but we should not abuse this possibility since childhood. It is essential to exercise from an early age to develop strengthens and enhance our defenses against diseases. However, some exercises are not suitable for such a small baby. Look at his face! This little one is determined to be the strongest of all preschoolers, and nobody is going to stop him, even if they try.
Start slowly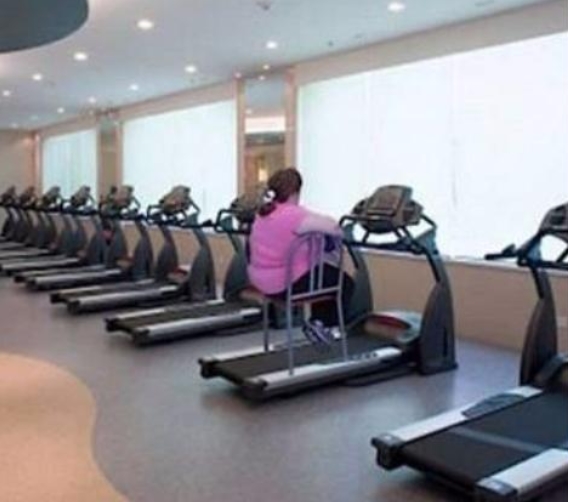 Ideally, you should start the first few weeks in the gym slowly to avoid injuring any muscles, but without exaggeration. The girl in this picture took the advice of her coach very seriously and decided to start at the lowest possible level. When her coach told her to start on the treadmill slowly, she did exactly that. We cannot criticize her because, after two weeks, she changed to a lower chair to reach the treadmill. The progress is evident!
At your own speed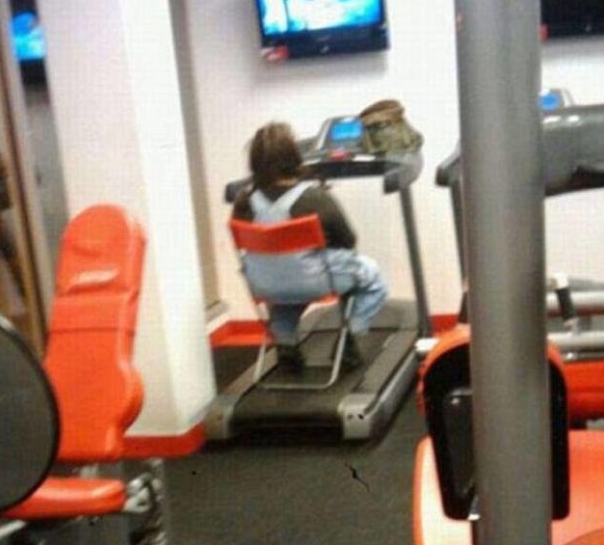 This image is another example of a person who wanted to exercise on the treadmill on his own terms. After a couple of weeks, this guy did not understand the purpose of this exercise because he did not see any results. Although all his friends boasted about all the weight they had lost, he was bored of sitting there. He was able to finish reading a couple of books that he had saved but failed to lose weight despite how hard he tried.
ABS Vs. UFOs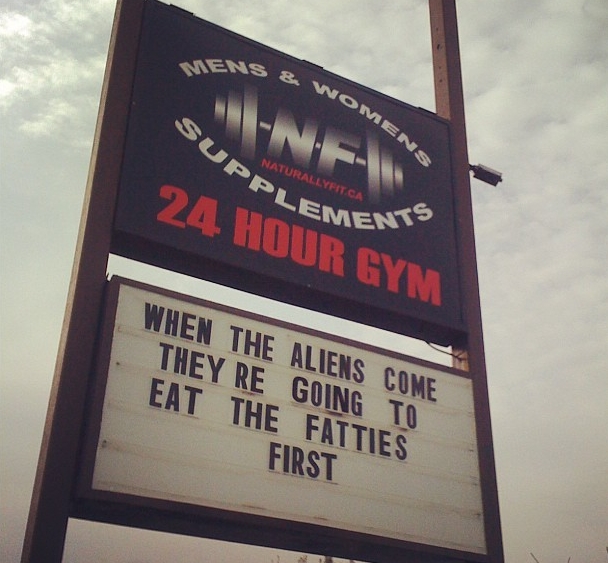 There has never been a greater motivation to exercise than what we can see in this huge fence. The day the aliens arrive on our planet, prepared people will be sweating all the extra fat. There is the possibility that they'll eat skinny people first as snacks! The best idea is to develop a lot of muscle mass so that it will be complicated to chew it, and you'll be able to escape their attack quickly. Will they prefer vegetarians or omnivores?
A total disaster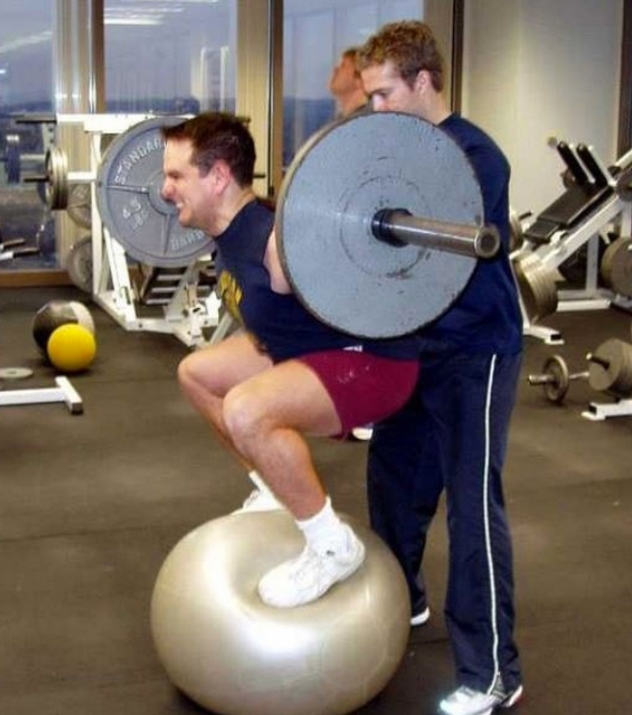 It is impossible to see this image without imagining the disaster that approaches this pair of "athletes." There are many things wrong in this picture, but they will get even worse when that guy loses his balance. Not only will both be injured, but the ball will bounce and hit someone else. This accident will develop a chain disaster that will make these guys regret the day they thought lifting weights would be fun.
A ball's up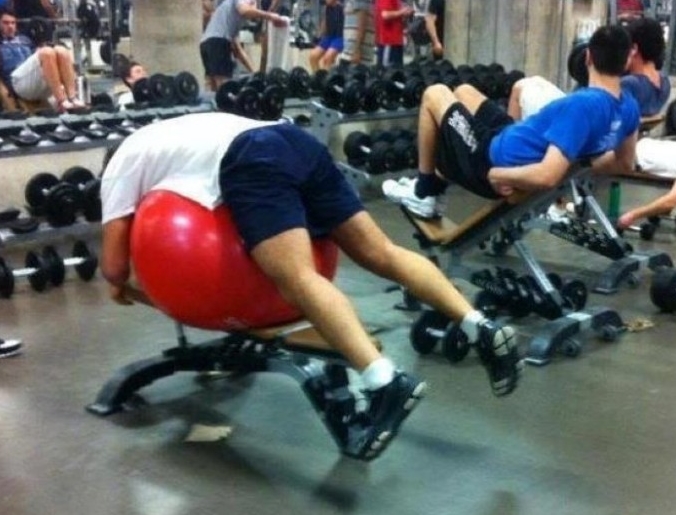 Yoga balls have many different uses that gym lovers can take advantage of to exercise. Some people use them to replace some of the machines used in the gym, but is it necessary to combine the two? The result of this experiment can be as disastrous as the one in the previous image. It may work for what he wants to achieve, but he will likely end up severely hurt thanks to his creativity.
The importance of a friend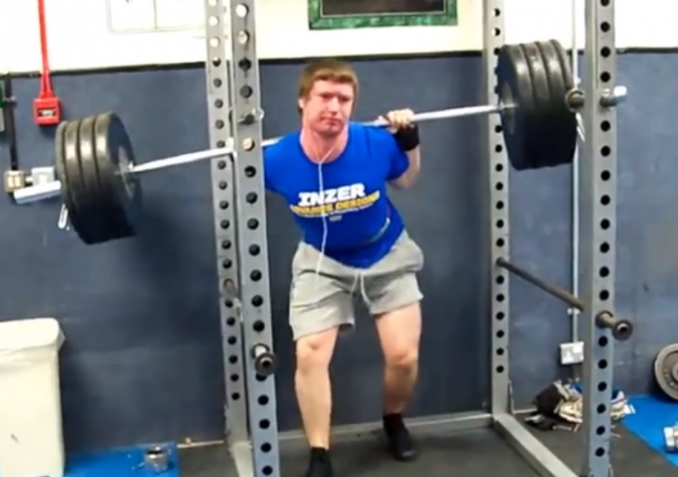 When you start attending the gym, the ideal is to be accompanied by a person who can support and motivate you. You should avoid biting more than you can chew, and avoid overdoing it with the amount of weight you lift. A friend can help you at a time as desperate as this, and you can't trust someone else to help you. Most likely, some voyeur will capture a photo like this, and you'll end up with your ego, and body, hurt.
Less is more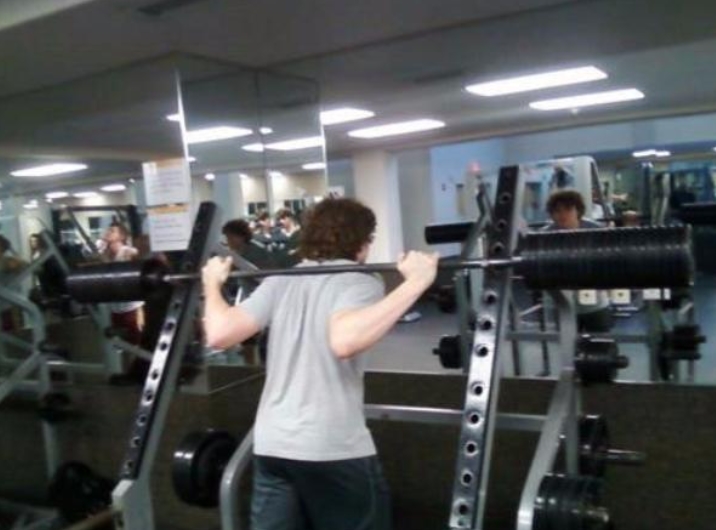 Some times like this, less is NOT more. Trying to show off in the gym by placing a lot of small weights will only waste your time and become the mockery of others. Also, if you think it will be less cumbersome by using smaller loads, you are very wrong. Although this guy can deal with that amount of weight, it is much easier to remove one weight of 20 kilos, than twenty weights of 1 kilo. This guy will spend more time adjusting weights than training.
Bruce Lee 2.0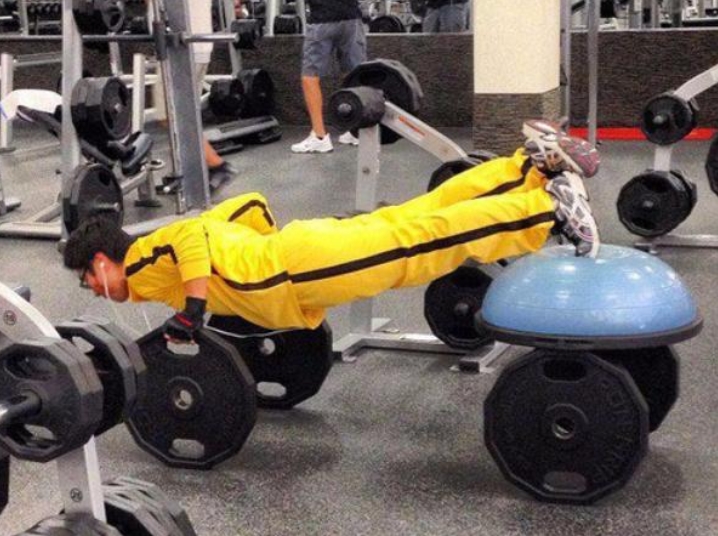 Sometimes we use our heroes of movies or martial arts as motivation to go to the gym. This idea is not a bad thing, but you must understand that wearing a similar outfit and replicating their complicated exercises will not turn you into them. This guy draws everyone's attention for his clothes, which will make everyone laugh at the moment his balance fails. Maybe we are wrong, and he is a professional, but we doubt that this is the case.
Do not rush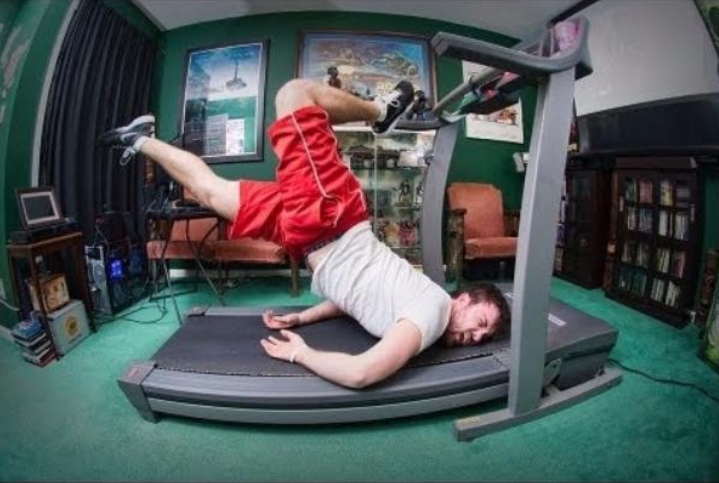 Many people think about starting to exercise, but work and laziness make us postpone that moment. "I'll start tomorrow," "I'll start after the weekend," "I'll start on January 1." These promises are straightforward to break, and if we wait for the perfect moment to come, we will never begin to work-out. The best thing you can do is get up from your bed and ride the treadmill before it hits you in the face.
Rest properly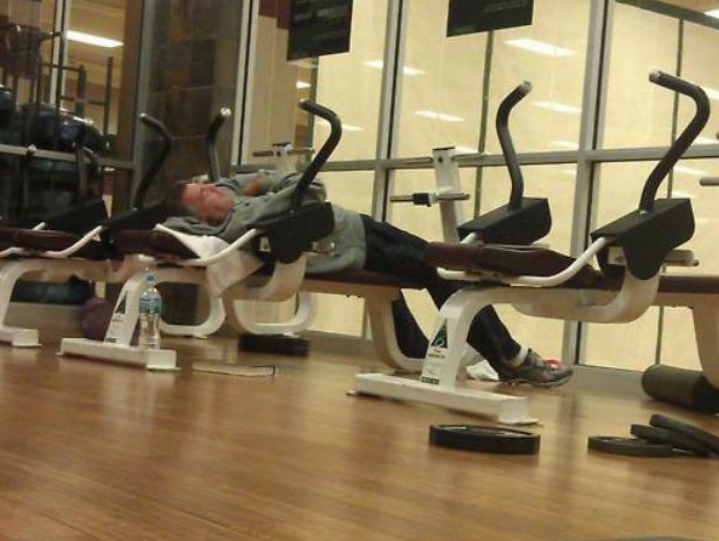 All coaches will continuously remind you that you should rest a bit not to get too exhausted. But one thing is to relax your muscles, and another is to take a nap as this guy does. If you get bored while waiting for the time to exercise again, the best option is a book or listening to some music. Falling asleep in the gym will only cause discomfort among the rest of the people who pay to use the equipment.
The best motivation of all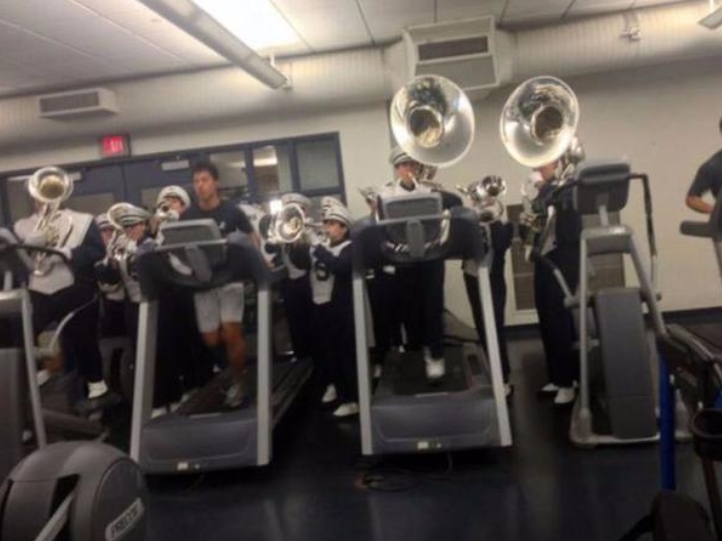 Listening to music while training is a way to motivate and encourage you to continue the strenuous exercise. But there is a huge difference between wearing headphones and inviting the entire school band to the gym. It may be the perfect formula for this guy to complete his training, but not everyone will support this. This image shows that it is always a good idea to have influential friends who want to see you grow and know how to use the trombone.
Six-pack!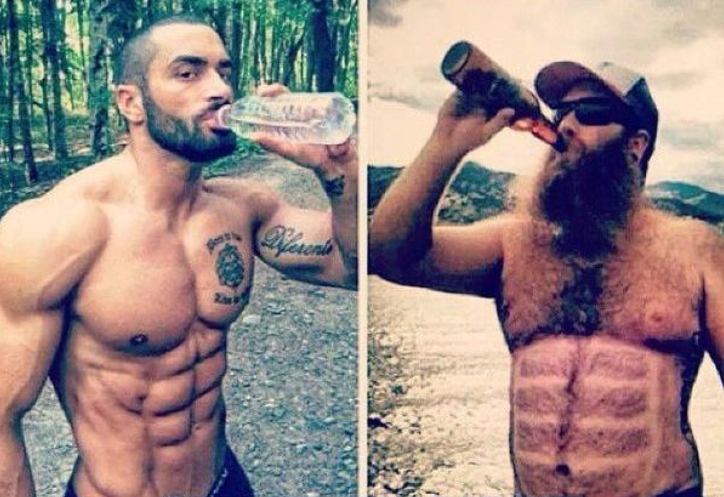 What is the perfect exercise to have perfect abs? Each coach will recommend many different ways to achieve it, but only you know how your body will behave. For some people, the answer is to do many exercises and strengthen that area of ​​their body. But other people will look for the most natural way out that doesn't take them away from their favorite beer. Why so much fuss over a six-pack? With a shaver and a lot of free time is something easy to achieve.
Safety first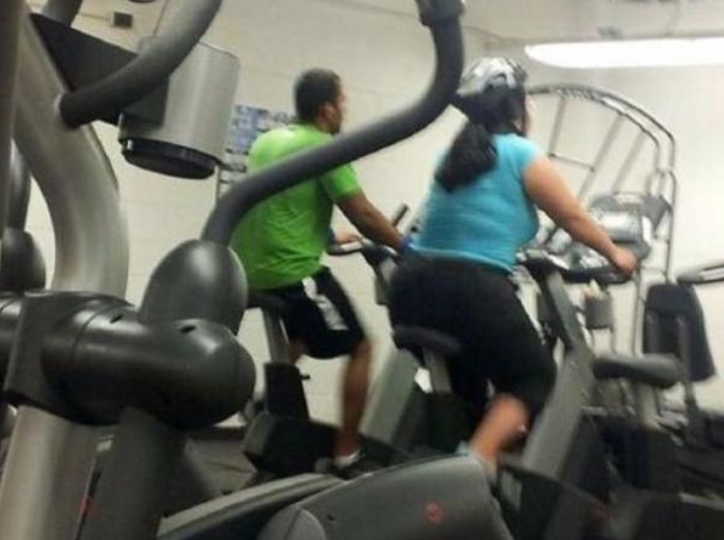 It is always important to apply all safety regulations regardless of the kind of exercise you are doing. Although there is no reason to worry, prevention is better than regret at all times. You can't blame this girl for being too cautious when her boyfriend invited her to go to the gym. With the number of accidents we have seen on this list, perhaps she is much smarter than we think. The next time you go to the gym, remember to wear your helmet!
Perfect adjustment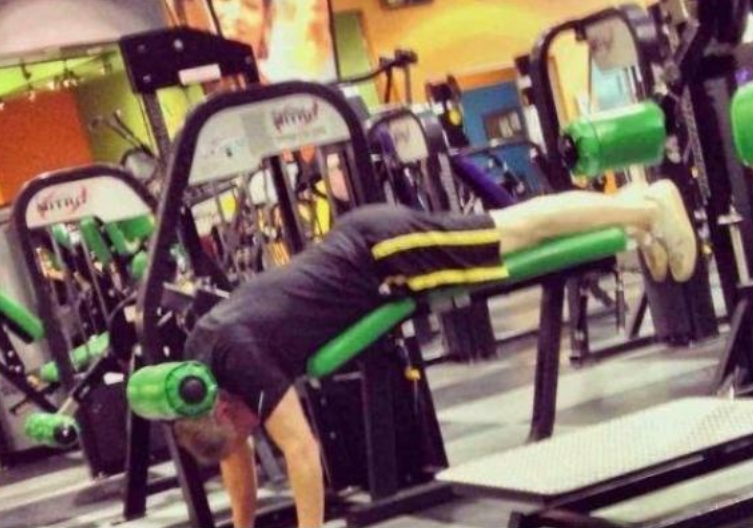 One of the main advantages of modern training machines is that they are effortless to use. Most come with instructions, so it is almost impossible for you to misuse it, but everything is possible. These devices are built to fit the shape of the user's body perfectly. If you can use it comfortably, who are the others to tell you that you are misusing it? This guy knows what exercise he needs for his body.
It's time to find a new coach!
Gym coaches should help and support you at all times to prevent you from making some kind of mistake. Some of them are so involved in the exercise that it is difficult to know if they are doing their job correctly. Despite how much it motivates you, they should be aware that sometimes you cannot finish that series of repetitions. If your coach does this to "help" you complete your training, it is time to change your coach.
Many of these images are really funny, but others are the testament to severe accidents. No matter how much you want to train, you must first think about your health and safety. Letting your creativity fly in a gym can be very dangerous, but very funny for the people around you. Have you seen any similar situation at your local gym? Let us know your thoughts in the comments section and don't forget to share this article with all your acquaintances.
Sources: WorlDemand