Our Favorite Stars Without Makeup or Any Cosmetics
Most celebrities today are regarded as a living representation of perfection. And guess what; we often want to be like them by following their fashion sense and lifestyles just to come close to this status of perfection. But just like the rest of us, celebrities don't always wear makeup. Beneath their beautiful faces lies their bare faces and imperfections. You may be puzzled if you get a chance to catch a glimpse of the unclad faces of some celebrities. Thanks to the #NoMakeup and #wokeuplikethis trends on social media that allowed us to see some stars without their blush, lip gloss, and eyeliner. That hashtag spawned hilarious parodies online, but many celebs took the plunge posting 100% natural pictures of themselves online. The results were eye-opening to say the list. Here are 100+ photos of widely recognized celebrities without makeup. 
Naomi Watts – Mulholland Drive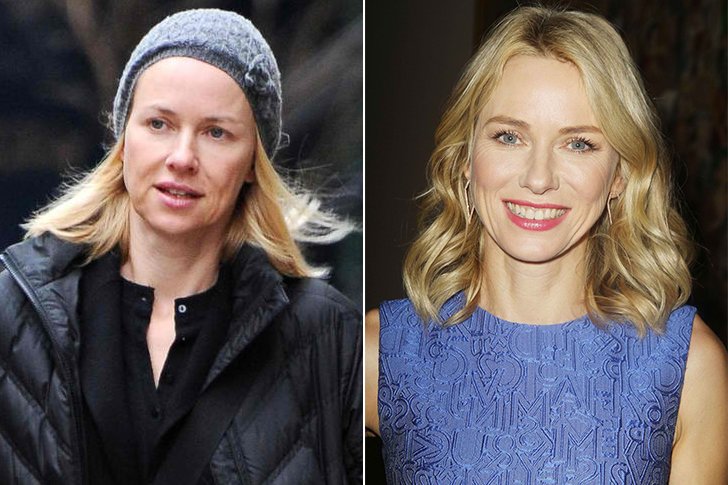 Naomi Watts is a famous Hollywood actress, and her name became a household headliner after starring in movies like Mulholland Drive, The Rings, and 21 Grams. Watts at 50 still possesses some flawless features, and she can proudly step out in style without makeup. It's great seeing this actress age gracefully as she embraces aging naturally. Watts has remained in-demand in the film industry till this day, and she's set to star in a new film titled The Loudest Voice.
Kylie Jenner – Keeping Up With The Kardashians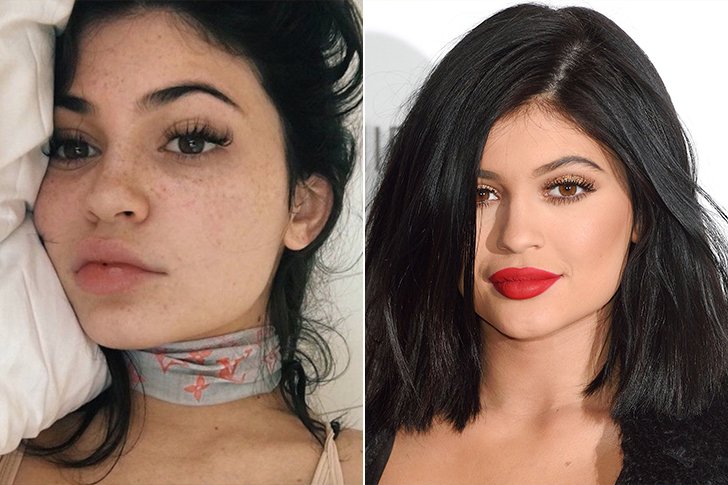 Ranked among the celebrity billionaire list, Kylie Jenner looks real and beautiful without her makeup. Her freckles are noticeable and adorable without her makeup; little wonder she appears beautiful whenever she uses her cosmetics. Kylie's eyeliner received some negative comments from the public since the picture was meant to be a natural shot. But you can't deny that she looks good appearing natural. It's not a surprise seeing her rank among 2018 most prestigious young celebrities by New York Post. Her Kylie Cosmetics brand helped her achieve her billionaire status at 21.
Melissa Rauch – The Office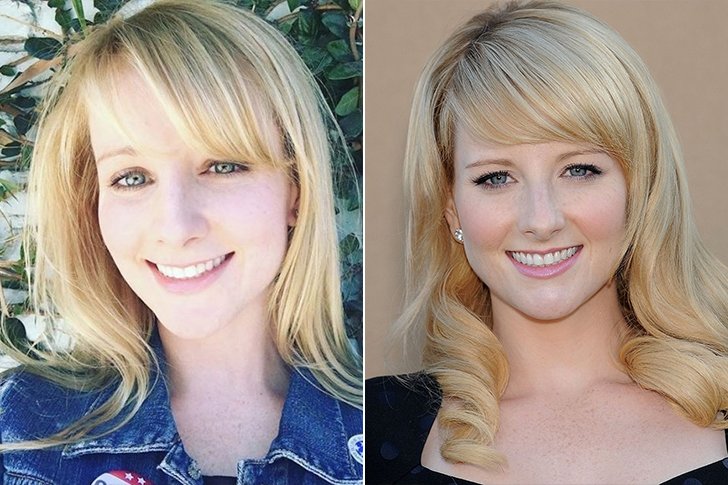 Melissa Rauch won the heart of many by starring in the Big Bang Theory. The stardom won the hearts of people with her beautiful emerald eye, blonde hair, and her iconic portrayal of her role in the movie. It's not surprising that she received the Critics' Choice Television Award for Best Supporting Actress in 2013 for a Comedy Series. Melissa has also taken up roles in Kath & Kim, The Office, and True Blood. Now in her late 40s, the actress only needs something light natural for her face to keep up with the daily routine. She has also started to lend her voice in animated films such as  The Monster Machines, Batman and Harley Quinn and Blaze.
Amal Clooney – Wife of George Clooney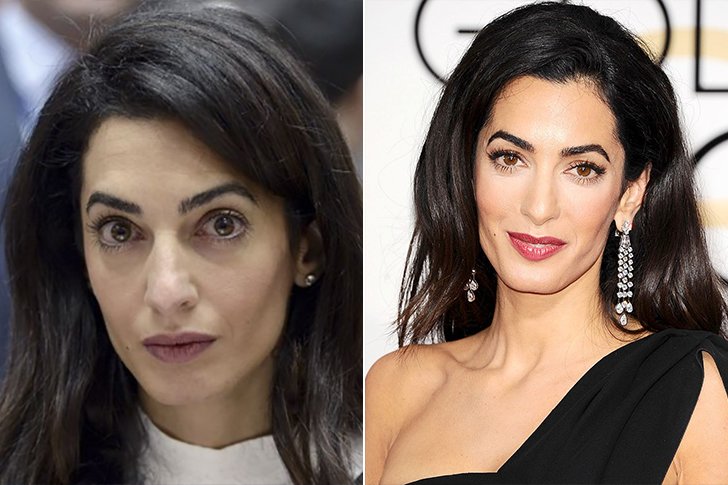 Amal Clooney is known as a lawyer who works at Doughty Street Chambers asides being the wife of a famous actor- George Clooney. Amal's clients are also prominent like her, which include journalist Mohamed Fahmy, Prime Minister Yulia Tymo, and Julian Assange. Amal gained attention from the public when people saw her bare face. Her natural face is only a proof of her beauty, and she's completed it with gorgeous dresses as seen in red carpet events alongside George. The couple welcomed their twins-Ella and Alexander in 2017.
Katherine Heigl – Grey's Anatomy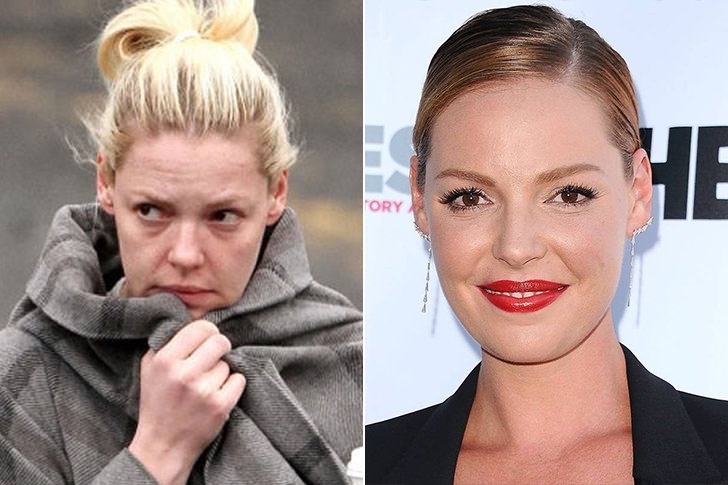 If you still doubt the power of cosmetics, you should consider its transformation ability on actress Katherine Heigl to have a rethink. But don't be confused, she also looks good beneath all that makeup. Her bare-face photo may be one of those days when she's not photogenic. If you have seen the medical drama Grey's Anatomy, you should be familiar with Heigl. She earned a Primetime Emmy Award for her role as Izzie Stevens in the movie. The actress who also starred in Suits in 2018 is married to Josh Kelley and shares three children with him.
Gigi Hadid – Ocean's 8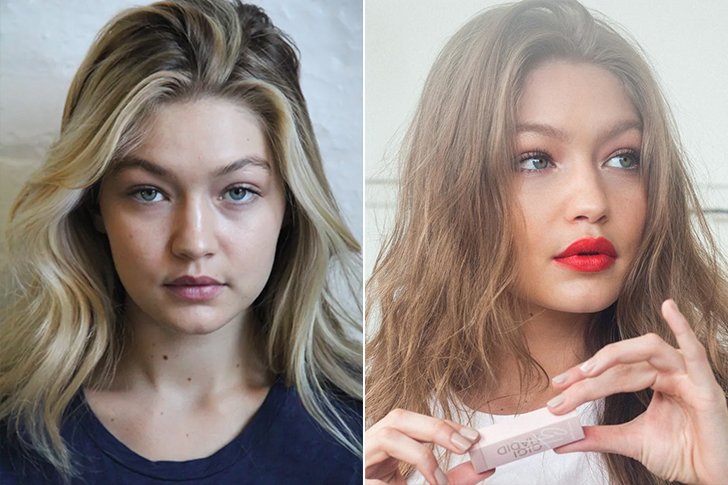 It is hard to resist being envious of the bone and facial structure that this celeb possesses. Gigi Hadid's natural face is beautiful, and you may always be tempted to avoid makeups if you had features like hers. Unfortunately, it is rare to spot Gigi without any cosmetic on her face since she's always dolled up for her attractive social media posts. If you are still in doubt about her alluring look, it will amaze you to know that Gidi was named International Model of the Year in 2016. And for the record, she's single after breaking up with Zayn Malik in 2018 to end a three-year relationship.
 Christina Aguilera – The Voice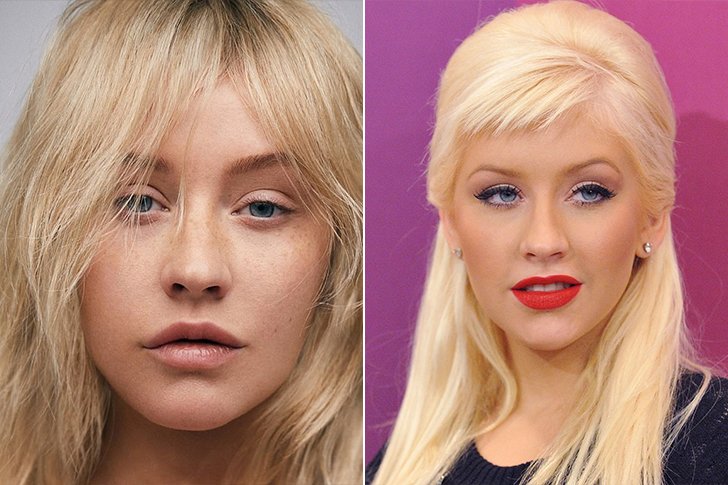 This pop icon will hardly lose the love of the people. She's notable for her pure voice and most especially her gorgeous blonde hair. Christina Aguilera took her style to the next level by posing for the cover of a magazine with her natural face. It amazes us how this beauty remains flawless in her look. Her records are one of the best-selling tracks with over 75 million record sales worldwide. Christina is also one of those pop icons to star in a movie, and she's done well in Burlesque, a 2010 film. She served as a judge in a reality competition show named The Voice, and her 8th studio album (Liberation) has shown her musical transition after six years.
Rosie Huntington-Whiteley – Mad Max: Fury Road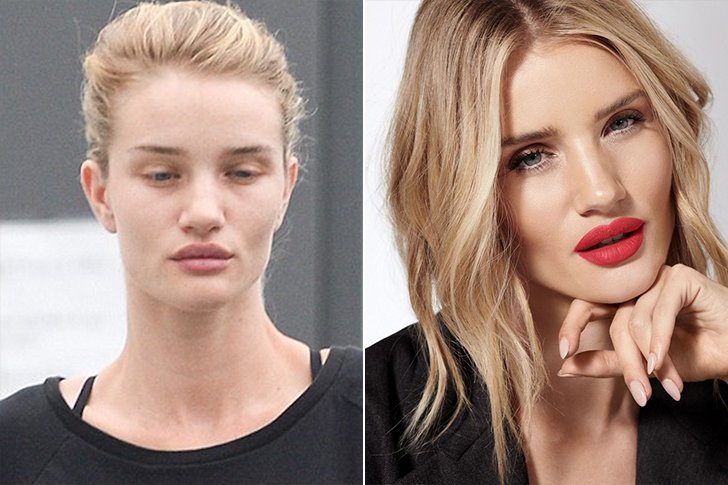 You need to take a second look at both pictures above to recognize that they are the same person. One would almost think that Rosie Huntington-Whiteley here is the younger version of the modeling figure with just her bare face. But the makeup appearance is highly expected since she needs to look her best as Victoria's Secret ambassador by avoiding having sagging skin. At the same time, Rosie needs to maintain her beauty as an actress who featured in Mad Max: Fury Road and Transformers: Dark of The Moon. The model cum wife of Jason Statham welcomed her first child in 2017.
Jessica Alba – Fantastic Four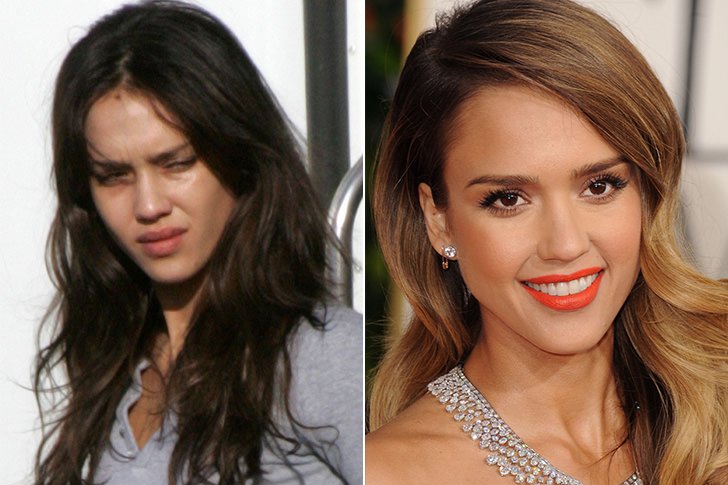 Jessica Alba is another celeb that has proven that one can still shine in the limelight even without loud makeup. Although she's frowning in this picture, she still looks great with her bare face here. The stardom was quick to climb the ladder of fame at a tender age of 19 earning the lead role in Dark Angel. Jessica later cemented her place in Hollywood fame through her role in films like The Eye, and Sin City and Fantastic Four. Jessica is involved in other things asides acting; she's a co-founder of The Honest Company, a group that seels infant items and household products. See more of her in the 2019 T.V. series, L.A.'s Finest.
Miley Cyrus – Malibu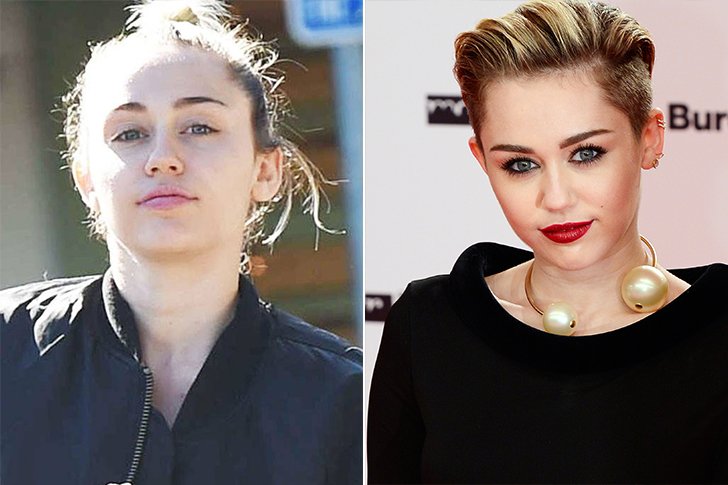 Miley also took the challenge of styling herself among celebs that can appear without loud makeups on their faces. Left for us, we would rather see a Miley without cosmetics because she looks charming with her bare face. Do you remember Hannah Montana and Big Fish, those are the films that starred the teenage Miley. The celeb became bolder in her persona, and she grew in her musical sense evolved with hit tracks such as Malibu, 7 Things and Wrecking Ball. Miley Cyrus also founded the Happy Hippie Foundation, an organization that focuses on homeless youth. The vegetarian tied the knot with Liam Hemsworth at Nashville, Tennessee in 2018.
Demi Lovato – Skyscraper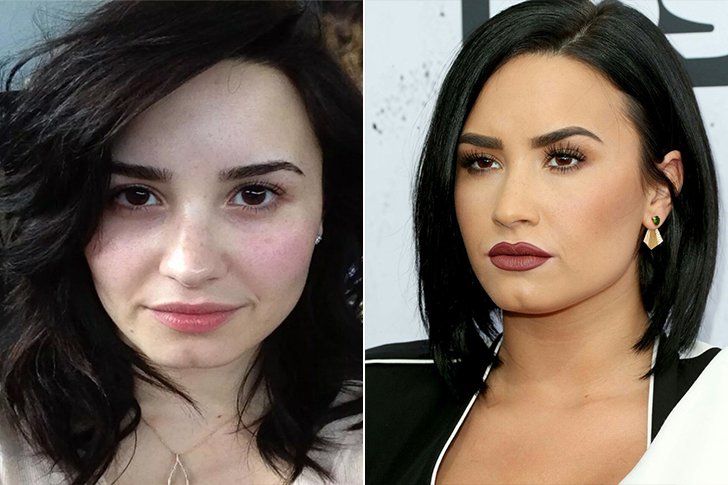 Demi Lovato is a singer with a complexion that many desire and she prefers to go bare-faced whenever she wasn't out for a tour or concert. Lovato has been opened about her struggles as a teenager in several interviews, and she produced Beyond Silence in 2017, a documentary about mental illness. Having enjoyed success with Disney Channel's Camp Rock, Lavoato went on to produce hit songs like Skyscraper and Don't Forget. Also, the singer has been working on her seventh album since mid-2018. But she's yet to disclose the title to the public.
Lorde – Royals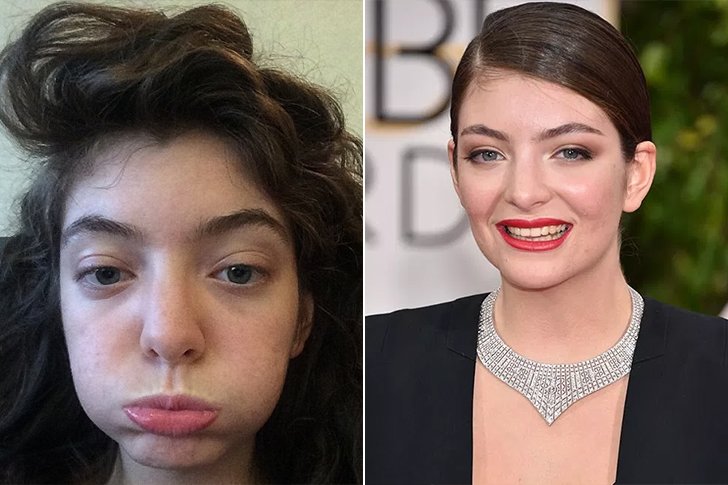 Seeing in her bare face or not, Lorde doesn't look like a lady in her 20s, as a matter of fact, the singer is just 22 years old. She seems very mature for her age, minus the wrinkles on her face. The Royals crooner started her career in 2009 and had collaboration with producer Joel Little in 2011. She released Pure Heroine, her debut album shortly after the famous Royals. Lorde is not taking the back seat when it comes to Awards; she's won Grammy and Brit Awards and has also received a nomination for Golden Globe nominations. Over five millions of her album were sold as at June 2017 and the singer's second album reached the #1 spot in the US in 2017.
Sarah Paulson – Ocean's 8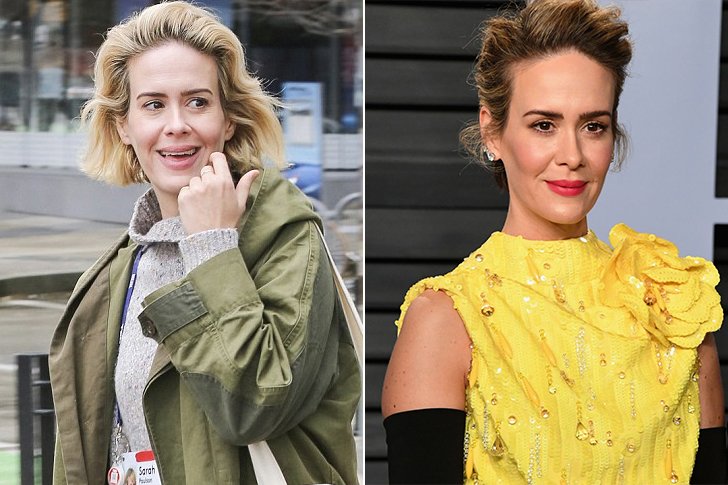 Sarah Paulson started her acting career after her high school days. She was quickly got a role in the American Gothic TV movie even though it was a short-lived series. It is not uncommon to see the actress look differently on several occasions due to makeups thanks to makeup artists behind her ever-changing magnificent look. In American Horror Story, Sarah portrayed various characters in every season of the show an she's arguably one of the best actresses there is today. Sarah is one of the popular casts alongside Rihanna, Anne Hathway, and Mindy Kaling, in Ocean's 8.
Sandra Bullock – Gravity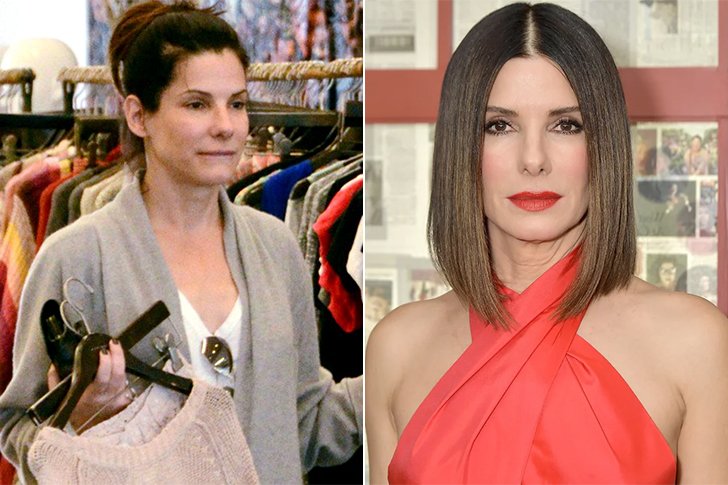 With actress Sandra Bullock, you are sure to draw a large number of people to the theaters and also make a blockbuster hit movie. Her first film made a staggering $5.3 billion globally. Grasp that yet, Sandra Bullock is also one of the wealthiest in Tinsel Town with an estimated around $200M. More often than not, Sandra prefers to go without makeup before running out to get a few pieces of clothes for her kid. But that's no issue because the actress didn't miss out of People's Most Beautiful Woman in 2015.
Olivia Wilde – Conversations with Other Women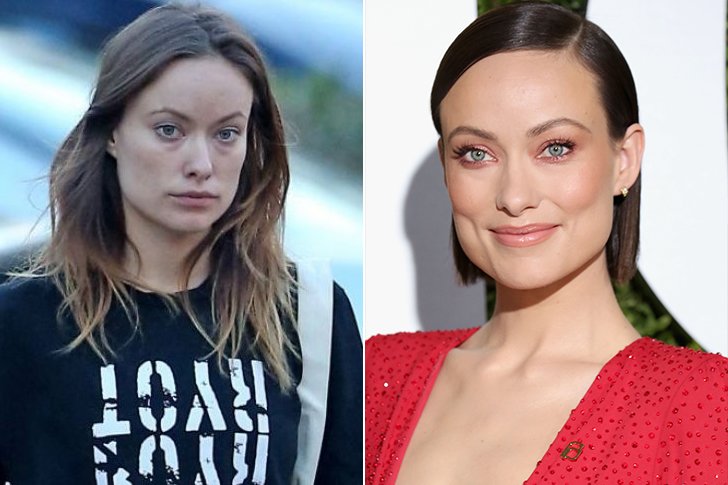 Olivia Wilde had a lot of followers long before her appearance in the House show in 2007. The actress was already popular with the film Conversation with Other Women in 2005, and she's known for her face care regimen before 2007. Olivia's beauty is recognized around the world, and the actress complements her look with styled sunglasses and other accessories. Recently, the icon starred in Life Itself, a drama film and she's also ventured into directing. Her debut work of 2019 is a comedy film named Booksmart.
 Zooey Deschanel – New Girl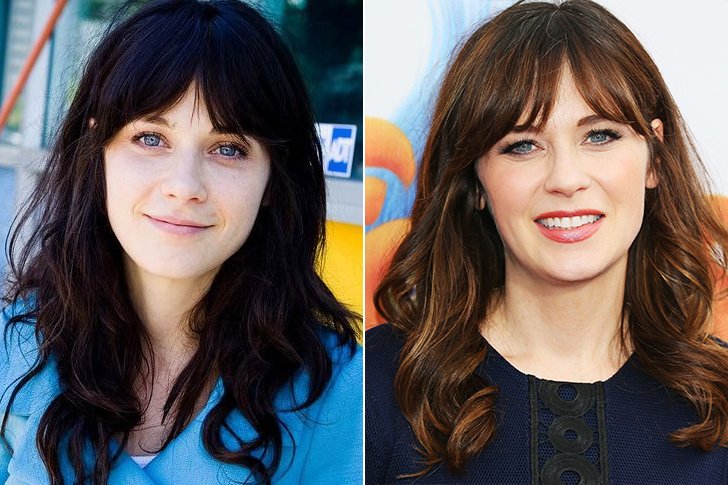 Zooey Deschanel has been the comedian with dry wit since 1999. She's showcased her excellent comedic deliveries in films like The New Guy, The Good Girl, and Elf. It won't be wrong to say that her lack of emotions has helped her deliver excellent humor in several comedy performances. She mentioned in 2013 that the addition of oil to her face as one of the two beauty routine she observes. It's good to know that Zooey has remained beautiful at 39 without the use of anti-aging products. Sadly, her part as Jessica Day on the show New Girl finally came to an end on May 2018.
Kat Dennings – The 40-Year-Old Virgin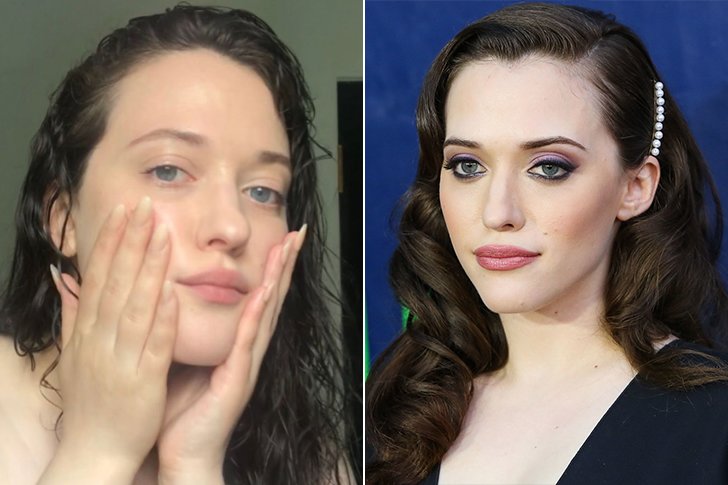 Her incredible physique and remarkable face were a point of attraction when Kat Dennings started acting. Since her roles in The House Bunny, The 40-Year-Old Virgin, and Defendor, Kat has always been dolled in her bright red lipstick, making her beautiful skin stand out. Playing the role of Maxine Black in the show 2 broke Girls seems to have brought her close to her match- Beth Behrs. She acted alongside Beth Behrs who portrayed the character of Caroline Channing. In 2018, she lent her skills in voice acting as Dallas in Dallas and Robo; a Youtube Premium show.
Meghan Markle – Duchess of Sussex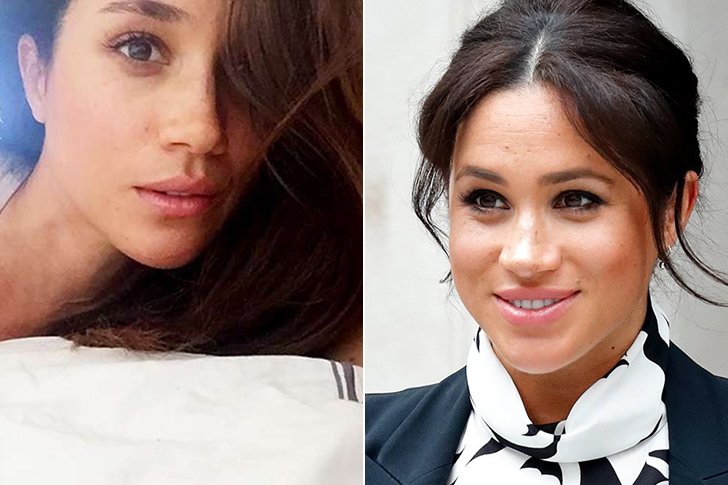 Meghan's marriage with Harry, the Duke of Sussex, was much celebrated around the world in 2018. However, not so long ago, the now Duchess of Sussex was known as Meghan Markle, a prominent TV actress. Meghan portrayed the character of Rachael Zane from 2011 to 2018 in the show Suits where a majority of people knew her. She's also notable for roles in Horrible Bosses, A lot Like Love, and Remember Me. Sequel to her Royal wedding, the Duchess of Sussex closed her social media accounts and also quit acting. She's now entirely devoted to her Royal duties.
Scarlett Johansson – North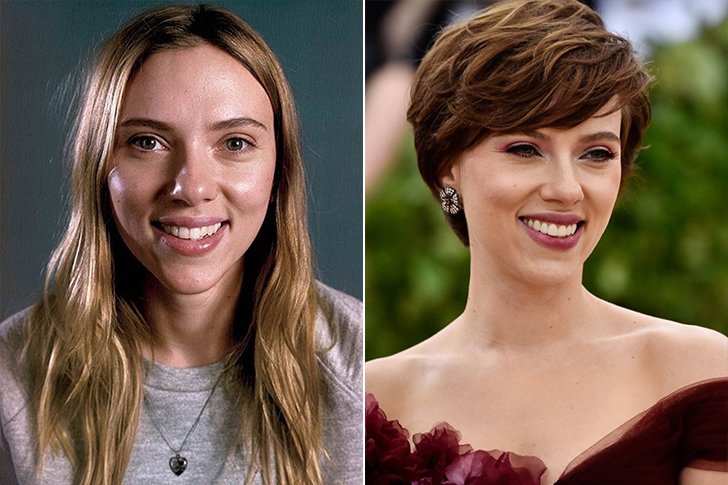 Scarlett Johansson has never stopped impressing us with her acting and singing talents. She's been doing both excellently well and has not stopped looking beautiful since 1994. The actress and singer, has been keeping up with her fantastic look and physique while carrying out her daily activities. At 34, Scarlett has several films and TV series in which she's starred. She's played a role in Lucy, Match Point, and Her. Recently, the actress continued her singing career by teaming up with Pete Yorn for her EP Apart.
Angelina Jolie – Mr. & Mrs. Smith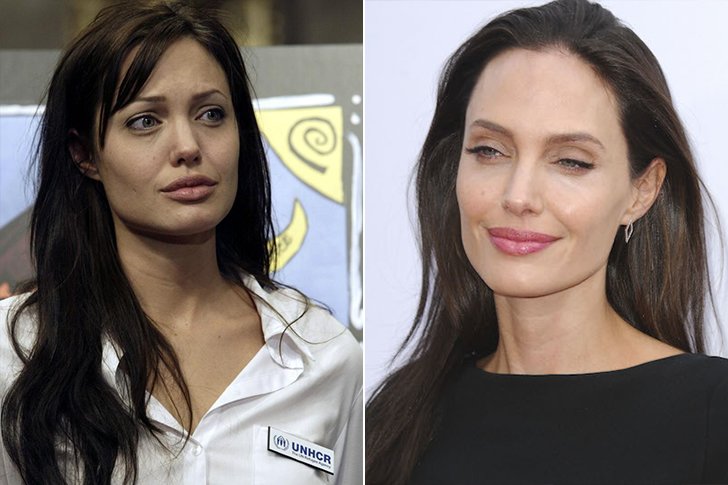 Angelina Jolie was the face of Hollywood at one point in time. She dominated the film industry, and many consider her as one of the most beautiful women in the world. If you seek to know a celeb that has never gone for cosmetic surgery before, you have Jolie as an example. Despite being in the limelight for years, she's never attempted artificial beauty because of her natural glow. Despite facing rough times lately, she's remained beautiful and has been courageous to overcome challenges that life throws at her. Thankfully, we can see her back on the screen as she takes up the role of Maleficent in its sequel, Maleficent: Mistress of Evil.
Beyoncé – Dangerously in Love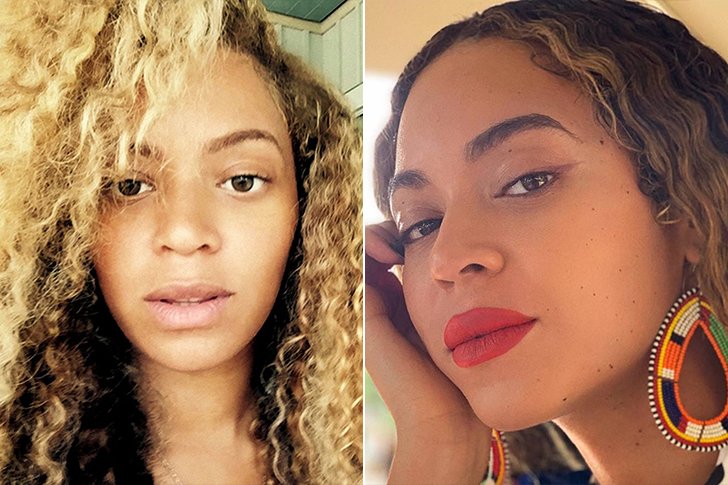 Beyoncé used to be the lead singer of Destiny's Child, the R&B group managed by her father, Matthew Knowles. She seems to have carved a niche for herself in singing and fashion ever since she started leading the R&B group, and her music taste is yet to change. Beyoncé has never stopped thrilling us with her outstanding performances and notable fashion styles. It's not a surprise that the solo artist already has six albums, which has recorded over 100 million sales worldwide. The pop icon cum wife of famous artist Jay-Z teamed up with her husband to surprise their fans with an album named Everything Is Love as The Carters.
Susan Sarandon – Joe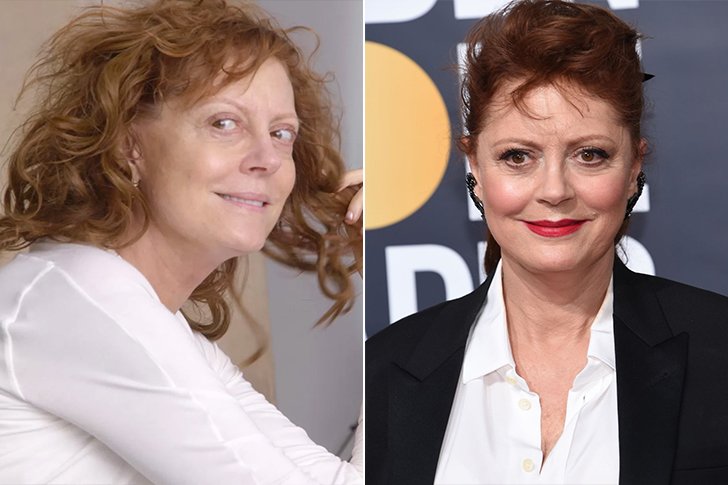 Susan Sarandon's first film was Joe, and she was notable for the role of Melissa Compton in the film. Back in the day, the beautiful actress never needed cosmetic products to keep up with her elegant look. She earned envious roles in several films such as White Place, The lovely bones and Thelma & Lousie. Thanks to her gorgeous look and sheer talent, which made such possible. One of the surprises from Susan Sarandon in 2016 was posing for a magazine cover without wearing makeup while she still looked fabulous. Sadly, her involvement in the Women Disobey protest in Washington DC led to her arrest in 2018.
Kate Hudson – How to Lose a Guy in 10 Days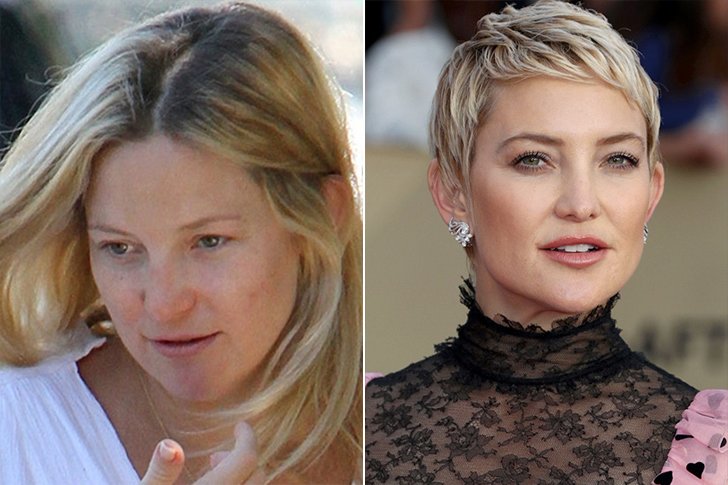 Without a doubt, Kate Hudson falls into the class of one of the most beautiful faces in the movie industry today. Many were left wondering how the actress has managed to maintain her flawless skin after portraying Andie Anderson in the hit film How to Lose a Guy in 10 Days. The actress shared her stunning beauty secrets at a point. She admitted that asides from taking a lot of water and following a detoxifying diet, she's gained inspiration from her mother in taking care of her body. Kate was on screen again in 2018, starring in the movie Marshall; she portrayed the role of Eleanor Strubing in the film.
Selma Blair – Brown's Requiem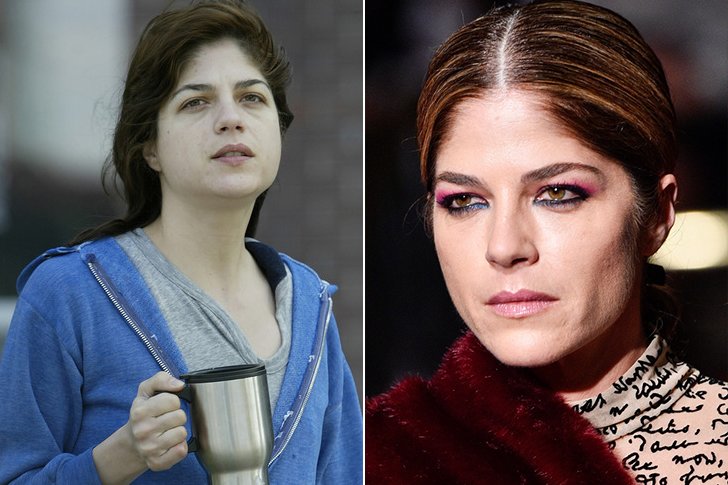 Selman Blair has never stopped being a stunning beauty despite being a parent along with her busy schedule. It is not difficult to notice the glowing skin of the actress even without heavy foundation and pressed powder. Selma first gained prominence by acting the role of Jane Baker in Browns's Requiem. Selma will be portraying the character of Harper Glass in an upcoming series, Another Life. Netflix recently made that known about the actress who is in her mid-40s. 
Kristen Bell – Forgetting Sarah Marshall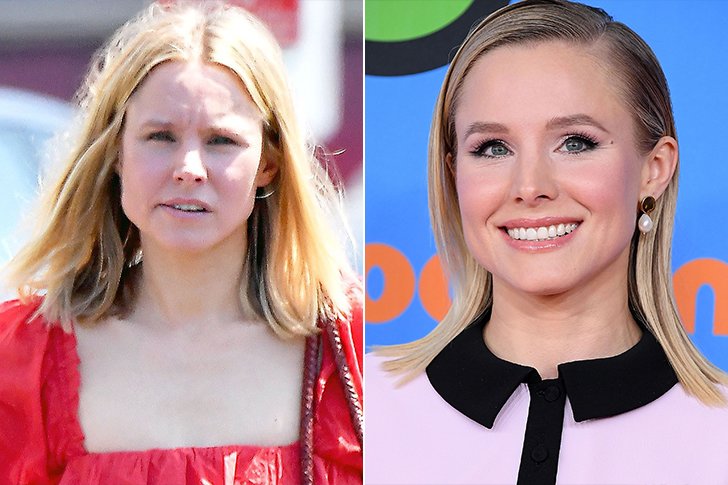 Kristen Bell was first spotted on the screen on Broadway as she played the role of Becky Thatcher in The Adventures of Tom Sawyer. People have loved the actress for her humble personality and beautiful face since she started her career in 2001. Kristen took played an essential role in Forgetting Sarah Marshall; the role of Sarah Marshall in that movie was significant for her breakthrough in the movie industry. She's adopted face washing every morning to prevent sagging skin, and it's good to know that Kristen appeared in Like Father, a 2018 film. She portrayed the role of Rachael Hamilton excellently in the movie.
RuPaul – RuPaul's Drag Race All-Stars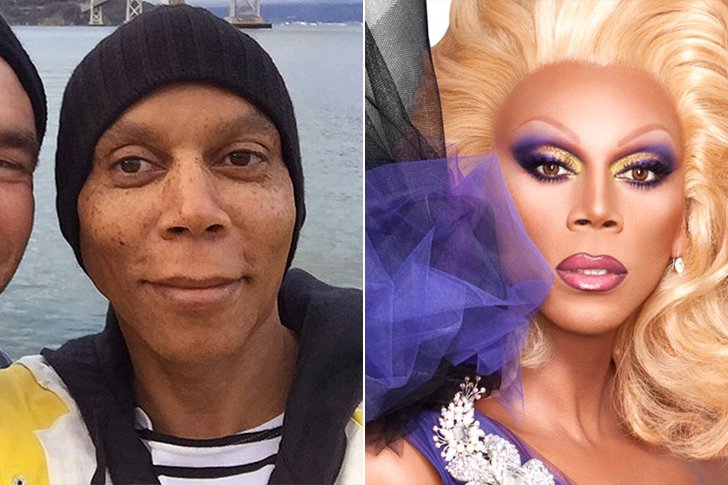 RuPaul, the drag queen idol also took part in the trend of posting a bare-faced picture of himself on the internet. His guts to reveal his natural face without his wigs and even appear on a national television explain why he further gained prominence among his fans. RuPaul's Drag Race, a reality competition series produced and hosted by the stardom has now won him three Primetime Emmy Awards. The actor cum singer has also starred in several films including I'm a Cheerleader, Hurricane Bianca, Broad City, and Girlboss. Besides, RuPaul is still influencing many with his music, and he released Christmas in 2018 as his third album.
Barbara Bach – Force 10 from Navarone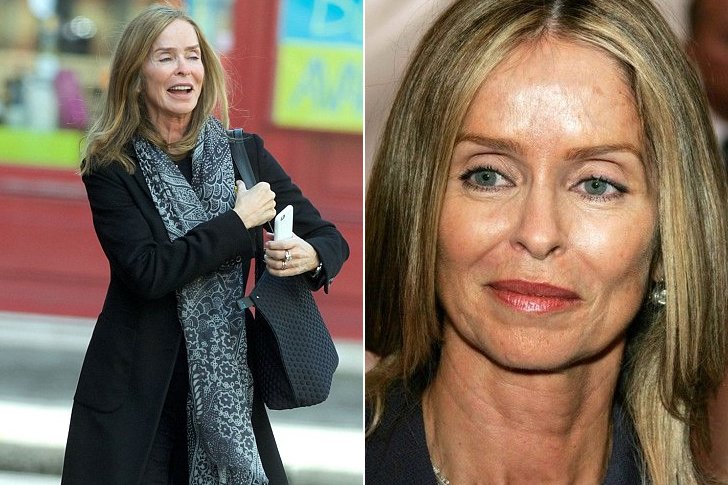 Starting her career in 1968 with the film L'Odissea, Barbara Bach has remained relevant in the movie industry showcasing her skills and beauty over the years. The actress also played the role of a Bond Girl in the film The Spy Who Loved Me. Although she was famous all along, the paparazzi started following her after a notable character of Maritza in the movie: Force 10 from Navarone. Barbara Bach ended her acting career with the 1986 comedy movie- To the North of Katmandu.
Bethenny Frankel – The Apprentice: Martha Stewart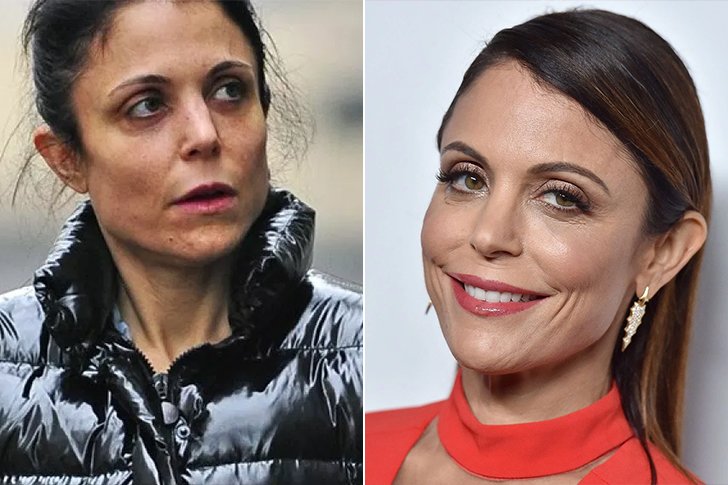 Many believe that Bethenny Frankel has resorted to cosmetics and surgeries to maintain her gorgeous look. Instead of denying it to the public, the well-known TV personality has embraced her decision and has admitted going under the knife, which includes Botox to maintain her look. She's become more motivated after the operation by the support of her fans, making her feature in several movies. They include Million Dollar Listing New York, Beat Bobby Flay, Bethenny and Fredrik, and Shark Tank. Furthermore, Bethenny showed her stunning and timeless face again in the first episode of Bar Rescue, a 2018 show.
Busy Philipps – Freaks and Geeks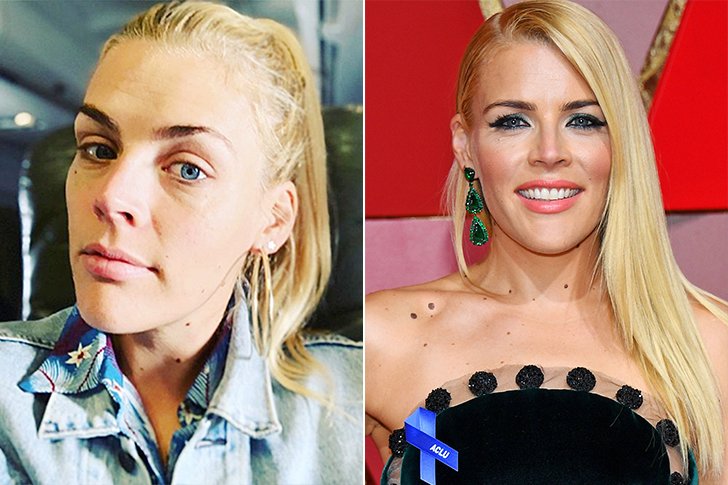 Busy Philipps has been at the limelight of the movie industry after appearing in Freak and Geek show since 1999. You won't believe that Busy Philipps prefer to appear in her natural look than using makeup to look beautiful. As early as 2000, the actress was already professing that she's not disposed to looking dolled up to enhance her beauty. Busy is content with her natural beauty while maintaining a healthy lifestyle. Although the actress admitted that she only uses dark brow gel, a highlighter stick, and mascara to fix her looks. The last time we saw her on set was in the 2018 comedy film; I Feel Pretty.
Ariel Winter – Kiss Kiss Bang Bang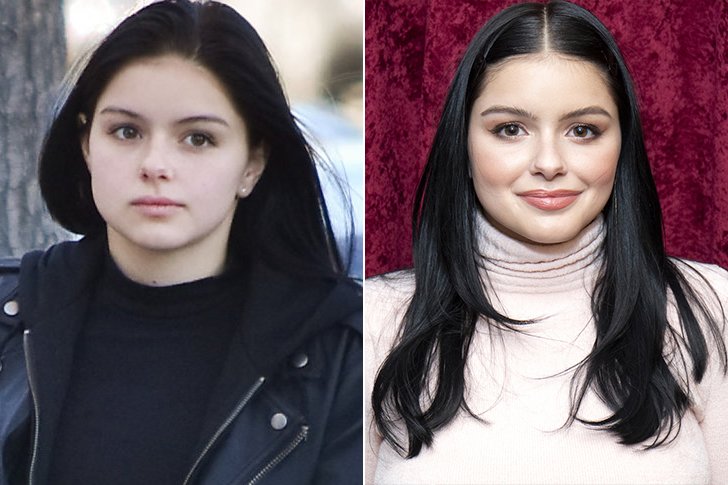 Ariel Winter started getting a lot of followers after her role as Young Harmony Faith Lane in the Kiss Kiss Bang Bang movie. Her great contouring techniques have been a proven head-turner for men, while a lot of women have also drawn inspiration from it. Her stunning look and phenomenal acting skills landed her roles in movies such as Safelight, Excision, and Killers. Ariel Winter's latest project was the role of Lil in The Last Movie star, a 2017 film.
Lili Reinhart – Law & Order: Special Victims Unit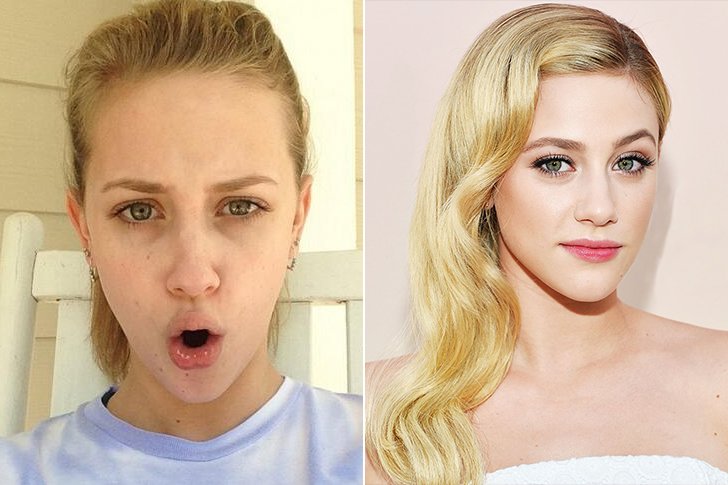 Lili Reinhart started appearing in films and TV programs in 2010, and when she portrayed the role of Rachel in the movie For Today, it was the beginning of career success for the actress. Following her role in the For Today movie, Lili has starred in several TV shows and movies. They include Law & Order: Special Victims Unit, Not Waving but Drowning, and The Kings of Summer. The actress recently had acne break out; she would instead learn a skill to cover the blemish than hide it from the public. Lili has remained beautiful all the way, and she was proud to show off her makeup artist skills in 2018 as she posted some tutorial videos on Youtube.
Sara Sampaio – Giorgio Armani beauty ambassador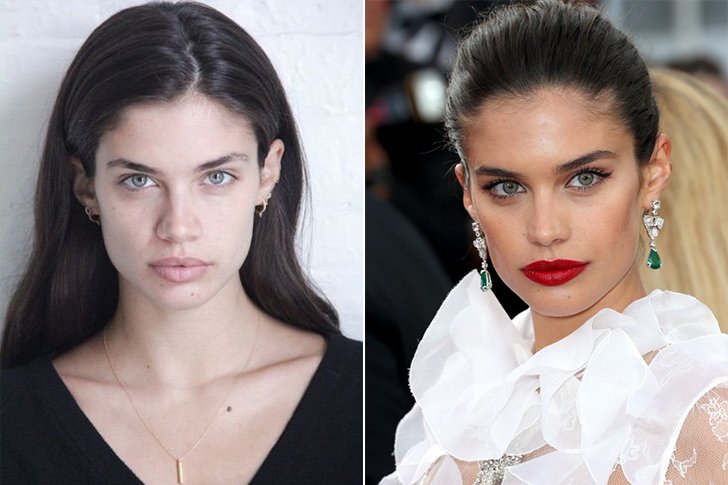 Sara Sampaio's gorgeous look and confidence in posing for photo-shoots have probably made her work with Victoria's Secret, Calzedonia and Giorgio Armani an easy one. Sara's had her first engagement with Cabelos Pantene, and she's been posing for the camera since 2007. Her skills and talent before the camera have helped established Sara as one of the goddesses in the industry having worked with big magazine companies such as Glamour, Elle, Sports Illustrated, and GQ. Also, she's ventured into acting in 2018 by portraying the role of Anna in Carga. 
Kaitlyn Bristowe – The Bachelor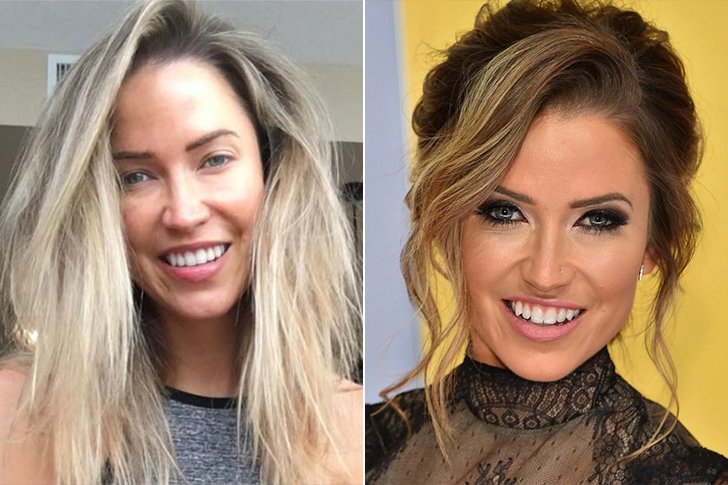 The Bachelor, one of the hits ABC TV shows making waves once featured Kaitlyn Bristowe. Having grown under her ballerina mother, Kaitlyn has probably learned to avoid heavy makeup on her face due to her mother's training. The gorgeous actress took the lead role in the 11th season of The Bachelorette. After the show, she hooked up with Shawn Booth, but the relationship ended after three years. She displayed her innovative skills by inventing her brand of scrunchies (Dew) in 2018.
Doutzen Kroes – Vogue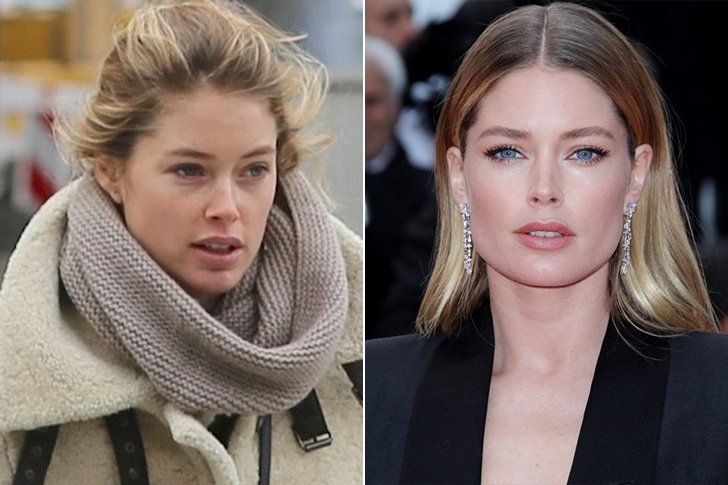 Doutzen Kroes is no doubt one of the most stunning lingerie modeling figures for Victoria's Secret since she gained the spotlight in 2008. While she admitted being capable of looking all dolled up, the actress prefers looking simple with her tantalizing blue eyes, which makes her sight unforgettable. Doutzen doesn't make use of aggressive skin products; she would rather deal with sunscreens and moisturizers. The beauty icon has modeled for over 40 international covers of Vogue as of 2017, and now she's ventured into acting. Nova Zembka, Wonder Women and Justice League, are some of the movies in which Doutzen had played a role.
Elizabeth Banks – Pitch Perfect 2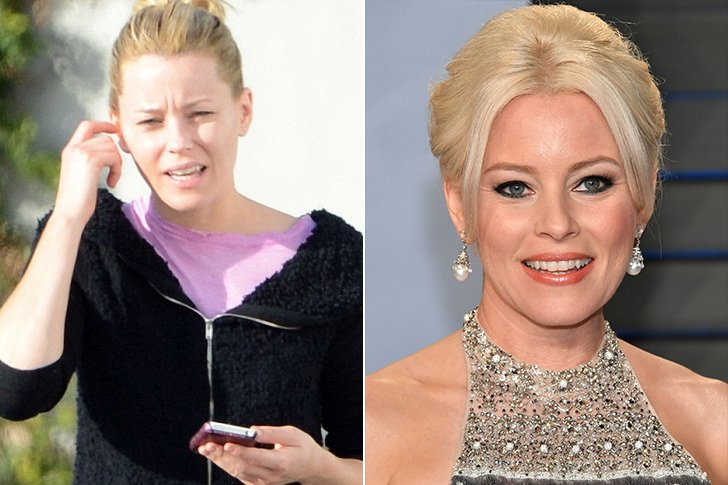 Elizabeth Banks' first appearance on the big screen was in the low budget independent film Surrender Dorothy. After that, the actress starred in movies like Slither, Seabiscuit, Zack, and Miri Make a Porno and The Next Three Days. Elizabeth is yet to doubt her look throughout her career. The actress believed in her natural glow as she only performs low maintenance makeover to keep up her beauty. The actress took up other responsibilities despite her career success in acting by directing Pitch Perfect 2, which was a commercial success. Elizabeth went on to appear in the music video of Maroon 5 named Girls Like You, which also featured Cardi B.
 Ashley Tisdale – Les Misérables
Ashley Tisdale's potential has been remarkable ever since she was young. At the age of eight, she starred in a Les Misérables musical before landing another role in the set of Annie. Ashley is doing more than acting presently. The actress is also known for fantastic sense style, and she's making a name with her online makeup store known as the Illuminate Cosmetic. The multi-talent lady returned to music in 2019, producing her third album Symptoms with Big Noise record label.
Aly Raisman – Olympic Gold Medalist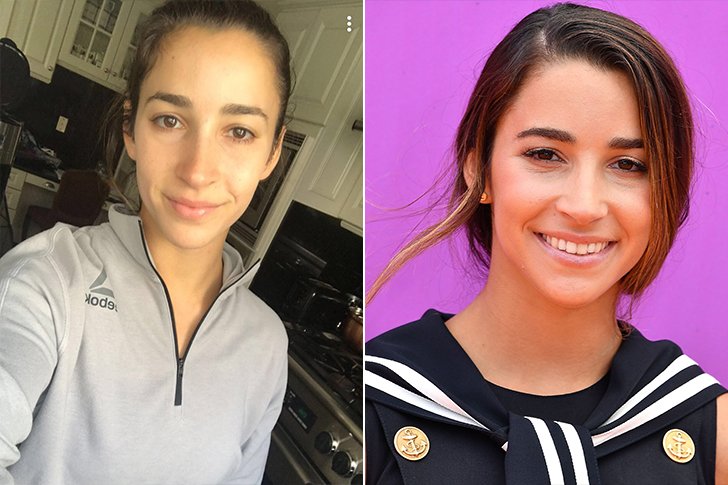 Aly Raisman became more prominent after blazing the trail in gymnastics by winning gold medals in the 2012 Olympics. Since then, she's devoted more time participating in gymnastic-related activities making her win another gold medal alongside Gabby Douglas, her teammate. Raisman is another confident celeb that prefers appearing with her bare face in public. The athlete posed for the Sports Illustrated Swimsuits Issue in 2018; thanks to her gorgeous look.
Sarah Hyland – Geek Charming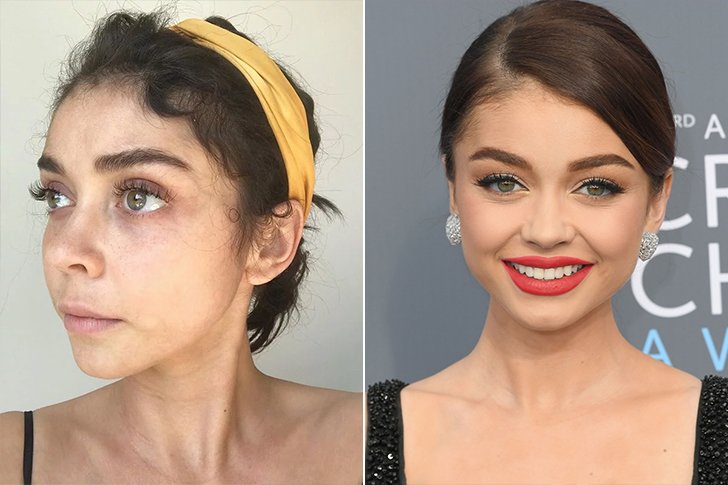 Sarah Hyland has been able to prove that she can stand out in the movie industry without the help of makeup artists. She became a familiar face in TV series and movies after appearing in the hit ABC sitcom, Modern Family playing the role of Haley Dunphy. Her healthy mindset and balance may account for the stress-free vibe she enjoys. Sarah is known for her leading roles in Vampire Academy, Geek Charming, and See You in Valhalla. Furthermore, Sarah featured in Know U Anymore, a music video produced by BoTalks in 2018.
Eva Longoria – The Young and the Restless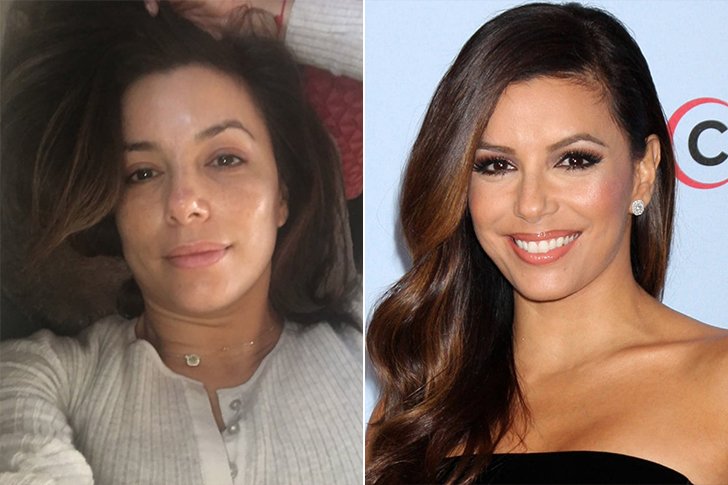 The Latina legend has shown that one does not need a face contouring makeovers to become gorgeous. Considered as one of the most beautiful Latina figures, Eva has been able to showcase her beauty and acting talent in shows like Desperate Housewives, For Greater Glory and Frontera. The model cum actress directed some of the episodes of The Mick and Blackish series, but she's currently bound by a contract with L'Oreal, Hanes and New York & Co.
Camila Alves – Kids BBQ Championship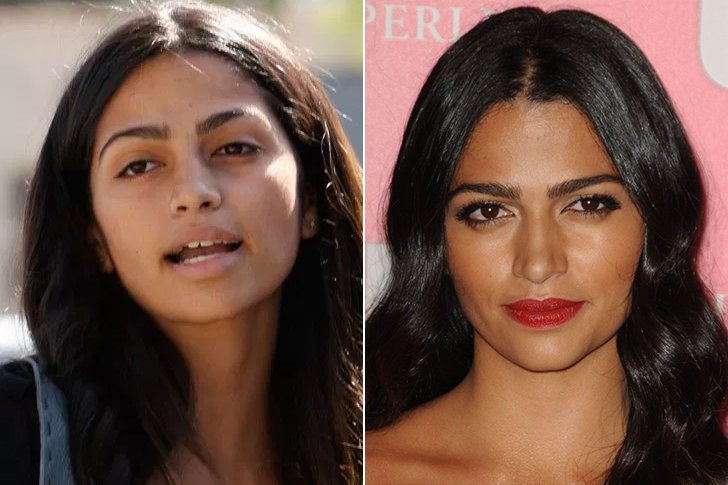 Camila Alves knew she has something to offer the fashion industry with her gorgeous look at the age of 19. The beauty icon started modeling slowly with her mother's designer bags from the Muxo line of handbags before landing a job with Bravo on their Shear Genius TV show. You can stream live video programs on Camila's Code, her website, which focuses on food and style. Camila Alves was the co-host of Kids BBQ Championship show alongside Eddie Jackson, and she's remained married to actor Matthew McConaughey since 2012.
Kristin Cavallari – The Hills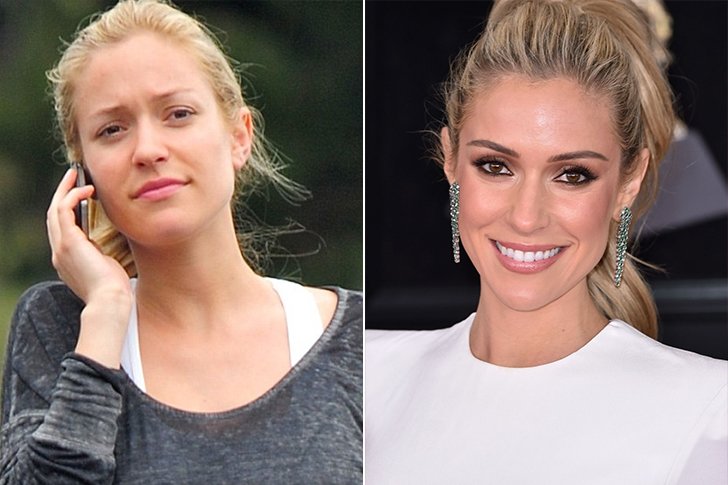 Kristin Cavallari glory days in acting started in the high school when she starred in the show Laguna Beach: The Real Orange County. Since then, the actress has shown that constant use of makeup products isn't all necessary for celebrities. Kristin rose to become a host and guest judge on television shows such as Get This Party Started, Cupcake Wars, and America's Next Top Model. Currently, Kristin has established herself in the industry, and she owns a TV show called Cavallari.
Tori Spelling – A Friend to Die For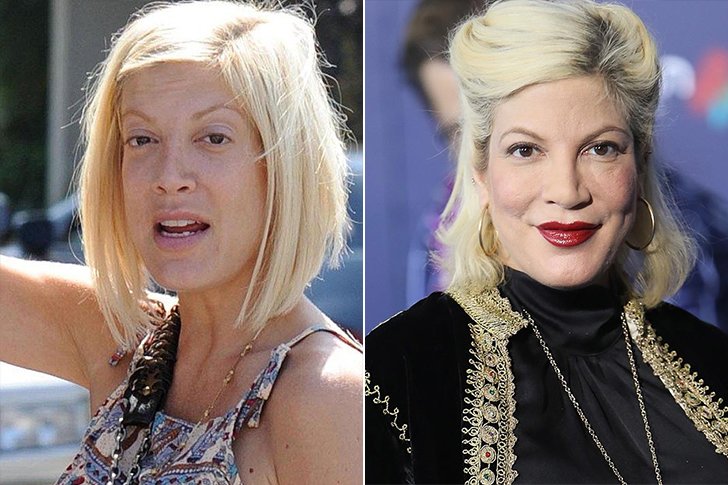 Tori Spelling never expected she would gain so many fans from her first appearance on the Beverly Hills, 90210 show. That was the feeling she had since the show belongs to her already famous father, Aaron Spelling. Since then, the actress has starred in several films taking on critical roles in movies such as Kiss the Bride, Scary Movie 2, A friend to Die For, and The Mistle-Tones. Tori has barely shown signs of aging even though she's not gone under the knife to enhance her beauty. You need to see Tori in her stunning unicorn costume in The Masked Singer: her latest project in January 2019.
Jourdan Dunn – Prad a Model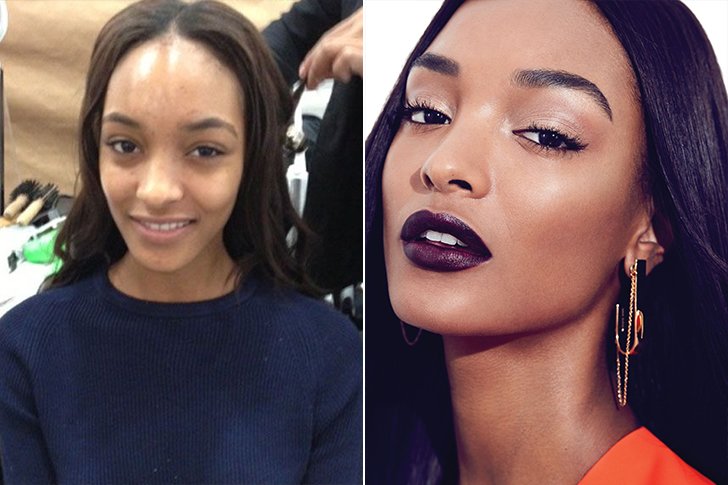 Jourdan Dunn is one of those celebs that jump-started their career as a teenager. She signed with Storm Model Management at the age of 16 and was already walking in international runways just after a year. Jourdan became the first black model to walk for Prada in 2008, and she's gone to achieve several career feats in modeling. She uses beauty products for her skin even as a teenager, and that has reduced her need for heavy makeup. Jourdan walked home as the 2017 Glamour Woman and her fame have grown much more by portraying the role of Conejo in Terminal, a 2018 film. 
Cindy Crawford – Fitness Videos