30 Iconic Restaurant Chains Of The United States
In the last couple of decades, restaurant franchises have become a big part of American consumer life, with chains such as Outback, Friday's, Applebee's, Chilli's, Red Robin popping up all across the United States. However, although some continue to be hugely successful, others have failed miserably. Some were once great chains, reaching major heights before falling, while others never really managed to get off the ground. Let's look at some iconic American chains that you may not remember, and others that you still might drive by on your next road trip.
Sambo's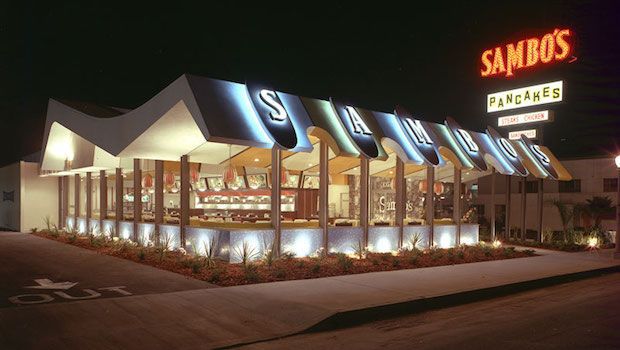 The first Sambo's was founded in 1957 by Sam Battistone and Newell F. Bohnet. The name of this chain was quite controversial, as the name was a derogatory term for African Americans, but the founders claimed that it was a portmanteau of their names. However, placing a caricature of Li'l Black Sambo at the entrance of the chains surely didn't help their cause. The company grew to 1,000 locations, but due to controversy, the company shut down in the 80s. The majority of their locations were sold off to Denny's, and the rest were closed.
Kenny Rogers' Roasters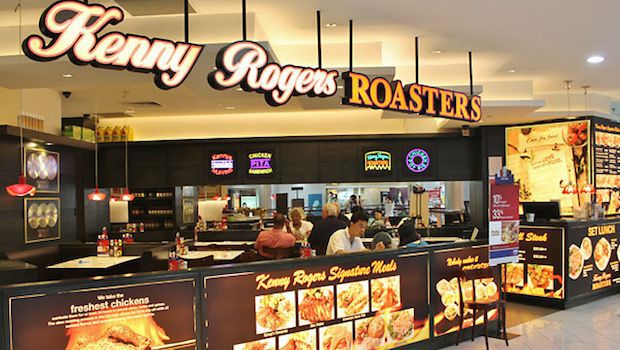 Country singer Kenny Rogers founded this chicken chain with business partner John Y. Brown in 1990. Although their food became quite popular, it never managed to reach greater heights, and its restaurants were sold off to Nathan's only eight years after its foundation. A classic episode of sitcom Seinfeld refers to Kenny Roger's, which ensures the restaurant will always be remembered.
Minnie Pearl's Chicken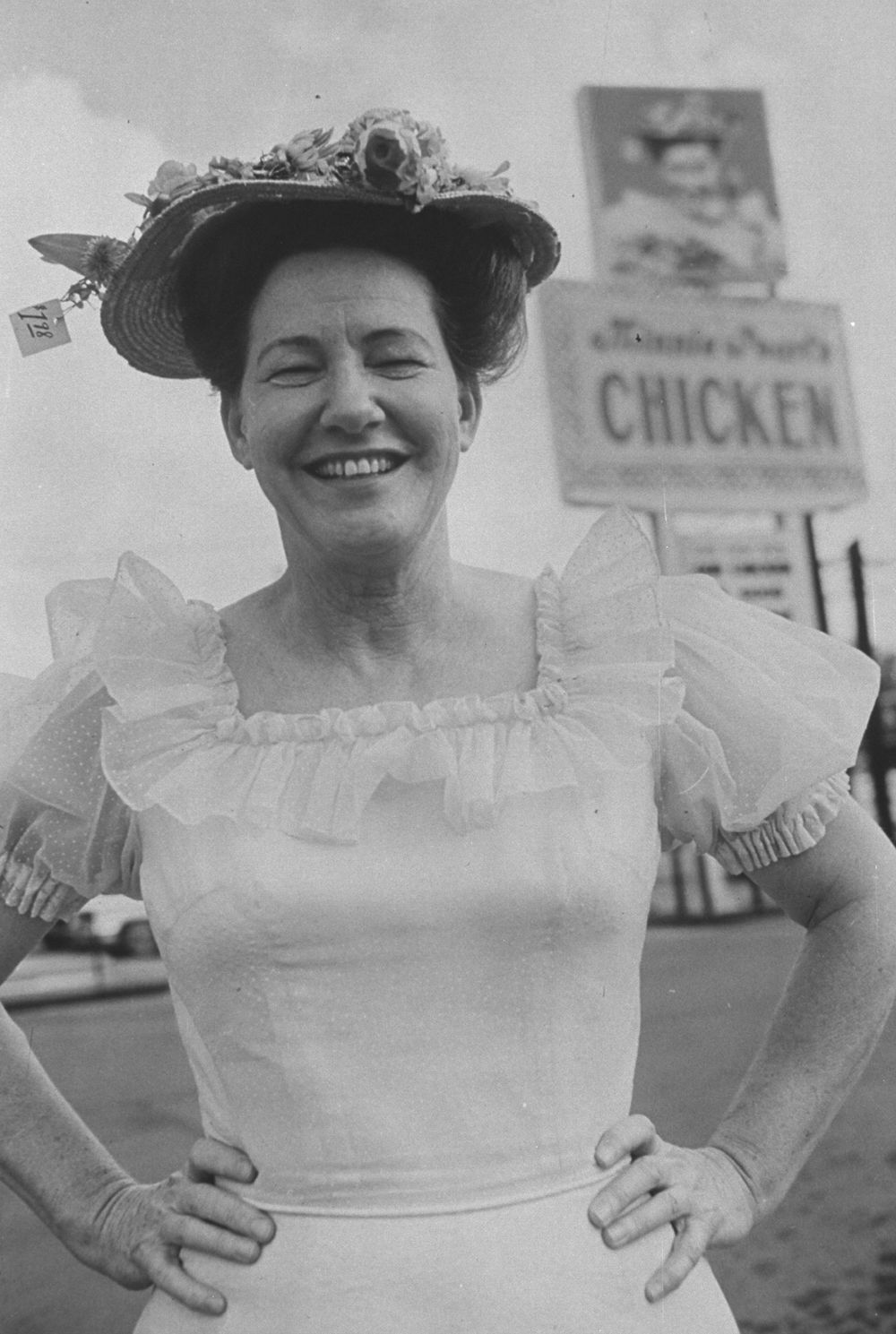 The story of Minnie Pearl's Chicken has become a cautionary story for all other chain restaurants. In the 1960s, businessman John Jay Hooker partnered with country singer Pearl to open a restaurant chain carrying her name. The restaurant was hugely successful at first, with almost 500 locations at one point. However, the restaurant failed to have a cohesive menu and completely fell apart in only a few years.
The All-American Burger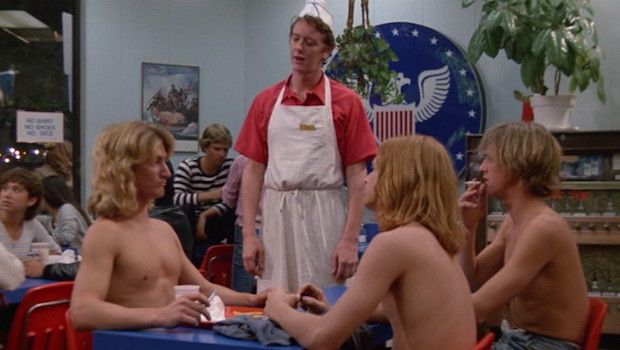 The Southern California All-American burger chain never made it bigger than a small regional fast-food joint. However, it gained popularity when it was seen in the 80s teen movie Fast Times at Ridgemont High. The last location in the West Coast shut down in 2010. However, there is one single chain left on the East coast, in Massapequa, Long Island. It opened in 1961 and it still offers great food today. 
White Tower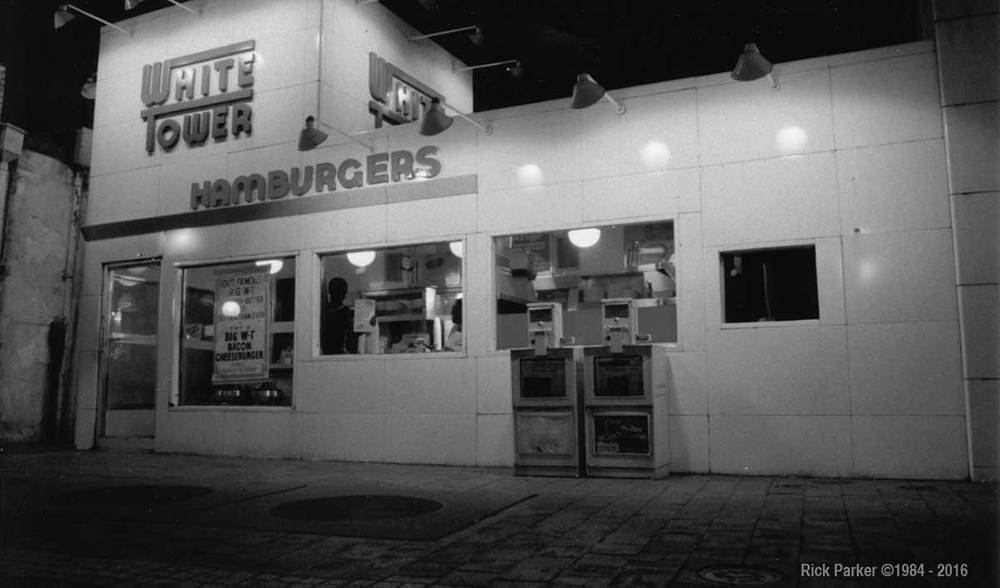 White Castle was founded in 1921 and was the first commercial fast-food chain. Naturally, just like it always happens in business, many people tried to imitate their concept. One of these copy-cats was the White Tower. Not only did they make the name similar, but they also copied White Castle's menu, style, advertising, restaurant style, and architecture. White Tower had some success, opening a total of 230 stores, but the chain was forced to shut down after they were legally pursued by White Tower and were forced to make significant changes to their restaurant. 
Chi-Chi's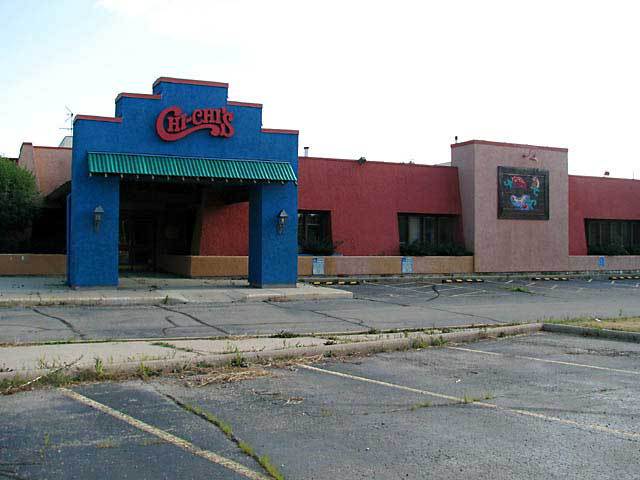 Chi-Chi's was founded in 1970 by NFL player Max McGee and Marno McDermitt. The Mexican-style chain quickly grew in many American towns. Its famous motto was "Life always needs a little salsa". However, its success didn't last long, as many other Mexican restaurants opened, and Chi-Chi's died out. Tragedy struck in 2003 as a hepatitis outbreak in their food supply led to the death of three customers. However, it is still in operation in places as far as Kuwait, the United Arab Emirates, Belgium, Luxembourg, and Canada. 
Lum's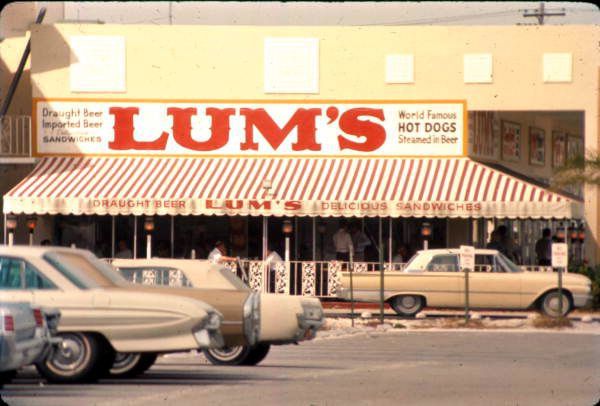 Lum's was founded by brothers Stuart and Clifford Pearlman in Miami, Florida in 1956. Lum's was popular for its "beer-steamed" hot dogs and recognizable glass-doored storefront. At the height of its popularity, it had a total of 400 locations. 273 chains were bought by a Swiss company who overextended itself and couldn't sustain the business. It slowly died out due to liquidation and was eventually sold to KFC for $4 million. The original store closed in 1983.
Steak and Ale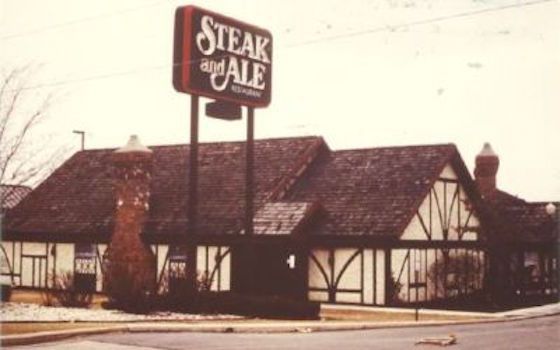 Steak and Ale is a restaurant that was way ahead of time. Similarly to Chichi's, it introduced a whole new concept to the market - cheap steak and salad bar. It was initially a huge success, but it eventually fell victim to this success when others copied the concept and improved upon it. The last chains were shut down in the 2010s. However, the Steak and Ale name was bought out by Bennigans, who claimed that they would bring back the chain on their website, stating:  "Once revered for its succulent Prime Rib, warm bread, and bountiful salad bar, Steak and Ale is poised for an epic comeback. Redefined as a 21st Century polished-casual concept, while retaining the signature elements that made it an American classic, the new Steak and Ale will once again set the standard for affordable steakhouses."
Valle's Steak House
Valle's Steak House was an East Coast chain famous for its lobsters and steaks. The restaurant's style could be described as full-service, high volume, and low-margin. Each of its locations could hold 800 to 1400 customers!  It was successful from 1933 until around the year 2000. One of the factors that led to its demise was the 1970s gas crisis. It has become somewhat iconic though, as artifacts from the chain are still being bought on eBay.
Gino's Hamburgers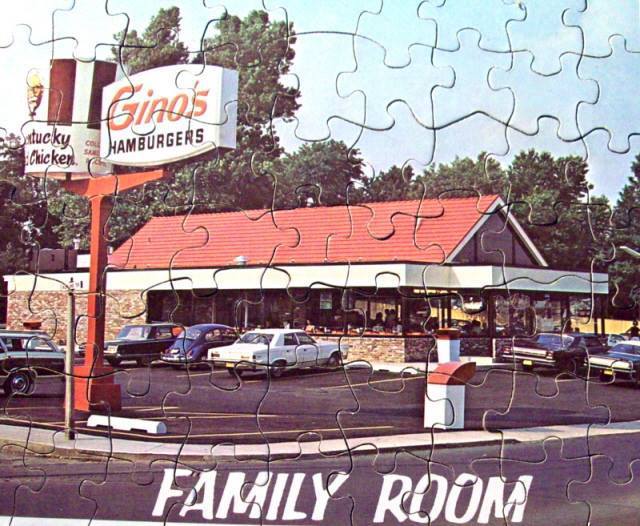 The first Gino's Hamburgers was opened by football Hall of Famer Gino Marchetti in 1957. It grew in popularity, reaching 300 locations by the 70s, and it even held the rights to sell Kentucky Fried Chicken in the Mid-Atlantic States. In the 1980s, it was sold to hotel chain Marriott, who turned all the locations into Roy Rogers. However, in 2010, a new Gino's location was open.
Burger Chef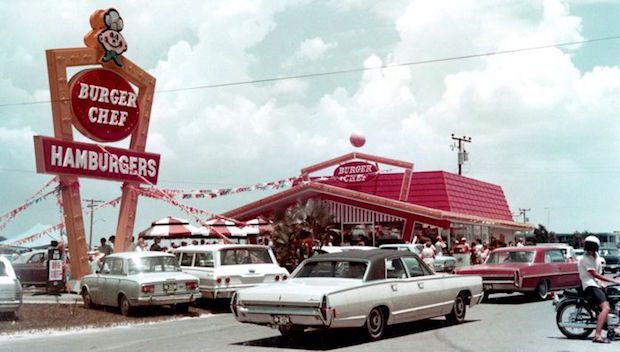 At the height of its popularity, Burger Chef had more than 1,000 locations and was a competitor of McDonald's. The chain was the first to offer toys with kids meals. Also, it was popular for its "Big Shef" and "Super Shef" hamburgers. At the height of its success, 1,050 locations in the U.S. and Canada.  However, due to bad business practices, it was sold to Hardee's in 1981.
Mr.Steak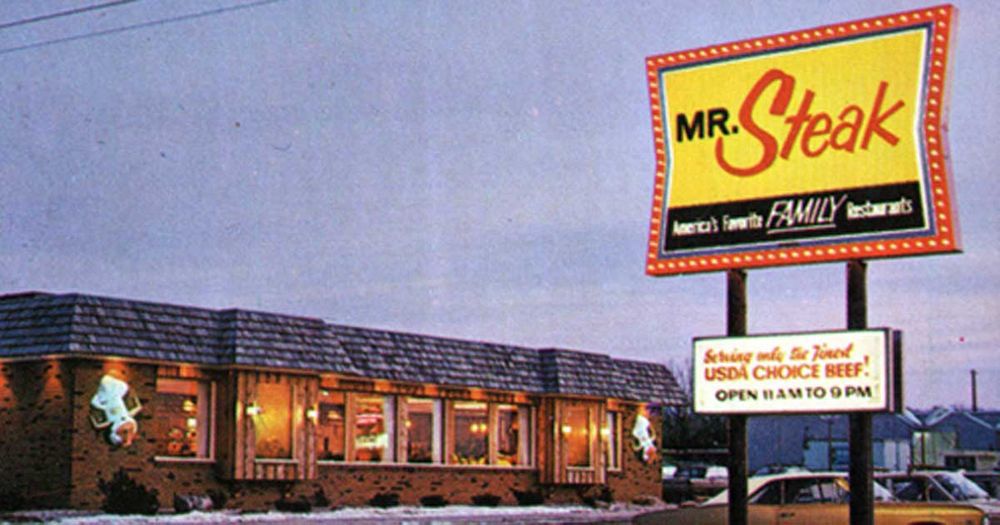 Mr.Steak was founded in 1962 and gained popularity in the 70s. At its peak, it had a total of 282 restaurants in the U.S. and Canada. In the 80s, it tried to diversify its menu but ultimately crumbled to competition from other steakhouses such as Sizzler and Stuart Anderson's. In 1987, the chain folded and went bankrupt. The stores were bought and transformed into another restaurant chain called Finley's, but they retained Mr. Steak's menu.
Howard Johnson's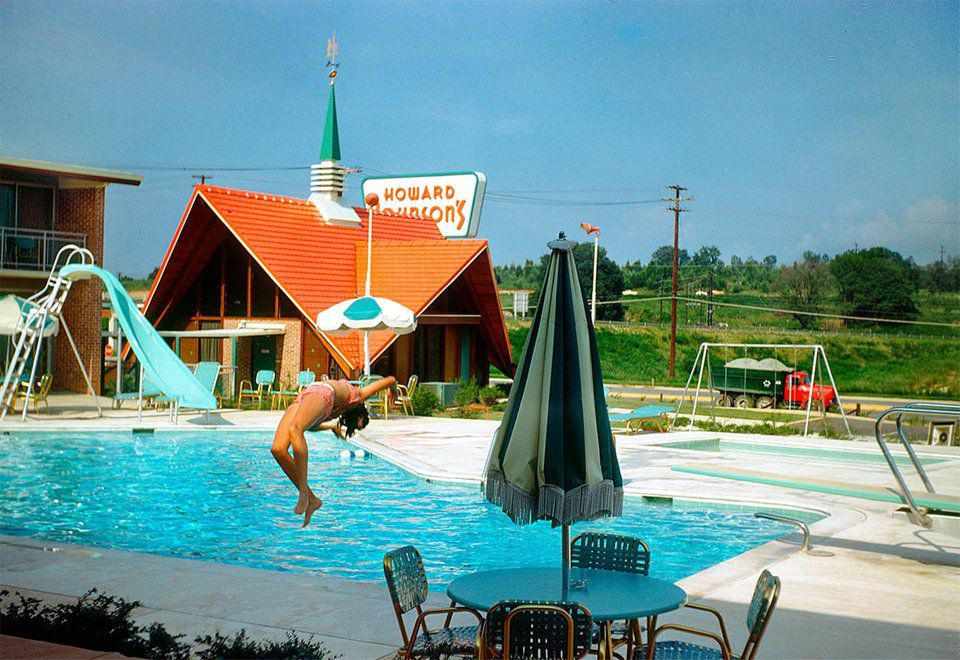 Howard Johnson's was founded in the 1920s and became popular along with American car culture. By the 1960s, it had opened over 1,000 chains, with its particular orange roofs that could be seen on American highways. However, only a few decades later, Howard Johnson's had disappeared. The hotel part of the business was sold, and it still exists, but without the unique elements of the restaurant. The restaurant died slowly, and as of 2017, there is only one Howard Johnson's left in the entire country.
Bob's Big Boy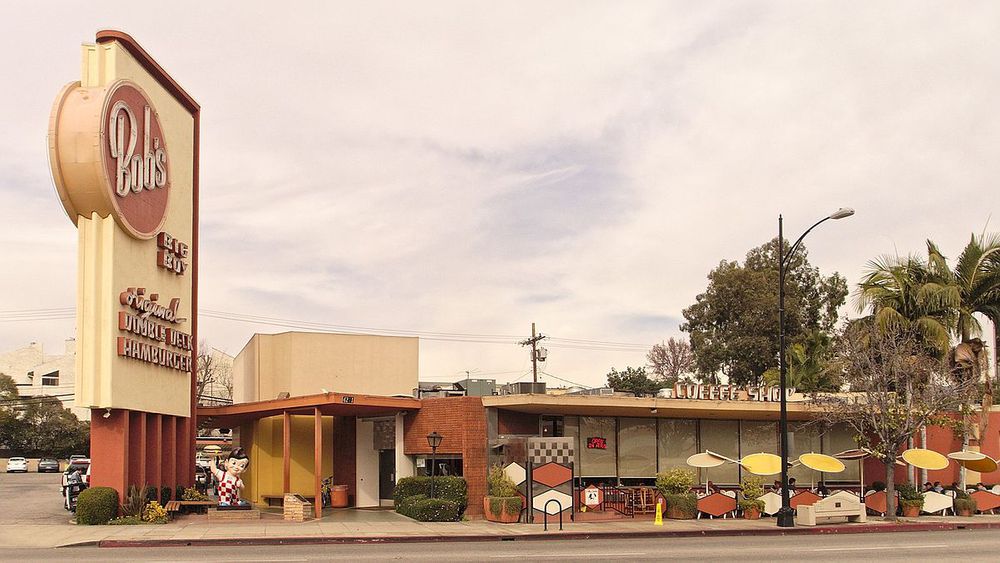 Bob's Big Boy was founded in 1936 in Glendale California when it was still known as Bob's Pantry. It is iconic for its double-decker burgers and fun mascot, and chains could be seen all across American highways in the 20th century. Although it went bankrupt in 2000, it was taken over by Michigan investors, and the chain is still running today, with around 100 locations in California and the Midwest.
Bennigan's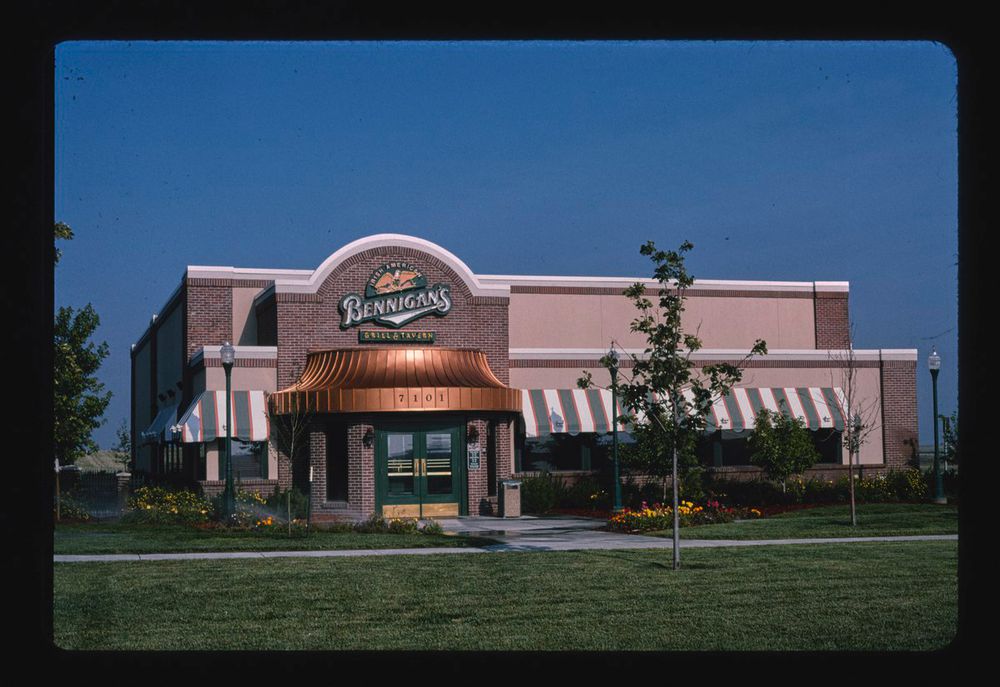 Bennigan's, established in 1976, is iconic for being one of the first casual dining/sports-bar chains in the U.S. . By the early 80s, it was extremely popular and was best known for casual dining franchised "fern bar" restaurants. However, it always lacked comparing to other similar concepts like Fridays, Applebee's, and Chilli's The chain was sold many times, and it went bankrupt in 2008. However, the chain is still alive, but it only counts around 23 locations in the U.S.
Ponderosa Steakhouse And Bonanza Steakhouse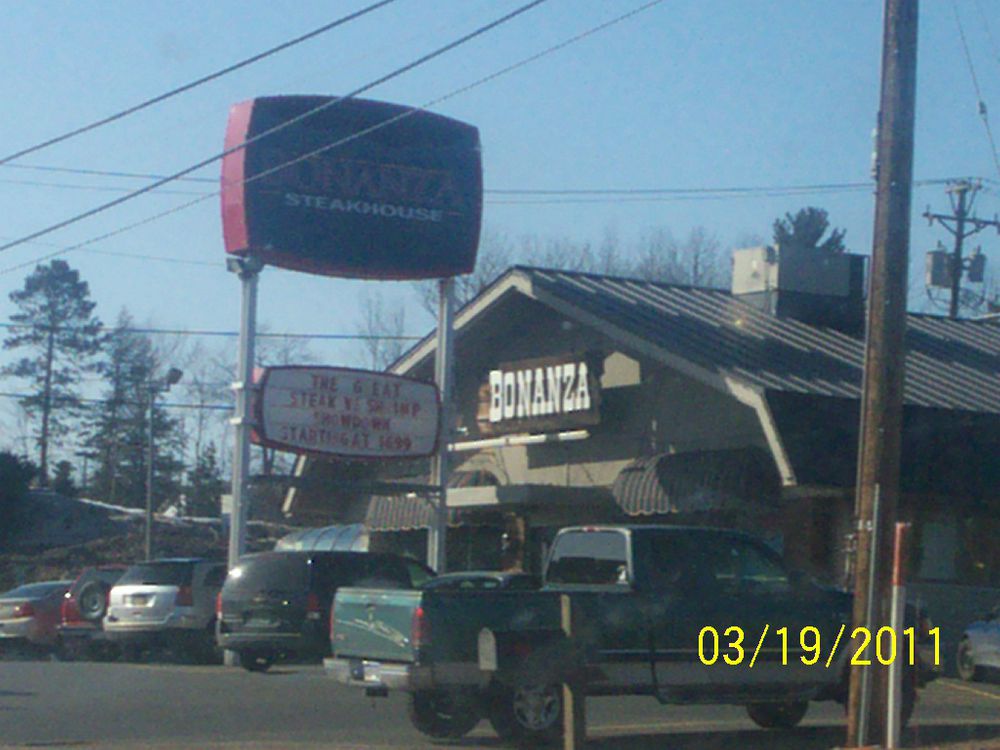 At the height of its success, Ponderosa and Bonanza Steakhouses, which are owned by the same parent company, counted around 600 locations in the U.S. It was founded by actor Dan Blocker, who played Eric Hoss Cartwright on classic TV series Bonanza. The Ponderosa name came from the TV show's fictional Ponderosa Ranch. The chain is still alive today, with around 80 locations for both restaurants across the country. 
Charlie Brown's Steakhouse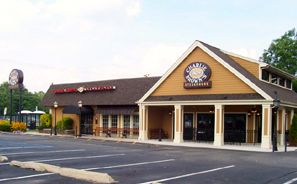 Charlie Brown's was a chain of steakhouses founded by three businessmen in New Jersey in 1966. It was popular for its famous dish - prime rib and house salad tossed with egg, shrimp, and house dressing. It grew quickly out of New Jersey in the 80s and 90s, and it was successful enough to expand to New York and Pennsylvania. However, the corporation went out of business due to bankruptcy, but some franchise owners are still running their restaurants.
Naugles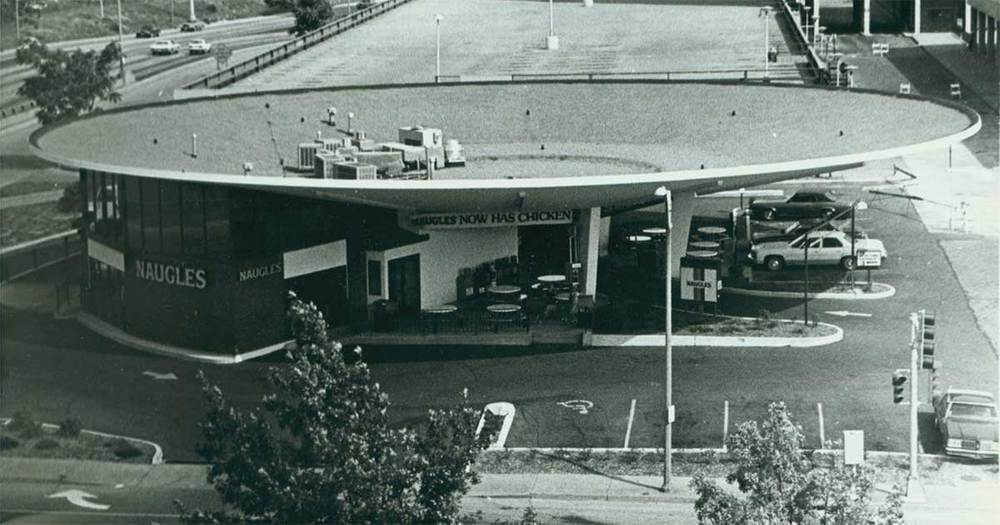 Naugles, a Mexican fast-food establishment, was alive for 25 years, from 1970 to 1995. Its famous motto was the following - "Prepare food fresh. Serve customer fast. Keep place clean!". At the height of its success, it counted 225 locations around the U.S. The last one, in Carson City, Nevada closed down in 1995. However, it was revived by entrepreneur Christian Ziebarth, and there are now 2 locations open in California.
Druther's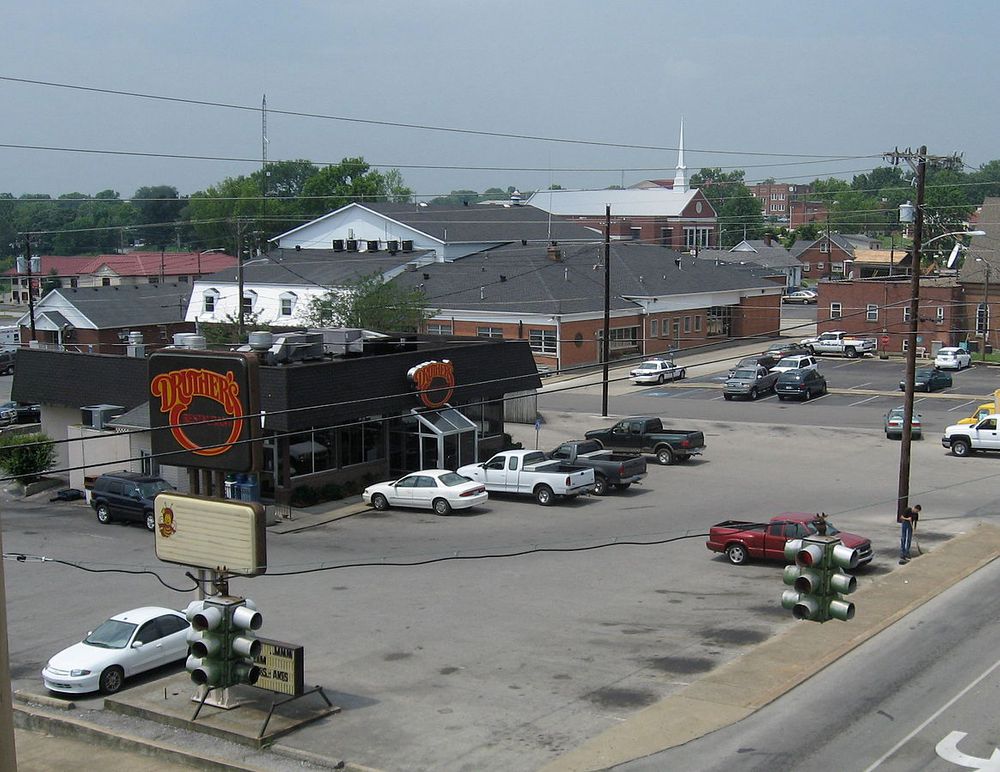 Druther's A.K.A. Burger Queen was a burger and fried chicken chain of restaurants that was founded in 1963 in Louisville, Kentucky. Its famous mascot was a giant bee called Queenie Bee, with another character, Andy Dandytale, aimed at kids. The restaurant's motto was "I'd Ruther go to Druther's Restaurant". Although the chain does not operate anymore, it is technically still alive, with one location remaining in Campbellsville, Kentucky. 
Henry's Hamburgers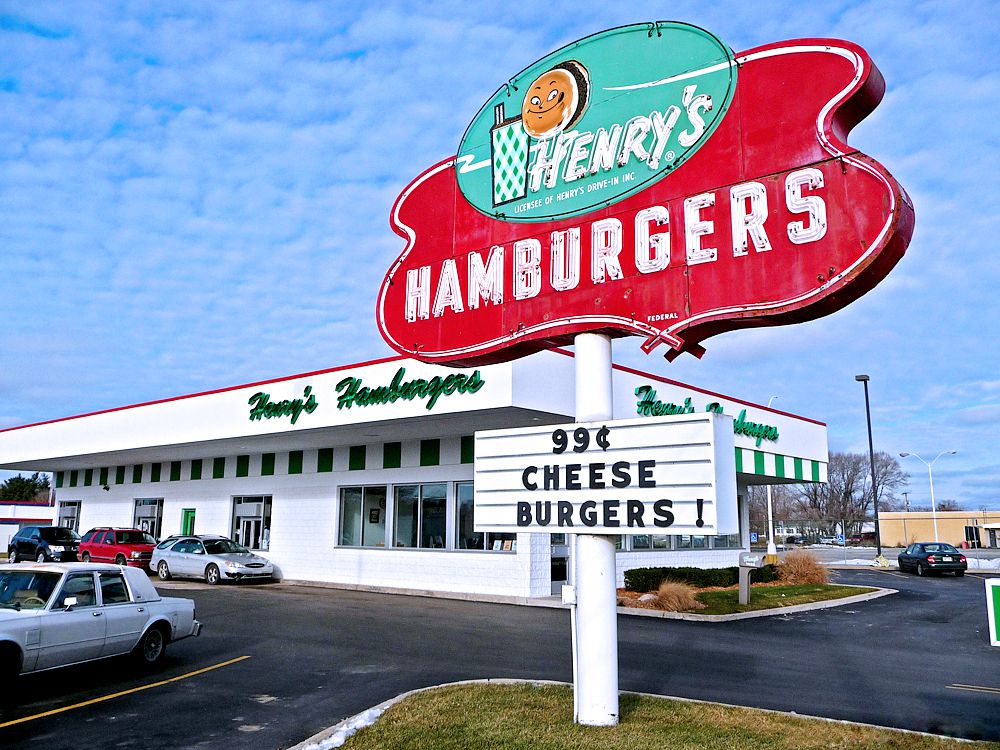 Henry's was a chain of restaurants in the 50s that tried to mimic the success of big chains like McDonald's. It did well for some time in the 50s, 60s, and 70s. By the early 60s, it counted 200 locations, more than McDonald's did at the time. However, the chain fell quickly for two main reasons; first, it couldn't withstand competition from other chains, and second, it was involved in a strange controversy regarding the use of horse meat in their restaurants. Today, only one location remains in Benton Harbor, Michigan. 
Pup 'N' Taco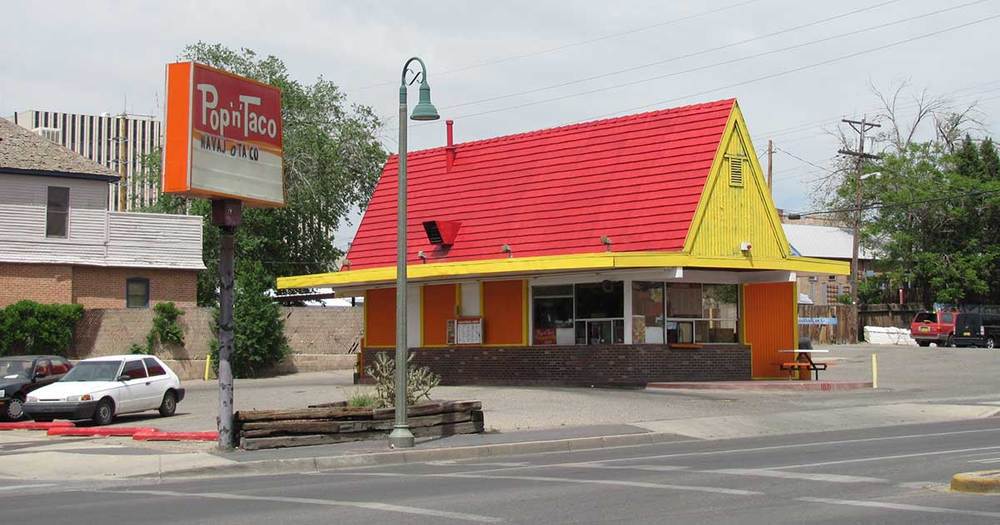 Pup 'N' Taco was a chain of restaurants serving diversified offerings such as tacos, hamburgers, pastrami sandwiches, and hot dogs. It was founded in 1965 and grew quickly, counting 62 locations by 1973. In 1984, it was bought by Taco Bell, except for three locations in Albuquerque, with two of them going by "Pop 'N' Taco'. However, they all closed in the 2010s.
D'Lites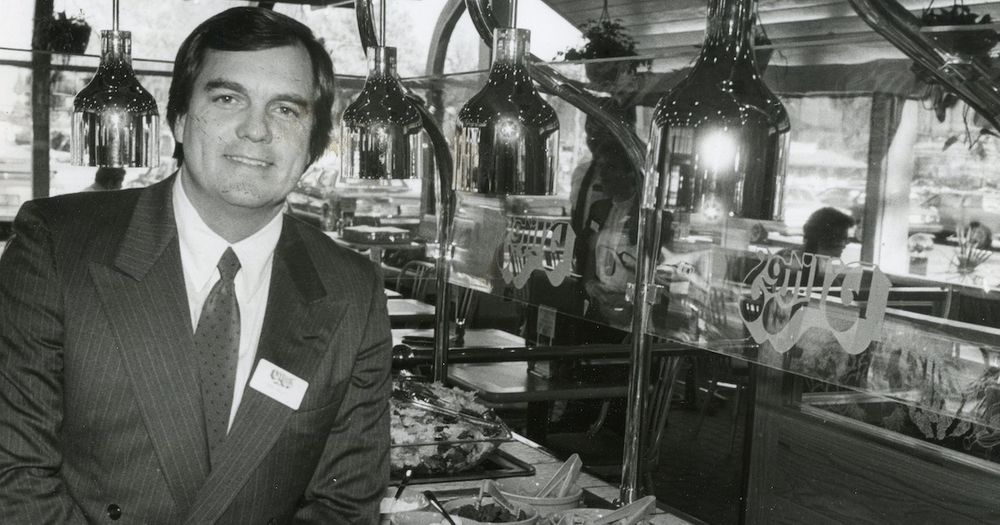 D'Lites A.K.A D'Lites of America was a fast-food chain founded in Norcross, Georgia in 1978 by Doug Sheley and Jeffrey Miller. The chain's marketing tactic involved focusing on the nutritional value of their food, with low-calorie cheese, burgers made with lean beef, and buns high in fiber. In 1987, ninety percent of it was sold to Hardee's, and its restaurants were rebranded as Hardee's. Its downfall can be attributed to major chains beginning to offer healthier options such as salads and baked potatoes.
A&W Drive-Ins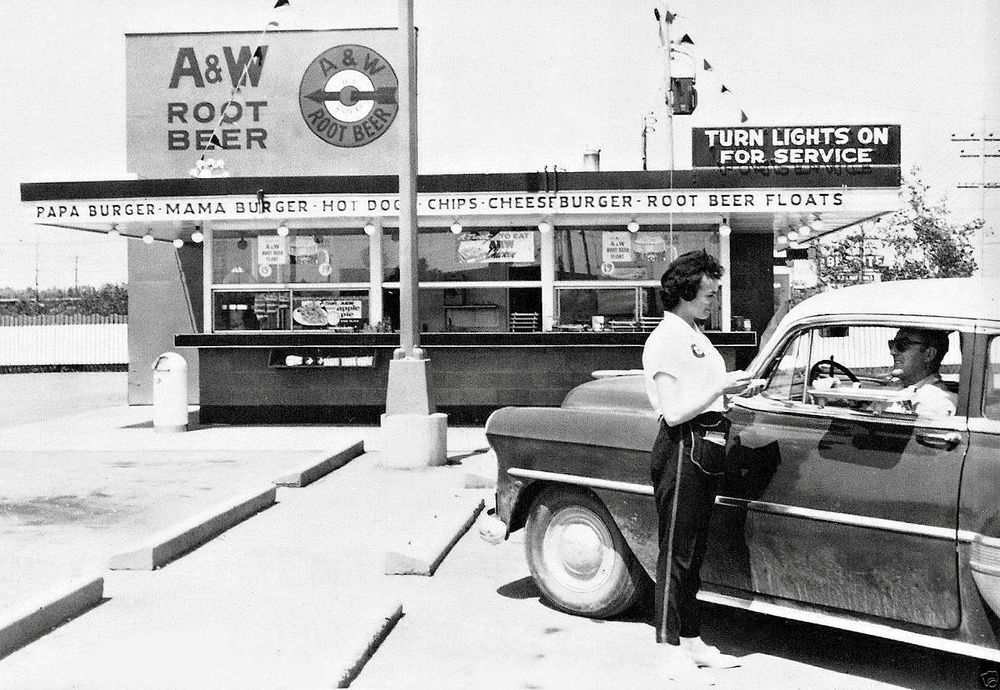 A&W Restaurants is a chain of fast-food restaurants popular for its draft root beer and root beer floats. It is one of America's oldest chain of restaurants. It was founded in 1919 when Roy W. Allen opened a stand by the side of the road offering a new thick and creamy drink called root beer to WW1 veterans. Today, it is still alive with many locations all around the world.
Carrols Restaurants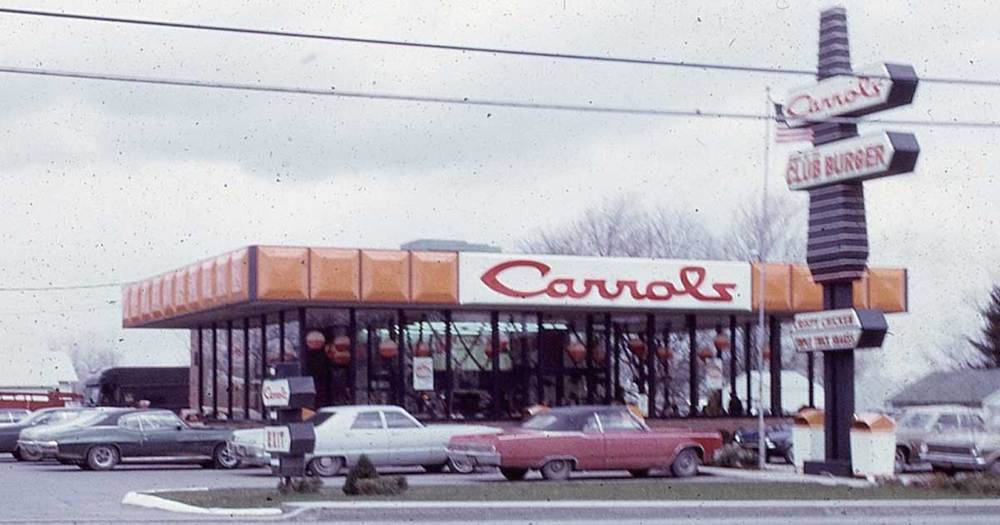 It is hard to believe that fast-food existed before McDonald's and Burger King. Carrols, an OG of burgers, was famous for its special Looney Tunes glasses and extremely cheap hamburgers that went only for 50 cents! As Burger King kept opening locations close to Carrol's, the competition was difficult to withstand, so founder Herb Slotnick decided to transform his restaurants into Burger Kings too. By 1975, most of their locations were turned into Burger Kings. If you can't beat them, join them.
Wetson's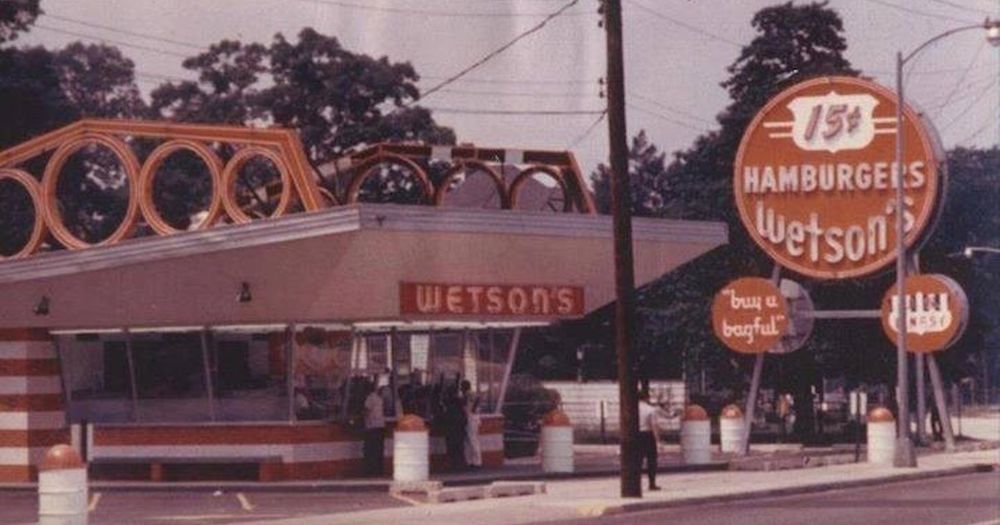 Wetson's burger chains were founded in Long Island in 1959. It was founded after Herb Wetanson got inspired by McDonald's while on a road trip in California. The first location was opened in the Levittown neighborhood of Long Island. At first, it was massively successful, partly thanks to its cheap 15 cent burgers. However, the chain began to struggle in the late 70s as major players McDonald's and Burger King aggressively expanded into the New York market. By the end of the 70s, Wetson's was nothing but a memory. 
Rax Roast Beef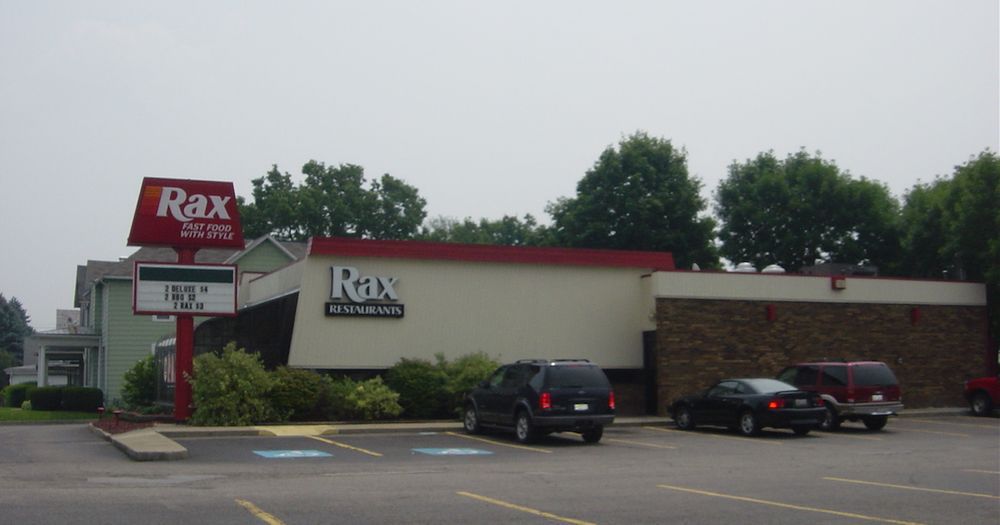 Throughout its history, Rax Roast Beef has gone through several names. It was founded as Jax Roast Beef, before changing its name to RIX Roast Beef. It was later rebranded as RAX in 1982. It was especially successful in the 80s with the introduction of salad bars and the addition of baked potatoes to its menu. At the height of its success, it had over 500 locations across the U.S. and Canada. Today, the chain is no longer running, with the last location in Indiana closing in 2011.
Claudia Sanders, The Colonel's Lady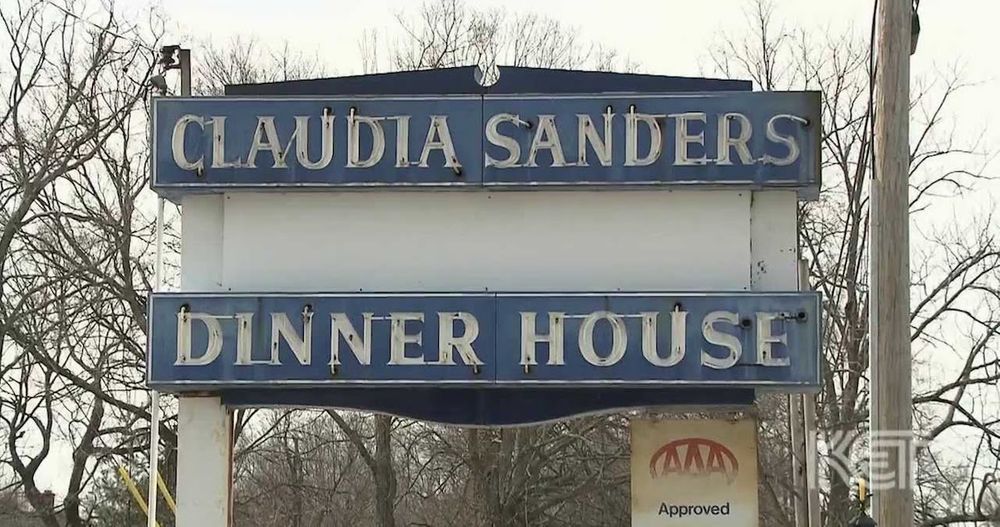 Claudia Sander's is a restaurant with quite an interesting history. Following the sale of his franchise, the famous Kentucky Fried Chicken founder Colonel Sanders opened a new sit-down restaurant with his wife Claudia in Shelbyville, Indiana. The restaurant served KFC-style chicken, but once it decided to expand to several locations, it was hit with a lawsuit by KFC. A settlement, however, has allowed the couple to continue selling the chicken at the original location that is still alive today. 
Red Barn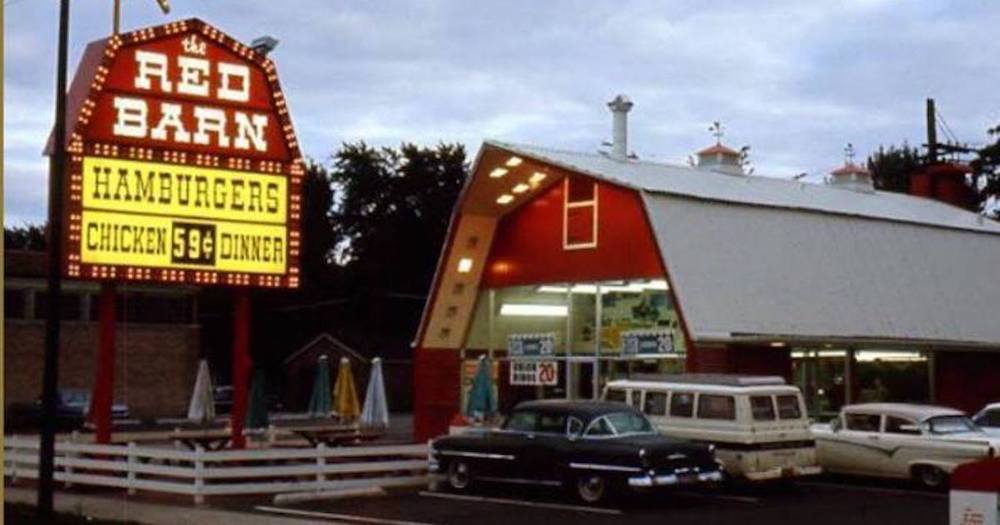 Red Barn was a chain of restaurants with distinctive barn-style architecture and "Big Barney" burgers which were similar to McDonald's Big Mac. At the height of its popularity, it counted around 300 to 400 restaurants in 19 U.S. states, Canada, and Australia. Due to corporate ownership withdrawing its support, the chain began a slow death in the 1980s. Following its death, most of its locations were converted for other uses. Today, there is one location still alive in Racine, Wisconsin.
Pioneer Chicken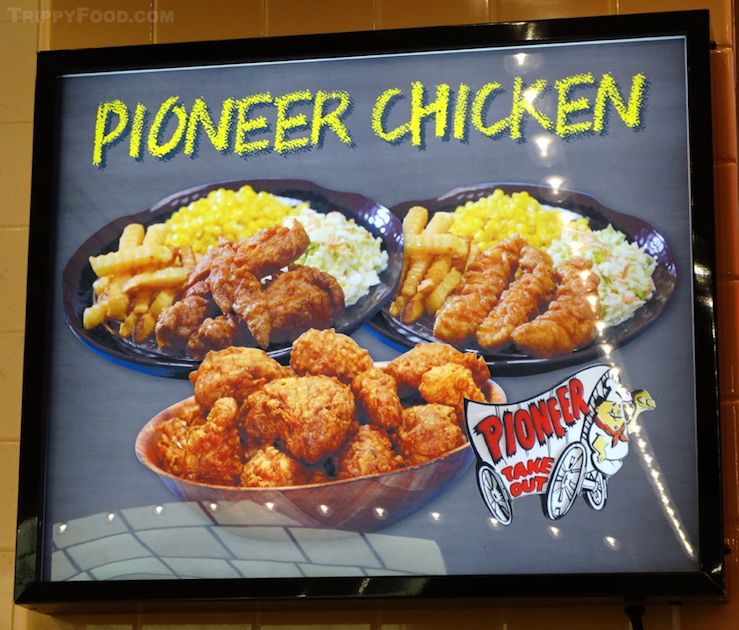 Pioneer Chicken AKA Pioneer Take Out was hugely popular in California in the 1980s. At the height of its success, it was advertised by sports legends Chick Hearn and O.J. Simpson before his scandal. Famous for its bright orange fried chicken, Pioneer Chicken was bought by Popeye's Chicken and Biscuits owner in 1993, who converted the locations to Popeye's restaurants. As of 2017, two locations are still running in Califonia. 
Sandy's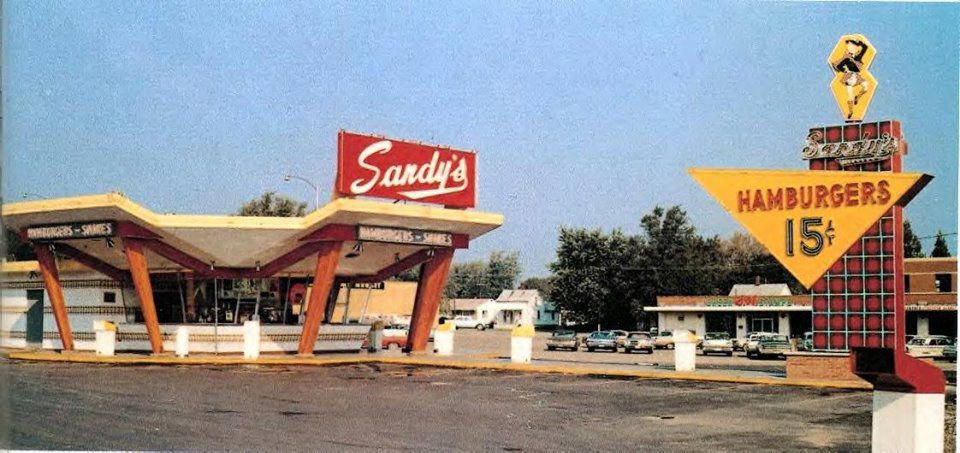 Sandy's was a chain of restaurants founded by four McDonald's franchise owners in Illinois who were not happy with the change of terms in their agreement. The first location opened in Urbana, Illinois in 1958. They offered similar food to McDonald's, but with several key differences; first, the business structure was different, with operators of the restaurants owning their stores, and second, they were not required to buy supplies from the corporation, with owners of the franchises allowed to shop around as long as it met company standards. None of the four owners were interested in expanding the local chain. Ultimately, it was taken over by Hardee's who bought out 90 percent of its locations.
Source: Definition.org