Incredible Blockbuster Movie Mistakes
Have you ever thought about how much time goes into making a film? Once everyone has gone through all the hassle of getting ready for filming, there's still so much work to be done! The Costume department, in particular, has a large and important role in the movie process. Film-makers rely on their research and an eye for detail to ensure that the end result is as believable as possible. If the costumers don't get the time period quite right, it can be pretty embarrassing! They also have to rely on hair and makeup to do their job properly, and on the director and camera people to be sure that everything goes smoothly on set. You might even remember a Starbucks cup and water bottle making their debuts in the final season of Game of Thrones. All the fans were talking about it, because of course, we didn't think they had plastic or coffee chains in Westeros. Who knows? Maybe they have McCafe and Dunkin Donuts too! If you're curious about some of the other "oops!" moments in big blockbusters, we've got the lowdown here for you. 
Indiana Jones: Raiders of the Lost Ark
There are so many films set in a different time period, and usually, these movies have a lot of extras to create a certain scene. Everyone knows the Indiana Jones films, not least because of the swoon-worthy Harrison Ford as the famous adventurer and archaeologist. The film is set in both Peru and Egypt in the 1930s, so the costuming is typical for this period. It was the very first Indiana Jones film and was released in 1981. Incredibly, it was nominated for eight Academy Awards and is one of the most successful films of all time. So many people have watched it, but only a few picked up on the mistake in this shot!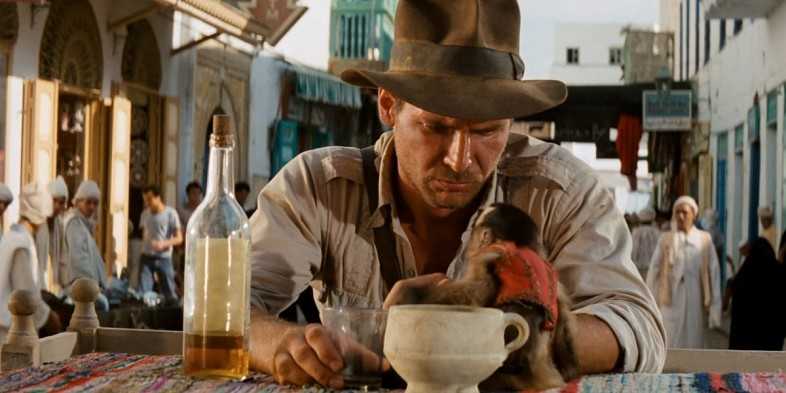 In this image, our beloved "Indie" is drowning his sorrows. We won't tell you why, because it's a huge spoiler! It looks like he's pretty upset about something though; so much so that he hasn't noticed the guy on the far left of him in a very unusual outfit indeed. In 1936, jeans did exist but were mostly only worn in America. It seems like this guy didn't get the memo. While jeans did exist at the time, it would have been very rare to see someone wearing them in Cairo at this time. Fortunately, most of the audience was too busy feeling sorry for Harrison Ford to even notice!
Glory
If you haven't seen Glory, you need to put it on your movie list. It was released in 1989 and is set in 1860s America. The film follows the 54th Massachusetts Infantry Regiment on the Union Army side. The unit was only the second African-American regiment in the war, and the film has an incredible lineup of actors: Morgan Freeman, Denzel Washington, and Matthew Broderick. It won three Academy Awards and tells the tale of the regiment's heroism at Fort Wagner.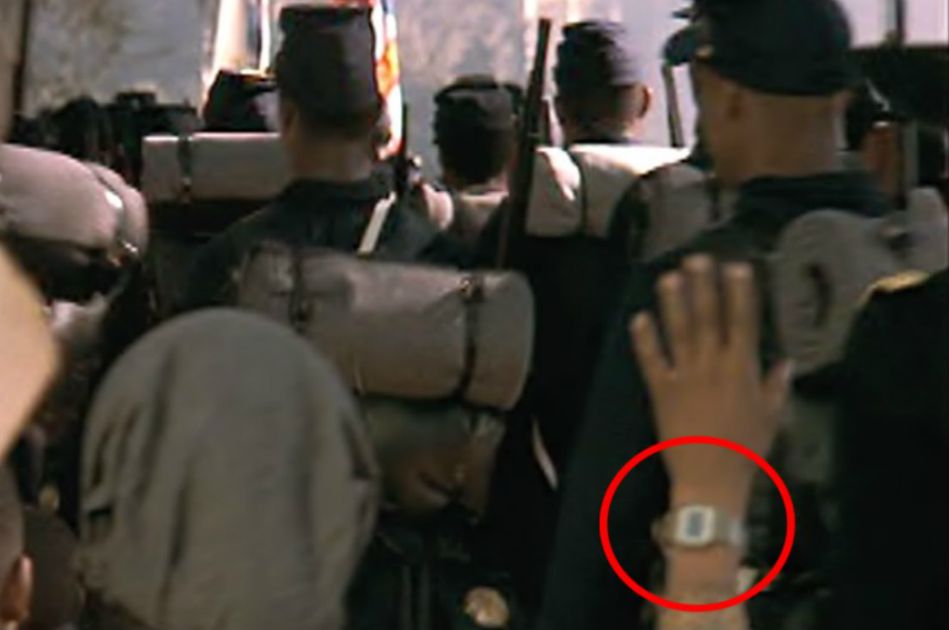 Can you spot the costuming mishap in this shot? Seems like someone forgot to take their wristwatch off! What's more is that it's not even an analog watch, which might be more believable. Even so, watches weren't really worn until the early 1900s, so it's a little awkward. What's even more awkward is that the film had a few other historical discrepancies. First of all, most of the soldiers weren't former slaves but instead born free in the North. The unit also wouldn't have been at the camp for Christmas in 1862, as they didn't even form the regiment until 1863. Oops!
Braveheart
This iconic Scottish film was released in 1995, but it was set way back in the 13th century. It's definitely a memorable film and was well-received by critics. Mel Gibson directed the film and starred in the lead role. The budget for this movie was enormous - nearly $70 million dollars, which was big bucks back in the 90s (and still is today!). In the US it grossed $75.6 million, so we guess they at least broke even in the states! It would go on to win five Academy Awards.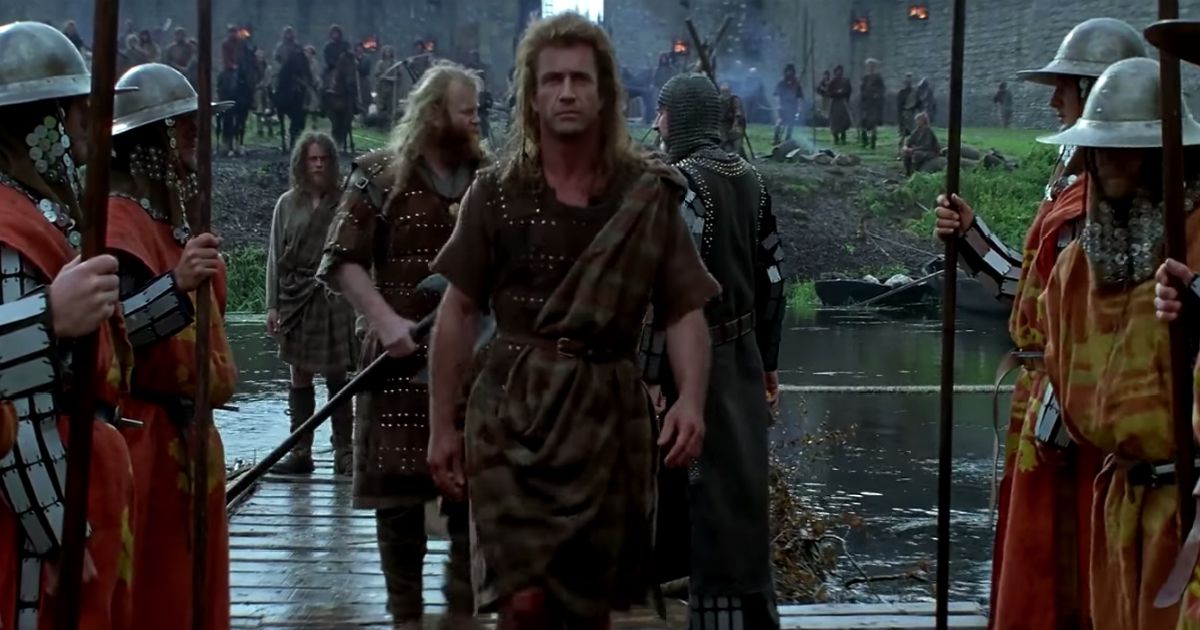 Despite the film's success, there were a few glaring mistakes. First of all, the kilts weren't invented yet. But really, if you're going to see a Scottish war epic, you'd probably expect to see them regardless of the time period. Kilts weren't in fashion until three centuries later. Besides "Kilt-gate," there were a few other inconsistencies! In the film, Wallace acts as though Scotland had never been its own separate country. But it was only invaded by the English the year prior to the Wallace rebellion! What's more is that Isabella of France has an affair with Mel Gibson's character, and then becomes pregnant, presumably with William Wallace's baby. According to historical fact, Isabella was only three years old at this time. Hmmm...
Dirty Dancing
Ahhh… Dirty Dancing, the film that caused many of us to fall in love with Patrick Swayze! This film was released in 1987 but was set in the early 1960s at a resort in the Catskills. Of course, the story is about Baby who is played by Jennifer Grey, and her summer romance with Johnny played by Swayze. More than a million copies of the movie were sold on VHS, and many spinoffs came after the original film. While it's a well-loved film by people of all ages, Dirty Dancing had one or two little hiccups.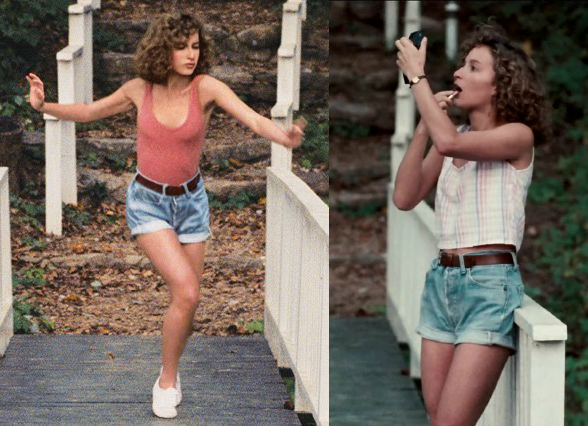 One of the most hilarious hiccups is during the scenes where Baby and Johnny are practicing their dancing in the woods. Instead of it being the height of summer, it was actually autumn, and they had to paint the leaves green to make it look believable! But the big costuming mistake is shown above, however - can you guess what it might be? Yup - it's the jean shorts that Baby was wearing throughout the movie. This style of cutoffs wasn't popular until the 1970s! But when you think about it, the film really does have an 80s feel throughout. For more behind-the-scenes goss about Dirty Dancing, you definitely want to check out this article.
The Last Samurai
The controversial film The Last Samurai was released in 2003 and made big bucks at the box office. Tom Cruise co-produced the film, and also took the leading role. The movie is about a jaded US Army Captain named Nathan Algren, who of course is played by Tom Cruise. He committed huge atrocities in the American Indian Wars, which have scarred him into alcoholism. Cruise's character is asked to train the Japanese Imperial Army to prepare them against a Samurai rebellion. To the surprise of absolutely no one, Tom Cruise repeatedly saves the day throughout the film.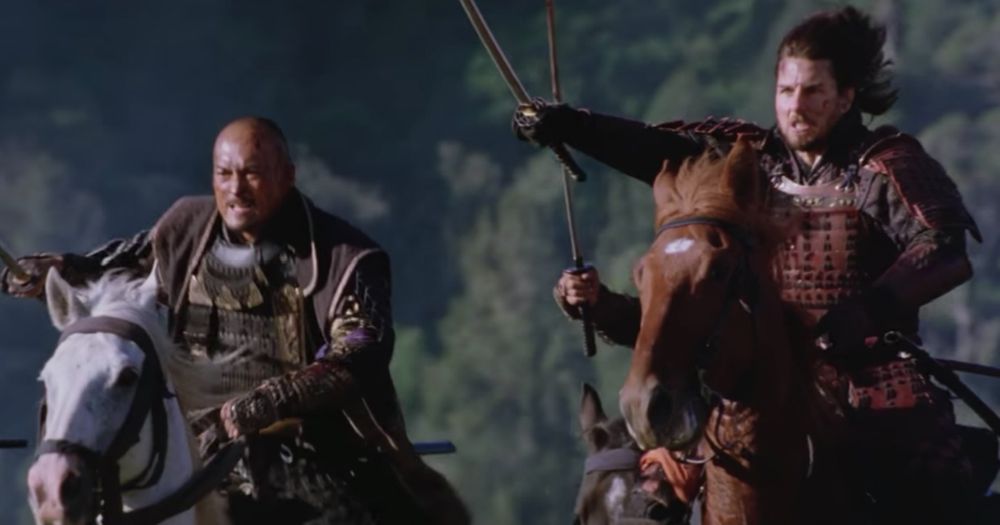 It turns out that the film ran into some controversy for more than just its costuming! There were some glaring historical inaccuracies, and many critics felt that the film had problematic undertones, including Motoko Rich from the New York Times. From Rich's perspective, the film opened up a global conversation about whether The Last Samurai and other films like it were "racist, naïve, well-intentioned, accurate – or all of the above." Other film critics and history professors made similar speculations. What's more, the armor that Cruise dons during the film is in a style that was only popular two entire centuries earlier. Yikes!
The Other Boleyn Girl
This 2008 film is set way back in 16th Century England and is based on Philippa Gregory's novel from 2001. It is a fictionalized account, but even so, there are definitely some historical inaccuracies! Everyone knows about King Henry VIII's famous wife Anne Boleyn, but her sister Mary Boleyn is much less famous. Even so, it turns out that there's something about Mary. Natalie Portman plays the sister of Anne, who is played by Scarlett Johansson. Between the two of them, they cause more royal drama than Prince Harry back in his party days!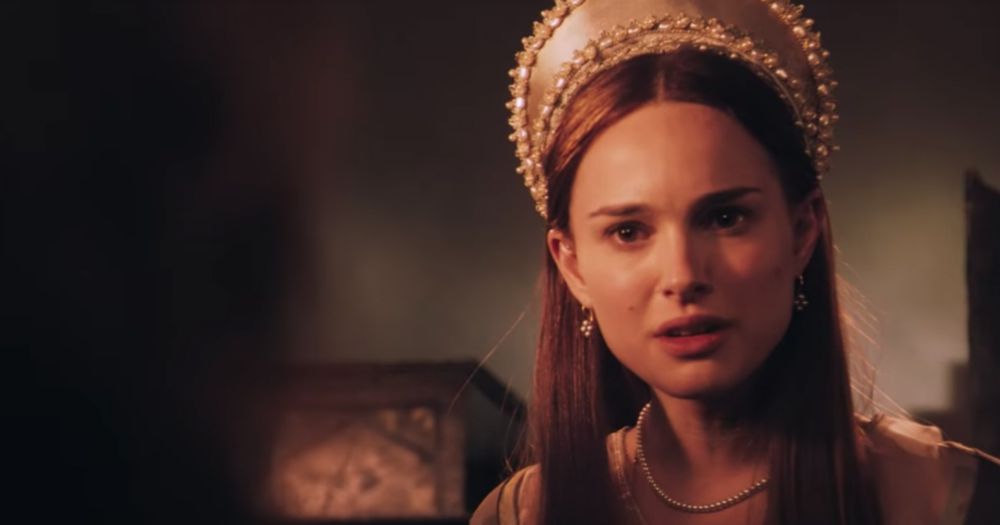 In this image, Natalie Portman has the right hood on for a woman in 16th century France, but her hair was not quite correct. In those days, it was a huge scandal for a high-ranking woman's hair to be seen in public! The historian, Alex von Tunzelmann, criticized the film, saying that Mary wasn't actually as shy or blushing as the movie made her out to be: "In real life, by the time Mary Boleyn started her affair with Henry, she had already enjoyed a passionate liaison with his great rival, King François I of France… Chucked out of France by his irritated wife, Mary sashayed back to England and casually notched up her second kingly conquest." Well, we've certainly learned a lot about Mary! 
Schindler's List
One of the most hauntingly memorable and important films of all time is Schindler's List. Released in 1993, this film is based on a book called Schindler's Ark by Thomas Keneally. Oskar Schindler, the man the film is named after, was a real historical figure of German descent. He managed to save over a thousand Jewish refugees from being sent to concentration camps during the second world war by employing them in his factories. It was nominated for twelve Academy Awards and took home just over half of those it was nominated for.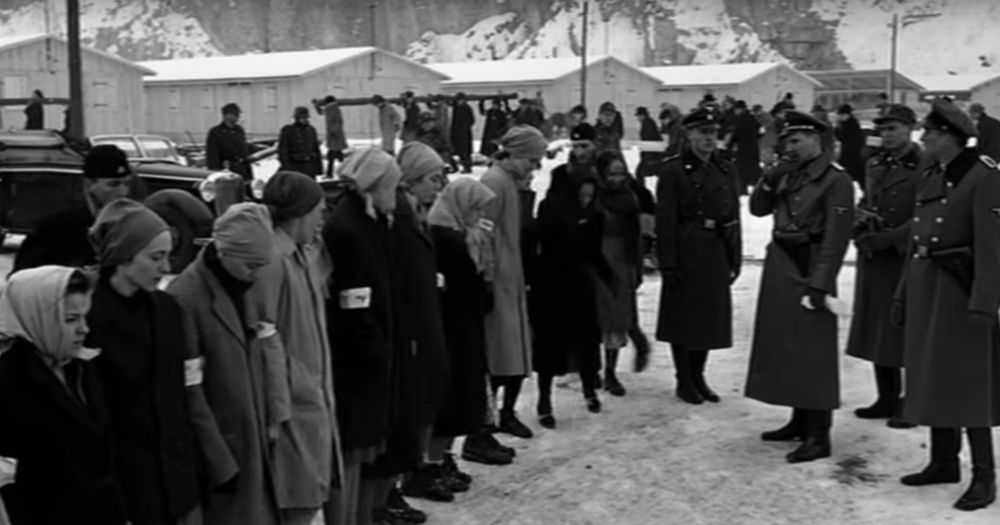 There were a few inconsistencies throughout the film that keen cinephiles picked up on. As the film is set in the 1940s, you would expect most European women to be unfamiliar with a razor. However, in the film there is only one woman that isn't trimmed and groomed. There's also a bottle of Hennessy in the film, which just so happens to be in a shape released in the 1990s. In the 1940s, the bottle would have been taller with a totally different label. Nonetheless, these inconsistencies don't take away from the important message of the film.
Back to the Future
You would be hard-pressed to find someone who doesn't enjoy this time-traveling classic. Michael J. Fox plays Marty McFly, who is a high school student who goes back in time to when his own parents were at high school. How? Christopher Lloyd's character, Doc Brown, is an inventor and good pal of McFly. He sends the teenager on a bit of a wild goose chase in his time-traveling DeLorean. The film was written and directed by Robert Zemeckis, and Bob Gale also co-wrote the script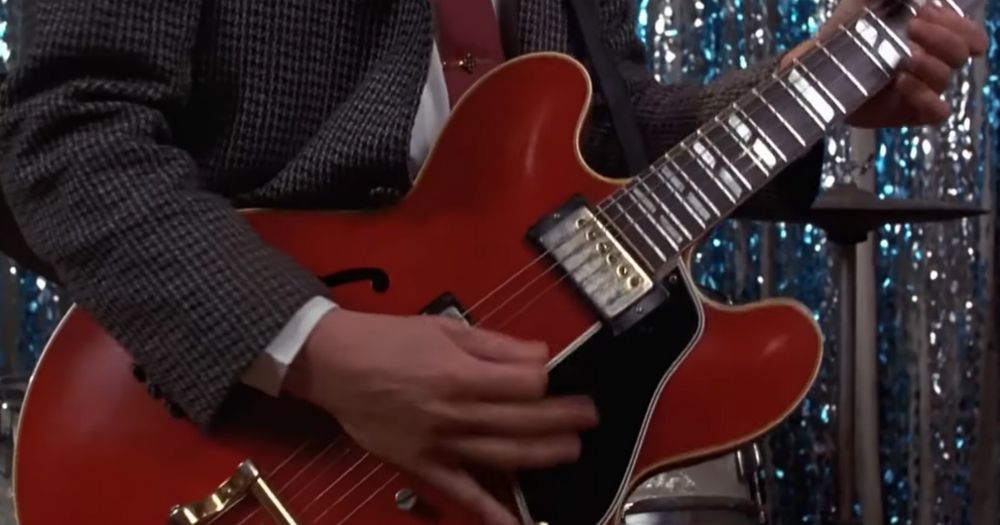 You know what's coming next! There are a couple of mistakes in this well-loved film for sure. To start with, the dinner plates that the Baines family uses in the 1950s are actually plates from the 1970s. Maybe Marty McFly snuck them into the house? What's more, is that the guitar that the teenager plays "Johnny B. Goode" on also wasn't made in 1955. He rocks out on a Gibson ES-345 with a vibrato attached. Funnily enough, the guitar itself was only made in 1958, and the pickups used on it were invented in 1957! Oh dear...
Pirates of the Carribean
Everyone knows Pirates of the Caribbean! It started way back in 2003, when the pirate trend was in full swing, just before zombies and vampires took over. The first film, The Curse of the Black Pearl, grossed nearly $700 million worldwide. One film turned into five, each making record-breaking sums at the box office. Both On Stranger Tides and Dead Man's Chest made a billion each, and At World's End nearly got there with $960 million worth of earnings worldwide.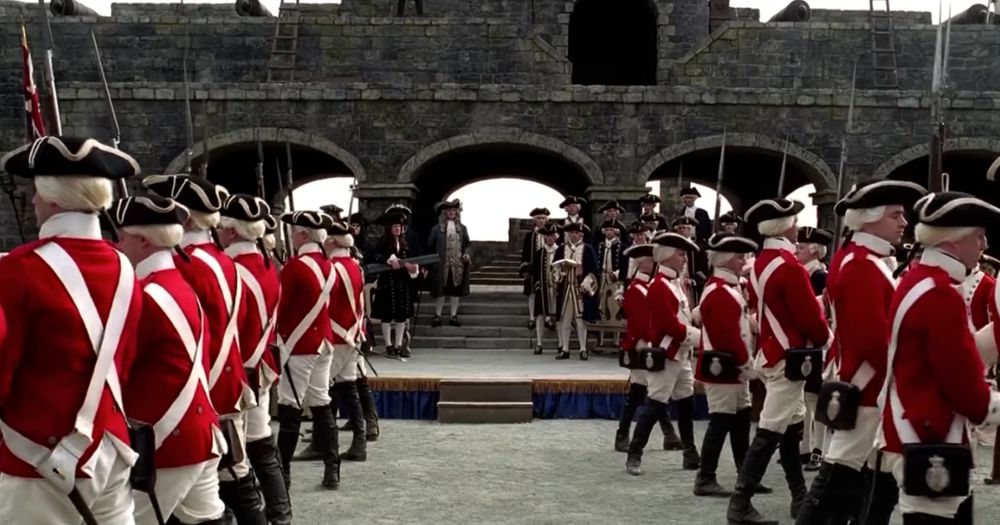 Even though these big-budget films have been meticulously costumed, you can still see one or two discrepancies. To begin, the British military was only issued red coats in 1747. The film is set in the 1720s, however, so this is a little unusual. Moreover, Barbossa has a Granny Smith apple in a few scenes. If you thought a 20-year difference was bad, try 150 years! These apples were first cultivated in Australia in 1868. Phew!
Star Wars: Episode V: The Empire Strikes Back
Our love for Harrison Ford didn't just start with Indiana Jones. No sir! You will remember him from the Star Wars films, which we're sure everyone reading this list has seen. If you haven't, you need to stop what you're doing right now and go watch them! These films are so big that they have been preserved in the US National Film Registry because of their cultural and historical significance.  Of course, The Empire Strikes Back is the second installment of the Star Wars trilogy, even though it might be 'Episode V.'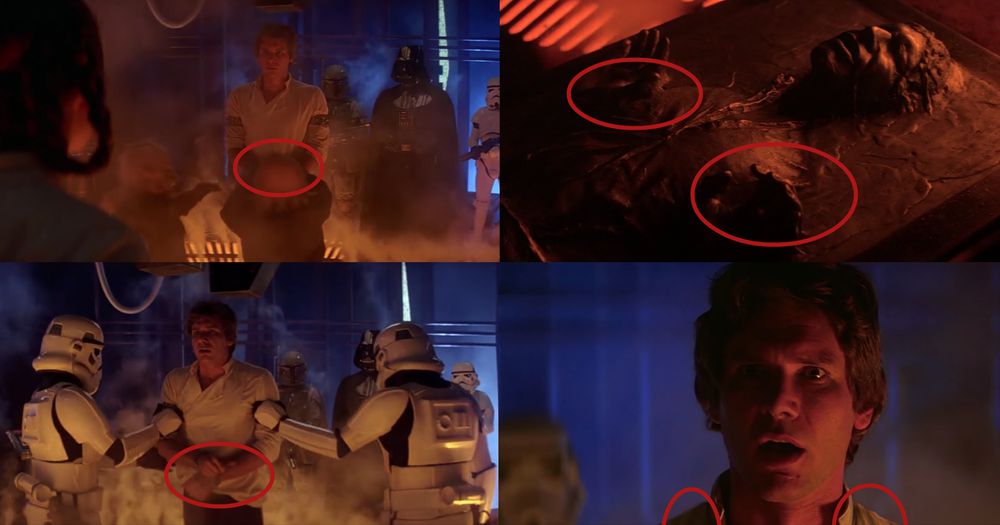 The film was enormously successful, and you'd be hard-pressed to find anyone over the age of 20 that hasn't at least heard of Star Wars. George Lucas was the executive producer. But as with any huge production, it turns out that there are a few little discrepancies even in this big-budget Lucas film! In this scene, Han Solo, played by Harrison Ford, is shackled, and then in alternating scenes and cuts suddenly is inconsistently unshackled. He's most notably unshackled when he's frozen in carbonite! Solo is also with and without his jacket on occasions that aren't continuous. 
The Wizard of Oz
This one will make you feel old. Did you know that The Wizard of Oz was released in 1939? That means it's been around for 80 years! Produced by MGM, the film is one of the most famous of all time. Judy Garland stars as Dorothy, who is blown into a strange world in a hurricane. It's so highly thought-of that the film was put on UNESCO's Memory of the World Register. The Wizard of Oz was among the first films to make the most of Technicolour, and it did so alongside an incredible musical score. We're still singing those songs today!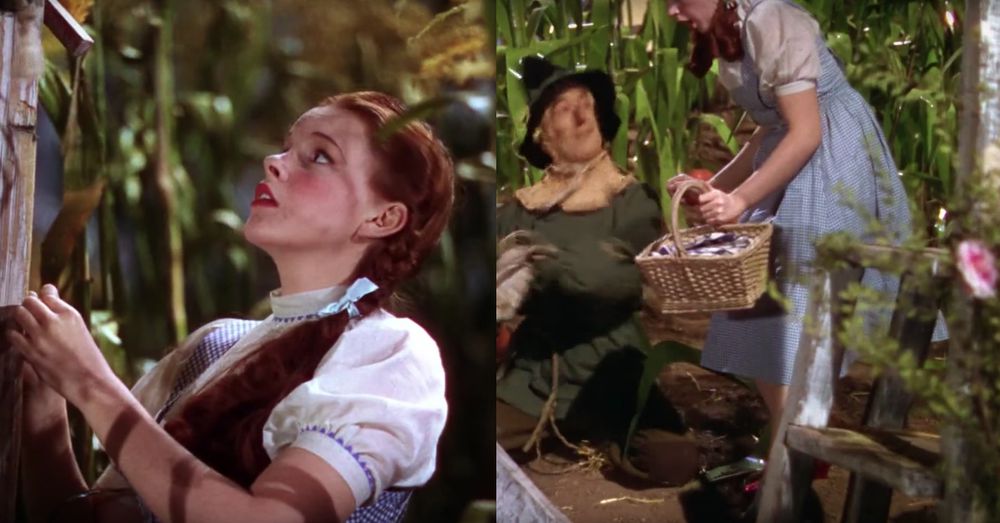 Way back in the 1930s, films weren't quite as polished as they are today. There are quite a few mistakes in The Wizard of Oz, and movies are never shot in the order of the storyline. Sometimes film-makers also have to do reshoots in order to make sure that they get exactly the right cut! But this often leads to continuity errors. You probably noticed this one - Dorothy's hair keeps changing length throughout this film, as you can see above!
Pompeii
If you didn't think natural disaster films could also be about romance, you clearly haven't seen Pompeii. Kit Harington plays Milo, Emily Browning plays Cassia, and Carrie-Anne Moss plays Aurelia in this Roman tragedy. Harington is forced to fight as a gladiator out of the Pompeii arena, just as Mount Vesuvius is erupting. He is the hero and must save his love Cassia as the volcano blows. Unfortunately, the film received scathing reviews. Even the main actor joked about how bad it was! So what did he say?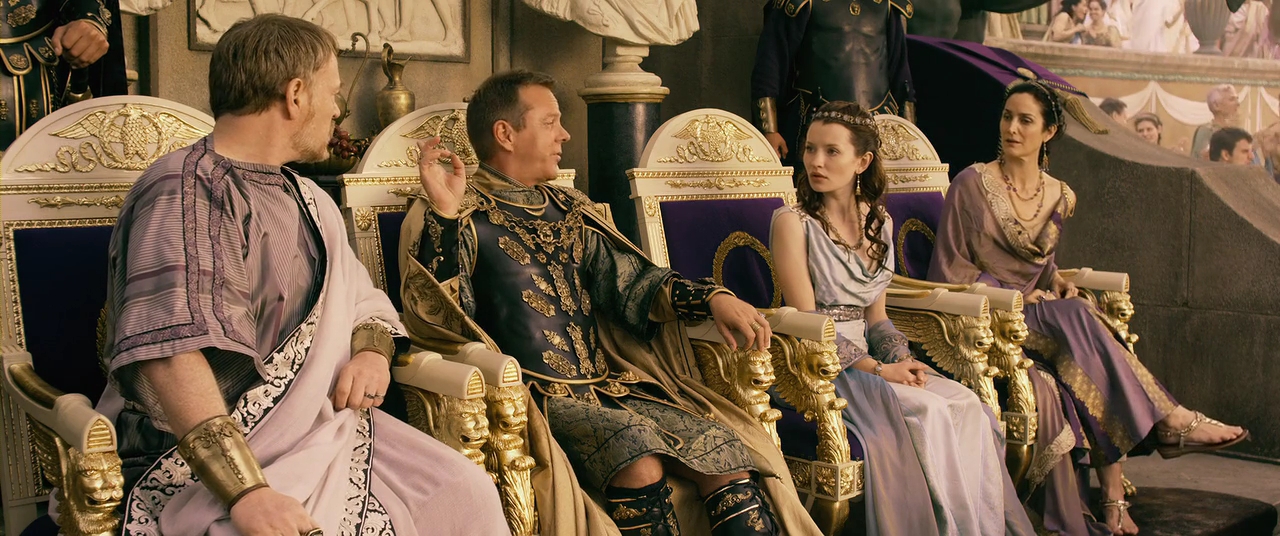 Our favorite Game of Thrones actor, Kit Harington was on Saturday Night Live shortly after the film was released. He commented that it was "more of a disaster than the event it was based on." At least he has a sense of humor. Unfortunately, the film had quite a few goofs as well, which of course included the costuming. Many affluent characters wear purple to show their status, which wasn't totally incorrect. Purple dye was highly sought-after and was known for being super expensive, so only nobility tended to wear purple clothing in Roman times. The emperor during the time of Pompeii, Nero, had outlawed the use of purple dye by anyone except him, though, so it's not very likely that there would have actually been that many folks in violet!
Harry Potter and the Chamber of Secrets
Harry Potter is really becoming the Star Wars of its generation! Almost everyone in the world knows about J.K. Rowling's famous series. From 2001 onwards, the books were turned into some very successful movies, and the second of those films was Harry Potter and the Chamber of Secrets. Daniel Radcliffe plays Harry Potter, Rupert Grint is Ron Weasley, and Hermione Granger is played by Emma Watson. Richard Harris plays Professor Albus Dumbledore, but this is the last Harry Potter film that he made.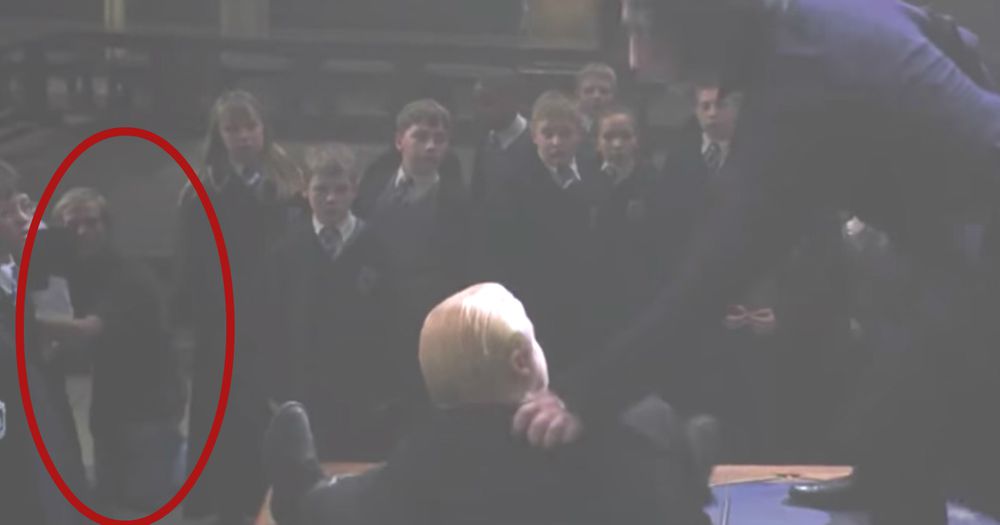 But as is always the case, this film wasn't quite perfect. Do you know that bit where the spiders start flooding out? It's around an hour and a half in. Turns out the stage lights are visible in that shot! What's more is that there's an actual crew member standing in the background of the duel scene with Harry, Draco, and their classmates. Can you spot them in the picture above? Luckily the editors were crafty and darkened the background so that it's difficult to see them unless you're actively looking for the out-of-place crew member. We guess it would have been hard to reshoot a scene with so many actors!
Jurassic Park
Every 90s kid remembers Jurassic Park. It's exactly why so many millennials were obsessed with dinosaurs while they were growing up! And the films were so popular, that there have been more made in recent years. The original Jurassic Park was released in 1993 and was an exciting sci-fi movie directed by Steven Spielberg. Michael Crichton wrote the book that the film was based on. It is set in a fictional island near Costa Rica, where scientists have brought dinos back to life in an incredible project led by billionaire John Hammond, played by Richard Attenborough. The actor is actually David Attenborough's brother, in case you didn't know!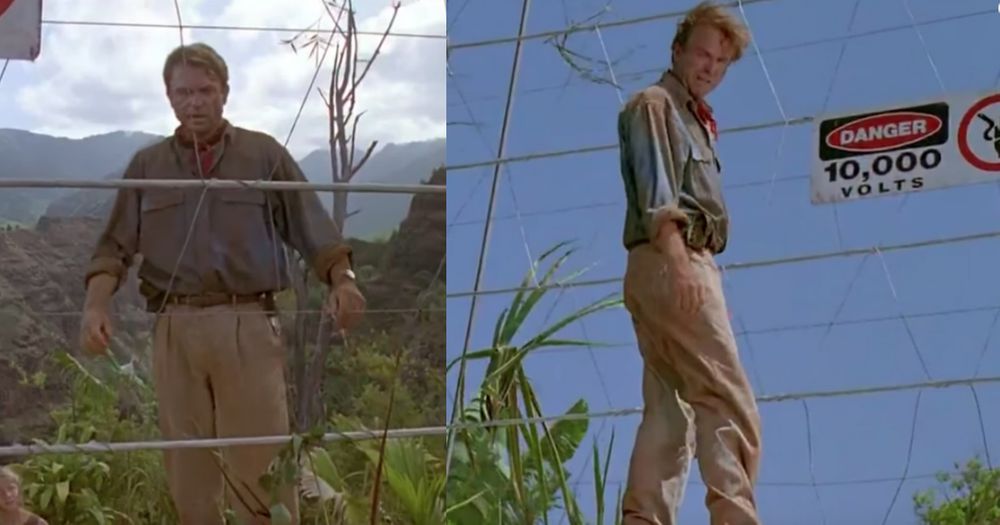 Perhaps the coolest thing about Jurassic Park is that the technology used to make the dinosaurs come to life was totally ground-breaking. Industrial Light & Magic even built life-sized animatronic dinosaurs. Can you imagine? As you know, John Hammond is played by Richard Attenborough. Hilariously, he has a strong Scottish accent in the very first scenes of the film, but by the end, he seems to have reverted to an English accent! Nonetheless, there are a few more mistakes throughout, such as the one in the picture above. Can you spot it? Sam Neill plays the main character and was so charming that we didn't even notice the continuation error with his hair. Oh well. The film is still one of our faves!
The Untouchables
Did you enjoy Goodfellas and Casino? If you did, you've probably seen The Untouchables, which is in a similar vein. Released in 1987 and set during the Prohibition era, this American gangster film has a huge cast of extraordinary actors: Kevin Costner, who plays Eliot Ness, Al Capone, played by Robert De Niro, as well as Sean Connery, Andy Garcia, and Charles Martin Smith. It has one of the most memorable scores of all time. Ennio Morricone composed the music, and the film also featured tunes by the legendary Duke Ellington.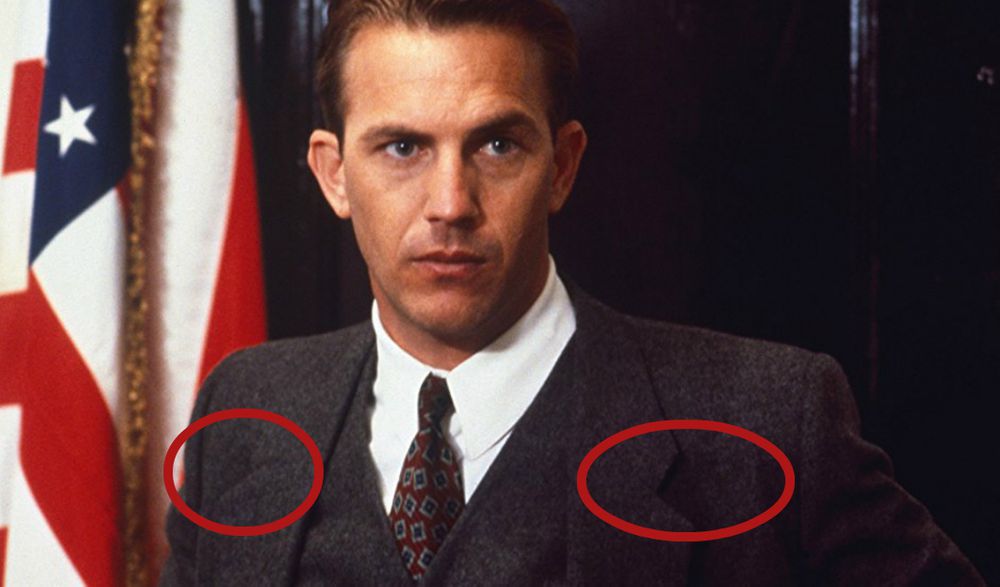 Naturally, there were a few mistakes throughout, and most of them were to do with the time period. It was set in the 1930s, but as pictured above, Kevin Costner's suit is super 1980s. Back in the 30s, the lapels on suits were much bigger and more obvious than these. There were also a few cars lurking around from the 80s, which you can probably spot if you have a keen eye. Most notably, these are in the scenes at the Candian border, and when Ness threatens Capone in the Lexington Hotel lobby.
Gladiator
The epic historical drama Gladiator is based on Daniel P. Mannix's novel called 'Those About to Die.' It was produced by Dreamworks and Universal and stars Russell Crow as Maximus. Joaquin Phoenix, Oliver Reed, Connie Nielsen, Ralf Möller, Derek Jacobi, Djimon Hounsou, and Richard Harris star in the film too. Like most Ancient Roman tales, it is full of bloodshed, drama, and vengeance. Sadly, Reed had a heart attack during production, and his remaining scenes had to be shot using a body double and some clever CGI.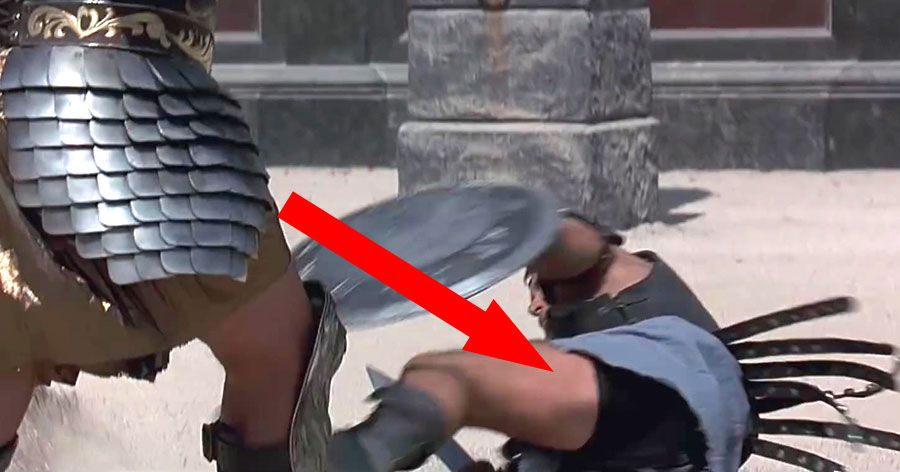 Did you notice anything odd about the film Gladiator? We spotted two major mistakes! First of all, in one of the amphitheater scenes, there's an extra in jeans and a tee in the audience. He looks pretty out of place considering everyone else is in Ancient Roman garb! Denim wasn't even invented yet! There was also another pants problem, as pictured above. Do you know what it is? Well, when Maximus loses his footing in the colosseum battle, Crowe is wearing tight little sports shorts under his clothing. Maybe it was for the best though, because if he hadn't been wearing them we might have gotten a pretty bad view anyway!
The Wedding Singer
In what is perhaps one of the only films where Adam Sandler plays a likable character, The Wedding Singer is a 1998 rom-com. Sorry Adam Sandler, but it's true! As you might have guessed, this popular movie follows a wedding singer (Adam Sandler) who falls in love with a waitress. Drew Barrymore is utterly charming in this super-sweet film, and there are many awkward and adorable laughs. Frank Coraci directed it, and it would go on to make $123 million worldwide.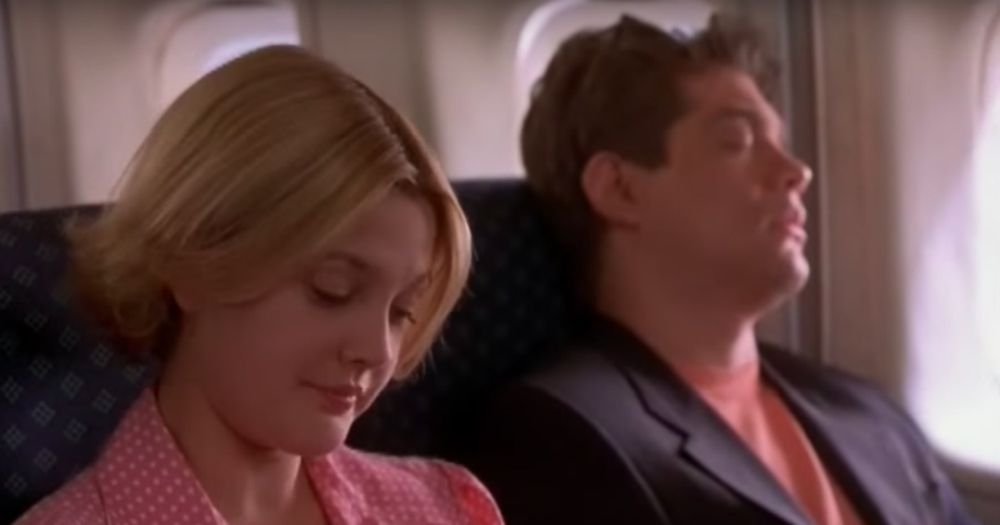 Back in the 1980s, hair was big. And The Wedding Singer is set in the 80s, so you'd expect all the characters to have enormous hair. Weirdly enough, Drew Barrymore's character has a short bob, which would have been chic in the 90s when the film was shot, but in the 1980s would have been considered a faux-pas. Maybe that's what they were going for? After all, her character is a little dorky, but in a sweet way. Who can say!
Troy
Another epic historical drama, Troy was released in 2004 and stars a very handsome cast, including Brad Pitt, Eric Bana, and Orlando Bloom. If that wasn't enough to make you consider watching it, you might also be impressed by the fact that it's based on Homer's Iliad. It follows the Trojan war. It also follows quite a few attractive people in sandals, if you're into that kind of thing. The film made nearly $500 million worldwide.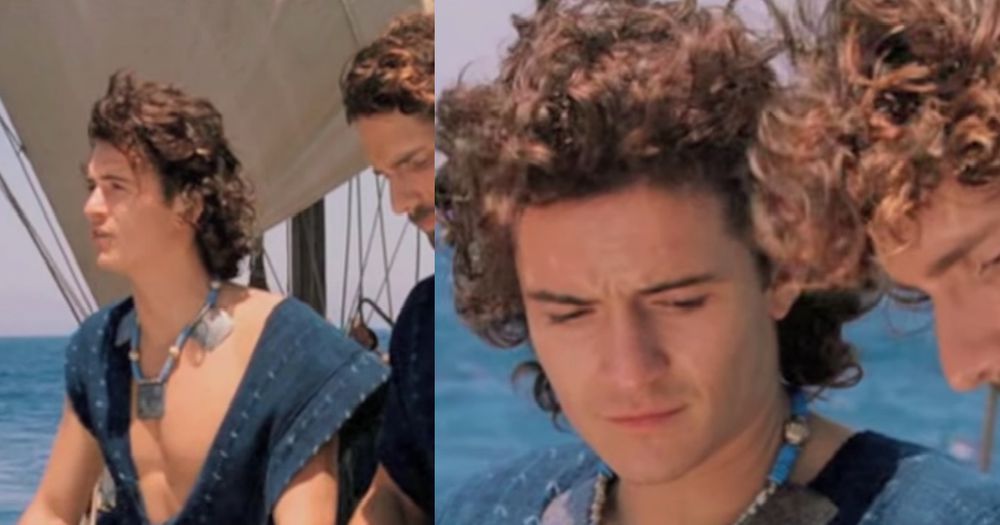 We spotted two errors in this one. In the above image, you can see that Orlando Bloom adjusted his shoulder strap pretty high. But in the next shot, there's a continuation error! Bloom's shoulder is suddenly covered without him moving. Oh dear! The movie wasn't a huge hit with film critics and seemed to confuse audiences. Critic Roger Ebert gave the film two out of four stars and praised Brad Pitt's performance especially.
Almost Famous
Critics may have hated Jonah Hex, but they LOVED Almost Famous, which was released 10 years earlier in the year 2000. The film is a drama-comedy (a drama-dy?) starring Kate Hudson, Patrick Fugit, Billy Crudup, and Frances McDormand. Cameron Crowe directed the movie, and it turns out that it was based on his own life. As a teenager, Crowe wrote for Rolling Stone and ended up touring with bands like Led Zeppelin, The Eagles, and Lynyrd Skynyrd.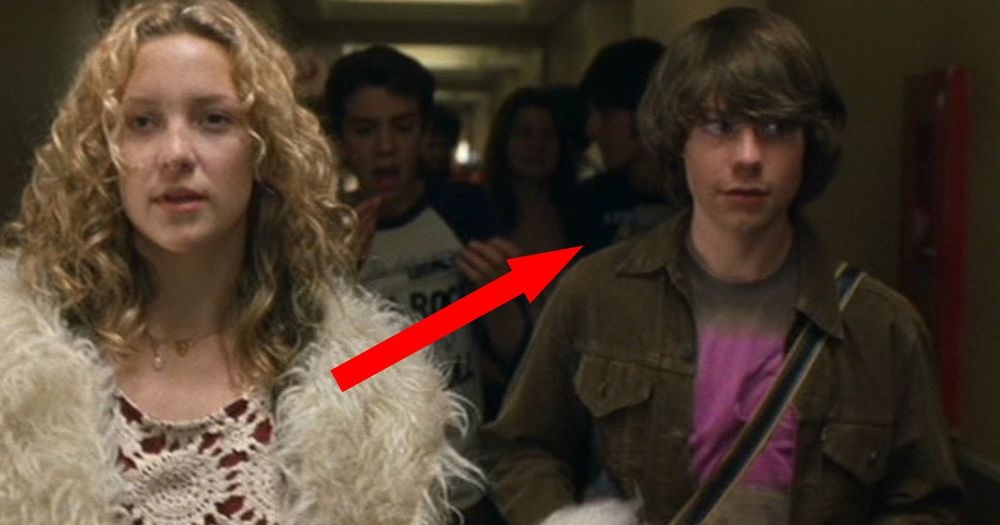 William Miller was played by Fugit, and throughout the film loses his virginity and falls in love, all while following his musical heroes on tour. Roger Ebert, who gave Troy only two stars, was very impressed by Almost Famous. He called it the best film of the year, and it ended up winning two Golden Globes. Even so, there were a few teeny tiny mistakes. In a backstage scene, there is a Black Sabbath tee which was made in 1997. Looks like we have another time-traveling extra on our hands!
Indiana Jones and the Last Crusade
It's no secret that the Indiana Jones series was enormously successful. How could they not be? The Last Crusade was released in 1989, directed by Steven Spielberg, and co-written by George Lucas. Now that's a winning combo! Harrison Ford is, of course, our beloved Indie, and River Phoenix, Alison Doody, Denholm Elliot and Julian Glover star in the film too. In this installment of the Indiana Jones films, Harrison Ford's character goes on a hunt for his dad, who has been captured by the Nazis and is a Holy Grail scholar.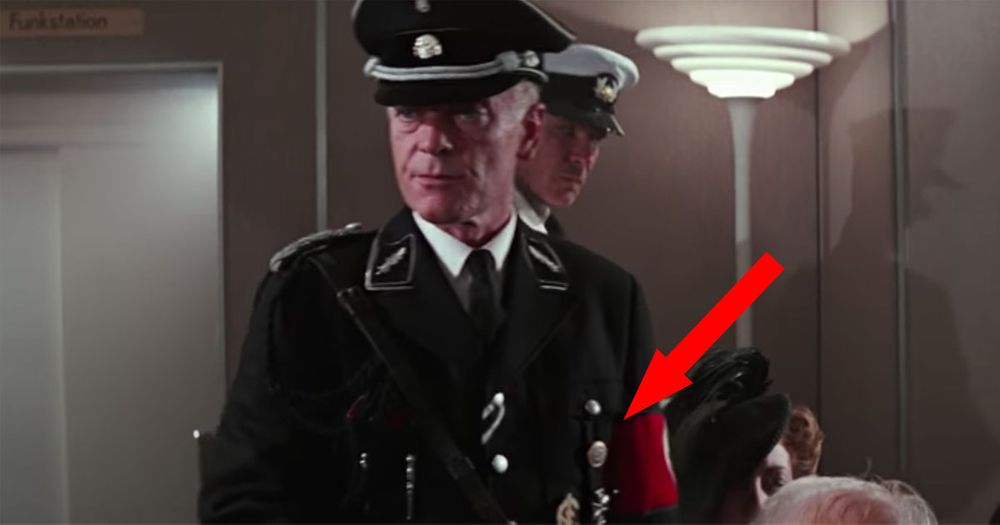 There were several scripts sent to George Lucas and Steven Spielberg to review for the third film in the Indiana Jones series. They accepted Jeffrey Boam's, and the film was an enormous $474 million dollar box office success. It also won an Academy Award. One awkward little mistake throughout the film is, however, that the German officers have medals on their uniforms. This is a little strange, however, as historically speaking these officers would have been given these medals during the war. The war hadn't yet started yet, as the film is set in 1938!
The Mummy
Brendan Fraser, Rachel Weisz, John Hannah and Kevin J. O'Connor star in this 1999 action film, which was both written and directed by Stephen Sommers. You might have thought it was an original, but it turns out that it is actually a remake! The original film was released in 1932. Filming for the 1999 version was no easy feat. They chose to film in Morocco for 17 weeks, and during this time the crew had to deal with snakes and sandstorms whilst shooting in the Sahara desert.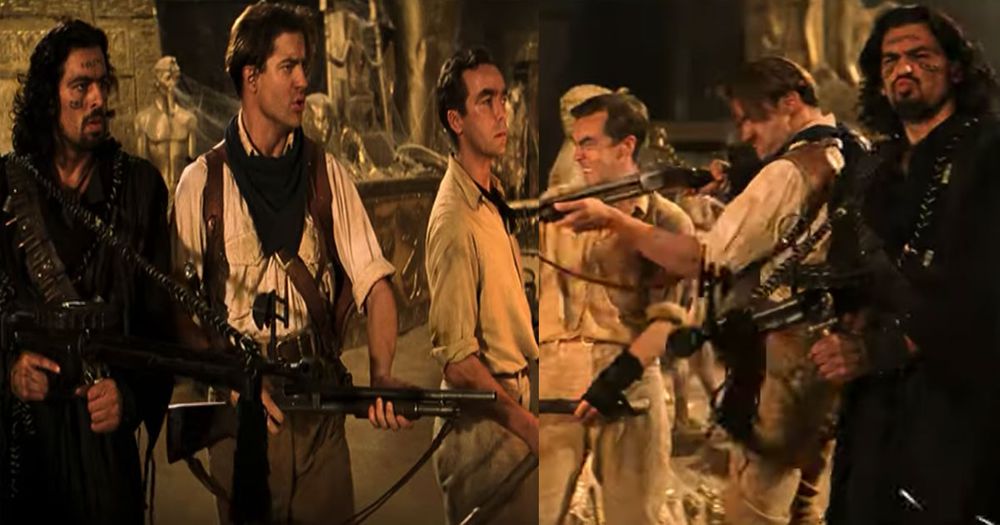 The film seemed to really baffle audiences because while it wasn't quite along the lines of Star Wars or Titanic, everyone still enjoyed it. Roger Ebert said it best when he wrote: "There is hardly a thing I can say in its favor, except that I was cheered by nearly every minute of it." Fair enough! And of course, there were a few slip-ups here and there. At the most intense point in the film, there are mummies rising out of the sand around the heroic troupe. Weirdly, however, Ardeth and Jonathan suddenly switch sides without explanation! It turns out that a few scenes were cut, and they ended up with a continuity error. 
If you enjoyed spotting these "uh-oh" moments during the filming of these multi-million dollar productions, be sure to share this with a friend or cinephile! Or if you're in the mood for more cinema gossip and behind-the-scenes drama, you might want to check out our other articles!