These Hilarious Beach Photos Will Have You Crying of Laughter on the Sand
Holidays will always be the ideal time to relax and enjoy a pleasant day at the beach or in the mountains. On the beach you can do many things: relax in the sand, swim, sunbathe, take pictures and much more. Having fun with your camera on the beach is a perfect opportunity to capture amusing and different images if you know where to look. There are so many people relaxing without paying attention to their surroundings that it is effortless to see something interesting.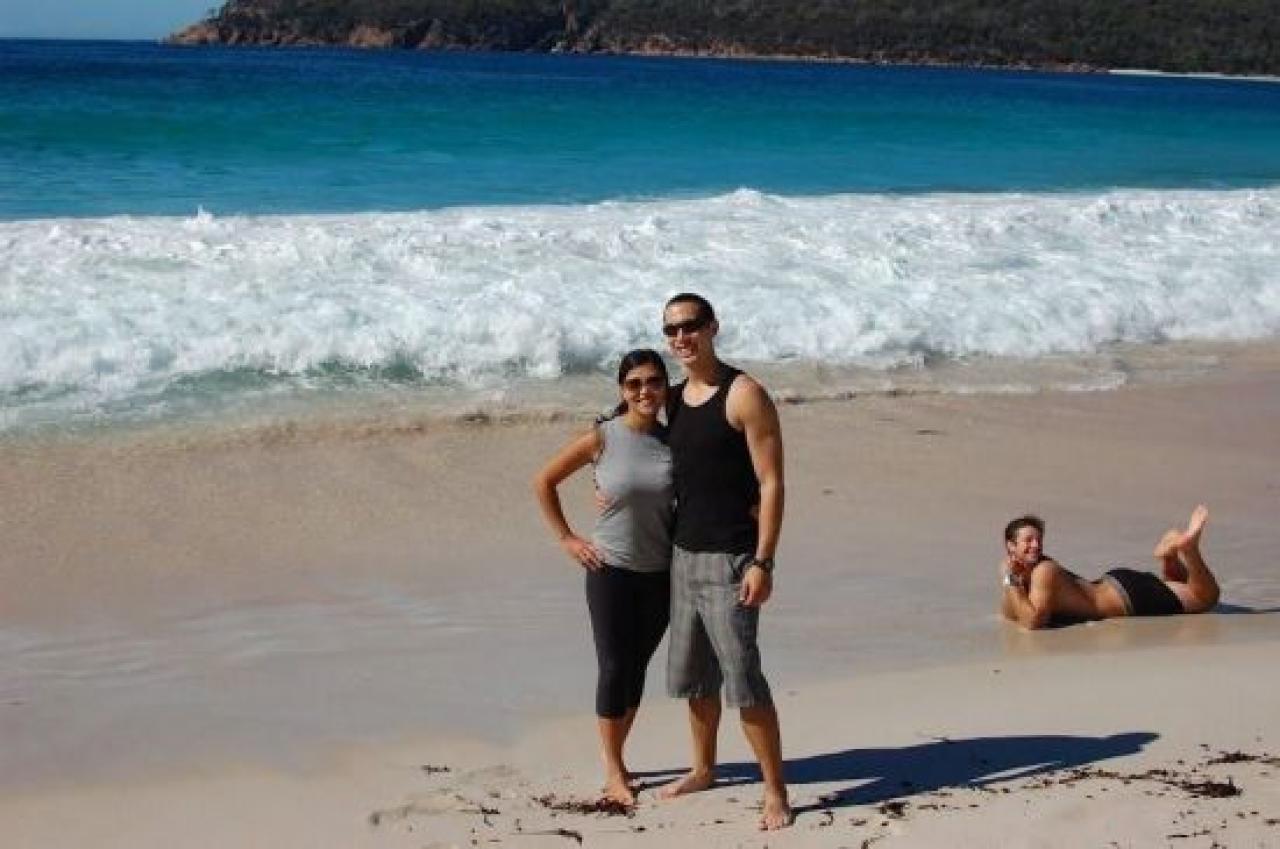 With the arrival of summer, we can see hilarious things on the beaches around the world. A stumble against the waves or wildlife attacking an unsuspecting tourist who failed to take care of his food can make awesome images. In the following list of pictures, you will see some of the wildest and most entertaining photos captured under the sun. Which one is your craziest beach photo? You can likely think of many others after seeing some of these.
The best photobomb?
The photobomb level of this dog is the maximum possible! No matter what the girls in the background were doing, he knew exactly the right time to appear in the frame. Their little dog got tired of seeing his girls taking pictures and decided that he also wanted to be in the pics. If he just wanted to be part of the group, why not jumping in front of a photo?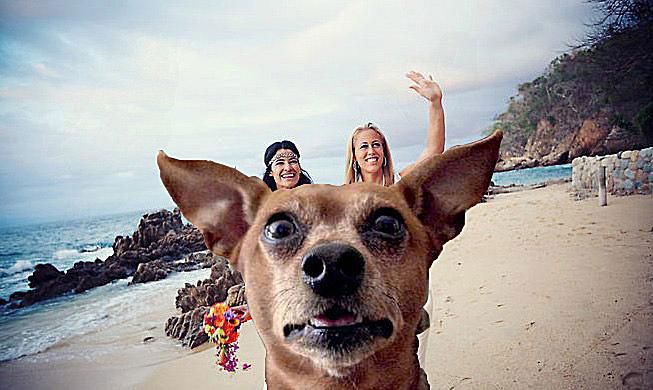 Another possibility is that the dog was on vacation with another family on the beach but seeing that they were not paying attention to him, he decided to go enjoy his vacation with this couple of girls and appear in their photos. However, we have seen so many strange things on the beach that we would not be surprised to see something like that. To prevent this from happening, always remember to invite your dog to group photographs.
'I'll stay here for a while'
Apparently, seal pups have a bizarre definition of private property and enter wherever they want. If you leave the door open on some beaches, they can come and relax for a while in your living room. They honestly don't seem to be a bad company, as long as you remember to have all the fish and food locked up. If it gets too comfortable on your sofa, you just have to change the TV to a shark show and scare them.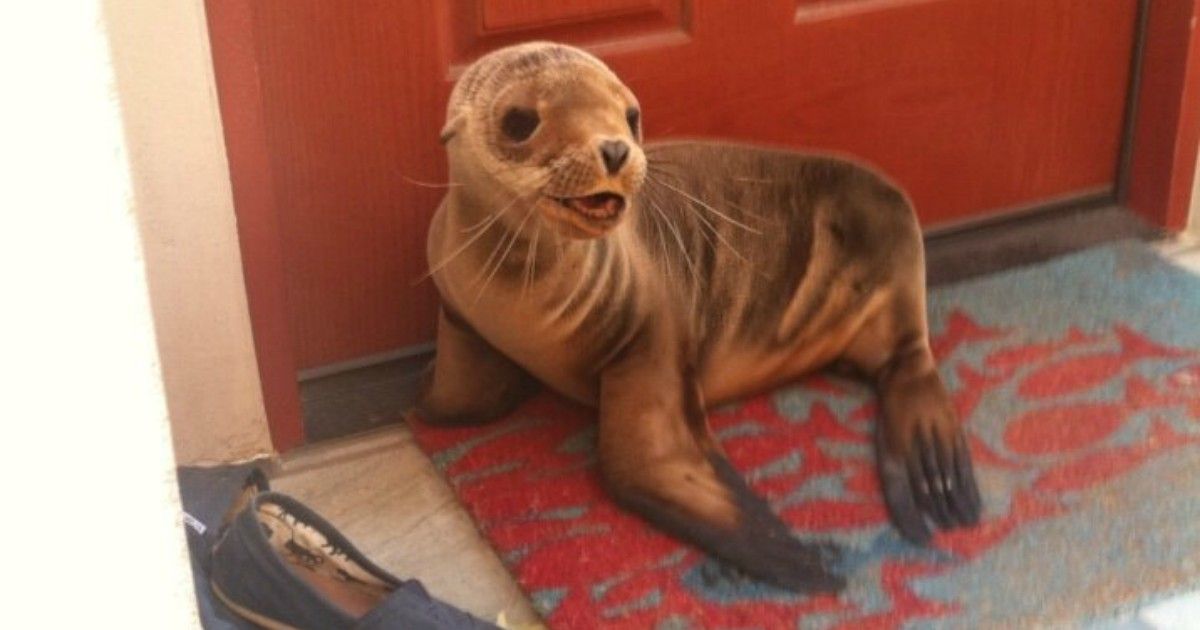 Now that you know this exciting secret, your next mission is to discover where those beaches are and leave the door open 24/7. You won't find a better company by the sea if you manage to control the possible disaster that these little creatures can cause. You can prepare some sushi if you want to be the best possible host, but they will eat everything you will give them. Don't forget to take several photos with your new guests to show off on social media!
Piped-piper
Beach signs clearly say that you should not feed the seagulls to avoid them getting used to looking for food there. However, they say nothing about feeding the raccoons that appear on some coasts in search of food. Seeing raccoons on the beach is not typical for all people, but it is possible to find them from time to time. Similarly, it is not advisable to feed them too much to prevent them from abusing your trust.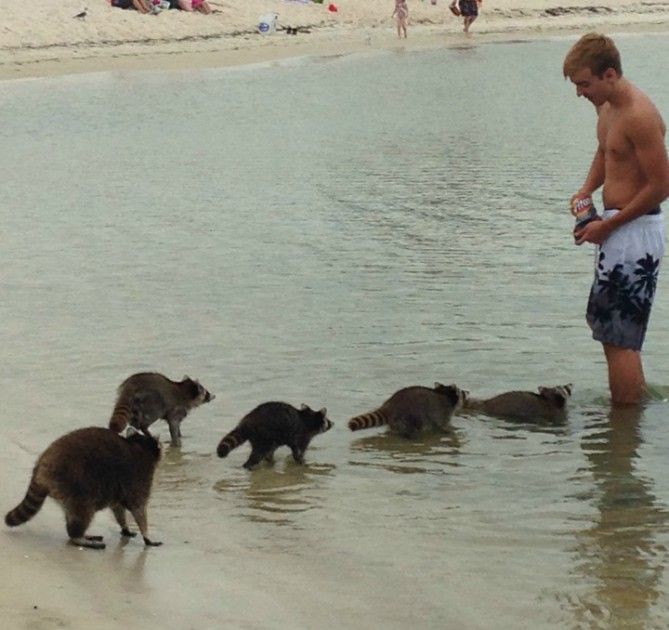 If you are an animal lover and want to give these creatures some food, avoid doing so near the sea so as not to contaminate. If you are very careful and avoid getting too close, you should not be in any danger. They are creatures known for transmitting rabies, but they will not attack a person who is voluntarily feeding them. Be sure to hide the rest of your food if you don't want these little ones to try to loot your stuff.
All cats are the same
Regardless of the size of the cat, they are all exactly the same and behave the same way. If you observe the behavior of the big cats of the jungle, you will notice that they are only larger versions of your cat. Some are more aggressive than others and can eat you, but if your cat were that size, it would too. If you try to caress them, they will attack you, and if you give them a box, they will go straight to it to sit and play.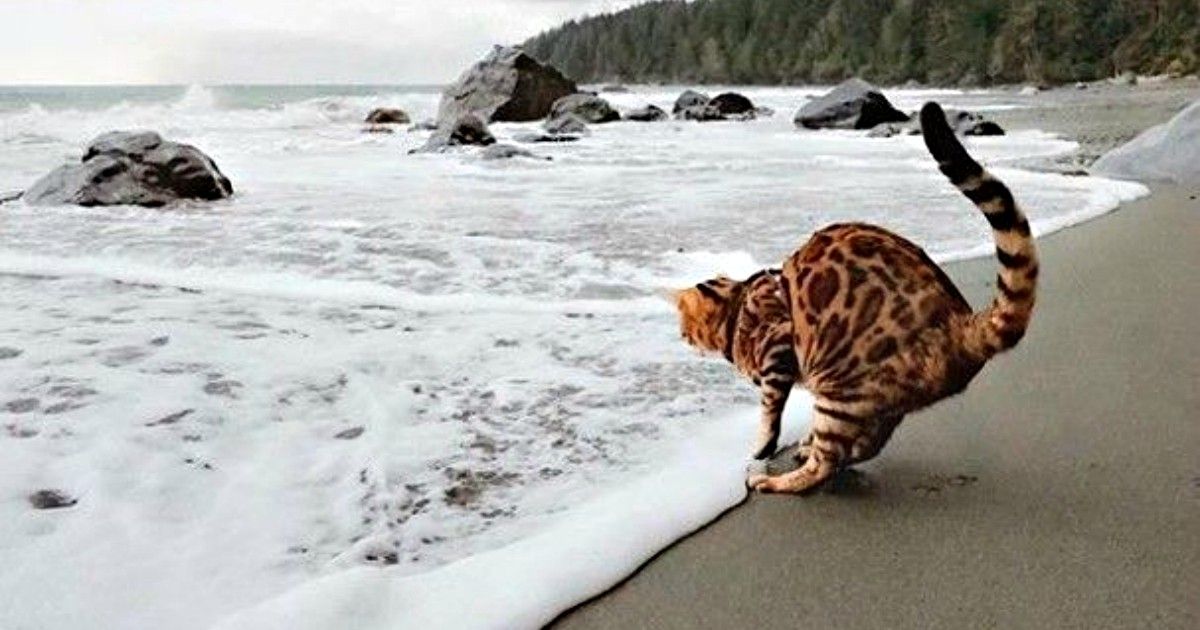 When it comes to water, the same thing happens. The instinct of cats makes them move away quickly from the sea, even if they are bigger than us like lions. They will jump and run away fast to avoid getting wet, but they may get used to it over time. The cat in this picture is seeing the sea for the first time! He will likely run after approaching too much to the sea. Cats and water are not natural enemies but prefer to stay away.
A beautiful wedding
Weddings are lovely moments that deserve to be photographed, and beach weddings are usually stunning. The happy couple enjoys joining their future in a very different from the typical environment, and this adds something unique to the ceremony. Strangely, it is not common for this kind of wedding to occur with formal clothes, and that is why this photo looks a bit odd. It is not often to see such an elegant outfit on the beach due to the heat, but the important thing is that they feel comfortable.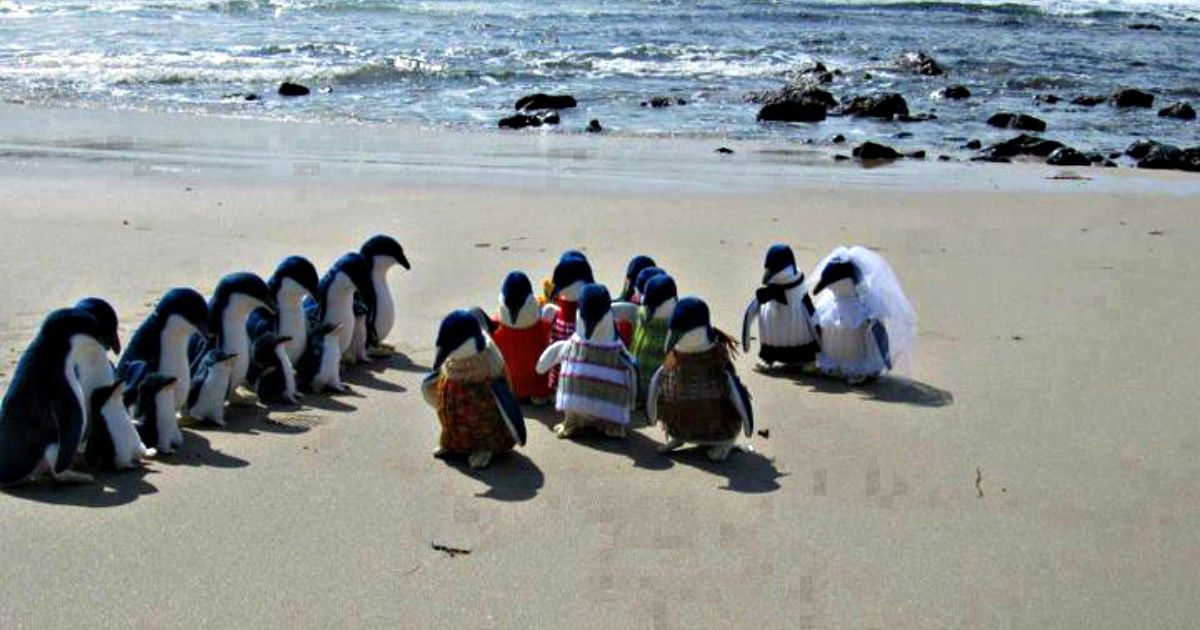 This pair of newlyweds and all their companions wear beautiful tuxedos that give the ceremony a lot of elegance. Some use additional clothing, but it is undoubtedly to avoid a sunburn. Maybe their suits are rented, they do not want to dirty them with sand or seawater. Regardless of their reasons, we don't want to interrupt this beautiful ceremony. Congratulations to the happy couple and many years of happiness for both!
It's mine!
It is usual for people to take pictures of their food for social networks, the vast majority of people do. Instagram is a social network full of food from around the world, and its users love to see and share their dishes. However, taking that kind of picture on the beach is calling the disaster because there are many hungry creatures. If we don't have someone to take care of our surroundings, we will run out of food.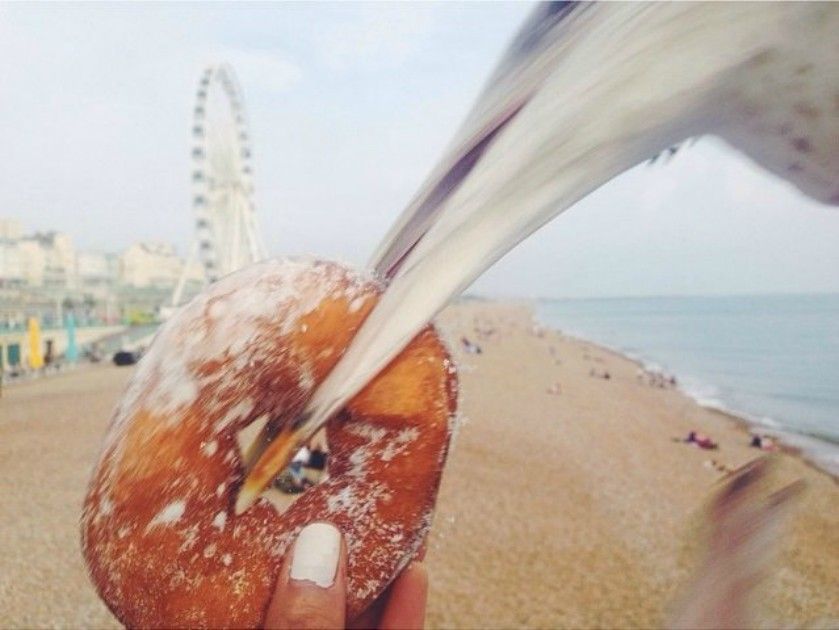 This delicious donut was to become the star of an Instagram post, but that seagull had another idea. We must keep in mind that seagulls are expert food thieves and that they can attack when we least expect it. They are fast, agile, and they fly! Also, trying to win a battle against a seagull is almost impossible because they have many friends who can support them. It is preferable to give up and forget about the food to avoid being chased by dozens of them.
Imperceptible
Some beach photos are difficult to understand until we pay enough attention to the details that make them up. At first, we may not have noticed something that is in the shot, but then we'll realize its presence. Although this kind of images does not usually hide anything unusual, it is sometimes fun to recognize these details. Hiding something, or someone, in a beach photograph is not something easy to do.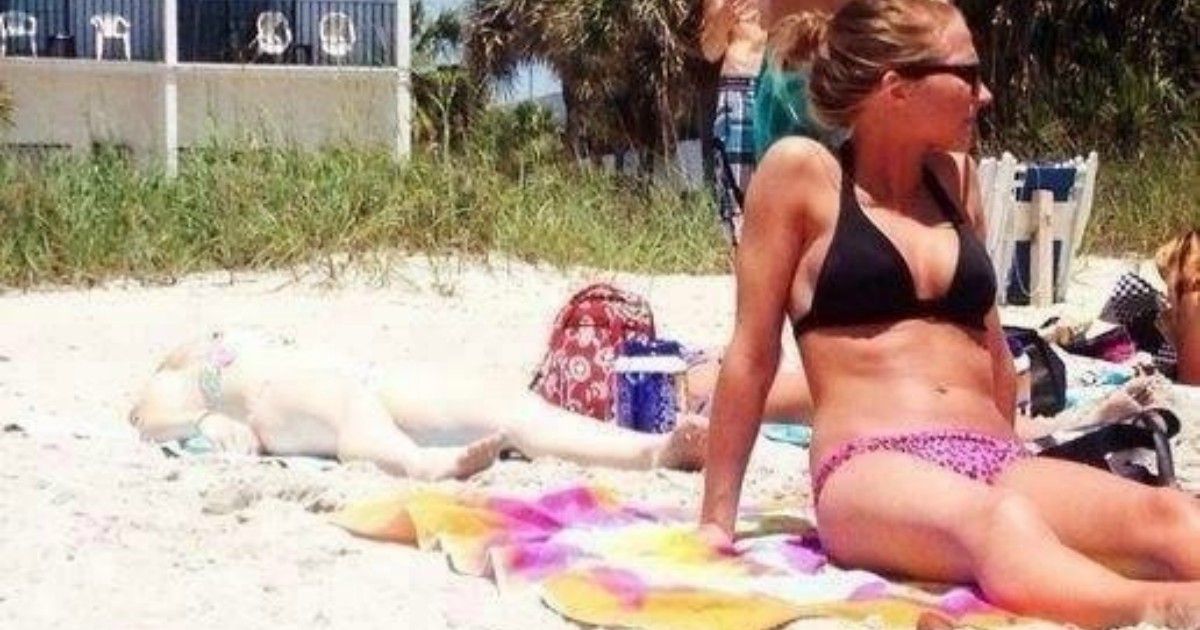 In this particular image, we can see a pretty girl sunbathing while looking to the right of the picture. But the truth is that there is more than one girl in this photograph! The other girl is so white and the sun is so intense that it is difficult to realize her presence at first sight. That girl needed to go to the beach urgently, but she must be cautious not to overdo it, or it will end up red like a tomato.
Convenient landing
Although this image looks like the work of a great Photoshop artist, it is an authentic image without editing. The beach is located right next to Princess Juliana airport in St. Maarten, so images like this are widespread. The planes take off and land continually passing over the tourists, and providing them with this incredible view. This proximity to the airport has become one of the main attractions of these beaches.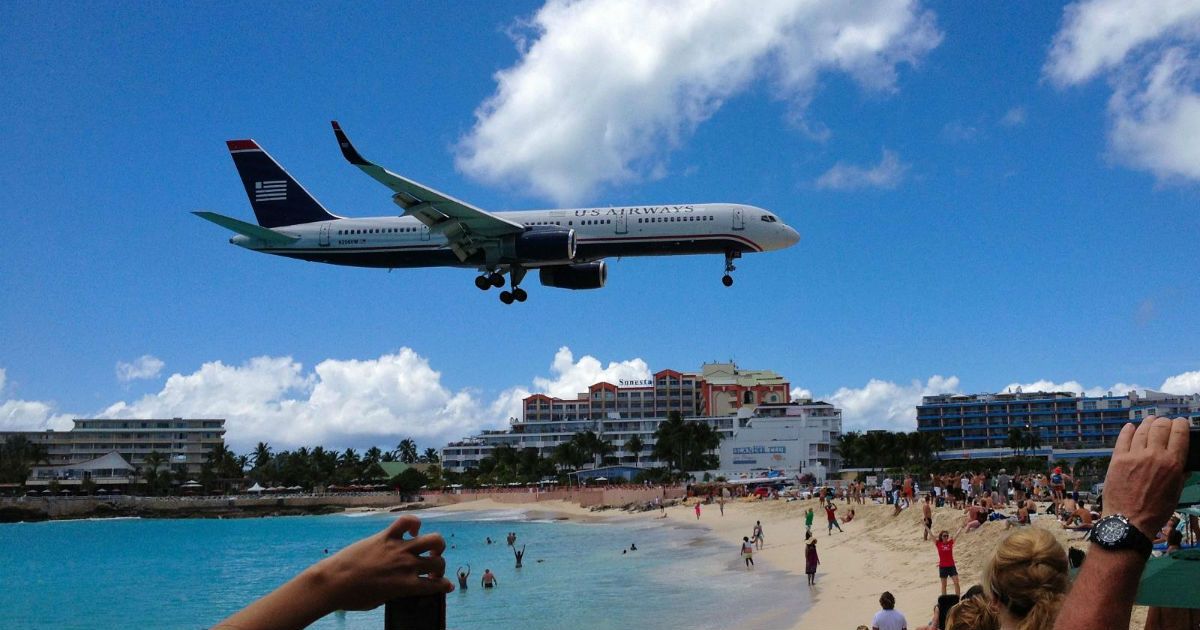 However, we must take into account something fundamental that is not reflected in this photograph. Who can relax quietly on the beach with a device of this size passing over them? Imagine the amount of wind they lift when approaching or moving away from the beach! And it's not just the wind that lifts all the sand and throws it in all directions. The noise they produce when flying so low must be unbearable.
Not the best method
It is normal to be excited when you buy a new van because you want to see what it is capable of. The seller was very emphatic in telling you about all the space that the cargo area had and everything you could take with you. He said to you that it was a heavy vehicle capable of supporting a lot of weight, so he convinced you, and you bought it. However, not all cars are adapted to perform any task or load anything from one place to another.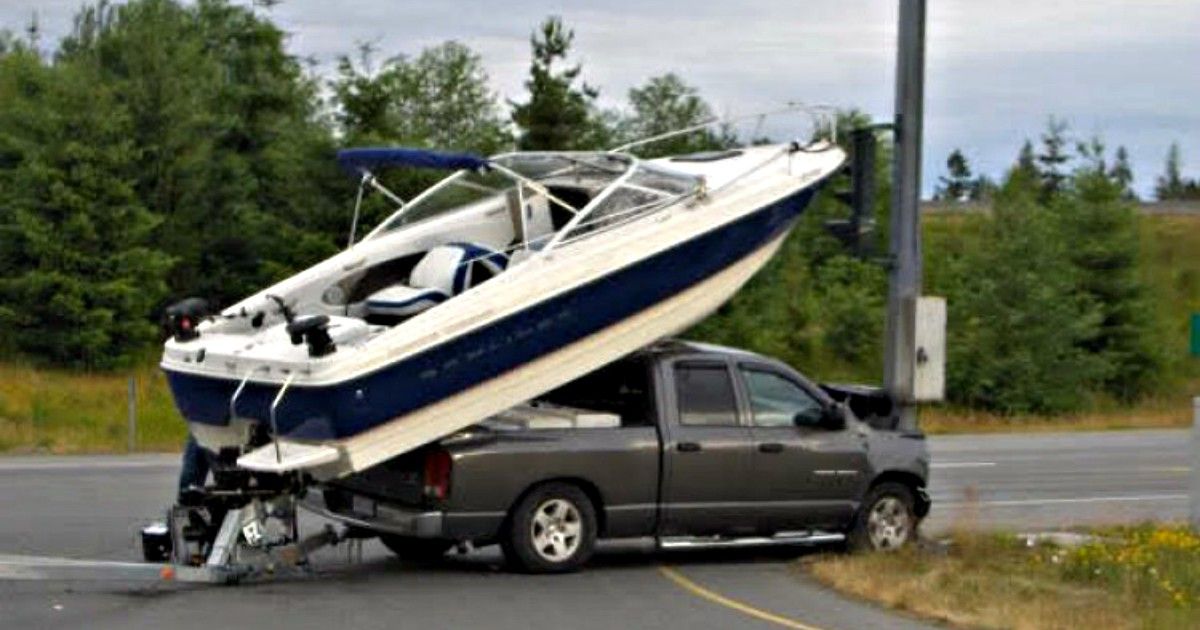 Despite everything the seller told, your boat is too big to carry in this way. It weighs too much to drive quietly, and the police will not find it funny. We recommend you search for a trailer capable of carrying your boat without a problem so that you do not damage your new truck. Besides, it will give you enough space to take the rest of your stuff to the beach without risking causing an accident.
What do I do?
This sign is a total mess of confusion and sarcasm! They recommend that you fly a kite, but they tell you that it is forbidden, so you are totally confused. The person who placed this sign on the beach tried to be funny, but only managed to tangle our minds. The message is fully open for interpretation so you can do anything else on the beach, except flying a kite. What will be the fine for disobeying this unbreakable law?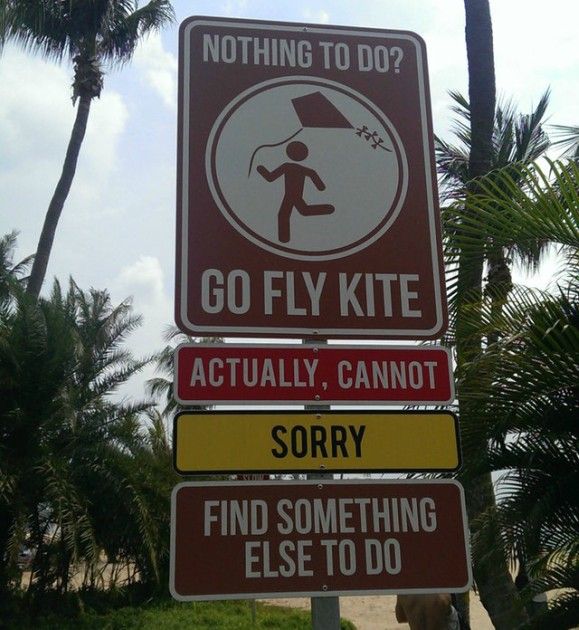 The possibilities are endless when you see this kind of signaling on a beach. If only kite flying is prohibited, can you do anything else? Such an ambiguous regulation should bring severe problems to the people who care for this place. Many people have likely tried to abuse this to cause disasters in this place. Did any of you bring chess to the beach for us to do a tournament? Perhaps it is the best idea in this case.
Savor the sand
Everyone has the right to enjoy the sun as they please, but there are much more comfortable and pleasant ways to do it. If this girl threw herself into the sand on purpose, she should start reconsidering the way she enjoys the beach. This kind of "approach" to the sea can cause a lot of pain, and her eyes and mouth will be full of sand. Maybe we are wrong and she knows what she is doing, but it is unlikely.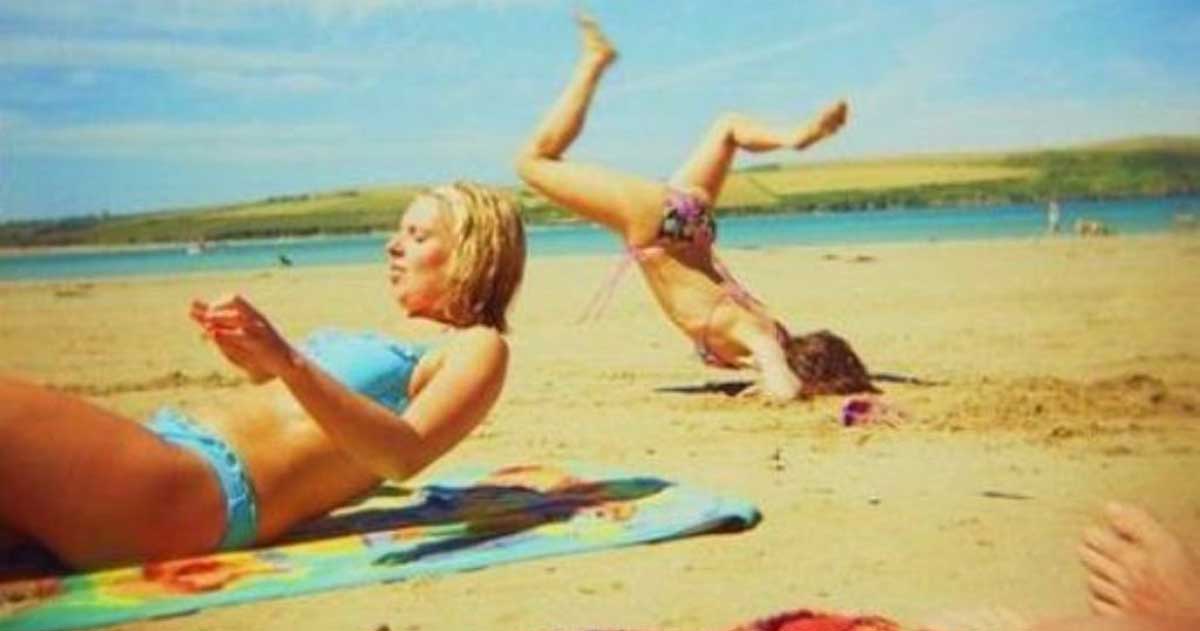 If this was an accident and the picture was taken casually at the right time, we can't help laughing. When you go to the beach, you should keep in mind that it is a very different environment in which it is not so easy to walk. If you are not very careful with your steps, you may find yourself in a situation very similar to that of this girl. We hope she has not gone badly hurt by this terrible experience with the sand, but she will surely be more careful from now on.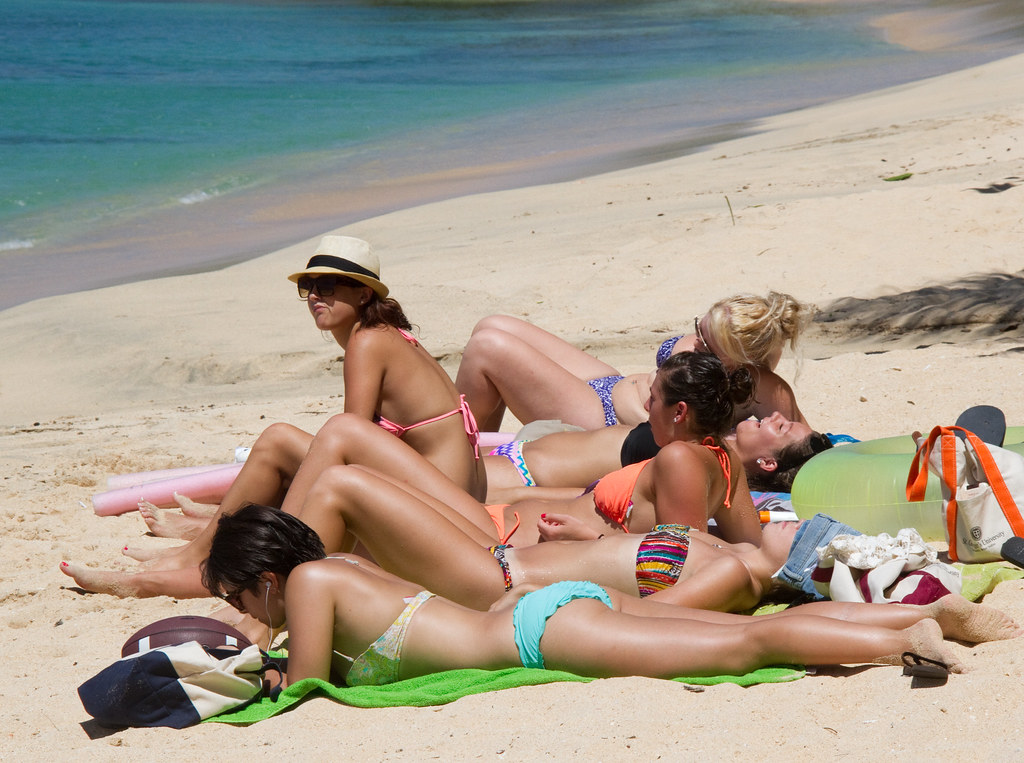 I captured you!
Playing with perspective is one of the funniest things we can do with photography when we use our creativity. We can make something tiny look giant, or vice versa, which allows us to achieve hilarious images. A person can be the size of a building if we use the properties of our camera correctly. In this case, this small family was attacked by a giant that sought to catch them for his collection.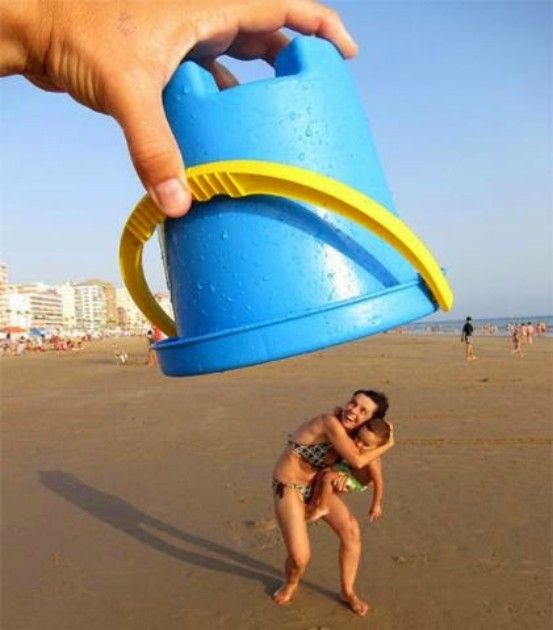 "No, please, Mr. Giant! I swear, we are not the family you are looking for!" Despite the desperate screams of this girl, the giant may have captured them and taken them to his castle. The next time you go to the beach, be very careful not to disturb the giants so they don't try to catch you. Although not all giants are spiteful, it is better to avoid disturbing them so that you can return home safe and sound.
Safety before everything
Logically we must take care of our belongings when we go to a public beach to prevent something from being lost. Not all people would steal from you, but we never know when we will meet a person with bad habits. Watching our things even though we are relaxing in the sand is necessary not to have a lousy experience because of a thief. However, some people take this very seriously.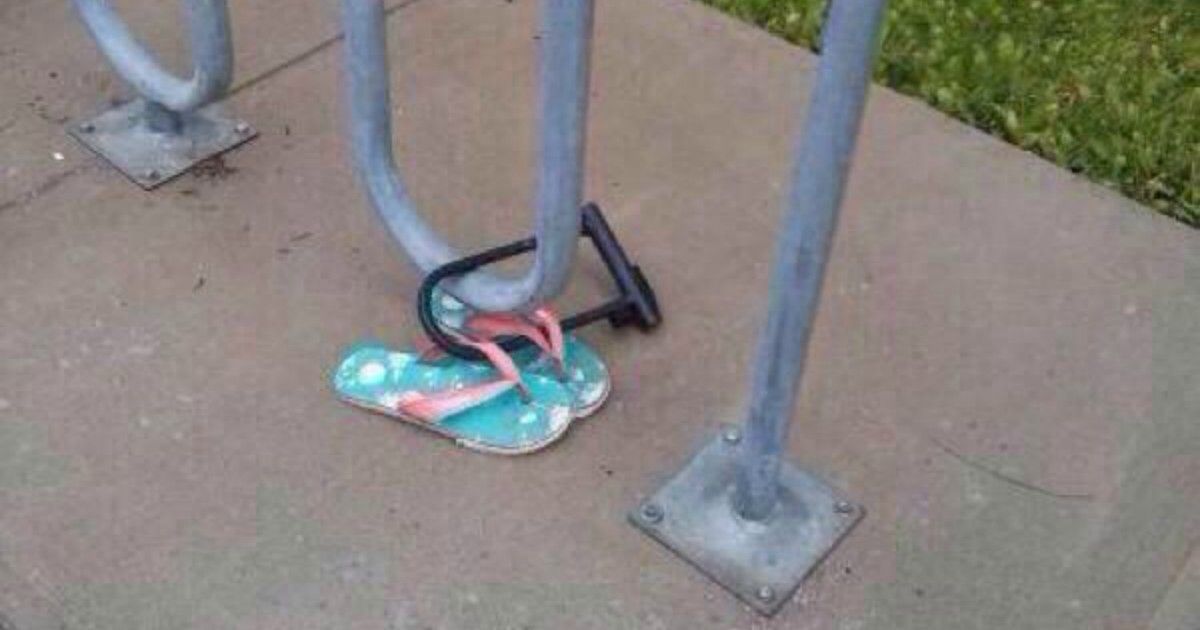 Dear Mr. Thief, did you think you could steal those beautiful $ 2 flip flops without their owner noticing? You made a grave mistake because he made sure he put a $ 20 bike lock to protect them. It is not necessary to place this kind of security on all your things, but the face of this thief must have been a poem. Maybe the flip flops have such a high sentimental value for this person that he spared no effort to protect them.
Bedtime
Going to the beach is the perfect opportunity to relax and forget about problems, and images like this prove it. If you take your folding sofa to the beach to relax, why would you go back home? You do not need to have a house if you can rest this way by the sea so you would not have to pay rent. Why would you go to work if you can enjoy the sound of the sea? This guy solved all the problems of his life without realizing it.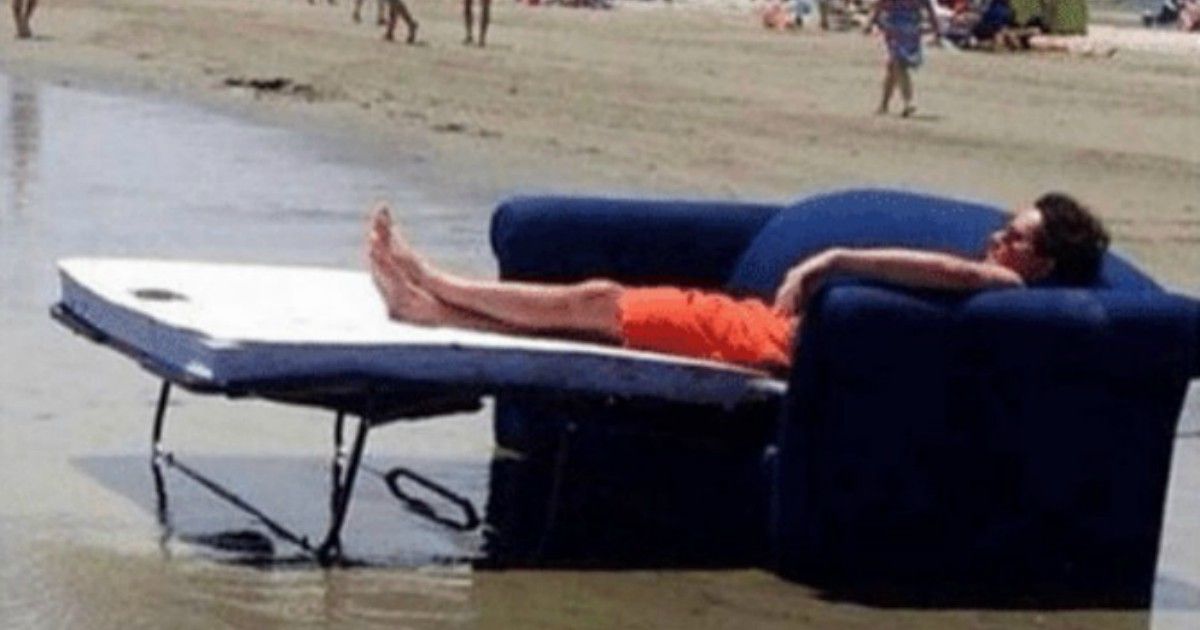 Transporting furniture like this to the seashore must be a challenging task, but it is definitely something worthwhile. The expression of this guy is simply invaluable and is probably the person who is enjoying more that trip to the sea. Although unfortunately, sea salt is likely to damage this beautiful piece of furniture, it doesn't seem to matter. The next time this guy goes on vacation to the beach, he should consider moving entirely and enjoying the sand for the rest of his life.
This is too cute!
Okay, this image is not funny like the rest of those included in this article, but it was necessary to add it. This marriage proposal is beautiful and demonstrates the ability of people when they are in love. The creativity of this boy is incredible, and we are sure that it took him a long time to achieve something so fabulous. The details were perfect, and it is a very ingenious way to convince the love of your life with this kind of present, even if it is perishable.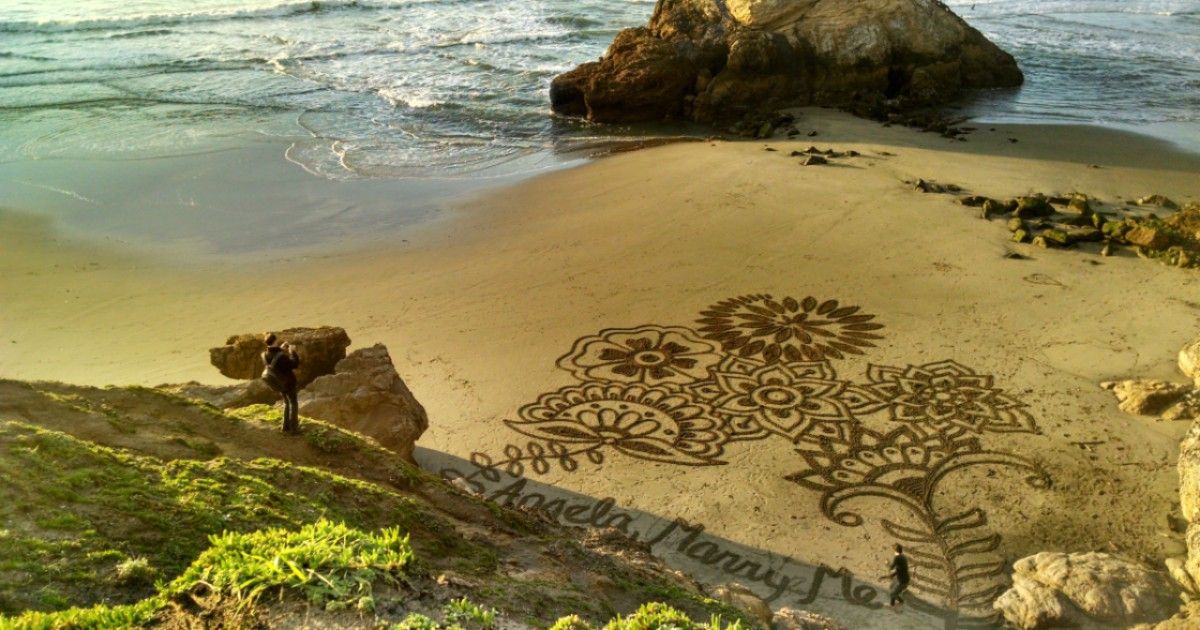 What did Angela say? We hope she said yes and this image has a delighted ending. We would love to see the wedding photos, which they should celebrate on that same beach to keep the magic of the moment. They may not wear a tuxedo like the characters in the other photo, but it will surely be a beautiful ceremony. Going to the beach is not just about the sea; playing in the sand can bring impressive results.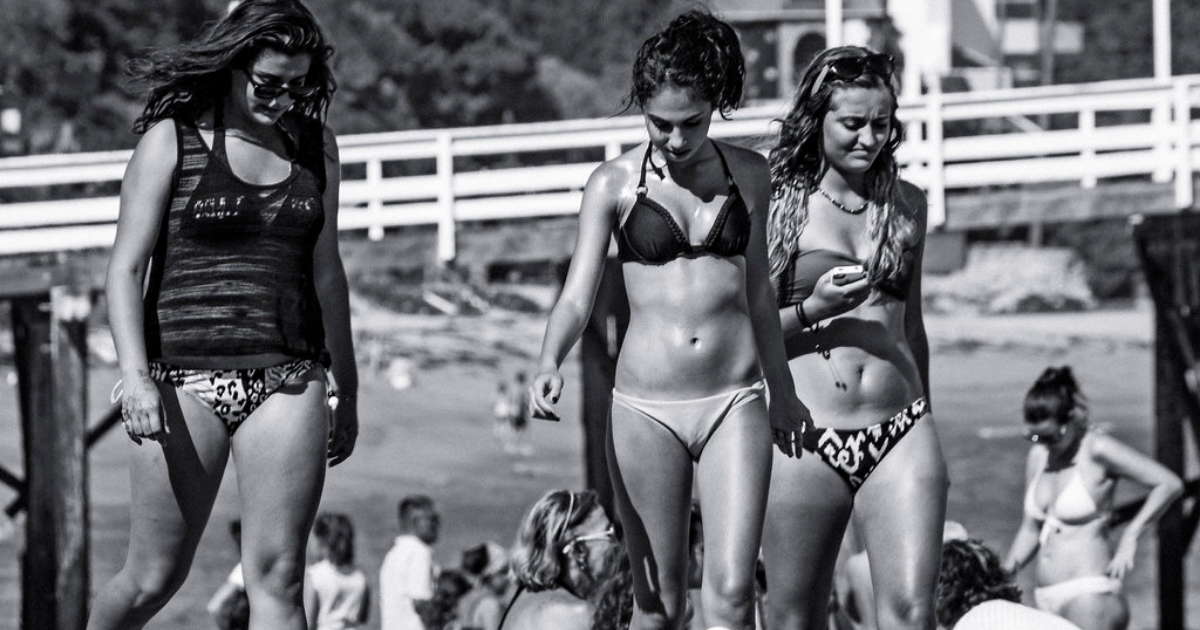 A lonely road
On some occasions, the sea can be the perfect place to get away from everything and reflect a little about our life. Going to the beach can be the ideal place to get lost in our thoughts while enjoying the sound of the waves. It sounds somewhat melancholic, but the ocean has a unique air that helps us relax and think calmly in the future. Maybe it's not the first thing you do when going on vacation, but it's a possibility.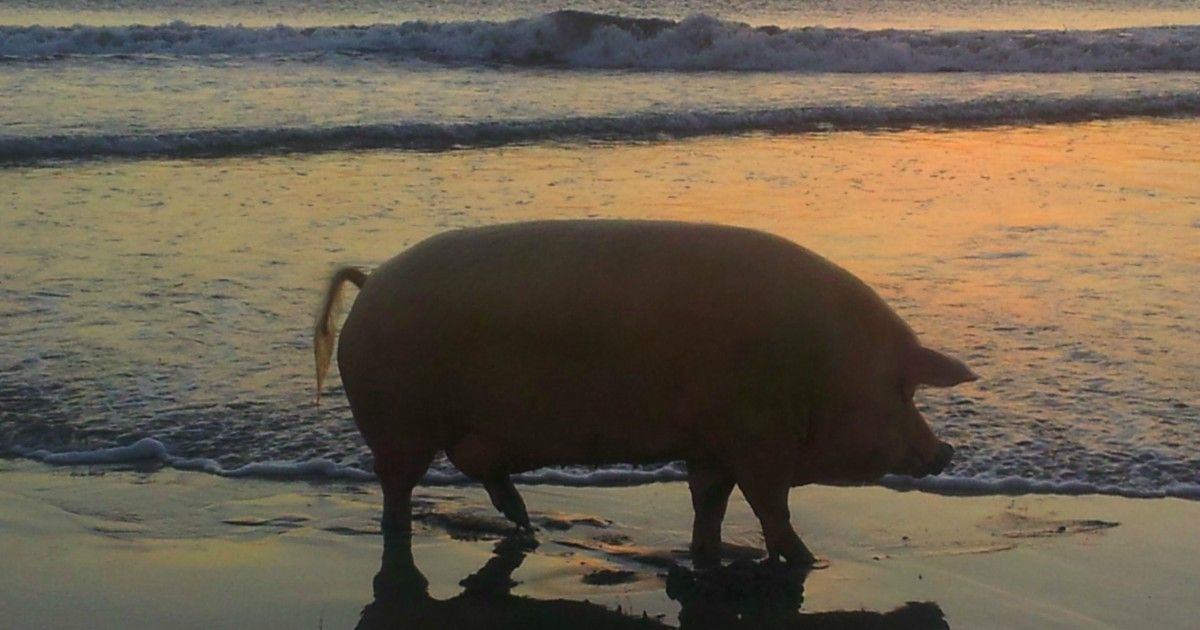 The image of this cute pig looks like the cover of an album of ballads and romantic music. Sometimes a pig needs to be alone and get away from the bustle of the farm. No oinks, no mud, no food to devour ... Just a quiet walk at sunset to think about his future. A stroll by the sea to contemplate all the problems that a pig can have in his life. We just hope he knows how to return home after walking so much to the beat of the waves.
A pet cow?
You've probably read somewhere that cows can have best friends and anyone can play with them. If they can develop such a deep friendship, what is strange about going to the sea to have a girls day and relax in the sun? Everyone deserves a vacation, and these cows wanted to get away from their farm work a bit. Playing in the sand and bathing in the sea is just what the veterinarian prescribed.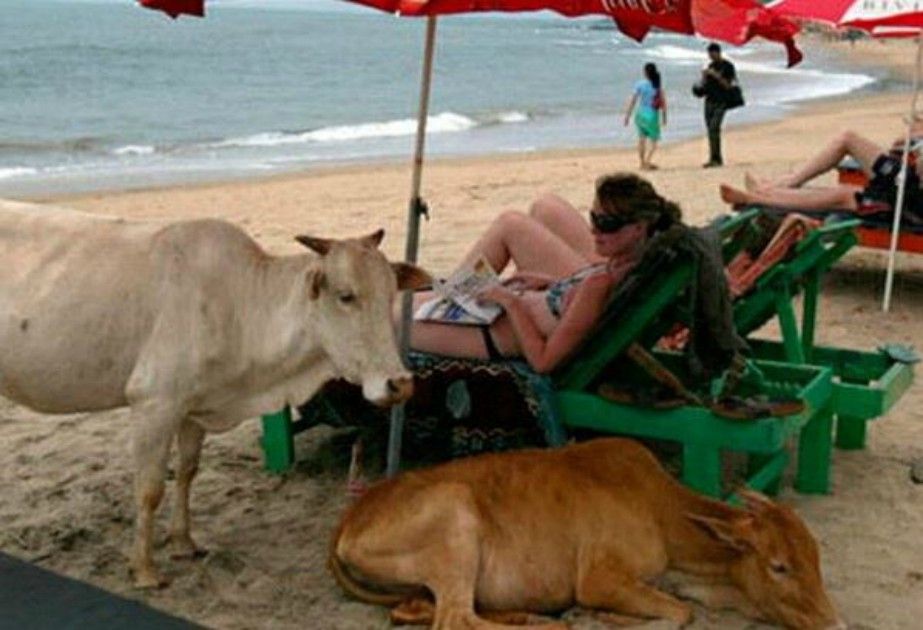 Apparently, this is something prevalent in the beaches of India, and due to their status, nobody disturbs them. They can go to the beach, or anywhere, without any problem and enjoy a pleasant holiday. It must be a lot of fun to be a cow in India and enjoy the sea without anyone bothering you. Running on the beach and splashing on others without they being able to tell you anything. Life at sea is definitely better.
Selfie!
Taking a selfie with an animal is a lot of fun as long as you are very careful not to disturb it. Most of the time, the animal will move or do something to avoid the photo because it does not know what you are trying to do. But sometimes we find animals that are very accustomed to the cameras and even pose so that the photo comes out excellent. There are professional models in the animal kingdom!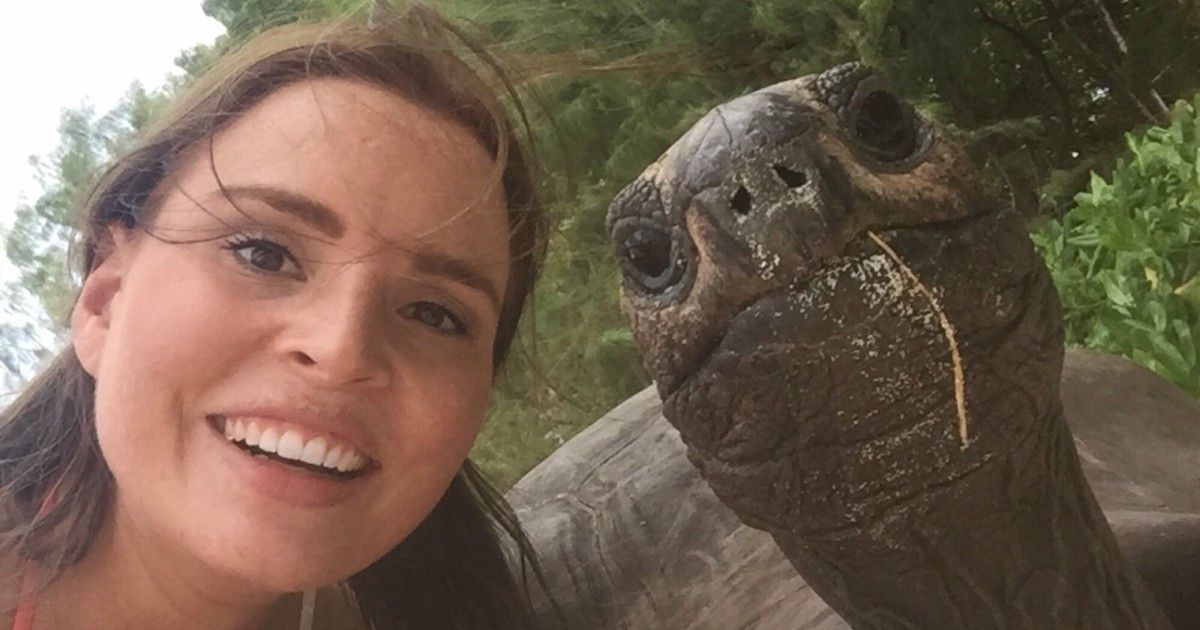 This selfie was a bit complicated to take because the girl was not happy with her expression and wanted it to come out perfect. The turtle had no problem being patient and waiting for the girl to improve her pose. Unlike the girl, she knows what her best angle is, and she came out perfect in all the photos. After so many years of posing with tourists, she has become an expert in selfies and even teaches other turtles in her spare time.
Interesting reading
It is difficult to know if this photograph is just a coincidence or is something planned by the photographer and the model. The "accident" is so perfect that it looks like an image that was achieved after hundreds of previous photographs. Either way, it's so cool that this girl should take that book everywhere and pose for all photographers. We don't know what the book is about, but it must be something exciting and entertaining.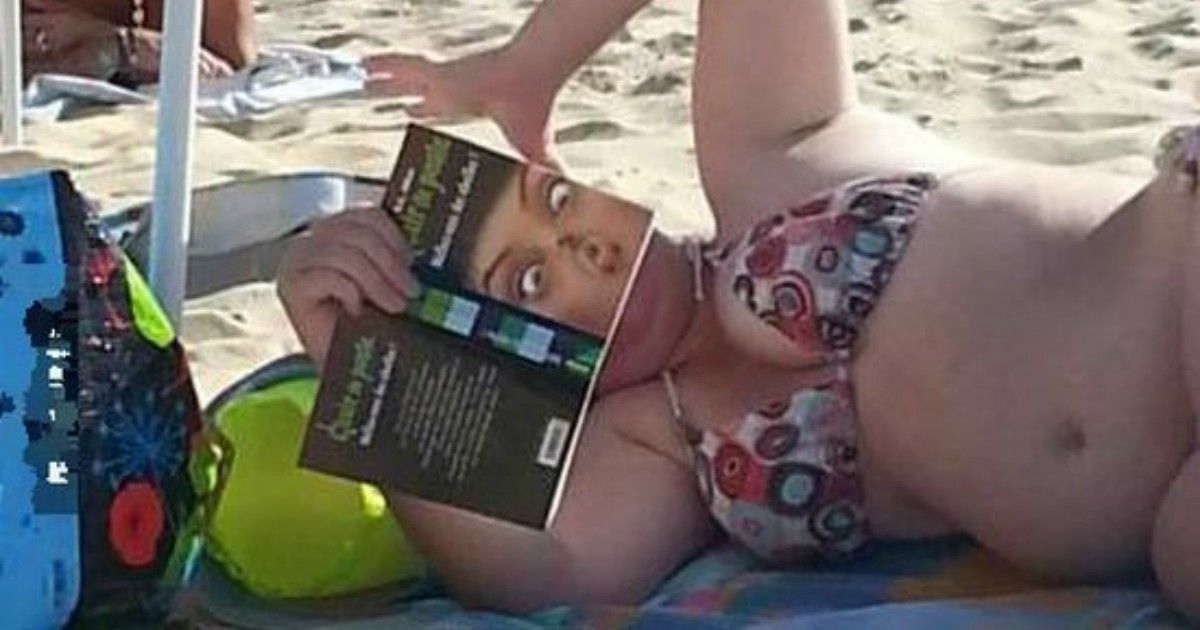 This image is another example of what we can achieve with photography when we know how to take advantage of perspective. From the right position, anyone would say that face belongs to that girl lying on the beach. Despite not being a favorable expression for her, she gives us a funny picture. The next time you go to the beach with your camera, you should try to achieve images as peculiar as this.
Happiness
This baby elephant is a perfect representation of how we all feel when we arrive at the beach. After spending too many months locked in the office working without being able to rest, we deserve that happiness. This not-so-small animal demonstrates the kind of joy that is reflected in our faces when we can finally touch the sand. We know how you feel little elephant, and we would all love to be in your place right now.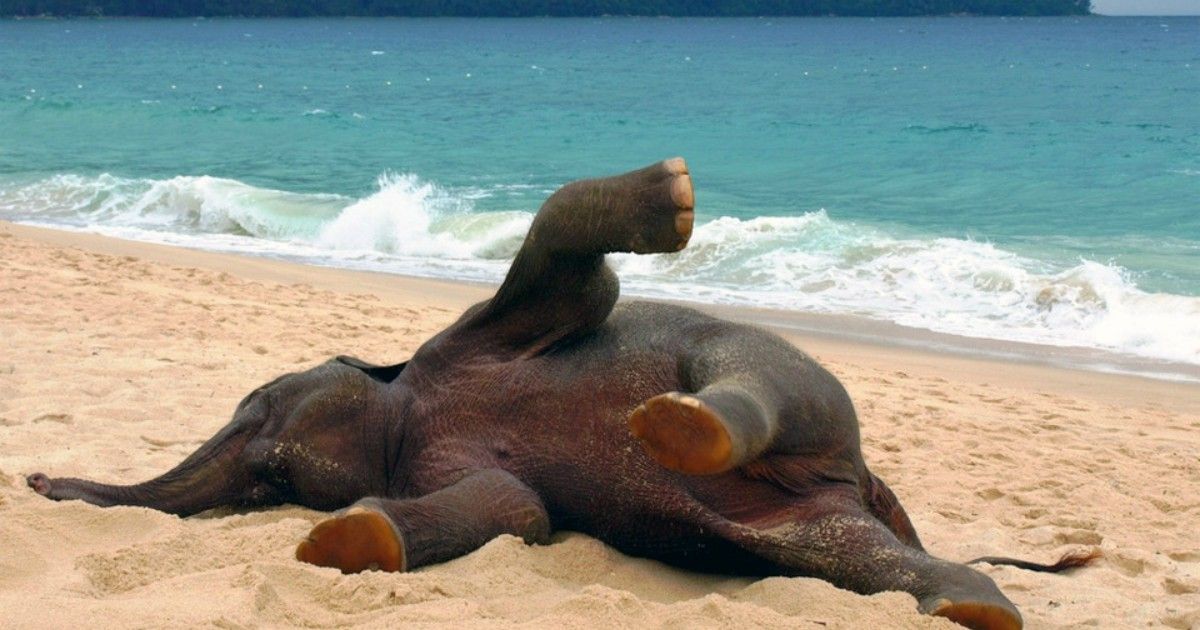 Seeing animals on the beach will always be a fun activity because for most of them it is a new experience. They play in the sand, run along the seashore, roll everywhere, and really enjoy the experience. It reminds us too much of the first time we went to the beach with our parents, and it even gives us a bit of envy. We all wish we could feel that way again and forget about the responsibilities of being an adult.
Priorities
One of the essential tips to have in mind when you go to the beach is not to forget the sunscreen. No matter if you go only for a few minutes, the sun is a nasty enemy of the skin and can cause a lot of damage. Ask a friend to help you protect the areas you cannot reach and do not underestimate the strength of the sun's rays. If you defend yourself properly, you will go home without any regrets.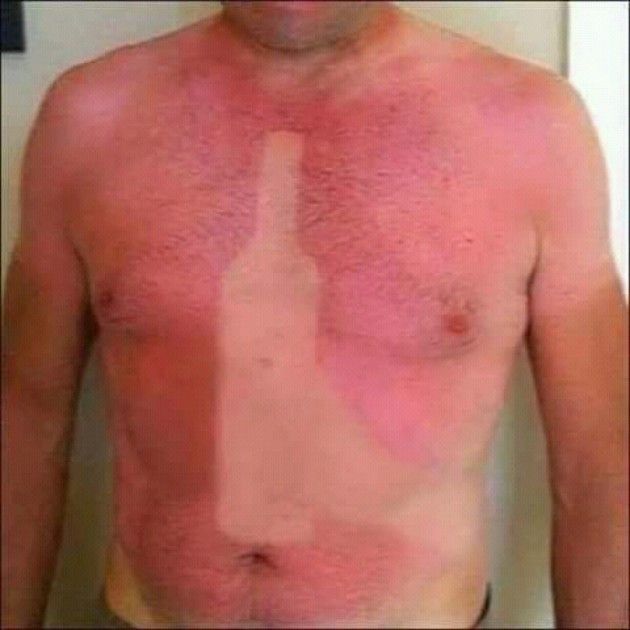 If your plans include drinking with your friends, it is best to protect your skin before starting the party, especially if you intend to drink a whole bottle yourself! After you begin to celebrate with your friend, you will completely forget the sun and accidents like this will occur. Sunburn can be severe, but having a brand like this can be worse. Also, you will not be able to avoid the laughter of your friends for your new "temporary tattoo."
All the images on this list are aimed at making you laugh somehow while creating a bit of beach consciousness. Maybe you laugh too much, but if any of these things happen to you it won't be so funny, right? Enjoy the sea in a safe way, and do not forget to take your camera everywhere. Which of these images did you find most funny? Remember to leave all your comments and share this article with all your friends who love the sea.
Sources: Definition