Inside Air Force One: Astounding Historical Secrets Revealed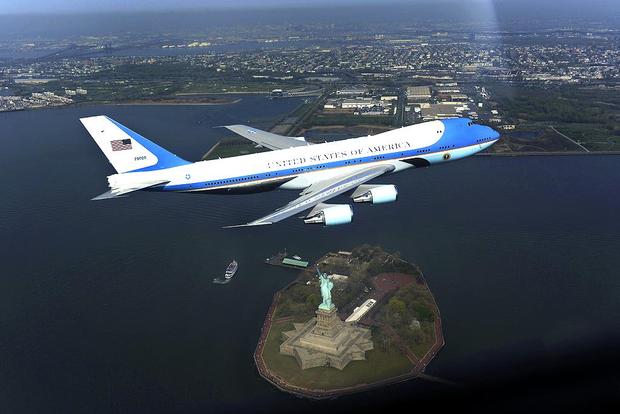 Have you ever wondered about Air Force One? No, not the shoes, although they are pretty cool. The name refers to the air traffic control signal for the President's aircraft. It is generally the name used in popular culture to refer to the U.S. Air Force plane, or planes being used to move the President of the United States from place to place. It's not easy to get a good look inside these aircraft, but we've scoured the internet far and wide to bring you these incredible images for a sneak peek into Air Force One and its incredible history. 
The First Presidential Flight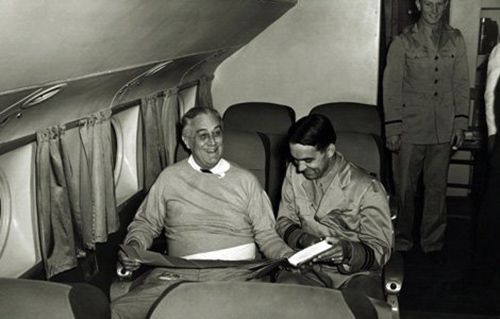 When it comes to the full, unauthorized history of Air Force One, it's probably best to start at the beginning! The very first American president to get on board a plane was Franklin D. Roosevelt way back in 1943. The purpose of his trip? To go and meet Winston Churchill in Casablanca! The plane was a Boeing 314 Flying Boat, nicknamed the "Dixie Clipper." The flight there was around 5,500 miles, which meant that they had to stop in Brazil, the Caribbean, and in Gambia to refuel.  There was a Douglas Dolphin amphibian aircraft from 1933 designed especially for the president, but there is no record of him actually using it.
The 'Sacred Cow'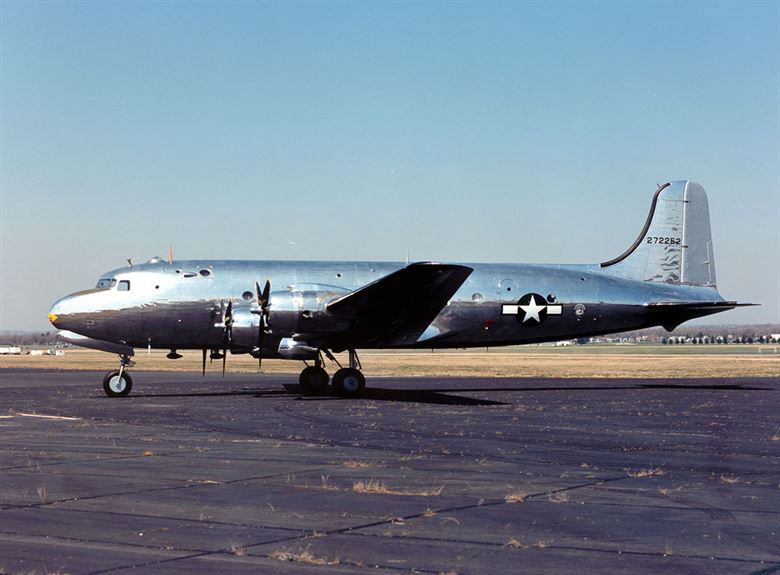 The next plane to come along was a Douglas C-54 Skymaster. It was specially designed for President Roosevelt and had a radiotelephone, sleeping area, and a specially built elevator to lift the President's wheelchair. Roosevelt can't have been too fond of flying, because he only flew in this plane once. Imagine going to all that trouble just for one flight! The Sacred Cow took Roosevelt to a conference in February of 1945, only two months before his death. But there were much more exciting planes to come...
The 'Independence'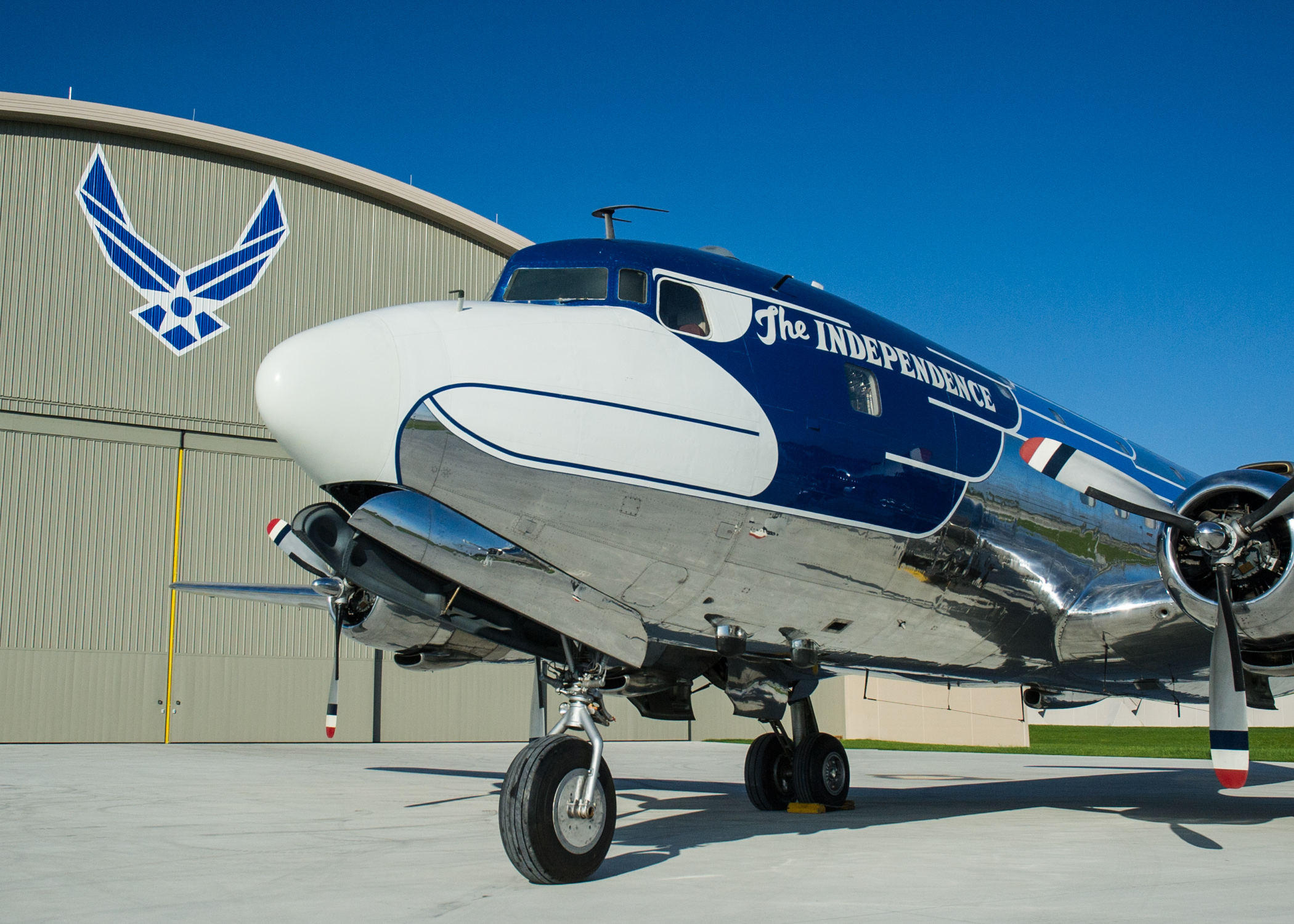 After Roosevelt passed away, Vice President Harry S. Truman was next in line to step up for the POTUS role. Along with the change of president was a change of plane. Out with the old and in with the new! Truman's choice of aircraft was a C-118 Liftmaster, which he named 'The Independence.' Truman even had the plane painted to look like a bald eagle! Inside this impressive vehicle was the main cabin where 12 people could sleep, or 24 passengers could sit. Pretty impressive for the 1940s! Can you guess what kinds of planes the 1950s brought?
The 'Columbines'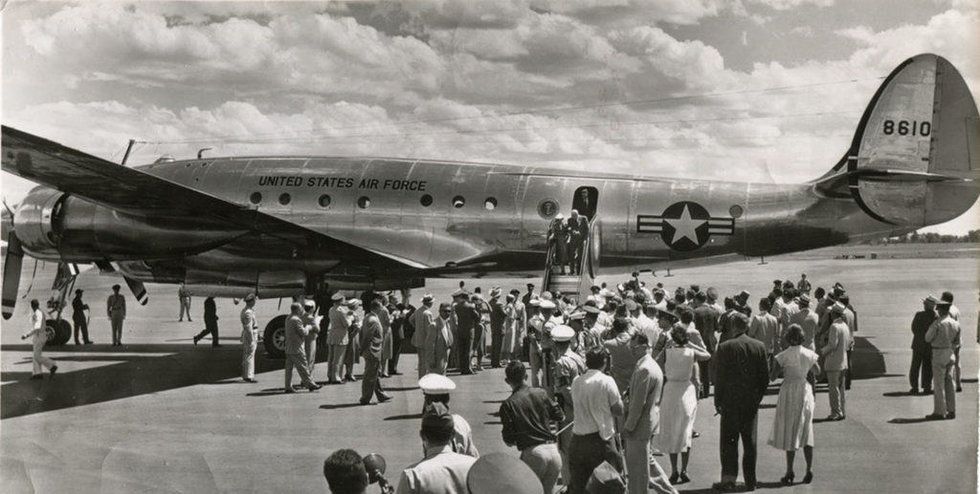 President Dwight D. Eisenhower brought some new aircraft into the mix, and one plane became a whole gang of different planes. His wife, Mamie Eisenhower named two of the new planes after the official state flower of Colorado. The very first plane to be referred to as 'Air Force One' was Columbine II. When the words 'Air Force One' were first uttered, it wasn't the official language. A commercial flight had crossed paths with Columbine II in 1953, and when someone referred to Columbine II as 'Air Force One,' it stuck! In 1962 they made it official. So… what next?
Entering the Jet Age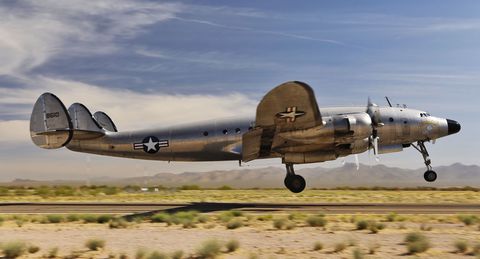 It sounds like Eisenhower was pretty keen on planes because after introducing all those new aircraft, he was also the first President to travel on a jet. He flew on a Boeing 707 to Europe, and ever since then, Air Force One hasn't looked back. The three 707s that Eisenhower acquired were used up to Richard Nixon, and in many respects, they changed the way that Presidents were able to conduct business. They could now travel more quickly to meet with people all across the world. But the planes were about to get even fancier...
A Bit Too Regal for JFK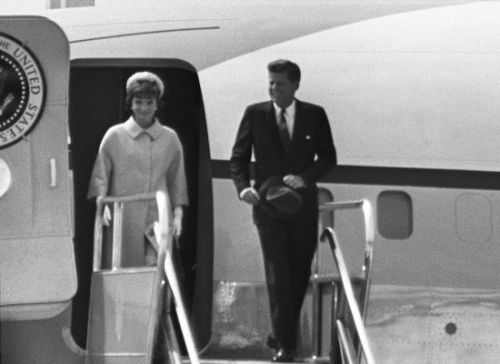 When President John F. Kennedy came along, so did yet another new plane. But this plane was much cooler than all the aircraft that had come before it. In 1962, The Air Force bought a Boeing C-137 Stratoliner. They were all geared up to paint the plane in red and gold, with the United States of America printed in big letters. But JFK didn't think that this wasn't very cool, which wasn't a good look for Kennedy as he was known for being a bit of a cool guy. JFK did what most men did in the 1960s. There was a tough decorating decision to make, so he went ahead and asked for his wife's advice!
Jackie O Saves the Day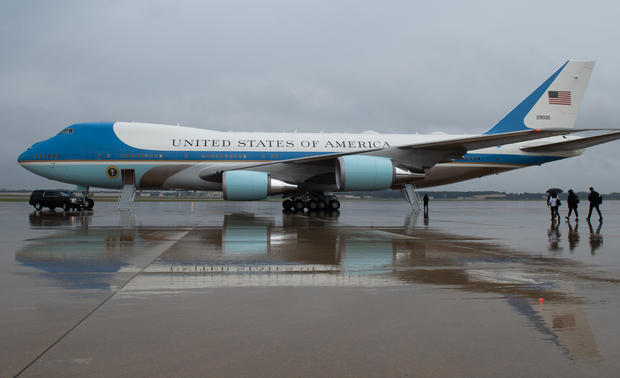 The First Lady was known for being a stylish and trend-setting woman. Who else could it be but Jacqueline Kennedy? With Jackie's help, JFK got in touch with Raymond Loewy to do some design work on the new jet. Loewy was an industrial designer, and in consultation with both the First Lady and the President, he introduced two new colors to Air Force One. The trio is responsible for the baby blue scheme that the modern planes are decorated in. Loewy also added the presidential seal and an American flag to the design, and everyone loved it! Little did JFK know, however, that it would be Air Force One that brought him to his fate in Dallas, Texas.
Tragedy Strikes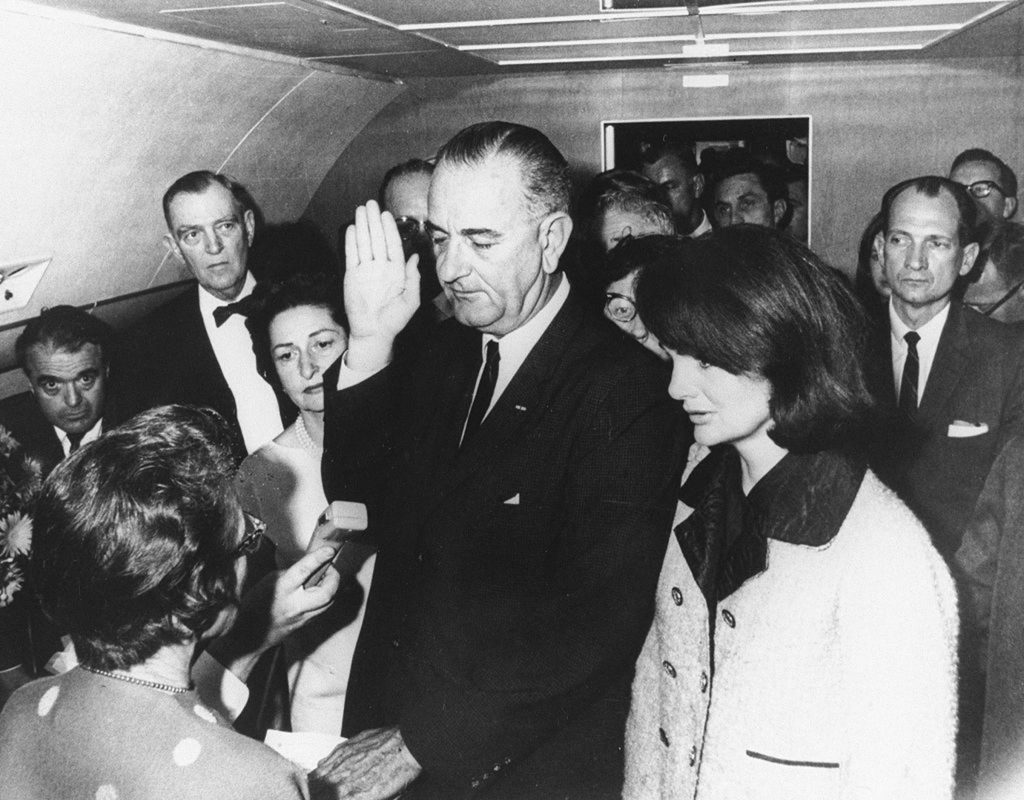 On the 22nd of November 1963, President John F. Kennedy was in Dallas, Texas, after being flown there on the revamped Air Force One plane. Some readers will have this date etched in their memories forever. Sadly, JFK was assassinated right next to First Lady Jackie during a motorcade procession. This image is one of the most famous in American history and was taken at 2:38 pm on that fateful day in Dallas. The White House photographer at the time was Cecil W. Stoughton. Stoughton didn't like photographing the First Lady in her state of shock, but he felt that it was important to ensure that Lyndon B. Johnson's swearing-in was caught on camera.
From LBJ to Today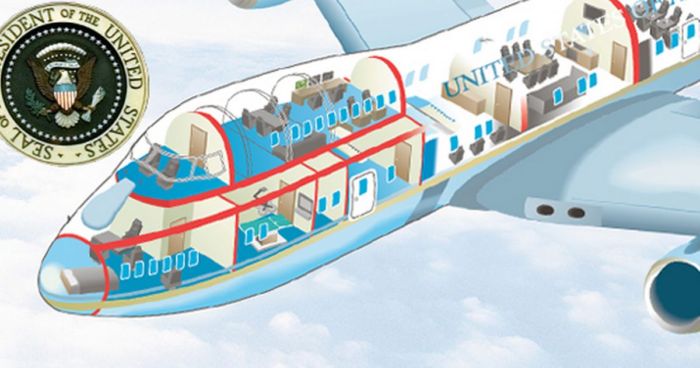 LBJ flew back to Washington on Air Force One and took the presidential oath while on board. This very same plane was used as the main aircraft transporting presidents until 1972. The plane that would go on to replace it wasn't decommissioned until 2001. If you're keen on flying, you can even go and visit the old Air Force One at the Ronald Reagan Museum in Simi Valley, California. In 1985, two new Boeing 747s were ordered. These planes were delivered during the Bush administration in 1990, and First Lady Nancy Reagan herself designed the interiors. These planes are still in use today but are due to be replaced in 2024. But we bet you're dying to get a look inside the 747s… right?
A Hospital in the Sky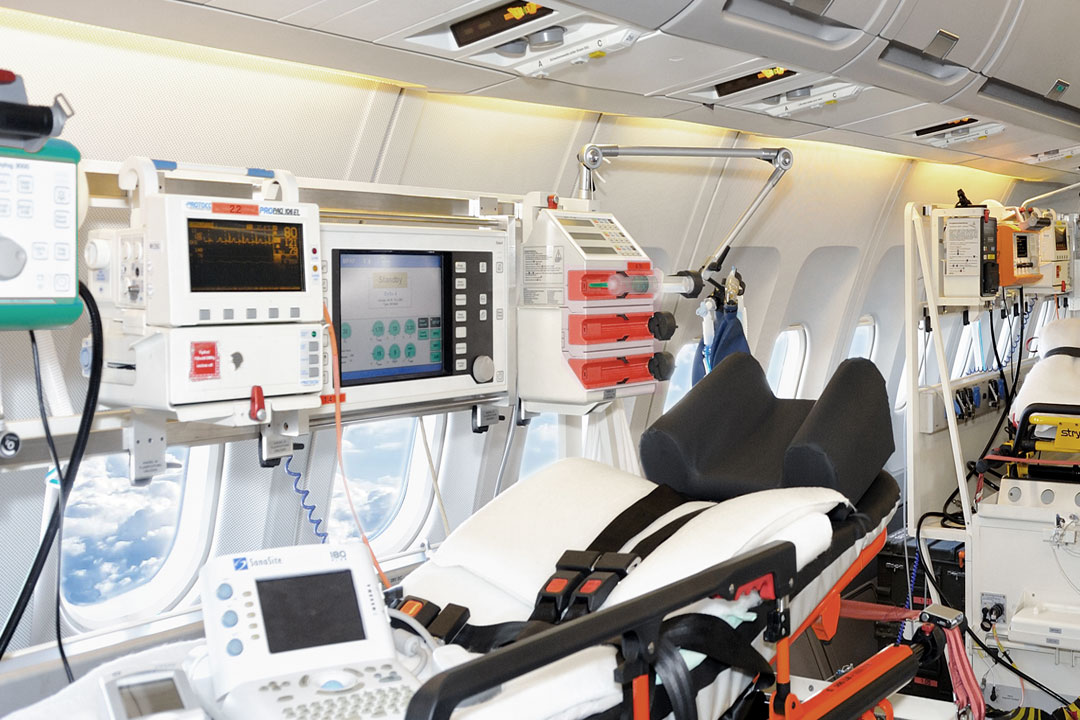 The President of the United States needs to have a lot of security, as they're often the targets of twisted plots. Luckily, the Air Force thought ahead and fitted the current planes right out with everything they might need for a little hospital in the sky. This includes a pharmacy and operating room. And if the President should need a blood transfusion, there's even a reserve of blood to match their blood type just in case! They really did think of everything.
...And a Restaurant, Too!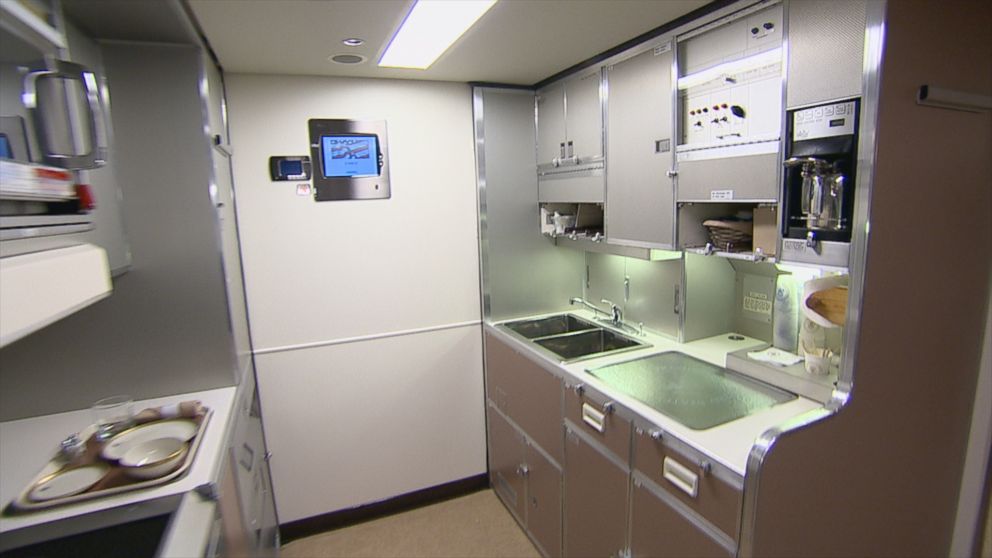 If you thought that the President of the United States would eat just any old food while flying, you thought wrong! There are two enormous kitchens on board Air Force One, which are always full. The President and their guests can eat whatever they like. While there isn't a deep fryer on board, there are microwaves and full ovens, so the excellent chefs on board can cook nearly anything. Moreover, the kitchens themselves are very large and can fit up to 100 people in them. Whew!
But Really… How Big Is It?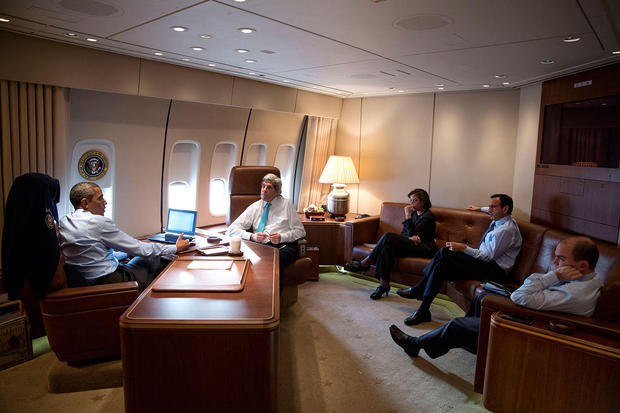 If you've ever been on a plane to visit family or friends or to go on an overseas adventure, you know how cramped it can feel. While we get about a square meter of space in economy, and maybe two if you're lucky in business, the President and their guests have 4,000 square feet of floor space over three levels. Now, do you get a sense of how big these planes are? They're even spacious enough that they managed to fit couches in the hallways. Wow!
Super-Secure Phone Calls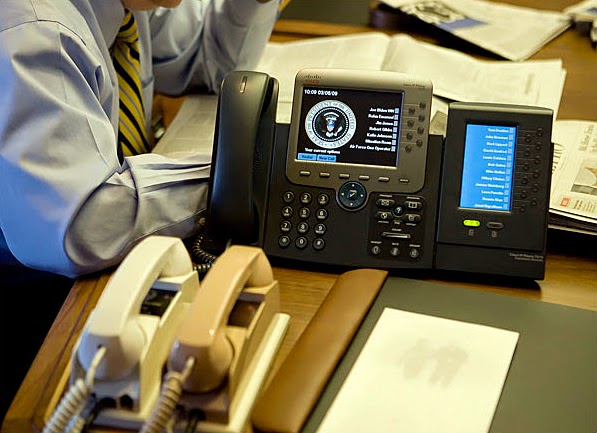 The President is probably one of the busiest people in the world - in theory, at least (Kris Jenner might be busier!). You can imagine just how many phone calls they have to take while flying! Of course, many of these calls are bound to be much less low-key than you or I calling our grandparents, or phoning for a pizza. Air Force One has a whopping 85 phones! There's even an Airborne Executive Phone, which is one of the most secure lines in the world. On top of this, there are twenty televisions on the plane. No more fighting over the remote! 
Secret Spy Cameras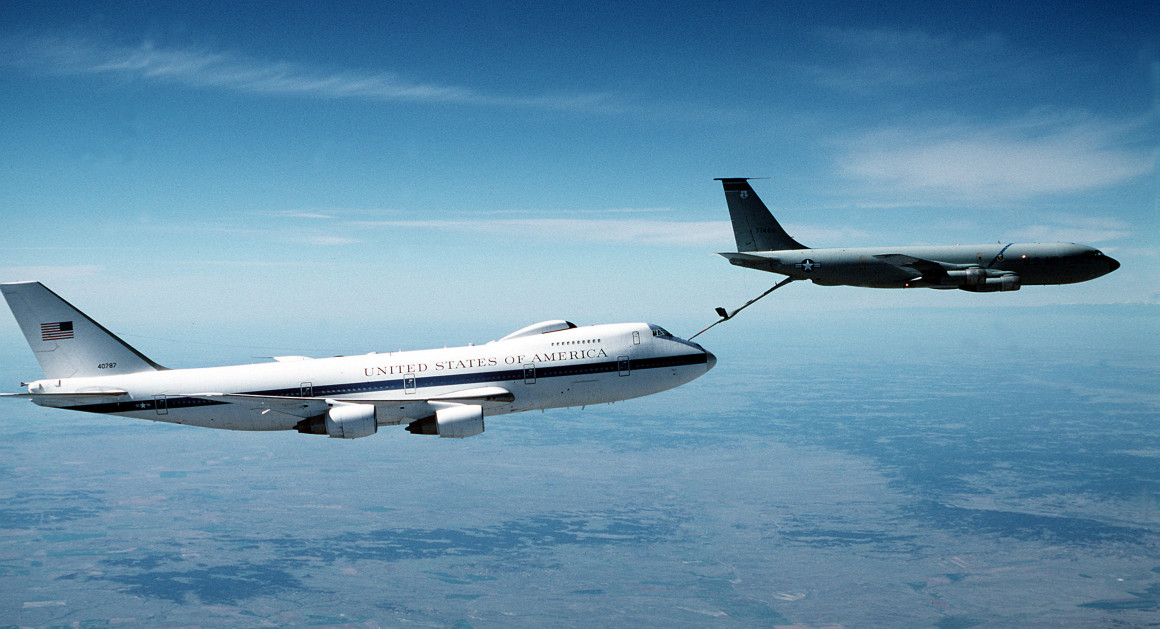 The most exciting thing about the Air Force One planes is the James Bond-style technology that they are fitted with. In the 1950s, Eisenhower thought it was a good idea to be able to see as much as possible from up there in the sky. Central Intelligence put spy cameras in the wheel wells of the planes, which is giving us extreme Bond-villain vibes. It's rumored that the cameras could see number plates from the sky, which is pretty impressive for the mid-twentieth century!
Faster Than a Speeding Bullet...Kind Of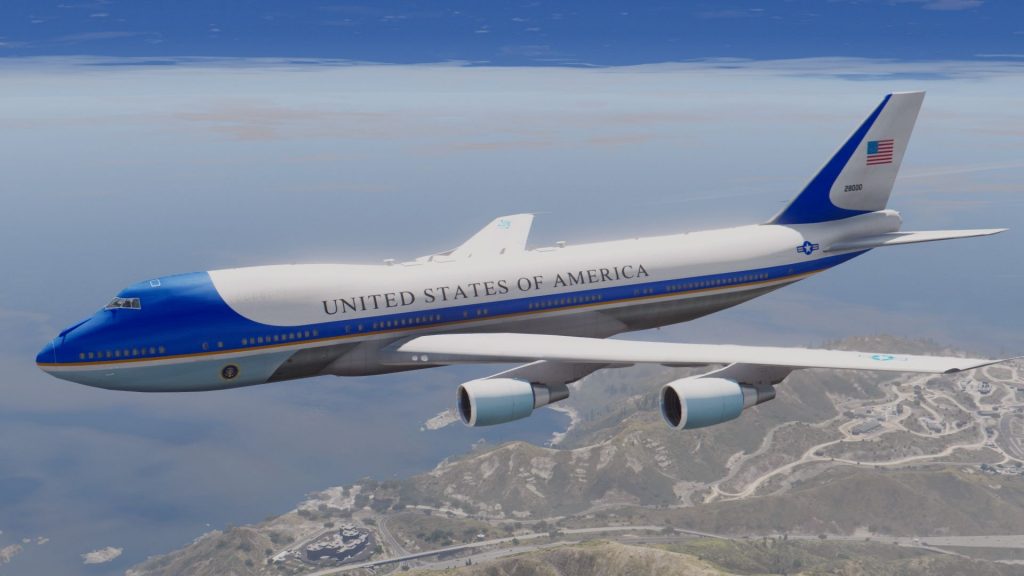 There are so many films that have been made about the world ending that it's not hard to think about the kinds of capacities a presidential plane might need. We're not actually sure how fast a speeding bullet is, but Air Force One can fly close to the speed of sound. That's pretty fast! What's more, is that it can get about 10,000 feet higher in altitude than a normal commercial flight. Another exciting fact is that there's a Doomsday plane on call at all times, which can actually outpace nuclear explosions, and be refueled in the sky. Incredible!
Two Air Force Ones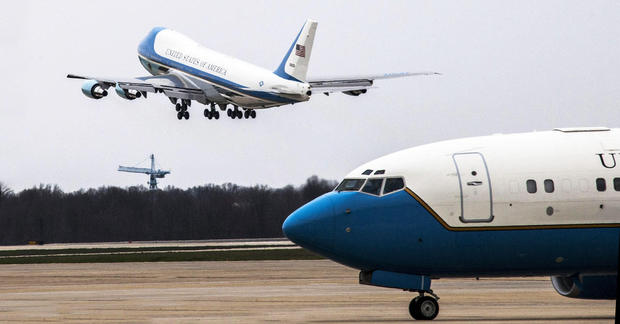 It sounds like an oxymoron, but there are actually two Air Force Ones. When you think about it, that's probably one of the only similarities between the pair of presidential planes and the Nike Air Force Ones! As you might remember, they first started calling these planes by the moniker back in the middle of the twentieth century in the Eisenhower days. There are two planes just in case one is out of action for any reason, which makes a lot of sense.
No, Really, it's Very Secure
As aforementioned, there are so many things that could go wrong when POTUS takes flight. The more we think about it, the more we're glad that we're just average joes! But on the other hand, the President would be totally sorted if there was a nuclear explosion. The bodies of these planes will withstand nuclear weapons being detonated from the ground, and the windows are armored too. Hidden flares can confuse enemies, and they also have the technology to jam enemy radars. There are even retractable staircases so that no one has to worry about getting down from the aircraft if there's ever a landing away from an airport. They really did think of everything!
Room for the Entourage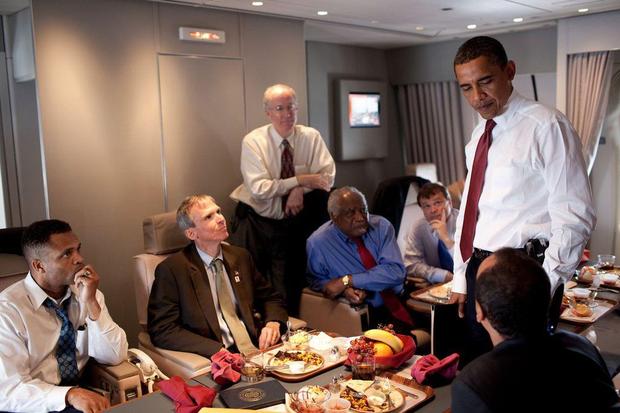 Have you watched House of Cards? In a few scenes, Frank Underwood travels on Air Force One, and every time he does, he's surrounded by a lot of people. This is what happens in real life too. At any given moment, the President might need a speechwriter, an advisor, or one of many aides, so there is a pretty big entourage that always accompanies POTUS. Also on board is the "Protective Press Pool," which is a group of 13 media and press members who sometimes travel on Air Force One too.
Pilots and Crew Members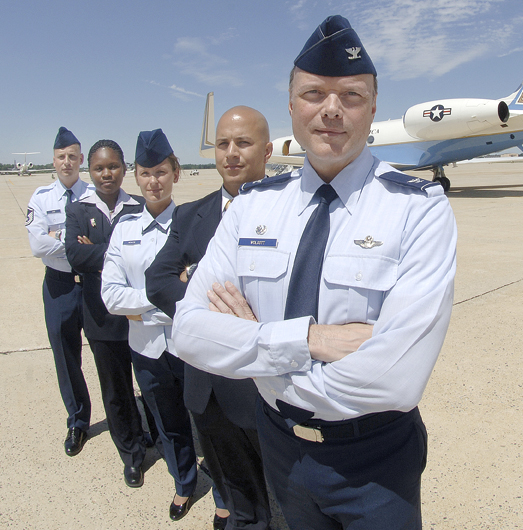 While the Dixie Clipper that Roosevelt traveled on was crewed by Pan Am staff, the crew onboard Air Force One has a much higher security clearance nowadays. They are, of course, hand-picked from the Air Force, and have to go through some pretty extensive screening before they can even step foot on the planes. Nevertheless, every flight is considered a military operation by the U.S. Air Force, so staff must be highly trained and ready for anything.
Who Foots the Bill?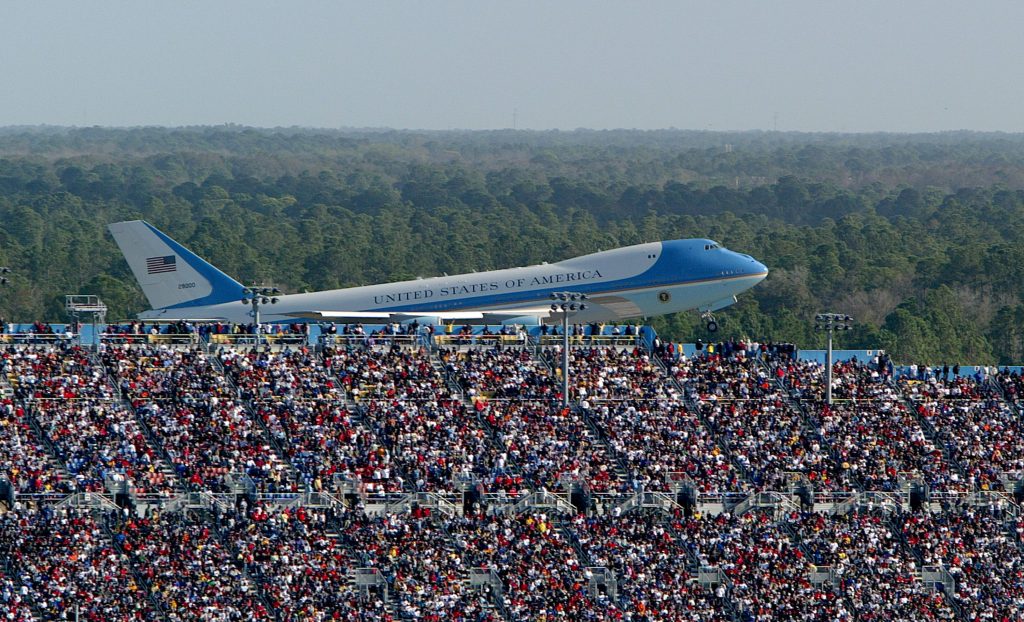 This fact is a little less cool. There are many things that need to be paid for every time Air Force One takes off. If you thought filling up your own tank was getting pricey, spare a thought for the American taxpayer, who has to foot the bill for the Air Force One fuel tank! On top of the petrol costs, there are also staffing costs, military costs, and more. Can you guess how much it costs per hour for just one of these planes to be in the sky? It's estimated to cost $206,337. Yikes!
Fuel for Africa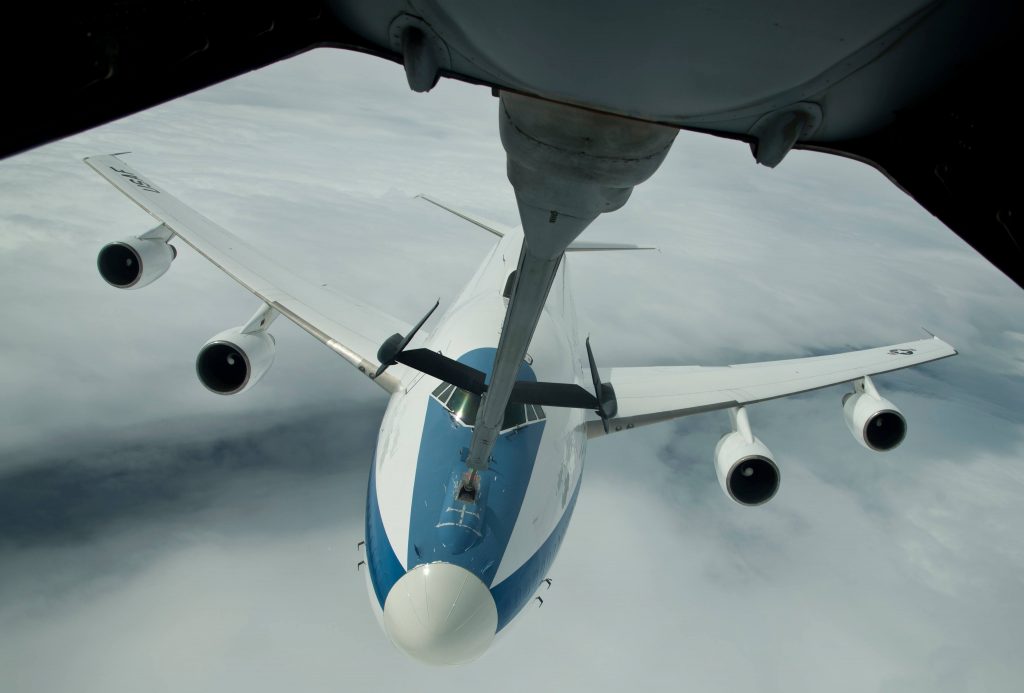 Speaking of fuel costs, you can bet that a plane of this caliber has a lot of room for fuel. After all, Air Force One might need to continue flying in an emergency if the airport they were due to land at isn't available. As mentioned earlier, they are able to refuel in the sky. But just in case that's not possible, these babies have a fuel capacity of 53,000 gallons. We can't even fathom how much petrol that is. They'd buy your local gas station out of fuel, that's for sure! Because of this astounding capacity, the president can fly over 6,000 miles in any single trip.
Terminals, Schmerminals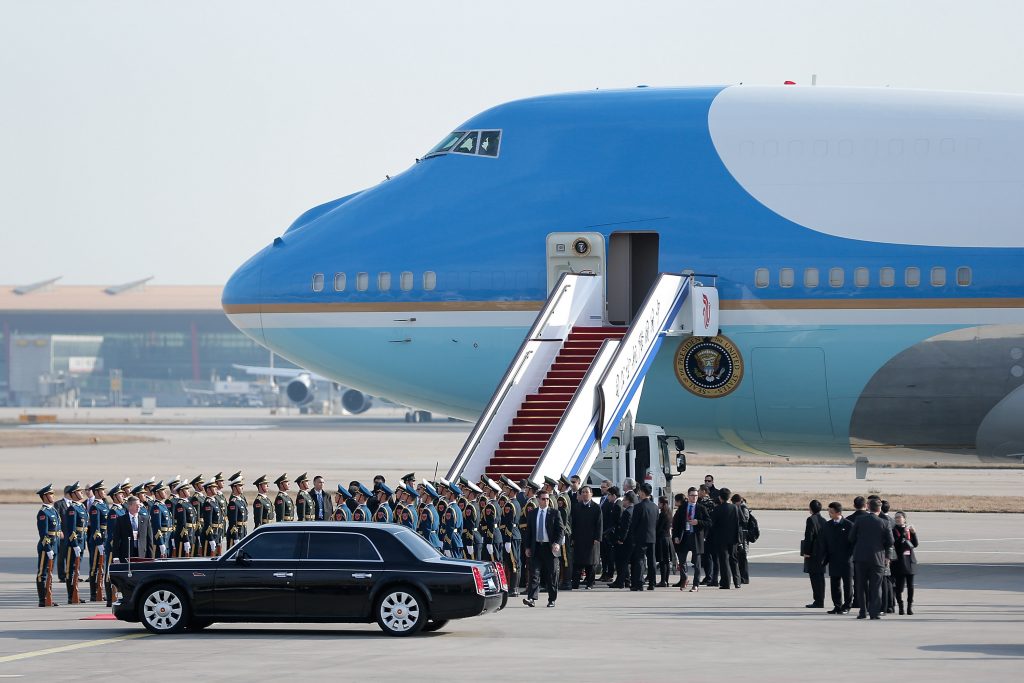 Turns out that the President of the United States is a little too good for your standard airport terminal. Instead, Air Force One only disembarks on the tarmac. For obvious safety reasons, all air traffic is brought to a stop when the president's plane is on the ground. Pretty rude, don't you think? Maybe that's why it took two hours to get to the terminal at LAX last month… Anyway, when it comes to airports, Air Force One reigns supreme over other aircraft, in more ways than one!  
President Ford's Sneaky Beers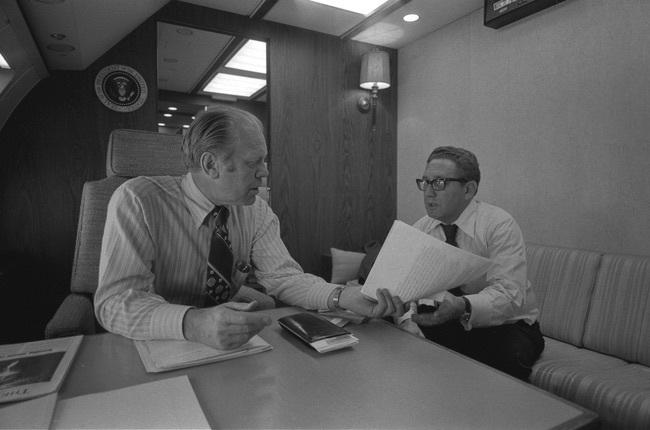 When President Gerald Ford was in power, it was rumored that he was very fond of Coors beer. Air Force One, of course, had to be stocked up on his beverage of choice, just in case the mood struck him while they were in the air. The catch is that Coors wasn't available all over the United States. In fact, you could only purchase it in eleven states, which made Ford's beers a little sneaky. We'll drink to that! Cheers to President Ford's bootleg beers!
No Broccoli Allowed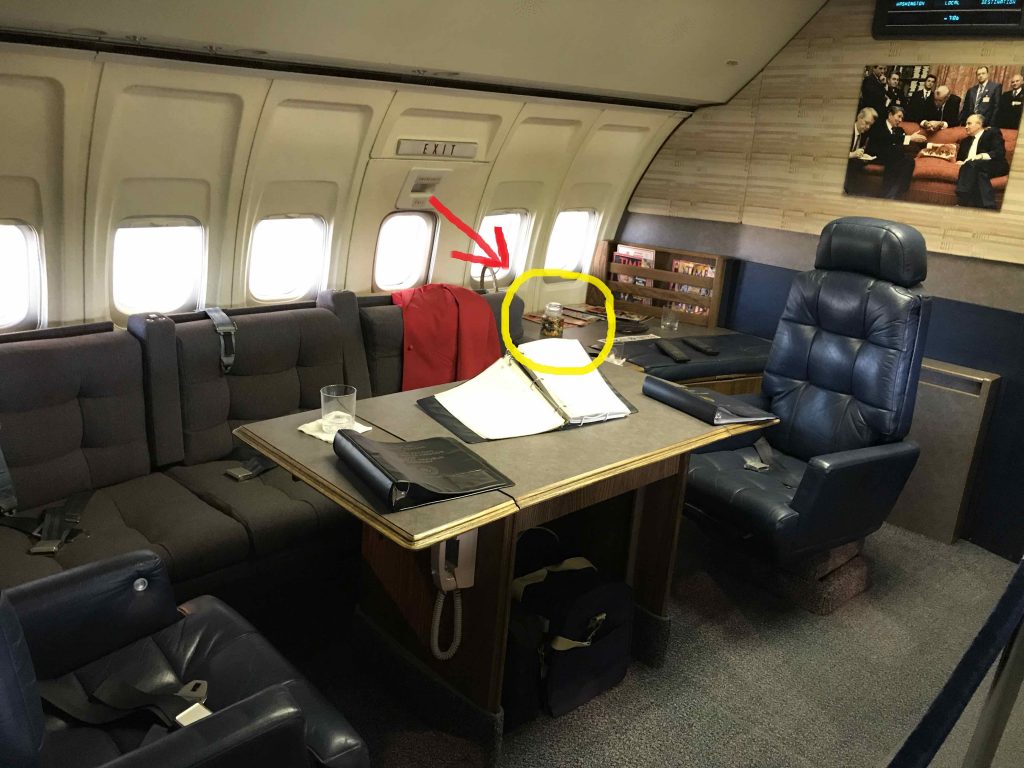 Every president has their quirks! Air Force One stocks wine and bourbon onboard, while Air Force Two is a dry plane. No beers for the Vice President! We suppose that this is because the VP, who flies in Air Force Two, has to have their wits about them just in case something should happen to the President. Want more fun food and beverage facts? During the Reagan era, he kept jellybeans on board at all times as they were his favorite. And when George H.W. Bush was in power, broccoli was totally banned from Air Force One! Well, if you're the president, you get to make the rules.
That brings us to the end of our fact-finding mission about Air Force One… for now. If you have enjoyed uncovering the secret history of the presidential planes, your friends might too! Be sure to share this article with a fellow plane enthusiast, or White House history buff. While we go in search of more incredible information, you should definitely check out some of our other similar articles!