30 Famous Hollywood Heirs And Heiresses
Being an heir or heiress is definitely an advantage in Hollywood. You might not be aware that many famous Hollywood celebrities inherited a significant sum of money to help them get started. Although you probably know some of these heirs and heiresses, some others have managed to remain low-key about the money they've inherited. Unlike many other celebrities in the showbusiness, these are far from "rags to riches" stories. These are stories where riches led to even more riches!
Paris Hilton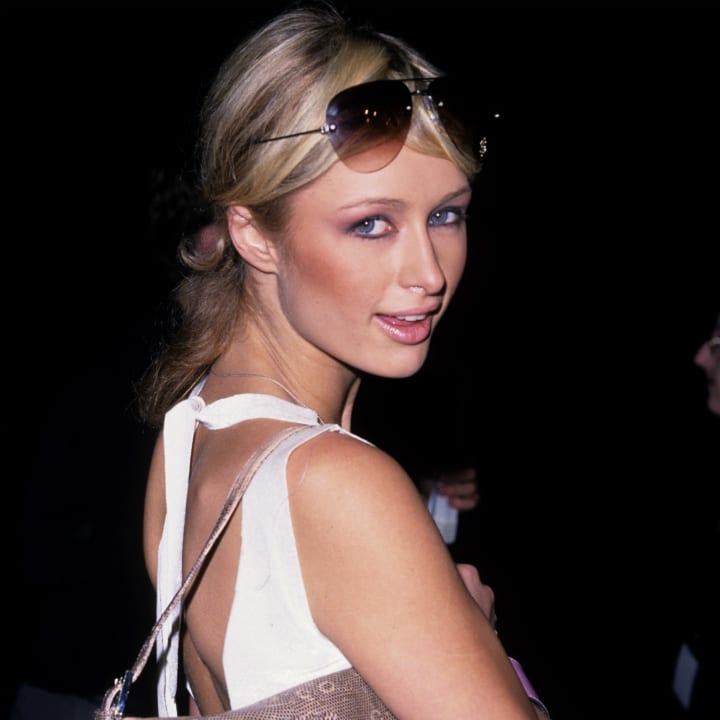 Estimated net worth: $300 million
Wealth inherited from: Hilton Hotels Corporation
You probably know Paris Hilton, and you either love her or hate her. Either way, this famous Hollywood heiress needs no introduction. Hilton is one of the world's most well-known heiresses, but she is also one of Hollywood's most prominent socialites. Born in New York, Paris inherited a fortune from the Hilton hotels. However, she mustn't be underestimated, because she is not only a heiress; Paris is a businesswoman who has created products and has her own empire of merchandise. She has created several perfume lines, and founded many Paris Hilton stores to sell her merchandise. That's not all. Paris has also opened a resort in the Philippines that is a big hit with vacationers worldwide; the Paris Hilton Beach Club Resort.
Olivia Wilde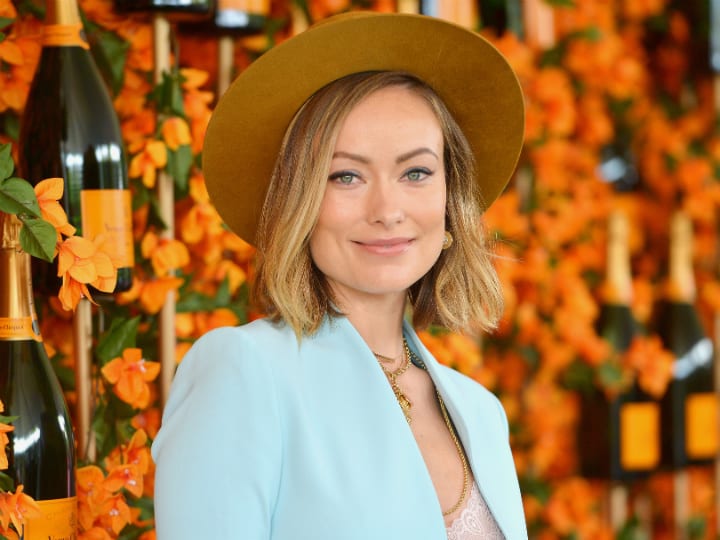 Estimated net worth: $20 million
Wealth inherited from: Andrew Cockburn
When she was young, Olivia Wilde hung out with people like Mick Jagger and Salman Rushdie, and then grew up to be one of the most likable actresses in Hollywood. Olivia initially wanted to be a doctor, until she launched her acting career after appearing on hit TV drama The OC in 2001. Then, she played Dr.Remy "Thirteen" in House. Although her acting career saw her play many different roles, she is most recognized for starring in Conversations with Other Women, Tron: Legacy, Butter, The Incredible Burt Wonderstone, The Lazarus Effect, and Rush. What you may not know about Wilde is that she inherited a considerable sum of money from journalist and editor of Harper's magazine, her father, Andrew Cockburn. When your father is the editor of a magazine as influential as Harper's, you have access to some great opportunities. At the age of thirteen, Olivia met the legendary Steven Spielberg, who told her,  "Olivia, if you want to be a doctor look before you leap; if you want to be in show business, leap before you look." Olivia still got to play a doctor on television. One could say she got the best of both worlds.
Kate Hudson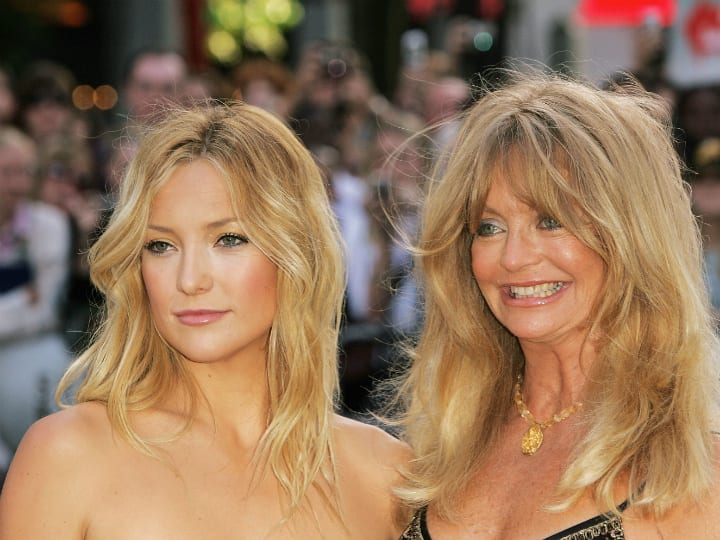 Estimated net worth: $80 million
Wealth inherited from: Goldie Hawn
Oscar-nominated actress Kate Hudson is the daughter of legendary Hollywood actress Goldie Hawn. Can't you see the resemblance? Hudson gained popularity with her breakthrough role as a groupie in 2000 film Almost Famous. For her role as groupie Penny Lane, she won the Golden Globe Award for Best Supporting Actress and was even nominated for an Academy Award, also for Best Supporting Actress. In 2013, Kate teamed up with online retail business JustFab and founded a line of workout clothes called Fabletics. Back in 2018, Hudson joked that  "I work more on Fabletics now than I do on movies." In 2016, Hudson had her first book published: Pretty Happy: Healthy Ways To Love Your Body. In 2017, Hudson released a second book: Pretty Fun: Creating and Celebrating a Lifetime of Tradition, and a year later, she signed a multi-year deal with New York & Company, Inc. Although Hudson may have inherited a large sum of money, she managed to create her own little empire with her entrepreneurial mindset.
Dakota Johnson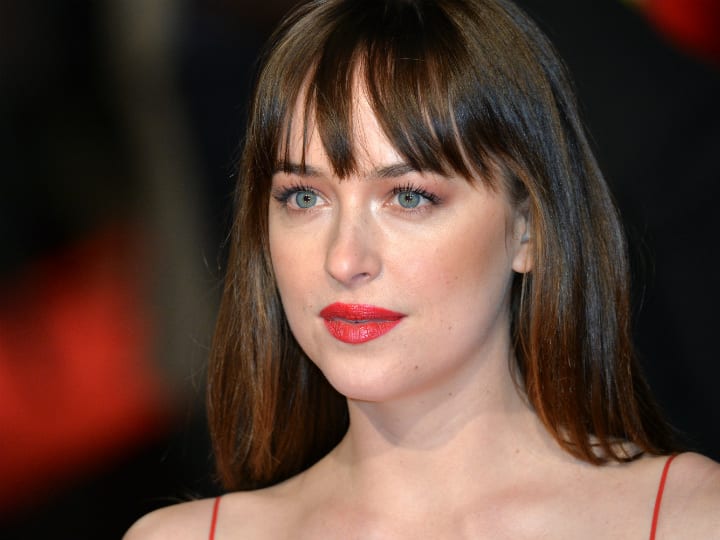 Estimated net worth: $14 million
Wealth inherited from: Don Johnson
You may recognize Dakota Johnson from the cringy Fifty Shades franchise, which she is more famous for than for being a Hollywood heiress. Johnson is the daughter of  Don Johnson and film producer Melanie Griffith. The two were heavily involved in show business, with Don being an actor, producer, director, and singer, and Melanie Griffith being a producer. When she was younger, Johnson spent a lot of time on film sets with her parents. Although she was always more focused on acting, Dakota was first a model, and she signed a deal with IMG Models in 2006 when she first dipped her feet in the entertainment world. She was a model for MANGO in 2009 and shot a campaign for Australian fashion label Wish. Following the success of Fifty Shades, Dakota starred in Black Mass, A Bigger Splash, Suspiria, Bad Times at the El Royale, and How to Be Single.
Anderson Cooper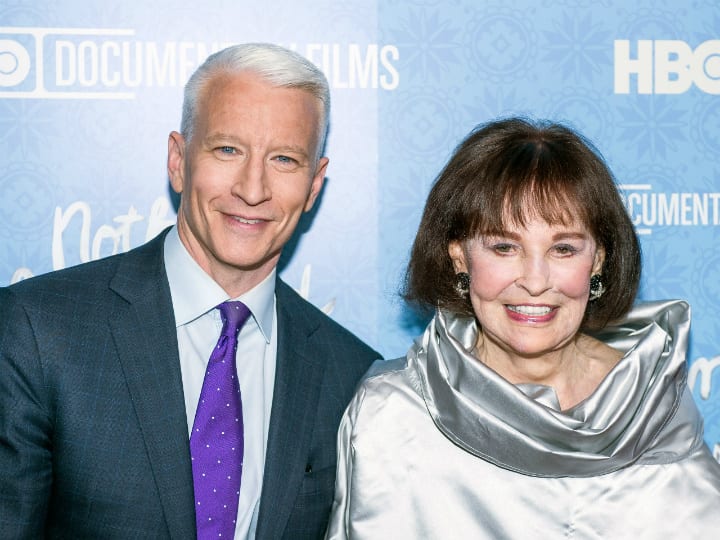 Estimated net worth: $200 million
Fortune inherited from: Cornelius Vanderbilt
Anderson is not only journalism royalty, but American royalty, too. Have you ever heard of the Vanderbilts? If you are not familiar with them, the Vanderbilts used to be the wealthiest family in the U.S. Cornelius Vanderbilt, the main man, was the wealthiest person in the U.S. until he died in 1877. Cornelius was America's biggest shipping and railroad tycoon, and he was Anderson's great-great-great-grandfather. Did you think Cooper was just a mere journalist? Sometimes, it feels that way, but he is one of the largest heirs on this list. Cooper was in the limelight most of his life, so it's not surprising that he ended up working in showbusiness. When he was a baby, he was photographed by Diane Arbus for Harper's Bazaar, and at the tender age of three, he appeared on The Tonight Show with his mother. Investigative journalist Anderson Cooper is quite an important figure in television and is famous for his 60 Minute specials. The New York Times once called him "the most prominent openly gay journalist on American television."
Balthazar Getty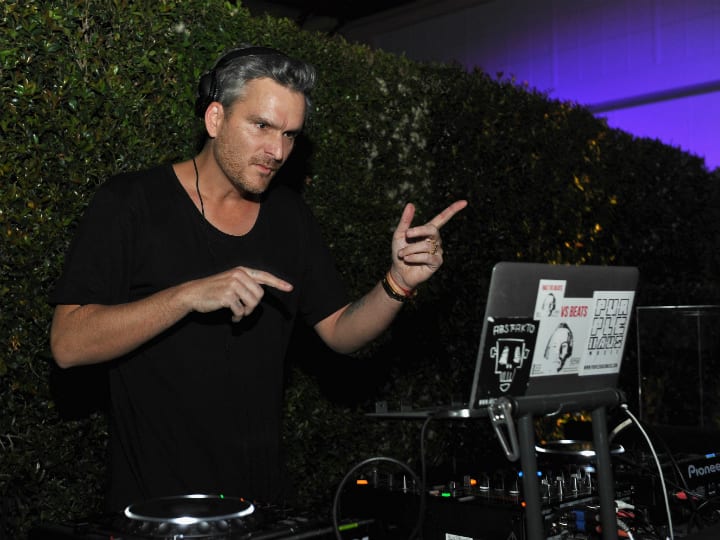 Estimated net worth: $200 million
Wealth inherited from: Getty Oil
Balthazar Getty's grandfather J. Paul Getty was a British-American petrol-industrialist, and Balthazar is the heir to the oil fortune. According to the Daily Mail, he once said, "I don't see it anymore as something I have to run from or prove to people that I'm not who they might perceive me to be. I've been able to own that and feel good about it." Balthazar is also an actor and musician, and he has appeared in Lord of the Flies, Charmed, Alias, and Brother & Sisters. Also, he is part of the band Ringside as well as producer of rap duo The Wow. Balthazar got married to fashion designed Rosette Millington in 2010. They now have four kids: Grace, Violet, June Catherine, and Cassius Paul. In 2008, he was involved in a scandal after he got caught in an affair with British bombshell Sienna Miller. The case led to a separation from his wife before getting back together two years later.
Amanda Hearst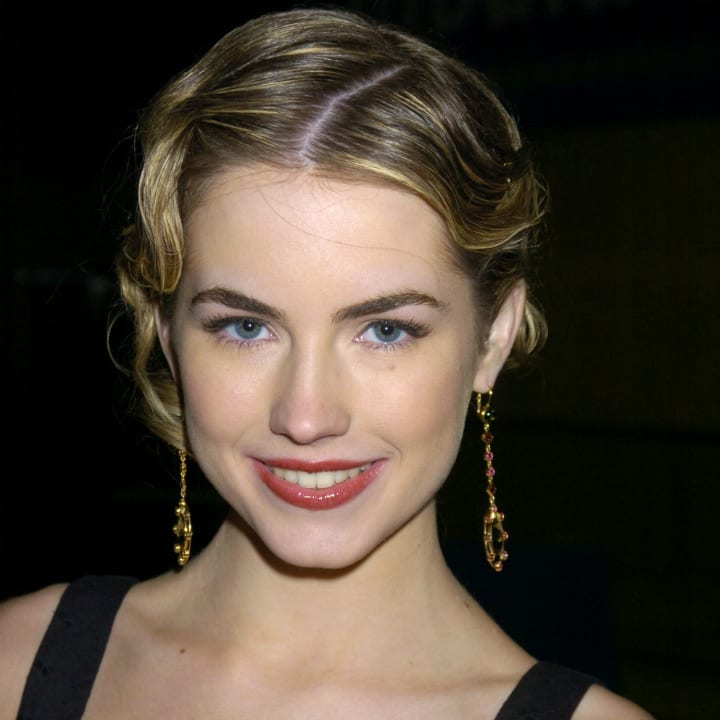 Estimated net worth: $100 million
Wealth inherited from: Hearst Corporation
Amanda Hearst, an heiress, model, and socialite was born in New York, and she is the heiress to the Hearst Corporation. She is related to William Randolph Hearst, who founded the largest newspaper chain and media company in the U.S. Amanda went to college at Fordham University, and today, she is the associate marketing editor at Marie Claire magazine. In the past, she used to be an IMG model, and she has been featured in major publications such as Vanity Fair, Cosmopolitan, Town & Country, and Harper's Bazaar. Amanda is a generous heiress who has donated to multiple charities. Also, she has founded Friends of Finn, an organization fighting against the inhumane treatment of dogs in puppy mills.
Brooke Shields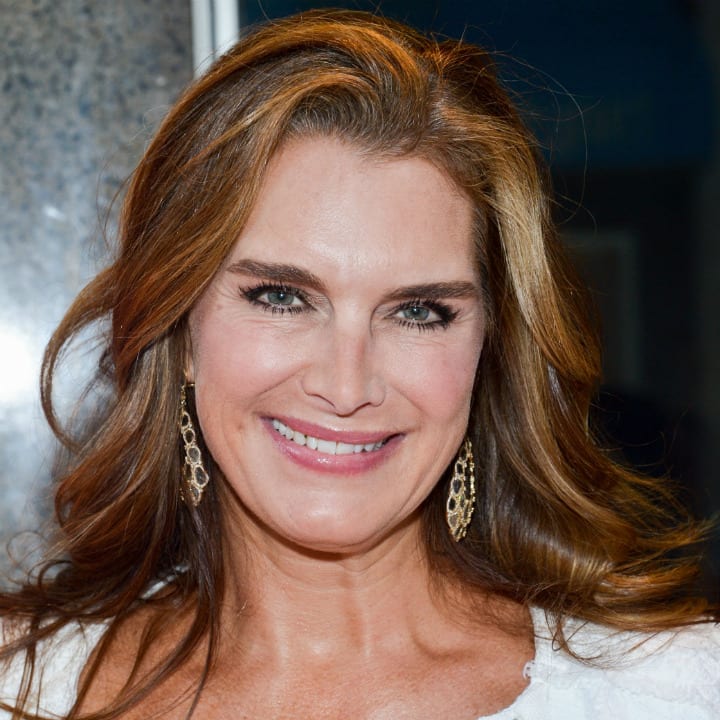 Estimated net worth: $25 million
Wealth inherited from: Frank Shields
Famous model and child actress Brooke Shields has been in the movie and fashion industry since the 60s. At the age of 12, she caused quite the controversy when she played the role of a prostitute in the 1978 historical drama film Pretty Baby, but this did nothing to stop her career reaching great heights. In the 80s, she appeared in Blue Lagoon and Endless love, two timeless cult classics. She is the daughter of Francis Alexander Shields, Jr., an American businessman who began as a broker on Wall Street for Loeb Rhoades, before moving into sales and marketing for Revlon and Estee Lauder. He also launched a recruiting firm: Handy Associates. In 1989, he relocated to Palm Beach, Florida with his family, where he launched a real estate firm, Frank Shields Associates.
Billie Lourd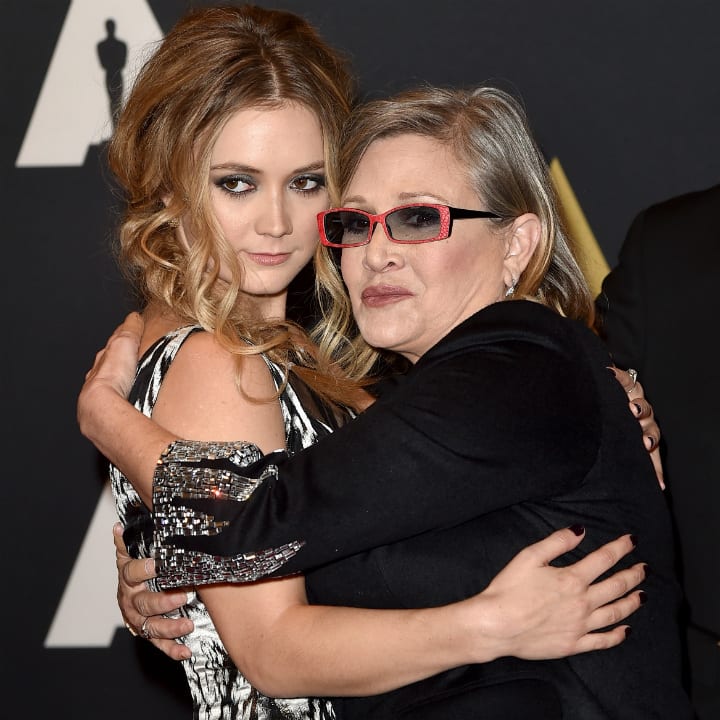 Estimated net worth: $20 million
Wealth inherited from: Carrie Fisher
When you are the daughter of Princess Leia, you certainly have a lot to live up to. However, so far, Lourd has failed to disappoint. Billie, a young actress, is the daughter of Hollywood icon Carrie Fisher and Bryan Lourd, one of Hollywood's biggest talent agents. Also, she is related to more than one Hollywood legend, as she is also the granddaughter of Hollywood legends Eddie Fisher and Debbie Reynolds, whose acting career lasted a total of 70 years. Although Lourd has inherited large sums of money, she is an ambitious actress trying to further her career. She is most famous for her roles as Lieutenant Connix in Star Wars: The Force Awakens, and Chanel #3 in the Fox horror-comedy series, Scream Queens.
Dylan Lauren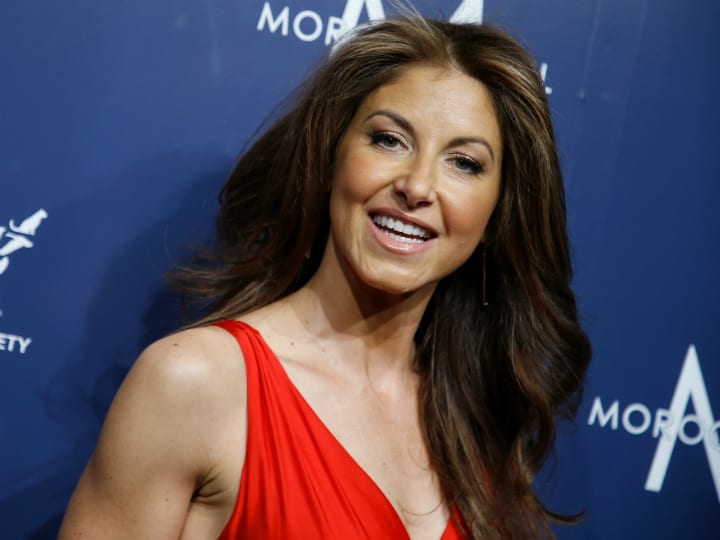 Estimated net worth: $50 million
Wealth inherited from: Ralph Lauren
Dylan Lauren is the heiress of American designer Ralph Lauren, whose brand has managed to stay relevant since 1992. In 1968, Ralph Lauren called his first line of menswear "polo," and the name has stuck, as it is now the preferred term for that style of collared shirt. To this day, the Polo Ralph Lauren logo is easily one of the most recognizable in the fashion world. The Ralph Lauren Corporation is a massive multi-billion dollar enterprise, and Ralph Lauren is reportedly the 91st richest person in the U.S. Dylan Lauren seems to be inspired by her dad, following in his footsteps by becoming a successful entrepreneur. She is the owner of the largest candy store in the world: Dylan's Candy Bar in New York City. Dylan claimed to have opened the store after being inspired by Willy Wonka and The Chocolate Factory on her sixth birthday. In 2017, she was picked to be a judge on reality TV series The Toy Box.
Nicky Hilton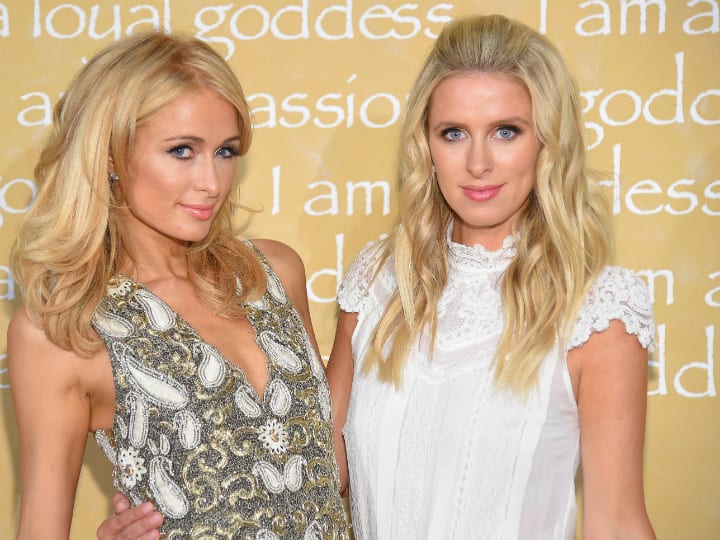 Estimated net worth: $40 million
Wealth inherited from: Hilton Hotels
Although she may be less popular than her sister Paris, Nicky is just as business-oriented. The second of four Hilton kids, aside from being an heiress, Nicky is a fashion designer and model. In 2004, Hilton started a clothing line. She was also the designer for Samantha Thavasa, a Japanese luxury fashion house. She launched her second fashion line called Nicholai in 2007, and it appeared in New York Fashion Week. In 2010, Nicky launched her third brand, a jewelry line selling pieces averaging $200. In 2015, she teamed up with Linea Pelle to launch a handbag line. In 2014, she published her first book called 365 Style, and Hilton claims it  "offers a simple method that helps girls identify the staple pieces that work best for their lifestyle, encouraging them to stay true to their own tastes." During her long, successful career, Nicky has donated to many charities such as the Starlight Children's Foundation, Make-a-wish Foundation, Race to Erase MS, and Union Rescue Mission.
Ariana Rockefeller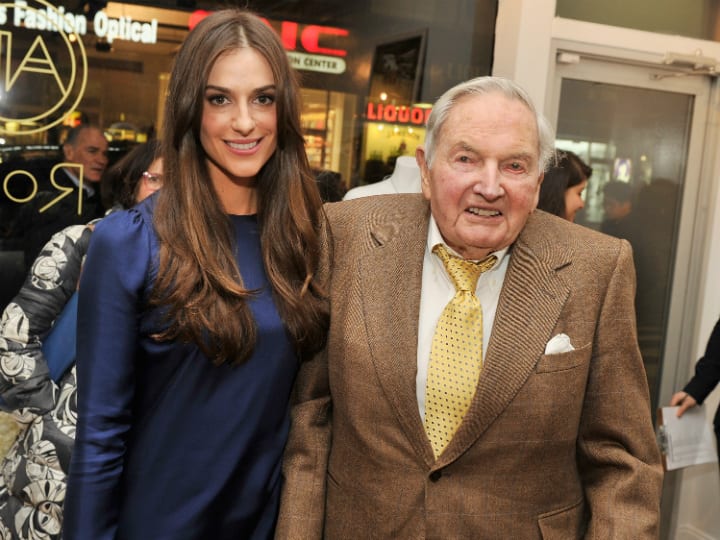 Estimated net worth: $2.8 Billion
Wealth inherited from: Standard Oil
Ariana Rockefeller, the great-great-granddaughter of John D. Rockefeller, is part of one of America's most important families. With an estimated worth of $2.8 billion, Ariana has more money than she could ever wish, but that doesn't mean she sits around all day. Ariana has been involved in some nonprofit work with the David Rockefeller Fund, and she supports the Humane Society of the United States. She has also been on the chair of the New York Botanical Garden's Winter Ball for many years. She has been riding horses ever since the tender age of three, and in high school, she joined the equestrian team. After taking a small break away from the sport, she started showjumping in 2012, and three years later, she got fourth place at the Hampton Classic. She has also been involved in fashion, launching a line in 2011. In 2014, she opened up a popup shop on Lexington Avenue in SoHo, New York. "I always loved fashion," Rockefeller said. "I knew I wanted to be artistic. I grew up among very well-dressed women.
Lydia Hearst-Shaw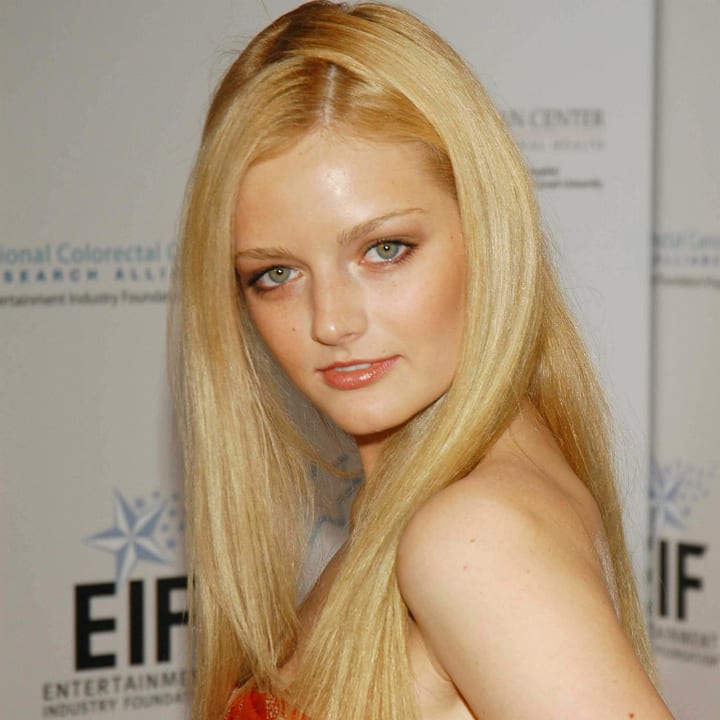 Estimated net worth: $100 million
Wealth inherited from: William Randolph Hearst
Lydie Marie Hearst is the great-granddaughter of media tycoon and big-time newspaper publisher William Randolph Hearst. Her mother, Patty Hearst, has quite an interesting story. After being kidnapped in 1974 by American terrorist group the Symbionese Liberation Army, she became internationally known. The group kidnapped her to use the Hearst family's political influence to free two members of their group. Despite her mother's issues, Lydia has become a successful actress, model, and lifestyle blogger. In 2008, she won the award of Best International Supermodel at the Madrid Glamour Awards. Since then, she has appeared in major advertisements for top fashion brands.
Armie Hammer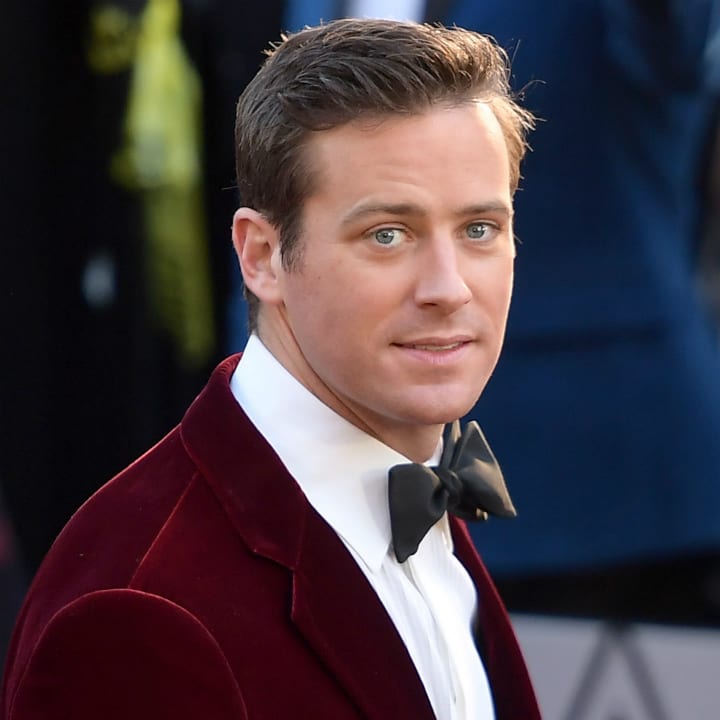 Estimated net worth: $16 million
Fortune inherited from: Occidental Petroleum
It's pretty crazy how much this man's name resembles a common household product. Yes, you probably realized that his name sounds like a famous brand of baking soda. But that's just a coincidence. Hammer was named after oil tycoon Armand Hammer, who was his grandfather. He founded Occidental Petroleum, which became the largest energy and gas corporation in the U.S. Armie's great grandfather is quite a controversial character; during the Cold War, he continued to trade with communists and was involved in socialist and communist movements. When he died, he was worth around $800 million.
Nicole Richie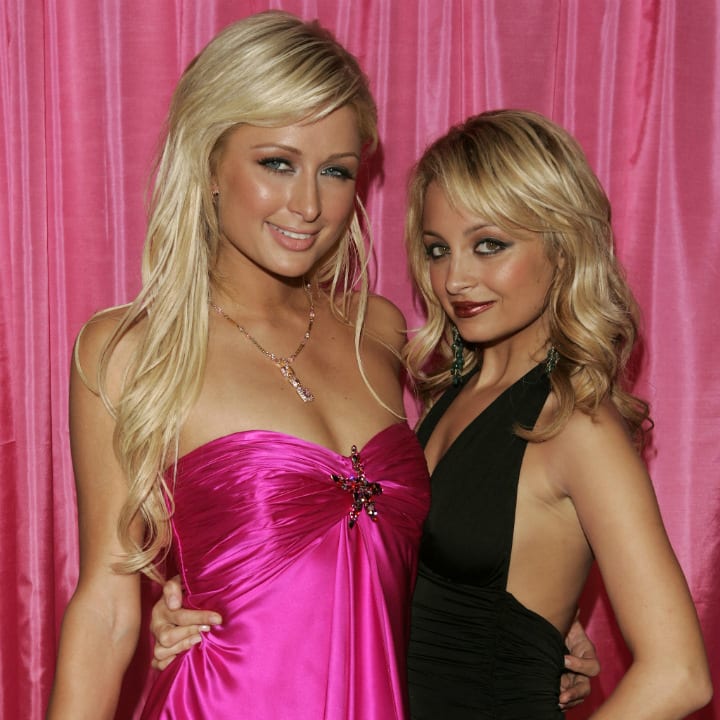 Estimated net worth: $10 million
Fortune inherited from: Lionel Richie
Lionel Richie surely needs no introduction; the American singer, actor, and record producer has been famous in the music scene since the 60s when he was part of the soul band the Commodores. Richie is one of the best-selling artists of all time, selling a total of 90 million records worldwide. Nicole was adopted by Lionel Richie and his wife Brenda when she was nine years old. Nicole has claimed that her biological parents were friends with Lionel and Brenda, but since they couldn't afford to raise her, they allowed her to live with them. Since then, Richie has become a popular television personality, socialite, actress, fashion designer, and author. Many will remember her for appearing on FOX television series The Simple Life, where she starred alongside BFF Paris Hilton.
Carly Simon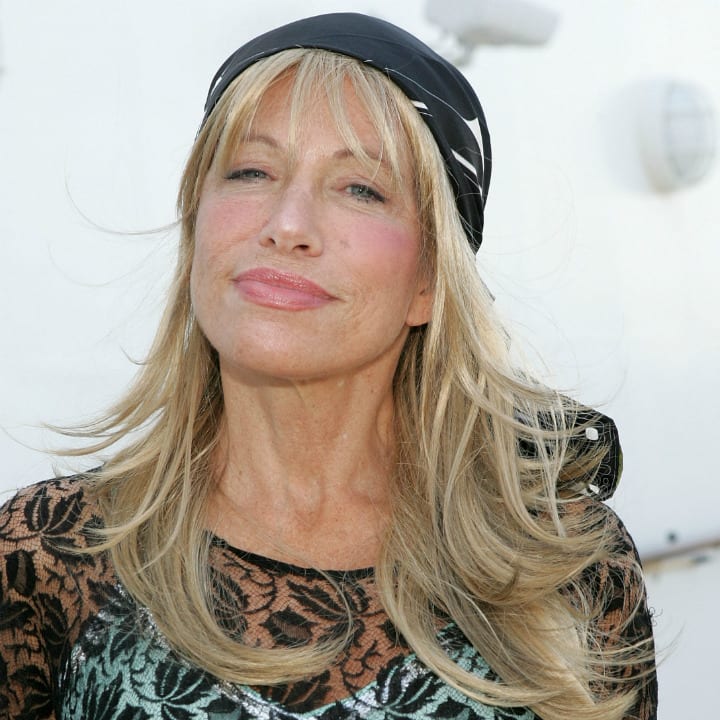 Estimated net worth: $65 million
Wealth inherited from: Richard L. Simon
The famous singer is the daughter of Richard L. Simon, the co-founder of major publishing house Simon & Schuster. The "You're So Vain" singer is a memorable 70s artist, but she has also written multiple children's books. Simon won a Grammy with her first album, Carly Simon. Simon is legendary for being the only artist ever to win an Oscar, Golden Globe, and Grammy for a song that was composed written, and performed by one artist. Simon used to be married to singer-songwriter James Taylor. They have two kids: Sally Taylor and Ben Taylor.
Tori Spelling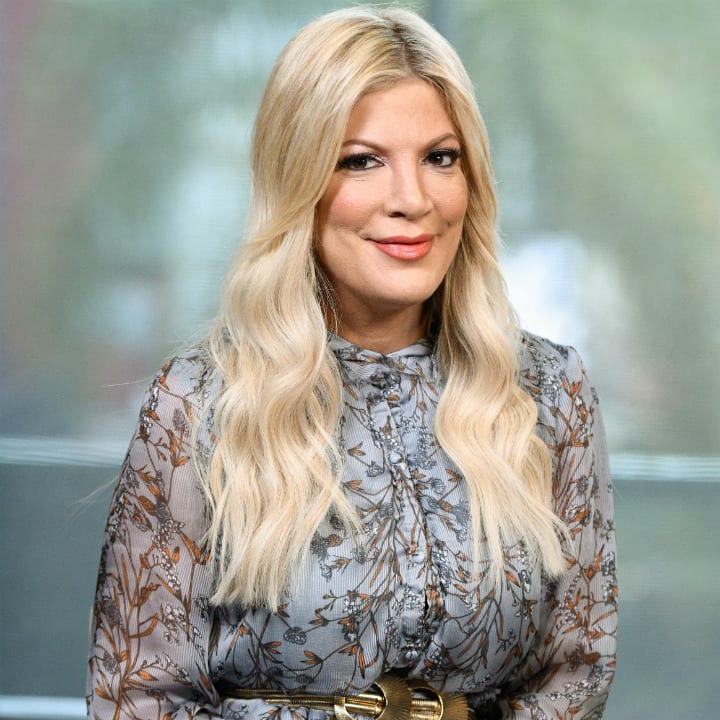 Estimated net worth: $500 thousand
Wealth inherited from: Aaron Spelling
Tori Spelling is the daughter of Candy and Aaron Spelling, a big-shot in showbusiness. Although her father is a prominent figure in Hollywood, Tori has also managed to be quite successful herself over the past couple of years. Spelling is an actress who is famous for her role as Donna Martin on Beverly Hills. She is also a television personality, socialite, and author. Her autobiography, Tori Telling, reached the top of the New York Times Best Seller list. Tori doesn't have a great relationship with her mother due to her unreasonable spending habits. Her mother said that Tori "would close a store and drop $50,000 to $60,000." Although Spelling was worth a whopping $500 million, Tori and her brother "only" inherited $800,000. After making some poor business decisions and spending ten weeks in the hospital, Tori Spelling went bankrupt in 2013.
Allegra Versace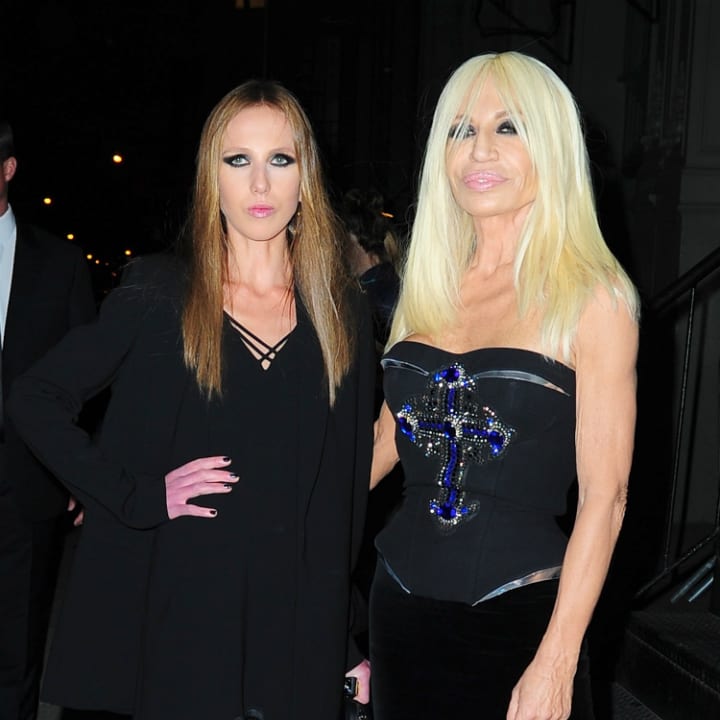 Estimated net worth: $900 million
Fortune inherited from: Donatella Versace
Versace, founded by Gianni Versace in 1978, is one of the most popular luxury brands in the world. The famous Medusa, based on a Greek mythological figure, is one of the most recognizable logos in the fashion industry. When Gianni died in 1997, her sister Donatella inherited 20 percent of the fashion company and even became its CEO. Allegra Versace, daughter of Donatella Versa and American model Paul Back, grew up around Hollywood stars such as Sir Elton John, who once offered her a piano, though she never learned how to play. When she turned eighteen, she inherited half of the entire Gianni Versace company. However, Allegra decided to first focus on her studies, and at the age of 24, she began to become more involved in the Gianni Versace brand.
Edward Norton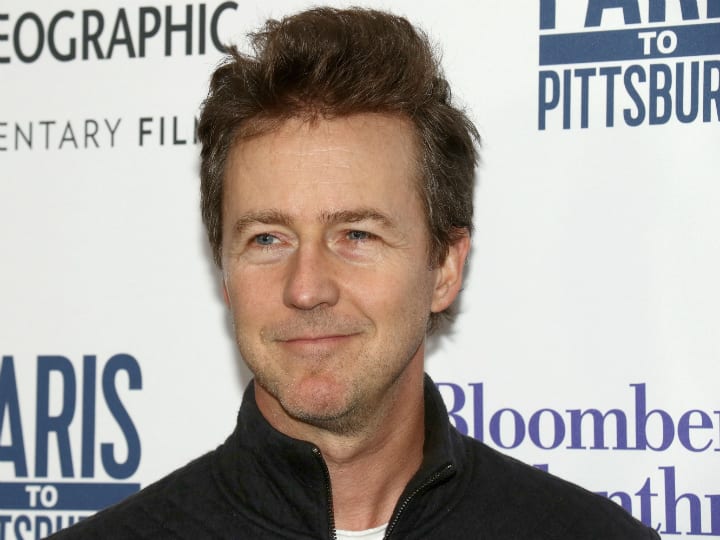 Estimated net worth: $80 million
Fortune inherited from: James Rouse
Before becoming an A-list Hollywood actor, Norton had already seen large sums of money. He is the grandson of famous urban planner and real estate developer James Rouse. In 1985, his grandfather James Rouse built the Harundale Mall in Maryland, and this was the first time the term "mall" had been used, popularizing it forever. In 1995, he was famously awarded the Presidential Medal of Freedom. Norton has spoken about his grandfather's success and awards many times, and Edward himself is an environmental advocate and social entrepreneur. Also, he is the president of the American branch of the Maasai Wilderness Conservation Trust and a United Nations Goodwill Ambassador.
Julia Louis-Dreyfus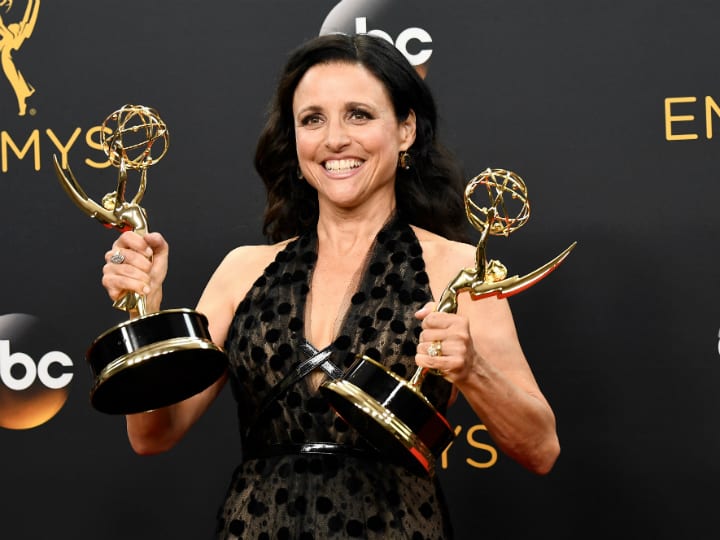 Estimated net worth: $200 million
Fortune inherited from: Gerard (William) Louis-Dreyfus
You probably know this hilarious lady from sitcom Seinfeld, but you may not be aware that she has inherited quite a fortune from her father, Gerard Louis-Dreyfus. Louis AKA William Dreyfus, a French-born American businessman, was the chairman of global merchant firm Louis Dreyfus Energy Services. According to Forbes, in 2006, his net worth was a total of $3.4 billion. Julia became famous in the 80s when she appeared on both Saturday Night Live and legendary sitcom Seinfeld. Aside from being an actress, Louis is also a producer and philanthropist. She is the mother of two boys - Charlie and Henry Hall. 
Ally Hilfiger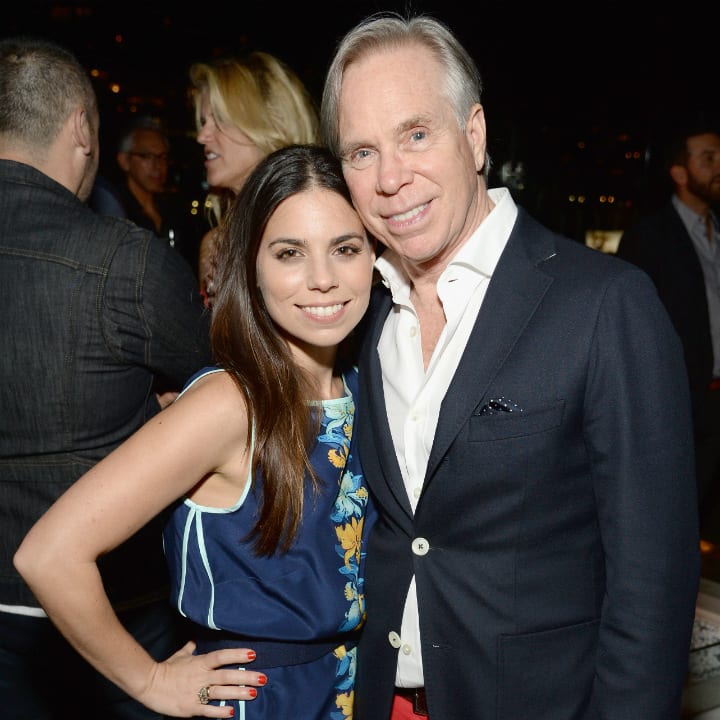 Father's estimated net worth: $400 million
Wealth inherited from: Tommy Hilfiger
Ally Hilfiger, daughter of Tommy Hilfiger, is the heiress of the family's fortunes. The company was launched by her father in 1985, and the brand is sold in over 1,400 retail stores in 90 countries. Tommy Hilfiger became a major brand in the 1990s, when brands like Polo Ralph Lauren, Calvin Klein, Nautica, DKNY, and Donna Karan were popular. In 1980, Hilfiger and Susan Cirona got married, and they have four kids. In 2003, Ally starred in MTV reality TV series Rich Girls, but it only aired for one season. The show was based around Ally and her best Jaime as they go to high school and spend summer together. Ally has now become a TV producer and author. She wrote a famous novel called Bite Me: How Lyme Disease Stole My Childhood, which speaks about her experience dealing with the disease as a child.
Spike Jonze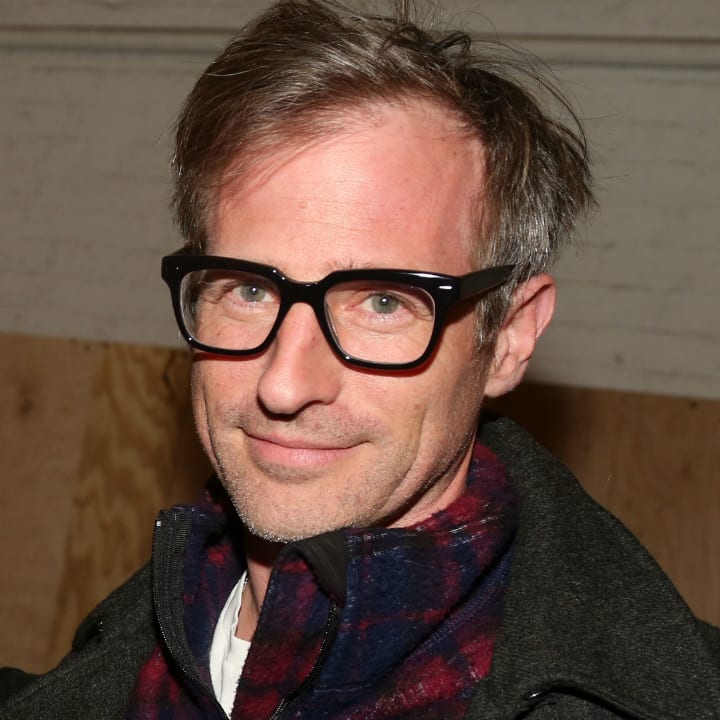 Estimated net worth: $50 million
Fortune inherited from: Arthur Spiegel
Spike Jonze, whose real name is Adam Spiegel, is the son of the founder of the mail-order catalog, though it has been sold since. Although Spike, who is an award-winning filmmaker, is still connected to the billion-dollar fortune, he has also been successful in other endeavors. Spike is a famous photographer and actor who is popular for shooting music videos, commercials, film, and television. He was involved with films such as Being John Malkovich, Adaptation, Where The Wild Things Are, and Her.
Giada De Laurentiis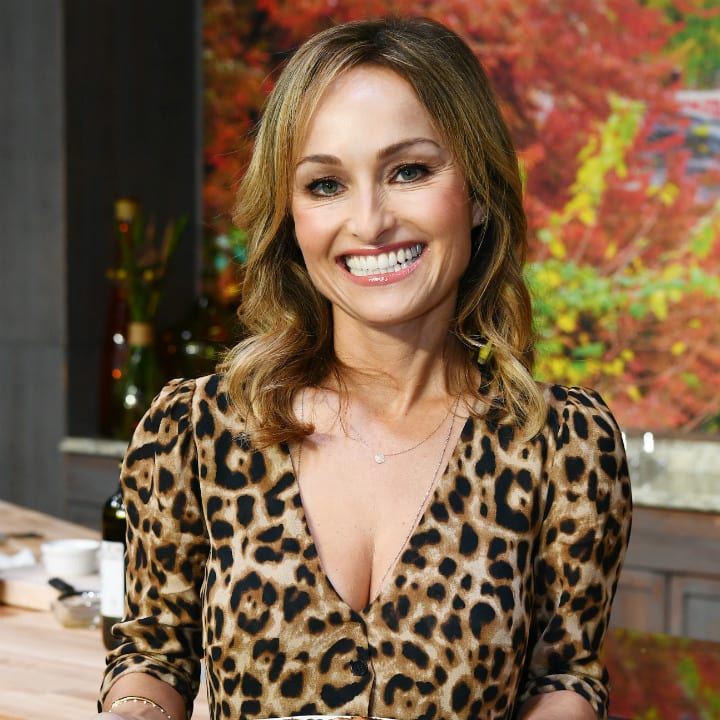 Estimated net worth: $20 million
Fortune inherited from: Veronica De Laurentiis
Giada De Laurentis is the first daughter of Italian actress and author Veronica de Laurentiis and actor-producer Alex De Benedetti. Veronica De Laurentiis starred in the film Waterloo at the tender age of 18 with co-stars Rod Steiger and Christopher Plummer. She wrote a memoir, and within a week, it was on the Italian bestseller list. Also, Giada founded an organization aimed at stopping domestic violence: Associazione Veronica De Laurentiis. Today, Giada has become a professional chef with her own show on the Food Network. Giada has admitted that she never wanted to get into the "family business," i.e., the show business.
Stella McCartney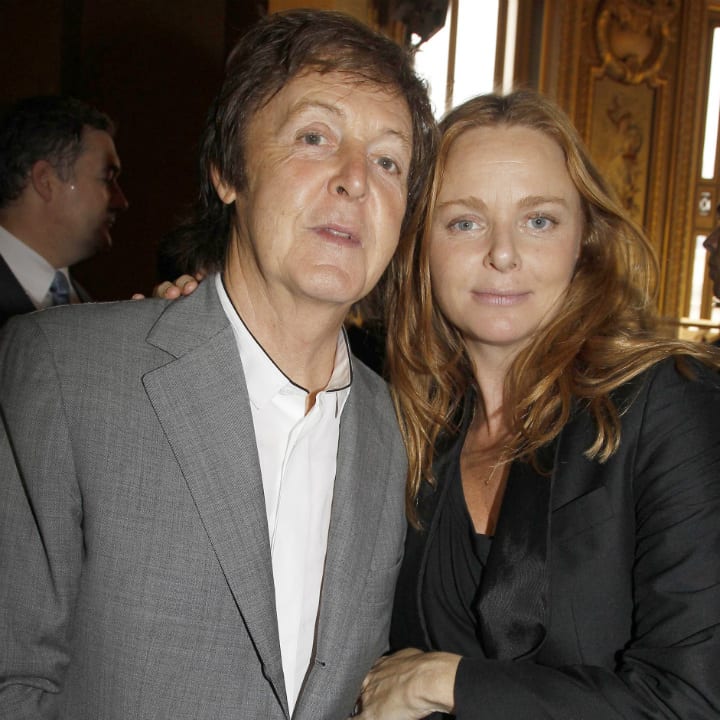 Estimated net worth: $75 million
Fortune inherited from: Paul McCartney
When your dad is a legendary musician who was part of the Beatles, chances are you are set for life. However, although she has amassed a fortune from her father, McCartney has also made a name for herself in the fashion world. Like her mother and father, McCartney is a big supporter of animal rights, and she is against the use of any leather or fur in her fashion designs. When she was thirteen, Stella designed her first jacket, and she has been involved in the fashion world ever since then. Her brand, Stella McCartney, has since collaborated with major brands like Adidas. In 2018, she launched a charity to help women dealing with breast cancer: the Stella McCartney Cares Foundation.
Paris Jackson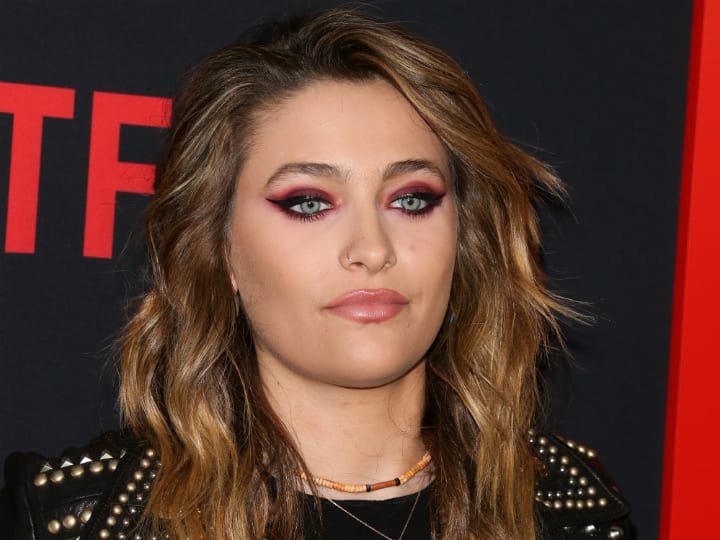 Estimated net worth: $100 million
Wealth inherited from: Michael Jackson
Paris Jackson, as you may have guessed it from the name, is pop legend Michael Jackson's second daughter. When Michael tragically passed away in 2009, his will demanded that his current and future financial interests be put in the Michael Jackson Family Trust. Also, he demanded that 20 percent be distributed to charity. The rest of the funds were divided between his mom and three kids. Although Jackson was deeply in debt at the time of his death, with around $500 million in debt, his estate was estimated to be worth almost $2 billion by 2015. Although Paris Jackson had a tough personal life, she was successful in her modeling career. In 2017, she made the cover of Rolling Stone and signed to IMG Models. She has also dabbled in acting, starring in Gringo in 2018.
Frances Bean Cobain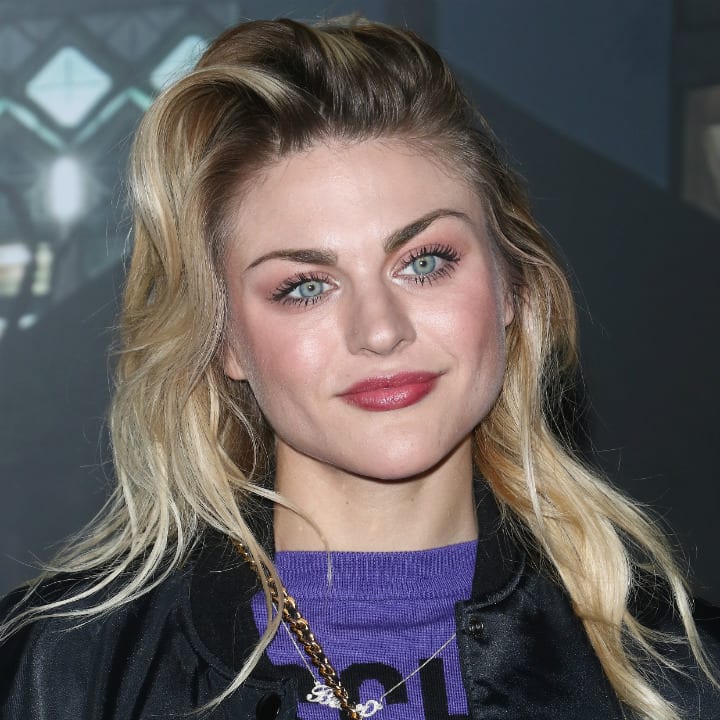 Estimated net worth: $200 million
Fortune inherited from: Kurt Cobain
When the legendary Kurt Cobain of Nirvana died in 1994, fans all around the world were hit with sadness. Until today, Cobain is one of the most influential figures in rock music. In 2003, he was named 12th best guitarist of all time by Rolling Stone Magazine. Frances Bean is the daughter of Kurt Cobain and American singer, songwriter, and actress Courtney Love. Frances has quite the family tree; Drew Barrymore is her godmother, while R.E.M.'s Michael Stipe is her godfather. When he died, Kurt left a considerable amount of money to his daughter. In 2009, Love was hit with a restraining order, and she had to stay away from her daughter. A year later, Frances inherited a third of her father's estate. She was able to take control of her trust fund once she turned eighteen. According to E! News, Frances gets $95,000 a month from Kurt Cobain's publicity rights and around $6,800 a month in dividends. Aside from the money she gets from the inheritance, she also does some modeling work. In 2006, she appeared in Elle Magazine, and two years later, in Harpers's Bazaar. 
Scarlett Johansson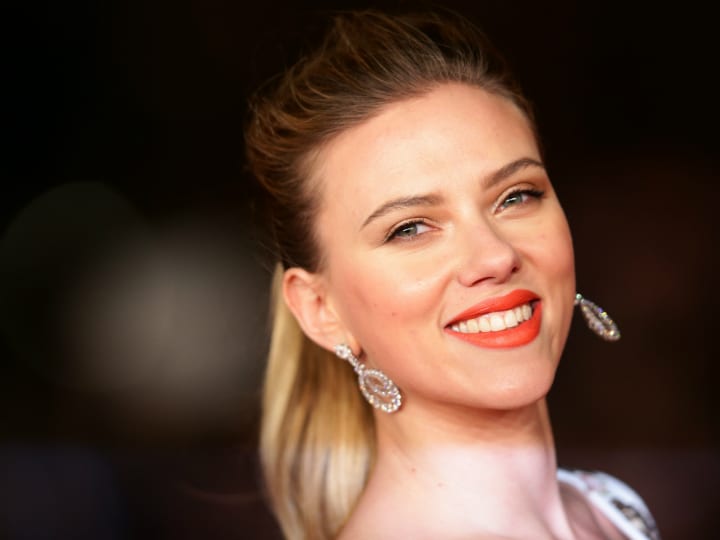 Estimated net worth: $140 million
Wealth inherited from: Karsten Olaf Johansson and Melanie Sloan
Although Scarlett has inherited a considerable amount of money, she has become a celebrity thanks to her acting talent and incredible resume. Scarlett is one the highest-paid actresses in show business, and she has appeared on the Forbes Celebrity 100 multiple times. She has appeared in too many big-time blockbusters to mention, but a few of the popular ones include The Avengers franchise, Her, Lucy, and Ghost in the Shell. Although she is undeniably a highly talented actress, it probably didn't hurt that her father Karsten Olaf Johansson was a famous Danish architect, and her mother Melanie Sloan was a movie producer. Even if Johansson may have gotten some help from her family at first, it is her talent that kept her among the most famous A-list celebrities in the world for a long time.
Jake Gyllenhaal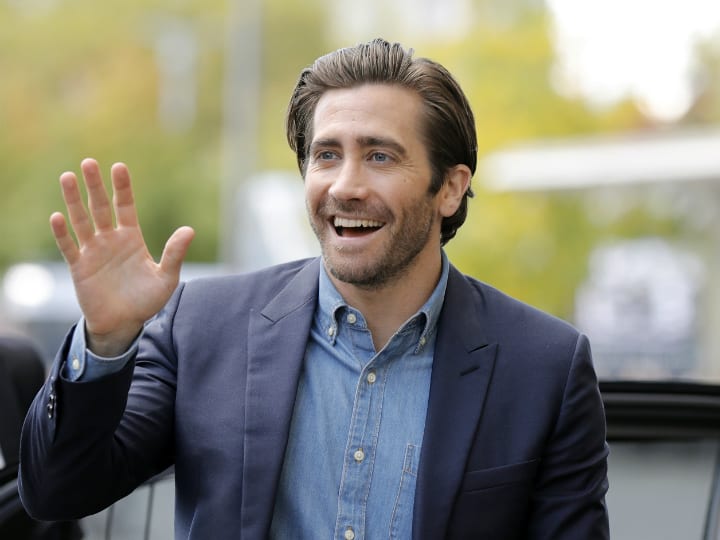 Estimated net worth: $65 million
Wealth inherited from: Stephen Gyllenhaal
You've probably seen Jake on the big screen before, but you may not be aware of his family tree. His sister Maggie is also a famous actress, while his mom Naomi Foner is a screenwriter and his father Stephen is a Hollywood director. His father Stephen is popular for directing Family of Spies, Waterland, and Paris Trout. However, he has since moved on to directing TV shows. Jake Gyllenhall has been in plenty of popular movies, including his first one, cult classic Donnie Darko. The film that he was most awarded for, however, was Brokeback Mountain, which won four Golden Globe Awards, three Academy Awards, and four BAFTA awards.
Roberta Armani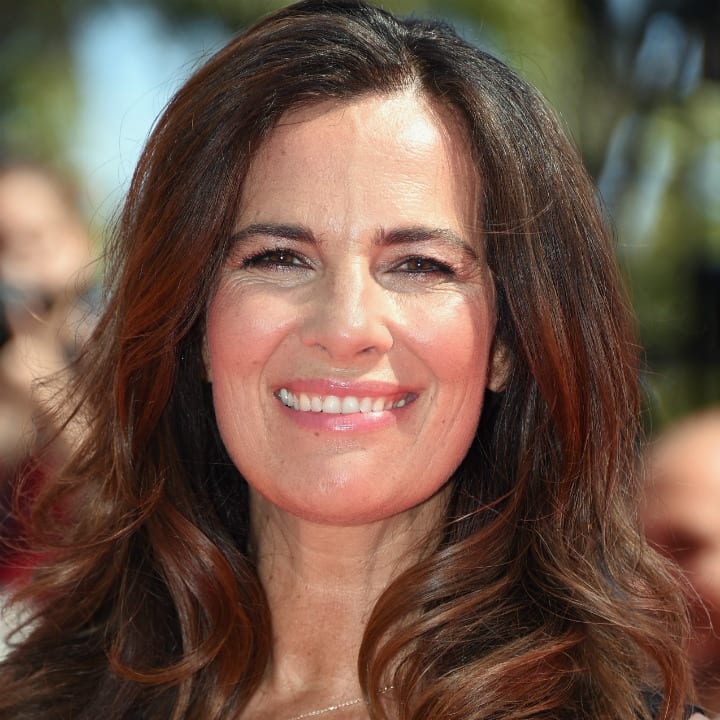 Estimated net worth: $100 thousand to $1 million
Fortune inherited from: Giorgio Armani
Roberta Armani is the daughter of fashion designer Giorgio Armani. Giorgio's family was heavily involved in building the fashion empire. His brother gave him business advice, and his sister modeled and worked for Armani's PR department. Since the deaths of Sergio and Giorgio, the brand has fallen into the hands of the youth. It is truly a family business; Rosana's son works on the commercial side, while Sergio's daughters Silva and Roberta are employees at the brand. In the future, Roberta wants to become head of VP PR, which she considers her "dream job."
Bobbi Kristina Brown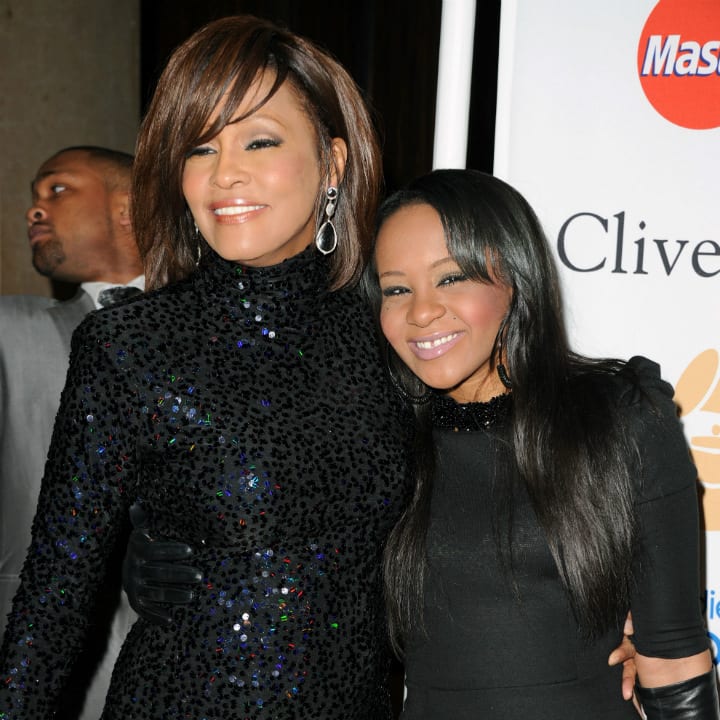 Estimated net worth: $20 million
Fortune inherited from: Whitney Houston
Whitney Houston's death was deeply felt in the entertainment industry. She sadly lost her life on the 11th of February 2010 by drowning in the bath of her hotel room in the Beverly Hilton in Los Angeles. Her 19-year-old daughter Bobbi inherited Whitney's entire $20 million estate. Sadly, Bobbi was found unresponsive in her bathtub only three years later. After going into a coma for six months, she lost her life. The inheritance went to Whitney's two brothers and mother, Cissy.
Chevy Chase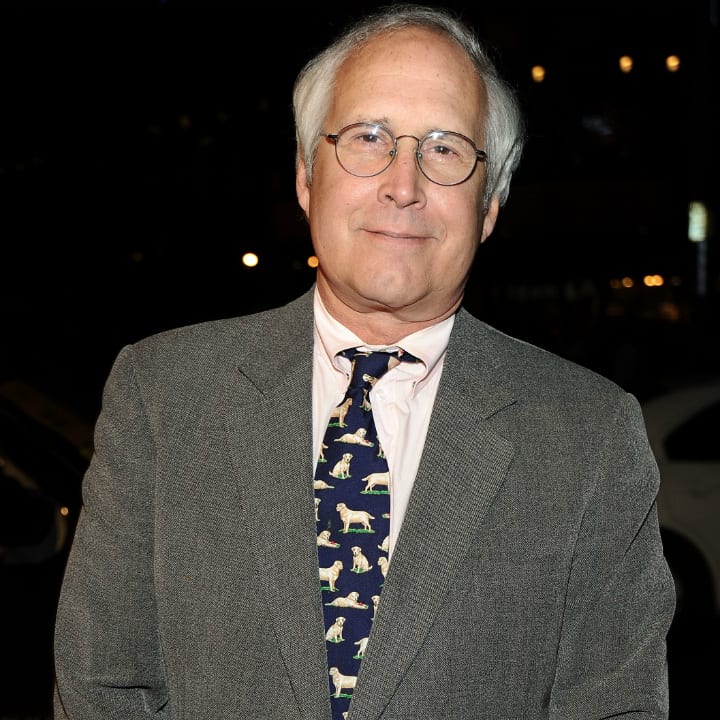 Estimated net worth: $50 million
Wealth inherited from: The Crane Company
Chevy Chase A.K.A. Cornelius Crane "Chevy" Chase is a famous American comedian, actor, and writer. His mother was a renowned concert pianist and librettist, which is someone who writes for opera. As a child, his mother was adopted by her stepfather Cornelius Vanderbilt Crane, heir to the multi-billion dollar Crane Company. Chase rose to prominence after landing a recurring segment on Saturday Night Live: the Weekend Update. Since then, he has appeared in movies such as Caddyshack, National Lampoon's Vacation, and Three Amigos. Many people know him for his role on the NBC series Community, which ran from 2009 to 2014. 
Source: Finance101.com