Funniest Tinder Conversations That Prove Some People Are Not Good At Dating
The world of dating changed completely when applications were released. Suddenly, it was incredibly easy to get in touch with people near you and building a whole new relationship through your smartphone. While it might be dangerous sometimes, there are many Tinder users who have started great friendships and relationships through the app. There are a few people who are better at relating to others through messages than face-to-face exchanges. So, this is a great option. However, the use of pickup lines and cheesy puns is still current, and these followings threads are the ultimate proof. Let's discover some of the silliest conversation starters and even learn what not to write.
A TURKEY IMAGE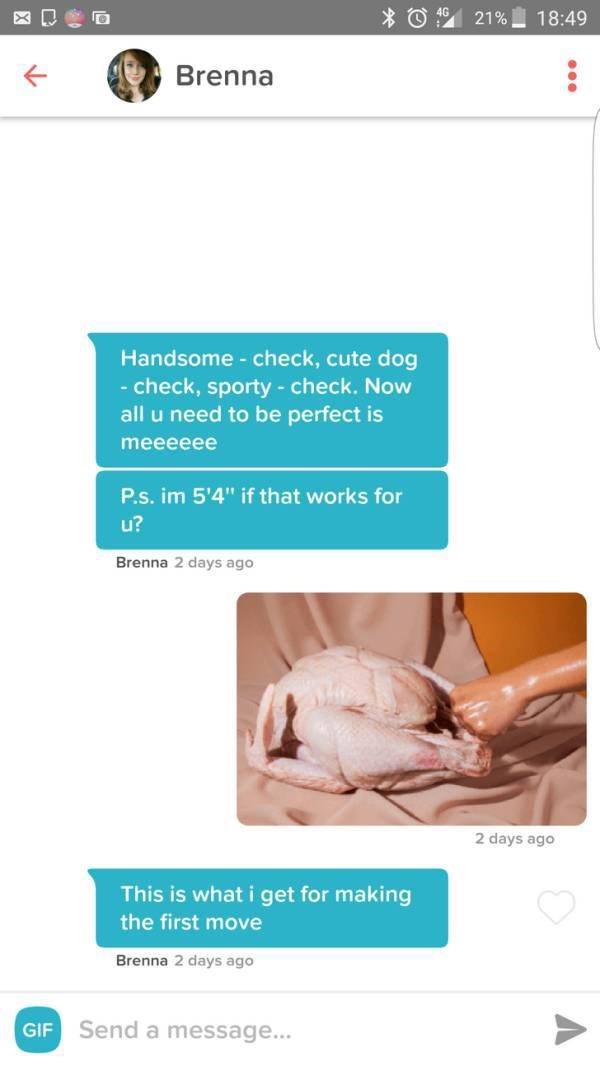 Unfortunately, not every conversation you have on Tinder will lead to a great friendship or romantic relationship. Some people are only on the app for one thing, and it has nothing to do with something serious. Meanwhile, the application recently released an update that allows people to create an account using just their phone numbers. Originally, people needed to have a Facebook account to get on it, and it might have led to some invasion of privacy. Therefore, users who were not so keen on having their profile displayed on a public app can happily register now that there might be less chance that strangers will find your Facebook. Tinder was launched in 2012 through the startup company Hatch Labs along with IAC and Xtreme Labs. By 2014, the app had one billion "swipes" each day.
THOSE CRAZY ICEBREAKERS
Some people come up with the strangest responses to people's answers, and it might have been a huge icebreaker if the inquirer was looking for someone funny. However, some people are interested in serious replies to gauge someone's willingness to enter a relationship. While not every "match" on the app will lead to something meaningful, Tinder has been a godsend for people that are not that good at making new friends. Interestingly, the app was founded by Sean Rad, Jonathan Badeen, Justin Mateen, Joe Munoz, Dinesh Moorjani, and Whitney Wolfe. Wolfe later went on to create Bumble in 2014 after leaving Tinder. Most sources list Mateen, Rad, and Badeen as the founders, but the claims have been contested.
GREAT USE OF THE NAME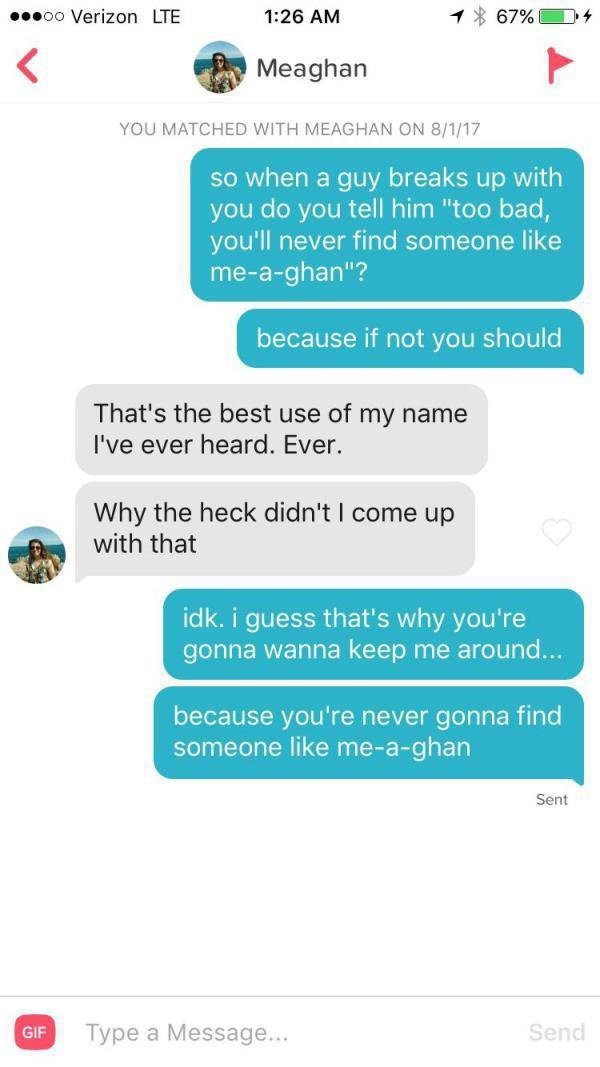 It seems that one of the best ways to start conversations or keep the stranger interested without getting into serious topics is the use of jokes, pickup lines, and puns. A pun, also known as paronomasia, is a play on words that uses the multiple meanings of a particular phrase. Also, words that sound similar are utilized for humorous remarks, and this is what that clever guy used with the name "Meaghan". While the pronunciation is not correct in that situation, separating the name to "me" and "aghan" makes it work. Furthermore, using girls' names are also great ways to make a lighthearted joke that will bring a smile to a stranger's face.
JUST GENERAL IMPROVEMENT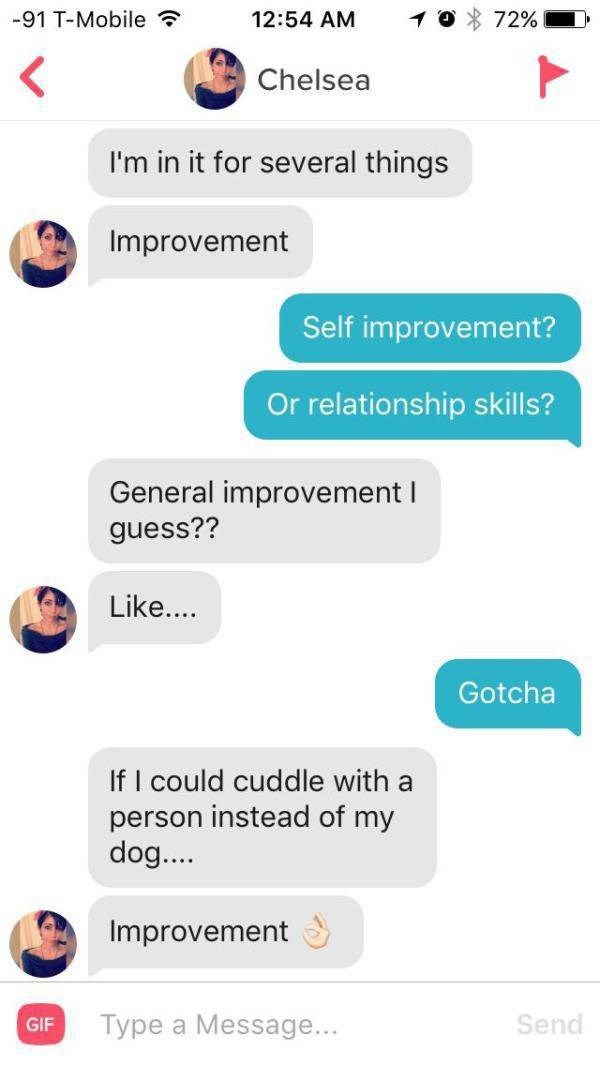 We hear you, Chelsea. We could all use some general improvement as well. While we all love our pets, sometimes, we need the companionship of another human being. It's always a great idea to try to improve yourself using all kinds of methods, as long as you don't fall into a cult-type of situation. There are many benefits to working towards bettering yourself such as new opportunities. A person who never learns or grows will always be faced with the same situations. After all, it was Albert Einstein who said, "The definition of insanity is doing the same thing over and over again and expecting a different result." Therefore, let's all take a chance on self-improvement in the healthiest manner possible, even if it's just one step each day.
NOT YOU, TIMOTHY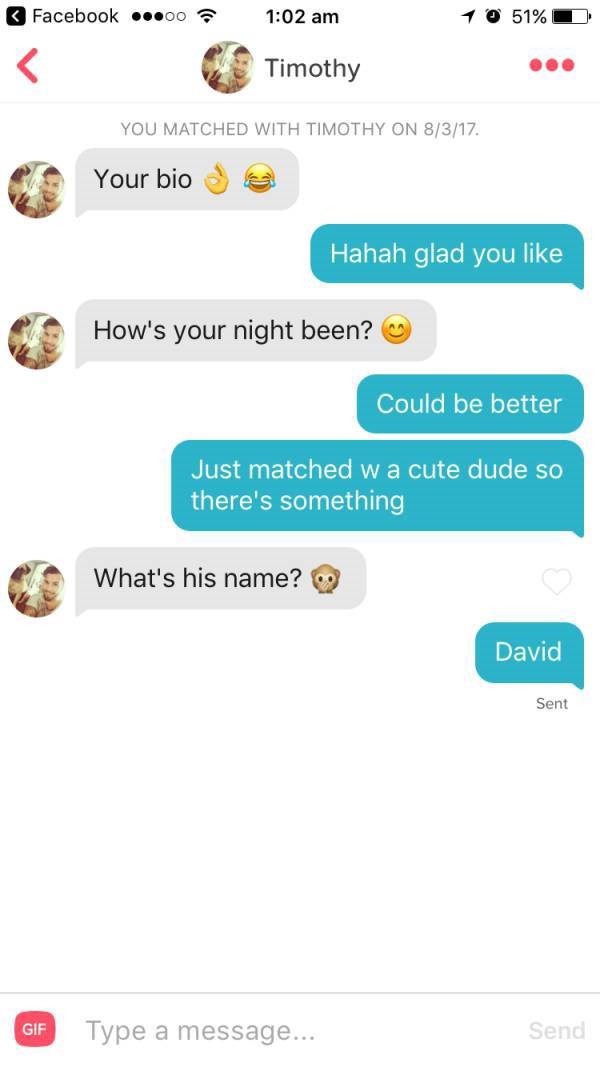 Unfortunately, while using the app, you have no way of knowing if the other person is also texting multiple people. At least, when you're conversing face-to-face, you know that he/she is only talking to you at that moment. However, that's one of the burdens of modern technology. And Timothy got burned because he probably thought that he was the "cute guy" this girl was talking about. It's also important to note that it seems that Tinder is used by mostly heterosexual people, although there are features to indicate your gender and your preference. That's why we are assuming that most girls here were speaking to a man or vice versa.
THE SPIRIT ANIMAL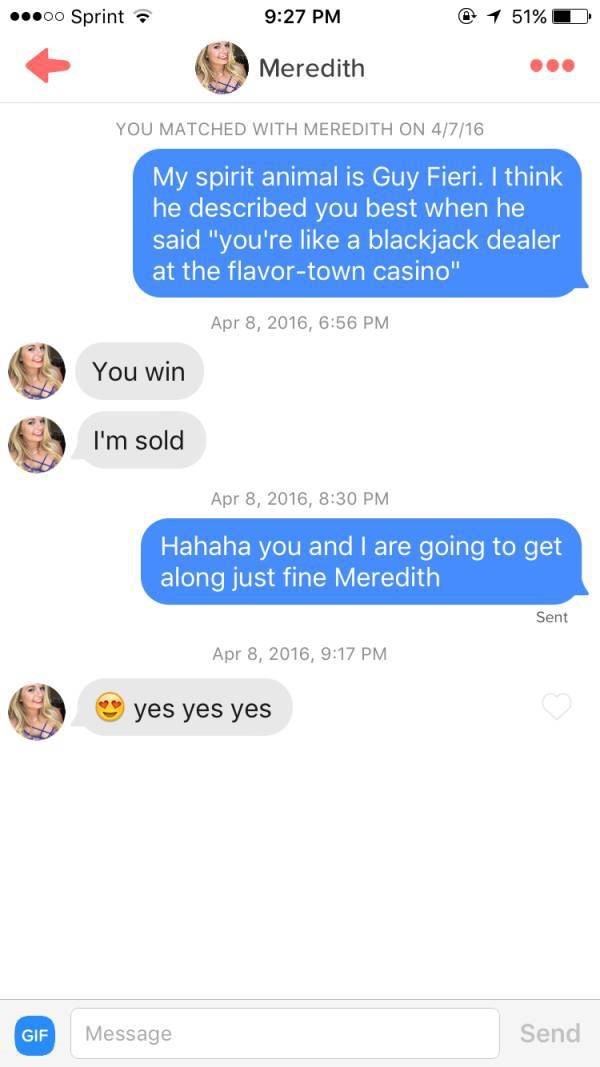 For anyone that doesn't know, Guy Fieri is an American restaurateur, as well as a television personality. He had restaurants all over the U.S. and is popular for several shows from the Food Network. In 2010, he was the most recognized person in that channel, and he became the face. Therefore, these two people might be hitting off well if they both love his shows and know the references to the jokes. It's great when you can find someone who shares the same tastes as you. However, it's also important to start a relationship with someone who is different enough that you won't get bored later on. Some of the best Guy Fieri shows as 'Diner, Drive-Ins, and Dive' and 'Tailgate Warriors'.
SOME 50 SHADES OF GREY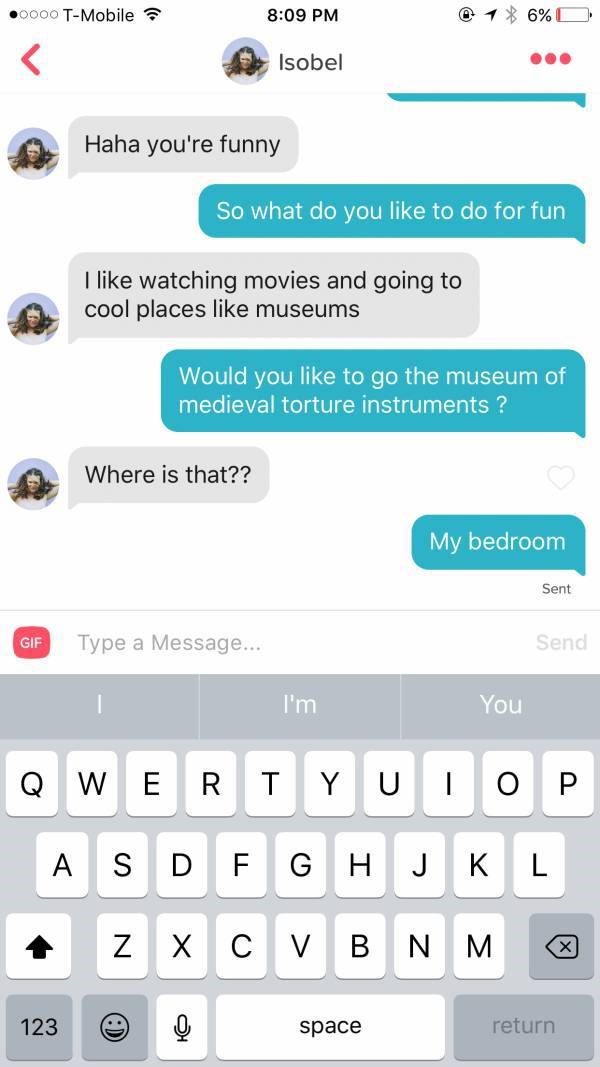 This guy thinks that all girls might be into BDSM thanks to the novels and movies from the 'Fifty Shades of Grey' franchise. That's not necessarily the case, and those kinds of relationships are actually hard to find and maintain. It takes a lot of trust between both parties to enter such an encounter. Therefore, suggesting on Tinder might not be the best method. In fact, there are some apps dedicated exclusively to people who want that sort of thing. Interestingly, medieval torture devices are actually displayed all over Europe, despite their original brutal use to extract confessions from criminals. There are museums and exhibits to see these artifacts that hurt people, and they are pretty popular tourist attractions.
NOT THE BEST USE OF THE NAME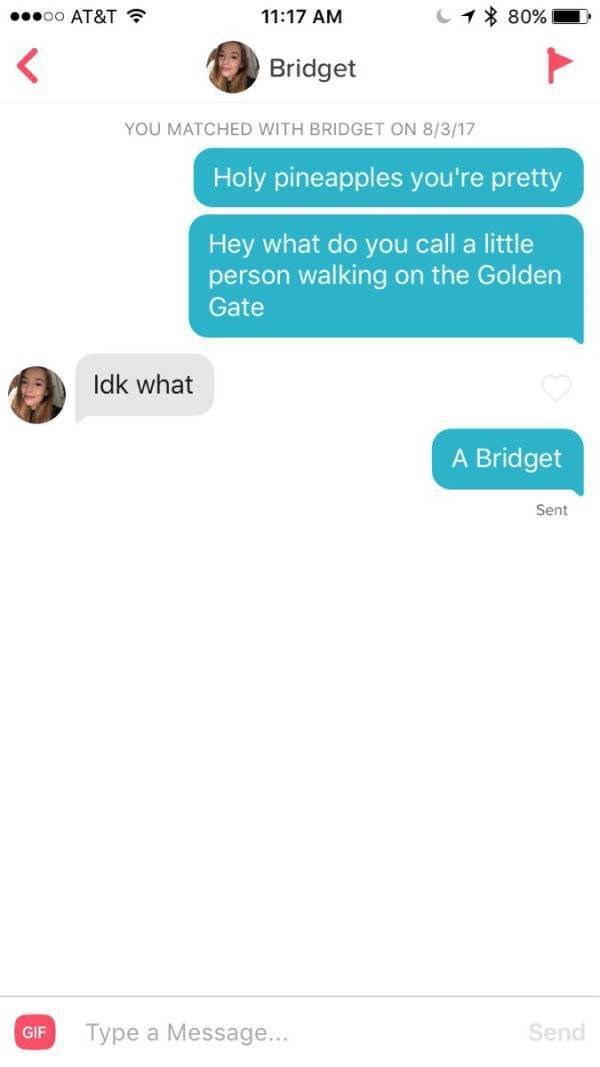 This might not be the most sensitive joke, especially now that we live in a world that is trying to be more politically correct than ever. Some have wondered how being PC affects comedy in the climate of today, but humor has many tones. Therefore, there is no reason to insult anyone. If you don't think about being PC, you might find this funny, although it might be trying too hard to be humorous. Interestingly, the name Bridget comes from the Irish name Brighid, which means "exalted one". It was the name of the goddess of fire, poetry, and wisdom. She was the daughter of the god Dagda. It was given to Saint Brigid in the 5h century. He founded the Kildare monastery and became the patron saint of Ireland.  
IT'S ALL ABOUT GAME OF THRONES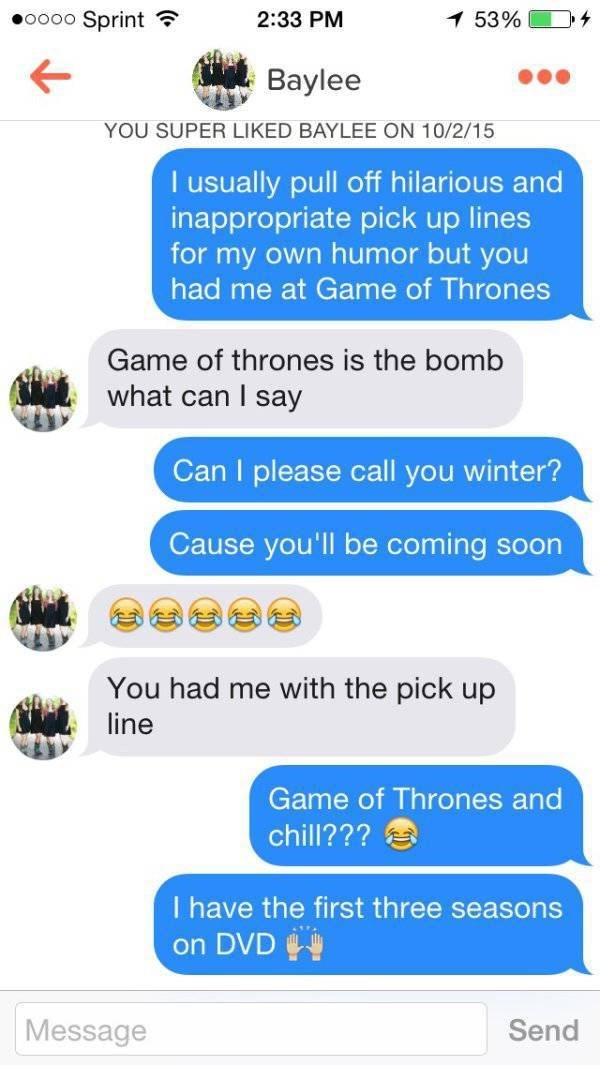 The show might be over, but the impact it had on pop culture and everyone who watched will never be forgotten. Furthermore, HBO is actually working on several spin-offs to in-depth into the world created by George R.R. Martin, which is so vast that we might be seeing this story for the rest of our lives and beyond. It was recently announced that another prequel might be given the green light for a pilot. There were many possibilities regarding the plot, but it seems that this one will focus on the history of the Targaryen family, which is the focus on the book 'Fire & Blood'. It should be very exciting, especially due to the dragons.
A GREAT JOKE AND A PUN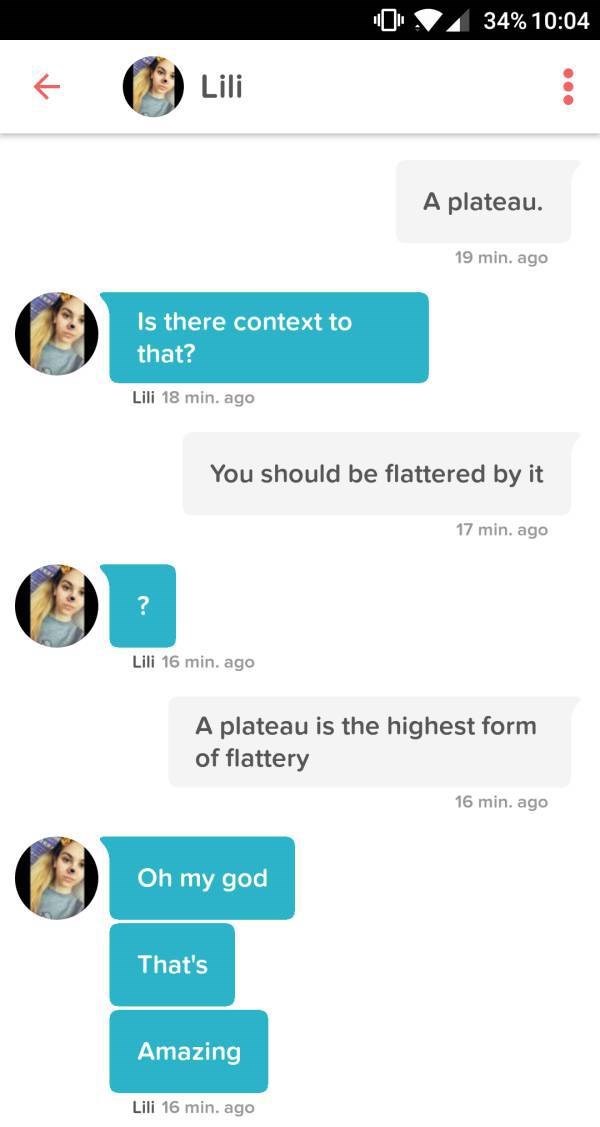 This is another amazing joke that not many people will get without Googling it. Furthermore, no one would understand if someone just sends you a text with the words "a plateau". It's also a pun because the whole thing goes like this: "A plateau is the highest form of flattery". Flattery, in this case, would use two meanings: a flat plane and a compliment. Therefore, this guy actually sent Lili a compliment. Meanwhile, a plateau is a high plain, or tableland, with has flat terrain and steep slopes. It's normally formed by upwelling of volcanic magma and other methods.
CLEARLY CAN'T READ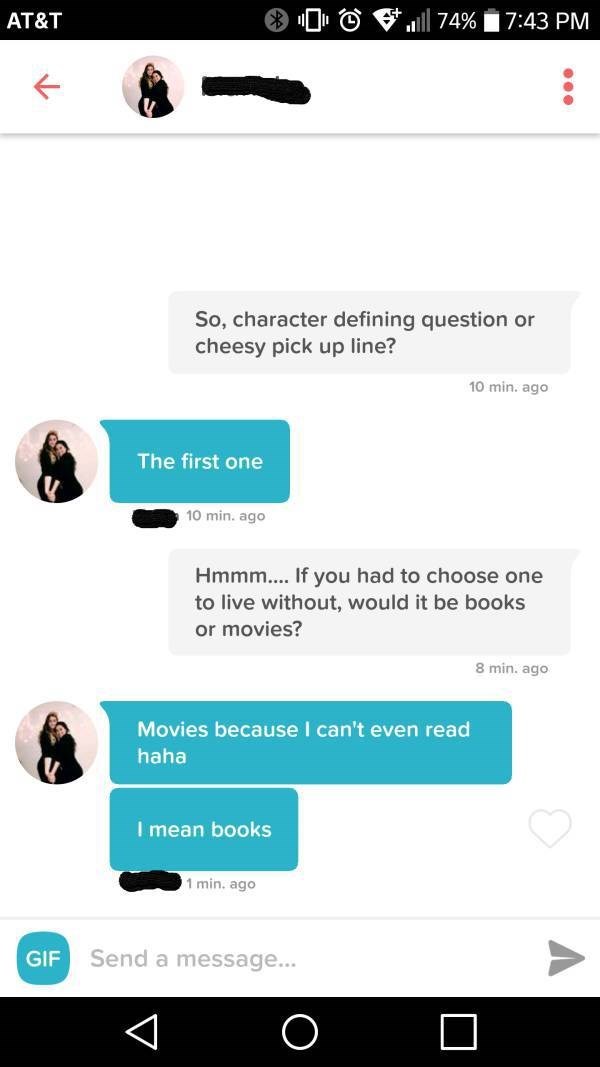 This message might be one of the most embarrassing things we have ever seen, and most girls would "die" if they accidentally sent something like that to anyone, but especially a stranger. It's clear that she doesn't know how to read. So, movies are the best option. Meanwhile, the debate between books and movies is still current today. Amazing films such as 'Murder on the Orient Express', 'Wonder', and 'My Cousin Rachel' were all based on books, and it's a great way to do business in Hollywood as the story already has a fan base and certain popularity. However, most people would agree that the book is always better.  
PICK UP LINES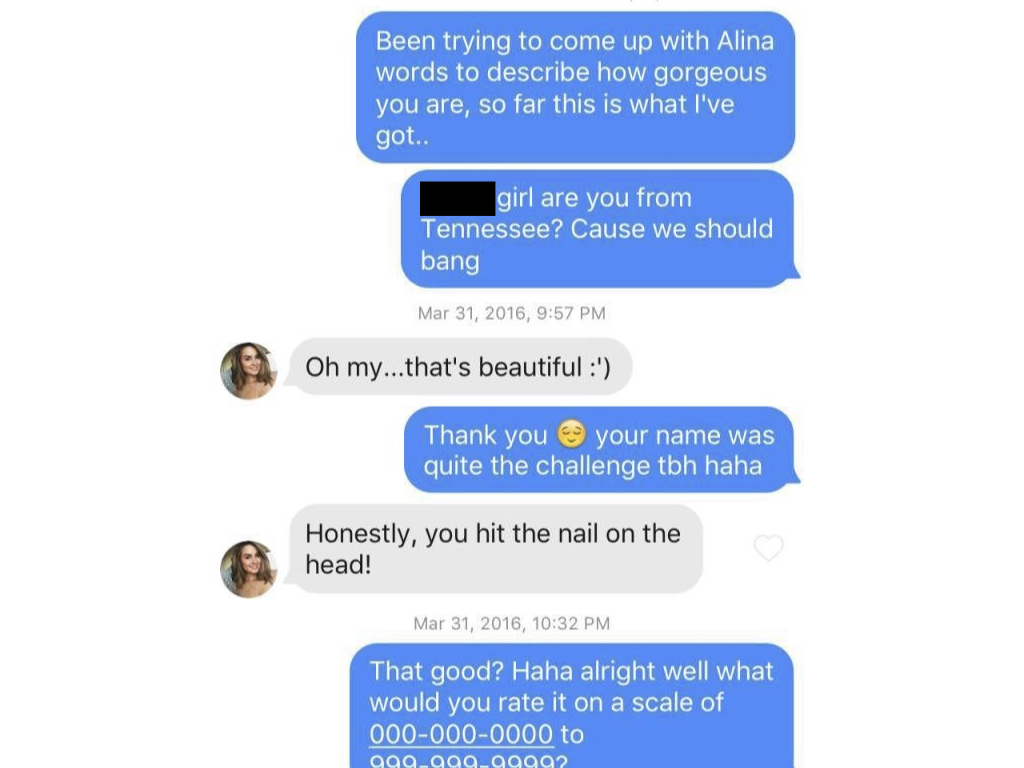 Well, we must agree that Alina might not be the best name to try to make a pun, but this guy definitely did his best. The second suggestion is a little out there, and he didn't use the pickup line correctly, but it worked for him. Alina was definitely interested in him at this point. Additionally, he went ahead as to ask for a rating, but it had to be in the form of a phone numbers digits. We think he was pretty smooth at picking up this girl. Interestingly, pickup lines go all the way to the time of cavemen, although they would get a girl by hitting their heads (or so the fairytale goes). Then, these men would "pick" them up and take them home.
IT'S ALL ABOUT THE BREAD LIFE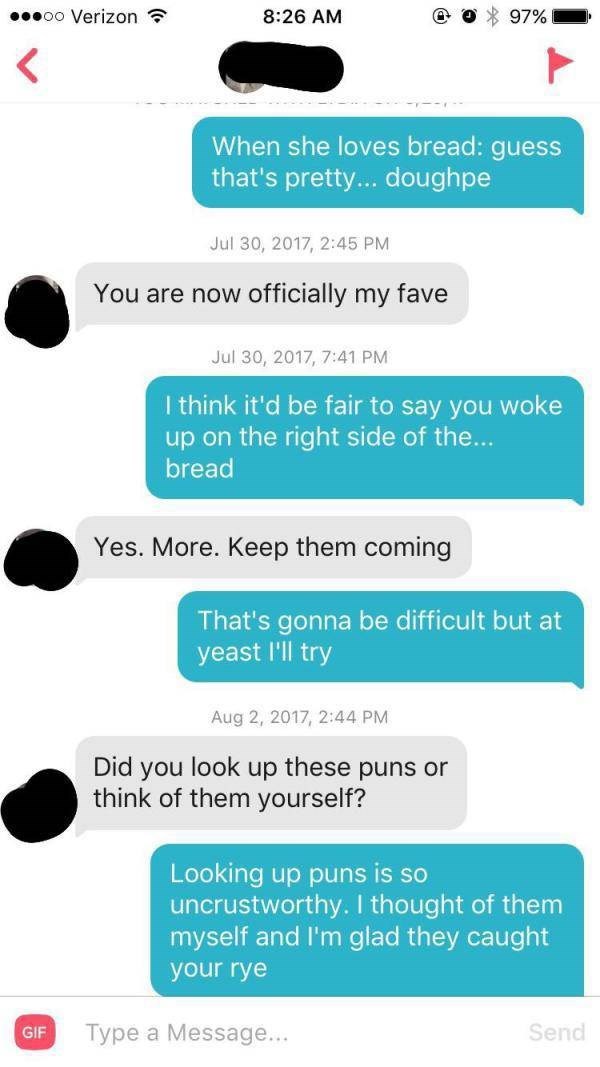 Oh, this is just perfect for people who love bread, and let's face it, we all do. Bread is all staple food in almost all cultures, and it goes thousands of years. There are plenty of jokes and pickup lines you can use that involve bread such as: "What does a loaf of bread say when breaking up with his girlfriend? You deserve butter." Another joke would be: "What's the most sophisticated kind of bread? The upper crust." And here is another option: "How do you spot a radical baker? They're always going against the grain." They might not be the smartest jokes, but they are cute. "What did the banker want from the baker? To pump her nickels."
LETTING YOU IN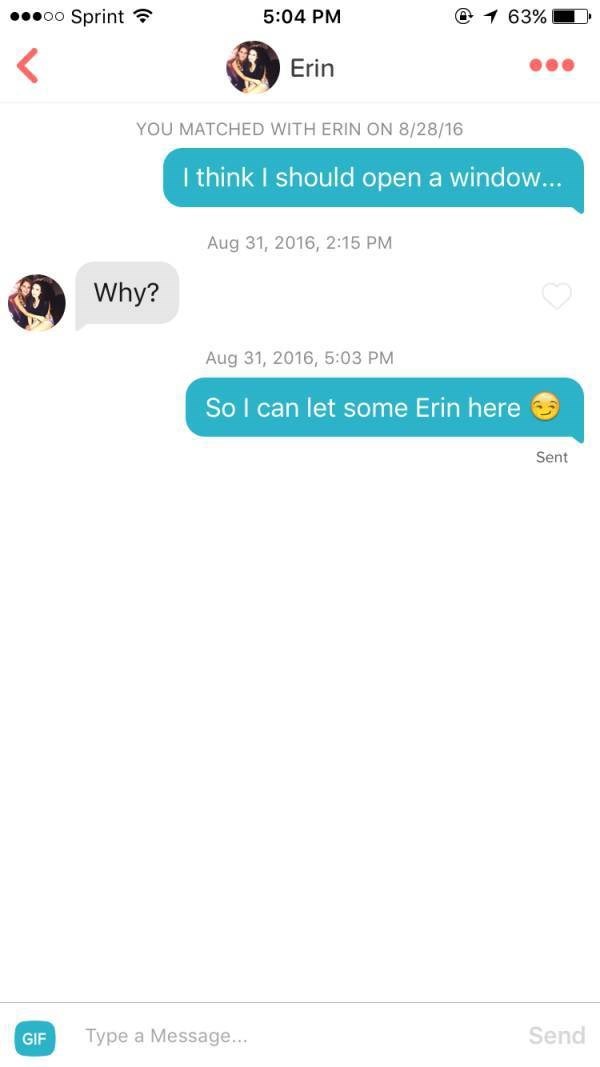 While some people are great are coming up with these puns involving girls' names. Not everyone is as savvy. Luckily, we live on the age of endless information that is right at the tip of our fingers, and we actually found a site for an occasion. Patook is perfect for looking up a pun with a girl's name, as they use their "flirt detector algorithm". Just write the name of the girl you just matched with on Tinder, and see if the result is perfect for starting a conversation. However, keep in mind that most names will have to be common. For example, the name "Jessica" will give this result: "I'm really bad at pickup lines, but I'll make an exception, Jessicas I want to."
BATMAN!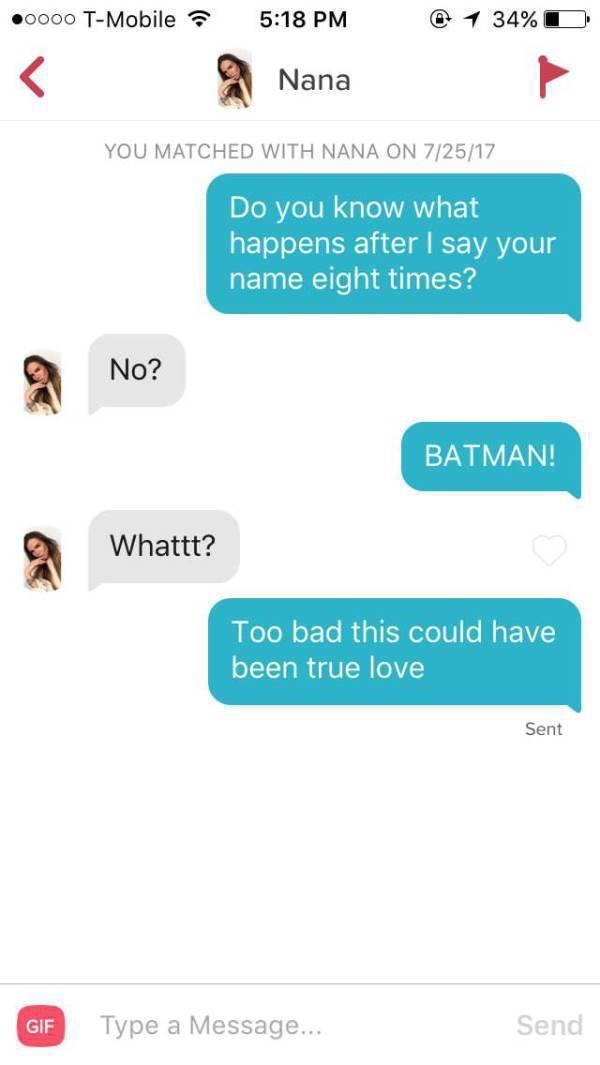 This could have been an amazing relationship, but Nana had no idea what this guy was talking about. While not everyone is a fan of Batman, a lot of people in the world know the theme song for the 1966 television series about the Dark Knight. It was composed by Neal Hefti, and it uses a guitar hook that is similar to the scores from spy movies and even surf scenarios. The "nana" (repeated several times) part that this girl didn't understand is supposed to be instrumental, but almost everyone who knows this know uses "nanananana", and then "Batman!" sang by four tenors and four sopranos called The Ron Hicklin Singers. It was such a waste that this conversation didn't pan out as it should have.
WE LOVE HOT DOGS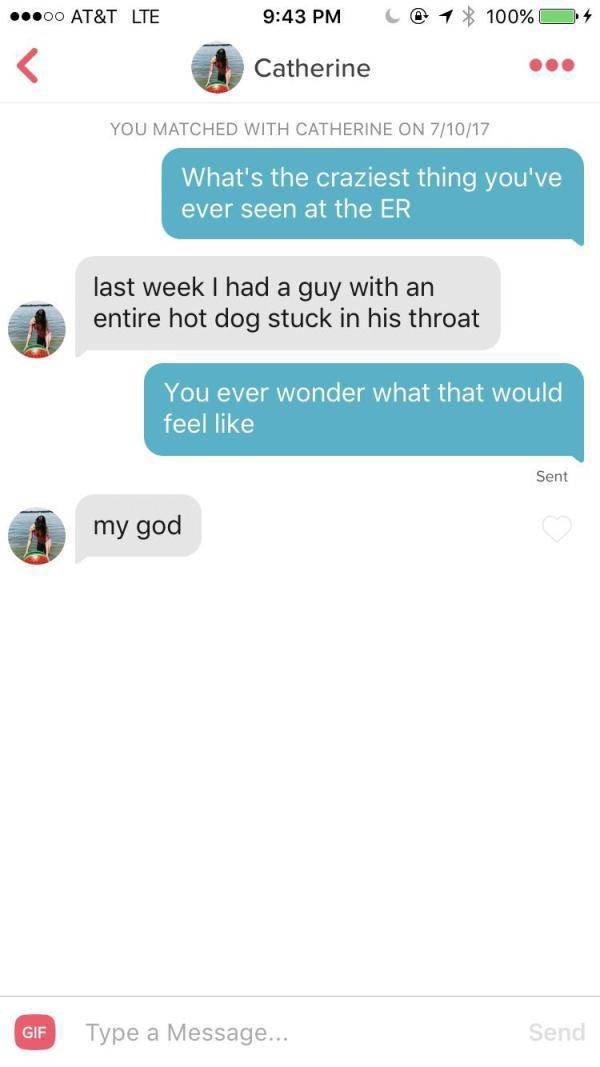 This guy didn't even try to be subtle, and he used someone experience to turn into a dirty moment. Unfortunately, this girl didn't appreciate it. Not every girl will be open to guys coming on that strong with those barely-hidden sexual innuendoes. Meanwhile, you might be interested to learn that the longest meat hot dog on record was 203.8 meters long (669 feet). It was made by Novex in Paraguay in 2011. However, there are some disputes regarding this claim. It has been said that Sara Lee Corp. made one that was 608 meters long (1,996 feet) for the 1996 Summer Olympics in Atlanta, but Guinness World Records does not have this feat anywhere since 2006.
DISRESPECTFUL BURRITO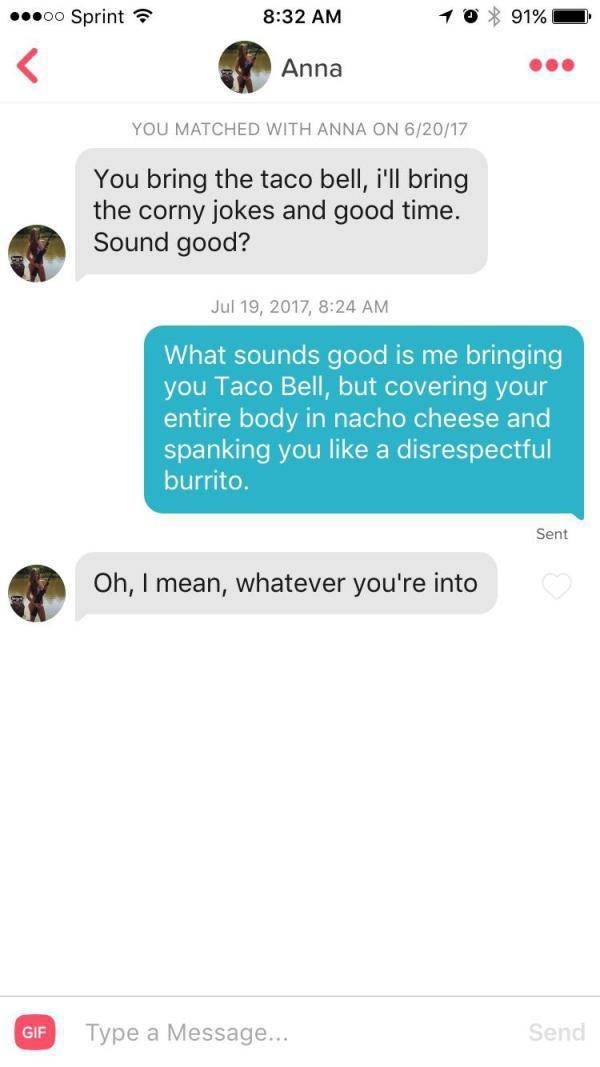 Americans are obsessed with Taco Bell, although many Mexicans would definitely state that it's not really Mexican food. But, people still love all the same. Also, it seems that these two people have bonded over their love of the cuisine, although one of them might be weirder than the other. Meanwhile, Taco Bell is actually one of the healthiest fast-food joints in the United States. While their Doritos-shell might not be proof of this statement, it's true that the chain has rebuilt its menu to give customers all kinds of choices. They can buy unhealthy things such as Crunch Wrap Supremes, or they can go for a sensible option that is much healthier and filling at the same time.
EVERYONE WANTS TACOS
This is another conversation where Mexican food was discussed, and it seems that people on Tinder really like their options. They also know what they like and what's available. However, our readers might be interested to know about other things in Mexican cuisine such as chilaquiles. They are normally a breakfast dish with fried corn tortillas in quarters topped with green or red salsa. Then, eggs and chicken are added along with cheese and cream. Furthermore, you usually eat them with refried beans. Another delicious option is pozole, which is a soup that dates to the pre-Hispanic era. It was even used in ritual sacrifices, but don't let that scare you away. It's delicious meaty and veggie goodness.
GOOD LUCK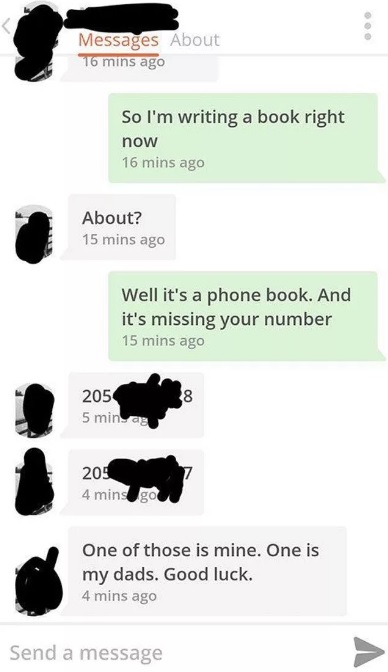 There was a time when phonebooks were very important to people. We didn't have mobile phones to save important numbers, and we couldn't go online to find the phone of a good repairman. Everything was saved in a phonebook. However, even if the reference is a little old, this person can say that he is talking about making an online phonebook. Some places in the world still have them, but many were discontinued because it was thought to be a waste of paper when people could just go online. In fact, they were banned in Seattle and San Francisco. But, they were used even before the invention of the telephone as address books so that people could know where someone else lived.
TEACHING KIDS SOME COOL TRICKS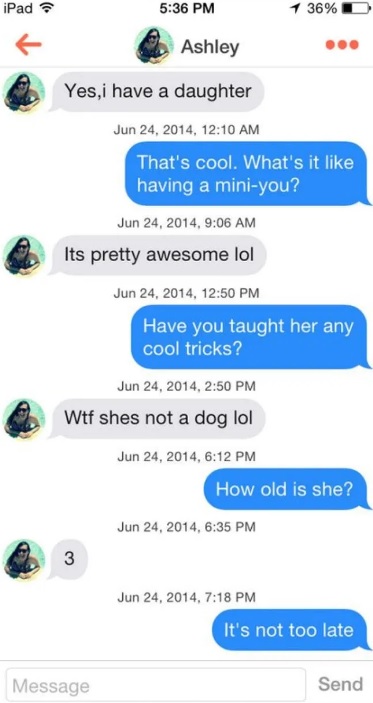 Unfortunately, people who don't have children have no idea what it entails. Although some might know because they have babysat before. However, not everyone knows, and many people think that it's the same as having a pet. That's why this conversation was a little weird for the mother, but it's possible that this guy was just joking around too. Meanwhile, while it's true that some pets might be a lot to handle, especially if they have special needs, people who have experienced parenthood and being a pet owner will attest that children are much harder. After all, your dogs will basically have the same personality and needs of its life. Children are a whole other story.
 A JOURNEY SONG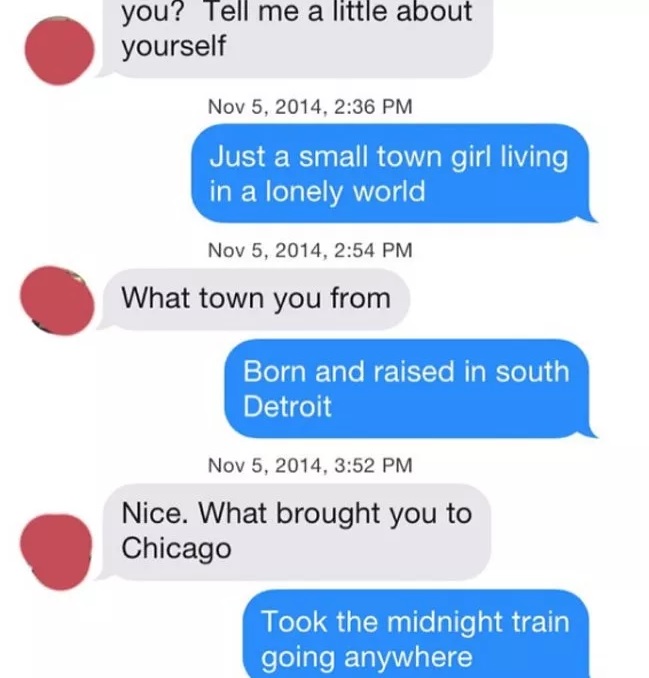 It's awful when the person you're talking about doesn't get the joke and follow along. Also, that's one of the most famous songs in history. It's hard to imagine someone that hasn't heard it, at least, once in their life. It's called 'Don't Stop Believin' and it was created by the American rock band Journey for their album 'Escape' from 1981. It reached number 9 on Billboard's Hot 100 during the original release. It didn't reach the Top 40 UK list on that initial release, but in 2009, it got to number 6. According to Mike DeGagne from AllMusic, it's the "perfect rock song". It's also the best-selling digital track from the 20th century with 7 million copies in America alone.
ONE WORD REPLIES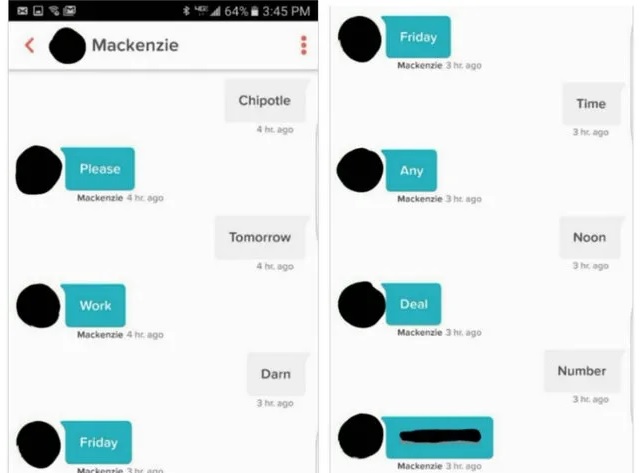 Taco Bell might be more popular than other Mexican places, but Chipotle has also gained love from many people over the past decade. It has stores in the US, the Uk, Canada, Germany, and France. However, it only focuses on tacos and Mission-style burritos. Chipotle is actually a dried and smoked jalapeño pepper. It was the way the Nahuatl called it. The chain was founded on July 13, 1993, by Steve Ells. They had 16 restaurants by 1998 when McDonald's invested in the franchise. However, they stopped in 2006, but they had 500 locations by then.
NOT THAT KIND OF TRIANGLE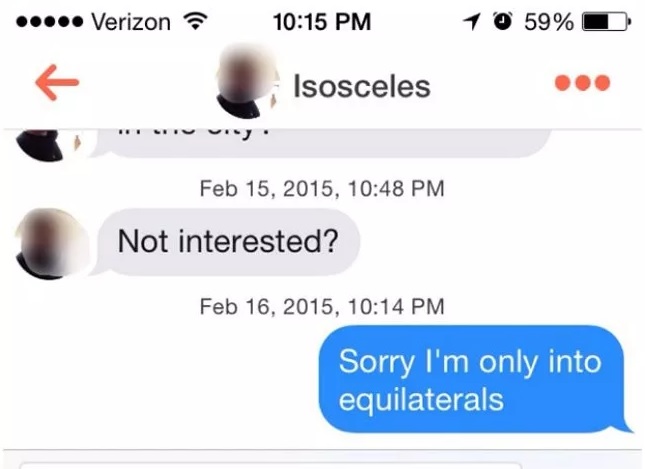 We don't know who in the world would name their kid "Isosceles", but people can be very creative when it comes to their children. However, this guy has probably heard that joke before. In fact, he probably started hearing it when he was taught about triangles in elementary school math. For anyone that doesn't remember an isosceles triangle has two sides with the same length. An equilateral triangle has all sides with the same length and all its angles measure 60 degrees. Other kinds of triangles include the right triangle, which has one right angle, meaning one angle that measures 90 degrees, and two acute angles, which is less than 90 degrees. The scalene triangle is the kind where all sides have different lengths.
WRONG NUMBER, THIS MAID
This girl was probably hoping to make this kind of joke before because no one really leaves their phone around for the cleaning lady to check out Tinder. Meanwhile, she is a bit insensitive with the "accent". The fact is that there is a stigma that all cleaning ladies are Latin Americans or foreigners. That is not necessarily true. However, some on Quora actually asked why most Americans assume such a case, and a user answered, "In the past two decades tons of Mexican and Latin Americans have immigrated to the US in search of jobs and better quality of life, some of these, not all, are illegal immigrants who take 'the jobs Americans don't want to take.'"
I WILL CALL YOU JAKE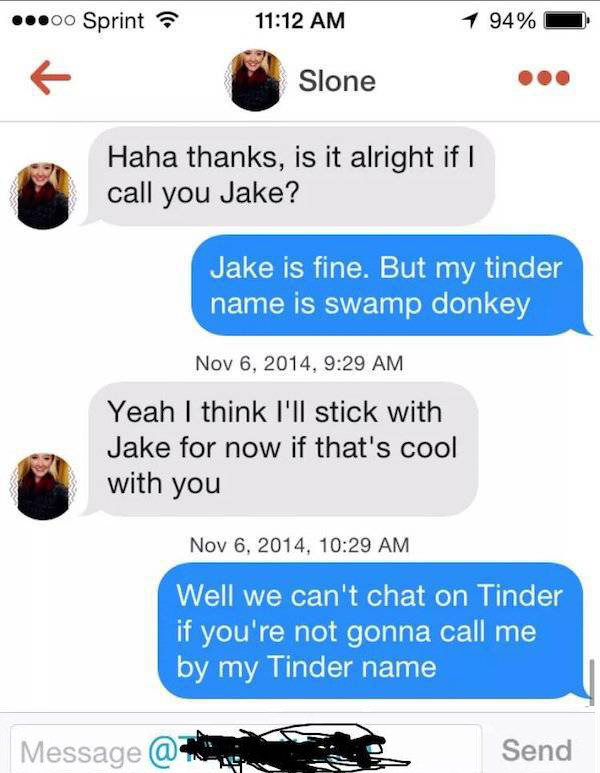 Well, it's rude not to call someone by their given name, but no one will agree to the name "swamp donkey". So, that's out. Meanwhile, you might be wondering if it's alright, or even safe, to meet people on Tinder. It's a revolutionary tool that has made dating and hooking up easier for anyone. However, meeting strangers online can be dangerous. Sadly, you can get cat-fished, fall into schemes, and other horrors. Just like other dating sites, Tinder has a security warning. They make it clear that they don't do background checks on people. So, you should always take precautions before meeting your match in real life. You can try checking out their social media presence, as Tinder originally needed a Facebook account. You can search for your date's name on other sites like Instagram and LinkedIn. Find out what else you can do.
SO...ANOTHER DOG?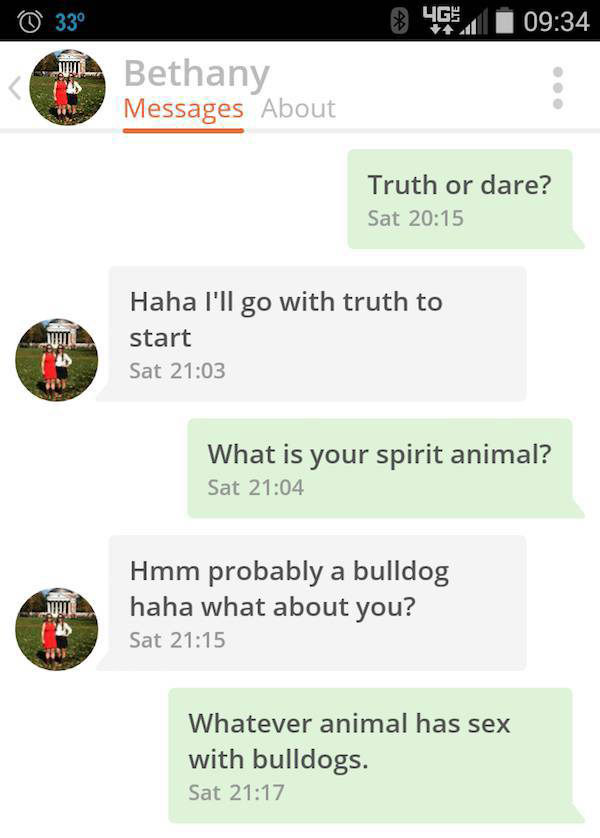 This guy wasn't very clever with his pickup line, and it's very unlikely that Bethany kept speaking to him after such lameness. Interestingly, the breed bulldog has been somewhat viewed in a negative light, and English bulldogs are considered scary. Most people think that they are fighting dogs, but the truth is that they are protective of their families. They are not great with strangers if they have not been around other people. However, most of the time they will be pretty passive. The key is to socialize them from an early age and let them meet strangers. For the past 100 years, these dogs have been bred to be companions instead of fighters.
MURDER IS AN OPTION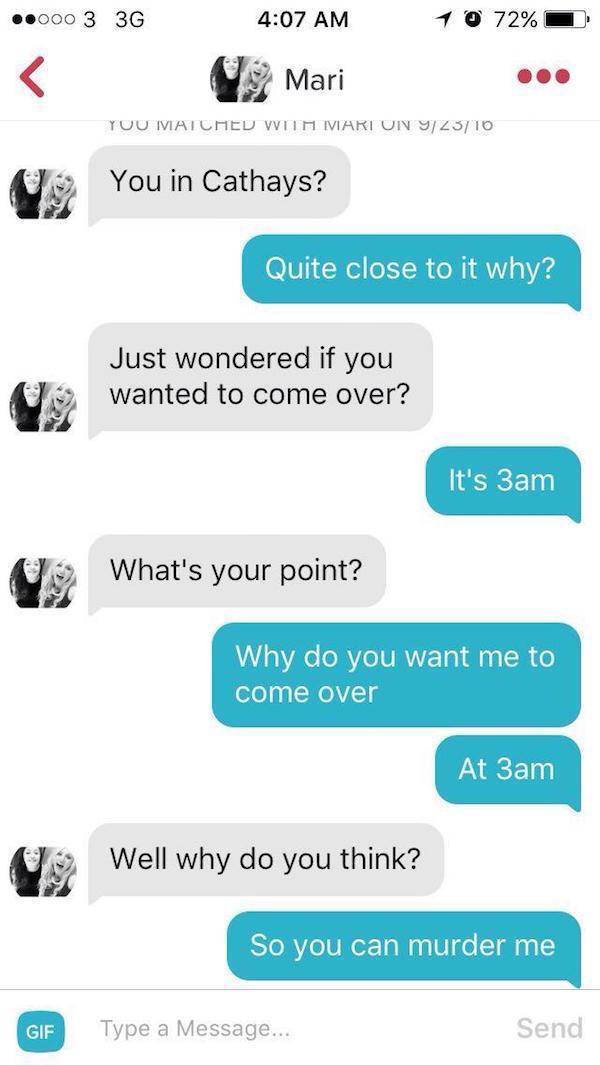 This is another conversation that raises the question of safety on Tinder, or any dating app for that matter. Although booty calls are not a new concept, having one with a stranger can be tricky. Even if this is a situation where the girl is inviting the guy over at 3 a.m. On Quora, someone asked if Tinder was dangerous, and another user had a great answer. "This is like asking 'Is a car dangerous?' The answer is: it totally depends on the person using it. There are some good people on Tinder and some bad people. There are plenty of people on Tinder who are nice, but not a good match for you. Other people there might be a good match. How do you know who is dangerous and who is safe? You have to text on Tinder first. Get to know them a bit. If you feel uncomfortable, stop texting & delete them. If you feel comfortable & there are no red flags, you can switch to talking on the phone and if you still are completely comfortable, Facetime/Skype them. You should only meet them if you are still comfortable after all that."
STILL DRUNK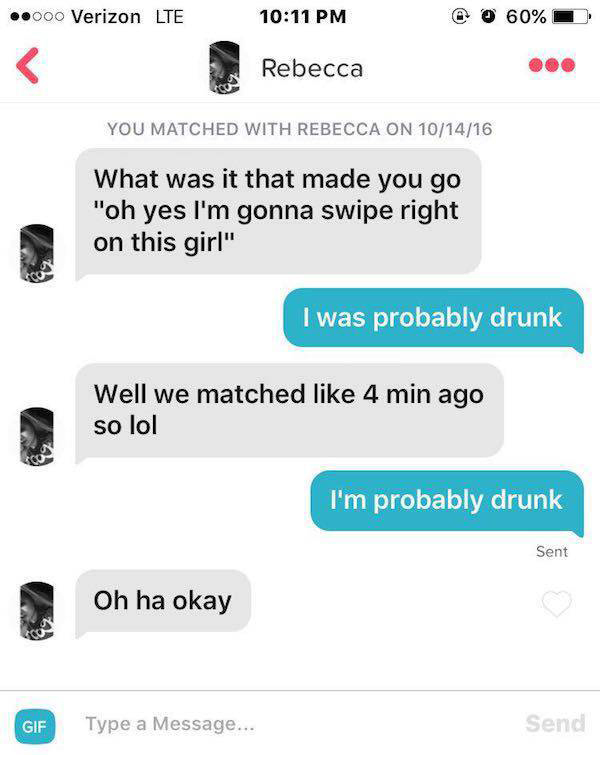 It's not uncommon to find drunk people on Tinder because sometimes people want some love after they drink, and the app is a great option. However, it seems that drunk people tend to text a lot, even if they might not want to in other circumstances. The fact is that alcohol lowers inhibitions. You have less control over your actions. Studies have proven that it decreases certain responses from your brain, especially in the prefrontal region. Furthermore, other research has found that drunk people didn't care when they made mistakes. Therefore, they made even more mistakes in the long run. So, alcohol can lead to poor choices. Also, inebriated folks might be more prone to take risks, and that's why they call it "liquid courage".
THE AVOCADO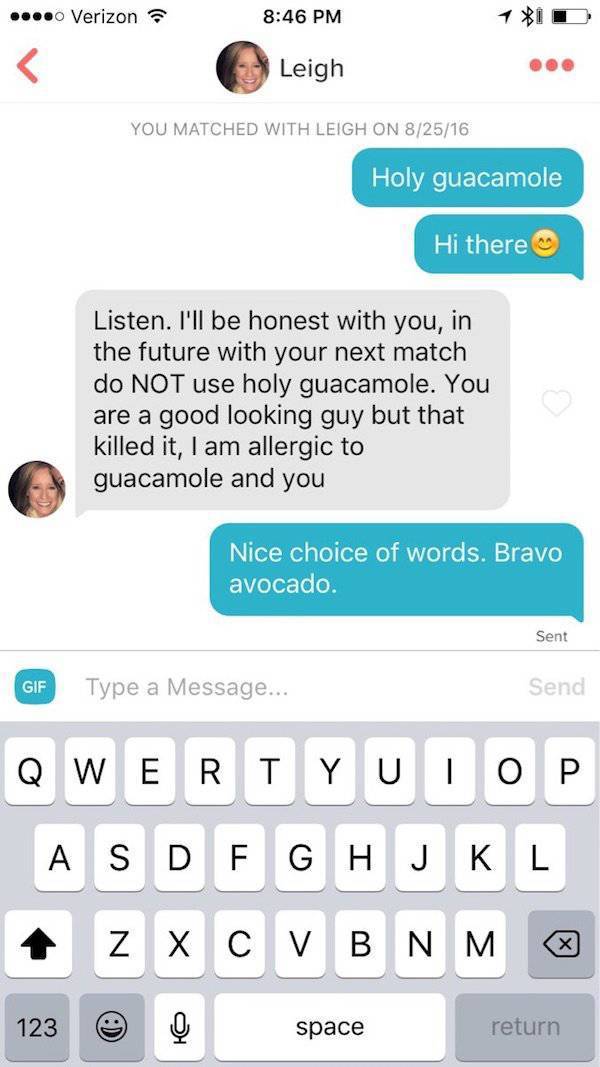 Things would be awful is a lot more people had an avocado allergy. Americans are obsessed with this ingredient, and most don't even believe that an avocado sensitivity exists at all. However, it's true. Some people might not even realize they have it. If somehow you have stomach problems after eating the fruit, and after eliminating the other common factors like dairy and gluten, then you might have a problem with the main ingredient of guacamole like this girl in the conversation. One reason is that avocados have histamine. So eating it when your body might be high on histamine already could cause problems. According to Dietician Tamara Duker Freuman, "In some cases, [you] may experience an inflammatory reaction within the digestive system that produces symptoms very similar to IBS and GERD: chest tightening, heartburn, bloating and/or sudden onset diarrhea."
THE TINY GIRL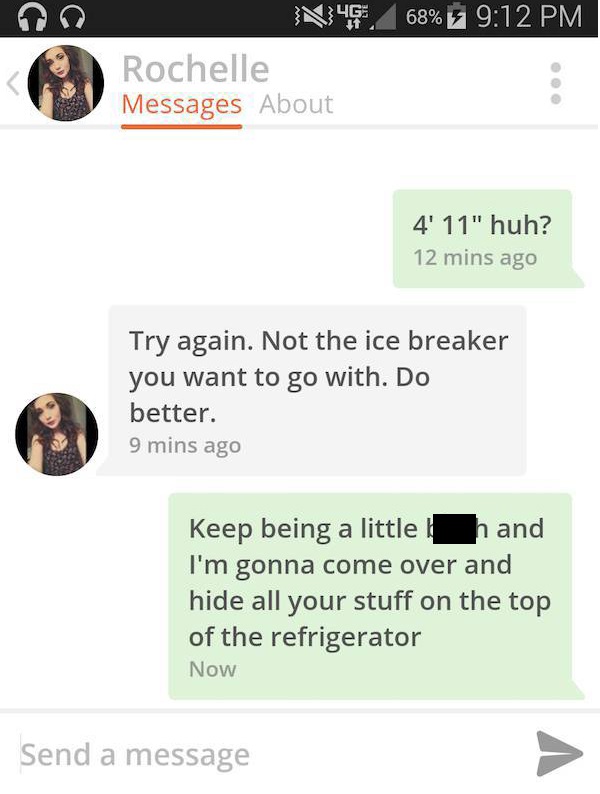 It's not alright to make fun of someone's appearances, and height can be a big insecurity for some people. There are plenty of short girls who build huge personalities in order to compensate for their stature, and this guy started things awfully with that comment. If any of our readers can sympathize with this lady, you might also get a kick out of awesome quotes regarding short girls. "And though she be but little, she is fierce." — Shakespeare. "Every tall guy as a short girl that drives him crazy." Also, "I'm not short. I'm fun-sized, bite-sized, vertically efficient, adorable, dainty, & great at hugging." You can be short, but you can also be fierce, ladies!
ONE LINE FOREVER
Sadly, some people don't know how to use Google to find other pickup lines, and they think girls will respond to the same message days later. If it doesn't work the first time, it's not going to work another time with the same person. Furthermore, a pickup line, in general, will only attract interest for a short moment, and then, the person has to attract someone else further beyond that initial phrase. Therefore, it's better to try to spark an interesting conversation with someone instead of finding the perfect pickup line. It's all about trying to build the attraction slowly but surely, and then, the object of your interest will ten times more likely to want more.
THE STICKY MESS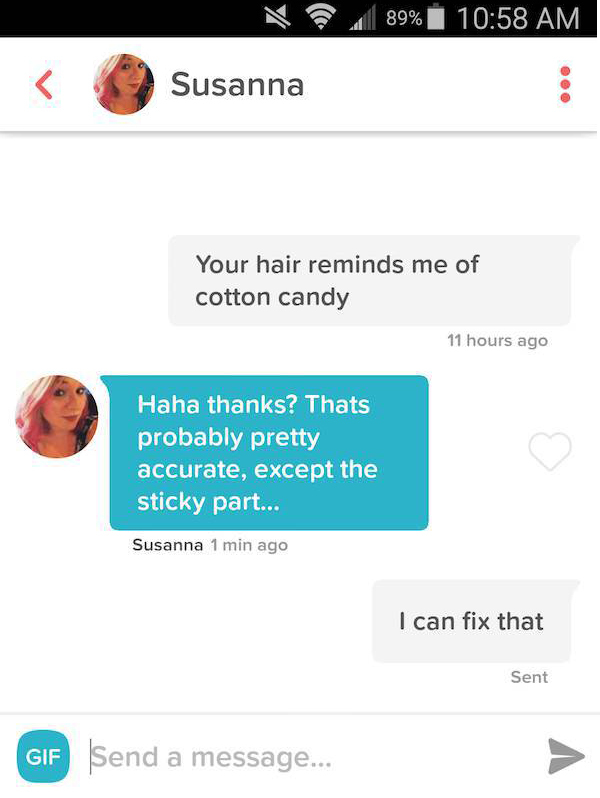 It's true that some people on Tinder will send you the disgusting messages, or they can turn anything into something dirty. It seems almost insulting to make something delicious like cotton candy look like some disgusting. Interesting, the history of the awesome sweet treat goes back to the Italian Renaissance, where chefs pulled melted sugar into thin strands with forks and placed over broom handles. The process was lengthy, and the treats were expensive. However, cotton candy as we know it today came about during the 19th century when William Morrison, a dentist and inventor, came up with a machine.  Along with confectioner John Wharton, they made a device that could melt sugar and spin it.
ME TOO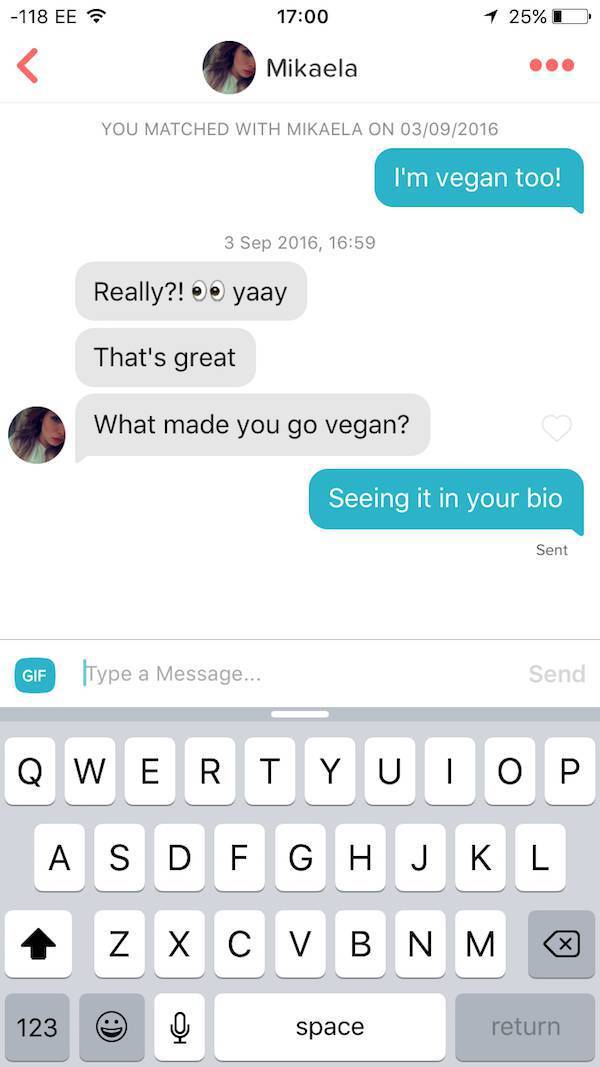 Some guys would do almost anything to get a girl's attention, and there are many who would change their habits just to get the one they want. It's not really healthy, and it will not form lead to a great relationship. Therefore, it's best to be yourself always, and you will find the person you're meant to be with in due time. Meanwhile, some of our readers might be wondering how to go vegan, and it can be difficult. However, it's all about taking steps. Some people have changed overnight, but not everyone is the same. It's also important to find a nutritionist so that you can achieve this properly without any unhealthy side-effects on your body.
SUPER COOL JAKE
If his Instagram handle is actually that, then it's pretty cool. Instagram has become such a huge site that a lot of people in the world use it for their work. Just like Youtube, where content makers make money, people can also earn money through the social media. They are known as Instagram "influencers", and normally, they focus on one niche or topic to build their following. They might also get sponsorships if they have a bunch of followers. People realize that celebrities and influencers can actually get more attention than normal paid advertisement. Even Hollywood is using that strategy of their movie stars promoting films through their account.
GOOD WILL HUNTING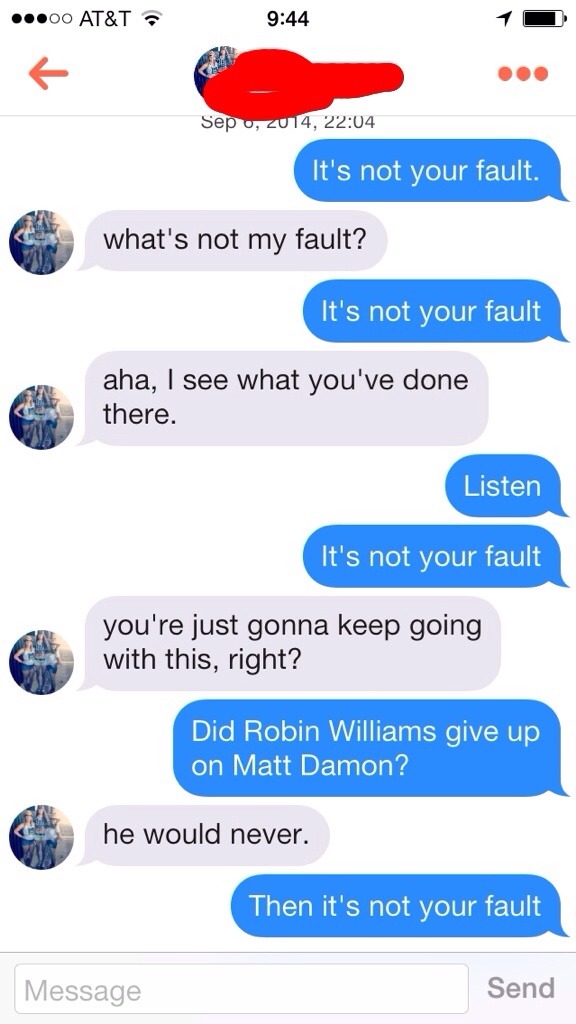 Matt Damon and Ben Affleck reached stardom in 1997 with the movie 'Good Will Hunting', but Robin Williams definitely stole the show. While the actor has portrayed some of the most amazing roles in Hollywood, his part as Professor Sean Maguire in this film was pivotal, and it's because of that line, "It's not your fault." It's a movie that makes you cry, laugh, and feel every emotion. But, that scene with Damon and Williams was definitely that most memorable for most. Other major quotes from the movie include "How do you like dem apples?" and "Gotta go see about a girl".
SOME JAPANESE FOR YA
Well, it might take a long time for that girl to learn enough Japanese to actually talk to this person. It can take years to even become somewhat decent at it. Of course, there are many factors like your native language, your general ability, how long you study each day, and more. Polyglot Steve Kaufmann said that the most important part of learning Japanese was being motivated. An important aspect of the language is phonetics, especially if you're a native English-speaker. There are many sounds that are not familiar to them. Furthermore, the "r" is completely different. Spanish-speakers could actually do a lot better with Japanese phonetics as their "r"s are more similar and other pronunciations as well.
LITERALLY KICKING THE BUCKET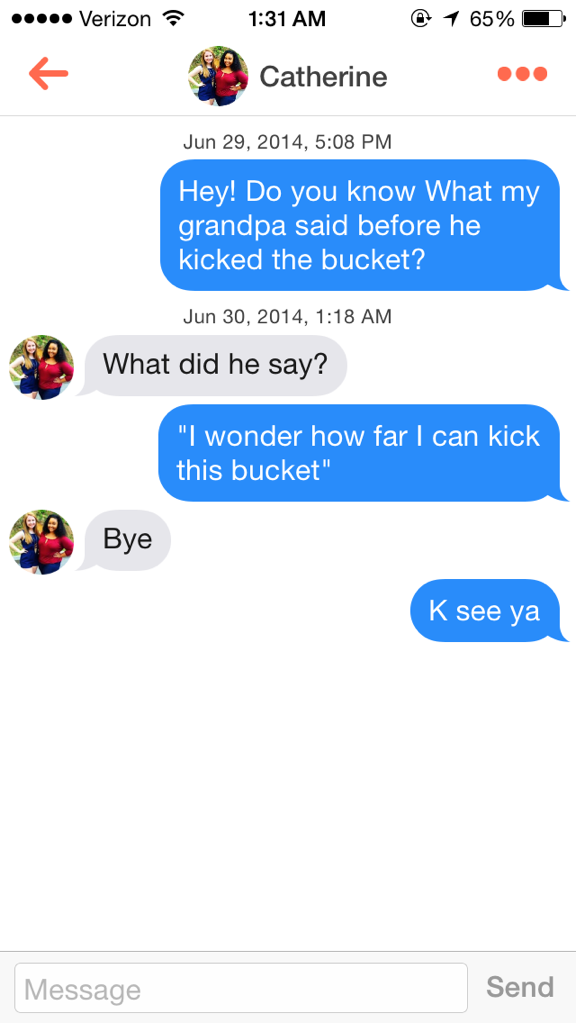 Some people might wonder how the phrase "kicking the bucket" originated, and some theories say that it comes from hanging. It could be execution or suicide, but literally kicking the bucket to fall and the cord would snap someone's neck. However, there is no evidence to prove this. The expression was first seen in the 'Dictionary of the Vulgar Tongue' from 1785, which defined as "to die". Meanwhile, John Badcock's slang dictionary from 1823 explained, "One Bolsover having hung himself from a beam while standing on a pail, or bucket, kicked this vessel away in order to pry into futurity and it was all UP with him from that moment: Finis".
ANOTHER SONG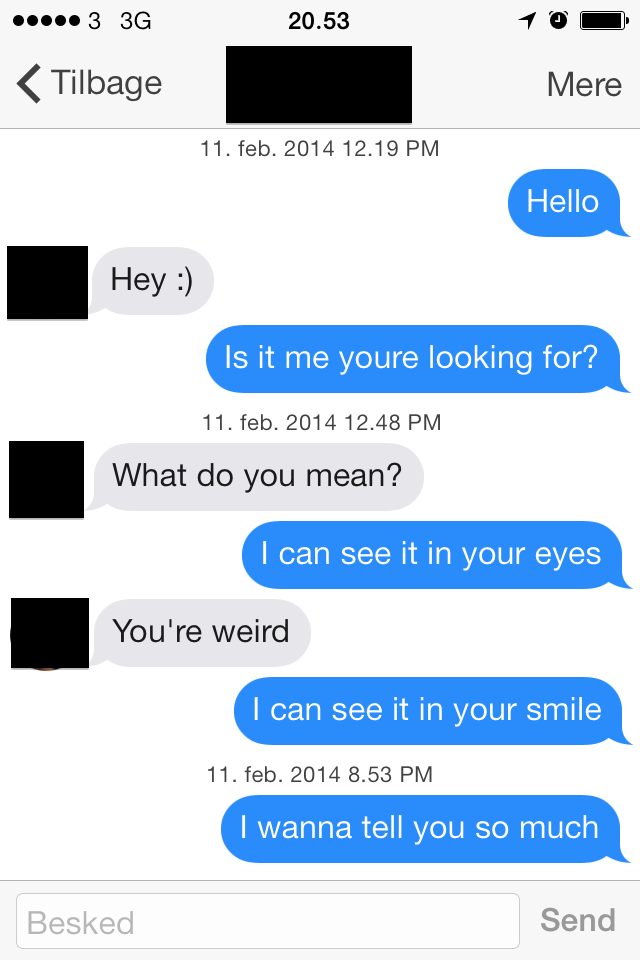 This is another us of a song to start a conversation, and it looks like there is another person is not that hip on pop culture, or at least, he/she doesn't have great taste in music. The song is called 'Hello' is appeared on Lionel Richie's second solo album called 'Can't Slow Down' from 1983. The single itself was released in 1984 and reached number one several music charts for Billboard. It was also number one on the UK Singles Chart for some time. Songwriter Marjorie Hoffman White even filed a lawsuit, claiming that Richie had stolen her composition called 'I'm Not Ready to Go". The famous opening verse says, "Hello. Is it me you're looking for?"
A CONTESTANT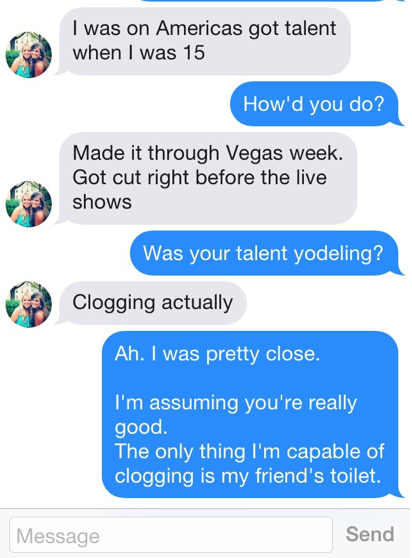 For anyone that doesn't know clogging is a folk dance where the heel and the toe are pressed to the floor to create percussion. The heel keeps the rhythm going. Meanwhile, 'America's Got Talent' is a competition show created by Simon Cowell. It is produced by Fremantle USA and Syco Entertainment and aired on the NBC network. It premiered on June 21, 2006. The current host is Terry Crews. Participants from all over America and the world go on it to compete showing their varied talents. They have to impress a panel of judges. The current panelists are Howie Mandel, Julianne Hough, Gabrielle Union, and Simon Cowell.
DID YOU MEAN BREED?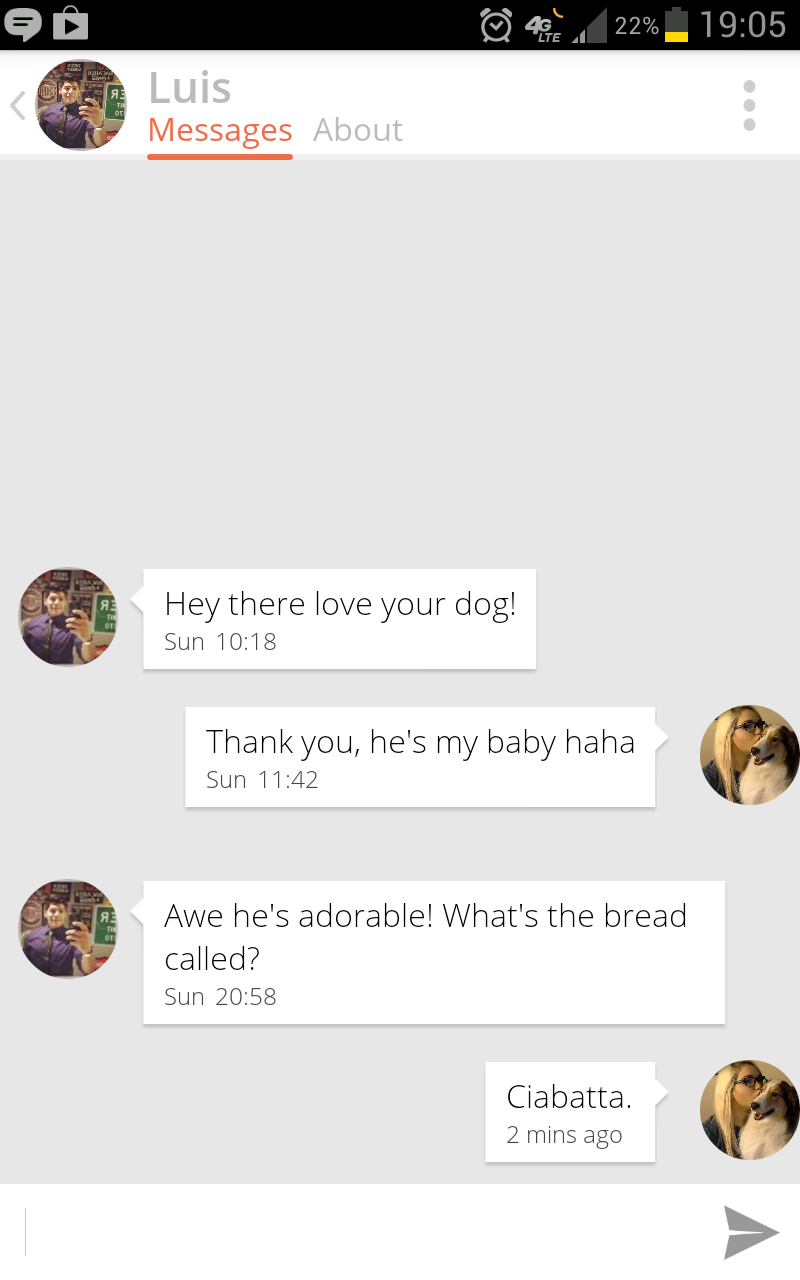 Well, it's not that crazy to write bread instead of breed. Everyone makes mistake, but when you do, others will definitely take the opportunity to tease you. Meanwhile, ciabatta is one of the best kinds of bread in the world. It originated in Italy, and it's made with wheat flour, water, olive oil, salt, and yeast. It was made in 1982 by artisan Arnaldo Cavallari in Verona, Veneto, Italy because people were so obsessed with French baguettes. This was a problem for their local business. So, they decided to create something that would change people's minds. There are several variations but it's normally elongated, broad, and flat.
THOSE WORDS?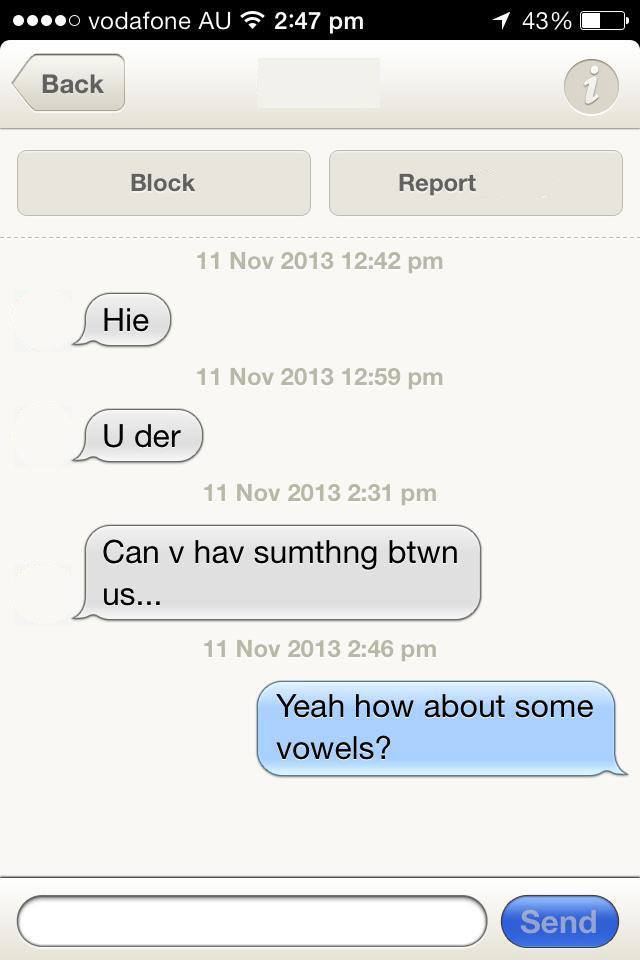 Well, it's very hard to understand these messages, and we have to agree with the receiver who just wanted that person to use some vowels. While it might be easier to shorten some words with abbreviations, it's not that necessary anymore. Originally, abbreviations came about because phone plans charged by the letter. Nowadays, there is no reason to do this other than being lazy. Some of the most popular abbreviations from long ago are still used today, but it's only because they became part of pop culture such as "LOL", "ILY", and more. Furthermore, those are understandable acronyms.
THE CONVENIENT ROLL OF TOILET PAPER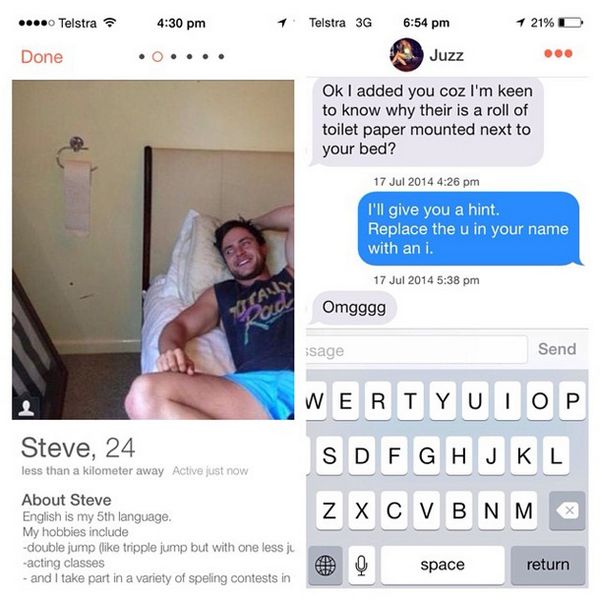 This is something that most girls would ask about because we have never felt the need for it. However, we don't if every guy installed a handy-dandy toilet paper holder in their room. Meanwhile, we might take toilet paper for granted most of the time. The Chinese invented paper in the 2nd century, and there is even evidence that they used it as toilet paper. In the 6th century, their toilet paper was used all over the country. However, the first modern toilet was created in 1391, specifically for the Chinese Emperor and his family. Each sheet was perfumed and everything.
THE DOUBLE ENTENDRE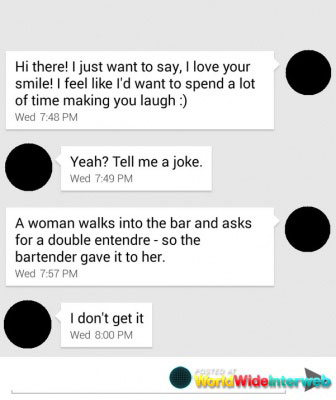 Unfortunately, this girl didn't get the joke because there were two meanings to the words. The girl in the bar wanted a double entendre, and the bartender "gave it to her". The phrase, in this case, means that the bartender gave the double entendre but it's also a sexual innuendo. Therefore, it was a phrase that could be understood in two different ways. It has double meanings. The definitions can be socially awkward, suggestive, and even offensive. It's not that hard to understand, but it's possible that this girl didn't know the original meaning of "double entendre".
GREAT COMEBACK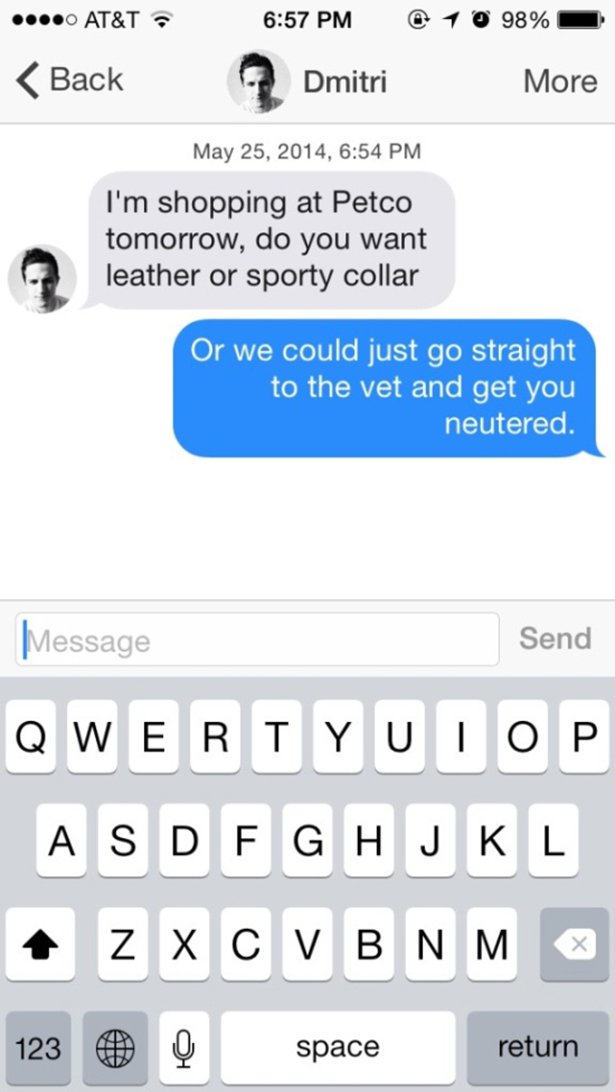 Well, this is a solid comeback. Dmitri was clearly being a douche, and this girl sent him a perfect reply. He was implying that she was a b-word, but she called him a dog instead that needed to be neutered. Meanwhile, Petco Animal Supplies, Inc. is a pet retailer in the United States that has many stores all over the country, but their offices are located in San Diego and San Antonio. They sell all kinds of products for animals, but also have services such as training and grooming. By 2017, they had around 1,500 stores in the US and Mexico.
THE GAME DIDN'T WORK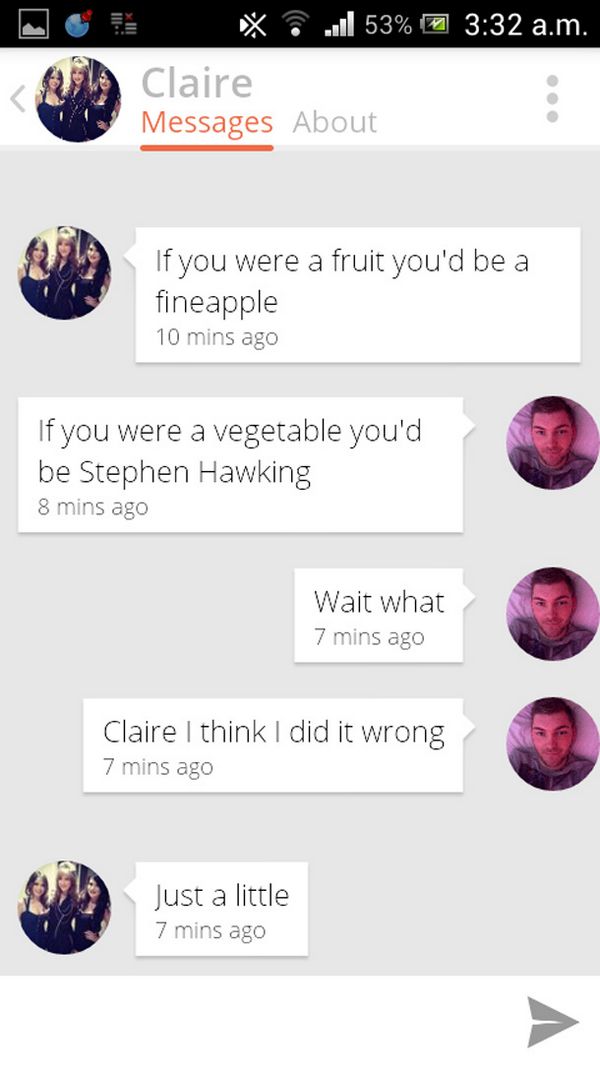 Well, it looks like this guy is pretty insensitive. However, it's clear that he didn't make a mistake because using the word "vegetable" along with Stephen Hawking is simply rude. Hawking was a famous physicist, cosmologist, and author and often viewed as a genius of our time. However, he was diagnosed with ALS, also known as Lou Gehrig's disease, in 1963. It's a motor neuron disease that slowly paralyzed him. He eventually lost his ability to speak and had to use a machine to communicate. He died in 2018 at the age of 76. This girl might not have been that insulted with the joke, but it's wasn't funny.