Thought You Were Having A Bad Day? These People Have It Worse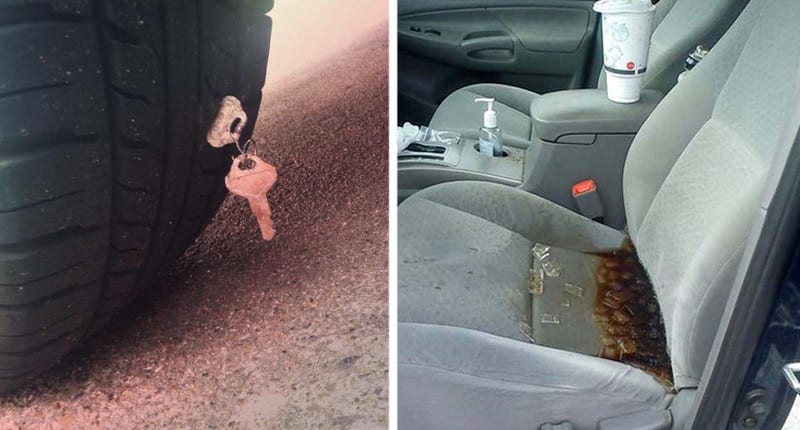 It is inevitable that everyone has a bad day sometimes. It is normal to have a day where you would've wished an event didn't happen or something that happened to you shouldn't have occurred. But if yours is happening right now, well, you are not alone! We've gathered just the right collection of photos to make you feel better. The people you are about to meet shared frustrating events that ruined their day. We bet you'll feel pretty good seeing cases that drown your lousy day. Enjoy as you go through these memorable photos.
Good morning!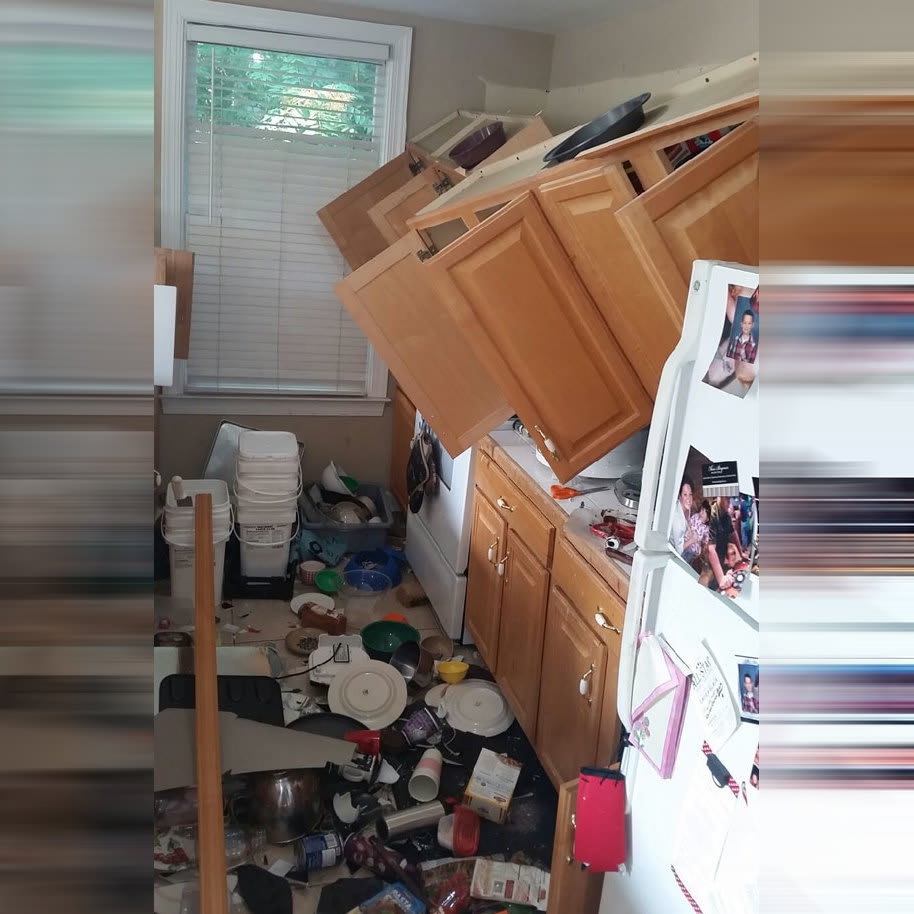 There is nothing worse than someone who had a late-night sleep waking up to a kitchen that is as messy as messy can get. It just kills your drive for the morning. Tell you what? If you want to go back to bed, well, nobody would hold it against you. If you were expecting some sort of present, well, there you go, a present you weren't expecting. Sometimes, you want to lay the blame on a cat desperately. But we all know your cat isn't responsible for it. It is way too fragile to turn things over like this.
Girl, you on fire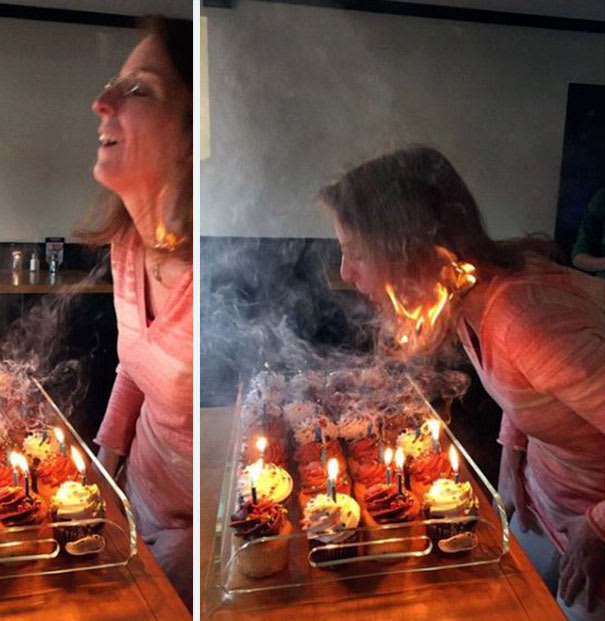 A girl is celebrating her birthday with a lit cake in front of her. While she was trying to blow out the flames, her hair caught fire. But the petty you, still went ahead to take a picture of her. Of course, she would laugh at it, but it will be after she has popped your eyes. But how could she have missed the unusual smell of hair burning? Could it be that she isn't used to the smell? Anyway, the ecstasy of the moment can be a factor. It is her birthday, you know.
They are going "snowhere"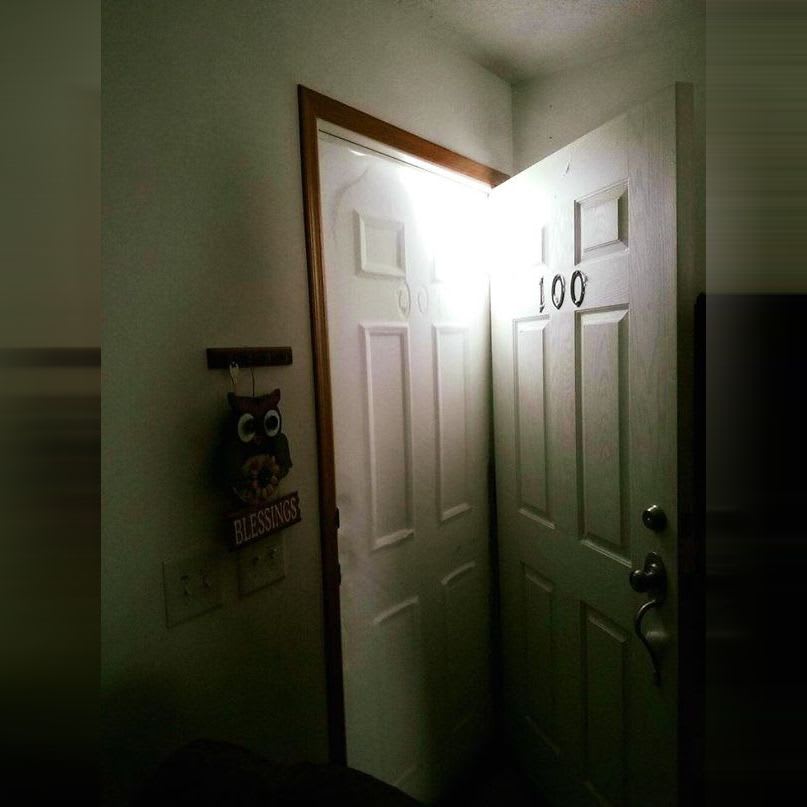 You know you are grounded when the door is making an imprint on the snow. How? The snow is already at the height of your house. Now that they are grounded, why can't they turn it to a fridge where to store up beers and drink while they wait for the snow to defrost. My God! That's quite some snow. It seems the state is Oregon. Just wow.
David, just don't look back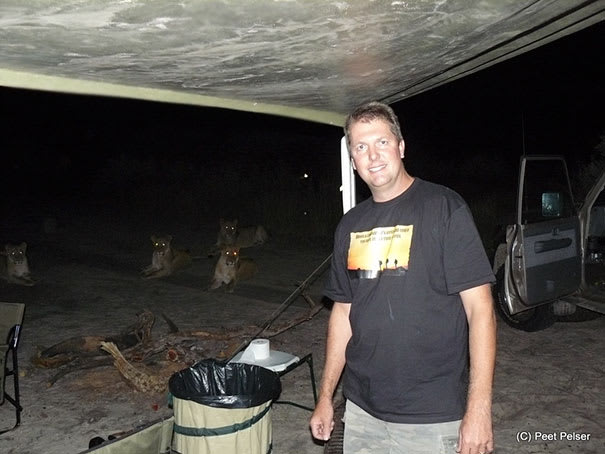 A first glance at this photo wouldn't shake you till you take a closer look and see that a pack of hyenas are at David's back, silent and watching, then it hits you. What's gon happen to David? What happened next isn't what we are concerned about. One thing for sure is that toilet roll sitting in the dust bin would come in handy for David if he turns back and sees the hyenas.
Well, that's me signing off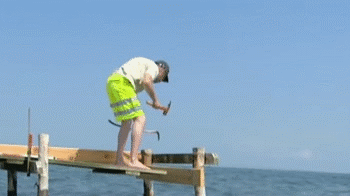 Quick question! Have you ever found yourself in a situation where you honestly think the world is doing everything within her power to stop you from completing your task? So this guy here just got that feeling. It didn't even stop there, and there was the sign screaming: "you have to go home now, your family needs you. Tomorrow is another day".
When life doesn't want you to win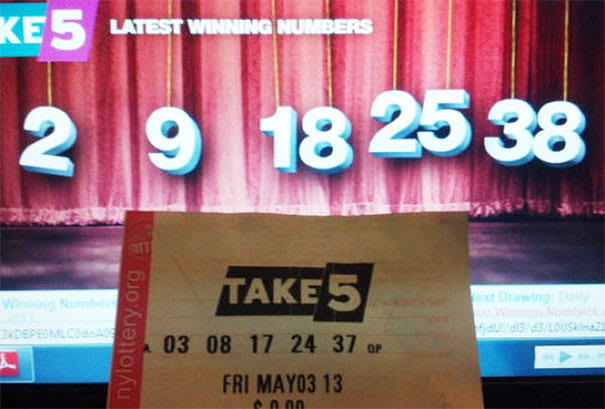 Just when you thought you were the most unlucky person in the world, take your time to look at this photo. Perhaps, you would see that your ill-luck comes in smaller doses than this person. Do well to add it to your gallery.
 To be honest, there is nothing more terrible than 'almost made it.' And yes, we are sad for him.
Every Beauty Queen's Worst Nightmare...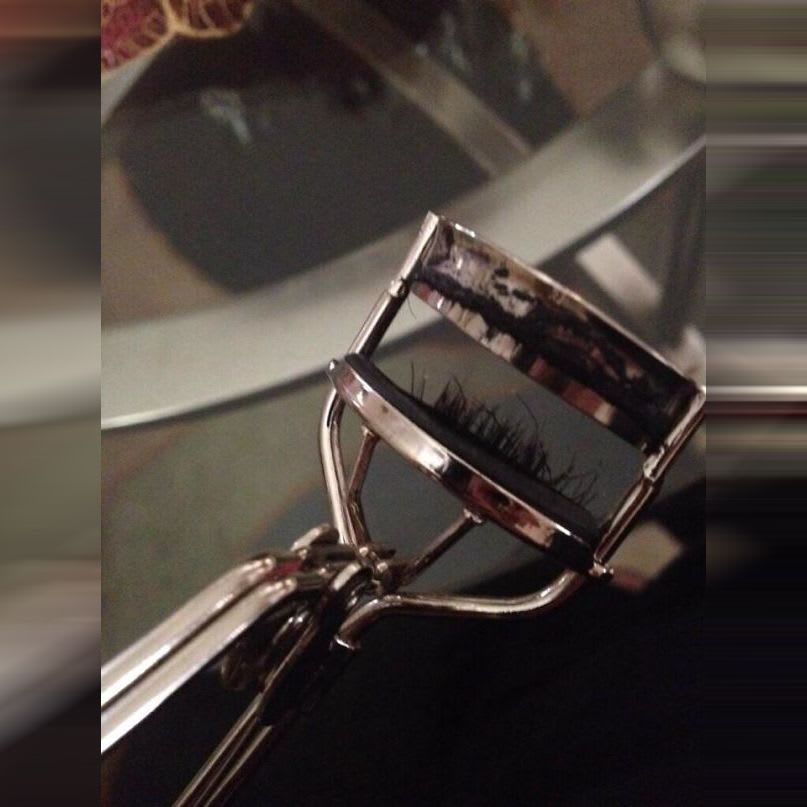 One of the many body parts, women treat with extreme caution is their eyelashes. So you can imagine the horror this woman felt when she tripped and all her lashes are stripped off. What was she doing? She was only curling them. Seeing this picture alone is enough for some people to have insomnia. Eyelashes are supposed to be treated with plenty of caution.
Surprise! Surprise!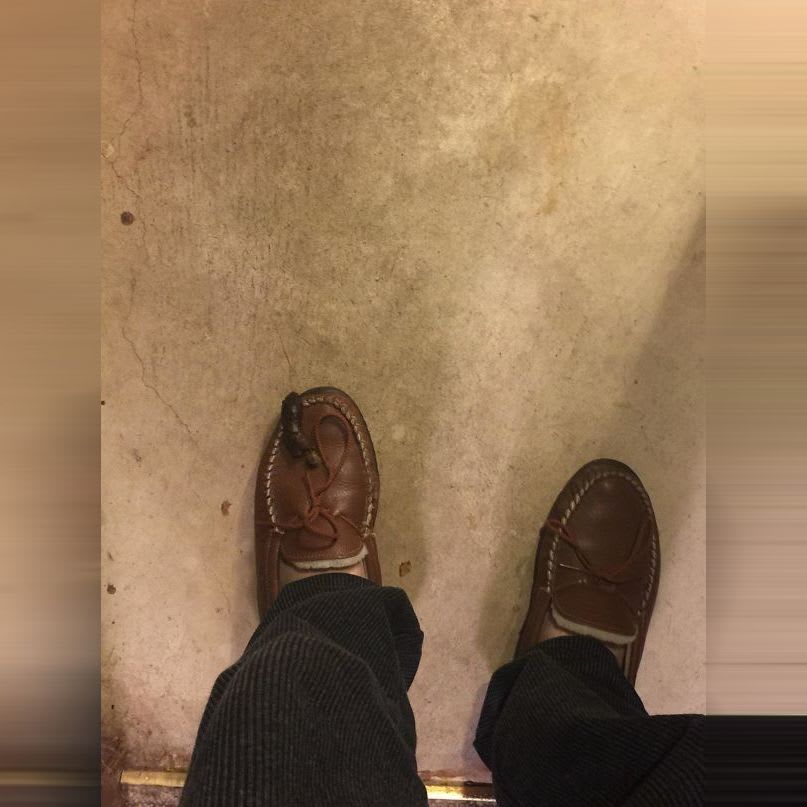 I'm sure he must have said; "where the hell is this smell coming from?" We shouldn't blame the dog for finding his shoes fit for poop. Just take a look at his shoes! It is a befitting home to a dog's poop. So this guy has a dog. He perceived a stench that only must have been from his dog. In his attempt to find the origin of the smell, he had to search for about 10 minutes. Unknowingly to him, the stench was coming from his shoes.
Priceless facial expression
His face could pass for a meme. He doesn't look bothered; apparently, this isn't the first time he is experiencing it. It is something regular with the Alaskans. Looking at this face alone tells you an entire story. It is the kind of expression you get when you want to be defrosted, but you hit the sunroof.
 Skip day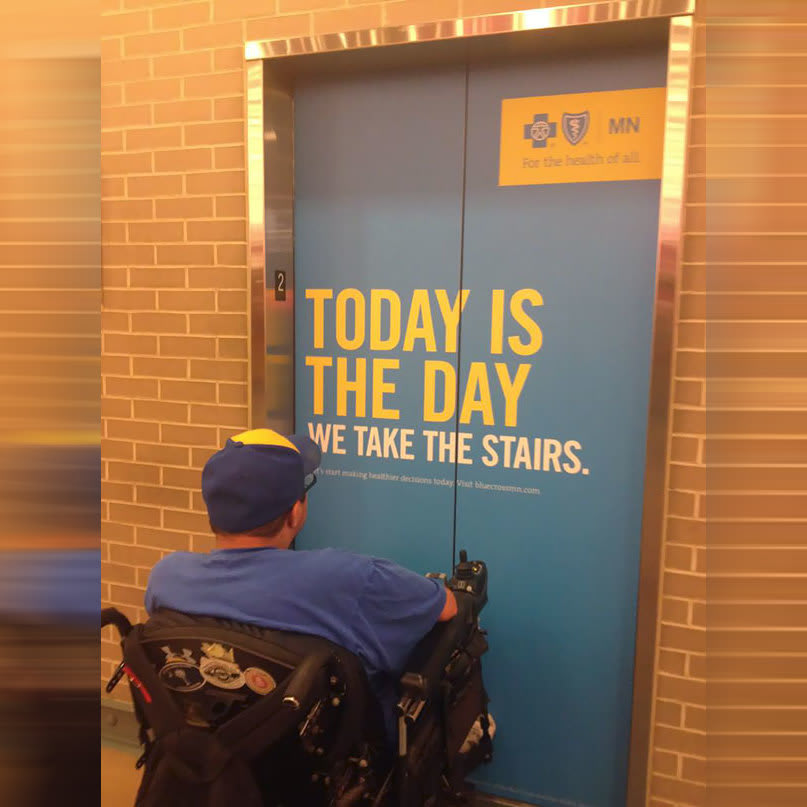 Some things are done ignorantly, and this is one of them. They didn't think it through that some people might be at a disadvantage. The intent is good, don't get me wrong, but they didn't get into details. It's is an apparent reason why health initiatives fail. This photo can serve as a pointer.
My car ate my keys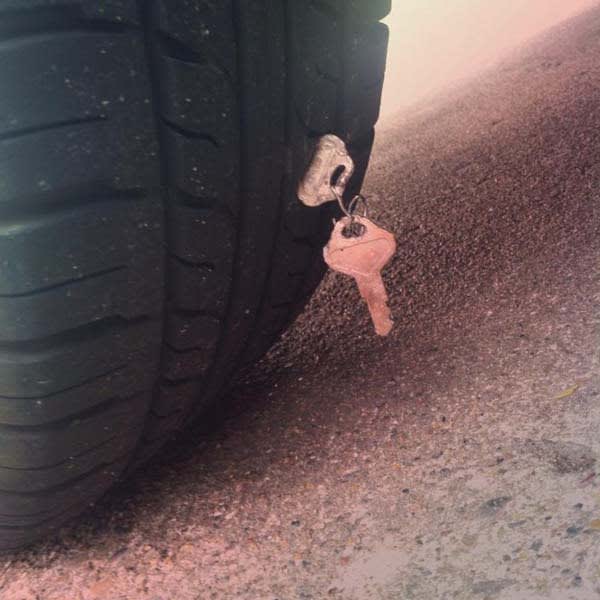 So you called your boss and told him; "sorry, I can't come to the office today, my car ate my keys." Just imagine the scenes in your head. He not only wouldn't believe you; he probably might fire you right there on the spot. Your saving grace would be you sending a picture to authenticate your claim. This man faced this exact thing.
A crunchy flavor was added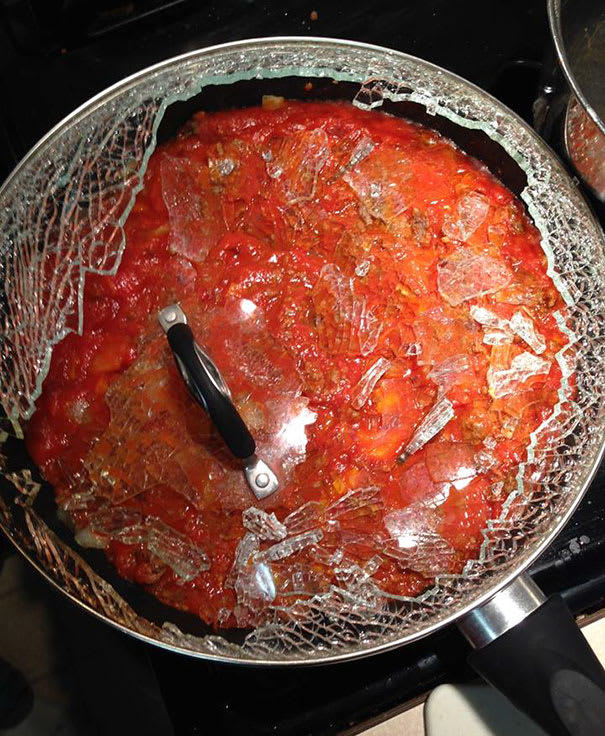 No pasta deserves this cruelty. Not even this spaghetti. We are hurt looking at what wonders this spaghetti would have done to our taste buds. There is nothing more painful than having to wait for food on an empty stomach. The plan for this guy was to Netflix and chilled with some spaghetti. But well, that "dream" is already quashed. Maybe next time.
A lesson learned the hard way
If you ever need a proof that spells "use sunscreen when sleeping outside," this is one. Bottom line, it is safe to say cereals can be wicked, at-least this picture says it all. So this girl gets home, and her mother sees this with eyes popped out; "what is this?" She replies; "mom, it is a tattoo of a bowl and a spoon, don't get mad!".
Having the worst day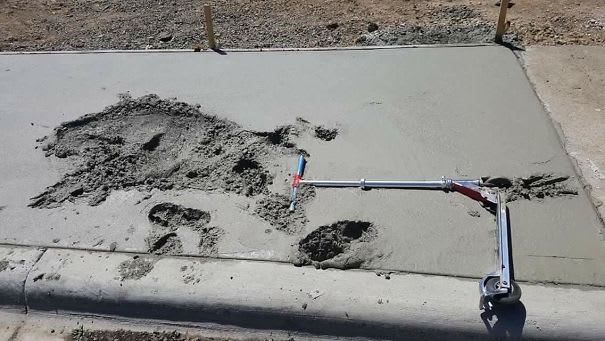 Two people are going to feel terrible after looking at this picture — the kid with the scooter and the person who just finished constructing a pavement. What would be hilarious is the mother's reaction to her child's baptism in cement. I don't want to imagine the shock that would be on her face.
Still looks good though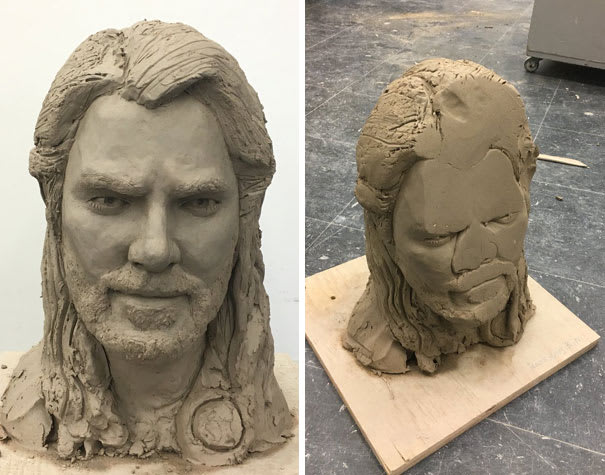 A look at the two pictures, you would begin to feel sorry for the sculptor. The first picture depicts a hippy guy. You can see that the sculptor was trying to be modern about his art. Not that the second pic is terrible, but it is not rocket science to realize that it dropped and the flat face was the result. Let's be petty and call it "floor kissed."
Car seat feels thirsty as well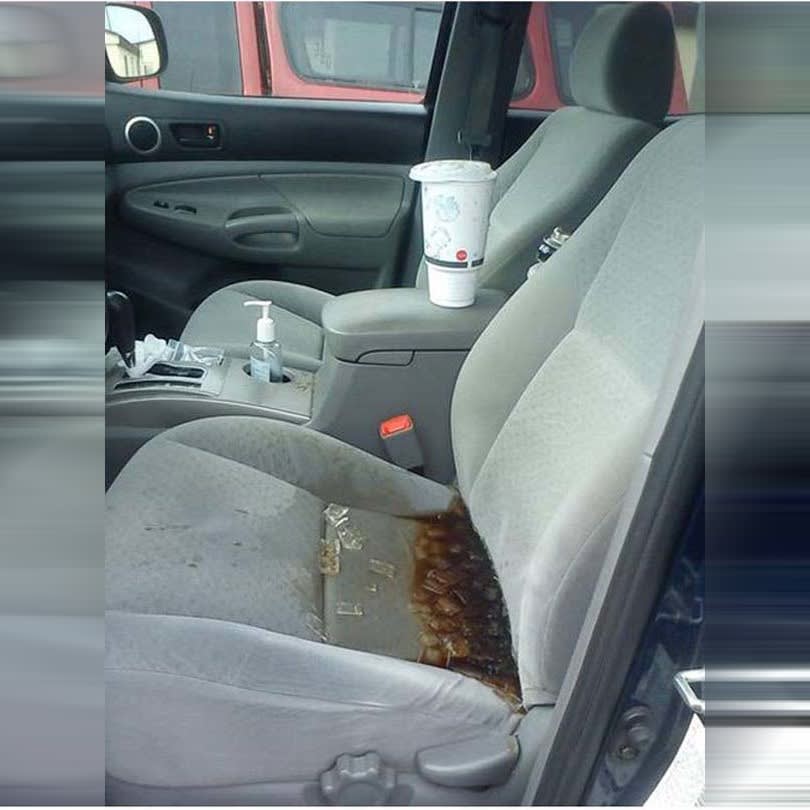 Well, do you blame the car seat for getting thirsty and seeking a cold coke to quench the thirst? Of course, we all know that the man bought the coke for himself, but the car seat had other ideas. The heat might have been unbearable for the car seat. From the look of things now, it seems the car seat is chilled now after a long drink.
Not the right place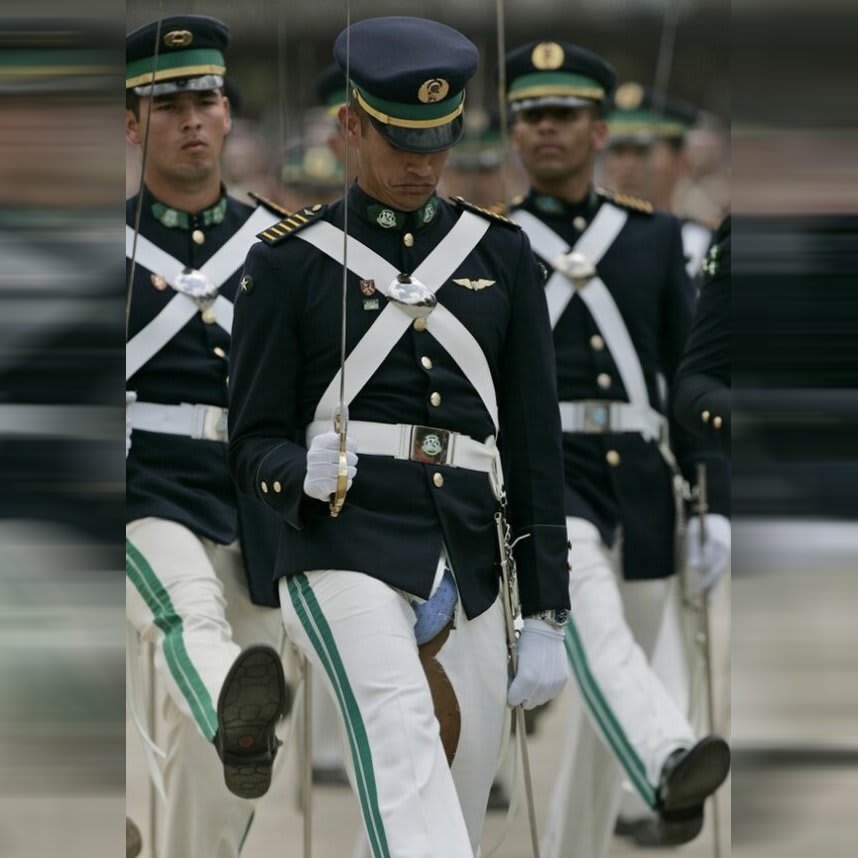 There is no specific place where your pants can get torn really. But no, it mustn't be I'm public and not on display like this soldier. We feel sorry for him. It is embarrassing. A look at his face says it all. You know he is going to be penalized plus the embarrassment he already is receiving.
Roll up the windows next time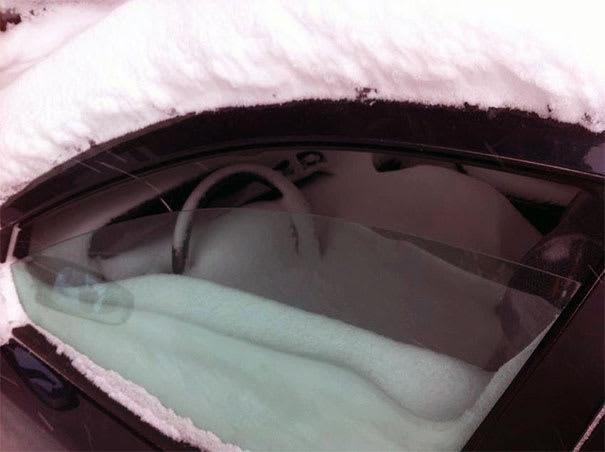 Everybody makes mistakes. Everybody gets the consequences of the errors. Some may get it in the distant future, and some almost instantly. The one here is one of those mistakes that you get the consequences almost immediately. All the guy had to do was to roll up the window, how hard can that be? Well, the repercussion was his car filled with snow.
Thrill-seeking no more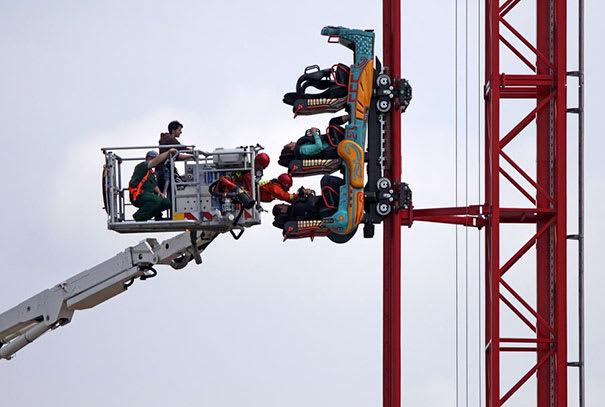 Everybody likes fun. Some want it to be very adventurous. These riders won't forget this day where they got stuck in a hurry. They are fortunate that they weren't held upside down. I'm absolutely sure that if given free lifetime pass to ride those things, they would turn it down in almost a heartbeat after this experience.
When your memory screws you up big time
I dare say missing a final paper is one of the worse experience any student can get, especially if your memory made you believe that it was supposed to be tomorrow when it is today. You probably might get numb because the feeling is indescribable. Hopefully, he learns his lesson, and he doesn't have a re-occurrence again.
It must be Monday
Monday rush is real people. The rush here must have happened to most of us. Some of us would realize half-way to our workplaces. In the case of this guy, it took 4 hours for him to realize that. Well, he is lucky that they are of the same color. Lucky guy.
Damn you, stupid car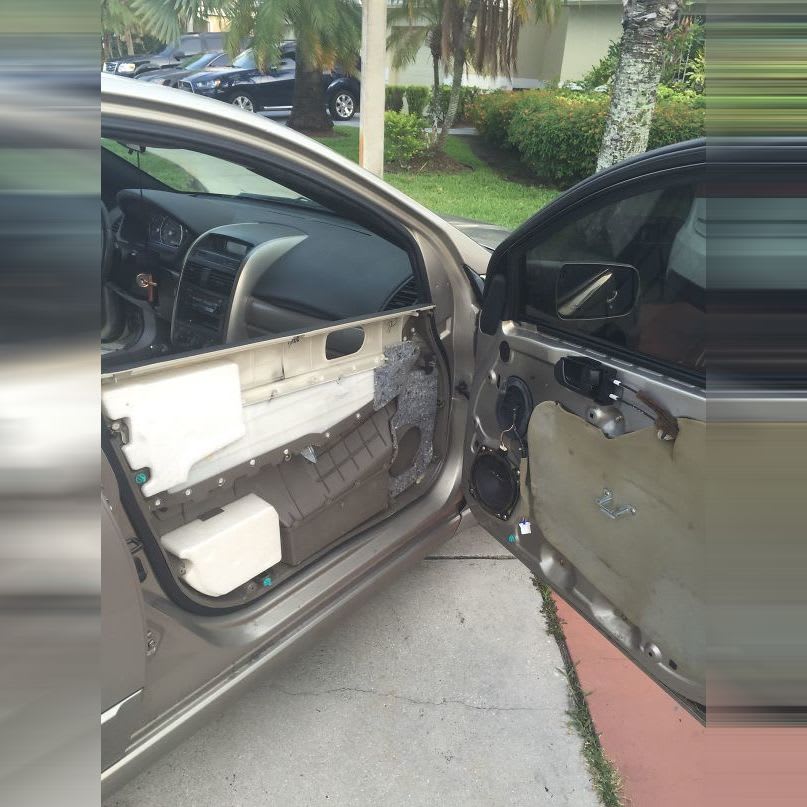 Jokes apart, this is some design for a car manufacturer. But is it okay for this person who probably is just returning from work or going to work? I don't think so. We don't want to imagine how they would be feeling. Pissed? Probably. We know the day is turning out to be terrible, but one thing we do not pray for is that the warranty hasn't expired. It would be worse if it just expired a day before the incident.
At-least he saved the wiper blade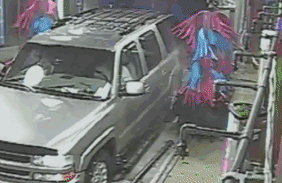 There are times we feel the impulse to do some logical things at the most illogical hour. What we have here is a testament. You might want to blame him for this, but this is his moment. We all have had moments like this. So yeah, you might want to cut him some slack. Back to this guy, he didn't want his wiper to be lost. This is weird considering the wiper wouldn't have been tampered with by the impending danger. Well, he lost his car door, which I think is more important. You've got to look at life and say, "the things you make me do" are amazing.
When you are allergic to the allergy test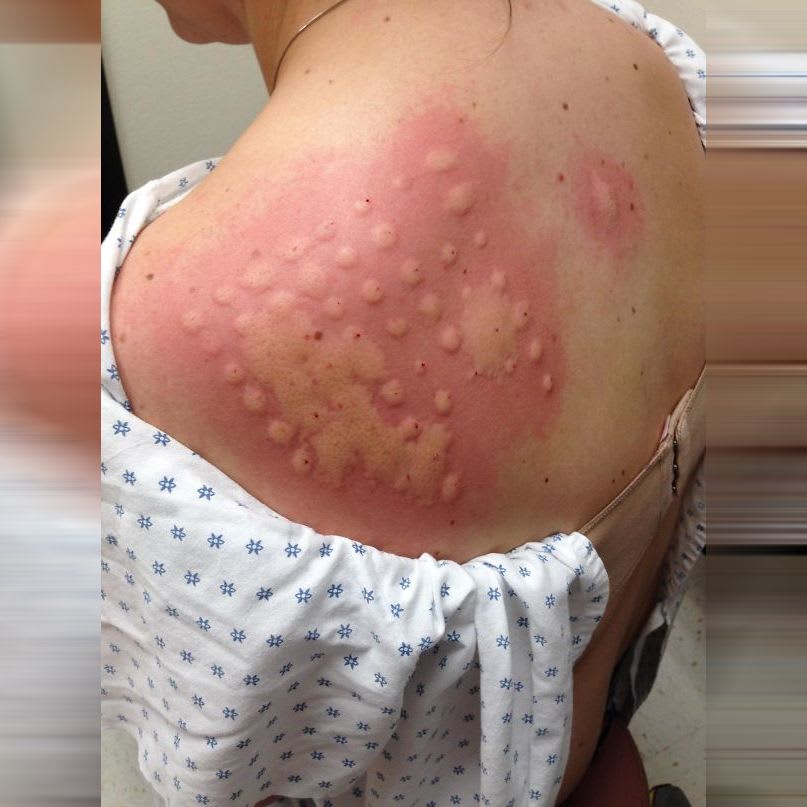 When we say having an allergy test is worse than having an allergy, you have to believe us. This picture here is proof. I'm conducting an allergy test, and you are exposed to different things, some of these things are what you can be allergic to. Indeed, it is usually a very body throbbing experience. This lady here tested for allergies, and it turns out that she's definitely allergic to something!
When you don't understand German expressions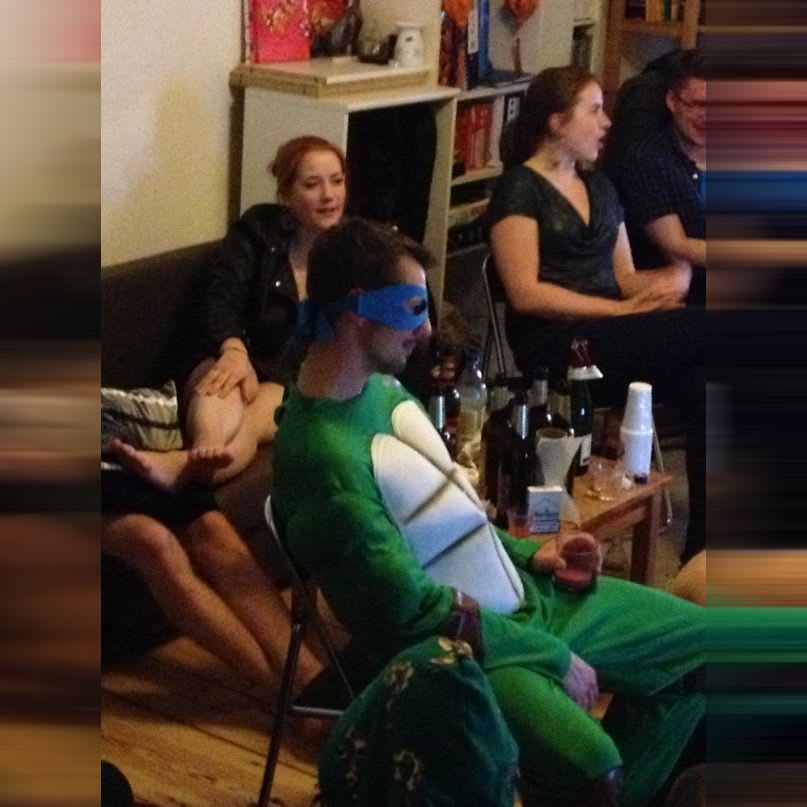 I'm sure you are looking at this picture wondering where the sad thing is. Well, this doesn't look like a sad one. So it turns out that a German guy decided to organize a green/blue themed party. Apparently, the colors were German expressions, and the blue stood for 'weed' while the green stood for 'alcohol.' Our guy here decided to wear the colors, and you won't find a better joke than this dude. He should be commended for staying till the end, of course, he enjoyed himself, even though people would see him as a clown. Give him a medal.
Flight Horror show
Have you ever been in a plane that is about to crash? Of course, you haven't, how can you read this?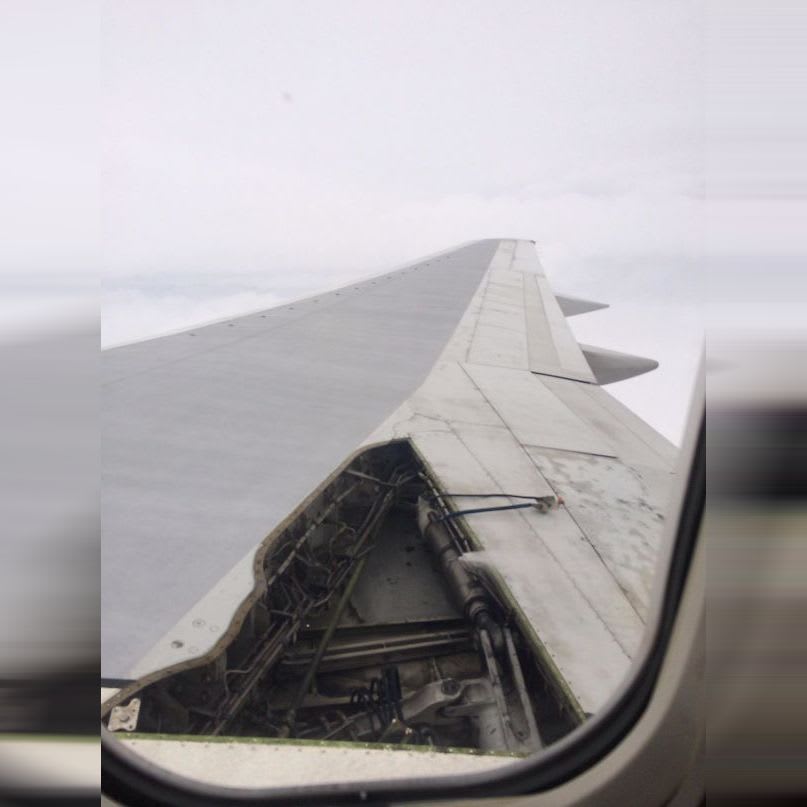 Being in a plane that suddenly develops a fault is not an everyday thing. It is not fun having the feeling that today might be your last. It is what these guys were probably feeling like seeing the wing of the plane ripping off midflight. Luckily for the passengers, the plane got to its destination peacefully.
Ouch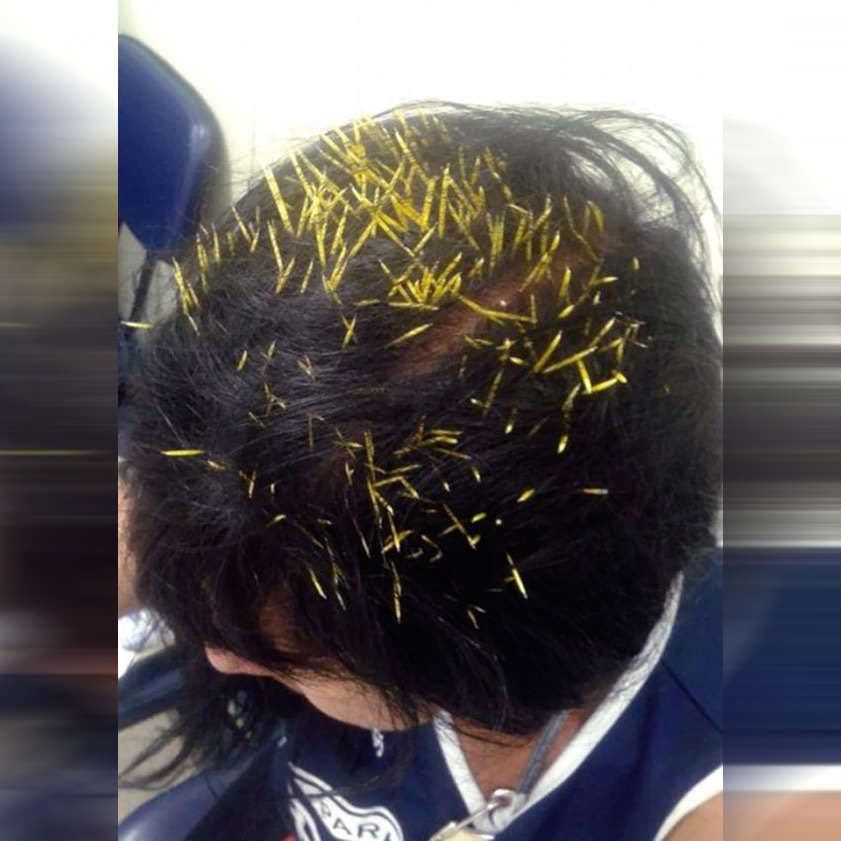 It is not every time you see a porcupine on a woman's head. Do you get or should I rephrase it? Okay, look at that picture. Do you see how her hair look like the spines on a porcupine? So I'm thinking, did a porcupine decide to grow on her? Well, of course not! If the porcupine is real, let's say a prayer for it because its freedom is hinged on the lady.
What doesn't kill you makes you stronger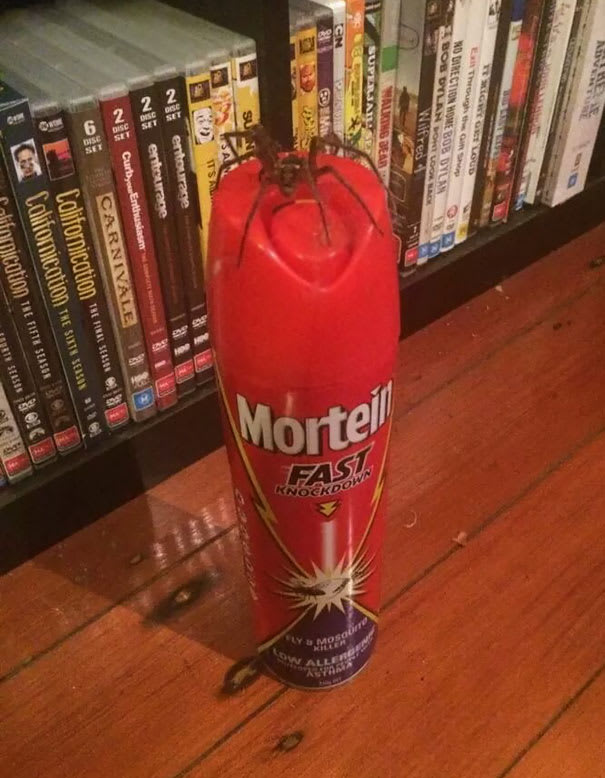 Kelly Clarkson didn't think that she was going to inspire some spiders when she sang, "what doesn't kill you makes you stronger." Well, here is proof that the spider was listening all along. In fact, it decided to put it to test. How else can you explain a spider standing boldly on an insecticide spray nozzle? Braveheart guys. Kelly must be proud of this, and she inspires all and sundry literally!
Self peeling Bananas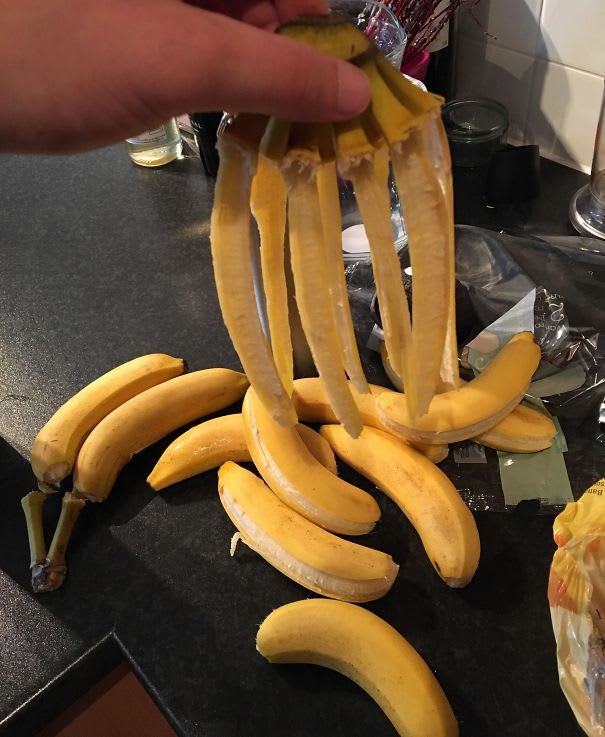 By all means, you are having those bananas all day. Even the bananas agree with us or how else would you explain them coming off just for you. We know you must be racking your head by now on how you can turn them meals that you would eat for the rest of the day. Start thinking of combinations. Muffins, Pancakes, cakes, smoothies. These are just some of the available options.
The main reason why offices aren't based outside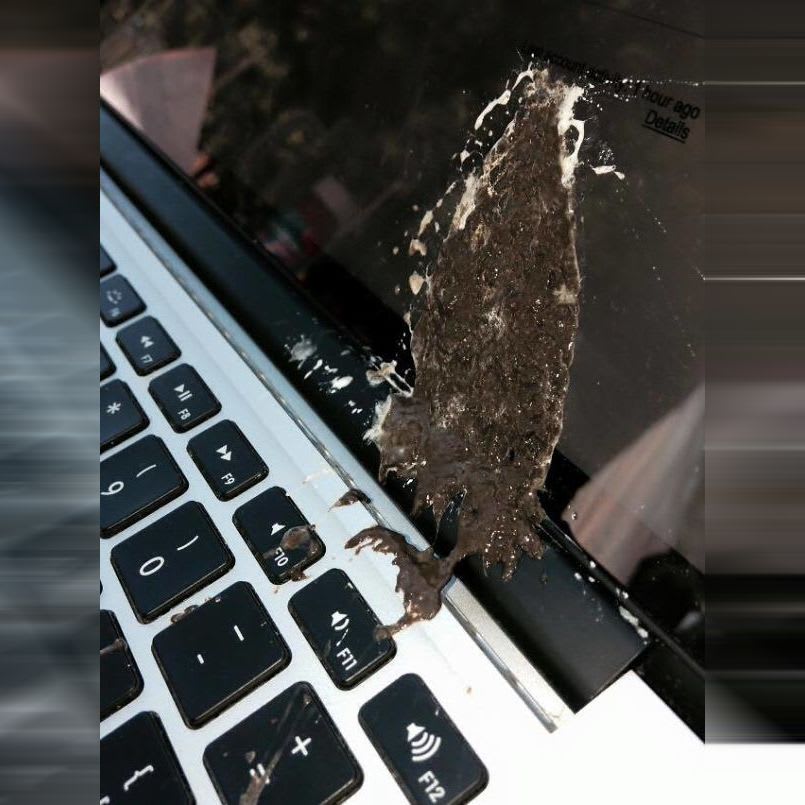 Have you thought about this? Why are offices not based under trees, after all, nature helps in clearing the mind? The next time you see a bird's poop on your car or motorbike, ask yourself. It is rather unfortunate that this guy got his answer in a not too lovely way. You can't be minding your business and expect the bird not to mind its business. I mean, it was just natural.
What can be done now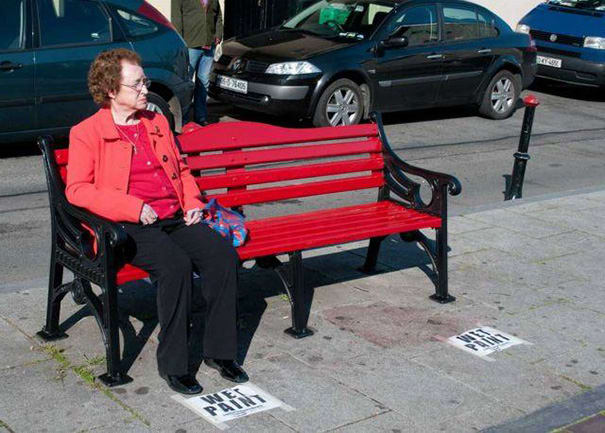 This lady was too conscious of sitting down where the color matches her outfit. Perhaps, she was thinking of camouflaging. Too aware of herself that she didn't notice the warning on the ground. Her consolation would, of course, be that they match her clothes. How long would she get to know? That we can't tell.
Time to wear a Turtleneck Shirt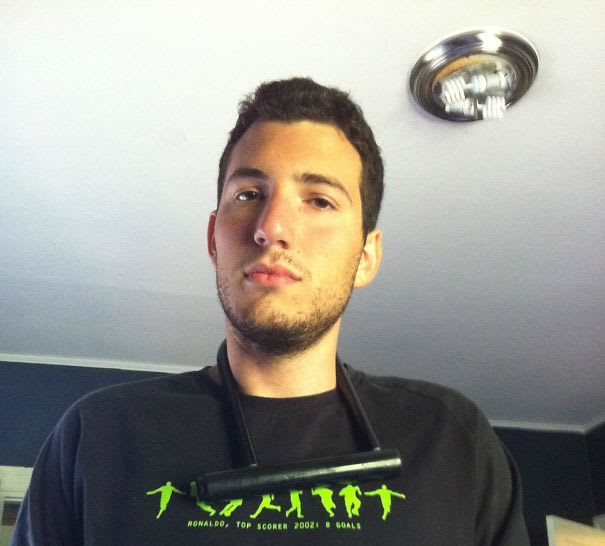 So you see the rate at which guys wear Turtleneck shirts these days, well one of the reasons could be that they are covering up something. So this guy's friends decided to play a fast one on him. He had locked up his neck when he had an interview in about two hours from now. His face tells the story. We sincerely hope he went for the interview, gets the job, and gets a room that he would stay in alone. Our thoughts are with him.
Well... Sh*t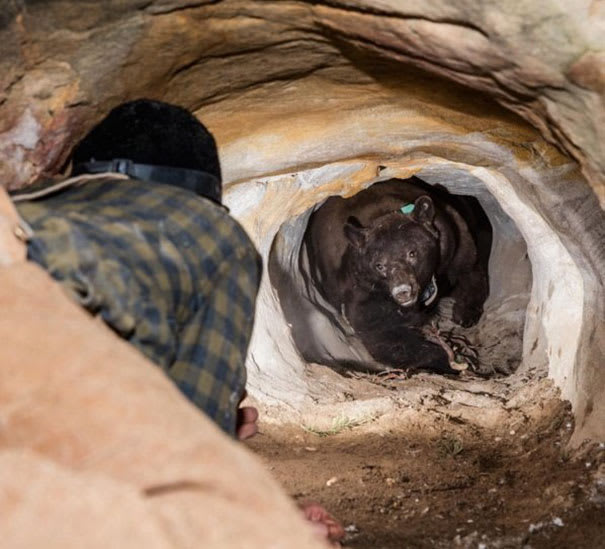 We can see this photo means one thing; everyone was safe. But wait! How did he feel? Scared as hell, I guess. It is not every day you meet something like that. It is like the horror movies. Still, we would like to ask him how the fight went. Did he get marks?
A sign from nature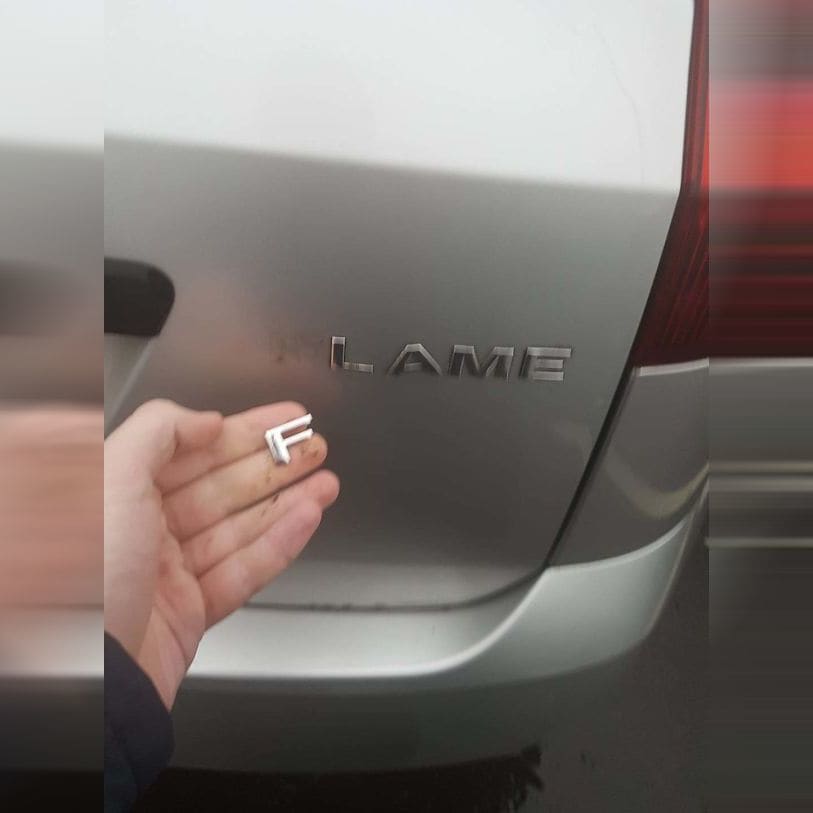 The car's name was supposed to be Ford Fiesta Flame. Nature helped him, and the "F" fell off, and it became "Ford Fiesta Lame." You can't blame nature considering the car has broken down several times in recent days. Don't blame nature; she was only filling a vacuum since the owner didn't notice he was driving a lame car.
When the Sprinkler hates only you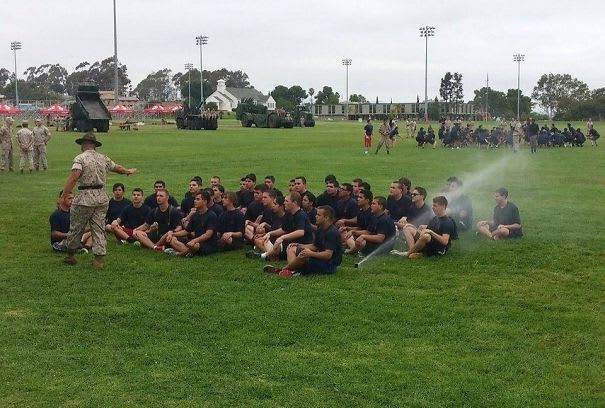 Nobody wants to be tested of his/her patience beyond the elastic point. The day is already not rosy, and then the sprinkler is also having a go at you. If it was to everyone, at least he won't feel hurt that much. The sergeant is drilling you, the sprinkler is getting your body wet, and you can't move away because it is unethical. So you will face your cross alone.
That looks cool... Oh wait!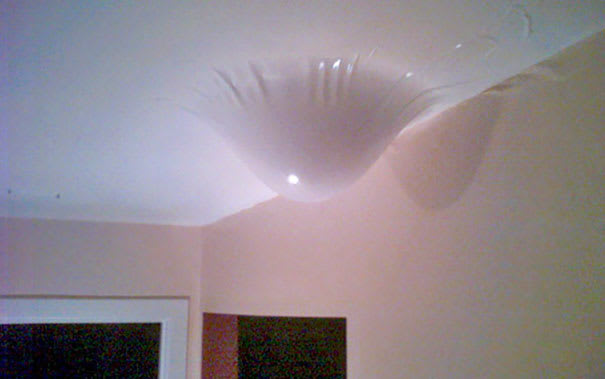 At first glance, you would think it was a ceiling design. What you don't know is that the bathroom was leaking up and the water was filling up the ceiling, creating a semblance to a plan. What would have made this a mess is someone decides to burst it open, as it would make the room reek of shambles.
The irony in a nutshell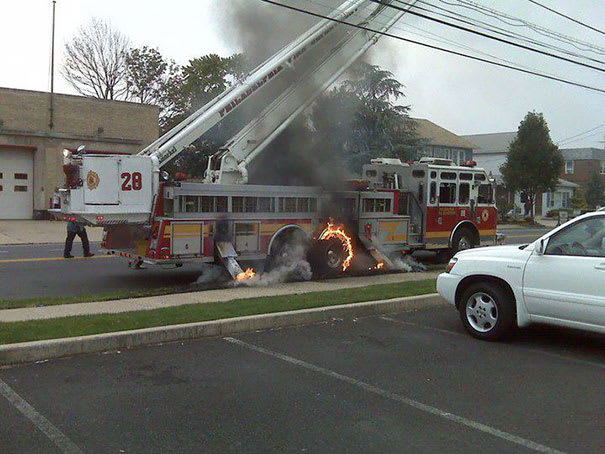 It is not every time you see a firefighter truck on fire. It is a rare occurrence. I mean, the car is supposed to be fighting fires, but fire is being fought on it — the irony.So the question is, did they call the fire service? And how was the call made? I'm curious. The situation is funny as hell.
Stress relief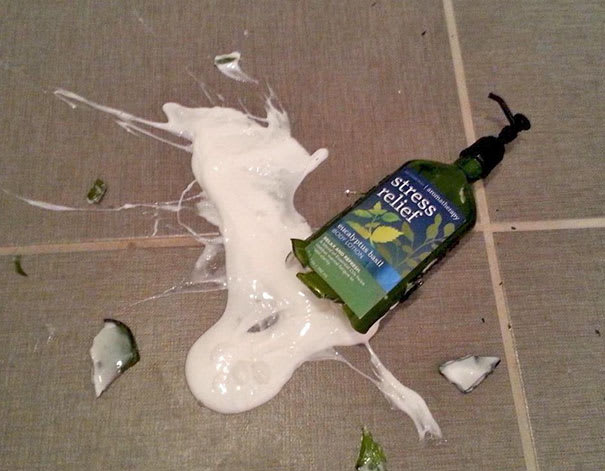 It is a common belief that smashing stuff can give relief. Little wonder, 'stress relief' lotion isn't in plastic, but instead in a bottle because you may have to smash to be relieved. It is also possible that the person still got stressed after breaking the bottle.
Unlucky Halloween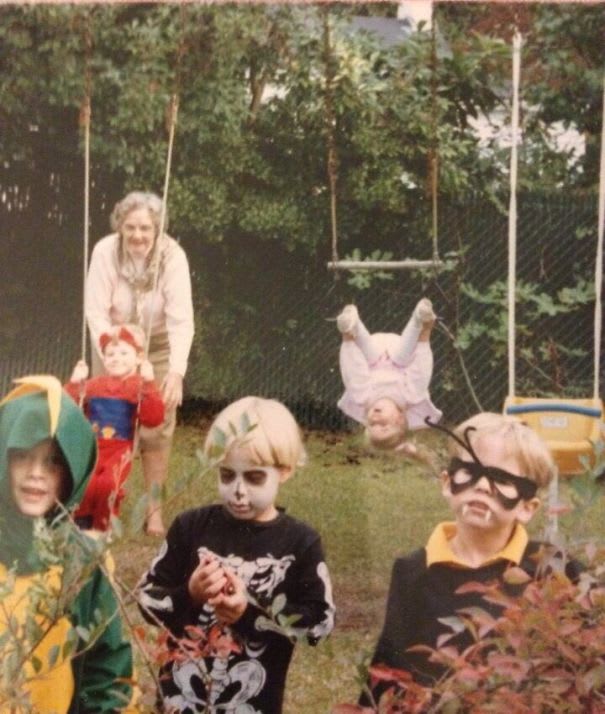 This picture was taken in 1989. Yes, it is Halloween, but this is very creepy. The person intent was to spoil the mood of her sister. Shouldn't we laugh about this, yeah? But why is the older woman who I think is the grandma forgot totally about the smallest child of them all?
When the machine turns against you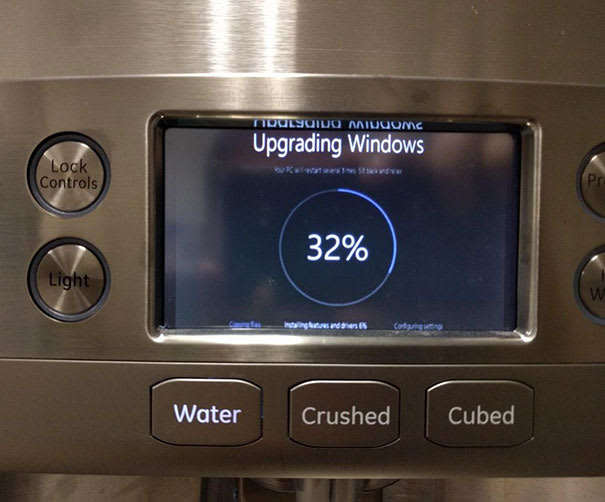 The Terminator is one of the most seen movies of all time. We all know the plot, machines turning against humans. Maybe this is happening all over again. This particular photo is giving us hints, perhaps that this might be happening. The young man only wants a cup of water, but you can see what the machine is trying to do. We don't wish to see machines singing "kill them all' anytime soon.
Hey, here is your phone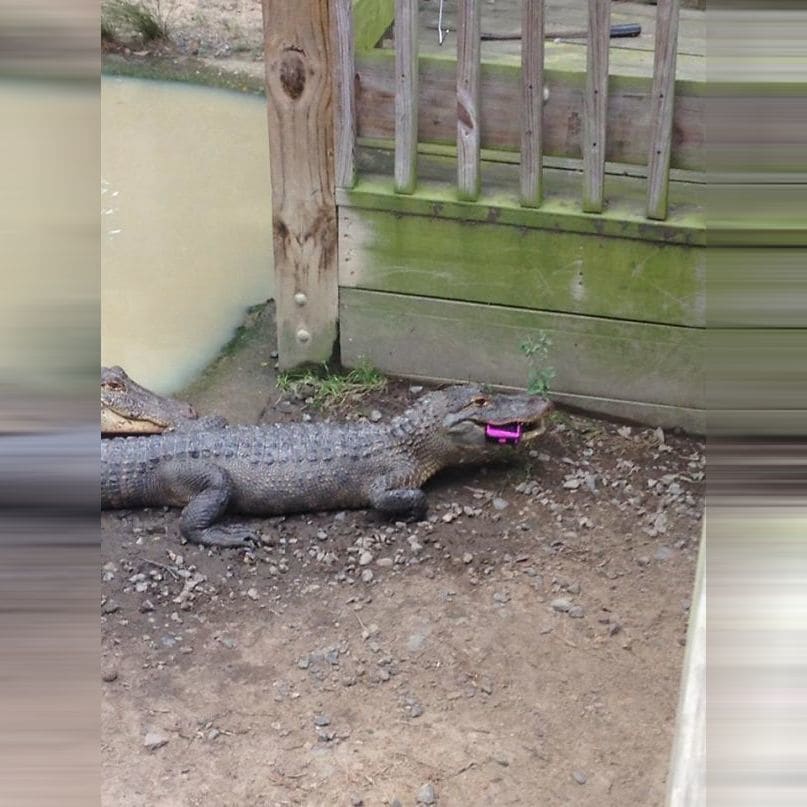 Videos have circulated about dolphins returning people's phones after they might have dropped them. And we always say it is cute yeah? Well, here is a croc trying to change the narrative about its species. So this croc finds the perfect opportunity when a girl drops her pink phone in the water, to show the world that crocs are thoughtful too. Blimey! The girl doesn't want it back. Well, who can pick up a phone from the mouth of a ten feet croc? Certainly not me! The girl did what I would do.
Snake on a car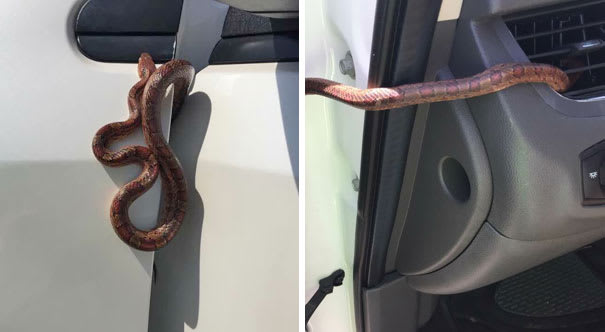 Ever seen the classic "snakes on a plane"? Remember the gory pictures. I'm sure this driver must have this scenario in his head when he saw the snake. Luckily for this lady, the snake wasn't venomous. But she almost ran into a wall to avoid the snake.
Is that a UFO?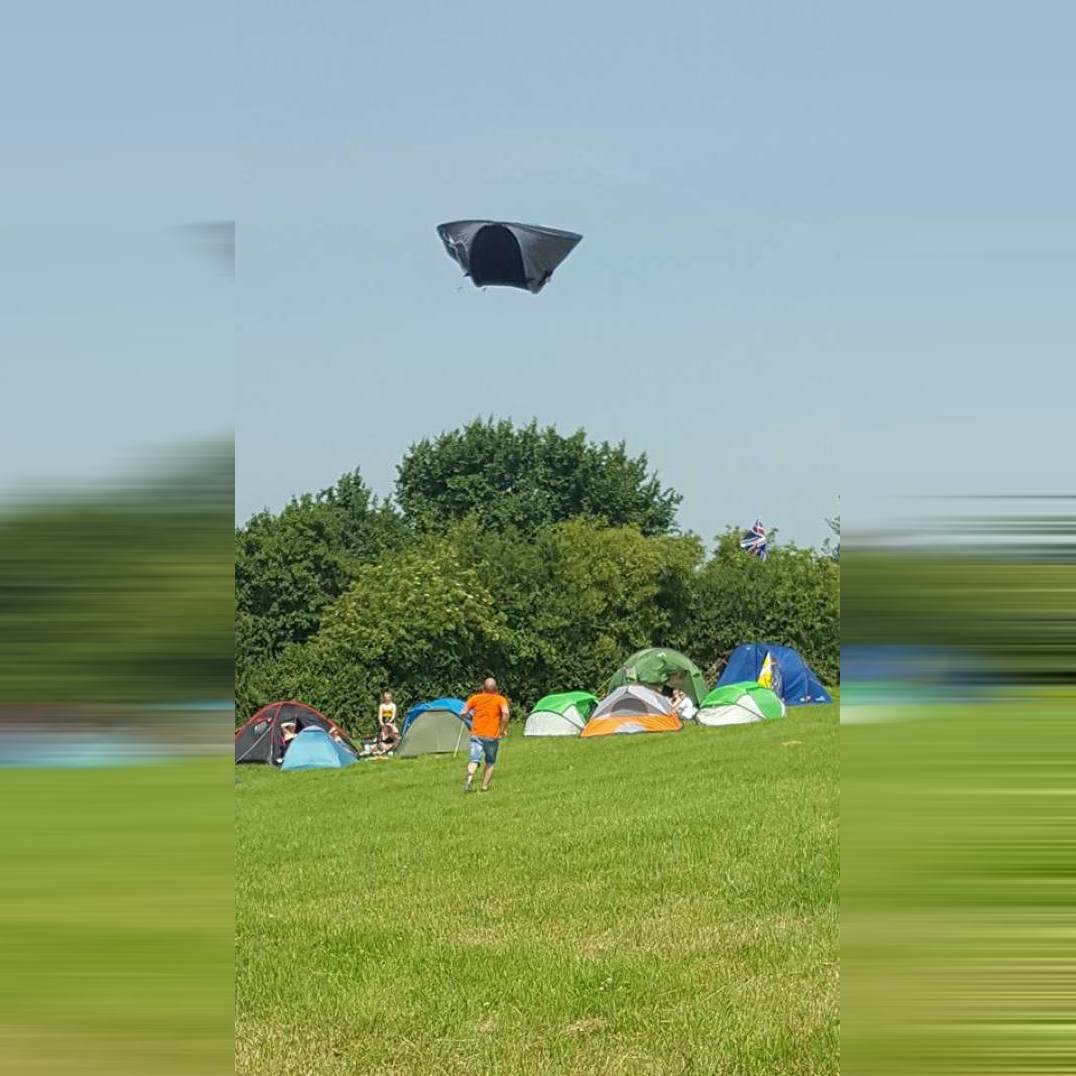 In England, there are pubs you would find at least one person trying to relay the experience of seeing an UFO in an open-air music festival. A tent was seen flying in Glastonbury in 2017. This guy must have been the one who thought it was an UFO. We sincerely hope his girlfriend isn't on it.
You better take an UBER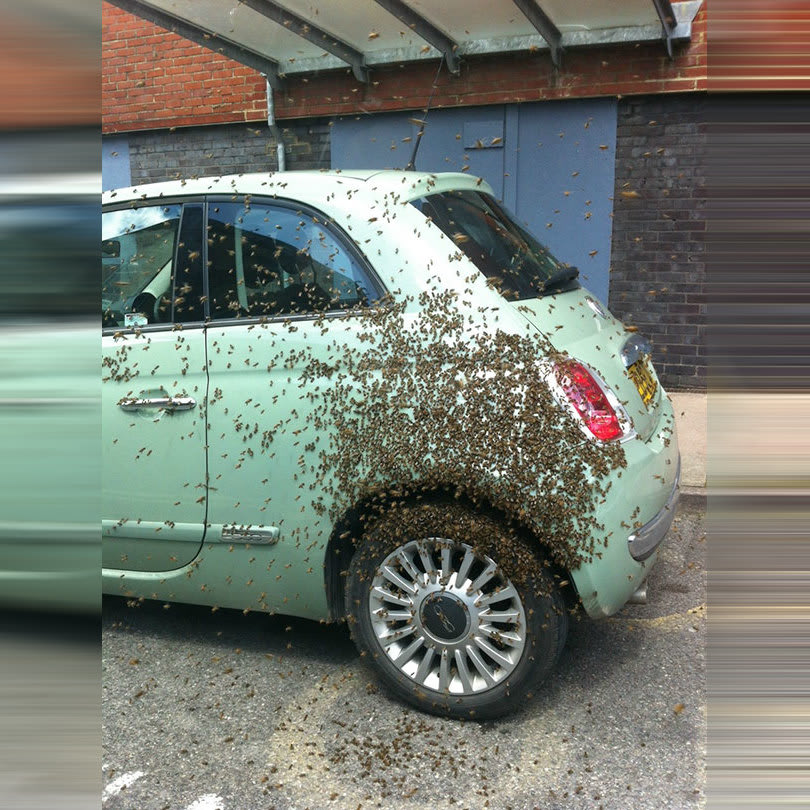 These days the use of transport we fix online has made us forget about our cars. Since vehicles were abandoned, nature took over. Remember the saying, "nature abhors a vacuum"? Yeah, this was a representation. The best explanation for this encroachment by bees is that their queen probably missed her road and ended in there. Knowing the nature of bees, they would do everything within their power to rescue her.
Finally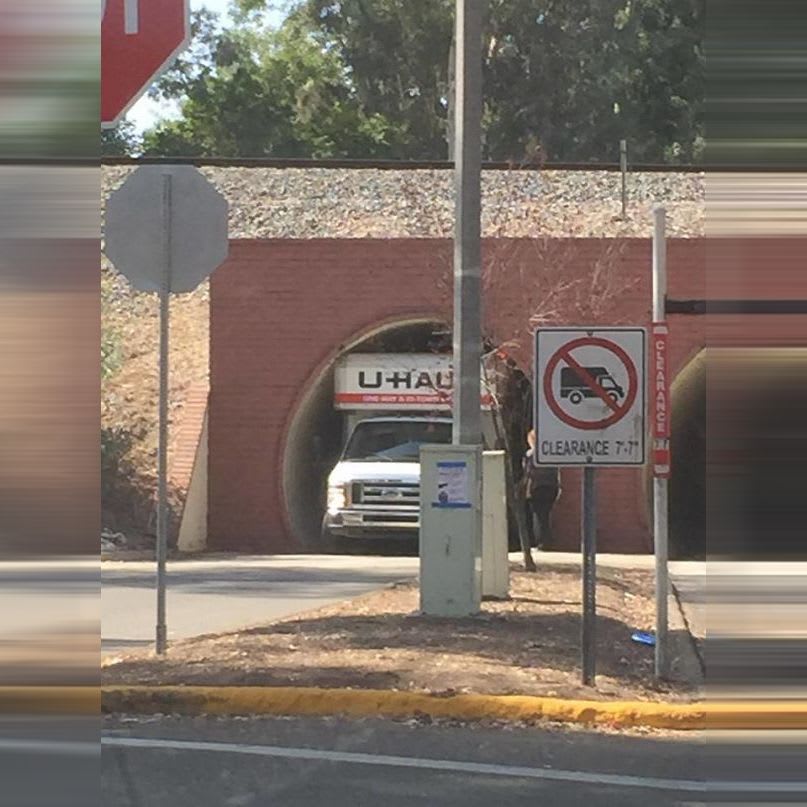 This picture was posted by someone who said he waited for 24 years to see this happen. Quite a wait, I must say, but he also felt happy about it. Now, this is weird. Let's say the person who took the photo was ecstatic, what was the driver thinking? Low bridges aren't meant for trucks like that, but we are surprised it took a long time for us to discover one of the unsmart ones.
This apple won't keep the doctor away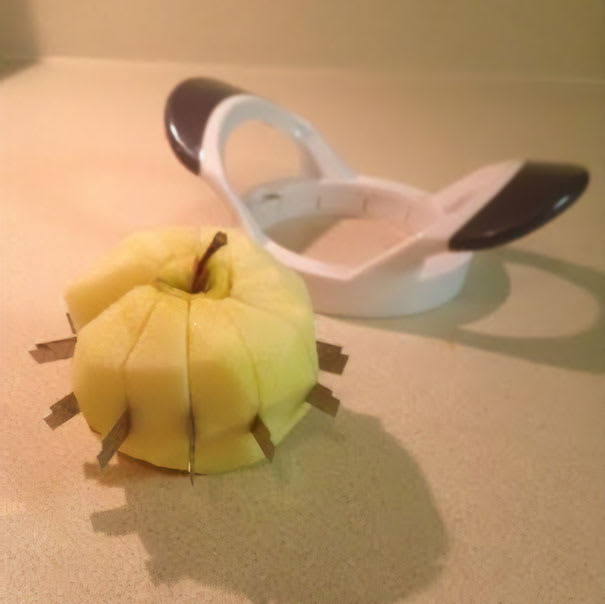 All this person wanted was to slice the apple and maybe make a smoothie out of it by blending it. Instead, the blades got stuck on it, making it the most dangerous apple around. Surely this apple can't keep the doctor away. An apple with blades that Batman uses? Somebody bring the doctor, a casualty is about to happen.
Evil toner powder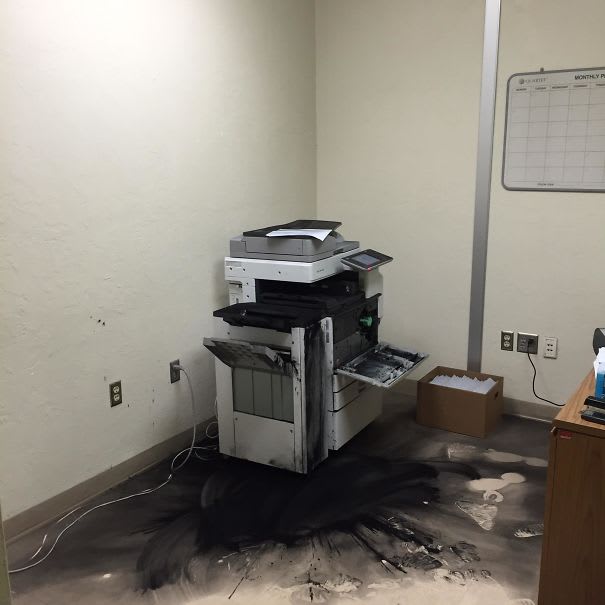 At first glance at this picture, one would think there is a gang up against the person using the printer. The ink and the printer decided to do a no-show. On the other side, it could probably be one of the teachers having a terrible day. It also looks like the printer is tired of working maybe because of been overused. Anyway, whoever is assigned to clean up the mess is in for a stressful job.
Paint oneself into a corner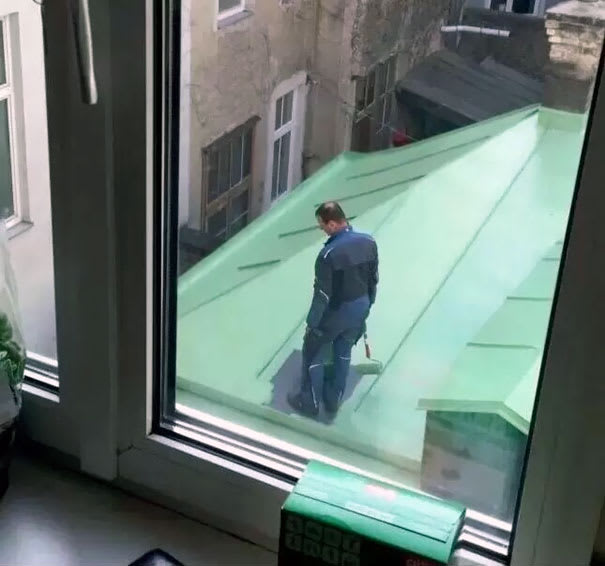 How can you not survey before you start painting? This guy didn't think he would have to navigate through to get down before painting. He was just enjoying the art disregarding how he is going to come down. No matter how crafty he is, he would ruin the painting except he has something to lift him up from the roof; this way, the picture would be intact.
"Thong guy"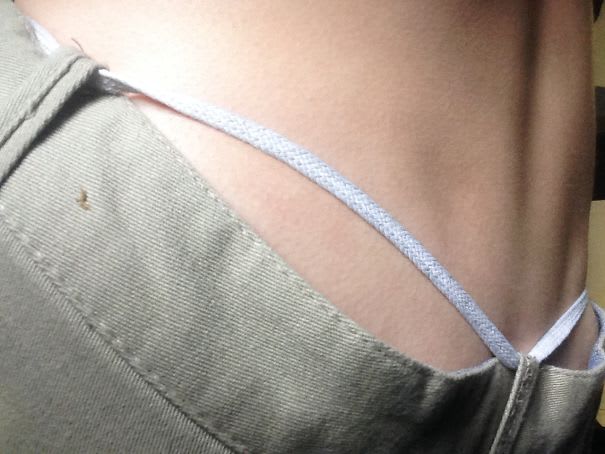 We could say that this is hilarious and creative. This guy's belt broke, and he had to come up with an idea to save face. Guess what he did? He used his shoelace as his belt. Isn't that ingenuity? But, you know how your imagination goes unappreciated, well, this is a case. That day in his office, he was known as the 'thong guy,' how bad can it get. His consolation would be his trousers didn't drop.
Someone must be pulling their hair out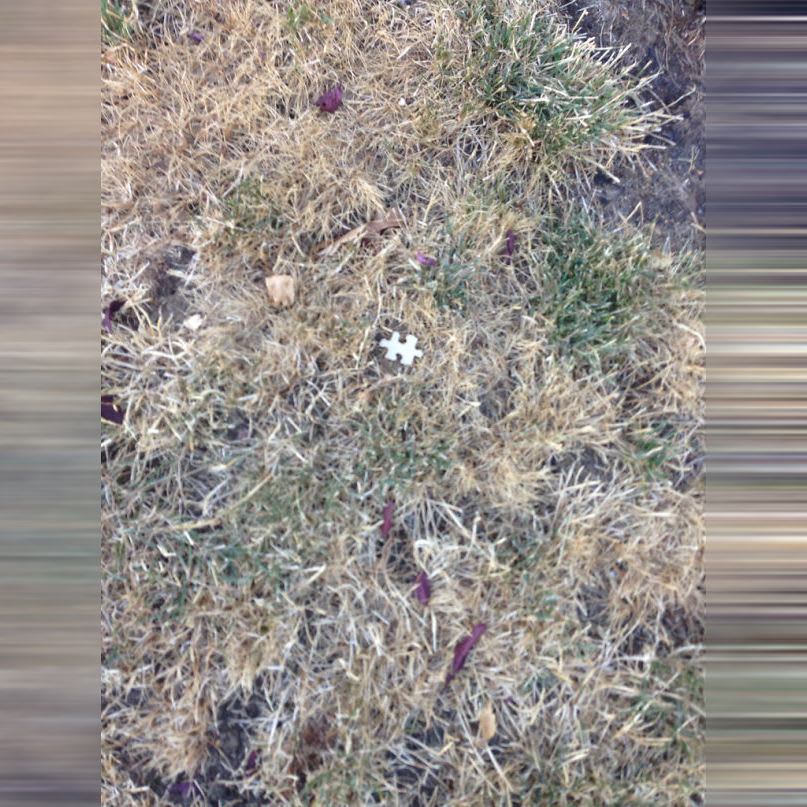 Everybody knows the erratic nature of Sheldon Cooper, the guy from Big Bang theory and how he doesn't joke with puzzles. Well, this picture looks like no answer anywhere. It could be the final straw to break the camel's back for everyone who loves or hates puzzles.
A nightmare about to come true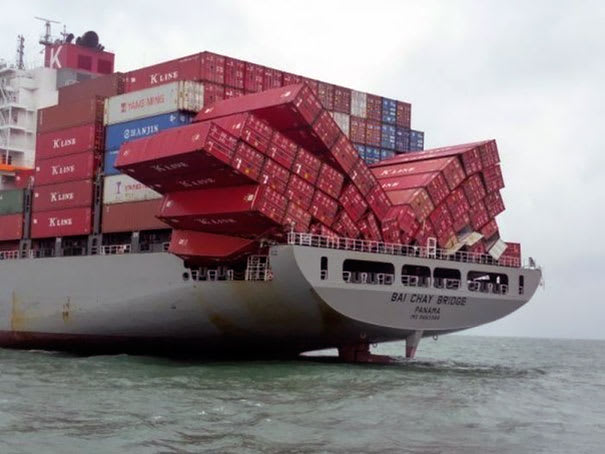 When you see a ship forming a tail like that of a fish, looking for a mate, on the sea, it is only prayers that you can offer. The scene here looks like a disaster is about to happen. The nightmare here is, what if all those containers fall and are lost.
It is no other than Monday