20+ Designs That Reveal Awesome Hidden Secrets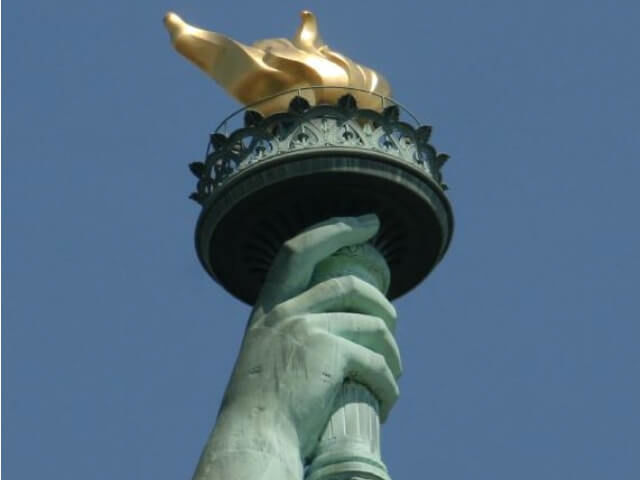 Have you ever looked at something a bit longer than usual and realized that it revealed something new? Perhaps you discovered a new pocket in your favorite backpack, or you discovered a secret shortcut to your local hangout. Either way, isn't it a great feeling when this happens? We love figuring out new ways to look at everyday things too, which is why we've compiled this awesome list of things with hidden features that will surprise you. Simply scroll on to have your mind blown!
Amazon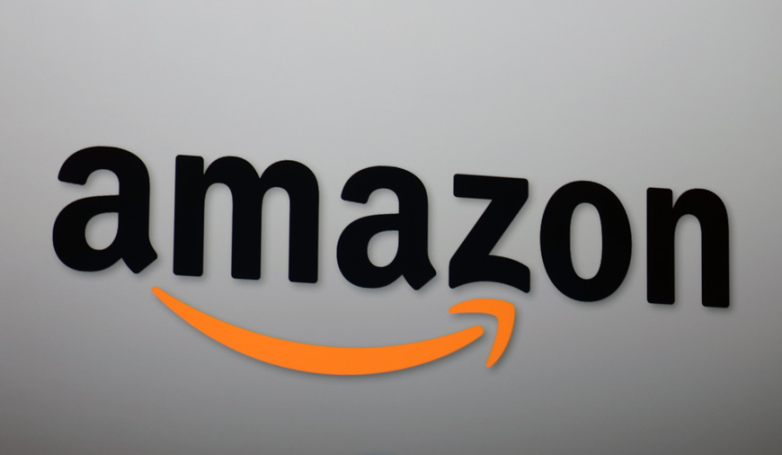 This first design secret will definitely give you an "a-ha!" moment. Amazon is one of the largest companies in the world, and you might not know that they also own Goodreads, Book Depository, and Wholefoods. So what's the secret behind this awesome logo? If you've ever wondered about that little arrow over the top, we've got answers. This arrow goes from A to Z, because of course, Amazon sells everything under the sun. Amazon CEO Jeff Bezos is known to be one of the wealthiest people in the whole world, with a net worth of $117 billion. Do you know how much money that is? So much that he could end world hunger singlehandedly, as one hilarious Twitter account has pointed out. Wow!
Tour de France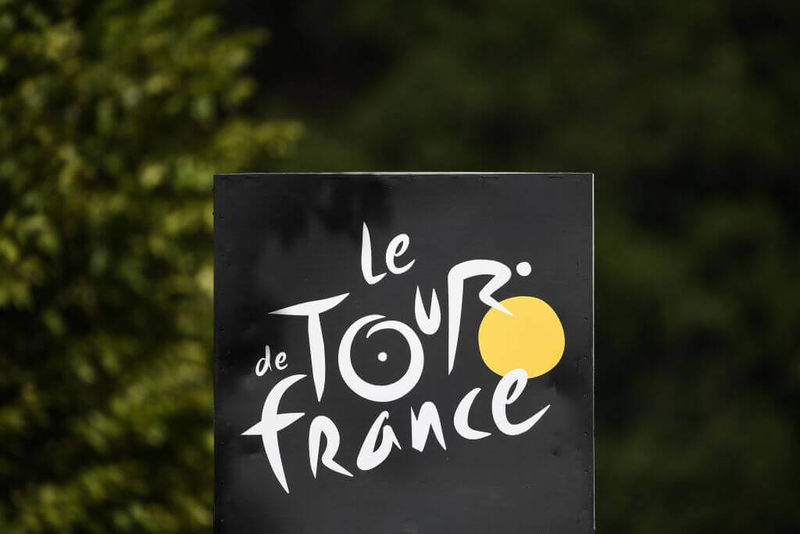 Ok, we have to admit, this one really did surprise us. As all avid cyclists know, the Tour de France is a hyper-famous cycling race that takes the world's top cyclists over a three-week race that winds through France. We've always thought that the script was pretty novel, but it turns out that it's more than just a cool-looking modern font. If you look at the O and the yellow circle, you can see that this ingenious logo actually contains a secret little bike. How cool is that?!
Sneaking A Drink
This next little design secret is a little bit sneaky! If you're heading to the movie theatre, to a festival, or to a theme park and you want to bring in some of your own… er… apple juice, then this is the hairbrush for you. While it looks just like a normal brush, this one hides a little compartment where you can keep liquid. What's more, is that you can actually use it as a real hairbrush, so it's not only useful in some particular occasions. You might look a bit odd drinking out of a brush, but hey! Isn't it nifty?
Baskin-Robbins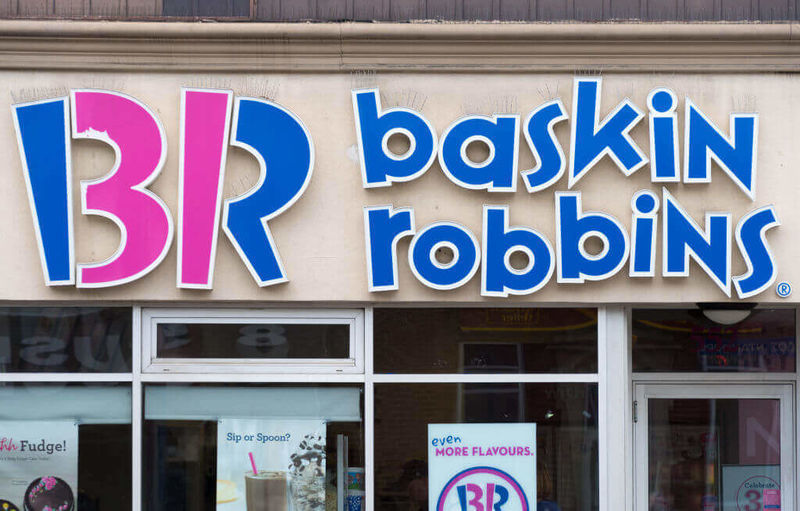 Who doesn't love ice cream? Baskin-Robbins is a global ice cream chain that began way back in 1948 with 31 original flavors. That means that this delicious franchise is over seventy years old, which is pretty impressive. Baskin-Robbins have managed to stay relevant even though they've been around forever. But in the logo is hidden a secret homage to those original 31 flavors. Can you spot it? That's right - the pink text refers to those first flavors that this ice cream giant started out with. 
Goodwill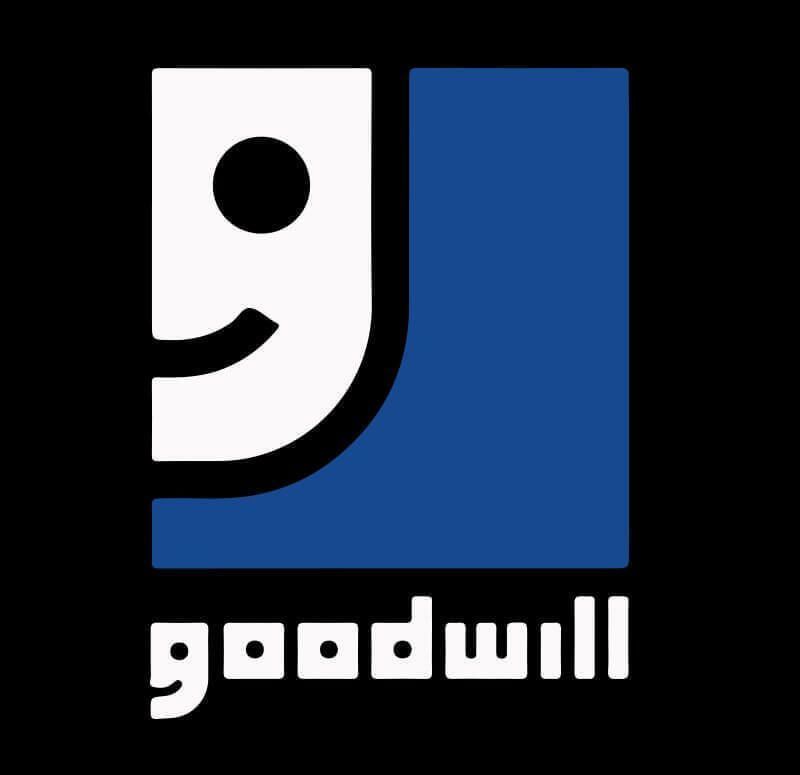 There are two kinds of people in this world: those that see a 'G' in the Goodwill logo, and those that see half a smiley face. Which one did you see first? Either way, it's cool to be able to see both now, isn't it? Most of us know Goodwill as one of the best places to pick up second-hand and recycled clothing and household items. But did you know that they also have a wider mission as a not-for-profit social enterprise? That's right! These lovely folks help out the disadvantaged by providing opportunities and skill development for those who face barriers finding work.
Hidden Camera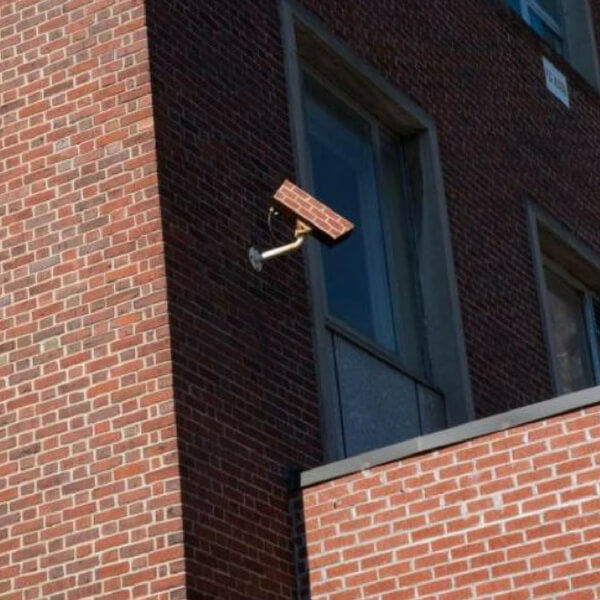 Would you notice this security camera if you walked past it on the street? We're not sure that we would. It blends in perfectly with the surrounding architecture, but is probably also visible enough to deter would-be criminals from trying anything funny! We wonder how many people it has caught out. At any rate, we're definitely not going to be doing anything illegal in front of it… not that we would anyway! We promise that we are good law-abiding citizens just like the rest of you.
Pittsburgh Zoo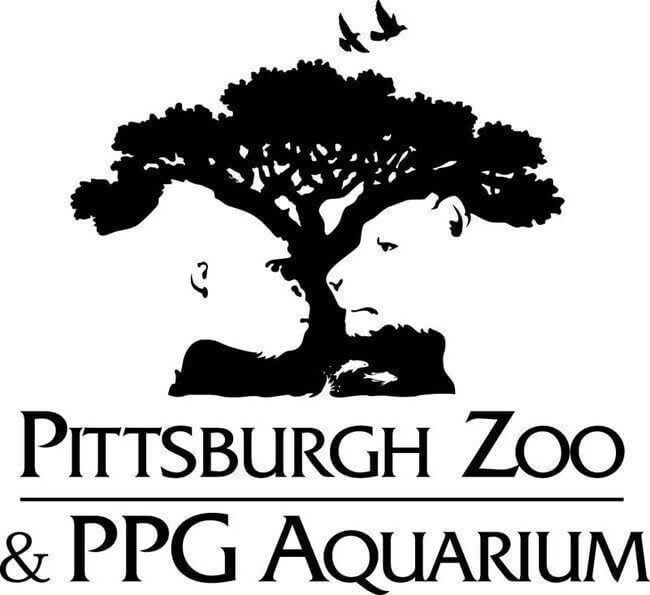 The Pittsburgh Zoo logo has to be one of the coolest we've ever seen. At first glance, you can see that it's a big ol' tree with two birds flying over it. But on closer inspection, you will notice that there are a couple more animals hiding in the logo. That's right, there are a gorilla and a lioness! They look like they're about to have a bit of a fight, which makes us a bit worried. Anyway, this Zoo also hosts the PPG Aquarium. We wonder why they didn't include any fish in the design.
FedEx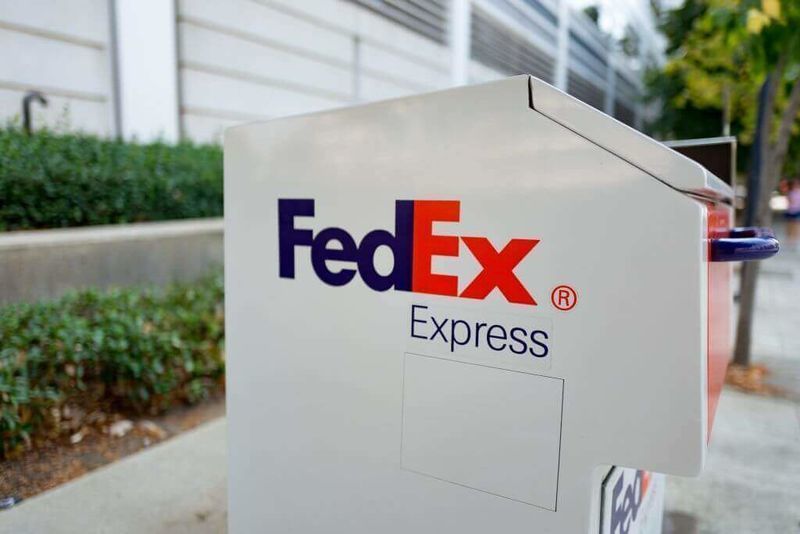 People the world over recognize the FedEx logo. Probably because it usually means that your Ikea stuff has arrived, or something. Let's face it, the FedEx truck is basically like the ice cream truck but for adults. But there's something secretly hidden in this logo, and it might take you a while to see it. If you look carefully between the negative space of the 'E' and the 'x' in the last two letters, you can see an arrow. It's pointing towards the right! Bet you never noticed that one before!
Toyota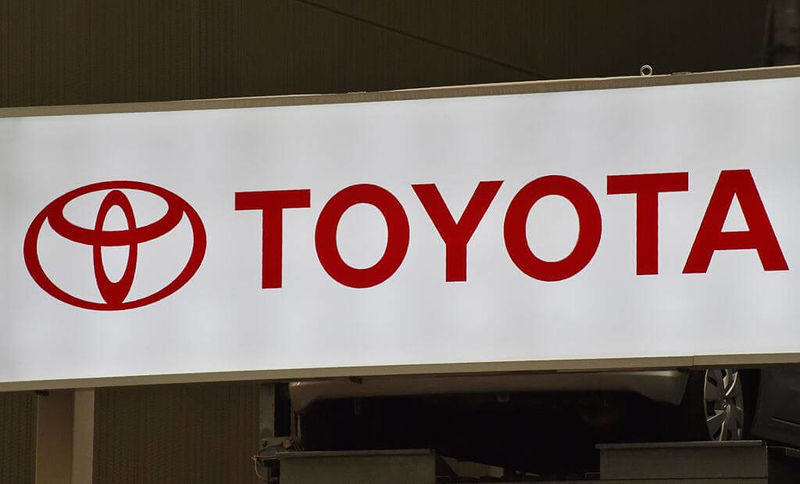 Toyota has to be one of the biggest car companies in the world. Their triple ellipsis logo is instantly recognizable, and we see it multiple times every day as we go out and about on cars all around us on our daily activities. The official word from Toyota is that it symbolizes 'the unification of the hearts of our customers and the heart of Toyota products. The background space represents Toyota's technological advancement and the boundless opportunities ahead.' Aww, isn't that nice? What's more, Toyota started out as a textile company, and if you look a little harder you can see that it looks a little like a thread going through the eye of a needle. Cool, huh?
Hershey's Kisses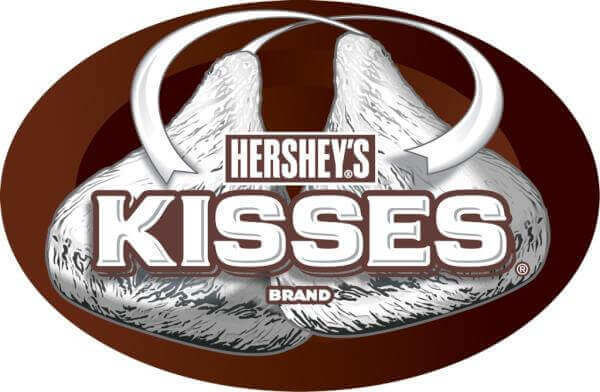 This logo always has us salivating. We see it more often around Christmas and Easter, but it's always a welcome sign no matter what time of year it is. Just like the arrow which is hidden in the FedEx logo, this iconic brand also has something secret in the negative space. Take another look at the spot between the 'K' and the 'I.' Notice anything? Yep, that's right: there's a cute little chocolate kiss right in between. These delicious chocolates have been around since 1907, and if you've ever tasted one, you'll know why!
BMW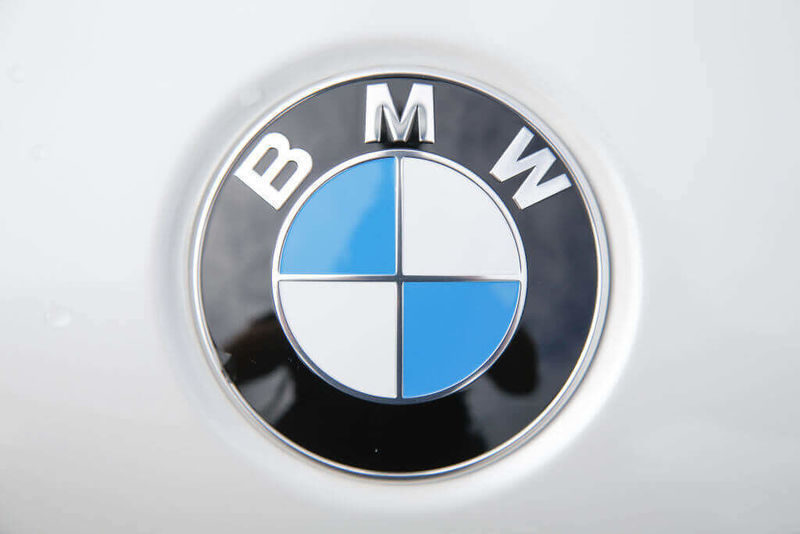 There has been much speculation surrounding this internationally recognized emblem. On one hand, the blue and white could be symbolic of the propellor, because BMW started out as an engine manufacturer at the end of WW1. But on the other hand, it could also be a reference to the original Bavarian flag, which is where BMW began. The acronym stands for Bayerische Motoren Werke GmbH. When translated, this roughly means 'Bavarian Engine Works Company.' Go figure!
LG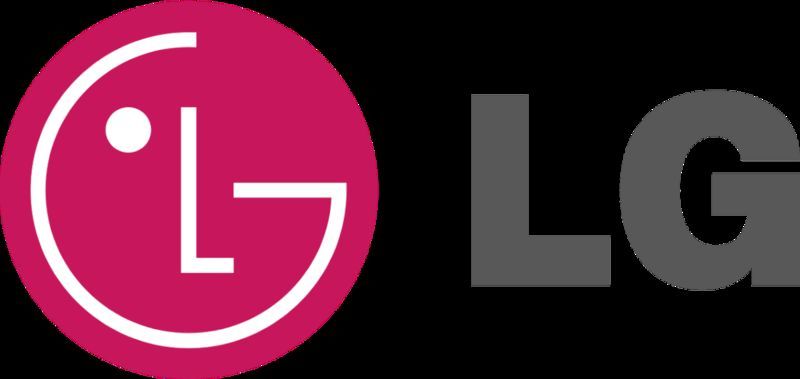 Hidden in this logo is something that you won't be able to unsee. We heard that LG stands for 'Life's Good,' and in our experience, it's not so bad when you've just bought a brand new bit of LG technology. When you take the first look, you will see the letters 'L' and 'G,' but once you've stared at it for a while you'll see the little winking face in the L. The outline of the face is also found in the G! That's pretty neat, huh? Some of our friends also think that it might even be a little sort of Pacman guy. How cute! 
Delta Airlines
You can't get on an airplane in the United States without seeing the Delta logo somewhere inside the airport. The emblem has gone through quite a few changes over its long history, and the current logo has been around for just over 10 years, being introduced in 2007. It pays homage to the third letter of the Greek alphabet, which is what the company is named after. Wanna know something cool? They recently gave their ground and cabin crew a 4% pay rise. That's what we like to hear!
Toblerone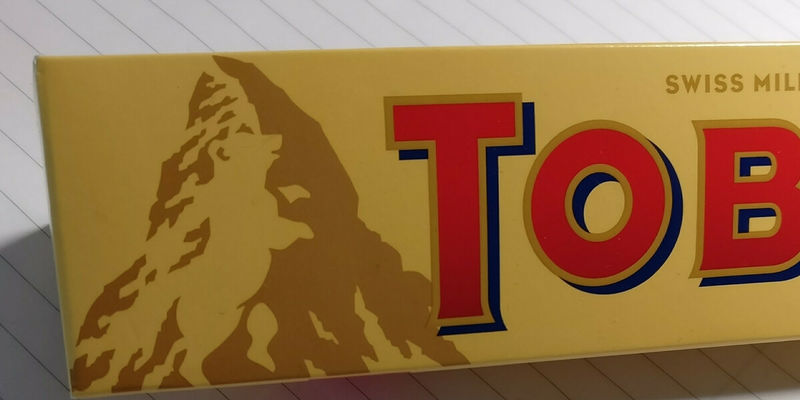 Ahh, Toblerone. It's the delicious triangle-shaped treat that you can always expect someone to bring you back duty-free from the airport! At least, that's how we know it. But maybe you've been to Switzerland, and have some different associations? Either way, this logo hides a bear in it, which took us a while to see. But now that we've seen it, it's hard not to admire this little guy in the Toblerone mountain logo. The brand is 111 years old, and the bear refers to the symbol of Bern, which is where the chocolate is made.
The Secret Garden (Door)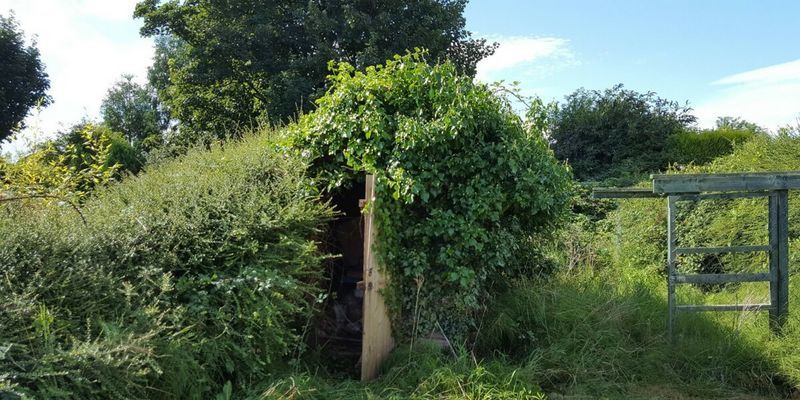 As children, we always dreamed of finding secret passageways and portals hidden in our backyards. Maybe we read too many of the C.S. Lewis books, but we know we weren't the only ones that hoped they'd find a land like in the Chronicles of Narnia. This shed is perfectly tucked away and covered with foliage. If you were looking for a good hideout, this would definitely be it! Where do you think it leads? Wherever it goes, now that we're adults we're pretty sure that it's not Narnia. Aw, man. 
Admont Abbey Library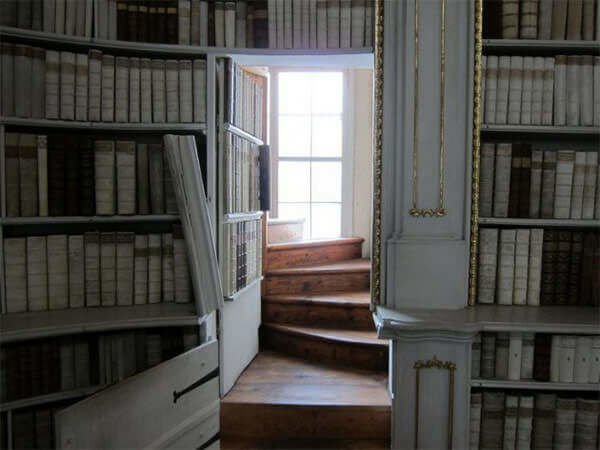 Another secret passageway! This one looks exactly like something out of Beauty and the Beast. In the Admont Abbey library in Austria, there are many hidden doors and passageways like this one. It just so happens to be something that the architects did on purpose to ensure that there were no gaps in the walls where doors should be. This impressive library has been around since the eighteenth century and reflects the delicate and opulent tastes of the Enlightenment era.
The Statue of Liberty's Secret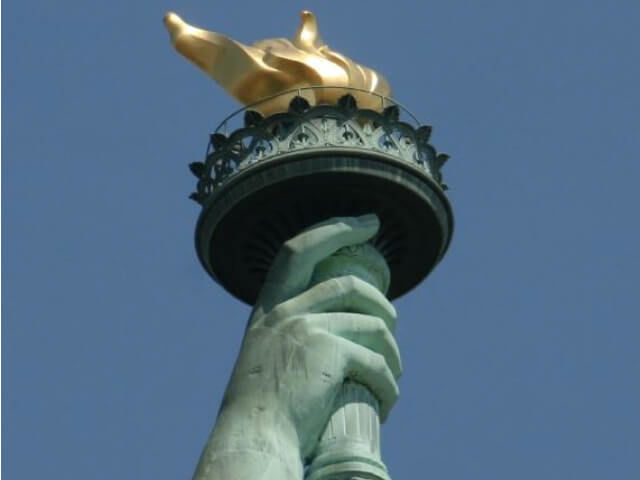 The Statue of Liberty is one of the world's most recognizable landmarks. And what could be more iconic than the little torch that Lady Liberty carries? French sculptor Frédéric Auguste Bartholdi designed the statue, including the flame, and took inspiration from Roman goddesses like Libertas and Columbia. The original torch was a super-heavy copper flame, with a staircase that allowed visitors access into the balcony inside of the torch. Unfortunately, there was an explosion in 1916 that damaged it.
A Surprising Sheep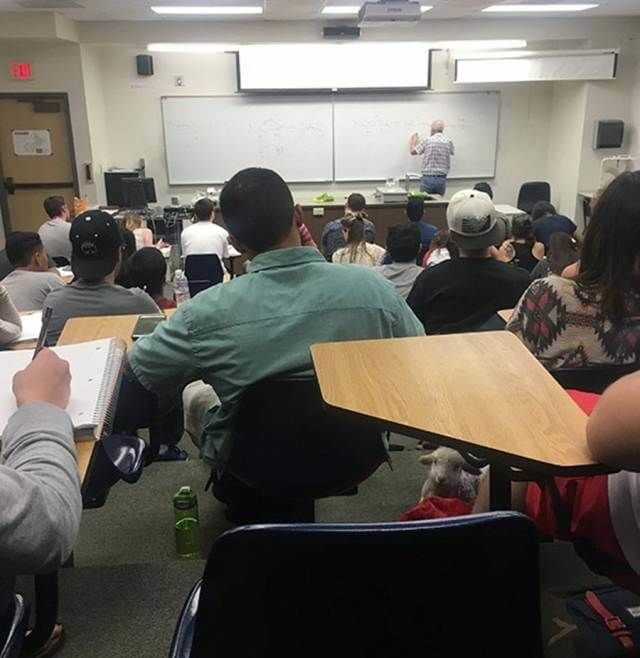 Whoever brought this sweet little lamb to class might need to take a leaf out of Bart Simpson's book. So here's some trivia for you: in episode eight of The Simpsons' season four, the opening sequence features Bart writing 'I will not bring sheep to class' on the chalkboard. But how adorable is this guy? We can only assume that this must be a classroom somewhere out in the country, where more people keep sheep and other farm animals as pets. Hopefully, it baa-haved itself!
Hidden Like the Wolf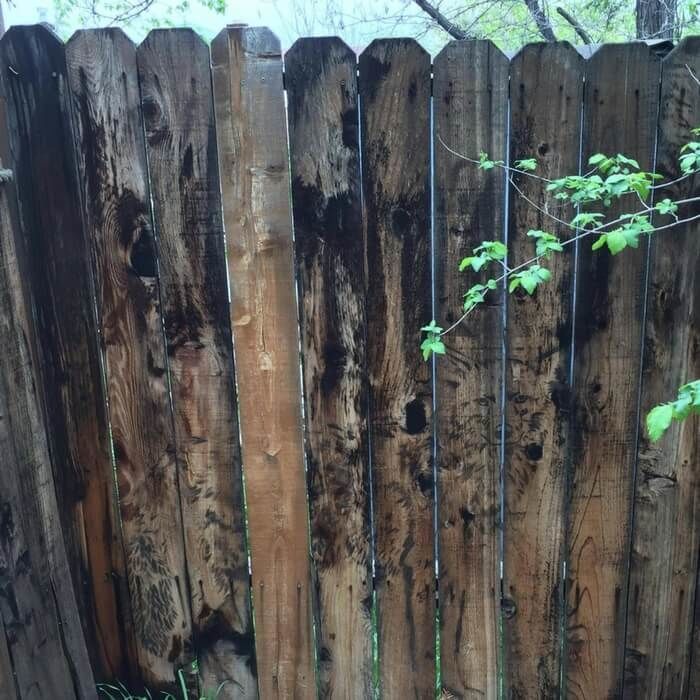 We love the kinds of designs that are so well-hidden that finding them feels like a reward. Kind of like when you notice something new when you rewatch a Tarantino film. This is definitely one of those hidden gems! While the darker parts of this fence look just like knots in the wood, or natural markings, it's not quite the case. Check out the panels on the far right, and a wolf will emerge! We can also make out some other pictures on the left, but it's up to you to figure out what they depict!
Philip Morris Cigarettes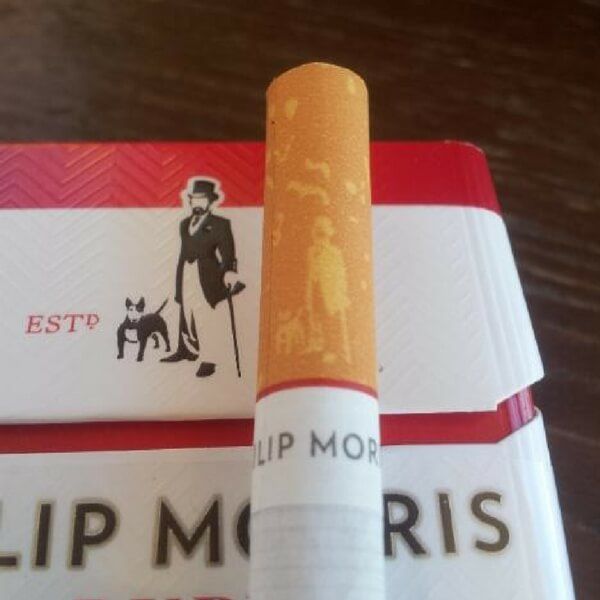 If you're not a smoker, you're unlikely to know about this one. To be honest, even if you are a smoker, you might not have noticed this one! Just like the wolf hidden in the fence, each filter on the tip of these cigarettes hides a little man. They even have the little dog there next to the guy in the top hat. How cute is that? We guess it's a shame that smoking isn't cute! Ah well. Maybe this could be a cool idea for those people at Juul to make better use of their logo!
The Thief-Proof iPhone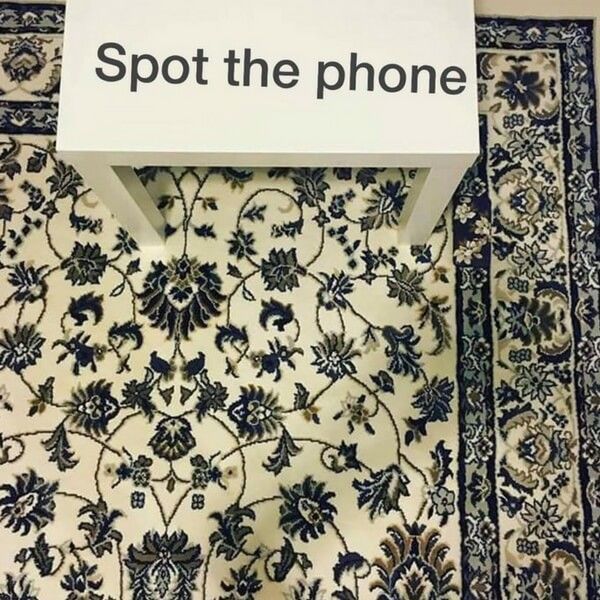 It literally took us ten solid minutes of staring at this picture to figure out where on earth the phone was in this pic. Can you see it? If you can, you should definitely consider a career in search and rescue, because you need eagle eyes to see this one. We think we'd have an easier time finding a needle in a haystack. While this might not be practical if you had poor eyesight, it would surely be a major deterrent for thieves. If they can't see your phone, how are they gonna steal it? Now that's clever. Oh, and PS: it's on the ground next to the front of the right table leg. 
Sneaky Kitty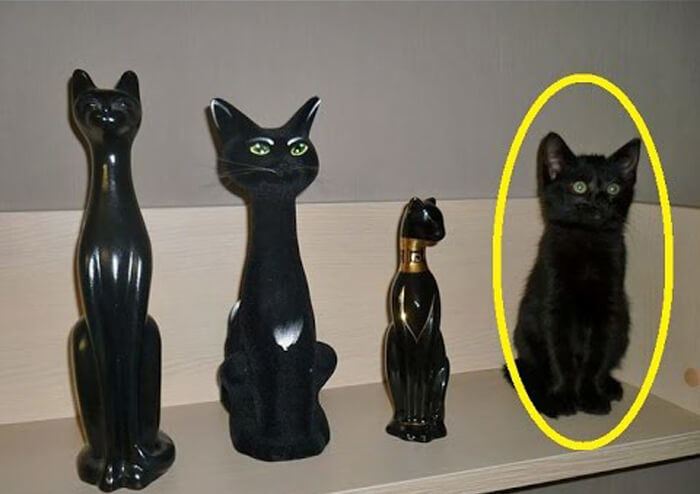 So this one might not be a design, per se, but it sure is cute. We don't have to tell you twice that the adorable little black cat at the end of this row of ornaments is not just a little china figurine. If he stayed very still, you might be forgiven for missing him. But we all know what kittens are like. Trying to get them to stay still is like trying to herd cats. Which is basically what it is. Maybe that's where the saying comes from? Anyway, we wish our mantlepiece looked like this. What a total sweetie!
A Tiny Police Station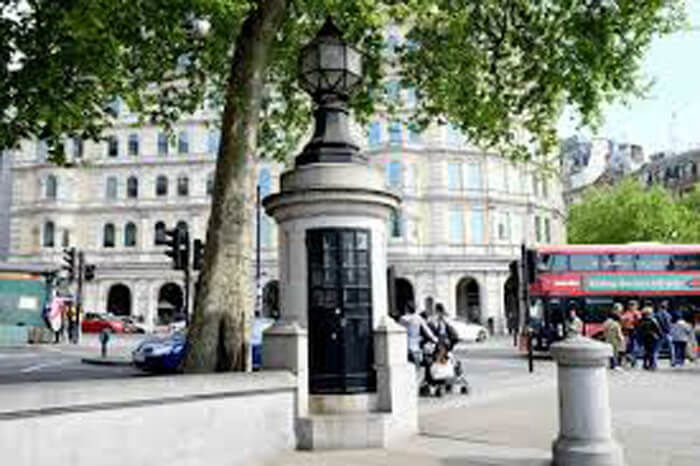 Nope, that's not a typo. This really is the smallest police station in all of Britain. Maybe even the world - who knows? It was built in 1926 at the end of the first world war to keep an eye on Trafalgar Square, where the little Morris Column-esque structure has its home. There are tiny windows and a phone line inside, and when the phone is picked up, the light at the top of this minuscule station will flash. This way, nearby police officers will be able to see it and help out. What's more, is that cops can even fit a couple of prisoners in there if they need to! Impressive, huh?
Designed by Nature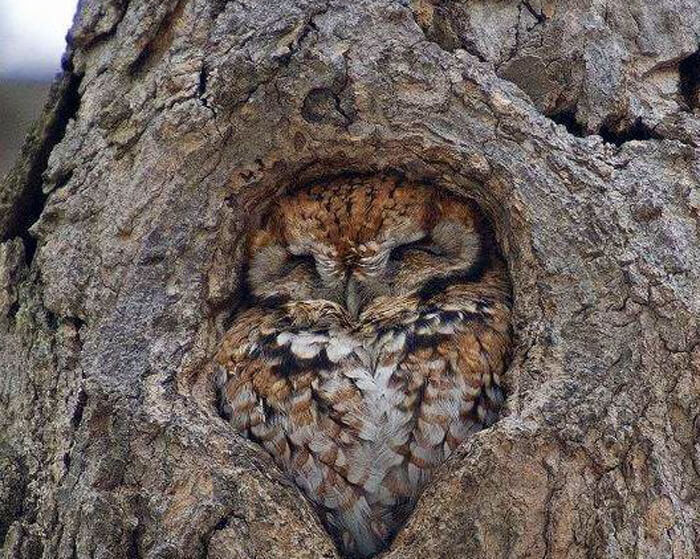 Isn't Mother Nature wonderful? If you thought the little black cat was sweet, wait until you spot this cutie. The tiny owl inside the hole of this tree looks very pleased with herself. If you found the perfect hiding hole, you would too! If she's playing a game of hide-and-seek, it seems like we've found the winner! Aside from being a pretty neat little spot to hide, the hole in this tree also doubles as a secure nap place for the owl to sleep without worrying about predators. Genius!
Mt Rushmore's Hidden Room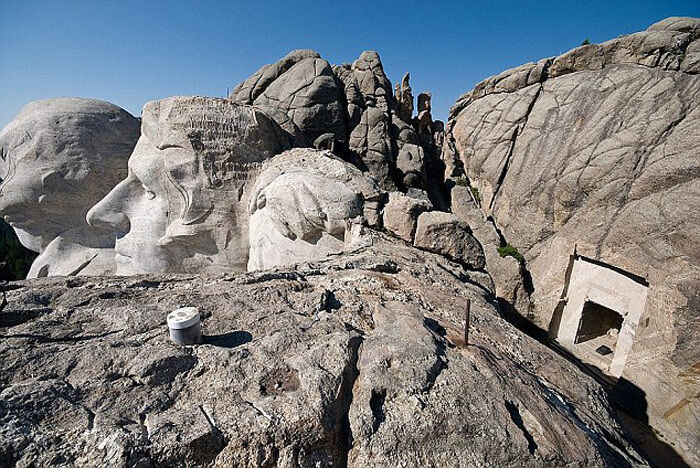 The heads carved into Mt. Rushmore are known all across the world, and people travel from the other side of the globe just to get a glimpse. But what you might not know is that behind Abraham Lincoln's head there just so happens to be a top-secret room called the 'Hall of Records.' It isn't accessible to the public but was designed by Gutzon Borglum, who designed the original sculpture. He wanted it to have a massive bronze eagle with a 38-foot wingspan at the entrance!
Brother Nemo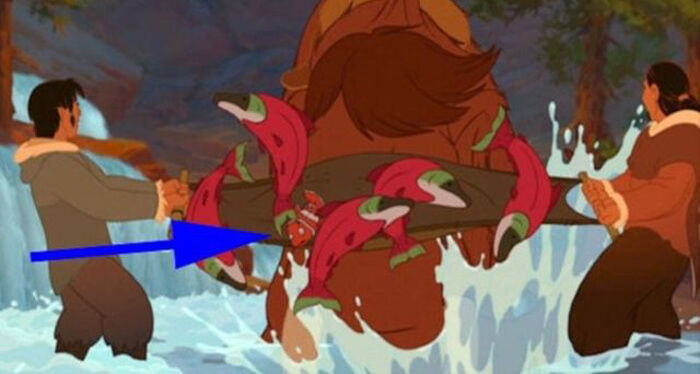 Have you ever seen the Disney film, 'Brother Bear?' There's something that you might have missed in this particular scene. Take a closer look at the underside of that log - it's Nemo from Finding Nemo! This isn't the first time that Disney has put a little Easter egg in one of their animated films. Mickey Mouse is hidden in a crowd in The Goofy Movie, and in Lilo and Stitch, there's a Mulan poster on the wall! We're definitely going to be looking a little closer next time we watch a new Disney film.
The Eiffel Tower's Secret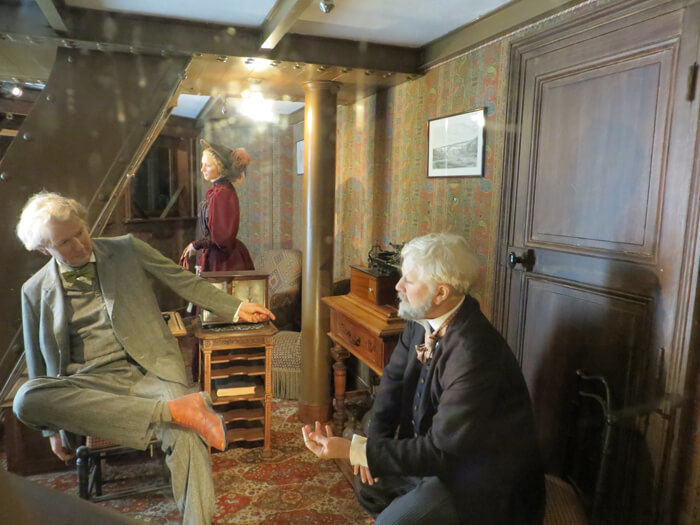 Way back in 1889, Gustave Eiffel built himself a super-secret apartment hidden in the enormous steel structure that is the Eiffel Tower. It was, of course, originally built for the World Fair, and still stands there today. The apartment is at the very top of the structure, and it was recently restored. It even has wax figures in it so visitors can imagine what it must have looked like back in the day. Pretty incredible, huh? Gustave Eiffel must have been the envy of the town with a pad like this!
Sadly, this brings us to the end of our awesome compilation of incredible hidden design features. Which one surprised you the most? We definitely were the most impressed by some of the logos, which we see all the time but never really noticed before now. If you want to share these new discoveries with a friend, be sure to share this article on your favorite social media.