30+ Rare Historical Photos
Are you intrigued by cultural icons from the past? Although we embrace modernity, it has not demeaned the magnificence of the old. From the least well-known to the most incredible, like the Statue of Liberty and the Eiffel Tower, you will be in awe of these amazing photos. And we've got the backstories behind them all! Whether you love them or hate them, It is safe to say that these cultural icons and historical photos will take us back in time!
GE Building, 30 Rockefeller Plaza
Only a few knew that 30 Rockefeller Plaza is in the rank of elite buildings until the New York Landmarks Preservation Commission listed it in their records in 1985. 30 Rockefeller Plaza had a lot of misgivings before it was agreed to be built in 1930. Its construction was between 1932 and 1940 on a piece of land that John D. Rockefeller Jr. leased from the University of Columbia.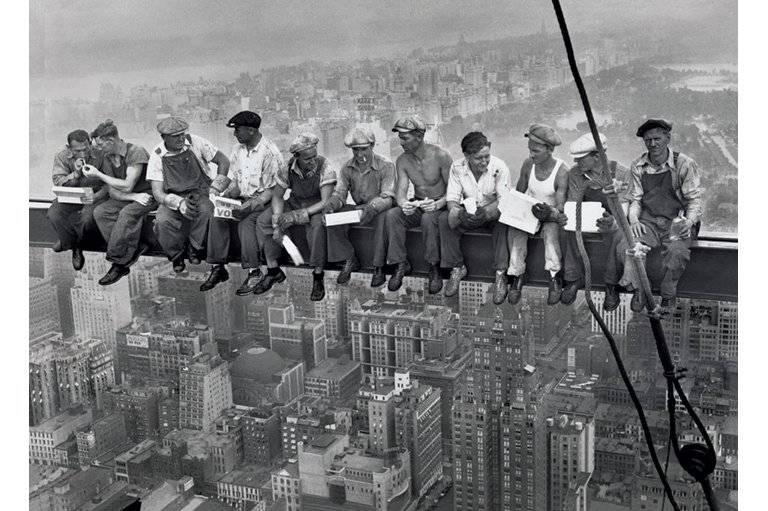 The picture shows workers having lunch on a railing that is as high as 850 feet approximately 260 meters. This picture can make one feel queasy, but well, the photo was taken without capturing the cakewalk underneath their feet. One would be made to believe that they got there magically. Although the building isn't the tallest in New York, it still maintains a place among famous buildings in the state as the 22nd tallest construction. GE building (General Electric) would later be the name of the monument from 1988-2015. Again the name changed to Comcast Building after there was a transfer of ownership in 2015.
New York City Subway System
In 1904, the New York City Mayor having witnessed casualties from the transport systems of the massive influx of people decided to find an alternative mode of transportation to motor cars and carts. He, therefore, resorted to instigating what would later be one of the most popular means of transport in New York City. Step forward, New York City Subway opened in 1904 before its leasing to the New York Transit Authority. The New York City subway hands down as the oldest public transit system. Apart from being the oldest, it is also one of the most used transit systems with over 472 stations. Its construction was linked with the explosive population of New York City.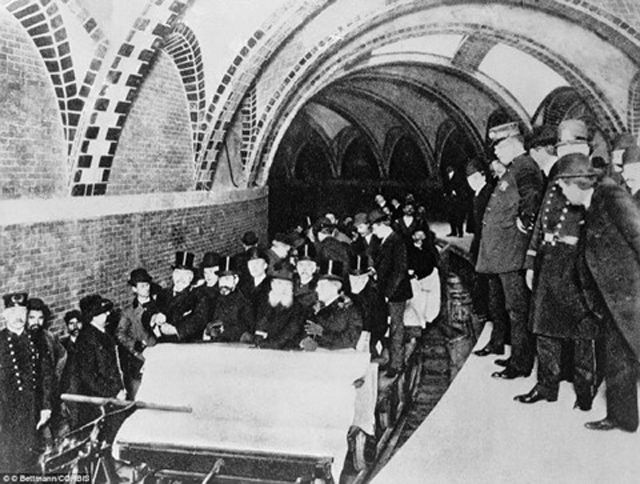 The New York Subway is by far the most significant public transit system, with an annual ridership of 1.7 billion boardings about 6,418 vehicles. With stations scattered about Manhattan, Bronx, Queens, and Brooklyn, it is no surprise why it has a lot of ridership. One other intriguing thing is its 24-hours service every day. With that vast ridership, people regard it as the busiest rapid transit system in the whole of the Western Hemisphere.
Ringling Brothers Circus
The story behind this circus is complicated. It was the most popular traveling circus at the time. Started by seven brothers, the idea was to bring a live demonstration of animals with some showmanship. After the increase in its patronage, they decided to include the tag, "the greatest show in the world" and it would serve as one of the many things they were known for. It started as a small circus back in 1871, and it grew in leaps and bounds moving from the western world to eastern Europe.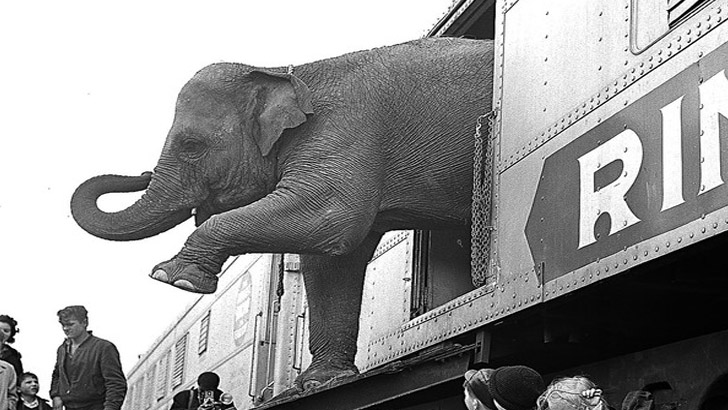 Despite seeing several changes of administrations, the circus would go on to operate for almost 150 years before it later became defunct in 2017. However, the entertainment place suffered greatly due to the great depression in 1930, but it bounced back and became Americans' favorite circus. Before it became defunct, it announced in January 2017 the intention to close after several logistical issues.
Frank Sinatra
You can't count more than five musical sensations back in the day without mentioning Frank Sinatra. He was the darling of many people. Apart from the fact that he was a musical genius, his eccentricity precedes him. He was also a famed actor who was usually the pick of producers. Frank was famous not only because of his musical ingenuity and fiery acting but also because of his extravagant lifestyle and ostentatious living. Asides this, Frank was always the talk of every concert he was performs. He didn't allow people to choose between him and any other person, and it was him and others.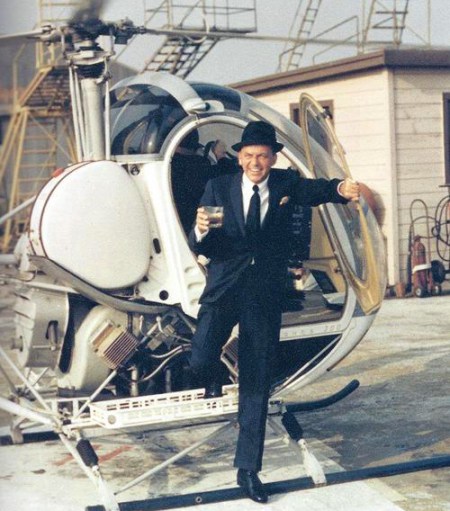 One thing, however that later became popular about him was his selective alcoholism. He is considered by many as an alcoholic even though Frank doesn't mix pleasure with work. Once a project was forthcoming, Frank would stop taking alcohol and cigarettes. This practice, he said, allowed his voice to be in perfect shape. However, once the project sees the light of the day, the star was back to what he enjoys. This cycle kept on repeating itself every time he had a project.
Stardust Casino and Hotel
When Stardust was constructed in 1958,  it was by far the largest casino, spanning an incredible 16,000 square feet, with about 1,000 hotel rooms. The idea was borne out of sheer curiosity by Tony Cornero. He died three years before the project ended in 1955. John Factor then bought the place. If you still remember the movie "Casino" which starred Sharon Stone, Robert Deniro, among many others, the Stardust' Casino was what inspired the film.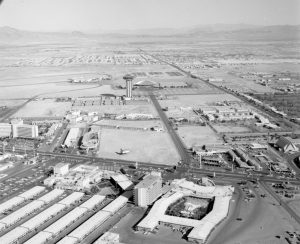 When Stardust opened in 1958, the creme de la creme of the society was in attendance, ranging from the senators, Government officials to Hollywood stars. It was the talk of the town because of its state-of-the-art and luxurious equipment. However, that wasn't only the perk; it was located in funky Las Vegas but would later be demolished in 2007. After six years, a Malaysia-based Genting Group bought the building site from Boyd Gaming, with their plans to open Resorts World, by 2020.
The Great New York Snow Blizzard of 1947
The strangest thing about this snowstorm was that there were no high winds. You know a snowstorm comes with some chilly high winds, but this blizzard came with none. It is regarded as the worst snow Blizzard since 1888. It started just around 3:20 am that Christmas morning, and by the time people would wake up, there was snow all over and reached the unprecedented height of 67.1cm. It is the second-highest snowfall in history. It came without warning.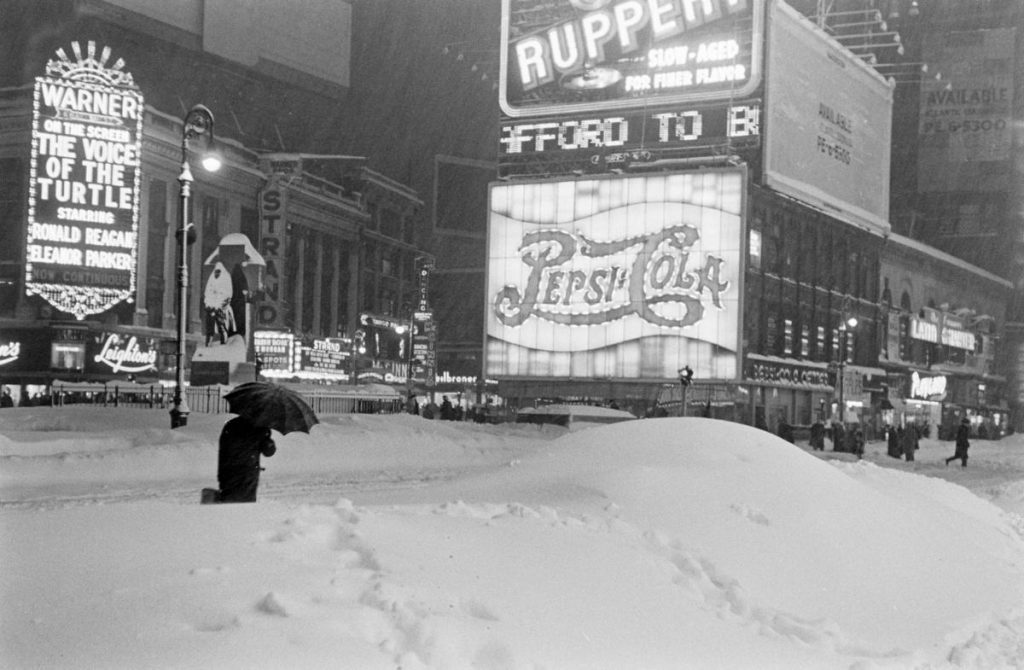 By the time it stopped the next day, it had left a lot of destruction in its wake. Cars, buses, and houses were buried under the snow. Nobody could navigate to wherever they were going. The snow brought the whole of Northeastern America to a halt by crippling businesses and services for the new day.  Such was the effect that a name was given to it; Extratropical Cyclone Blizzard. A disaster of that kind does not go without having deaths. Over seventy-five deaths were recorded in that period.
Joan Bradshaw Taking a Dog Walk
Not many girls have such a womanly figure at age 17. In fact, this girl's stature is what so many ladies would do anything to get. This Joan Bradshaw picture was in 1950, and It shows her walking a dog in some elegant clothes. She looks every way ravishing.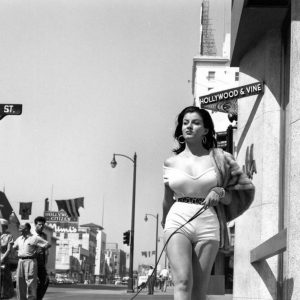 This picture would later go viral, and subsequently, she was encouraged to contest for beauty pageantries. Joan Bradshaw would then clinch the first prize as Miss Texas in 1953. Such was her popularity that she would go on to model for many organizations' products. Also, Bradshaw would later become a figure most young girls looked up respect as she spells the word beautiful with every part of her body.
Chevrolet Iconic Vehicles
Chevrolet-branded vehicles are sold in most automotive markets worldwide except for most Asian countries and Sudan. Chevrolet, a division of General Motors, has been in existence for over 107 years. Registering billions of sales as well as worldwide recognition, Chevrolet or Chevy as it is informally known is a brand that has stood the test of time. It has continuously revamped its brand over and over. In 1958, Chevrolet produced some of the most distinctively looking vehicles, and one of them was the Impala.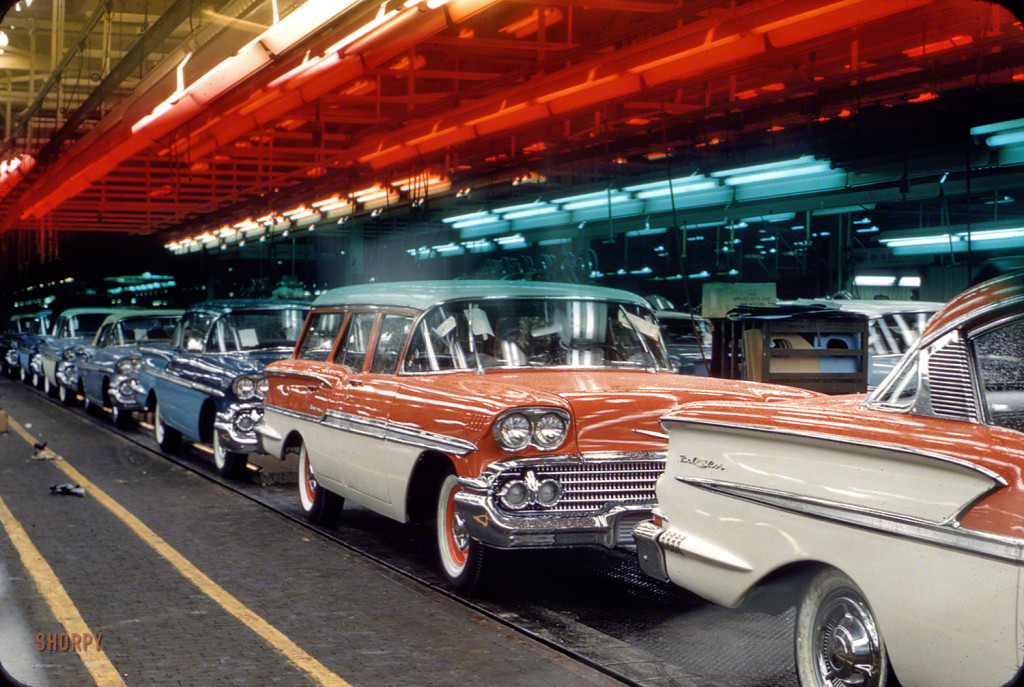 The Impala would go on to be a darling of motor users not only because of its sleek and beautiful looks but because of its efficiency. The design was released alongside BelAir in 1958, and it would go on to be one of the favorite cars that people love to have a cruise.
Howard Hughes
In his time, no one came close to this man's business acumen. He was a business tycoon, pilot, investor, philanthropist, engineer, and a film director. Howard Hughes was always doing one big thing or the other. Before he became a prominent figure in the aviation industry, he was already a very successful film producer. He was also known for receiving many awards for his philanthropic acts. Acts that made him found the Howard Hughes Foundation and Howard Hughes Medical institute that is still in operation today.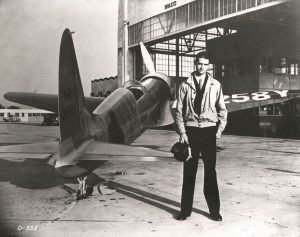 This photo showed when he broke the record of the fastest speed for a plane in 1935. He was later inducted into the Aviation hall of fame for his groundbreaking achievements. People see Howard in the aeronautical world as a pioneer. More then in life, he was known to be eccentric, a character attributed to his Obsessive-Compulsive Disorder (OCD).
McDonalds
It is rare to find anyone who hasn't heard about the McDonald's brand. It is a success story that has traveled around the world and has been used in seminars where young entrepreneurs gather. Here is a 1953 picture and it depicts where the McDonald started. One thing that is also interesting to hear is that this same place is still operating till this very day. It should become a heritage.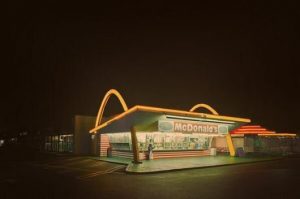 Located
at 10207 Lakewood Boulevard, Downey, California, this restaurant was where the story began. Although they had been in operation since 1940, they owned this place in 1953. With over 38,000+ restaurants around the world, it is safe to say that they are without a doubt, the biggest fast-food joint.
Capitol Building
The American seat of Congress is a delight to see in terms of the architectural details on display. Located in the capital city of Washington DC, the building is the seat of the legislative arm of the US federal government. With a floor area of 16.7 acres, it is undoubtedly a massive structure. It is important to note that Thomas Jefferson proposed the name "Capitol," a Latin name synonymous to the "temple of Jupiter Optimus Maximus."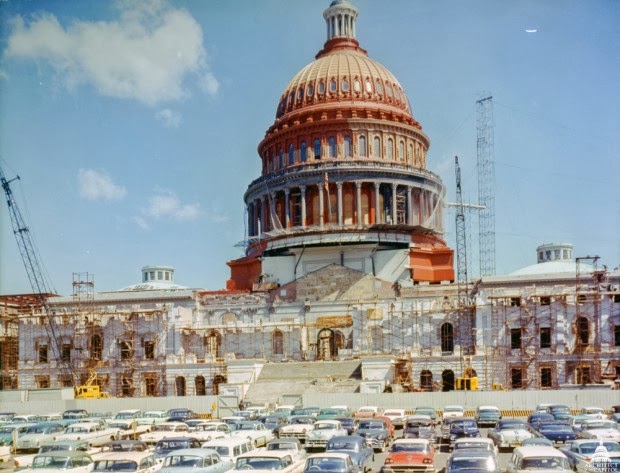 Construction kicked off on September 18, 1793, and took about seven years to complete in 1800. Since then, it has undergone a series of renovation and expansion. In
1959
, the architect decided to restore the dome structure of the Capitol building, which was made of iron. He instructed that the building be painted with a rust-proof substance which would allow the building to receive its new color.
Aldwych Station
In World war II, Germany and England were the most embattled, as they always sought to cancel each other out. The hostility was so intense between them that the Germans called the operation, "the lightning," which the British press called "the Blitz." It was in this war that Germans used warplanes to destroy everything that came across their paths in England. Nowhere was safe for the Britons, save hiding in subway stations.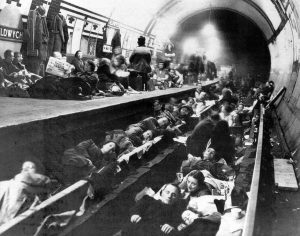 This picture shows one of those stations, the Aldwych station that served as a haven for the people of England. The place would later be converted to a safe house with the government providing
toilet materials
and bunk beds to alleviate the burden of just cramping in together.
Golden Gate
This picture shows the early construction of the golden gate bridge in 1935, of what would go on to be the second-largest suspension bridge in the world. The workers on the bridge understood the importance of safety. They decided to lay a net under the bridge in case anyone falls off. Did it turn out to be a great idea? Yes!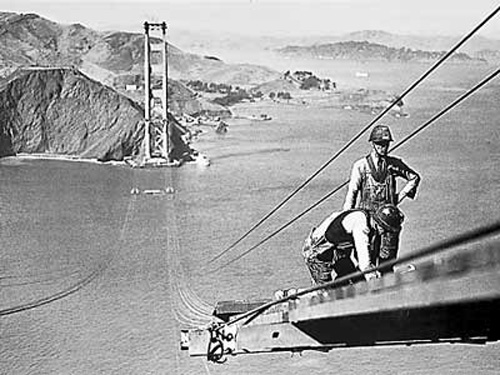 They were able to save
19 persons
who fell off while working on the bridge. These were people termed to be members of the famous club "
Halfway to Hell
." For the records, the longest suspension bridge was the Verrazano Bridge constructed in 1964. 
End of World War 2
Following the end of World War II, the streets of New York erupted into a frenzy of happy people running around and congratulating themselves. It was what everyone had looked forward to after a disastrous war period. The ruins were getting too much to keep up with, plus people were tired of hiding. Everybody wanted to go about his/her business without the thought of a bomb explosion.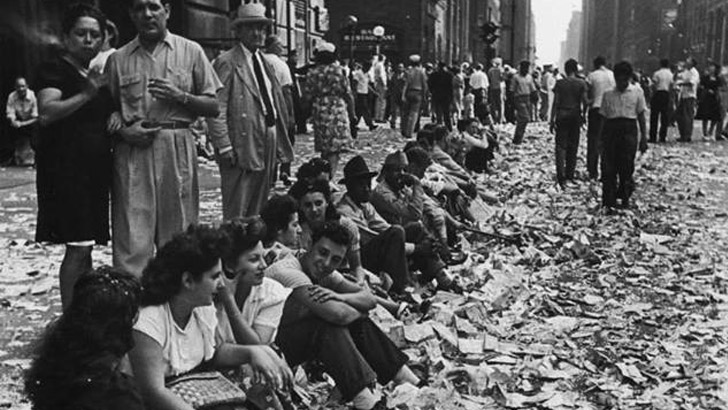 This picture showed the excitement when
President Truman
announced over the radio that Japan had surrendered, and there was a celebration because at last, the war came to an end. You can see people out in their numbers troop out. Some of them might have lost their homes, but they have hope that they could rebuild what they had lost.
Dagen H
The iconic thing about this picture is the clumsiness. One would think there was a traffic warden who was asking them to go that direction. In fact, at first glance, you are curious to why they are all moving towards that direction. Is there a roadblock on the other path? Is that one way? You are free to have those questions. But what if we told you they were carrying out a newly imposed traffic law, would you buy it? Well, they were.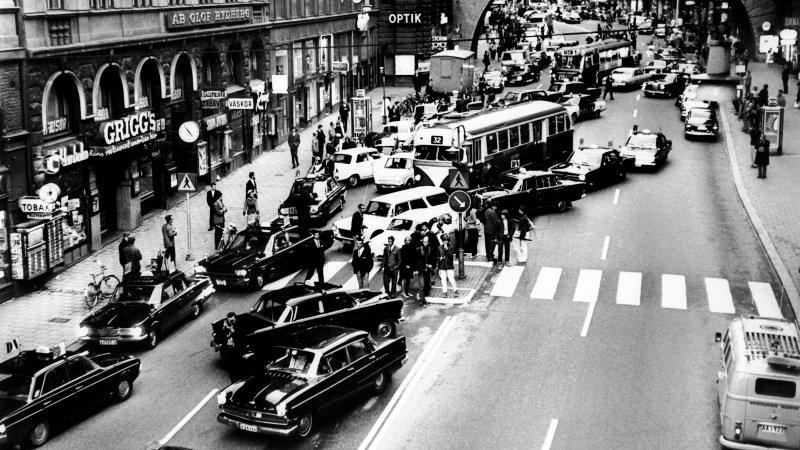 Dagen H, the day
Sweden
switched from driving on the left-hand side to the right-hand side. September 3, 1967, was the day the traffic laws changed its direction.
Johnny Cash
Having sold 90 million records worldwide, Johnny can is considered as a musical legend, and his awards would testify to that fact. Inducted into Country music, Rock n Roll, Gospel music halls of Fame, this is more than a confirmation. He likes to see himself as a country music guy, but he also dipped his feet in other genres too. Johnny is known for his profoundly calming baritone voice, all and sundry accepted his music. His music cast shadows on themes revolving around moral tribulation and redemption. He was a worldwide sensation.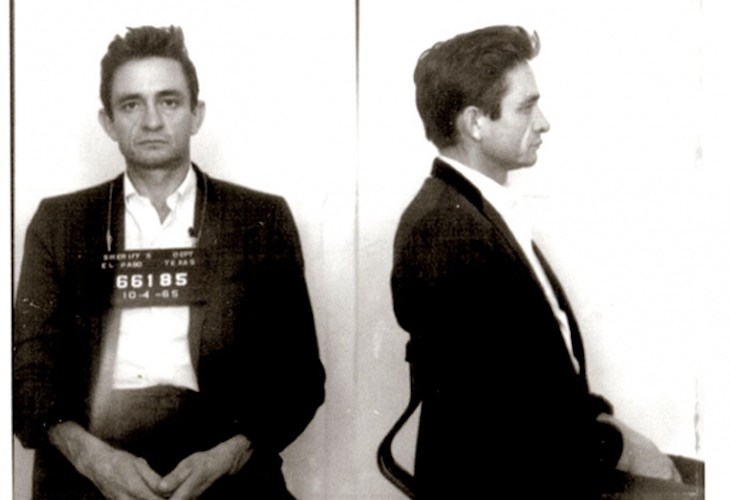 The "man in Black," a nick he earned from always wearing black clothes and sporting black-themed stages, succumbed to drugs. As his illustrious career was taking off, he became addicted to drugs such as amphetamines and barbiturates. The US narcotics team later caught him after his plane was raised. In his plane, he had enough drugs that could take him for a year. He would later be released.
The Opera House
This building is without any shred of doubt, the most distinctive and famous structure in the world. Standing at 4m tall, this multi-venue for performing arts cost almost $1 billion to erect. Architect Jorn Utzon was tasked with drawing up the plan after coming first place in an international design competition.  He didn't think it was going to cost that much. The building holds multiple events which host well over 1.2 million people annually.  Over 350,000 people visit the place annually, and It stands as a world heritage site.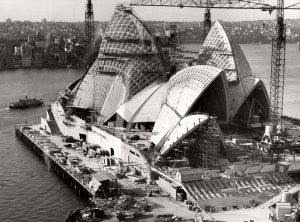 It took well over ten years to opened formally; construction started around 1959 before commissioning in 1973. The cost gulped in more money than was initially stipulated. It took in 15 times what was initially set aside for its completion.  Australians were angry at the construction as they felt it was a waste of resources. The tune has changed now though as they are proud of the revenues, it has brought in to their country.
Painters on the Brooklyn Bridge
Eugene de Salignac took this iconic picture in the year 1914. Eugene, an employee of the Department of Plants and Structures, took pictures randomly for his pleasure. In his over 27 years of working with the New York Department, he was always with his camera taking pictures of mesmerizing projects and the people involved in them. This picture particularly was taken on Brooklyn Bridge where the workers were walking on suspensions trying to paint.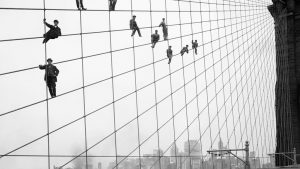 His works would later be recognized
65 years
after his demise. People only began to see his masterpieces after his death. He, however, received a posthumous award for his works.
Robin Williams
Robin Williams, according to many was regarded as one of the best comedians till his death in 2014. He was well known for his ability to improvise and the plethora of memorable character voices he could create. Many critics have lauded Williams as one of the funniest comedians of all time. Williams won a Grammy for his comedy album in 1979. He was such a natural.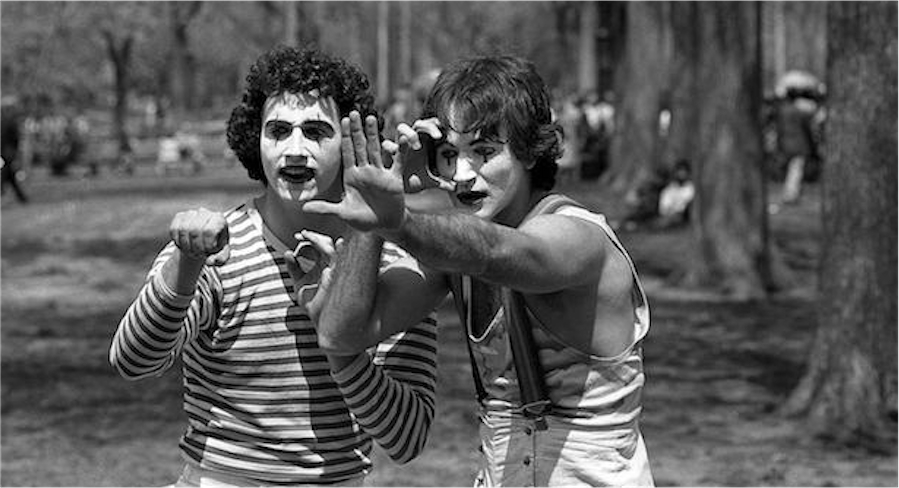 When the photographer took a picture of two young mimes, little did he know that one of them would go on to become one of the greatest comedians America would ever see.
Daniel Sorine
only wanted to take random pictures at the
Central Park
in 1974, until two boys who were entertaining passers-by caught his attention. This picture would go on to be the foundation of the career of Robin Williams. 
German Attacks
The Germans were known to be ruthless in their war approach. In the 1930s, there was tension between England and Germany, and people were sure that any of them could attack them at any point in time. There were lots of things the two giants didn't agree about, and there was the talk of taking up territories that shared borders with them. So, at every point, there was always the question of "who will attack the other first"?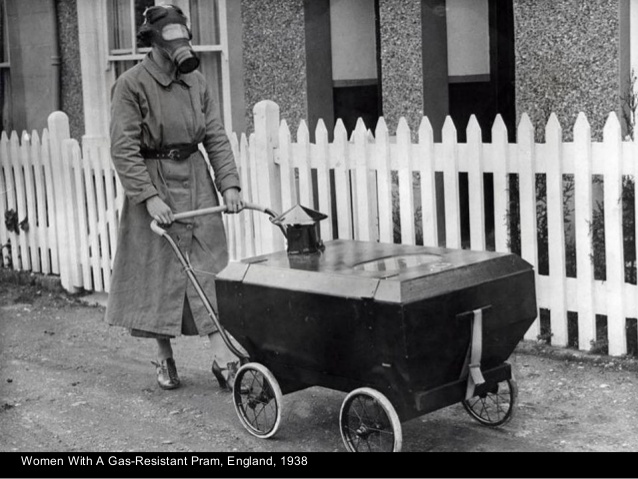 This picture shows a woman in England who took precautionary measure to protect herself from being attacked by any biological attack, hence her use of face mask and resistant stroller to keep herself safe. She probably would have taken to warnings dished out on the radio to warn against being taken unawares.
A Girl with Her Doll After World War II
This picture would stand to be one of the most emotional images of all time. The devastating effects of World War II took its toll on everyone regardless of their age and social status. But you cannot but feel terrible when little girls and boys were affected with no-one to look out for them, considering that they lost their parents.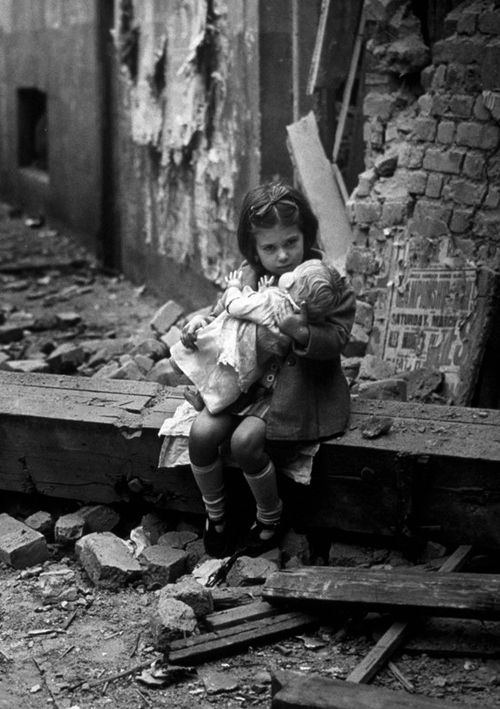 This picture is a representation of lost children who have nothing to cling to than their inanimate buddies. This girl has probably lost everything, including her home as a result of airstrikes. She's only left with her doll, which would serve as her companion amid the storm.
Animals and Children's Treatment
Children usually do not have things that bother them. They are the most carefree people in the world. It is why the Holy Scriptures advise us to learn from them as they have the purest of hearts. This picture shows a little girl who in the process of trying to elevate her mood shows the placement of ducks to make her happy, despite the pains she might have encountered in her treatment.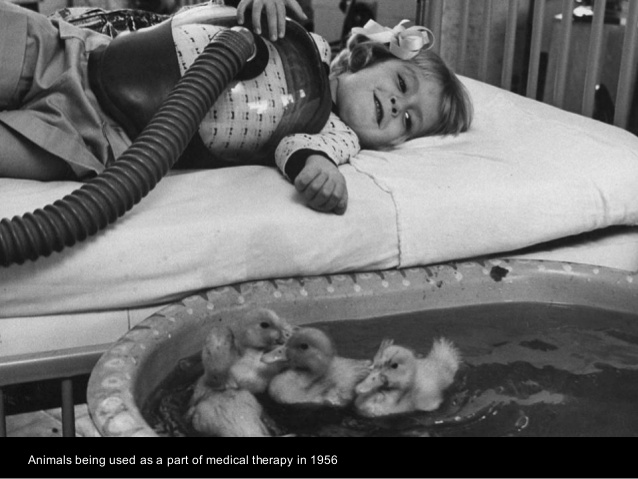 It is an ideal way of indulging the children in taking their minds off what is supposed to be painful. We can see the use of animals in medical therapy explicitly shown here. It's good we have animals around, especially that are friendly to man.
Berlin Wall
There have been enough raves about the Berlin Wall that is more than enough to register the name on our minds. This picture shows the great Berlin Wall in its early stage of construction in 1961. You probably wouldn't have seen it if you do not live in Germany. It is famous for its height and the heavy security that are attached to either side.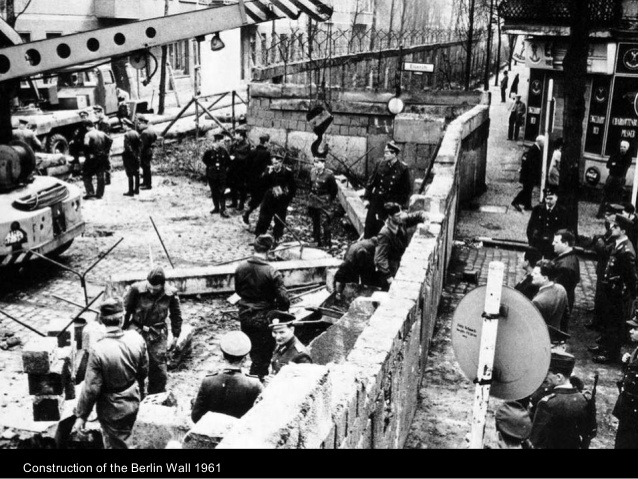 The history behind the Berlin wall is one popular one; it was built to divide Berlin. When the government then decided to start its construction, no one thought it was going to be effective, as people felt it was unnecessary. The wall, according to the mayor Brandt, restricted the freedom of movement and therefore received the tag " wall of shame."
War is Hell
Historical pictures have a way of reminding us about things that happen in times past and lessons derived from them. This picture was taken in 1965 of a soldier actively in battle in the Vietnam War. It carries a lot of memory for those who experienced the cold war.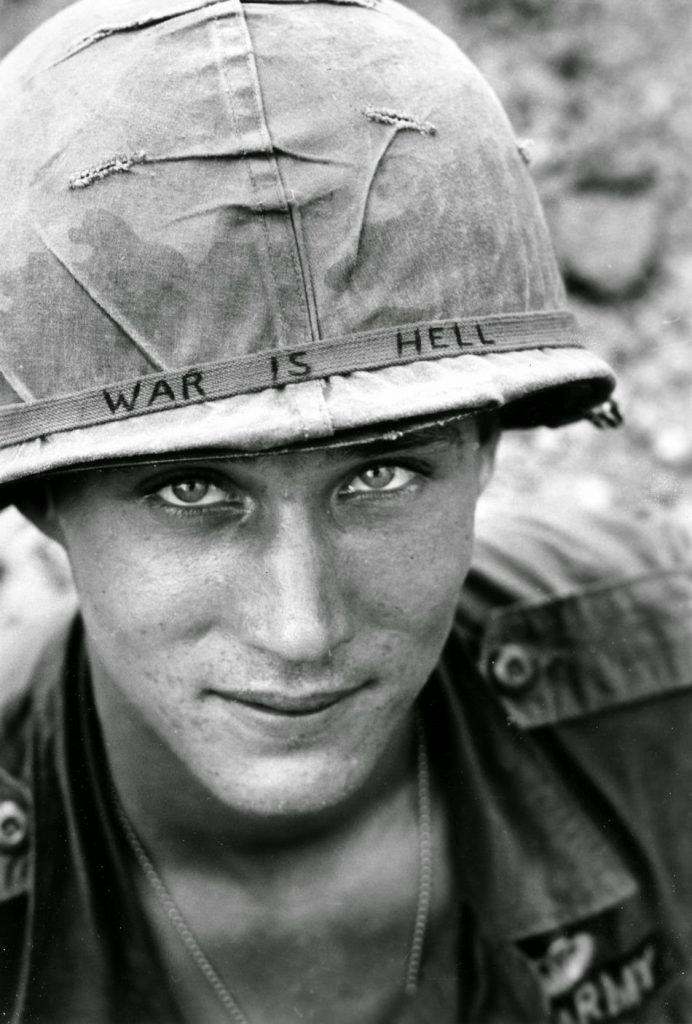 The captivating thing about this picture is the profoundly penetrating eyes of the soldier and the inscription on his helmet: "war is hell." A testament to the fact that war is not anything we should long for, irrespective of the power our country wields.
Bookstore
A young boy is seen seated on a log of wood going through a book. We can also see piles of books on the ground as a result of an airstrike. This place was supposed to be a bookstore where people come to get books for reading pleasure, no thanks to the London Air Raid in 1940; the bookstore is in ruins.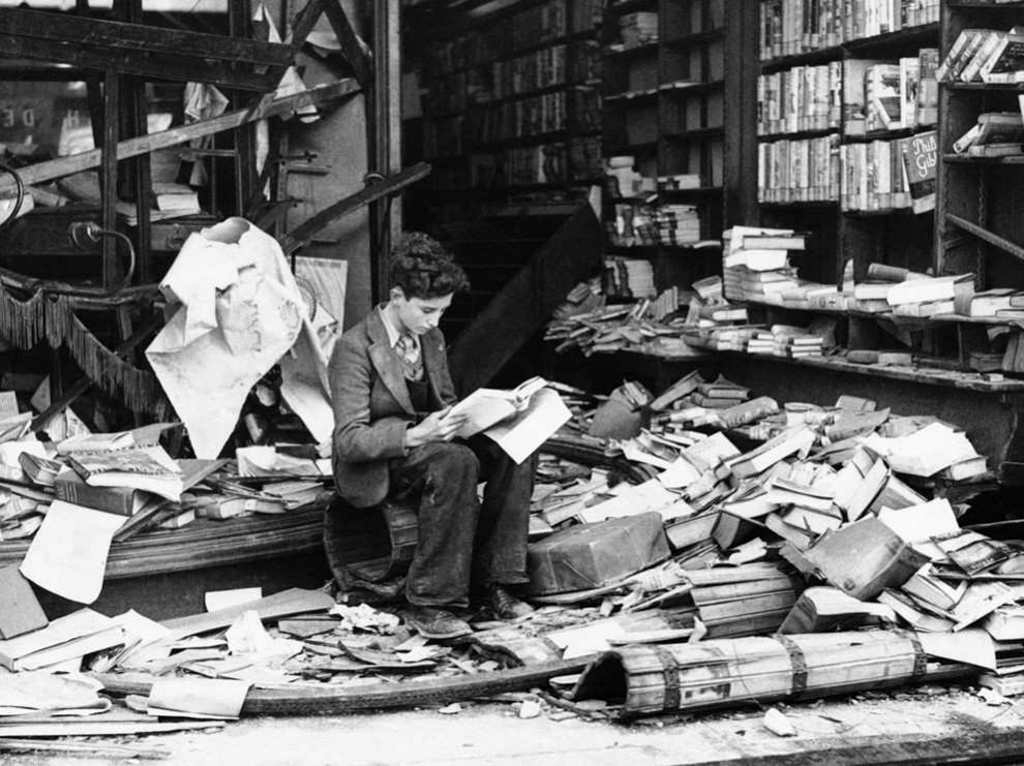 The world war had devastating effects on most of the social amenities that the good people of England enjoyed. Among many of these social institutions was the bookstore that served a lot of people. The ruin of activities in this place will not go down without remembering World War II.
Martin Luther King Jr.
You can't talk about the freedom struggle from slavery, and you won't mention Martin Luther King Jr. He was phenomenal in the fight for equal rights for both the whites and the blacks. He was a leader, a thought specialist, a philanthropist, a fighter, a great orator. He was like a God-sent to America. Martin Luther King Jr was the progenitor of the popular "I have a dream" speech. It lists as one of the most excellent statements ever recorded.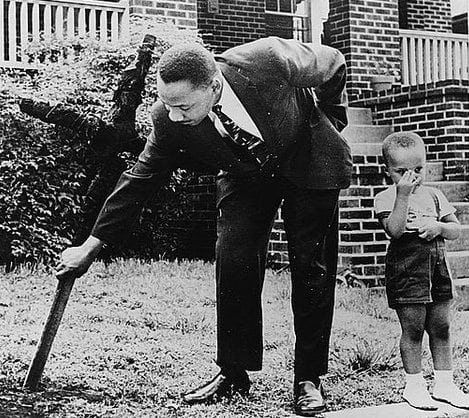 The address resonates throughout the world, and it did energize black folks to come out of their closets and set the world aright with awesomeness. This picture showed Martin with his son in 1960; he's trying to clear out the ashes of the cross that got burnt in front of his house. An iconic image of an iconic man.
 Babies
Babies, in as much as they are the cutest being around, they are also the most defenseless creatures. As such, they are to be treated with the utmost care and given full attention. This picture shows a tip of what happened to babies during the cold period of the Vietnam War.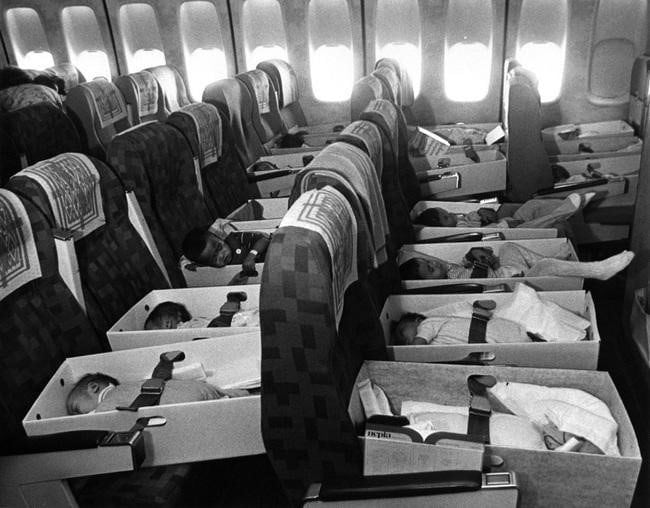 This is a rare picture of babies delicately arranged in boxes on a plane. These babies were being airlifted from the war in Vietnam to America for safety purposes. It is important to note that these babies are orphaned and had lost their parents to the war in 1975.
Chopsticks
Here is one of his diplomatic visits of President Richard Nixon to China in 1972. The 37th president of the United States of America, who served between the year 1969 and 1974 is seen struggling to make use of chopsticks to eat. The Chinese are known for chopsticks, but this American is giving it a try.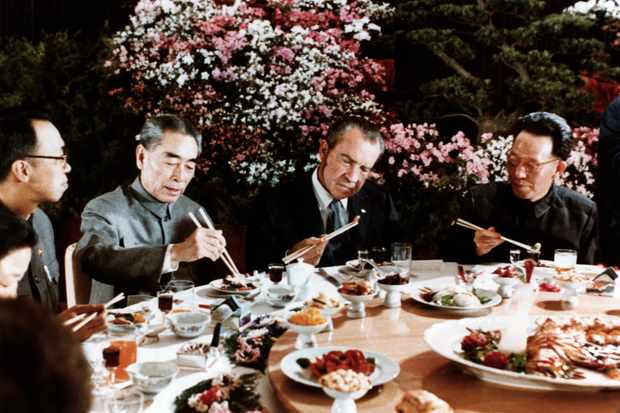 It is a hilarious picture as you can see the confusion written all over his face. But his trip to China was a strategic and diplomatic move. It marked the culmination of a harmonious relation of the US and mainland China after years of diplomatic isolation. It also should be said that Nixon is the only president who resigned from office.
World War II
The Second World War lasted until Adolf Hitler was defeated. Here in this picture, we can see a soldier obviously with joy replacing the street sign having Adolf Hitler's name with one which has the name of Roosevelt on it. The event happened in 1945, the year the World War ended.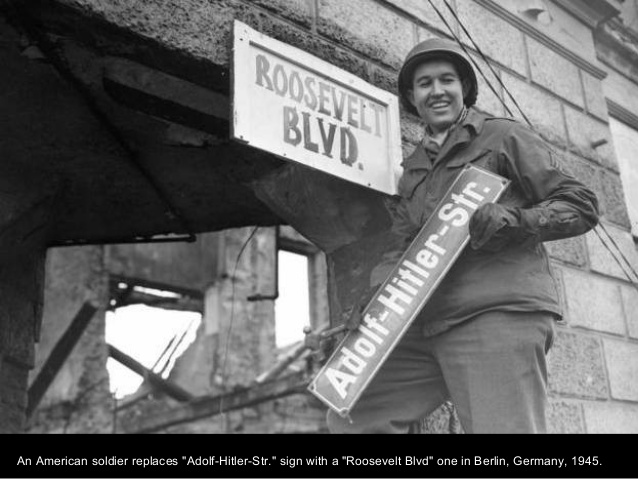 Sergeant George A. Kaufman is the man pictured here joyfully replacing the street sign. He's of the 9th Army from Fort Smith, Arkansas. There were several streets and squares named after the infamous Adolf Hitler during the era of Nazi Germany. 
Manet's Painting
This picture shows one of the many pieces of arts that Adolf Hitler stole from his assault in countries. Manet's painting "in the conservatory" was designed in the year 1879 by Edouard Manet. This painting was considered as one of the unique pictures of Manet's time.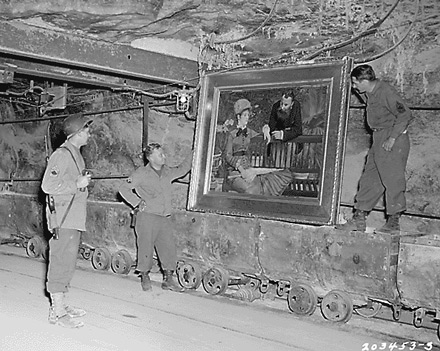 This painting was brought along with other pictures from the German National Gallery, which was stolen by Hitler to a mine to protect it from World War II. Work of art produced by Manet was highly recognized as he was a pivotal figure in the transition from realism to impressionism.
England and Germany
Millions of people lost their lives during World War II. The loss can be said to be more widespread in England and Germany, as both countries were at each other's throats. We could say that the war was majorly between these two countries, and they destroyed a lot of things in their wake. There were several things the Germans and the English didn't agree on, and violence was the only way each can show it was superior to the other.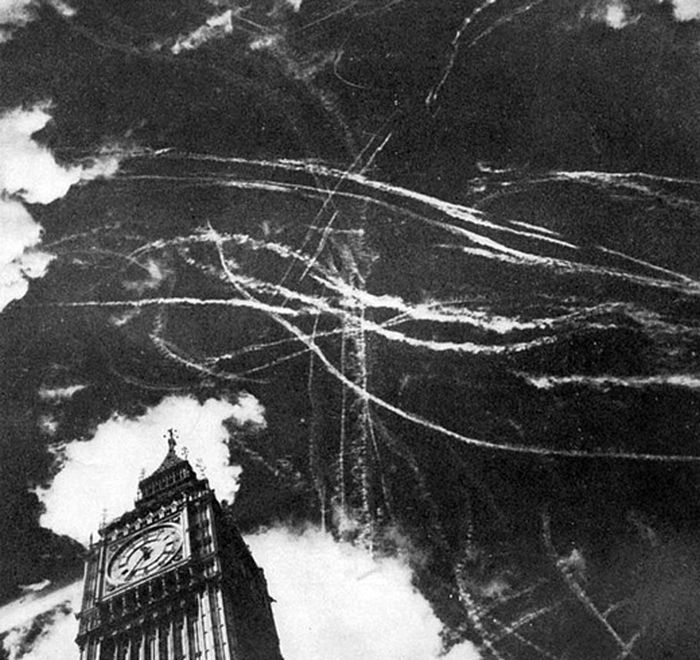 This picture shows the sky during the war, and it is clear that warplanes were in action and at their most destructive mode. A lot of buildings suffered damages, and millions of people were injured, with some losing their lives. It was one of the fiercest wars between the two countries, even though it was called the World War.
Pyroclastic Flow
Whoever took this picture, one thing we are sure of is the person's bravery. It is a picture of a volcano still in its prime. According to geography, nobody stays close to an erupting volcano. But our man here obviously has a wild heart. His act of bravery deserves an accolade for making us see this incredible sight.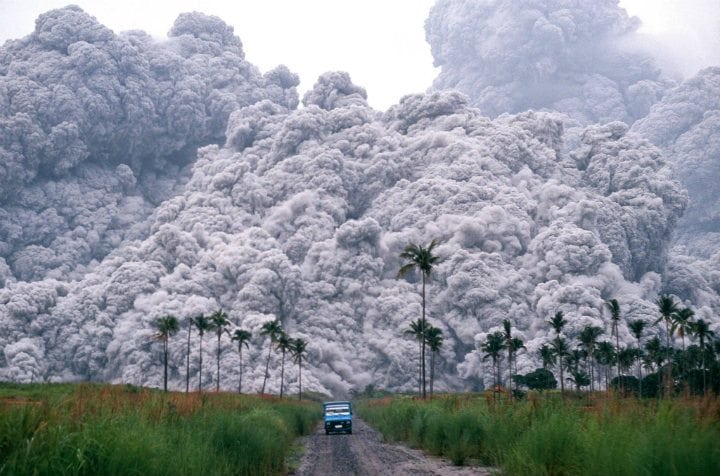 In the picture, what is in the display is a pyroclastic flow. So you are tempted to ask, what does it even mean? Well, it is the mixture of lava, gas, and ash that is released from an erupting volcano. This particular volcano happened in the Philippines in the year 1991.
Ham the Chimp
Ham the Chimp wasn't any ordinary Chimp, it was one who got international acclaim after being the first animal to be sent to space as a test to see if humans would survive. Did he survive? Yes, he did. The picture was taken in the year 1961 after Ham had completed the trip to space sponsored by NASA. He looked happy, yeah?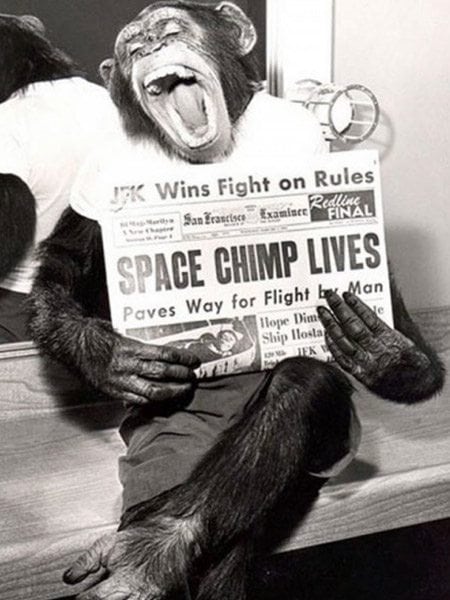 Can you guess how Ham got his name? "Ham" is an acronym that was derived from the laboratory that prepared the chimp for the historical space mission- the Holloman Aerospace Medical Center. The name "Ham" was also in honor of Lieutenant Colonel Hamilton, the commander of the laboratory. 
The Joyous Release
Imagine a soldier with a young family, getting trapped in a war-torn country while on national assignment, and then taken as a war prisoner. It is certain that asides the physical torture he might be exposed to, he also would have to battle with mental anguish, as his mind would always be concerned with how he must survive.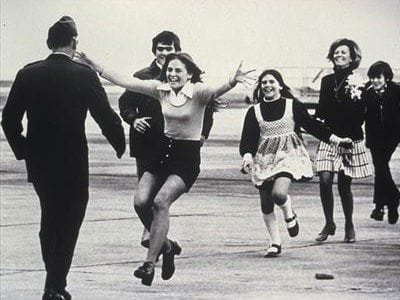 Happiness, joy, love... Everything was radiating in this picture. Lt. Col. Robert Stirm, was meeting up with his family after six years of being a prisoner in the Vietnam War. The joy here is what here means to his family, his wife, and kids. You can imagine the delight they all would be having seeing their father, brother, son, and husband after there was no certainty he would be released by the gruesome Vietnams.
Manta Ray
There are millions of species of flora and fauna in the ocean. As we all know, 70% of the earth is covered by water. Again, some animals would survive in water other than land. What this means is, the water bodies have the most extensive diversity of animals. Here is an amazing catch of a creature that lives in the water.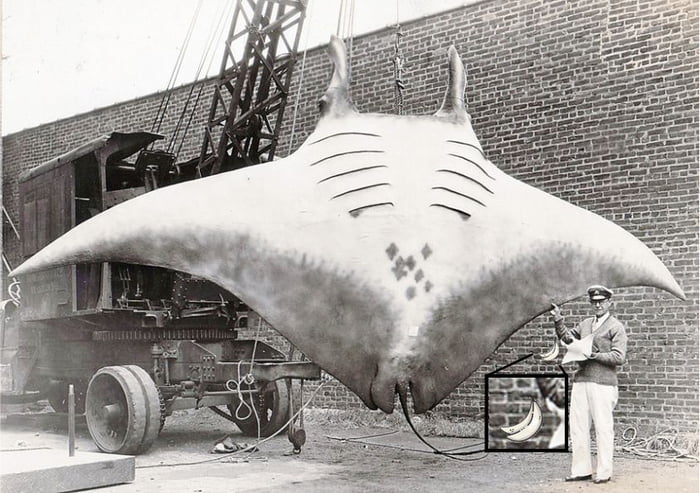 The first thought that comes to your mind when you see this picture is, how is it possible to have a fish as gigantic as that? Well, this is not a picture hoax. It is real; a live Manta Ray. Captain Al Khan, a sailor, was the one behind the big catch. The Ray weighed about five thousand pounds and was over twenty feet wide. It was the largest ever seen Ray, so large that it people nicknamed it the "devil's fish."
Nation space invasion championship
Some photos would be eternal. This one right here is one of such pictures. It is a gathering of about 10,000 people who participated in the National space invasion championship. It is easily the largest congregation of people for an indoor tournament.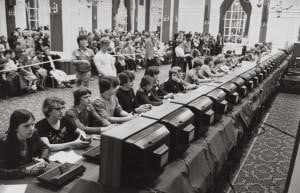 Every year, a championship often up by the Space Agency to recruit the best of brains. The tournament usually comes with much fun and also some brain-racking questions up for solutions. The idea of working for the federal government is the stimulant for many to troop in, in large numbers.
Babe Ruth
If we begin to list all the achievements of Babe, well, perhaps we would have to dedicate a whole post for him. They are too numerous to list on one page. He was phenomenal as one of the finest baseball players ever. Little wonder he was inducted into the Baseball hall of fame. Babe was the best, and nobody could lace his shoes.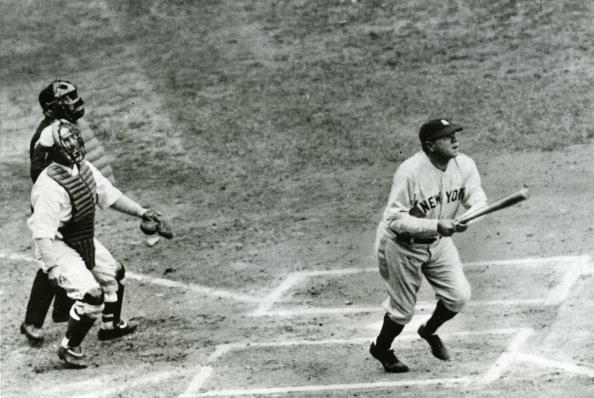 Here is Babe's 1934 picture in one of his most beautiful moments where he hit 700th home run. The stadium had erupted with the chant of his name. He had changed the face of the game and was the standard for many aspiring baseball players who wanted to have a glittering career like his. Babe was a role model to many. He was the reason many fell in love with baseball.
All these iconic pictures were filmed way back in time, and they constitute some of the best expressions, buildings, references one can think of. Some of these pictures probably cast your mind to some memories you have had inside of you. If any of these pictures remind you of something, do well to share with your friends and family. It is a ride into the past, and well, we don't want you to ride all alone. Your comments would be appreciated too. Let's have those discussions on some of the pictures you can personally relate with in the comment section.