From College Cutie to British Princess: Meghan Markle's Style Evolution in Photos
Meghan Markle is the ultimate beacon of British-American style. Her taste is classic, polished and always on point. She really was destined to be a princess right from the start, and we've got the stories and the photos to prove it. Her generous spirit always shines through when she smiles, and we are so pleased that our favorite Prince Harry has found happiness and started a family with someone as lovely as Meghan! So let's start from the beginning, shall we?
A Cutie from Day One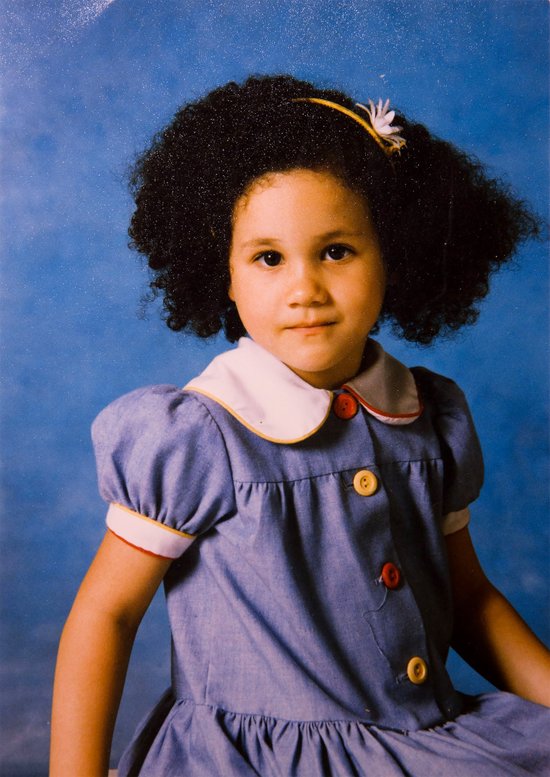 Do you remember where you were in July of 1981? While some of us weren't even born yet, many readers will join the royal family in remembering this time fondly. Why is that? Well, Prince Charles and Lady Diana Spencer were married on the 29th of that month. Prince William would be born a year later, and Harry came along a couple of years after William. And only days after their parents' wedding, Doria Ragland would give birth to her first child, the future princess of England.
A Hollywood Fairytale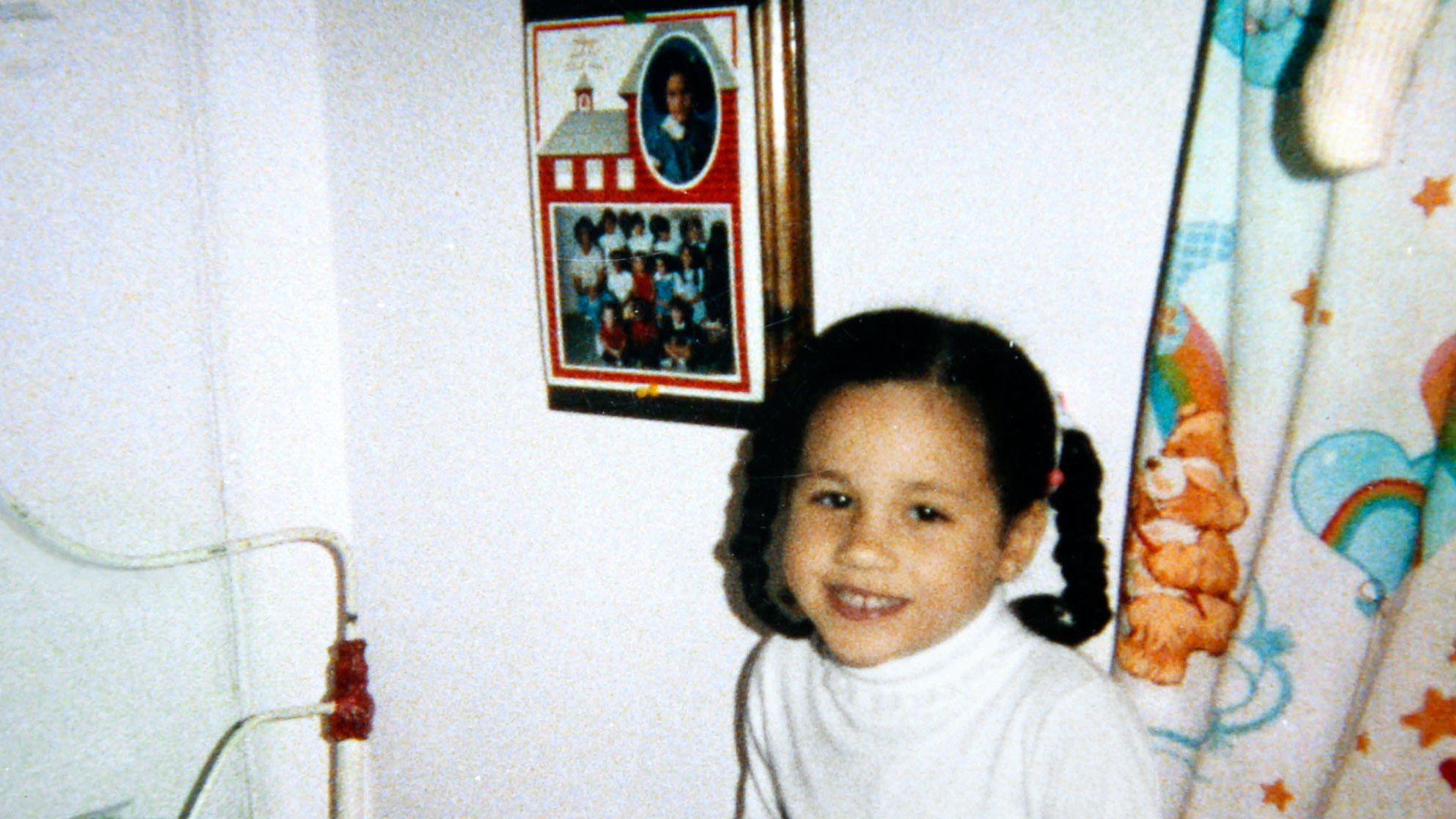 Here Markle is pictured in 1987, a total sweetheart in a white turtleneck. Her father, Thomas Markle, was a lighting director on the set of General Hospital, and it was here that he fell for a certain makeup artist while on set in Hollywood. Of course, they hit it off, and thanks to that chance meeting while Doria was temping behind the scenes, the UK now has this incredible all-American woman to look up to as a role model for the masses. So, was she always as regal and polished as she is today?
Doing The Right Thing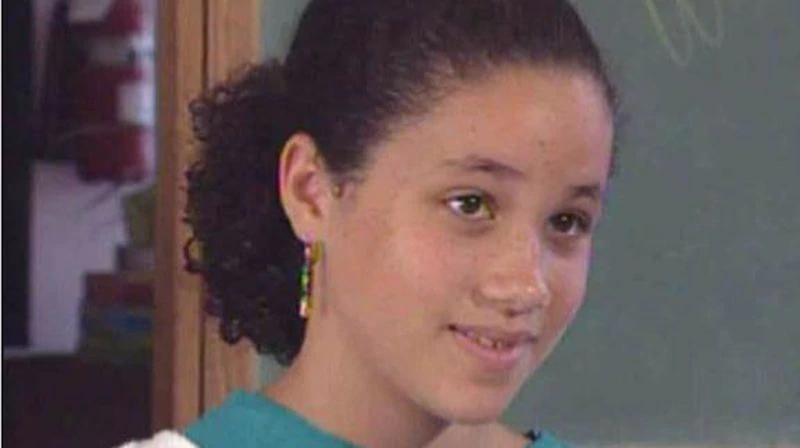 We know that the Duchess has a strong sense of justice, as an outspoken feminist and supporter of many different charities. When she was only eleven years old, Markle went on Nick News to speak about a problematic Proctor & Gamble product slogan. A dish soap slogan claimed that it was for 'women all over the world,' but the youngster immediately picked up on the problematic wording and called them out. "In the commercial, they say women are battling grease, meaning only women do dishes. I heard these boys in class say, 'Yeah, that's where women belong, in the kitchen.' It makes me feel like they're going to grow up thinking girls are less than them." You go, girl!
A Premonitious Journey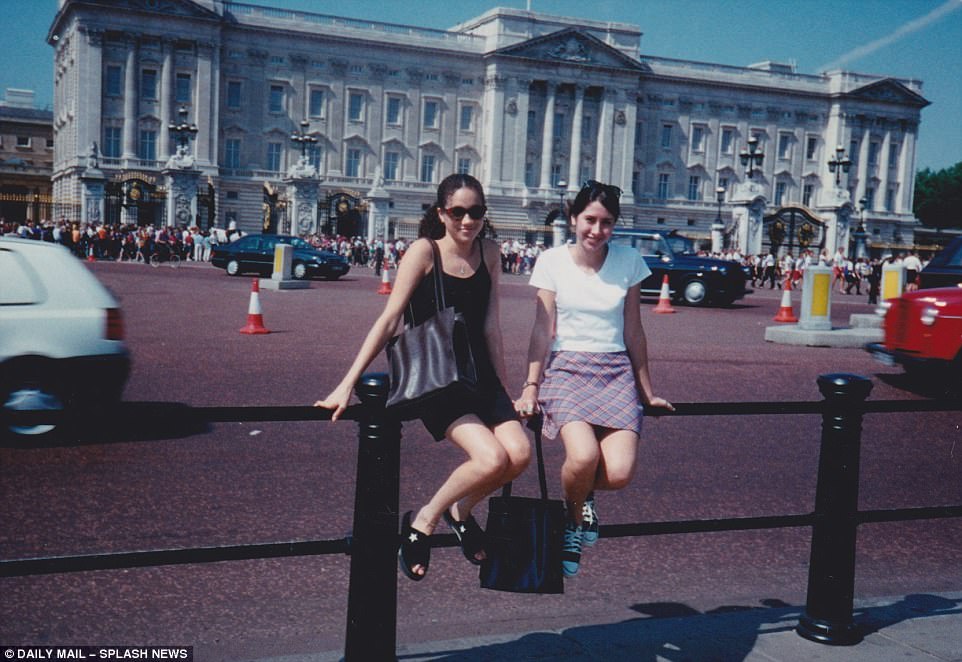 So when exactly was Markle introduced to the royal family? Well uh, unofficially, she first set foot in front of the Buckingham Palace gates when she was only 15. Isn't it funny to think that she might have been a few hundred meters from her future husband in this photo? She and friend Ninaki Priddy went on a summer tour of Europe. Even at this age, Markle was beginning to find her style identity. How many 15-year-olds wear an LBD, cat-eye sunglasses and a black leather purse? We're also loving those super-90s Converse slides.
Her College Days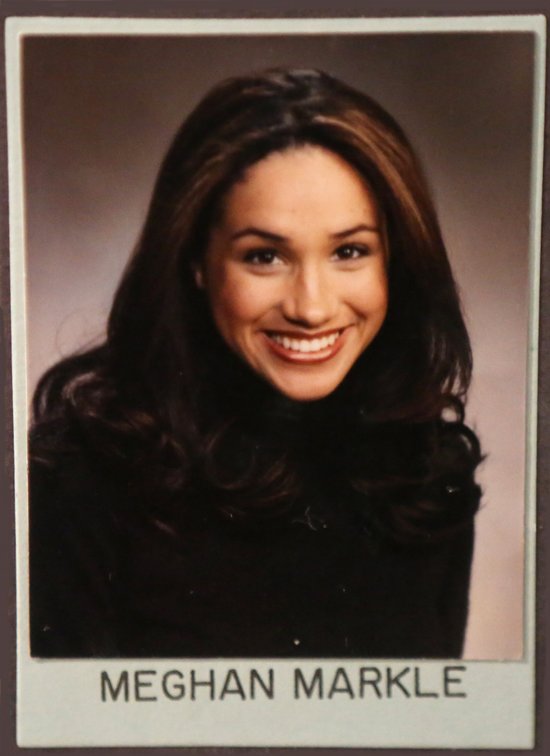 When it was time for Meghan to leave high school and go to college, she chose Northwestern University in Illinois. She is pictured here in yet another turtleneck, but this time, she's about twenty years older! The young Duchess-to-be impressed Professor Harvey Young, who was teaching a course she took on African-American playwrights. Young spoke highly of her, saying: "the fact that a person who's 21 could have such experiences around race, and such an awareness of what it means to be biracial or a raced person really stuck with me."
A Throwback to 2003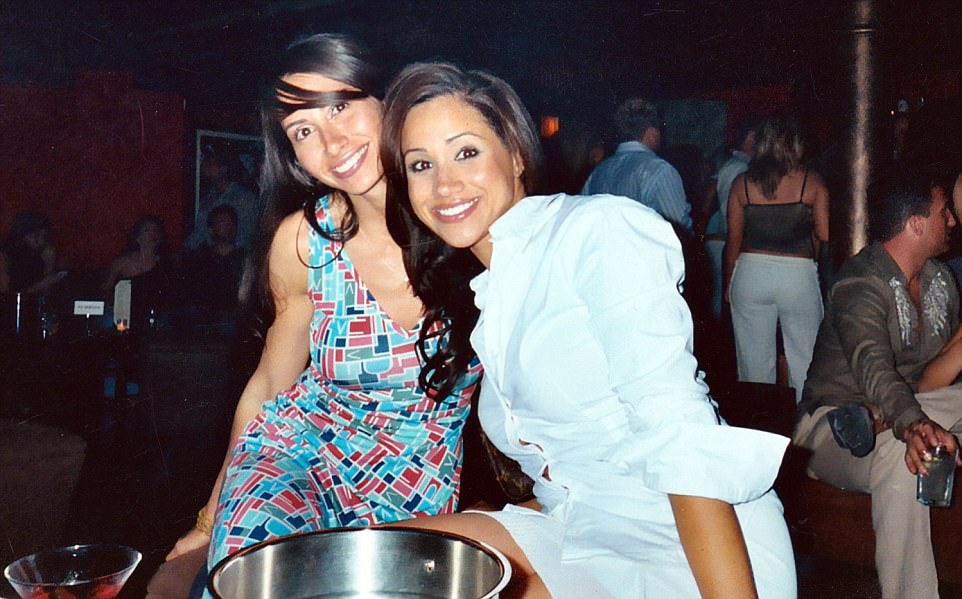 After finishing university, Markle returned to LA, but was sure to celebrate her graduation with childhood pal Ninaki Priddy. Her white button-down shirt dress might be extremely 2003, but it also shows how Meghan's classic style has endured right from the start. After receiving her degree in theatre and international studies, she worked as a freelance calligrapher while auditioning for acting roles. "I didn't wait tables. I did calligraphy for the invitations for, like, Robin Thicke and Paula Patton's wedding," she told Esquire. "I used to do it for Dolce & Gabbana's celebrity correspondence over the holidays."
A Butterfly Emerges...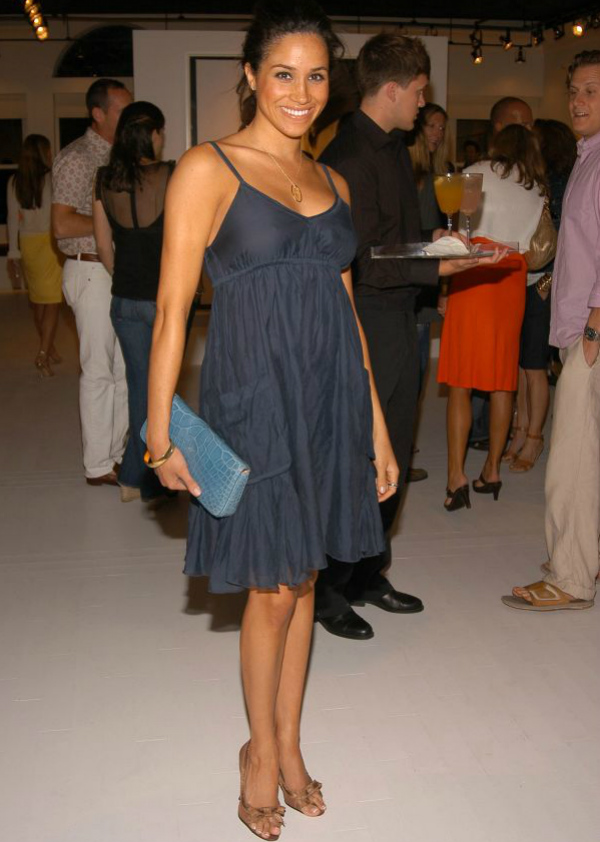 In 2006, Markle's style was really beginning to emerge. She had small guest roles in The War at Home and CSI: New York in 2006, and was slowly making a name for herself in Hollywood. You can never go wrong with nude heels and gold jewelry, although we have to say, we're not quite as sure about the blue snakeskin purse. But hey! It was 2006. Markle is attending a Coach Hampton event, which by the looks of the dress code, was summery and casual. So did she ever have any true style blunders?
Keeping it Simple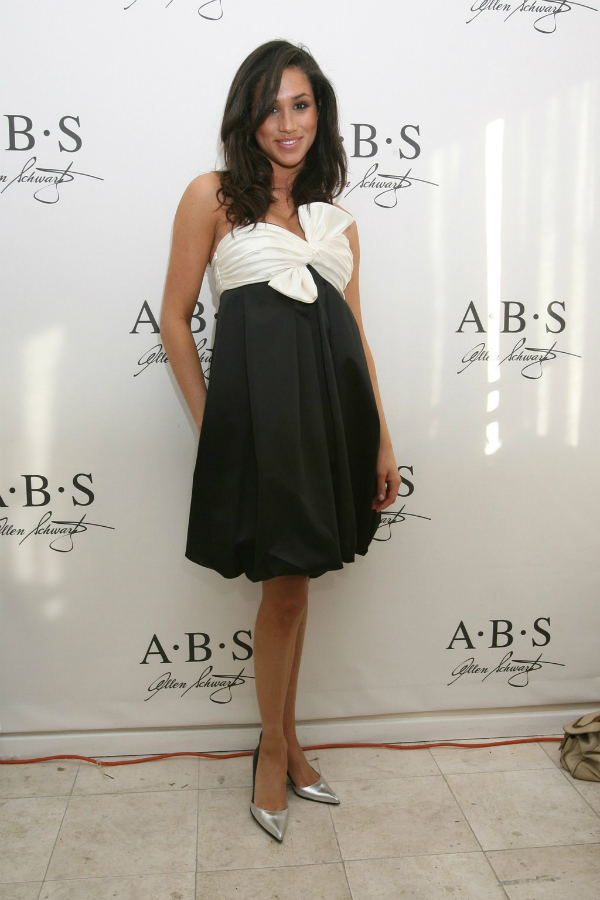 On anyone else, this bubble-hemmed dress would probably be an enormous disaster. But in 2007, it was the "in" thing! Who wasn't wearing strapless dresses with giant bows back then? The ever-graceful Meghan looks youthful and demure in this monochromatic little number with metallic heels. It seems that even when she chooses to try out a trend, the Duchess still keeps things simple by paring back the color or accessorizing minimally. This Golden Globes pre-party look is one of the last before 
LBD Round II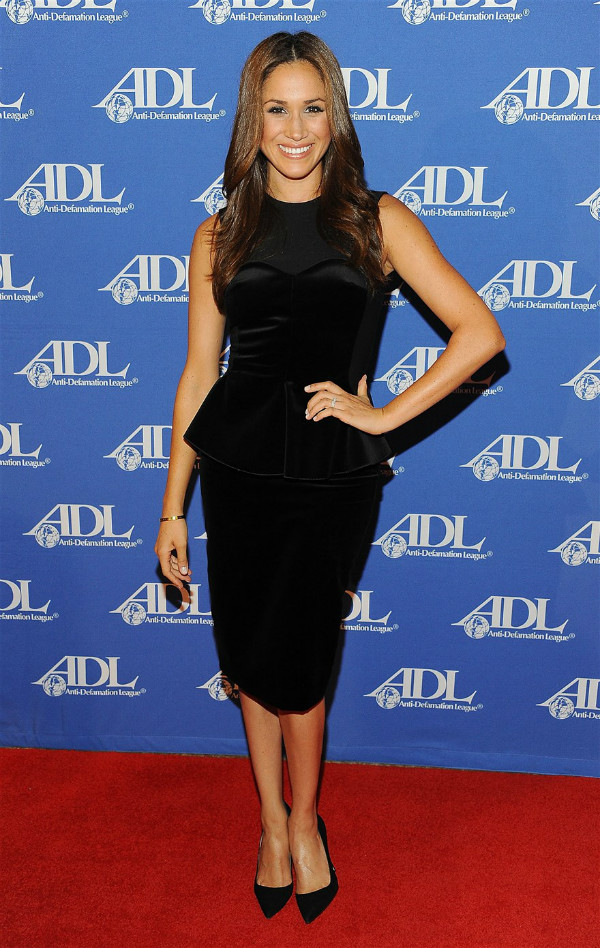 You will remember Meghan's little black dress situation in front of Buckingham Palace when she was fifteen, right? Well, turns out it was just a junior version of this ultra-classy LBD. Here she is at the Anti-Defamation League Entertainment Industry Awards in 2011. It really feels like something kicked her style level up a notch in the space of a couple of years! Well, it seems it was her biggest one yet. Markle was just getting started...
Suited Up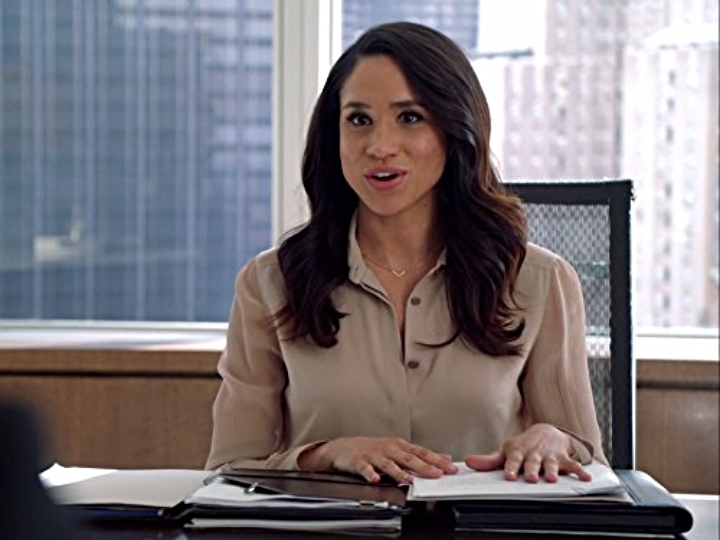 It was around 2011 when Meghan started working as Rachel Zane on the TV show 'Suits.' We're not sure if it was Markle that influenced Zane's wardrobe, or Zane that influenced Markle's wardrobe! Maybe a little bit of both? It's all there - the simple but well-tailored outfit in a nude color, gorgeous hair, and simple gold jewelry! Her character's wardrobe was the envy of office workers all over the world, and it foreshadowed Markle's career in the fashion industry later. But we bet there's something you didn't know...
A White Wedding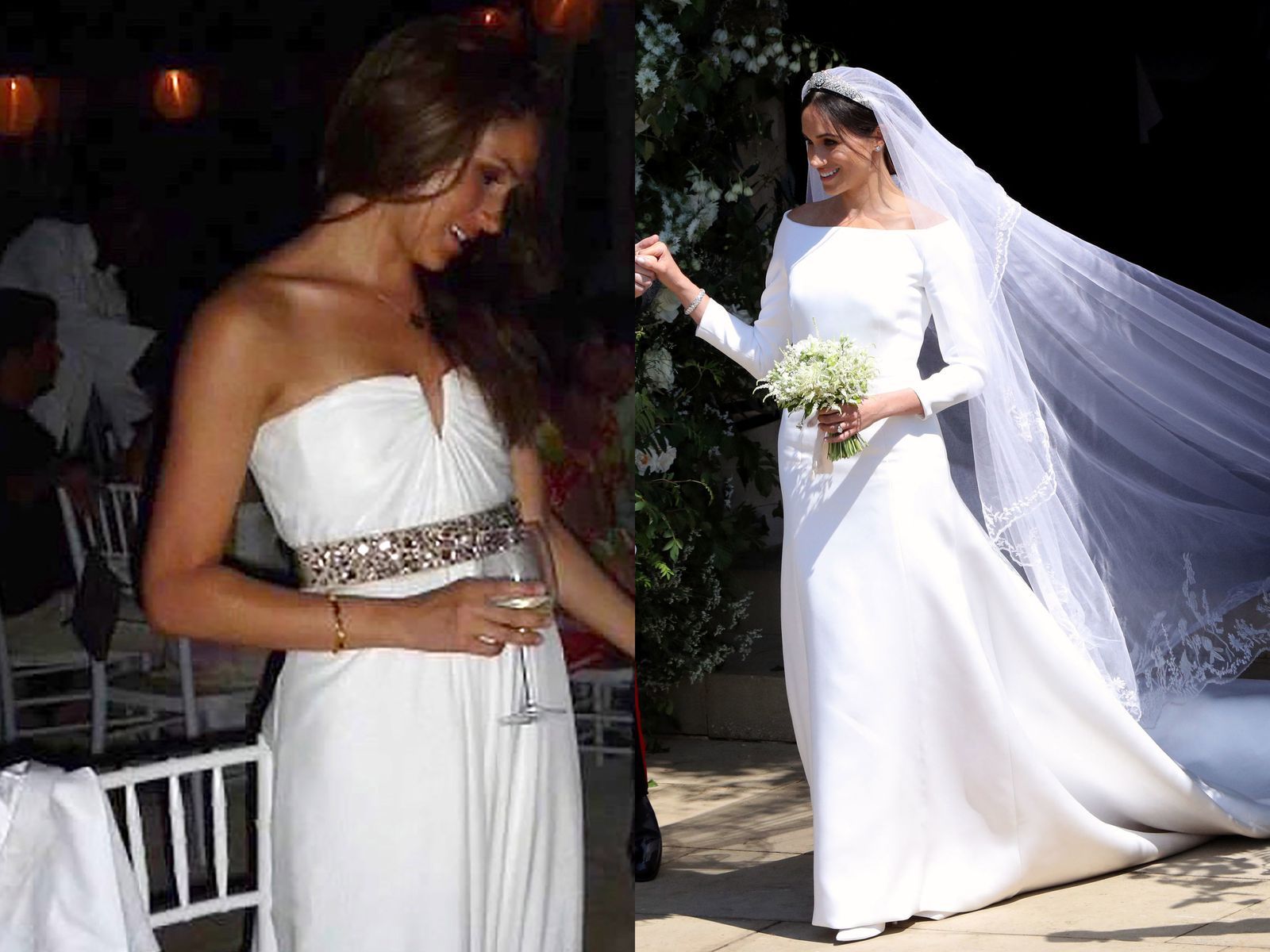 No, the dress on the left isn't Markle's afterparty dress for her wedding to Prince Harry. It's her actual wedding dress from her first marriage! Since 2004, Markle had been dating Trevor Engelson. They got hitched in a gorgeous ceremony in Ocho Rios, Jamaica, in late 2011. It's so interesting to see the two dresses side by side! While we do prefer the more recent dress, you can see that Meghan Markle went for simplicity on both occasions. 
Suits Success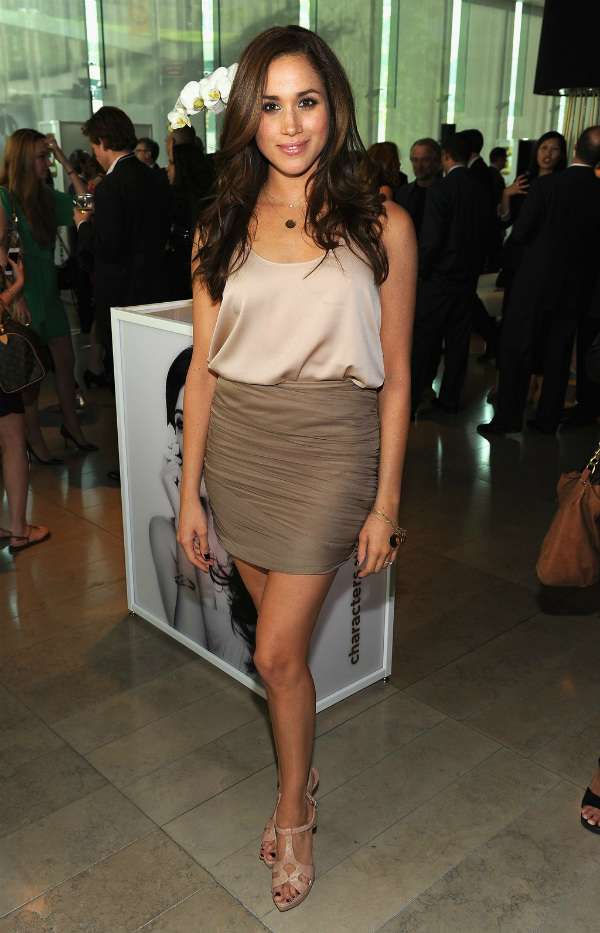 In this super-sleek outfit from a USA Network party in 2012, Markle is totally glowing. And if we were Meghan, we'd be wearing champagne too... because we'd be celebrating our success! This particular party was for the second season of Suits in New York.  Even though this style is seven years ago, it could still be an outfit from today. It seems like someone's on to a winning combo! Simple colors and pristine tailoring: let's see what the Duchess pulled out next!
The Building Blocks to Success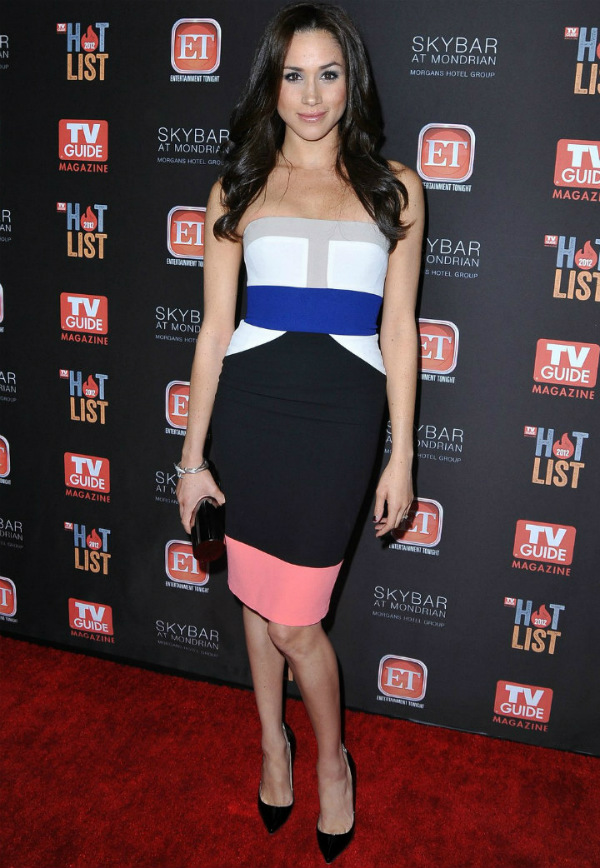 Meghan's career was really heating up, and it wouldn't be long before the fashion world really noticed her. In 2012, she attended the TV Guide Magazine's Annual Hot List Party. See - we told you her career was starting to simmer! Anyway, she hit the nail on the head once again with this ensemble. You can see her signature pointed stilettos and perfect tailoring, at it again. The Duchess-to be was really becoming a Lady from here onwards. Aw, we're so proud!
This Dress Means Business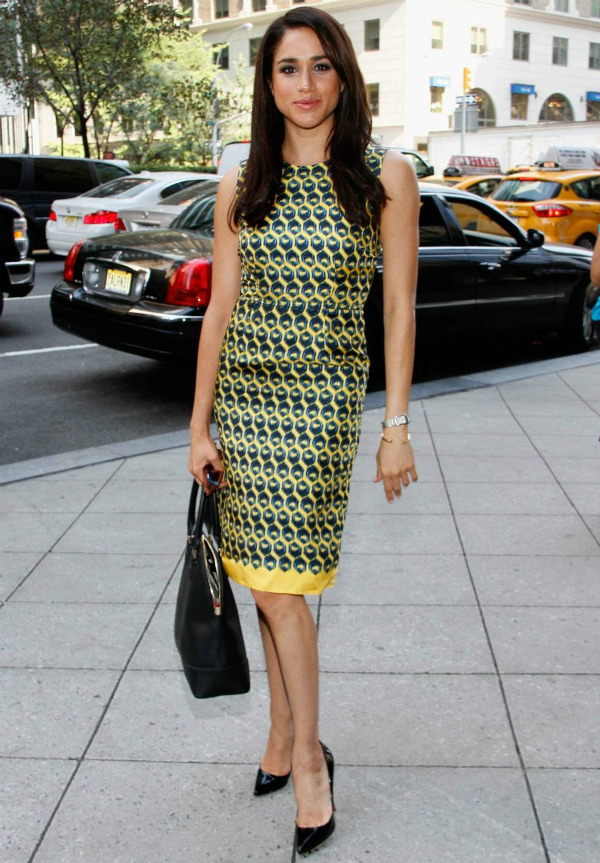 In 2013, Markle's life took a different kind of turn when she and long-time lover Trevor Engelson divorced. They had been living in different cities for their respective jobs, and it had been placing strain on their relationship. But even in this photo, Markle remains remarkably poised. She may not have her big signature grin on, but she is still fabulous. And again, we see the simple but structured look, with her minimal jewelry, stiletto heels, and long dark hair. The next outfit in this evolution will really blow your mind, however...
A Berry Classic Look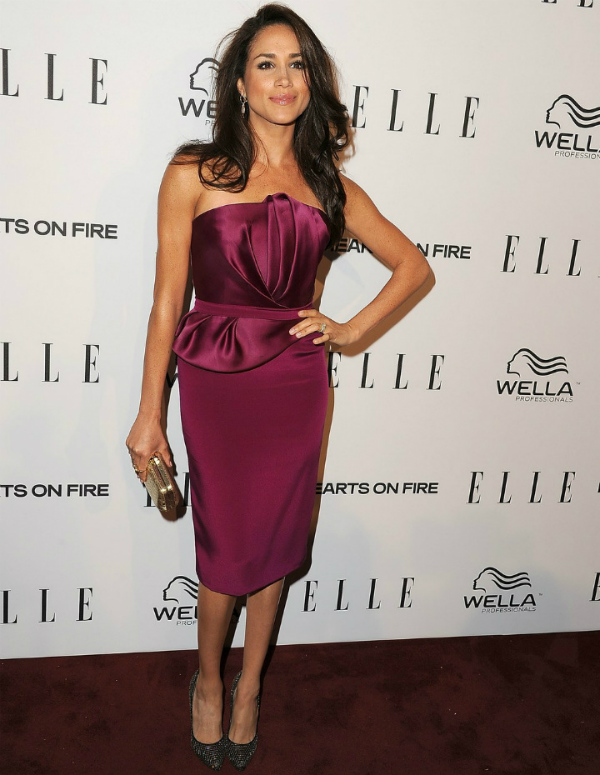 Marchesa? Hell YES, sir! This completely stunning gown in a deep blackberry fuschia is one of Meghan's number one looks to date. And that's not a list her outfits make easily. After all, there are so many good ones! Why was she wearing this incredible little number? Well, it was the 2nd Annual Women in TV event in West Hollywood, California. Her signature wavy hair and classic, tailored dress did her justice once again. We love this for her. But psst - wanna see another one of our favorite looks?
Hey, Stud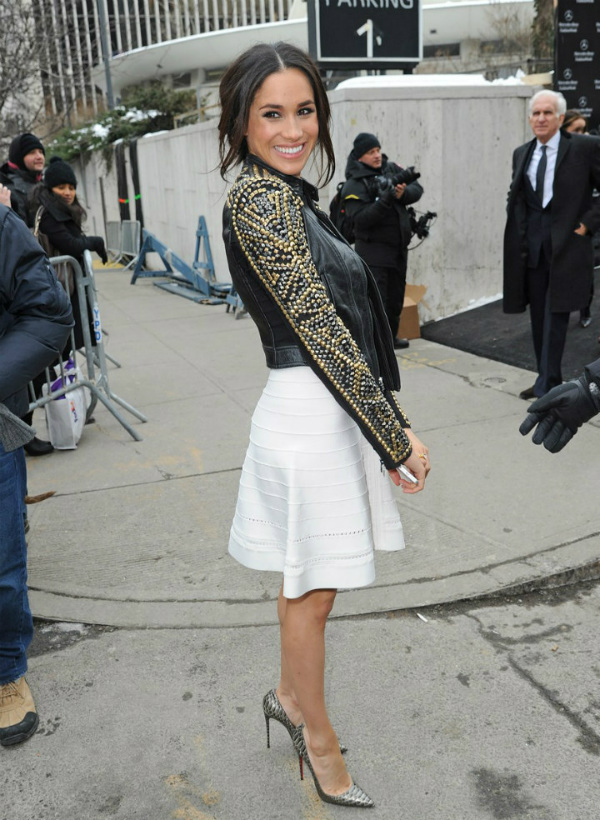 By 2014, it seemed like Markle had started to really get over her big breakup, and she'd bounced back better than ever. We mean - look at this outfit! And that grin is back. The princess-to-be had clearly gone through a rough time but had emerged better and braver than before. In this outfit, she mixes the badass grunge of a studded leather jacket, with a little elegance and flair from the white minidress. Markle's Louboutins totally complete the look, and remind us that she's still the same old Meghan! 
Working Girl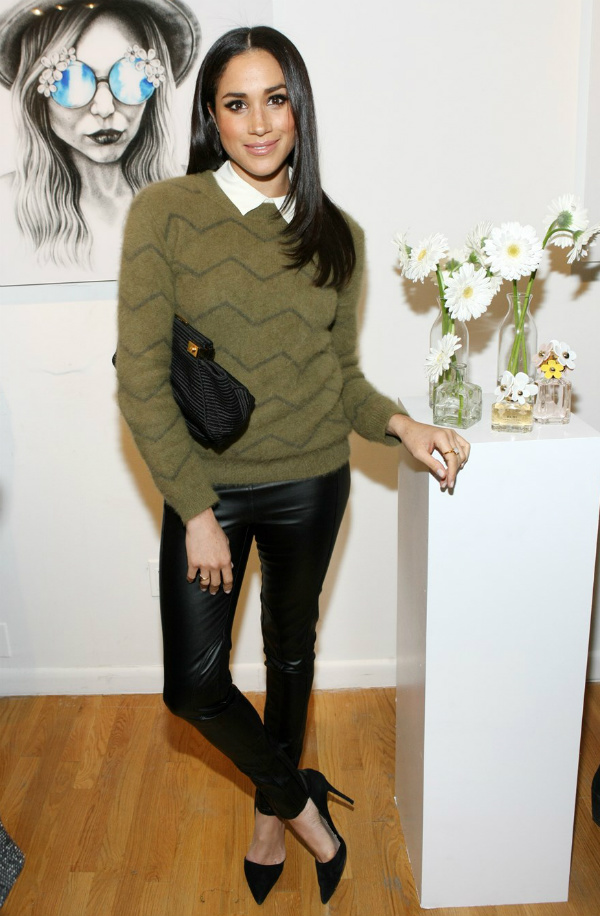 Is it just us or were Meghan Markle's outfits just getting better and better? This particular outfit is perfect for nearly any occasion: smoky eye, nude lip, collared shirt and heels. Is she going to dinner with someone special? Maybe her new beau, Cory Vitiello, was taking her out? Yep - that's right, Markle had found a new man, and he was one of the best chefs in Toronto. Lucky her! At any rate, the Duchess-to-be was at a Marc Jacobs Daisy event. Well, that explains the daisies.
She Wears the Pants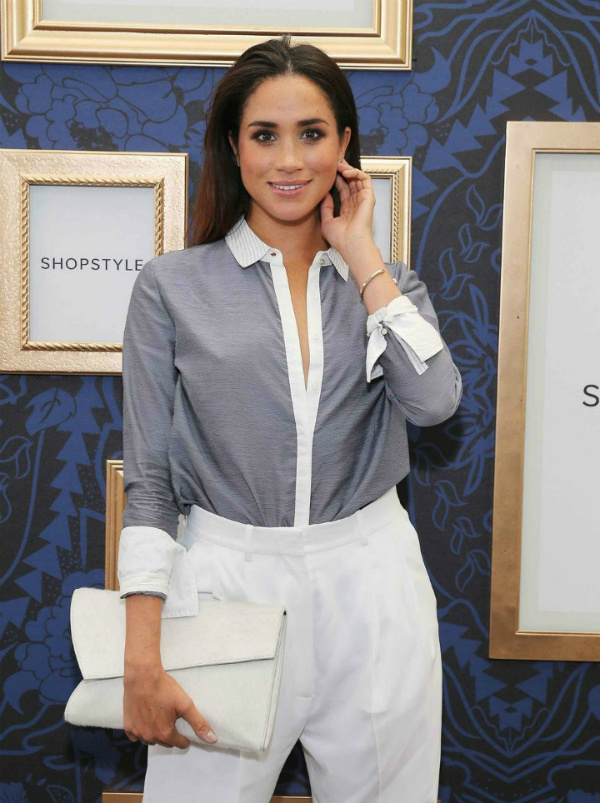 Here Meghan Markle celebrates a Marchesa Voyage line launch in New York. It's almost like she can hear her destiny calling. Can't you just picture her in this outfit at a British polo game? This was taken in 2014, which was the same year that she began her lifestyle website called 'The Tig.' If you haven't heard of it, you missed out, sorry, folks. The site was Meghan's personal outlet to write about fashion, beauty and food, and she amassed millions of followers through her work. Alas, The Tig was shut down in April 2017, so if you didn't get to see it then, we don't like your chances now.
Easy Breezy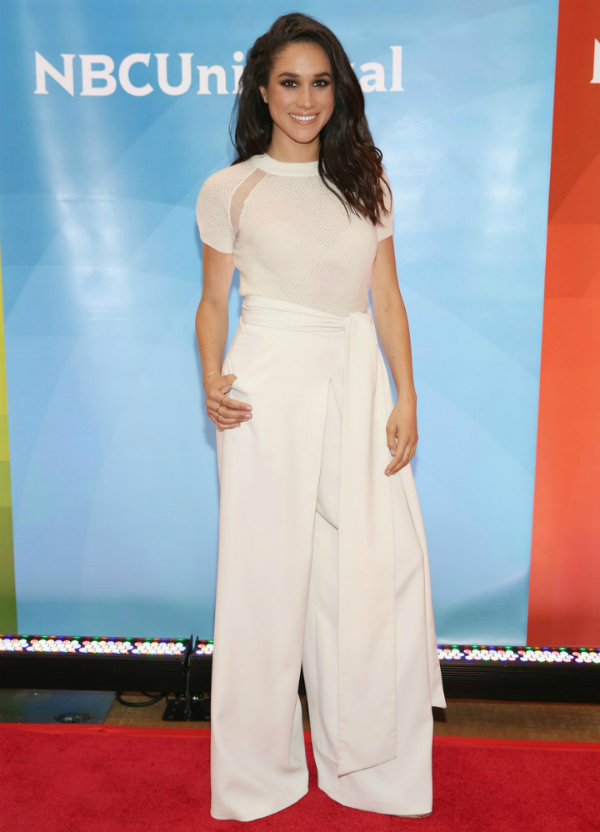 If you were into the whole Meghan-in-pants thing, you're in luck, because it seems she had quite the fling with trousers. Fashion critics had expected her to turn up in a gown. After all, in 2015 she released her first collection with Reitmans, which promptly sold out. She was really moving up in the world, and her Suits fame had landed her a few film roles. All the same, it would be the last year she would work on a film, playing Kirsten in Anti-Social. 
Fabulous in Faux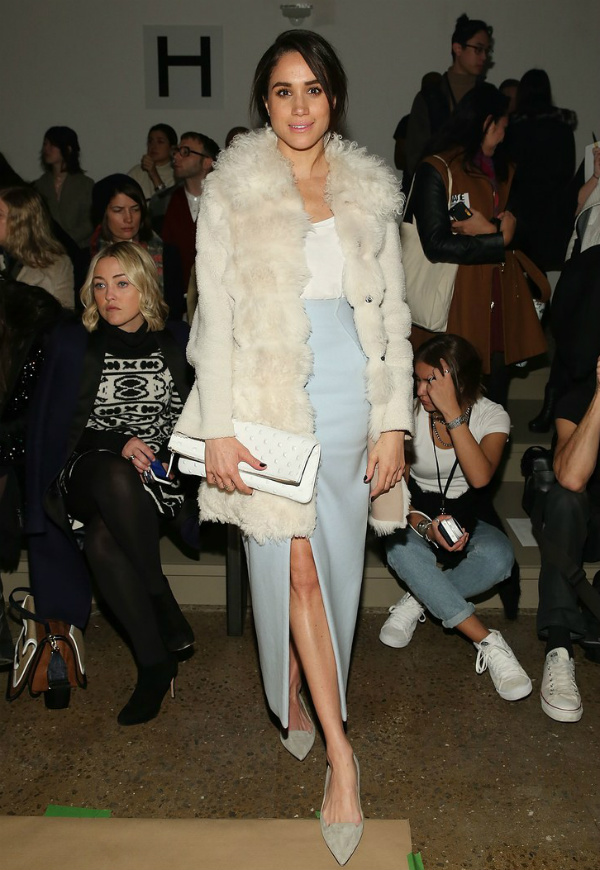 This outfit is total perfection. If you weren't convinced that Meghan Markle was worthy of 'It' girl status, you have GOT to be by now. Her style was evolving, and others in the fashion industry were starting to take notice. In this image, Markle is at the 2015 Wes Gordon runway show in New York. But what we love the most is that she's still stuck to her signature style: tailored, stylized pieces in simple tones. She never fails to let us down! Maybe we should borrow this strategy...
Yet Another Classic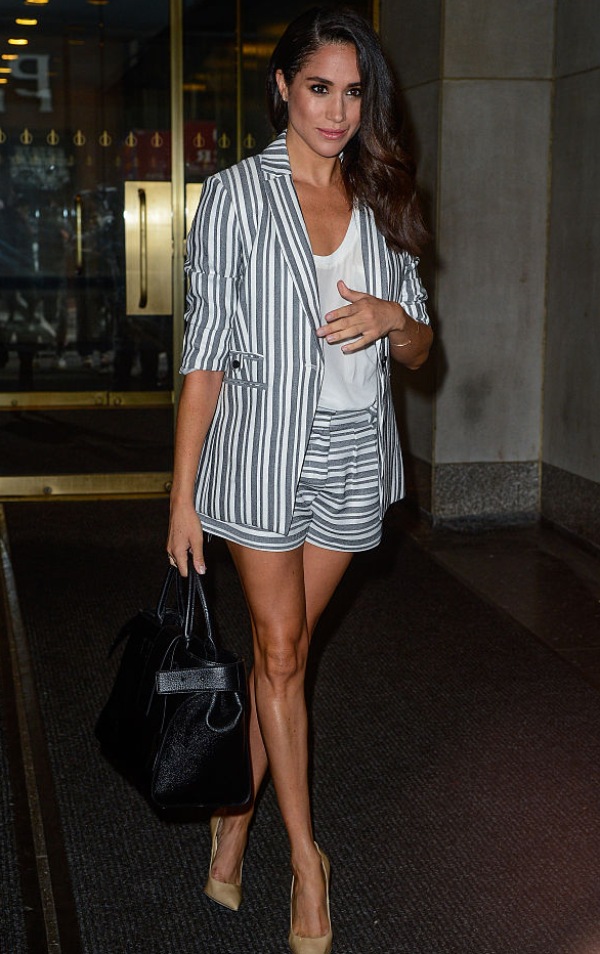 Do you think that the Queen makes lists of eligible bachelors and bachelorettes for her children and grandchildren? She just keeps getting closer and closer to the British Duchess look without even trying. Surely the Queen must have seen this image, sat up in her chair, and yelled to her corgis: "I've found her!" But then again, she might have just not seen the image. Either way, Harry was still on the horizon, and Markle was turning heads everywhere she went.
A Blossoming Career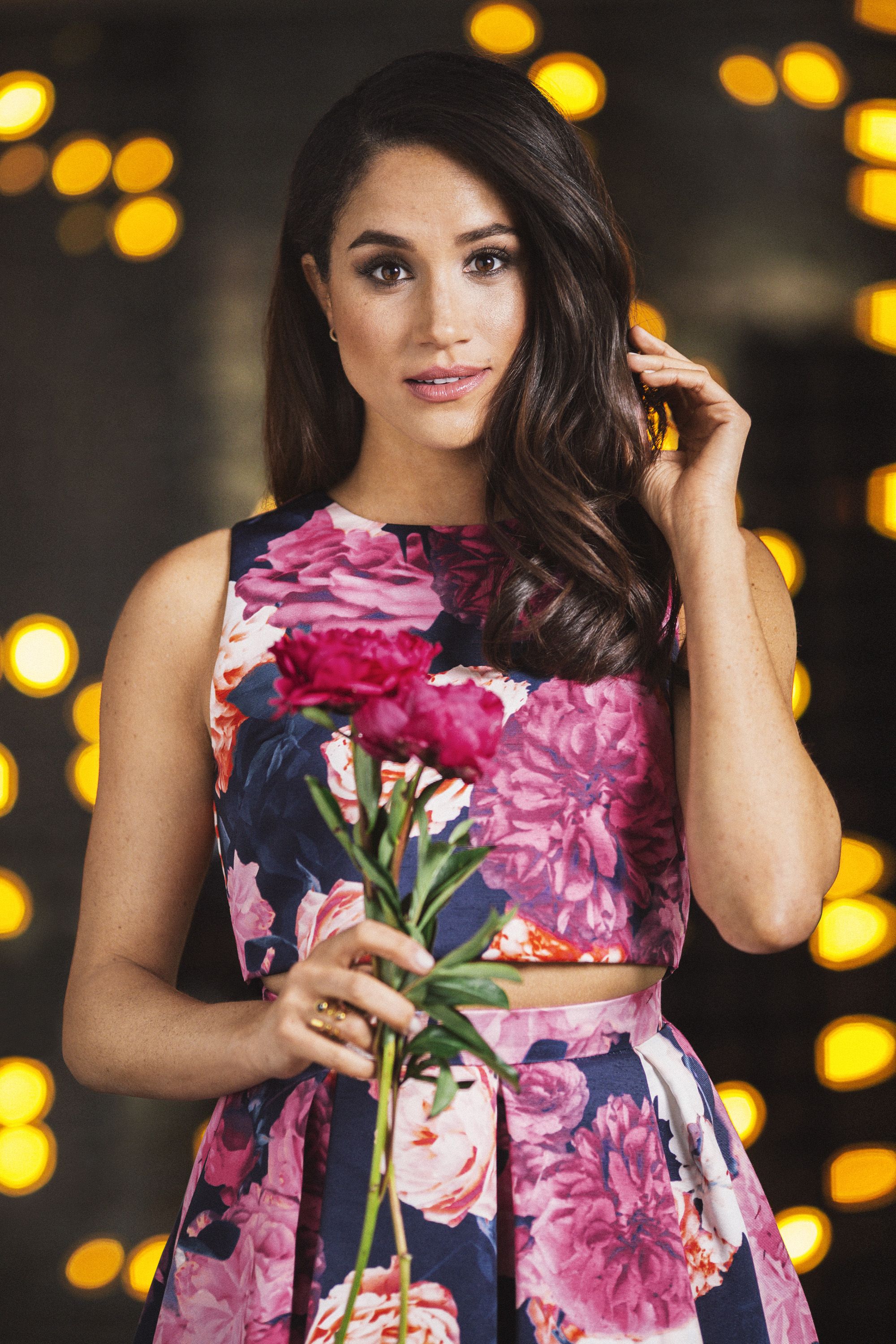 In 2016, Meghan Markle made one final push towards her evolution into the British Royal Family's most stylish member since Princess Di. She appeared in Good Housekeeping magazine, totally looking the part of a duchess. Her relationship with Cory Vitello had fizzled out, but she would soon set her sights on someone very sexy indeed. Can you guess who it was? We'll give you a clue: his mother was once the most stylish member of the British Royal Family...
Your Majesty!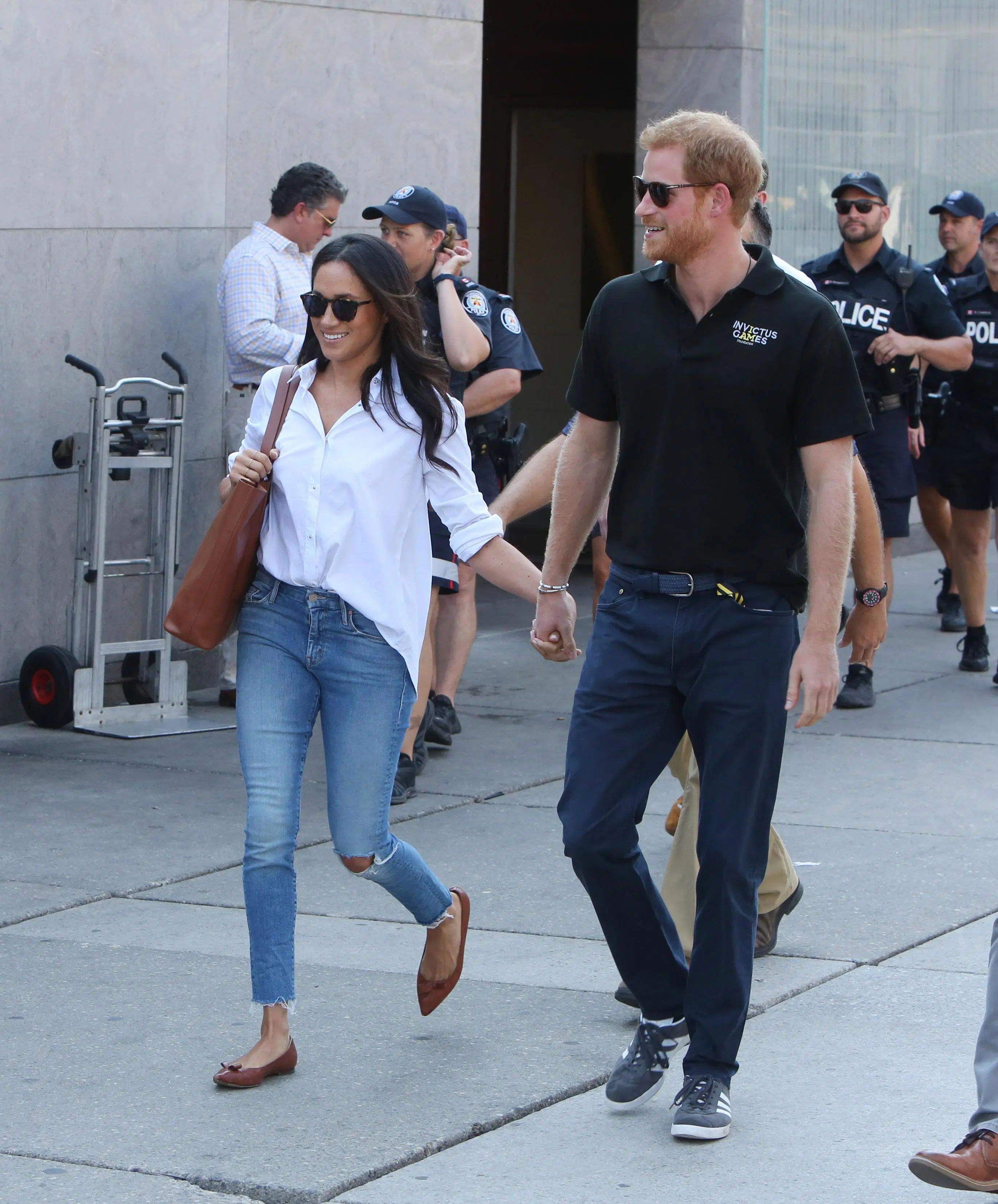 Yeah, you guessed it right. Who else was Meghan Markle going to be dating? Prince Harry took Meghan out for a day at the Invictus Games in 2017. It was their first official outing together in Harry's royal capacity. It seems that the Prince's new love interest was hinting at something in this shirt. Why? It's a Misha Nonoo shirt called 'husband.' She quickly figured out that Harry was boyfriend material, and they would soon be on their way to upgrading to the next milestone!
A Woman of the People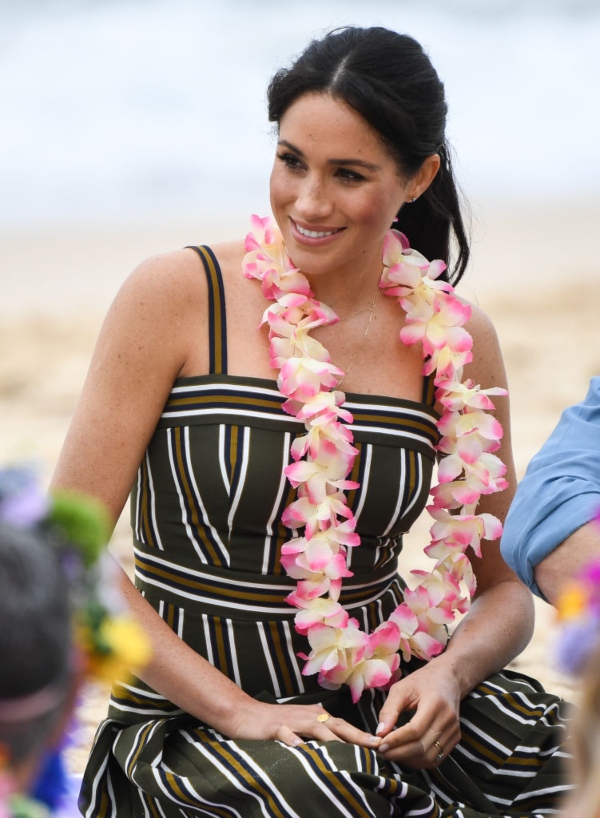 Everyone knows that Prince Harry has a big heart. He has done a great deal of charity work and has a passion for helping people all over the world. But Meghan didn't pick up her own philanthropic streak from her man. No - she was involved with charity even in college, and we could clearly see her own zeal for justice when she protested about Procter & Gamble's slogan at age 11. In 2014, she campaigned against modern-day slavery, and in 2016 was even made a World Vision global ambassador.
Big News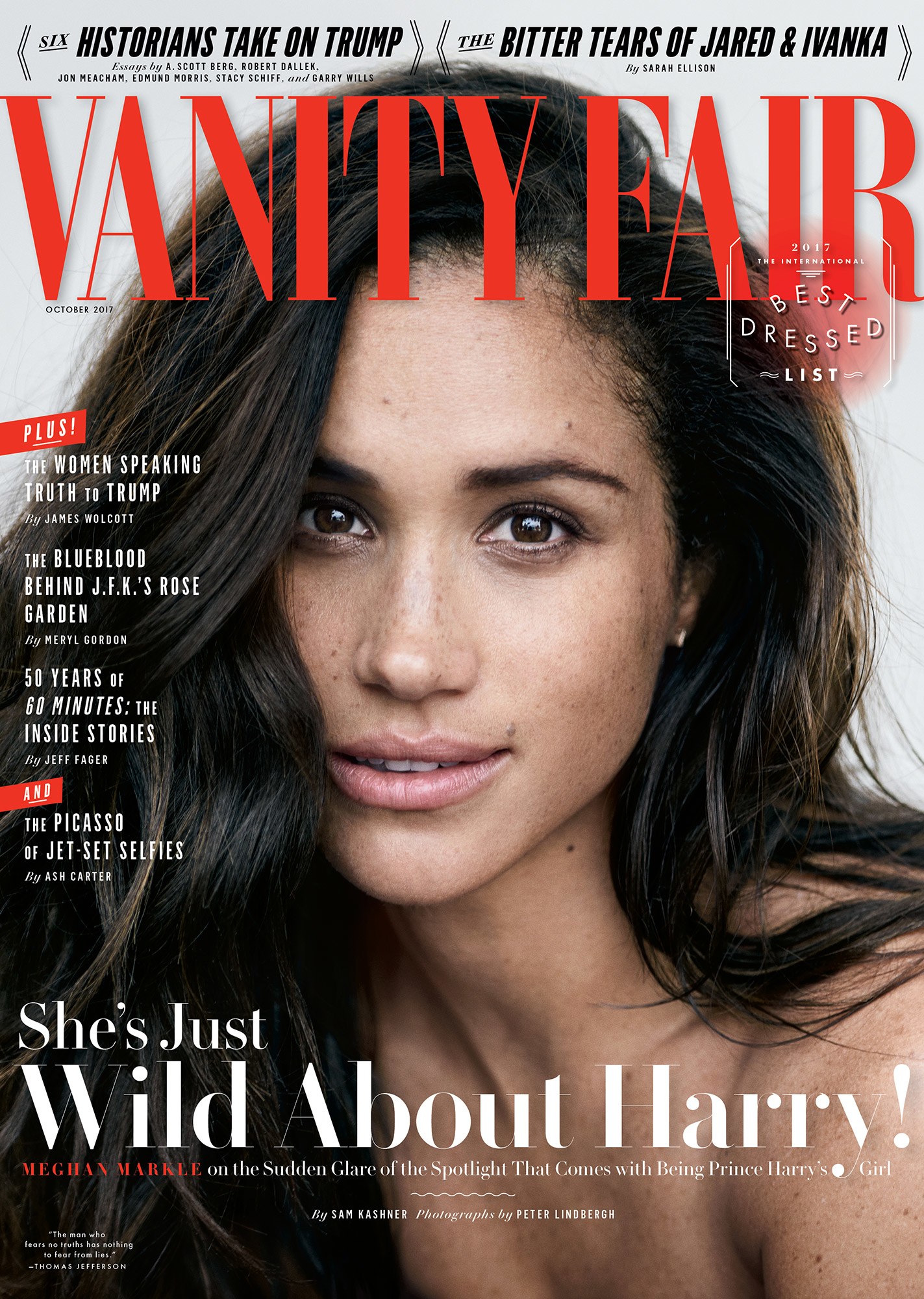 You already knew that Meghan Markle was big news. But in 2017, everyone else found out too, when she was splashed across the cover of Vanity Fair. The media loved them together! And what's more is that the British public did too. Meghan Markle was getting so famous that brands would sell out entirely of styles she had worn. This trend continues even now, years later. But it wasn't until mid-late November that they would really win over the hearts of the English...
A Royal Engagement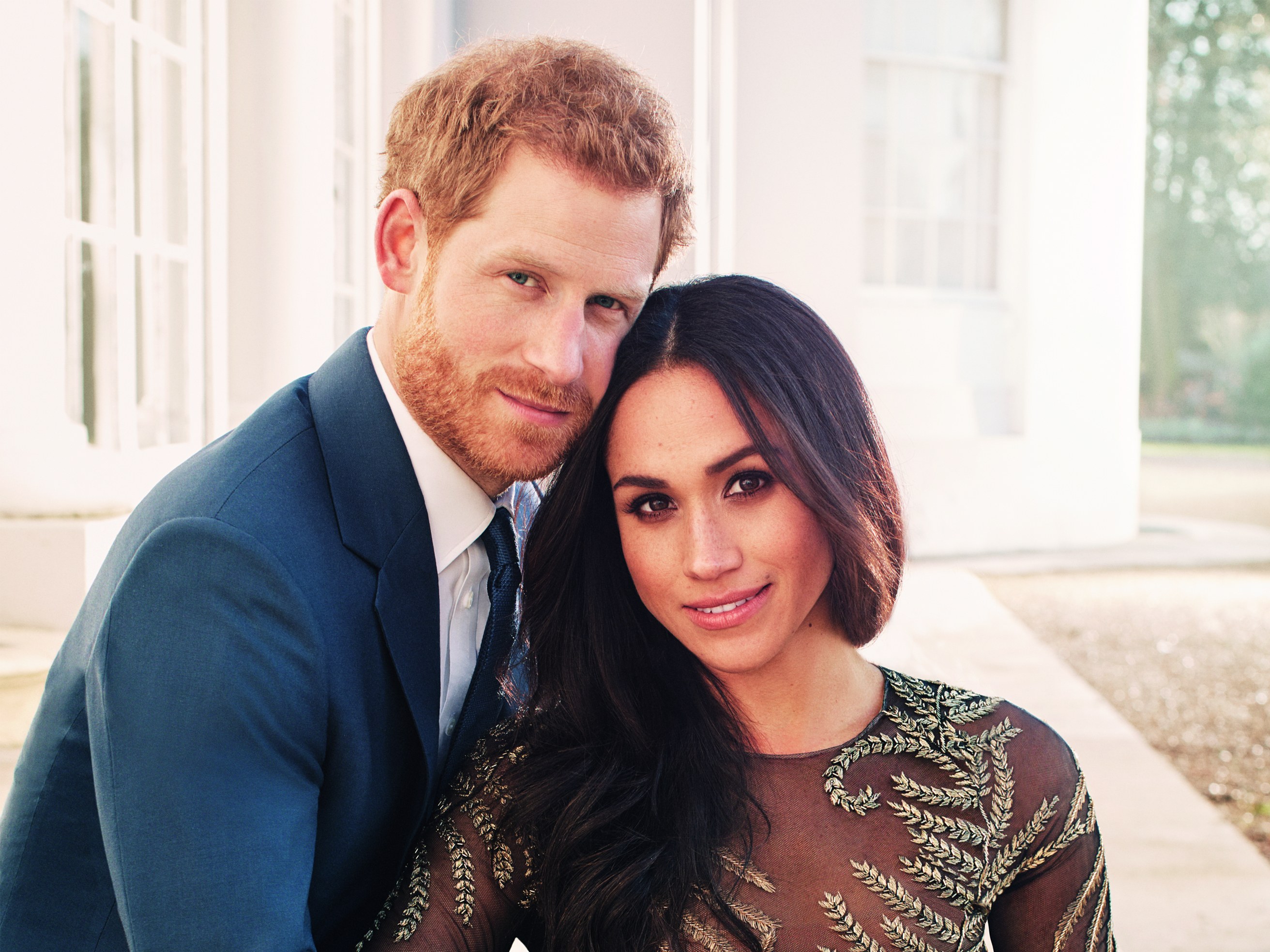 ... Because Harry proposed! The official engagement photos were nothing short of stunning, and the Anglo-American alliance began. We love the dress she wore in it, because the long-sleeved embroidered mesh situation really says "I'm getting classy, but don't worry. I'm still me." We love that for her. Meghan would soon announce her retirement from acting. As they inched closer to the wedding, Meghan's metamorphosis neared completion... 
Better Than Ever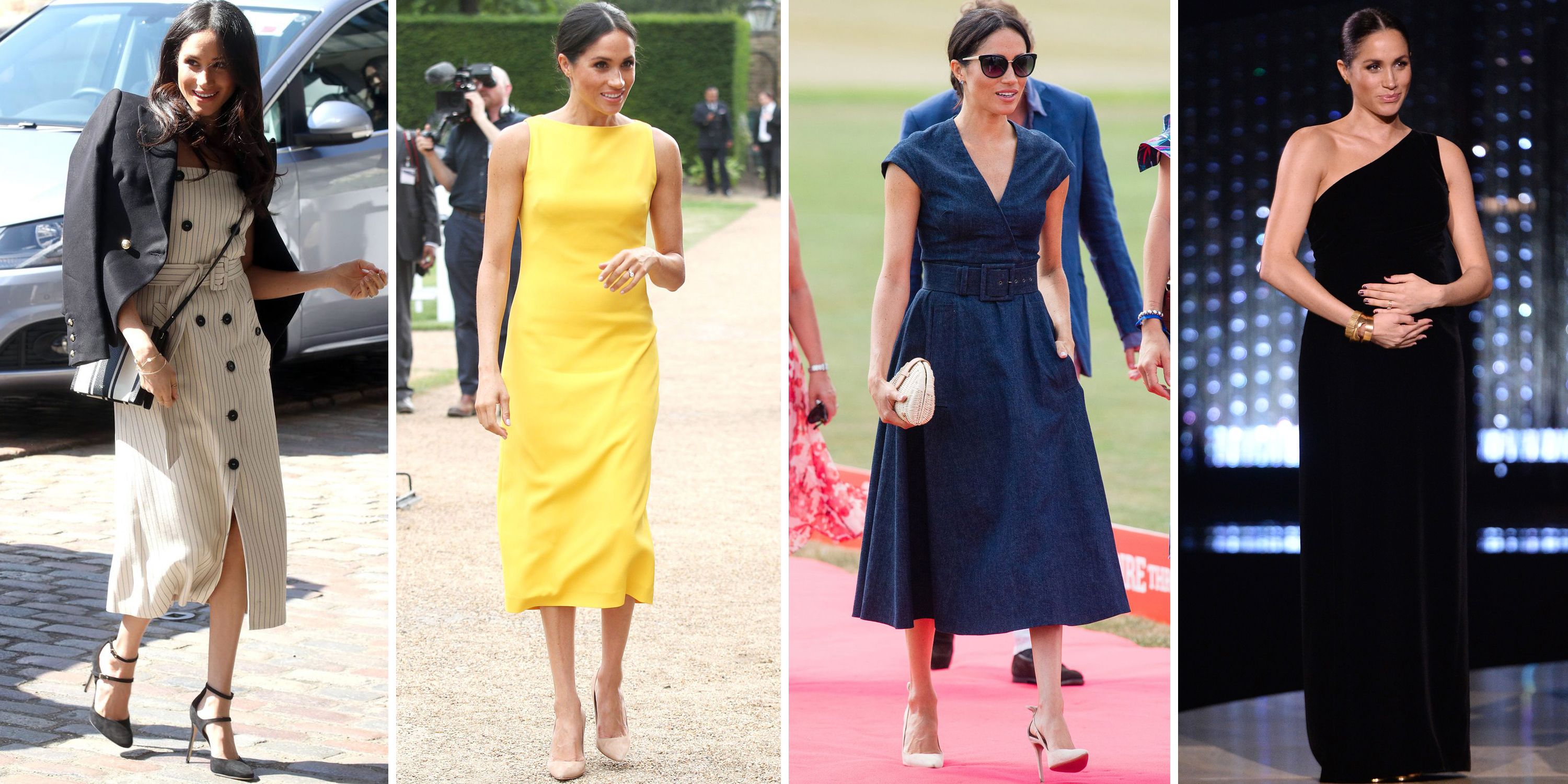 If Meghan had thought 2017 was finally her year, she was wrong. 2018 was her year. For starters, the fashion world had fallen in love with her alongside the British public. Tatler named Markle on their list of the best-dressed in the UK, and the image above gives you some idea why. And that was even aside from her incredible wedding! She was also nominated for a Choice Style Icon award at the 2018 Teen Choice Awards, and Net-a-Porter ranked her highly on their best-dressed list too...
Part of the Family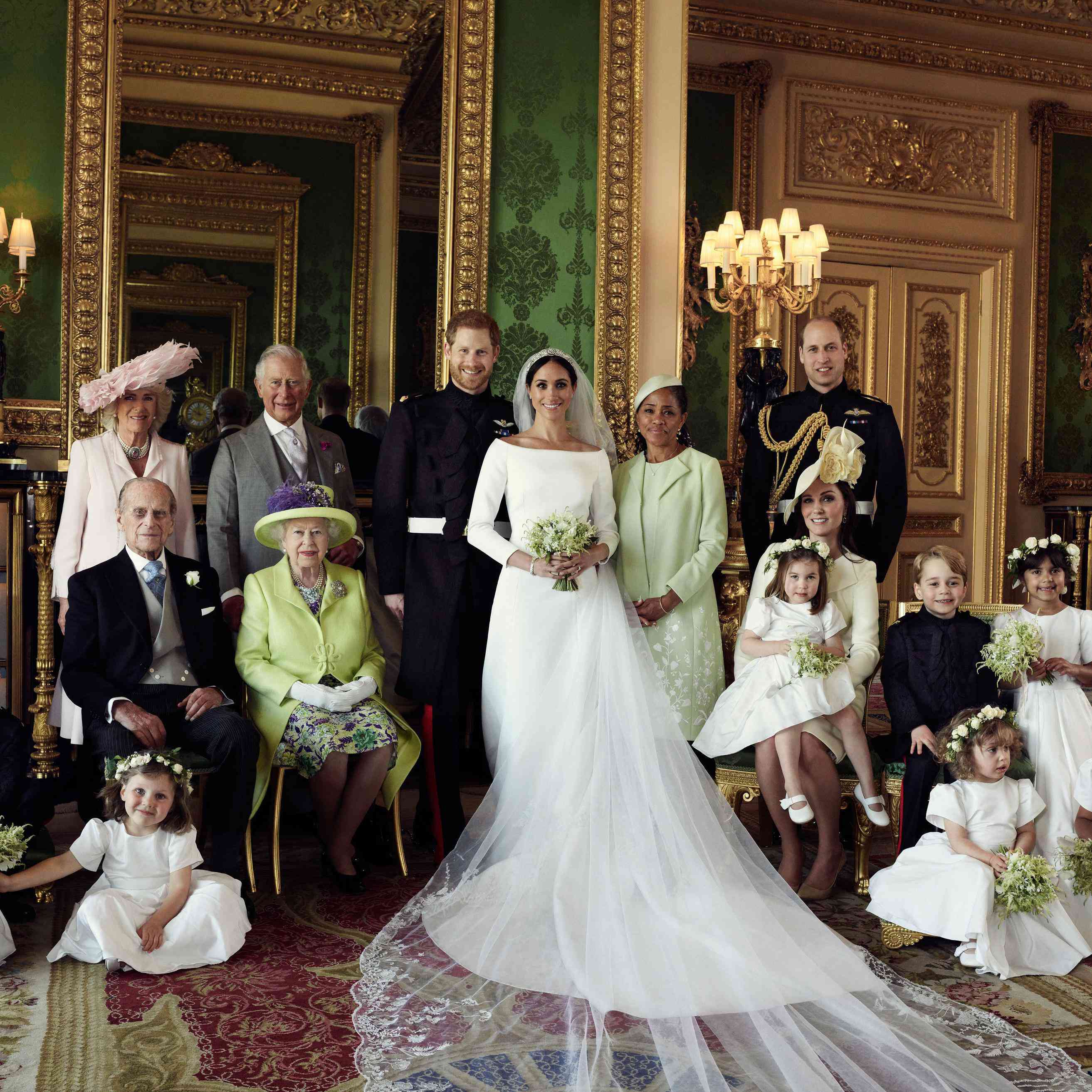 On the 19th of May, 2018, Harry and Meghan were married in an elaborate royal ceremony. Doesn't everyone just look beautiful? What we're also thinking though, is: how did they get most of these kids looking at the camera and smiling all at once? It was a lovely affair, and millions of people all over the world watched from their televisions and computers. So it's likely you did too, dear reader. Didn't you think it was a beautiful wedding?
That brings us to the end of Meghan Markle's total style evolution. She really began hitting the mark in 2018, and she sure did hit it in style. If you loved going back through the years through the photos, why not share this post with a friend? And if you're not quite done getting your fix of celebrity gossip for the day, be sure to check out some of our other articles. We've even got more on Meghan Markle!