Take A Tour Of The Rock's Amazing $5 Million Mansion
Dwayne The Rock Johnson has had quite an amazing journey so far. Initially, he was famous for being a superstar wrestler, until he moved to become an action movie star in the biggest Hollywood blockbusters. The Rock knows what his fans want to see him in, and he always delivers. He is still up for a challenge because in the past, he always had it the hard way. Along with his great success came great wealth, and all his appearances in movies in the past ten years have undoubtedly led to his bank account becoming more than healthy. The Rock spent $5 million of it on a stunning Florida mansion that will have your jaw drop. If you want to see where Johnson spends his time away from movie sets, check out the inside of his fantastic house.
Dwayne Johnson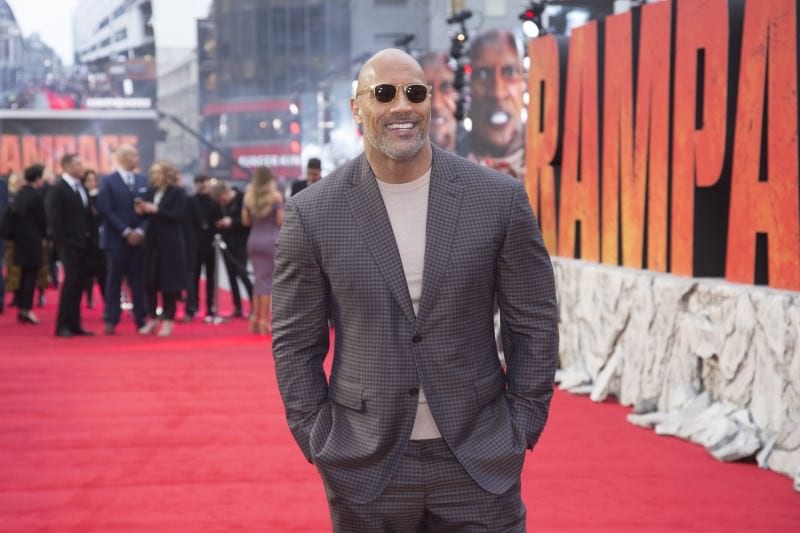 Thanks to his many box office hits, in 2018, The Rock was the second-highest paid actor in the world, earning $124 million just through acting, boosting his net worth to $220 million. Some of that money has gone into buying a large house to fit someone of his stature. He comes across as a good guy, so it is difficult to envy the success he worked so hard to attain.
His Big House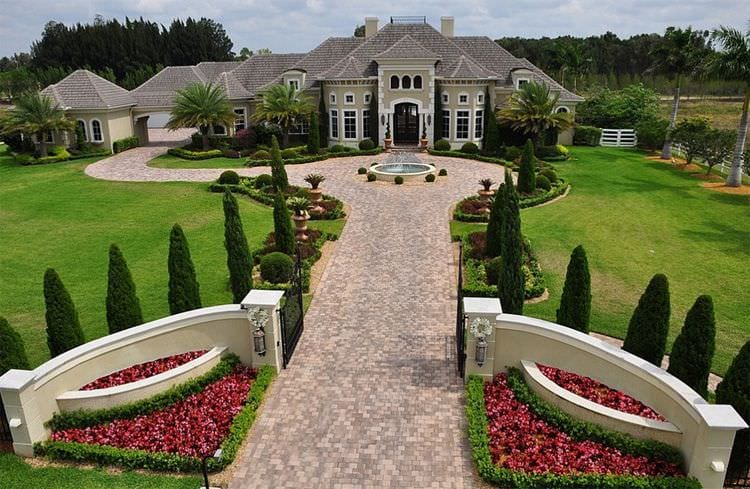 What's the right place to live in for somebody like The Rock? A massive mansion down in Florida, obviously! From outside, The Rock's home looks like this. It's quite big, and there is more than enough room for The Rock on the property. In fact, he could even build a wrestling ring in the front yard, and there would still be more room than he would ever need.
The View From Outside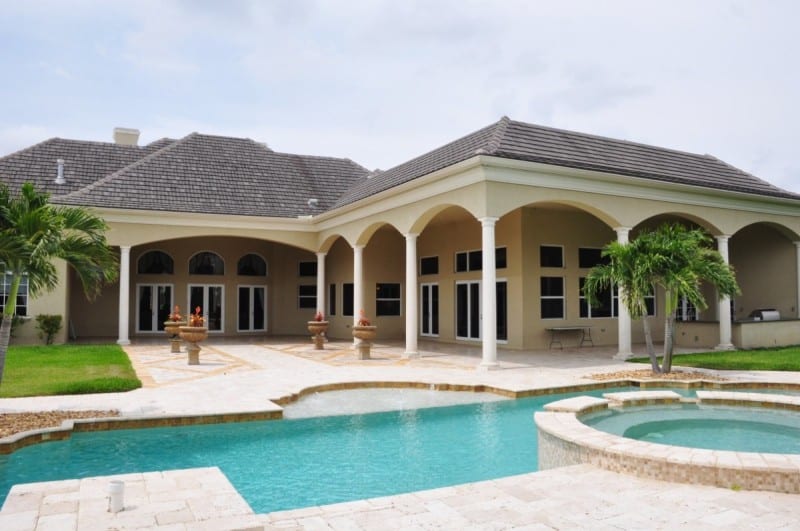 Even though many of us would love to visit Johnson's house, hang out with him, and even trade some diet and exercise regimens, the closest we will ever get is being outside the gates. Here is the backyard, and somebody was lucky enough to snap a picture. It is a great place to host as there is a swimming pool with a jacuzzi and plenty of space to hang out and have a drink.
Bathing In Luxury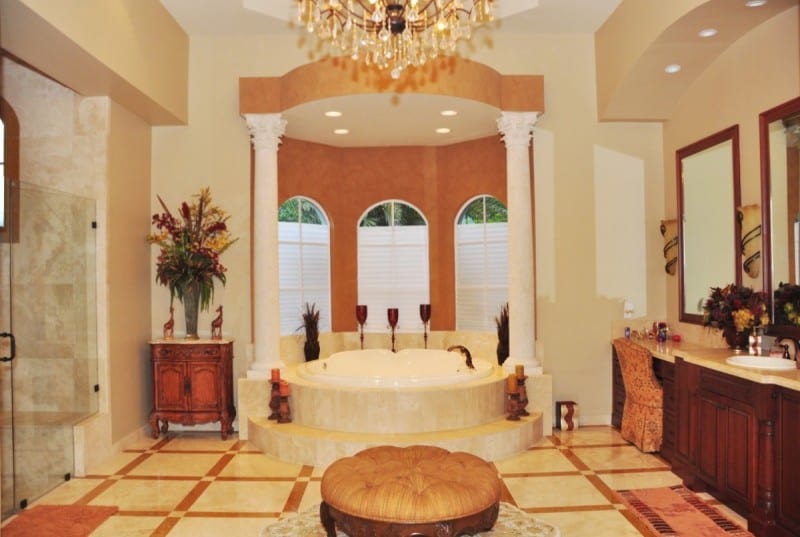 After a busy day beating up bad guys on movie sets, The Rock can come home to his relaxing, luxurious bathroom. There is plenty of room for him to hang out in his ornately positioned tub and rest his tired muscles. If he's feeling particularly tired after a long day, he can even sit in front of the mirror while he brushes his teeth before going to bed.
Grand Rooms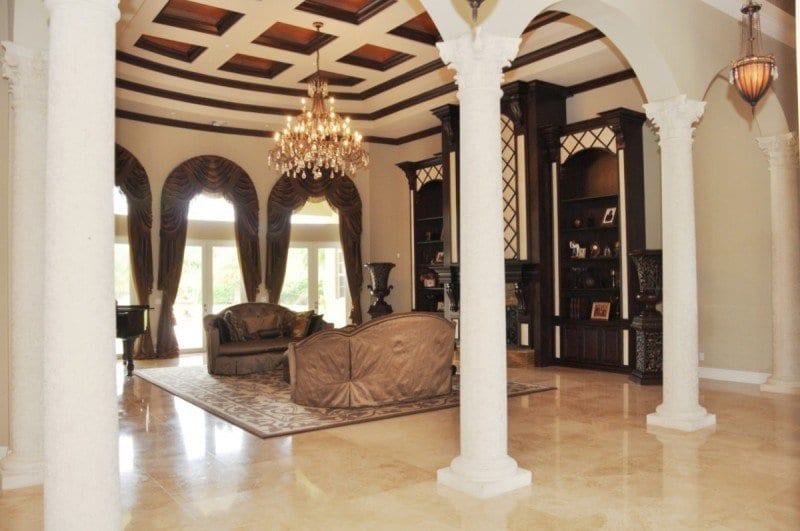 High ceilings in a property are a sign of wealth, as it shows guests that you have enough cash for large rooms without feeling the need to use every inch of the house. The Rock is famous for being musically talented, and this big room will provide great acoustics for when he's strumming his guitar or playing the piano. Also, the room's large enough for The Rock to entertain his whole family in.
Taking A Dip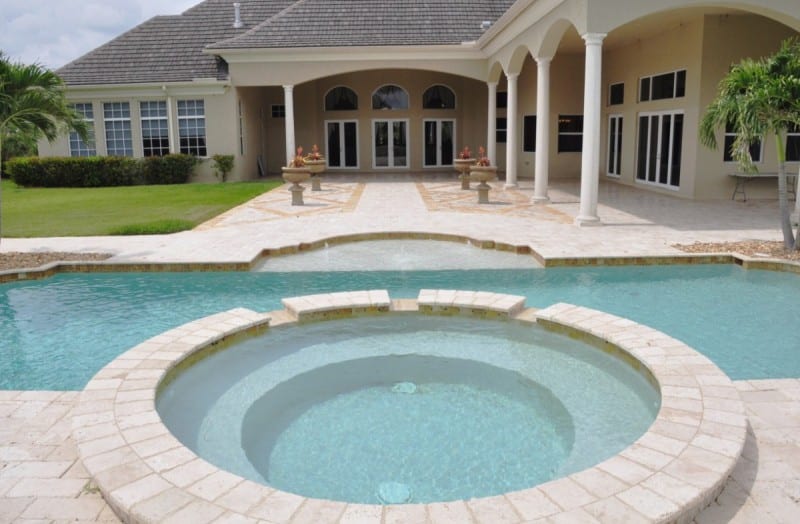 It wouldn't be a celebrity mansion without a luxurious pool. In Miami, the weather is known for getting hot, so The Rock needs a place to cool down when tanning. The pool parties at The Rock's place must be legendary, especially if his A-list co-stars are present as well. If you get bored of the outdoor pool area, there is still much more to enjoy inside the house.
Lots Of Dark Wood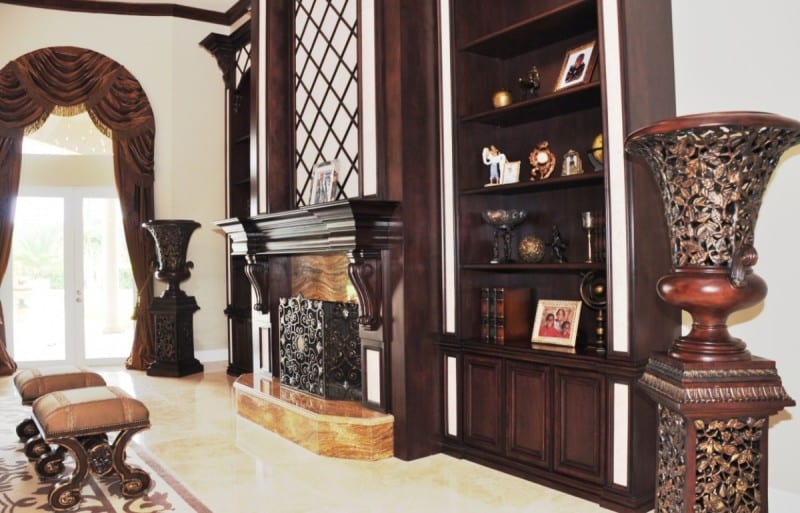 The Rock purchased the Florida home from former Miami Dolphins football player Vernon Carey for $3.4 million in 2012. The design of the house is Mediterranean, with plenty of dark wood all around the interior. Although Johnson is one of the most popular actors of this era, his home has a classic feel to it, which shows that he may be quite traditional after all. The wood in the mansion is in stark contrast to the white marble present on the floor of many rooms.
Firing Up The Bbq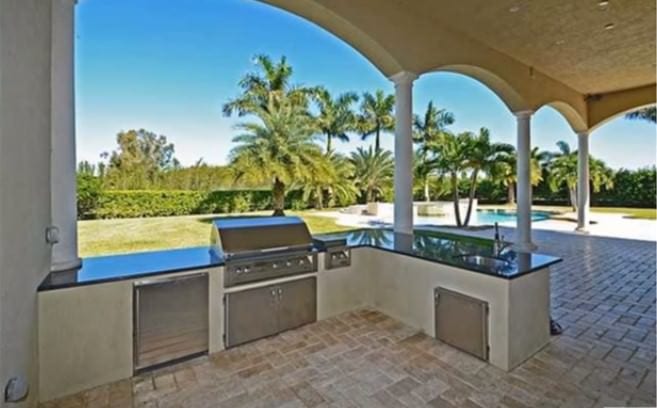 An outside living space isn't complete without a grill to book barbeques on. When The Rock feels like throwing a party in his garden, all he has to do is fire up the grill and get cooking. What could be better than enjoying a freshly charred steak within the luxury of Dwayne Johnson's home? Miami is known for its palm trees, and Johnson has many of these iconic plants in his yard to remind him where he is.
The Office
Although most of his time is spent working elsewhere, like on movie sets, he still has the space needed to work and take care of business. If he is ever feeling down due to work, all The Rock has to do is look out of the window. This should help remind him how amazing this property is and the work that needs to be done to continue living in this amazing place!
A Place To Eat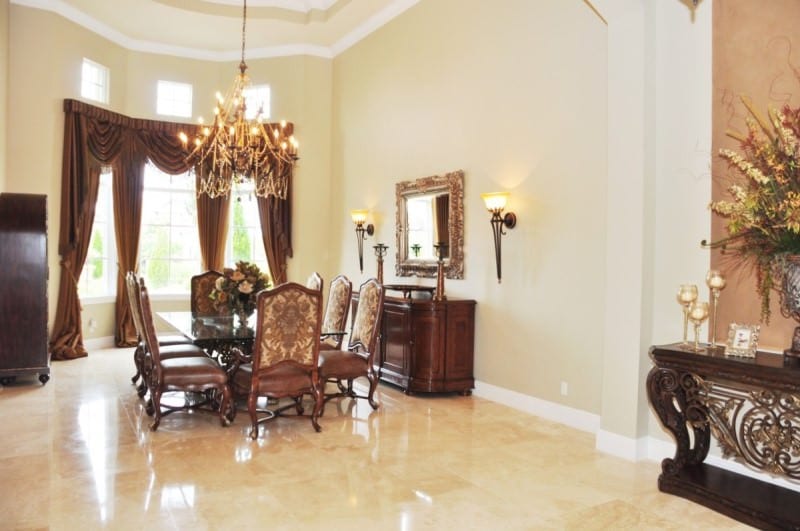 We all need a dining area at home, and The Rock can definitely say he dines in style. This is the room where he can gather with friends and family and enjoy each their company over a wholesome meal. It's a great spot for a romantic meal, but it is also spacious enough to host more people like at Thanksgiving or for Christmas dinner. Maybe this is how much space Johnson needs to store all his food, as the movie star reportedly eats 5,000 calories every single day.
Iron Paradise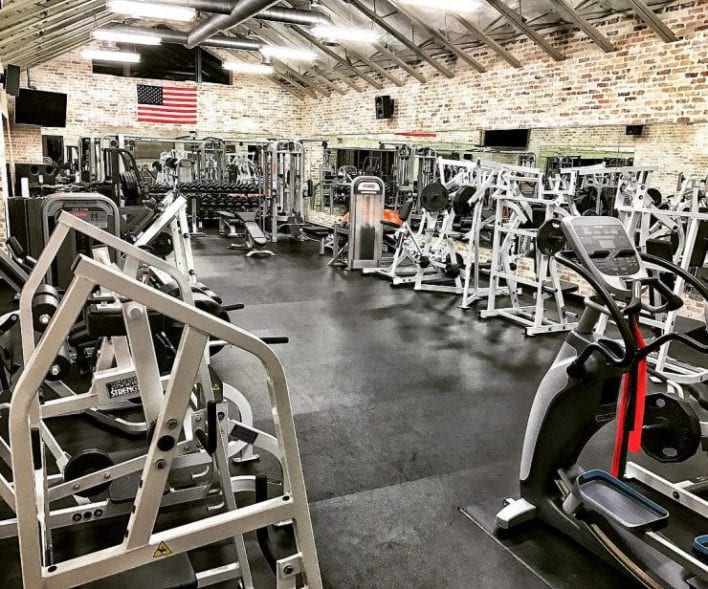 What's the point in signing up to the local gym when you can simply build your own? The Rock is serious about his workouts, and in his home gym, there isn't a part of his body that he can't work on. Gym enthusiasts often say that they feel most at home when at the gym, and The Rock clearly loves working out - just look at the size of his arms! His gym even has a name, Iron Paradise, which is a place that is like Disneyland but for fitness buffs.
Not Just For The Rock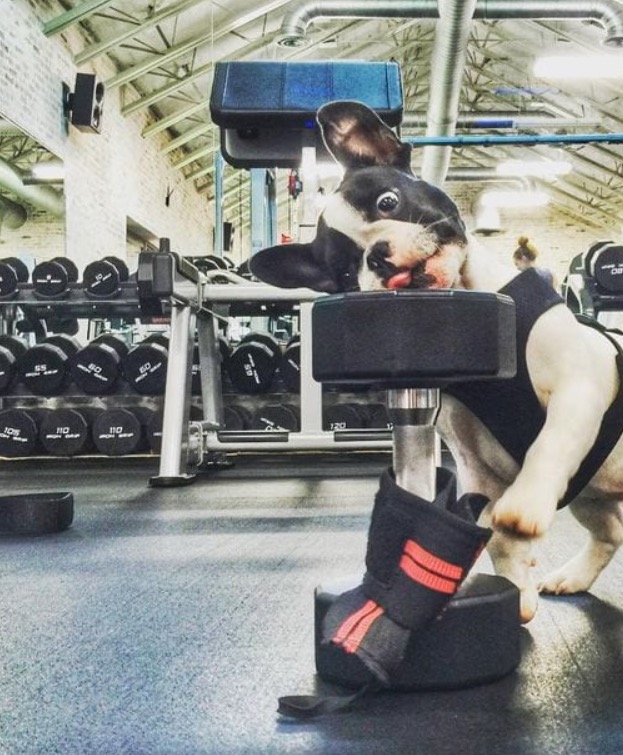 It isn't only The Rock that wants to work out at this amazing gym. To lighten the mood, Johnson often brings his dog along. While The Rock might be thinking of something else, this little pup is getting a workout of its own! Sometimes, when an exercise is getting tough, we all need a little inspiration. If The Rock can see that his dog is working out as well, it may be the push needed to get through the last set.
Where The Calories Add Up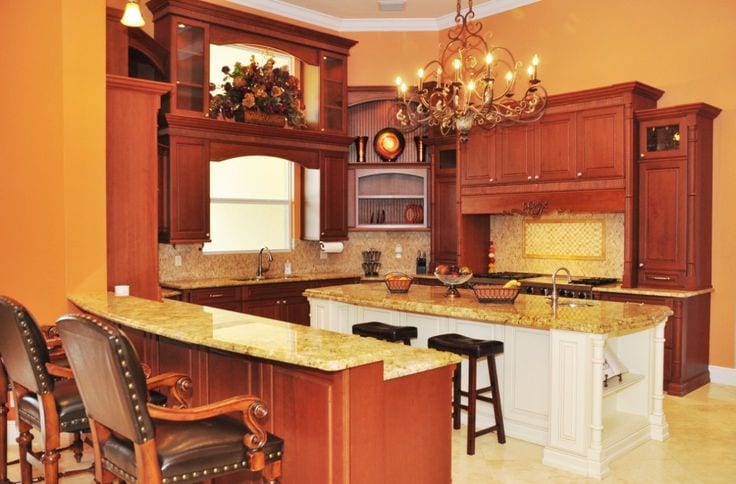 If The Rock does, in fact, eat 5,000 calories a day, then a lot of time will be spent in the kitchen preparing his meals. It doesn't seem like there's enough space here for 5,000 calories in total, let alone per day, but The Rock always makes sure that he's eating enough. Johnson works out a lot with high intensity, and this requires a lot of energy. Even if we ate that much in a day and exercised, the chances that we would look as good as The Rock are slim.
Big Couch For A Big Guy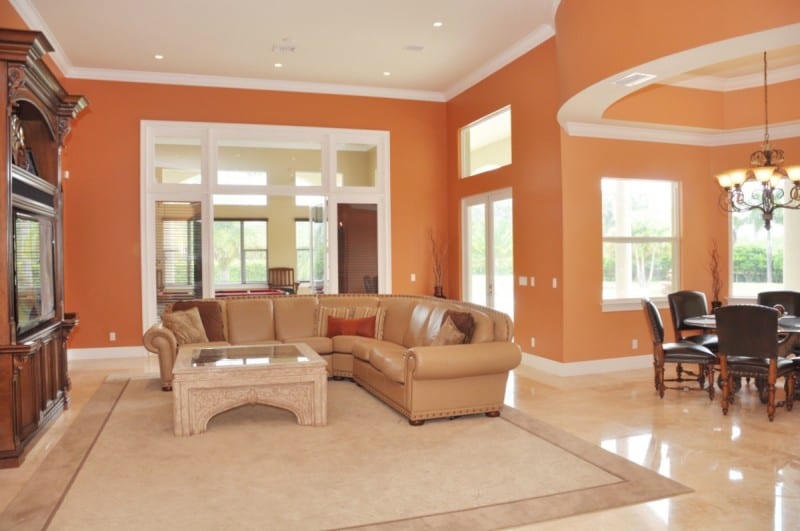 Kicking back and putting your feet up is one of the best things about getting home after a long day of work. Due to his stature, if The Rock wants to kick back and relax, he's going to need quite a big couch, and luckily for him, his is massive! While he does take up around two-thirds of this couch, there is still room for one more person to join him.
Lover Of Sports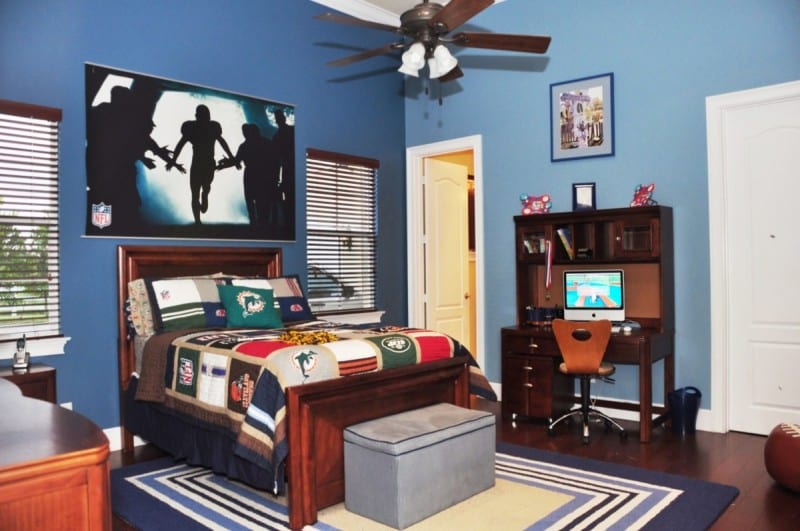 The Rock is a big sports fan, and when he bought his home from a former football player, he may have felt like keeping this room just the way it was. The room has many sports references, so any young person visiting Johnson's house would appreciate staying there. In college, The Rock played football for the University of Miami, and while that didn't work out for him, his life still turned out pretty great.
Better Than A Mirror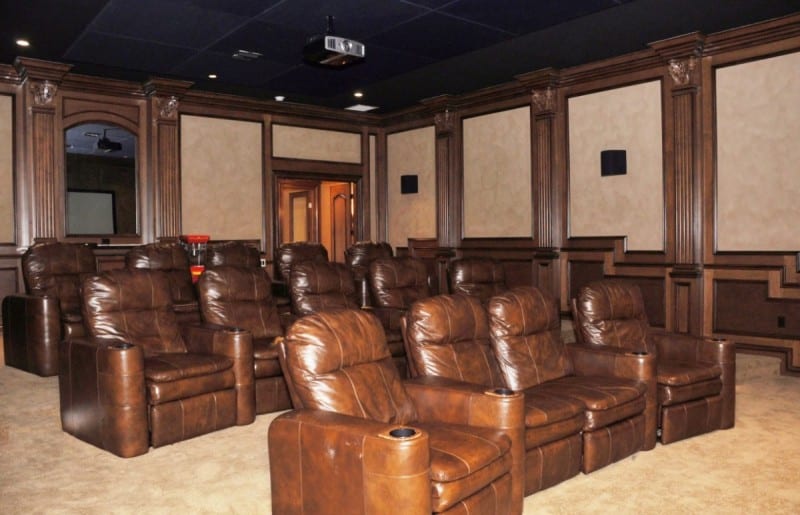 The Rock can watch films and TV shows in the comfort of his very own home cinema, with massive, inviting leather seats. The Rock has been in so many movies that he could spend days watching his own material if he wanted to. The home theater even offers popcorn, but due to his strict diet, Johnson probably stays away from that and offers some to his friends and family instead.
For Entertaining Guests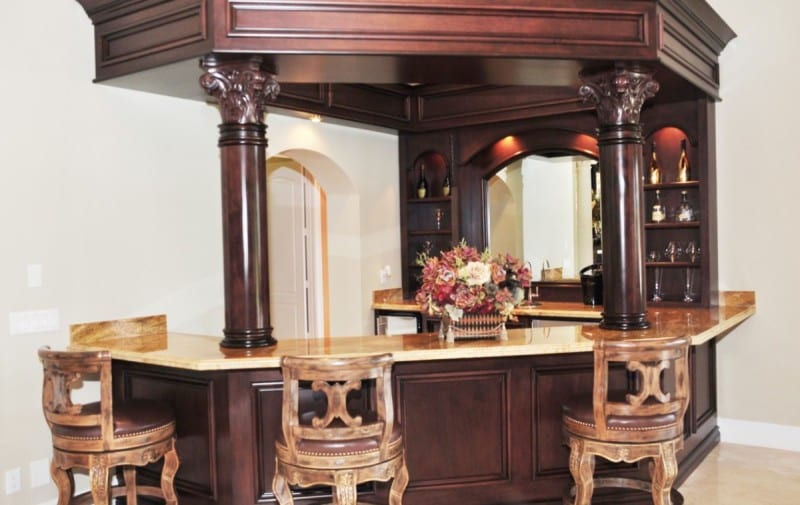 When Johnson has people over, he isn't worried that they might get bored. When he welcomes guests in his home, he can spend hours with them in his very own bar over some drinks. If The Rock is working as a bartender for the evening, he likes to make sure he's getting good tips. He does so either with his charm and wit or simply because his guests don't want to be on the receiving end of a Rock Bottom–his famous wrestling move–for giving lousy tips.
Somewhere To Lay His Weary Head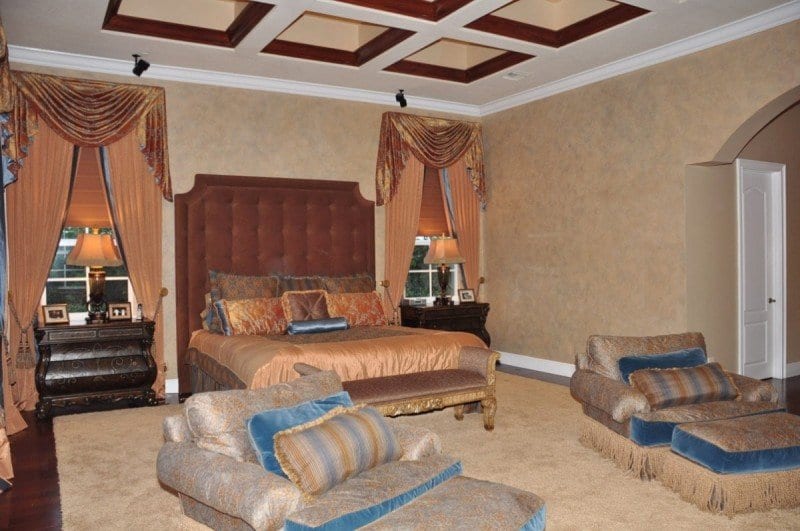 After spending long days on set, in addition to working out intensively, The Rock probably needs an extremely comfortable bed to rest his head on. Just like his massive couch, the bed has more than enough space to fit the colossal actor in, with room to spare. If he is not in the mood to lay down in bed to watch TV, Dwayne and his partner can sit on low lying armchairs and watch the latest new thing on Netflix.
A Room With A View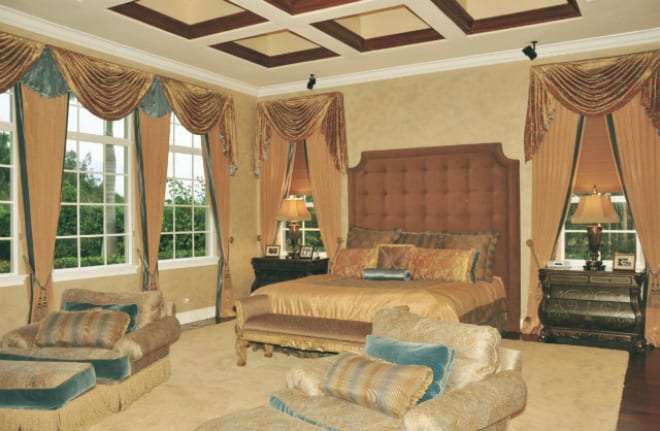 If he's had enough of sleeping, if that's even possible, The Rock can open the curtains and take in the beautiful view from the luxury of his bed. He can open the windows and hear the birds chirping if he wants to wake up like a princess in Disney flicks, or leave the curtains closed if he doesn't feel like taking on the world yet. The bedroom is one of the most important rooms in a house, and it looks like Johnson is more than comfortable here.
Fortress Rock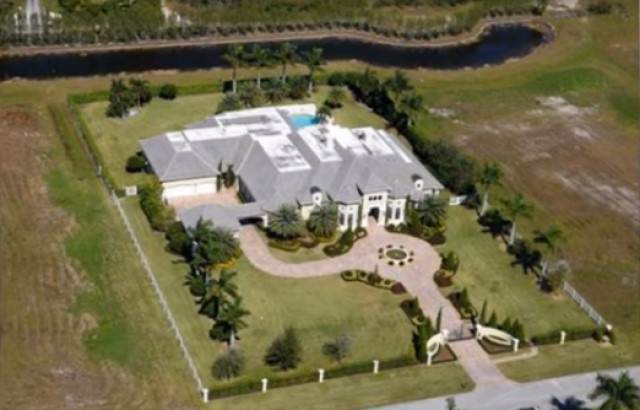 The Rock purchased this huge complex to spend time in when he's not working. The size of the mansion matches his massive ambitions, and the place is big enough to get lost in, even for Johnson. It seems like he doesn't have many neighbors closeby, so he can enjoy complete peace and quiet, away from anything that might steer him away from his biggest passion, working out.
Living The High Life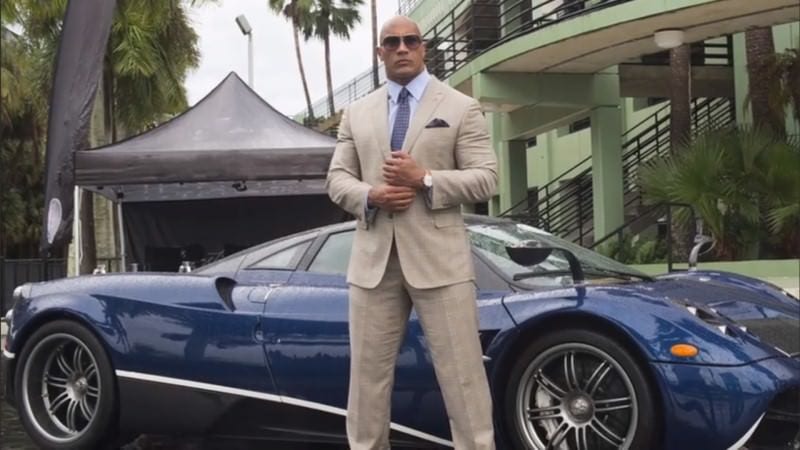 Being one of the highest-paid actors in the world comes with many benefits. For The Rock, it means he can live life just like he wants to, in a huge mansion, with his own personal gym that will make your local gym look like a joke. After gathering a huge net worth in 20 years of hard work, The Rock deserves to take it easy and chill out in his Miami mansion. However, he is not showing any signs of slowing down, so expect him to have another huge year at the box office in 2019.
The Gate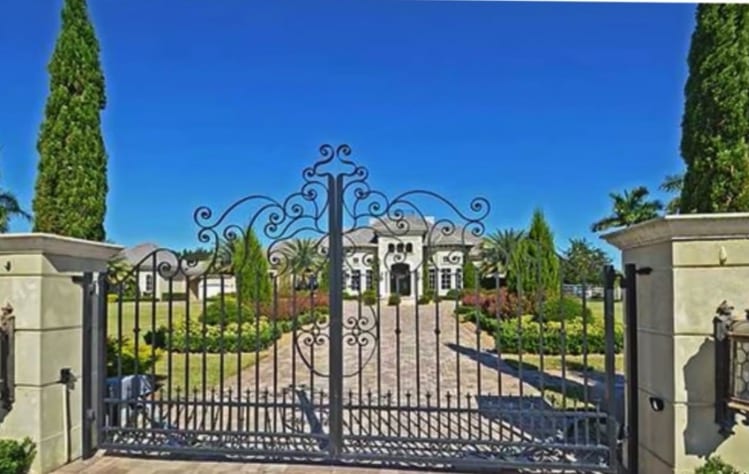 We've looked at the interior of the house extensively, as well as various outdoor elements. Also, it wouldn't be a proper mansion without a secure gate to let everyone know that this is an exclusive place. It is not always bad to open your doors to the world, but sometimes, a little privacy is needed. Also, when you're a huge star like The Rock, you want to shield yourself from potential stalkers.
Backyard And Chill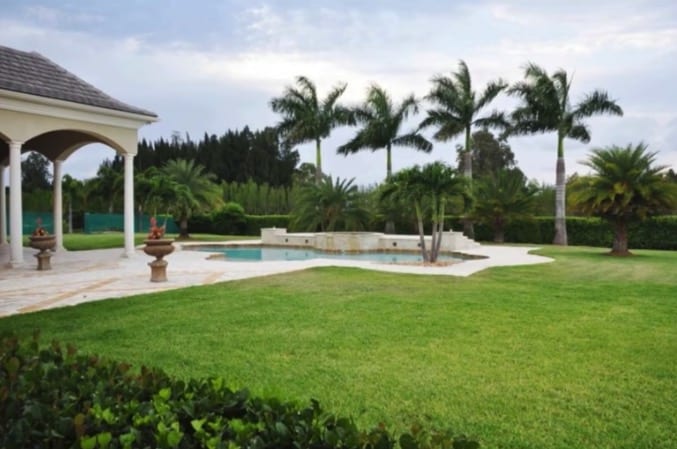 This is the swimming pool from another angle, and we love the candid feel that this photo provides. As you look at the pool this way, you can really picture a barbeque on a hot summer day taking place here. The backyard area has such a great atmosphere, which makes it great to invite family and friends over, so get-togethers here are probably frequent. Look at those beautiful palm trees!
Delicious Den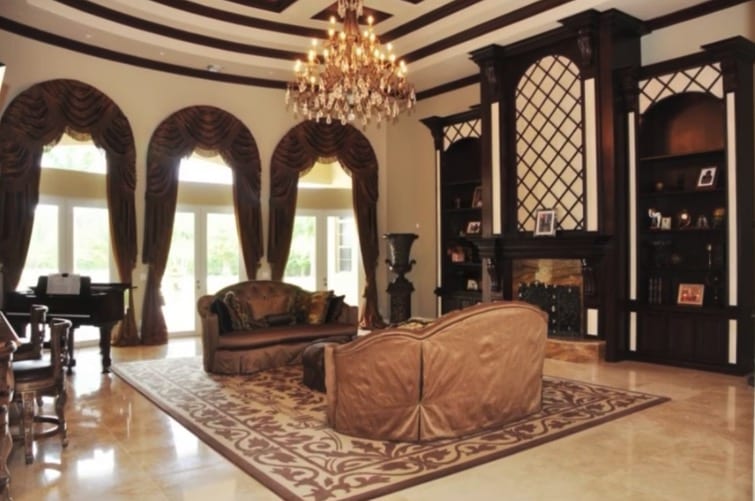 As we get back inside the house, let's take a closer look at the living room area or the den. Now, you can see more appliances than in the previous photo, like the jet black grand piano in the left corner. Who knows if Dwayne plays the piano? Perhaps he's been practicing and will surprise us all with an EP. In the movie Moana, he has already proved that he knows how to sing.
Loading Zone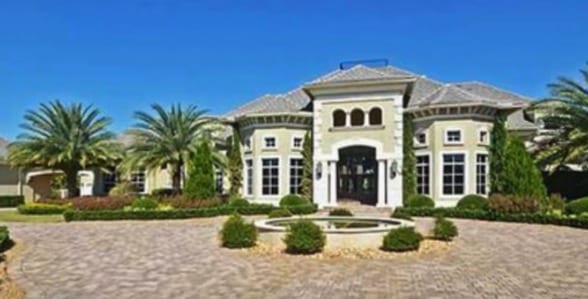 This photo shows a unique view of the house, as well as the circular brick area at the front entrance, where guests can park their cars. No cars can be seen in this photo, but guests are surely pulling up there constantly. Dwayne probably has another parking area for him and his family, but it is always good to have an extra one. 
Hidden Hills Home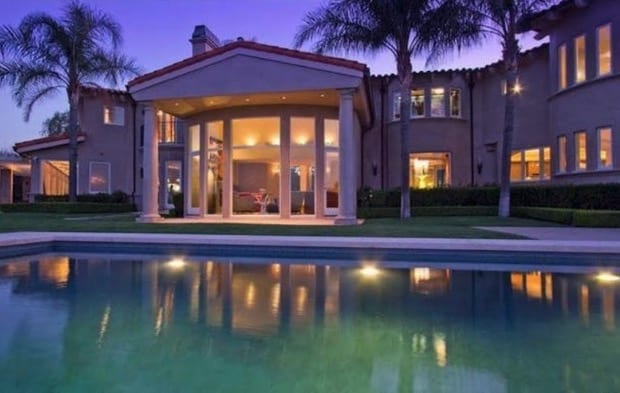 Although we have looked at The Rock's Miami mansion extensively, we would also like to look at some of his previous homes. This photo is The Rock's old mansion in Hidden Hills, California. Situated around 20 miles from Hollywood, Johnson used to call this place home before selling it for $5 million.
Stairways To Heaven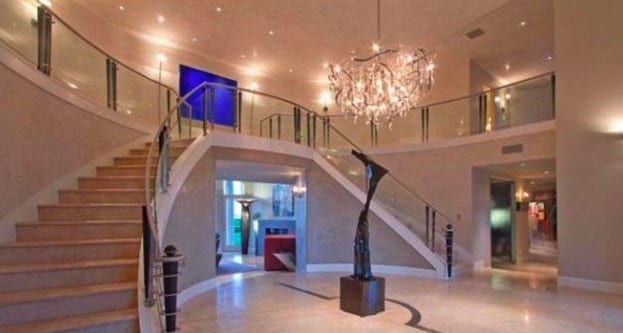 Clearly, this place is wonderful from the inside and the outside, and it is hard to believe that somebody could give this home up. Of course, we know the house he replaced it in, so everything worked out. Spreading out to approximately 9,000 square feet, the house has six bedrooms, seven bathrooms, a swimming pool, and a home cinema. When you enter, you are faced with a majestic double stairway to go to the second floor, where there are more great things to be found.
Entrance Hall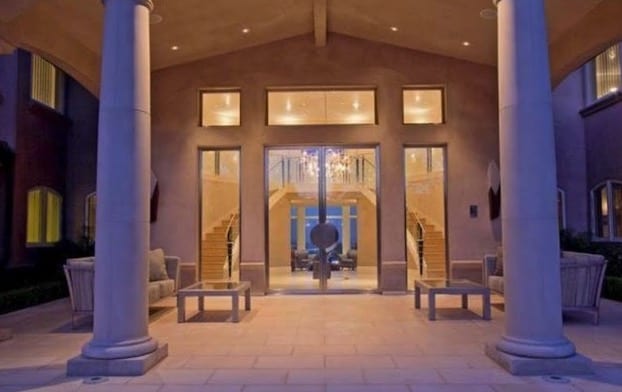 This photo shows a closer look at the entrance hall, where visitors can enter and leave as they please, all while being amazed by the lavish beauty of the mansion's interior. It gives off the feeling that many parties were hosted here, and we feel like they might still be, although not by The Rock. These pillars remind one of Rome and give off an ancient vibe, adding to the house's character.
Atmospheric Bliss
Can life really get any better than this? It's one thing to have a beautiful home, but having a view like this is priceless. In Johnson's backyard, his old California mansion has a stunning swimming pool around a freshly cut garden, with a gorgeous landscape of Los Angeles and its beautifully painted mystical sunset in the background.
Ferrari Fun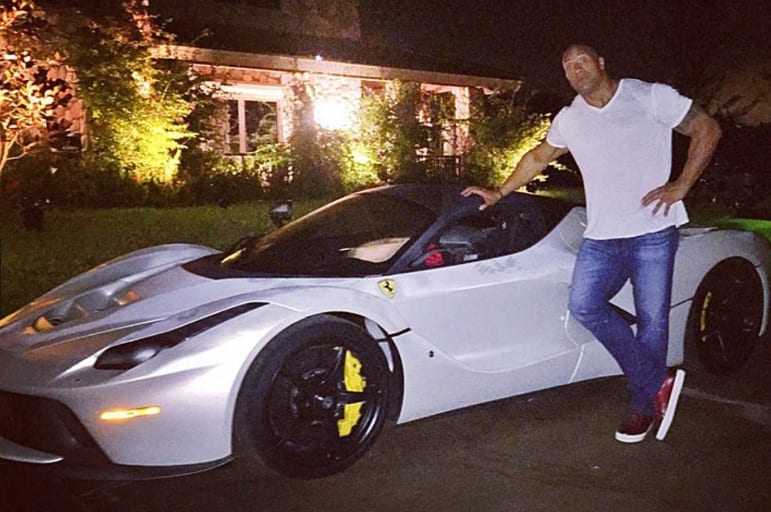 Earlier, we gave you a quick glimpse at one of The Rock's cars, but now, it's time to see a few more. Yes, the car is not part of the house per se, but people still see it upon their arrival to the mansion. When people see the successful actor standing next to a Ferrari LaFerrari Matte White such as in this photo, it makes a strong statement. We're not exactly sure how he manages to fit in there, but it still looks cool nonetheless.
Truckin'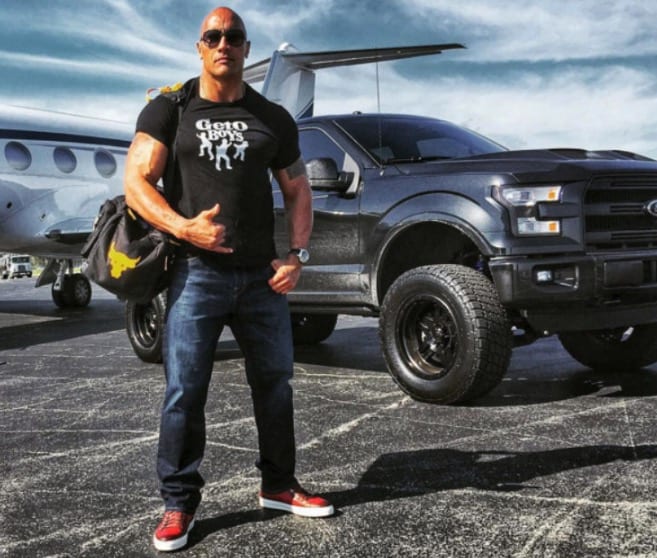 This may be our favorite photo yet, simply because it shows the human side of The Rock. This Ford F-150 Custom Built pickup is not cheap either, and it gives off a completely different vibe from an exotic supercar like a Bugatti. It suits the actor as it gives off an air of adventure and wear and tear, strongly reflecting Johnson. The chemistry between him and this car is great.
How Else The Rock Spends His Money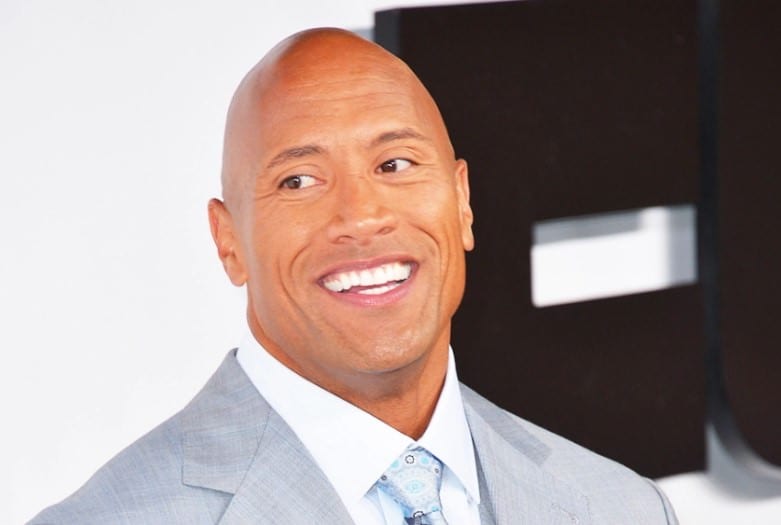 Of course, when someone has as much money as Johnson, they are free to splash their money on whatever they want. Many like to give back by associating with charities and foundations. Others spend their money on lavish things like designer clothing, jewelry, and cars. The Rock is very particular about how he spends his millions. Aside from his gorgeous homes and exotic cars, you may be surprised by how else he spends his hard-earned money.
Food On Food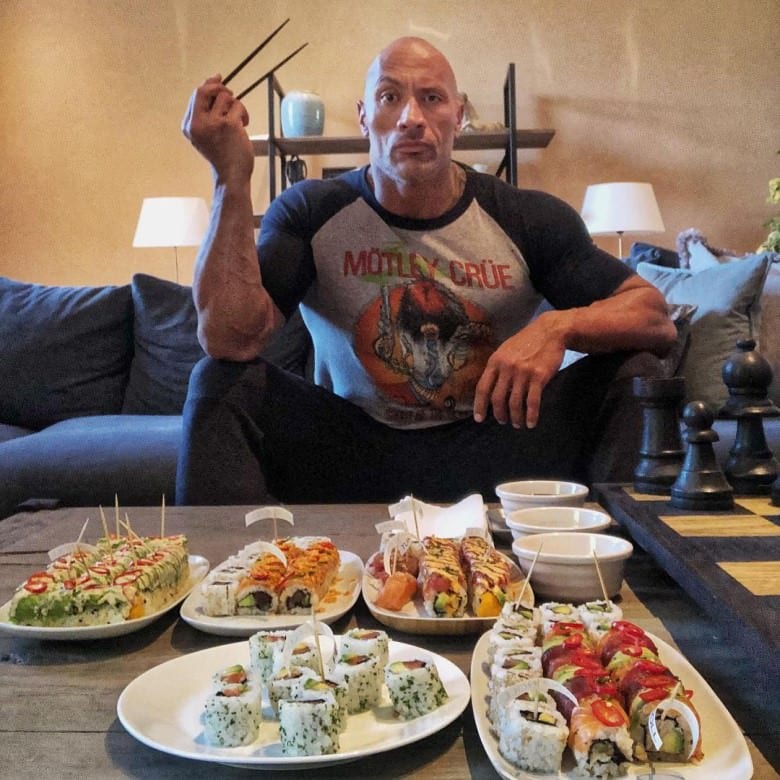 Anybody as big as Dwayne needs to eat a lot every day to maintain that muscle mass. While we already know exactly how many calories the actor consumes every day, you may be wondering how much money he spends on these mountains of food. It is probably impossible to tell exactly how much he spends on food, but we do know some of his favorites, which include sushi, pizza (but only on cheat days), pancakes, and cookies. He even cooks himself!
Treating His Fans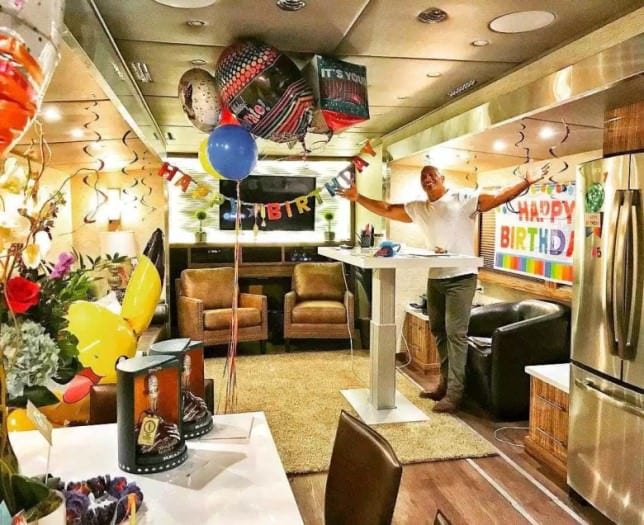 The Rock knows that his fans have helped him become so successful - after all, they are the ones spending their money to watch his movies in theaters. As he is so thankful for the love he is shown, he likes to give back to those who have always pushed him in his career. He was even ordained to perform at some lucky fans' wedding. Another time, he arranged for some fans to watch his movie Rampage in theaters, and of course, the snacks were on him.
Helping Out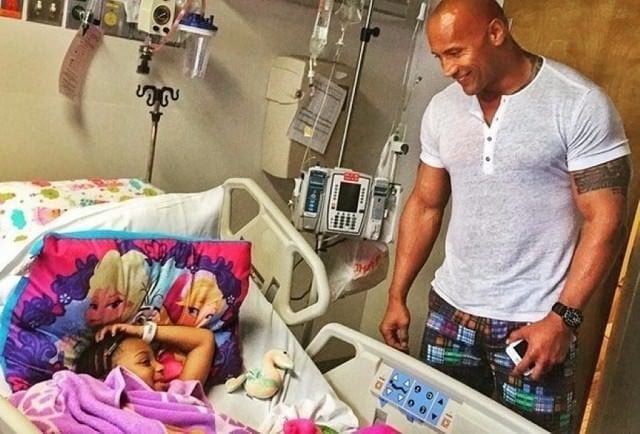 Just like his muscles, The rock's heart is big, too! He always makes sure to give back to the community and donate as much possible to the less fortunate. His organization, Dwayne Johnson Rock Foundation, helps kids suffering from illnesses by building their confidence and promoting health through physical activity.
Family Man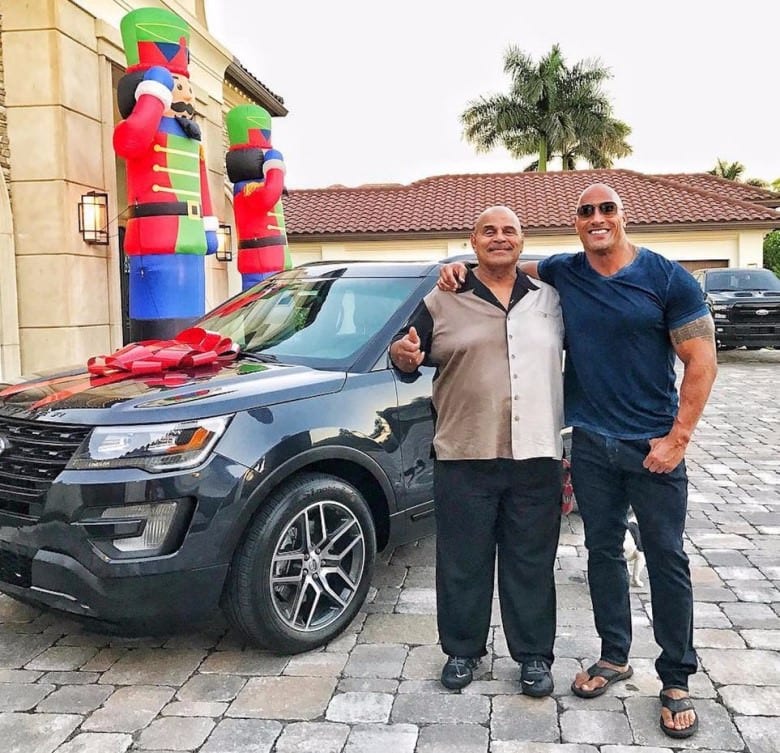 Although The Rock is today a multi-millionaire and a very popular Hollywood star, he hasn't forgotten where he came from. He shows how much he appreciates his family with gifts that are not exactly small. He once offered his father an SUV, and his favorite uncle a car. Johnson's mother has also been seen riding on her son's private jet. These are the people who were always behind the actor his whole life, so he does what he can to give back.
Source: Sportsretriever