Wedding Dresses You Won't Believe People Wore
Wedding season is often round the year, and many things are fascinating about weddings. Whether you are the one getting married or not, there's always one thing to look forward to, and that's the dresses. The marriage plan often involves checking social media and magazines for the best suits that will color one's memorable day. We see ads pop up on social media and pictures of friends who post their outstanding couture gown. All these are good build-ups in choosing a perfect wedding dress. But while we see beautiful wedding dresses everywhere, sometimes, some wedding dresses don't just meet our expectations. Yes, some are even outrageous and hilarious if not ugly. We have done well to compile a list of some of the ugliest wedding dresses of all time.  You would almost ask what on earth the bride was thinking to display such dress on her memorable day. Let's start. 
Ursula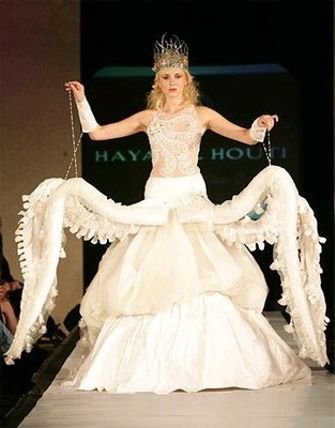 Some dresses are better fitting for one event than for another. This Ursala wedding dress in the photo would have been best as Halloween costume rather than for a wedding dress. It does not mean that it is not a great dress, though. Whether the dress was formerly a Halloween or made for a fashion show, it does matter so much now. What matter is that it is an elegant dress for the bride. 
The Digital Era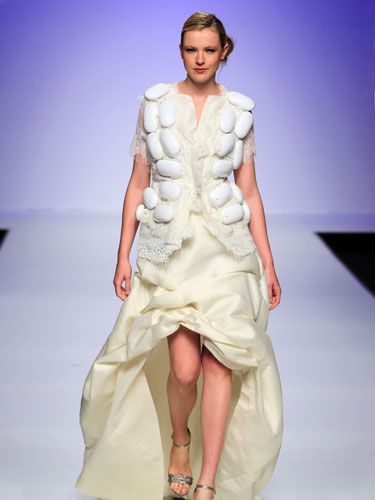 Who would believe this bride walked down the runway? We are not sure if those are a bunch of white computer mouses attached to her dress or bars of soap. Either way, this dress needs a makeover; because it may not even pass for a simple fashion show. But if this bride were to be a computer geek or some model advertising a bar soap, maybe we could pass the dress for the occasion.
Balloon Dress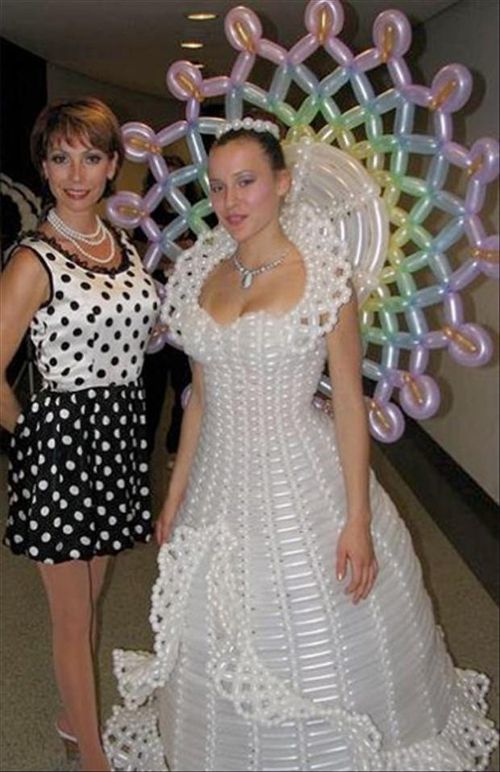 Creativity if not handled well, may go out of hand in wedding dress design. This dress here would have been manageable if it were just a normal one. The design is fair, but the balloon seems to have ruined everything. It seems only the dress here will appeal to no one other than the children present at the wedding. Nonetheless, the bride looks happy still.
Gothic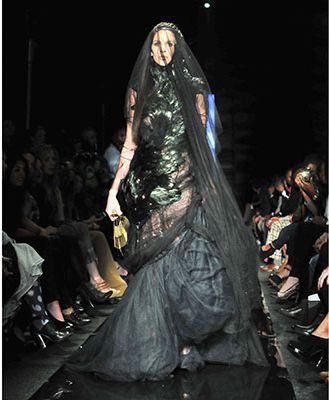 This bride seems to have covered herself with rags, but it's a traditional attire. While traditional dresses are cool, we are not sure if this still exists in stores. We would like to know the designer of this extravagant wedding dress. Am sure you wouldn't have guessed this dress as a wedding gown seeing it for the first time. It is a mystery how a gothic movie costume passes for a wedding dress. 
Free spirit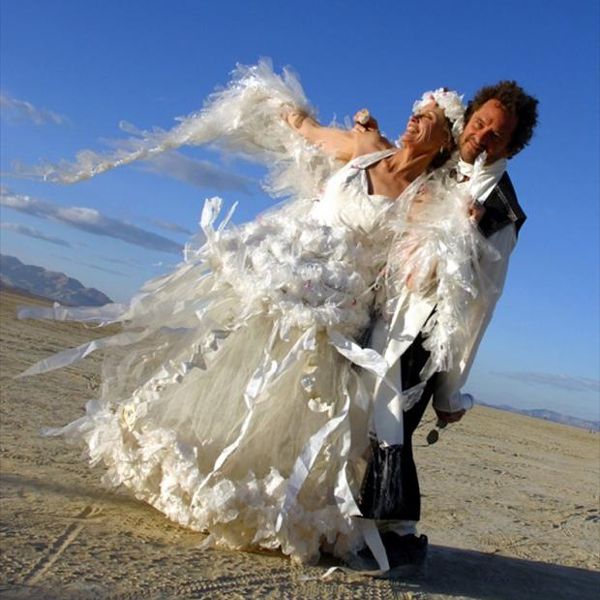 The result here is what you have when you take DIY a little too far. There are things we can't just fix ourselves with DIY, and one of them is a wedding dress. But the most important thing here is that the bride is happy with the result. Although, we can't say that of the husband; maybe he has a second thought.
Cream Puffs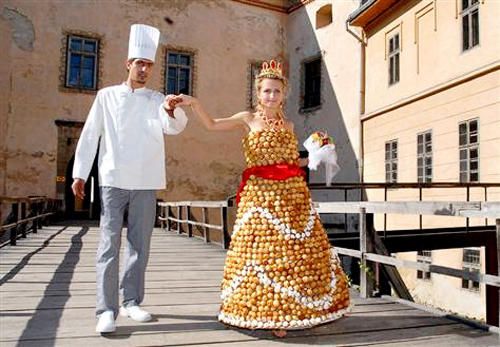 It is mindblowing to see that a 20-pound dress like this one in the photo was designed using cream puffs. Wedding cakes always turn out well, but hardly is there anyone who will be willing to wear one. This wedding dress raises one question in mind. What will be left after everyone take a creamy puff?
Poofy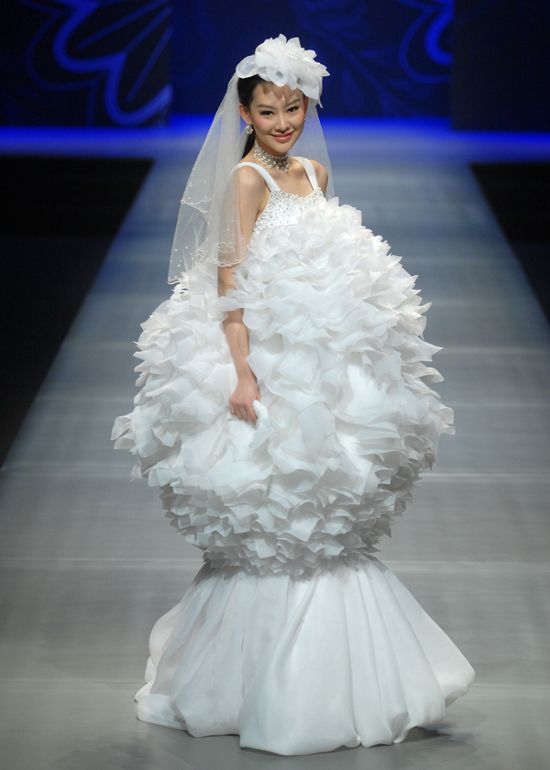 What we know of a dress like this is for the puffy part to come at the bottom of the design, here is a complete reverse. We don't know what this bride could have been thinking to wear something like this; but we know that the dress is good for one thing, taking a nap inside the house.
High Waisted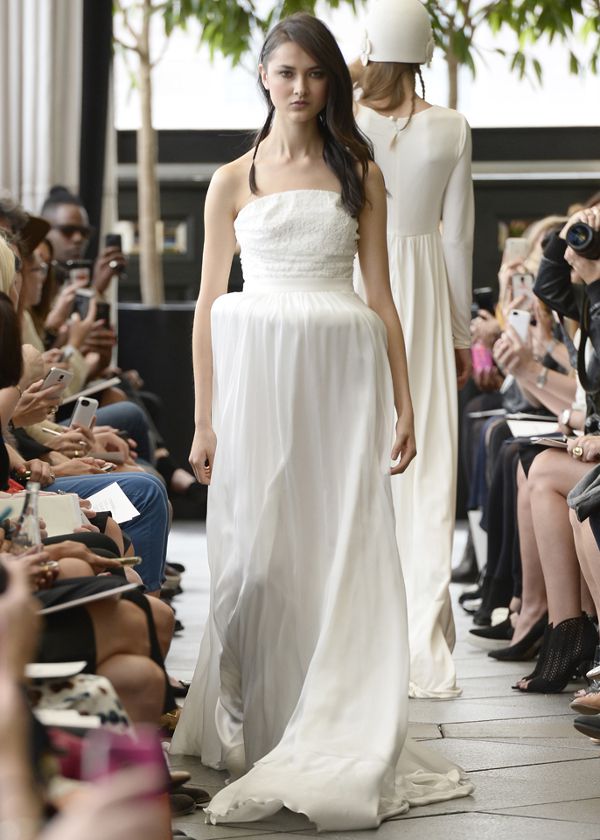 This dress wouldn't have been ugly if not for the awkward design at the waist area. But what could be around the bride's hips? Could she be keeping a lampshade there? Well, only the bride could answer these questions, but we know this dress wouldn't have appeal to many people at the event.
Mama June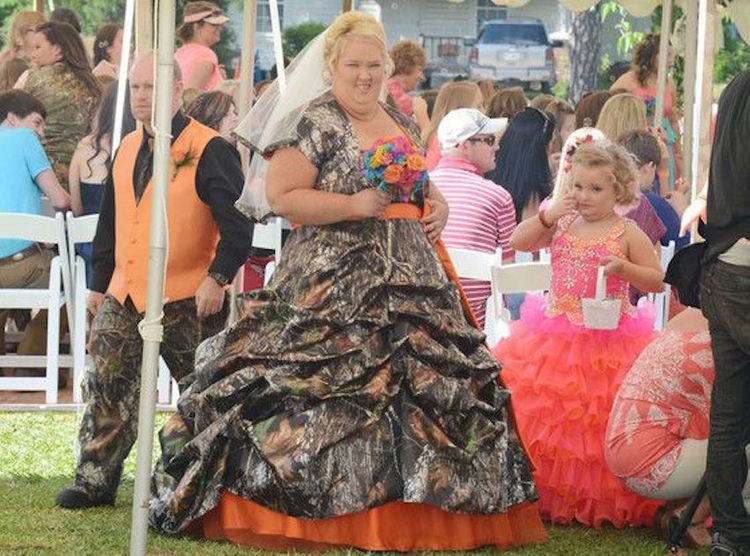 At the time Mama June and Sugar Bear of down-home reality show Here Comes Honey Boo Boo fame – renewed their wedding vows in 2012, the former's dress was certainly #OnBrand. The matron was all dolled up in full camouflage, including the 'safety' orange hunters are legally required to wear.
Haman Hair
The bride here wanted something a little different for her gown... it's like a combination of a bit more Silence of the Lambs and less Disney princess. It seems this gown or maybe a canopy was designed from 250 meters of human hair. Oh yes! Do you doubt us? This bride's dress may be ugly for a wedding gown, but it may be a useful costume in some festival or events where people are permitted to dress weird. 
I Now Tag You Man and Wife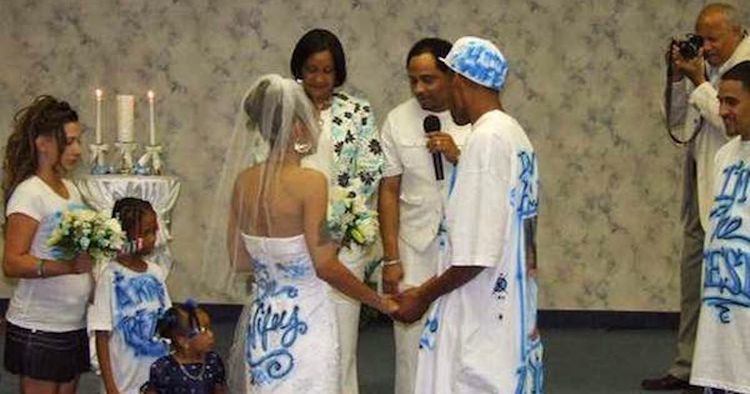 It seems both the man and her bride planned to dress way down for their wedding in this picture. Who knows what could have influenced their decision on this style. The groom looked cool with his cap but backing the aisle is at least a good one. It has prevented us from seeing the front view of the hideous dress of this couple.
Cocoon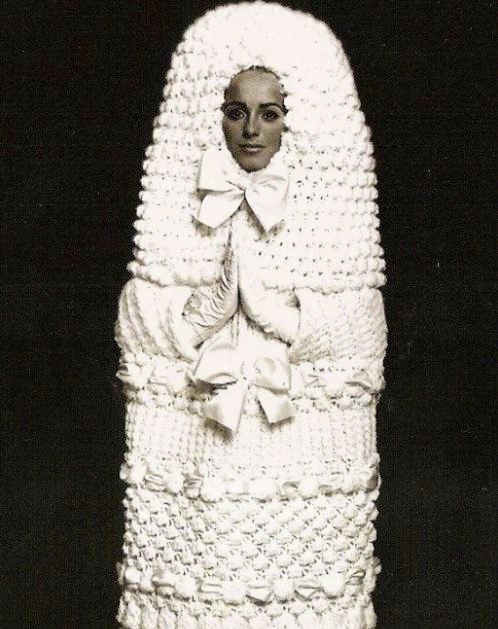 Roman nesting dolls inspired the dress here. Indeed, people have their reasons for choosing the style of clothing they wear for their wedding. For the one here, it seems the bride is a big fan of nesting dolls.  But how will the groom see the bride in this goddess looking attire? He must have been prepared to receive a goddess into his house after marriage. The dress is not only ugly but odd. 
The Everything Dress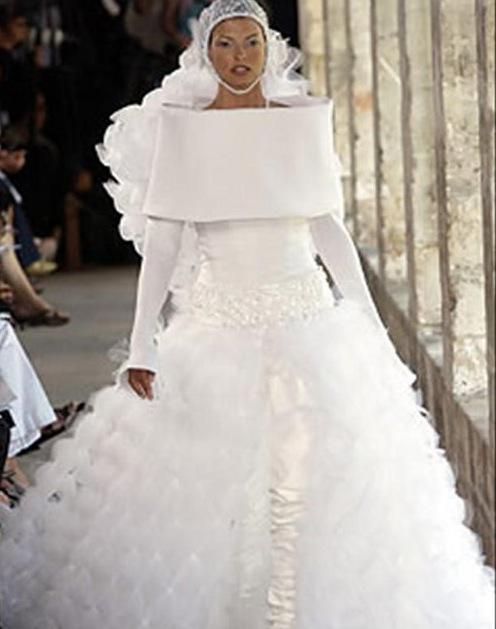 There's just so much going on with this dress at different angles, and it seems as if the couture didn't know where to end the design. The bride's skirt looks like a tissue paper, and the design gave the model the look of one in a swimming cap with some bushy fabric coming out of her head.
Flaming Dress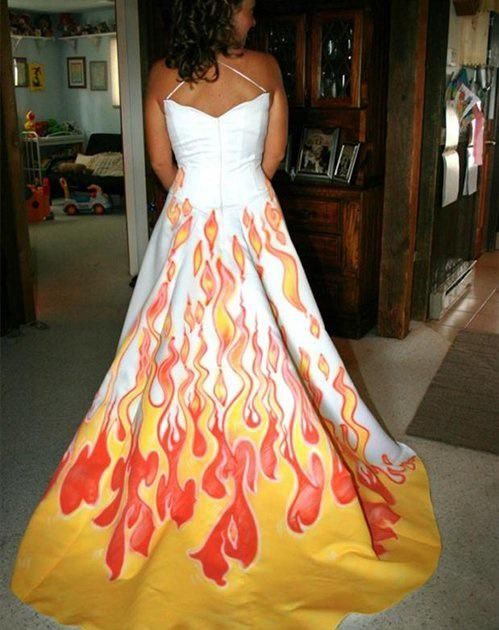 Flames can be cool, you know, in a furnace, movie or gas station. But that's probably where they should stay. Somehow, I suppose 'The bride on Fire' in the picture above wouldn't have impressed with her dress. We can't explain the reason for this bride's blazing dress, but it seems she loves it.
Diapers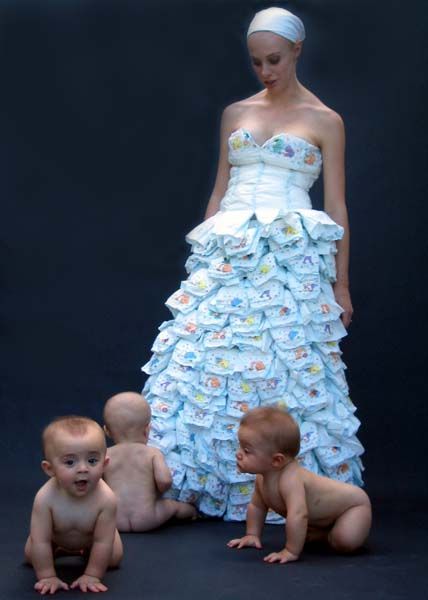 Why this material in the first place? It's fantastic to make your wedding dress or do something new for your wedding, but this is just crude. Sure, the diapers may be clean and would definitely be needed when babies start coming, but why wear them as a wedding suit?
A Bit too Showy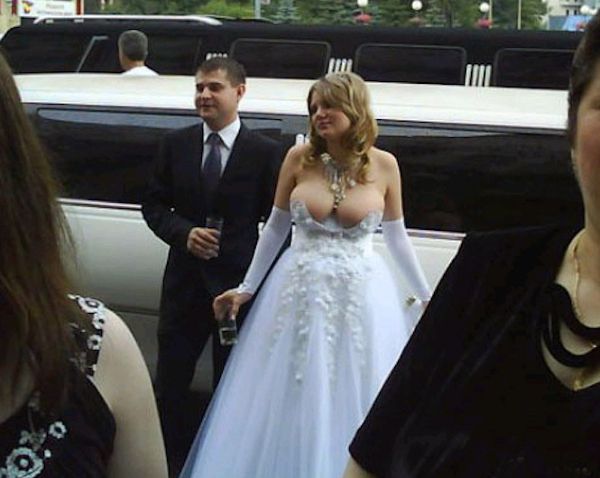 One would think that people derive more satisfaction when they wear a wedding dress that fits them perfectly. However, some people go out of the box to wear a wedding dress that does not fit like the one in this photo. Such people are satisfied with going against the norm. In the case of this photo, a surprising thing is that the woman had to use lots of body glue and body tape.
Scandalous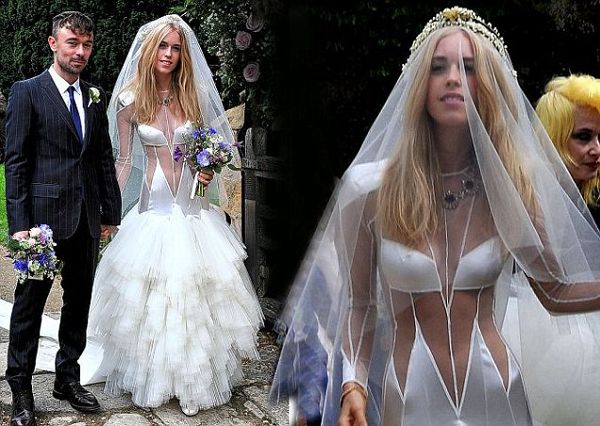 It is safe to assume that her dad wasn't the one that chose this dress; because the lady here is royalty. Here is Lady Mary Charteris, the daughter of and Catherine Hesketh and Jamie Neidpath (the Earl of Wemyss and March.) Mary Charteris though royalty is not one of those that are comfortable with royal women attire. 
Hello Kitty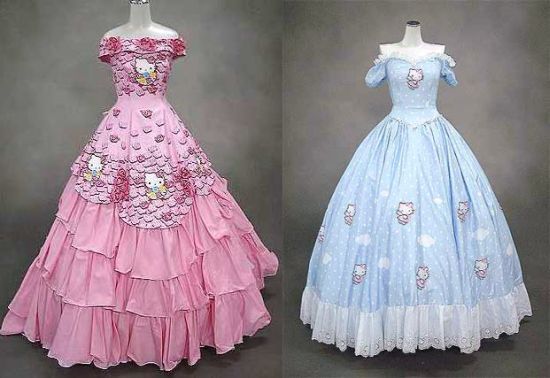 It is interesting to know that apart from white wedding dresses, some people also used other colors of wedding dresses. Although other colors of wedding gowns are rare, some are bold enough to rock them for their big day. In the photo, are pink and light blue wedding dresses. They are both beautiful. No doubt, many people will love these. But for some, these are ugly looking gowns for a bride because of their colors.
Body Paint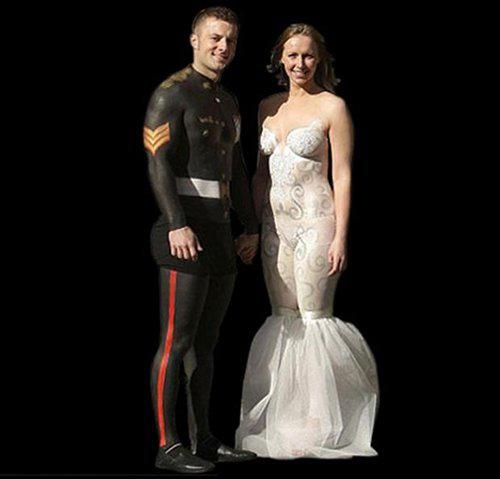 Though a fitting wedding dress is perfect for most people, some may find this body pants rather too tight for a wedding. It may not be the best of decisions to wear a body pant on that big wedding occasion of yours amidst several options that will make your day. But for this couple, its the best decision they could come up with, and the groom is even looking like a flying officer in his suit.
 The Belly on This One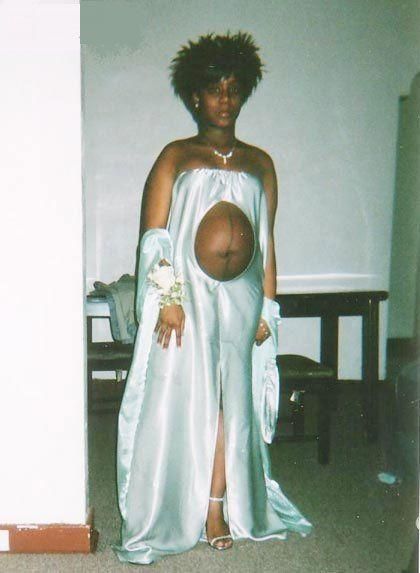 Nothing attracts the attention of the audience than a pregnant bride walking down the aisle. While it's stunning for a bride to appear pregnant on her wedding day, it is bizarre to emphasize the tummy by cutting out a giant hole in the middle of your dress. What do you think about the dress above? Perhaps, there is a reason behind that idea that we can't explain. 
Duck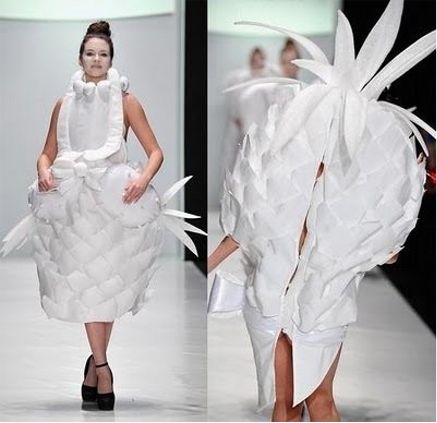 Would you say that this wedding dress is beautiful? Looking at it from the front, it is more like a pincushion. However, a look from behind really makes it resemble a duck. Could the love for ducks make one to wear this dress for one's wedding?
For the Love of Sports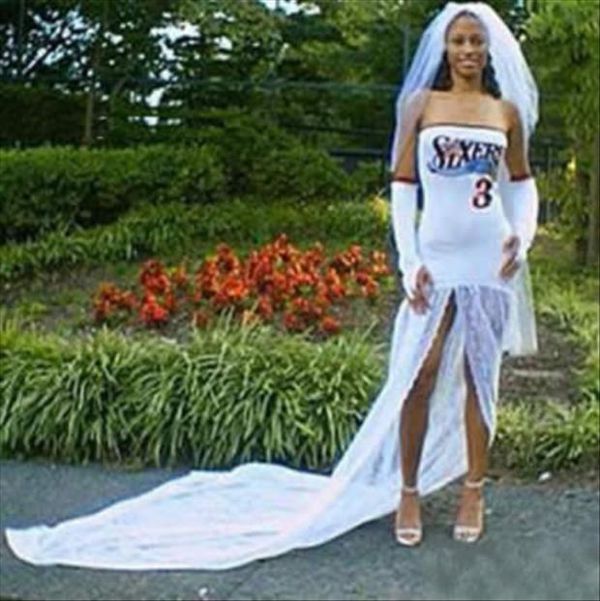 Having fandoms is a normal thing for most people, at least many people have one. But, it may not just be appropriate to wear it boldly on your wedding dress. Weddings are likely not the best event for wearing such fandoms. That may be a general idea, but this bride wouldn't care.  She's all out to announce her fandom; it may be one of those things she lives for.
An Accordion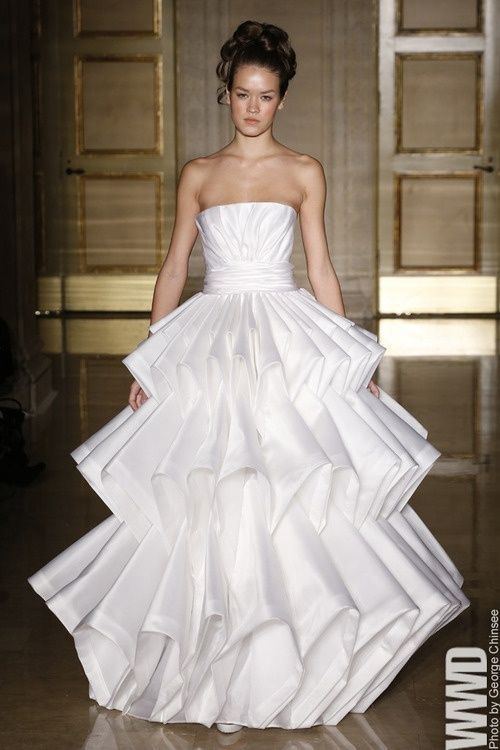 Looking at this dress, you will agree that it is somewhat beautiful even though a wedding might not be the best occasion for it. The first thing that comes to mind when you look at it is playing the accordion. Instead of letting this dress retire to the wardrobe after the wedding, the bride could lend it a lady who plays the accordion; it possible she gets some good cash from that transaction.
The World's Longest Train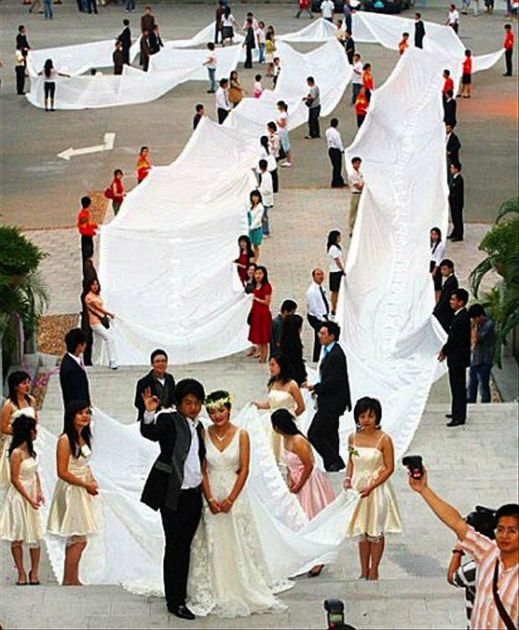 Unimaginable! Do you think you have seen the world's longest wedding train? Then, you have not seen this one. It is simply the longest wedding train yet. The question in mind now is whether it will fit indoors peradventure the ceremony is indoors. How did it even fit the car? Even if it is rolled up, it will still be very long.
A Patriotic Wedding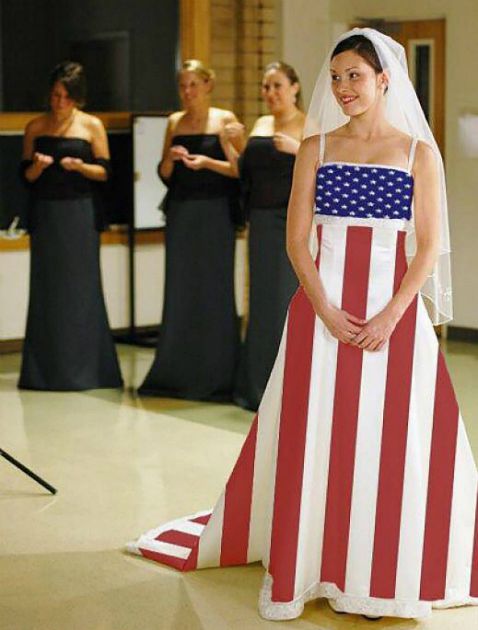 One might have to consider if it is a great choice to use the colors of your favorite flag to make one's wedding dress. No doubt, it will likely steal the attention of everyone from everything, including you. But, it can be a way to break loose from the multitude. The plain white wedding dress may just be boring for some people.
Pretty in Pink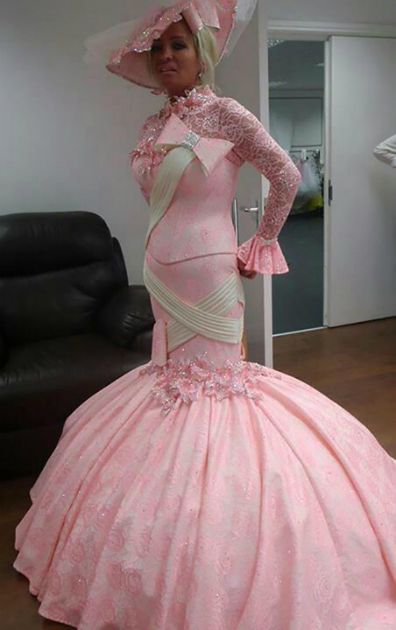 Is it not illogical to wear this type of wedding dress? How will the bride walk comfortably? Looking at the picture, it is obvious that the bride's love for pink color is out of this world. Wow! The bridesmaids, groom, and people in attendance wore pink too. However, color aside, this dress is not the best of designs. 
Brighter Than the Sun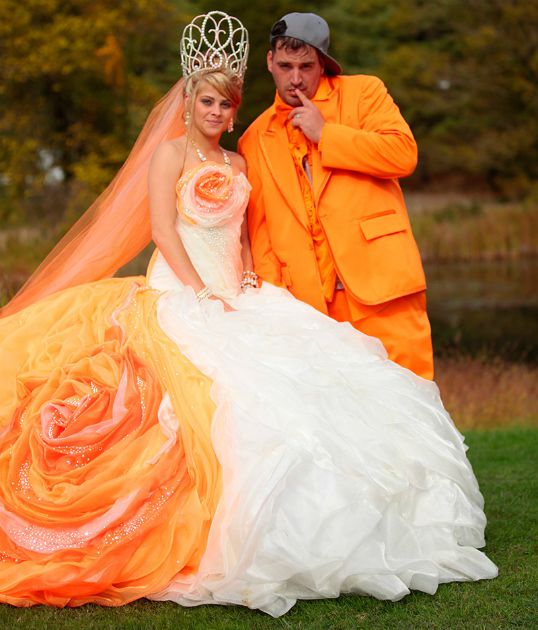 This couple clearly broke loose from the list of couples who use the normal black and white dress for weddings. As if the garish Sunkish orange color is not enough, the couple introduces a trucker hat and massive tiara. The combination could make you go color blind if you look at it for too long.
Do You Want to Marry a Snowman?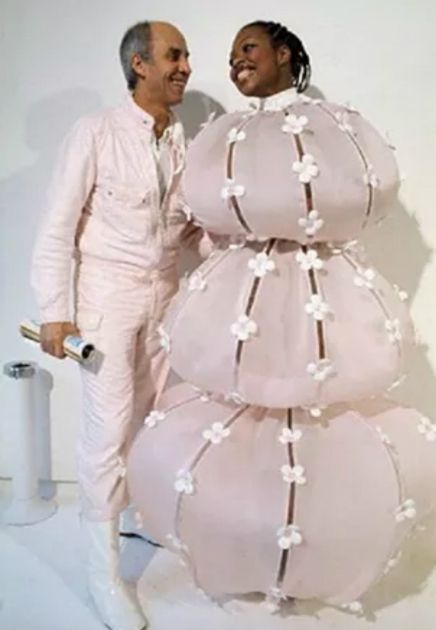 With a dress like this, it is difficult to say whether the bride has arms. Well, the arms are likely tucked inside the snowwoman dress. Even at that, we want to believe that she would have needed support to walk. What about the aisle, how did she manage to walk the aisle? The only positive side of this is that she is happy.
So, you have seen for yourself some of the worst wedding dresses of all times. It is just unimaginable that some people actually felt comfortable wearing such dresses for their wedding. However, the happiness in the faces of the groom and bride reveals that it was the perfect dress they had wanted for their wedding. What are your thoughts on these dresses? Do you think they make any sense? Let's know your take on these unbelievable and unpopular wedding dresses.