20+ of the Most Appealing Historical Photos from Last Century
Do you love the 60s and 70s? Maybe you remember those decades fondly, or maybe you're just obsessed with the radical, flowery vibes, and the awesome music! Either way, we've collected a whole BUNCH of awesome pictures from history that are sure to entertain. And not just from the 60s and 70s, either - right from the first world war right up to the nineties. So was David Bowie cute as a kid? Was Janis Joplin's Porsche really painted with psychedelic art? And Jayne Mansfield - could she play the piano? Find out more by clicking through this gallery of the weirdest and most wonderful photos from the last century!
Noel, Noel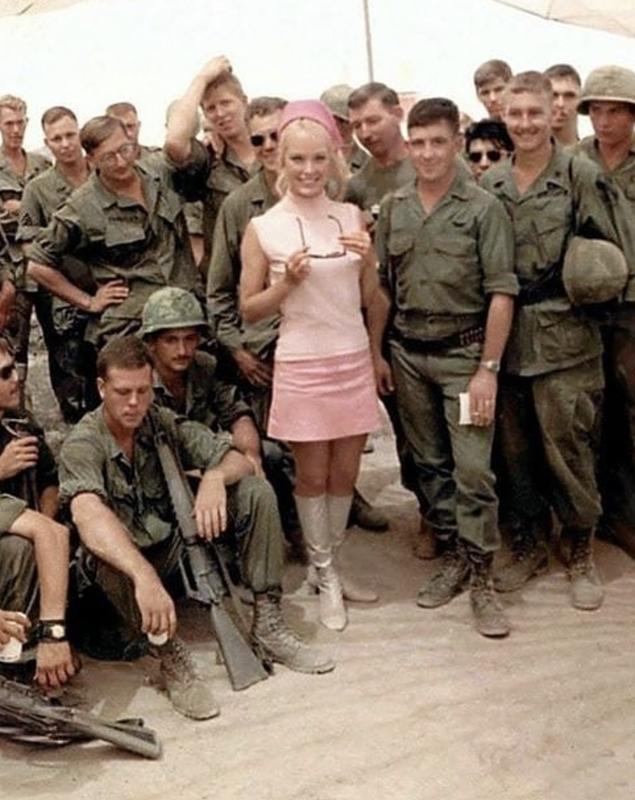 Our first photo is sure to get you wondering. The gorgeous lady in the middle is Chris Noel, who you might remember as a singer and actress from the Vietnam War days. Noel went to Vietnam to entertain the troops, and she had her own radio show for that very purpose. The songbird traveled to Vietnam on four separate occasions, and terrifyingly, her helicopter was shot down. And not once, but twice! Yikes. Click through to see some of your all-time favorite actors hanging out…
Next of Kin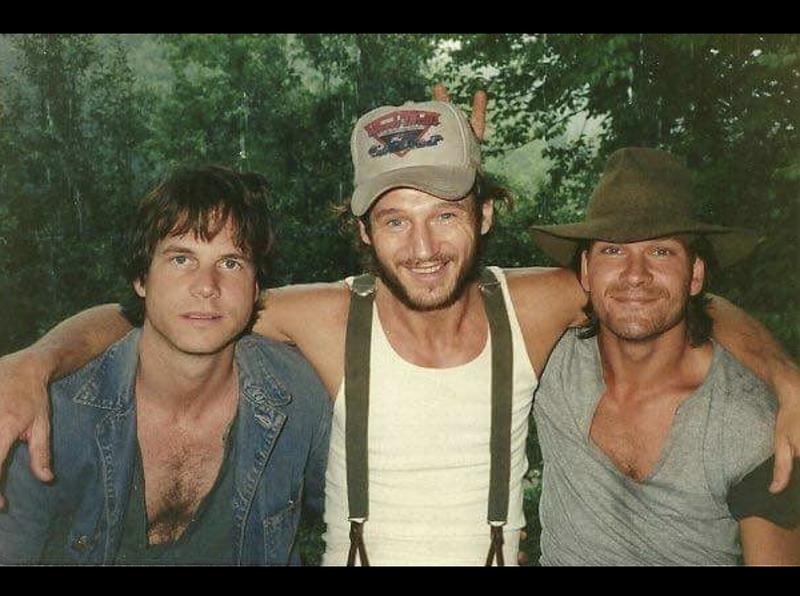 This 1989 film might not have been particularly memorable, but its cast certainly was! The three musketeers here are Bill Paxton and Liam Neeson, with Swayze at the end there. Do you know who else was in it? Helen Hunt was also on set, and so was Ben Stiller! It really is puzzling that a film with a lineup of actors like this could flop so hard? At any rate, you'll be even more surprised by the next image from Andy Warhol's notorious Studio 54...
Jamie Lee and Janet Leigh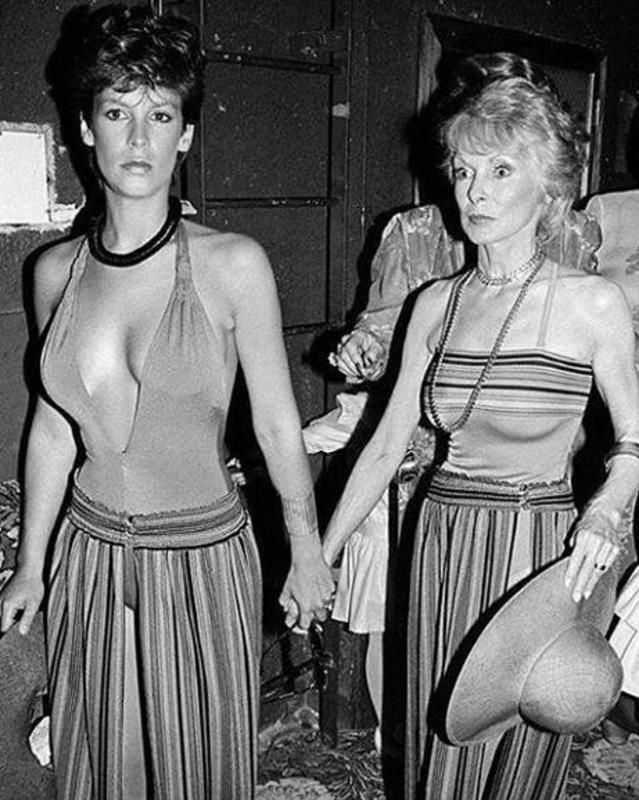 This photo is iconic for many reasons. Not least of all because it was taken at Studio 54, where artist Andy Warhol held his magnificent, drug-fuelled parties. Jamie Lee Curtis got her start in horror films and rose quickly to the top as a scream queen. How did she get there so fast? Well, she learned from the best. Janet Leigh is known for her nail-biting performance in Alfred Hitchcock's most iconic horror film, 'Psycho.' 
Bowie as a Babe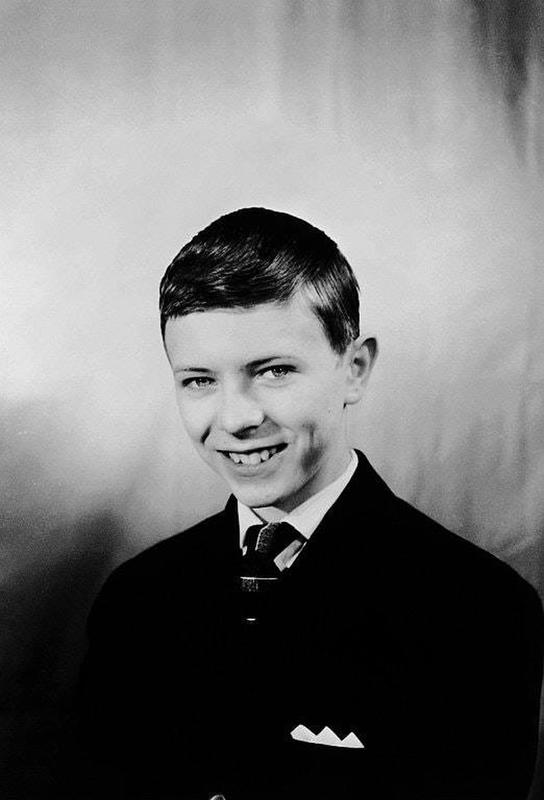 Oh, Bowie! If you were wondering whether David Bowie was a total cutie as a youngster, wonder no more. This image was taken on Valentine's Day in 1961. If you think he's looking pretty smug, it's probably because he was asked out by six different girls that day. What a heartbreaker!  Sadly, his music teacher wasn't quite as impressed by him and said that his voice was "adequate." Oh well. He sure showed her!
Pretty Scandi-Lous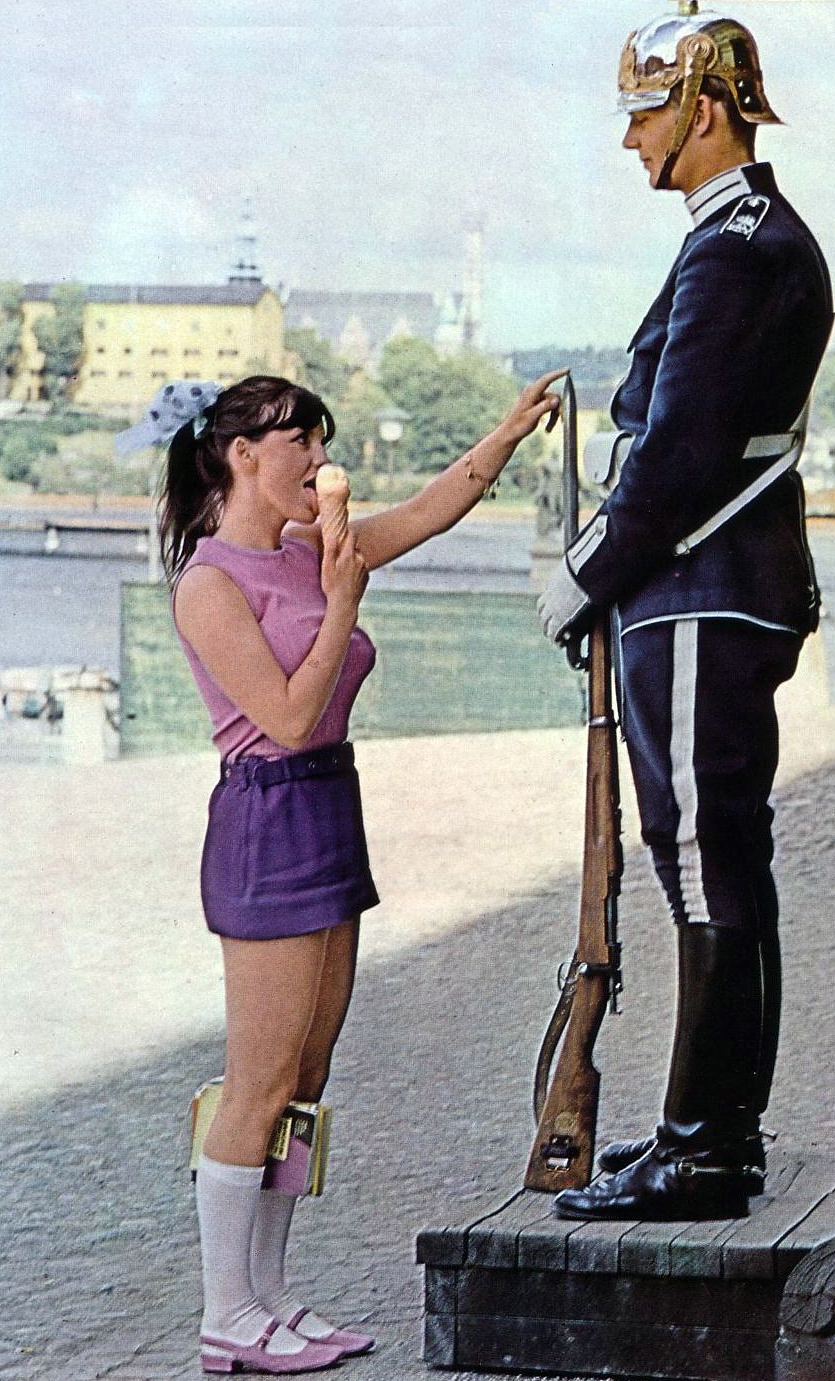 Whew. Is it hot in here or is it just me? If you've seen the Beefeaters in London, you will know the reputation that palace guards have as total sticklers. The Swedish Royal Guards have a similar attitude and take their jobs very seriously. After all, they have to keep the royal family safe. You'd think they might have updated those hats though… Anyway, while we're on the topic of raunchily-behaved women, let's see a photo of Jayne Mansfield!
Playmate on the Piano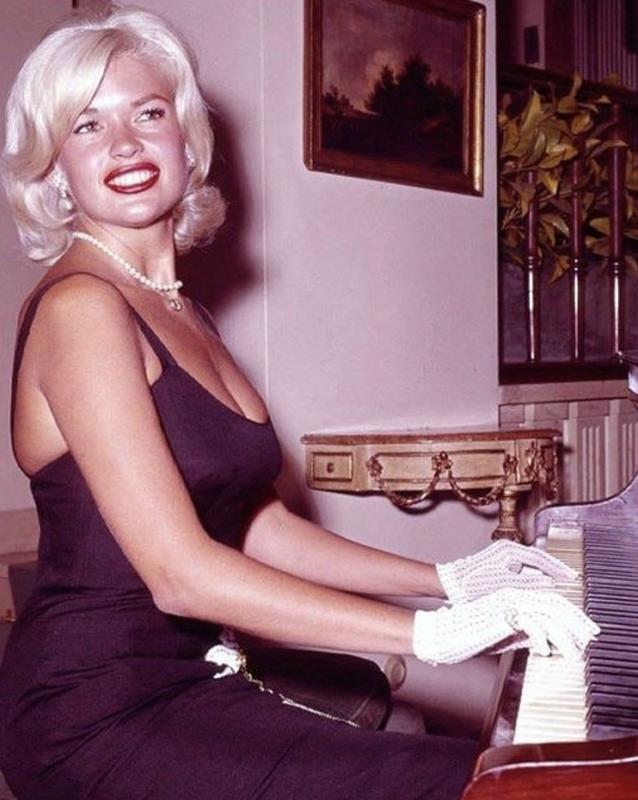 Love Marilyn Monroe? Surely you've heard of Jayne Mansfield. As one of the very first Playboy Playmates, many people across the world have a soft spot for her. So if you had been curious about whether or not she could play the piano - here's your answer! Doesn't she look gorgeous? Mansfield was one of the first major sex symbols of Hollywood and was romantically linked to both John F. Kennedy and his brother Robert. You go, girl. Well, are you ready for our next photo? 
Dino in the Sky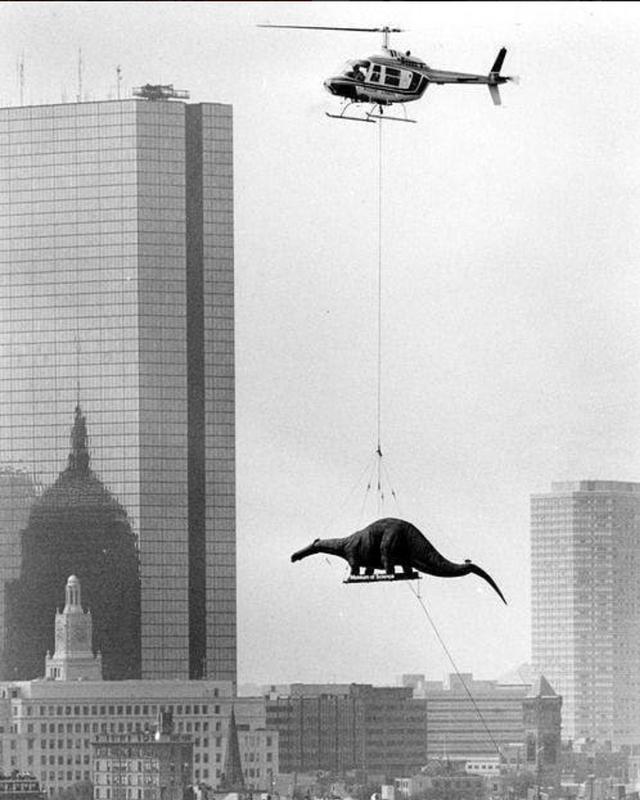 No, it's not a scene from Godzilla. It's a photo of a helicopter flying a dinosaur replica to the Museum of Science in Boston in 1984. Apparently the museum tipped off all the media around the city so that they could snap a picture of the unusual sight. We're glad that they did. It sure is strange! Now, sing along with us: 'Dino in the sky with diamonds!' Or don't. Maybe it's time we took a look at our next photo, which is sure to amuse you if you liked the Jayne Mansfield pic!
Maybe Marilyn Monroe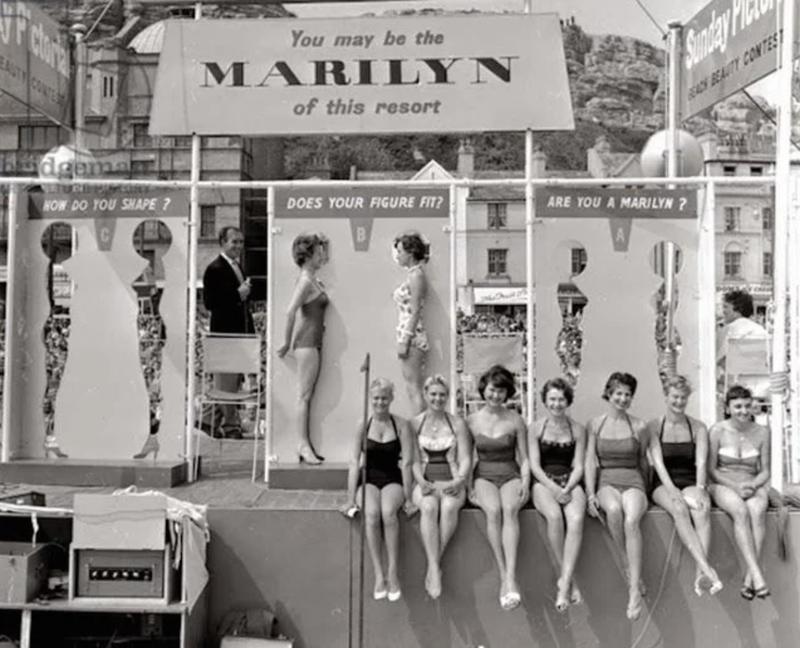 No, this isn't how Jayne Mansfield landed her Playboy modeling gig. Just kidding! This problematic little competition was held in Hastings in the U.K. It wasn't the strangest thing in the world to see one of these fun little contests, but it would be very odd today. If you think about it, the equivalent in today's terms is probably those celebrity face apps! And only sixteen years later, someone even more talented than Marilyn starred in one of Quentin Tarantino's very favorite films…
Honoring the Horses of WWI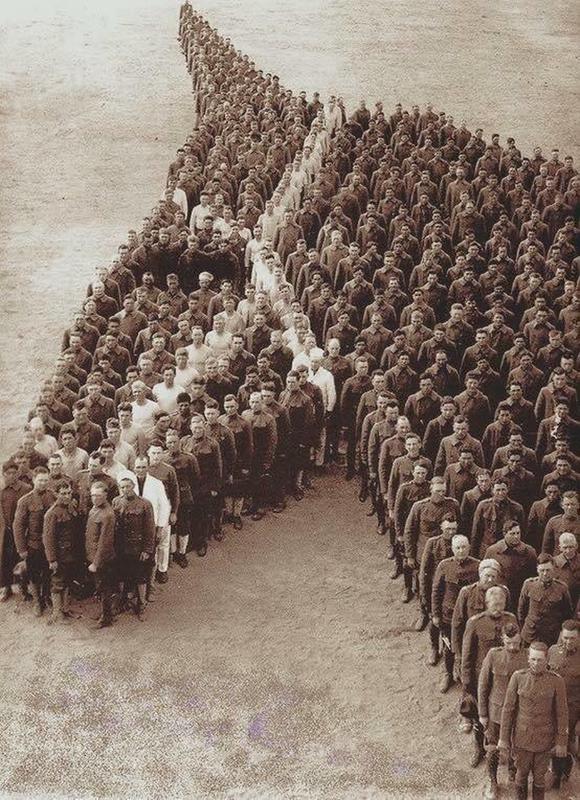 How does your heart feel? Is it melted yet? If not, wait till you hear the story behind this clever photo. These men aren't just random guys off the street. They are soldiers! And the reason they're in this horse formation is because they are honoring the memory of all the fallen horses, donkeys, and mules that perished in the war. Overwhelmingly, eight million horses died during the war.
Lady Grinning Soul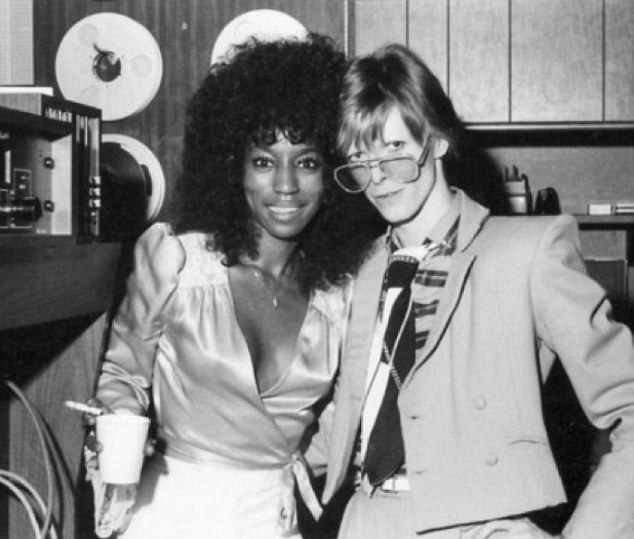 The gorgeous Claudia Lennear is pictured here with ex-boyfriend David Bowie. She rose to fame in the 1970s, and was known for performing with Ike and Tina Turner, and generally for having such an excellent voice. It is said that she inspired both 'Brown Sugar' by The Rolling Stones and 'Lady Grinning Soul' by Bowie. What a woman! She would later become a language teacher, leaving the spotlight behind.
A Scandi-lous Uniform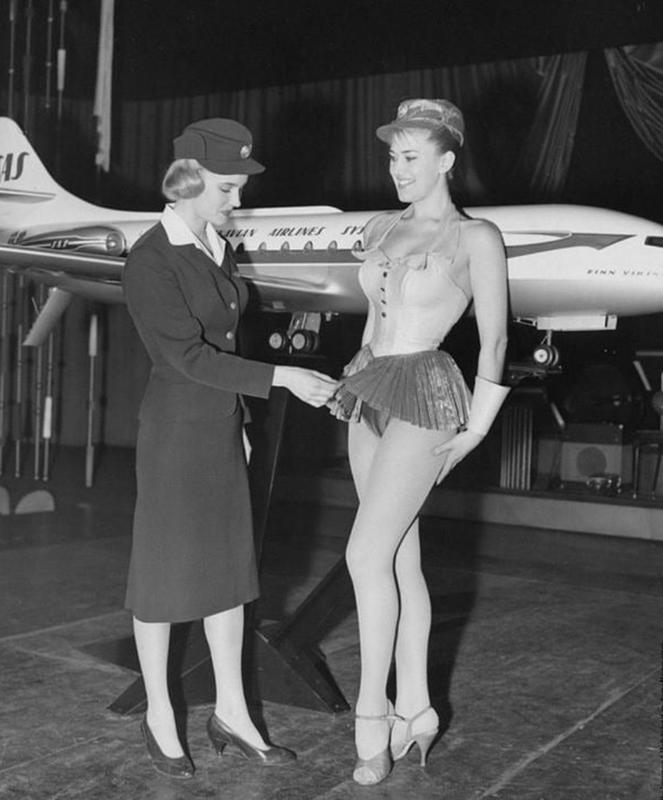 Flying on a commercial airline in the 1950s, 60s, and 70s was a little different from the way it is today. That much is apparent from this 1958 photo of Birgitta Lindman! In this snap, she is inspecting a new uniform proposal for Scandinavian Airlines. Of course, it wasn't approved, but by the 1970s, the status quo had changed completely. Southwest Airlines in America even had their stewardesses in short shorts Go-go boots!
Why Are the Old Men Grumpy?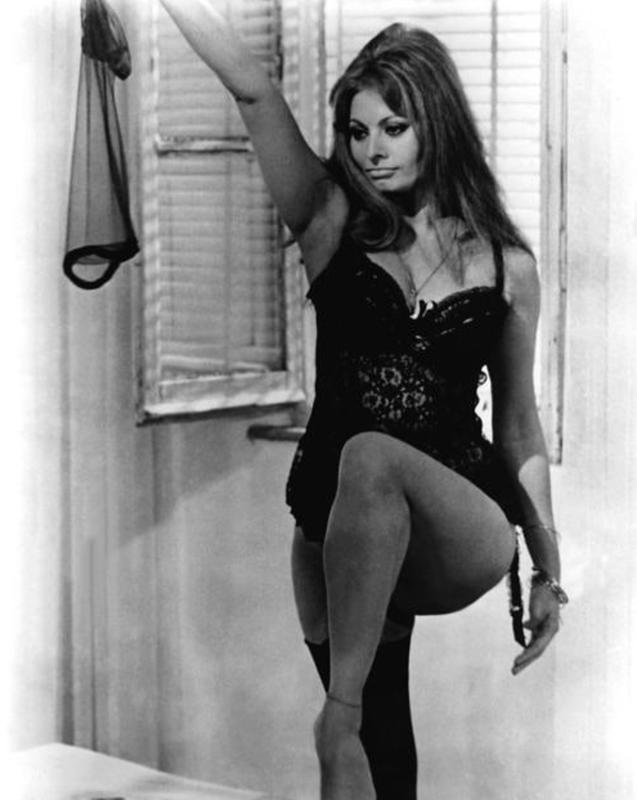 I mean, it's Sofia Loren! In 1995, she starred in 'Grumpier Old Men,' but of course, that's not what she's best known for. If you were born in the 30s or 40s, you will no doubt remember this absolute bombshell for her looks and her acting talent. Her long career began in Rome, and she was actually born to a family of noble descent. The more you know!
The Family Bicycle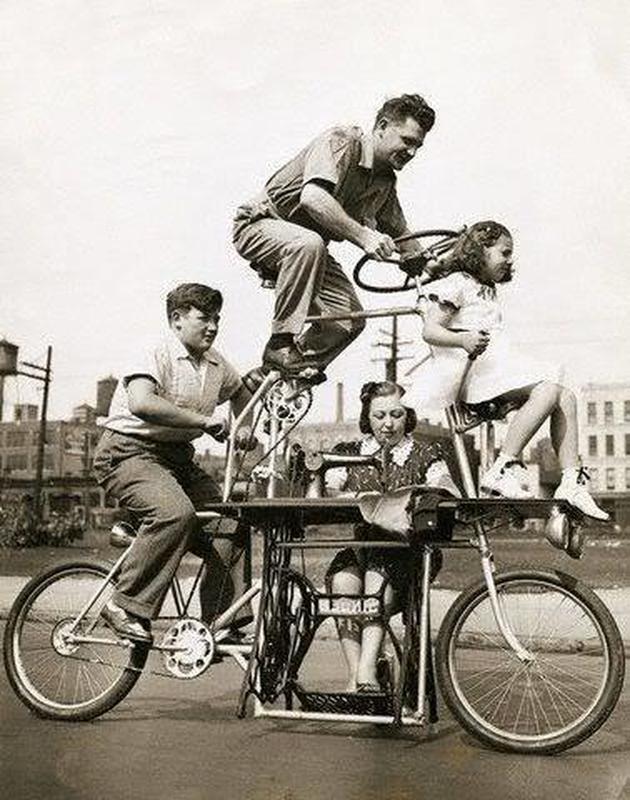 You read that correctly. This curious invention originated in 1939 and was created by Charles Steinlauf. Because what's better than hanging out in the living room with your fam than taking the whole operation on the road? Of course! Why didn't we think of this one?! All jokes aside, Steinlauf called it the 'Goofybike.' We're not kidding!
The Macabre Mobile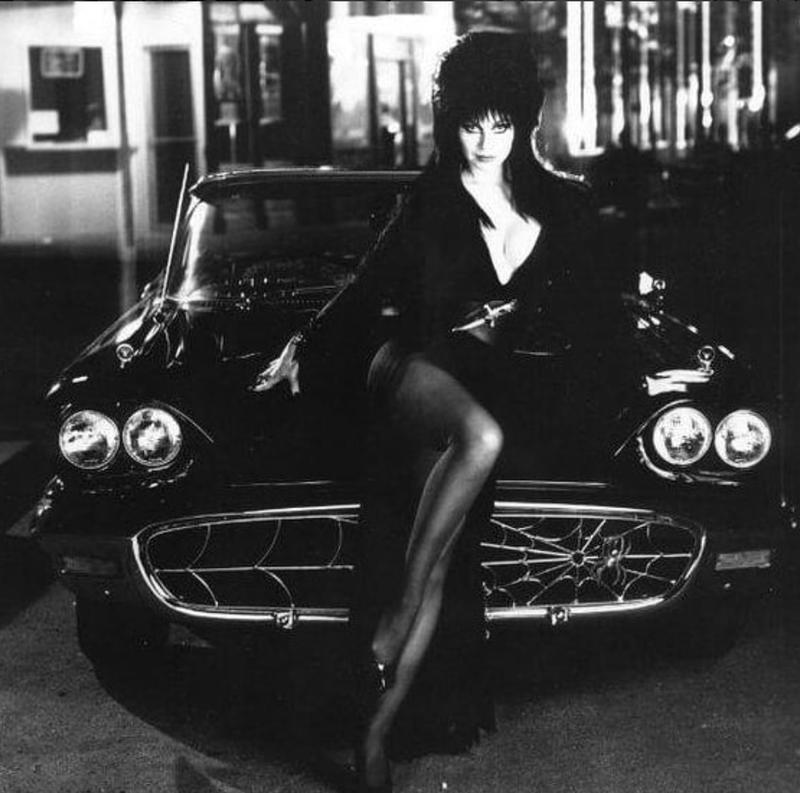 There aren't many people in the world who are so famous that they're known by only one name. OK, so her real name might be Cassandra Peterson, but this woman is technically known by the mononym 'Elvira.' Those that know Elvira remember her Hollywood show, 'Elvira's Movie Macabre.' This custom 1958 T-Bird was made in her honor by George Barris himself!
A Tree Hugger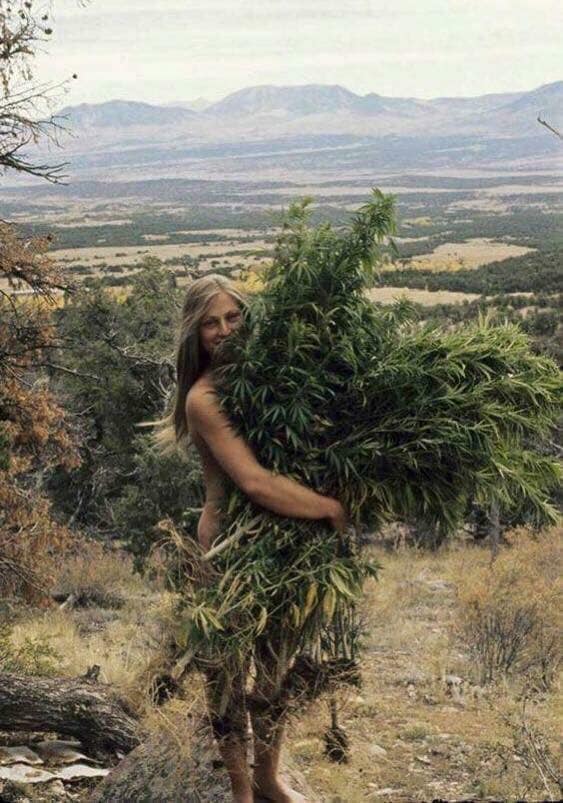 Nope, this isn't in Canada last year. It's from a commune in Albuquerque, New Mexico, way back in the 1970s. And this woman looks pretty stoked with her haul. We'd probably feel pretty happy too if we were in her position! There were over 30 communes in New Mexico throughout the late 60s and early 70s. Most of them slowly disappeared, but there is one left, which is the Lama Foundation in Taos. 
A Wild Ride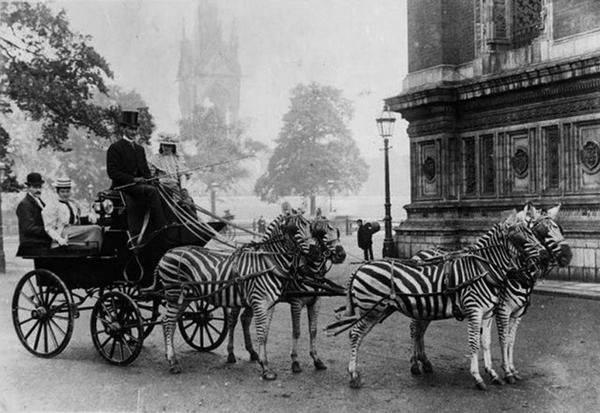 This one takes us right back to the turn of the century. Do you recognize the background? Yep, that's right: it's Buckingham Palace! Lord Walter Rothschild was the, er, brainchild of this curious transportation method. He figured that we could tame horses to pull a cart, so why not zebras? After all, they look pretty similar!
A Barrow-ful of Good Looks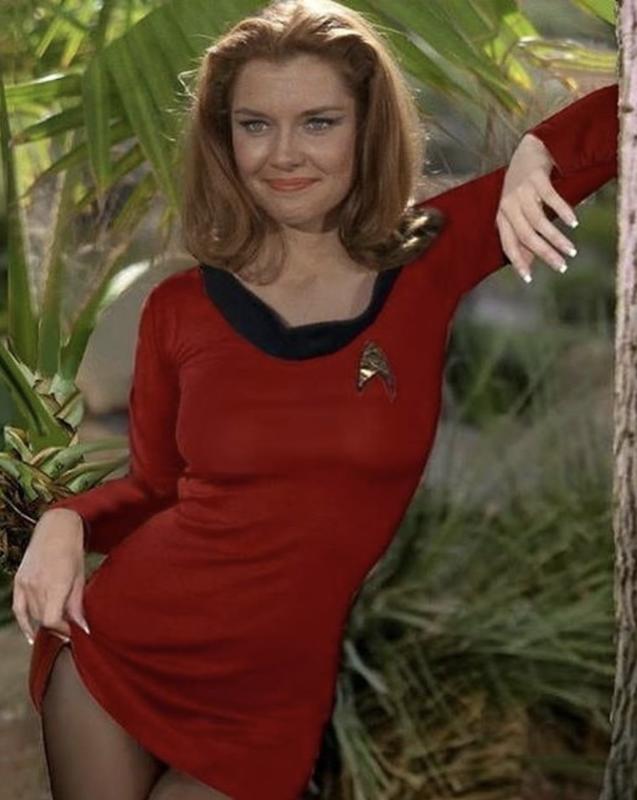 OK, so that title might be a bit of a stretch. Trekkies will know that this total babe had her time in the limelight on the show in 1966. The actor's name is Emily Banks, and of course, in the Star Trek series, her character was Yeoman Tonia Barrows. Her big break came in 1960 when she starred in the Rheingold Beer commercials. Banks would go on to star alongside Elvis in 'Live a Little, Love a Little.'
The Limits of Fashion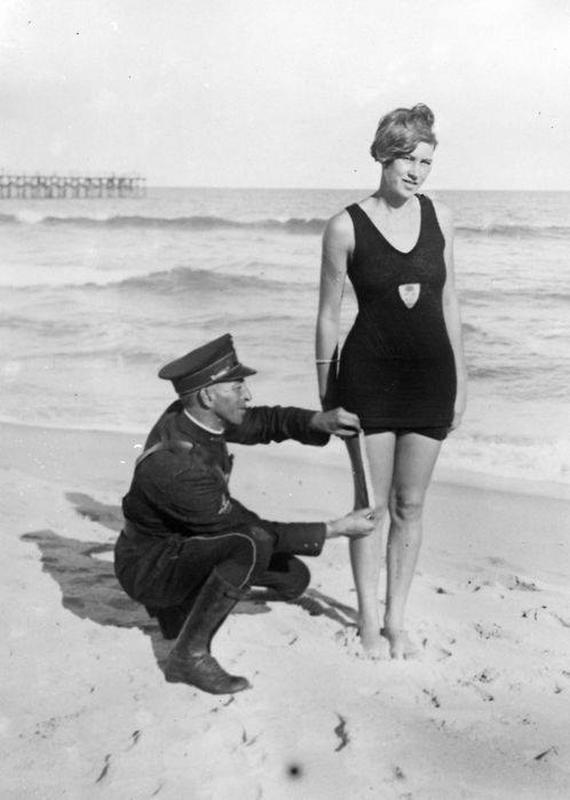 Before we had talented and gorgeous women gracing television screens all across the world, society had a much stiffer upper lip. In West Palm Beach, there were even limits on how short bathing suits could be. Thank god the world is a much less repressive place nowadays! Smokey, the policeman, was tasked with checking that bathers were conforming. In other words, his job was to walk around and shame women. Yikes.
Three Cheers for Mork!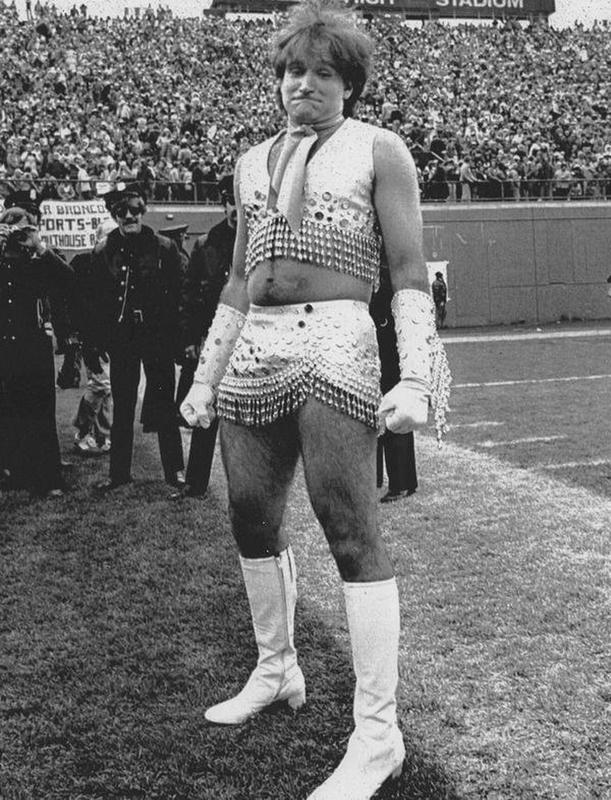 Everyone knows this famous fella. It's the late Robin Williams, who we all remember as the beloved voice of Genie in Aladdin, the mad scientist from Flubber, and of course from Mork and Mindy! Here he is dressed up as a cheerleader for the Denver Broncos in 1979. And it wasn't just a stunt! Williams actually went onto the field in this glorious get-up with the Pony Express. We miss you, Robin!
Ganja Granny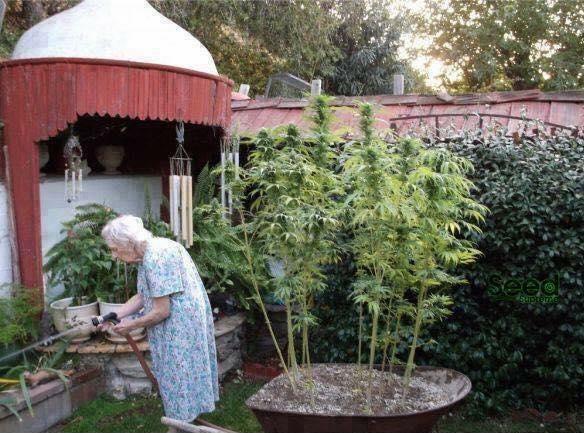 This lovely elderly lady watering her garden is enough to bring a tear to your eye. It's not clear when this photo was taken, but we hope it's someplace where those trees she's watering are legal. Even so, can you imagine the cops trying to take down this little old lady? Nah. And who knows - maybe it's even the same woman from the New Mexico commune, fifty years later!
Bike-Curious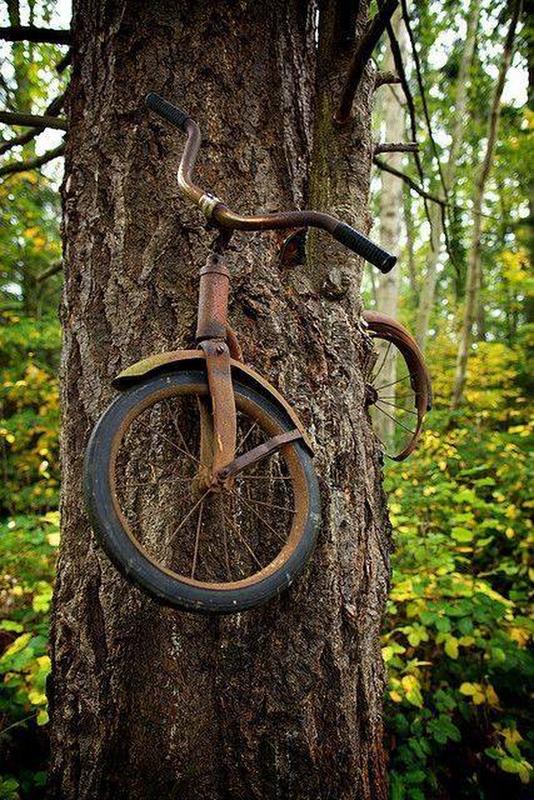 We're definitely bike-curious about this next image. How did this pushbike get inside this tree? Maybe it's some kind of real-life X-files alien magic! But then again, maybe it's just a bike that an 8-year-old left in a swamp back in the 1950s. But who knows! Maybe we'll start seeing more bikes in trees as a result of climate change! Anyway, this curious spectacle is located just off Vashon Highway between Tacoma and Seattle.
The Fifth Member of The Beatles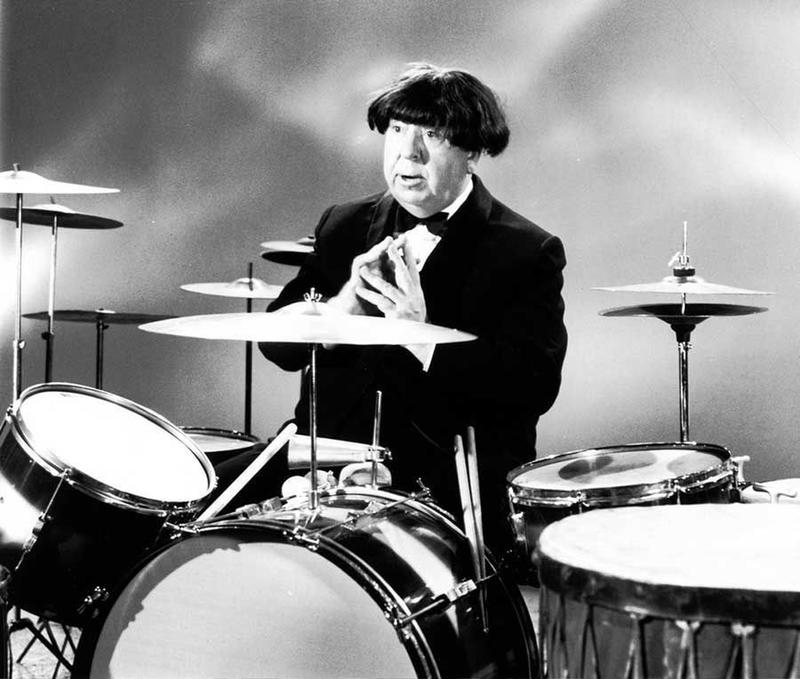 We did a double-take at this photo as well. Just FYI, it's not another mystery member of The Beatles. Nah, it's famed movie director Alfred Hitchcock! To be fair, he is impersonating Ringo Starr, so it's not surprising that he looks the part. This pic was taken in 1964, most likely on the set of 'Alfred Hitchcock Presents.'
Hong Kong High-Rises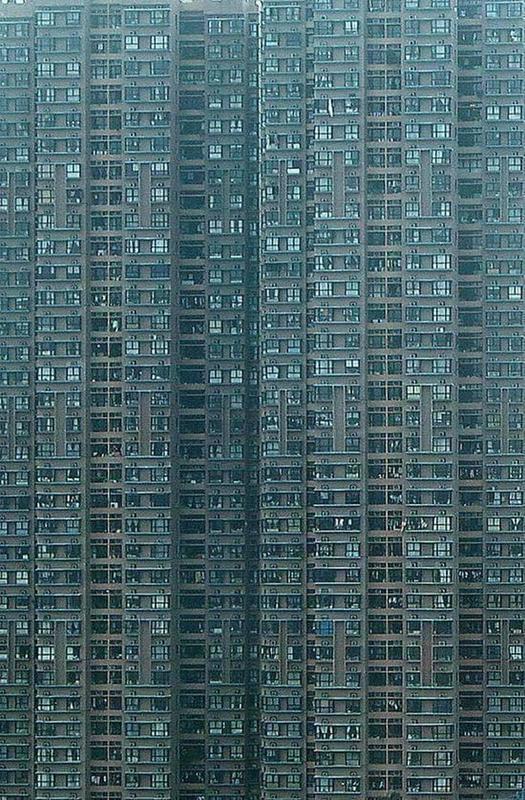 This famous city is known for being one of the most populated in the world, and as a result, also has some of the highest rent prices in the world. If you look at cost per meter for city apartments, Hong Kong's are by far the most expensive in the world. When you're paying, on average, just over $30,000 USD per meter of apartment space, you can see why so many people live in small spaces! But while tiny houses are a fashionable, eco-friendly way to live in many Western countries, many workers in Hong Kong don't have the luxury of choice.
A Member of the '27 Club'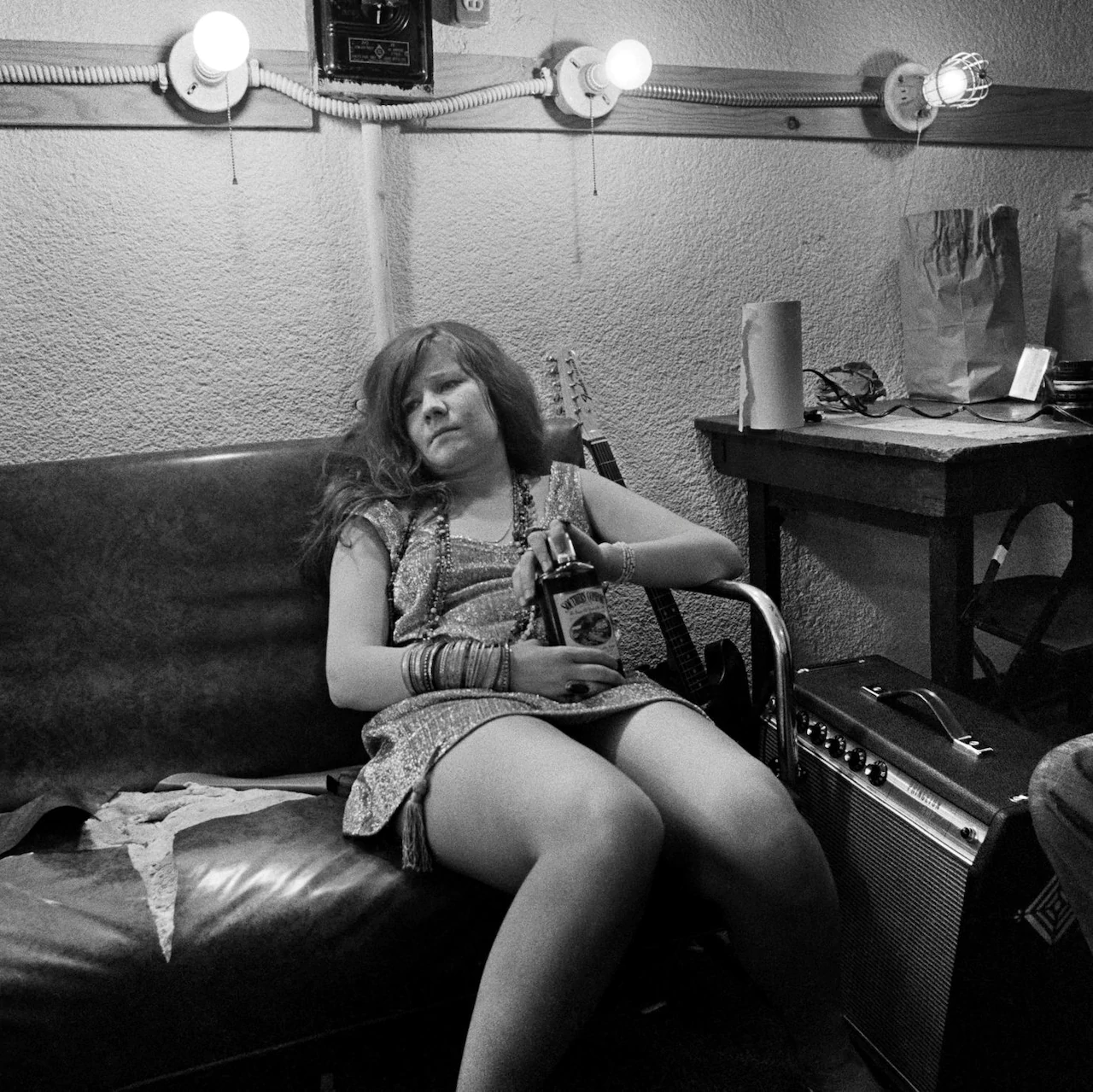 You've heard of the '27 Club' right? Janis Joplin was a card-carrying member but is only 25 in this image. Who else is in the gang? Jimi Hendrix, Jim Morrison, Amy Winehouse, and Kurt Cobain are all there. This photo was taken in 1968, but two years later, Janis didn't show up to record in the studio one day. Her producer went looking for her and found that psychedelic Porsche in the driveway. The rest is history.
Page Three Girls, Who?
Bettie Page was doing pin-up before pin-up was cool. She rose to fame throughout the 1950s and was known for her stunning looks and fabulous style. Her impossible measurements were the envy of many at the time, but thankfully, now we celebrate beauty in all of its shapes and sizes! Regardless, Page was a gifted woman. She passed away in 2008.
A First Lady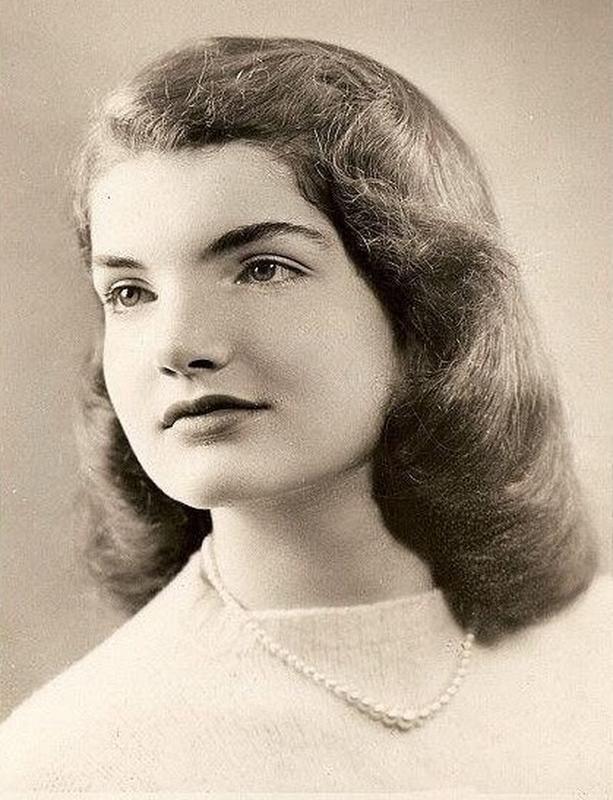 Know who this one is? We'll give you a clue: she was born to John Vernou Bouvier III and Janet Norton Lee. Everyone knows that only rich people have numbers after their names, and the rule applies here too! The daughter of this stockbroker and socialite was none other than Jackie O. Yep, that's right - Jackie Kennedy!
Holy Smoke, Batman!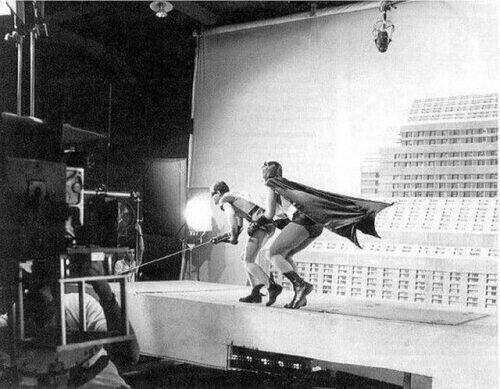 In the 1960s, Batman wasn't the cartoon that millennials may remember, but instead was a full-on live-action show complete with celebrity cameos! The opening scenes of the 1966 series featured people like Don Ho, Bruce Lee, and Sammy Davis Jr. It might look like they're playing tug-of-war here, but instead, they're scaling the wall of a building. Duh!
Posture Check!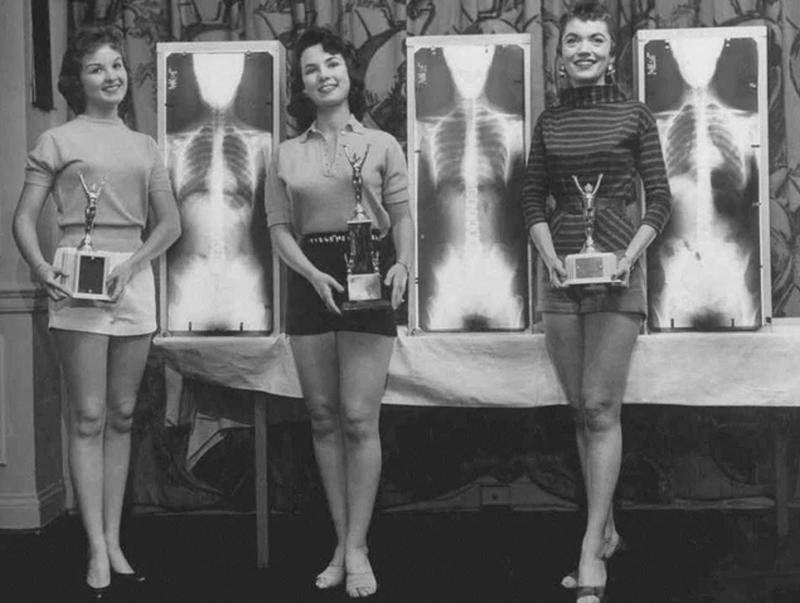 We thought we'd take this opportunity to remind you to drink some water and check your posture. No, just kidding - but it is important! These three women have taken out the winning titles for Miss Correct Posture 1956. Now there's something you can put on your CV!  How were they chosen? The Tribune reported: "All three were picked not only by their apparent beauty, and their X-rays, but also by their standing posture. Each girl stood on a pair of scales — one foot to each — and the winning trio each registered exactly half her weight on each scale, confirming the correct standing posture."
Was Elvis Adopted?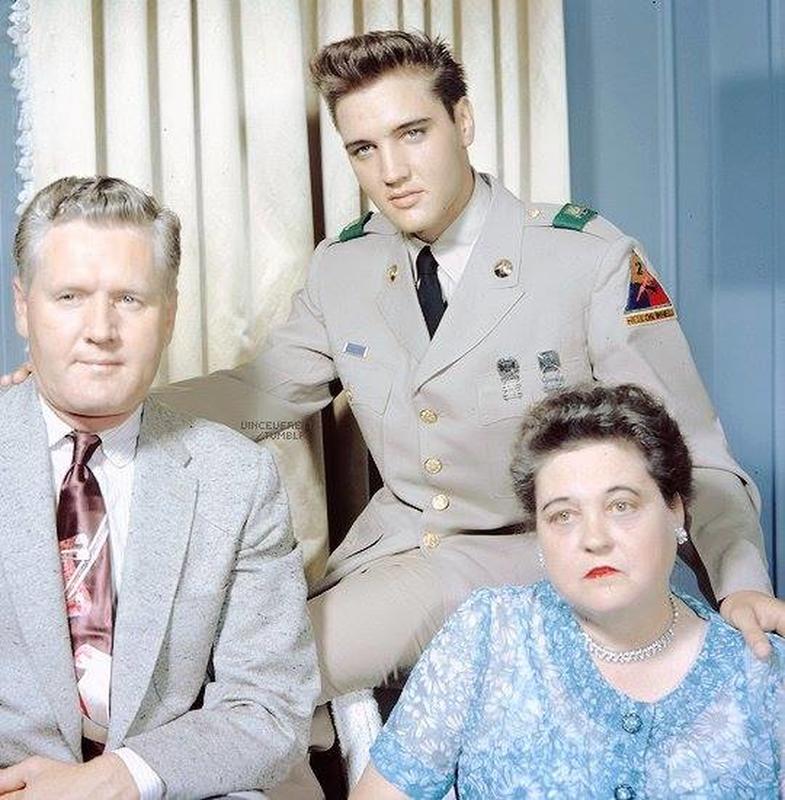 OK, so maybe some facial features skipped a generation here. You have to admit that Elvis, who was known simply as 'The King,' doesn't look that much like his parents. Their names are Vernon and Gladys Presley, and this photo was taken in the late 50s when he was on leave from the army. And they may not look too alike in this pic, but Vernon was a big influence on his son, Elvis.
Stylin' 70s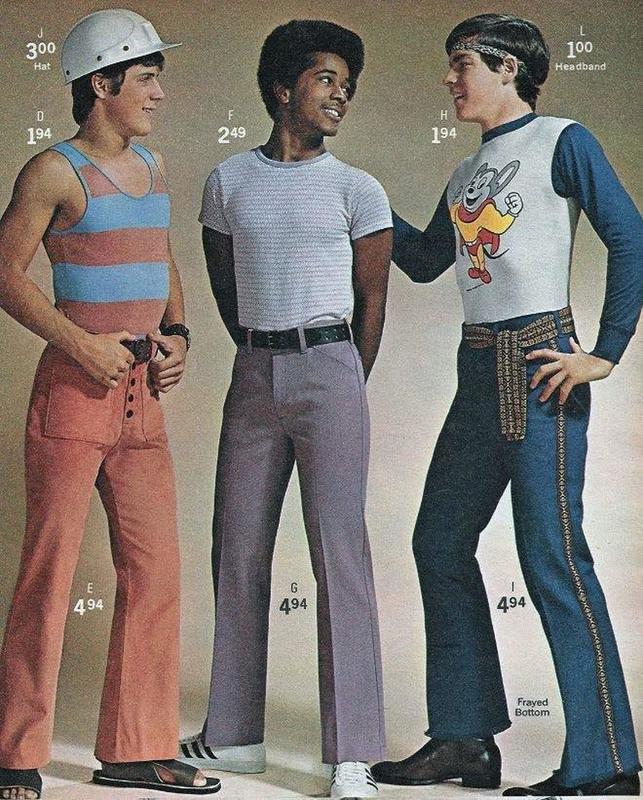 No, it's not the Village People backstage after a gig. It's a catalog from the 1970s! Some decades, like the 1960s, were pretty cool-looking in terms of fashion and design. But the 70s was on another planet altogether when it came to style. We really feel for the model on the far right. If you showed up to a party like that today, you'd be laughed out the door!
Two Icons Having a Chat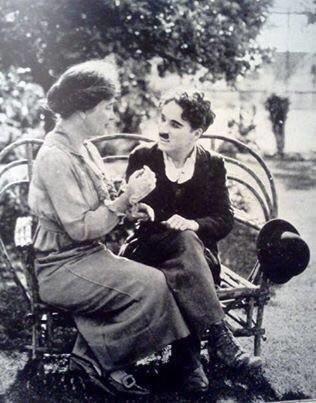 Helen Keller and Charlie Chaplin are surely two of the biggest names in popular culture from the 1920s. Chaplin was best-known for his hilarious slapstick performances on movie screens. And everyone knows that Helen Keller devoted her entire life to the deaf and blind. They are on the set of Charlie's film 'Sunnyside' in 1919.
The Marvelous Mr. Kirby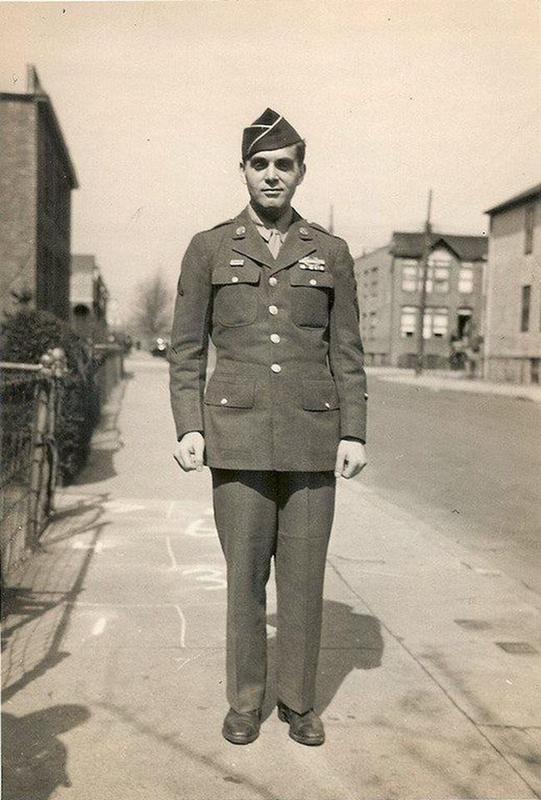 You're not just looking at any old soldier! This is Jack Kirby, who Marvel fans will know as the co-creator of comics like Fantastic Four and the Hulk. He created so many comic book characters that there's a whole Wikipedia page dedicated to his characters alone. This pic was taken just after the Second World War, before all the drama with Stan Lee and Marvel... 
With Er… Not Very Much Help from My Friends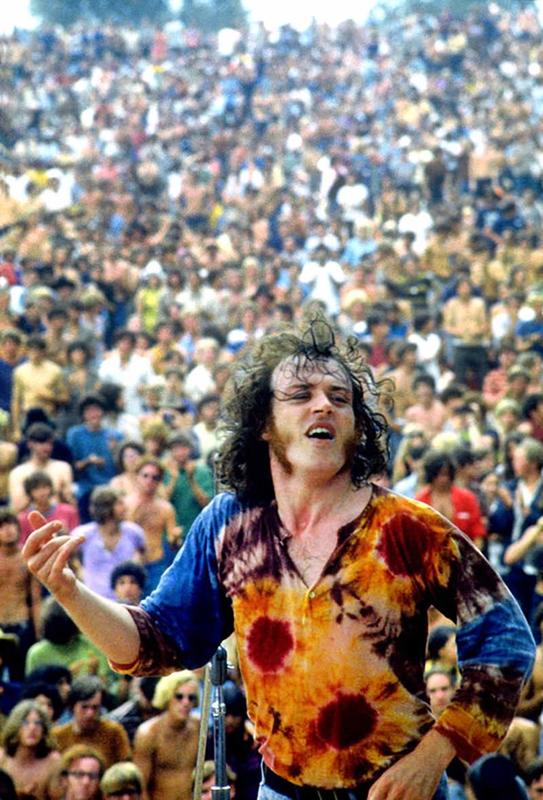 In the Summer of '69, Bryan Adams got his first real six-string. But everyone's heard about how he bought it at the Five and Dime, so let's talk about Joe Cocker, who is having a blast in this photo. Why is that? Well, it was taken at Woodstock that very same summer, after a performance of The Beatles' 'With a Little Help from my Friends.' But Joe Cocker's band friends weren't actually that helpful, because rumor has it that they all took acid before performing the show.
A Kiss May Be Grand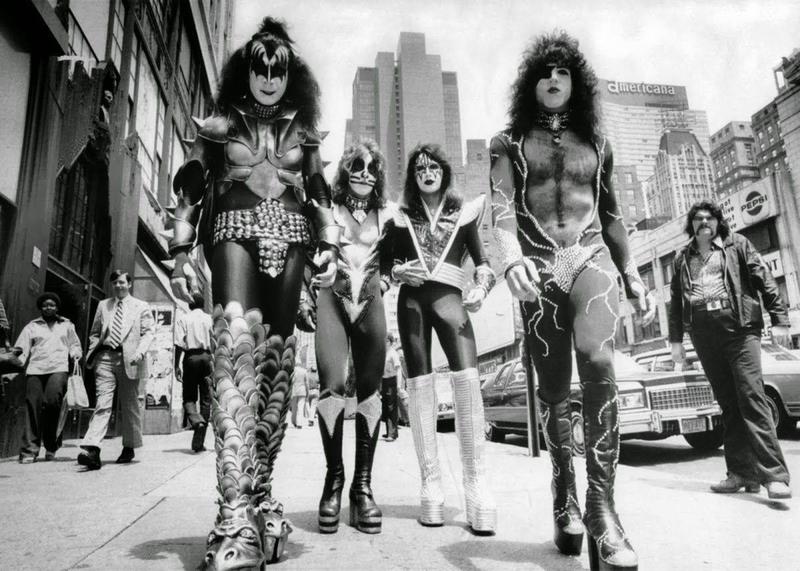 A few years after Joe Cocker's band took a bunch of acid at Woodstock, KISS formed in New York City. The band was made up of Paul Stanley, Peter Criss, Ace Frehley, and of course, Gene Simmons, with that iconic makeup. What you might not know is that Frehley himself created their logo, which many readers will know today with the lightning bolts.
A Little Marital Advice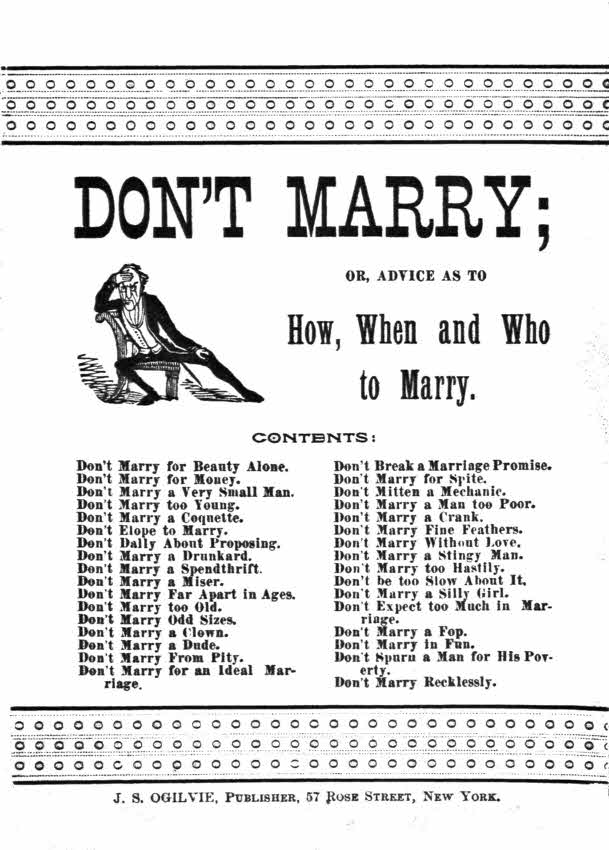 When it comes to marriage, as this volume from 1890 proclaims, "the genius of selection is the rarest of faculties." And in 2019, it's not exactly untrue. Have you seen the divorce statistics? Even so, some of this advice seems pretty bad. How are all those 'clowns' and 'dudes' supposed to fare? And what about poor men and silly girls? 
McDonald's Back in the Day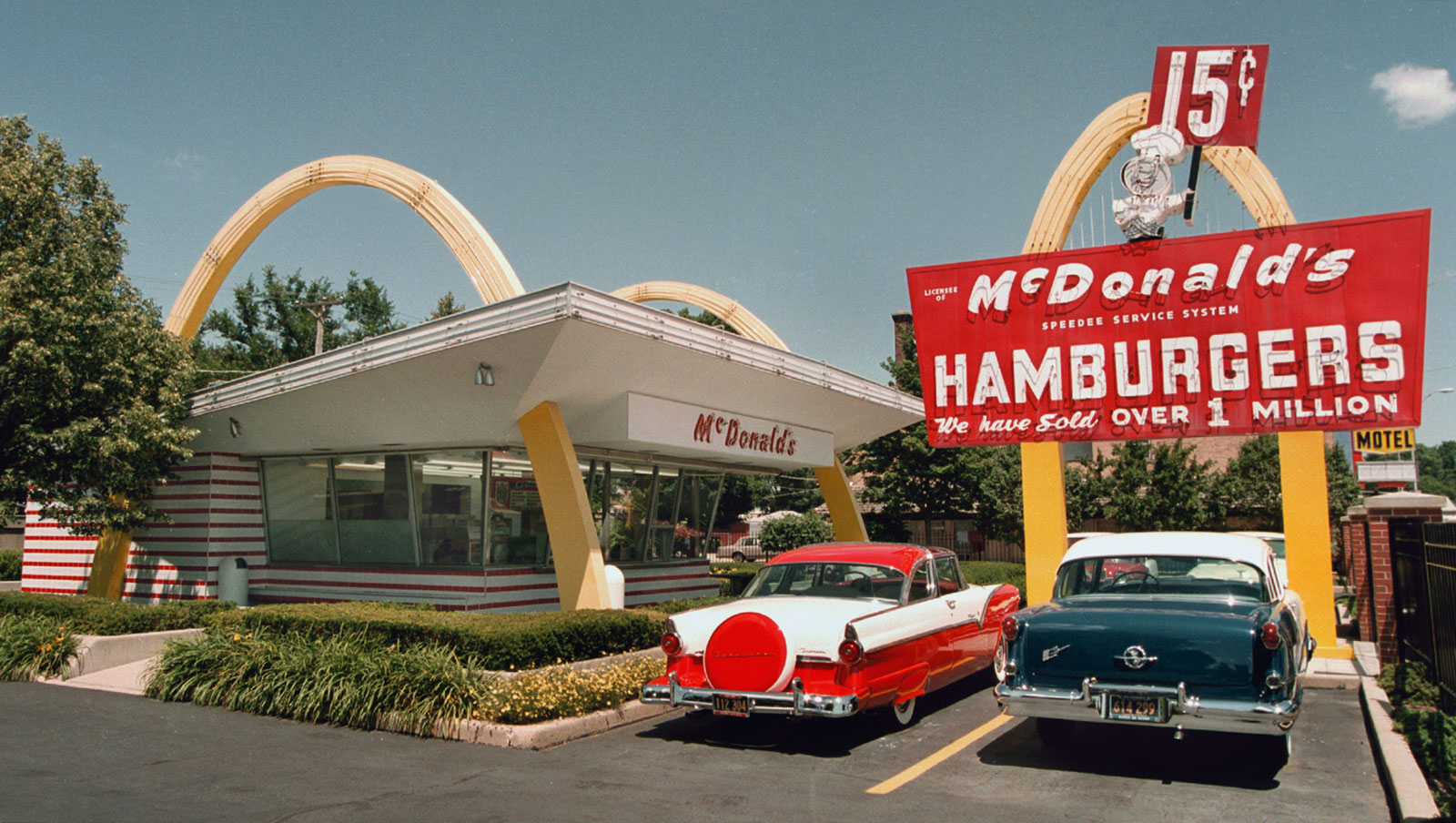 Ahh, the golden arches. All over the world, people start to salivate when they see these signs. Admittedly, they look a little different now. The original McD's opened in the fifties, and according to Peter Nowak's book 'Sex, Bombs and Burgers,' it was also one of the first fast-food companies to pioneer scientific management, and flash-freezing.
Plant, All Grown Up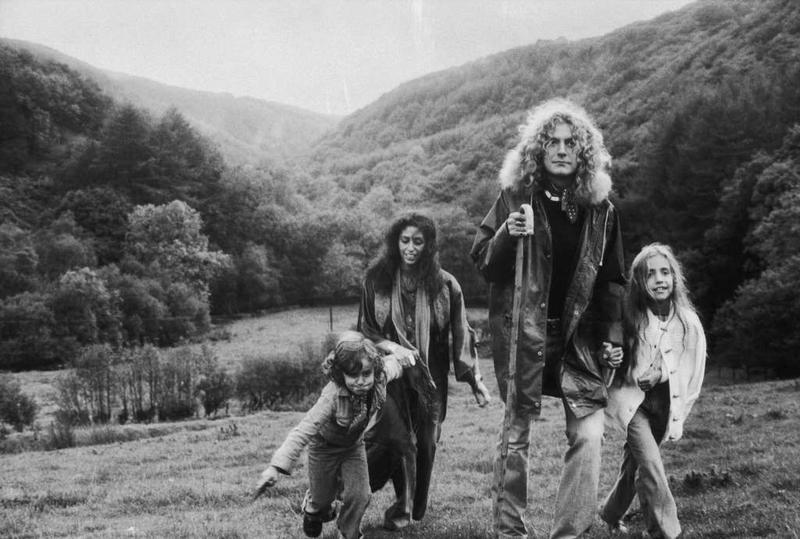 The famous Robert Plant of Led Zeppelin is pictured here with his family in Wales, in 1976. Of course, he was Led Zep's lead singer and made his name as one of the most famous rock and rollers of all time. And like most great musicians, his passion started young. He once told reporters: "When I was a kid I used to hide behind the curtains at home at Christmas and I used to try and be Elvis."
Flying High in the 1930s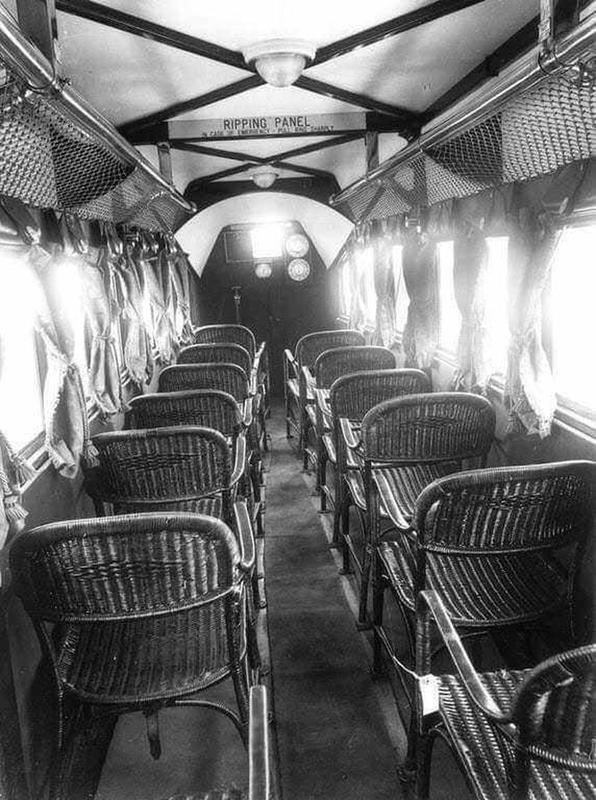 Air travel may have been the height of glamor and sophistication in the 60s and 70s, but back in the 1930s it was really just getting started. There was no cabin crew in knee-high Go-go boots, and by the looks of things, you may not have even had a seatbelt. Yikes! This image from Imperial Airways was of one of their first commercial airplanes. 
Huge Propellers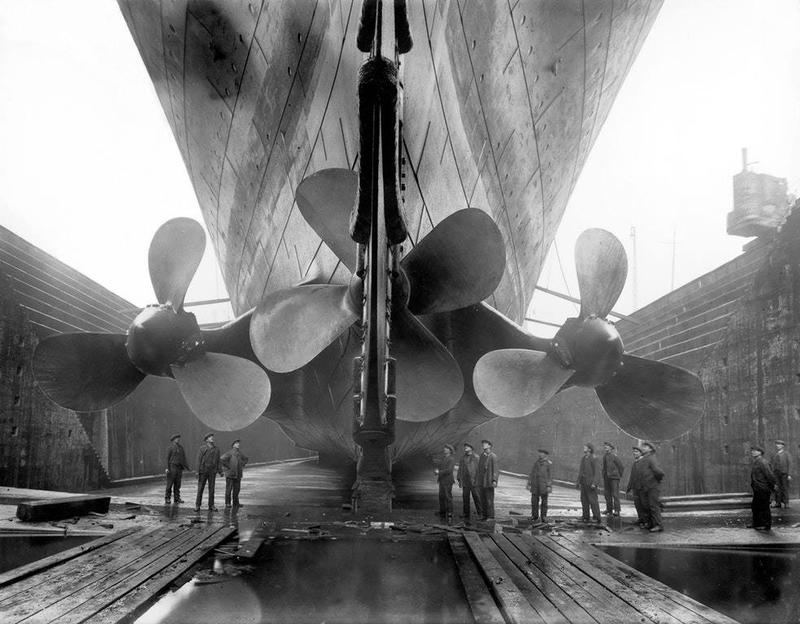 You know what they say about huge boat propellers... that's right, huge boats. And back in 1912, the TItanic was the hugest of them all. The boat may have sailed from Southampton, but it was built in Belfast, Northern Ireland. It was given the unfortunate nickname, 'the Unsinkable,' which, as you probably know, turned out to be a pretty bad choice of name.
Spam, Spam, Spam, Spam!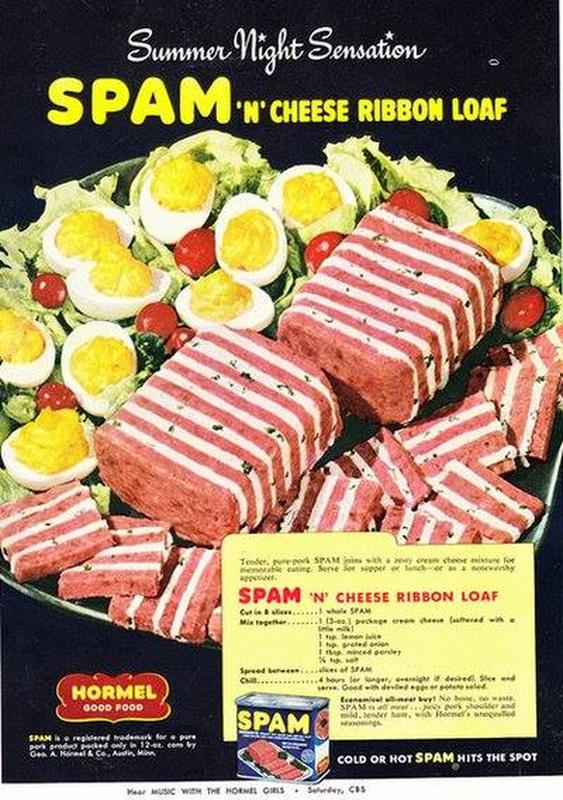 Remember the Monty Python sketches about Spam? If you do, this poster is sure to make you giggle. The advertising for Spam has barely changed since 1937 when it was made by Hormel Foods in Minnesota. It was designed to be a good protein source for soldiers during the second world war, and as a result, it spread around the world. Yum yum.
Well, that marks the end of our bumper collection of incredible pics from the twentieth century. Which one surprised you the most? If you're in the mood for sharing, be sure to send this article on to a friend to double the fun!