Amazing Woodstock Pictures That Every Rock Fan Should See
The infamous Woodstock Music & Art Fair took place on a farm in New York between August 15 and August 17, 1969. More than 400,000 people went to the see the 32 performers, including Jimi Hendrix, who was the very last artist to take the stage on 8:30 am that Monday. Through the years, the event is remembered as the pinnacle of the free-spirited lifestyle that was just developing at the time.
Fans stayed at the venue even through pouring rain to dance, enjoy, and see the musicians they loved. Janis Joplin was one of the other major artists of the festival, and most people don't know that it took place on a dairy farm. Let's find out everything we know about Woodstock through these pictures that you might have never seen before.
GETTING TO TOWN WAS A NIGHTMARE
As you can imagine any event that brings 400,000 people to a certain place is going to suffer major traffic jams. The original organizers of Woodstock never planned for it to be so grand. Furthermore, although it became a free event, later on, it was originally intended to be a profitable music concert. They charged for tickets, but soon, more people showed up. Eventually, fans without valets destroyed the fence and entered the venue.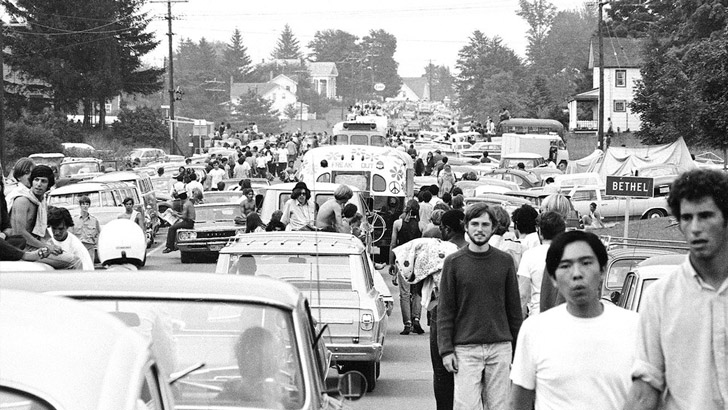 THEY WERE ONLY EXPECTING 50,000 PEOPLE
The event was organized by for men: John Roberts, Joel Rosenman, Artie Kornfeld, and Michael Lang. Woodstock ended up costing more than $2.4 million, and the organizers were not common old rich guys necessarily. The oldest was John Roberts with just 26. He might have been the only one with serious monetary power. Roberts was the heir of a drugstore and toothpaste inheritance. He used a trust fund and a lieutenant commission in the army to fund the festival.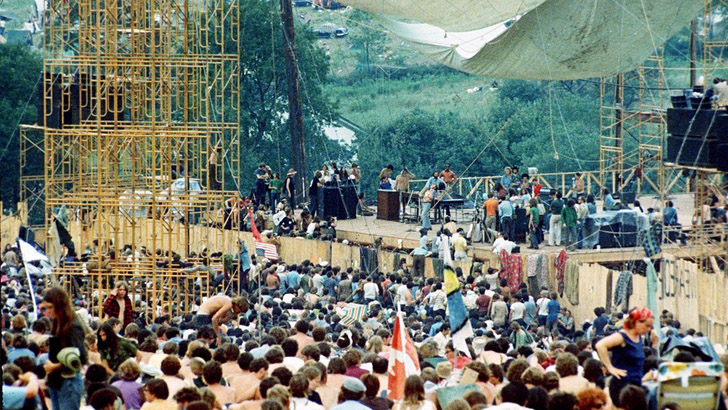 THE OWNERS OF THE DAIRY FARM WERE MAX AND MIRIAM YASGUR
Roberts had only ever attended one rock concert in his life to see the Beach Boys before deciding to organize this massive event. It took them six months before the land was ready for it, and they allegedly paid $50,000 in rent to Max Yasgur. In 1969, Yasgur told Life Magazine more about his deal with the organizers. "If anything went wrong, I was going to give him a crew cut. If everything was OK, I was going to let my hair grow long. I guess he won the bet, but I'm so bald I'll never be able to pay it off."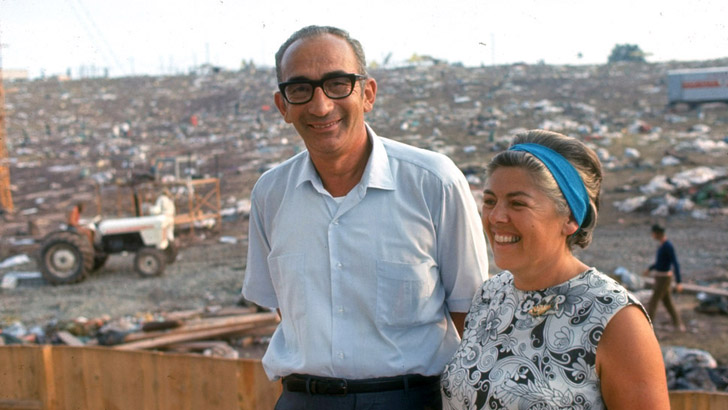 400,000 PEOPLE WENT TO BETHEL, NEW YORK
The organizers couldn't control how many people actually showed up for the event. Most people don't know that they actually sold tickets for it. A ticket for one day was sold for $6, and it would apparently sell for $8 at the gate. Some people could get the advanced three-day tickets at $18, but at the gate, it cost $24.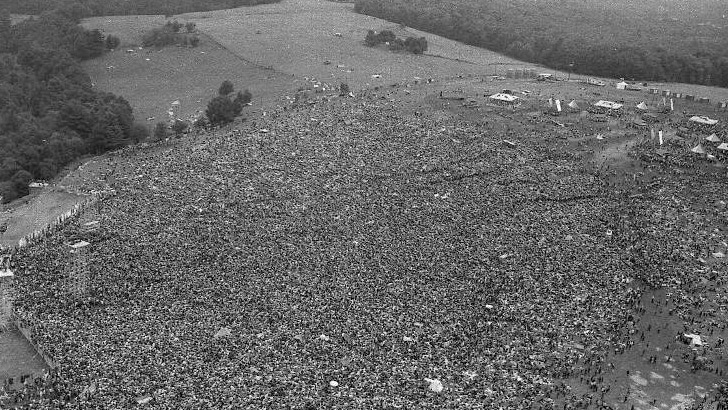 MEDICAL SUPPLIES HAD TO BE DROPPED BY HELICOPTER
Every concert needs first-aid assistance and experts, and you can imagine that such a huge crowd that mostly stayed for three days outdoors needed a lot of help. Additionally, there was a lot of recreational use of illegal substances. It was reported by the Health Department that 18 doctors and 26 nurses had a total of 5,162 patients at Woodstock over that weekend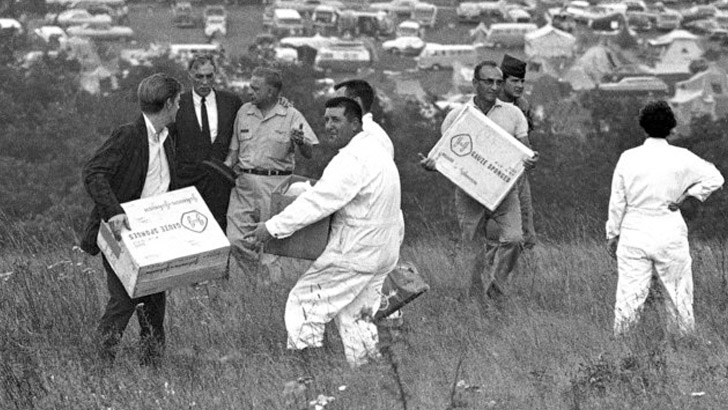 THE SOUND CREW MEMBERS USING A CRANE TO GET TO THEIR POSTS
The sound at the event was handled by engineer Bill Hanley, who a pioneer of sound and winner of the Parnelli Award. He made speaker columns on the hills of the farm with 16 loudspeaker arrays on a square platform. "We set it all up for 150,000 to 200,000 people," he recalled. "Of course, 500,000 showed up." The equipment came from manufacturers Altec, and the setup they used was later renamed "The Woodstock Bins"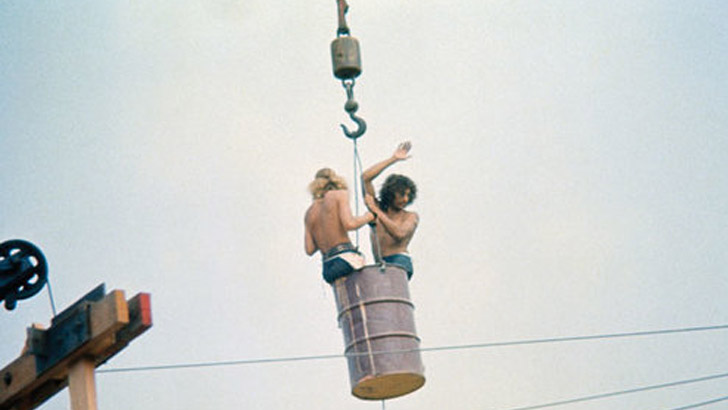 THE ORGANIZERS HAD TO MAKE THE EVENT FREE WHEN SO MANY PEOPLE CAME
Due to the unimaginable numbers of the event 346 off-duty New York City policemen were hired for $50 per day. 100 locals, even more State Troopers, and deputies from 12 counties were also drafted for security. There was even a wait of two hours to use the phone, and it was reported that more than 500,000 long-distance calls were made on the first day alone.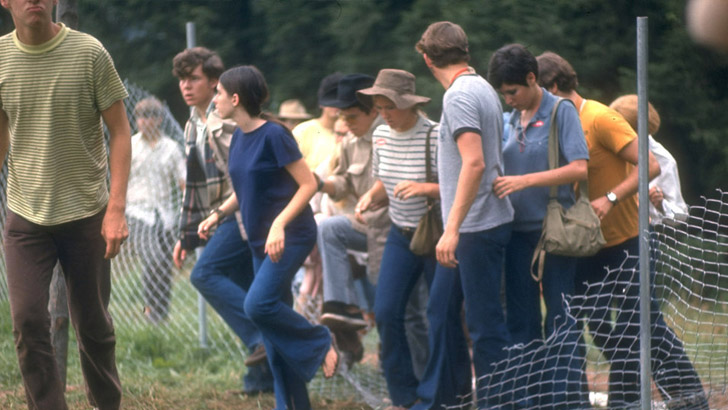 CARLOS SANTANA AND DAVID BROWN ROCKING TOGETHER
Brown was Santana's bassist for that festival and many other performances. Although Santana was definitely the main act, those two worked together perfectly. Brown was inducted into the Rock and Roll Hall of Fame in 1998 as member of the band. Sadly, he died in 2000 due to liver and kidney failure. One of the best performances at Woodstock was the song 'Soul Sacrifice'.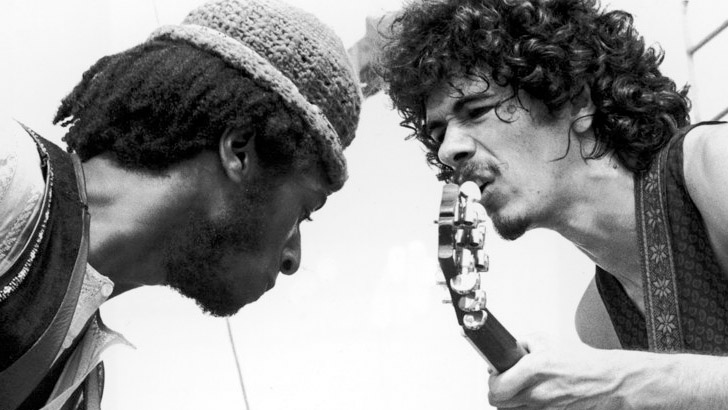 JANIS JOPLIN ON THE SECOND DAY
There were only three female artists who performed solo at the event: Janis Joplin, Joan Baez, and Melanie. Joni Mitchell was originally scheduled to perform, but her manager had actually told her that waiting for her appearance on Monday's 'The Dick Cavett Show' would be better. He apparently believed that only 500 people would show, and Mitchell herself said that the decision was the worst of her career.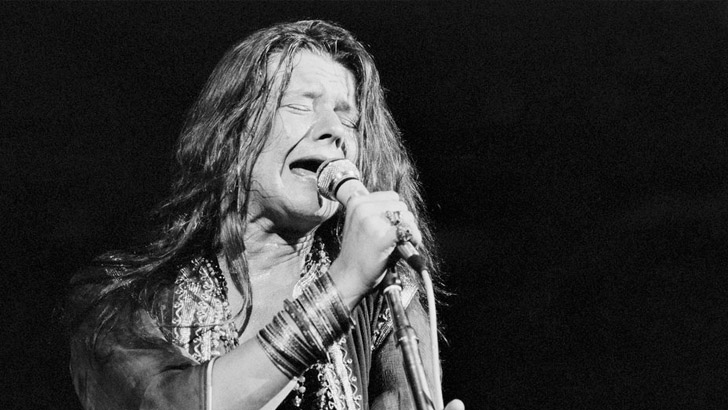 THE WHO PERFORMED AFTER JOPLIN
Interestingly, the band along with Joplin and The Grateful Dead were not going to perform on the second day unless they were paid in advance with cash. A local bank manager named Charlie Prince had to front to the money. Meanwhile, Jefferson Airplane earned $12,000, Creedence Clearwater Revival got $11,500, The Who received $11,200, and the Grateful Dead got $7,500. These bands were the top earners of the festival.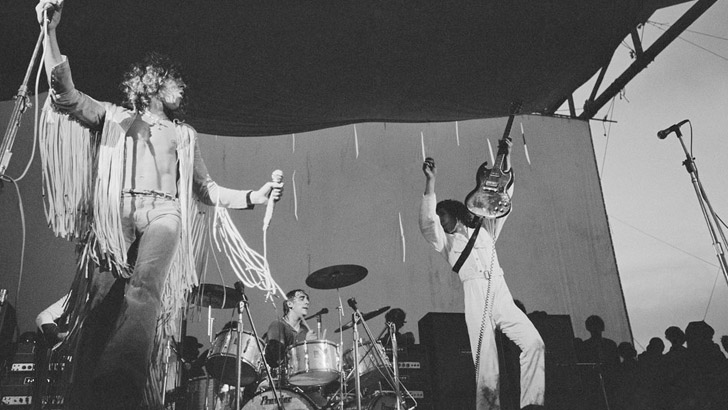 DAVID CROSBY PERFORMED ON THE THIRD DAY
Crosby is an American singer-songwriter and was part of two bands: the Byrds and Crosby, Stills & Nash. The Byrds actually gave Bob Dylan his first hit, 'Mr. Tambourine Man'. Crosby took the stage at Woodstock with Crosby, Stills & Nash on their second live performance ever. They were even joined by Neil Young.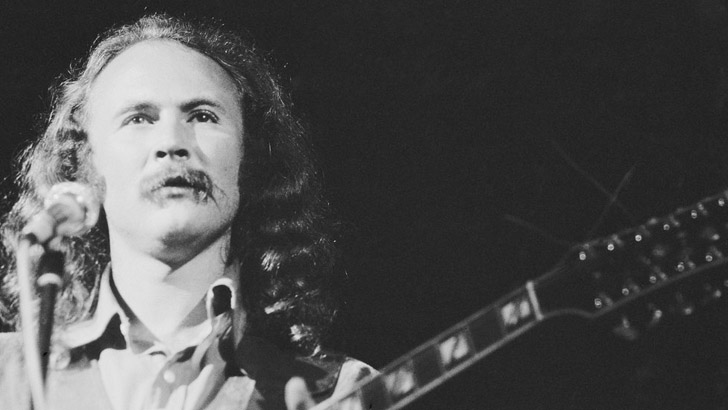 CONCERTGOERS BROUGHT FOOD AND HELP TAKE CARE OF OTHERS
It was reported that around 1,300 lbs. of food were delivered by helicopter to the venue. More than 500,000 hamburgers and hot dogs were eaten on the first day. They actually cost one dollar each. Just to give you guys an idea of the cost of living in 1969, one loaf of bread was around 20 cents. A gallon of gas was 30 cents, and an average new car cost $2,000. Most Americans made around $6,500, and the price of a new house was $40,000.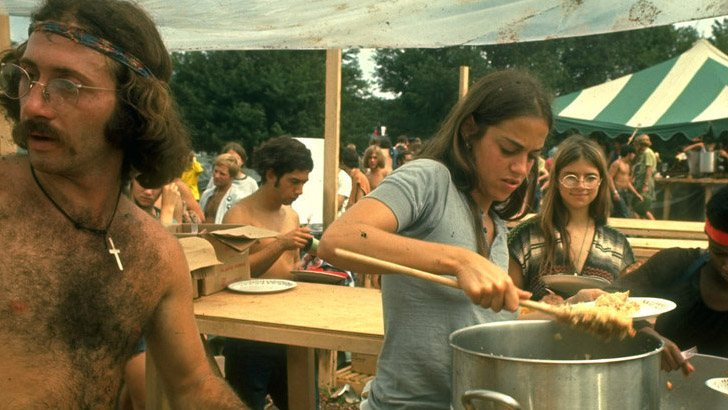 A FAN JUMPING OFF INTO HAY BALES
Tales of the craziness at Woodstock are legendary, especially due to the use of illegal substances. Sadly, there were many problems with drugs at the festival. Apparently, 400 fans were taking something called "brown acid". At the time acid and mescaline cost $4. It's said that 33 people were arrested for drug-related charges. One teenager was allegedly the largest supplier of LSD at the event. According to a report by the Washington Post, "The drug was said to be available at below-market prices... and that the LSD was actually strychnine or rat poison."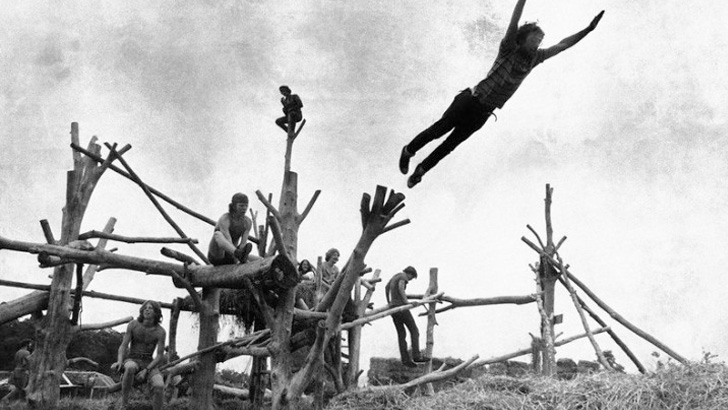 PEOPLE CAMPED OUT AND BATHED IN THE RIVER
These are not the conditions anyone would expect when they go to a concert or festival nowadays. Something like this probably doesn't happen at Coachella, right? However, those that went to Woodstock, remember it fondly. Such as Bruce Lorenzana, who said, "We walked the last few miles, carrying our camping equipment, Wasn't too bad, cuz it hadn't started raining yet. AFTER the rains began, I ditched the tent and slept under an empty trash can. Best memories of my life so far."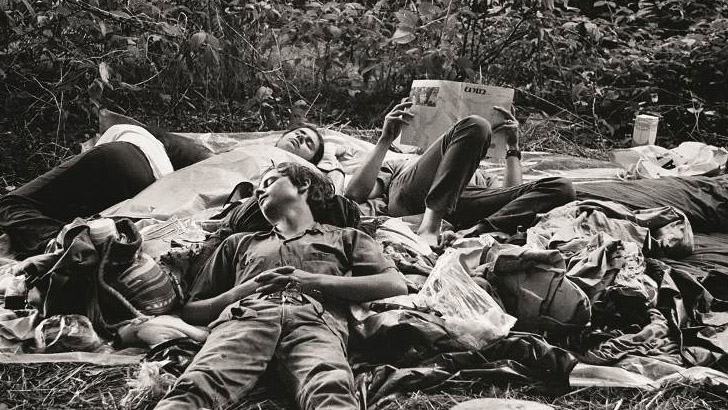 SOME VENDORS SOLD T-SHIRTS BUT THERE WAS NO OFFICIAL MERCHANDISE
Looking at these pictures, it seems that hippie culture was really on the rise, although the style has always been associated with the 60s and 70s. Woodstock was in 1969. Therefore, we can imagine that the movement of peace and love was in full swing. In fact, concertgoer Al Conforti said, "It changed my life forever also. Still a hippie at 67. Loved the music, the people, the whole festival. It made me think all these years, we are all brothers and sisters, peace be with you all…"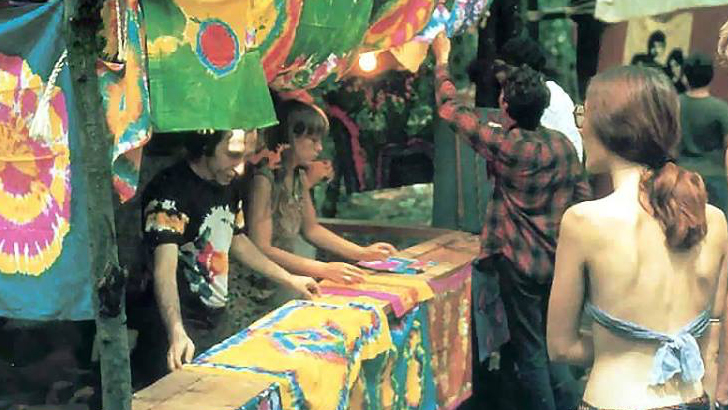 PEOPLE HAD TO LEAVE THEIR CARS BEHIND
The jam on the principal road to the venue was 17 miles long. According to the Washington Post, it was "the most patient traffic jam" in Catskills' history. Although 400,000 people reached the event, it's said that 250,000 never got there due to the jam. Things were so bad that normal commuters spent 8 hours trying to get from New York City to Bethel, which is only 98 miles. Also, people who left their cars on the road had to walk approximately 15 miles to reach the concert.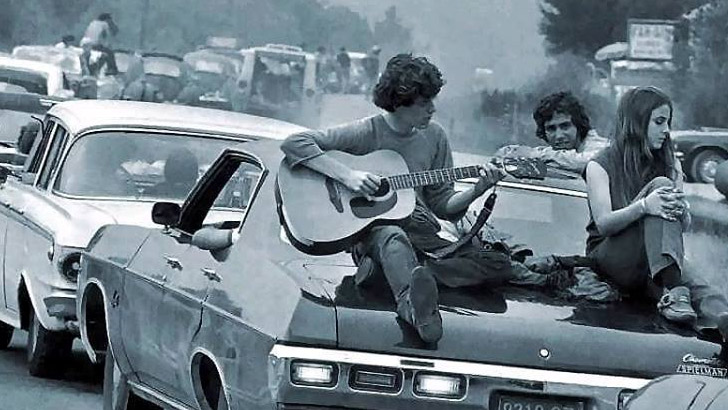 THERE WERE AROUND 10 MILLION YARDS OF BUTTON DOWN SHIRT AND JEANS
While we have all heard that people were a lot freer with their nakedness in that time, an event like this took it further. Since fans slept and bathe there, they were probably wearing as little clothes as possible. They also used what they had on their bodies as something else, like a blanket at night. It seems like the wildest adventure that will ever be repeated.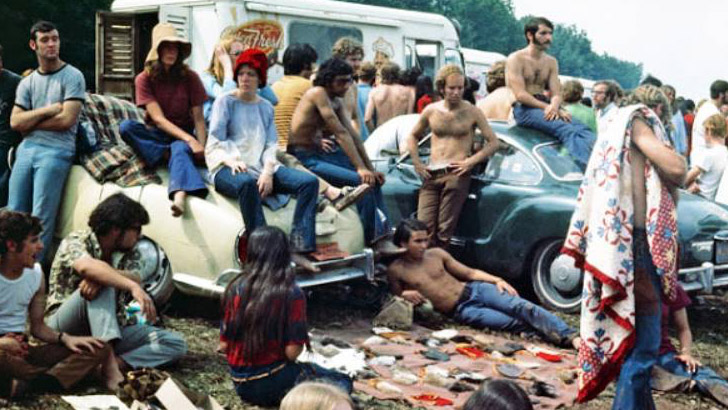 SOME OF THE ABANDONED CARS
According to John Bowman, "My friend Bob and I drove through mobs of traffic on Friday to park within a few miles of the festival grounds. We trekked in on foot. By the time we made it, the fences were down, our tickets were unnecessary, and the music was on. But what stopped us in our tracks was the massive size of the crowd, with all its energy and makeshift madness. Through thirst, hunger, rain, and song, we bonded as one huge organism. Three days later, after Jimi brought those of us who stayed to a rousing finale, we drove home to lives that would never be the same again."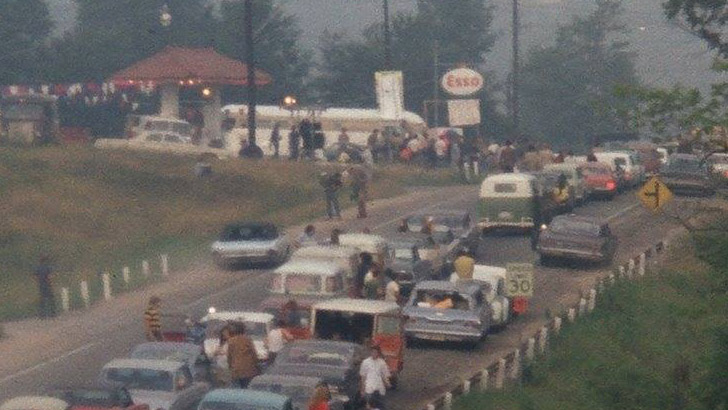 A MOTORCYCLE COMES IN HANDY
It's clear that neither comfort nor hygiene were big concerns for the people at this event. However, this man had a motorcycle that he arranged enough to sleep in. It must have been a little better than trying to get some rest on the ground, which was probably muddy from all the rain. This is another image that proves that shirts were really optional, at least for men.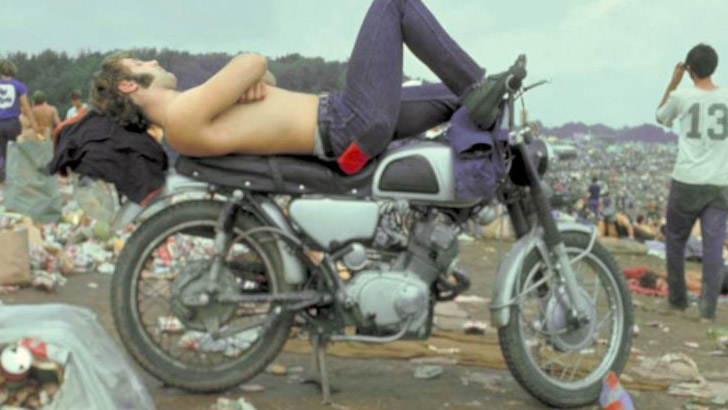 THERE WERE ACTUALLY KIDS AT WOODSTOCK
Since we know that Woodstock was a huge party with lots of craziness and abuse of substances, no one would imagine that children were allowed at the venue. But, they would be mistaken. On the other hand, it's easy to understand that some people couldn't leave their kids for a whole weekend. Kids wouldn't be allowed in anything that big nowadays.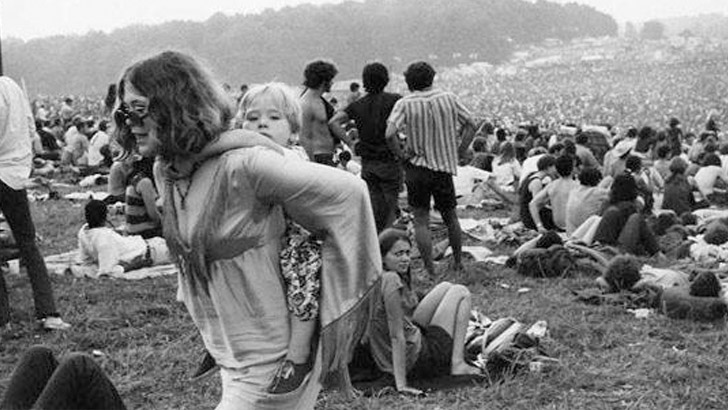 FANS RESTING ON THEIR CAR ON THE WAY TO THE FESTIVAL
As mentioned before, people forgot the rules that we all normally followed on that event, and if you had to walk so many miles because you couldn't dire there, it's normal to take a bit of a nap. Also, most folks slept in their cars every night. Joseph Howard said, "I was there with my dear belated brother Robert Howard and I was 17 at that time and he was 21 in his then brand new VW Bug. What great memories…"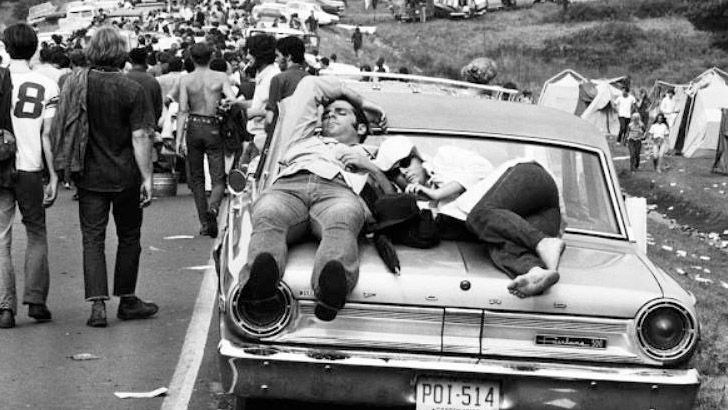 THERE WAS NO VIOLENCE
Most people would think that there would have been a lot of violent incidents with such a huge crowd, but the folks truly believed in "peace and love" this time around. They called each other brothers, and they were all there to enjoy life. In our current political climate, it's helpful to remember the times where we all got along just fine. These memories are proof that we can better towards one another.

GOVERNOR NELSON ROCKEFELLER ALMOST SENT THE NATIONAL GUARD
The governor was understandably concerned that so many people in one place would cause problems. Nowadays, you would need tons of security to hold such a massive crowd. Therefore, it's not that crazy that he wanted more men there to take care of things. Sadly, there were some casualties at the festivals despite all the love. Three people died: two from overdoses and another died while he was in his sleeping bag. He was run over by a tractor by accident.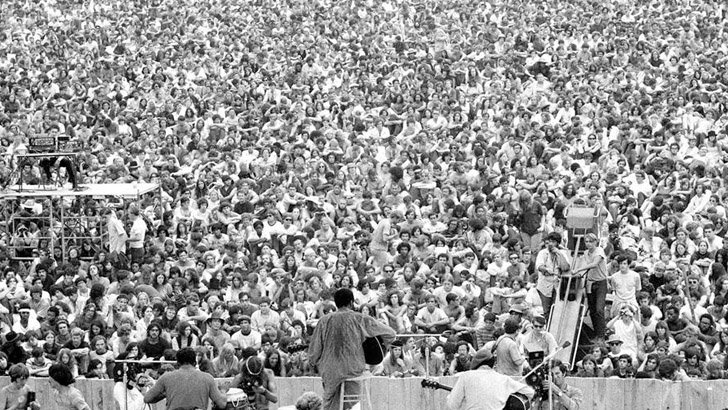 AMAZING VIBES AND CAMARADERIE
Some people have made friends for life at concerts or other parties. This was no exception. "Considering that we actually were 'half a million strong', it was quite a statement of my generation's frame of mind (with or without drugs) that so very few incidents occurred during those wonderful 3 days. So happy I got to be there…changed my life forever. Still a hippie at 63!" said Lenore Madden.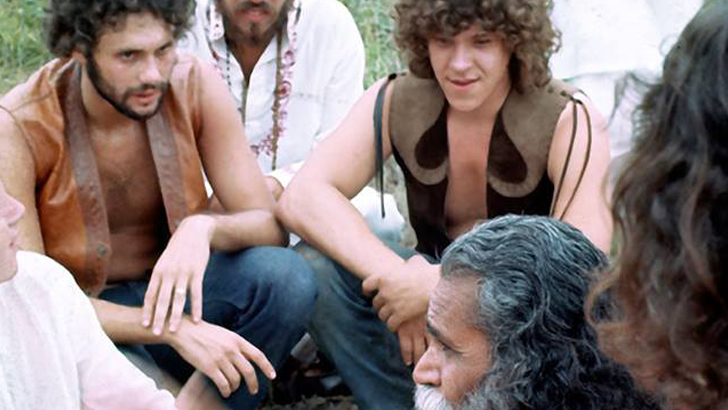 THEY MADE THEIR OWN SHELTERS
People found the best ways to keep protected from the weather and rest during the downtimes of the festival. It almost seems like a giant sleepover for whole generations. Maybe, that's why it became so iconic in history. It wasn't about money, greed, or whoever had the best clothes. Everyone was equally under a banner of music and love.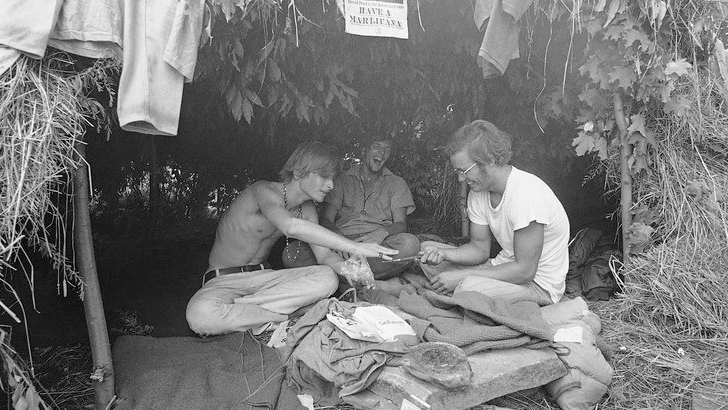 POSTER FROM WOODSTOCK WITH JOHN SEBASTIAN
You might remember that John Sebastian was in The Lovin' Spoonful, an American band famous for songs such as 'Do You Believe In Magic?' and 'Summer in the City'. He performed as a solo artist at Woodstock, but he wasn't scheduled to appear originally. He was actually under the influence of drugs when emcee Chip Monck told him to get on the stage because other artists were late. The singer said that it would have been "too whacked to say no".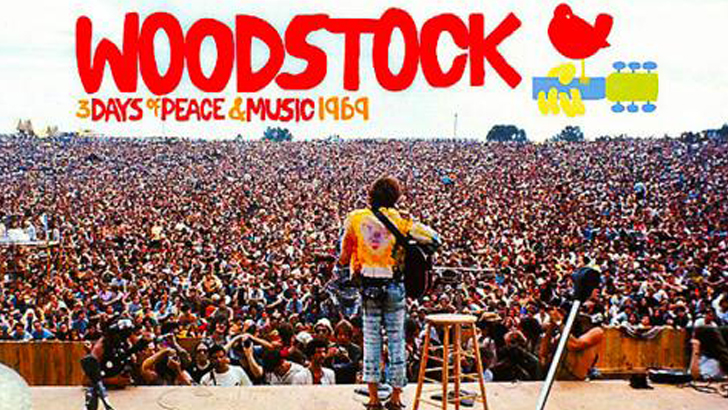 SLY STONE FROM SLY &THE FAMILY STONE
The band Sly & The Family Stone was pivotal for soul, funk, rock, and psychedelic music between the 60s and the 70s. Stone was their frontman, and while growing up in California, he learned to play all kinds of instruments. He also performed gospel with his siblings, Freddie and Rose, who would later be in the band. Some of their best hits include 'Dance to the Music', 'Everyday People', and 'Thank You (Falettinme Be Mice Elf Agin)'.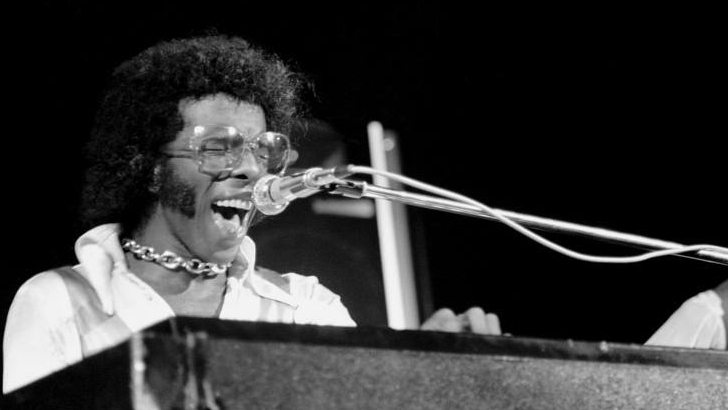 A COUPLE ENJOYING THEIR DAY
Since it was hailed as a festival of love, you can imagine that there were a lot of couples in the crowds, and many lovers probably started at the event too. The happiness in the woman's face cannot be described. It's difficult to imagine even enjoying such a concert in today's world. However, the people who were there still remember it with fondness, especially because the U.S. was in the middle of the Vietnam War.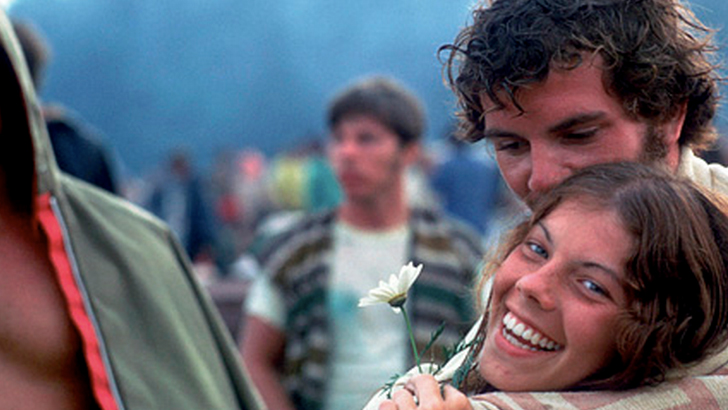 SANTANA PERFORMING 'SOUL SACRIFICE'
As mentioned earlier, 'Soul Sacrifice' was one of their most iconic performances. The frontman of the band was Carlos Santana, a Mexican-American guitarist who was huge at the time. He mixed Latin American jazz with rock and roll to create a new sound that the world loved. He was inducted in the Rock and Roll Hall of Fame in 1998. Additionally, in 2015, Rolling Stone Magazine placed him as number 20 on their 100 Greatest Guitarists list.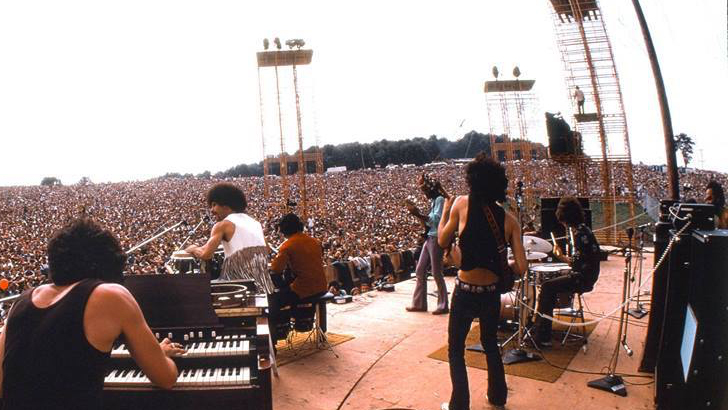 A BUS WITH TYPICAL HIPPIE ARTWORK
The bus helped as a shelter for fans. The event was a shining light during a very hard time in America. David Crosby even said that seeing people sharing food was one of the best parts. Aside from the Vietnam War, America had also seen the assassinations of Robert F. Kennedy and Martin Luther King Jr. the previous year. President John F. Kennedy was killed six years before the festival. "There is the significant thing," explained Crosby about Woodstock. "For a minute, we were hopeful. … For a minute, we were behaving like decent human beings."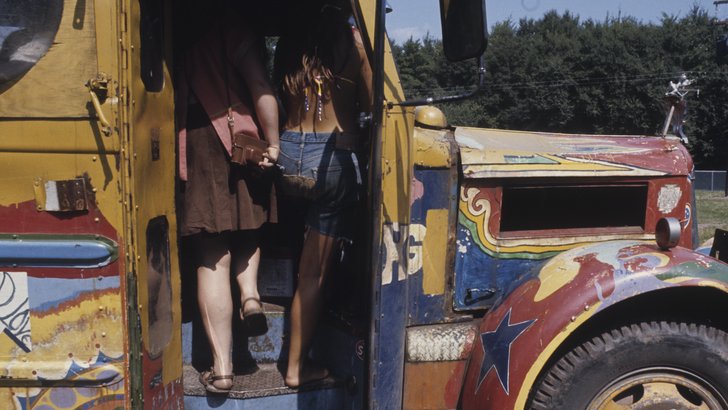 FANS CLIMBED PROPS TO SEE THE STAGE BETTER
Just like any concert, people always want to get the best view, but there was no such as VIP seats or anything similar at Woodstock. All the tickets were the same price, and after it eventually became a free concert, you can imagine that most fans were not even near the stage. Interestingly, John Lennon wanted to attend the festival, but he was in Canada at the time, and the U.S. wouldn't grant him a visa to enter.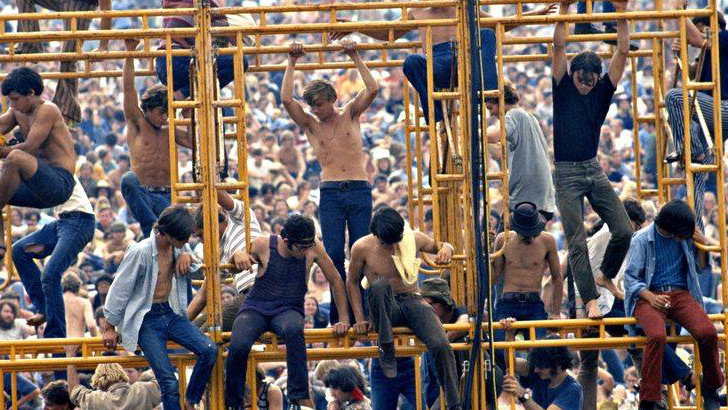 JANIS JOPLIN, LATER NICKNAMES "MISS WOODSTOCK"
As mentioned before, Janis Joplin was one of the three female solo performers at Woodstock. She was born in 1943, but sadly, died too early due to her addiction to drugs just like Jimi Hendrix and Jim Morrison. Joplin rose to fame after forming the psychedelic band called Big Brother and the Holding Company. Their second albums 'Cheap Thrills' reached the first spot at the Billboard chart, and it includes their hit song 'Piece of my Heart'.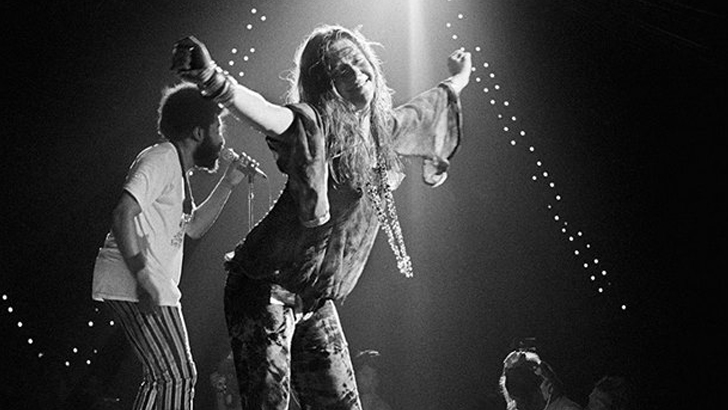 SIGNS ON THE WOODS NEAR THE EVENT
We know that people slept in makeshift tents and bathe in the river. It was a giant camping party. Interestingly, some people don't know why it was called "Woodstock". Turns out that the original location for the concert was Woodstock, Vermont, but they ended up changing it to that dairy farm in Bethel, New York. The name "Bethel" for a festival doesn't sound as catchy.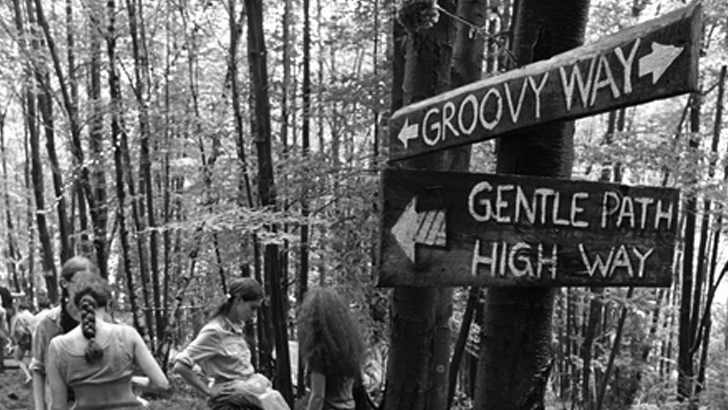 FANS IN THEIR VAN
You can see the late 60s fashion in this shot, as well as some of the smoke, but we won't get into that. In other interesting stories about the festival, Elliot Brender said, "My family had a summer home in Kauneonga Lake, White Lake Homes. We heard there was a concert to be held up the road from us. We were told 50,000 would show up. 500,000 actually did. Although we didn't have tickets we were able to easily attend. Roads were jammed. The town ran out of food. Having a home there, we were in luck. We had food and could bathe. The rain turned everything into a muddy mess but what an event. Glad to have attended."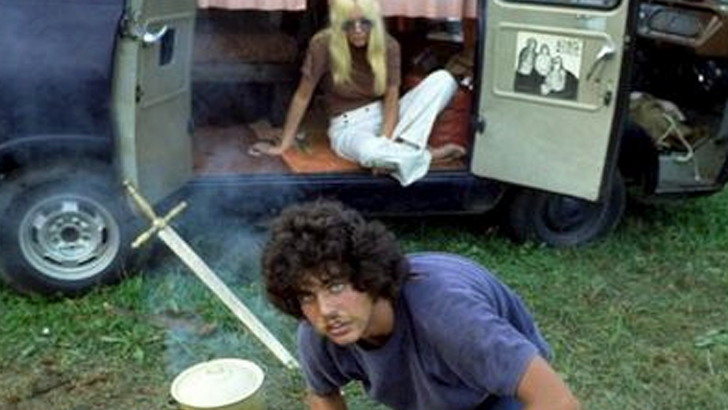 PEOPLE HAVING FUN IN THE MUD DURING A RAINY DAY
One of the only drawbacks of the festival was the rain, but people always found ways to have fun no matter what. It was truly a moment to enjoy life. They even chanted together to stop, but the storms still raged on. Meanwhile, Joan Beaz sang 'We Shall Overcome' during a particularly serious rainfall, and some were concerned that musicians might electrocute themselves.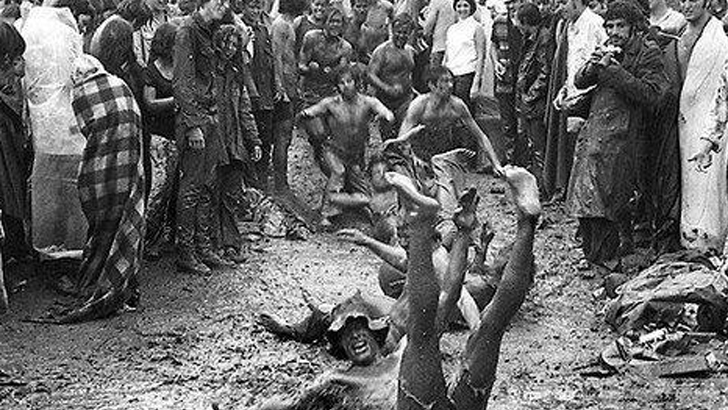 GRACE SLICK AND JEFFERSON AIRPLANE BACKSTAGE
Grace Slick was a singer-songwriter, who was influential in San Francisco's psychedelic music scene in the 60s. She spent four decades making music with bands like The Great Society, Jefferson Airplane, Jefferson Starship, and Starship. She also went solo sometimes. Some of her best vocals appear in songs like 'Somebody to Love', 'White Rabbit', 'We Built This City', and 'Nothing's Gonna Stop Us Now'.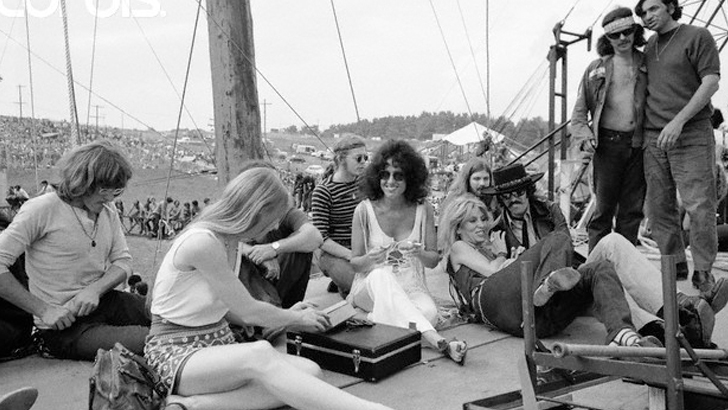 FANS PLAYING THEIR OWN MUSIC BACKSTAGE
The feeling of camaraderie was one of the best things about Woodstock, and you can tell that people were really into the vibe as they decided to make their own music. Concertgoer Holly Smith Randall remembered, "For those of us who were there, I don't think it's possible to pick a most memorable moment. Those moments just kept happening, one after another. However, I will say that when Eddie Appleseed and I woke one morning (thankfully, we arrived days ahead) we were blown away by how MANY brothers and sisters had arrived overnight! STUNNED!"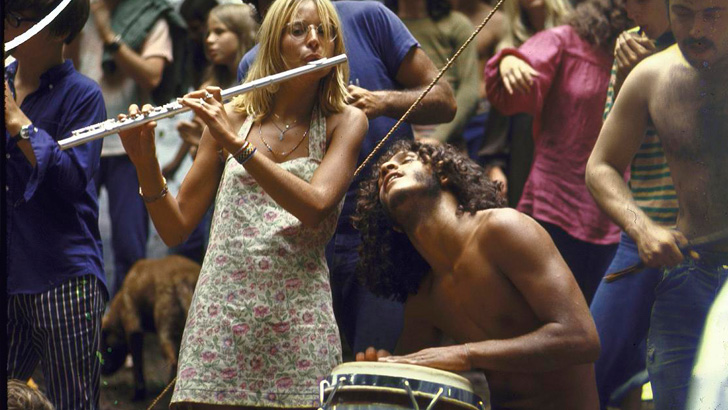 A GIRL ON THE SHOULDERS OF A FRIEND
In a festival with more than 400,000 people, you can imagine that it might have been hard to see the stage at all. However, the overall feeling seemed to be that it wasn't about seeing the artists but experiencing the event. It was larger than anyone could have imagined, and it will never be repeated. It was also a beacon of hope in a tragic political climate for America.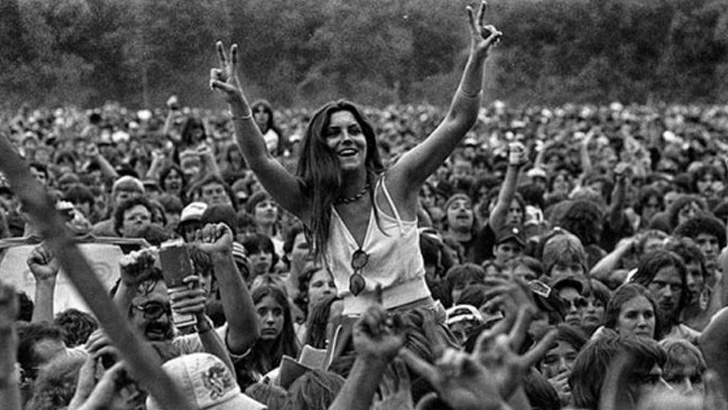 PROTESTS AND SIGNS
As mentioned earlier, there was no violence at Woodstock, although there were reports of several injuries as well as casualties. But none of them were due to heinous acts. Furthermore, the local community said that the concertgoers were more polite than they imagined. Monticello Chief of Police Lou Yank said, "They were and they are the most courteous, considerate, and well-behaved group of kids I have ever been in contact with in my 24 years of police work."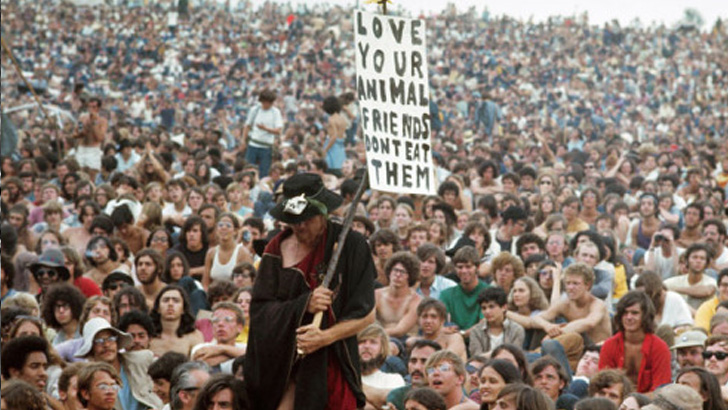 THE LUCKY PEOPLE WITH CARS IN THE FESTIVAL
As mentioned earlier, traffic was horrendous, but some lucky people were able to get their vans into the concert. They were used as a shelter during the three days of the festival. Meanwhile, folk singer Arlo Guthrie got to play on the first day of Woodstock, and he famously said, "The New York State Thruway is closed, man." The phrase was included in the movie about the event as well as the soundtrack album.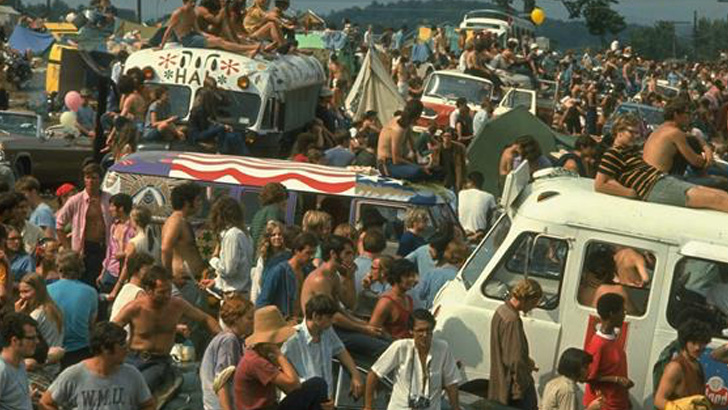 FANS PRACTICED YOGA NEARBY
You might think that Yoga is a fairly new trend that some fitness people have adopted, but that's not the case. Clearly, the flower children of the 60s and 70s were already trying to get in touch with their inner selves. Also, Ravi Shankar, an Indian sitar expert, actually performed on the stage that first day. Most people liked his music, but Shankar was not impressed with the way Westerners had taken Indian arts. "It was a hodgepodge of Kama Sutra, Tantra, yoga, hash, and LSD, while the true spiritual quality of our music was almost completely lost," Shankar revealed to The New York Times.
FRIENDS HANGING OUT ON A BUS
This is was one of those iconic images that you expect to see from that time. The painted bus is almost a symbol of the era. Another story from Woodstock comes from Craig Rodger Hathaway, who remembered, "I turned 14 in July of 1969 and my family and I lived on Briscoe Lake which is 2-3 miles further down Hurd Road from where the stage had been. My friends and myself (who lived on the lake) watched the stage being built as it was a short bike ride over the hill to where it was. It changed the way we viewed the world, having been in the middle of everything, just because we lived so close to the center of it all. I also remember my mother letting 8-9 kids sleep on our porch so they could get out of the rain."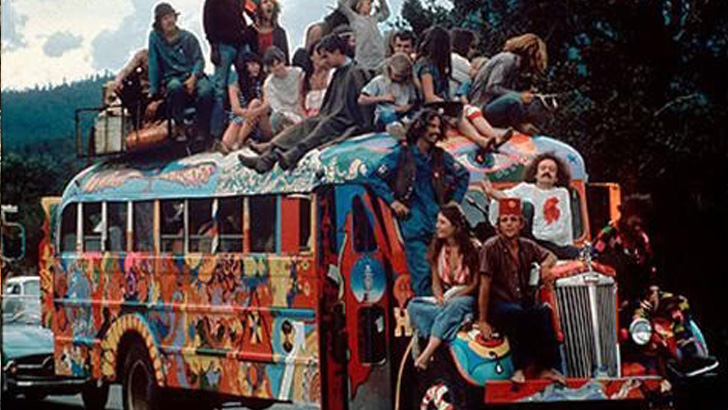 A WOMAN POSES WITH THE STAGE IN THE BACKGROUND
This woman is the iconic flower child of the era. The term "flower child" was originally a synonym for "hippie", and people who gathered in San Francisco during the Summer of Love in 1967 came up with it. These people would normally wear flowers or give out floral decorations that symbolized peace, love, and unity. They were also linked with the political movement, which used the ideas of Allen Ginsberg written in 1965.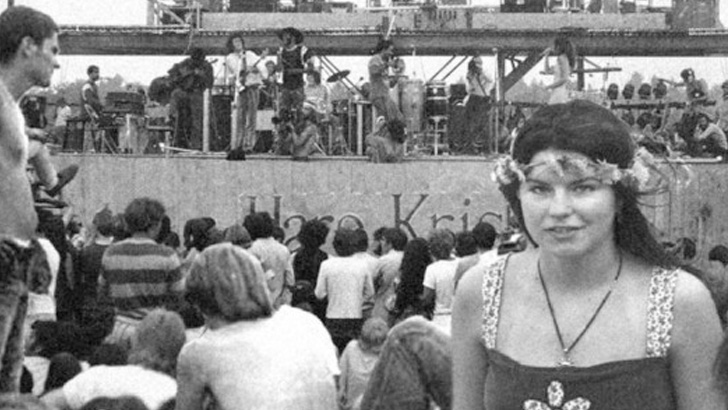 A MAN WITH FANS IN THE BACKGROUND
This image gives only a small glimpse into how many people were actually gathered there, but as you can see, they are all standing together in that field. Fascinatingly, the Short Line was the bus route that worked through Sullivan County, and they got to transport many concertgoers to the event. The employees were marveled by how nice everyone was that they took placed an ad on the paper. It read: "Their generosity, patience, and good humor turned what might have been a difficult task into a revealing and enjoyable trip. We learned a lot about the young people around us. We love what we learned."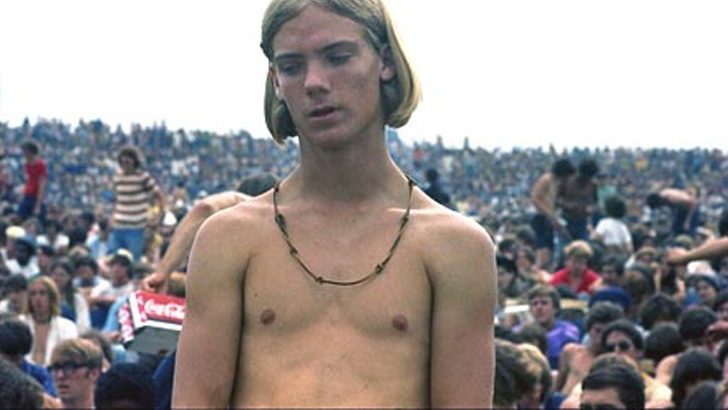 A GROUP PRACTICING MEDITATION
People were filled with this vibe of peace and love that we cannot even imagine in a concert today, especially after some of the horrible things that have happened in public places over the last couple of years in America. However, according to the Hog Farm commune, which was hired to work security at Woodstock, it might have been because they were all high. One cop said, "If this crowd was drinking beer, they'd be violent. This pot stuff quiets down everyone."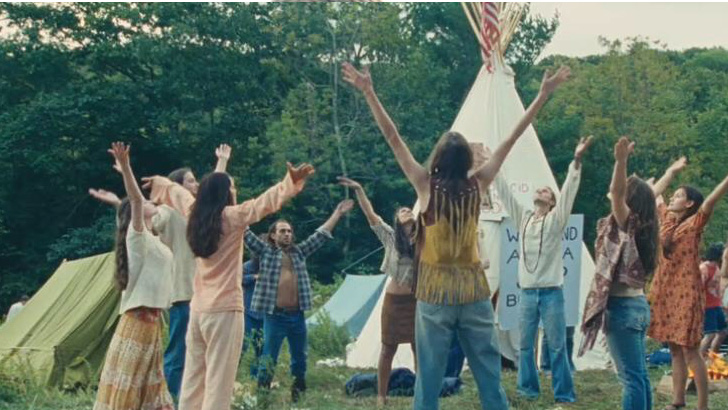 THE MOVEMENT TO LEGALIZE MARIJUANA
Speaking of pot, you can imagine that these people were hoping to legalize their favorite drug. They would be happy to learn that some U.S. states have legalized the recreational use of marijuana. These places include Alaska, California, Colorado, Illinois, Maine, Massachusetts, Michigan, Nevada, Oregon, Vermont, and Washington. Meanwhile, the District of Columbia, the Northern Mariana Islands, and Guam (U.S. territories) have also allowed it.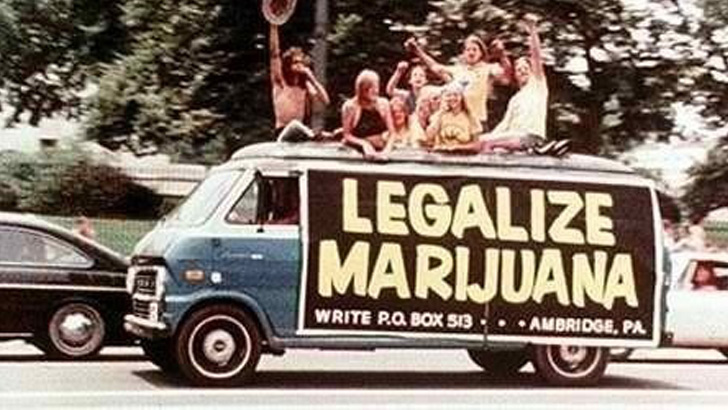 SLEEPING UNDER PLASTIC
Building makeshift tents wouldn't be such a problem, but these fans had to face horrible weather conditions. Getting wet all the time wouldn't have been great for their health. Therefore, they improvised with whatever they had available. Some people used their cars, inviting strangers to protect themselves, and others did what they could. Every single attendee says that it was the best experience of their lives, regardless.