40+ Weird Old-School Medical Facts
Back in the day, before doctors and scientists had the research they do now, getting sick was much more terrifying than it is today. For starters, 16th and 17th-century doctors thought that cancer was a contagious poison, and that breast cancer, in particular, was caused by milk clots in the mammary ducts. Of course, now we have so much more information at our fingertips, so patients are in good hands across the world. Wanna hear more strange old-school medical trivia? Read on!
A Shocking Technique
There are so many *edgy* pop culture references which remind us hairdryers and bathtubs don't mix. But this method of curing rheumatoid arthritis specifically uses electricity in the water. Pretty wild, huh? We wouldn't want to be the guinea pigs they tested the first machines on, that's for sure. But there's something even weirder about this one...
What might surprise you is that this technique, called electrotherapy, is still used today in alternative medicine practice, especially in Japan. It is believed to promote general well-being. The practice increases blood circulation and can relax or stimulate muscles. But speaking of being wired, you'll be amazed by what this next medical tonic does to you!
My Iron Lung
You might have heard of the Radiohead song, but not everyone will have understood what it means! Including yours truly, if we're being honest. The iron lung was a negative pressure ventilator, which helped children to breathe when they had polio or botulism.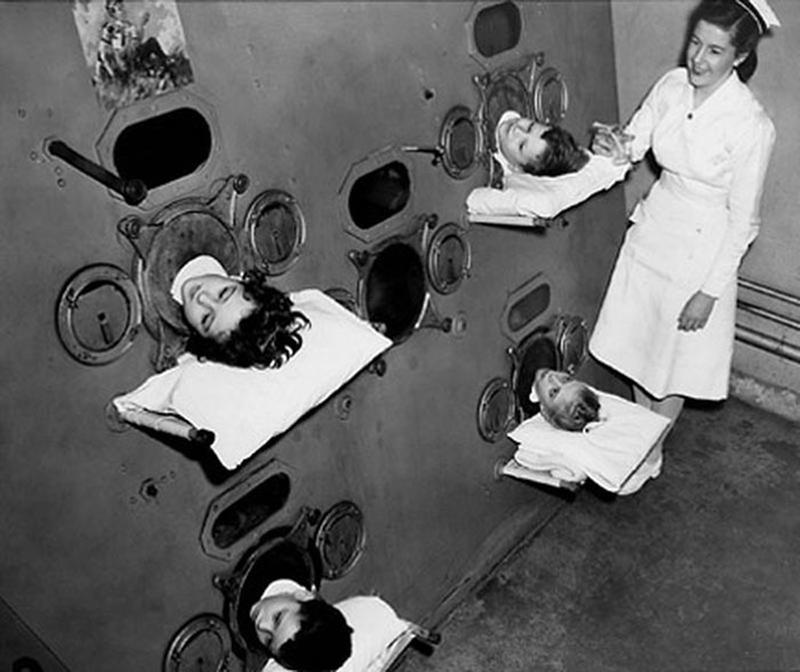 It worked by changing the pressure inside the chamber, which helped the kids to breathe. Man, we feel for them. They can't even play Gameboy in that thing! Even so, the iron lung was much more successful than many other inventions of its time, including our next contraption...
The 30-second Tanning Sesh
In 1949, this odd little sun-tanning machine was designed to be placed around tennis courts and swimming spots. In this image, Betty Dutter shows us how to use the Sun Tan machine at the Chicago Annual Vending Machine Convention.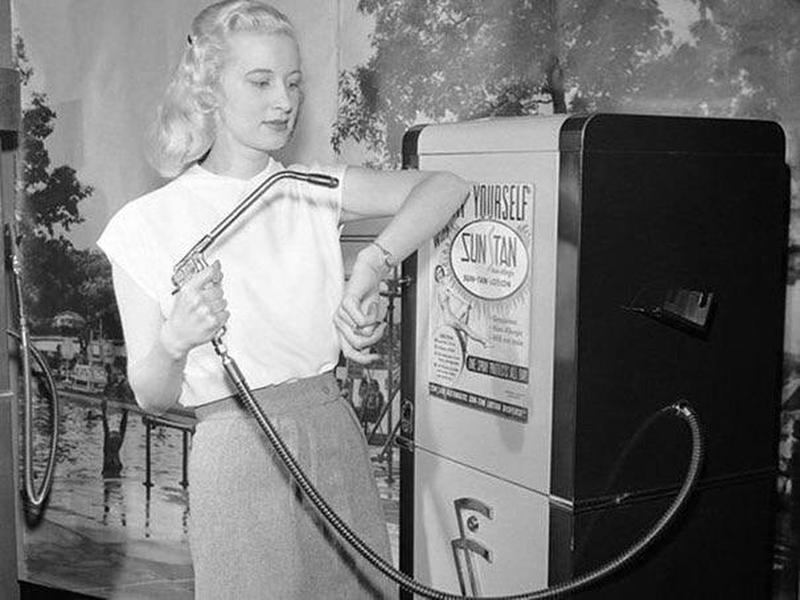 For only a dime, you'd get thirty seconds of tanning spray from the nozzle, which is, uh,  much cheaper than Bondi Sans or St Tropez! But who knows what the tanning solution was made out of. At any rate, it's much safer than 'murder bottles.' Want to know more?
A Dangerous Bottle Indeed
'Murder bottles' might sound like a simple name for a complex invention, but really it's just an accident of nature. When we think about women's dress in the Victorian era, tight corsets and huge hoop skirts come to mind. Can you imagine trying to breastfeed in one of those things? Do not want. Luckily, someone crafty invented a baby bottle!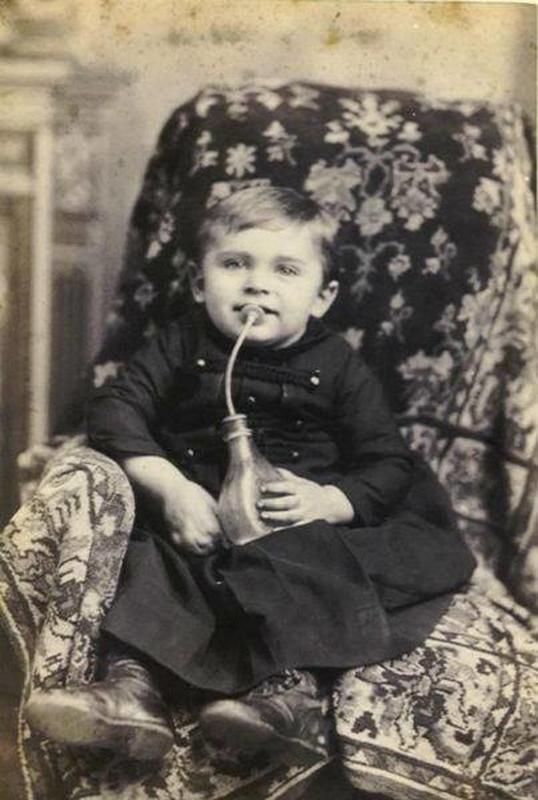 This would mean that Victorian mothers did not have to go through a full costume change every time their babies were hungry. Unfortunately, they were difficult to clean, which meant that bacteria grew inside of the straws, and the babies got sick. The bottles were good in theory and ultimately, they still contributed to the widespread use of baby bottles today. 
The 'Murder House'
Where I'm from, the dentist is called the 'Murder House.' When you look back at the way we did dentistry in the 1800s, you can kind of see why. The original dentist's drills were powered by foot, and were pretty high-speed despite their antiquity.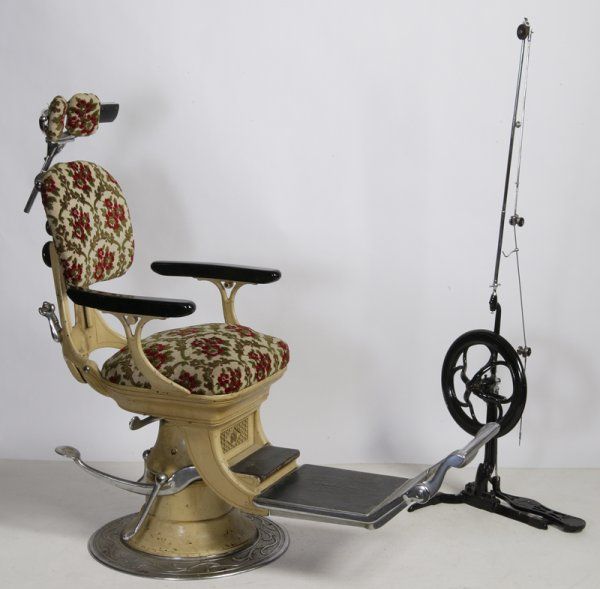 A hand-cranked dental drill bit was patented by John Lewis in 1838, but he wasn't the first to figure it out. It turns out that the guy who invented the first "dental foot engine" was George Washington's dentist, John Greenwood, who created his machine in 1790.
Spreading the Word on Polio
There are many diseases that we no longer have to think about in the West because of the widespread vaccination that began in the 50s and 60s. There is evidence that the Chinese were practicing smallpox inoculation as early as the tenth century, but the vaccine wasn't popularized until centuries later.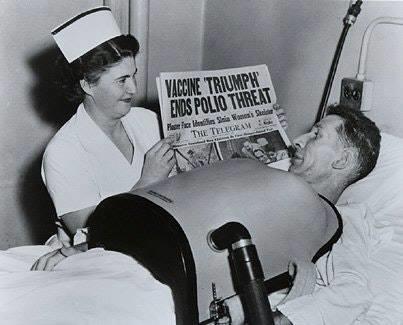 Jonas Salk is credited with the invention of the modern polio vaccine in the West. In this image, a nurse shows a fellow with Polio a newspaper headline about the disease. And it won't be the first time you hear about polio. It was an epidemic back in the day!
Baby Tan
You've heard of tanning for adults, but back in the 1920s, there was tanning for babies too! But it wasn't quite what you might be thinking. These little ones are undergoing light therapy treatment at the Chicago Orphan Asylum in order to combat rickets.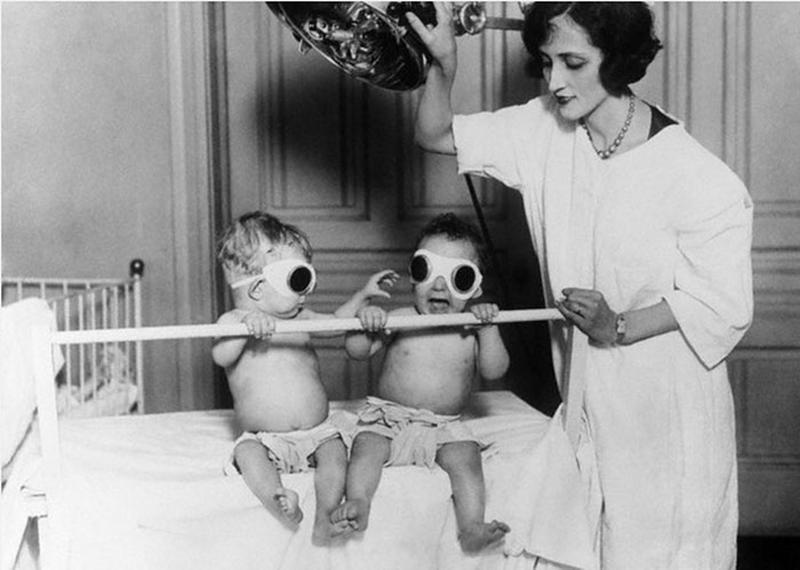 Rickets is a skeletal disorder that is brought on by a lack of vitamin D, so it kind of makes sense that doctors believed ultraviolet light would ward it off. It might be an unusual practice, but they look like they're having way more fun than the kids in the iron lung. Eek.
Feeling Sick Yet?
Yikes. Doesn't this picture give you the heebie-jeebies? What you're looking at is an optokinetic machine which will test people's response to moving objects. And if you're wondering how it works, well, you sit in the middle of the rotating drum and watch the little dots move.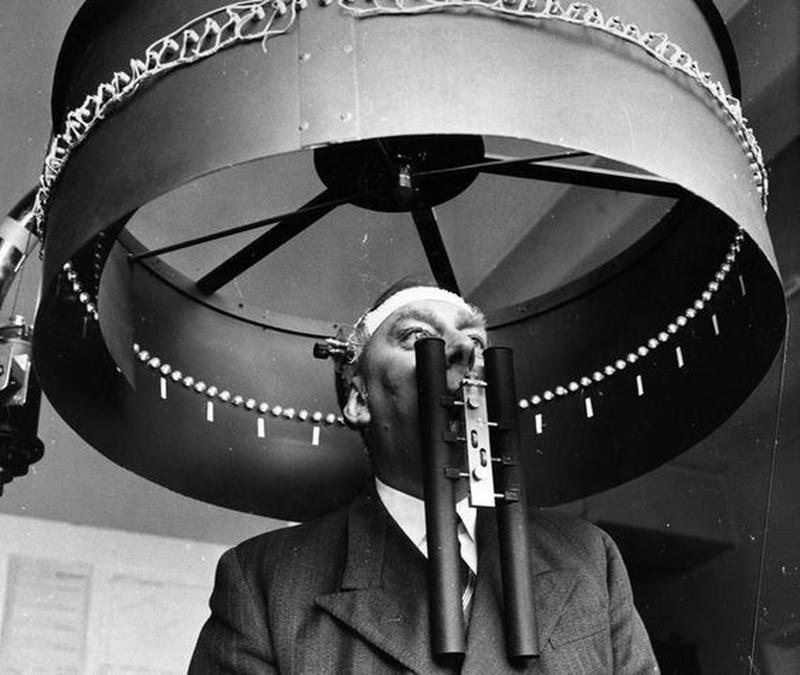 That's basically it. In this picture, Dr. G. H. Byford is taking part in an experiment. He is at the Royal Air Force's Institute of Aviation Medicine. When the patient watches the little dots moving, the technician can see how their eyes react to the motion. So it might look scary, but really it's not so bad!
Shh - She's Sleeping!
What you're looking at here is one of the very first incubators for babies born prematurely. Neonatologist Dr. Martin A. Couney did some thinking. He reasoned that if babies fared poorly when they came out of the womb too early, maybe he could just put them in a womb-like environment until they were ready to come out into the real world! It makes sense, right?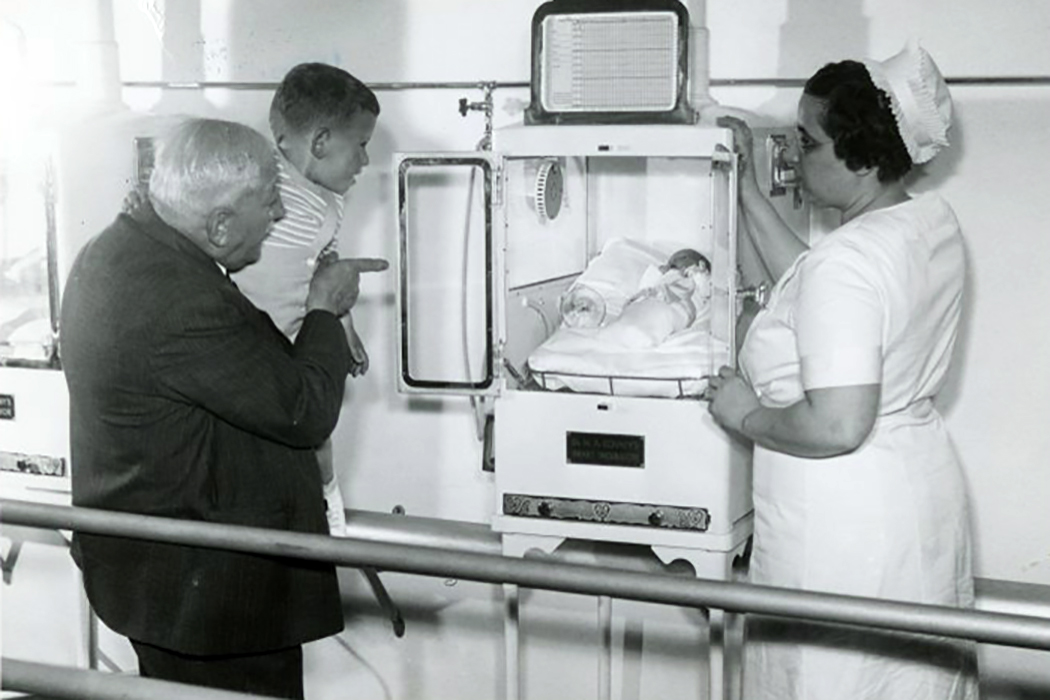 Sometimes a bit of good old-fashioned common sense really does do the trick. The proof is in the pudding: in this picture from 1923, we can see prem baby Frieda Pushnik having a nice little snooze. Frieda was born without arms or legs and would go on to become a circus performer.
The Peak of Medical Technology
The Mount Sinai hospital is a pretty impressive place. In 1947, it was the first place in the U.S. to perform successful kidney dialysis! Nonetheless, the doctor that started it all was actually a Dutch fellow by the name of Dr. Wilhelm Kolff.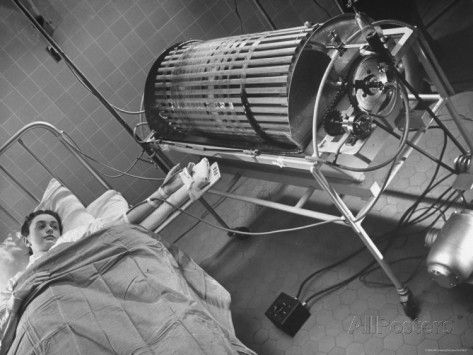 It is pretty impressive to think that this technology was available back in the 40s. Dr. Kolff had come to Mount Sinai to train other doctors to use his dialysis machine, and even donated a bunch of them to other hospitals around the world. What a guy, huh? Thank goodness for Dr. Kolff!
The Horrific History of Lobotomies
Do you remember that part in 'One Flew Over the Cuckoo's Nest,' where McMurphy has a lobotomy? You will recall how different he was afterward, and how he seemed like a zombie in comparison to his former self. This was basically a reality for many of the 18,000 people who had lobotomies in the USA at the height of their popularity in medical practice.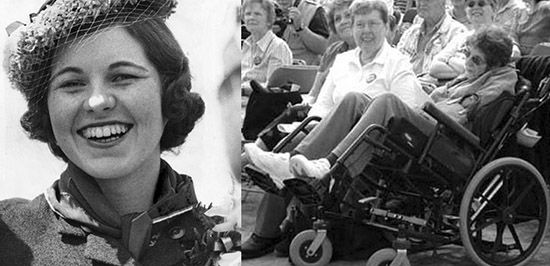 The image you see here is of JFK's sister, Rose Kennedy, who had a lobotomy in her twenties. Heartbreakingly, after the procedure, she was left incontinent and unable to walk or speak intelligibly. Terrifyingly, doctors would sever links in the prefrontal cortex of the brain, which would often reduce a grown adult's intellectual capacity to that of a young child. 
Thank Goodness for the Polio Vaccine!
You've seen children in an iron lung, and here you can see the adult version. These poor fellows were unlucky enough to contract polio, which meant that they were unable to breathe because of the impact that the disease had on their muscles. You can't help but feel sorry for these fellows.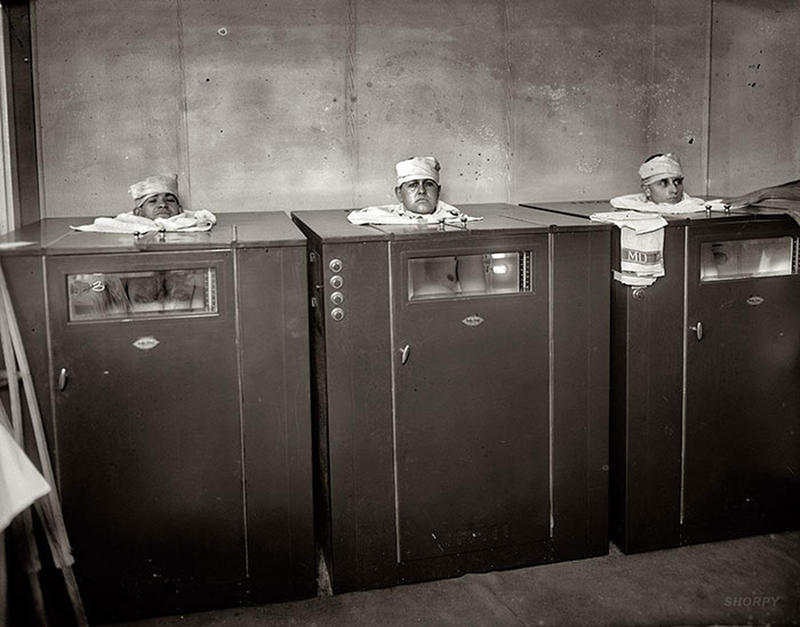 Not only did they have to deal with sickness and pain, but they also would have been bored out of their minds. And here's a new one for your calendar: World Polio Day is on the 24 October every year. The date was chosen because it is the birthday of Jonas Salk, the man who led the charge for the first polio vaccine.
A Breath of Fresh Air
In 1929, they didn't have Ventolin or Symbicort inhalers. But they did have these electric inhaling machines which helped to ease the symptoms of breathing problems caused by the flu. When you think about it, it's kind of like a 1920s vape!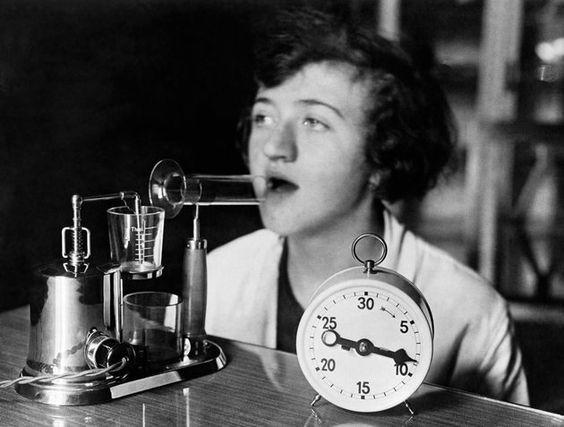 OK, so it's not quite a Juul. But it did work similarly: medicine was heated in the apparatus so that it would be converted to vapor. Then the patient would breathe it in, and the treatment would get to the lungs as quickly as possible. 
A Blood Transfusion in a Bottle
John Elliott was the inventor of this neat little device, which surely has saved many lives in its time. After the end of the Second World War, Elliott designed this vacuum bottle for blood transfusions on the go.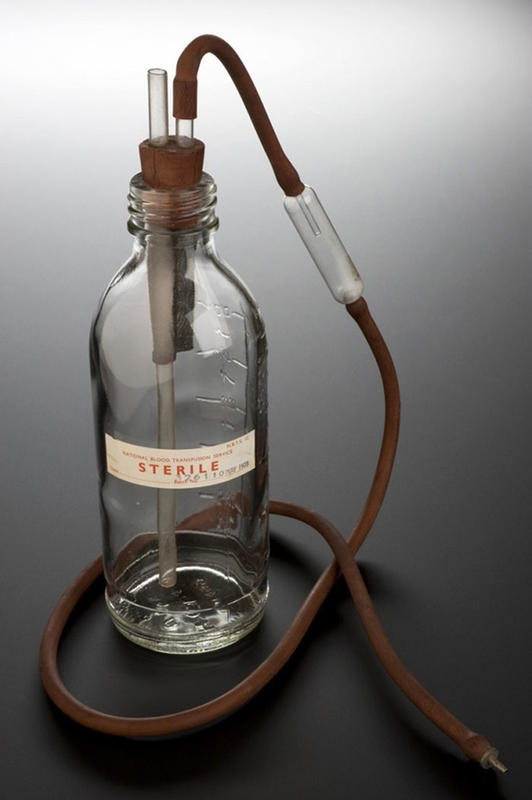 The Red Cross used the bottles exclusively, and incredibly, they were still being used in the late 1970s when this image was taken. It might not look like much, but this wee bottle revolutionized the way that medical professionals were able to both collect blood and perform blood transfusions.
This Treatment is Truly Electrifying 
In this image, a patient sits in a Bergonic chair, which was used during the First World War to provide treatment for mental health concerns. Electroconvulsive therapy would become much more popular during the 40s and 50s, and it's probable that many readers will even know people who have had the therapy.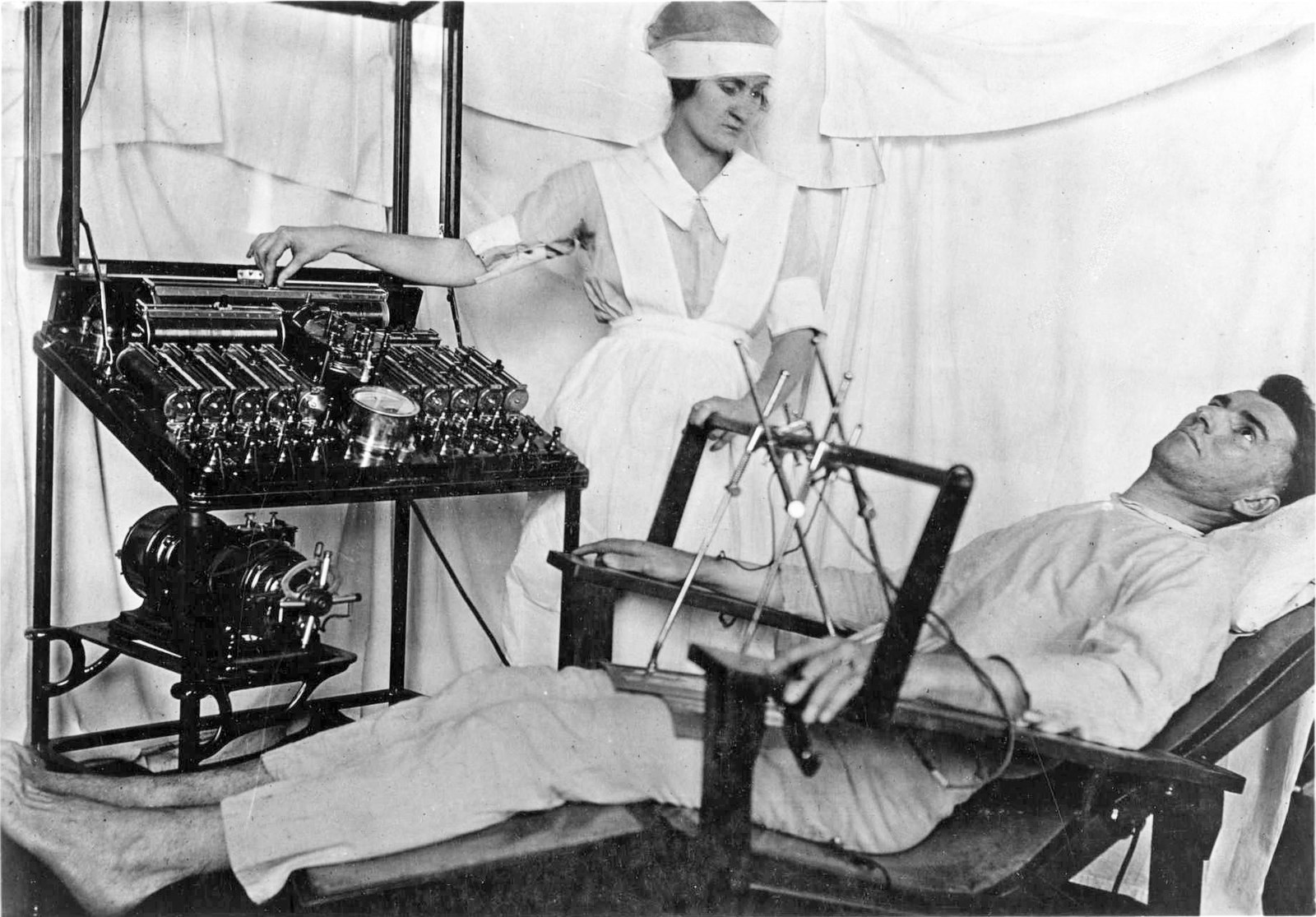 It is still used in the twenty-first century, albeit with more advanced technology. Electrotherapy isn't quite like One Flew Over the Cuckoo's Nest anymore, and is covered by many health insurance companies today. 
A Yucky Memory
To say that cod liver oil was unpopular with children in the 40s and 50s would be an understatement. It is cemented in popular culture as one of the most foul-tasting liquids out there, and for a good reason. In the earlier part of the twentieth century, schoolchildren were administered the stuff to keep them healthy.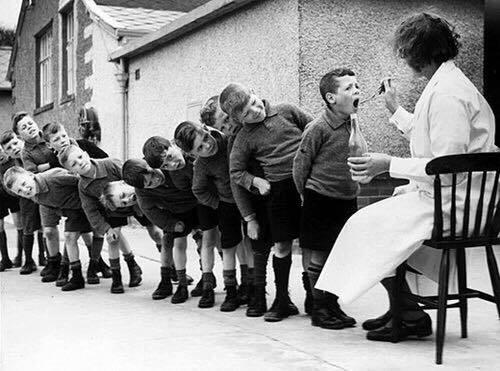 Parents weren't too pleased, however, and the practice soon stopped. Nonetheless, researchers have since shown that fish oil is filled with omega 3s and amino acids that keep us strong and healthy. Go figure!
The O.G. Artificial Eardrum
This tiny little rubber design just so happens to be a patented artificial eardrum from 1892. George H. Wilson invented the "rimless [and] self-ventilating" contraption, which was "so shaped that it [could] be quickly and readily removed and replaced without pain, and when in position is invisible, not liable to irritate, and is a good sound conductor."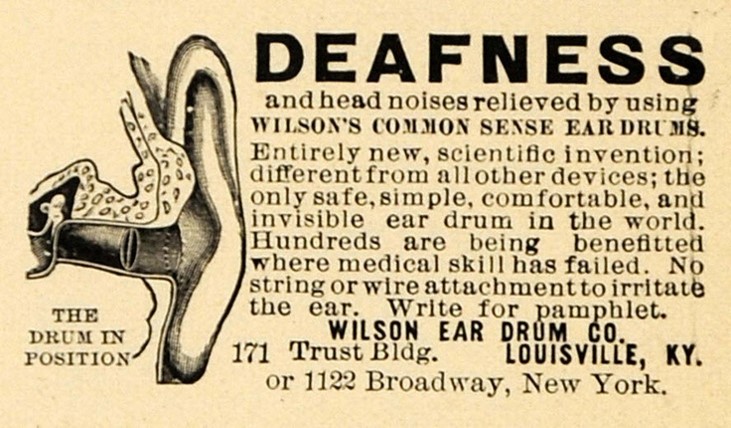 Phew! Did you get all that? It was sold as a cure for deafness, but truth be told, there was no evidence that it actually did that. But hey, it was the 1800s! They could basically make any kind of medical claim they wanted to without backing it up with evidence.
Dentist Lucy Hobbs Taylor
This impressive woman was the very first female dentist in America, and boy did she fight for it. We should all raise a glass to Lucy Hobbs Taylor, who was denied admission to a medical college in Cincinnati and the College of Dentistry in Ohio based on her gender.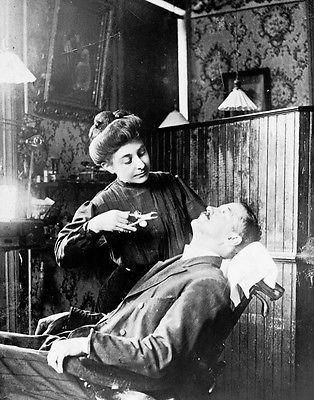 Because she was resilient as hell, it didn't stop her, and she studied privately until she was qualified enough to open her own dental practice. You go, girl. While dental programs all over the world have ceased to discriminate based on gender, there remains a gap. According to the American Dental Association, of the "199,486 dentists working in dentistry as of 2018, 32.3% are female."
Uhh… Moth Lotion?
You read that correctly. But it isn't a tiny bottle of tincture for the winged insect that you know. Instead, it's a kind of lotion that was meant to remove freckles and other little blemishes from the skin. Harriet Hubbard Ayer was a pioneering type and started America's first cosmetics company.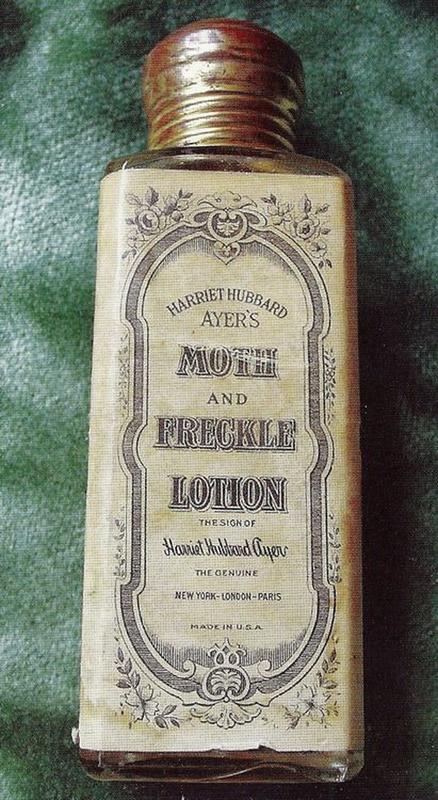 The Hubbard-Ayer products were marketed in the early 1900s and included some fairly dodgy claims which wouldn't hold against today's skincare and cosmetic standards. Don't you feel lucky to live in the future?
Mr. John Smith, Aged 137
The fellow in this photo is probably one of the oldest people you'll ever see. He was born in 1785 and passed away in 1922, which means he must have been one of the few people to live through the eighteenth, nineteenth, and twentieth centuries. He was also known as Gaa-binagwiiyaas, which means "when the flesh peels off."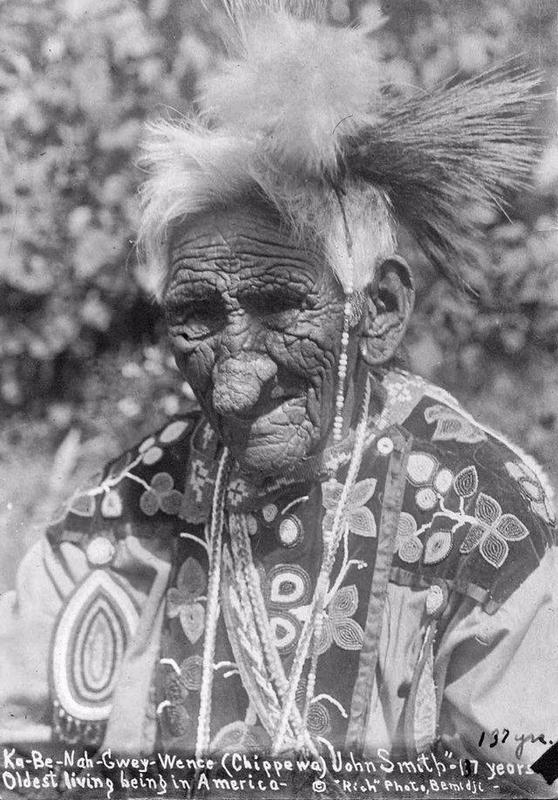 It seems that this fellow had a few nicknames, and in Southern Ojibwe was recorded as "Kahbe nagwi wens," "Kay-bah-nung-we-way" or "Ga-Be-Nah-Gewn-Wonce." What does it mean? Well, when translated into English, these names are variations on the phrase "Old Wrinkled Meat." Smith is credited with being the oldest-known Native American to have ever walked the earth, and the Chippewa man lived in Minnesota all his life. 
Railside Assistance
Anyone who has ever used baby powder knows this brand. It's Johnson and Johnson! The founder of the company was Mr. Robert Wood Johnson and happened to be on a train talking to the Denver and Rio Grande Railway surgeon.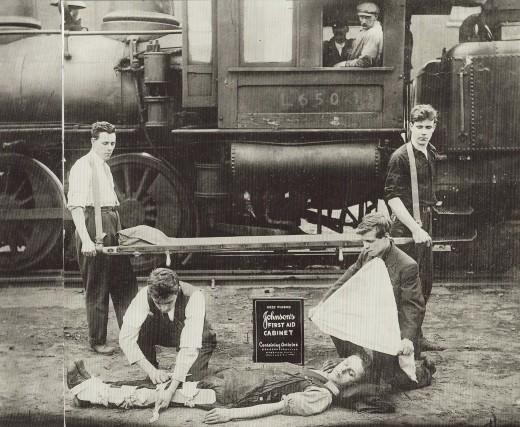 When the surgeon complained to Johnson that it was hard to treat people when something happened during a train journey, he had a lightbulb moment. What ensued was the invention of the modern first aid kit, which Johnson made by packaging a bunch of Johnson and Johnson products up in a special box for emergencies on the train. The more you know!
Grassman and Grassman
Stella Grassman and Deafy Grassman were some of the most tattooed people in the early 1900s. Although Deafy is tattooing her, Stella was a talented tattoo artist too. She even owned two tattoo parlors across America!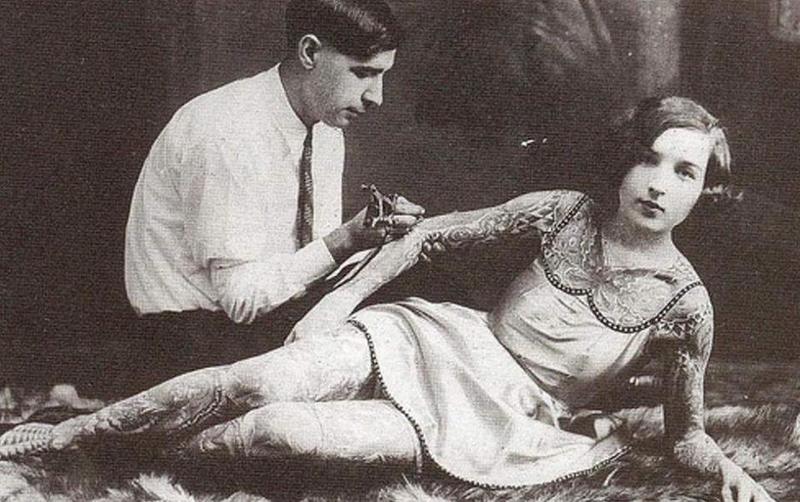 Together, husband and wife toured the country showing their unusually-inked bodies to the rest of the States. Because very few people had tatts, audiences were wowed by the artwork that covered them both. Pretty badass, don't you agree?
A Happy Accident
When I was only a few years old, I had to go get a tailbone x-ray. This baby looks just as concerned as I felt! Why? Much to my parents' displeasure, my grandfather jokingly told me they were going to cut off my tail, and I practically had to be dragged to the clinic. Anecdotes aside, the research that led to the advent of the x-ray was a total accident.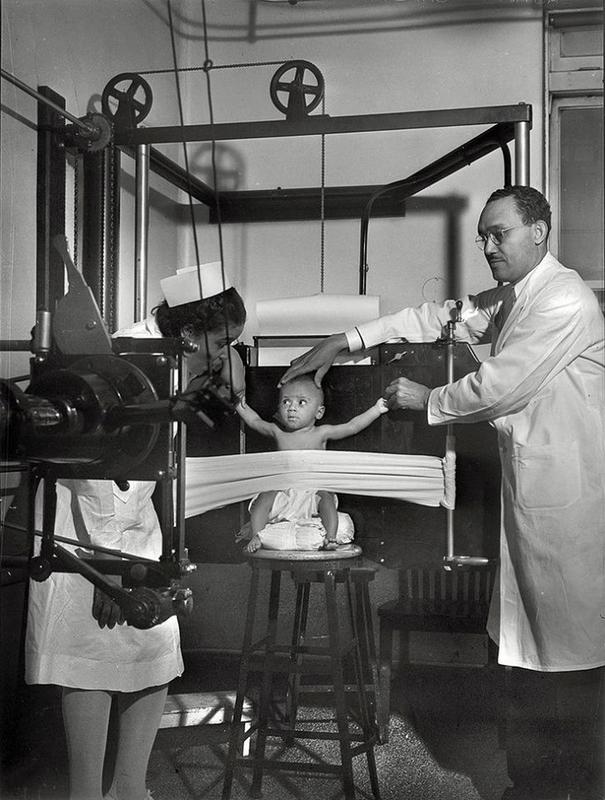 Dr. Wilhelm Rontgen invented the first x-ray machine in 1895, and discovered that cathode rays could pass through the skin but not bone! This meant that you could take a photo of the inside of the human body without cutting into the flesh. A pretty important leap for medicine, right? 
Eye-eye Captain!
Life must have been pretty rough before everyone had electricity. For starters, you couldn't just switch on the light at the wall - you'd have to manually light every lamp in the house. Can you imagine how difficult it would have been to put the streetlamps on every night?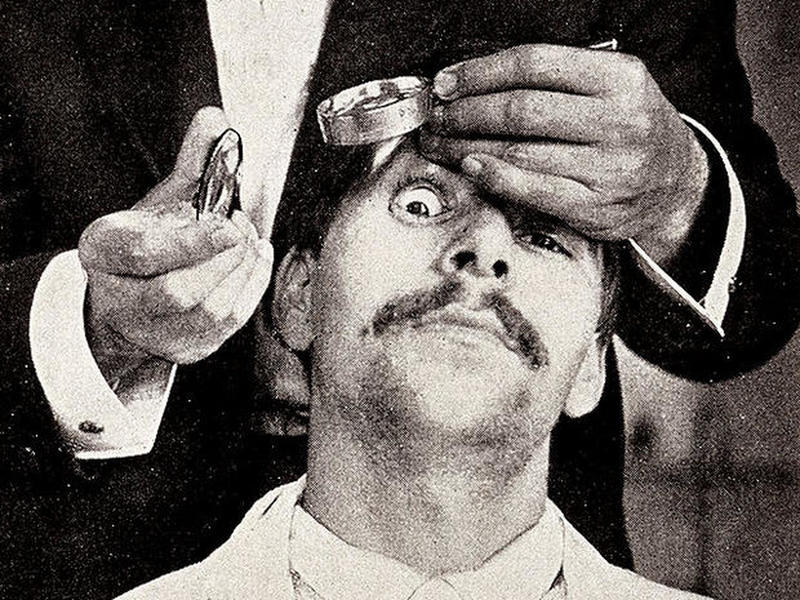 One of the hardest things for opticians, however, was trying to see into someone's eye without a torch or light. Do you know what they used back in the day? Yep, candlelight. We wonder how many people ended up with singed eyeballs… Yikes!
A Scandalous Sight
In the nineteenth century, women were barely allowed to show any skin, let alone a full leg! This lady agreed to show off her prosthetic leg for doctors to take a photo of, but only on one condition: that she could keep her identity a secret!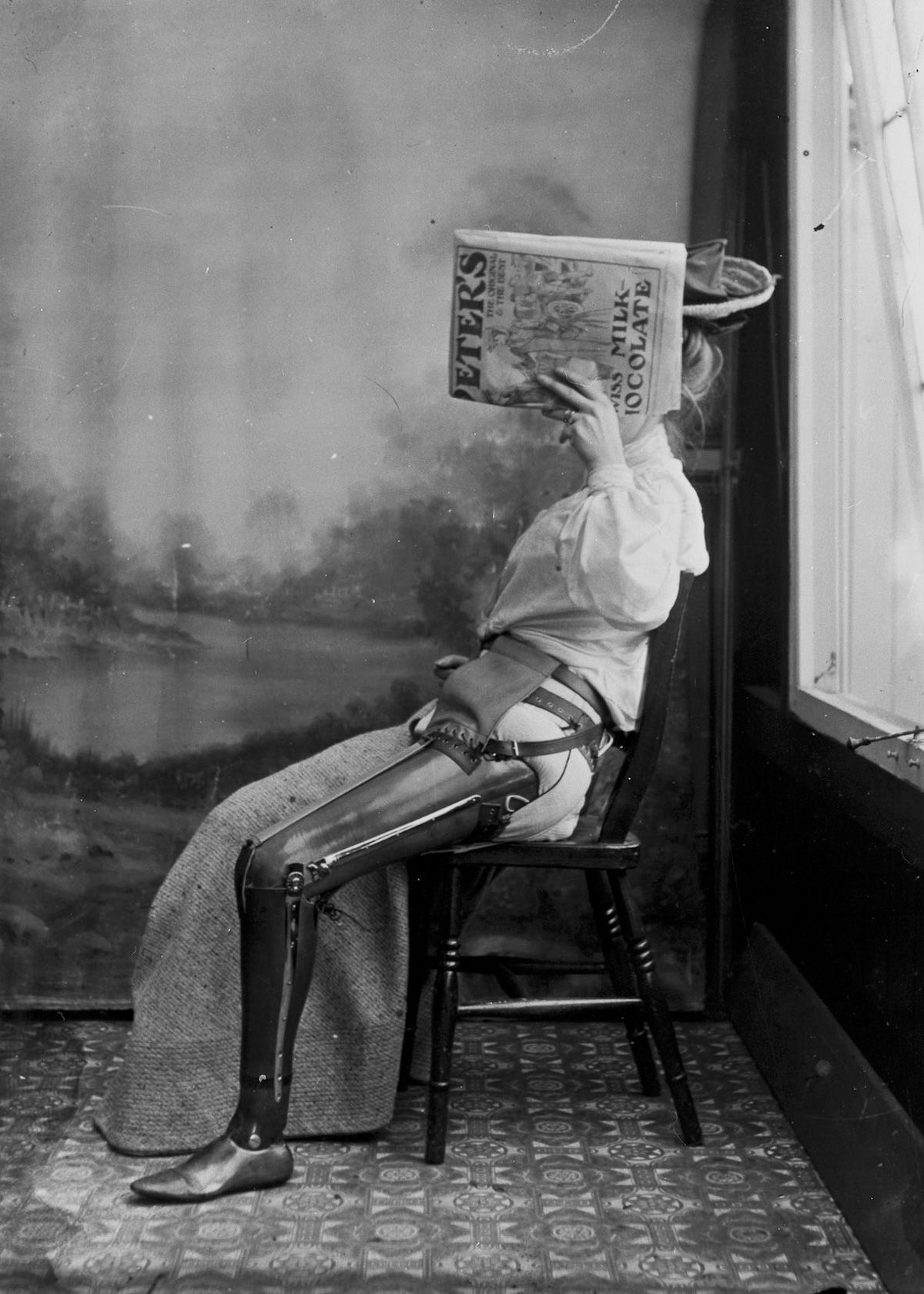 We guess she didn't want to be known as a wanton woman for flashing so much leg in a photo. It's nearly amusing to think that the Victorians would have made such a fuss over a bit of leg. Can you imagine what they would have to say about Playboy or Sports Illustrated?!
The Incredible Galvanometer
The term 'ECG' gets thrown around a lot, but do many of us even know what it is? Well, you're about to find out. An ECG is an electrocardiogram and was invented by Wilhelm Einthoven. The Dutch doctor would receive a Nobel Prize in 1924 for his work!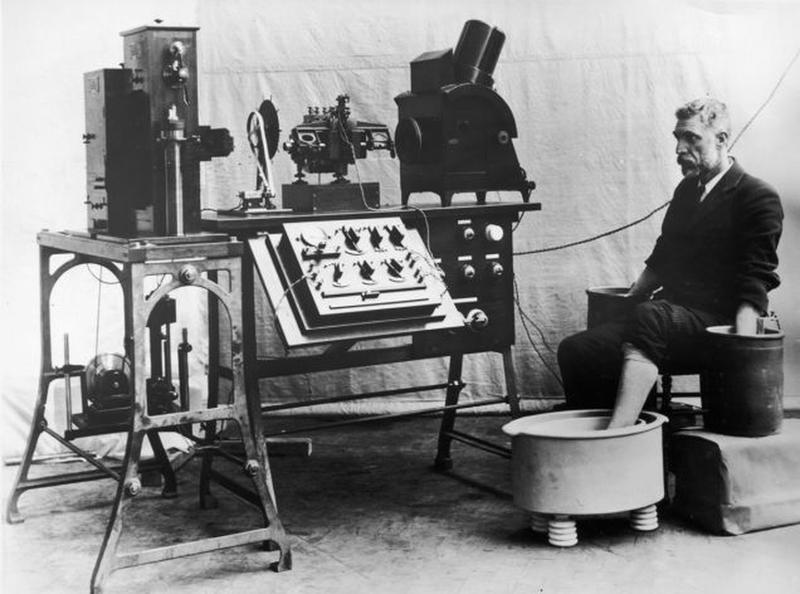 He figured it out by using thin conductive wire and super-strong magnets, which definitely clears things up. Magic? Nah, just magnets. Which is basically the same thing. At any rate, today's ECG machines are way less bulky!
Not for the Squeamish
Of all the unusual medical methods in this collection, surely bloodletting has to be the one that comes to mind when you think about strange old-school practices. To drain blood, leeches were placed on the skin, and these glass cups were then put over the top of each.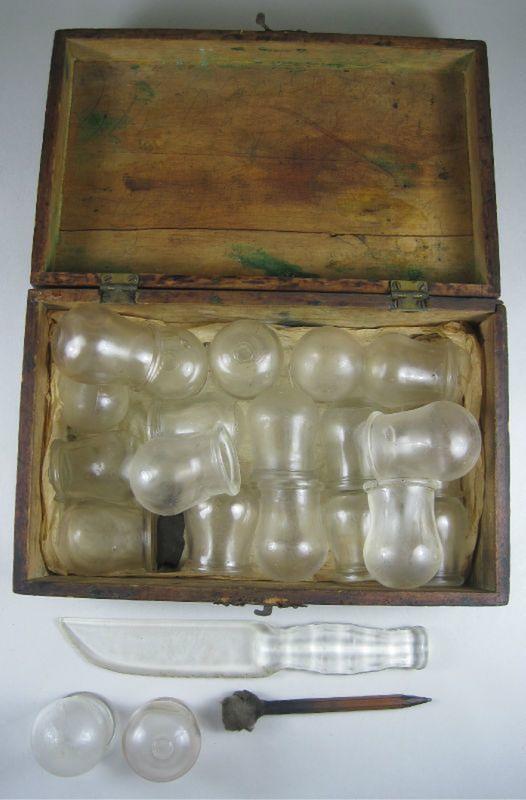 The leeches would then suck up your blood like tiny vampires. This technique goes back way further than a century or two though: they were doing it in Greece, in fifth century BC. A guy named Erasistratus thought that disease was caused by having too much of something in the blood, and told people to sweat or vomit to get the sickness out. Eeew...
Phew! Did you manage to stay with us till the very end? Congratulations! Just like Victorians after a successful amputation, let's raise a glass to modern medicine. While some of these medical facts were pretty strange, we're lucky to live in the twenty-first century where people know about the dangers of bloodletting, lobotomies, and tanning babies. And of course, science is all about trial and error, so without these things, we might not be so lucky today!
If you enjoyed reading this article, be sure to share it with a medically-minded friend. And if you didn't, well, it's not likely you've made it to the end anyway! For more mind-blowing historical photos, facts, and backstories, you may want to have a look at some of these other articles...