30+ Celebrities And Their Children When They Were The Same Age
Regular people might forget that celebrities are normal human beings in general. It might be because their lives are under the spotlight, and anyone can know everything about them. As we grow up, we start thinking about having a family, and many stars have children. These kids might actually follow their parents' footsteps into Hollywood. From the Eastwoods to the Jolies, we have gathered a look into famous people's lives and their offspring when they were the same age. Some of them seem like twins! Let's find out more!
CLINT EASTWOOD AND SCOTT EASTWOOD – THEIR 30s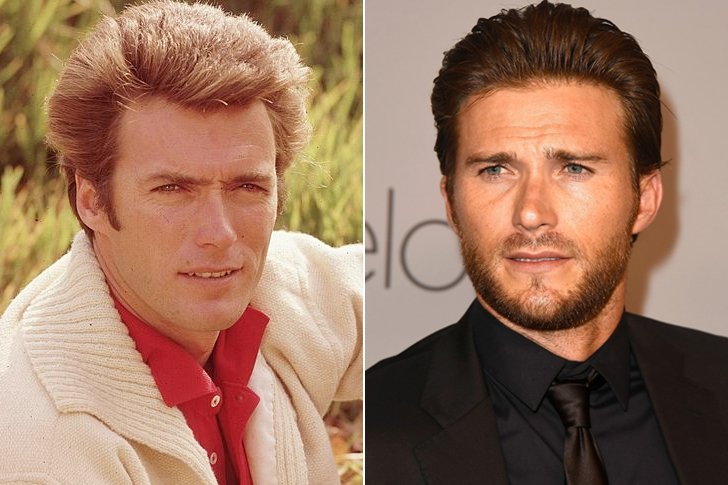 Clint had a son with a flight attendant named Jacelyn Reeves, and Scott looks exactly like his father. Their facial characteristics are alike, and it definitely reminded us of a younger Clint Eastwood during his cowboy-movie era. Scott is also an actor himself and has gotten roles in films such as 'Texas Chainsaw', 'The Longest Ride', as well as 'Pacific Rim: Uprising'. His latest movie was 'The Outpost' alongside Orlando Bloom. Meanwhile, Clint's most recent film was 'The Mule' from 2018.
GOLDIE HAWN AND KATE HUDSON – THEIR MID-20s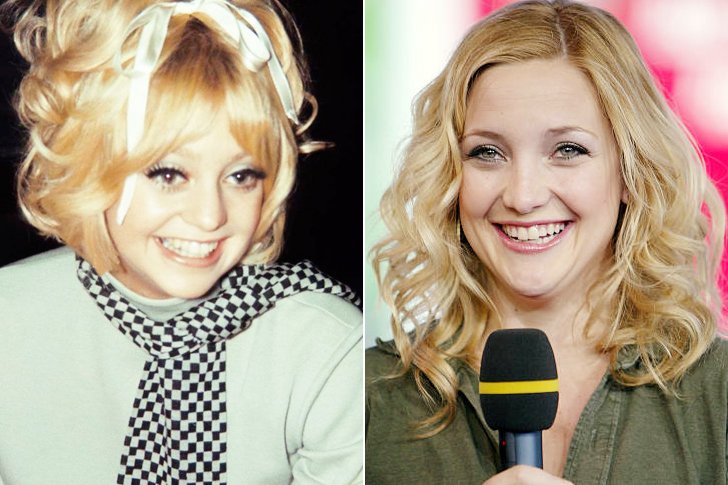 Every fan of Kate Hudson knows that she is the daughter of Goldie Hawn. It was hard to miss because they both look so alike, and this picture is further evidence. You might remember Hudson from films like 'How To Lose A Guy In 10 Days', 'Bride Wars', 'Almost Famous', 'Raising Helen', 'You, Me & Dupree', and countless more. Meanwhile, Goldie Hawn is best remembered for movies such as 'The First Wives Club', 'Foul Play', 'Bird On A Wire', 'Housesitter', and several others.
MINNIE RIPPERTON AND MAYA RUDOLPH – THEIR 20s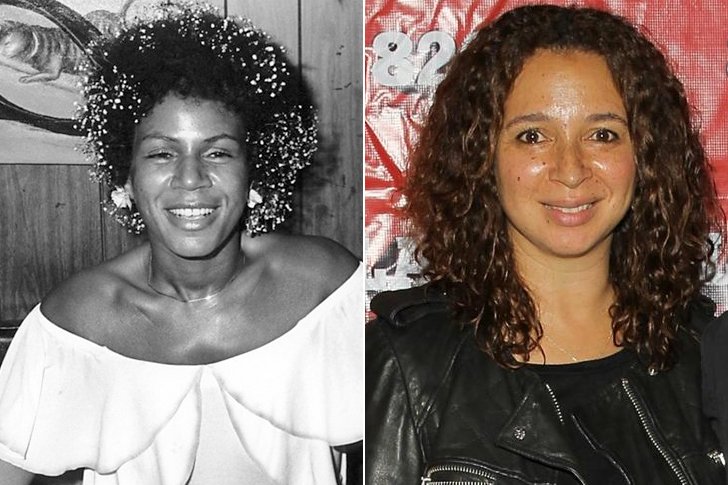 Many people fell in love with Maya Rudolph during her time on 'Saturday Night Live', but they might not know that she is the daughter of Minnie Ripperton. Ripperton was one of the most influential female singer-songwriters of the 60s and 70s. Her song 'Lovin' You' was a huge hit, especially for her whistle register, which got her dubbed as the Queen of the Whistle Register. Sadly, she passed away on July 12, 1979. Maya has had a great career in Hollywood movies like 'Bridesmaids', 'Big Hero 6', and the show 'The Good Place' for which she received an Emmy.
KIRK DOUGLAS AND MICHAEL DOUGLAS – THEIR 30s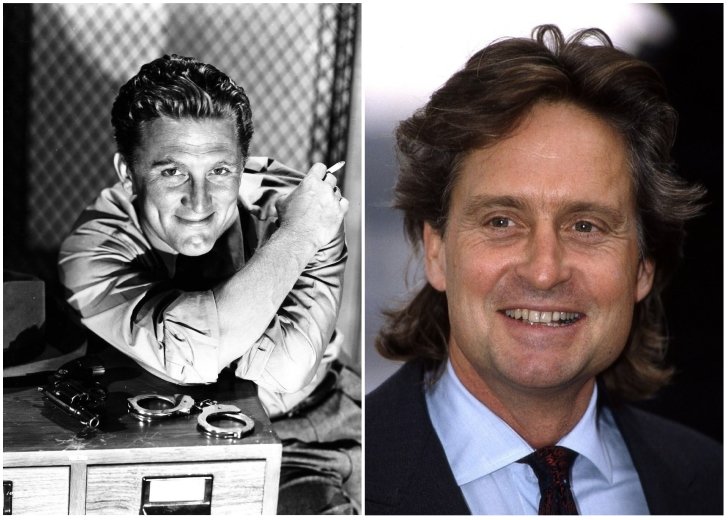 Kirk Douglas is one of the oldest living actors of Hollywood's Golden Age. He is more than 100 years old, and his legacy has carried on thanks to his son, Michael. Michael is also one of the most respected actors in the industry, proving that he not only inherited his father's great looks but also his talent. Younger fans might have never seen them both in their youth, but the resemblance is uncanny. One of Kirk's biggest roles was in 'Spartacus' from 1960, and you might remember Michael from 'Basic Instinct' as well as many other classics.
BLYTHE DANNER AND GWYNETH PALTROW – THEIR 30S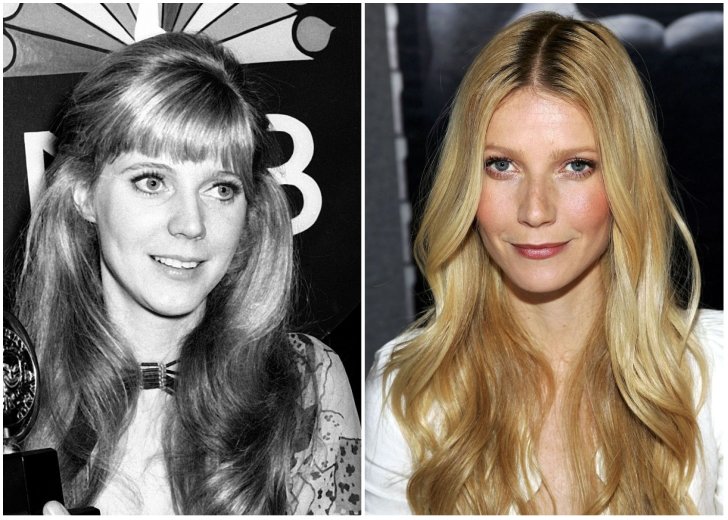 Gwyneth Paltrow is an Academy Award-winning actress with huge popularity all over the world, and she inherited her talent and beauty from actress Blythe Danner. She also had the amazing blonde look that made so many people fall in love with Gwyneth. Danner is still active in Hollywood today with movies like 'I'll See You In My Dreams' and 'The Tomorrow Man'. Meanwhile, Gwyneth recently appeared in Marvel's 'Avengers: Endgame' alongside Robert Downey Jr.
JERRY STILLER AND BEN STILLER – THEIR 40s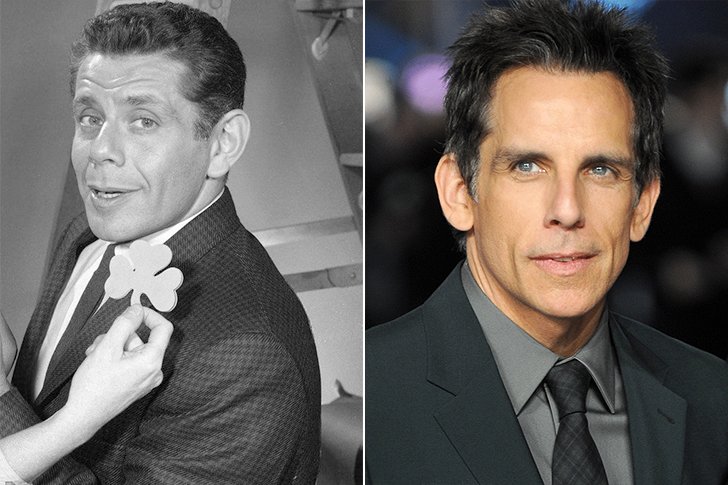 Ben Stiller was one of the funniest actors of the 2000s. So, many people around the world know him for films like 'Zoolander', 'Tropic Thunder', 'Night at the Museum', and several more. Unfortunately, Ben was diagnosed with prostate cancer in 2014, but he announced that he was recovering in 2016. You might remember that his father is the legendary comedian Jerry Stiller, who has been in the business since 1953. Jerry was part of the comedy duo with Anne Meara, Ben's mother. He also appeared in 'Seinfeld', 'King of Queens', and more.
PEGGY LIPTON AND RASHIDA JONES – THEIR LATE 20s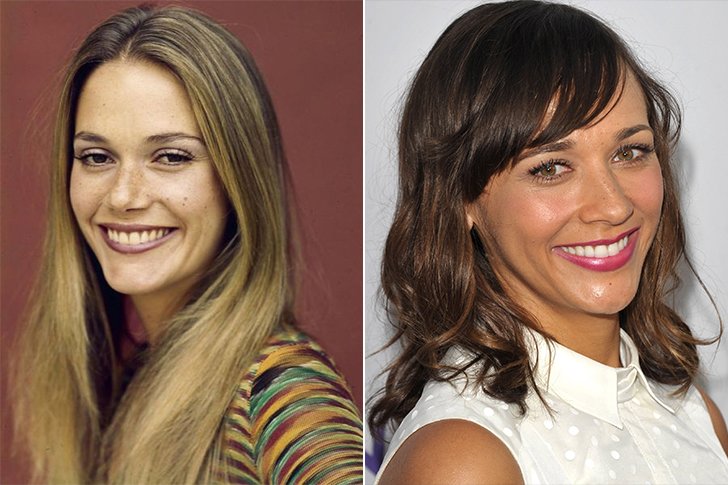 Lipton was a model and actress who started her career in 1965. She is best recognized for 'The Mod Squad', which ran between 1968 and 1973. Additionally, the actress part of David Lynch's 'Twin Peaks' and even came back for the revival in 2017. Meanwhile, Rashida Jones, her daughter, is making a name for herself in the industry, starting with her role on 'Parks and Recreation' and working on movies like 'The Social Network', 'The Muppets', 'Celeste and Jesse Forever', and 'Angie Tribeca'. Her father is the music producer Quincy Jones, and Rashida co-produced the documentary about him in 2018.
FAITH HILL AND MAGGIE MCGRAW – THEIR LATE TEENS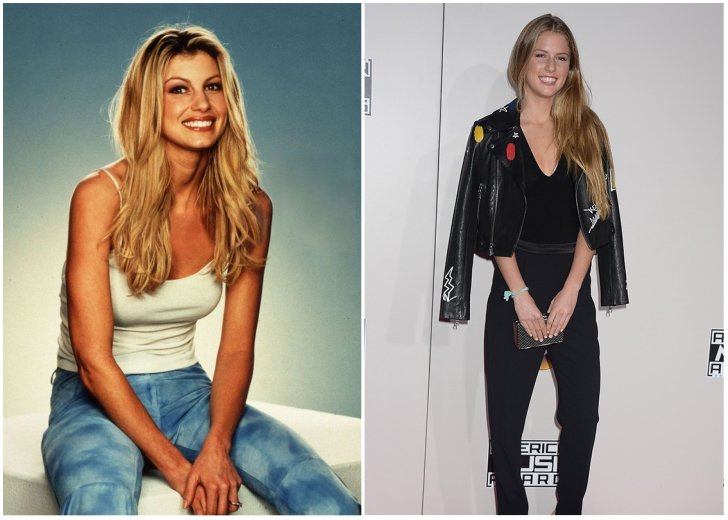 It's extremely easy to tell that their ladies are mother and daughter, but it was never a secret because Maggie made many appearances with her parents, Faith Hill and Tim McGraw, at important events. Unlike some of the other offspring in this list, Maggie has chosen to follow a different path from her parents by pursuing a degree at Stanford. The young woman has inherited her mother's amazing looks, and she would definitely fit in in the entertainment industry. We have to wonder if she can sing as well.
VANESSA PARADIS AND LILY-ROSE DEPP – THEIR TEENS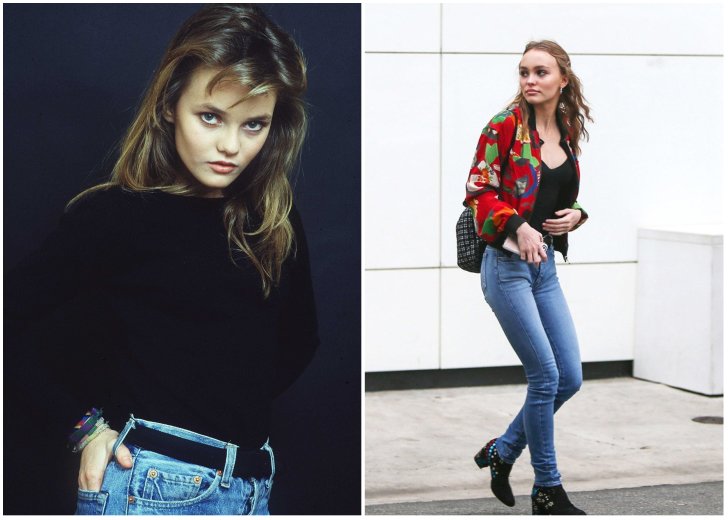 Lily-Rose Depp is the daughter of actor Johnny Depp and French actress Vanessa Paradis, who is also a singer. The young woman definitely got Vanessa's gorgeous looks with the same facial features as well as a modelesque body type. This picture makes them look like sisters. Meanwhile, Lily-Rose is following her father's footsteps into Hollywood. She has already appeared on several projects, but her latest work is Netflix's 'The King' with Timothée Chalamet and Robert Pattinson. Sadly, the movie was not liked by critics.
STELLAN SKARSGÅRD AND ALEXANDER SKARSGÅRD – THEIR 30s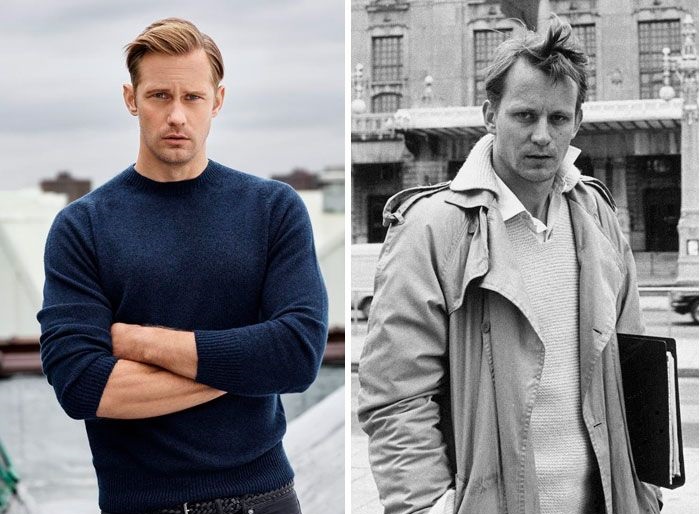 Alexander Skarsgård has risen in Hollywood slowly but surely. He has also proven that his looks are accompanied by amazing talent. However, his father, Stellan, is arguably way more famous than him. He is still active today, and you might have seen him in HBO's mini-series 'Chernobyl', which recently won an Emmy. Meanwhile, Alexander's latest work was 'The Aftermath' with Keira Knightley, and he also made brief appearances on the second season of 'Big Little Lies'.
KATE MOSS AND LILA GRACE MOSS – THEIR TEENS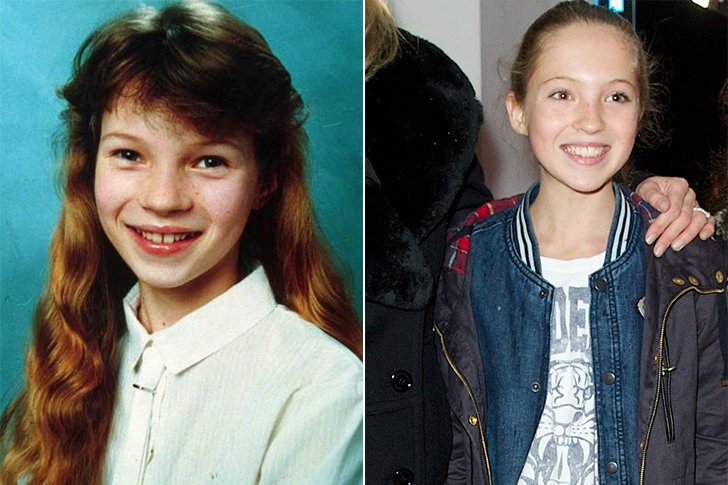 Kate Moss is one of the biggest models in the entire world, and she started her career at the age of 14 in 1988. Sarah Doukas discovered this amazing girl at an airport in New York City, and Kate quickly rose to become part of the "Supermodel Era". Her daughter was born in 2002 and starred in a short movie called 'Love' in 2016. Kate brings her around to many of her events, and the press has always been wondering if Lila might follow her mother's footsteps. In the meantime, it seems that she prefers to keep to herself.
DEBBIE REYNOLDS AND CARRIE FISHER – THEIR EARLY 20s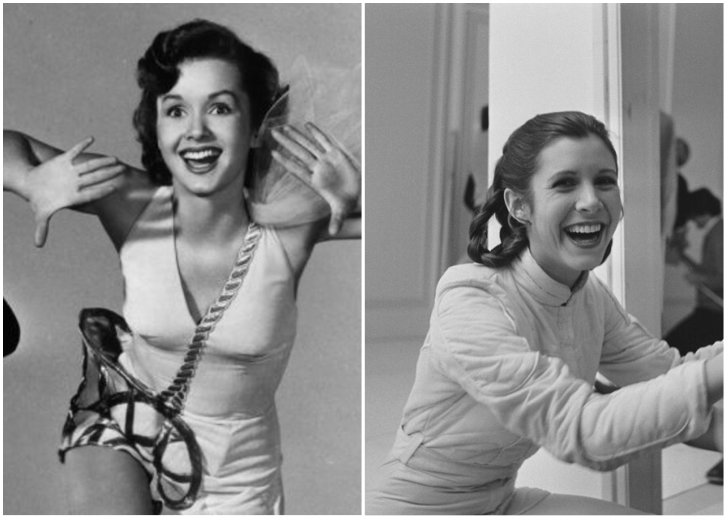 Debbie was another amazing legendary actress in Hollywood, and the world was shocked to hear of her passing in 2016. Meanwhile, her daughter, Carrie Fisher, was also a treasure to everyone, especially for her role as Princess Leia in the 'Star Wars' franchise. Unfortunately, Fisher died days before her mother, and it was a time of mourning for the acting industry. Their relationship went through many ups and downs, but everyone knew they were close. Some think that Debbie couldn't live without her daughter anymore.
KIM BASINGER AND IRELAND BALDWIN – THEIR 20s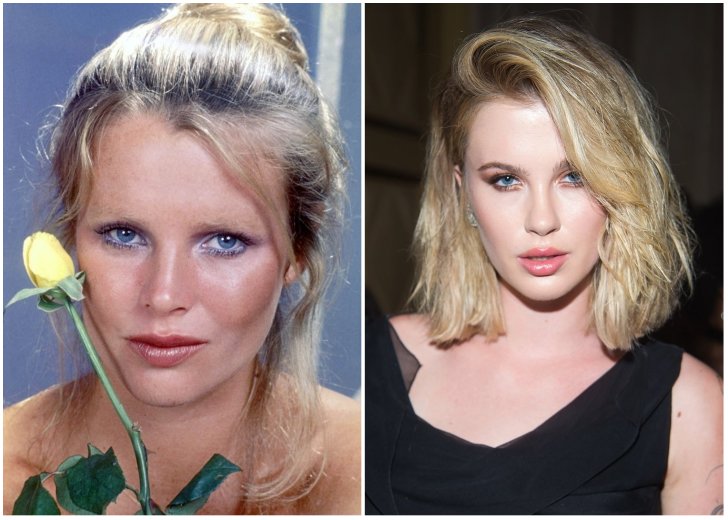 Basinger had Ireland with actor Alec Baldwin, and although their marriage eventually ended, they raised a beautiful, talented girl. Ireland is definitely their most recognized offspring as she has become a model and actress. Additionally, her career is bound to be amazing because she definitely inherited Kim's looks. We don't expect her to have any trouble finding jobs with such DNA. Meanwhile, Alex is very active in the industry, and some of his latest movies include 'Before You Know It' and 'Framing John Delorean'.
JANET LEIGH AND JAMIE LEE CURTIS – THEIR 20s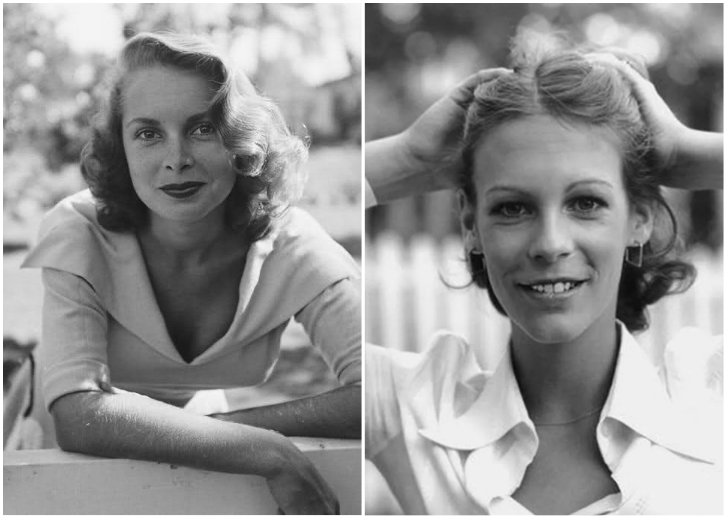 Leigh was another actress from the Golden Age of Hollywood and became a household thanks to Hitchcock's 'Psycho'. The actress was mostly known for other thrillers, and her daughter, Jamie Lee Curtis, also entered the world of horror movies by starring in the 'Halloween' franchise during the 80s and 90s. Curtis has expanded into other kinds of films. You might remember her alongside Lindsay Lohan in the film 'Freaky Friday'. Additionally, Jamie is the daughter of actor Tony Curtis, who was in 'Spartacus' and other major films.
MICHAEL JACKSON AND PRINCE JACKSON II - CHILDHOOD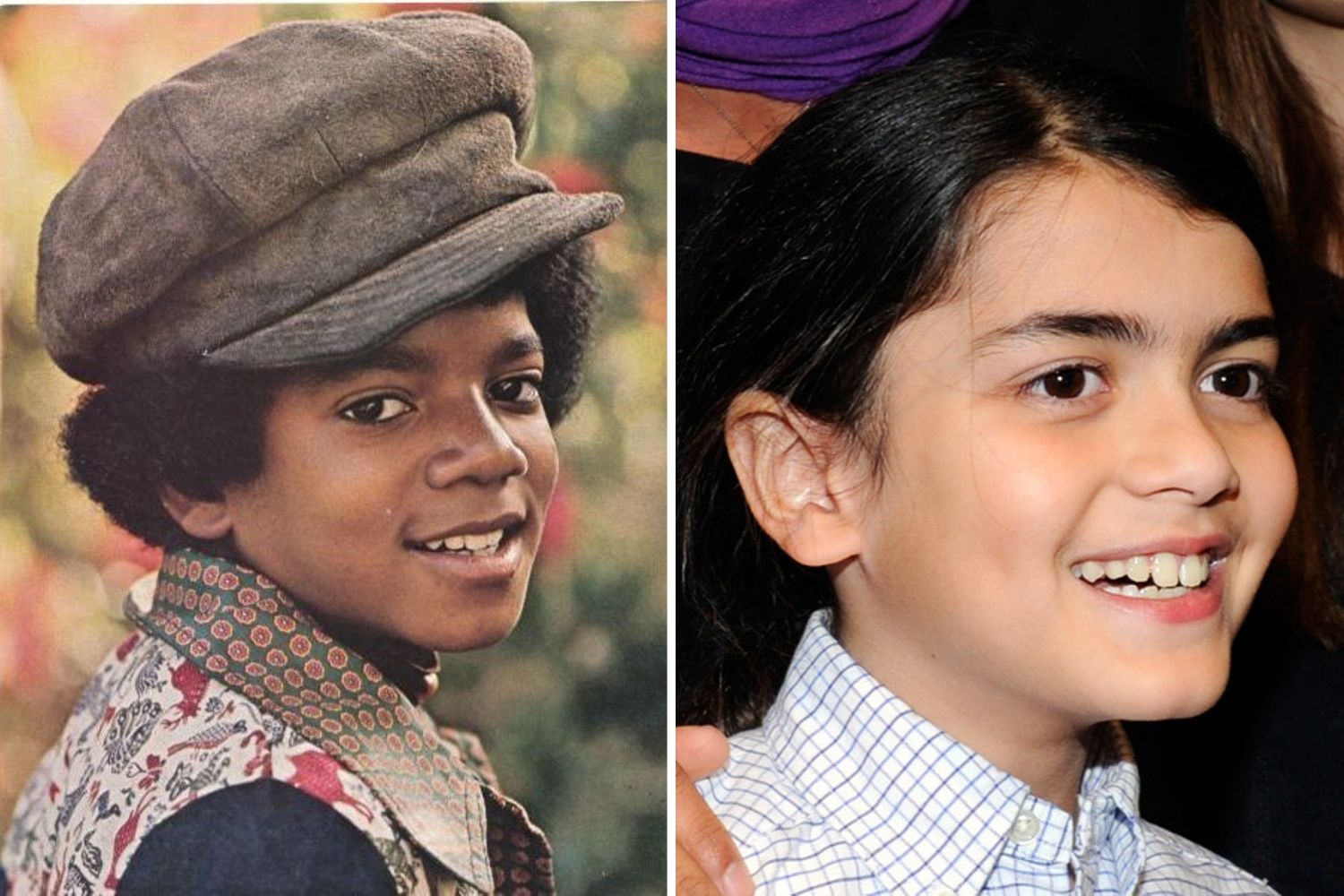 Prince Michael Jackson II, known by many people as Blanquet due to the window incident, prefers to be known as Bigi. Of all his brothers, he shows the greatest similarity to his father, Michael Jackson, due to his features. Although he has decided to live away from the tabloids, he currently lives in Los Angeles with his grandmother Katherine. He is a shy boy who tries to maintain a close relationship with his brothers despite not seeing them very often.
NANCY KERRIGAN AND MATTHEW ERIC SOLOMON – THEIR 30s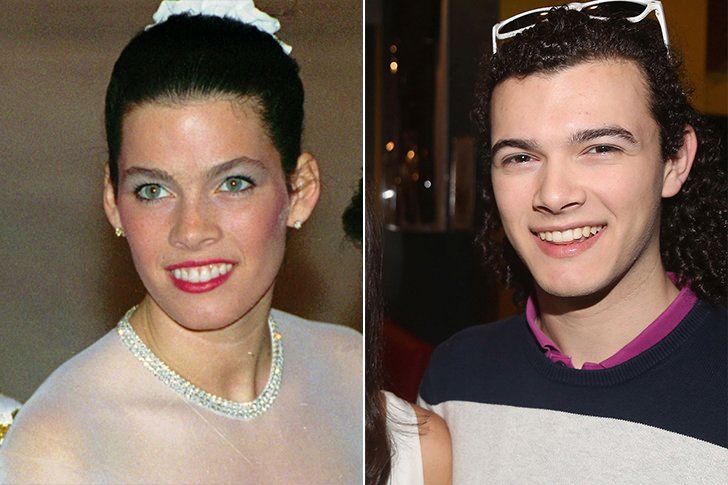 Kerrigan rose to the spotlight as a figure skater, and then, entered the acting business. As a skater, she won many medals in several competitions like the Olympics back in the 1990s. Furthermore, she was also the US National Figure Skating Champion of 1993 and indicted into the Figure Skater Hall of Fame in 2004. Nancy retired in 1994 and has appeared on television many times. She was even a correspondent at the Super Bowl for Inside Edition in 2018. Meanwhile, her son Matthew designs costumes and works in theater.
TOM HANKS AND COLIN HANKS – THEIR 20s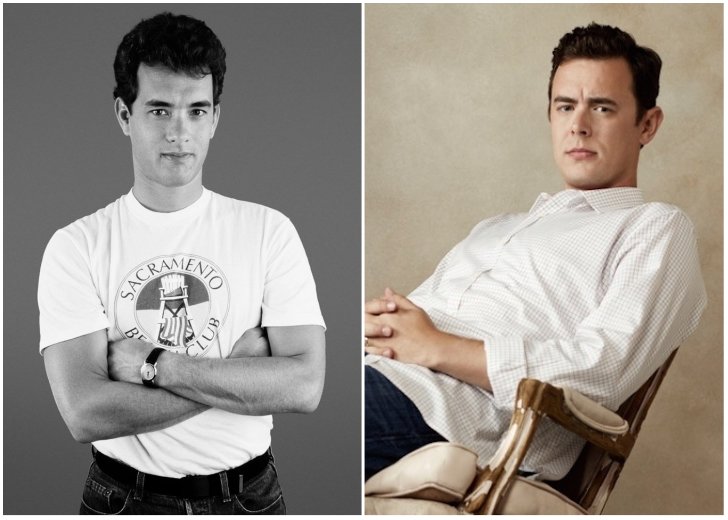 There are very few people around the world who don't know about Tom Hanks. However, his son is also doing amazing in the industry. Therefore, the name Hanks has become a synonym of great acting. Of course, Tom has a lot more success and experience, but Colin will catch up. Watching him on the big screen is like looking at a younger version of his father. He might be winning Academy Awards soon. Tom is adored for movies like 'Saving Mr. Banks', 'Forrest Gump', 'Cast Away', and more. Colin recently appeared in 'Jumanji: Welcome to the Jungle'.
ELIZABETH TAYLOR AND NAOMI DELUCE - THEIR 20s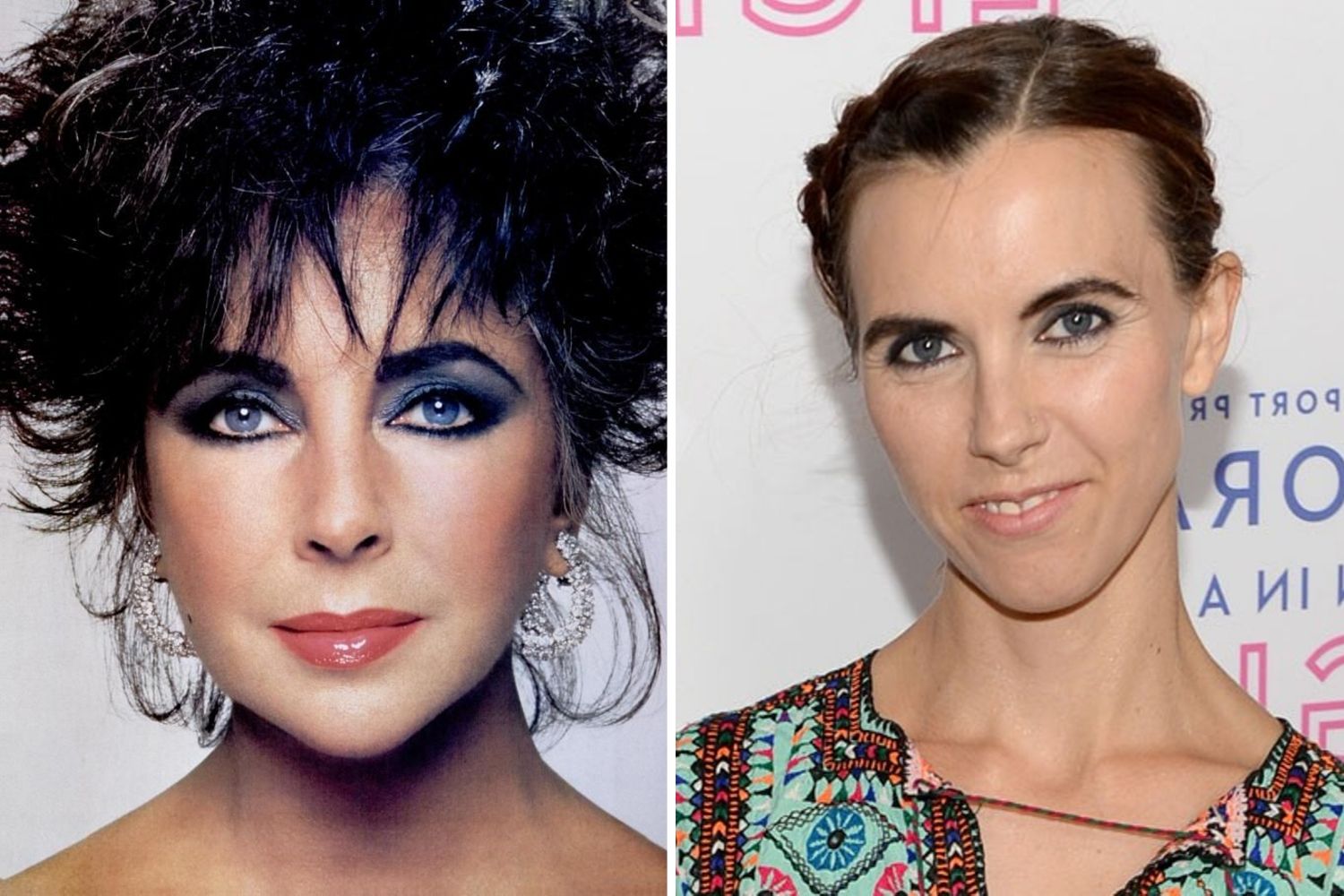 Naomi Deluca, Elizabeth Taylor's granddaughter, has an incredible resemblance to her famous grandmother. She has revealed in several interviews that growing up with her was a "fairy tale" and that Liz inspired her to enter the fashion world.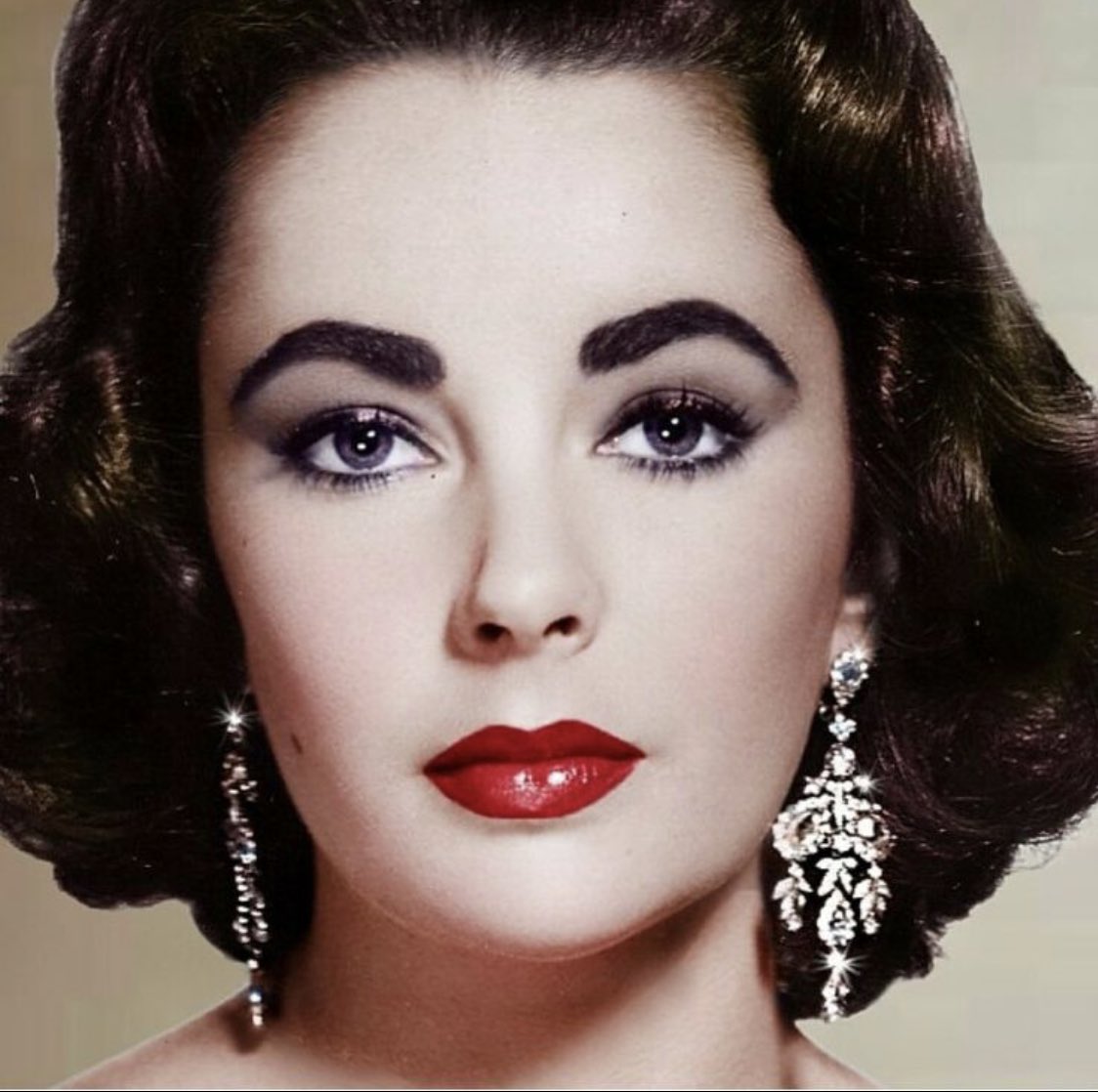 Naomi lived with her grandmother for almost 3 years and absorbed a lot from her since she was always by her side and tried to teach her everything she knew, but genetics helped her and it is impossible not to see features of the beautiful actress in her.
JADA PINKETT AND WILLOW SMITH – THEIR TEENS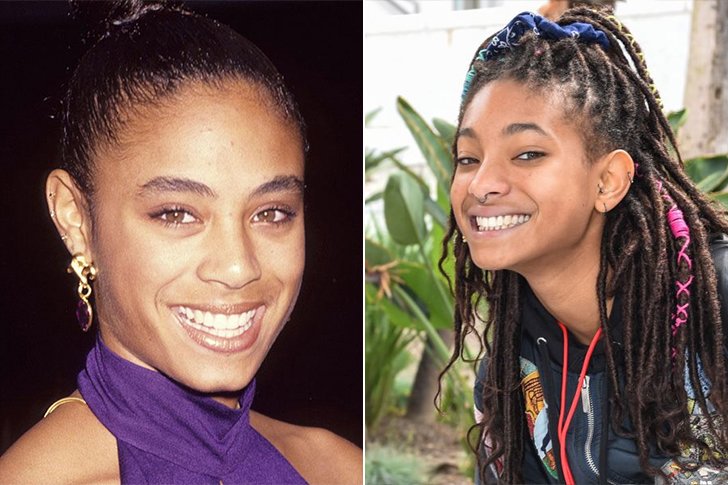 Pinkett found her fame after appearing in 'The Nutty Professor', but she has also been part of 'Scream 2', 'The Matrix', 'Bad Moms', and even 'Madagascar'. She is currently working on a Facebook Watch talk show called 'The Red Table Talk Show'. She married actor Will Smith in 1997, and they have two kids, Willow and Jaden. Both are involved in the acting industry, but Willow might be doing even better than her mother. She has been in 'I Am Legend', 'Whip My Hair', '21st Century Girl', and others.
NAOMI JUDD AND ASHLEY JUDD – THEIR LATE 30s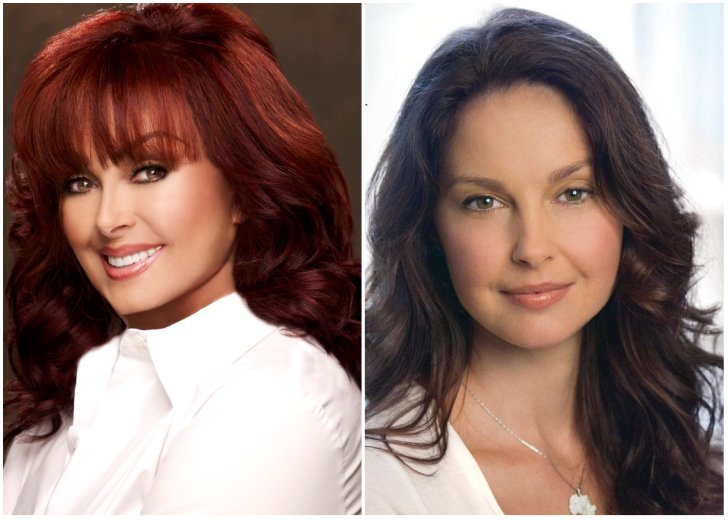 Ashley was much bigger in the 90s and early 2000s, but she has always been a big part of Hollywood. People have always commented on her looks, although they might not know that she comes from a family seriously involved in the business of show. Her mother is country singer Naomi Judd, who was in a group called The Judds with her sister, Wynona (Ashley's aunt). Ashley much preferred being an actress than a singer, but entertaining was in her genes. Luckily, she did inherit her mother's beautiful looks.
ANGELINA JOLIE AND VIVIENNE MARCHELING JOLIE-PITT – THEIR CHILDHOOD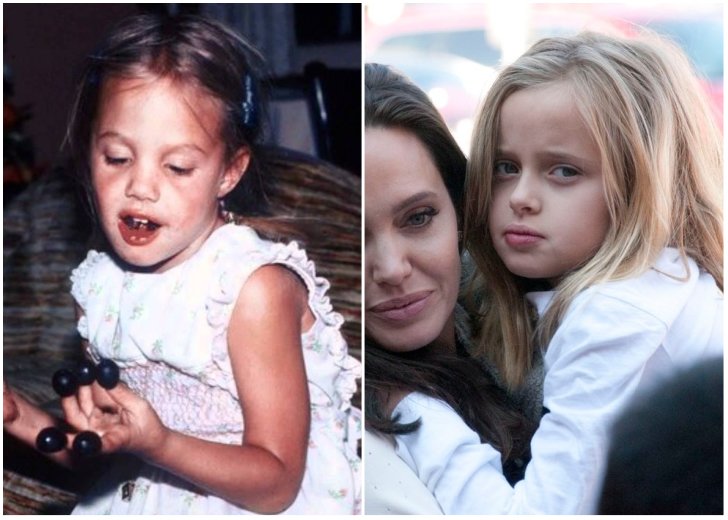 The actress is extremely similar to her father, Jon Voight, and aside from her successful career, the world knows that Angelina is a great mother. Many of her kids were adopted, but she did have three biological children with ex-husband Brad Pott. Their youngest is Vivienne, and she is Jolie's doppelganger. Her father has the same features, and she might become a great actress like her momma. Meanwhile, you might recognize her for starring next to Angelina on Disney's 'Maleficent'.
DIANA ROSS AND TRACEE ELLIS ROSS – THEIR EARLY 40s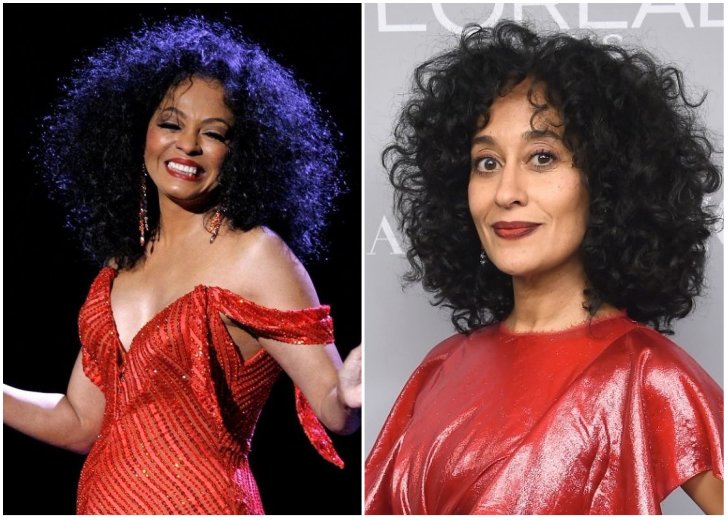 Ellis Ross is currently doing amazing in the world of television thanks to the sitcom 'Black-ish', which has been nominated for Emmys. She is making people laugh all the time, and she recently honored her mother, Diana Ross, in an award show. Diana and Tracee definitely look like sisters when they were the same age. Aside from being wonderfully similar, both women have described that their relationship is like being best friends. That's just beautiful.
MERYL STREEP AND MAMIE GUMMER – THEIR 30s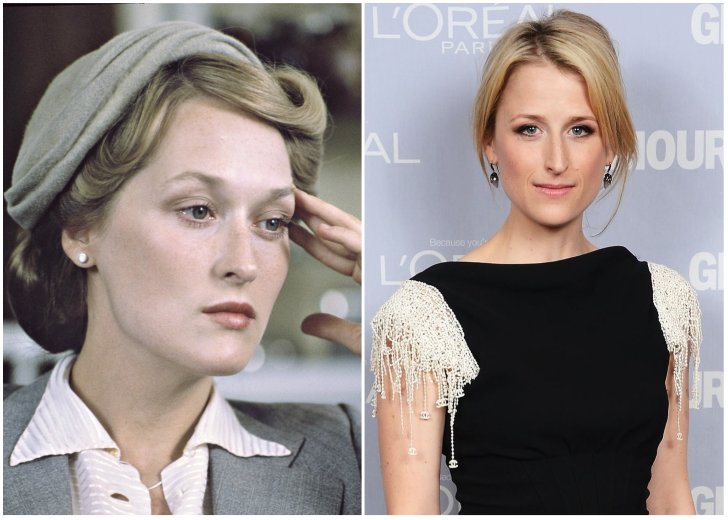 Unfortunately, Gummer has some seriously big shoes to fill if she wants to become half the actress her mother is. Meryl is one of the most respected women in Hollywood and has the recorded for the actress with most Academy Award nominations. That's a lot of pressure, and Mamie has a long way to go before she reaches her mother's massive net worth. Luckily, her looks might be an advantage because they are just too similar in many ways. Meryl has always had a weird but timeless beauty.
AMON WAYANS AND DAMON WAYANS JR. – THEIR 30s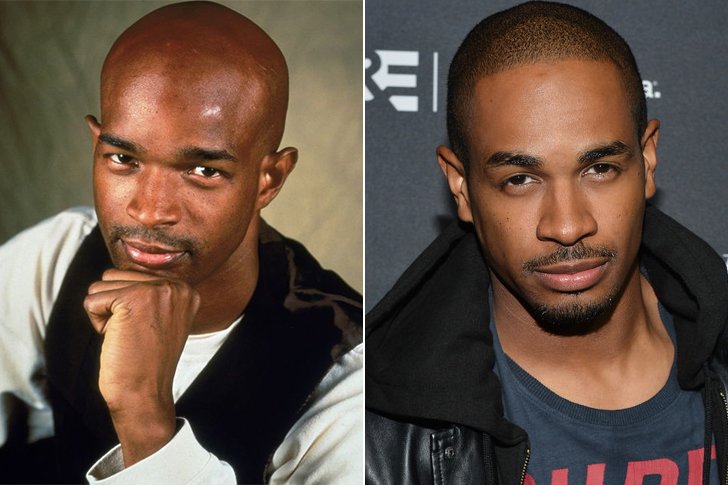 Wayans Sr. has always been respected in the business for producing many funny projects with his siblings. He found fame in the 80s with shows and movies like 'Saturday Night Live', 'In Living Color', 'The Last Boy Scout', 'Major Payne', the 'Lethal Weapon' series', and more. Meanwhile, his son, Damon Jr. has also made a name for himself already, starring in 'New Girl', 'Let's Be Cops', and even as the voice of Wasabi on 'Big Hero 6'. Last year, his father appeared on 'Happy Together', while he acted on 'Super Troopers 2'.
MANDY TEEFEY AND SELENA GOMEZ – THEIR TEENS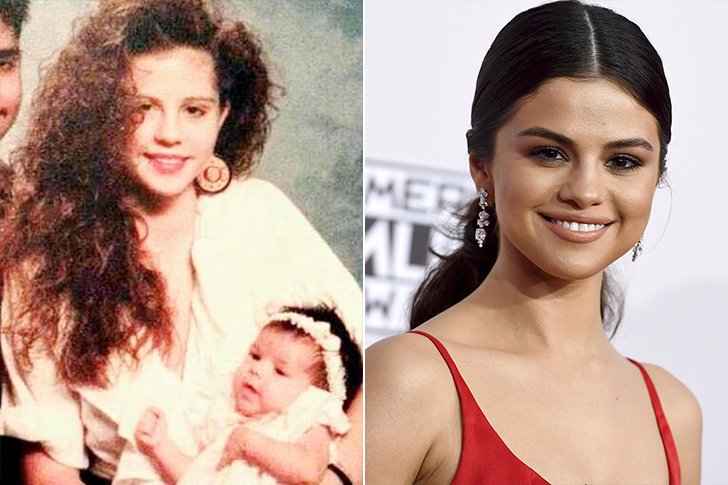 You might not know exactly how Teefey is because she stays behind the camera. She is the producer for shows like 'The Ant Bully', '13 Reason Why', 'Lucky Lance 6', and more. Selena Gomez is her eldest child, and she was in 1992. Gomez quickly took over the world while acting and singing in children's shows and movies like 'Wizard of Waverly Place', 'Another Cinderella Story', 'Spring Breakers', 'Getaway', as well as voicing the character of Mavis in the 'Hotel Transylvania' franchise. The singer launched 3 records with her band 'Selena Gomez & The Scene'.
BRIAN WILLIAMS AND ALLISON WILLIAMS – THEIR LATE 20s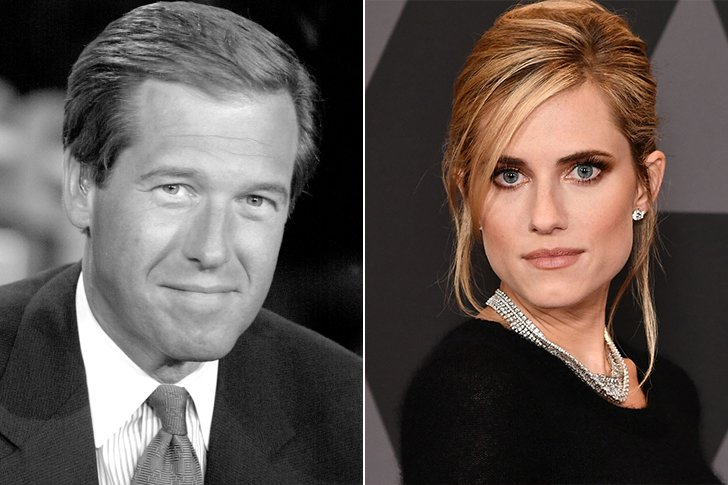 Brian is a respected journalist, best recognized as the host of 'The 11th Hour with Brian Williams'. He has always been an anchor for NBC 'Nightly News' but was let go for "misrepresenting the Iraq War events". Meanwhile, his daughter, Allison, is known as an actress, singer, and comedian. She appeared on 'Girls', 'Get Out', 'Jake and Amir', 'Peter Pan Live!', 'A Series of Unfortunate Events', and many others. Her father received the "Father of the Year" recognition in 1996, and Allison is a Horizons National's ambassador.
KRIS JENNER AND KENDAL JENNER – THEIR EARLY 20s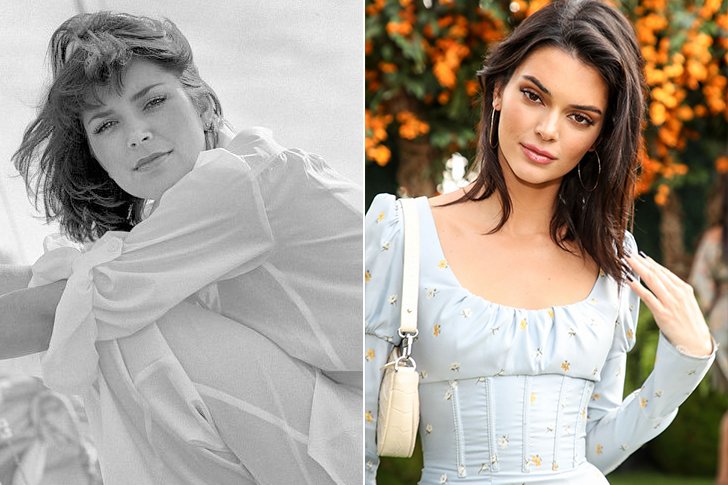 Almost everyone in the world knows about The Kardashians, and Kendall is one of their youngest. She is the daughter of Kris Jenner and Caitlyn Jenner, who was originally known as Bruce Jenner before transitioning. Kendall was born in 1995 and has quickly risen in the world of modeling just like many young women these days, which Vogue calls "the Instagirl Era". Harper's Bazaars says it's 'Social Media Modeling'. Meanwhile, Kris is a savvy businesswoman, who has managed to capitalize on their reality show to make the most profits.
DAVID BECKHAM AND BROOKLYN BECKHAM – THEIR LATE TEENS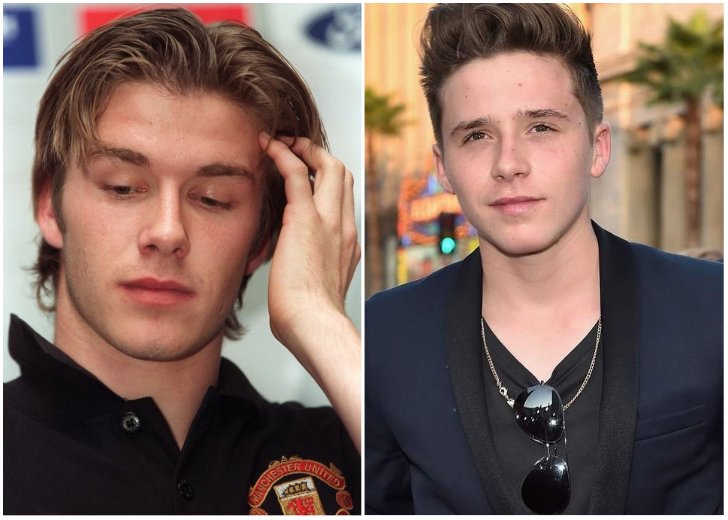 Beckham is one of the biggest names in the world of professional soccer. You might remember the movie 'Bend it like Beckham', which was inspired by how great a player he has always been. People expected his sons, especially the eldest, to go into the business as well. However, Brooklyn is not going into soccer. He is focusing on photography and college, but luckily, he is just as handsome as his father. If he also inherited David's drive to succeed, there should be a big future in his path.
YOLANDA FOSTER AND GIGI HADID – THEIR LATE TEENS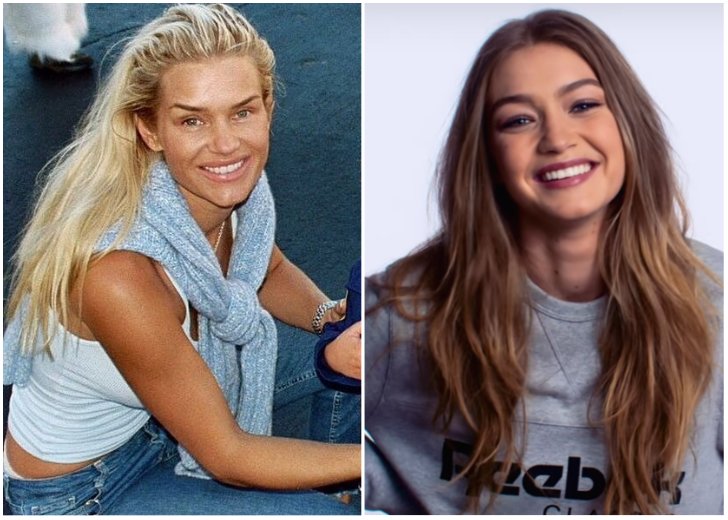 Gigi Hadid is another model who rose on social media to become the "It" girl of our times. However, most people have no idea that her mother, Yolanda Foster, was also a major model. Now that Yolanda has retired, she can let Gigi, and her other daughter Bella, take on the world of fashion and entertainment for themselves. It looks like there is no stopping the Hadid sisters anytime soon. Additionally, after inheriting Yolanda's amazing looks, these girls had no option but to become models.
ANDIE MACDOWELL AND RAINEY QUALLEY – THEIR 20s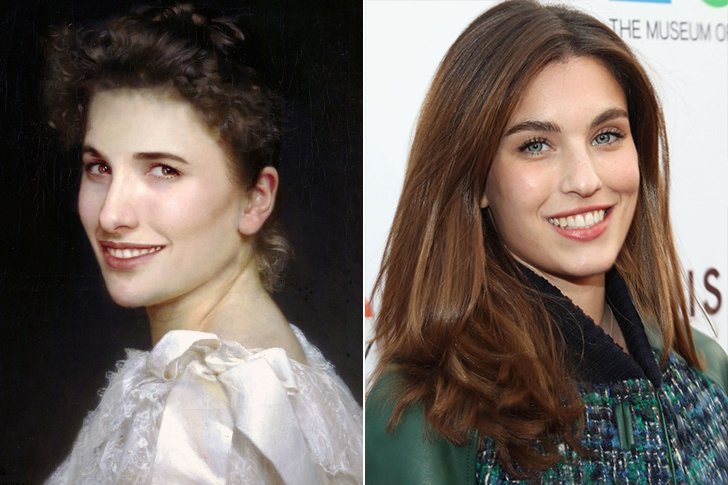 MacDowell is a big name in Hollywood as she was a huge star back in the 80s. The actress appeared in films like 'Greystoke: The Legend of Tarzan', 'Lord of the Apes', 'Four Weddings and Funeral', 'Michael', Multiplicity', 'Beauty Shop', and the 'Footloose' remake from to 2011. There are many other projects too. She has also been working with L'Oréal since 1986 and has 3 kids. Rainey is the middle child and basically her twin. Qualley has appeared in movies like 'Mighty Fine', 'Perfect', and 'Ocean's 8'.
ANTHONY PERKINS AND OZ PERKINS – THEIR 30s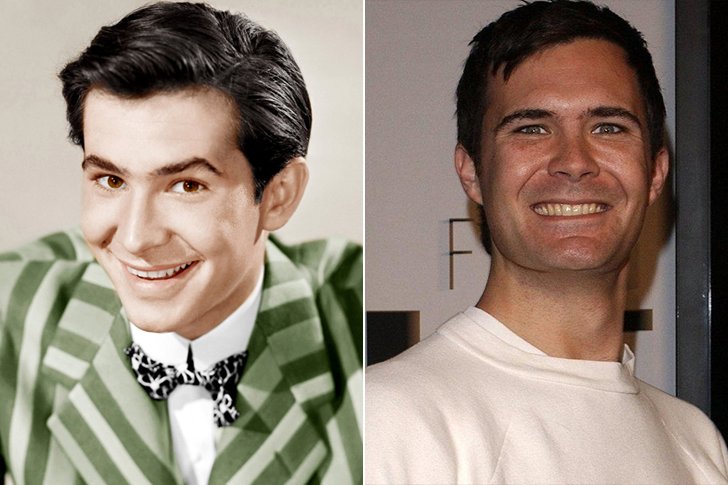 Anthony Perkins was much respected in Hollywood, especially after appearing in 'Psycho' directed by Alfred Hitchcock. He was nominated for Academy Awards and appeared in films like 'Fear Strikes Out', 'The Matchmaker', 'The Trial', 'Murder on the Orient Express', 'The Black Hole', 'Crimes of Passion', and several others. Unfortunately, he died in September 1992 due to AIDS. He is survived by his sons, Oz and Elvis. Oz has been in several movies, but is best known for writing and directing 'I Am the Pretty Thing That Lives in the House' and 'The Blackcoat's Daughter'.
CARRIE FISHER AND BILLIE LOURD – THEIR EARLY 20s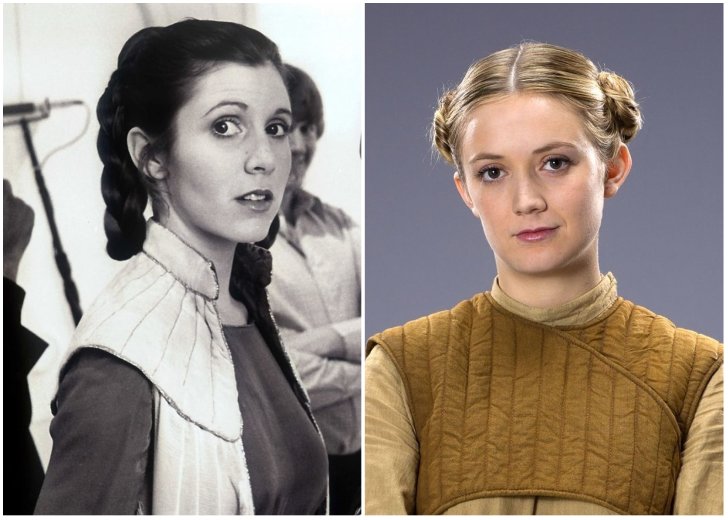 We have already mentioned Carrie and her mother, Debbie. However, many fans might not know about Fisher's daughter, Billie, who looks exactly like the late actress. Furthermore, Billie is following her family's footsteps into the business of acting, and it looks like she inherited all the talent her mother, as well as her grandmother, had. You might recognize her for appearing in 'Scream Queens', 'American Horror Story', and even the new 'Star Wars' trilogy. It looks like they could her with some CGI to keeping adding Princess Leia to future films in the franchise.
STEVEN TYLER AND LIVE TYLER – THEIR 30s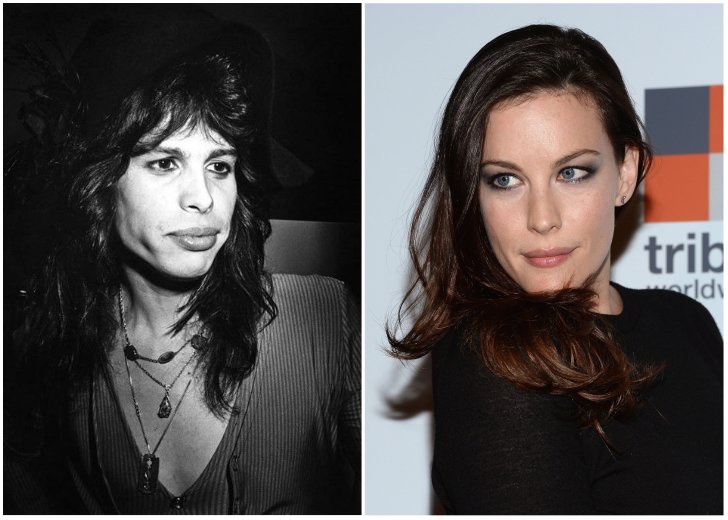 Everyone in the world knows that Steven Tyler's daughter is actress Liv, but she didn't find out about until the age of 9. Someone with the rocker's lifestyle could have easily fathered many kids and never know about it. However, this father and daughter duo cannot deny their genetics, especially looking at their faces. She might a timeless beauty, known for her time on the 'Lord of the Rings' franchise, but there is definitely some resemblance there. Luckily, they also formed a great bond.
MICK JAGGER AND GEORGIA MAY JAGGER – THEIR 30s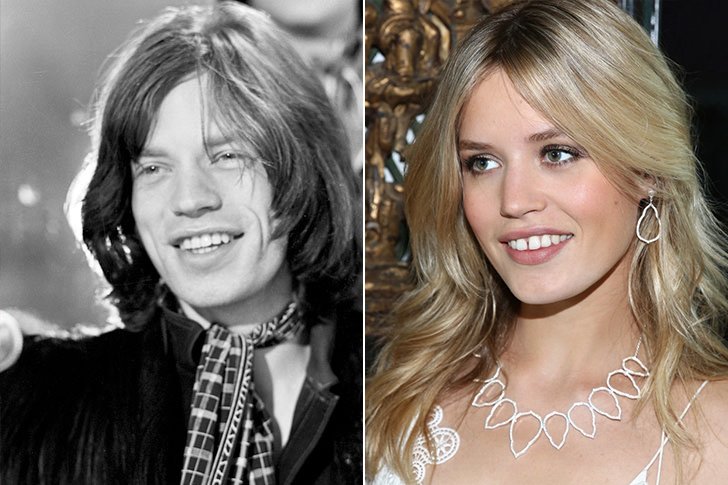 Most of our readers will definitely recognize the name Mick Jagger, who was the frontman of the legendary rock band The Rolling Stones. He was charismatic and knew how to captivate audiences while singing. However, before being a rockstar, he was an actor. Jagger appeared in 'Performance', 'Ned Kelly', 'Sympathy for the Devil', which probably inspired their song. His most recent work in film was 'The Burnt Orange Heresy' in 2018. His daughter, Georgia May, is involved in fashion and has modeled for brands like Versace, Miu Miu, and Chanel.
ROBERT PINE AND CHRIS PINE – THEIR EARLY 30s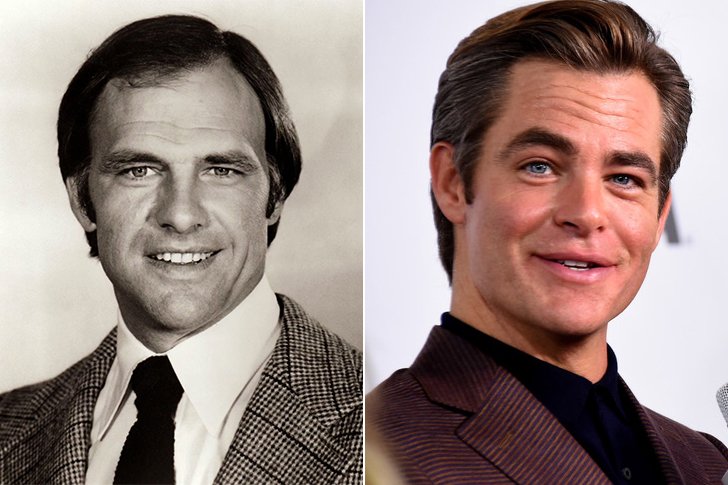 Chris Pine has been a heartthrob for several years with his appearances in 'The Princess Diaries 2: Royal Engagement', the new 'Star Trek' trilogy, 'Into the Woods', and 'Jack Ryan: Shadow Recruit'. He was also in 'Wonder Woman' and 'Outlaw King'. Meanwhile, his father, Robert, was also an actor best known for his work on 'CHIPs', alongside Eric Estrada. He was also in 'Lost in Space', 'The Wild Wild West', 'Knight Rider', 'Star Trek: Voyager', and 'Star Trek: Enterprise'.
MARTIN SHEEN AND CHARLIE SHEEN – THEIR 20s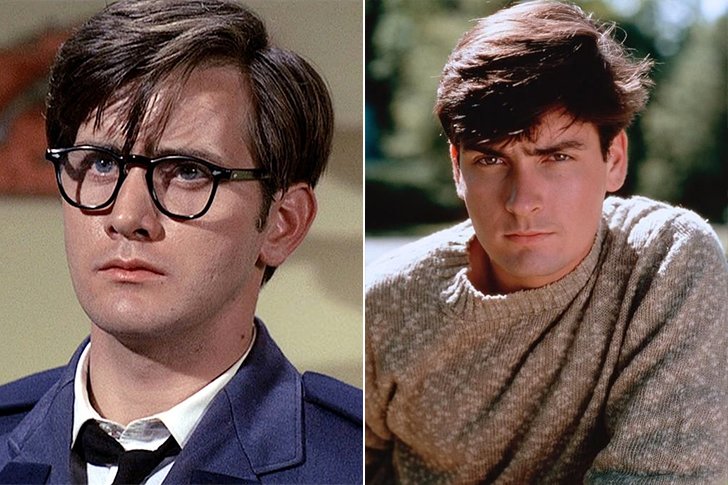 Martin Sheen is a widely respected actor in Hollywood, who rose to fame for 'The Subject Was Roses', 'The West Wing', 'Badlands', and 'Apocalypse Now'. He got to act for directors like Francis Ford Coppola, Martin Scorsese, Terrence Malick, and more geniuses. The actor might be famous among young audiences thanks to the television series 'Grace and Frankie'. He has four children, including Charlie, who needs no introduction either. Charlie was big on 'Two and a Half Men' but also due to many scandals.
MELANIE GRIFFITH AND DAKOTA JOHNSON – THEIR MID-20s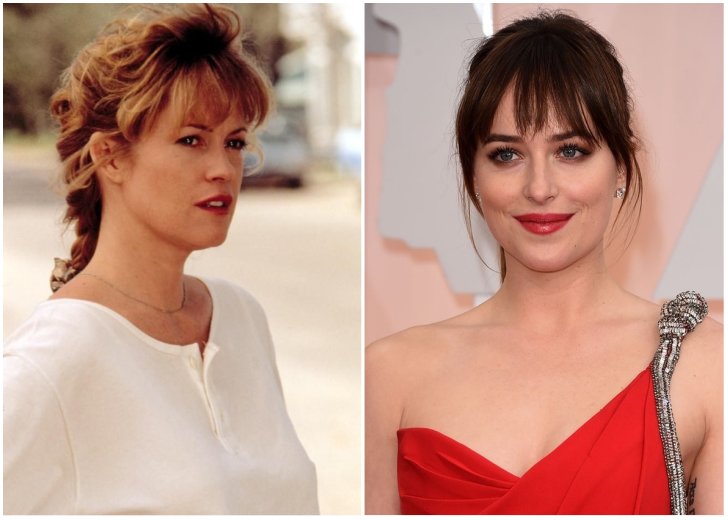 Johnson has been rising in Hollywood for the past couple of years, especially due to her appearance on the 'Fifty Shades of Grey' franchise. We expect her to become even bigger, especially because she is the daughter of actress Melanie Griffith, and the grandmother of another major actress, Tippi Hedren. Acting is definitely the family business, and all these women have done it with so much grace that others have always envied them.
DUSTIN HOFFMAN AND JAKE HOFFMAN – THEIR 30s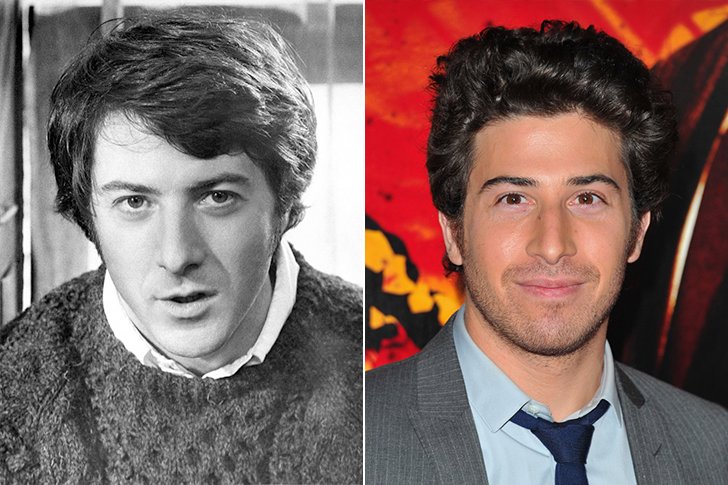 Dustin Hoffman is a well-known name in Hollywood, especially due to his two Academy Awards. He has appeared in films like 'Eh?', 'The Graduate', 'Midnight Cowboy', 'Papillon', 'Marathon Man', 'Tootsie', 'Hook', and countless more. He received his Oscars for 'Rain Man' and 'Kramer vs. Kramer', but he has been nominated five other times. Meanwhile, his son, Jake, is also an actor, director, and writer. He appeared in a small role on 'Rain Man', and later on, played Ray Donovan in 'The Wolf of Wall Street'.
SUSAN SARANDON AND EVA AMURRI MARTINO – THEIR 20s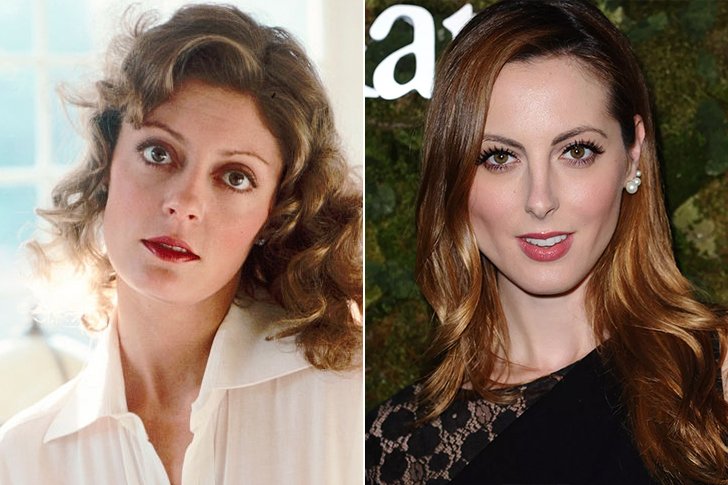 Sarandon is a widely respected actress who has been part of Hollywood for around 50 years. She was nominated for Academy Award for films like 'Atlantic City', 'Thelma & Louise', 'The Client', and 'Lorenzo's Oil'. She won the accolade thanks to 'Dead Man Walking'. More her famous works include 'Pretty Baby', 'The Hunger', 'Enchanted', as well as the Ray Donovan television series. She has three kids, and Eva has been in 'Saved!', 'The Banger Sisters', 'That's My Boy', and 'Middle of Nowhere'.
CHARLES DELEVINGNE AND CARA DELEVINGNE – THEIR 20s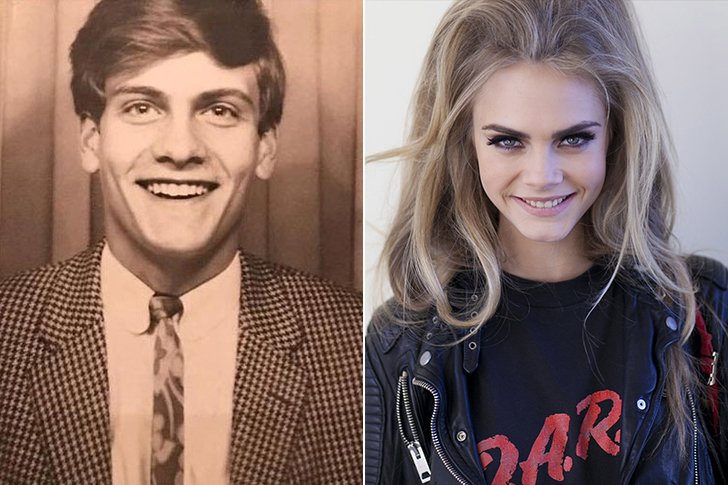 It's very likely that our younger readers know a lot about Cara Delevingne, as she is a singer, model, and actress. In 2009, she left school to become a model and eventually landed parts in 'Paper Towns' and 'London Fields', among others. She rose to mainstream fame by playing Enchantress on 'Suicide Squad' and the role of Laureline on 'Valerian and the City of a Thousand Planets'. Meanwhile, her father Charles is the director of The Ultimate Travel Company and a developer. He is also the father of Poppy Delevingne.
UMA THURMAN AND MAYA HAWKE – THEIR TEENS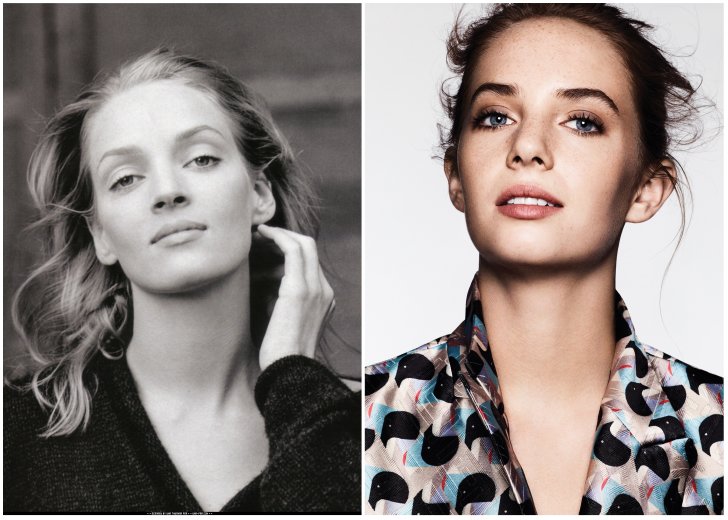 Thurman and Ethan Hawke were one of the most beloved couples in Hollywood before they ended the relationship, but Maya Hawke is the result of their union. She is now in her 20s and is the spitting image of Uma with just a little bit of her father. Maya started modeling years ago and finally broke into the mainstream with Netflix's 'Stranger Things' and a BBC production of 'Little Women' from 2017. She also made a cameo in Quentin Tarantino's 'Once Upon A Time In Hollywood'.
CHRISTIE BRINKLEY AND SAILOR BRINKLEY – THEIR TEENS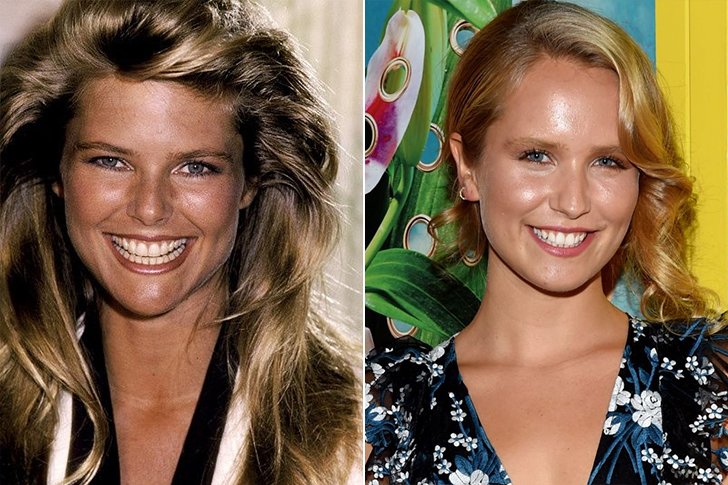 Christie rose to fame as a model and actress, but her breakout work came after several covers of Sports Illustrated Swimsuit issues back in the 70s. She was also the image of Covergirl for 25 years and worked for many other magazines, who named her one of the most attractive women in the world. In 2018, it was reported that her net worth was roughly $250 million. Meanwhile, the model had three children, including Sailor, who also graced the cover of Sports Illustrated in 2018.
It's surprising how genetics work when it comes to children, and these kids already hit the jackpot. Let us know what you thought of these celebrities and their "doppelgangers". If you liked this article, share it with your friends who always want to know more about Hollywood stars. See you next time!
Source: Travel Patriot